Bali is just mesmerizing, no question – yet, as it gets very busy, its eastern neighbor, the island of Lombok, becomes a valid and serene alternative.
A Serene Alternative
The Lombok Strait divides the islands of Bali and Lombok. The latter is of volcanic origin and surrounded by several smaller islands. In the northwest are the famous Gili Islands Trawangan, Meno, and Air. In the northeast are Gili Lawang and Gili Sulat Lombok.
Lombok's highest elevation is the Rinjani volcano. With 3,726 meters it's the second largest in Indonesia. Various rivers have their source on the mountain. In the southern part are fertile plains where rice and coffee grow.
Almost ten percent of Lombok's residents are Hindus from Bali. Also, around 800 Buddhists live around the northern city of Tanjung. Some larger Christian communities exist in Ampenan, Mataram, and Praya, nevertheless, the major part of the island's population is Sasak. This ethnicity is culturally closely related to the Balinese, however, they are predominantly Muslim. The oldest mosque in Lombok is the Masjid Kuno Bayan Beleq mosque, built in 1634 in Bayan on the north of the island.
However, a small minority of the Sasak are followers of the syncretic religion Waktu Telu, a mixture of Islam, Balinese Hinduism, and ancestor cult.
Dutch Occupation
The first Dutch settled in the east of the island in 1674. In 1891, they interestingly fought together with the Sasak against the Hindu dynasty from Bali who ruled the island's west.
Finally, the Dutch troops overruled the Balinese violently. This led to the annexation of the entire island of Lombok to their colonies in 1894. In the Netherlands, this coup was euphemistically called the Lombok Expedition.
During WWII, the island was occupied by Japan between 1942 and 1945.
On August 17, 1945, the proclamation of Indonesia's independence took place. Consequently, Lombok became part of the country.
Under general Suharto's dictatorship, there was a wave of violence. During political unrest in the 1960s, communists, and members of the Chinese minority were killed. In 2000, there were further attacks against Lombok's Christians as well as the Chinese minority. Consequently, tourism decreased for several years.
Lombok Today
Lombok emerged as a serene alternative to the popular island of Bali around 1980. The most developed tourist area is in the west around Senggigi. Beaches and bays are stretching ten kilometers along the western coast.
In addition to the beaches, trekking tours to Lombok's mountainous north are getting very popular. There are also a couple of majestic waterfalls to where you can go on guided tours. Interesting are country tours where you get to know the Sasak culture and can shop for their amazing handicraft.
Despite the growth of tourism, agriculture is still by far Lombok's most important source of income. There are arable areas in the highlands where coffee and rice are grown. Different vegetables and spices are also cultivated, especially green cardamom and nutmeg.
Sadly, in the island's southwest are several mines where gold is mined with questionable and environmentally extremely harmful methods such as using mercury.
The Waters Off Lombok
The island of Lombok is a destination for divers. There are various diving areas mainly in the bay in front of the town of Sekotong in the southwest. However, there are also good grounds towards Gili Trawangan in the northwest. Due to the proximity to Bali, even day trips by boat are possible.
Kuta Lombok on the island's southern shore is one of Indonesia's most popular surfing areas. While the surf spots in Kuta are suitable even for beginners, surfing pros might rather enjoy the waves at Desert Point in the north. However, you can choose from about twenty great surfing places in Lombok.
Wanna try something else? The Gili islands can be reached from Lombok in less than an hour and are therefore great for day trips, too.
Tremor
In the summer of 2018, a series of earthquakes hit Lombok. It damaged or even destroyed thousands of homesteads. Also, it killed twenty people and injured more than 300. On Mount Rinjani, hundreds of hikers were cut off by a landslide. However, in the end, all hikers were successfully rescued.
Eventually, there were two more severe earthquakes. Still, only twenty people were killed in this quake. The fact that many people had to stay outdoors or at emergency shelters because of the previous quake, prevented many fatalities. Fortunately, only twenty people lost their lives in the second temblor.
Best Things to Do on a Country Tour
Since my stay in Lombok was just a side trip during my visit to Bali, I spent only two days on the more serene alternative. Obviously, that's by far not enough to experience everything Lombok has to offer. In addition, I wasn't very lucky with the weather. Therefore, I opted for a country tour instead of waiting for some sunshine on the beach. Unfortunately, you can see that in many of my pictures.
Bintaro Chinese Community Cemetery
Just like many times in Bali, I was not able to join an organized group trip but explored the island with a private driver.
We took off in the beach area of Senggigi and drove southwards towards the capital city of Mataram.
Around 13 kilometers north of Mataram is the small town of Ampenan. Due to its port, it was once an important base for the trade of spices. Particularly the Dutch colonialists used it very intensively. Eventually, the port has lost its importance and is increasingly silting up.
The Chinese community plays an important role in Lombok, Most of the Chinese communities now settled towards the island's west coast. An important part of their culture is the lavishly decorated cemeteries.
The Bintaro Chinese Community Cemetery is almost impossible to overlook. Some of the graves are very large and beautifully decorated in bright colors.
As you stroll through a park with rolling hills and elegantly curved footpaths, you discover something new and exciting with practically every step.
Some of the graves are flanked by the guardian figures customary for Daoism. Also, some of the older graves still have Dutch inscriptions from the colonial era.
Banyumulek Village
As we continued south of Mataram into the Kediri district, we reached the Banyumulek village.
Banyumulek is famous for its unique way of pottery making. still maintain traditional combustion techniques, namely by using straw and firewood.
Their traditional combustion technique is called tenunuq lendang which can be translated to 'burning in the middle of the garden pottery'. This burning is done outside. This way, the pieces can be finished by coloring or by adding decorative elements in an easier way. However, after this kind of burning process, the pottery is a bit more fragile.
The tradition of ceramic making is due to the abundant deposits of clay in this region.
The pottery they are making at Banyumulek is truly beautiful – whether small figurines, mugs, bowls, vases, and much more. Unfortunately, the individual pieces are quite heavy and therefore not suited for purchase in bulk. After some serious pondering, I decided on a large black leaf for myself and a turtle-shaped tealight holder. Since the latter was a gift, I can only show you the leaf.
Sukarara Weaving Village
Twenty minutes southeast of Banyumulek is the Sukarara village. It is famous for Songket, preciously hand-woven cloths. The skill has been passed down from generation to generation, and almost every family in the village is manufacturing these precious traditional fabrics.
These villagers produce an exquisite array of fine woven cloths, using cotton, silk, or gold and silver to create their traditional designs.
Visitors can not only watch the process, but they can also try how to wave by using traditional waving tools and techniques. Obviously, you have also the opportunity to shop.
Sasak Village Ende
Although the first two villages we visited were clearly also designated shopping opportunities, they deemed more authentic than the Ende Village.
This village is said to be an authentic Sasak Tribe settlement. Supposedly, villagers living at the traditional homesteads preserve their customs, and their daily chores such as weaving and farming.
Already the opportunity to enter the houses and observe the villagers' activities made me suspicious of the authenticity. The people are friendly and kind-hearted, and happy to share. It's scenic and pastoral, and a great opportunity to get up close and personal with the unique population of the island.
Kuta Beach Lombok
Just like the same-named beach on Bali, Lombok's Kuta has a lovely white sand beach and is a good base for exploring the stunningly beautiful southern coastline.
Dramatic cliffs and mountains reaching all the way to the coast create spectacular scenery.
With powdery white sand and clear blue-green waters, Lombok's beaches are some of the best in all of Indonesia. Also, Kuta has some of the best surfing in the world which, obviously, attracts are young'n'hip surfer crowd.
As I mentioned above, I wasn't exactly lucky with the weather so I just took a short walk on the beach.
Narmada Summer Palace And Royal Garden
On our way back towards Senggigi, we made a stop at the Pura Agung Narmada just about twelve kilometers east of Mataram.
The King of Mataram commissioned Pura Agung Narmada in 1727. Today, its rich history is of high cultural significance. Although local people swim or picnic at this three-hectare park, the landmark is very sacred to the Hindus.
Narmada is a water park and a replica of the Rinjani mountain and lake Segare Anak.
The park is known for four special features like the fountain of youth, Bale Terang, Bale Pawedayan, and Pura Kalasa.
Bale Petirtaan, the fountain of youth, is one of the things that made Narmada Park famous. It is a confluence of three water sources. The clear water can be used for rinsing the face or drinking after the service. If visitors do not have enough time to join the mass, they can buy the water – basically, worship to go.
Please note, that the holy water at Bale Petirtaan cannot be used for washing your feet. Women are not allowed to enter during their period.
Bale Loji is the main house. From here, visitors can enjoy the view of the pool and some picturesque red flowering trees. Bale Pawedayan serves as a library and reading room.
Finally, there is Pura Narmada's temple Pura Kalasa. It is one of the eight oldest temples on the island of Lombok and has the shape of a miniature Mount Rinjani.
Tetebatu
This area about 15 kilometers south of Mount Rinjani is mainly known for its alluring farmland, rice paddies, and herb gardens. Apart from rice, tobacco, fruits, cocoa, and coffee, various spices are grown here. If you want to stock up on those edible souvenirs, there is no better place to get them fresh and unprocessed.
As a matter of fact, Tetebatu was one of the first settlements of the Dutch colonialists, there is still one of their local buildings, the Pondok Belanda, found within the Gunung Rinjani National Park.
Three More Highlights
Rinjani Trekking
One of the best activities in Lombok is trekking up Mount Rinjani, an active volcano. You can mostly do that on a two- or three-day tour. Your guide will lead you through rugged terrain as well as lush forests.
You'll spend the night at a camp near the rim of Rinjani. The next morning, you are rewarded for your effort with spectacular sunrise views.
Waterfall Trekking
An easier hike takes you to the most impressive of Lombok's various grand waterfalls. To get to Sendang Gile near the foot of Mount Rinjani, you follow a local guide through the jungle before enjoying a refreshing dip in the cool waters.
Your final stop will be the Senaru village, a traditional hamlet amidst spectacular rice terraces.
Snorkeling around Gili Kondo, Gili Kapal, and Gili Lampu
Lombok is surrounded by many islets. I've already introduced the three most popular ones in my post on TRAWANGAN, MENO, or AIR – which island is for you?
However, there are many more much smaller ones which are worth a day trip just the same. Off Lombok's east coast are snorkeling grounds around the island of Gili Lampu. Then, on Gili Kapal, you can actually walk on water – or, more precisely, on a small sandbar. Obviously, there is also great swimming and snorkeling in the crystal clear waters surrounding Kapal as well as Gili Kondo.
Map
On this map you can see where all the amazing spots that I'm introducing in this post:
Practical Information
How to Get There
Bandara International is Lombok's airport with flight connections to Bali, Jakarta, Yogyakarta, Kuala Lumpur, and Singapore. You can catch the DAMRI bus at domestic as well as international arrivals. Depending on your final destination, tickets cost between 25,000 and 35,000 IDR. You can purchase tickets at the DAMRI bus counter and onboard from the driver.
Some major hotels offer a free shuttle. But beware that if the shuttle is not complimentary, you'll have to pay much more for transport that they send than if you arrange your transport yourself. This being said, it's wiser to overpay for a safe trip than to risk your well-being on arrival. You'll find more on this important topic in my post Keep Calm and Travel Solo.
Obviously, you can always take a cab.
If you continue to one of the Gilis, you need to go to the pier at Bangsal.
Before you exit the airport, you will see booths offering taxi transfers to tourist destinations including the Gili Islands. Although their service is sometimes a bit more expensive than the average rate, they grant hassle-free travel. Obviously, you can also negotiate with the drivers waiting outside. This can be very annoying and I don't think it's worth the trouble.
Note that not all vehicles are allowed to go beyond the pier gate. Since it's around two kilometers from the pier, you might want to clarify this point before making yourself comfortable in the passenger's seat.
Sea Travel
Coming from Bali, you can take a fast boat to Padang Bai. This ride takes about two hours. There is a much cheaper ferry, however, it's very uncomfortable and takes about six hours. Also, there are connections between Serangan in the south and Amed in the north.
In Lombok, these carriers arrive at the port of Bangsal. It's on the west coast and only four kilometers from Gili Air and still just nine kilometers from Gili Meno. To go all the way to Bali, it takes about 90 minutes.
Perama Tour offers a daily shuttle from Bangsal to Senggigi for 60,000 IDR. The trip takes about half an hour.
Since there is only one trip per day, you might need to take a cab. The most reliable company is Bluebird – I've already recommended them in my post How (not) to behave in BALI. A one-way trip will cost you the equivalent of around 7 US$.
There is also a pier at Senggigi that might be far more convenient for you. Make sure to inquire about all your options before you book a ticket.
Getting Around
Different island, same problem. To me as a solo traveller, moving around had been Bali's and was not Lombok's weakest point. There are hardly any public buses so you have to rely on individual transport.
While hiring a car with a driver is comparatively cheap if you share it between two or three people, it's obviously not that cheap anymore if you pay for the whole thing yourself. Of course, you can try to share with fellow travellers, but it's not guaranteed that you'll find someone according to your interests and itinerary. Particularly on Lombok, Bali's serene alternative with far fewer tourists around.
This being said, you can always try to join an organized tour with Perama. They have also offices in Lombok. Nevertheless, they don't stick to scheduled tours. If on certain days, they don't have enough people, they simply don't go – or you have to pay for the entire trip yourself.
To help you find the best option even if you travel to Lombok solo, I'm including some tour offers in the Places to Visit section below.
Where to Stay
There is far less accommodation in Lombok than in Bali. I stayed at the Sendok Hotel*, just minutes from the beach and the pier. It's absolutely okay, yet nothing to write home about.
So if you like to check further lodging options, you can do so on this map*:
What to Eat
Not only is Indonesian food simply delicious, but for international visitors, it is also incredibly cheap.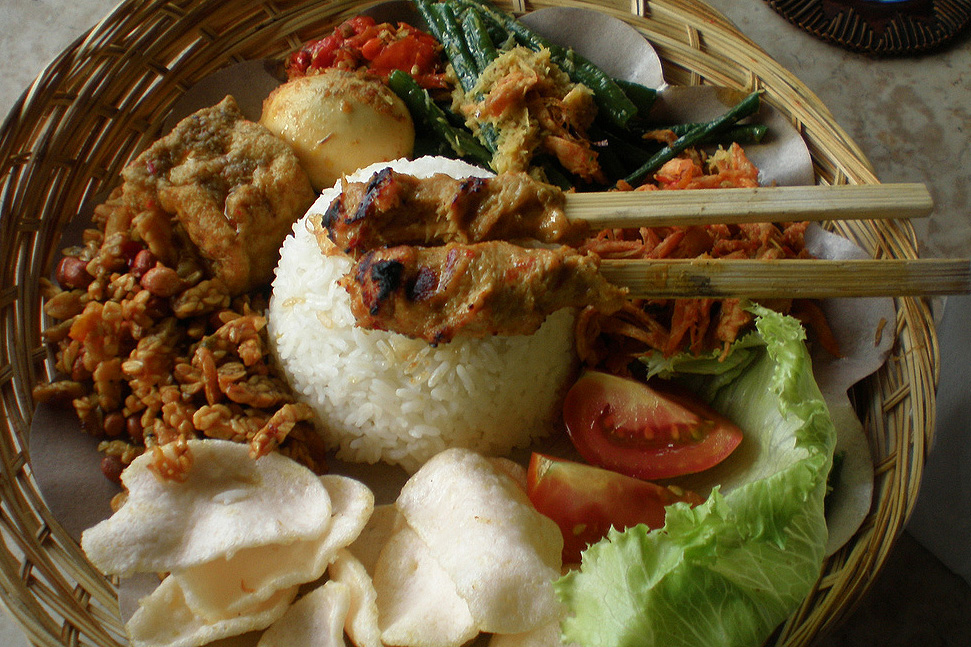 And while it can get a bit more expensive for instance at hotels or fancy restaurants, this would be the average price at the Warungs, Lombok's lovely local eateries.
Just like in Bali, you can feast on yummy Satay skewers. However, there are also regional specialties such as Plecing Kangkung. It is a spicy water spinach salad, topped with a chili and shrimp paste dressing, grated coconut, peanuts, and lime juice. Also, the local grilled chicken is famous.
Places to Visit
I'm an avid solo-travelling woman. However, solo travel doesn't equal solitude, hence, I love to join organized tours here and there. Since this is not that easy in Lombok, here are some valid options for how to get to see what this serene island has to offer in a safe and easy way*:
Good to Have
Be a scout and remember the motto Be prepared.
As you leave in the morning to explore, make sure to not only have your money and your sunshades on you.
People in Lombok are mainly Muslim, hence, they dress very modestly. This goes particularly as you leave the beach area to explore remote villages and, most of all, sacred complexes.
It is always a good idea to carry at least one light, large scarf with you to cover up in case you decide to visit a mosque or another temple. And don't forget that also men have to wrap a sarong around their hips – even if they are wearing long pants.
Remember that you're neither supposed to expose your shoulders nor your arms. So if you are wearing a sleeveless top, you also need a scarf to cover your shoulders. At mosques, women have to cover their heads with a scarf. Also, don't forget to leave your shoes at the entrance door.
Especially when you are walking a lot, you will appreciate a catlick using some wet wipes on your hands, face, and neck. Also, the last resort in case some bathroom along the way has no toilet tissue. Remember to freshen up your sun protection especially after wiping your face – so make sure to have a travel-size bottle of sun protection with you.
I have all these things in an extra pouch that I just stuff in my daypack in the morning without having to remember every single piece.
Of course, you shouldn't forget to take a hat, good sunshades, and a large bottle of water with you, too.
Cash And Cards
On Lombok, you pay in Indonesian Rupiahs, abbreviated IDR.
There are coins from 100 up to 1000 IDR and banknotes from 1000 to 100,000 IDR. Consequently, the largest Indonesian banknote is worth about US$ 7.
It's a very touristy country, hence, credit cards are widely accepted. Obviously, you can get cash at ATMs.
One US-Dollar equals 15.67 Rupiahs (IDR) and one €uro equals 15.68 Rupiahs (IDR) as of November 2022. You can check the current rate on this page.
Language
The official language on the island of Lombok is Indonesian. This bahasa – which translates to language – is extremely similar to the language spoken in Malaysia.
I gained some basic knowledge for my trip to Bali and Lombok. It's amazing how easy bahasa was to learn. Especially since it's written in Latin letters.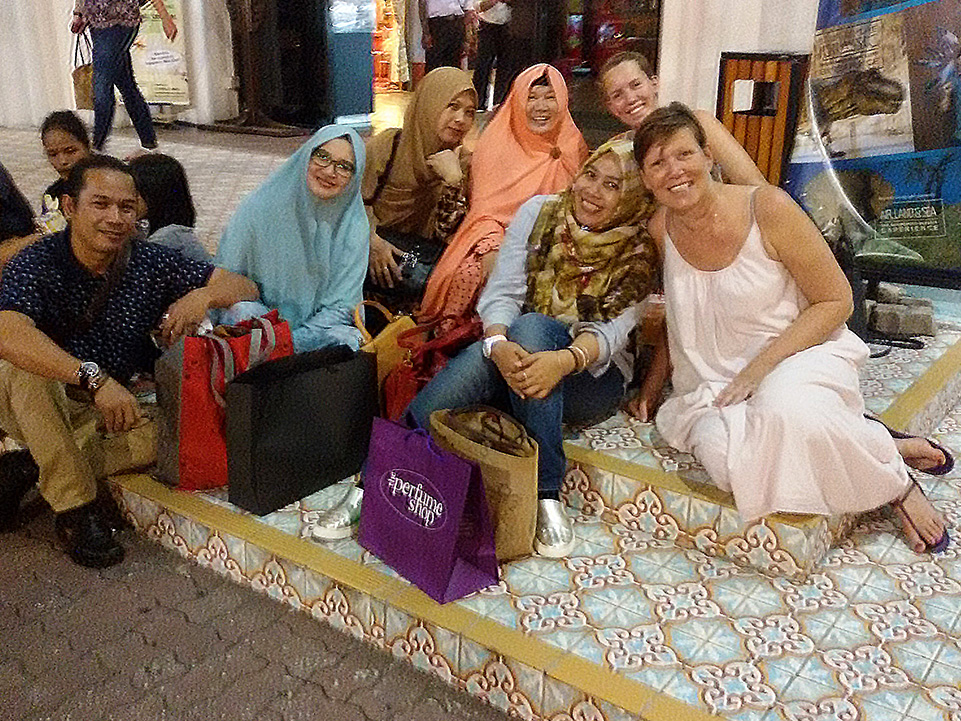 It's very interesting that there are still remains of Portuguese. For instance, sepatu for shoes or meja for table. But mostly there is a strong Dutch influence such as gelas for glass or handuk for towel. These words are also very similar in German.
Then, everything related to time like hours and weekdays is derived from Arabic. As a language aficionado, I loved diving into these structures and enjoyed studying.
Yes, Indonesian is actually one of the languages babbel offers. As usual, the first lesson is free. It supplies you with the most important words to interact with people.
Communication and Connection
Like during most of my trips where European roaming is not available, I did not get a national SIM card. I rather used free WiFi. There was a connection to the internet without any issue at basically every eatery or café and, of course, hotel. Worked like a charm.
But if you insist on being online 24/7, you can get a national SIM card right at the airport.
In Indonesia, plug types C and F are the official standard. The standard voltage is 230 V and the frequency is 50 Hz.
But as you know, nowadays, all these chargers for phones and readers and computers have integrated adapters. Therefore, different voltages and frequencies don't really matter.
Gone are the days when you blew your electric appliances since you forgot to switch them from 110 to 220…good times.
By the way, you'll find this kind of practical travel info in my post World's Most Complete Travel Information. Actually, it's an indispensable globetrotter classic.
Pinnable Pictures
If you choose to pin this post for later, please use one of these pictures:
Note: I'm completing, editing, and updating this post regularly – last in November 2022.
Did You Enjoy This Post? Then You Might Like Also These:
* This is an affiliate link. If you book through this page, not only do you get the best deal. I also get a small commission that helps me run this blog. Thank you so much for supporting me!