When going to the Canaries, you don't have to limit yourself since island hopping between the various Canary Islands is really fun and so easy.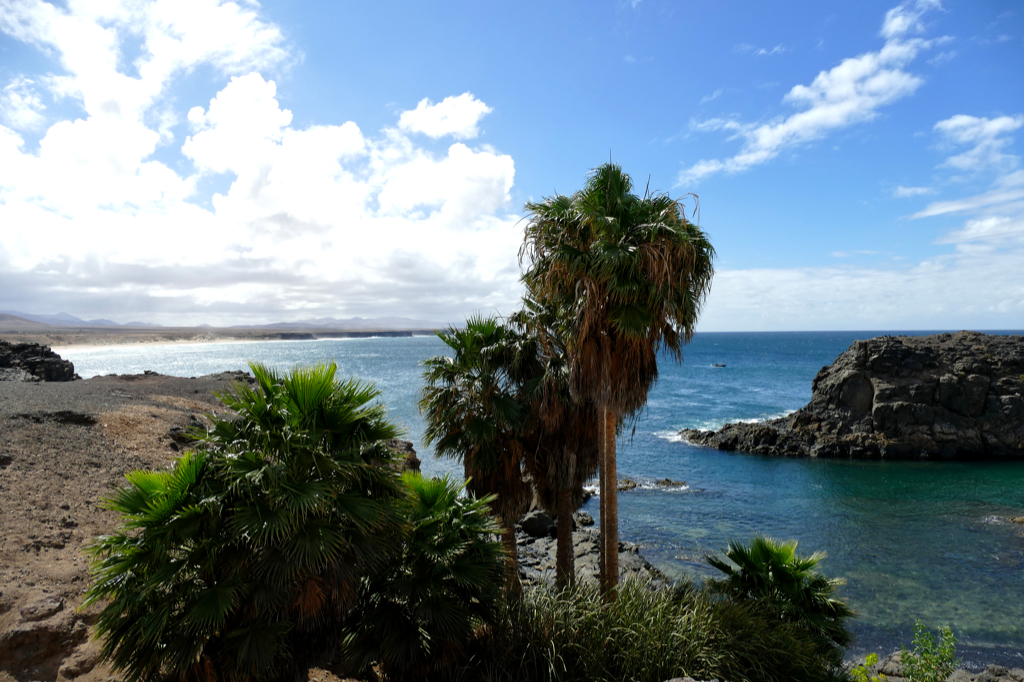 While most visitors pick just one destination for their beach vacation, you can have it all: Hop on a ferry or go on a plane and travel crisscross between Gran Canaria, Tenerife, Fuerteventura, and Lanzarote as much as you please.
The Canary Islands
The Canary Islands are an archipelago in the Atlantic, between about 1,000 and 1,500 kilometers from mainland Spain and between 100 to 500 kilometers off the coast of Morocco. So while the Canaries belong politically to Spain, they are geographically definitely part of Africa.
The Canaries consist of seven main islands with their own regional government. However, there is yet another inhabited island called La Graciosa as well as many small uninhabited rock isles.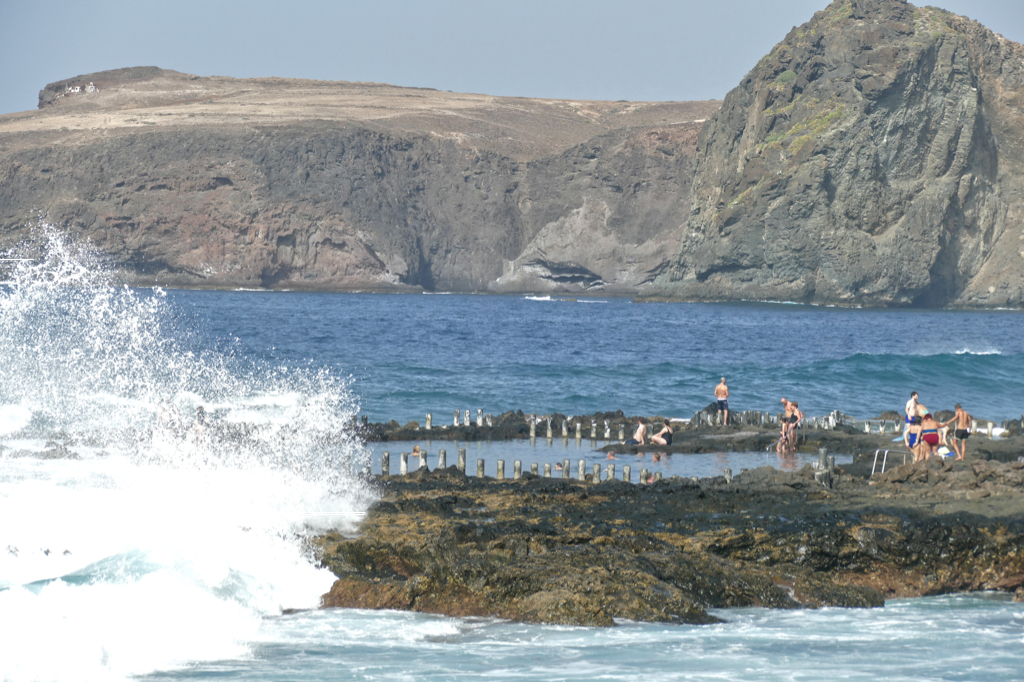 The region owes its formation to volcanism and an underlying hotspot. The volcanic activity continues to this day as the people on the island of La Palma sadly had to endure in 2021.
Due to this activity, there is a large number of bubble caves and lava tubes. Therefore, the ancient Canarians lived in natural caves. A large number of natural and manmade caves are still found in Gran Canaria.
On those islands where there weren't any suitable caves, the aborigines built houses from stone, obviously. Interestingly, their styles and sizes differ from island to island.
Roots
Research has proven a connection between the native Canarians and the Berber peoples in North Africa. The settlers most likely came there while Spain was under Roman sovereignty. The settlement was not a one-time event. In a continuous process, different groups of settlers were brought to the islands. Between 1 BC and 3 AD, there were close economic ties between the Canary Islands and parts of the Roman Empire.
After the Roman Empire, these relationships diminished and eventually were completely discontinued. Since the inhabitants of the islands had no skills in shipbuilding and no knowledge of navigation, also relations between the islands broke off at this time.
Therefore, cultures on the individual islands developed independently until the arrival of the Spanish conquerors in the 15th century. To this date, each of the islands represents unique culture and traditions, astonishing phenomenons, beautiful sceneries, and well-preserved partly endemic flora and fauna.
Finders Keepers
In the 15th century, various conquerors from the European continent defeated the islands. All of them subdued the local populations under the protection of the Catholic Kings. Perfidiously, the conquest was not financed by the crown, but by the conquistadors themselves. Later, they would be compensated by the exploitation of the conquered territories.
In the period that followed, the Canary Islands became part of the Kingdom of Castile. Hence, a new society of different origins emerged in Gran Canaria. The Catholic religion and the Castilian language prevailed, obviously. The conquerors, as well as the settlers recruited for agricultural work, came mostly from the lands of the Crown of Castile. For instance, workers for sugar production were recruited from Madeira. Also, African slaves were brought to the island to work in the sugar factories.
Today, the by far most important industry on the islands is tourism. The main tourist areas are the islands of Tenerife, Gran Canaria, Fuerteventura, and Lanzarote. And by chance, these are also the islands I visited on my recent trip. Therefore, I'm happy to prove to you that those places are amazing as soon as you leave the tourist ghettos.
With an area of ​​more than 1500 square kilometers, Gran Canaria is the third largest of the Canary Islands, after Tenerife and Fuerteventura. However, in terms of population, it is the second largest one. Only Tenerife has more inhabitants. Yet, with more than 850 thousand inhabitants, the island's capital Las Palmas de Gran Canaria is the largest city of all the Canaries.
Like the entire archipelago, Gran Canaria is of volcanic origin obviously. Although the island's highest point is the 1,956 meters high Morro de la Agujereada, the symbol is the Roque Nublo – at only 1,813 meters. Contrary to previous assumptions, the volcanoes in the north of the island are still active. But don't you worry, the last eruption was around 2000 years ago.
Microcontinent
Due to its climatic and geographical diversity as well as differentiated flora and fauna, Gran Canaria is defined as a microcontinent. As a matter of fact, the island has incredible 14 climate zones. In one single day, you can tan on one of the endless sand beaches before going up to the mountain summit where you might find snow. On the way, you pass through the dry area around Agüimes that will remind you of northern Africa. Or you choose the route through the leafy fields of Vega de San Mateo and Santa Brigida. There, lush meadows and a fantastic number of palms, trees, bushes, and flowers are pleasing to the eye.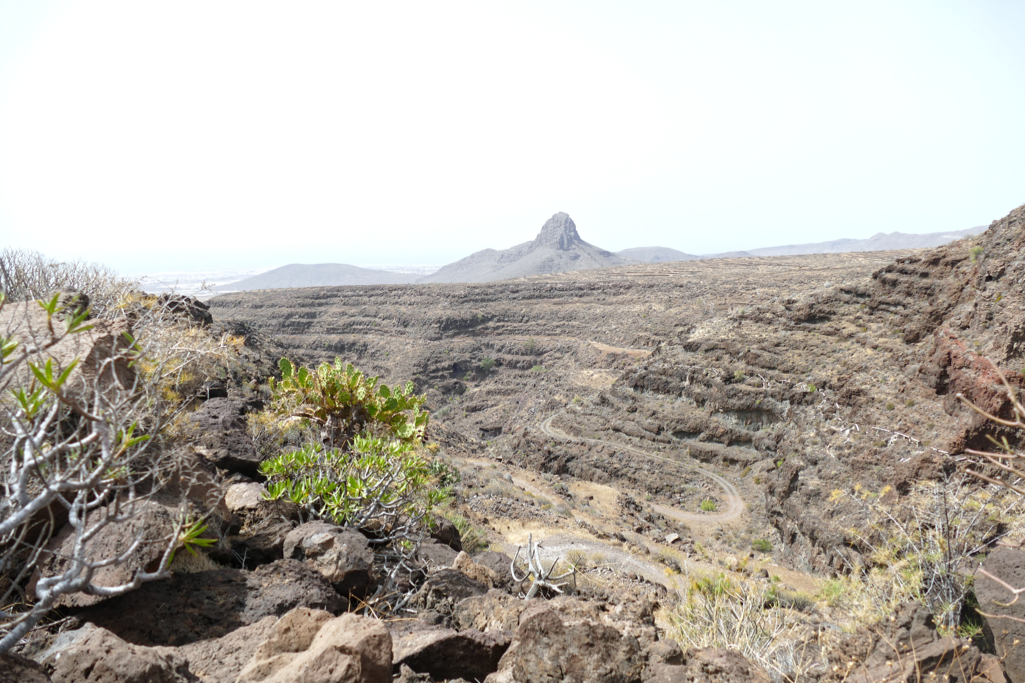 Mass tourism is concentrated around the beaches and the famous sand dunes of Maspalomas on the south coast. Nevertheless, there are also great beaches for instance in the area around the capital city Las Palmas. Since the city's bus stations are great hubs for exploring the island by public transportation, I would recommend finding accommodation for instance around the Playa de las Canteras – which is often compared to the Copacabana in Rio de Janeiro. This way, you can comfortably enjoy all the perks the island has to offer – I'm listing some in my must-do list below.
Once in Gran Canaria, you need to
But there is much more to explore – as you can read in my post.
Fuerteventura is the oldest of the Canary Islands. It was formed about 20.6 million years ago. Just like the other islands of the archipelago, it is of volcanic origin. Since its formation, it has been severely eroded by the weather. However, Fuerteventura's volcanic activity ended about 5,000 years ago.
The island is around 120 kilometers west of the Moroccan coast in the Atlantic Ocean. Although there are less than 120,000 inhabitants, it is the second-largest island of the Canaries after Tenerife. Together with the island of Lanzarote in the northeast, Fuerteventura forms the archipelago's eastern border
Actually, those two islands are only approximately 11 kilometers apart. In 2009, UNESCO declared the entire island of Fuerteventura a Biosphere Reserve and in 2015 a Dark Sky Protected Area.
Natural Beauty
No one is coming to Fuerteventura for mind-blowing historic treasures or lush tropical sceneries. Visitors are coming for the sea'n'sand.
The island stretches almost 100 kilometers from the north to the southwest tip. Its widest part measures 31 kilometers and the narrowest one incredible 5 kilometers. This point marks the border between the northern part called Maxorata, which gave the original islanders the name Majoreros, and the southern peninsula Jandía.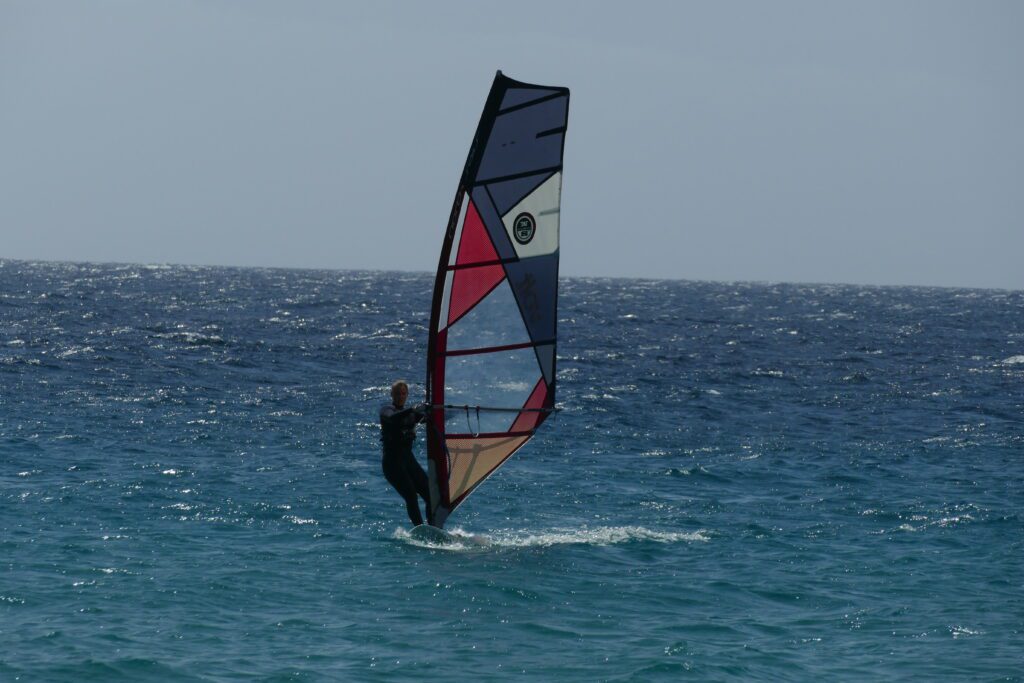 Jandía is where most of the tourist centers are located. No wonder, since this region has miles of white sandy beaches and is just perfect for water sports like windsurfing. Although there is a constant wind blowing, you can bathe and swim safely.
Also Fuerteventura's highest point, the 807 meters high Pico de la Zarza, is located in Jandía.
In the northeast of the island is the Parque Natural de Corralejo with its amazing gigantic shifting dunes. The sand here consists largely of ground shells of sea animals like mussels and snail shells.
Once in Fuerteventura, you need to
But there is much more to explore – as you can read in my post.
Lanzarote, the northernmost of the eight inhabited Canaries, is around 140 kilometers west of the Moroccan coast. And indeed, of all the isles, it has the least European feel to it.
It is an island of volcanic origin. Black lava covers three-quarters of the island. 300 craters of approximately 100 volcanoes emitted masses that seemed to come straight out of hell.
Lava from volcanic eruptions that lasted from 1730 to 1736 covered about a quarter of Lanzarote. Large parts of farmland and even entire villages were buried underneath. Apart from two eruptions in Iceland, this has been one of the largest magnitudes in the world. Nomen est omen – the area with the highest number of volcanoes was named Montañas del Fuego, hence, fire mountains.
Today, the Timanfaya National Park covers a large part of the affected area.
Don't Leave Me This Way
Before the catastrophe hit the island in 1730, Lanzarote had produced wheat, barley, and other grains in abundance. The island was basically the archipelago's granary. To keep enough workforce on the fields, the islanders were deprived of leaving Lanzarote. After the destructive volcanic eruptions, however, about half of the population migrated to one of the neighboring islands such as Gran Canaria, Fuerteventura, and Tenerife.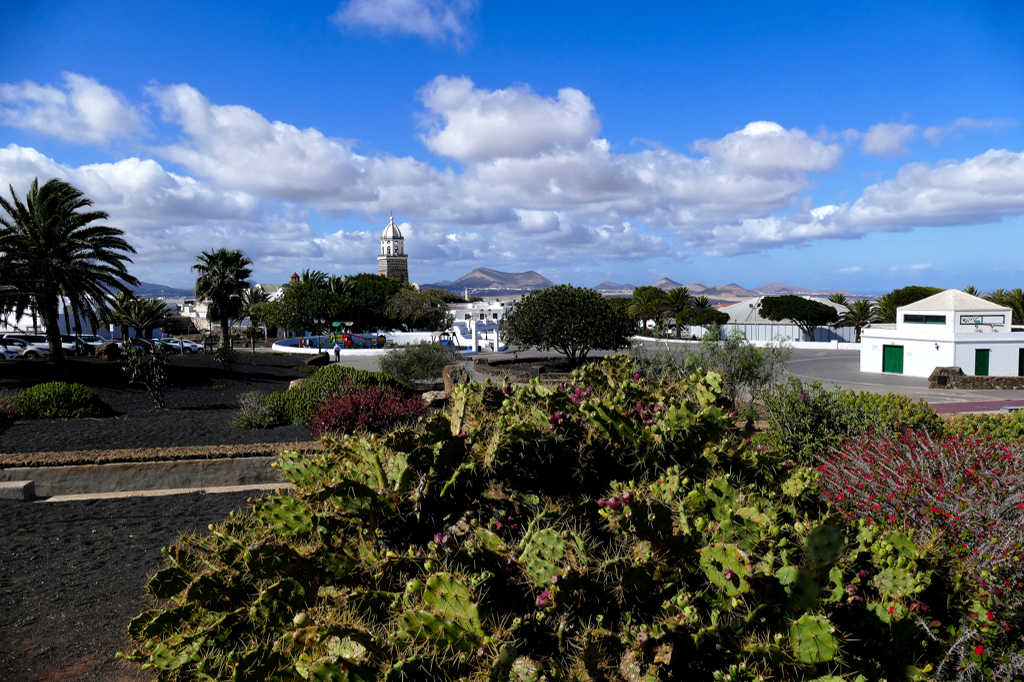 The infernal event was followed by a catastrophic drought in 1768. After the drought claimed countless lives, many residents emigrated either to the other islands or even all the way to Cuba and the Americas.
In 1824, there was another volcanic eruption in the Tiagua area. This, however, was by no means as consequential as the eruptions in the 18th century.
Once in Lanzarote, you need to
visit the Timanfaya Natural Reserve
stroll around the picturesque village of Teguise
admire César Manrique's ingenious architecture
catch a boat for a day trip to the island of La Graciosa
do some wine tasting at one of the vineries around La Geria
But there is much more to explore – as you can read in my post.
Tenerife is the largest one of the Canary Islands and due to its climatic and geographical diversity as well as differentiated flora and fauna, it is defined as a microcontinent since it's boasting an amazing number of microclimates. For you non-meteorologists: The term microclimate describes a set of atmospheric conditions that are localized in one specific area without in any way affecting neighboring regions. You can be sweating in Tenerife's capital Santa Cruz while a couple of tram stops away it's pouring rain in San Cristobal de La Laguna. Therefore, if you are checking the forecast in Tenerife, always inquire about a specific town or beach, never about the island, and even not about a region.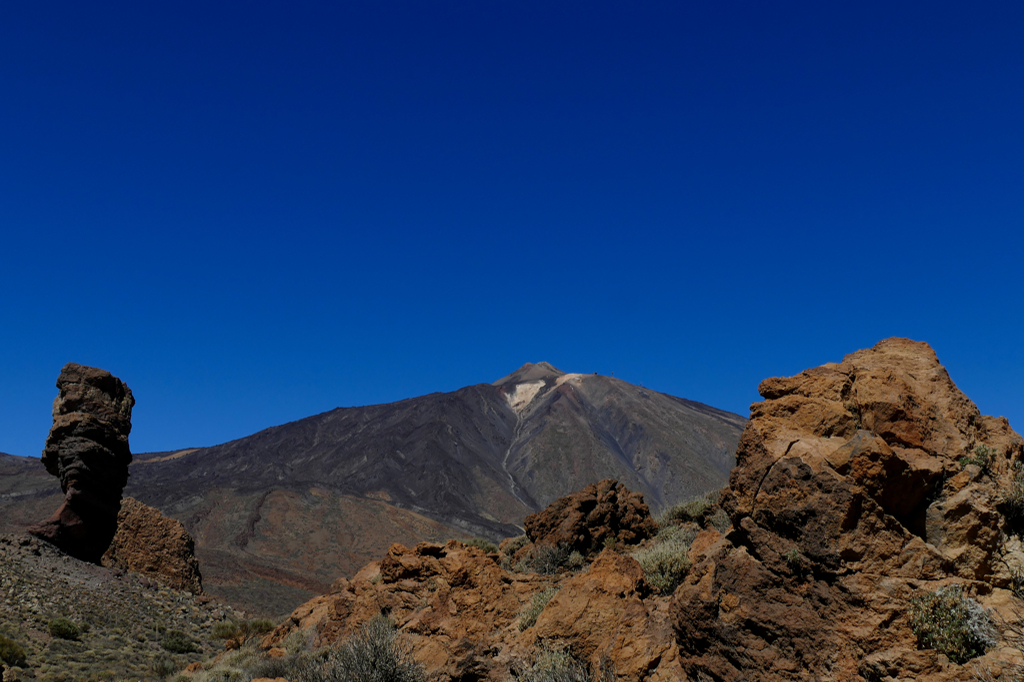 This phenomenon, by the way, is due to the island's particular topography. The extremely steep rise from sea level up to the snow-capped top of Mount Teide basically divides the island into very distinctive regions.
Northern Pleasures
In general, the weather in Tenerife's north is cooler and far more humid than on the south coast where all those holiday resorts are located. This phenomenon makes the north less attractive for beach bums but far more enjoyable for those who appreciate vegetation and natural beauty in abundance.
However, due to Tenerife's excellent system of public transportation, you can experience various microclimate zones in just a couple of hours.
For my week in Tenerife, I chose the northern shores as my base and also explored mainly the north. However, before it was time to leave, I added some lazy beach days on the coast in the southeast which made my Tenerife-experience complete.
Once in Tenerife, you need to
But there is much more to explore – as you can read in my post.
Practical Information
How to Get There And Around
By Plane
Each of the islands that I'm introducing in this post has an international airport. Obviously, there are also flights connecting the individual islands. Those are operated by local airlines like Binter, Canaryfly, and Air Europa.
If you check prices on their websites, don't get over-excited about the incredibly cheap prices as these apply only to permanent residents. Nevertheless, even for other passengers, flying between the islands is very reasonably priced and oftentimes cheaper than taking the ferry.
By Ferry
Companies like Olsen Express and Naviera Armas grant regular ferry services between Gran Canaria, Tenerife, Fuerteventura, and Lanzarote, as well as the small isles. You can also set sail to Huelva and Cádiz on the Spanish mainland. The trip takes about 2 days.
When looking for ferry connections, make sure to check also the respective ports as those might differ. Also, taking the ferry is not necessarily cheaper than going by plane. However, it is a more eco-friendly way of travelling. Also, it is the only option if you have to take your car across the sea.
If you're on a flexible schedule, you should check thoroughly the prices at different times of the day as well as between the individual companies as they can differ a lot. Also, just like the airlines, the ferry companies grant residents of the Canary Islands a considerable discount.
Land Transport
While there is a system of public buses on each of these islands, the practicability of exploring by public transport differs a big deal. Gran Canaria and Tenerife have the most comprehensive nets. With a bit of planning, you can visit even the most remote and secluded villages. You'll find tour suggestions including itineraries in the respective posts.
Now, exploring Fuerteventura and Lanzarote by coach can be quite a challenge and needs thorough planning on some routes. While on those two islands, buses connect the larger towns, visiting more remote places can be tricky or even impossible. There might be only one or two connections per day, mostly early in the morning and late in the afternoon. For instance, it's not possible to go to Fuerteventura's former capital Betancuria and back in one day.
Nevertheless, the island's bus companies have informative websites:
Immigration and Customs
The Canary Islands are part of the Schengen Area and the customs area of ​​the European Union. Since they are not part of the tax area for excise duties and VAT, certain products are way cheaper than on the mainland. Looking at the gas prices, for instance, will probably make you cry. Also, cigarettes and liquor are much cheaper, and, most importantly, cosmetics and perfumes. In the more touristy towns on each of the islands, you'll find tons of shops selling mainly these goods.
However, while there are hardly ever personal border controls within the Schengen Area, customs controls when coming from the Canary Islands are still possible. Therefore, make sure to keep your shopping within the allowed limits.
Organized Trips
As I pointed out above, there might be places that are difficult to reach by bus despite the relatively good system of public transportation. Also, while in the past, I mainly joined organized day trips from time to time when there was no convenient public transport option, I now sometimes do it for safety reasons. Believe me, you do not want to sit by yourself in the wilderness with no opportunity to call for assistance. Therefore, especially when exploring impassable and rough terrain, take at least a hiking buddy with you. Or, even better, go with a knowledgeable local guide.
Since especially in Fuerteventura and Lanzarote, you cannot always plan your day trips by public buses as you please, here are some great options for exploring the Canary Islands on guided tours*:
Where to Stay
The Canary Islands – and especially those I visited – have been a popular tourist destination for decades. Therefore, you'll find a wide choice of convenient lodging options mainly in the respective tourist areas.
However, you'll always find at least a smaller guest house or privately rented apartment even in the tiniest villages.
I recommend accommodations for the places I've visited in the individual posts. However, here is a search box that will help you find convenient places to stay during your island hopping*:
What to Eat
The Canaries are gifted with an abundance of juicy fruits and veggies. There are rivers of the finest olive oil and the world-famous pork Cerdo Iberico. Obviously, there is a rich catch of fish fresh out of the sea. Consequently, the cuisine is excellent.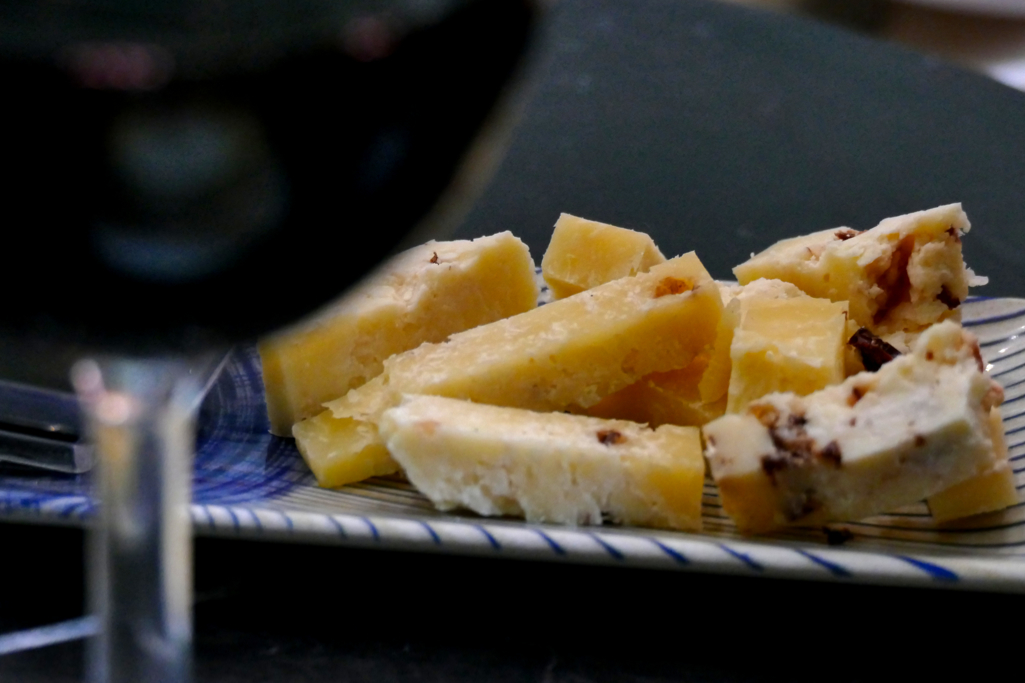 Just like on the Spanish mainland, there is an overwhelming number of bars and restaurants also on the Canary Islands. There, you can enjoy a glass of beer or wine with some tapas, varied hot and cold snacks. They can be slices of serrano ham, diced or grilled cheese, papas bravas, tiny potatoes with a hot sauce, boquerones en vinagre, marinated fresh anchovies – the list is endless.
Normally, you'll get some small complimentary tapas with your drink – at least olives or peanuts. A selection of two or three tapas can actually replace a meal. However, you can also order a ración, hence, a serving, or a media ración, a half-sized serving.
When you are really hungry, the menú del día might do. It's usually a three-course meal. You can combine it to your liking from different starters, main courses, and dessert options. Often, the price of around 10 €uros includes water or even wine. However, the menú del día is usually just a lunch option and not offered at dinner time.
As in most other European countries, tipping is rather optional in Spain. It is not compulsory, but an appreciative gesture. Also, you don't need to calculate a certain percentage. Rounding up to the next full €uro might be a bit chintzy. However, adding one or two €uros will normally do.
Bakeries and Delis
There are many small bakeries and delis selling all kinds of sandwiches and empanadas, savory pastry pockets. If you have a sweet tooth, you'll also find a great variety of delicious pies.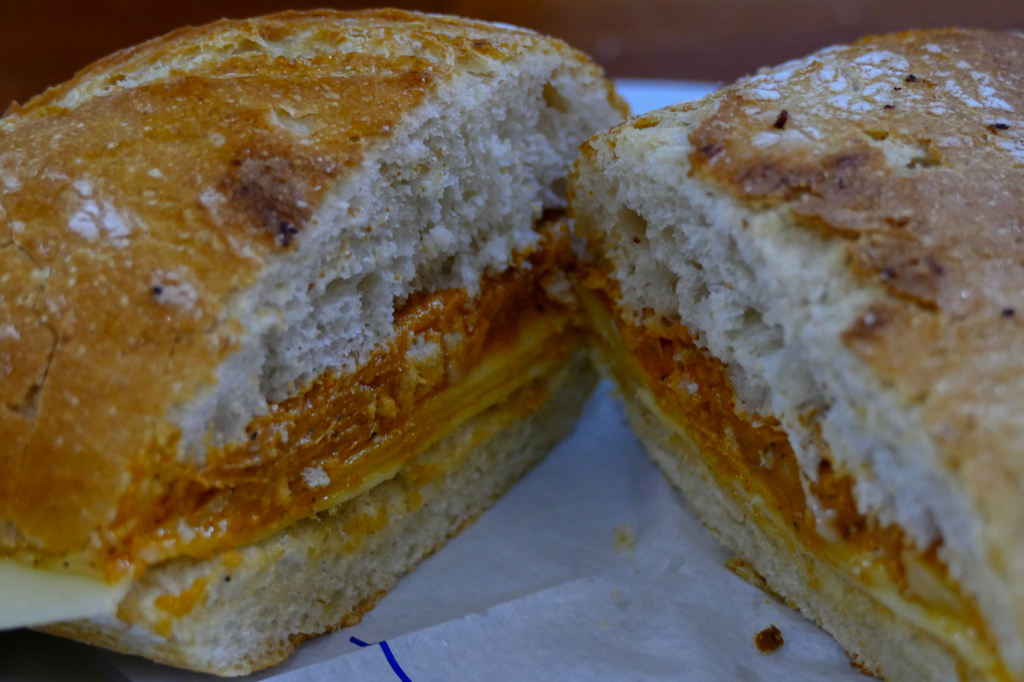 Therefore, if your hotel does not offer any breakfast, just enjoy your morning coffee and a sandwich at one of the many bakeries, rubbing shoulders with the locals.
Markets and Supermarkets
Just like in Italy, many Spanish supermarkets have a food counter. Here you can buy simple dishes like grilled chicken, meatballs, and fritters as well as sides like potatoes and salads.
I'm not claiming that this will be the fanciest meal of your life. Nevertheless, if you just need to grab a filling snack, I find it's a valid option. Also, it's a truly Spanish experience since it's definitely not a touristy dining place.
Most of Spain's big, often covered farmers' markets offer far more than just amazing fruits, veggies, cold cuts, and cheeses. They are also counters where you can enjoy a coffee or even a light wine along with a delicious snack.
You definitely should not miss out on this authentic experience.
When to Eat
Now, Spanish mealtimes can be challenging.
Years ago, I visited the Costa de la Luz together with my then 7 years old daughter. We were used to northern European mealtimes and had to find tricks to avoid going hungry. Not only are classic mealtimes much later than expected. In addition, many restaurants close their kitchens'n'doors in-between. For instance, our favorite pizzeria in Conil de la Frontera re-opened only at 10 p. m. By then, we were starved.
To survive, we developed a distinct schedule by making Spanish lunch hours our dinner time. I kid you not. Around 4.30 p. m., shortly before restaurants closed to re-open only late at night, we went for dinner. Admittedly extremely early dinners.
By the way, I've written an entire post about travelling in the company of kids – especially as a solo parent.
Cash and Cards
Until now, 20 European countries replaced their former local currency with the €uro starting in 2002. Obviously, Spain is one of them. The exchange rate is 1 US$ = 0.94 EUR as of January 2023. However, you can check today's conversion rate on this page.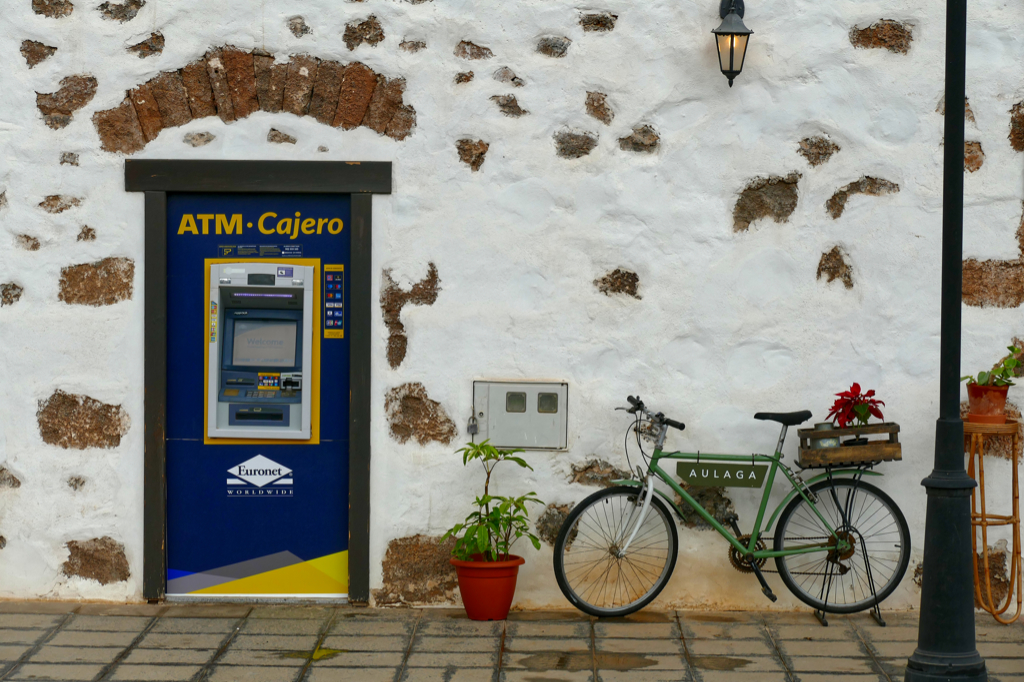 Especially due to the Covid pandemic, even small businesses prefer that you pay by credit card, preferably contactless.
Language
Before the Spanish conquest, each Canary Island spoke its own type of the Guanche language. Due to the systematic pushback of the local culture by the Catholic conquerors, only fragments of the language exist to this date. You mostly find those traces in the names of places.
Today, the official language is Spanish, obviously. If you want to learn some basic Spanish or just brush up on your knowledge, there are various apps and online tools. I personally like to practice with babbel. However, due to international tourism, most people working in tourism and gastronomy speak at least some rudimentary English and very often also German.
Nevertheless, here are some ground rules for Spanish pronunciation since saying for instance city names wrong can cause some problems. If people don't understand where you want to go, they won't be able to give you directions.
Say It Right
The good news is, that in general, you read Spanish the way it's written. Although, the letter C is a bit tricky for foreigners. Placed before an A, O, or U, it's hard and pronounced as K. Followed by E or I, it is pronounced like an English the. Now, if you want that th-sound in combination with A, O, or U, the letter Z comes into the picture. So you have to pronounce Canaria Kanaria, and Plaza Platha.
On the other hand, if you want C to sound hard in combination with E or I, you make it a QU – but you don't hear the U. Fine example: Tequila, that you pronounce like Tekkila.
This applies also to the letter G. If it's followed by A, O, U, or a consonant, it's pronounced like the G in guitar or Gran. To make a G sound hard before an E or an I, they squeeze in a mute U – like in guilt. If G stands before an E or an I, it is rather breathed than pronounced – a bit like the H in house.
The same applies to the letter J. You always pronounce it like the H in house.
The last trap is double L which is not pronounced like an L but like a Y in yellow. So it's not Malorca, but Mayorca. When a word is written with just one L like Tequila, it's a simple and innocent L.
Connection and Communication
Since June 2017, no roaming charges apply within the EU with a European mobile phone contract. This applies to all 27 countries of the European Union as well as Iceland, Liechtenstein, and Norway. It pertains to all contracts.
When roaming is not available, you can connect to the internet at basically every museum, eatery, and, of course, hotel.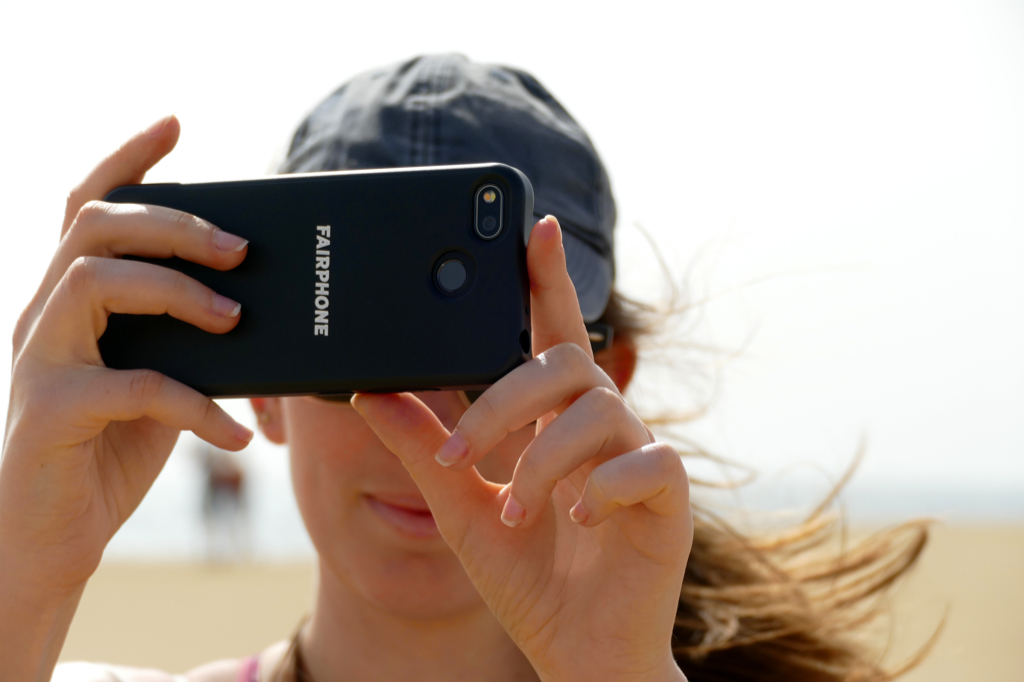 If you insist on being online 24/7, you can get a SIM card. The cheapest one would be Lycamobile while Orange Tu Mundo has the widest coverage.
In Spain, they use plug types C and F. Their voltage is 230 V and the frequency 50 Hz. Whereby, as nowadays all these chargers have integrated adapters, in general, the voltage and frequency don't really matter.
By the way, you'll find comprehensive travel info in my post World's Most Complete Travel Information – an indispensable globetrotter-classic.
Before I forget, here's the resolution to the mosaic above: The red island is Tenerife, the orange one is Gran Canaria, Fuerteventura is yellow, and the purple one is Lanzarote. Did you have that right?
Pinnable Pictures
So, you're planning on hopping from island to island on your next trip to the Canaries? Then make sure to pin one of these pix for further reference: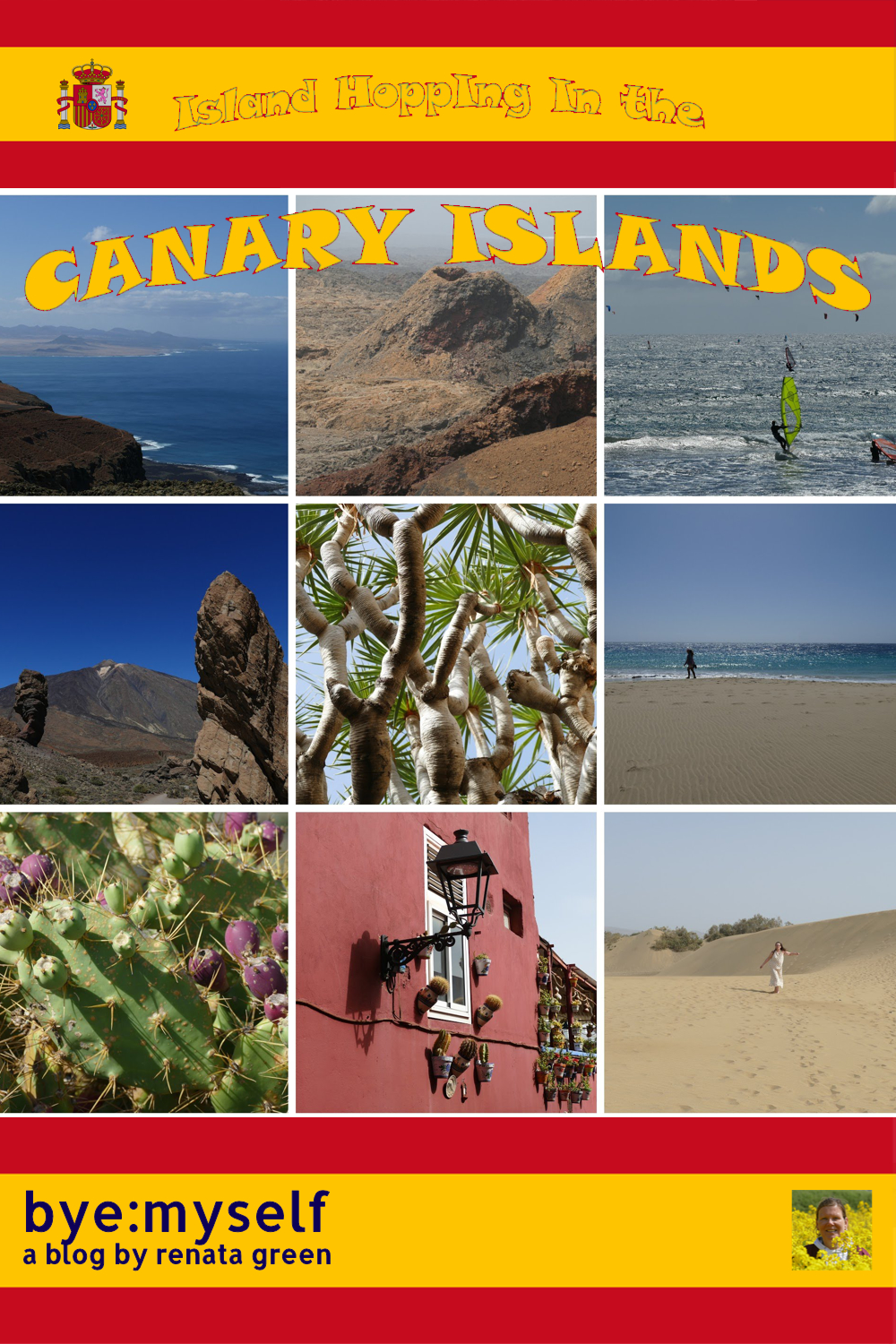 Did You Enjoy This Post? Then You Might Like Also These:
* This is an affiliate link. Hence, If you book through this page, not only do you get the best deal. I also get a small commission that helps me run this blog. Thank you so much for supporting me!