Curacao is an island in the Caribbean that simply has it all: Idyllic coves and secluded beaches, a fascinating history, great contemporary art, amazing food, and a capital city that UNESCO put on the list of World Heritage.
But Curaçao has also some well-hidden gems that I'm introducing in this guide – and I promise that you will love all of them!
Leisure'N'Pleasure
You know like they say that travel should be a journey. And I totally fall for that and journey across the world under the pressure of a huge amount of FOMO. No stone remains unturned, no museum unvisited, no World Heritage Site unphotographed. To some people, my kind of travelling sounds rather like boot camp. Well, guess what, I like it that way.
Yet, when thinking about where to go next, all of a sudden, the Caribbean came to mind. I remembered my trips to Jamaica and the Dominican Republic and Cuba. In my head, I heard a cacophony of Reggae, Soca, Merengue, and Salsa. I felt the soft sand between my toes and the sun on my skin. I felt so detached from the world, so free and relaxed. Yap, definitely: I wanted to go to the Caribbean and meet up with my younger and far less ambitious self. I would read books on the beach, go for a swim, snorkel, and immerse in sweet nothing.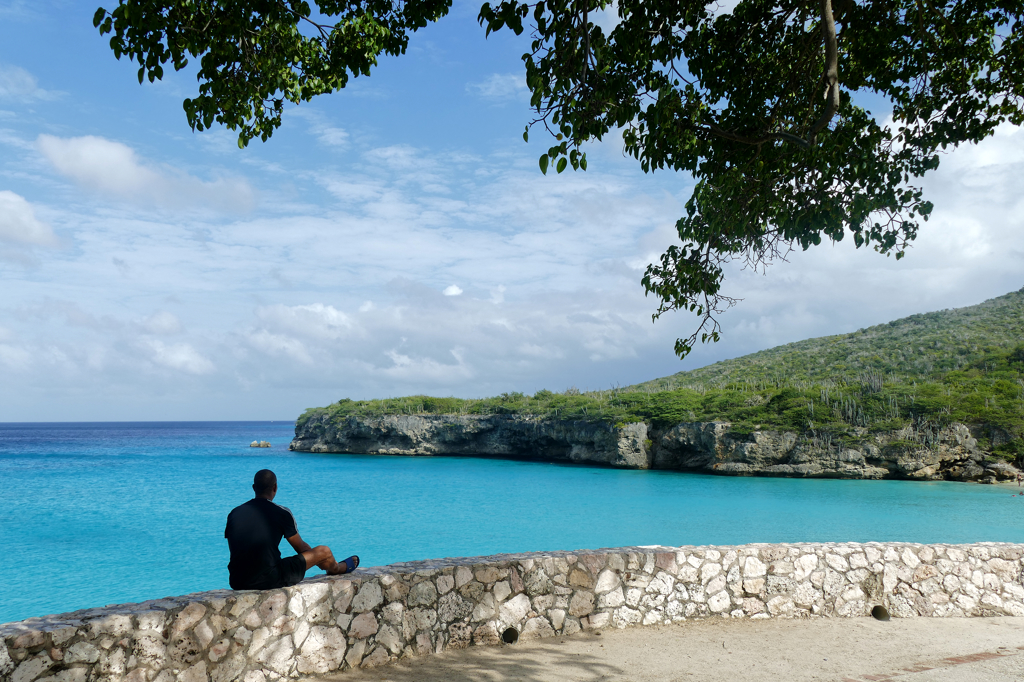 And I actually did all that. However, I also did much more. Each of the three ABC islands has a motto, and Curaçao's slogan is Feel It For Yourself. And after two weeks on the island, I cannot agree more.
How It All Began
Curaçao was discovered by the Spaniard Alonso de Ojeda in 1499. Heretofore, Arawak Indians had settled on the island.
Although the Spanish added the island to their huge empire, they did not show too much interest in it. There were no mineral resources, and the dry climate made vast cultivation basically impossible. Therefore, Curaçao belonged to the so-called Islas Inútiles, hence, the useless islands. The Spanish only maintained a small garrison in Curaçao.
In 1634, the Dutch West India Company decided to take Curaçao. Under the command of Johan van Walbeck, a squadron embarked in the port of what was to become Willemstad. From then, Curaçao belonged to the Netherlands. Governor Peter Stuyvesant – who eventually became the governor of New Amsterdam which today is better known as New York – tried to dominate the Caribbean from the island.
Under the management of the West India Company, agriculture was promoted in Curaçao. Africans were kidnapped and brought to the island. As a matter of fact, Curaçao soon became an important hub in the slave trade.
Heading for Prosperity
From the mid-17th century on, Sephardic Jews came to Curaçao from the Netherlands and from Brazil. To this date, Curaçao's capital Willemstad is home to the oldest synagogue in the western hemisphere.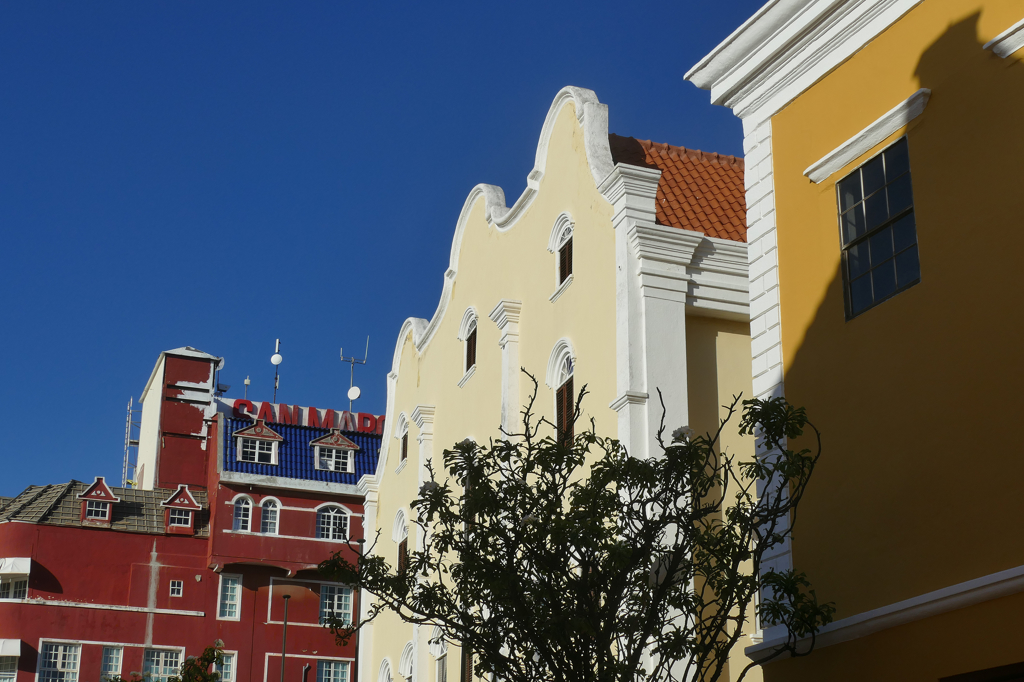 Also, active trade with other Caribbean islands and with South America evolved.
Nevertheless, troubled times lay ahead: In 1795, under the leadership of Tula – you'll learn more about him below – slaves on the Knip estate rose up. Obviously, the uprising was bloodily suppressed and many of the slaves were executed.
Also, Curaçao had to protect itself from external enemies as British and French pirates often attacked the island. In 1800, it was taken by the Britsh. The Dutch fought back, and with the contract of Paris, Curaçao was finally ceded to the Netherlands in 1815.
From 1863, mainly due to the abolition of slavery, the income of wealthy landowners decreased significantly.
Only almost 100 years later, Curaçao's economy got a big boost when one of the world's largest oil refineries was constructed on the island. It became one of the richest islands in the entire Caribbean. With the oil crisis in the 1980s, Shell decided to give up the plant. The local government bought it and leased it to Venezuela. However, as the current situation in Venezuela grinds everything to a halt, today, the most important source of income is tourism.
Modern Day's Occupants
While Aruba is the prime destination for visitors from the US, Curaçao receives the majority of its visitors from the motherland Netherlands. Like its little sisters Bonaire and Aruba, it is also a favored destination for cruise ships. Passengers visit the most popular spots on the island for a few hours like swarms of locusts.
Obviously, Curaçao is also famous all over the world for the liqueur that proudly bears the island's beautiful name. To this date, the original is more or less handmade from the peel of oranges at the Chobolobo factory.
Together with Aruba and Bonaire, Curaçao is one of the three so-called ABC islands. While it is geographically part of the Leeward Caribbean Islands, it has remained a part of the Netherlands with Willem-Alexander being King of State. Although the islands' nationals hold Dutch passports, the islands are neither part of the European Union nor the Schengen area.
In 1997, UNESCO has listed Willemstad's historic old town, the fort, and the harbor as a World Heritage Site.
The 10 Best Things to Do in Curaçao
Didn't I rave at the beginning of this post about how I planned to spend endless days doing basically nothing?
Well, I'm afraid it's really hard to teach an old dog new tricks.
Because although I raced around much less and visited far fewer landmarks than on my other travels, I simply wasn't able to miss out on all the fantastic things Curaçao has to offer apart from its serene bays and the amazing underwater world.
Therefore, here is a list of absolutely wonderful and unique things you should see and do once you're on the island.
Explore the Old Town
The city of Willemstad is Curaçao's capital and is located on the southwestern shore of the island. Its harbor Schottegat is protected from the open sea by the Sint Annabaai.
The historic center consists of two districts, namely Punda and Otrobanda. Since 1888, their shores are connected by the famous Queen Emma Bridge. This pontoon bridge is not a permanent shore link but can be rotated onto the shore from Otrabanda to allow passage between the Caribbean and St. Anna Bay. Actually, the construction of this so-called Swinging Old Lady is one of a kind in the world. When the bridge has to be opened, you can go to the other bank by a small ferry free of charge.
Since 1974, traffic crosses the bay over the Queen Juliana Bridge.
Punda was established in 1634 right after the Dutch seized the island from Spain. On its southern shore, Dutch soldiers and slaves from Angola constructed Fort Amsterdam in 1635. It then served not only as a military fort but also as the headquarters of the rather questionable West India Company.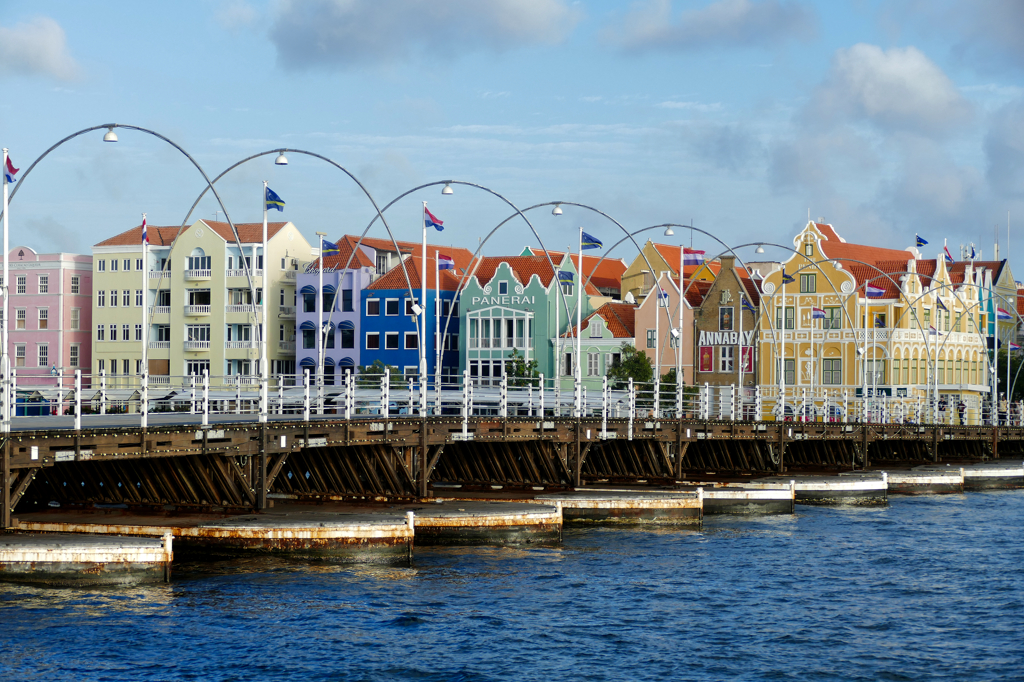 Henceforth, a city grew around the fort with the so-called Handelskade being the main commercial street in Willemstad. Today, most shops have moved inland and the old merchants' buildings are housing restaurants, cafés, and souvenir shops. However, the Penha department store which dates from 1708 is still in its original spot.
Walking Into the Past
Let's start the tour where it all began, namely at Fort Amsterdam. To protect the city, there were four bastions with cannons facing the sea.
A protestant fort church was completed in 1796 and is still in use. There is a museum located in the basement.
In 1804, a British cannonball hit the church building. To this date, it is embedded in the southwestern façade.
Since Curaçao belongs to the leeward islands, it basically doesn't get hit by hurricanes. Nevertheless, in 1877, a hurricane destroyed the then-octagonal church tower. Only in 1903, it was replaced by the round tower you can see today.
True Faith
Talking 'bout denominations: Despite the Dutch hegemony, the majority of the local population is Catholic. However, the island also is home to an important Jewish community. As a matter of fact, the Mikvé Israel-Emanuel Synagogue in Willemstad is the oldest surviving synagogue in the Americas. The community dates from the 1650s and was founded by Sephardic Jews from the Netherlands and Brazil.
In 1865, Abraham Jesurun laid the foundation stone for the construction of the Temple Emanu-El which was then inaugurated in 1867. Construction of this new temple became necessary after the Dutch Reformed Jewish Congregation Emanu-El separated itself from the Orthodox Congregation Mikvé Israel.
Bright Lights Colors, Big City
No matter what, the colorful houses of the old Handelskade remain Curaçao's most symbolic landmarks. One would assume that the bright colors were chosen to make the buildings look even more beautiful. No way! They were chosen following a decree by an early Dutch governor who ordered painting buildings in any other color than white. Allegedly, he blamed the sun reflecting off the white buildings for his headaches. Who knows if this story is true? And at the end of the day, who cares? Curaçao is sprinkled with colorful buildings which are very alluring and fun.
Talking 'bout colorful and fun: Not only is there lots of vibrant street art in squares and on walls, but there are also many inspiring artists living on the island. They are exhibiting and selling their creations in galleries and shops. Below, I'm introducing two of the most recognized ones.
Nena Sanchez
Nena Sanchez was born in Curaçao in 1943. Already at the age of 18, she participated in an art contest organized by the department for culture and art. The twelve best paintings – among them Nena's portrait of an old man – were exhibited in Mexico and the Caribbean.
In 1966, Nena Sanchez was elected Miss Curaçao. Henceforth, she represented the island at various international events. After 25 years abroad, she moved back to Curaçao where she began experimenting as a self-taught artist with different materials such as canvas, paper, and wood. In her works, she depicted flowers, fruits, wildlife, and people of Caribbean sceneries in bright colors.
Nena Sanchez opened art galleries in the heart of Punda as well as at the former plantation house Jan Kok near the village of Sint Willibrordus.
Sadly, the artist passed away in 2017.
The gallery in Willemstad is open every day from 10 a. m. to 5 p. m. On Sundays, they open only at noon.
Jean Girigori
Jean Girigori was born on a boat in the Caribbean Sea to a Dominican mother and a Curaçaoan father in 1948. She used to live in Puerto Rico, Jamaica, and Haiti where the well-known painter George Paul Hector encouraged and supported her in developing her talent. A first exhibition took place in Haiti followed by shows in the Dominican Republic and Jamaica. Today, Jean Girigori is one of the leading painters in the Caribbean.
Her vibrant and expressive style is inspired by West Indian culture and religion. Particularly women's rights are a vital topic of Jean Girigori's paintings.
Jean Girigori has galleries in Punda's Passaatstraat as well as in the Kwartje neighborhood on the eastern outskirts of town.
Going to the Other Side
Otrobanda is the newer section and was founded only in 1707. Its name translates from Papiamento to the other side. This stems from the times when most people lived in Punda and claimed to go to the other side as they crossed the St. Anna Bay.
Otrabanda is traditionally considered the more humble part of the city with large areas of lower middle-class residential areas. However, there is a rich artistic tradition, especially in the field of music. Also, it's not just by chance that the street art project Kaya Kaya that I'm introducing below was installed right here. Slowly, parts of Otrabanda develop into this countercultural, artsy district, especially the area in the vicinity of Brión Square.
In stark contrast to its working-class neighborhoods, Willemstad's cruise ship ports are also located in Otrabanda. However, most passengers cross right away to the historic old town of Punda. This might save Otrabanda for a while from gentrification.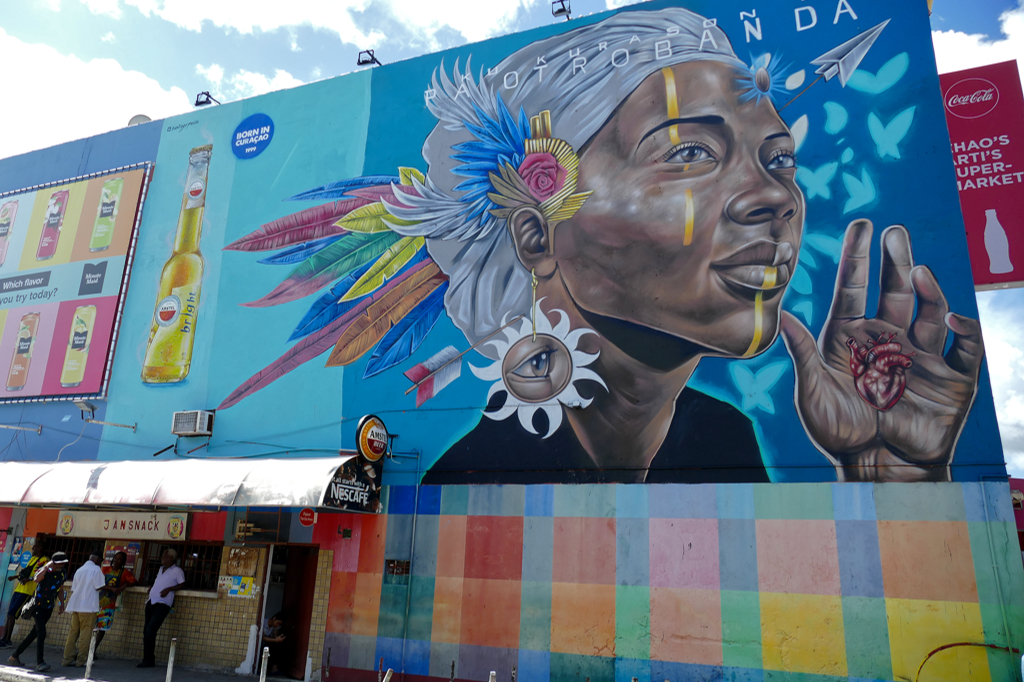 Nevertheless, also on the waterfront is the large Renaissance complex, consisting not only of a big posh hotel but also of a posh mall packed with upscale stores.
What is it with the Renaissance brand in the ABC islands?
They seem to slowly supersede the Dutch hegemony in the islands – watch it, Willem-Alexander!
See the Plantation Houses
The so-called Landhuizen – Landhuis in singular – are the former Dutch plantation houses. Curaçao was home to as many as 100 plantations that farmed sugar cane, aloe, and indigo. However, salt mining was the most profitable trade.
On each farm, a spacious mansion was home to the plantation owner's family. While the earliest plantations were on the outskirts of the town, they gradually spread all over the island.
Most of the Landhuizen were built on an elevation. This way, the master could overlook his plantation and the slaves. Around the main house were the slave cabins and storages.
The houses were built mainly from coral and had some brick stone details. As coral is less solid, the base was made of a sturdier material like concrete. The saddle roofs were built from Dutch tiles. This way, the rain ran into a cistern.
Most Landhuizen were built in the 18th and 19th centuries, hence, in times when the Dutch West India Company was in the cruel business of the slave trade. Curaçao was an important part of their logistics. On the island, slaves were "inspected" and sold to local plantations as well as other countries.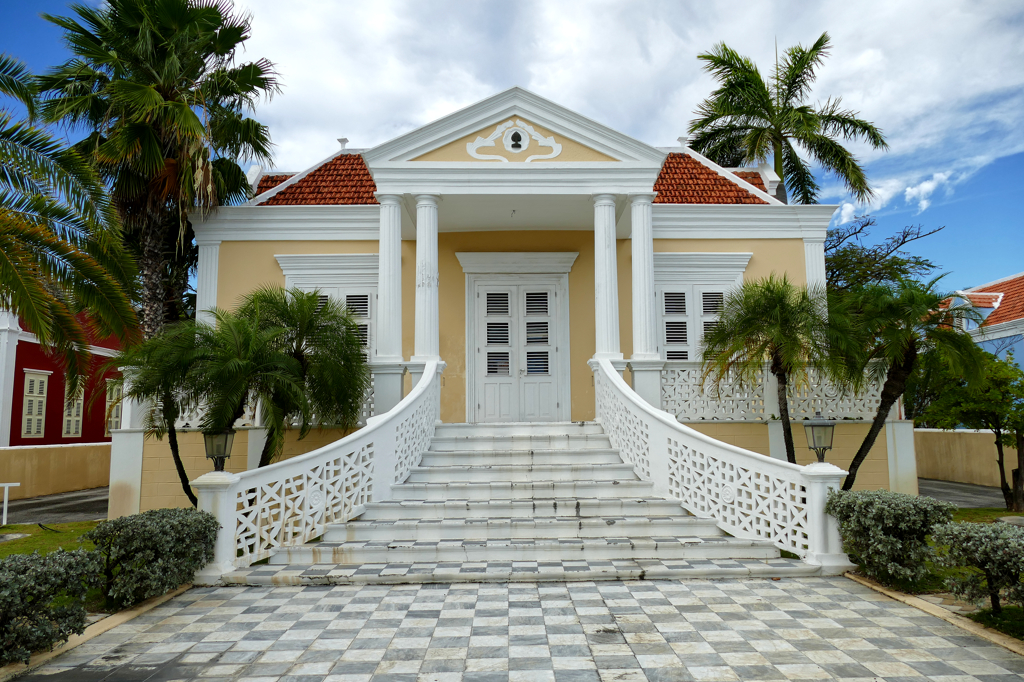 Hence, while the Landhuizen that you get to see in Curaçao are uniquely built mansions and undoubtedly beautiful, they shouldn't be romanticized. They are an important part of the island's heritage and, most importantly, a reminder of a very dark chapter in human history.
Remainders of a Questionable Past
After the abolition of slavery, the former slaves kept working at the plantations for lack of better opportunities, obviously. As the refinery was installed on the island, many traded their jobs at the plantations for a job at the plant.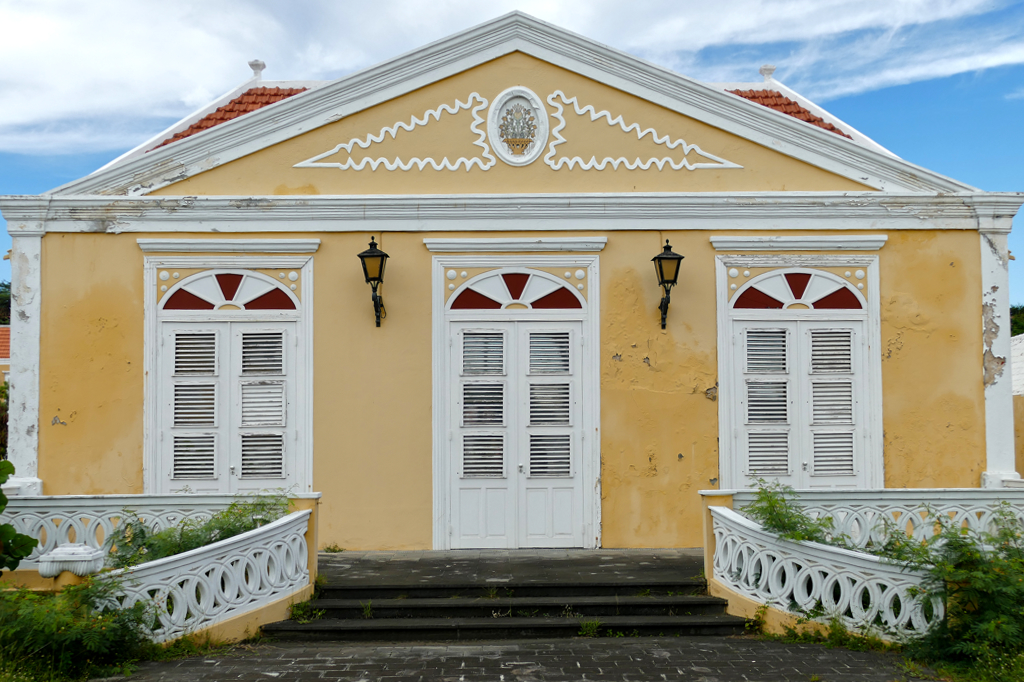 Many of the Landhuizen deteriorated. However, some still exist and were thoroughly refurbished. Today, they are housing offices, restaurants, guest houses, and other public spaces.
The most comfortable way to see some of the finest mansions is as you walk from the Maritime Museum Curaçao eastwards on Scharlooweg all the way to the square Julianaplein. More fine examples are on Pietermaai.
Knip, Klein Santa Martha, Chobolobo, and Bloemhof are some of the Landhuizen that are further away from downtown yet open to visitors. Landhuis Knip houses a museum of the Curaçao slave revolt that I'm introducing in the next chapter. Klein Santa Martha is a restaurant where you can enjoy a meal with a scenic view. Landhuis Chobolobo* houses the production plant of the famous Curaçao Liqueur, and Landhuis Bloemhof* is a fantastic historic and cultural center.
Landhuis Bloemhof
While I'm introducing Landhuis Chobolobo in my chapter on local spirits, I'd like to recommend visiting Landhuis Bloemhof* on a guided tour. The mansion is just on the outskirts of Willemstad's city center and can be easily reached by public bus – as well as by car, obviously.
One of the many fascinating facts is that it used to be a so-called water plantation, hence a farm where they collected and processed water. Also, especially the women on the estate were quite some characters and it is definitely inspiring to learn about their life. Since the tour is on history but also on nature and culture, you learn fascinating facts about Curaçao's wildlife and plants and how locals make use of the latter. The most amazing product from local plants is certainly the Cathedral of Thorns which stands on the Landhuis' premises. I'm introducing it extensively below.
Landhuis Bloemhof* is open from Tuesday to Saturday between 9 a. m. and 2 p. m. and can be either visited self-guided for an entrance fee of 10 US$ or on a – very recommendable – art-history-nature tour for 20 US$.
Trace Black History
I mentioned the Curaçao Slave Revolt under the lead of Tula Rigaud above in the short historic precis. Hence, after having introduced all those pretty houses, let's take a look at those on whose blood, sweat, and tears the landowners could build their mansions and all their other wealth.
At the end of the 18th century, the island had about 21,000 inhabitants of which about half were enslaved Africans. Tula Rigaud was one of those slaves.
In August of 1795, Tula refused to go to work. Together with fifty of his fellow slaves, they pleaded their owner Caspar Lodewijk Van Uytrecht for their freedom. Tula's argument was based on the Haitian Revolution that resulted in freedom for the enslaved Haitians. Van Uytrecht referred him to the governor in Willemstad. Hence, the group under Tula's leadership marched to the capital.
As they passed various plantations on their way, more and more slaves joined them. Finally, the group expanded to about two thousand slaves.
Meanwhile, the slave owners had retreated to the city, leaving their plantations unprotected. Van Uytrecht sent his son to the governor with a note to help the council prepare a defense of the colony. Sixty-seven men were sent to fight the rebels off. They went by boat to Boca San Michiel from where they walked on foot to Portomari where Tula and his fellows were camping. As the Dutch military attacked Tula's group they initially were defeated.
Get Up Stand Up Don't Give Up the Fight
Nevertheless, the rebellion was now considered a serious menace to the white landowners. Hence, they sent well-armed horsemen to attack the rebels again. They had orders to offer leniency in case the rebels would surrender. Among them was Jacobus Schink, a Franciscan priest who was meant to negotiate to prevent bloodshed.
Tula initially had three actually rather modest requests: Firstly, putting an end to collective punishment, then, a day of rest on Sunday, and finally, the freedom to purchase goods from others than their own slaveowner. But finally, Tula refused to accept anything less than freedom. Since the negotiations failed, it was ordered that any enslaved person with a weapon should be shot. In the ensuing fight, nine rebels were killed, twelve were taken prisoner, and the rest escaped.
Tula Rigaud was executed on October 3, 1795. To this day, he is revered on the island as a fighter for human rights and independence.
Howsoever, slavery was not abolished in Curaçao until 1863. Today, August 17th is celebrated as the beginning of the fight for freedom.
Remember the Fight for Freedom
There are various sites in Curaçao commemorating Tula's fight for freedom.
Not far from Willemstad's very city center is the monument Parke Lucha pa Libertad. Actually, it's the spot where Tula was executed. However, among visitors to the island, it's not very promoted and mostly overseen. You can walk there from the Renaissance Mall in Otrabanda in about 20 minutes or you take a bus to the Caribbean Medical University and walk from there less than five minutes.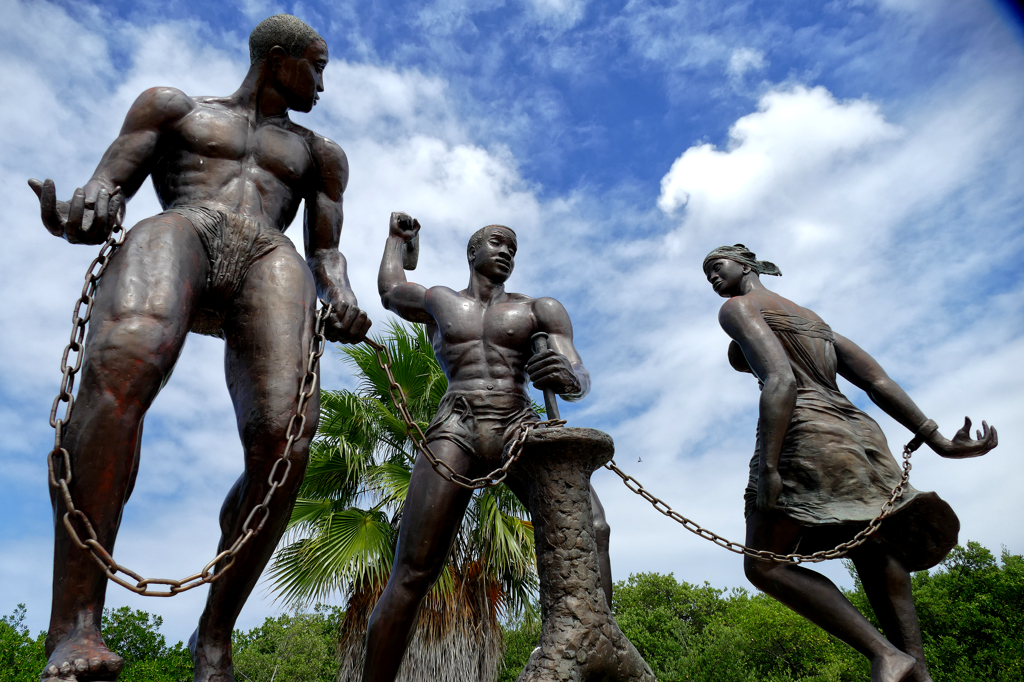 Although the park might optically not be the most alluring place in all of Willemstad, it honors a vital part of the island's history. It's quite sad that tourist guides are rather raving about Chichi, a sculpture made by a German lady who seems to get her inspiration from the Nanas of French-American artist Niki de Saint Phalle.
Most locals actually consider Chichi a symbol of cultural appropriation and even racism since it caricatures and enforces clichés of black women. It would certainly be more suitable to promote the fantastic local artists – and to honor the freedom fighters.
Apart from the Parke Lucha pa Libertad, there is also a museum dedicated to Tula and his fight at the former Knip Plantation where the uprising started. It is open to the public from Monday to Saturday from 9 a. m. to 3 p. m. and the entrance fee is 3 US$.
Go Street Art Hunting
Talking 'bout the fantastic artists on the island of Curaçao brings me right to one of my greatest passions, namely street art.
There is lots of ingenious urban art basically everywhere you go around Willemstad. However, I'd like to point out two major projects that make the city an amazing open-air gallery.
Kaya Kaya
Just like Aruba's Art Fair transformed the ghost town of San Nicolas into a creative and hip art district, the Kaya Kaya project was initiated to improve Willemstad's neighborhood Otrobanda. Therefore, every year, local artists decorate façades with powerful and vibrant murals.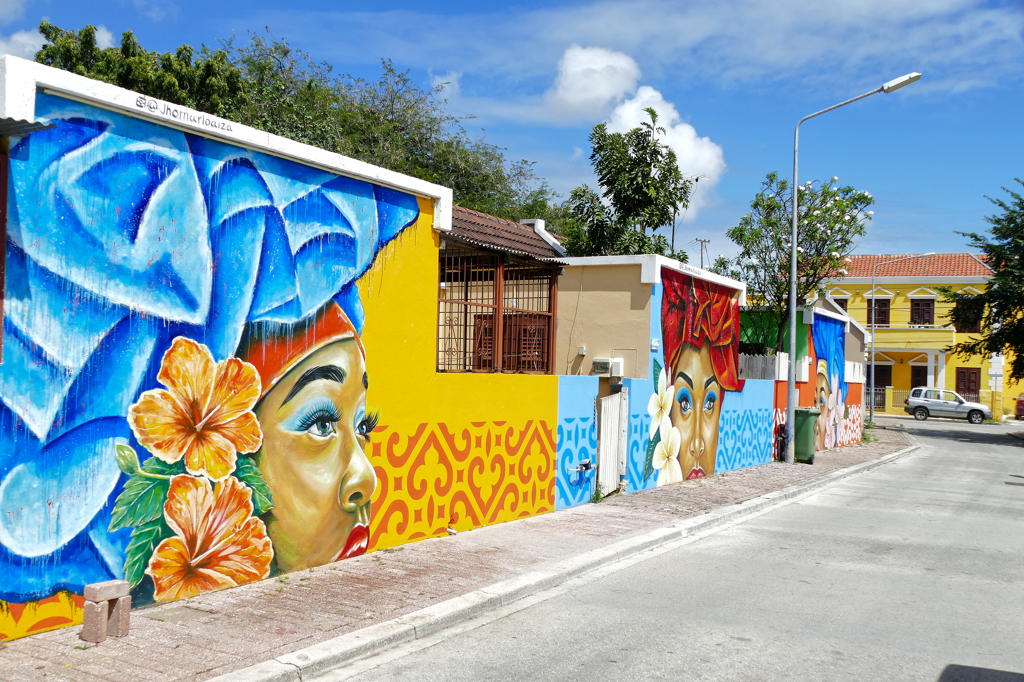 Local entrepreneurs Kurt Schoop, Raygen Zuiverloon, and Clayton Lasten initiated the first Kaya Kaya edition in 2018.
Since studies have proven that the beautification of neighborhoods leads to greater identification with the community as a whole and makes it not only prettier but actually even safer, this project is absolutely fantastic.
Every year, the Kaya Kaya Festival adds and celebrates local culture in the Otrobanda district. At the same time, it stabilizes the economy. It inspires, stimulates, and connects the inhabitants and visitors. But even if you cannot enjoy the wonderful festival, you still be able to admire its traces on Otrabanda's walls for years.
While you'll be surprised to find incredible murals even in unexpected places, the highest density of urban art is around Frederikstraat and its side streets as well as Hendriksteeg.
Window Art Punda
But murals are also popping up in Willemstad outside the Kaya Kaya festivals. While many just depict Curaçao's beauty, numerous are dealing with social topics like poverty, racism, neo-colonialism, and environmental problems.
In 2020 as Covid hit planet earth – including Curaçao, obviously – the project Window Art Punda was installed. Since then, artists paint the windows of vacant commercial buildings in the center of Punda with murals. This project aims at promoting local artists but also intends to make the shopping district prettier despite the economic crisis.
While it's certainly a wonderful idea and makes this part of the city look even more lively, not all pieces are of great artistic value. Actually, it's a wild mix of truly impressive art and pieces from painters that should by no means quit their day job.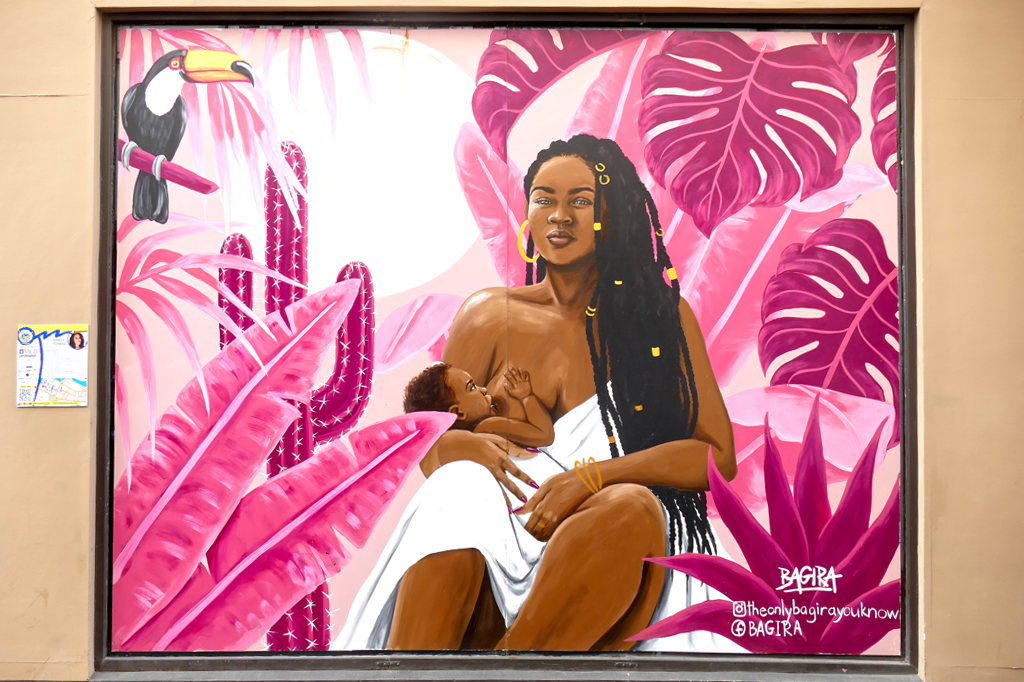 I know it sounds mean, but at the end of the day, the look at art is also something very subjective and everyone is entitled to an opinion. This being said, I consider the pieces that I'm introducing in this post part of the great talent team.
Note: Obviously, I cannot introduce all the wonderful murals I got to see in Willemstad in this post.
Therefore, I will write up a special post dealing exclusively with Curaçao's street art very soon.
Meeting Ashley Mauricia
"Keep your hands to yourself!!" is written on the small wooden sign. Someone put it between a group of figurines that are beautifully arranged on a heap of rocks at Willemstad's old fortification. Two exclamation marks: Looks like someone really had it with those philistines. And I totally get it. I hate to see when people lean against murals or even put their dirty soles against street art just to emphasize what a cool urban hipster they are.
Why do they do that?
Would they also trample on the Mona Lisa? Well, I'm afraid they actually might.
Sadly, there seem to be also people ready to touch something as beautiful and fragile as this lovely assembly of coral statues.
Therefore, I totally understand when an angry artist puts up signs with a very clear message.
My local guide Maja and I are standing in front of this amazing group of tiny people composed of coral stone. "He just puts them together. He looks for pieces that fit exactly into each other. They are not glued or screwed", explains Maja.
I'm truly amazed. Not only because of the technique. What fascinates me the most is how soulful and alive those dead pieces of corals look through their composition.
Respect Art
"Yesterday, someone knocked one sculpture over", explains the tall gentleman who comes out of one of the vaults of the old fort. "He wanted to take a picture of a lizard", he rolls his eyes. "Therefore, I put the sign there." He now sounds almost apologetic.
"This is the artist", introduces Maja. "This is Ashley Mauricia."
Ashley Mauricia was born in Aruba and raised in Curaçao. Already as a little boy, he loved to draw. Although he was lacking support from home in becoming an artist and with no formal artistic training, the determined young man obtained a job at Willemstad's Sea Aquarium where he painted the background for the fish tanks, among other creative work. Only later he gained a scholarship at art schools in Venezuela.
Today, apart from creating his ingenious coral sculptures and other fantastic urban art, Ashley Mauricia teaches art classes in his studio in Willemstad.
Visit the Cathedral Of Thorns
From one outstanding artist to another: Didn't I promise to uncover some precious gems most tourists don't get to see? Hence, after sculptures created from coral, we get to a cathedral composed of thorns.
Herman Van Bergen greets me with a big smile and a slightly reproving "Renata! You are late!" Although he came from the Netherlands to Curaçao 40 years ago, he's still not on island time.
We meet in front of a full building-sized structure made entirely of thorned twigs and branches. Herman leads me into the labyrinth which is the cathedral he built. He didn't want to create a monotheistic house of worship, he says. Therefore, you'll spot elements from various faiths.
"And this is nowadays' denomination", he says with a broad grin and points at a wall. There, he composed the thorns into reliefs of the most popular social media icons. "Shucks, I will publish this on facebook", I admit sheepishly. That's quite ironic, we are laughing.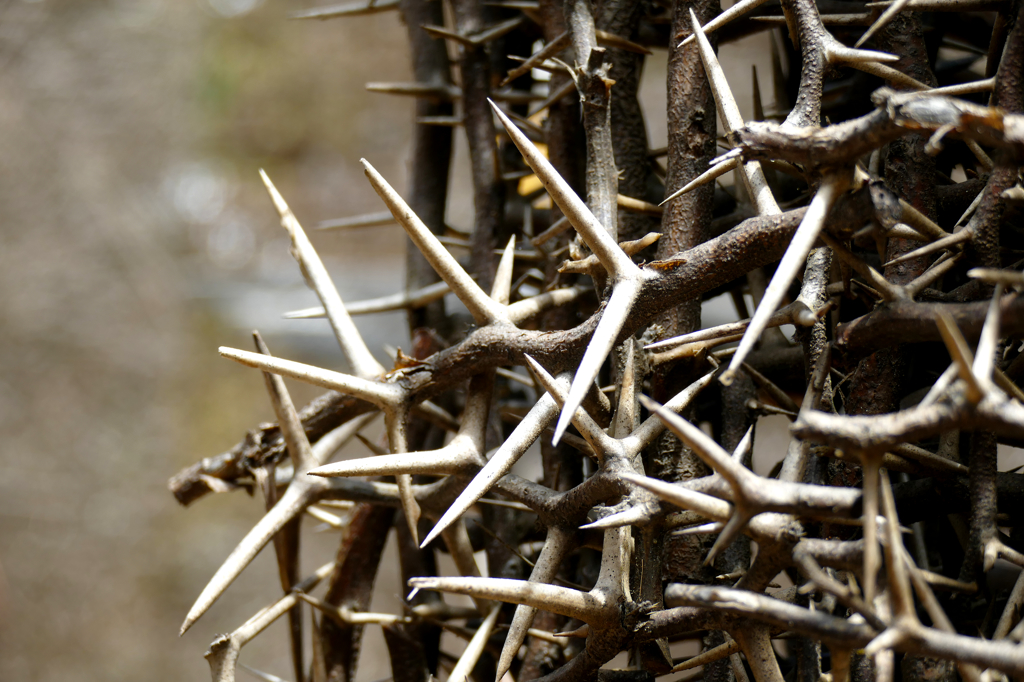 Herman Van Bergen has been creating remarkable pieces from the Acacia Tortuosa's thorns long before he finally built his masterpiece, the Cathedral of Thorns. For him, these spiny shrubs represent nature's struggle in the arid conditions the European colonialists left behind.
Profound Thoughts
Everything represents something for Herman van Bergen: Each detail, all material used, every angle has a deeper philosophical, intellectual, spiritual, and obviously aesthetic meaning. Herman sees a greater idea behind everything. He leaves nothing to chance.
And this begins with the monument's outer shape. Herman designed the structure according to the sculpture of a native Arawak man to symbolize the exploitation of the island and its people by the Dutch colonialists.
By the way, I only noticed this detail after Herman pointed it out to me. As I said, there are a million small yet genius details to be discovered.
Come On In
Herman, who won the prestigious Cola Debrot Award in 2016, wants visitors to walk through the corridors of his labyrinth and experience the interaction between history, culture, and nature. He left out nooks in the walls where like-minded artists contribute their creations.
Although the Cathedral of Thorns is such an accomplished masterpiece, to its creator, it's a work in progress. Obviously, a structure standing on a Caribbean island and made exclusively from natural materials is at the mercy of the elements. Hence, it needs to be fixed – or even altered – from time to time.
Evidently, Herman Van Bergen did not build the Cathedral with his bear hands all by himself. Unemployed local youth were commissioned to help which qualifies as a job training program and therewith adds a social aspect to all the qualities I've already listed above.
The Cathedral of Thorns is one of the most impressive pieces of art that I've ever seen. It stands on the premises of Landhuis Bloemhof* and can be visited from Tuesday to Saturday between 9 a. m. and 2 p. m. either on a self-guided tour for an entrance fee of 10 US$ or on a – very recommendable – art-history-nature tour for 20 US$.
Eat Some Lionfish
So many things we eat are not good for us and their consumption is also harmful to the environment. Take for instance meat: Bad for the body, bad for the environment. Or avocados: Cultivation needs far too much water. And don't get me even started about fast food.
Man, life can be complicated if you are keen to save yourself and the planet from harm.
But fortunately, in Curaçao, you can finally contribute to saving at least a little piece of our planet just by enjoying a delicious meal.
In the neighborhood of Otrabanda is a small charming eatery called The Lionfish Caribbean. The owner is originally from the Netherlands but she's now fishing for lionfish in Curaçao. Actually, she's friends with Patrick whom I introduced in my post on Aruba. They are fighting the same cause.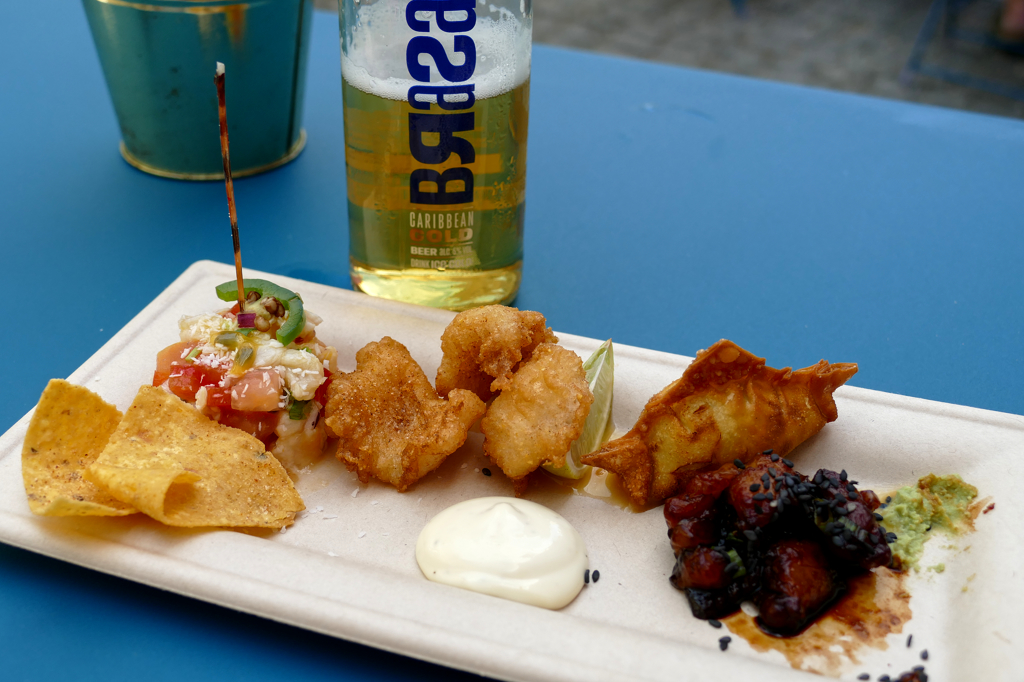 Hunting for lionfish is quite a complicated endeavor since that pretty'n'poisonous beast likes to hide between rocks where it waits for its prey. You cannot just sit on the shore holding your fishing rod and waiting for the fish to bite. Won't happen.
It's not possible to catch it in a fishing net, either. At this moment, it's only possible to catch a lionfish with a spear. And then you have to make sure that the fish doesn't spear – or rather sting – you in return since the venom in his spines won't kill you but will make you wish you were dead; at least that's what people say who had to experience it.
So why does the pretty lionfish have all those fierce enemies?
A Beautiful Predator
Lionfish are typically inhabitants of the coral reefs of the tropical Indo-Pacific and the Red Sea. However, they have also invaded the western Atlantic, especially the Caribbean sea. Also, they have been spotted around the Greek islands of Crete and Rhodes. There, too, they are increasingly becoming a plague.
The problem with lionfish is that they have no natural predators outside their native waters. Therefore, they can merrily destroy their host environment step by step. A lionfish eats about 5,000 reef fish per year – but no other fish or mammal eats him. Obviously, this creates quickly an imbalance. Only hunting lionfish can reduce its number in order to save other fishes and the coral reef ecosystem.
Lionfish are beautiful but poisonous. The venom is found in the hard spines. However, lionfish can be safely eaten despite their poison as soon as the venomous stingers of the dorsal fin are removed.
At the Lionfish Caribbean, you cannot only enjoy a delicious lionfish meal. They also sell jewelry like earrings, rings, and pendants handcrafted from the spines.
Also, if you want to go on a big hunting adventure, The Lionfish Caribbean takes experienced divers spearing. Go to their website and let Lisette Keus set you up with an experienced lionfish hunter.
The Lionfish Caribbean is located at the Kura Hulanda complex in Otrabanda and opens from Tuesday to Saturday between noon and 3 p. m.
Go to the Liquor Store
I know this headline sounds questionable and pathetic. So let me rephrase it: Let's go to a liqueur store – now, doesn't that sound much better? As a matter of fact, visiting a liqueur store respectively a liqueur factory is a must when staying on the island.
After all, most people think of colorful cocktails when they hear the name Curaçao.
The most famous one is Blue Curaçao, obviously. However, on the island, the liqueur comes in many colors. There is even a clear version.
The alcoholic beverage Curaçao is made from bitter oranges grown on the island. The different colors are simple food coloring.
Senior Curaçao Liqueur
A visit to the liqueur distillery at Landhuis Chobolobo is one of the most popular touristy activities: It's historic, it's colorful, and it involves day drinking, hence, what's not to like? I joined a tour to learn a bit about the distillation process of his world-famous drink that has been produced since 1896.
As a matter of fact, the founder Edgar Senior invented the famous liqueur basically by accident. Already back in the 15th century, the Spaniards had brought orange trees from Valencia to the Caribbean to set up plantations here. But the trees didn't grow properly. The fruits remained hard shriveled green balls. The soils in Curaçao were not fertile enough for cultivation.
Legend has it that Edgar Senior was so impressed by the bittersweet smell once he broke one of the pathetic fruits open that he began to experiment. The fruit was definitely too bitter to make lemonade or juice from it. But how about distilling it into alcohol?
Shortly after that, Curaçao's signature product was born. Nature made a virtue out of necessity: Due to the lack of rain and the hard soil, those special oranges actually only grow in the so-called useless islands such as Curaçao.
Never change a winning team: The distillery produces according to the liqueur recipe from 1896 to this very day. On ten square meters, Senior & Co annually produces about 40,000 to 60,000 liters of Curaçao liqueur per year. This also explains the much higher price for their Curaçao.
Getting the Blues Blue
Now, why is the drink blue? Well, an initial chemical reaction between the copper of the kettle and the alcohol is suspected. Since thereafter, it always came out clear, simple food coloring is added. As a matter of fact, Senior's Curaçao does not come only in blue. You can get it in green, red, yellow, orange, and even clear. And they all taste the same.
Wait a minute, what do you mean – Senior's Curaçao? Are there more Curaçao liqueurs?
In fact, there are. To their great chagrin, the Senior family couldn't trademark their product properly since you cannot trademark the name of a place. Therefore, everyone who owns an alcohol distiller can produce this spirit, add some color, and call it Curaçao blue.
However, Senior & Co are pretty chill about it. Large groups of tourists are visiting the plant every year, each of them leaving the gift shop with at least one bottle of genuine Curaçao. Outside the Caribbean island, it is hardly possible to obtain the real Blue Curaçao. While a tiny part of the production is exported to the US, there is no shop for instance in Europe selling the original.
You can join a tour at the Landhuis Chobolobo* from Monday to Friday between 8 a. m. and 5 p. m. for a minimum entrance fee of 15 US$. This tour includes one cocktail. If you want to drink more, you might want to join a Deluxe tour for 25 US$ or even participate in a cocktail workshop for 45 US$.
In Europe, we usually get the most famous imitation from the Dutch company Bols. However, Senior has a local competitor on the island and that's Leañez.
Leáñez Ponche Caribe
Don Angel J. Leáñez was a chicken feed importer when he founded Leáñez & Cia. S.A. in 1935. As time – and business – goes by, Leáñez dedicated himself to the production of syrup, liqueur, and the famous Ponche Caribe.
In 1965, Don Angel's son Dick began to experiment with eggs, milk, rum, and brandy according to a secret family recipe. After 12 years and many discarded bottles of Ponche, he finally succeeded in 1977. Since then, the Ponche Caribe has been produced using the same formula.
However, today's Industrias Tip Top Leáñez & Cia. S.A. import prestigious brands like Moёt & Chandon, Dom Pérignon, Hennessy, Presidente Beer, and Gallo wine to the island. Although they still produce their signature liqueur Ponche Caribe, they also manufacture many other tasty spirits – for instance, Curaçao in different colors.
Theirs, by the way, costs a fraction of what you pay for Senior's same-named products.
You can buy Leáñez Curaçao – as well as the Ponche Caribe – in most supermarkets and gift shops around the island.
AnnaBay Rum
Curaçao liqueur is really a rather touristy thing. I've never seen a local sipping a blue cocktail. Supposedly, most locals prefer whiskey or rum. Which brings me to another rather touristy brand, namely AnnaBay rum.
No, Curaçao does not have this long tradition of distilling rum like for instance Jamaica or Cuba. For the simple fact that there never was enough sugar cane for large rum production. I personally find it doesn't matter since the island has so many local glories.
However, in 2022, a new brand was presented to the booze market. Nope, this is not a typo, it was actually only last year. Referring to the cliché tradition of rum-drinking sailors and pirates, AnnaBay rum introduced the standards like white, dark, and five-year-aged. But since we are living in colorful and instagramable times, they also added six different stereotyped tropical flavors like coconut, tamarind, and pineapple. After a far too early rum tasting shortly after breakfast, I must say that they are dangerously yummy.
Especially due to their extremely outgoing presence on their website and on social media, to me, AnnaBay rum is too much of a marketing scheme and too little of a Curaçao tradition. However, my personal opinion should by no means hold you back from purchasing a bottle of their rum as a souvenir if you are willing to fork out up to 50 US$ for Yo Ho, Ho and a Bottle of Rum.
Take A Mini Bus
I'd argue that taking the bus is the most authentic, exciting, and entertaining thing you can do in Curaçao. There's no better way to get to know the island and most importantly its people. But mind you, this doesn't work on every bus. Let me explain: There is a more or less comprehensive bus system in Curaçao. Big coaches are taking passengers to many different destinations around the island, however, they are only going so often – normally, about every two hours. While that's better than nothing – and actually far better than the bus system in most small or middle-sized cities in the US – it's not great. Also, if you have a connection, it can get really tricky and you need to calculate your trip thoroughly.
But fear you not as those official big buses are kind of supplemented by mini-buses that can take up to 9 passengers. It's a bit as if you compare a portly freighter to a nimble power boat. The mini-buses cost as little as the official buses and run on the same routes. There is no schedule, but they go far more often – actually every couple of minutes. The only disadvantage is that they don't supplement all of the official routes, only the most frequented ones. Inexplicably, I've never shared a mini-bus with another tourist. The one that commutes between the bus station in Punda and Mambo Beach is a big exception: Sometimes, tourists take it to go to the beach. Other than that – exclusively locals; and I.
Making A Detour
"Are you going to this spot?" I'm showing the lady driver with the fashionable glasses and fingernails that are easily four centimeters long the map on my phone.
"Do you want to see flamingos?" "Yes, I do. But then I'll walk to Kokomo beach", I explain.
"You want to walk there?" she asks in a tone that suggests that she doesn't approve of my idea. "It's only twenty minutes", I defend myself. "If you give me five guilders, I take you there". Five guilders are about 2.50 US$. That's definitely not too much if it saves me a 20-minute walk in the scorching sun. We have a deal.
"I can also pick you up. At what time do you want me to be there?" We agree that she'll be there at five. That gives me six hours on one of Curaçao's most famous beaches – you know, the one from the Beach Boys song. She also gives me her business card and tells me to keep her number as she's ready to drive me also to other places.
Bye myself – the name of my blog is really well-chosen: Usually, I'm the most impatient person on planet earth. But as I sit in front of the gate to Kokomo beach, watching two little Dutch boys playing soccer with the guard, I even don't get nervous when Eugene doesn't show up at five as agreed. But she comes at five thirty which is totally fine. And off we go.
Quite Some Pit Stop
Since this is a bus and not a taxi, two ladies get on the bus at Boka Samí. As we pass through the village of Sint Michiel, Eugene stops in front of what seems to be the local supermarket. One of the ladies is thirsty, this explains this unforeseen pit stop. "Buy some chocolate for me", shouts Eugene as the lady is about to enter the store, "I want Mars!"
We are waiting in front of the market which gives me the opportunity to experience a little bit of Curaçao's rural life. There are many men hanging around in front of the store. Where I'm from, only homeless people or other underdogs are lingering in front of supermarkets. Here, however, it seems to replace the local pub. The men are sitting in small groups, some on beer crates, others on makeshift benches. One grey-haired gentleman in a flamboyant tropical shirt sits on a discarded office chair. Salsa music is blaring from three speakers that one of the men has positioned in front of the building. Now the old man in the flashy shirt says something nasty to a young woman that passes by. She ignores him. His buddies are cracking up laughing.
I'm delighted by this spectacle, but now comes the lady back, carrying a bottle of a neon-colored soft drink and a mars bar for Eugene. With her, one of the men enters the bus. He's holding a plastic cup which according to the Papiamento-fragments that I manage to understand after three weeks on the island contains whiskey. The mood on the bus is very upbeat, everyone is chatting and laughing. Man, I'm loving it: Curaçao embraces me with all its warmth and joy.
People, when in Curaçao, make sure to take the minibus.
Do Some Beach Hopping
Other than for instance Aruba, Curaçao does not have those endless sand beaches covered with white sand. Since the coast is rather rocky, you'll find lots of picturesque coves and bays where you can swim, snorkel, dive, and sunbathe, obviously. Other than on Bonaire, in Curaçao, these small beaches do have sand, you don't need to spread your towel on a rock.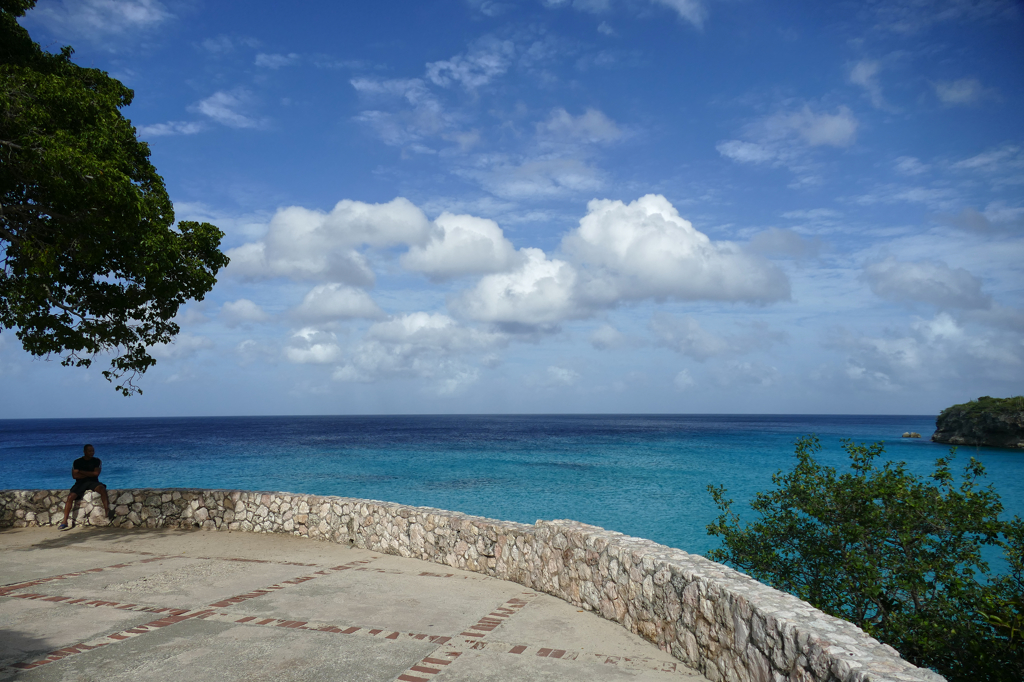 All the bays that I have visited had some kind of touristy infrastructure like palapas and beach beds. Nevertheless, since there are some major differences between Curaçao's beaches, I'm describing them below so that you are prepared respectively can choose which ones sound more attractive to you. Because I myself had to find out that those iconic beaches every review is raving about aren't necessarily for me. Not because they aren't beautiful – they certainly are. But they are packed with people lying beach bed next to beach bed.
Excuse me, do you have a little room for me in your sardine can?
Each to Their Own
The fact is that everyone likes and expects something different from a perfect beach: While some people like the lounge feeling of a comfortable beach bed with an attentive waiter serving cocktails, others prefer the serenity of a secluded beach with no infrastructure whatsoever. There are fans of the underwater world and those of sea sports. While some enjoy pounding beats, others just want tranquility to read their book.
Good news: Curaçao has a beach for each and every need'n'taste!
Since it's impossible to list all of the island's cozy coves and beaches, I've picked three private and three public beaches. Whereby private doesn't mean that you cannot go there. Obviously, you can, however, at some of them, you have to pay a small entrance fee.
Jan Thiel Beach
Their slogan is It all happens at Jan Thiel Beach, and they are absolutely right. Only: How is that a good thing? Jan Thiel is a large resort including various parts of which some are exclusively for hotel guests.
While the site is quite large, it is also littered with beach beds so the beach does have an extremely cramped feel to it.
Hence, although it supposedly all happens at Jan Thiel Beach, it most certainly ensues without me.
You have to pay a 3.50 US$ entrance fee at a booth and then about 5 US$ for a beach bed. In return, you have all the facilities like showers, bathrooms, and a couple of halfway reasonably priced bars and restaurants.
The Jan Thiel Beach complex is located southeast of Willemstad and can be easily reached by bus #6. It goes back and forth between the bus station in Punda and the final stop Caracas Baai from 6 a. m. until 8 p. m. in intervals of about 1 to 1.5 hours.
Mambo Beach
I might be a bit biased when it comes to Mambo Beach since it was my go-to place when I was tired and didn't feel much like exploring new shores beaches. Since it is within walking distance from the Boca Simon guest house**, it was my refuge of rest and recreation.
However, I'm sure I would have also liked it if it hadn't been in the farther vicinity. Of the organized club-like beaches, Mambo is the most casual and easygoing one. Yes, there are palapas, beach beds, bars, and even many small shops alongside the promenade. And still, Mambo has a very relaxed ambiance to it.
The water is clear with a shallow part followed by a deep one which makes swimming and snorkeling more fun. You can swim to the barrier made from rocks that protects the swimming area against the waves from the open sea. There, you can hang out laying on the rocks, watching the waves splash in.
Seeking Leisure
The only time it gets more crowded and noisy is when the cruise passengers flock in on their shore excursion. But their brouhaha mostly lasts a couple of hours and then they are gone and Mambo returns to its leisurely vibe.
Since Mambo Beach is on private property, it opens only at 9 a. m. and you have to pay an entrance fee of 3.50 US$. If you don't want to lay on your towel in the sand, you have to fork out another 5 US$ for a beach bed that you then can use the entire day. Mind you, there are various price categories at the different bars.
Snacks and drinks can be enjoyed either at the bars and restaurants or you order them straight to your beach chair. They have reasonably priced drinks and a small selection of snacks.
From the main bus station in Punda, you can get to Mambo Beach by bus #1, #6, and every couple of minutes by minibus.
Kokomo Beach
Everybody knows
A little place like Kokomo
Now if you wanna go
To get away from it all
Go down to Kokomo
This is what the Beach Boys sang in 1988, and since then, many followed their invitation. Far too many. Today, you definitely cannot "get away from" it all at Kokomo beach.
On the contrary.
Kokomo beach is a relatively small cove. Since it's very popular – probably also due to this highly unintelligent song – it was the most crowded beach I visited during my stay in Curaçao. It is basically covered with sun beds standing close to each other in lines.
I hate that.
The water is nice, but the water is nice everywhere around Curaçao.
Although you don't have to pay an entrance fee, it seems to be a private beach since there is a fence and a gate that closes at 7 p. m.
You can get food and drinks from two bars.
Letting It Go
After having visited the legendary Kokomo beach, I came to the conclusion that it's simply not worth the hassle of finding ways to visit the other beaches everyone is raving about. Cas Abao and Porto Marie are impossible to visit by public bus unless you are willing to walk for 45 minutes on a deserted road where car drivers don't expect pedestrians to meander around. And since they are at least as famous as Kokomo, I'm afraid they will be as packed and far from being dreamy. That's simply not worth the strenuousness of complicated routes and long walks in the Caribbean sun.
Anyway, if you want to visit Kokomo by public bus, you have to take #8A or #8B to Sami Liber. From there, it's about 20 minutes to Kokomo by foot. On your way, you'll pass the Saliña Sint Michiel where you can spot flamingos. Also, above Kokomo's southern end is the viewpoint of Fort Vaersenbaai. You can walk up a trail that begins at Boka Sami next to the Saliña.
I was very lucky that the bus driver offered to take me all the way to Kokomo for a little surcharge of 3 guilders – about 1.50 US$. She even picked me up. This is only an option if you are taking a minibus, obviously. Drivers of the big buses have to stick to their designated route.
Kenepa Grandi
This beach goes by various names depending on the language. You'll find it also as Grote Knip, Knip Beach, or Playa Kenepa. No matter how you call it, it is definitely one of Curaçao's most beautiful sand beaches.
Located in the north of the island, it opens in a long bay to the sea and is still quite protected as it lays between two protruding cliffs.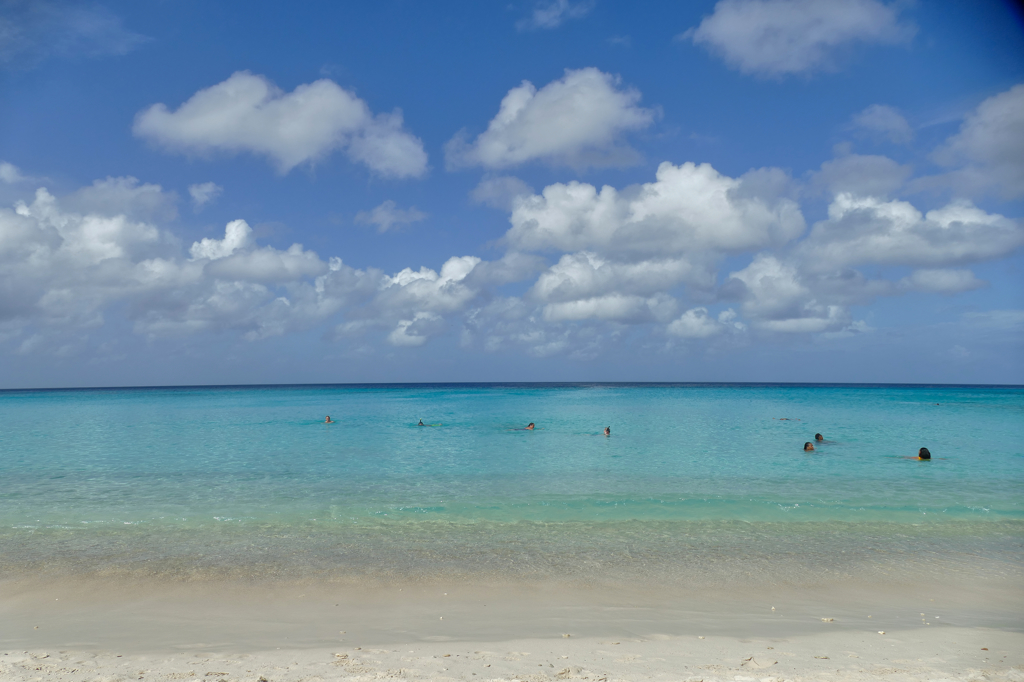 As soon as you get there – either by private vehicle or by public bus #3C – you'll be amazed by the views from the outlook on the beach's southern side.
The waters are wonderful and clear and popular snorkeling grounds. Mind you, although it is a sand beach, there are rocks and corals in the water, hence, I recommend wearing swim shoes.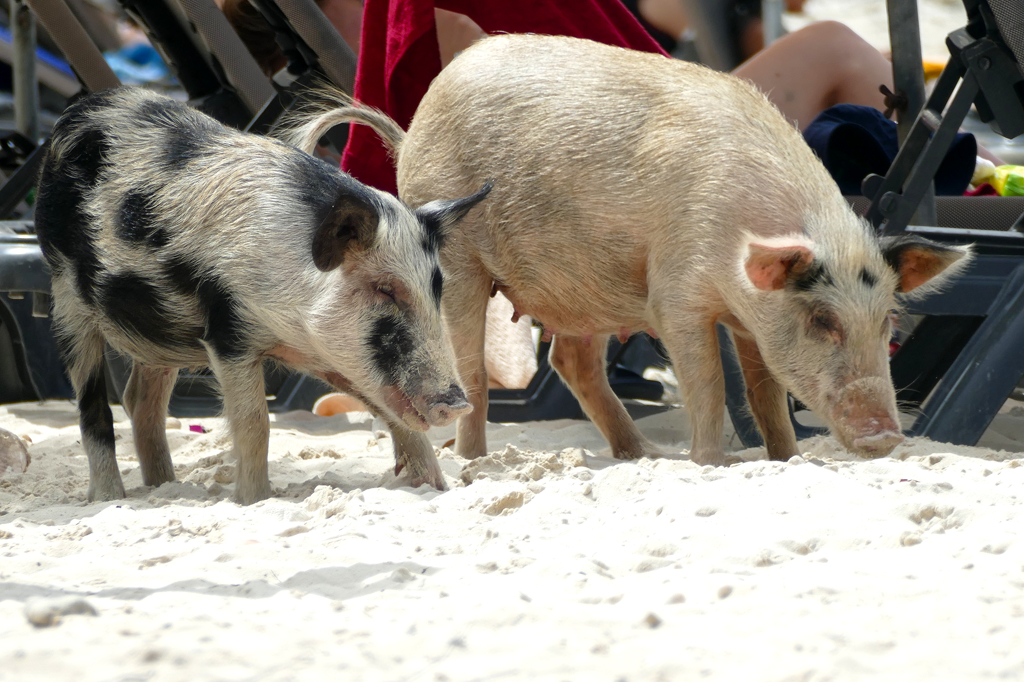 What makes Kenepa Grandi so special, however, is the option to jump into the water from the cliffs. I'm a mother, hence, I certainly won't recommend anyone to jump into unknown waters, but obviously, people are doing it safely there.
Sine Kenepa Grandi is a public beach, there is no entrance fee, but there are no facilities either. Yet, there is a snack bar selling soft drinks and burgers. However, I wouldn't count on them being open 24/7, therefore, you better bring your own water and snacks.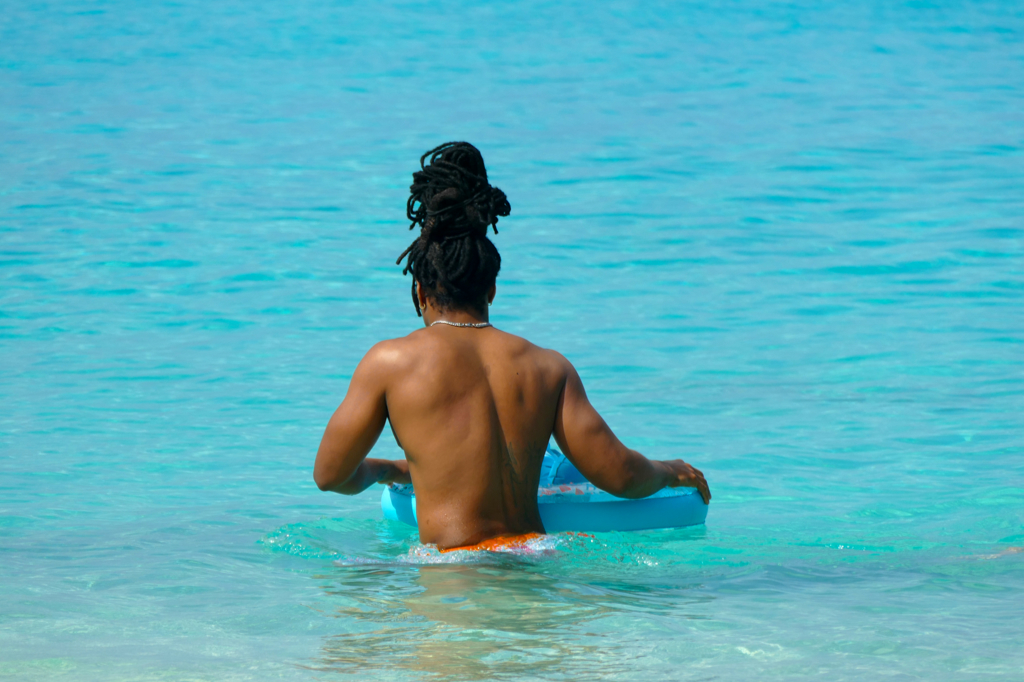 On weekends, Kenepa Grandi gets crowded with locals who are barbecuing and celebrating life, which makes the beach less serene, obviously. Also, some land excursions are taking cruise passengers to Playa Kenepa, but they mostly stay just for about two hours.
Lagun
Although Playa Lagun has the big advantage of being a public beach with very little commercialized infrastructure, I still didn't love it that much.
It has a good size – cozy yet not too small – and you can either spread out your towel in the shade of a palapa or a tree or you can rent a beach chair for as little as 3.50 US$. You either bring snacks and drinks with you or enjoy refreshments from one of the surrounding fish restaurants. As a matter of fact, the ticket that you get for paying for your chair is a voucher for a soft drink at one of the restaurants.
While you don't have to pay an entrance fee, you have to pay 1 US$ to use the bathroom or the shower which is a bit exaggerated.
Unfortunately, I can only eat breakfast and then again an early dinner when the weather is this hot. But as I saw how fishermen cleaned and prepared fish they just brought in from the sea, I regretted not being hungry at noon since I doubt that I could get a nice fish meal any fresher than there.
Since Playa Lagun is flanked by coral rocks, snorkeling here is great. You don't have to swim far to see swarms of different colorful fishes.
Clean It Up
So why didn't I like Playa Lagun? The question is easily answered: It's very dirty. The sand looks dirty and is littered with cigarette butts, bottle caps, even pieces of glass, and other trash mindless people left behind. Actually, no matter how much I love these open beaches, they are far dirtier than the privately organized ones.
So yes, if Playa Lagun was as clean as Kenepa Grandi or Playa Kalkí, I would like it much better.
You can reach Playa Lagun as easily as Kenepa Grandi by bus #3C from the main bus station in Otrabanda. Since the bus goes every two hours, it is easily possible to visit both beaches in one single day.
Playa Piskadó And Playa Kalkí
Playa Kalkí is probably the northernmost freely accessible beach and therefore not as crowded as many of the other bays. Since it's equally beautiful, it is actually my very favorite beach in Curaçao.
But let's start at the beginning: Right below the bus stop at the Catholic Church of Westpunt which is Curaçao's westernmost settlement, obviously, you'll descend to the famous Playa Piskadó aka Playa Grandi. The beach as such is a dump, but there are tons of turtles in the water which is just amazing.
Unfortunately, there are at least as many snorkelers since it's a popular stop for many island tours, but never mind. Don't kid yourself, those many turtles do not just hang out there because they have nothing better to do. Whereby, they are turtles, so what errand could they possibly have to run?
Anyway, there is a fisherman sitting on the dock, feeding the turtles fish offals. That's the reason they keep swimming around despite the many tourists bobbing in their way. Even from the dock, they are a truly fascinating sight.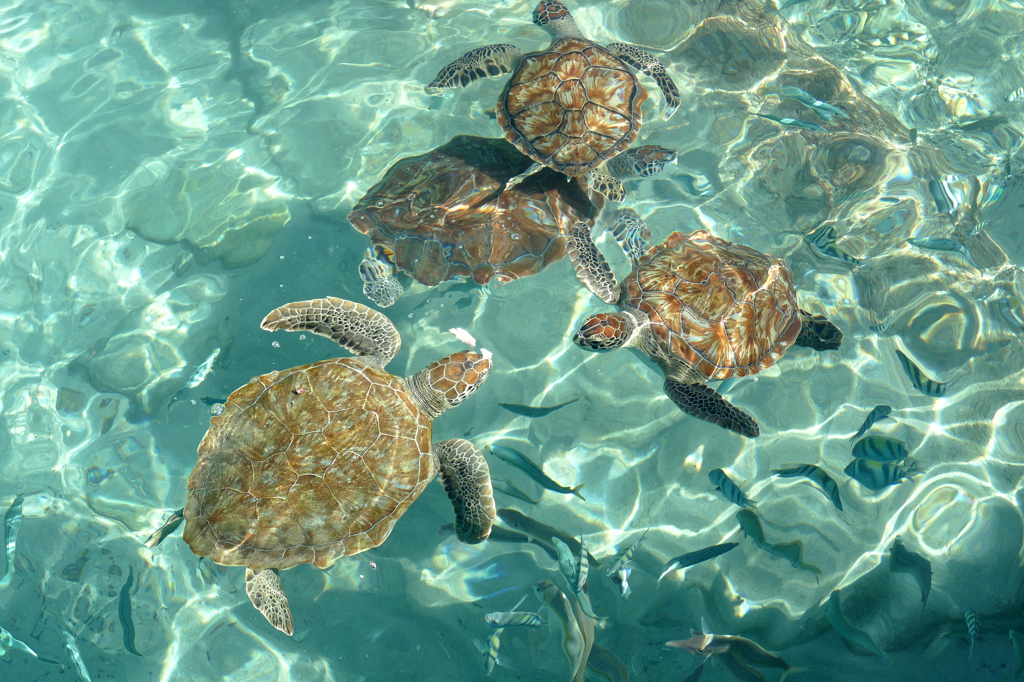 However, since there were so many people in the water, I refrained from getting in. I took pictures from the dock and then hit the road to far more beautiful and tranquil Playa Kalkí.
A Long And Winding Road
I won't lie to you: In the noonish heat, my 20-minute walk between the beaches felt like crossing the desert. The road is long and winding and around noon, there is no shade whatsoever.
But after twenty minutes, as I reached the beautiful secluded beach, the cool turquoise waters washed off my sweat and make me forget my distress on the hot road.
Although there is a dive shop and a restaurant renting out beach beds, they leave enough room for those who just want to stretch out on their towel. The beach is by no means stuffed, it pleasantly lacks the commercialized rush. You can hang out or go snorkeling – no loud music, no bucket-ordering day trippers. Just peace and quiet.
After four hours resting'n'reading at Playa Kalkí, my decision is clear: This is my favorite beach in all of Curaçao.
To get to Playa Piskadó, take bus #9 at the main bus station in Otrabanda and get off at the final stop which is the Church at Westpunt. To continue from Playa Piskadó to Playa Kalkí, just follow the signs – or the map at the end of this post.
Lunch at Jaanchi's
This is actually a little bit of a toughie. While I have mixed feelings about the famous Jaanchi's, most locals raise their eyebrows when you ask them about what is supposedly one of Curaçao's oldest restaurants. "It's not what it used to be. It's just for the show", they say. And I kinda get it since most of the customers are foreigners.
But what's authentic, anyway?
When locals eat at a McDonald's in downtown Willemstad, does that make the clown's chain restaurant authentic?
And when in return foreigners eat at Jaanchi's, does it dilute the eatery's authenticity?
Think about it: Authenticity is a very subjective quality and strongly depends on your personal perspective.
This being said, I enjoyed every minute of my lunch at Jaanchi's. They have a fixed menu and every dish costs 20 US$: Whether you choose chicken, goat, or shrimp. Also, all drinks set you back a fiver. I like the concept since it makes you choose more freely without considering your budget. Whatever you eat is for 20 and each drink for 5. Square and fair.
However, I must say that while the quality is okay, the quantity of the food isn't worth the 20 bucks. Normally, meals in the Caribbean are huge. If I had the choice I always ordered just a small portion and I never went home hungry. At Jaanchi's, the whole meal was the size of a starter.
One For the Money, Two For the Show
But then you have the whole show that Jaanchi himself sits at your table while taking your order, pretending to order from the kitchen something very special extra for you. He's fun and charming and accommodates you like his long-lost friend.
There is no glass in the windows so what seems to be a thousand birds are flying from branch to branch and sometimes from branch to chair or table. While they are snacking from the sugar Jaanchi put outside for them – and sometimes from the leftovers parting guests left on their plates – they are making a deafening noise. Everything feels cozy and tropical and a bit magic. After you've finished your meal – which is not very challenging as I pointed out above – Jaanchi surprises you with a scoop of ice cream. And although you've read about this surprise on TripAdvisor, you are still surprised in a way.
So what now – is a meal at Jaanchi's worth the 20 bucks? I don't think so.
Is it still worth going there for the show? I'd argue it is.
Jaanchi's is in Westpunt on the main road across from the corner of Westpunt G street. It is open daily from noon to 5 p. m.
Go on a Day Trip to Klein Curaçao
So you've visited a handful of mesmerizing beaches in Curaçao and you think you've seen it all? No offense, but you are so wrong!
One of the most excellent activities when in Curaçao is leaving the island; to get to its little sister in the east. She's called Klein Curaçao, which cleverly translates to Little Curaçao, and she awaits you with pristine beaches, crystal clear waters, and amazing sceneries.
Sounds like such a cliche? I'm sorry, I have no other words that would do this little piece of Caribbean paradise justice.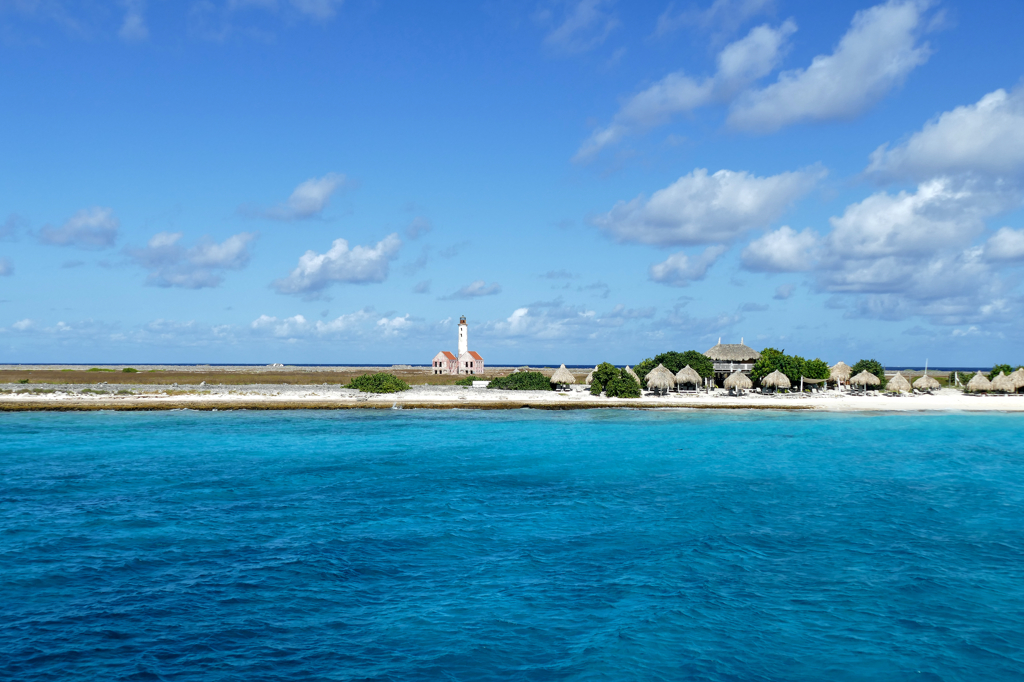 But if this is too perfect for you, I'm well-prepared to teach you about Klein Curaçao's sinister history.
Not Pretty
As I've mentioned above, the Dutch West India Company was engaged in slave trafficking in the 17th and 18th centuries. In what I'm hesitant to call the heyday between 1640 and 1740, more than 300 ships with up to 600 slaves on board sailed from the African west coast to the Caribbean. Obviously, an outbreak of diseases was not uncommon on ships with a human freight of hundreds of people living under catastrophic hygienic conditions.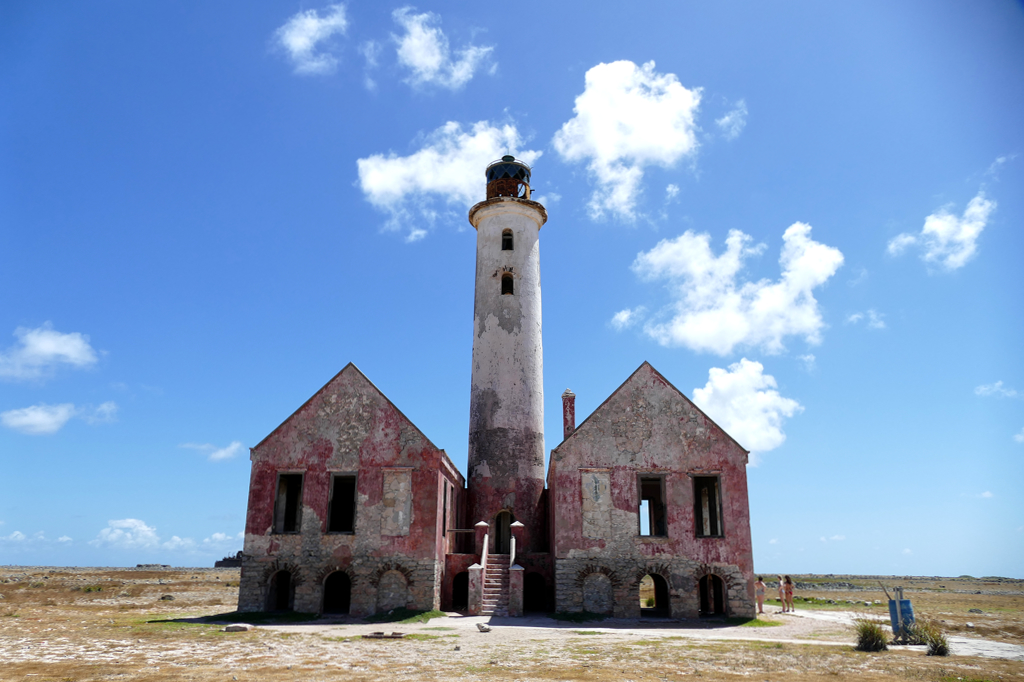 Since sick slaves could not be sold and also in order to stop the spread of diseases, sick people were dropped off on Klein Curaçao. Actually, the ruins of the building that once housed the sick can still be found in the northwest of the isle. Those who died either during the crossing or during their quarantine were buried right there. Their tombs are still on the south side of the island.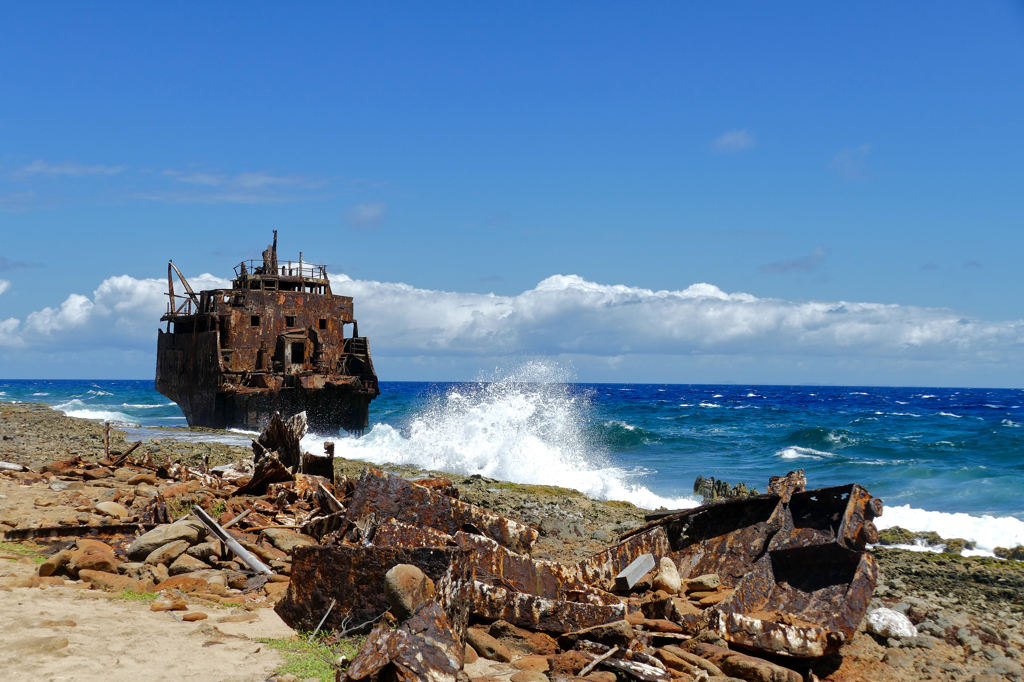 Also, storms on the windward side of the island caused naval accidents. The most famous wreck is the Maria Bianca Guidesman, a tanker that ran aground in 1988.
To avoid further accidents, a lighthouse was built in 1850. The only person who ever lived on the island of Klein Curaçao was the lighthouse keepers. Howsoever, today the lighthouse is equipped with a solar-powered LED light so that there are no permanent residents.
Lovely Day Out
Yet, although there are no residents, Klein Curaçao gets lots of people every day as tourists take excursions to this lovely islet. Ferries are making it from the main island in about two hours. Although with over a hundred bucks, this day trip is not exactly a bargain, visiting Klein Curaçao was actually one of the nicest activities during my stay.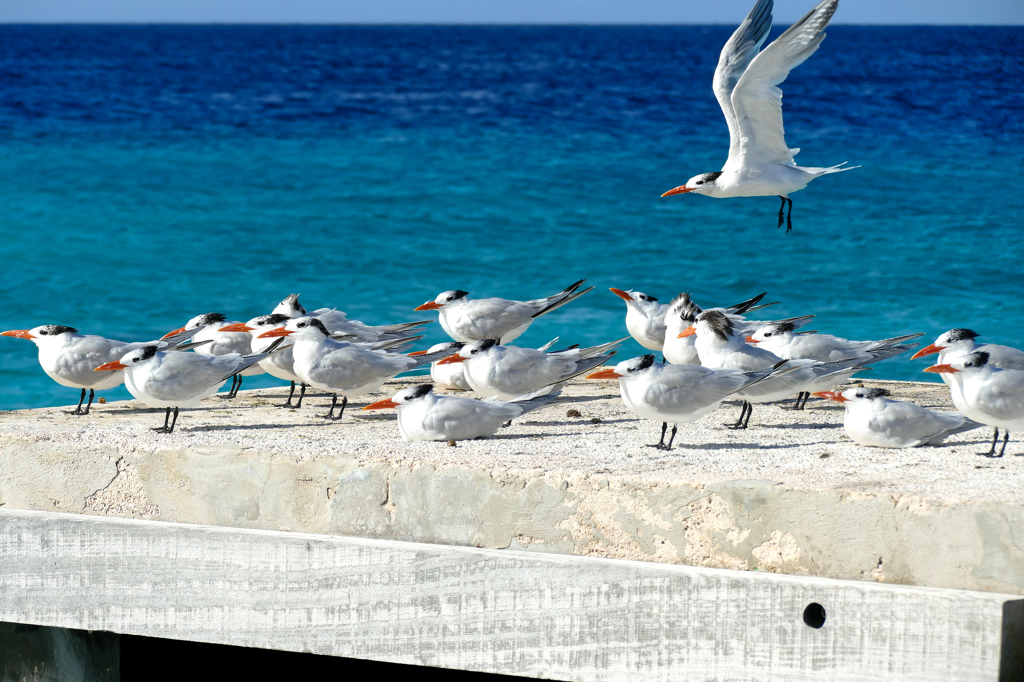 Klein Curaçao is located in the middle of the Caribbean and on clear days, you can actually spot the coast of Bonaire in the northeast. The islet is surrounded by beautiful coral reefs. Together with some impressive shipwrecks, those make the perfect snorkeling and diving spots. Also, fans of so-called lost places will find quite a bit to explore as I explained above.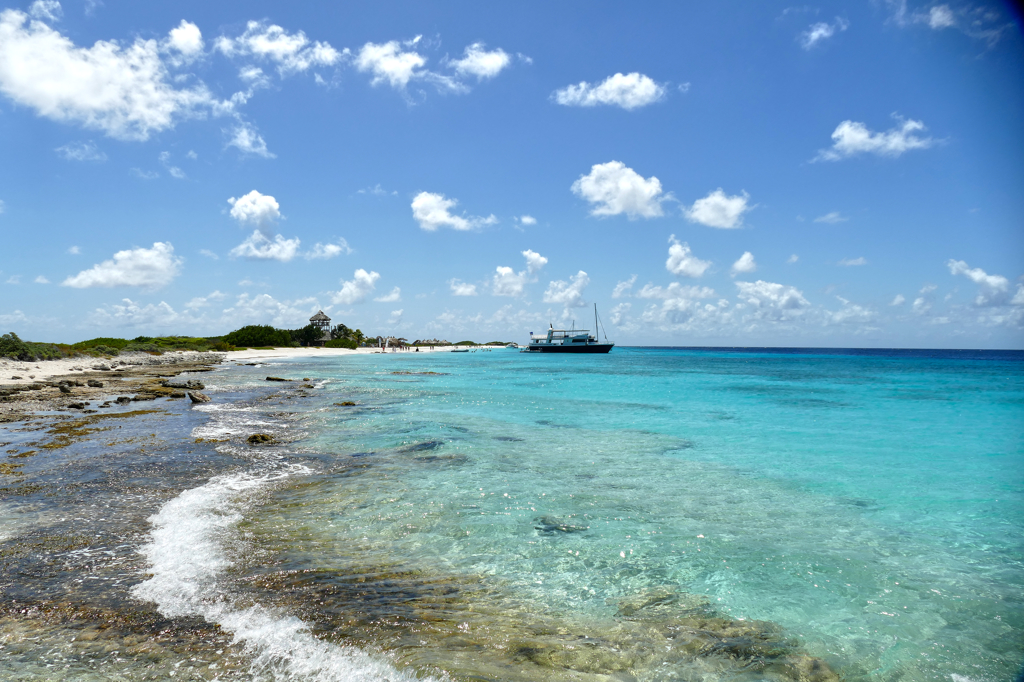 I went to Klein Curaçao one sunny Sunday morning and I chose Miss Ann Boat Trips* to take me there. It can be a challenge to go on a ferry in the early morning, but the crew being so accommodating and fun made it all so easy and relaxed.
Get Busy
Yes, at 130 US$ per person, the trip is not exactly cheap, but there is a lot included. Starting with a big breakfast as soon as you get ashore. Then you have enough time to explore the isle, enjoy the underwater world, or just rest on the beach. Miss Ann Boat Trips owns actually a very cool thatched beach house on the island including a bar and facilities such as bathrooms and a freshwater shower. Mind you, they even bring sweet water with them all the way from Curaçao!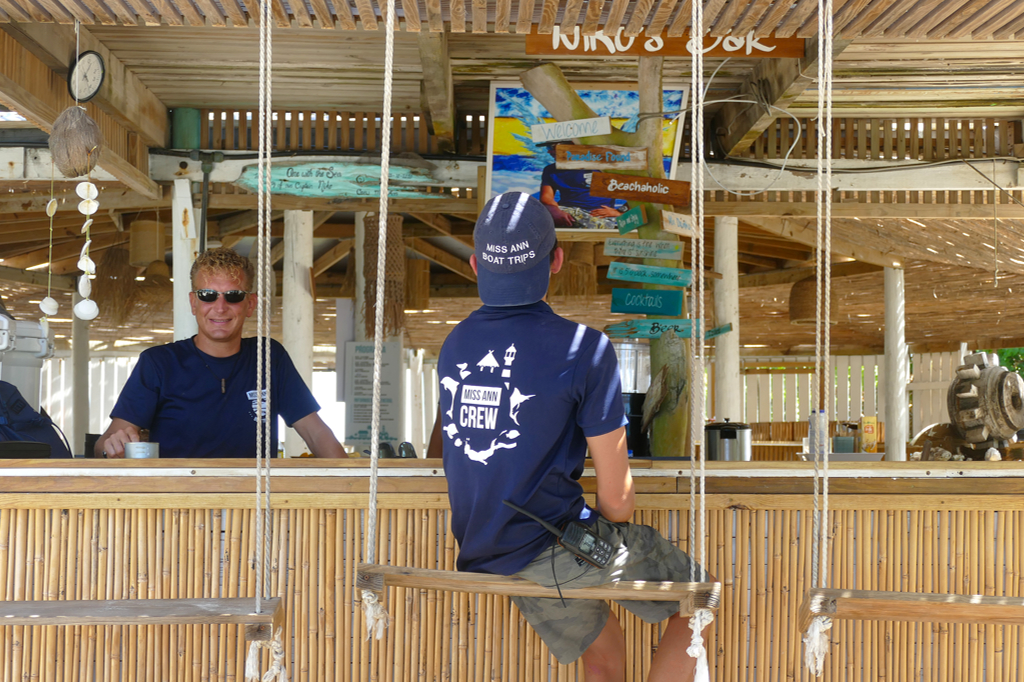 After a huge lunch, you can join a so-called snorkeling safari. While one of the guys feeds the fishes, they swim around you in a frenzy – it's like an underwater movie in 3D and truly a great experience.
The ferry then brings you safely back around 5 p. m. As a last highlight, they offer a complimentary rum punch, hence, it's a good idea to leave your car at your accommodation and come to the pier at the Santa Barbara estate on an organized tour.
For more info and to book your tour, go to Miss Ann Boat Trips*
10 Things to Bring to Klein Curaçao
Sun protection
Do I really need to explain why you should smother yourself in sun milk with an SPF of at least 30? Do I?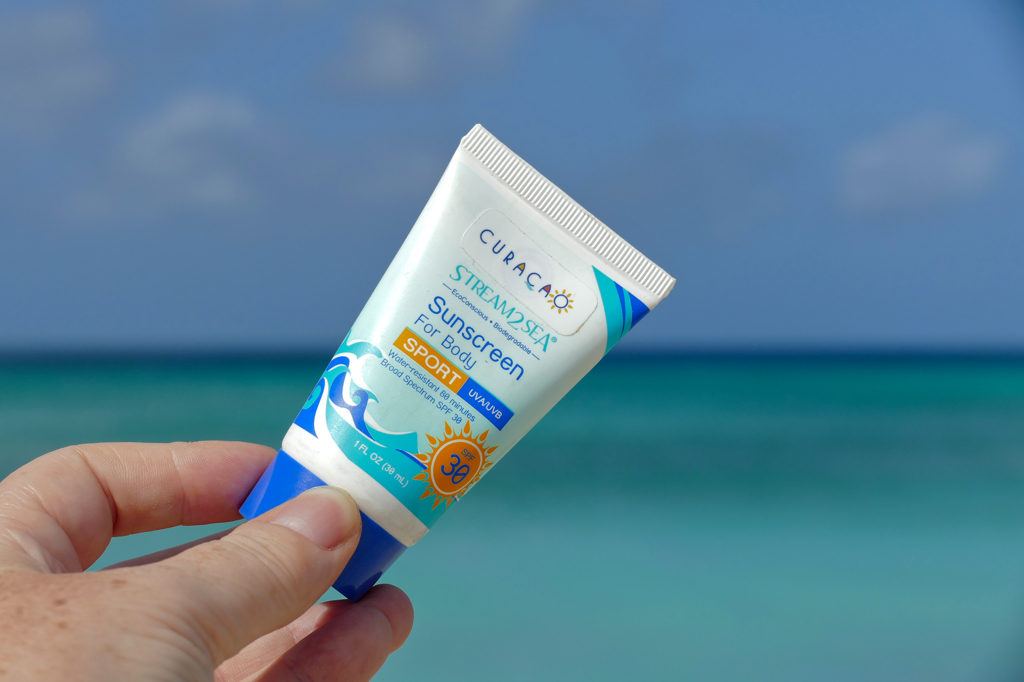 Even in the shade, you need to protect your skin against sun rays. Also, remember what grandma told us: After frolicking in the ocean, wash the salt off with fresh water and then reapply an additional layer of sunscreen.
Grandma was so right!
Beach Towel
You can choose from tons of beach beds in the shade of beautiful palapas around Miss Ann's thatched beach house. Still, you want to place a towel on the chair – for your comfort and for hygienic reasons, obviously. Also, you can use it as a wrap in case it gets windy during the crossing. Or you use it to change from your wet swimsuit into something dry. Or….you know, there are about a hundred valid reasons for bringing a large soft beach towel.
Hat And Sunshades
In the bright sunlight on a white beach, sunshades are not a fashionable accessory but an indispensable necessity.
Just like you don't need shades just to be trendy, a sun hat is not only a fashion statement. Especially if you're planning on walking down a beach for a while, not covering your head can become truly dangerous. To cover also your neck, a light scarf or shawl that you wrap around your head and neck can be a very chic alternative. Either way, make sure to cover your head when you are exposed to the sun.
Swimwear
When I'm planning on spending the day on the beach, I put on my swimsuit underneath my clothes. If you do that, too, don't forget to pack either some underwear or simply a second bikini so you can change and don't have to spend the day in wet swimming clothes after a refreshing dip.
In addition, it might be a good idea to pack a spare T-shirt and even light trunks just in case you get splashed during the crossing or you spill something. And I don't even want to mention what might happen if you get seasick.
Remember, you are planning for a long and hopefully a bit adventurous day, hence, expect the unexpected.
Water Shoes
Whether you are snorkeling, swimming, or just frolicking in cool waters: Water shoes should be a must for every beach bum. I bought mine only for my trip to the ABC islands where I was wearing them on basically every beach apart from very few spots in Aruba. The fact is that even some of the sand beaches have nasty rocks in the water that might hurt your feet badly.
Some of the beaches in Curaçao and most of all in Bonaire are practically inaccessible by bare feet. Hence, purchasing a pair of high-quality water shoes was one of my best investments.
So to go snorkeling, I'd argue you don't need necessarily flippers, but you definitely should bring a pair of high-quality water shoes. Get them at a designated dive store and do not buy the cheap crap at your local drugstore.
Snorkeling Gear
If you want to, Miss Ann's crew supplies you with snorkeling gear free of extra charge. Nevertheless, since snorkeling with a comfortable mask is not only more fun but also safer, having your own high-quality mask available at any time is certainly a good idea in a place where snorkeling is one of the main activities.
Lock Tote
As you know, I'm a solo traveller. That comes with many advantages – as you can read in my post solo travel – PROs and CONs – but there are also some disadvantages – as you can read in the very same post.
One of the major disadvantages is that you don't have anyone to watch your stuff while you go swimming or snorkeling or just for a short beach walk. While you can still schlepp everything with you on a walk, you are risking that someone pinches your stuff while you are frolicking in the water.
A lock tote is a perfect solution to this problem: You put all your valuables inside and pull the tote close. Then, you can wrap the steel cable around a pole. That can be a wooden parasol that you find on some beaches. Or a fence. Or even a big branch of a tree. Actually, you can also wrap it around your beach chair – it's not very likable that some thief will walk away with an entire beach chair.
Anyway, the point is to protect your valuables against petty quick'n'dirty theft. If someone wants to rob you at gunpoint, your lock tote won't be much of a help, obviously. But we are talking about protecting your stuff while you are snorkeling, not protecting you in an urban no-go-neighborhood.
By the way, a lock tote is not only great for solo travellers but also for couples as they might want to go swimming, snorkeling, and strolling together.
Dry Bag
Especially if you have an expensive camera or other high-maintenance gadgets you should invest in a high-quality dry bag. For me, the bag doesn't have to protect my electronics two meters under the sea, I only need protection against splashing for instance during the boat ride. And while protecting against water is crucial, a thoroughly closed dry bag protects my camera also against dust and very fine sand on the beach. Mind you, dust and especially grains of sand can cause as much damage to your camera as water.
Camera
Not only is the beach dreamy and worth a thousand pictures. On Klein Curaçao, you will also discover some so-called lost places that make fantastic motifs. Also, you might want to take pictures during the snorkeling safari as the swarms of fish come really close. Hence, do not forget your camera – preferably one that also works underwater.
Motion-sickness medication
The ship is moving quite a bit and the trip is two hours. For passengers with weak stomachs, this is hell. Yes, there are all these wonderful tips like looking at the horizon but come on, if you have the tendency to get seasick, you can stare at the horizon until your eyeballs pop out – you'll get nauseated.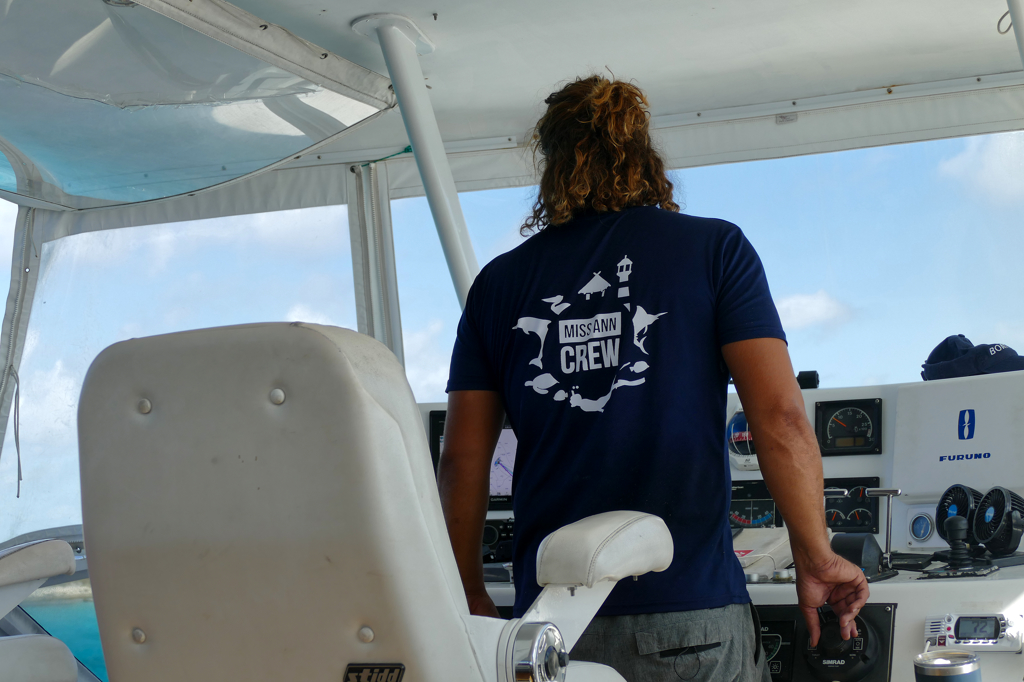 Fortunately, nowadays, motion-sickness medication doesn't make you drowsy anymore so I recommend popping a pill if you tend to get sea sick. By the way, they might be also helpful on long bus rides in Curaçao.
As a matter of fact, this list should come in handy also for visits to any beach on the island of Curaçao. If you head for the public beaches, you should also take enough drinking water and possibly some snacks with you. Other than that, you're good to go.
Practical Information
How to Get There
By Plane
Hato International Airport is located about 10 kilometers northwest of Willemstad. There are direct flights from the Americas and Europe and air connections to Aruba and Bonaire by the local companies Divi Divi Air and EZAir.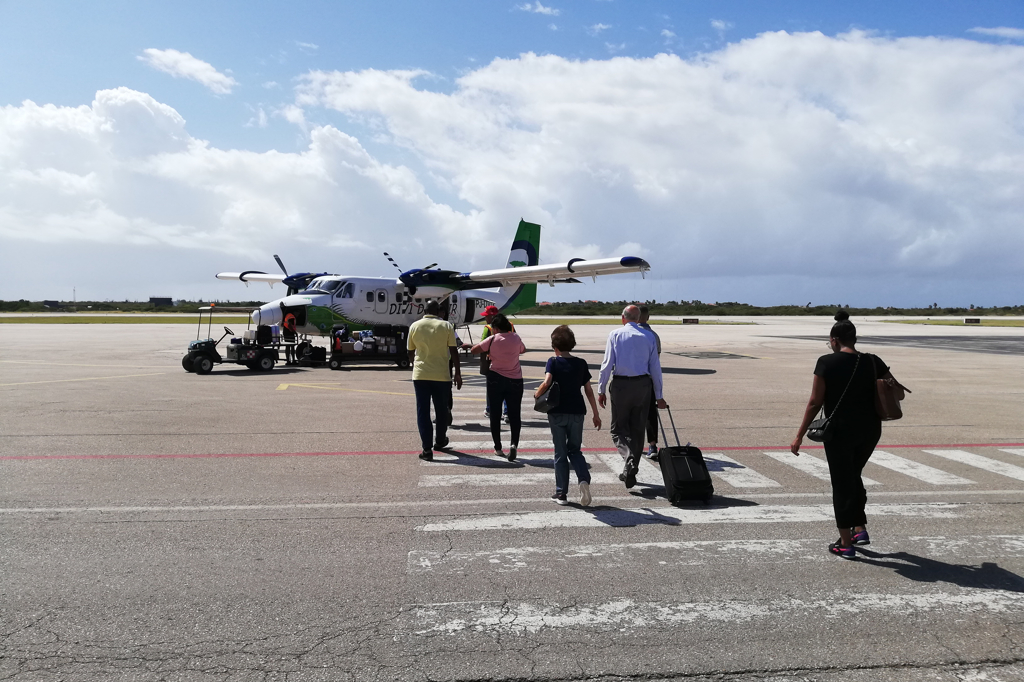 Although Curaçao is one of the Netherlands, it does not belong to the Schengen area. Nevertheless, visitors from many countries do not need a visa, but you can check this in the Visa and Embassy Information for all Countries section of my post World's Most Complete Travel Information. Note that a visa for Curaçao is not valid for the European part of the Netherlands.
Albeit, even if you don't need a visa, you'll have to fill out a landing card. You should do so online so that you can show it on arrival.
Travelling On
If you haven't booked a package where the travel company arranges the shuttle from the airport to your hotel, you have different options for how to get to your final destination. The most comfortable option is taking a cab, obviously. As distances vary, so do fares, hence, I can only tell you that a cab to the center of Willemstad will set you back up to 40 US$.
While this is still halfway doable by the official public bus, if you take one of the local minibusses, you definitely shouldn't have much luggage. Either way, the trip will take about 45 minutes, but sets you back one US$ – yes: one Dollar!
However, keep in mind that the official bus service is extremely limited to a couple of connections per day. Also, beware that #4B will take you to Otrobanda and #2A or #2C to the bus station in Punda.
I am always in for an adventure, yet, I do not recommend going by bus after a long strenuous flight.
By Ship
Unfortunately, there are no public ferries going to Aruba. No, neither from Aruba nor from Bonaire. Flying in is your only option to visit unless you are coming by a chartered vessel or on a private ship – or on one of those monstrous cruise liners, obviously.
Large cruise ships arrive at Curaçao Mega Pier while the smaller ones dock at the Curaçao Cruise Terminal. You can easily walk downtown from both piers. There you can either join an organized tour or just hop on a bus and hit one of the beaches I'm recommending above on your own.
How to Get Around
By Bus…
There are two main bus stations in Willemstad, one in Punda and one in Otrabanda. Then, bus stops on the island are mostly just small yellow signs saying Bushalte. Sometimes, there is a bench next to it and occasionally it's even covered.
There are two types of buses. Firstly, there are the official buses run by the Autobusbedrijf Curaçao, in short ABC. These are big coaches serving mainly the island's west coast. On the more popular routes, they usually go about every two hours, on other routes even less. Since they are no touristy tour buses, they mostly go to Curaçao's settlements. This makes it very difficult to visit some of the beaches by public bus since you'd have to walk from the bus stop up to almost one hour. Believe me, in Curaçao's Caribbean sun, this is not an option. However, the beaches that I'm listing above can all be reached by public bus and there are even a couple more.
Not only does the ABC bus company have a comprehensive website, you can also download their App on Android or iOS to plan your trip and check connections in real time. The fare varies between 2 and 2.60 ANG depending on the final destination. You can also pay in US$, but you might get change in ANG. Also, they do not accept bills larger then either 25 ANG or US$.
… and Minibus
In addition to the big buses, there are privately run minibusses – I wrote a hymn to them above. The minibusses have the big advantage of going much more often. Also, they don't stop only at bus stops but wherever you wave at the driver. If you don't live too far off the set route, the driver might even make a detour and drive you home.
Yet, as they have space for 9 to 12 passengers, they tend to be full during rush hours, hence, when locals go to or finish work. However, I never had to wait for more than ten minutes for the next minibus. Another disadvantage is that in general, only the most popular routes are supplemented by minibusses. For instance, if you are going north to Westpunt or Playa Kenepa, you can only take a big bus. On the other hand, there is a direct minibus connection between the bus station in Punda and Mambo beach which does not exist for the regular busses. The fares for minibusses equal those for the big ones.
By Taxi
Since minibusses and taxis have the same size, make sure that you're boarding the right vehicle. Actually, once inside, you'll notice the difference right away. Also, cabs have a taxi sign on the roof while minibusses have a list of their most important stops behind the windshield.
Cabs are not metered and they are rather pricey. A trip even within the limits of Willemstad sets you back 20 US$. In any case, make sure to agree on the fare beforehand.
By Car
To my greatest chagrin, I must agree that a car is pretty much needed to get around the island easily. While many places are accessible by bus, you either have to stick to the few official bus connections or be streetsmart enough to travel by minibus. And even then it can be very hard or impossible to get to certain spots, especially to secluded beaches and places on the western side of the island.
Cars can be rented for about 45 US$ per day. There are rental companies for instance at the Hato Airport but also across the island. According to my experience, locals tend to drive a bit anarchistic when it comes to rules regarding giving way and the like. However, they don't speed like crazy and willingly stop as soon as a pedestrian intends to cross.
Walking and Cycling
When planning my trip to Curaçao, I was aware that some spots can be reached only by car. As I'm not driving, I planned on walking – as I do everywhere in the world. Well, I quickly stood corrected. Firstly, it's a big difference to walk through a European city in the shade of high buildings and an open country road in the Caribbean. Since hardly anyone does it, roads aren't made for pedestrians, i. e. there aren't sidewalks. Even within the city limits of Willemstad: No sidewalks next to four-lane roads. That's quite unsettling. Since where there are no sidewalks, drivers don't expect jolly walkers. And that's outright life-threatening.
I guess I don't have to explain why under these circumstances cycling isn't any safer, do I?
Organized Trips
As I pointed out, there are many wonderful spots in Curaçao that can be explored only either by a private vehicle or on an organized tour. The latter will definitely be the less stressful option especially as you are exploring the rough east coast. Also, you'll probably need to join an organized tour if you want to engage in activities on the water like sailing or snorkeling from a boat or going to Klein Curaçao.
However, here are some more tours to choose from:
Where to Stay
At the first glance, Boca Simon guest house** seems like this friendly budget accommodation. Located on the eastern outskirts of Willemstad's city center, it offers plainly furnished clean rooms of different sizes – from a tiny single room to a fully furnished apartment. They have a pool surrounded by parasols and beach beds. Guests can prepare their meals in the communal kitchen and enjoy them at one of the small tables in the courtyard. Everything is very laid back and cozy and the manager is obviously keen to make his guest feel comfortable.
He's from Egypt but used to live in the Netherlands – which is technically still the case since Curaçao is politically part of the country. However, who really runs the show is Alice, a cute'n'clever young woman from Venezuela. She's the heart'n'soul but also the brains of the entire joint. Actually, she shares the job with her Colombian boyfriend.
Yap, we are a pretty international bunch here at Boca Simon.
Be My Guest
But what makes Boca Simon** so very special are its guests. I'm not referring to tourists vacationing in Curaçao for a couple of days. No, due to its convenient facilities and reasonable prices, some genuinely colorful characters stay at Boca Simon. Some of them seem actually rather stranded.
Like the quirky lady from the Netherlands who keeps telling everyone that she was supposed to be back home for a long time now but…honestly, I don't understand why she's still here since her stories are very confusing, and also, her accent is really strong. Since she's already prone to tell very long stories, I do not want to encourage her by asking questions.
She's friendly with the couple from the Czech Republic. They are wintering in Curaçao. In contrast to their Dutch friend, they surely have their shit together. He plays the piano and is practicing basically around the clock. He met his girlfriend in Curaçao, who now accompanies him on a tiny guitar. Other than that, she is practicing yoga and riding her bike and pampers her body and soul. Sometimes, they entertain the guests with little concerts.
Then, there is this huge Dutch man who comes back in the evening dressed in a suit. Doesn't look like a vacationer to me. His skinny young compatriot is kind of antisocial and hardly ever greets hello. But the whole place smells amazing when she prepares her dinners in our communal kitchen.
We are joined by large families from Colombia and the Dominican Republic who just come her on a short holiday. Also, there are noticeably many Curaçaoan ex-pats who stay at Boca Simon** while vacationing in their homeland. Isn't that a validation – like the rule that you should eat at restaurants that cater mainly to locals?
Like In The Movies
So if you have a thing for quirky characters like from a Jim Jarmusch movie, I highly recommend staying at the Boca Simon guest house**. It's far from being luxurious – whereby, who defines what's luxury, anyway? If you don't expect extravagance, you'll be comfortable at a reasonable price. They offer different sizes of accommodation which are all functionally furnished and cleaned on a daily basis.
Nonetheless, if you can withstand the charm of quirky and prefer to stay at a more conventional place, you can check the availability and prices of other lodging options on this map**:
What to Eat
Local food in Curaçao is a broad mix of cuisines. There are all those typical Caribbean dishes, yet here, they are prepared with a dash of European and Indonesian flavors. Hence, you don't find only fried fish and stewed goat, but also chicken saté in peanut sauce and Dutch bitterballen. Also, I believe there is no country around the globe that doesn't have Chinese and Indian eateries. Well, you'll find both in Willemstad.
Over the years, as migrants from Latin America made it to Curaçao, they brought their traditional dishes with them too. And finally, unfortunately, fast food from the US is also available.
Plasa Bieu
The best place to get an overview of what is cooking in Curaçaoan pots, you have to visit Plasa Bieu. You'll find a couple of street food stands there, serving Chinese, Jamaican, and, obviously, lots of local food at an excellent price.
The only downside is that they are open solely from Monday to Friday and also only from 10 a.m to about 3 p. m.
El Gordo
Another good place to stuff face with Caribbean and Latin American delicacies is El Gordo – which very coherently translates to the fat guy. I believe that would have become gorda pretty fast if I ate El Gordo's massive platters that include a choice of no less than four sides every day. But since I normally eat only breakfast and eventually an early dinner, I was fine.
El Gordo is open every day except Sundays from 11 a. m. to 6 p. m., on Thursdays till 9 p. m.
These two places are catering mainly to locals which has a great impact on their high quality at reasonable prices. However, it affects the opening hours: Plasa Bieu doesn't open in the evening and on weekends since that's when Curaçaoans eat at home. When I came back from Kenepa Grandi one Sunday evening, I wasn't able to find a local eatery. Even McDonald's was closed – not that I intended to eat there. Finally, I found a Chinese joint, but man, was finding food on a Sunday after 6 p. m. a challenge!
Sea Side Terrace
This terrace restaurant is close to Mambo Beach and serves delicious fresh local fish and seafood at good prices. Since it is located relatively close to the Boca Simon guest house**, it could have easily become my regular go-to eatery. The only reason why I didn't make it there more often was the waitress. I don't expect staff to greet me with a hug, I don't even want them to be so annoyingly servile like servers in the US. But I definitely want them to acknowledge my presence and not give me the feeling that I'm disturbing them during their cigarette break. And that's exactly what that lady did. She made me feel like an intruder, not like a paying customer let alone a guest.
A final tip if you are in the area around Boca Simon guest house**: There is a supermarket and gas station at the corner of Grebbelinieweg with Dr. Martin Luther King Boulevard and right next is a very good snack bar serving delicious local food. You can choose from three sizes, and even if you are very hungry, the medium-sized portion for about 7 US$ will do. You'll find the exact spot in the map below.
Last but not least the info that Curaçao's tap water is drinkable. As a matter of fact, not only is it drinkable, but it's also very tasty. And since bottled water is quite expensive, you better bring your drinking bottle and fill it with tap water.
It's free. It's good for you. And it's good for the environment as we save those nasty plastic bottles.
Cash And Cards
The Netherlands Antillean Guilder is Curaçao's official currency. It is abbreviated ANG. However, you can pay with US Dollars everywhere. There are many ATMs from which you can get Guilders as well as Dollars. Also, you can pay even for small amounts by credit or debit card.
The current exchange rate is 1 US$ = 1.79 ANG as of March 2023, but you can check the conversion on this page.
Language
The official language of Curaçao is Dutch. The lingua franca, hence, the most spoken tongue, is Papiamento. Although it's rooted mainly in Portuguese and also in Spanish, there is a considerable influence of Dutch. As a matter of fact, Papiamento is a creole language that developed on the West African coasts. It has many similarities with crioulo spoken in Cape Verde. In the 16th and 17th centuries, most of the slaves kidnapped to the Caribbean came from Portuguese trading posts on the African west coast. I wrote about this dark chapter in my post on Cape Verde's main island Santiago.
Howsoever, due to the proximity to the South American continent and many migrant workers from Latin America, most local people speak at least decent Spanish. Obviously, people speak good English, especially if they are working in tourism. You can say that most locals are not only bi-lingual but actually quad-lingual. Pretty impressive.
Connection and Communication
Although Curaçao belongs to the Netherlands, it is not part of the European Union and the wonderful European roaming regulations do not apply. Consequently, a local SIM card is the cheapest way to stay connected.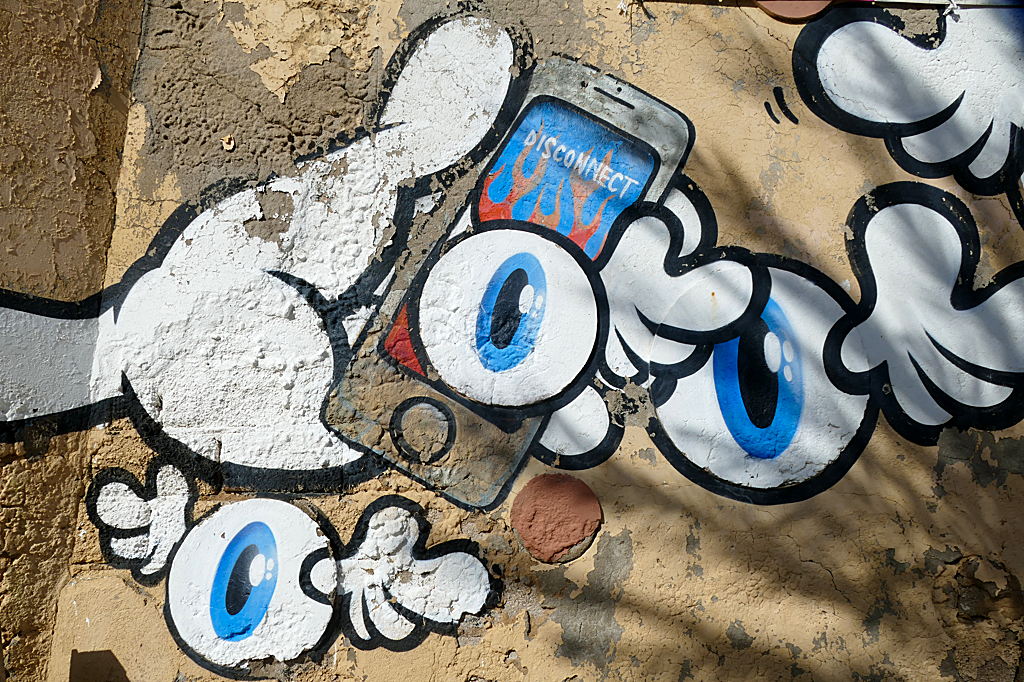 You can get a SIM card for 15 US$ at Digicel that grants you data for seven days. The one from Flow/Chippie costs 16 US$ and comes with less data. Don't forget to ensure your phone is unlocked and ready for use with any SIM card.
Normally, you are required to show some form of ID, however, I got my card no questions asked.
Digicel also offers roaming at no extra charge to Aruba and Bonaire.
Howsoever, if you don't insist on being online 24/7, you'll probably do with the free Wifi offered at every hotel and most restaurants and bars – just sayin'.
In Curaçao, they use mainly plug type A just like in the USA. The voltage is 110 V and the frequency is 50 Hz. Occasionally, you'll find outlets C and F which are common in Europe. As long as you have the right connecting plug, the voltage and frequency shouldn't really matter as nowadays, all chargers have integrated adapters. However, this is not the case with other small appliances like hair dryers or travel irons.
By the way, you'll find comprehensive travel info in my post World's Most Complete Travel Information – an indispensable globetrotter-classic.
Curaçao was the C of my visit to the ABC Islands. You can read about Aruba and Bonaire in separate posts. Also, there is a comprehensive roundup of my entire trip including much valuable info in the post As Easy As ABC: Island Hopping Between Aruba, Bonaire, And Curacao.
Map
This map shows where all the mesmerizing places I'm introducing in this post are located.
Clicking on the slider symbol at the top left or the full-screen icon at the top right will display the whole map including the legend.
Pinnable Pictures
If you choose to pin this post for later, please use one of these pictures:
Did You Enjoy This Post? Then You Might Like Also These:
* I am very appreciative that Bright8 PR together with Curaçao Tourist Board organized a guided walking tour for me and let me participate in a day trip to Klein Curaçao with Miss Ann Boat Trips.
Also, I was invited to join complimentary tours of the Landhuis Bloemhof and Chobolobo.
Nevertheless, the description of these activities and all opinions on the services are mine and were in no way influenced by my cooperation partners.

** This is an affiliate link. If you book through this page, not only do you get the best deal. I also get a small commission that helps me run this blog. Thank you so much for supporting me!