Even if you follow my lead and do not spend your entire trip to Gran Canaria at the tourist hotspots Playa del Inglés, Maspalomas, or Puerto de Mogan, you definitely should visit the south coast on a day trip.
"Shucks, we are at the wrong bus stop", I realize as I look at my phone. Yes, we are next to the Riu hotel in Maspalomas. Sadly, it's another Riu hotel than the one I planned to be.
Yes, we are close to the world-famous dunes. But no, we are not at the Mirador, hence the outlook. "Do you want to go to the other one?" asks Mimi. No, it's already around 11 and we would lose at least another hour, and sand is sand, so let's check it out.
We walk down a promenade towards the shore, then we turn left into an alley lined with souvenir shops and restaurants advertising their international cuisine in a handful of languages. None of which is Spanish. Man, this is definitely different from the neighborhood at Playa Las Canteras where we are based in Las Palmas. There, we have a healthy mix of locals and visitors. Food is Spanish and so is the language. And our souvenirs will be beautiful memories engraved in our hearts.
Sandy Wonderland
At the end of the international alley is a promenade and on the other side the impressively broad sand beach. We kick off our sandals and tramp through the soft sand. Not only are we sinking in with every step, there is also a strong breeze blowing so that the grains are basically sandblasting our bare legs.
As we reach the dunes, we try to climb up, fighting the soft'n'sliding sand. Yes, the views from the summit are stunning. We are taking lots of pictures, trying to protect our devices against the sandstorm. "It's good that we didn't make it to the other spot", I'm concluding. "I wanted to track from there all the way beach. Can you imagine almost three kilometers wading through this sand?" A couple more pictures and we've had it with the sandblast.
Dunas de Maspalomas
Despite the small sandstorm, Maspalomas' Dunes totally lived up to their fame. This huge sandy area stretches over a length of six and a width of two kilometers between Playa del Inglés and Maspalomas' lighthouse. There is nothing really comparable on the European continent – at least in terms of the surface area. Therefore, a visit is a unique experience.
Arguably, over 10,000 years, the dunes were formed by erosion. The former rocky coast was ground down to fine sand by wind and sea. Eventually, the sand was washed ashore by surf and tides. Then, the strong trade winds did their job and blew the sand inland where it formed dunes. As one dune after the other was created, the landscape grew to its present dimensions.
As a matter of fact, the area of the sand dunes is less dry than you would think. Obviously, there is the Atlantic Ocean on the dunes' southern edge. But there is also a brackish water lake called El Charco which is actually a bird sanctuary. This small inland lake is fed by groundwater, seawater, and rain. It is the perfect pit stop for migratory birds, but also a peaceful site for nesting.
Life Is a Beach
Maspalomas and the adjacent Playa del Inglés are highly touristy areas with a lot to do. Since I wasn't interested in all those entertaining spots'n'activities, this post is exclusively introducing the dunes. We also would have loved to spend some time on the gigantic beach on our day trip to Gran Canaria's south, but it was not possible to stretch out on the ground without getting literally sandblasted.
Nevertheless, there are lifeguards on duty and they have also this flag system that tells you whether you can swim safely or if you shouldn't go into the water at all.
Also, be aware that Maspalomas is very popular with nudists and although there are designated areas, you might spot naked people in many even unexpected spots in the beach area. Although Spain is a highly Catholic country, topless and nudist sunning and bathing on basically all beaches is totally accepted by visitors and locals alike.
Initially, the plan was to spend the morning in the dunes and on the beach of Maspalomas before heading westwards. But the flying sand clouds make it impossible to lay on the beach and other than that, there is not much to do down here. We spread our beach towels on a lawn next to Maspalomas' faro, the lighthouse, and enjoy an hour of sunning and reading before we head back to the bus station to take the coach to Puerto de Mogán.
Little Venice
By the time we reach Puerto de Mogán, Mimi feels nauseated from the bus ride so our first purchase at the picturesque village is pills and chewing gums against motion sickness. Then we stroll through the narrow streets embellished with lush climbing plants in many colors. It's picturesque, yet, for being idyllic, there are too many tourists there.
But they also have a city beach, and here it's relatively windless so that Mimi can finally spread out her beach blanket while I'm checking the schedule of the popular cruises from Puerto de Mogán towards Anfi, Puerto Rico, and Arguineguin. For the earlier cruises, you can buy round trips. But since we were dawdling a bit, we could only catch the last boat and that doesn't come back but stays in Puerto Rico.
Obviously, I'm not referring to Puerto Rico in the Americas but to a holiday resort around 30 minutes east of Puerto de Mogán. And nope, I certainly do not want to get stuck at a holiday resort on Gran Canaria's south coast, so no cruise for us. Also, let's be real, we are based in Hamburg where we can cruise on the Alster lake or through Europe's third-largest harbor day in, day out – will say, we don't feel the urge to cruise also on a vacation.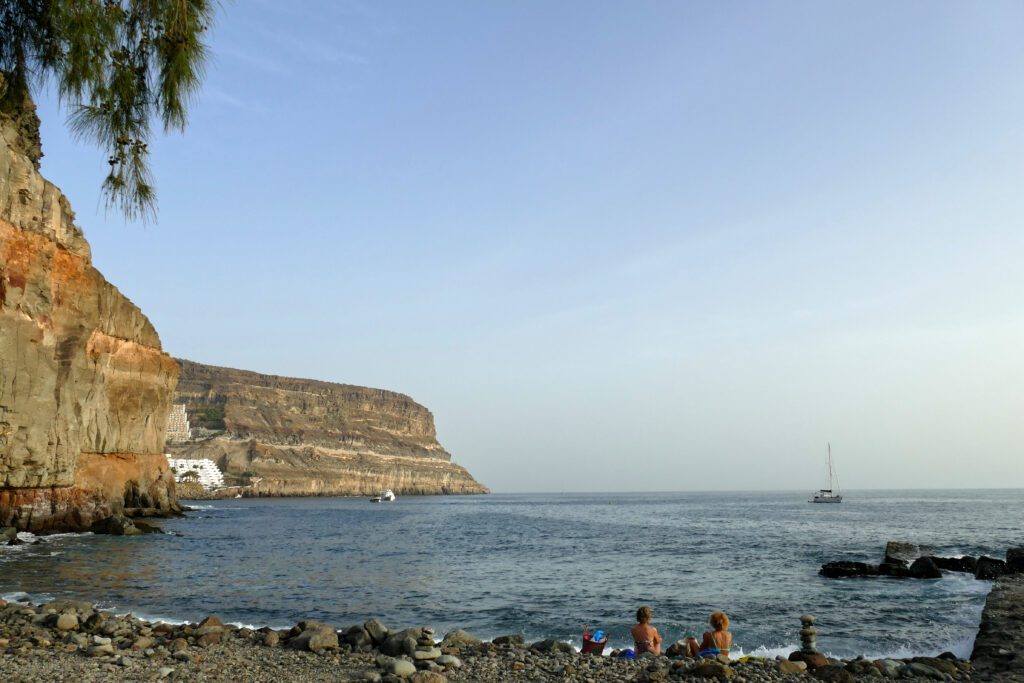 I join Mimi for a couple of hours on the beach before we take a walk through Puerto de Mogán's scenic alleys and finally sit down at a tiny restaurant to enjoy some very good fish dinner. Around eight, we catch the direct bus back to Las Palmas.
Puerto de Mogán
Puerto de Mogán used to be a sleepy fishing village and there are still – very few – fishermen today. Obviously, going out to sea every morning in the wee hours is certainly less attractive than making money from tourism. Therefore, many small shops and restaurants, and other touristy businesses emerged.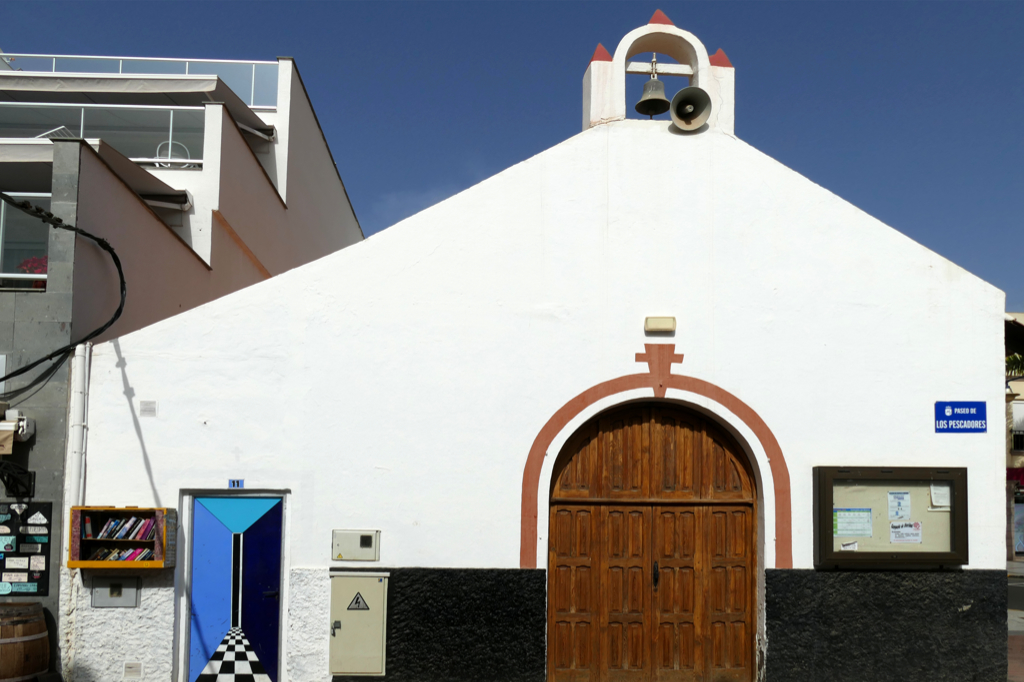 Also, in the 1980s, they built the Urbanización Puerto de Mogán, adopting the architectural style and preserving the village's original allure. According to regional law, the construction of buildings with more than two storeys is illegal. This way, the former fishing village has largely been preserved and the newly constructed area blends in quite nicely.
Puerto de Mogán is sometimes referred to as Little Venice. But I'd argue that each and every village, town, or city with a tired rivulet is referred to as Venice of Whatever.
Getting Busy
Nevertheless, the large port is definitely worth seeing and a great place for a relaxing walk by the sea. There is a marina with impressive yachts from all over the world, a boat repair yard, and a fishing port. There you can rent a boat for deep-sea fishing, including fishing for the famous blue marlin at certain times of the year. However, one should consider that the blue marlin is now one of the endangered fish species and should therefore not be fished. I think it's better to put on a diving mask and join this majestic fish in its natural habitat.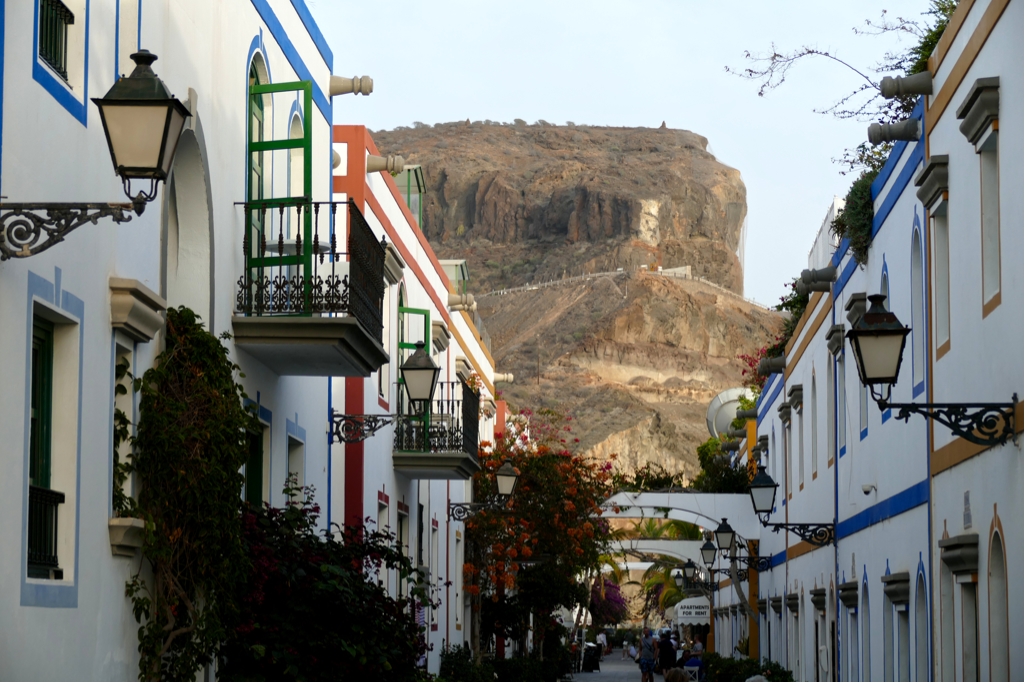 Apart from the city beach, there are also some other beaches in the adjacent bays.
To take a good look around, climb up to one of the miradores, outlooks on the mountains around the village.
Also, every Friday, there is a big market. It's nice, but be aware that tourists from all places on the island go there, even on professionally organized trips.
How to Get There
Getting to Maspalomas and Puerto de Mogán from Las Palmas is easy and relatively fast, especially if you opt for the direct buses. Bus #30 takes you from Estación San Telmo straight to Faro de Maspalomas in an hour. From there, you can continue to Puerto de Mogán by bus #1. However, you can also get there by direct bus #91, but this bus goes straight to the airport and eventually to Las Palmas without stopping in Maspalomas. You can pay the driver in cash – only with change or small bills – or by credit card if it's equipped with NFC.
For general information and schedules, you can check out the website of Global, Gran Canaria's interurban bus company. Global's blue buses are connecting basically all towns and villages on the island, however, often via Las Palmas. To get your most convenient connection, you can simply type your location and desired destination into google maps, and poof – there you have it.
By the way, locals call all buses la guagua, not only those of the eponymous regional bus company.
Obviously, you can get to Puerto de Mogán also by the beforementioned cruise. The ferry leaves Arguineguin every day at 10.45 a. m., 11.45 a. m., 12.45 p. m., 1.45 p. m., 2.45 p. m., and 3.45 p.m.
You can either go straight to Puerto de Mogán or include stops at Anfi del Mar and Puerto Rico. The ferries towards Arguineguin leave at 10.15 a. m., 11.15 a. m., 12.15 p. m., 1.15 p. m., 2.15 p. m., 3.15 p. m., and 4.15 p. m.
A single journey costs 11 €uros and you pay 19 €uros for a roundtrip.
Where to Eat
The entire area around the docks and piers is lined with restaurants, however, dining in this idyllic setting with a million-dollar-view doesn't cost a million dollars, but comes definitely with a price tag.
Therefore, we were amazed to find the small restaurant Ahul. If you order from their general menu, you pay more or less the same as at the neighboring places. But their specials, written on a chalkboard, are very reasonably priced. They don't have a terrace, but the entire front opens to the dock, so it's almost like covered outdoor seating.
Ahul Restaurante
Puerto De Mogán Local 108
They are open from Thursday to Monday for lunch from 12 p. m. to 4.30 p. m. and for dinner from 6 p. m. to 11 p. m.
Where to Stay
As I pointed out, the entire Urbanización at Puerto de Mogán consists of touristy accommodation, for instance, the Apartamentos Puerto de Mogán THe Home Collection* or the more luxurious Hotel THe Puerto de Mogán*.
Well-Organized Activities
Although I'm an avid solo-travelling woman, I sometimes like to join organized tours. Not only are they basically the only chance to put to sea. Since I'm not driving, they are also a valid option to go to remote places. And finally, it's a great way to get in touch with fellow travellers.
Therefore, here are some great ideas of what to do when visiting Maspalomas. Especially during high season, pre-booking online will guarantee your place at the activity of your choice*:
Also, here are some great ideas of what to do in Puerto de Mogán*:
Our day trip to Maspalomas and Puerto de Mogán was only the first of many amazing tours during our week on the island of Gran Canaria. To read about the others, go to this post and take your pick!
For general information on Spain, go to this post. There, you'll find information and tips that will make your trip much smoother and more enjoyable.
Pinnable Pictures
If you choose to pin this post for later, please use one of these pictures:
Did You Enjoy This Post? Then You Might Like Also These:
* This is an affiliate link. Hence, If you book through this page, not only do you get the best deal. I also get a small commission that helps me run this blog. Thank you so much for supporting me!