As international travel picked up again, one of the first trips I did was to spend seven days in Barcelona, Catalonia's exciting capital. While in this post, I'm listing ten valid reasons why you have to visit this gem, there is an additional one why you should do it right now: Go before all the others are coming – Barcelona is one of the most-visited cities in Europe.
I'm Back
It's November and the sun is shining over Barcelona – brighter than on some summer days in Hamburg where I'm normally based.
I'm getting off the airport bus at the humongous and majestic square Plaça de Catalunya.
I'm back.
Back on so many levels.
After two endless years of lockdowns and travel restrictions, I can finally go on one of my beloved road trips again. I'll be exploring Andalusia, located in the southwest of the Hispanic peninsula, right at the border with Portugal.
But first, I'm back in Barcelona where I'm meeting my daughter to spend one week with her – including her birthday.
We've been here a couple of years ago when visiting some famous Spanish metropole was no biggie. A seat on one of those low-cost flights and off we went – for a weekend or a couple of days. Restrictions were unthinkable. Healthproof before boarding was unimaginable. It was a different world then, just a couple of years ago.
Life was so easy.
And yet I must say that the pandemic and the travel restrictions did me also good. They made me appreciate travel more. I'm not taking roaming for granted anymore.
So here I am, enjoying Barcelona to the max.
I'm back.
Barcelona
More than 1.6 million people live in the urban area which makes Barcelona Spain's second-largest city and the capital of Catalonia. It is located on the Mediterranean Sea just about 120 kilometers south of the Pyrenees and the French border.
The Origins
The history of Barcelona began 2000 years ago. Its location on a coastal plain between the Collserola Ridge and the Mediterranean Sea made the Iberian settlement of Barkeno easy to defend. Since it also lies on the route between Central Europe and the major part of the Iberian Peninsula, it has always been an important metropole.
Romans had set up a military camp in the area of ​​the old town. You can still spot the remains in the area around the cathedral. However, around 415 AD, what is now Catalonia came under the Visigoths' rule. Eventually, the Moors ruled from 717 on, yet less than one century. Soon, they were defeated by the Franks.
In 1137, Catalonia was united with the Kingdom of Aragon which was the beginning of the gilded age. Barcelona became the most important city in the western Mediterranean. At that time began the construction of many important buildings like the cathedral, the stock exchange La Lotja, or the Palau de la Generalitat.
Lost…
Beginning in the 14th century, Barcelona slowly lost its significance. The first reason was the plague. Eventually, the unification of the kingdoms of Aragon and Castile lead to the city's decline as trade with the newly discovered Americas flourished only in Castile.
Also, Catalonia suffered the consequences of the Spanish-French war in the 17th century. In the following War of the Spanish Succession, French troops occupied Barcelona. The Catalan self-government ceased.
…And Found
Barcelona's position changed with the industrial revolution in the 19th century. The textile industry was the first sector that created a large number of jobs. Eventually, also the production of cement and building materials gained importance. The influx of workers overcrowded the old town. Therefore, the old wall was torn down and the city was expanded.
This newly gained pride and assertiveness became evident with the World Exhibition in 1888. In 1936, the Olympic Games were planned to take place in Barcelona. Although the stadium was completed in time, the Olympics finally took place in Berlin.
Civil War
The Spanish Civil War took place from 1936 to 1939 between the democratically elected government of the Second Spanish Republic, in short, the Republicans, and the right-wing putschists led by dictator Francisco Franco.
The massive resistance to the Franco coup had devastating consequences for Barcelona. After the defeat of the republican government, Catalonia's autonomous institutions were abolished. The use of the Catalan language in public, in schools, and in publications was banned.
As the city remained one of the country's economic and industrial centers, it attracted workers from other Spanish regions. This growth led to the construction of buildings, roads, and a subway. After the end of the dictatorship in 1976, the Catalan culture quickly blossomed again.
Barcelona Today
As a matter of fact, Franco's death in 1975 led to a strong democratization movement which found widespread support, especially in Catalonia, obviously. In 1977, over a million people demanded the restoration of Catalan autonomy. Shortly afterward, it was re-established.
Also, Barcelona finally got its Olympics in 1992. In addition to the existing sports facilities on Montjuïc, there were new facilities added in the Sant Marti district. Ever since the Olympic Games, the city has suffered experienced a tremendous tourist boom. For me, this was the main reason to come back to Barcelona during the pandemic as at least visitors from other continents still had to stay away.
Ten Reasons Not to Miss Out on a Visit
If you expect to get a list of ten sites that you can just check off your itinerary when visiting Barcelona, then you're terribly mistaken. The abundance of important landmarks alone is so overwhelming that you'd probably need to come on a sabbatical to see them all. Also, there are more than 50 grand museums, and that does not include all the temporary exhibitions and independent galleries.
Then there are all those cute shops lining narrow alleys, small squares on which you could spend hours feasting on churros while watching people go by. You can climb hills, relax in parks and work on your tan on beaches.
No, I cannot put together a list of ten specific places not to miss out on.
What I did instead is putting together an overview of ten of the most outstanding general themes you might be interested in. Within these groups, I'm then introducing some of the most iconic examples to choose from. And although I've been working very hard to make my list complete, there will always be room for your own finds. Because I believe that when it comes to the city of Barcelona, no one has seen it all.
Barrio Gotic
The Gothic Quarter is the oldest district of Barcelona. It developed from the Roman settlement of Barcino. Since the Barrio Gotic is very centrally located and connects some of the most interesting neighborhoods, it's a great spot to start exploring the city.
Actually, the famous avenue La Rambla borders the district in the west. In its north is the huge square Plaça de Catalunya, in the east the broad Via Laietana, and finally in the south the Mediterranean Sea. Most of the structures around the imposing Cathedral date from the 14th and 15th centuries as this was Barcelona's heyday as a sea power.
When checking out what to see at the Barrio Gotic, I got just overwhelmed. If I wanted to see all those Medieval structures, I probably had to spend a week in this net of narrow alleys alone. Practically every house qualifies for a landmark, each small square is worth spending a long coffee break there, and all the little businesses lure you in with their unique selection of fashion, nick nacks, or gourmet treats. So please, take the following sights as cornerstones for your own historic and cultural treasure hunt.
Cathedral of Barcelona
Once there was a Roman temple on the site where the Gothic Catedral de la Santa Creu i Santa Eulàlia is now. This predecessor dated from the 6th century and actually survived the destruction of the city by the Moorish ruler Almansor in 985.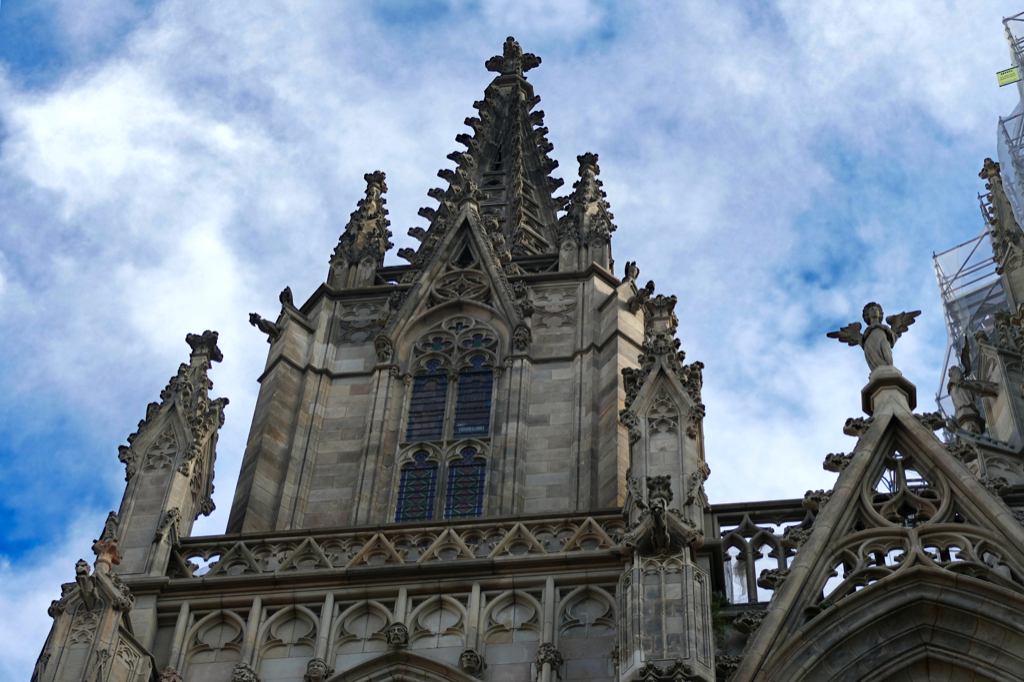 The foundation stone of the Cathedral was in 1298. However, the building was only completed in 1448. Around 1500, the bell tower was added. Using old designs from 1408, August Font and Josep Oriol Mestres built the façade at the end of the 19th century.
Plan Your Visit
The Cathedral can be visited from Monday to Friday between 10 a. m. and 6:30 p. m., Saturdays only till 5 p. m., and Sundays only between 2 p. m. and 5 p. m. Visiting the Cathedral including the rooftop costs 9 €uros. If you want to see the museum, too, you'll pay 15 €uros.
East of the Cathedral is a huge complex of structures from the Romanic as well as Gothic eras. There are buildings and sites you can just walk around and admire.
But there is also the History Museum MUHBA where you can dig deeper into the city's history. It's open from Tuesday to Saturday between 10 a. m. and 7 p. m. and on Sundays even till 8 p. m. General admission is 7 €uros, but it's included in the Barcelona Card*.
Museu Frederic Marès
This museum presents Frederic Marès Deulovol's wonderful work. Marès was an important Catalan sculptor of the Modernisme as well as an art teacher and art collector who passed away in 1991.
Born in Portbou, his family had moved to Barcelona in 1904. There he studied the art of sculpting at the Escola de Belles Arts as well as at the workshop of the modernist sculptor Eusebi Arnau.
In 1913, he completed his studies in Paris and lived and worked eventually in Rome, Florence, and Brussels. He returned to Barcelona for good at the beginning of WWI.
Plan Your Visit
The Museum is open from Tuesday to Saturday between 10 a. m. and 7 p. m. and Sundays from 11 a. m. till 8 p. m. The general entrance fee is 4,20 €uros, however, it is included in the Barcelona Card*.
The Kiss of Freedom
Apart from all the old stuff, there is also urban art at the Barrio Gotic. There are painted murals – and there is the famous Kiss of Freedom by Joan Fontcuberta.
As a matter of fact, this mural is called El Món Neix en Cada Besada which translates to The World Begins With Every Kiss. Fontcuberta composed it from images snapped by locals following a newspaper's call to send in photos of a moment of freedom. The complete work around 4000 pictures measures 8 meters times 3.8 meters. It was mounted on the Plaça d'Isidre Nonell in 2014 to commemorate Barcelona's
defeat Barcelona during the war of the Spanish Succession.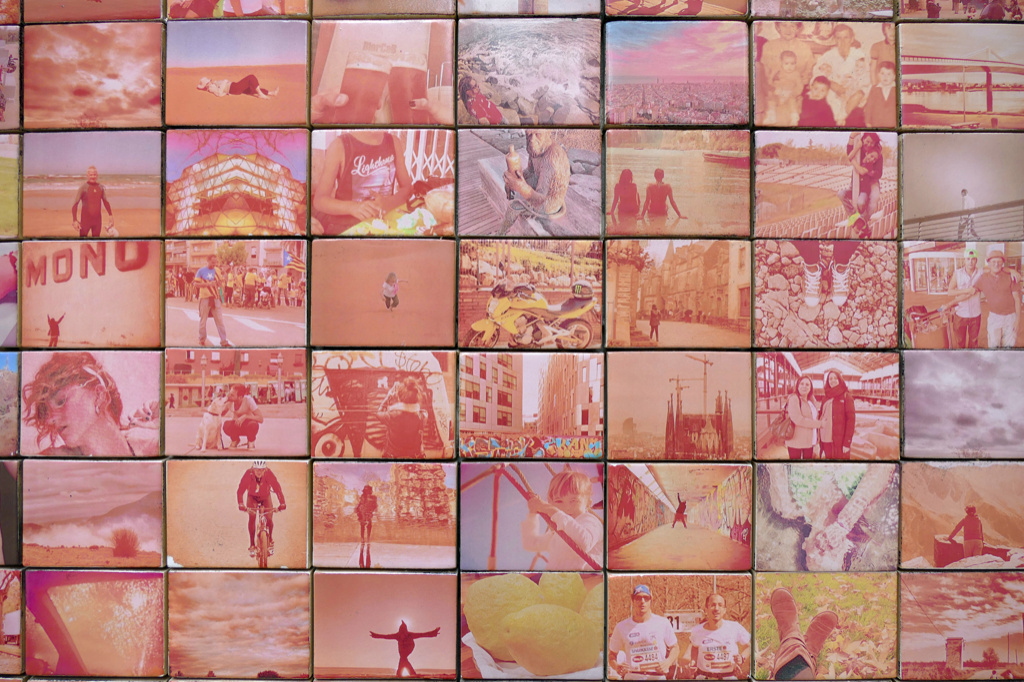 By the way, although I was pacing around like a wound-up toy, one aspect I sadly had to skip was Barcelona's street art. Obviously, I saw some murals during my races from one amazing landmark to another amazing landmark. But there was definitely no time for a structured and systematic street art hunt. Let me tell you, guys, for us FOMO addicts, Barcelona can be nearly lethal.
Plaça del Pi
Among many other old squares and alleys, the Plaça del Pi is definitely one of the highlights.
The most imposing building here is the Basilica of Santa Maria del Pi. It is a Catholic house of worship built in the Catalan Gothic style. Also, on its western edge is a unique pine tree.
Across from the church stands the old traders' guild house. The front is richly decorated with fading sgraffito.
The best way to enjoy this square is not walking, but sitting. At one of the cafés.
By the way next to the Plaza del Pi, on the Plaza de Sant Josep Oriol, is a bronze statue of Angel Guimerá. I'll introduce him in my upcoming post on Santa Cruz de Tenerife. You see, it's always worth it coming back to my blog to check out what's new – and get some ideas and inspirations for your own travels.
Get Lost
Nevertheless, simply strolling up and down the mesmerizing narrow streets and alleys is the best way to get a feel for the old Barrio. The most interesting ones are probably Carrer dels Banys Nous, Carrer de Montcada, and Carrer dels Flassaders, which technically is part of the El Born neighborhood. Once you get there, you by no means should miss out on the scenic Passeig del Born.
But at the end of the day, just take your time and meander through the barrio, lose your way between those high buildings, take a turn at the next corner – all the wonders of Barcelona are waiting for you.
Modernism
Catalan Modernism was a cultural and social renewal movement similar to other cultural trends in Europe at the end of the late 19th century. There were the Arts & Crafts in England, Art Nouveau in Germany, Belgium, and France as well as the Vienna Secession in Austria. In Catalonia as well as in Valencia, Modernist architecture developed around 1885. ​​Soft shapes, curved lines, floral motifs, irregular floor plans, and sloping pillars are the characteristic features.
The most prominent representatives were Lluís Domènech i Montaner and Antoni Gaudí i Cornet, obviously.
At the same time that Modernism appeared, the city of Barcelona expanded towards the north. Therefore, most of the iconic buildings are in the Eixample neighborhood. Also, Barcelona is one of the cities with the most Art Nouveau buildings in the world – next to for instance Paris, Vienna, Prague, and Riga.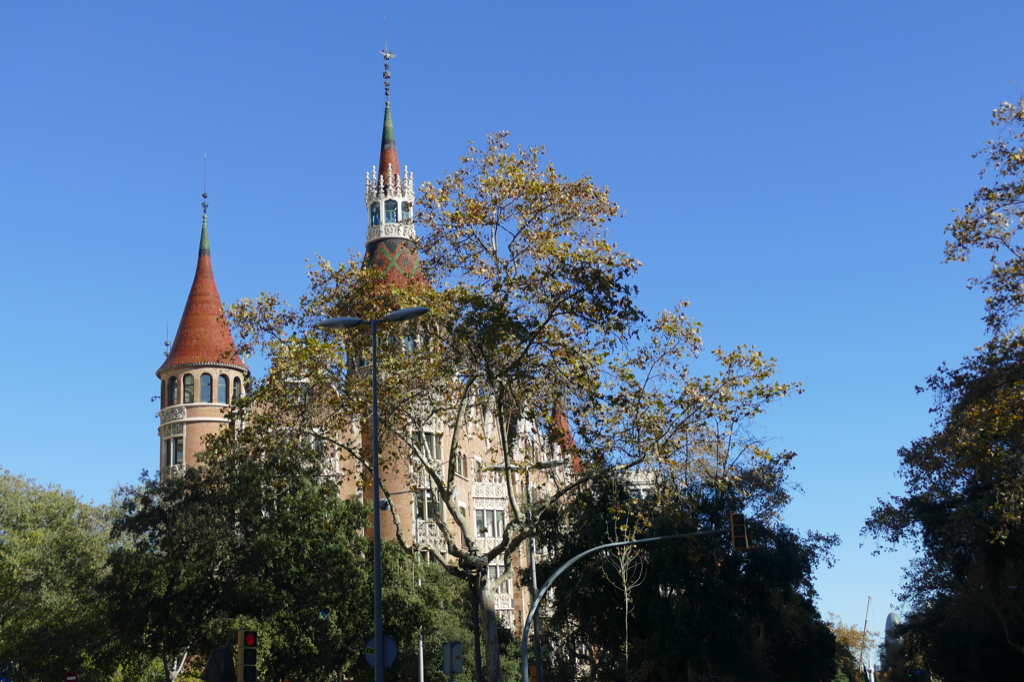 The potential of architecture to satisfy the desire for modernity, to emphasize Catalan identity, and to show off wealth in a somewhat unobtrusive way explains the patronage of magnates such as Manuel Vicens, Josep Batlló, and Eusebi Güell, obviously.
Of Barcelona's nine UNESCO World Heritage Sites, seven are buildings by Gaudí. Therefore, I'm dedicating an entire chapter to this world-famous genius. And soon, also an entire post.
The remaining two sites are the Palau de la Música Catalana and the Hospital de Sant Pau. Both modernist structures were designed by the other Catalonian architectural master Lluís Domènech i Montaner. I'm introducing them below – together with the Museu del Modernisme, arguably the only museum dealing exclusively with Catalan Modernism.
Hospital de la Santa Creu i Sant Pau
Catalan banker Pau Gil i Serra enacted the construction of Hospital de la Santa Creu i Sant Pau in his will. Lluís Domènech i Montaner constructed the complex from 1902 to 1911.
The various medical units were housed in 48 independent pavilions. Those were connected by corridors laid underneath in an ample garden. Sculptor Pablo Emilio Gargallo Catalán decorated the façade and the interiors.
Today, the complex is no longer a hospital. It has been listed as a UNESCO World Heritage Site since 1997.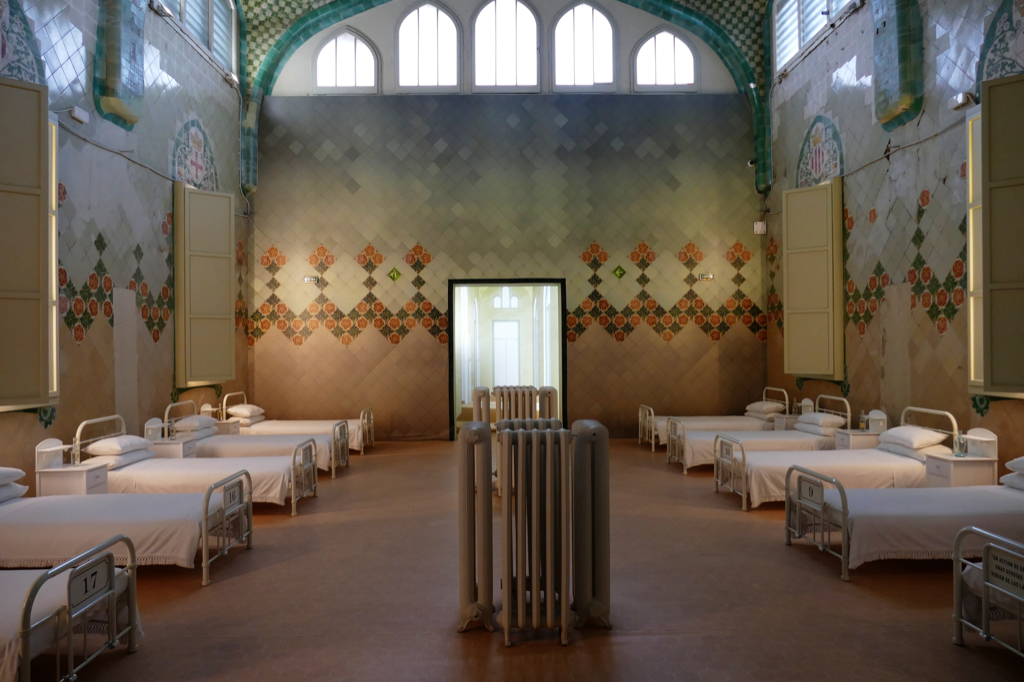 Plan Your Visit
The Sant Pau Recinte Modernista can be visited on weekdays between 10.30 a. m. and 2.30 p. m. and on weekends till 5 p. m. The general entrance fee is 15 €uros, however, you'll get a 30 percent discount with the Barcelona Card*. Online booking is highly recommended.
My Tip: If you plan to visit also the Casa Milà, aka the Pedrera, your cheapest option is a combi ticket with the Hospital de Sant Pau. As you buy it online, you need to choose the time slot you want to visit the Casa Milà. Yet, you have to visit the Hospital de Sant Pau first. The general price of this combined ticket is 30 €uros.
Palau de la Música Catalana
The Palau de la Música Catalana is the other majestic building by Lluís Domènech i Montaner that made it onto the list of UNESCO World Heritage Sites in 1997. It stands in the El Born neighborhood in the southern part of the Barrio Gotic and is mainly famous for its ornate stained-glass roof.
Plan Your Visit
Since the Palau de la Música Catalana is a working concert hall, visiting times are a bit limited. However, you can visit this amazing venue every day between 10 a. m. and 3.30 p. m. on a self-guided tour for 14 €uros or guided for 18 €uros. With the Barcelona Card*, they will grant you a 20 percent discount.
Museu del Modernisme de Barcelona
The Museu del Modernisme de Barcelona is a private collection that antique dealers Fernando Pinós and María Guirao have assembled during their 40 years in business. The collection is on display in a Modernist residential and factory building built by Enric Sagnier i Villavecchia between 1902 and 1904.
The museum shows exclusively Modernist furniture and decoration, for instance, pieces, that Antoni Gaudí designed for his buildings.
However, there is also an exhibition by some of the most important Modernist painters such as Santiago Rusiñol i Prats and Joaquim Mir i Trinxet as well as sculptures.
Plan Your Visit
The museum is open from Monday to Friday between 10.30 a. m. to 2 p. m. and then again in the afternoon from 4 p. m. to 7 p. m. Saturdays, it's only open in the morning. It remains closed during the month of August. The entrance fee is 10 €uros and is included in the Barcelona Card*.
Ruta del Modernisme
The Ruta del Modernisme is an itinerary through Barcelona including stops at 120 works. This guide will take you to impressive buildings and significant spots.
To follow this route, you'll need to buy the Guía de la Ruta del Modernisme de Barcelona at any bookstore or the tourist offices for 12 €uros. This book is available in Spanish, Catalan, English, and French. It includes discount coupons for up to 50 percent on admissions to all the modernist monuments in Barcelona. Those are valid for one year.
Antoni Gaudí
In 1852, Antoni Gaudí was born north of the city of Tarragona about 100 kilometers west of Barcelona into a family of coppersmiths and boilermakers. In his father's workshop, Antoni Gaudí became familiar with geometric shapes at an early age.
As he studied architecture in Barcelona, his extraordinary talent as a draftsman was noticed. However, as Gaudí graduated from architecture school in 1878, the director concluded "Who knows whether we gave the diploma to a madman or a genius – only time will tell us."
I think by now, time gave us the right answer.
In 1878, Gaudí had met Eusebi Güell. With the magnate's financial help he later carried out some of his most famous projects.
On June 7, 1926, a tram hit Gaudí on his way to the construction site of the Sagrada Família. Initially, based on his neglected appearance, he was mistaken for a bum and denied adequate medical care. He was taken to a hospital for the poor. Only three days later, he was identified. Although Gaudí was immediately moved to a private room, he died the same day.
Barcelona was in deep mourning. The government ordered to bury him in the crypt of the unfinished Sagrada Família.
I've dedicated an entire post to Gaudís work mainly in Barcelona. Therefore, below, I'm just introducing briefly his six of his works that made it to the list of UNESCO world heritage sites. You'll then find the seventh one in the chapter on the Colonia Güell below.
Park Güell
Assigned by Eusebi Güell, Antoni Gaudí planned a garden city consisting of more than 60 villas. These were meant to be sold in advance in order to finance the project. Sadly, this undertaking failed as only two lots were sold. Due to the lack of funds, finally, only three houses were built.
The Güell family's former home houses the school Escola Baldiri Reixac today. Gaudí's former home in which he lived from 1906 and 1925, has been a museum since 1963. Finally, the home of an architect friend is the only one still inhabited.
When building the park between 1900 and 1914 on more than 17 hectares, Gaudí didn't consider only environment friendliness. He also paid attention to cost-efficiency by adapting his plans to the hilly terrain. The organic shapes of the retaining walls and terraces allow them to blend in with the terrain and thus convey the impression of absolute naturalness.
Smart spender Gaudí even got the required materials on the site. For many of his beautiful mosaics, he used waste from the nearby ceramic factories. In the end, construction was still very expensive since everything was individually handmade.
Plan Your Visit
You can visit the Parque Güell every day from 9.30 a. m. to 7.30 p. m.
The park is one of Barcelona's main tourist attractions, yet like most of Gaudí's works, it is not included in any tourist pass. The general entrance fee starts at 10 €uros. This does not include the entrance to the Casa Museu Gaudí.
Especially in summer, you should buy the tickets online* in advance so that you don't have to wait too long at the cash.
Casa Vicens
Antoni Gaudí created the Casa Vicens years before his first assignment for Güell.
The house was built for the stockbroker Manuel Vicens i Montaner between 1883 and 1885. It already shows some of the elements that became iconic for Gaudí's style. For instance, it's decorated with floral carvings, lots of ceramics, and the use of many eclectic patterns and bold colors.
The building is inspired by the Mudejar style, hence, a hybrid of Spanish and Arabic elements from the period after the Reconquista. You'll get to see more of this style in my posts on the Andalusian cities of Málaga, Granada, and Córdoba. This is reflected especially in the small turrets and the delicate façade of the upper floors. However, there are also wrought iron elements as well as Japanese ornaments.
Amazingly, some rooms have stalactite cave-like vaults. These are most prominent in the smoking room. Ornaments such as painted birds on walls and doorposts and excessive floral patterns on the ceilings are further beautiful features.
Plan Your Visit
You can visit Casa Vicens between April and October every day from 10 a. m. to 8 p. m. and between November and March on Monday till 3 p. m. and Tuesday to Sunday till 7 p. m.
Like most of Gaudí's works, Casa Vicens is not included in any tourist pass. The general entrance fee starts at 16 €uros. Making an online reservation is highly recommended. Not only does it guarantee entrance on the day and time you desire. You also save 2 €uros.
Sagrada Família
The construction of the Roman Catholic basilica began in 1882 and remains unfinished. However, completion is expected in 2026, on the occasion of the 100th anniversary of Gaudí's death. Presuming this actually works out, the construction would have taken a total of 144 years.
The idea for a house of worship dedicated to the Holy Family came from the local religious bookshop owner Josep Maria Bocabella. The architect of the diocese Francisco de Paula del Villar y Lozano designed and planned the project. Also, Antoni Gaudí was present at the laying of the foundation stone in 1882. He had worked as a student with del Villar. After a dispute between del Vilar the building management, Gaudí took over.
Gaudí stuck to del Villar's plans, but added many sophisticated details. Just before work began on the Nativity façade, a significant anonymous donation enabled Gaudí to pursue his plans for the church. Nevertheless, soon it became apparent that the time plan could not be fulfilled due to Gaudí's expanded designs. Finally, in total, he worked on the church for 43 years, the last 15 years exclusively.
Asked about his bad timing, Gaudí replied "My client is in no hurry." It's not really clear if he referred to the authorities or to God.
Funnily, only in 2016, it became clear that no building permit has ever been issued. However, it was then quickly granted in 2019.
In 2005, the world's fanciest construction site made it onto the list of UNESCO World Heritage Sites. Pope Benedict XVI. consecrated the church and granted it the status of a papal minor basilica in 2010.
Plan Your Visit
You can visit the Sagrada Família from Monday to Saturday between 9 a. m. and 6 p. m. from November to February, till 7 p. m. in March and October, and till 8 p. m. from April to September. On Sundays, they open only at 10.30 a. m.
The Sagrada Família is arguably Barcelona's main tourist attraction. The general admission starts at 26 €uros for a self-guided visit and 30 €uros for a guided tour. Like most of Gaudí's works, it is not included in any tourist pass.
Nevertheless, there are combi tickets that include for instance the Parque Güell and other cool activities
My Tip: Be very careful when purchasing tickets online since there are many sites that look legit but sell tickets at a much higher cost. The official site is sagradafamilia.org.
Palau Güell
As a matter of fact, the Palau Güell was one of Gaudi's structures that impressed me the most. Mainly, because it's so different. Not as lovely and organic, but rather dark and Gothic. As we walked through the rooms, I was expecting to run into a knight or some creepy old aristocrat.
Nevertheless, it's a townhouse Gaudí designed for his patron Eusebi Güell between 1886 and 1890. Here, the master connected decorative and structural elements for the first time. Eventually, they became characteristic of Gaudí's works.
The furniture and decorations were all designed by Gaudí himself. Particularly impressive, almost intimidating, are the elaborated vaults and extremely high ceilings.
Finally, on the roof, you get to see the colorful sculptures covered by playful ceramic mosaics. Just like on other buildings by Gaudí, they cover the chimneys.
Plan Your Visit
You can visit the Palau Güell Tuesday to Sunday from 10 a. m. to 8 p. m. between April and September. During the low season from October to March, they are closing already at 5.30 p. m.
The general admission is 12 €uros. You save 25 percent with the Barcelona Card*.
Casa Batlló
Casa Batlló is a residential and commercial building on Passeig de Gracia 43. Named after its commissioner, it is considered one of the city's architectural highlights.
The textile manufacturer Josep Batlló i Casanovashe commissioned the remodeling of his mansion in the modernist style in the years 1904 to 1906. To create this mesmerizing work, Gaudí cooperated with other talented architects and sculptors.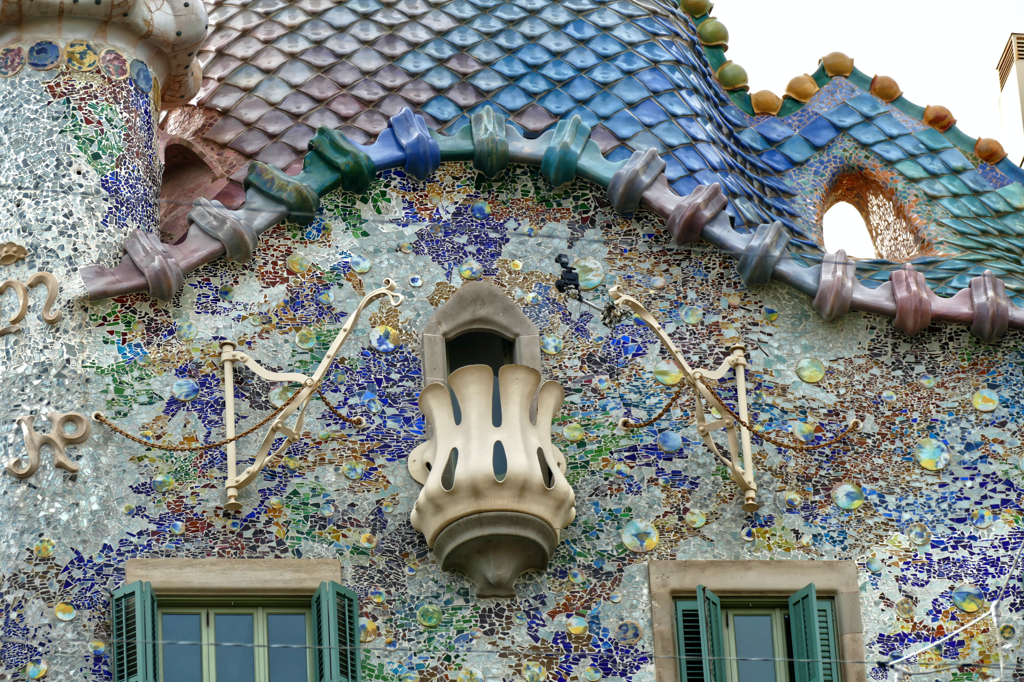 The colorful façade tells the legend of Saint George, the patron saint of Catalonia. However, here they call him Sant Jordi.
The roof represents the dragon that Saint George fights. The cross on the roof stands for his lance. The wrought-iron balconies portray skulls, and the gallery on the first floor represents the dragon's mouth.
Casa Batlló is currently owned by the Bernat family, the founders of Chupa Chups. Part of the building including the foyer, the bel étage, the stairwell, the attic, the roof, and the backyard are open to touristy visits.
Plan Your Visit
You can visit Casa Batlló every day from 9 a. m. to 8 p. m.
Casa Batlló is one of Barcelona's main tourist attractions, yet like most of Gaudí's works, it is not included in any tourist pass. Although the general entrance fee starts at an incredible 39 €uros, you should definitely consider a visit. Making an online reservation is highly recommended. Not only does it guarantee entrance on the day and time you desire. You also save 4 €uros.
Mind you, there are combi tickets that include other Gaudí buildings such as the Casa Milà, the Palau Güell, and of course the Sagrada Família. Also, you get small discounts with most tourist passes such as the Ruta del Modernisme or the Barcelona Card*. Either way, you save at least a little bit.
Casa Milà
If I had to choose, I'd say that the Casa Milà is Gaudí's masterpiece. While the façade is comparatively unimposing, its inside and most of all the roof are full of wonders.
Antoni Gaudí designed this architectural marvel for the Milà-family between 1906 to 1912.
The building is a concrete and iron construction. Three inner courtyards provide the rooms with sufficient light and fresh air. Natural lighting was rather unusual at that time. All stately rooms face the street or the largest courtyard. The servants' and utility rooms face the two inner courtyards.
A well-thought-out system grants perfect natural ventilation. The walls in each apartment can be adjusted individually. After all, instead of the walls, columns are bearing the load. Gaudí's design included already elevators. However, they were installed much later. Also, he already included an underground car park.
I think that everyone will agree that the so-called Pedrera's strongest suit is the roof. Up there, functionality meets beauty. The visitor walks through a bizarre landscape of stairwells, ventilation towers, and chimneys. Some of the chimneys are freestanding while others are grouped in batches of three or four.
Yet, it's the same old story: At first, people in Barcelona didn't think too much of the house, but it quickly became known under the nickname La Pedrera, meaning the quarry. It owes this irreverent name to its irregular façade with the many protrusions and its massive mass, which can be seen from afar.
Plan Your Visit
You can visit Casa Milà every day from 9 a. m. to 6.30 p. m. and from 7 p. m. to 10 p. m. for the night tours. General admission is 25 €uros for the standard visit. The night tours start at 35 €uros. You'll find many more visiting options on their website. You'll get a 20 percent discount with the Barcelona Card*.
The cheapest option, however, is a combi ticket with the Hospital de Sant Pau. As you buy it online, you need to choose the time slot you want to visit the Casa Milà. Yet, you have to visit the Hospital de Sant Pau first. The general price of this combined ticket is 30 €uros.
Modern and Contemporary
So you're already exhausted from the richness of the Gothic quarter and visiting all the Modernist buildings and now you just want to relax and stroll around? Well, you can do that, however, even just walking around, you'll see lots of great urban art on Barcelona's walls.
Also, there are some fantastic art museums you should absolutely visit. I hand-picked what I'd consider the five most significant ones.
My Tip: If you are a culture vulture like I am and do not want to invest in a Barcelona Card*, the Articket is a great alternative. With this pass, you can visit the permanent collections as well as temporary exhibitions of six art museums in Barcelona. It includes the Museu Nacional d'Art de Catalunya, the Museu Picasso, the Fundació Joan Miró, the Fundació Antoni Tàpies, the MACBA, and the CCCB. The pass is valid for 12 months and costs 35 €uros.
Fundació Joan Miró
The Fundació Joan Miró is an art museum dedicated to Joan Miró, obviously.
Miró himself initiated the museum. Josep Lluís Sert completed the building in 1975. Not only was he a friend of Miró, he was also a student of Le Corbusier. The American Institute of Architects awarded the building with the Twenty-five Year Award in 2002.
The building in the shape of a clean white cube is located at the foot of Montjuïc, not far from the Museu Nacional d'Art de Catalunya. It houses over 10,000 of Mirò's paintings, drawings, sculptures, and tapestries. However, some of his sculptures are standing on the roof terrace where they form an intriguing ensemble with the building and the panoramic views of the city.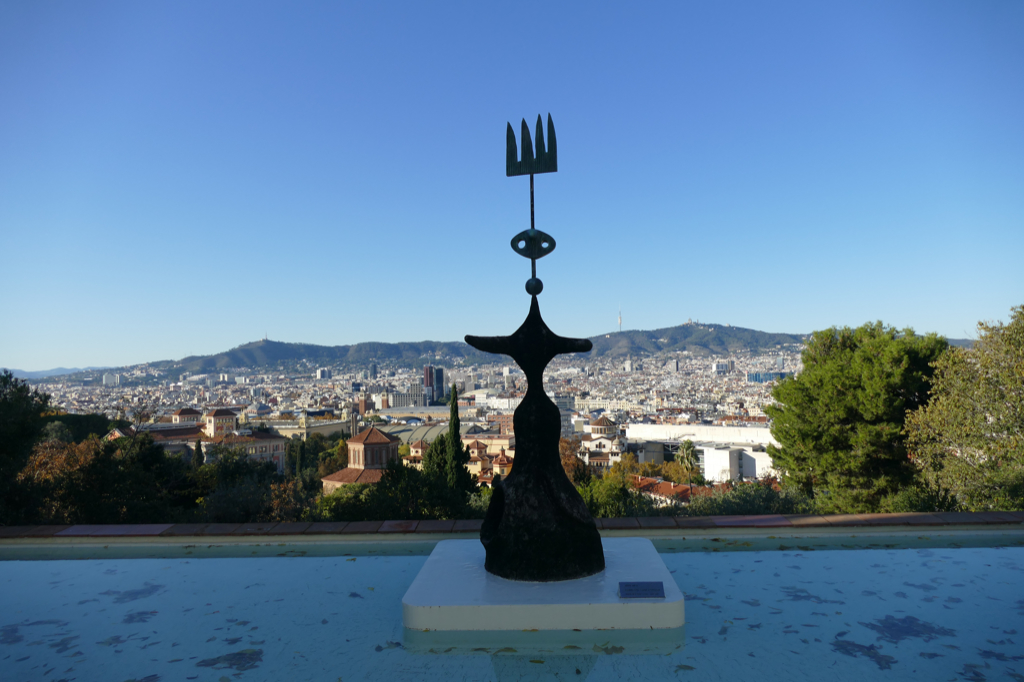 Not long ago, I visited another gallery dedicated to Miró's work. I'm introducing it in my post on Palma de Mallorca.
Plan Your Visit
You can visit the museum between Tuesday and Sunday from 10 a. m. to 6 p. m. The general admission is 13 €uros and free with the Barcelona Card*.
Museu Nacional d'Art de Catalunya
In 1990, the collections of the Museu d'Art Modern and the Museu d'Art de Catalunya were merged and are now housed at the Museu Nacional d'Art de Catalunya.
Its Romanesque collection is considered one of the largest in the world. The large-scale Romanesque frescoes from the 12th and 13th centuries were removed from small churches in the Pyrenees. However, the collection also includes numerous panel paintings and wooden sculptures.
The museum presents also outstanding works from the 16th to 18th centuries for instance by El Greco and Velázquez.
In the modern section, you'll get to see significant works of Catalan art from the 19th and the first decades of the 20th century.
The museum also shows a part of the art collection of the Museo Thyssen-Bornemisza. I've introduced this cultural institution in my post on Málaga.
Plan Your Visit
You can visit the museum from October to April between Tuesday and Saturday from 10 a. m. to 6 p. m., Sundays only till 3 p. m. During the high season from May to September, it is open from Tuesday to Saturday between 10 a. m. and 6 p. m., Sundays only till 3 p. m. The general admission is 12 €uros, yet free with the Barcelona Card*.
Museu Picasso
The Museu Picasso in Barcelona shows mainly the artist's early work created between 1895 and 1904. They are housed in five connected Gothic houses from the 13th to 15th centuries.
A donation by Picasso's former secretary and friend Jaime Sabartés forms the foundation of the collection. During decades of Franco's dictatorship, Picasso's work was not exhibited in Spain. The press was not allowed to print photos of them. His first exhibition was actually organized only in 1961. Two years later, the museum opened, however, under the name Sabartés Collection.
With tourism booming, the museum's name was changed in 2007 in order to attract even more visitors.
Not long ago, I've been to Picasso's hometown Málaga. There, I got to see various venues and landmarks honoring the artist.
Plan Your Visit
You can visit the museum between Tuesday and Sunday from 10 a. m. to 7 p. m. The general admission is 12 €uros and free with the Barcelona Card* but also every Thursday afternoon after 4 p. m. as well as on the first Sunday of each month.
Fundació Antoni Tàpies
The Antoni Tàpies Foundation was established by the artist himself in 1984. It owns one of the most complete collections of his work, donated by him and his wife.
Apart from the permanent exhibitions, the museum that opened in 1990 organizes many temporary exhibitions of all artistic genres.
The book collection which is specialized in modern art is considered one of the most complete in the world.
Plan Your Visit
You can visit the museum between Tuesday and Saturday from 10 a. m. to 7 p. m., Sundays only till 3 p. m. The general admission is 8 €uros and free with the Barcelona Card*.
Moco Museum Barcelona
Moco is the new kid in town – yet, of Barcelona's contemporary venues, it was my absolute favorite one.
After a couple of years in Amsterdam, the Moco opened its Barcelona branch in the historic Palau Cervelló-Giudice only in October 2021. It shows iconic works by internationally known authors and rising artists. Andy Warhol, Jean-Michel Basquiat, Keith Haring, Damien Hirst, Yayoi Kusama – among Moco's artists, you'll hardly find a name that's not world-famous.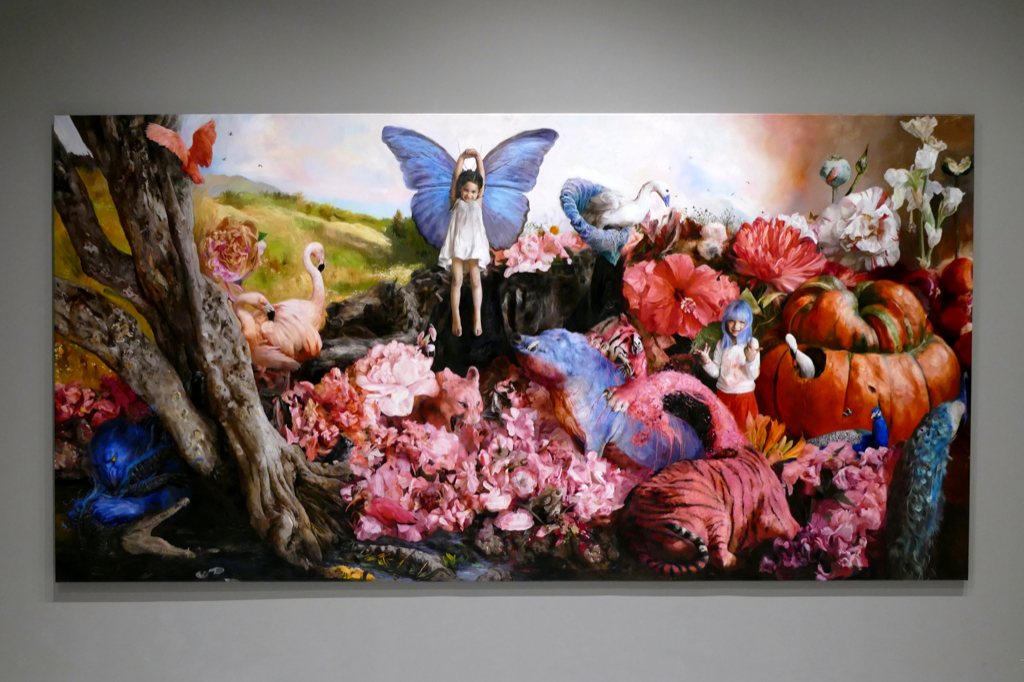 However, the Moco is also open to the technical development of art. Therefore, you'll find some amazing digital installations by teamLab, Les Fantômes, and others.
Plan Your Visit
You can visit the gallery from Monday to Thursday between 10 a. m. and 7 p. m. and from Friday to Sunday till 9 p. m. The general admission is 14.50 €uros. It is highly recommended to book a time slot online.
As I mentioned above, there are for instance also the art museums Museu Nacional d'Art Contemporani de Barcelona, short MACBA, and Centre de Cultura Contemporània de Barcelona, short CCCB which are also included in the Articket. The Barcelona Card* on the other hand, includes the El Born Centre de Cultura i Memòria. There you'll learn about different aspects of Barcelona's history.
Las Ramblas
La Rambla connects Plaça de Catalunya with the old port on a 1.2-kilometer-long boulevard. There is a central footpath flanked by roads and sidewalks. Apart from enjoying a truly Mediterranean atmosphere, you'll find some of Barcelona's magnificent historic buildings here.
So, is it La Rambla or Las Ramblas?
I'm so glad you've asked.
It's one boulevard, hence La Rambla. However, since the different sections have suffixes like Canaletes or Estudis, it's mostly called Las Ramblas.
Since each of these sections is a bit different, I'm also introducing them individually.
Rambla de Canaletes
The Rambla de Canaletes starts right at the Plaça de Catalunya. It's named after the water channels canaletes that were integrated into the adjoining city wall.
It is popular for the Font de Canaletes, basically, Barcelona's Fontana de Trevi. According to the legend, whoever drinks from this fountain, always returns to the city.
This section of Las Ramblas is also a popular assembly spot for FC Barcelona fans.
Rambla dels Estudis
The Rambla of Studies got its name from many schools and colleges that used to line this section in the past. Today, only the Reial Acadèmia de Ciències i Arts de Barcelona, the Academy of Sciences and Arts, remains.
The most sophisticated building on this stretch is the Teatre Poliorama. In this venue, designed in the 19th-century by Josep Domènech i Estapà, plays, musicals, and other shows take place.
Two blocks down at the corner of Carrer de la Portaferrissa where the Rambla dels Estudis merges into Sant Josep is the beautiful Font de la Portaferrissa.
At the entrance into the street was one of the iron gates in the old city wall. Also, one of the fountains was also built next to the portico. It granted the inhabitants water supply. Supposedly, to this day, it spouts drinking water so that thirsty visitors may quench their thirst.
In all honesty, I would rather buy a bottle of water for about one €uro at one of the many small shops in the neighborhood.
The builder of the fountain remains unknown, yet, the writing on the beautiful ceramic tiles dates from 1680.
Rambla de Sant Josep
This section got its name from a former monastery. It used to be where the Mercat de la Boqueria is now located.
This part of the Ramblas is also called the Rambla de les Flors, the Flower Rambla, because of the flower stalls. As a matter of fact, they are part of the Boqueria market but had to be outplaced due to lack of space. Now, the colorful merchandise is an additional decoration of the Ramblas.
But you also get to see some truly amazing buildings in this section. For instance, there is the Palau De La Virreina, a Neoclassical palace that today houses the headquarters of the city's Culture Institute. Also, they organize temporary art exhibitions and other cultural events.
If you want to pimp up your Instagram account, you find the so-called Big Fun Museum across the street. For 20 €uros, you can pose in front of some quirky props and backgrounds.
I was rather impressed by the Casa Bruno Cuadros one block down at the corner of Carrer del Cardenal Casañas. This former residential and commercial building has gained notoriety for its façade adorned in an eclectic Asian style.
The house was built in 1858, however, architect Josep Vilaseca i Casanovas redesigned it between 1883 and 1888. And now take a wild guess what kind of business Bruno Cuadros had. Yes, correct, he dealt in umbrellas. Therefore, Vilaseca decorated the façade with umbrellas and fans. However, particularly noteworthy is the wrought-iron Chinese dragon mounted on a corner. He's carrying a lantern, an umbrella, and a fan. Today, the Casa Bruno Cuadros houses a bank.
Rambla dels Caputxins
This section was named after the former Capuchin monastery of Santa Madrona. Here, you'll find the Gran Teatre del Liceu as well as the Cafe de l'Opera. A fun characteristic are the waiters rushing across the road carrying the orders from the bars located next to the sidewalk to the guests sitting on the central promenade.
From here you also have access to the grand Plaça Reial. Actually, this square is basically only visible from the Rambla dels Caputxins as it has only four entrances. Due to this seclusion, it is often compared to the Plaza Mayor in Madrid.
Francesc Daniel Molina i Casamajó designed it in a neoclassical style and it was built between 1848 and 1859. Buildings and arcades in the classicist style surround the serene court.
In 1878, Gaudí designed unique street lamps to decorate and illuminate the Plaça Reial.
Rambla de Santa Monica
The Rambla de Santa Mònica is named after a convent, namely the patron saint of the Augustinian order. This last stretch is characterized by street artists and a arts and crafts market.
At the Rambla's southernmost tip stands the 68-meter high Column of Columbus. The monument was built on the occasion of the world exhibition in 1888. After its inauguration, it immediately became one of the most characteristic icons of the city. On top is a small platform from where you have – yet another – panoramic view mainly of the port and the Mediterranean sea. Don't you worry, you can get up by elevator.
Montjuïc
Montjuïc is one of the two local mountains of the Catalan capital Barcelona. Because of museums'n'monuments as well as beautiful parks, it's a major attraction – not only for visitors, but also for the locals.
The World Exhibition of 1929, as well as various sports events like for instance the Summer Olympics in 1992, took place on Montjuïc. Today, there is an Olympic and Sports Museum not far from the stadium.
One of the structures remaining from the World Exhibition is the Font Màgica fountain. The magic is that the water is illuminated in color on Friday and Saturday.
To me – and many other culture vultures -Montjuïc's main attractions are the Fundació Joan Miró, the Museu Nacional d'Art de Catalunya, as well as the Mies van der Rohe Pavilion. By the way, you can visit Miró's grave at the nearby Cementiri de Montjuïc.
You can also visit Barcelona's botanical garden on Montjuïc. The entrance fee is 5 €uros, but free with the Barcelona Card*.
One of the major attractions, however, is the Castell de Montjuïc, a fortress from 1640. Not only do you get lots of information on Catalonia's history, you'll also have some of the most beautiful panoramic views.
The castle is open every day from 10 a. m. till 8 p. m. The general admission is 5 €uros. Every Sunday of each month, admission is free, and on every other Sunday after 3 p. m.
How to Get There
There are many ways leading uphill, from walking to public buses. The most intriguing ones are probably the Port Cable Car and the Montjuïc Funicular.
The Port Cable Car leaves the port respectively Montjuïc every 15 minutes starting around 10.30 a. m. A one-way trip costs 11 €uros while you have to pay 16.50 €uros for a round trip.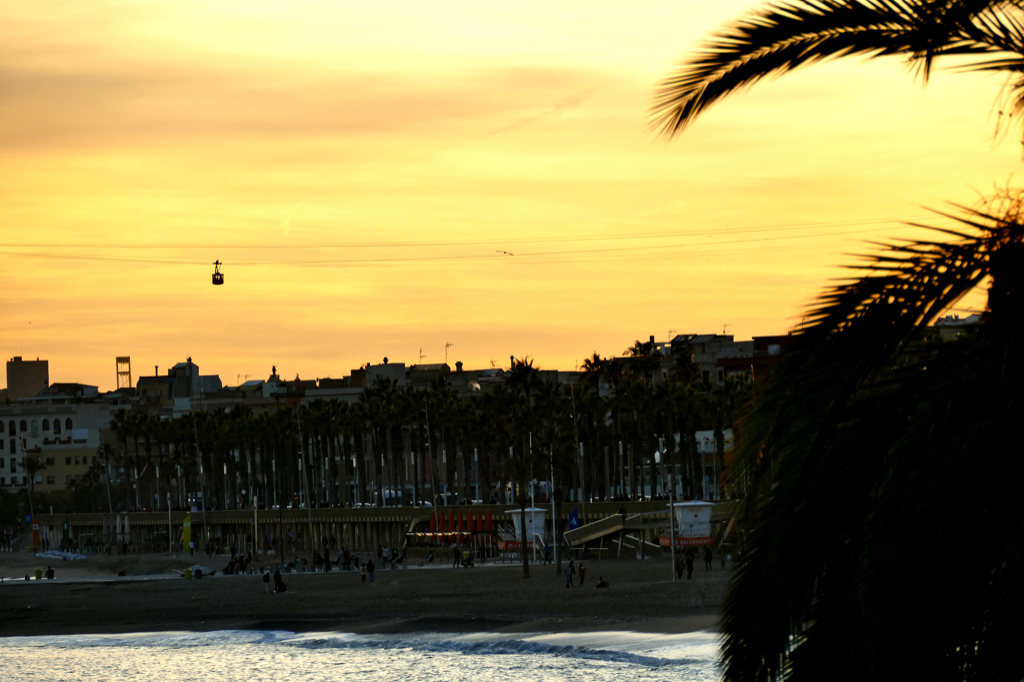 The Montjuïc Funicular, however, goes from the station Parallel to the Parque de Montjuïc and costs only as little as 2.40 €uros per ride. Also, it is included in the Barcelona Card*.
Once you got up with the Montjuïc Funicular, you can continue with another cable car called Teleferico de Montjuïc. These rides will set you back 14.20 €uros
La Barceloneta
I've been to so many cities where the big deal ought to be that they have a beach. Yet, very often, this beach is just some sandy dump on the shores where you don't wanna walk barefoot of fear to cut your feet on the broken beer bottles left from the night before.
On my recent trip through Spain, however, I've been to places where the city beaches are truly amazing. Whether Cádiz, Málaga, or Valencia – a long and broad and golden and very clean stretch of sand alongside the turquoise waters with facilities that make your day there even more enjoyable. Obviously, Barcelona belongs on this list, too.
Just a few minutes from the city center, miles of sandy beaches stretch along the coast. On the city beach called Barceloneta, you can walk for miles, tan'n'swim, or practice your favorite sport on the sand or in the water.
Especially during the summer months, spending at least a couple of hours relaxing on the beach can be a fantastically rejuvenating experience in between all those sightseeing.
As the Platja de la Barceloneta is easily accessible either walking or by public transport, it is also the perfect spot for a sundowner after a long day spent chasing art'n'culture.
Fusion Food
As I wrote many times before, food is not the main focus of my travels. Although I'm a – unfortunately, literally: big connoisseur, and I also enjoy cooking a lot, when travelling, I'm simply not giving myself much time for savoring food. Yes, from time to time, I visit famous restaurants like for instance the Paladar La Guarida in Havanna. However, I hadn't even come for the food. I only spent the equivalent of more than one Cuban monthly income on some roasted pork since I knew that the rooms had been the scenery of the wonderful movie Fresa y Chocolate. There you have it.
Also, being a solo traveller most of the time is the reason for neglecting the joy of feasting. I'm not too bashful to go out for dinner by myself. It's just not that much fun. Dining alone is not a social event, it's just satisfying hunger. To me, that's not very….satisfying.
Nevertheless, as I mentioned above, this trip to Barcelona was also my birthday gift to Mimi. And since Mimi is one of these millennials who favor quality over quantity and mean an environment-conscious lifestyle, I couldn't stuff face with just anything. We tried out some lovely vegetarian restaurants, and below, you'll find the three best ones.
Anita Flow
We picked Anita Flow for our second dinner in Barcelona mainly because the restaurant is located just a couple of blocks from the Hotel HCC St. Moritz* and after a long day, we didn't feel much like venturing around.
What can I say, we definitely did not regret our choice!
Anita Flow is a rather casual place – actually, we first weren't sure if they weren't only a bar. And talking 'bout bar: Although they were already open when we arrived, their kitchen opened only at 7 p. m. To learn more about Spain's dining hours, check out the section on mealtimes in my general guide to Spain.
Once the kitchen got fired up, we were able to choose from many tempting options. Interestingly, they are not only serving Spanish food with a healthy twist and many vegetarian choices, but also dishes rooted in Peruvian, Venezolanian, and other Latin American cuisines. They also serve lovely wines and cavas, hence, sparkling wines, at reasonable prices as well as different craft beers. They are especially popular for their complete brunch that is served on weekends between 11 a. m. and 4 p. m.
Anita Flow is five blocks east of the Casa Batlló on Carrer del Consell de Cent 413. You find detailed information as well as their menu on their website.
Flax And Kale
Eat better, be happier, live longer – who in their right mind would not subscribe to Flax And Kale's slogan?
This motto is reflected in all of their products – from healthy drinks to detoxicating meals. You can buy those individually or in combos. All products are designed according to their nutritional value. An overwhelming 80 percent is actually plant-based. The remaining foods contain fish.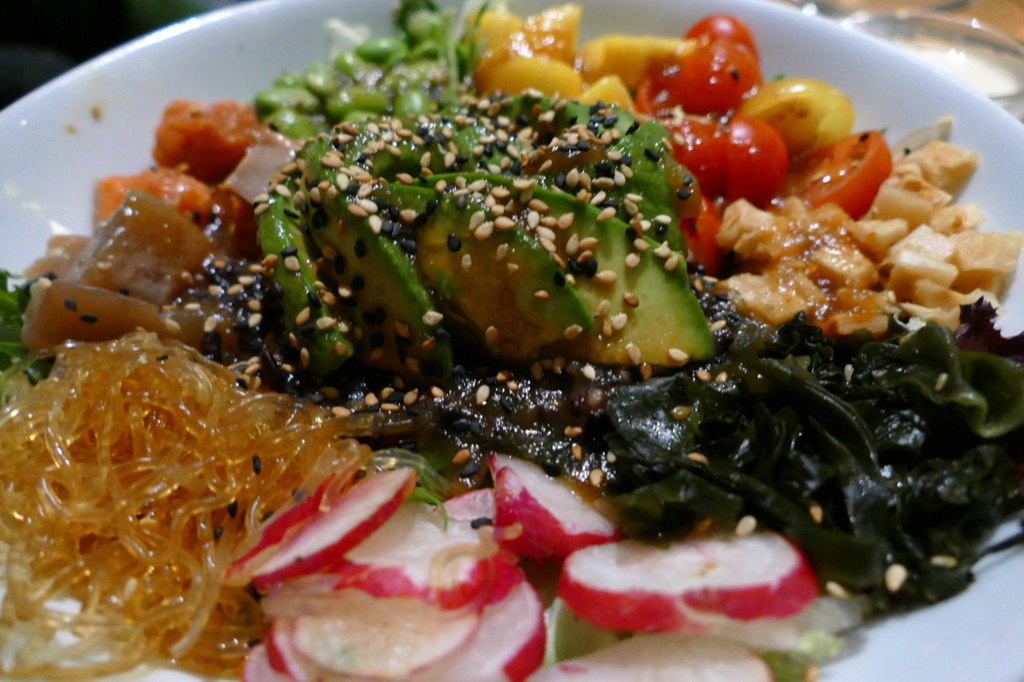 Obviously, you can enjoy Flax And Kales's healthy, sustainably produced yet delicious food also on the spot. At their flagship restaurant only two blocks west of the Plaça de Catalunya and Las Ramblas, they serve light dishes, influenced by international cuisines from Asia and Latin America. Enjoy their healthy juices, creative salads, and vegan desserts in a stylish setting. In summer, you should definitely opt for a table on their wonderful roof terrace. There you also find their own herb garden.
While everything was delicious, the portion of ravioli Mimi got as the main course was a joke, hence, a pretty bad value for money. However, everything else was impeccable. My personal favorite is the three tacos stuffed with different kinds of raw tuna and salmon – to die for!
The Flax and Kale stores can be found in two locations in Barcelona. Their flagship restaurant is on Carrer Tallers 74b across from the Parròquia de Sant Pere Nolasc Mercedaris.
Teresa Carles
The founder of Flax And Kale is Señora Teresa Carles Borràs. Having been a chef for over 35 years, Teresa Carles main objective is to modernize classic Catalan cuisine. To reach her goal, she substitutes some of the traditional ingredients with healthier alternatives.
The result is incredibly creative and – most importantly – delicious.
We picked Teresa Carles' small restaurant to celebrate Mimi's birthday. And it was a celebration alright! Although the menu is not that large, the variety of amazing choices makes it really difficult to select what most tickles your fancy. However, with her Menú Degustación, Teresa has your back.
This menu starts with a welcome cocktail made from cava and beetroot. Interesting, but in all honesty, one was enough. You are then served five different dishes – either vegetarian or vegan. As you are about to explode, you still have to spare room for not one but two desserts. One of which is a two-texture chocolate cake. After they serve you a complimentary coffee or tea, all that's left is to ask for the check.
This check won't shock you since this entire feast – including a bottle of organic wine – costs as little as 30 €uro per person. Obviously, they prepare this small banquet only for a party of at least two and you should tell them beforehand as you book a table that you'll come for the Menú Degustación.
Teresa Carles is on Carrer de Jovellanos 2, just one block west of the Plaça de Catalunya and Las Ramblas.
Colonia Güell
The Colonia Güell is a former industrial settlement including factory and residential buildings for the workers as well as a famous crypt by Antoni Gaudí. It is named after its proprietor, the magnate Eusebi Güell. The Colonia is part of the village of Santa Coloma de Cervelló about 15 kilometers west of Barcelona.
Steam engines were used at Güell's plant. They were more reliable to provide energy than the water power they used in similar industries. Güell probably built his factory in Santa Coloma de Cervelló because of the tense social situation.​​
From 1890, velvet and corduroy were produced at his textile factory. Due to an economic crisis, it was closed in 1973.
Housing space was provided to the workers and their families in the vicinity of the factory. However, on the terrain of approximately 6 hectares were also cultural and educational facilities. Güell followed a relatively social and advanced concept. The workers' families lived in single-family houses. They were granted medical care, and their children were sent to school. A cooperative offered supplies at relatively cheap prices. There even was a theater at the colony.
A Combination of Beauty And Functionality
What makes the Colonia a fantastic landmark to this date, however, is the architecture. Some of the most famous Modernist architects contributed to this outstanding project. The most famous building of the Colònia Güell is indisputably the Gaudí crypt. In 2005, it was listed as a UNESCO World Heritage Site.
After years of neglect, only recently, the Colonia Güell has been preserved'n'promoted. Some of the buildings are rented out to companies. Currently, some 800 people reside on the site, and arguably, not everyone is happy with the attention and upscaling of the neighborhood. Obviously, residents fear the downside of gentrification.
Since the Colonia Güell is so fascinating and outstanding, I've dedicated an entire post exclusively to this architectural treasure box.
Plan Your Visit
Santa Coloma de Cervelló is a village, so you can go there any time you please, obviously. However, if you want to visit on a self-guided tour with an audio guide that comes in 9 languages, you can do so every day from 10 a. m. to 3 p. m. This tour costs 9.50 €uros and you'll get a 20 percent discount with a Barcelona Card*. There are also different kinds of guided tours, hence, you might want to check out their website to plan your visit.
Getting to Santa Coloma de Cervelló is fast and easy. You can take lines #3, #4, #8, or #9 from Plaça d'Espanya to the Colonia Güell stop. This ride is included in the Barcelona Card*.
On the weekend, there is a special train decorated with Guadí's Crypt. It is line #4 that leaves Plaça d'Espanya at 10.58 a. m. On the way back to Barcelona, take line #3 at the Colonia Güell stop at 2.11 p. m.
Beach Resorts
Yes, I've shown you above that Barcelona has a city beach which actually begins right at the old city center. Although that's the most convenient option to spend a lazy – or sporty – day on a beach, there are actually even more alluring coastal spots.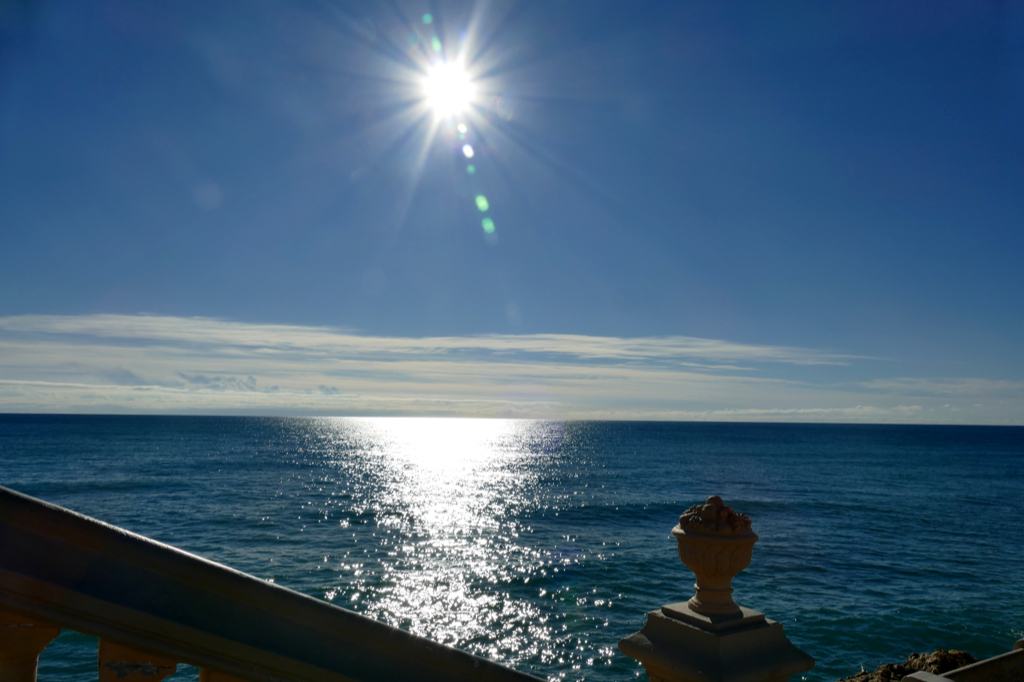 Two coastal towns are just south of Barcelona. Although you can get there in less than an hour, you'll have the notion to travel back in time – right into Sorolla's impressionist paintings of white sand and turquoise waters under the golden rays of the sun. Hear the sound of the waves, the squeaking of the seagulls, and the scroop of crinolines – albeit, the latter might unfortunately just be your imagination.
Castelldefels
The coastal town of Castelldefels is about 20 kilometers southwest of Barcelona on the Costa del Garraf.
The history of the town's castle and church – hence, its history – dates back to 996 AD. Back then, the castle was initially just a defensive tower to protect the Santa Maria del Castell church. It won't surprise you that this Castelló de Fidels gave today's town its name.
Apart from the fascinating archaeological founds that can be seen – protected by glass – inside the church, Castelldefels' beautiful beaches are the most important tourist magnets.
Sitges
Sitges has enchanted visitors for decades. While bourgeois families spent their summer retreat on the town's fine sand beaches, artists and intellectuals gathered to share ideas and inspiration.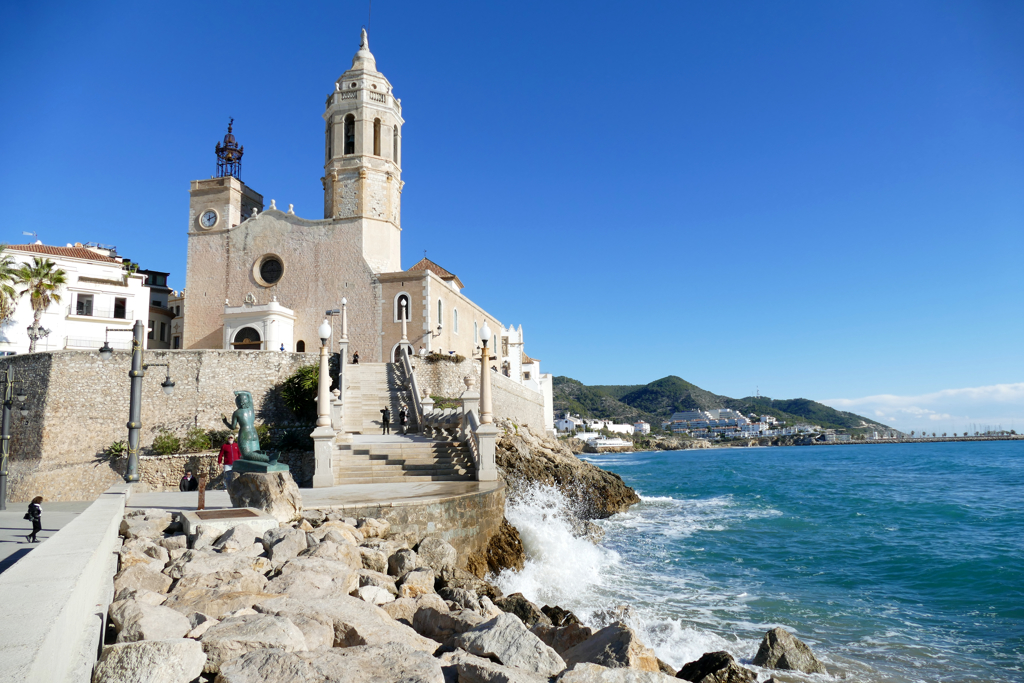 During the second half of the 19th century, many former migrants from Sitges returned from the Americas. Obviously, this added significantly to Sitges' wealth'n'beauty. In their hometown, they commissioned superb villas that you can admire to this day. Also, they established businesses and factories.
One of the most prominent examples is Bacardi. In 1814, Facundo Bacardí Massó was born right here in Sitges. As the son of a family of bricklayers, at the age of 16, he followed his brother and migrated to Cuba in 1830. There, he founded his liquor factory in Santiago de Cuba in 1862. Today, it's one of the largest spirits brands in the world.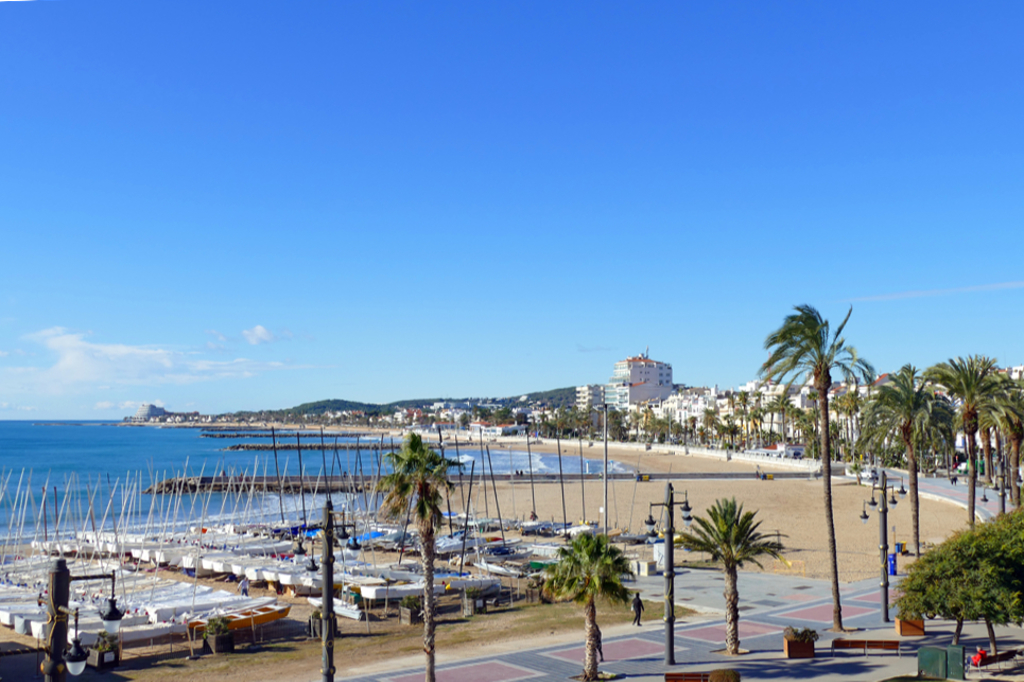 Tourism started only at the end of the 19th century. Therapeutic facilities and the construction of the railway between Sitges and Barcelona in 1888 attracted increasing numbers of summer guests. No wonder, since the seaside resort has a total of 17 sand beaches and excellent water quality. A wide golden sand beach stretches three kilometers along the entire town all the way to the golf course in the west.
Plan Your Visit
Metro line #10 goes to Castelldefels and so does the regional train. The Barcelona Card* covers both trains. However, if you go all the way to Sitges, you need to pay for the trip which is only a bit over 4 €uros each way. There is also a bus, it doesn't make really sense since it takes much longer and tickets are hardly cheaper.
Wanna learn more about Sitges? Well, I've got you covered: The info I put together in this guide to Sitges will make your trip smoother and more enjoyable.
Practical Information
How to Get There
Plane
The Aeropuerto Internacional el Prat de Barcelona is one of Spain's major air traffic hubs. There are tons of domestic as well as international connections including some of Europe's low-cost airlines. Since the airport is located only about 12 kilometers southwest of the city, you'll get to the city center pretty fast even by relatively cheap public transport.
From around 5.30 a. m. till midnight, an airport bus connects terminals T1 and T2 with the city center's main squares Plaça d'Espanya and Plaça de Catalunya. You can obtain tickets from the vending machines and often staff paying cash or by credit card.
A single ride with the Aerobús costs 5.90 €uros, a round trip 10.20 €uros, and it is not included in the Barcelona Card*. However, it does cover the trips from and to the airport by regional train. Although going by train is as fast and as comfortable as by Aerobús, there are far fewer connections.
If you haven't booked a package where the travel company arranges the shuttle to your hotel, you can pre-book a reliable and safe transfer here*
Long-Distance Bus
Travelling by long-distance buses is getting really popular in Europe. The cheap prices make up for the little loss of time compared to trains. And since various companies are competing, the service is usually very reliable.
One of the most popular bus companies in Europe is flixbus. They are connecting Spanish cities with destinations in Portugal, France, Germany, and other European countries. However, you should book your ticket ahead as early as possible. Also, don't forget to compare ticket prices with low-cost flights for instance by Vueling.
There are two bus stations in Barcelona. One is the Estació del Nord, a former railway station located three blocks north of the Parc de la Ciutadella. The other one is on the northern side of the Sants railway station.
Train
Travelling by train in Spain is comfortable and reliable. And if you're taking a standard train instead of high speed, it's even quite cheap.
There are two major train stations in Barcelona. The busiest one is Estació de Barcelona-Sants. The city is connected with basically all major cities in Spain. You can get to Madrid in less than three hours. Valencia can be reached in a bit over three hours, Seville, Málaga, and Córdoba, on the other hand, in five to five and a half hours.
However, there are also various daily connections with the Gare de Lyon in Paris, Marseille, and Lyon.
There is also the Estació de França, located south of the Parc de la Ciutadella. Yet, since 2013, it is no longer served by either long-distance or international trains. Catalunya Express trains run from França to various cities in Catalonia, however, most of them also stop at Sants.
The easiest way to obtain a ticket is online, obviously. Note that you need your ID or passport number when booking – whether online, at a vending machine at the station, or at a counter.
Sea
Barcelona is a seaport, hence, it's also accessible from the water. Trasmediterránea shipping company sails almost daily between Barcelona's Estació Marítima and Palma de Mallorca.
Unfortunately, also some cruise ships include Barcelona in their itinerary.
How To Get Around
Walking
Exploring Barcelona walking is not a particularly good idea. After all, it is Spain's second-largest city and it shows. Will say, I'm an avid walker, and yet, I opted for taking public transport basically everywhere.
Obviously, you should explore certain neighborhoods walking. To get to know the Barrio Gotic, that's basically your only option, anyway. Yet, distances between the different places of interest can be really far.
My Tip on Footwear
Ladies, make sure to wear flat, comfortable shoes. Even if you take the public transport often, you will still do a lot of walking. Some of Barcelona's alleys – especially in the Barrio Gotic – are still romantically paved with cobblestones. Hence, there go your heels.
Also, Barcelona is hilly. There are slopes'n'stairs as you are visiting the parks and beaches. While walking uphill is exhausting, walking downhill can be even more dangerous if your soles are slippery. Good sneakers will make your walks safe and enjoyable.
Public Transportation
Fortunately, like all larger cities in Spain, Barcelona has a comprehensive and well-functioning system of public transportation consisting of buses, metro lines, and local trains.
A single ride costs 2.40 €uros. You can save a lot of money by getting a T-casual card. It costs 11.35 €uros and is good for ten rides. Also, there is the Hola Barcelona Travel Card. The advantage is that you can travel as much as you like. The downside is its validity on consecutive days while you can use your rides on the T-casual card whenever you like. The Hola Barcelona Travel Card* cost 16.40 €uros for 2 days, 23.80 €uros for 3 days, 31 €uros for 4 days, and 38.20 €uros for 5 days. If you purchase the card online, you save an additional 10 percent.
The Hola Barcelona Travel Card comes with your Barcelona Card*. Since the ride from and to the airport is also included, however, only by train, you should obtain your card already at the airport, obviously.
Bicycle
A great alternative to explore Barcelona is by bicycle. The city has many excellent cycle paths. Like most other European cities, Barcelona has a rental system called Bicing which sadly is not available for visitors.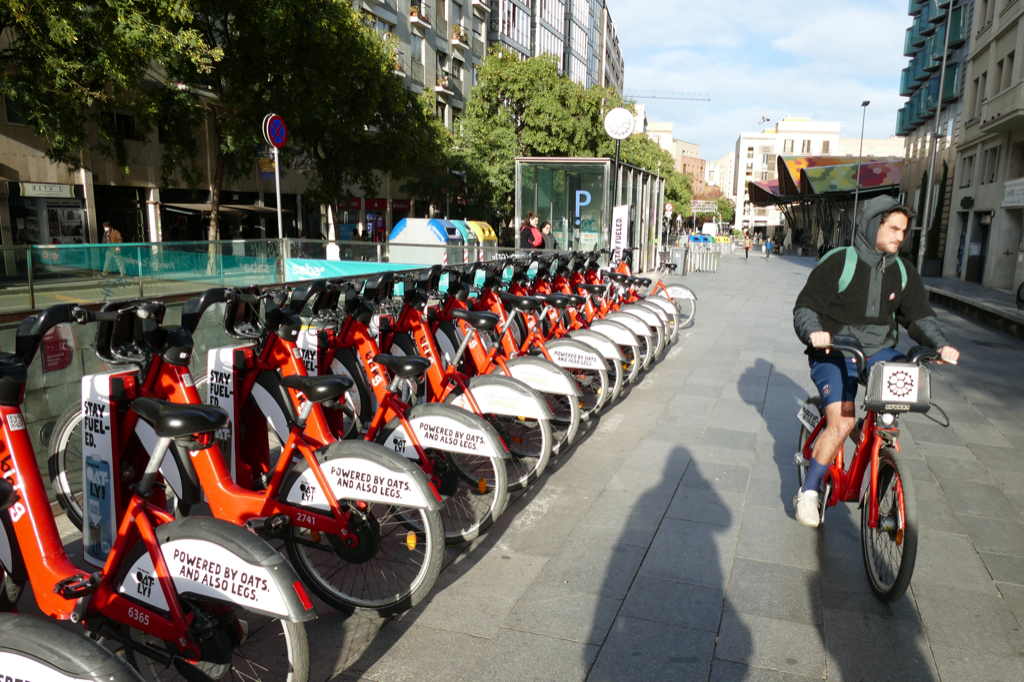 But that doesn't mean that you are excluded from cycling Barcelona. Check out bike rentals such as Green Bikes, Ajo Bike, or Born Bike. Also, many hotels are renting out bikes to their guests.
Where to Stay
Barcelona is one of the most touristy cities in Europe. Consequently, there is a wide choice of accommodation, however, they are not exactly a bargain.
I was very lucky to get a quite good deal in the best location ever. We stayed at the Hotel HCC St. Moritz* on a quiet side street of the central boulevard Passeig de Gràcia, just minutes from the eponymous station which is one of the major hubs.
Already due to this fantastic location, I can absolutely recommend the Hotel HCC St. Moritz*. But also the rooms are spacious and have a nice ensuite bathroom with a tub. Hence, we enjoyed a nice soak after long days of exploring the city a lot!
Nevertheless, on this map, you can choose convenient lodging options according to your budget and a location that's convenient for you*:
What to Eat
I've introduced some truly great places in the chapter on fusion food above. However, if you don't want to waste your time searching for dining options, there are great ways of sampling local delicacies without spending too much time or money.
Bakeries and Delis
There are many small bakeries and delis selling all kinds of sandwiches and empanadas. If you have a sweet tooth, you'll also find a great variety of delicious pastries.
Therefore, if your hotel does not offer any breakfast, just enjoy your morning coffee at one of Barcelona's many cafés, rubbing shoulders with the locals. Very recommendable is El Fornet. It's a chain with many stores and cafés mainly in the Eixample district. You'll get all kinds of filled or plain pastries, sandwiches and salads, and very good coffee.
The most beautiful of their branches is on Carrer de Fontanella 15, not far from the Plaça de Catalunya.
Tapas and Menú del Día
There is an overwhelming number of bars and restaurants in Spain where you can enjoy a glass of beer or wine with some tapas, varied small snacks. Tapas can be slices of serrano ham, diced cheese, boquerones en vinagre – pickled fish, papas bravas – boiled potatoes with a spicy sauce, a blob of ensalada rusa, potato salad with mayonnaise – you name it. They are called tapas since they used to cover – tapar – drinks with these snacks.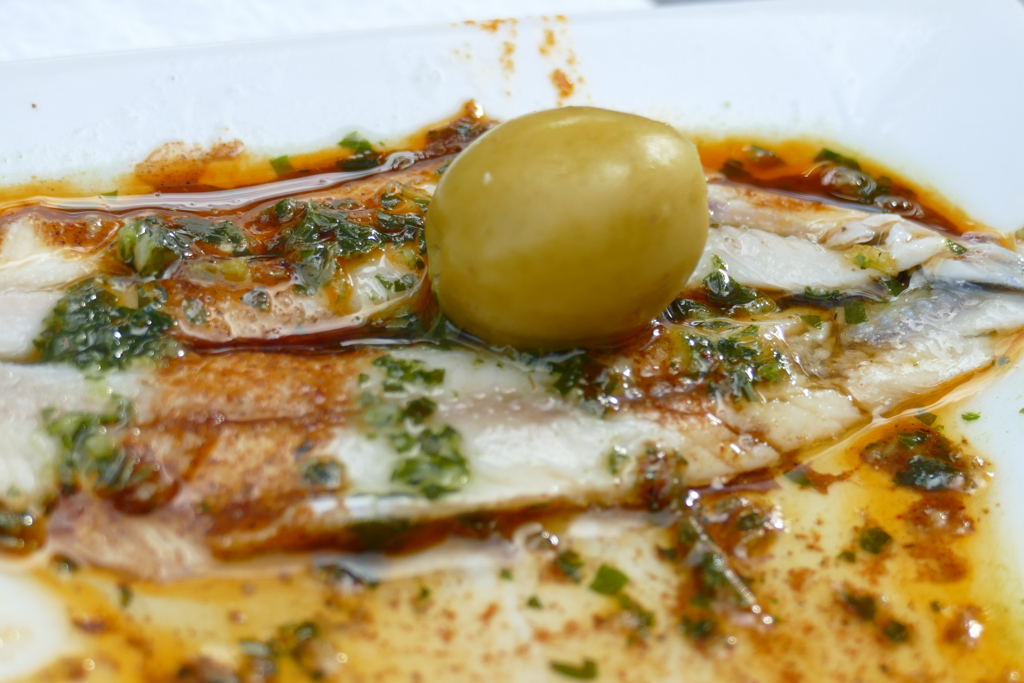 If you're not at the biggest tourist trap, you'll get some small tapas with your drink – at least olives, peanuts, or something else to nibble on. But you can also order a ración, hence, a serving, or also media ración, a half-sized serving.
If you are really hungry, the menú del día might do. It's usually a three-course meal that you can combine to your liking from different starter, main course, and dessert options. Often, water and even wine are included.
Cash, Cards, and Deals
Until now, 20 European countries replaced their former local currency with the €uro starting in 2002. Obviously, Spain is one of them. The exchange rate is 1 US$ = 0.94 EUR as of January 2023. However, you can check today's conversion rate on this page.
You can pay with credit cards basically everywhere. As a matter of fact, during my three weeks in Spain, I didn't spend more than about 5 €uros cash.
Barcelona Card
Although some of the most important landmarks such as the Sagrada Família, the Casa Milà, or even the Moco Gallery are not included, a Barcelona Card* might pay off for you – unless you don't want to visit any of the landmarks and museums included. Quite honestly, if you intend to visit exclusively the Gaudí buildings, you don't need it. If you want to visit some of the art museums, the Articket might be more attractive for you. Then, you get either a Hola Barcelona Travel Card or a T-casual card, and you're good to go.
For those who intend to experience Barcelona's many different sides, the Barcelona Card* is a good way to save time and money.
Actually, there are two different types of cards. Firstly, there is the Barcelona Card Express* for 48 hours. It costs only 20 €uros and grants free use of public transportation including the airport train. However, you'll get only a discount at the participating attractions.
The regular Barcelona Card* is valid for three to five days. For 72 hours, it costs 48 €uros, for 96 hours 58 €uros, and for 120 hours 63 €uros. If you book it online, you'll get a 10 percent discount.
Connection and Communication
Since June 2017, no roaming charges apply within the EU with a European mobile phone contract, This applies in all 27 countries of the European Union as well as in Iceland, Liechtenstein, and Norway and to all contracts.
In case European roaming is not available, you can connect to the internet without any issue at basically every museum, eatery, or café, and, of course, hotel.
If you insist on being online 24/7, you can get a SIM card, obviously. The cheapest one would be Lycamobile while Orange Tu Mundo has the widest coverage.
In Spain, they use plug types C and F. Their voltage is 230 V and the frequency 50 Hz. Whereby, as nowadays, all these chargers have integrated adapters, in general, the voltage and frequency don't really matter.
By the way, you'll find this information and many more comprehensive travel tips in my post World's Most Complete Travel Information – an indispensable globetrotter-classic.
Language
You are probably thinking that since Barcelona is a Spanish city, the local language will be Spanish. Well, that's not completely wrong, but not right, either.
Apart from Castellano, hence, classic Spanish, also Catalan, Galician, and Basque are spoken in Spain. Together with Castellano, Catalan is the second official language in the autonomous communities of Catalonia, Valencia, and in the Balearic Islands, hence, also in Mallorca. Basque is a so-called co-official language in the Basque Country and parts of Navarre. Finally, Galician is spoken in Galicia, obviously.
English and French are mostly spoken as foreign languages. Especially young Spaniards tend to have a good command of English.
However, if you want to learn some basic Spanish or just brush up on your knowledge, there are various apps and online tools. I personally like to practice with babbel.
While I wrote down some tips on how to pronounce Castellano, hence, the language most people call Spanish, in my general post on Spain, I'm pretty much lost when it comes to other languages like Catalan. But don't worry, your knowledge of the classic Castellano will be appreciated and rewarded just the same.
What to See
I'm an avid solo-travelling woman. Since solo-travel doesn't equal solitude, I love to join organized tours here and there. They allow me to explore some of the most beautiful spots in the company of fellow travellers. Also, mind you that Barcelona is not just incredibly beautiful, but also steeped in history. Hence, a professionally guided tour makes your visit so much better.
Therefore, here are some great ideas of which tours to join during your stay in Barcelona*:
Map
This map should help you to find all the wonderful places I'm introducing in this post. Clicking on the slider symbol at the top left or the full-screen icon at the top right will display the whole map including the legend.
Barcelona was only one of many highlights of my road trip through Spain. To read about the others, go to the main post and take your pick! There, you'll also find further valuable general information that will make your own trip much smoother and more enjoyable.
Pinnable Pictures
If you choose to pin this post for later, please use one of these pictures:
Note: I'm completing, editing, and updating this post regularly – last in January 2023.
Did You Enjoy This Post? Then You Might Like Also These:
* This is an affiliate link. Hence, If you book through this page, not only do you get the best deal. I also get a small commission that helps me run this blog. Thank you so much for supporting me!
* Disclaimer: I'd like to thank Casa Vicens as well as the Moco Museum for supporting my research for this post by granting me free access to Gaudí's wonderful building.