Twice a week, I'm participating in an Italian online course at the Scuola Leonardo da Vinci via Zoom – and welcoming classmates from all over the world to my humble living room.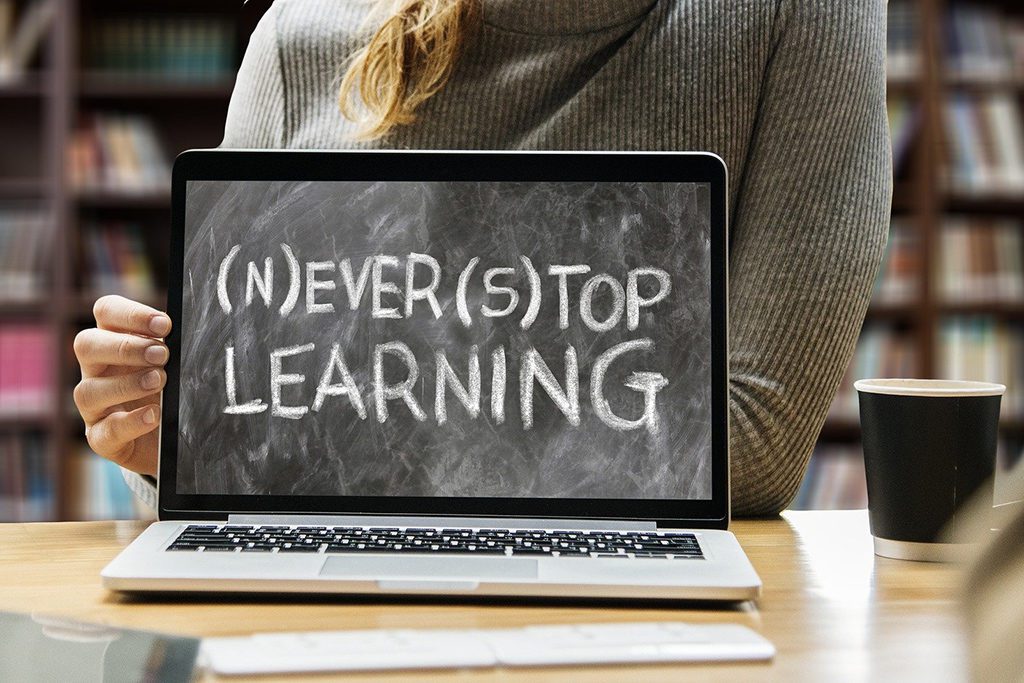 Getting Ready
It's such a depressing time. All our fun activities are so limited. Particularly those that we enjoy in the company of others. It's a sad time.
Nevertheless, whatever happens, there are two afternoons that I look really forward to. Every Monday and Wednesday at around 3 o'clock, I make myself a big glass of tea. Mostly Lady Grey, sometimes a luxurious apple-flavored infusion by Fortnum and Mason. Special occasions require special beverages.
Once the rich aroma of the freshly brewed drink lingers in the air, I sit down in a cozy corner of my Chippendale sofa and place my laptop carefully on the broad backrest. I adjust it so that my reflection doesn't either resemble a pear or my chin looks like I'm impersonating a turkey. When I'm halfway happy with my appearance, I click on a link the Scuola Leonardo da Vinci in Florence sent me.
On my screen, a new window opens and Zoom informs me that Antonella will let me join the meeting in a moment. And yes, there she is, my sophisticated Italian teacher that I've known in person during my recent stay in Florence. There she is, together with about eight to ten other eager Italian learners from around the world who are now entering our virtual classroom one after another.
Welcome, World! Come In And Join Me In My Italian Online Course
Obviously, you can learn any language in every country. But as you are learning in your hometown, mostly your compatriots are studying with you. There's nothing wrong with that, however, learning in the language's country of origin usually brings together folks from many different places.
To me, this adds major charm and inspiration to the whole thing.
Learning online is a nice combination: You don't have to leave home and still, you get to meet all those interesting people from around the globe.
Muriel got recently married to her Italian fidanzato. She shares wedding pictures in our WhatsApp group and we are cheering congratulations at our computer cameras: "Auguri! Auguri!"
Normally, Antonella uses this group for informing us and supplying us with worksheets for the upcoming lessons.
Albert is joining us from his New York apartment that we never get to see since he's mounting pictures of different places in Italy as his Zoom background. This way, before we begin our class, we try to find out what landmark we are exactly looking at. It's nice since this allows us to see at least a tiny piece of Bella Italia.
Laura is from Argentina, but she joins us basically every week from a different location. New York, Rio, Tokyo – I wonder how she's travelling so much in times like these; and I envy her from the bottom of my heart.
Dora is a doctor from Texas and I really need to ask her one of these days what this bizarre piece of furniture is that I can see standing to her left. It's black and round and could be either a very modern cat house or some fancy newspaper rack. Next week, I'll definitely ask.
Teach-In
Once we've found out what we are looking at behind Albert, the class begins. We are checking the last lesson's homework and practicing the congiuntivo presente and passato. We are advanced learners, nevertheless, we are far from being perfect and sometimes we smatter in a hilarious way.
We are reading texts, filling blanks, and discussing issues. It's almost like in a conventional classroom, only a bit cozier with my tea on my sofa.
I must admit that I've been always a bit skeptical when it came to online learning. Somehow I thought it wouldn't be as efficient and rather pointless. But I definitely stand corrected.
None of us can hide on a school bench all the way in the back. Antonella not only keeps a close eye on all of us. She also keeps us on our toes with questions, revisions, and improvements.
Although the 90 minutes are great fun and bring some Italian sunshine into my autumnal life, the class is by far not shallow and actually very productive.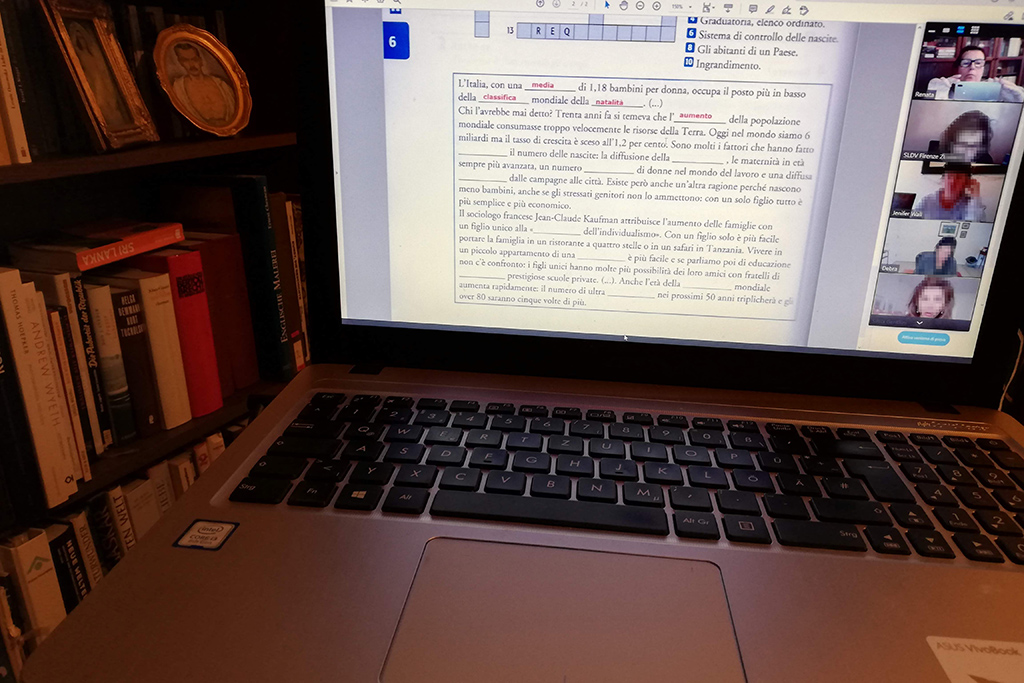 As she mostly does, Antonella overruns a couple of minutes. It's already past five o' clock as her image suddenly freezes. First, we don't realize what happened since she's frozen in a wise thinker-position hence we believe she's just….thinking.
But no, somehow the connection seems to be disrupted. Since the imaginary school bell rang minutes ago, we call it a day class and bid farewell. Ciao, Dora! Salve, Albert! Arrivederci, Laura! Good night, John-Boy! Oh no, wait, he's not our classmate, however, we say goodbye in this signature Walton Mountain style before a final click on leave meeting.
Ci vediamo mercoledí, we'll meet again next Wednesday!
Things Are Not As They Should Be
Things are the way they are and even if there wasn't Covid, unfortunately, I couldn't spend months and months leisurely exploring Florence after practicing some Italian at school. I have a life, and it's not the life of a noble's idle daughter. Even without Covid, I had to stay in Hamburg at this time of the year.
So it's a good thing that Scuola Leonardo da Vinci is offering this excellent opportunity to either prolong or to prepare your Italian holiday from home at least twice a week.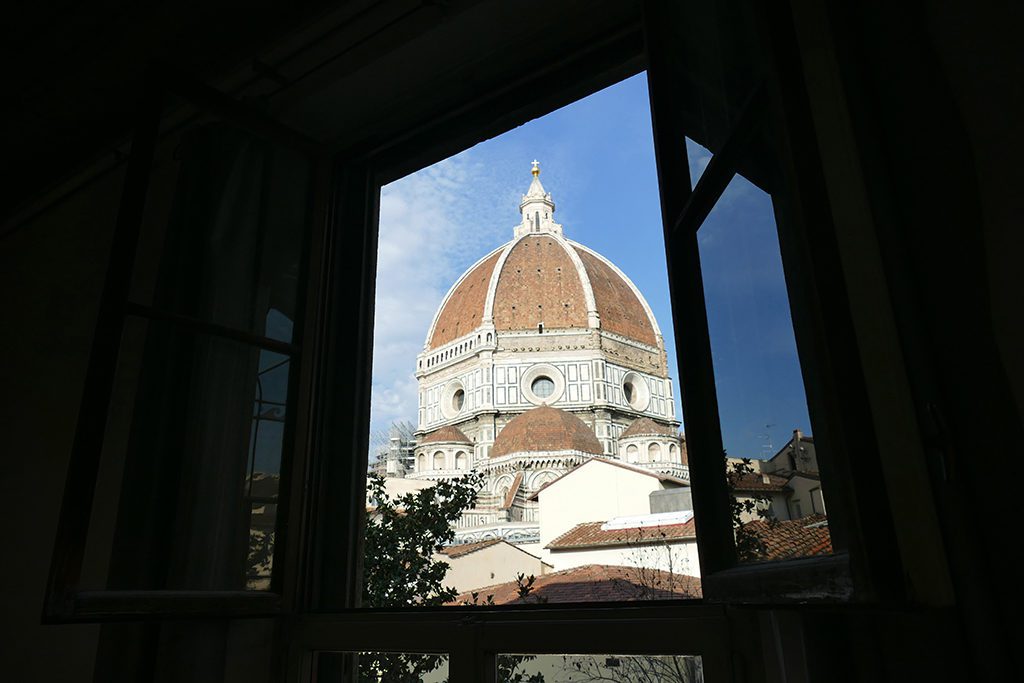 I say at least since they are also offering intensive courses online which take place for more than three hours daily for four weeks.
Wow!
While I enjoyed my intensive class in person when I was in Italy, I don't see myself spending three hours in front of a computer screen shouting my freshly learned Italian out to the world from home. There is simply too much other stuff I have to take care of.
The Full Package
So after a couple of Italian classes at the Scuola Leonardo da Vinci in Rome, Florence, and Milan, I'm now joining Antonella and my classmates on the computer placed on my sofa's backrest.
Scuola Leonardo da Vinci is a very experienced and professional institution if you want to learn Italian. They offer a wide variety of different classes for all levels – at their schools in Rome, Milan, Florence, and Siena as well as on the World Wide Web.
If you are interested in taking Italian classes, but you're insecure about how to join, don't worry. The friendly and efficient ladies at the Scuola's offices can arrange literally everything for you.
After a placing test, they advise you which class would be your best choice and help you with every little detail.
Tickle Your Fancy
The school offers also specialized classes for advanced learners such as Italian cooking and fashion or a Learn and Go-program where for three hours, you explore the city with a private teacher. Obviously, the latter is hardly possible online. Nevertheless, apart from the standard courses, the school's good'n'ingenious people offer an amazing portfolio of lessons specialized in the history of art, fashion, news, culinary, literature, and others. Just check out their fantastic timetable!
Yes, Scuola Leonardo da Vinci, you are bringing joy and light in these dark times.
It's like opening the window and let a fresh breeze in. The one that shuffles all your papers. Watching them swirl through the room is so light, vibrant, and fun.
Nevertheless, I cannot wait to return to Italy – speaking a brushed and shiny Italiano that you've taught me online.
Pinnable Pictures
If you choose to pin this post for later, please use one of these pictures:
Did You Enjoy This Post? Then You Might Like Also These:
* Disclaimer: Scuola Leonardo da Vinci invited my to join their advanced online course. However, all opinions on their services are mine and were by no means influenced by my cooperation partner. The provided links are a service to my readers. There are no affiliate links in this post.