Sirmione is a small town located on the southern shore of Lake Garda.
The town's historic center is picturesquely located on a peninsula protruding into the lake.
Already in the 17th century BC, there were settlements of pile dwellings in the shallow parts of lake Garda. Hence, based on the bay's sheltering shape, settlements developed very early on the Sirmione peninsula.
Actually, the peninsula of Sirmione was a holiday retreat for wealthy families already in Roman times. Poet Gaius Valerius Catullus, based in Rome, visited this place in the 1st century BC. Hence, of the three villas built during that period, one was named after him. Today, the Caves of Catullus are the last remnants of the villas that have survived.
Sirmione gained great importance due to its location on important traffic routes. An early directory of the Roman Empire roads from the 3rd century mentions the existence of Mansino Sermione between Brescia and Verona, a place where travelers could rest.
Serenity
And resting and relaxing is what today's visitors do in Sirmione as well. On the historic peninsula, that is, since the rest of the town is…some Italian town.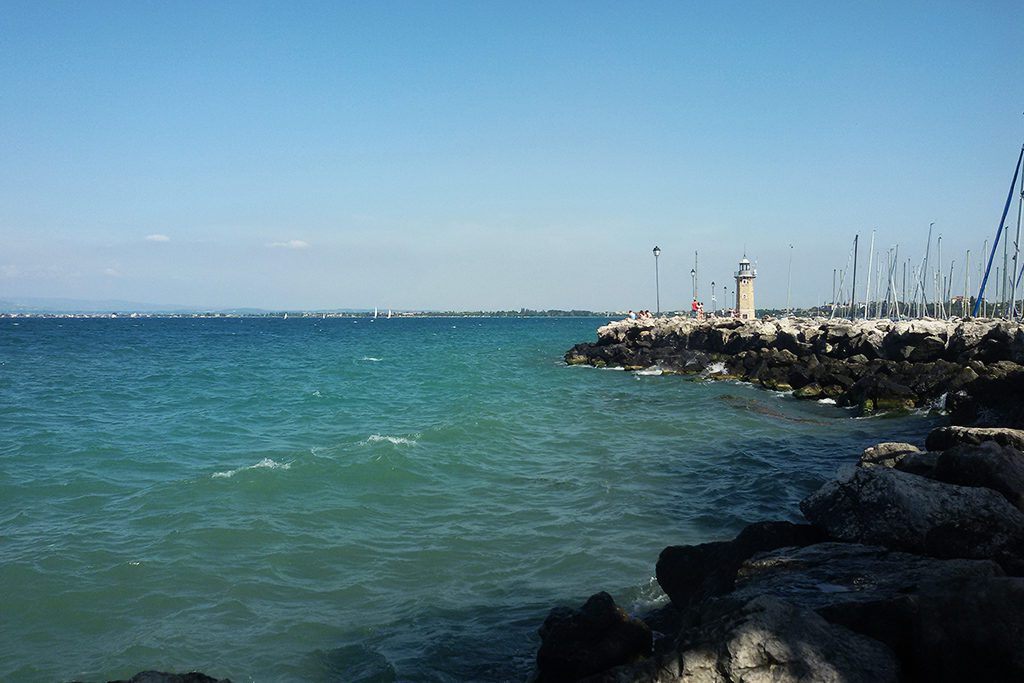 As everywhere on Lake Garda, the climate in Sirmione is mild. Also, due to a thermal spring in the immediate vicinity of Sirmione in Lake Garda, the waters are rich in sulfur, bromine, and iodine. While in ancient times, the South bank of Lake Garda was overgrown by thick forests, today, the vegetation is Mediterranean with many olive trees.
All this makes the antique holiday retreat Sirmione a perfect spot to be visited also by contemporary visitors.
Touring Sirmione
The peninsula consists of a handful of streets, alleys, and trails. You can visit it easily in half a day – espresso and gelato included.
Scaliger Castle
As you enter the peninsula across a bridge that leads from the Largo Goethe to the Piazza Castello, you find yourself standing in front of the Castello Scaligero, the Scaliger Castle.
The fort with a large harbor basin and a ring wall separates the town from the mainland. The Scaliger, nobles from Verona, built the fortified castle with the typical dovetail pinnacles in the 13th century.
It was used primarily for defense and demonstrated the Scaliger's power. You can access the castle crossing a drawbridge.
Touring of the ramparts, visitors get an idea of ​​the sophisticated defense system made of thick walls, stairs, and drawbridges.
Santa Maria Maggiore
Just one block north from the castle lies the church of Santa Maria Maggiore. It dates back to the 15th century and was built on the site of its Lombard predecessor.
Except for a pillared hall in front of the west facade, it's a very austere building. However, inside are wood carvings and frescoes from the 15th and 16th centuries, while the main altar is adorned with marble works from the 18th century.
A Well – And a Kiss
Just around the corner from the church is a very picturesque spot called il pozzo, the well. From this slightly hidden gem, you have grand views of the lake's blue waters and the castle's majestic structures.
No wonder artist Lillo Marciano chose this place for his installation Kiss…please in 2009.
Actually, it is a street sign that invites couples to kiss – against the romantic backdrop of the castle, the lakes, and the surrounding mountains. Well, I guess he doesn't need to encourage you twice…
San Pietro in Mavino
Amazingly, the origins of the church of San Pietro in Mavino are going back to the 8th century.
It stands halfway between the historic center and Catullus' grottos on the foundation of a Roman temple. Inside, you can admire frescoes from the 12th to 16th centuries.
Caves of the Catullus
Not far from the Church of San Pietro is one of Sirmione's most impressive treasures.
The remains of a Roman villa called Caves of the Catullus cover an area of ​​two hectares and are probably the most important archaeological site in Northern Italy.
However, the name is misleading.
First of all, it is not a grotto. Secondly, it was built only after Catull's death around 150 AD. The poet Catull, however, had lived in Verona from 85 to 54 BC. However, he visited the place from time to time and raved about the beauty of the place in his verses.
Beaches
No one will go to Sirmione to spend a chilled day on the beach. Nevertheless, on hot days, e refreshing dip in the cool waters of Lake Garda will be more than appreciated.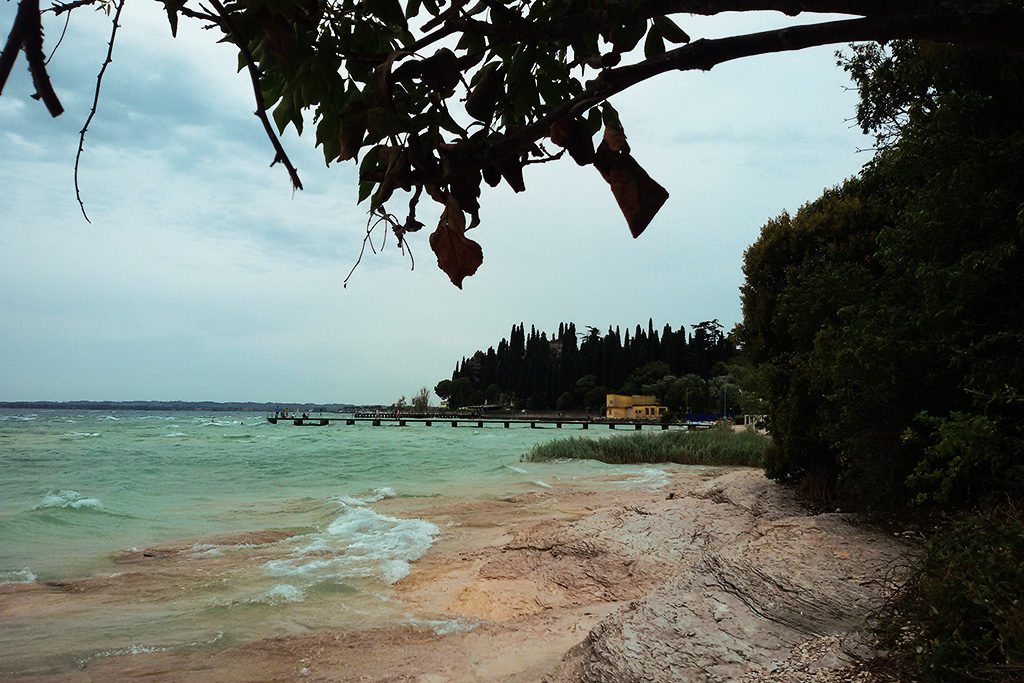 The nicest place to do so is a beach all the way up North. Here you'll find a great place to get into the water over some big flat rocks.
Why they call it Jamaica Beach – I guess nobody knows for sure.
Practical Information
How to Get There
For a day trip, Sirmione is in a perfect location. 140 kilometers East of Milan, 150 kilometers West of Venice and Padua, it can be reached in less than two hours.
Obviously, you can drive there. But especially during high season and on weekends, that's really not recommendable. Keep in mind that you cannot enter Sirmione's most interesting part, namely the historic peninsula, by car. Therefore, on busy days, looking for a parking spot can take a very long.
This is not a problem when you opt for a train ride.
From Milano Centrale, trains are going regularly to Desenzano del Garda. This is also where some of the trains coming from Venice and Padua are stopping. However, coming from the East, it might be better to get off at Verona.
You can check convenient connections on google maps as well as on the website of trenitalia, the national train company. It's very clear and well-functioning. Also, you can buy your ticket online, hence, take advantage of great offers.
For the last bit from Desenzano del Garda respectively Verona, you need to take the local bus #26. This bus takes various stops around Sirmione so you can, obviously, get off where you please. The closes stop to the Peninsula, however, would be Colombare-Cimitero.
Where to Stay
If you plan to spend the night in Sirmione, make sure to have your piggybank ready. It's been a posh retreat for centuries, literally. And to this date, prices for halfway decent accommodation are quite high.
However, if you can afford to splurge, here are some ideas of where to say*:
Where to Eat
Where to Eat? Sirmione is catering to tourists, hence there are many restaurants in the historic old town.
So although you probably won't be starving, you might burn a big fat hole in your wallet. Therefore, I can only recommend waiting for your big meal until you leave the peninsula – unless, of course, you're ready to splurge and have a feast, glamorous lake view included.
Cash And Cards
Particularly the peninsula is extremely touristy and businesses want you to shop till you drop, to eat, and to drink. Therefore, credit cards are widely accepted. There are also some ATMs, ironically right behind the bridge as you set foot on the peninsula; as if they want you to pay your duties before entering.
Until now, 20 European countries replaced their former local currency with the €uro starting in 2002. Obviously, Italy is one of them. The exchange rate is 1 US$ = 0.94 EUR as of January 2023. However, you can check today's conversion rate on this page.
Language
Although Sirmione is quite touristy, people don't really speak English. At least not well. And not voluntary. So while they halfheartedly make an effort to understand what you'd like, they'll probably snort and roll their eyes. Don't take it personally.
As a matter of fact, Italians can deem quite harsh and even unfriendly. If you don't want to spoil your vacation with other people's rude attitudes, just ignore it. You won't be able to change it, anyway.
Anyway, you might want to learn some basic Italian vocabulary on babbel.
If you are looking for comprehensive travel info, you'll find everything you need in my post World's Most Complete Travel Information – an indispensable globetrotter-classic.
Pinnable Pictures
If you choose to pin this post for later, please use one of these pictures:
Note: I'm completing, editing, and updating this post regularly – last in January 2023.
Did You Enjoy This Post? Then You Might Like Also These:
* This is an affiliate link. If you book through this page, not only do you get the best deal. I also get a small commission that helps me run this blog. Thank you so much for supporting me!