Argentina is Latin America's second-largest country and shares with Chile one of the world's longest international borders – and at Los Antiguos, you can cross this borderline walking. From North to South, those two countries snuggle on about 5,300 kilometers!
Unless you are flying, these dimensions can make travelling a bit challenging. Routes can be very long, trips of about 15 hours are not unusual.
An invitation to include some stops – for instance in the border town of Los Antiguos.
The Road is Long
The famous National Route 40 alone, called in Spanish Ruta 40, is more than 5,000 kilometers long. Some parts of this road aren't even paved yet but are still gravel.
Beginning close to  Río Gallegos, Ruta 40 crosses 18 big rivers and 20 national parks and is a popular route for bikers.
Coming from Bariloche and heading for the National Park Los Glaciares, I wasn't that ambitious and therefore I divided my trips through Patagonia into legs of twelve to 15-hour rides max.
And this is how I came to visit the lovely border town of Los Antiguos. This small town is located only three kilometers from the Rio Los Antiguos which is dividing Argentina from Chile.
Going Straight Ahead
Los Antiguos is a tiny town with around 2,000 inhabitants and it would be completely pointless if it wasn't located pretty much halfway between Bariloche in the North of Patagonia and El Calafate in the South. Also, it is the major hub for grand spots of interest such as the famous Laguna San Rafael National Park across the border in Chile or the wonderful Cueva de las Manos.
I got to Los Antiguos after a 15 hours ride through Patagonia's endless pampas. Looking out the bus windows, nothing but bushes of golden-yellowish pampa grass divided by a narrow grey line of asphalt. The scenery is so straight and flat that we were basically able to spot the point where we would be three hours later.
It was an epic ride with few breaks at some gas stations and some abandoned B film towns such as Rio Mayo and Perito Moreno.
A Resting Place
I reached the town around 8 in the evening and while most of my travel companions continued right away by night coach to the National Park Los Glaciares another 15 hours further South, I grabbed my bag, took a Remis, and booked myself for one night into the Hotel Los Antiguos Cerezas.
A Remis, by the way, is what in many places would be called a gypsy cab – licensed, yet looking like a private car. While taxis in Argentina are metered, Remises aren't so you have to inquire – and possibly negotiate – the price before chartering it.
In general, I'm suffering from a heavy case of FOMO. Spending a day doing next to nothing? Unthinkable. There's a sight I know of – and still, I'm not going? Never ever.
However, sometimes faith protects me from what I want. As I got to the hotel, it was impossible for the receptionist to book me on a tour of the Cueva de las Manos. And since I just had spent various days in a row going on day trips, I wasn't really sad.
Faith had foreseen a quiet day for me – and I had faith it would do me good.
Spectacular Views in an Unspectacular Place
My coach to El Calafate was leaving only in the evening. Hence, I had the entire day for exploring a place consisting of about two dozen streets and two main roads.
Although Los Antiguos has developed into a minor tourist center due to its location, the activities are manageable.
The strongest suits are the views which, obviously, you can best enjoy from one of the viewpoints.
Mirador Del Rio Jeinimeni
The most impressive one is the Mirador Del Rio Jeinimeni, located on a hill about two kilometers west of the town center.
It's already a very pleasant hike up. However, once on the summit, you can walk crisscross between the bushes and the pampa grass and enjoy the views of the surrounding mountains and rivers to the fullest. They are truly spectacular.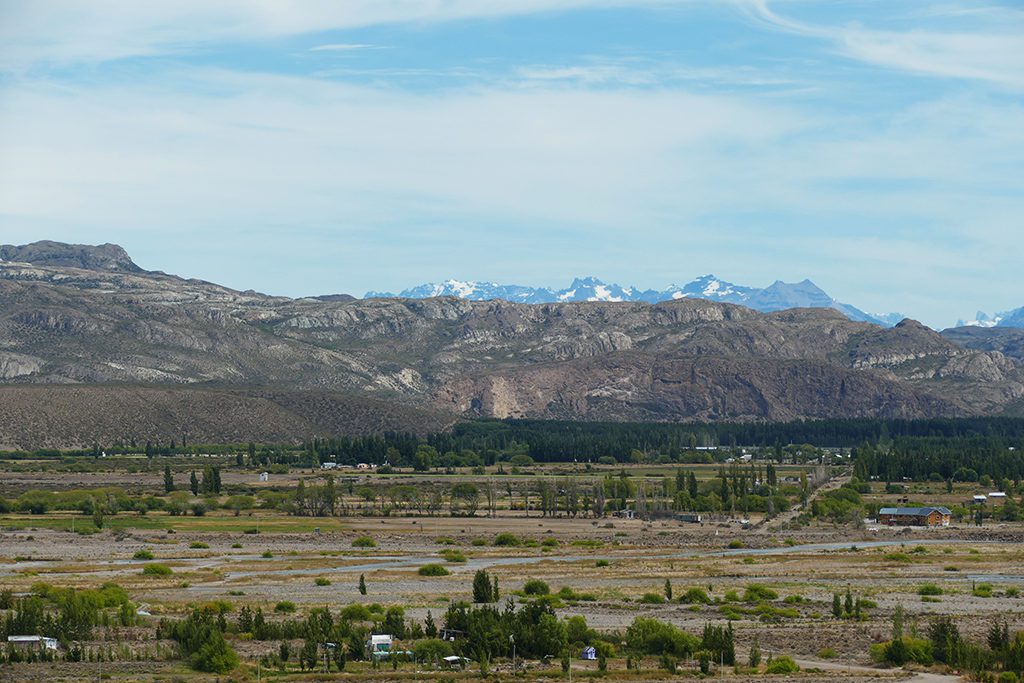 Mirador Uendeunk
To get to this viewpoint, you can just climb some stairs right next to the main street 11 de Julio.
As you get up, you are greeted by a huge monument to the Tehuelche Indians. It's actually nice that there is at least some sort of reference to the native tribes, however, this statue is really poorly designed.
The views, however, are as impressive as from all the other viewpoints around Los Antiguos.
By the way, supposedly, uendeunk means good spirit in the Tehuelche language.
Mirador Los Antiguos and Mirador Del Valle
To get to those two viewpoints, you should either have a vehicle or be really in the mood for hiking since they are quite off-road.
Coasts and Shores
What also makes Los Antiguos a great place to hang out is the proximity to the Lago Buenos Aires. This beautiful, huge lake is the second largest lake in the Andes after Lake Titicaca. It forms part of the Argentine-Chilean border and in Chile, they call it Lago General Carrera.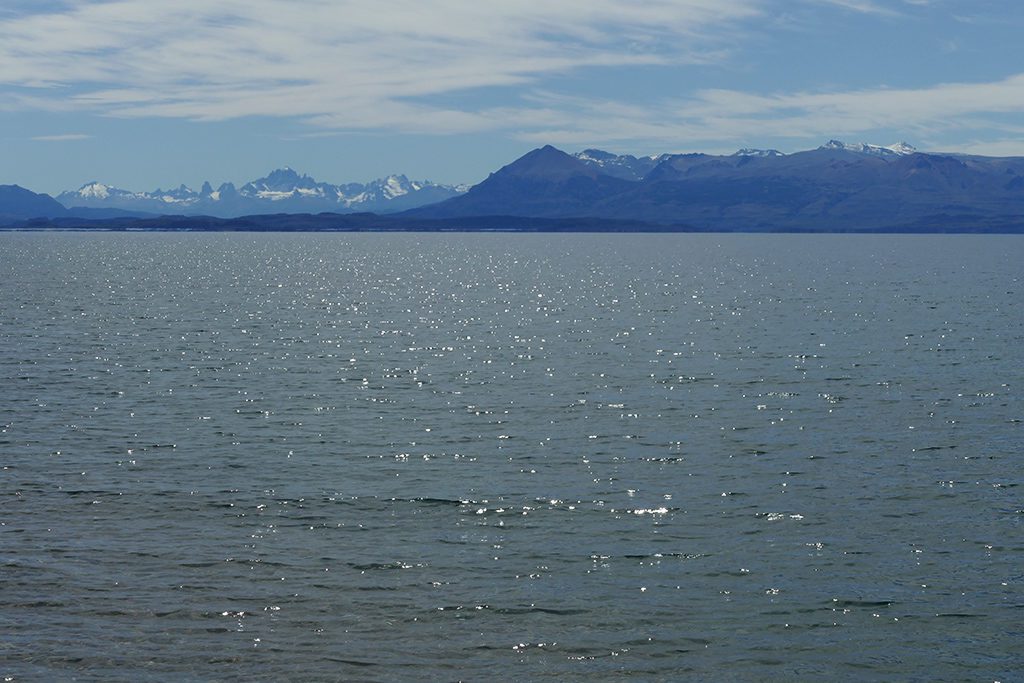 While walking down the promenade called Costanera is very pleasant, the beaches here are not so great and more convenient for people who are fishing.
Walking past the wooden Mirador Del Lago Buenos Aires towards the North, however, you'll get to a long, serene pebble beach where you can peacefully enjoy the waters and the views and the silence….as you are slowly drifting away into the comfy arms of Morpheus.
Like I wrote in the beginning, if travellers don't skip Los Antiguos altogether, they use it as a hub for a trip to Chile's Laguna San Rafael National Park or a tour to the amazing Cueva de las Manos, as much as almost 180 kilometers southeast.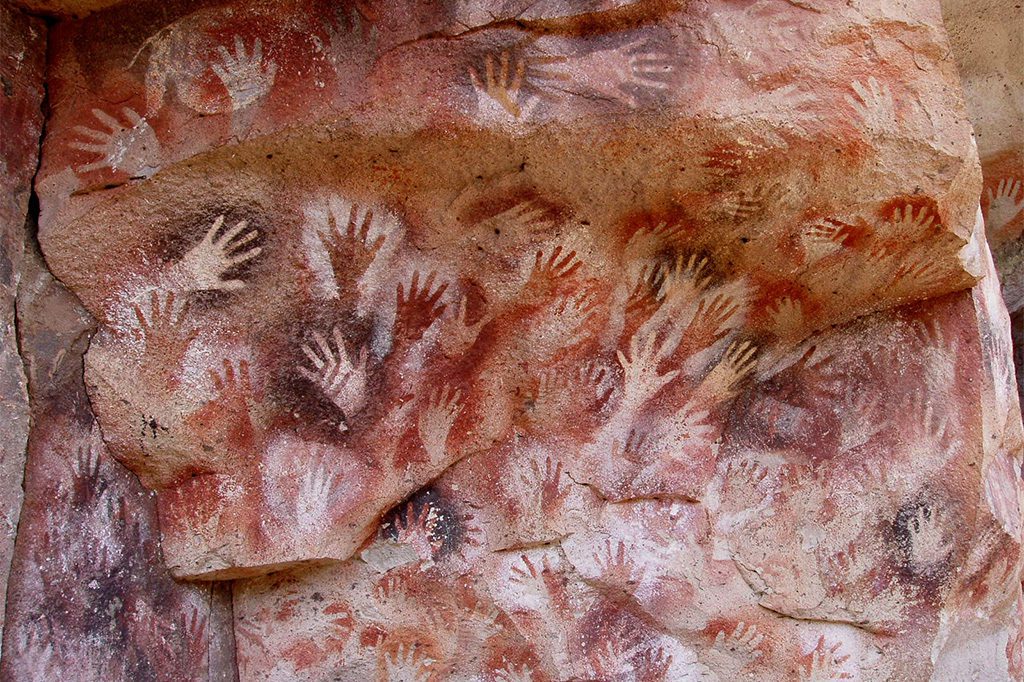 If you really want to visit either of these places, you should arrange those trips ahead. The tourist infrastructure is not that great if you don't have your own vehicle.
But as I've explained in this post, even if you get stuck in Los Antiguos, you can have a very pleasant day.
Practical Information
How to Get There
As I said, most travellers are spending minutes in Los Antiguos – changing buses. The town lies almost exactly halfway between the two touristy hotspots Bariloche in northern Patagonia and El Calafate with the glaciers'n'mountains in the south. Every leg takes about 12 to 15 hours.
A very recommendable bus company is Chalten Travel. They have a daily service to and from El Calafate. However, they are travelling the route to and from Bariloche only every other day.
Actually, this makes your travel planning really convenient: You arrive from Bariloche in the evening. As most other passengers are continuing straight to El Calafate, you spend a night at Los Antiguos, doing some sightseeing.
Then, in the evening, you take the night bus to El Calafate – the one that your fellow travellers took the evening before. Only that on this day, there will be no bus and therefore no passengers from Bariloche. Remember – this service is only every other day. Consequently, your night bus will be almost empty. When I travelled, it was three of us.
Check Chalten Travel's website. They have this great service on Ruta 40 – and they offer also the standard excursions in El Calafate like a trip to the Glacier Perito Moreno and a day trip to El Chalten at really competitive prices.
If for some reason you cannot go by Chalten Travel, there is also the Marga Taqsa bus company, albeit, I haven't heard such great things about their buses. However, if you travel with them, you have to take the bus at Bariloche's Terminal de Omnibus station and not at the Club Andino downtown.
Where to Stay
There are a couple of smaller and simpler hotels around Los Antiguos and also privately rented rooms. I actually recommend looking for one of those.
I stayed at the hotel Los Antiguos Cerezas* which was definitely not worth the price I paid.
Where to Eat
Where to eat? There is only one answer to this question: Viva El Viento. It's a restaurant run by a Dutch guy who also owns a Beach Club in the Netherlands so he knows what he's doing. That's not only reflected in the excellent, overly friendly, and professional service, but also in the setting and ambiance.
Whether you are very hungry or just want to enjoy a coffee or a drink – Viva El Viento, located on the main avenue 11 de Julio, is the place to be.
Cash And Cards
Of course, there is cash and there are cards and one is more popular than the other under certain circumstances. Also, some small businesses do not take credit cards at all.
There is an ATM on Avenida 11 de Julio and normally, credit cards work fine. However, you might encounter another significant problem: There simply might be no cash in that stupid thing.
Yes, it is definitely frustrating having waited for 15 minutes in line just to find out that the person before you got the last bills.
Language
Yes, Argentina is a South American country once conquered by the Spanish, and Castillano is spoken to this date.
However, even if you have a great command of Spanish, the first days, you might have trouble understanding everything: Argentinians pronounce everything that sounds like ya, ye, yi, yo, etc. sha, she, shi, sho. Yo llego becomes sho shego. A servilleta becomes a servishetta – by the way, one of my favorites.
Most people – especially when they are working in the service and tourism sector – have at least a basic knowledge of the English language, however, you might want to brush up on your Spanish on babbel since they still cater mainly to national tourism.
Connection and Communication
Like during most of my trips where European roaming is not available, I did not get a national SIM card but did rely on WiFi. It was available at the hotel as well as each and every eatery and worked like a charm.
Map
Los Antiguos was only a pleasant pit stop on my exciting Argentinian road trip. Go to the main post to check out all the other destinations.
Pinnable Pictures
If you choose to pin this post for later, please use one of these pictures: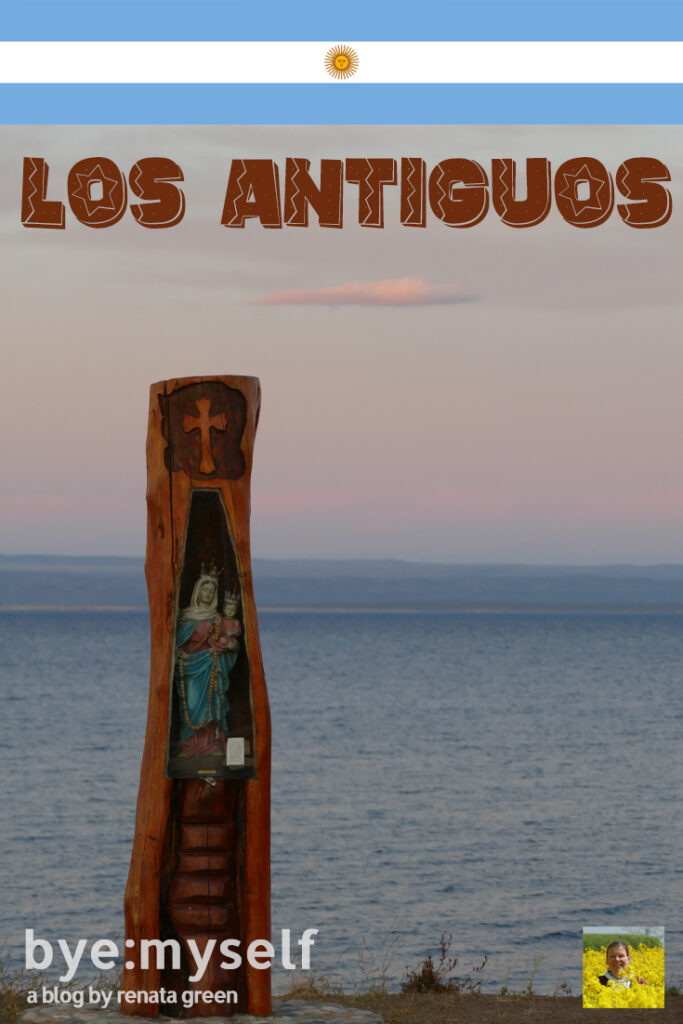 Note: I'm completing, editing, and updating this post regularly – last in November 2022.
Did You Enjoy This Post? Then You Might Like Also These:
* This is an affiliate link. If you book through this page, not only do you get the best deal. I also get a small commission that helps me run this blog. Thank you so much for supporting me!