I know, I know, it's hot, Tenerife's beaches are beautiful and the waters turquoise'n'tempting. Yet, spending all your time lazing on a beach would be a big mistake since idyllic townlets like Garachico, Icod de Los Vinos, and Masca are awaiting visitors on the island's cooler yet very delightful Northcoast.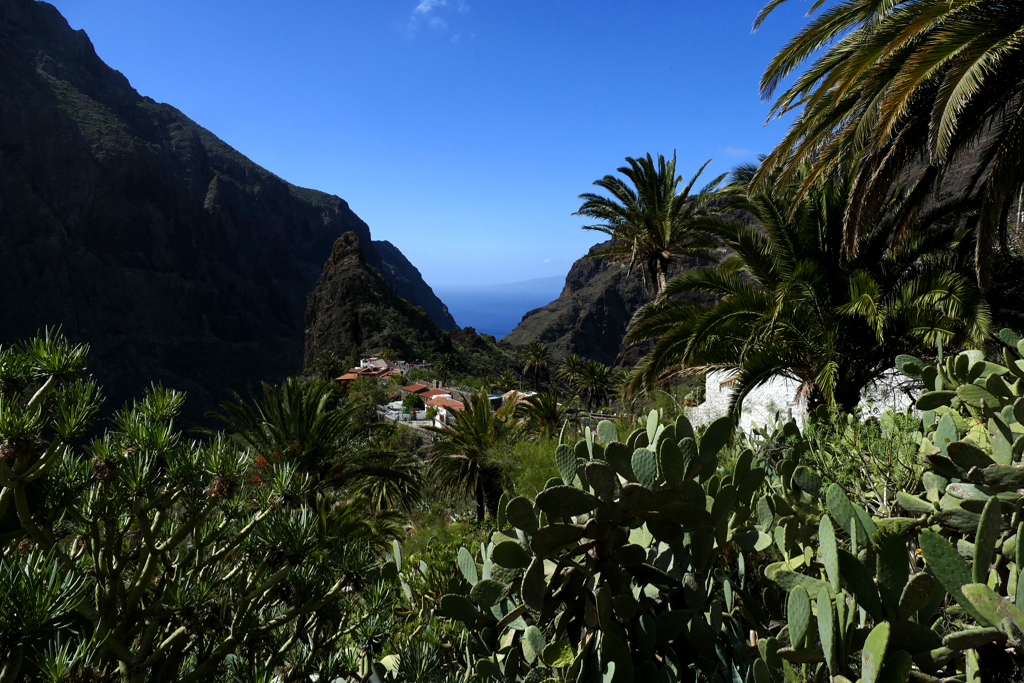 Go West
Tenerife's northern coast is definitely the most alluring part of the island. It's green, it's lush, it's paradisic. Now, this natural treasure comes with the downside of an unstable climate. While tourists are roasting on Tenerife's southern shores, visitors to the north should definitely bring a rain skin and expect extreme and rapid changes.
So while you have to cope with this disadvantage, make at least sure to profit from the area's benefits, namely the breathtakingly beautiful sceneries.
The northern coast is actually the cradle of the island's early prosperity. Here you find the oldest most scenic settlements, nestled between bushes and palm trees, hibiscus and bananas, vineyards, and anything else that grows in abundance.
Obviously, you can participate in an organized day trip to pay those exquisite villages'n'towns a visit. However, the three most iconic places can easily be visited by public transport. This way, you can stay in one spot as long as you please, explore at your own pace, and enjoy what you like the most before you hop on the next bus.
I give you a brief introduction of the three places I visited – along with some pictures that illustrate my hymns. At the end of this article, you'll find a suggestion for how to plan your day in a comfortable way.
Now, let me show you what to expect.
Icod De Los Vinos
Let's begin with the lovely town of Icod de Los Vinos.
One year after the defeat of the island, the Spanish conquerors founded Icod de Los Vino in 1496. Icod was the name of the land of ​​one of the Guanche tribes. The suffix de Los Vinos was added in the 16th century. It clearly refers to the vineyards in the area. The cultivation of vines began basically as soon as the town was founded.
Due to the favorable conditions, vast agriculture was established in the valley of Icod right from the start. Obviously, one of the region's most important products was grapes. The 16th and 17th centuries were the town's heydays when the most significant buildings and churches were built.
Today, however, Icod de Los Vinos is mostly known for the Drago Milenario, the famous dragon tree. For the longest time, it was assumed the tree would be 3000 years old. Recent findings, however, estimate its age to be more or less 400 years.
There was even a small park installed around the Drago Milenario. This so-called Parque del Drago is a small botanical garden worth seeing.
Below the viewpoint of the Drago Milenario is the Mariposario del Drago butterfly reserve. It houses about 150 different species of butterflies. Since each species requires particular plants to live, there is also a wide variety of exotic plants. The Mariposario del Drago is open every day from 10 a. m. to 7 p. m. and the entrance fee is 5 €uros.
A Tour of Icod de Los Vinos
On a quick tour of Icod, you'll probably first go to the Plaza Andrés de Lorenzo Cáceres since this is the spot from where you have the best view of the Drago.
Also, in the center of the square, stand the Iglesia de San Marcos. It has a unique Renaissance portal. The ceiling was made of dark red-brown heartwood of Canary pine, and the nave and chapels are covered by Mudejar coffered ceilings. An adjacent small museum houses valuable treasures, including the large filigree silver cross. It was created in the workshop of Espellos in Havana, the capital of Cuba. It is supposedly the largest silver filigree cross in the entire world.
From Plaza Andrés de Lorenzo Cáceres, take the small Calle Hércules, where on the right, behind a historic building, is the Casa del Plátano. It is a small banana plantation where you can take a tour and learn everything about the cultivation of bananas. The Casa del Plátano is open every day from 11 a. m. till 7 p. m. and they charge a small entrance fee of 5 €uros.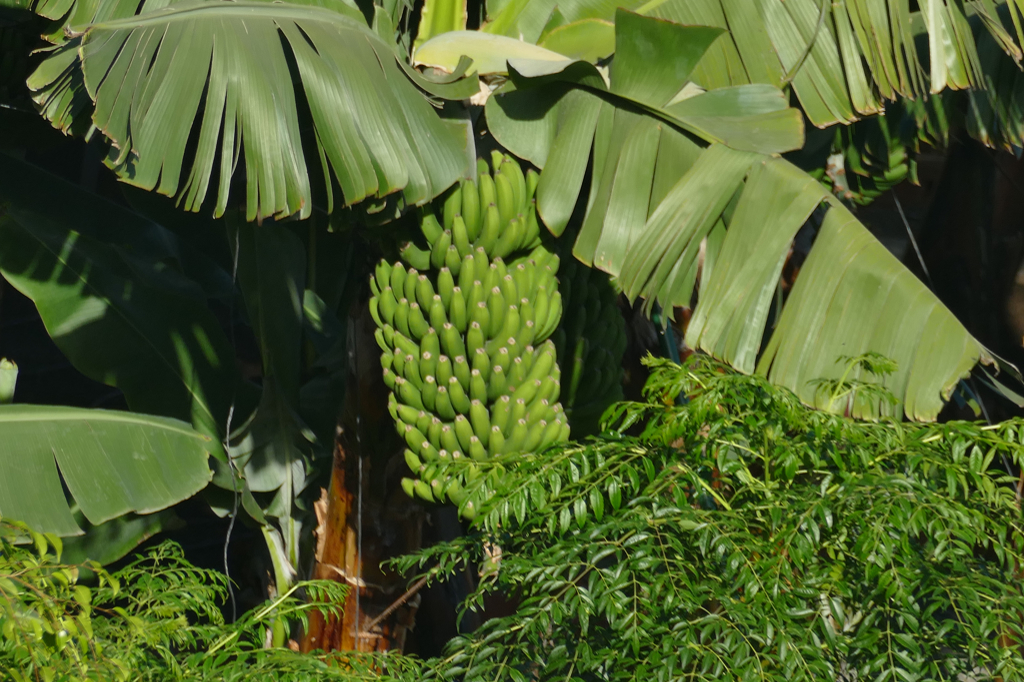 Close to the Parque del Drago is the small Plaza de la Constitución. During Icod's gilded ages, the wealthy and noble families built their mansions right here. Some of these buildings of great architectural and cultural-historical importance are still surrounding the square.
Here, you can visit a small wine museum called Museo de Malvasía. It is open from Monday to Saturday from 11 a. m. till 7 p. m. They also offer wine degustations and have a gift shop where you can purchase local delicacies.
Schedule
I definitely suggest that you see the wood old town for the (dragon) tree. Also, there are beautiful hiking opportunities through beautiful forests and to the surrounding villages where time seems to have stood still. In either case, you won't be able to stick to my itinerary below.
But don't worry: If you already know that you'll stay longer than the suggested 45 to 60 minutes in Icod, you can either take an earlier bus or you continue the day trip to Garachico on a later one. Either way, note that both buses, #108 just like #363, are going every half an hour so that you can decide on what to do pretty spontaneously.
Garachico
Genoese banker Cristóbal de Ponte founded the town of Garachico following the conquest of Tenerife in 1496. The town's first major trade was the cultivation of sugar cane and its processing.
Strolling through Garchico's picturesque alleys, it's easy to forget that the town had to endure many literally devastating events in the 16th and 17th centuries.
It all began in 1559 when heavy storms destroyed parts of Garachico. Then, between 1601 and 1606, the plague reached the small port town. In 1645 a flood killed about 80 people and sunk 40 ships. Parts of Garachico were eventually hit hard by a plague of locusts in 1659.
Obviously, also the riots against English merchants had a negative impact on the trade and consequently, the town's prosperity. In 1666, villagers revolted against the exploitation by smashing wine barrels ready for shipment in the port of Garachico. After all, the export of Malvasia wine, especially to England, was one of the main sources of income.
As if all this wasn't enough, two fires devastated the town in 1692 and 1697, burning a hundred houses down to the ground.
Nevertheless, the eruption of the Montaña Negra right above the town was the final nail in Garachico's coffin in 1706. Lava masses flowed down the valley for a total of nine days, burying the major part of the city. This put an end to Garachico's fate since the wealthy traders moved to today's Puerto de la Cruz. In the aftermath, many inhabitants were impoverished and emigrated mainly to Venezuela and Cuba.
Lava Pools
The lave left a wake of devastation, on the shore, it solidified into pools. I've introduced this wonderful natural phenomenon in some of my posts on Gran Canaria where I experienced a refreshing bath in what's called Charcos or Charcones in Spanish for the first time. And luckily, also Tenerife has a number of natural pools and puddles.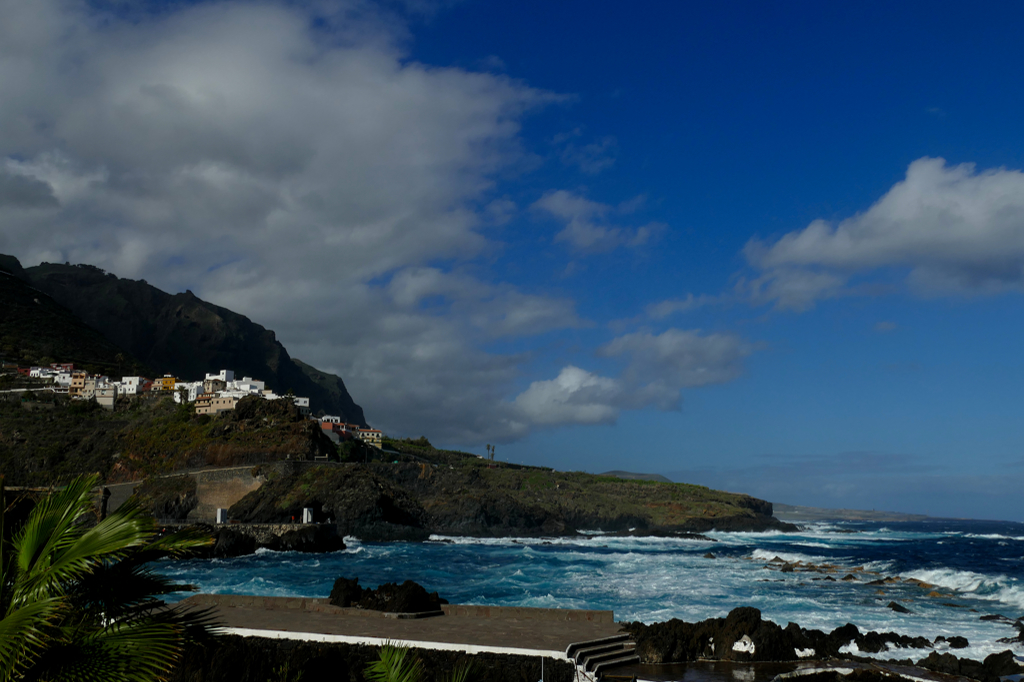 Right on the coast of Garachico's, you can go for a swim in the so-called Piscinas Naturales de El Caletón as well as the Piscina Garachico. Further east close to Icod de Los Vinos is the Charco de La Consolación, and on the coast west of Garachico, you'll find another couple of lava pools. Although they are absolutely stunning, you should be more careful than at your public swimming pool back home. Also, if the Atlantic is too rough, they close the pools for the public due to security reasons.
Just off the coast is the island of Roque de Garachico. This small rock island was also created by the volcanic eruption in 1706. Today, its rugged walls are breeding and retreat areas for endangered seabirds such as shearwater, Bulwer's petrel, and Madeiran sandpiper, as well as various migratory birds. The rock is also home to the rare Canary Gecko. The Roque de Garachico has been protected as a natural monument since 1987.
On the shore, there is also a lovely rather small sand beach, the Playa de Garachico. Since it's sheltered in a small bay, it's quite calm and perfect for swimming and snorkeling.
Touring the Town
After the residents had lost all their belongings, they rebuilt their city in the same place. What you see today, is basically a replica of what Garachico used to be. Garachico lost its rank as a major port town to Puerto de la Cruz. However, with the cultivation of sugar cane and eventually also bananas, the residents still gained wealth.
The most iconic landmark of Garachico is the Puerta de Tierra, the old city gate. This gate was the entrance and exit for the goods that were loaded onto the ships at the port. Today, it stands as a reminder amidst a small park.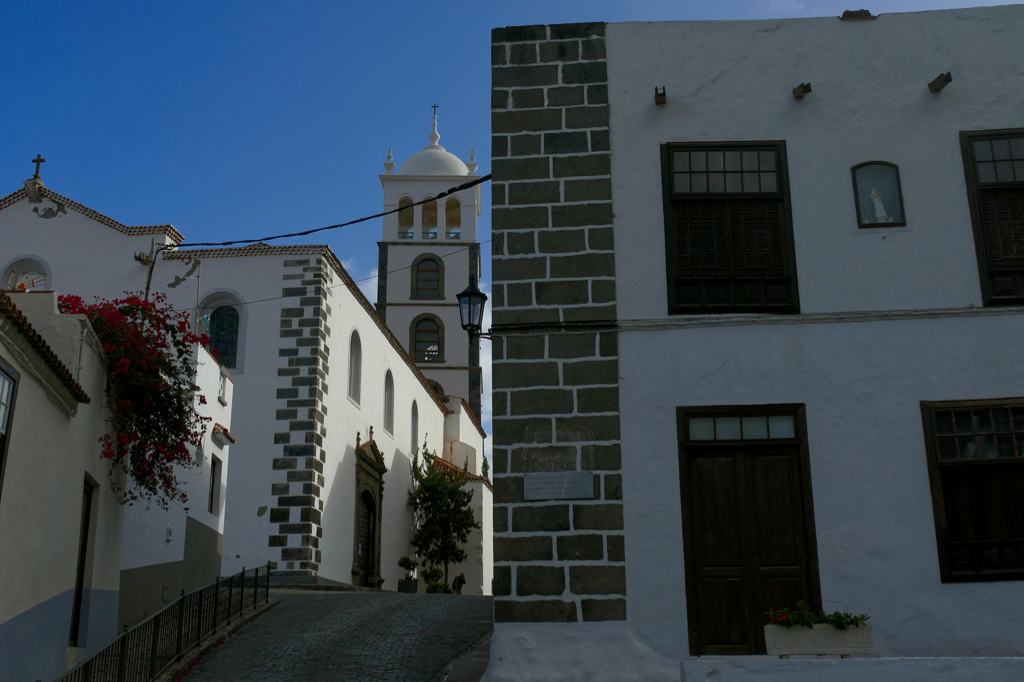 Walking one block east, you'll get to the Iglesia de Santa Ana. Built in the 16th century, Santa Ana was destroyed by hot lava in 1706. From 1714 to 1721, the church was rebuilt. Today, it is the main church of Garachico. In an annex is a small museum with sacred objects. You can visit the church and the museum from Monday to Friday between 10.30 a. m. and 1 p. m., Saturdays from 6 p. m. to 8 p. m. and Sundays from 10 a. m. to 12.30 p. m.
Around the Plaza de la Libertad
One block north is the Plaza de la Libertad, Garachico's main square. It's the perfect place to linger at a café or just under one of the large shady trees and relax for a while.
In the Plaza de la Libertad is the sculpture of Simón Bolívar. Although this independence fighter is celebrated in the entire Latino hemisphere, only a few know that his ancestors were from Garachico. However, a bronze coat of arms remembers the countries where Bolívar campaigned for independence.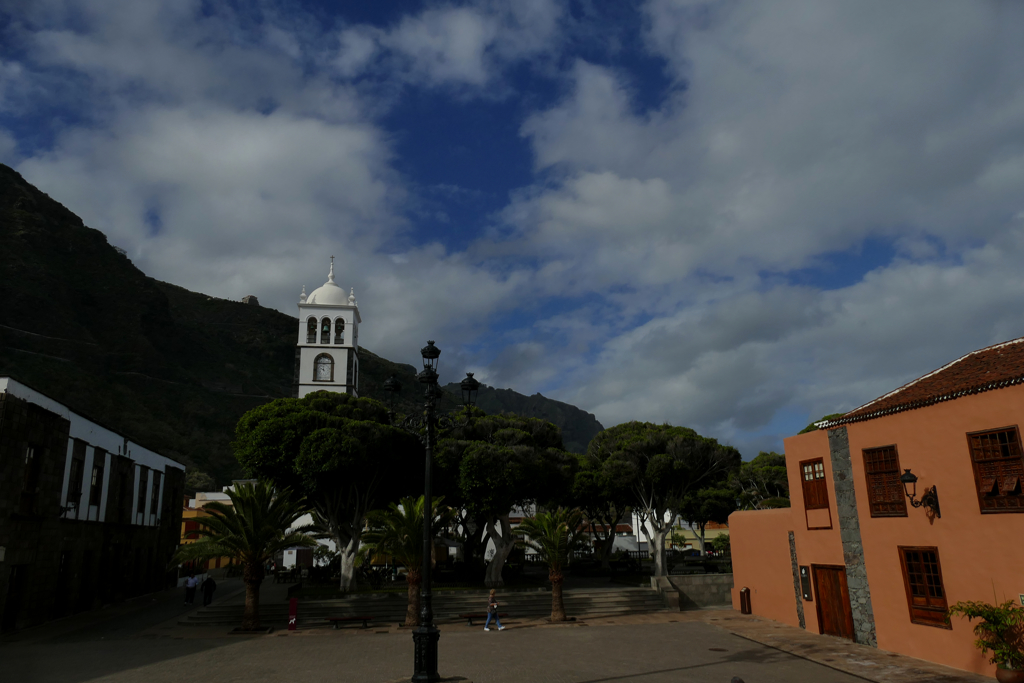 At the square's southeast corner is the Convento de San Francisco. This Franciscan convent as well as the adjacent church of Nuestra Señora de Los Ángeles were founded by the Genoese Cristóbal de Ponte and Ana de Vergara in 1524. However, construction lasted into the 17th century.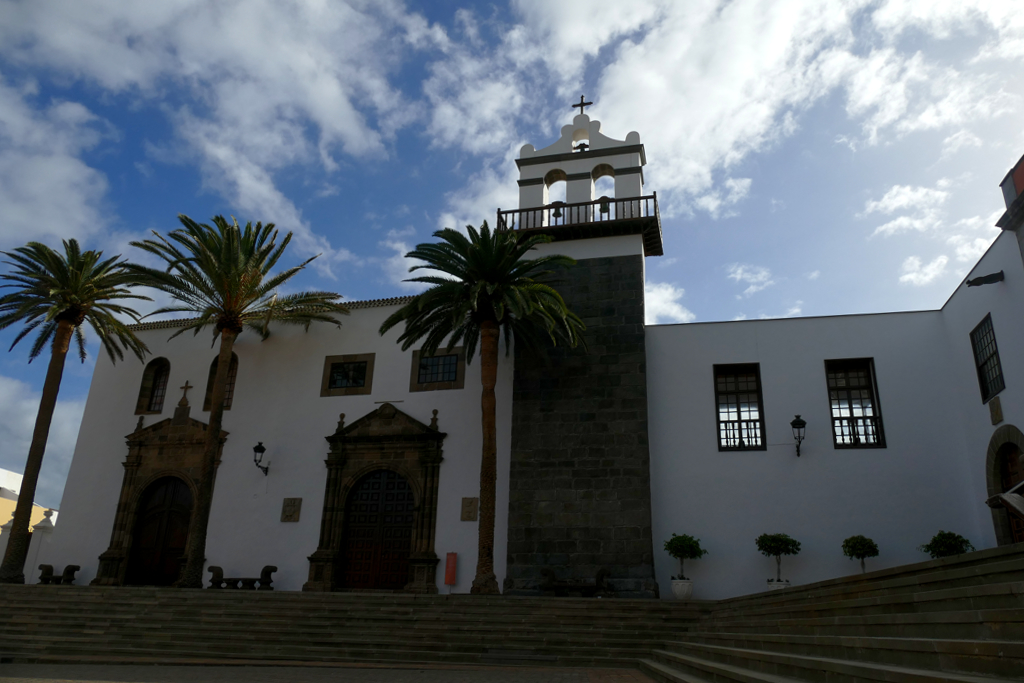 The church has an elegant and austere façade and a Latin cross floor plan. The Main Chapel has a Mudejar coffered ceiling. Here the altarpiece of the Virgin of the Angels stands out.
Today, the former convent houses the Municipal Library, the Municipal Archives, the Museum of Natural Sciences, the Museum of Local History, and an exhibition hall.
On the Waterfront
One of Garachico's most prominent buildings is the Castillo de San Miguel. It is a former fortress and located directly above the natural pools of El Caletón. It was built in 1575 and destroyed by a devastating fire in 1697. Eventually, the fortress was rebuilt.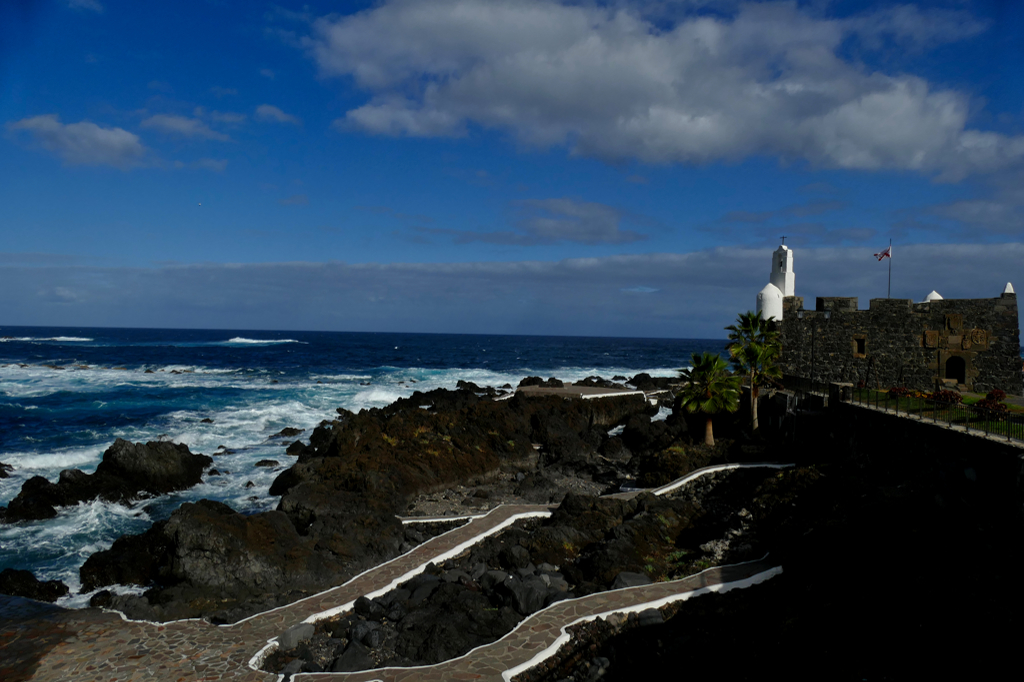 Above the portal are three coats of arms that can be assigned to the Spanish crown, Tenerife, and an important noble family. Until 1876, the fortress was the seat of the artillery department of the city militia.
West of the fortress around the old harbor are a couple of interesting sculptures such as the highly symbolic Tensei Tenmoku, which translates to door without earth and was created by Kan Yasuda from
Japan.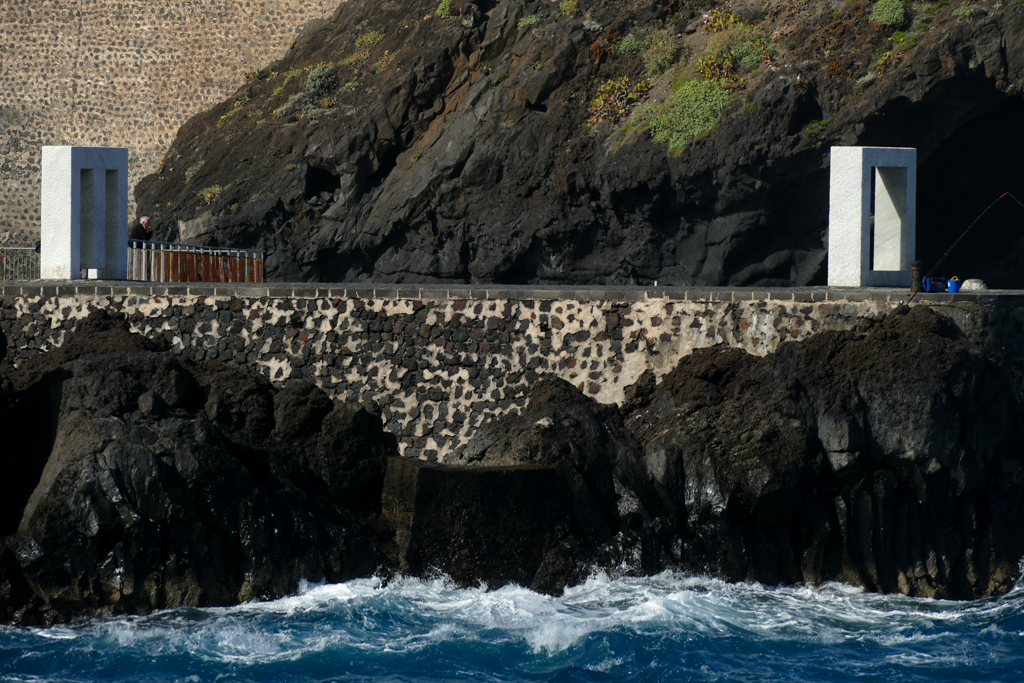 At the shore across from the Muelle, a sculpture pays tribute to those who were forced to leave the islands in search of a better life. Sculptor and poet Fernando Garciarramos created the bronze sculpture El Emigrante which was inaugurated in 1990. Garciarramos supplied his emigrant with a load of suitcases, however, he left a hole in his chest where his heart was torn out.
Schedule
In my itinerary that you'll find below, I planned almost three hours in Garachico. While this is far too long for a walk around the city, it gives you plenty of time for lunch, a refreshing dip into the lava pools, or a relaxing break at a park or the beach. However, make sure to be back at the bus stop on time. While bus #363 is going every half an hour, you have to catch #365 to Masca at Buenavista del Norte since that's one of two connections per day. If you miss the bus at Buenavista, you can always take a cab to Masca. It takes about 25 minutes and should cost 25 to 30 €uros.
Masca
Masca is a mountain village in the far northwest of Tenerife. Until only about 40 years ago, you could only get here walking or on a donkey. Due to its secluded location, Masca is said to have been a refuge village from pirates in the 18th and 19th centuries.
Due to its long isolation, Masca has preserved much of its authenticity. Yet, the village developed into a popular destination. The picturesque houses, homes to around 100 inhabitants, are embedded on the slope of a mesmerizing gorge. So it's no wonder many visitors rave about Masca as the highlight of their trip to Tenerife.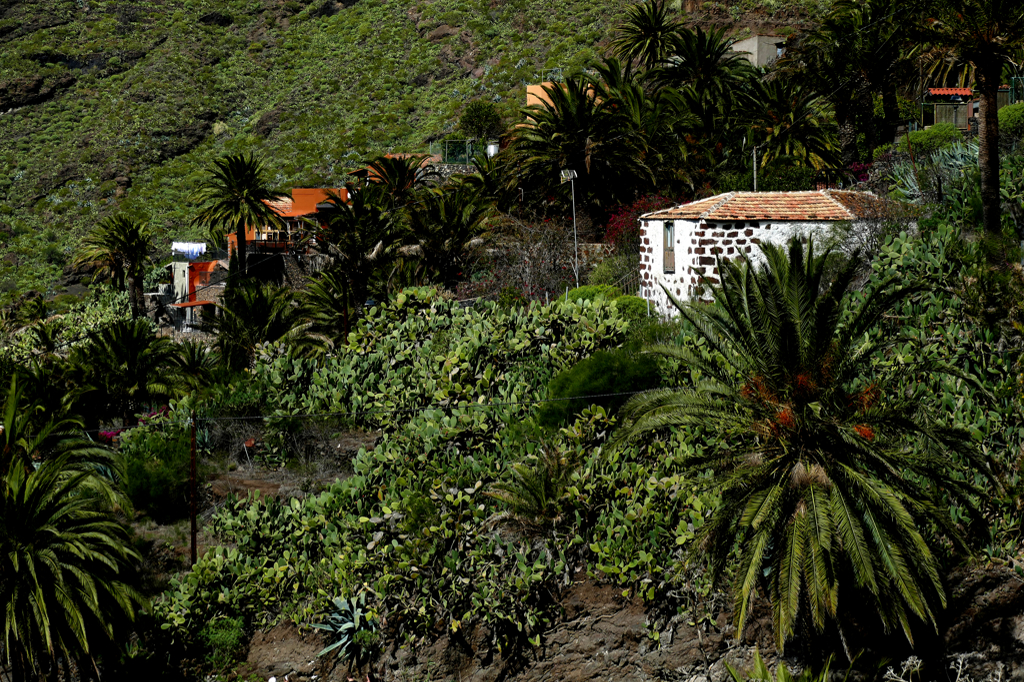 And indeed, a short walk through this still quite untouched place will certainly amaze you. The village is tiny, and the only way to get around is on foot. Some of the paths are rather steep and slippery even in dry weather. Therefore, make sure to wear proper walking shoes even if you are only walking around the village.
Take A Hike
Obviously, the fantastic mountains and gorges in Masca's vicinity are perfect for some of the most scenic hikes. Hiking the Barranco de Masca is strictly limited. The trail is only open on weekends to a certain number of hikers. Those have to wear proper hiking boots and have to be in good physical condition, obviously. The Parque Rural Teno has a very informative website where you can also book tickets for your hike.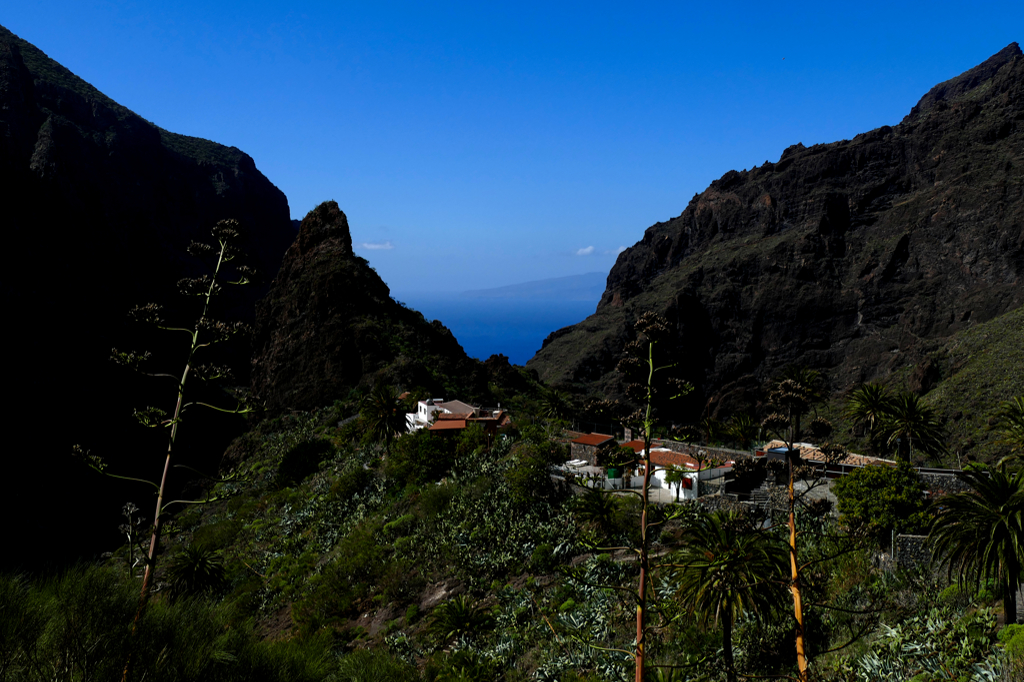 Some tour operators offer a combined excursion by bus to Masca, then a trek down the gorge towards the sea, and finally a boat trip back to Los Gigantes.
Schedule
While you have many options to get to Garachico via Icod de Los Vinos, you have to stick to my itinerary for the bit between Garachico and Masca. Getting from Garachico to Buenavista del Norte is not a problem since bus #363 goes every half an hour. Nevertheless, there are only two buses per day from Buenavista del Norte to Masca, one leaves at 6.20 a. m. and the other one, the one that I suggest, at 2.20 p. m. If you miss it, you need to take a cab which takes about 25 minutes and should cost 25 to 30 €uros.
How to Get There
Since Tenerife has the most comprehensive bus system of all the Canaries and buses are quite frequent, it is very easy and cheap to visit all three beautiful towns in one day. However, I will not lie to you, each of them is worth an individual day trip, but I leave that totally up to you.
A day trip needs a bit of planning, nevertheless, you have various options. My timetables below are just convenient suggestions. You can leave earlier and stay shorter or longer at the individual towns. However, keep in mind that the last bus is leaving Masca at 7.42 p. m. It then arrives in Puerto de la Cruz at 10.12 p. m. and in Santa Cruz at 11.09 p. m. Note that there is no direct connection and that you have to change buses for instance in Buenavista del Norte and Icod de Los Vinos.
| | | | | |
| --- | --- | --- | --- | --- |
| Start | Bus-No. | Departure | Arrival | Destination |
| Santa Cruz de Tenerife | #108 | 09.10 | 10.14 | Icod de los Vinos |
| Icod de los Vinos | #363 | 11.01 | 11.13 | Garachico |
| Garachico | #363/#365 | 01.57 | 02.49 | Masca |
| Masca | #355/#460/#108 | 04.19 | 07.10 | Santa Cruz de Tenerife |
Itinerary for a day trip from Santa Cruz de Tenerife to the Mountain Villages and back.
| | | | | |
| --- | --- | --- | --- | --- |
| Start | Bus-No. | Departure | Arrival | Destination |
| Puerto de la Cruz | #363 | 09.07 | 09.57 | Icod de los Vinos |
| Icod de los Vinos | #363 | 11.01 | 11.13 | Garachico |
| Garachico | #363/#365 | 01.57 | 02.49 | Masca |
| Masca | #355/#460/#108/#363 | 04.19 | 06.51 | Puerto de la Cruz |
Itinerary for a day trip from Puerto de la Cruz to the Mountain Villages and back.
Double Check
Since schedules might change, make sure to check all the times quoted in this post on the website of TITSA, Tenerife's interurban bus company. They have a great website where you'll find all the connections and prices, and everything you need for an easy trip. There is even a section that's especially catering to tourists. However, to learn about the island's bus system and the different ticket options, you can also go to my general post on Tenerife.
In any case, for this trip, you might want to get the day pass for 10 €uros as the trip from Santa Cruz to Icod de Los Vinos alone costs 7.45 €uros. The day pass pays out even if you add the fee for the card which is 2 €uros.
What to Eat
"No matter which restaurant you choose, the food is excellent everywhere!" emphasizes my guide Dolores as we are standing in the Plaza de la Libertad in Garachico, surrounded by many invitingly looking eateries.
And indeed, the gastronomy of the villages in Tenerife's mountainous region offers a wide range of typical dishes. There are wonderful stews made from pork, rabbit, or goat. However, you get also all the fish dishes that are popular on the coast.
Where to Stay
I'd argue that these three towns respectively villages can be an excellent base for a stay in Tenerife, especially if you have your own car. But even if you depend on the local system of public transportation, you should be fine.
No, you won't be next right to the beaches – but you still might have a grand sea view. However, on the coast below Icod de Los Vinos and Garachico, you'll find those amazing charcos, natural lava pools. Here, you can swim in the seawater while the lava walls protect you against the rough waves of the Atlantic. It can hardly get any better.
So yes, cherish the beauty and peace of Canarian small towns once the day trippers left.
On the map below, you can check out some unique lodging options in the villages and their surroundings*:
Getting There Organized
Indeed, the whole point of this post is to show you how easy it is to visit the three mountain towns on your own by public transport. However, if you don't have much time to spend on day trips in Tenerife, you can combine this very tour with a visit to the mighty Teide mountain, the island's most iconic feature. In this case, you'll be much better off if you join an organized tour. Anything else will probably be a bit stressful, and stress is not what you should go for on a vacation.
Mind you, sometimes the pure fact that you can visit places self-organized doesn't necessarily mean that it is the most convenient option obviously. Therefore, when planning your trip, make sure to check out these great tours of Tenerife:
During my week on the island, the day trip to Tenerife's delightful northern villages was just one of the highlights – literally. To read about the others, go to this post and take your pick!
For general information on Spain, go to this post. There, you'll find information and tips that will make your trip much smoother and more enjoyable.
Pinnable Pictures
If you choose to pin this post for later, please use one of these pictures: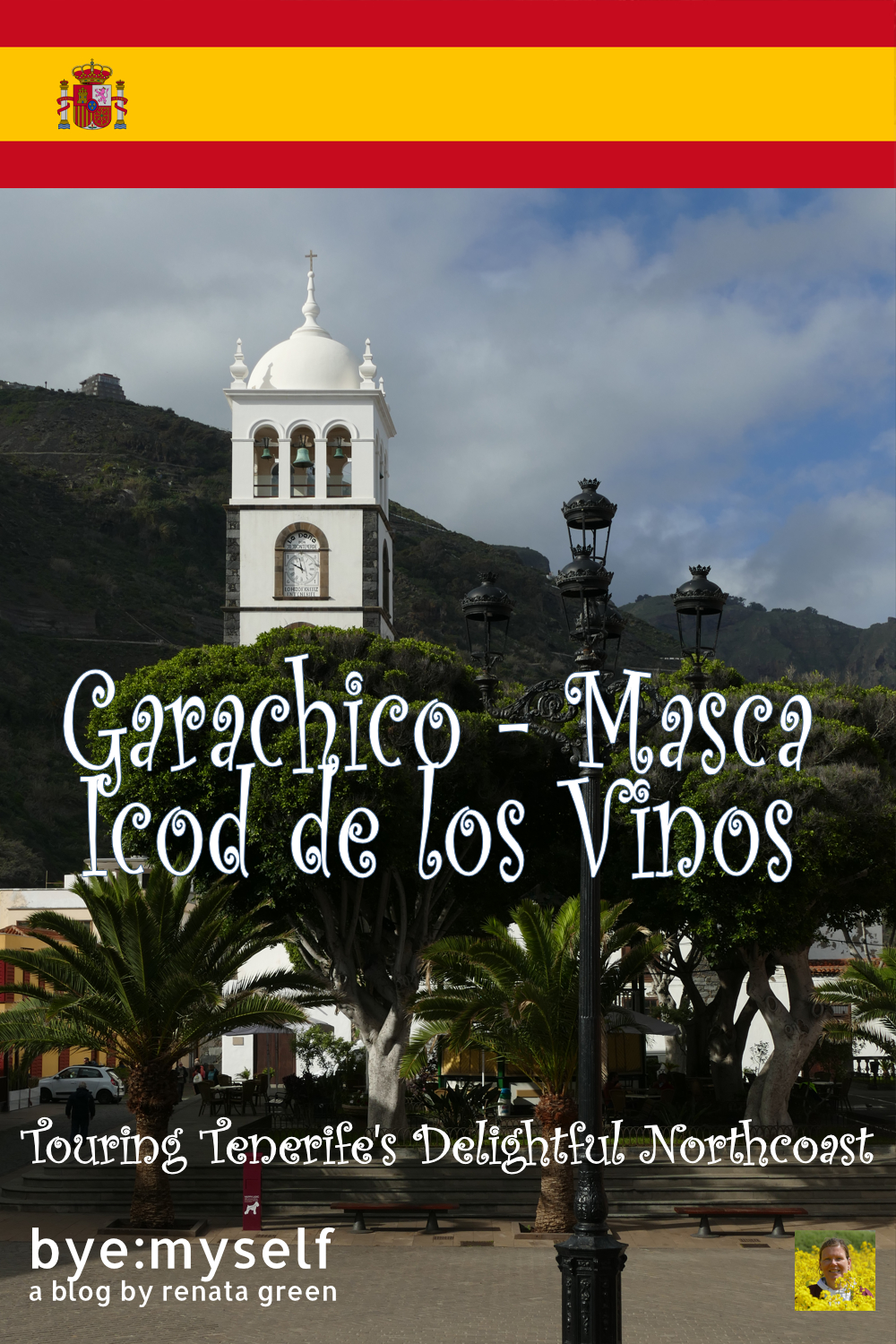 So, did You Enjoy This Post? Then You Might Like Also These:
* This is an affiliate link. Hence, If you book through this page, not only do you get the best deal. I also get a small commission that helps me run this blog. Thank you so much for supporting me!