Four days in Amsterdam: Just the perfect amount of time to get to know the most iconic spots and landmarks as well as some truly unique gems on a long weekend.
During a long weekend in Amsterdam, I got to experience a lot. In this post, I'm introducing my long list of activities and places for you to follow. Or you just pick what suits you most. Either way, you'll spend a highly inspiring city break.
And if this time, you have only one day to spend, I also have you covered: In my post 24 hours in Amsterdam, I put together custom-made itineraries for either a sunny or a rainy day.
The Problem With Amsterdam
Amsterdam is an absolutely stunning city, but more importantly, it has many truly unique landmarks and features. Although in comparison to other European cities, Amsterdam ranks sizewise modestly as #18, the city is world-famous for its canals, painted china, flamboyant tulips, cheese, and baroque paintings.
Due to all these glories, Amsterdam is also in the top places when it comes to over-tourism. Yes, number-wise, it ranks far behind London, Paris, and Rome, but it is also much smaller in size.
Therefore, at the beginning of 2021, Amsterdam introduced a tourist quota to fight over-tourism. Since then, the limit has been reduced to 20 million overnight stays per year. Given that the city has less than 900,000 inhabitants, that's still a lot.
Amsterdam My Way
So as I arranged my trip to Amsterdam, my complimentary I Amsterdam City Card* came with some stipulations: No red light district, no drugs, and possibly lesser of the most popular activities.
For me, that's not difficult at all: I'm based in Hamburg where you find the world-famous Reeperbahn, a red light district that makes Amsterdam blush. Also, at the regional drugstore chain Budnikowsky, you'll find dildos on sale right next to the tampon section. I don't know what inspired the marketing people to put them there – maybe they wanted to bundle all the insertable products in one place.
Anyway, my point is, if I ever feel like visiting a red-light district, I just have to walk down the street.
Now drugs. I'm not taking drugs. And even if I was a stoner, I would rather enjoy them in the comfort of my own home surrounded by friends. I never understood what's the point in travelling to a place where you basically knock yourself out so that afterward, you don't even remember exactly where you were. To me, that's a waste of time and money. Again: I can get wasted or stoned at home. When I travel, I want to experience the destination with all my senses.
Off The Beaten Path
Finally, getting to know less touristy areas and experiencing authentic places is right down my alley. Obviously, I did visit those world-renown museums and I also glid down some of the grachten, Amsterdam's famous canals. Yet, I added some of the lesser-known galleries and in my search for the best street art, I walked some of the untouristy areas.
Also, I didn't stay in the city center but in the neighboring town of Amstelveen. To be honest, I didn't do that from the goodness of my heart but because I'm terribly cheap when it comes to lodging, and prices for hotel rooms were ridiculously high. In Amstelveen, I paid a small fraction of what they charge in Amsterdam's city center and yet I was only just a short bus ride away.
At the end of the day, it seems like I was the perfect tourist.
The Grand Tour
I won't lie to you: Amsterdam is one of the European cities that suffer crazily from over-tourism. Therefore, you spontaneous people and free spirits who roll out of bed at 11 a. m. and wait for what the day has in store for you – you'll probably get quite frustrated. Chances are, the day has nothing left for you – no ticket to a museum, no seat at a restaurant, nothing – or niets, as the Dutch would say.
Years ago when I visited Amsterdam for the first time, I obtained an I Amsterdam City Card* that grants free access to many great places around the city. And with the said card, I just showed up at the gates of the Rijksmuseum, the Rembrandt House, you name it. Goedemorgen, here I am, now I want to see the Night Watch, please.
Nowadays, it's not that easy anymore. Especially during the high season in the Summer months from April to September, you have to make a reservation for a specific time window at basically every museum or other attraction you'd like to visit. For most people, this will be annoying if not slightly torture. For me, that's perfect. I'm a control freak suffering from a heavy case of OCD, hence, I love to book my visit to the Rijksmuseum at 9.45, followed by a lunch at De Kas at noon just to stand at the gates of the Rembrandt House at 1.45 p. m.
You think I'm kidding you? No way!
How To Do It
I strongly recommend checking out at least two weeks ahead of your trip which venues you want to visit and making a reservation on their website immediately.
Yes, even if you intend to obtain an I Amsterdam City Card*.
Because once you're on their booking sites, you'll see that there is always an option to get a free ticket. That's the one you should get if you intend to get an I Amsterdam City Card once you're in the city.
Before I even set foot on Dutch soil, I was in possession of about a dozen entrance tickets to various museums and landmarks around town.
For once in my life, my strong case of OCD played in my favor.
Now, is an I Amsterdam City Card* even worth it, you ask?
Obviously, that always depends on what you want to do. If you just want to stroll up and down the streets alongside the canals, then probably not.
But if you intend to visit some of the world-famous museums and landmarks, it's most definitely worth every cent.
Do The Math
Amsterdam is quite an expensive city and you'll pay around 20 €uros for most venues. As the card starts at 60 €uros for the 24-hours-version, you might not save that much on a one-day visit. However, keep in mind that if you play your cards right – pun intended – 24 hours can enable you to visit venues in two days. As the clock starts ticking only from the first use, you can easily visit two venues in the afternoon and two more the following morning. Add a canal cruise at noon and you'll have saved about 50 €uros.
Also, add the cost of a day pass for Amsterdam's great net of public transportation, and it's not rocket science to do the math.
So yes, I can most definitely recommend getting an I Amsterdam City Card*. I've listed the costs for up to 5 consecutive days below in the section about costs and deals.
But now that you have your magic door opener aka the I Amsterdam City Card*, let's explore the legendary city of Amsterdam.
Historic Amsterdam
What I find downright fascinating in Amsterdam is the combination of a liberal and wild metropole with the alluring optics of serene canals and small-town architecture. It's amazing how all those contrasts are melting harmoniously together and form an absolutely unique city. Despite those many cozy corners, cute gables, and idyllic courtyards, not one moment does Amsterdam deem old-fashioned or kitschy.
After having read this post, you'll know what I mean.
Dam
I can assure you right from the start that we won't spend too much time around the so-called Dam. The dam which was built in the 13th century on the Amstel River gave the square – and matter-of-factly the entire city – its name. Although it arguably is the most famous square in all of the Netherlands, I actually don't find it that mind-blowing. However, located in the center of the former medieval city center, significant landmarks and buildings surround the square. Their history makes a good look around worth a while.
Royal Palace
The most predominant structure is inarguably the Royal Palace. Wealthy citizens commissioned the building as the town hall during the city's gilded age in the mid-17th century.
Louis Napoléon Bonaparte, a younger brother of French Emperor Napoleon I, ruled over the Kingdom of Holland from 1806 to 1810. He made the town hall his Royal Palace. Eventually, the town hall was returned to the city. In 1939, the Dutch royal family acquired the palace. However, they only use the monumental building for representative purposes on prestigious occasions.
Nieuwe Kerk
Right next to the Royal Palace is the Gothic Church of Our Lady. However, it is better known as the Nieuwe Kerk, hence, New Church in English. This largest church in the old town was consecrated in 1409 and has no towers. Their construction was stopped in 1563.
The church burned down three times, most recently in 1645. Each time, it was rebuilt in its original style.
Today, the Nieuwe Kerk is a cultural center for exhibitions and concerts.
However, the royal family still organizes their weddings as well as their consecrations in this very building.
The church is open every day from 11 a. m. to 6 p. m. The general entrance fee is 15.50 €uros. With certain museum passes like the I Amsterdam City Card, you can visit the exhibitions for free. Nonetheless, booking a time slot is still recommendable.
Hotel Krasnapolsky
Right across from the Royal Palace is the posh Hotel Krasnapolsky*. German immigrant Adolph Wilhelm Krasnapolsky bought what was then the coffee house in 1865. First, he turned it into a popular restaurant. End of the 19th century, Krasnapolsky acquired the adjacent buildings where he set up the first hotel rooms.
On the occasion of the International Colonial Exhibition in 1883, Krasnapolsky expanded his hotel to 125 rooms in the alluring style of the Belle Époque.
Fun Fact
In the late 19th century, the Krasnapolsky was the only hotel in Amsterdam with hot running water and telephones in every room!
De Bijenkorf
On the northern edge of Dam Square is the De Bijenkorf department store. It was founded as a haberdashery by Simon Philip Goudsmit in 1870. Over the years, the range increased. After Goudsmit's death, his widow expanded the business with the help of her cousin Arthur Isaac. Since the store chain had Jewish owners, it was confiscated by the Nazi occupiers during WWII. Of the 5,000 employees, around 1,000 had Jewish roots, and 737 of them were murdered in the holocaust.
The Isaac family, however, went into hiding. After the war, the Jewish Dutch owners got their businesses back. Today, De Bijenkorf has seven branches nationwide with the flagship store still standing in Dam Square. However, the chain is owned by the Weston family who also own other department store chains worldwide.
Oude Kerk
Amsterdam's Oude Kerk, which translates to Old Church, is to now surprise the oldest building in the city. It is located just steps from the Dam in the De Wallen neighborhood. This part of town is actually known as the notorious red light district of Amsterdam.
The initially wooden church building was replaced by a stone structure in the second half of the 13th century. In 1306, it was dedicated to Saint Nicholas.
To this date, church services are held in the three-aisled building. However, it also hosts cultural events such as exhibitions and concerts.
The church is open weekdays from 10 a. m. to 6 p. m. On Sundays, it opens from 1 p. m. to 5.30 p. m. The general entrance fee is 13.50 €uros. Certain museum passes like the I Amsterdam City Card, grant you free access. Nonetheless, booking a time slot is still recommendable.
Nieuwmarkt
To get from the Oude Kerk to the famous Nieuwmarkt, you have to cross two canals. This so-called New Market is one of the city's oldest residential areas. Today, however, it is actually part of Amsterdam's Chinatown district. To be honest, I like other parts of the area like the street Zeedijk much better. That street is lined with tons of quirky shops and Asian eateries and also my very favorite breakfast place, the BBROOD bakery, located at #66.
What really stands out at the Nieuwmarkt is De Waag, a former weighing house that now is a – very touristy – restaurant.
The building dates back to the 15th century when it was a city gate called Sint Antoniespoort. After the city was expanded, the city gate was no longer in use. Hence, the authorities moved scales into the building. Heavy objects such as anchors and cannons were weighed here. Also, various guilds installed their seats on the upper floors.
The restaurant is open from Monday to Thursday from 11 a. m. to 10 p. m., Friday to Sunday from 9 a.m. to 10 p. m.
Fun Fact
Surgeons also had their operating room in De Waag. Actually, Rembrandt created his famous painting The Anatomy Lesson of Dr. Nicolaes Tulp right there.
Montelbaanstoren
Another iconic feature from the medieval part of town is the historic tower Montelbaanstoren which was constructed in 1516. Since it was built as a watchtower to control the port facilities and the Lastage commercial district, it stands on the bank of the Oudeschans Canal close to the harbor.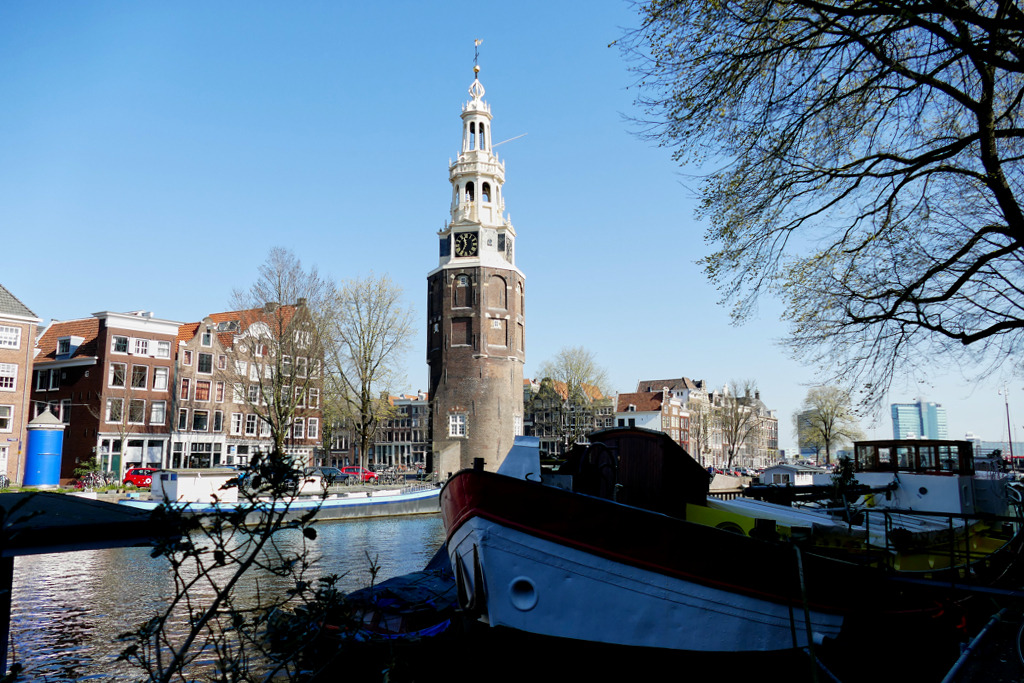 From 1606, however, the tower did not serve its initial purpose. Architect Hendrick de Keyser added a wooden spire which increased the height to 48 meters.
The Montelbaanstoren also goes by the nickname Malle Jaap – which translates to silly Jaap – referring to the constant inaccuracy of the striking clock.
Today, the tower houses the office of a boat tour company.
Fun Fact
The Dutch painter Rembrandt used to live near the tower for quite some time and depicted it in several of his drawings. In those years still without its wooden spire, obviously.
Extra-Tour: Amsterdam from Above
Once you're at the Montelbaanstoren, I recommend you keep walking towards the Oosterdok and up a ramp to the NEMO Science Museum. While this museum has fantastic hands-on exhibitions and showcases amazing science phenomena, its most alluring feature is the rooftop terrace. They have an indoor and outdoor restaurant, flower beds full of beautiful tulips, and a million-dollar view over the Oosterdok and major parts of the city.
So even if you don't have much time to spare, do yourself a favor and take a good look at Amsterdam from above.
However, if you want to visit NEMO's galleries, I urge you to book tickets online beforehand as it tends to sell out quickly. The Science Museum is open every day from 10 a. m. to 5.30 p. m. The general entrance fee is 17.50 €uros. Certain museum passes like the I Amsterdam City Card, grant you free access. Nonetheless, booking a time slot is crucial.
Other great spots to see Amsterdam from above are the Dakterras GAPP beer garden and most importantly the A'DAM Toren Lookout where you can sway on Europe's highest swing. Suffering from acrophobia, you would never catch me on that thing, however, it is quite impressive. Mind you that visiting the lookout starts at around 10 €uros with an additional charge of 6 €uros for the swing.
Gilded Age of Amsterdam
The Dutch Gilded Age spanned roughly a hundred years beginning in the late 16th century. During this era, Dutch art and science, but also its trade and colonization were among the most powerful in Europe. Merchants and settlers from the Netherlands were affiliated with the East and West India companies which established trading posts and colonies in the Americas, Southern Africa, and Asia.
Spoiler alert: For the population in the respective countries, that was not a good thing! As I learned on my recent trip to the ABC Islands aka Dutch Antilles, the Gilded Age were extremely dark'n'difficult years for the aboriginal peoples as well as for the slaves that were kidnapped and brought to the Caribbean.
As the Tables Turn
By the end of the 17th century, conflicts with competing colonial powers as well as a declining economic influence brought the so-called Gilded Age to an end. Nevertheless, you still find traces in many places around Amsterdam. At the Rijksmuseum are tons of portraits of merchants who built their wealth on the blood, sweat, and tears of colonialized and enslaved nations. Fortunately, Dutch museums do not just glorify this era anymore. You'll find explanations regarding the topic of the slave trade and the like right next to the paintings.
Indeed, it's about time to consider also the other side of all that splendor.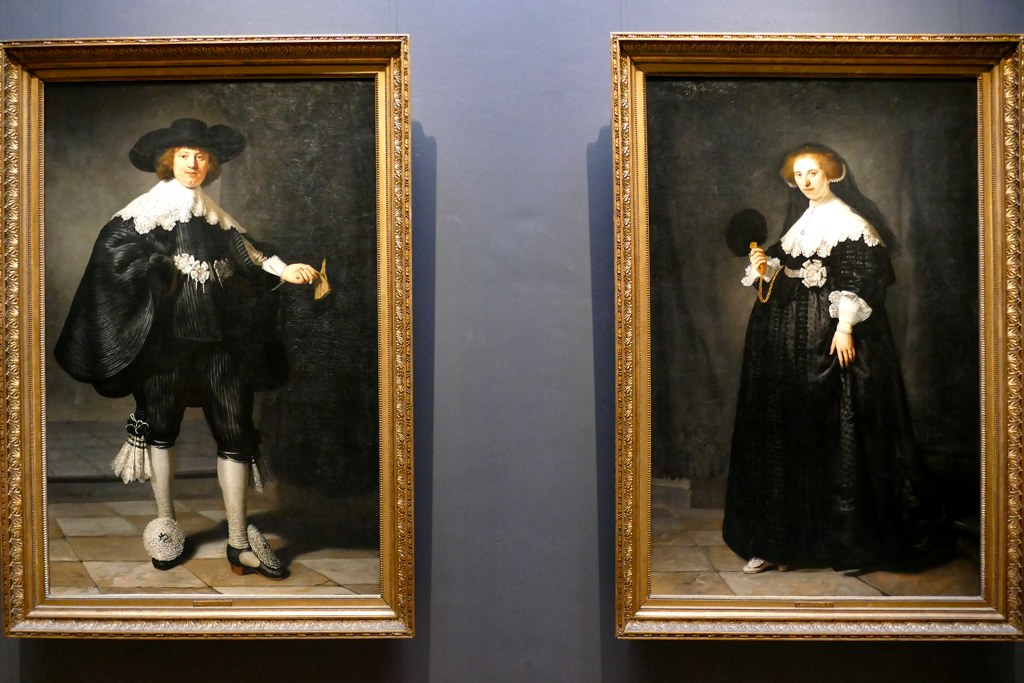 Apart from the famous paintings and grand portraits, there are also some former homesteads where you can see how those wealthy folks used to live.
Van Loon Museum
The Flemish merchant Jeremias van Raey commissioned the building – together with the neighboring house – in 1671. The building complex was planned in a way that house #674 was the owner's home and #672 was for rent. The first tenant was actually the painter Ferdinand Bol.
In the 18th century, however, new owners remodeled the twin houses to use it as one.
The Van Loon family had owned the houses since 1884. The Van Loon were avid merchants and one of the founders of the Dutch Far East Company. As I explained in my introduction to this chapter above, this was not a charitable association, to put it mildly. The company acquired ports in Asia and safeguarded its hegemony by seizing adjacent territories. It gained its wealth and power through enslaved laborers.
In 1960, a foundation was established which is in charge of the maintenance of the buildings, the interior, and the garden. The last Van Loon's daughter is the chairwoman of said foundation.
The house is a great example of how the upper class lived in the 17th century. It is fully furnished and decorated with antique sculptures and paintings, many of which are portraits.
The Van Loon House is located on Keizersgracht 672. It opens every day from 10 a. m. to 5 p. m. The general entrance fee is 13.50 €uros. With certain museum passes like the I Amsterdam City Card, you can visit the house for free. Nonetheless, booking a time slot is recommendable.
Willet-Holthuysen Museum
Mayor Jacob Hop commissioned the building in 1685. At the turn of the 19th century, it was purchased by glass merchant and coal magnate Pieter Gerard Holthuysen.
In 1895, his daughter and then-owner Louisa Holthuysen bequeathed the building and its contents to the city of Amsterdam. However, only under the condition that it became a museum bearing her and her husband Abraham Willet's names.
Today, three floors of the building are open to the public: The souterrain with the kitchen and the garden, the so-called bel-étage, and the top floor. Apart from the furniture, the house also houses the couple's rich art collection. You can see the previous owners in portraits decorating the so-called blue room.
The museum is located on Herengracht 605 and opens every day from 10 a. m. to 5 p. m. The general entrance fee is 12.50 €uros. With certain museum passes like the I Amsterdam City Card, you can visit the house for free.
Diamond Museum
While the undisputed diamond capital of the world is still the Belgian city of Antwerp, Amsterdam has a long heritage of diamond trade and industry. As a matter of fact, the city has been a major diamond center ever since Sephardic Jews introduced the diamond-cutting industry in the late 16th century. To this date, there are about a dozen diamond plants in the city. Some of them can be visited on guided tours.
The Diamond Museum Amsterdam is located at the Museumplein in the vicinity of the city's most important art museums such as the Rijksmuseum, the Van Gogh Museum, and the Stadelijk Museum. Ben Meier of Coster Diamonds founded the museum only in 2007. The Royal Coster store is conveniently located right next door. Royal Coster has created jewelry for Europe's most famous nobility such as Empress Sissi and Queen Victoria.
The museum's collection of jewelry and decorative items can be visited on Paulus Potterstraat 8 every day of the week from 9 a. m. to 5 p. m. The general entrance fee is 12.50 €uros. With certain museum passes like the I Amsterdam City Card, you can visit the galleries free of charge.
Jewish Amsterdam
Jewish life in Amsterdam flourished with the arrival of Sephardic Jews around the turn of the 17th century. Sephardic Jews were expelled from the Iberian Peninsula after the fall of Muslim Granada in 1492. Those that fled to Portugal had the gruesome choice to either convert to Catholicism or be sentenced to the death penalty on the grounds of sacrilege.
The recently independent Dutch regions provided an ideal destination for prosecuted religious minorities to practice their religion. Obviously, most of these people found a new home in Amsterdam. There, they increased economic growth and established the city as an international trading hub.
However, the movement of Sephardic Jews spread from the Netherlands all the way to the former Dutch colony of Curaçao. There they founded the Congregation Mikvé Israel-Emanuel, the oldest continuously used synagogue in the Americas.
Jewish Museum
The museum is located on the Jonas Daniël Meijerplein in the heart of the former Jewish Quarter just across the street from the Portuguese Synagogue.
The museum shows two permanent exhibitions as well as temporary exhibits. The exhibition on the ground floor deals with Jewish traditions and customs. Interestingly, ceremonial objects from the museum collection are shown in locations where they used to be placed in the synagogue. This allows visitors to experience an authentic atmosphere of a synagogue.
Other galleries feature the history of the Jews of the Netherlands: How Jews got to the Netherlands, to what extent they managed to integrate, and how they preserved their traditions and customs.
The museum is located on Nieuwe Amstelstraat 1 and opens every day from 10 a. m. to 5 p. m. The general entrance fee is 17 €uros. A visit is included in certain museum passes like the I Amsterdam City Card.
Portuguese Synagogue
As I said, Amsterdam's Portuguese Synagogue is just across the street from the Jewish Museum. This so-called Esnoga was completed based according to the plans for King Solomon's temple in 1675. Esnoga, by the way, is the word for synagogue in Judaeo-Spanish.
As in many other countries in Europe, the Holocaust deeply hurt the Dutch Jewish community. Of the then 80,000 Jews, about 80% were murdered in the genocide. However, Amsterdam's Jewish community, which today consists of approximately 15,000 present members, reinstalled an active and spirited Jewish life.
The Esnoga is located on Mr Visserplein 3. Apart from the Jewish holidays, the Portuguese synagogue is open for touristy visits. Opening hours are from Sunday to Friday between 10 a. m. and 4 p. m. An individual ticket costs 6.50 €uros. However, a visit to the Esnoga is included in certain museum passes like the I Amsterdam City Card*.
Anne Frank House
Annelies Marie Frank was born in the German city of Frankfurt in 1929. After the Nazi Party came to power, the Frank family moved to Amsterdam in 1934. In May 1940, Nazi Germany invaded the Netherlands. As the persecution of the Jewish population increased, the family went into hiding in rooms hidden behind a bookcase in the building where Anne's father worked. There, Anne wrote a diary that eventually became world-famous.
In 1944, the family was denounced and brought to concentration camps. The same year, Anne and her sister Margot were transferred from Auschwitz in Poland to Bergen-Belsen in Germany. There they died of typhus fever just about two months before the liberation.
In 1960, the house was transformed into a museum. It preserves the original hiding place and there is an exhibition on the life and times of Anne Frank. However, there are also themed temporary exhibits related to discrimination, oppression, and persecution.
The museum is located on Westermarkt 20 and opens every day from 9 a. m. to 10 p. m. The general entrance fee is 16 €uros. Although you get a discount with certain cultural passes, it is not included in the I Amsterdam City Card. Also, very early booking of a time slot is absolutely indispensable – during the high tourist season, we're talking weeks in advance!
Artistic Amsterdam
Yes, I know I was supposed to point out the rather hidden gems of Amsterdam. And while I'm all in for unusual or even quirky spots and lots of day-to-day life, it would be foolish to avoid some of the most alluring landmarks – or the world-renown museums just to be somewhat different. Thankfully, I stored my past hip'n'cool attitude in the attic many years ago – together with the fashion sins from my trendy period.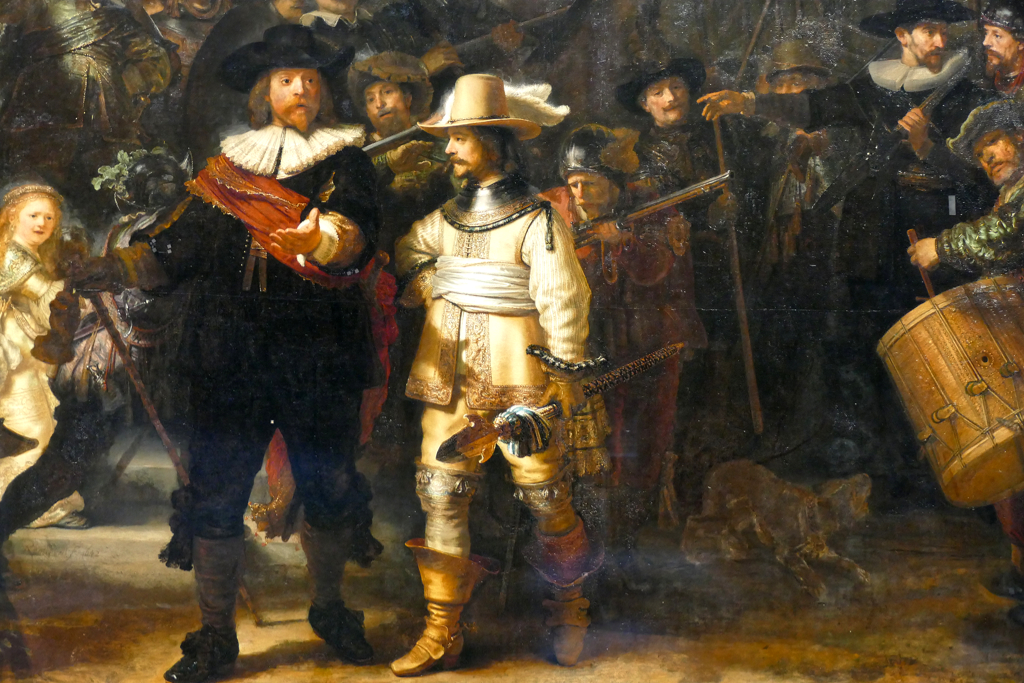 So in this section, I'm introducing two of Amsterdam's most popular museums. It might sound like a shallow slogan, but a visit to these venues will give you a deeper insight into the history and culture of the Netherlands and will therefore make your visit so much more complete.
Dutch masters are world-famous, hence, you should not miss the chance to pay them a visit in their fatherland – even if you have to share the space with trazillions of like-minded culture vultures.
Rijksmuseum
The Rijksmuseum Amsterdam is the national museum of the Netherlands and is dedicated to the country's arts and crafts. Also, the portraits and landscapes in the paintings teach you so much about the country's history in quite an entertaining way.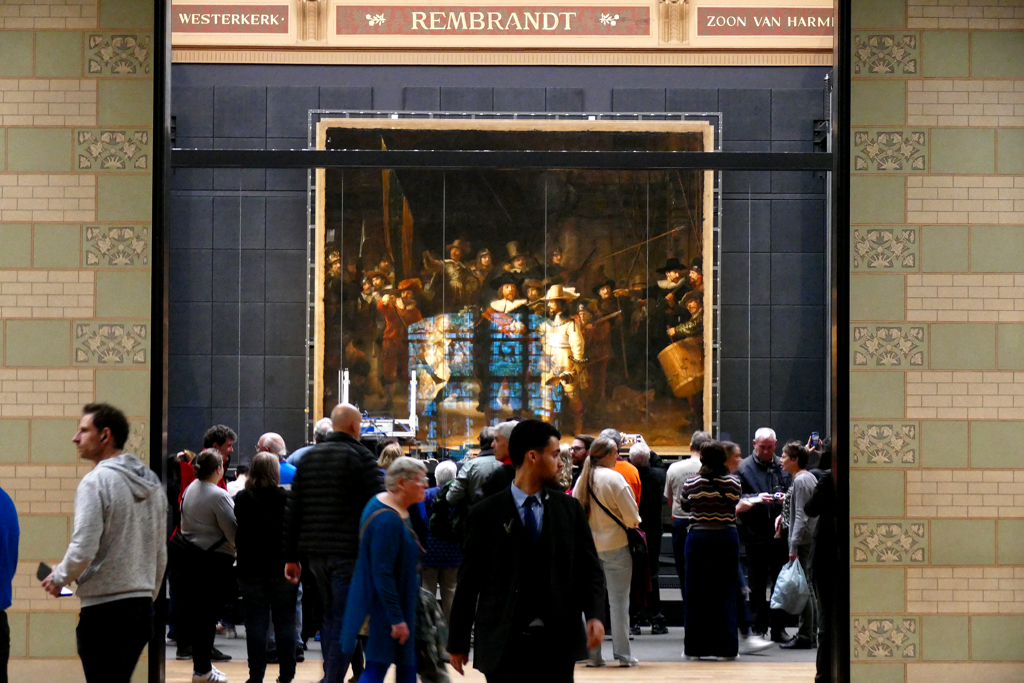 The museum was actually founded in The Hague as the Nationale Kunst-Gallerij, hence, National Art Gallery, in 1800. Eventually, King Louis Bonaparte ordered to move the exhibits to Amsterdam.
Today, the Rijksmuseum houses a considerable collection of paintings from the Dutch Golden Age and artifacts related to Dutch history.
There is also a comprehensive collection of Asian art objects from the country's colonial era. With around 8,000 exhibits on display, it's no wonder the Rijksmuseum was chosen to be the European Museum of the Year in 2015.
The museum is located in the Museumsplein and opens every day from 9 a. m. to 5 p. m. The general entrance fee is 22.50 €uros, but it is included certain museum passes like the I Amsterdam City Card*. However, early booking of a time slot is highly recommended. During the high tourist season, it's sold out days in advance!
Van Gogh Museum
Across the vast lawn on the Museumsplein is the other gallery you by no means should miss. The museum houses the largest collection of works by Vincent van Gogh who by the way wasn't from Amsterdam but from the town of Zundert.
When van Gogh died in 1890 at the age of 37, his younger brother Theo van Gogh, inherited an extensive body of work with around 900 paintings and 1,100 drawings. Since Theo was an art dealer, he also owned works by Paul Gauguin, Henri de Toulouse-Lautrec, and Jean-François Millet, to name just a few.
Yet, Theo died only one year after his brother. From then on, his widow Johanna van Gogh-Bonger managed the heritage. She returned from Paris to the Netherlands where she opened a boarding house not far from Amsterdam. Also, she organized the first exhibitions of Vincent van Gogh's works. In this way, she significantly contributed to the artist's fame. After she passed in 1925, her son Vincent Willem van Gogh inherited the collection. He continued his mother's work to preserve the legacy of his uncle Vincent and father Theo.
Plan Your Visit
Today, the Van Gogh Museum owns over 200 paintings by the artist. The most important works on display are The Potato Eaters, The Bedroom in Arles, and one version of The Sunflowers.
However, there are also important works by Van Gogh's contemporary artists such as Émile Bernard, Gustave Caillebotte, Gustave Courbet, Paul Gauguin, Claude Monet, Henri de Toulouse-Lautrec, and many more.
The museum is located on Museumsplein and opens every day from 9 a. m. to 6 p. m. The general entrance fee is 20 €uros. Although you get a discount with certain cultural passes, it is not included in the I Amsterdam City Card*. As it is one of the most visited art museums in the world, very early booking of a time slot is absolutely indispensable – especially during the high tourist season.
Fun Fact
In 1991, the Van Gogh Museum got robbed. Twenty paintings worth several hundred million €uros were stolen. However, since the getaway car got a flat tire, the paintings were instituted shortly after the robbery.
In 2002, Van Gogh's paintings Stormy Sea and The Reformed Church in Nuenen were stolen. Since they were found in the house of a Neapolitan drug lord, they could only be returned with the approval of the Italian judiciary in 2017.
Rembrandt House
The so-called Rembrandthuis is one of my favorite art museums in Amsterdam since it combines a comprehensive insight into the artist's interesting life with a wonderful display of his art and art collection.
Rembrandt van Rijn bought the building in 1639 and lived there until his bankruptcy in 1658. It was then auctioned off and eventually divided into two parts. Two families lived there until the beginning of the 20th century. Although it slowly deteriorated, it was not demolished due to its famous former resident.
In 1911, the building was refurbished into a museum. Today, you get to see a reconstruction of Rembrandt's home. There are exhibits of Rembrandt's etchings as well as a good collection of paintings. The complimentary audio guide informs you about many different aspects of the artist's life, and there is a fascinating demonstration of how setting up colors worked in Rembrandt's time.
The Rembrandthuis is located on Jodenbreestraat 4 and opens every day from 10 a. m. to 6 p. m. The general entrance fee is 17.50 €uros. With certain museum passes like the I Amsterdam City Card*, you can visit the house for free. Nonetheless, booking a time slot is recommended especially during the high season.
Contemporary Amsterdam
There are so many different things to see in Amsterdam that I need to structure this post a bit in order to avoid a huge hotch-potch. But while this order might seem as if cultures and subcultures are neatly divided in Amsterdam, it's not true. As a matter of fact, it's the city's nonchalant mix of the stiff, religious, ambitious past and the relaxed, open-minded, hin'n'trendy present that is so unique and very charming: Old crooked gabled buildings that are housing stylish bars, former bourgeois homes that are now dingy coffee shops, mansions that were refurbished into art galleries and designer stores – anything goes in Amsterdam.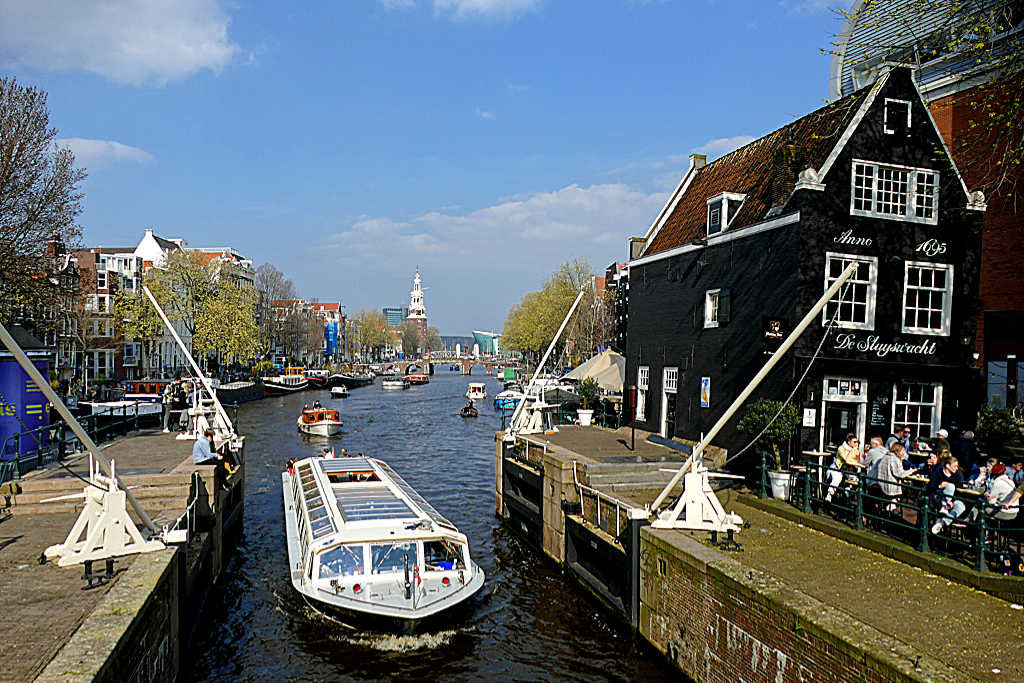 So after I took you back in time to the sometimes questionable glories of the history of the Netherlands, let's transition to the modern and contemporary.
Stedelijk Museum
The Stedelijk Museum, which translates to Municipal Museum, was founded in 1895. Initially, it was planned as a city history museum to house the estate of Sophia Adriana de Bruijn. De Bruijn was the widow of the Jewish art and antiquities collector Pieter Lopez Suasso. Eventually, from 1930, the museum housed the Van Gogh collection which moved into the Van Gogh Museum in 1972.
Today, all significant styles and movements in modern art are represented in the Stedelijk. Apart from the classic modern artists like Marc Chagall, Claude Monet, Pablo Picasso, and Auguste Renoir – to name just a few – there are the German Expressionists, there is the Italian Arte Povera as well as Pop Art from the US. Obviously, you also get to see many works from the national De Stijl and CoBrA movements. Also, the Stedelijk hosts great temporary shows.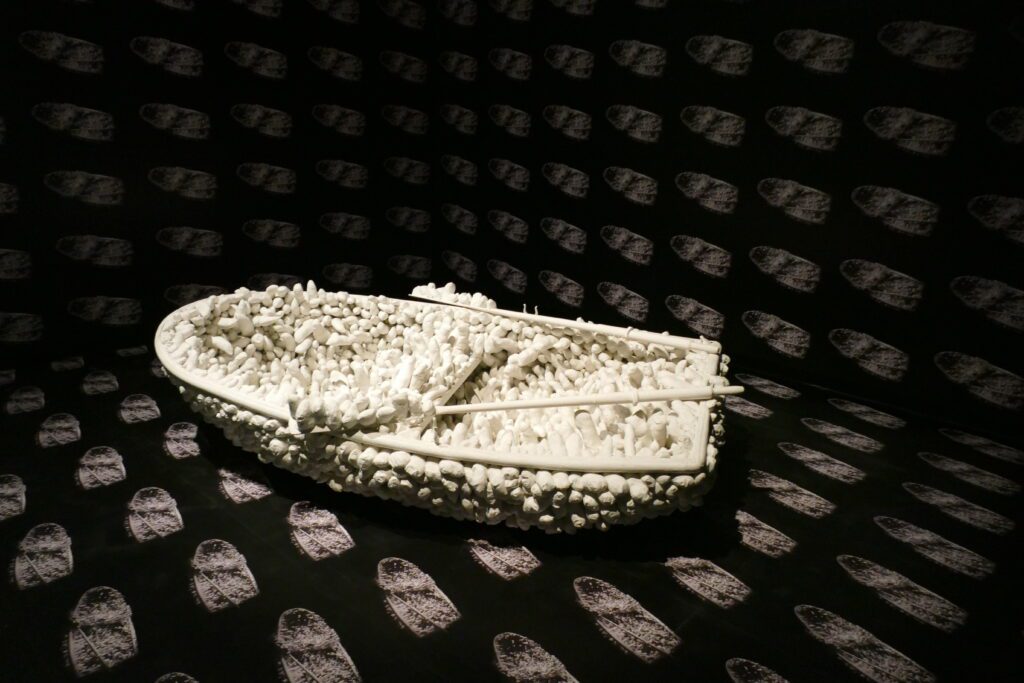 The Stedelijk Museum is located on the Museumsplein and opens every day from 10 a. m. to 6 p. m. The general entrance fee is 22.50 €uros, but it is included in certain museum passes such as the I Amsterdam City Card*. Nonetheless, booking a time slot is recommendable, especially during the high season.
MOCO
After I had already visited the MOCO Museum – MOCO stands for Modern Contemporary – in Barcelona, I was very keen to visit also the mothership in Amsterdam where it was founded in 2016. The museum was established to attract also a younger audience. This is not necessarily a good thing since the exhibitions very much encourage this shallow Instagram culture. On the other hand, the immersive art
I only wish visitors were actually interested in the art as such instead of using the works as an Instagramable background for their selfies, if that makes sense.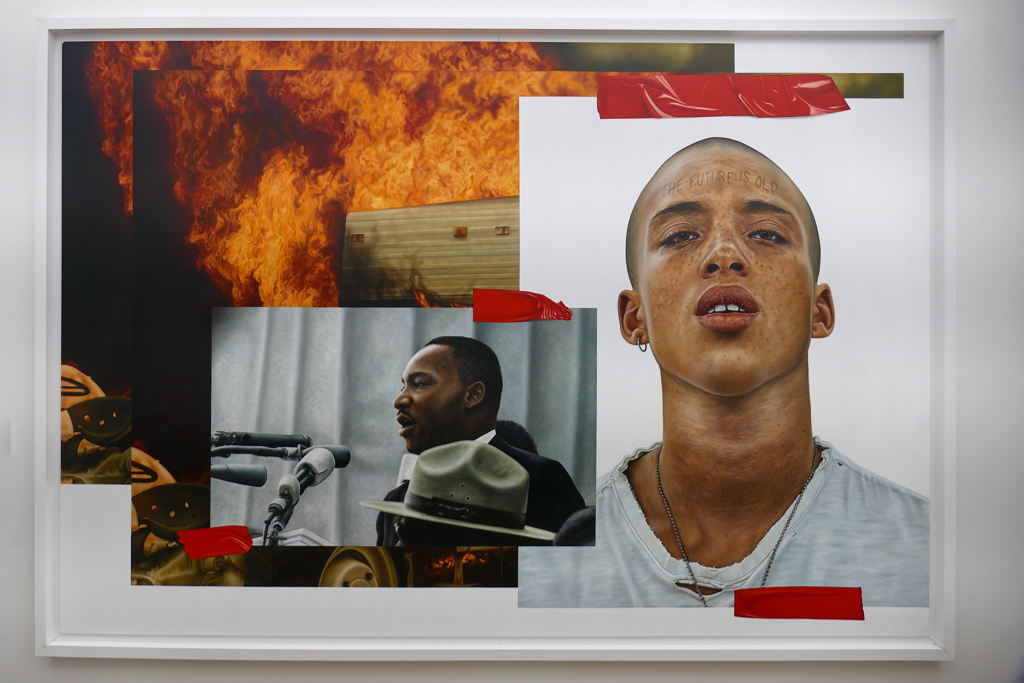 Anyway, at the Moco, you can pose in front of see works by Banksy, JR, Keith Haring, Jeff Koons, Damien Hirst, Yayoi Kusama, and Andy Warhol, to name just a few. Highly inspiring is also their collection of NFTs.
The rather cramped galleries are housed in the historic Villa Alsberg, a townhouse designed in 1904 by Eduard Cuypers. He was the nephew of Pierre Cuypers who designed the Rijksmuseum as well as the Centraal Station.
The villa is located on the Museumsplein, and the galleries are open every day from 9 a. m. to 9 p. m. The general entrance fee is 21.95 €uros. With certain museum passes like the I Amsterdam City Card*, you can visit the house for free. Nonetheless, booking a time slot is highly recommendable.
CoBrA
I mentioned the CoBrA art movement in the section on the Stedelijk Museum above. However, there is an entire museum dedicated to this style that takes its name from the initials of the cities Copenhagen, Brussels, Amsterdam. Those are the capital of the members' home countries. Nonetheless, to visit the CoBrA Museum, you have to venture out to the neighboring town of Amstelveen which takes about 45 minutes.
When the CoBrA style of art was introduced in Paris mid of the 20th century, it caused basically a revolution in modern art. This art movement stands for spontaneity, untamed expression of feelings, and wild action painting. In 1949, a major exhibition at the Stedelijk Museum brought introduced CoBrA to a large international audience.
The CoBrA Museum voor Moderne Kunst houses a collection of Dutch artists and the international CoBrA movement. CoBrA artist Shinkichi Tajirihe designed the garden in the open center of the building. While works by many CoBrA artists are permanently on show, the museum also organizes temporary exhibitions by expressionists and surrealists.
The museum is located on Sandbergplein 1 right next to the main bus station in Amstelveen. It is open from Tuesday to Sunday between 10 a. m. and 5 p. m. The general entrance fee is 20 €uros, yet, it is included in certain museum passes like the I Amsterdam City Card*.
Mind you, the trip to Amstelveen is not included in the I Amsterdam City Card*. You need to pay for instance with your NFC-equipped debit or credit card.
Urban Art of Amsterdam
In this section, we are definitely leaving Amsterdam's iconic city center to venture out into some rather unalluring neighborhoods.
Since urban art is often used to upgrade dull neighborhoods, in the hunt for street art, you have to make your way to some rather sketchy areas. While for instance in Málaga, the street art project MAUS actually contributed to the gentrification of the SOHO part of town, in cities like Seville or Rabat, I got to know the darndest outskirts where murals embellished some fairly sketchy housing projects.
Amsterdam is a bit divided when it comes to street art. On the one hand, it's a very established art form that underlines the city's cool image. Instead of showing them the old masters at the Rijksmuseum, hip parents are taking their offspring to the MOCA where they can take selfies in front of a work by the unavoidable Banksy. Or they take a ferry across the IJ to visit the STRAAT Streetart Museum. Street art in a museum – sounds quite lame paradoxical to me.
But Amsterdam wouldn't be Amsterdam if the city hadn't also the real deal: Street art against the background of dull residential areas and social housing.
In this section, I'm introducing both kinds of urban art.
STRAAT Streetart Museum
Since the STRAAT Streetart Museum is housed in a huge former warehouse on the NDSM wharf, you have to get there by ferry from the jetty behind the Centraal Station. Mind you, the ferries that cross the IJ canal are free of charge.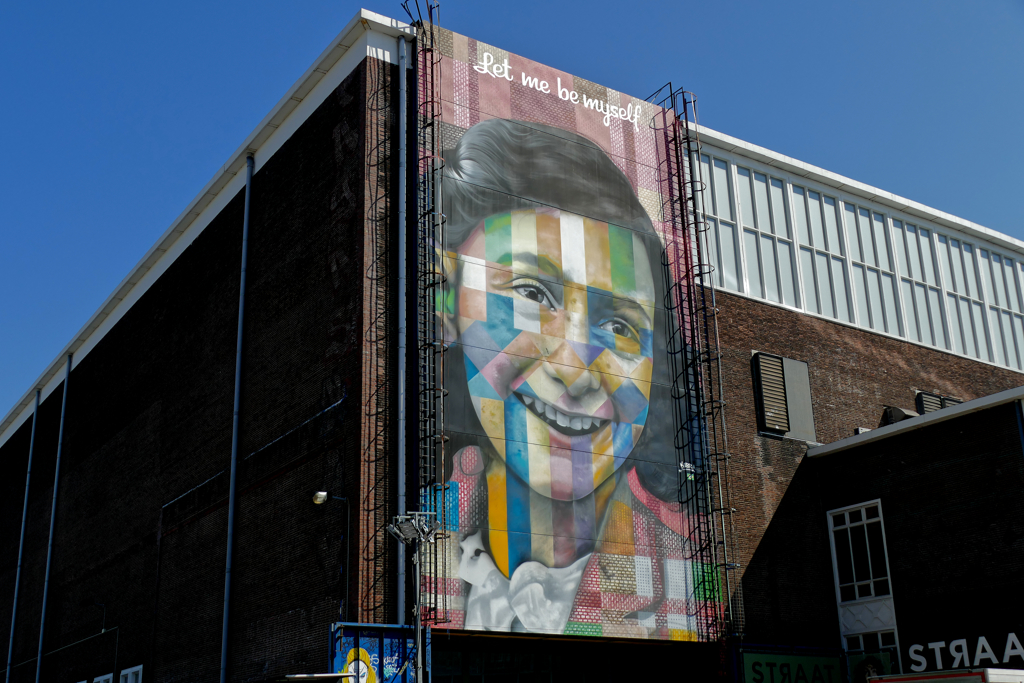 You'll find more than 160 artworks by over 150 artists on walls and scaffolds. The murals were created on-site and are normally not as large as many pieces you'd find outdoors. In contrast to real street art, you get far more information and some context, especially if you join one of their guided tours. Well, this perk is not limited to an indoor exhibition. I joined guided urban art tours for instance in Bogotá or San Nicolas on the island of Aruba. Also, you find lots of valuable info online – for instance in the Urban Art Section of this very blog.
The museum is located on NDSM-Plein 1 on the NDSM wharf. It opens every day from 10 a. m. to 6 p. m. The general entrance fee is 18.50 €uros and you get a small discount with the I Amsterdam City Card*.
Street Art Museum Amsterdam SAMA
Now, SAMA is the real deal and totally my jam: Street Art Museum Amsterdam project was founded by Anna Stolyarova in 2012. Around 300 works are found in the Nieuw-West neighborhood which mostly consists of social housing and is inhabited mainly by migrants. Stolyarova, who worked as a digital production director at an advertising agency, intended to transform her hood with street art. This might attract tourists and increase the local economy.
In my particular case, her plan worked like a charm.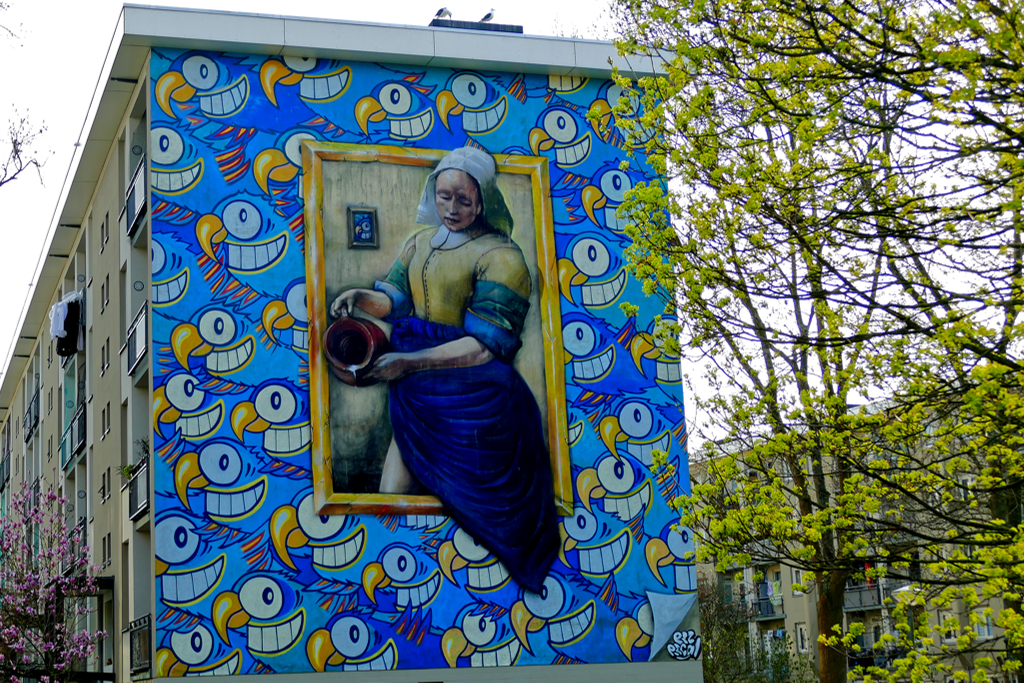 Actually, her intention and drive remind me strongly of Tito Bolivar who transformed a sleeping post-industrial town of San Nicolas on the island of Aruba into a trendy art district.
Just like Tito, Anna Stolyarova actually achieves to commission internationally acclaimed artists to embellish sad grey walls.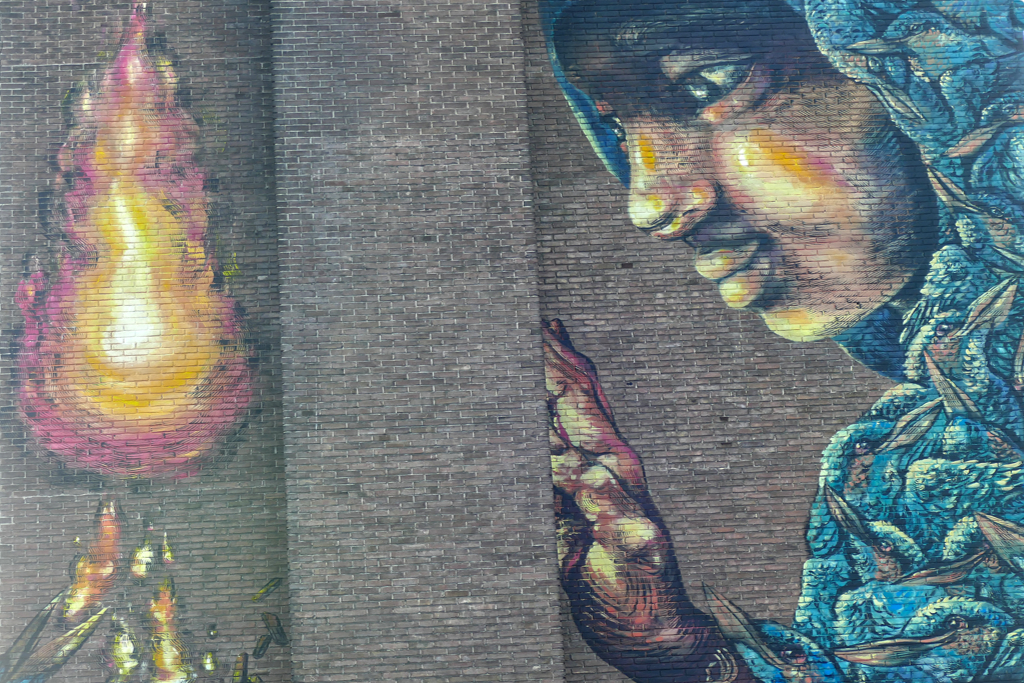 Since it's not that easy to find all those amazing murals, I highly recommend exploring the neighborhood on a guided tour.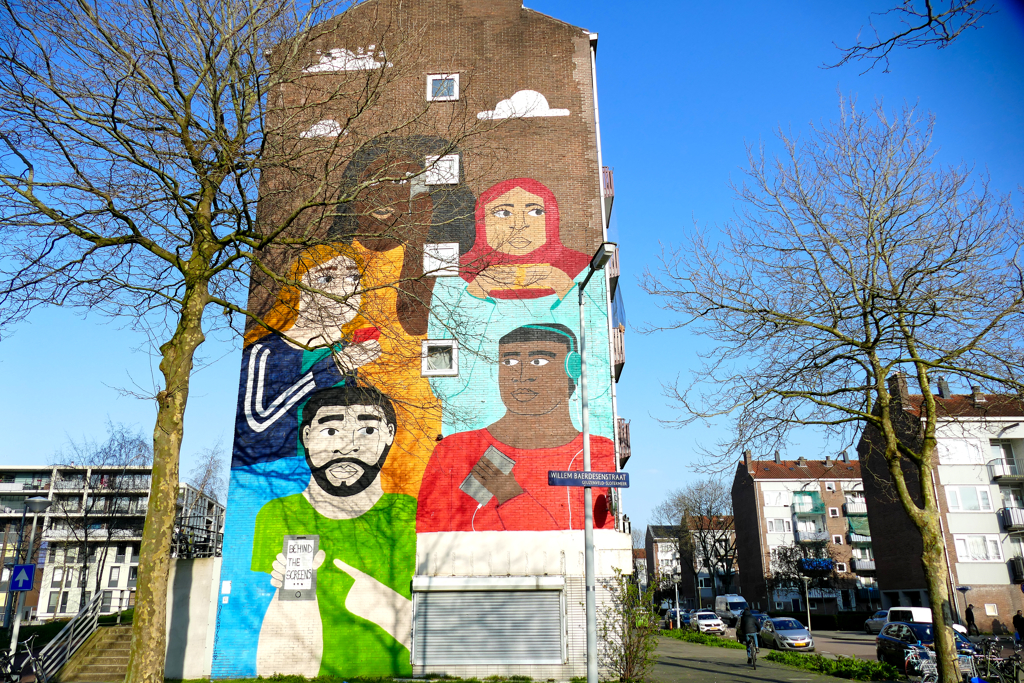 The office is located on Immanuel Kanthof 1 and opens every day from 11 a. m. to 4 p. m. On SAMA's website, you can either download a GPS-guided tour free of charge or book a guided tour for 30 €uros.
If Walls Could Speak – Amsterdam Street Art ASA
In 2019, the Amsterdam Street Art Foundation organized a street art festival around the Platanenweg in the rather dull Eastside of the city. I'll mark the exact spot for you on the map at the end of this post.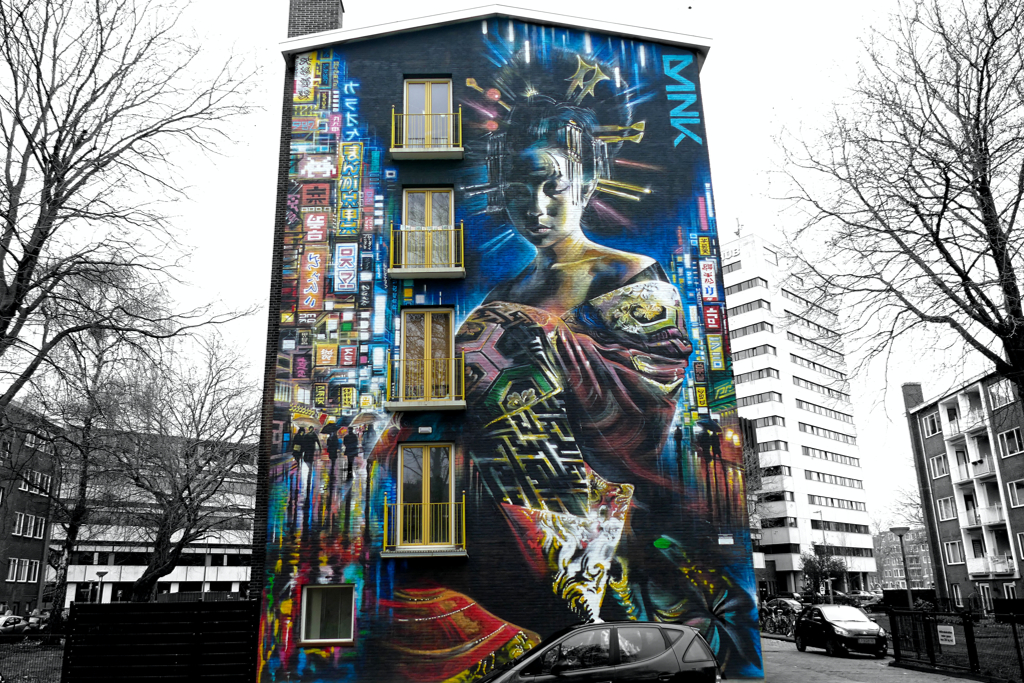 The project, called If Walls Could Speak, is actually a cooperation of the housing company Stadgenoot and ASA. Stadgenoot is keen to develop a sustainable, creative, and social living environment – in short: a home.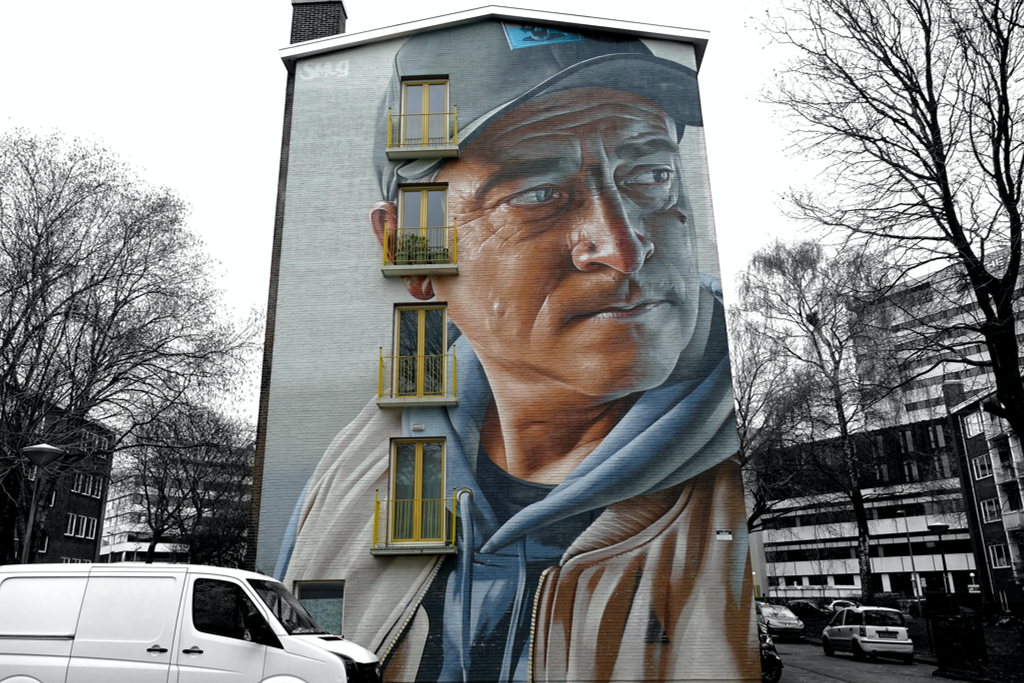 The cooperation finally resulted in ten large murals, and the list of the participating urban artists will make you gasp in awe.
In this post, I'm introducing only three exemplary works by some of my favorite muralists. But you better stay tuned since there will be a comprehensive post dedicated exclusively to the best street art in Amsterdam within the next couple of weeks.
Serene Amsterdam
Well, my four days in Amsterdam weren't exactly relaxing – but is a city trip ever restful? If so, it must be one bore of a city.
Although normally, I don't mind racing like a crazy woman, always haunted by a giant cloud of FOMO, there comes a moment when I don't mind silence, tranquility, and comfort. Amsterdam has quite a few of those spots, you just have to know where to find them.
Therefore, the next to sections are introducing you to the mellow side of this otherwise rather energetic city.
Canal Cruise
I know I'm by no means unique in suggesting a Canal Cruise in Amsterdam. As a matter of fact, that's precisely the reason why I do it: Since it's such a uber-touristy thing to do, it seems so tacky, yet, it is so cool!
Initially, I wasn't planning to go on the waters at all. Again, I'm based in Hamburg where we have lakes and canals and Europe's third-largest port. If I wanted to do so, I could basically spend my entire life on boats and ferries. Also, I wasn't willing to wait in line for two hours just to cruise Amsterdam's Grachten on a cramped boat.
Change Of Plans
But as I was on my way back to the Centraal station, I passed the jetty. Not only weren't the lines that long, but they also moved quite fast. I had to wait around twenty minutes, predicted the lady who handed me the boarding pass. Twenty minutes is not a long wait when your feet are hurting and you just want to sit. And sitting in a moving boat has something far more active and efficient to it. End of story: Against all odds, I went on a cruise on Amsterdam's Grachten and I loved every minute of it!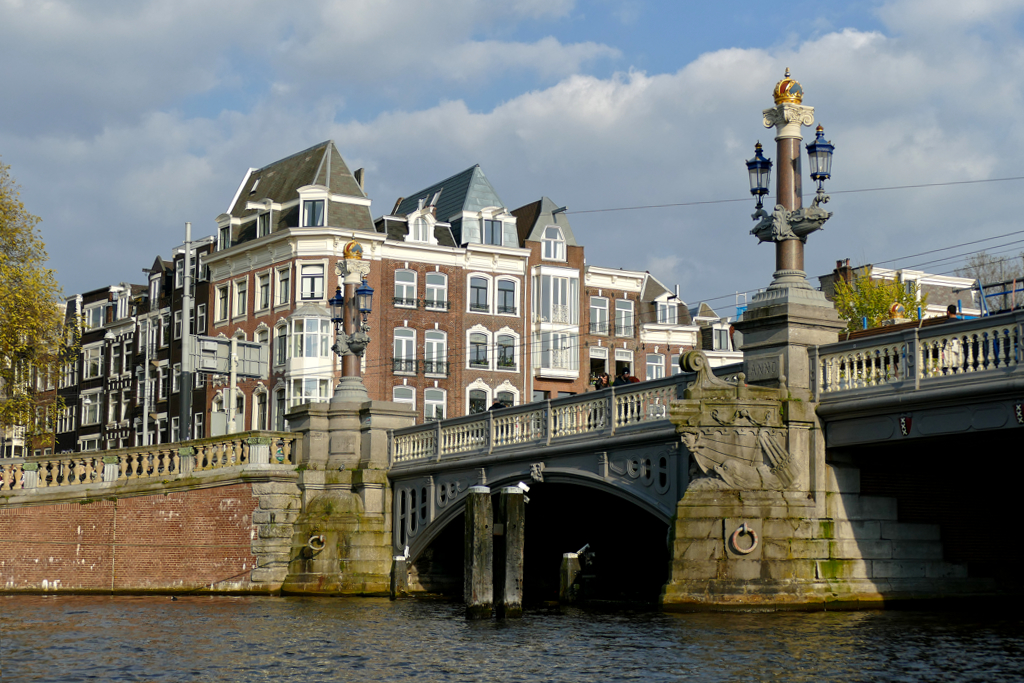 Actually, that's one of the beauties of those city cards: You tend to get to see and do things you initially weren't interested in, but since it's free, what the heck, let's go. And most of the time, you are very happy that you tried this unplanned activity or saw this unexpected venue. So yes, let those city cards inspire you!
There are various companies offering canal cruises, but only Amsterdam Circle Line Sightseeing, Blue Boat, Lovers, and Stromma are included in the I Amsterdam City Card*. All these jetties are in the vicinity of the Centraal station.
Usually, the boats operate between 9 a. m. and the evening and a standard trip of one hour costs 16 €uros. However, there are all kinds of extra tours like night trips after dark, dinner cruises, and more at a higher price.
Fun Fact
There was another totally unpredicted perk that came with my city card: I was in this busy square and I urgently needed to pee.
Good news: I spotted public bathrooms!
Bad news: They were locked.
I don't know for what reason those stupid bathrooms were locked around noon in a busy square. Also, I certainly was not in the condition to investigate why.
I needed to pee and I needed to do so badly.
And then I spotted a small museum. I never had the intention to visit this particular venue, but I knew it was included in my magic I Amsterdam City Card*. And a museum, no matter how small, has a restroom. And indeed, after I got my free ticket, I can confirm that as expected, this venue has a lavatory, too.
I don't know what the lady at the ticket counter thought as she saw me leaving the venue just after a couple of minutes. I only wonder if she noticed the relieved expression on my face.
Begijnhof
While the Flemish Béguinages in Belgium are very common and even made it onto the UNESCO List of World Heritage, they are rare in the Netherlands. Apart from the one in Amsterdam, there is only a large beguinage in Breda.
This Beguinage Hofje in Amsterdam is still at the level of the former medieval streets almost and therefore about one meter lower than the surrounding city center. In the beginning, the Amsterdam Beguinage was completely surrounded by water. The only access was through a small gate on the Begijnensteeg. Consequently, the rear façades were right on the water. Today's entrance on the Spui has only existed since the 19th century.
The Beguinage was more like a monastery, although the beguines had far more liberties than nuns in a real convent. Although they took a vow of chastity, they were free to leave the court and marry at any time.
After the Protestants took over the city of Amsterdam in 1578, Catholic churches and other institutions were forcibly converted. Hence, the Beguinage was the only Catholic institution that remained. Nevertheless, the Catholic chapel had to be ceded to the English Presbyterians. Therefore, this church is called the English Church. In 1671, however, opposite the entrance to the chapel, the architect Philips Vingboons converted two houses into secretive Roman Catholic churches.
The last of the beguines died in 1971. Today, the houses are still inhabited, but no longer by beguines. The Begijnhof can be visited every day between 9.30 a. m. and 6 p. m. free of charge. Visitors are requested to behave respectfully since this is no Disney Land. Always keep in mind that you are entering the living space of real Amsterdamers.
Hidden Amsterdam
The Begijnhof is not the only hidden gem in Amsterdam. There are other obscure and quirky places. After all, among the city's 60 museums are a Funeral Museum, a museum packed with a hundred thousand billion microbes, a museum that you can only see through its windows and the like. But not only designated venues are secret places worth discovering. Strolling through Amsterdam's narrow streets and back alleys, you'll stumble upon mesmerizing stops and enchanting niches like the secluded courtyards, the so-called hofjes, in the Jordaan neighborhood.
Ons' Lieve Heer op Solder – Our Lord in the Attic
While the protestant Huguenots came to Amsterdam seeking religious freedom, this liberty was not granted to the full extent to other denominations. They had to find different ways to practice their faith.
Jan Hartmann came to Amsterdam from Germany. He was a cloth merchant and father of five. In 1630, his wealth enabled him to acquire two buildings adjoining his house.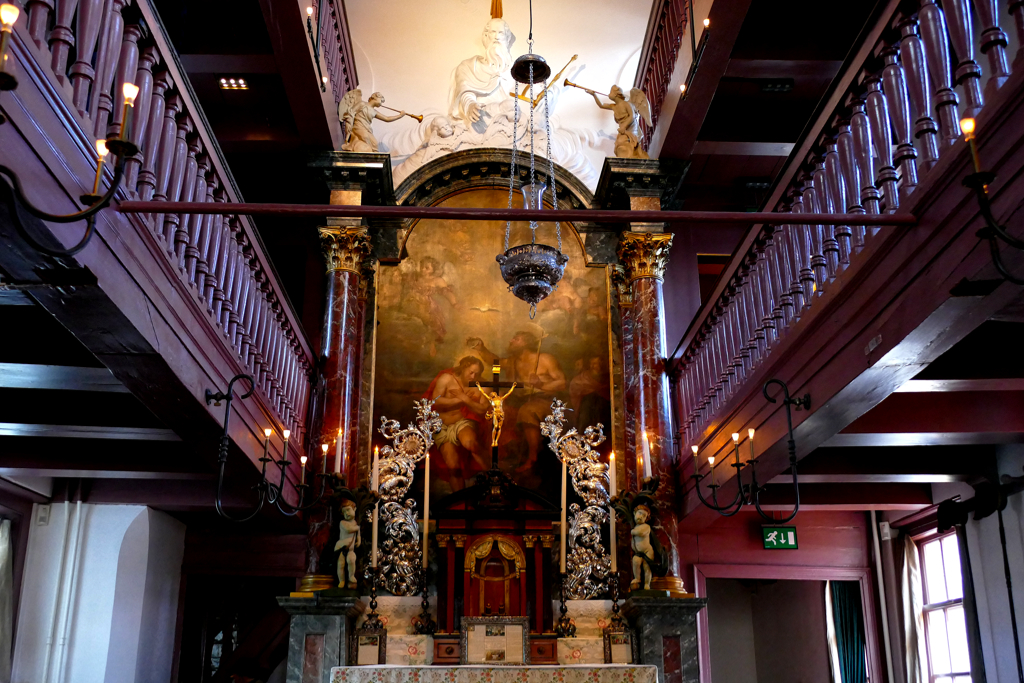 In those days, Catholics were deprived of celebrating masses in public. Hartmann united the granaries of his three buildings to set up a house church for Roman Catholics in the spacious room. Henceforth, church services were regularly held in the attic. By the way, other denominations like the Jews also had to find hidden spaces to practice their faith.
Eventually, masses were held in the neighboring St. Nicholas Church from the 19th century on. Therefore, house churches became obsolete, and Hartmann's former house became a museum.
For the most part, the museum rooms were reconstructed to reflect Hartmann's era. The church in the attic, however, was preserved the way it was in 1862. The gas lights were reconstructed as electric lamps. Today, they are still used to illuminate the church.
The museum is located on Oudezijds Voorburgwal 38-40. It opens from Monday to Saturday between 10 a. m. to 6 p. m., Sundays, it opens only at 1 p. m. The general entrance fee is 16.50 €uros. However, it is included in certain museum passes like the I Amsterdam City Card*. To visit at a certain time, you can make an online reservation.
Museum van de Geest – Outsider Art
Amsterdam's Museum van de Geest is not exactly hidden. Actually, it is housed in the Hermitage building together with a couple of other exhibitions. Nevertheless, especially this part of the venue is often overlooked.
Outsider art – or art brut as it is called in French – refers to self-taught art by laypeople, children, people with a mental illness or disabilities as well as social outsiders like inmates or other outlaws. Art brut means basically art in its raw shape beyond established rules and structures. Creations that are authentic, free from all trends and conventions. Apart from the term art brut, the word outsider art is common. However, both terms are controversial for their pejorative undertone.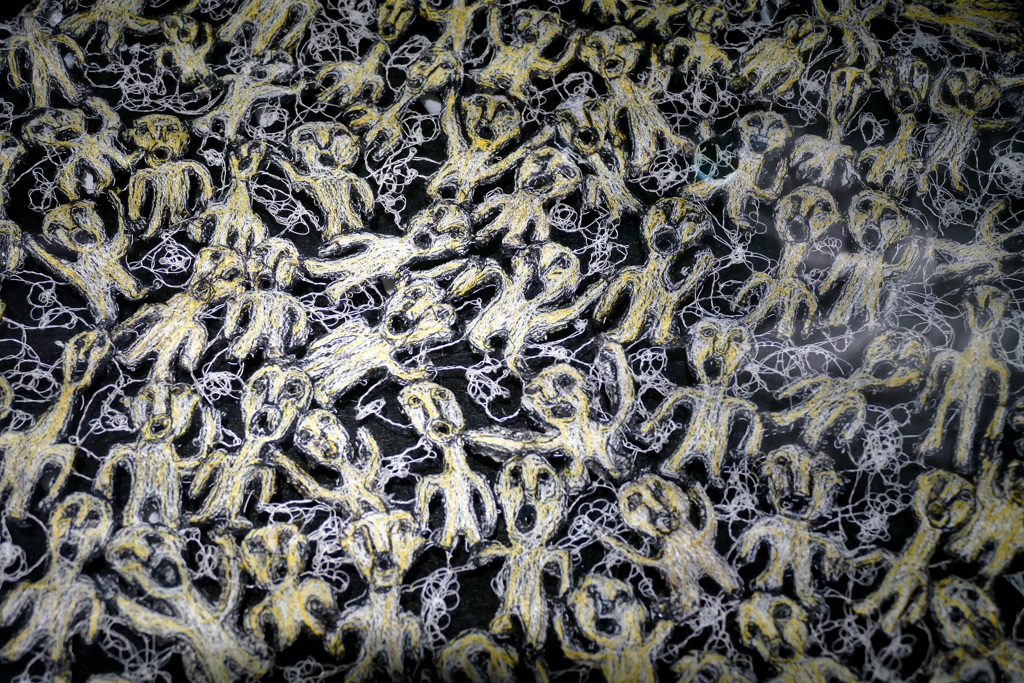 Either way, come to think of it, there have been so many artists with psychological issues who were mentally challenged, prone to alcohol and drug abuse – where exactly do you want to draw the line, anyway?
Howsoever, the Museum van de Geest is the only museum in the Netherlands specializing in creations by national and international so-called Outsider Artists. Most of the works are coming from not formally trained artists, however, there are also pieces by recognized people like Kiki Smith.
The museum is inside the Hermitage at Amstel 51. It opens every day from 10 a. m. to 5 p. m. The general entrance fee is 17.50 €uros. With certain museum passes like the I Amsterdam City Card*, you can visit the exhibition for free.
Hofjes – Amsterdam's Hidden Courtyards
The term hofje translates to small yard and is a residential complex. Constructed around a central courtyard, it was usually commissioned by wealthy burghers as free housing options for the elderly.
Today, these apartments are no longer rent-free, obviously. Although they are still often rented to older tenants, they've become very popular with students and bohemians. However, these complexes are still a bit similar to the cooperative housing from the early 20th century and can in no way be compared to the anonymity of standard apartment buildings let alone soulless housing projects.
To this date, you'll find most of the hofjes in the Jordaan neighborhood. This district emerged in the 16th and 17th centuries when many Huguenots who had fled France settled in Amsterdam. With its small houses and cozy courts, it has always been one of the typical working-class districts of Amsterdam.
However, I'd like to point out three of the most distinctive hofjes:
Stichting Occo Hofje
Cornelia Occo had determined that 15 years after her death the hofje should be built on the site of her house, for "old needy Roman Catholic men and women". The courtyard can be seen through the windows of the gatehouse. A turret that used to stand in the yard was later placed on the back of the front building.
Hofje Van Brienen
The wealthy merchant Arnout Jan van Brienen had bought the De Star brewery on the Prinsengracht at an auction in 1797. He commissioned the architect Abraham van der Hart to build a hofje in that very spot. It was completed in 1806.
Zon's Hofje
Zon's Hofje was built around 1765 for elderly Anabaptist women. When the Rijpenhofje was modernized in 1913, more and more of the Zon's Hofje's tenants preferred moving there. As the Zon's Hofje started to show vacancies, Mennonite girls and social workers rented the available quarters. After the last elderly resident left the hofje in 1967, the courtyard became a residence for Mennonite students.
Today, Zon's Hofje is a lovely and serene housing complex that became a national monument in 1970.
In my opinion, it's very generous of the tenants to let visitors have a peek into their private yards. However, you should always keep in mind that this is no amusement park but a private residence. Discrete, respectful behavior should be a given: No yelling, no peeping into windows, no extended selfie-sessions, and the like.
Amsterdam's History in a Nutshell
Until the 13th century, today's Holland was very difficult to settle. The land consisted mainly of bog and marshland which was divided by several rivers. Around 500 fishermen were living in huts by 1230. However, fishing gradually gave way to more lucrative trades.
In 1477 the Burgundian legacy – hence, Holland and the neighboring countries – fell to the Spanish Habsburgs. In the aftermath of the Spanish Reconquista Sephardic Jews fled to Amsterdam. There built numerous synagogues and installed businesses.
The Reformation led to the spread of Calvinism from around 1550.
In 1579 the Netherlands split up into a Protestant part in the north and a mainly Catholic part in the south. Spanish King Philip II sent troops to put down the rebellion in the Netherlands where Protestants were prosecuted with the help of the Inquisition. Only in 1581, the Northern provinces declared their formal independence from Spain.
Nevertheless, in 1621, the conflict with Spain broke out again as part of the Thirty Years' War and was not formally ended until 1648 with the Peace of Westphalia. The Republic of the United Netherlands was installed and the country split from the Holy Roman Empire.
At the end of the 16th century, the Dutch took first trips from Amsterdam to explore, conquer, and exploit peoples on faraway continents. They founded the Vereenigde Oost-Indische Compagnie, hence, Dutch East-India Company in 1602. It was followed by the Dutch West India Company in 1621. These trading companies transformed the republic into a naval and trading power. This led to a rivalry with other European powers like France and Britain. Consequently, there were three Anglo-Dutch naval wars in the second half of the 17th century.
Iconic Architecture
Around 1600, Amsterdam's population quintupled to over 20,000 inhabitants. The city was expanded by new canals and received numerous new churches and social institutions. It was the heyday of the city's science and art.
Today, numerous monuments from those days are found around the city center. About 7,000 merchant houses and almost 1,300 bridges over 165 canals remain from the city's gilded age. UNESCO listed Amsterdam's canal belt as a World Heritage Site in 2010.
Fun Fact:
The river bed of the Amstel, hence, the origin of the settlement, was filled in the 19th and 20th centuries. It was then built over in the space between Damrak and Rokin
Since the canals were the main routes of transport for goods and people, taxes were paid according to the width of buildings on the canal. Therefore, houses were built with a very narrow front towards the canals. To make up for this limitation, they were very high and spread out to the back.
As the narrow front was not suitable for moving bulky goods or furniture into the upper floors, they had to be brought into the house through the windows by pullies. This is the reason for the protruding beams on the gables of many historical buildings.
Fun Fact
Traditional Dutch architecture is very unique and can be immediately recognized – even in places far away from the motherland of gable houses.
You get to see those iconic buildings for instance in the former colony Malaysia: Some streets in Malacca are lined with gabled houses that could stand as well in the motherland.
In the opposite direction, the capital cities of the Dutch Antilles Aruba, Curacao, and Bonaire are famous for their Dutch architecture. The old colonial houses took Curacao's capital Willemstad even on UNESCO's list of world heritage.
But you don't have to travel that far: The small town of Friedrichstadt in northern Germany was founded by Dutch settlers searching for religious freedom.
Today, Amsterdam is the capital of the Netherlands. However, the seat of government and the royal residence are in The Hague.
The territory of the Netherlands includes, in addition to the twelve provinces in Europe, also the Caribbean islands and so-called Special Municipalities Bonaire, Sint Eustatius, and Saba. Aruba, Curaçao, and Sint Maarten are not part of the Netherlands. Nevertheless, they are autonomous countries within the Kingdom.
Fun Fact
The city of Amsterdam lies 2 meters below sea level.
Practical Information
How to Get There
By Plane
Schiphol Airport is located about 20 kilometers southwest of Amsterdam and connected to the European high-speed rail network. Apart from Amsterdam's city center, there are also frequent connections to Utrecht, Rotterdam, Eindhoven, and The Hague. But you can also continue by train to Antwerp, Brussels, and Paris several times daily.
Metered cabs are taking you to the city center in about 30 minutes for 40 to 50 €uros, depending on the traffic.
Obviously, it is much cheaper to go downtown by train, tram, or bus. A train ticket costs €5.90 including a €1 surcharge for a disposable ticket. You can also go to Amsterdam Zuid for €4.30 from where you then continue by Metro for an additional €3.40. The Amsterdam Airport Express Bus #397 costs €6.50, however, you can purchase an open return ticket for € 11.75. For € 3.40, the cheapest yet a bit longer option is taking bus #369 to Amsterdam Sloterdijk. Note neither of the buses goes to Amsterdam Centraal.
However, for your safety, here you can pre-book a reliable and reasonably priced airport shuttle.
Fun Fact
At over three meters below sea level, Schiphol is the lowest airport in all of Europe.
My Tip
Have you enjoyed a snack, done all your duty-free shopping, and now you're waiting for your flight? Why not squeeze in a final cultural treat? Since 2002, there is a small branch of the Rijksmuseum at Schiphol Airport. Passengers who have passed passport control can enjoy a small changing exhibition – free of charge! Actually, Schiphol is the first airport with such an amazing cultural offering.
By Train
Although the Netherlands lies on Europe's northwestern coast, the country can still be easily and quickly reached by train. Obviously, mainly from neighboring countries like Germany and Belgium. But even from Paris, you get to Amsterdam in only a bit over three hours. However, there are even train connections to London by the Eurostar that crosses to England through the Eurotunnel.
The main train hub is the Centraal station east of the old center on the banks of the IJ river, but many trains – especially the national connections – are also stopping at the stations Amstel, Sloterdijk, and Zuid.
You can check connections and buy tickets at the online shop of Nederlandse Spoorwegen, the Dutch rail company.
By Long-Distance Bus
Travelling by long-distance bus is getting really popular in Europe. The cheap prices make up for the little loss of time compared to trains. And since various companies are competing, the service is usually very reliable.
One of the most popular bus companies in Europe is flixbus. They are going to Amsterdam from many European cities like for instance Berlin, Brussels, Düsseldorf, Hamburg, London, and many others.
Amsterdam's main bus stations are right next to the Centraal and Sloterdijk railway stations.
How to Get Around
Cycling
It would have been a big blunder if I had answered this question by any other means of transportation than the legendary fiets, which translates to bicycle, obviously. Although Copenhagen is number one among Europe's most cycle-friendly cities, Amsterdam is the second-best. You'll be amazed by the comprehensive network of bicycle lanes!
This being said, I need to point out that riding a bike is not considered a kid's game but a valid means of transportation. Therefore, locals get extremely annoyed by tourists meandering on the designated bike lanes which they express by extensive ringing and loud swearing. Hence, do yourself a favor by walking only on the sidewalks for pedestrians, and don't watch out only for cars when crossing the streets since those Dutch cyclists are hellish fast.
I assume you won't bring your own bike. Obviously, this is not a problem since there are many places where you can rent your personal fiets.
Walking
The second-best way to explore Amsterdam's center is by walking. During the four days in Amsterdam, I walked far too much. But the city is so beautiful, the sun was shining, what better way of exploring than walking?!
Therefore, ladies, make sure to wear flat, comfortable shoes. Many of Amsterdam's alluring streets are paved with cobblestones. Hence, there go your heels. Good sneakers or even light hiking shoes will make your exploration of Amsterdam safe and enjoyable.
Public Transport
As in basically every European city, there is a comprehensive network of public transportation in Amsterdam. The most important means are the metro, trams, and buses.
Once you have purchased a ticket, you have to validate it at one of the machines located at the entrance to the metro or inside trams and buses at the beginning of your trip. If you don't want to buy an actual ticket, you can just use your debit or credit card as long as it is equipped with NFC.
As you exit the vehicle – or the metro station – it is crucial to check out by tapping the machine again. Otherwise, the clock keeps ticking.
If you have an I Amsterdam City Card*, public inner city transport is included. Hence, you need to tap that card. Mind you, the card does not include Amsterdam's greater areas like for instance Amstelveen and the Schiphol airport. If you are planning on trips outside the city center, you might want to purchase a so-called Amsterdam Regional Travel Ticket. It comes in three units for 24, 48, and 72 hours for 18, 24, or 30 €uros respectively.
Where to Stay
Since Amsterdam is one of the most touristy cities in Europe, there is a wide choice of accommodation and all of them are crazily expensive.
It's an easy equation: Of the three aspects of a good standard, convenient location, and affordable price, you always have to waive one. If you find a good standard hotel in a convenient location, it won't be at an affordable price. A hotel in a convenient location at an affordable price won't have a good standard. And finally, a good hotel at an affordable price won't be in a convenient location.
I opted for the last option which brought me to the small town of Amstelveen located between the city center and Schiphol Airport. Although commuting around half an hour back and forth every morning and evening might not be everyone's cup of tea, I paid a fraction of what I had paid in the city center. Mind you, during high season, a simple bed in a large dorm sets you back 80 to 100 €uros per night. No, this is not a joke but the sad truth of popular European destinations.
On this map, you can choose suitable lodging options in Amsterdam according to the location – and your budget, obviously*:
What to Eat
Just like for instance Great Britain, the Netherlands are not exactly famous for refined cuisine. But – also like Great Britain – they left their inglorious mark around the globe and in return, people from the conquered regions transmitted their culture and most of all, their delicious cuisine.
Today, you'll find restaurants from all over the world crammed in Amsterdam – from small snack bars and eateries to posh restaurants where you have to make dinner reservations weeks ahead.
Js much as accommodation is expensive, dining out is not exactly cheap. Good food at halfway decent prices can be mainly found in Amsterdam's China Town alongside the Zeedijk.
For a quick snack, there are uncountable varieties of deep-fried croquettes and bitterballen. A particularly authentic – yet a bit suspicious – way of enjoying them is from the vending machines. But beware – although they come out of a small compartment, they are hot!
Another Dutch staple are hearty and sweet pancakes.
A delicious sweet treat are so-called stroopwafels. These round cookies consist of two layers of sweet baked dough that are held together by their delicious caramel filling. Stroopwafels also make a great souvenir!
Fun Fact
A large stroopwafel is often placed on the cup of a hot drink to warm the cookie and make the syrup creamy.
Cash, Cards, and Deals
Since 2001, 20 European countries are paying with €uros, and the Netherlands is, obviously, one of them. The exchange rate is 1 US$ = 0,94 EUR as of June 2023, but you can check the conversion on this page.
Also, you can pay with credit cards basically everywhere.
Amsterdam is by no means a cheap place. While it's quite challenging to save on food and most of all accommodation, you can at least reduce your costs by getting an I Amsterdam City Card*. This card grants you free access to more than 70 museums and for those that do not participate, you get at least a discount. Also, the card is your ticket to city-wide public transportation, bike rental, and a canal cruise.
You get more detailed info on their website where you can also order your card.
There are five options – the longer you stay, the cheaper they actually get:
| | | | | |
| --- | --- | --- | --- | --- |
| 24 hours | 48 hours | 72 hours | 96 hours | 120 hours |
| 60 €uros | 85 €uros | 100 €uros | 115 €uros | 125 €uros |
Visiting Organized
Although I'm an avid solo-travelling woman, I sometimes like to join organized tours. This way, I get extended info about a place and it's fun to visit landmarks in the company of like-minded fellow travellers.
In a busy city like Amsterdam, booking tickets'n'tour well ahead can be crucial. Especially during high season, pre-booking online will guarantee your spot at the activity of your choice*:
Connection and Communication
Since June 2017, no roaming charges apply within the EU with a European mobile phone contract, This applies in all 27 countries of the European Union as well as in Great Britain, Iceland, Liechtenstein, and Norway and to all contracts.
In case European roaming is not available, you can connect to the internet without any issue at basically every museum, eatery, or café, and, of course, hotel.
If you insist on being online 24/7, you can get a SIM card, obviously. KPN has the widest coverage.
In the Netherlands, they use plug types C and F. Their voltage is 230 V and the frequency 50 Hz. Whereby, as nowadays, all these chargers have integrated adapters, in general, the voltage and frequency don't really matter.
By the way, you'll find this information and many more comprehensive travel tips in my post World's Most Complete Travel Information – an indispensable globetrotter-classic.
Language
In Amsterdam, most people speak decent English, to say the least. Many Dutch also speak at least one more foreign language such as German, French, or Spanish. However, it is always a friendly gesture to be able to greet and say thanks in the local language. As I thanked with a humble Dankjewel, pronounced dank-ye-vell, people were beaming; and this appreciation was coming from people who speak a handful of foreign languages!
Therefore, you might want to learn some basic Dutch vocabulary on babbel.
Map
This map should help you to find all the wonderful places I'm introducing in this post. This way, you can plan your itinerary accordingly:
Pinnable Pictures
If you choose to pin this post for later, please use one of these pictures: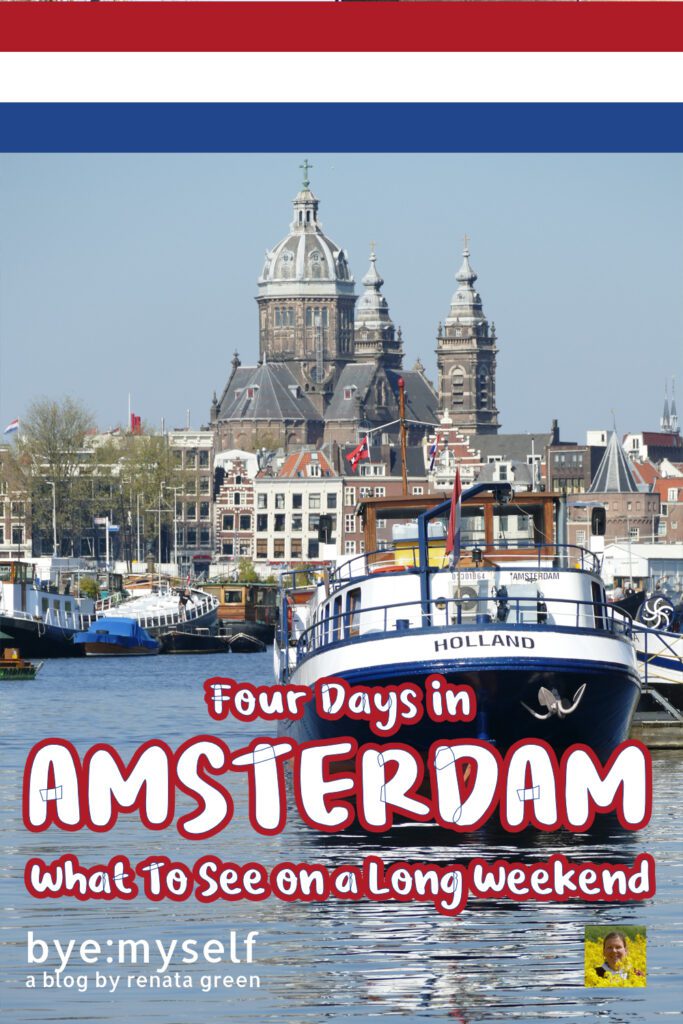 Did You Enjoy This Post? Then You Might Like Also These:
* I am very appreciative that amsterdam&partners International Press Office supplied me with a complimentary 72 hours I Amsterdam City Card and a 48 hours Amsterdam Regional Travel Ticket. Nevertheless, the description of these activities and all opinions on their services are mine and were in no way influenced by my cooperation partners.

** This is an affiliate link. Hence, If you book through this page, not only do you get the best deal. I also get a small commission that helps me run this blog. Thank you so much for supporting me!