A trip to the island of Heligoland is always a good idea. On just one square kilometer, it unites soft sand dunes and rough cliffs. It adds tax-free shopping to natural wonders like frolicking seals and jumping guillemots.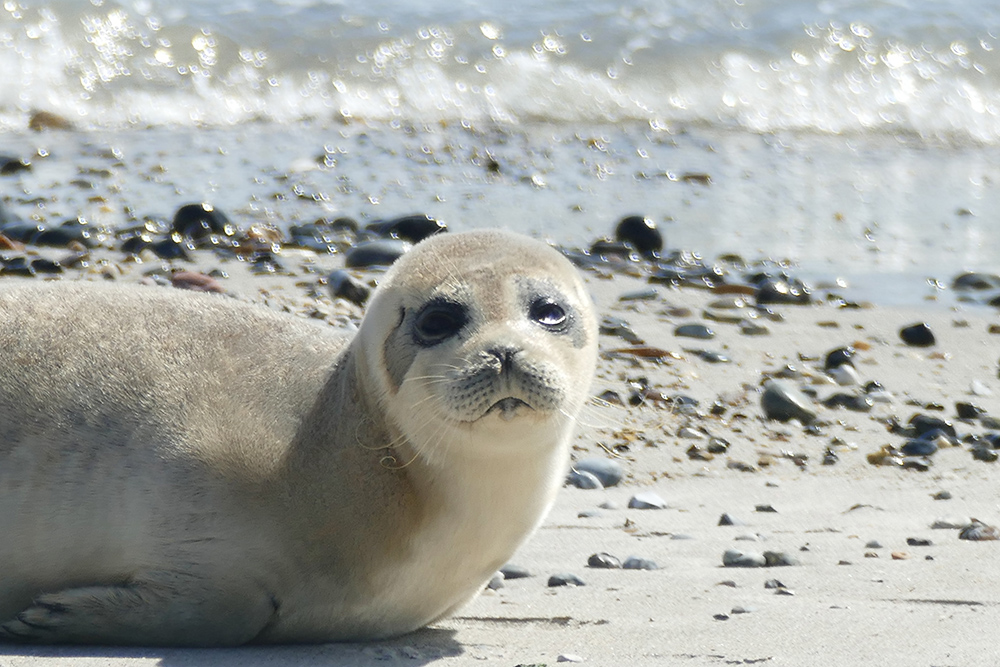 Heligoland is a tiny archipelago that long ago used to be Danish and British. But, actually, it is as German as can be since the poet Von Fallersleben wrote the National Anthem during his stay on the island in 1841.
However, visiting Heligoland today, either on a day trip or for a longer stay, it is almost impossible to imagine that at the end of WWII, Germany's supposedly only deepsea island was completely bombed out. For then long years, it was even uninhabitable.
Like a phoenix rising from the ashes, today, Heligoland is one of Germany's most popular island when it comes to a couple of relaxing days in a secluded spot.
Rough History
To really get Heligoland's outstanding position – and I'm not talking only geography here – you have to know a bit about the archipelago's history.
Due to its geographically exposed location, Heligoland had to endure rough times. It used to be one single big island until in 1721, a heavy storm flood cut it in almost half. Since then, there is the one square kilometer large red rock. Also, there is a slightly smaller sandy island called Düne, which is uninhabited.
Heligoland got even its most famous landmark, a free-standing stack called The Tall Anna, due to another calamity. Until then, the stack was connected to the island forming an arch that collapsed in 1860.
The inhabitants of this Frisian island did pretty well fishing, hunting birds and seals, as well as piloting ships into the harbors of Hamburg and Bremen.
Location Location Location
Hence, this red rock had been strategically interesting for the longest time. Located approximately 63 kilometers or 39 miles off the German coastline, after switching ownership a couple of times between Denmark and the Duchy of Schleswig, it finally became Danish in 1714.
Eventually, during the Napoleonic Wars, a conflict between Denmark and Great Britain ended by British troops conquering Heligoland and making it a crown colony in 1807.
Only in 1890, Germany got the island back from Great Britain based on the Heligoland–Zanzibar Treaty.
During WWII, it's secluded yet at the same time centrally located position doomed Heligoland once more. The Nazis used the archipelago as a strategic site of attack and eventually point of defense against British bombers. They positioned many military facilities and 3,000 soldiers were stationed on-site.
In 1940, British bombings began. Hence, hiding from the passing bomber fleets on their way to the mainland became a daily routine for the Heligolanders.
Finally, on April 18, 1945, only three weeks before the end of the war, 979 British bombers were heading towards Heligoland. They transformed the island into some kind of moonscape. After this attack, the island was uninhabitable. The 2,500 remaining Heligolanders were evacuated to the mainland where they had to stay far longer than foreseen. In 1947, the British destroyed the remaining military facilities by the largest non-nuclear explosion in history.
Eventually, they were using the island for bomb testing for seven more years. Only in 1952, they turned Heligoland over to Germany and the former inhabitants could return home.
A Trip Into The Past
Visitors who are interested in Heligoland's history find a history trail with 16 info charts and QR-codes.
Absolutely fascinating and not to be missed is a guided tour into the bunker system that was dug into the red rock. The tour can be booked at the museum – which also houses great exhibitions on other relevant topics.
Museum Helgoland
Kurpromenade 1430
27498 Helgoland
Phone: + 49 – 4725 – 1292
Email: info@museum-helgoland.de
For the bunker tour, reservation is required at
Phone: + 49 – 4725 – 808-808 or
Email: info@helgoland.de
The museum is open from April till October daily from 10 a. m. to 2.30 p. m. In winter, operating hours are limited.
Shop Till You Drop
Already during the British era, Helgoland was a popular sea resort. In 1901, then belonging to Germany, it became the first German communal resort where men and women were allowed to bathe together.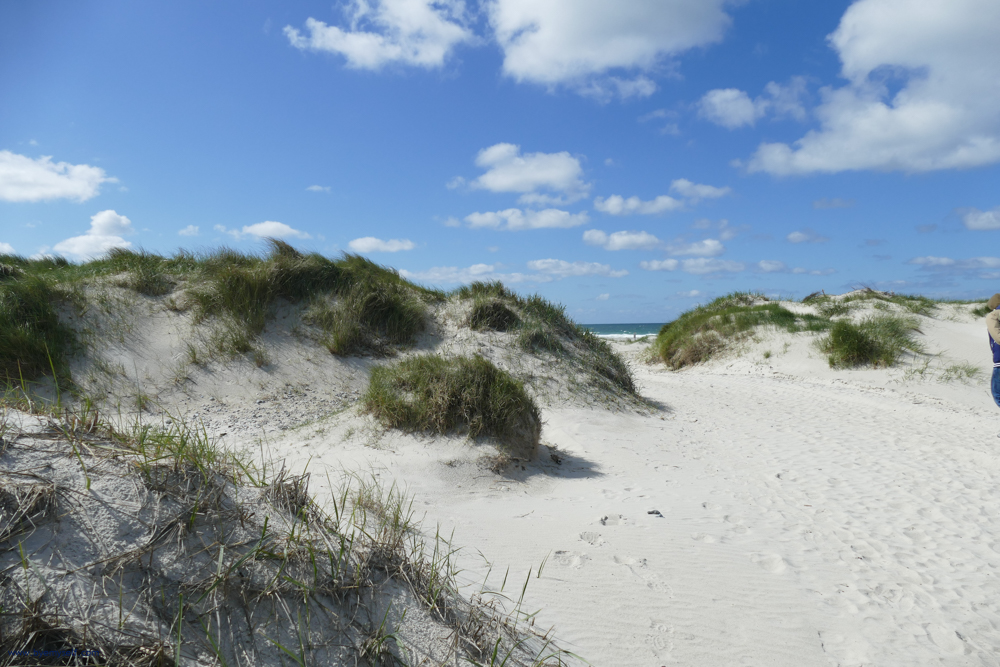 German poets like Heinrich Heine were inspired by their stays on the rock amidst the north sea. And August Heinrich Hoffmann von Fallersleben even wrote the German National Anthem on the island in August 1841.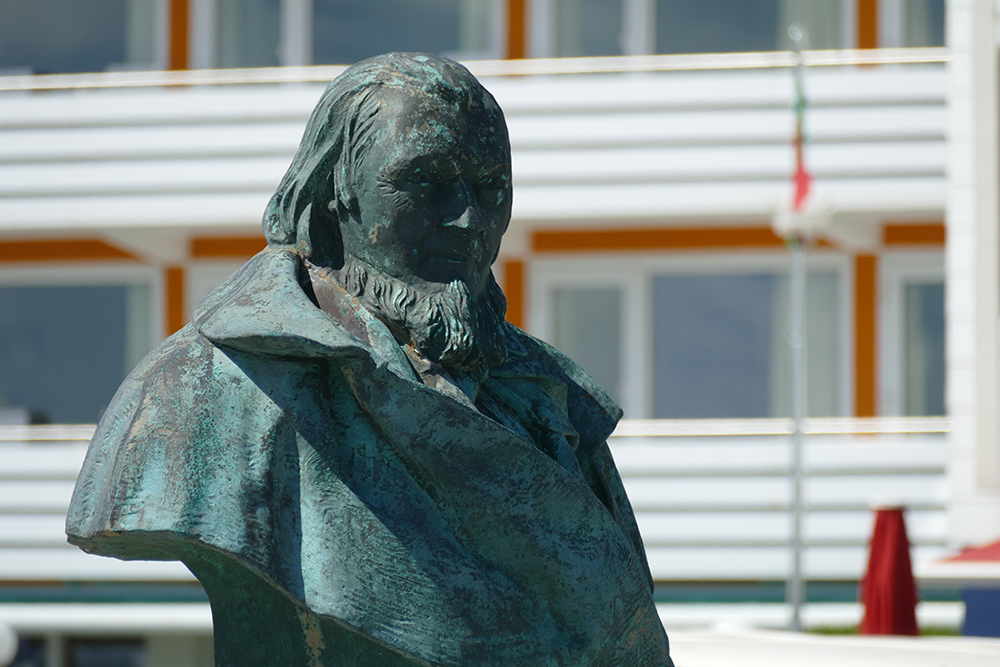 Short after the busy Heligolanders had built new homes and fixed their island, tourism picked up again. Mainly because in the 1950s, the so-called Butterfahrten, butter trips, became popular. People booked cheap trips to tax-free areas to stock up mainly on cheap booze, cigarettes, cosmetics….and, yes, butter.
Actually, cheap shopping was the main purpose of those trips. Therefore, hordes of very merry visitors conquered the island for a couple of hours. Then, they were schlepping loads of goods back on board.
The more the merrier. This motto was not referring to the number of people. It referred to the quantity of booze they consumed already on their way to the island.
Sobering
In 1999, the European Court of Justice, that old party pooper, declared this sort of – literally – joy ride incompatible with the EU-law.
However, Heligoland is, obviously, part of the German economic territory. Nevertheless, to this date, it is neither part of the customs area of the European Union nor do they have to pay German excise duties.
Therefore, you can still buy dirt cheap liquor and pretty cheap cosmetics. I don't know about cigarettes since I'm not smoking, but I assume those prices will be great, too.
Of course, the quantities you can take with you to the mainland are very limited. Either two liters of liquor with less than 22 volume percent or one liter over; and you have to be at least 17 years old. If you want to take more, you have to pay tax right there on Heligoland. However, this can still be totally worth it since the price difference is so big.
Leisure
So now that all those merry drunks don't come anymore, Heligoland is becoming significantly more popular with vacationers seeking silence and serenity and fresh air. It's getting quite sophisticated.
Although the island is rather small, you can wander up and down and around the square kilometer of the populated triangular main island.
This main island is divided into the Unterland, the lower land at sea level, the Oberland, upper land, a lush green plateau with basically nothing but meadows and bushes and domestic animals and wildlife. And then there is the Mittelland, the middle land, a residential area between the two above named areas. This part came into being only after the big explosions of 1947.
The Unterland is great for shopping – see the previous chapter – and dining and strolling along the promenade watching the big ferries and the posh private yachts.
Shipping'N'Shopping
On the way from the harbor, you'll spot the reconstructed traditional Hummerbuden, the lobster shacks. Today, they sell treats like all sorts of fish and shellfish in a crispy bread roll. Others are housing art galleries and handicraft shops. Also, the Jordsand association's info center, committed to protecting the precious and fragile wildlife, is located here. We'll get to that in the next chapter.
Although the Mittelland is basically a residential area with a couple of shops and restaurants, it grants great views of the Unterland, the sister island Düne, and the open sea.
At this point, I'd like to emphasize that due to Heligoland's difficult history, there are none of these cute thatched cottages or old churches left that I've shown you in the two previous posts on Fehmarn and Föhr.
Life and, obviously, architecture was erased in 1947. Today, all of the 1,400 inhabitants live in newly built houses, which at first deems a bit odd.
Now, the Oberland is truly a foretaste of paradise with the wide green grassland, the red cliffs, and the deep blue sea. In this mostly undisturbed surroundings mainly the incredible numbers of birds find a peaceful refuge for nesting and breeding.
There is a very pleasant beach on the northern shore of the main island right in front of the hostel. Consequently, it is not only the cheapest lodging option, but also one of the most exquisite locations on the island.
Island of Düne
However, for spending a day on the beach, the island of Düne is the far better option. This part of Heligoland is somewhat smaller than the main island. However, the 0.7 square kilometers are completely surrounded by sand beaches. Düne is not permanently inhabited, but there are holiday bungalows and a campground for visitors. Also, Heligoland's airport is located on Düne.
There is a shuttle ferry going between the main island and Düne every 30 minutes. The islands are about one kilometer apart.
Since the operating hours are varying depending on the season, you better check out their schedule.
Birds and Beasts
Düne offers 130,000 square meters of the finest sand beach.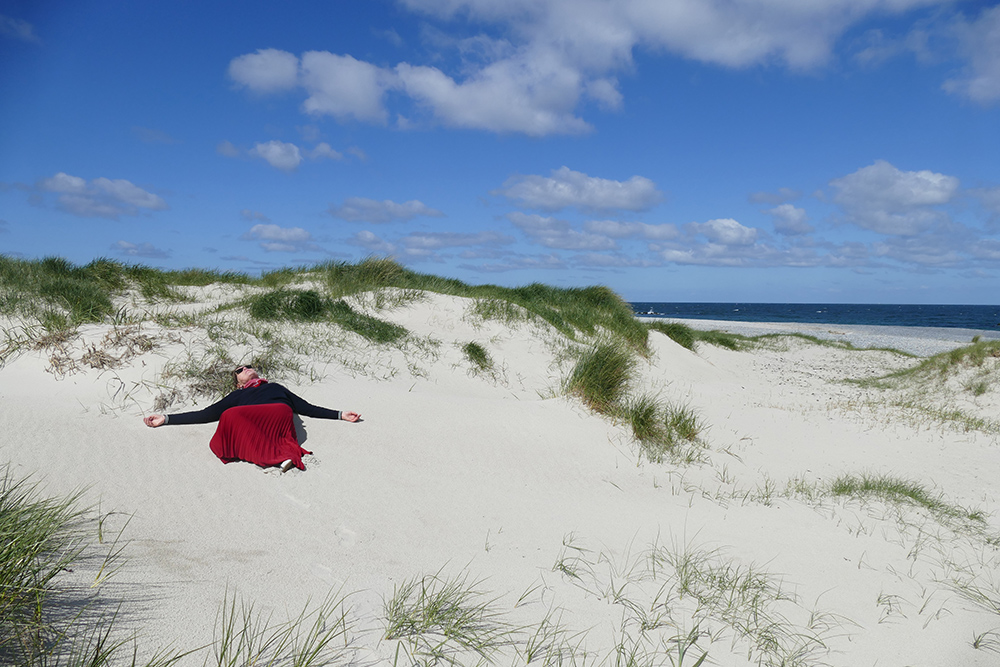 Obviously, you have to share it with others. Unexpectedly, not only with other human sunbathers.
Seals
Amazingly, on the island of Düne, there are year-round large colonies of gray seals bathing'n'lazing together with the vacationers.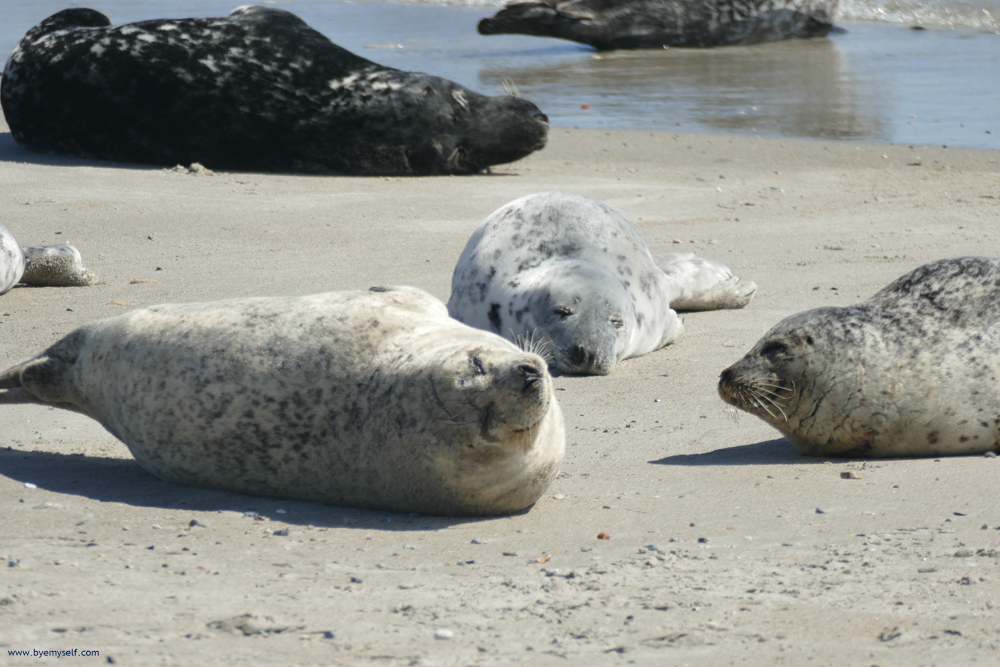 It is mandatory to keep a distance of about 30 meters, i. e. almost 100 feet – this protects both parties. Of course, you shouldn't irritate or even harm the animals. On the other side, they could also hurt you. Although they don't bite, they are big and heavy, surprisingly fast and agile. And they have sharp claws – so they could injure you even by accident.
Just keep your distance, enjoy the sight of these beautiful creatures and everyone will be happy.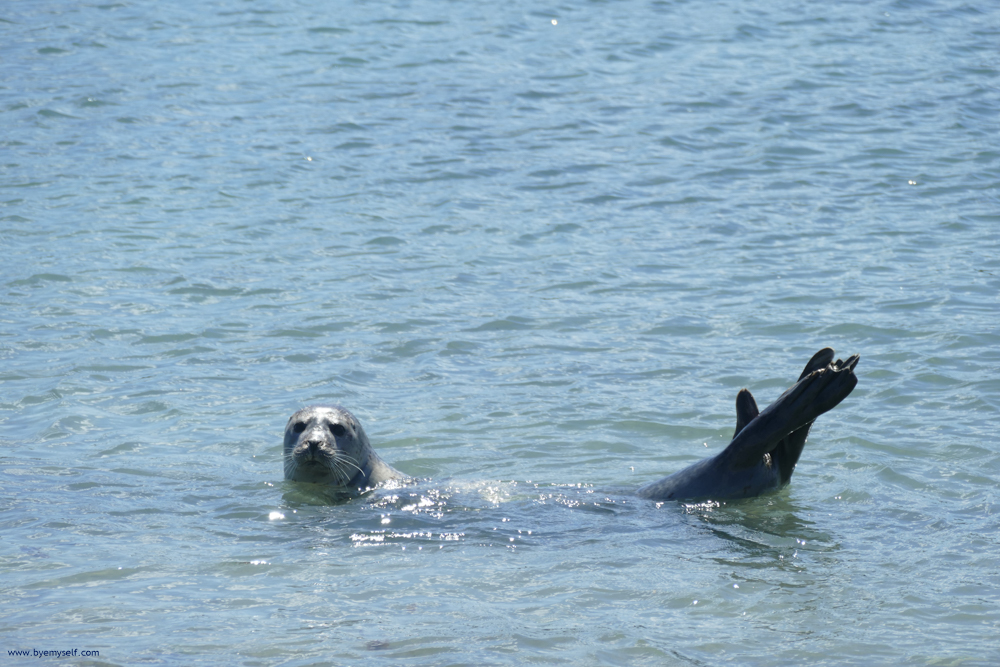 From November, it's a bit tricky keeping your distance since that's the time when the gray seals give birth. Then, the island of Düne is packed to the brim with mothers and babies. Düne is the most important breeding spot in the German Bight.
Getting To Düne
Actually, the gray seals are Düne's only permanent inhabitants. Humans live here only on a temporary basis in cute holiday bungalows or on the campground.
However, also Helgoland's small airport is located on this exclave. There is a regular air connection to Cuxhaven and Heide/Büsum on the mainland. A round trip sets you back around 200 €uro. Funny enough, they also offer a ticket of ten for frequent flyers.
I think that for people with limited time or those who get seasick really easily, it is a valid alternative to reach the island.

Birds
To observe more frequent flyers and witness another fantastic spectacle of nature, you have to go back to the main island and up to the Oberland.

You get there either climbing 184 stairs or taking an elevator. Then, follow the cliff trail – which in total is about 3 kilometers resp. 2 miles long – westwards.
On the island of Heligoland, in three protected areas, you'll find a unique habitat that includes the richest animal and plant occurrence of the German Bight. Two of them are the Lummenfelsen, the guillemot rock, and the Helgoländer Felssockel, the underwater rock pedestal which is home to more than 300 kinds of algae.
On the cliff path, you can walk surprisingly close to the breeding colonies of seabirds like guillemots, kittiwakes, and gannets, as well as razorbills and fulmars.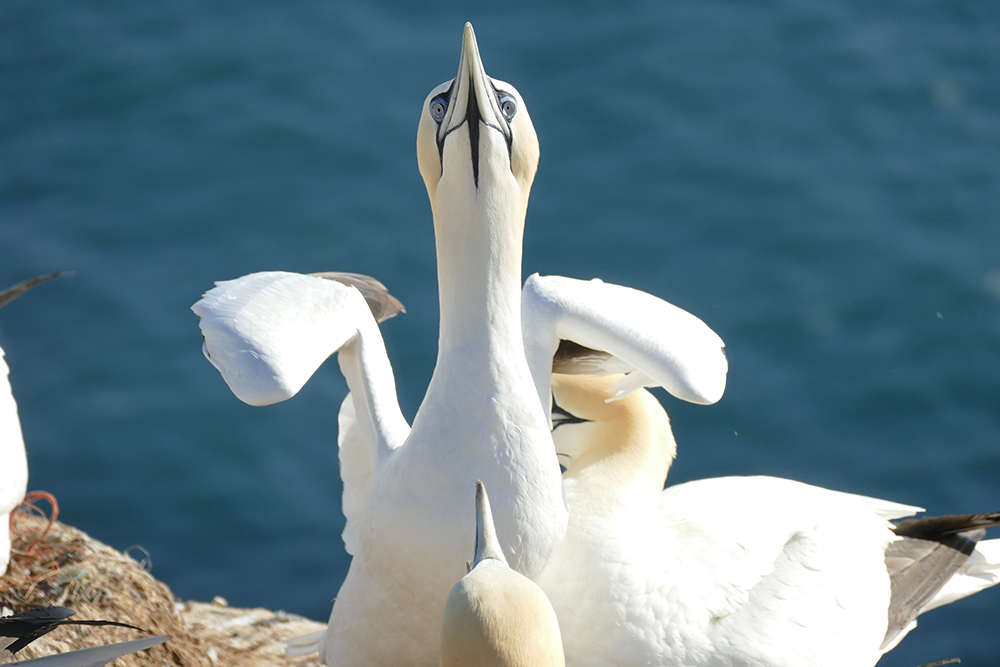 This spectacle is particularly charming when in June the young guillemots, following the call of the adult birds. Then, they jump from the partly 40 meter high cliffs into the north sea and the wadden rock.
Courageous Jumpers
At this age, the baby birds are still unable to fly. Nevertheless, their tiny wings and fluffy feathers protect their fall as they end up in the waves of the north sea. Here, they are fed by their parents on the sea.
Every year, the Lummensprung, the guillemots' jump, is a major event that attracts many visitors who watch it from the cliff path.
During bird migration in spring and autumn, flocks of migratory birds use the island as a resting place. Here, they are ringed and registered by the bird observatory.
Heligoland is one of the places in Europe where many species of birds were detected. Today, the island is probably the most species-rich place in Europe with 432 proven species.
Wanna learn more about Heligoland's fascinating wildlife?
I've already mentioned the Jordsand association above. The team members and volunteers are happy to answer all your questions and provide you with binoculars so you take an even closer look at all these natural wonders.
They are also organizing guided walks.
You'll find them at the Unterland at
Verein Jordsand
Hummerbude 35
27498 Helgoland
Phone: +49 – 4725 – 77 87
Email: helgoland@jordsand.de
They are open from Tuesday to Sunday from 9.30 a. m. till noon and then again from 1 p. m. to 4 p. m.
Practical Information
Getting There…
The ferry MS Helgoland operates daily between Cuxhaven and Heligoland all year round and takes about two hours. Hence, when visiting the area around Cuxhaven, this is a great day trip option.
You'll find a complete guide to Cuxhaven on this blog.
There is a seasonal service from April to October catering to various locations on the north sea coast like Büsum and Bremerhaven as well as some islands like e. g. Föhr's neighbor island Amrum.
However, besides flying from Cuxhaven or Büsum, the fastest – and most alluring – way is to take the catamaran from the port of Hamburg. First, you cruise for two hours leisurely down the river Elbe. Eventually, you cross the north sea from Cuxhaven to Heligoland in about an hour.

The catamaran Halunder Jet is operated by
FRS Helgoline
Norderhofenden 19-20
24937 Flensburg
Phone: + 49 – 461 – 864 44
Email: info@helgoline.de
A round trip on the same day starts at around 74 €uro. But there are so many different options depending on the season, the number of your party, preferred seating, and more. Therefore I kindly ask you to check their website for detailed information.
…and Around
There are these islands where cars are banned and everyone is merrily riding a bike. In Heligoland, even bicycles are banned. Once you're there, you'll understand why: There is simply not enough space and they certainly would collide. However, some officials like e. g. the police are entitled to cycle.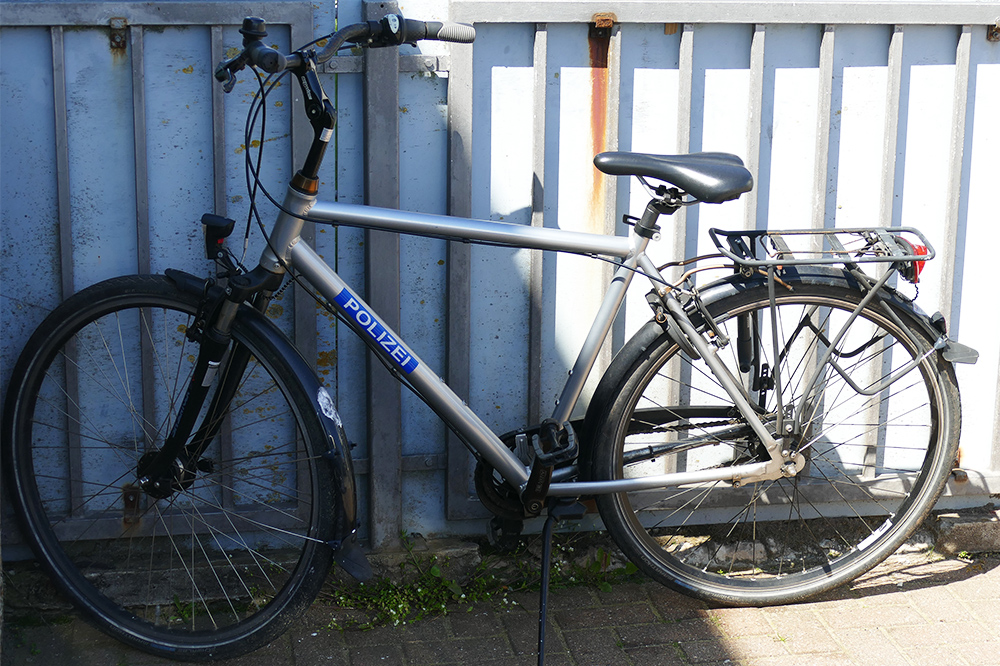 However, for those who are impaired, in the company of small children, or have heavy luggage, there are taxis. I think I saw two.
Other than that, Heligoland is traffic-free, and walking is a joy.
Best Place to Sleep
Believe it or not, if you are looking for a prime location with a million-dollar view, you have to book yourself at the youth hostel. It is located on the island's northern shore right on the nicest beach.
Obviously, it's no luxury, but you'll have a bed and a private bathroom. Also, breakfast, lunch, and dinner are included. If you have plans for the day, you can just fix yourself a lunch pack. Of course, there is free wifi in the communal area, too. For all this, you pay around 50 €uro per person per night – a pretty great deal, if you ask me. If you prefer just bed&breakfast, this will set you back about 30 €uro.
However, I'd strongly recommend booking long ahead.
Jugendherberge Helgoland – Haus der Jugend
Nord-Ost-Land 1460
27487 Helgoland
Phone: + 49 – 4725 – 341
Email: info@jugendherberge-helgoland.de
If you're not the youth hostel kind – albeit, here you can also stay in single and double rooms – I totally get that. There are many alternatives. Actually along the main promenade are many, many hotels and guest houses** to choose from….here, too: on time! Also, many of the private homes are renting out guest rooms and apartments.
Best Place to Eat
I think I made it pretty clear that Heligoland is a true Cockaigne for certain species. Actually, humans are part of them.
Of course, everything is basically fish-themed. From the yummy fish sandwiches, you can snack right in front of one of the Hummerbude to an elegant fish dinner, accompanied by champagne and matching wines.
Heligoland's most delicious specialty: Crab claws. Served here as a starter, but also available on a sandwich at one of the Hummerbude along the promenade.
However, you don't have to necessarily spend a fortune on a delicious meal. There are a couple of good restaurants where you don't have to burn a hole in your wallet just to enjoy some fresh fish.
My favorite is the Café Aquarium where the food is tasty and the service extremely friendly.
If you want to enjoy their local cuisine, make sure to book a table. Preferably a couple of days ahead either by phone or by email since the place is not so big and quickly booked out.
Aquariumcafe Helgoland
Aquariumstraße 186
27498 Helgoland
Phone: + 49 – 4725- 640 339
Email: info@Aquariumcafe-helgoland.de
Money
Heligoland is a German island, so you are paying with €uro, obviously. Probably because it's such a shopping paradise, credit cards are widely accepted. However, there are also two ATMs at the Unterland, I'll mark them on the map below.
The exchange rate is 1 US$ = 0.94 €UR as of December 2022, but you can check the conversion on this page.
Language
I'd say that most people in Germany have at least a rudimentary knowledge of the English language. Many even speak it pretty decently. Heligoland used to be British, however, since they cater mainly to national visitors, don't expect everyone to be fluent.
For some useful words and phrases, you might want to practice a little with help from e. g. Babbel (the first lesson is for free and already supplies you with useful basic vocabulary).
*Note: In this article, I'm writing out some of the German names and places. You will notice that there are letters that might not exist in other languages. Most importantly for this article, there is the letter ü being pronounced more or less like the u in huge. Then there are also the vowels ä, which is very easy since it's pronounced like an open e as in head, and ö that is pronounced approximately like the e in her. The letter ß, which exists only in the German alphabet, is by no means a B. It's a 'sharp', double S as in kiss. When writing, you can actually replace it by a double S.
Tourist Info
After having read this post down to here, do you still need further information or have specific questions? Of course, I'm here for you, but more importantly, so are the friendly and knowledgeable people at the Tourist Information.
You can check their informative website or get your info in person at
Helgoland Tourismus-Service
Lung Wai 28
27498 Helgoland
Phone: + 49 – 4725 – 8080
Email: info@helgoland.de
Map
On this map, you'll find all the wonderful places I'm introducing in this post.
Clicking on the slider symbol at the top left or the full-screen icon at the top right will display the whole map including the legend.
This is the third post of a series on five absolutely fascinating islands in North Germany. I hope you've enjoyed it. Did it make you curious for more? Then make sure to check out these posts on the other great isles:
Pinnable Pictures
If you choose to pin this post, please use one of these pictures:
Note: I am completing, editing, and updating this post regularly – last in December 2022.
Did You Enjoy This Post? Then You Might Like Also These:
Disclaimer: I appreciate that Helgoland Tourismus-Service was supporting my blogger trip by supplying us with roundtrip tickets for the catamaran, booking us a room at the Kurmittelhaus as well as a guided bunker tour. However, all opinions on these services are mine and weren't by any means influenced by my cooperation partner.


** This is an affiliate link. If you buy something through this page, not only do you get the best deal, I also get a small commission that helps me run this blog. Thank you so much for supporting me!