During a visit to Kandy – geographically and metaphorically Sri Lanka's navel – I'd like to guide you to the small town of Embekke from where you can take an idyllic temple hike to Pilimathalawa.
After having spent four days in Kandy, I ask myself: Why?
Honestly, I didn't really get it. And after some additional online research, I'm definitely convinced that it is almost hysterically overrated.
Yes, there is the Sri Dalada Maligawa, Temple of the Sacred Tooth Relic. Whereby, don't expect the tooth to be actually on display. They keep it in a couple of precious boxes. Then, three different people have to unlock them simultaneously.
So while to the faithful Buddhists, the Sri Dalada Maligawa is certainly a big deal, to all the other visitors it's really rather a chimera. The building itself might not be that breathtaking from the outside, but much more artful once you enter.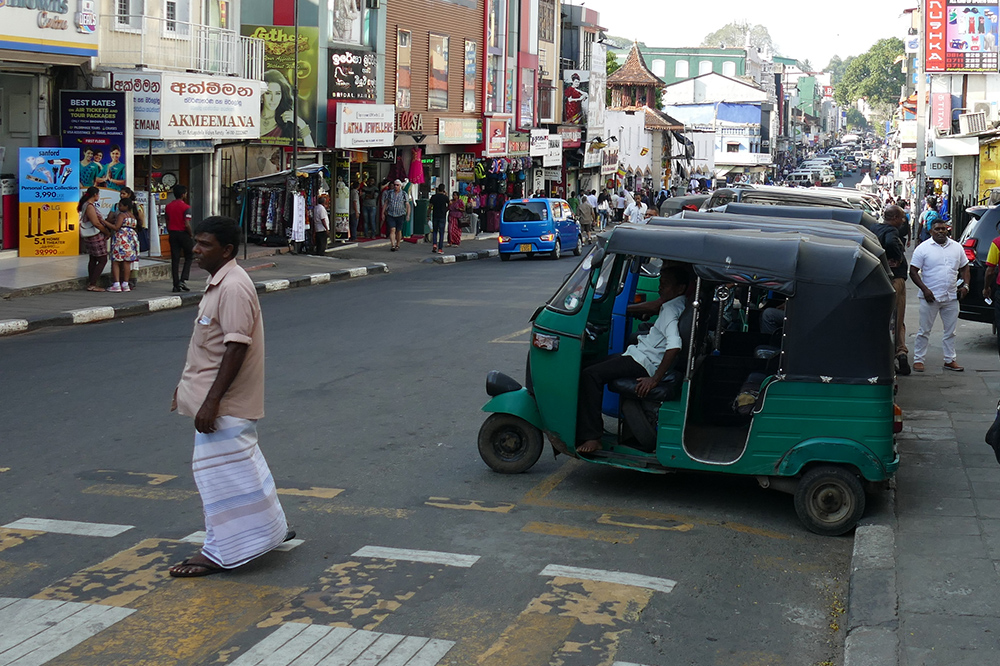 Infamous Tuk-Tuk Drivers of Kandy
Between visits, there is enough time for some of the tuk-tuk drivers or touts to screw you over.
That's the most annoying thing in Kandy – that obviously comes with mass tourism, with all these people that don't take their time to actually go with the Sri Lankan flow. That way, they develop no feel for situations and are suspicious and paranoid – and often sadly for a reason.
However, a visit to Kandy is by no means a waste of time: There are the famous Sri Dalada Maligawa, the Temple of the Sacred Tooth Relic and the traditional dance shows in the early evening in the city center, and many great outing destinations that can easily be reached by tuk-tuk or even by public bus.
So yes, go and visit Kandy, just don't expect it to be the highlight of your Sri Lanka trip.
KANDY
Kandy is one of Sri Lanka's largest cities and located on a plateau surrounded by mountains covered by tea plantations and dense rainforest.
The city center is pretty idyllic because the good King Sri Wickrama Rajasinghe preferred a lake over a rice paddy. Hence, Kiri Muhuda, the Sea of Milk, was built in 1807. Walking around the lake grants many grand views of the hills and sceneries – however, the traffic on the southern shore is crazy while there is construction work going on on the northern part.
A nice place for a quiet walk is, for instance, the park in front of the Temple of the Tooth – and of course, there are so many idyllic, serene places in the hinterland, you don't need a quiet walk downtown.
The Temple of the Sacred Tooth Relic
The Sri Dalada Maligawa, the Temple of the Sacred Tooth Relic that makes Kandy one of the most visited cities in Sri Lanka – especially during the spectacular procession Esala Perahera that takes place around the middle of August.
But actually, the place is frequented by large groups of visitors year-round. Whether curious tourists or pious believers. After all, here, they store Buddha's left maxillary cuspid in seven golden Dagobas. Three times a day, they open the shrine to the public: During the Morning Thevava from 5:30 a. m. to 7 a.m., the Ninth-hour Poojava from 9.30 a. m. to 11 a. m., and the Evening Thevava from 6:30 p. m. till 8 p. m.
On Wednesday, the tooth is being cleaned.
The temple's opening hours are daily between 5:30 a. m. and 8 p. m. The entrance fee is 1500 LKR.
The relic was of high importance to the Sinhalese Kings and therefore stored at the respective Imperial City. Sadly, the tooth couldn't save Kandy from being occupied by the British conquerors in 1815. However, it is Sri Lanka's most sacred holy place.
Nonetheless, it is debatable if this tooth is actually the original since they exist in various copies for security reasons.
Museums'n'Galleries
There are a couple of small museums on the premises like an archeological museum, a museum showcasing the King's wardrobe and jewelry, as well as a museum showing the stuffed Rajaa elephant – which deems a tiny bit creepy.
My favorite is the World Buddhist Museum where every predominantly Buddhist country contributed some fascinating artifacts.
It is open from Monday to Saturday from 9 a. m. to 7 p. m.
Funny enough, while at the sacred place you can take pictures until your battery runs empty, taking photographs at the museums is strictly prohibited.
The temple area became a UNESCO World Heritage Site in 1988.
Another museum worth a visit is right next to the Sacred Tooth Relic complex, it is the National Museum showing artifacts from the Royal Kandyan era. It is open to the public from Tuesday to Saturday from 9 a. m. to 5 p. m.
The City
But also the secular part of Kandy is worth a visit since it's a busy city where you get a close look at the real Sri Lankan everyday life – and I enjoy that a lot.
Walking from the sacred area along the lake to the west, you'll get to the Sri Dalada Veediya, a bustling shopping street with many stores, bank houses and ATMs, and restaurants.
Every day from 9 a. m. to 9 p. m., you can, for instance, visit the Kandy City Center, a modern shopping complex….similar to any other modern shopping complex around planet Earth. Especially visitors from foreign like to dine at the food court where you can choose from many different international cuisines. I didn't like the food there since it was cooked to the patron's taste – id est not very exotic. Not do I have a craving for Italian spaghetti when in Asia.
Anyway, there is an excellent dining alternative right across the street – I'm giving you all the details below.
However, the coffee bar on the ground floor of the Kandy City Center is not only cozy, they also serve good coffee; unfortunately, a big exception in Sri Lanka.
A more local shopping experience is granted on a visit to the shops around the clock tower and, of course, at the market south of the roundabout.
Souvenir Shopping
If you want to shop for souvenirs making sure to get good quality, have a look at the Laksala store that you find all over the country. These shops are governmentally controlled and their prices are fixed. Be that as it may, they are totally tourist-oriented and give those struggling with a culture shock a secure feeling – aircon and acceptance of credit cards included.
The downside is that their prices are not exactly cheap. You can actually get much better deals when bargaining at some of the small hawkers. Anyway, if you want to shop at Laksala, there is one store right at the western shore of the lake on Sangaraja Mawatha Kandy-Jaffna Highway.
Go Tell it on the Mountain
To get a grand view of the city and its lush surroundings, you might want to walk up the road west of the clock tower and climb the steep stairs to the Bahirawakanda Vihara Buddha Statue.
While the statue, built in the 1990s, is huge, but artistically not really outstanding, you'll enjoy the views – and maybe a philosophical chat with one of the friendly monks.
Botanic Garden – A Garden Eden
If you can spare half a day, I urge you to visit the Botanic Garden at Peradeniya about five kilometers west of Kandy.
Every tuk-tuk driver will gladly take you there. However, if you prefer, you can easily go by bus from the bus stop at the clock tower. That might be even faster, and it costs 40 LKR which is about 20 cents.
Just saying.
The garden is the largest of its kind in the country. It was installed in 1371.
The total area covers about 60 square kilometers!
You'll find more than 4000 species of plants such as orchids, spices, medicinal plants, and various palm trees.
There is also a gigantic Banyan tree, covering a surface of about 2000 square meters.
My favorites, however, are the flying foxes, hanging from the trees in incredible numbers, and the windblown trees on Cook's Pine Avenue.
The garden is open to the public every day from 7:30 a. m. till 5 p. m.
Entrance fee for foreign tourists is 1500 LKR for adults and 750 LKR for children under 12 years of age. Students pay 1000 LKR.
They have a cafeteria on the premises that is open from 10 a. m. till closure.
Famous Kandy Dances
An attraction definitely not to be missed while in Kandy are the – yap, totally touristy – Kandy Dances. They are taking place every day at 5 p. m. at theaters in the temple's neighborhood.
Now, although there is not one local person at these performances, they are, however, real traditional dances, performed in original costumes.
I know it since I witnessed a couple of weddings at my hotel in Anuradhapura and the dancers there were wearing the same attire as those in Kandy. And since the entrance fee is 1000 LKR, i. e. less than a ticket to a movie show back home, nothing should hold you back.
What you shouldn't do, however, is to buy your ticket from anyone approaching you. There are better and…not so good performances. A safe bank is to attend a show for instance at the Kandyan Art Association or the Red Cross Hall. The tickets are always 1000 LKR, no matter where you sit.
Choose Your Seat Beforehand
I went to the Art Association in the afternoon. Since I wasn't with a group, the friendly gentleman led me into the house. Here, I was allowed to pick the best seat. According to the gentleman, that's the middle seat in the balcony's first row. He handed me some adhesive tape, I wrote my name on it. And as I came back to watch the show, many others looked at me with envy in their eyes.
So if you have the chance to pass by the venues a couple of hours before the show, it is smart to make a reservation beforehand.
TEMPLE HIKE FROM EMBEKKE TO PILIMATHALAWA
I decided on experiencing country life and hiking to three different temples, starting at Embekke village. Knowing that I would walk a lot, I took a tuk-tuk to the bus station.
Nevertheless, I regretted my decision within about 90 seconds. The fact that I intended to hike was, of course, unacceptable. That would be very difficult. Anyway, I should go see the botanic garden, the tea farm, the Buddha statue, the….
I explained relatively friendly that I had already seen all this and that hiking was totally my thing.
I explained it relatively friendly the first five times.
That I began my sixth denial with the words I think I made myself clear was already relatively unfriendly. However, not unfriendly enough since he kept convincing me. Until I told him to let me get off the tuk-tuk at the next corner.
That finally shut him up and we made it to the bus station where we actually parted as friends.
Taking the Bus
For me, taking public transportation is part of the fun. I love observing all the different people on the bus. The elegant old ladies in their colorful saris sit next to the young professionals. Giggling teenage girls get up from the first row as a trio of monks enters the bus. I'm eying them as they are eying me – and then we give each other a big smile.
Since tuk-tuks are actually pretty cheap, even backpackers usually don't take the buses – at least not short distance. Therefore, locals are looking at me with the same curiosity I'm looking at them.
The three interesting temples Embekke Devalaya, Lankatilaka Vihara, and Gadaladenyia Vihara can be comfortably visited by tuk-tuk. However, a hike is not hard at all, relaxing and pleasing to the eye. A bus takes you from the bus stop next to the train station to the Embekke in about an hour.
You might want to buy a bottle of water before you start your hike. But actually, there's no need of stocking up for the entire trail. In fact, you'll pass villages and little stands by the road where you can buy more. Just a heads up since I was a bit annoyed having bought all the water in Embekke which I then had to carry.
The Embekke Devalaya
Approaching the Embekke Devalaya, the Temple of Embekke, I already heard the monotonous drumming which gave the place an even more mystic vibe.
Once I reached the place and paid a low entrance fee, I was touched by the sight of the drummer's hall where two elderly gentlemen were beating their respective drums in a repetitive humdrum. The hall itself, its ceiling, and its pillars are ornated with splendid wood carvings. This place of worship, built by King Vikramabahu III in the late 14th century, is divided into three sections, the Sanctum of Garagha, a dancing hall, and the drummer's hall. Since there are very few visitors – let alone tourists – the atmosphere is really special and a wonderful start to a stupefying outing.
Tip: There are small stalls around the Devalaya selling handmade knick knacks made of brass. If you are into this kind of thing, this is a really good place to buy some little statues or wall decorations. If you are going for larger pieces, there are many stores along the way between the two Viharas; this region is known for the production of brass ornaments.
Making Friends on the Way
To continue to the Lankatilaka Vihara, just walk down the road leading straight from the Embekke temple. You'll pass some Muslim villages leading one into the other. A couple of tuk-tuk-drivers offered their service which I denied. I enjoyed far too much being all by myself in rural Sri Lanka.
There are far too many kids of all ages to be greeted. First, it's at least one hello. Then I answer either what my name is or which country I'm from. Eventually, followed by an extended waving and calling of bye-byes.
There is a dense jungle on both sides of the road, sprinkled with a tiny house here and there. Cicadas and birds are filling the air with their chants, from time to time, something scurries through the underwood. It's so idyllic and peaceful; and so hot.
The Lankatilaka Vihara
It took me about 45 minutes to get to the Lankatilaka Vihara. It is considered one of the most magnificent architectural buildings created during the Gampola era. The vihara buildings were built on a natural rock. This has to be climbed over steep stairs, carved right into the stone.
Yes, you'll break a sweat, but the views and the outstanding architectural features are absolutely worth the visit.
Despite the exercise, remember that it is a sacred place. Hence, you have to take off your shoes and cover your shoulders and knees.
I must admit that the last – and longest – part from Lankatilaka to the Gadaladenyia Vihara is not such a lovely hike as the former one. You are walking most of the time along a road. Not terrible, but not very idyllic, either. So if you hire a tuk-tuk or take a bus for these 5 kilometers, you won't miss out on a lot.
The Gadaladenyia Vihara
Gadaladenyia Vihara is an ancient Buddhist place and is considered one of the largest rock temples in Sri Lanka. King Bhuvanekabahu IV commissioned it in the middle of the 14th century. Interestingly, the architecture was following Hindu artistic styles, also incorporating Sinhalese architecture from the Polonnaruwa era and other Indo-Chinese architectural patterns.
To take the bus back to Kandy, just exit the Vihara at the western entrance next to the car park. Then, walk down about 15 minutes north until you get to the Kandy Road. Here are buses going back to Kandy every couple of minutes.
On the way from the Vihara to the main road, there are many stores selling brass objects and decorations. However, many pieces are rather large. However, if you are into this, it's an excellent place to check out.
Finally, I reached the main road from where I took the bus back to Kandy.
However, I feel so happy and independent and like rubbing shoulders with pure life.
Practical Information
How to Get There
Kandy is the center of Sri Lanka – culturally and geographically. Therefore, it's really easy getting there. Whether you prefer train travel or taking the bus – both ways are possible. Of course, also tuk-tuks and taxis will take you to Kandy. The only thing missing is an airport. Other than that all kinds of means of transportation are waiting for you.
How to Get Around
There are public buses which are good especially if you also want to explore the outskirts of Kandy.
Within the city limits, be prepared for swarms of tuk-tuk drivers who will pester you. Of course, you can go by tuk-tuk. But you'll have to haggle a lot. It's very recommendable to ask local people for instance at your accommodation how much a ride should be. Nevertheless: Good luck!
The city center is, of course, comfortably walkable. I personally would refrain from riding a bicycle since, in general, Kandy's roads are quite busy and drivers are ruthless.
Good Place to Sleep
The Cloud Inn* is located on the eastern shore of the lake – and way up in the….clouds. While by tuk-tuk it takes a bit, there is a shortcut so that by walking, you reach the lake in about ten minutes. I quite enjoyed the walks across a truly Sri Lankan neighborhood. What I disliked, though, were the ferociously barking dogs on the way.
However, the room was nice and squeaky clean and I had a lovely balcony with a view of the mountains. It's also pleasant to come back to a quiet place a bit away from Kandy's hustle and bustle.
Kumar and his helpers are extremely polite and helpful and make you feel appreciated as their guest.
Get more details, check out availability and the Cloud Inn's. *
If you are searching for other convenient lodging options, you can do so on this map*:
Best Place to Eat
There are many great choices to stuff face in Kandy.
As I mentioned above, there is the Delight Kandy food center with various eatery choices like the Spice Food Court and the Tandoori Indian Cuisine. Great food at fantastic prices.
However, only a few tourists go there – it probably looks too Sri Lankan for some people. Too bad for them.
Delight Kandy
Sri Dalada Veediya
Kandy 20000
Phone: + 94 – 812 200 092
They are open daily from 8:30 a. m. to 10 p. m.
Another amazing food experience in a totally Sri Lankan style is the – nomen est omen – True Sri Lankan Taste next to the governmental Laksala souvenir store on the Lake's western shore.
Every cook occupies a little piece of the two large counters. You just choose whatever you like. Be it all sorts of hearty and sweet fritters and samosas or rice with a choice of curries.
Keep in mind, though, that there are no forks or spoons. You have to eat – Sri Lankan style – with your fingers.
Of course, there are facilities to wash your hands before and after your meal.
True Sri Lankan Taste
Council Cark Park
Kandy
They are open daily from 7 a. m. to 7 p. m.
What to See
I'm an avid solo-travelling woman. Since solo-travel doesn't equal solitude, I love to join organized tours here and there. They allow me to meet fellow travellers – for just a short moment or a lifelong friendship.
Therefore, here are some great ideas of what to do and which tours to join during your stay in Sri Lanka*:
Do you want to read about all the other beautiful places I've visited in Sri Lanka? Then go to the main post and take your pick! There you'll also find valuable general information that will make your trip smoother.
Pinnable Pictures
If you choose to pin this post, please use one of these pictures:
Note: I'm completing, editing, and updating this post regularly – last in January 2023.
Did You Enjoy This Post? Then You Might Like Also These:
* This is an affiliate link. If you book through this page, not only do you get the best deal. I also get a small commission that helps me run this blog. Thank you so much for supporting me!
Disclaimer: I appreciate that Sri Lanka Tourism Promotion Bureau is supporting my blogger trip by supplying me with tickets to some of the main landmarks like e.g. the Sri Dalada Maligawa. However, all opinions on these services are mine and weren't by any means influenced by my cooperation partner.