I spent a night to remember – a night at the Kagura.
When travelling, I love to attend folkloristic spectacles. Due to the language barrier, I prefer dance shows. In Kandy on the island of Sri Lanka, I saw a dance show, in Chiang Mai in Thailand it even came with a traditional dinner. On the island of Bali, I witnessed Kecak in Uluwatu and went to see a performance every single night during my stay in Ubud.
You can imagine my excitement when I found out that on Saturdays, there is a Kagura performance at the Hiroshima Prefectural Art Museum. Saturday – perfect, I'll be in Hiroshima on Saturday, so nothing will hold me back from spending a night at the Kagura.
What is Kagura?
Kagura is a dance performance accompanied by special music.
The Legend
According to a legend, Ame no Uzume, the goddess of dawn, mirth, and revelry, lured the sun deity Amaterasu Omikami out of her cave with a dance that is said to be the root of today's Kagura. In this sense, Kagura is to soothe and please the kami, the Shinto's holy spirits.
Hence, Kagura is traditionally performed during the harvest when crops are used as offerings to the gods and festivals are held all over Japan. The dances are a gesture of gratitude for a plentiful harvest.
The History
Since the Muromachi period from the mid 14th to the mid 16th century of our calendar, Kagura has been performed at Shinto shrines. It was mainly the female shrine servants called Miko performing at the Kagura-den, special buildings or stages. If you happen to go to Miyajima Island, don't miss out on one of the finest examples at the Itsukushima Shrine.
Like all religious ceremonies – and basically, everything in Japan – all about Kagura is meticulously planned and arranged.
However, the so-called Sato-Kagura – which translates to village Kagura – is also performed outside of shrines. Often scenes from Japanese mythology are mimicked and simultaneously explained by a storyteller.
Today, the art and legacy of Kagura are passed from generation to generation.
Hayashine Kagura, based in Ōhasama, Hanamaki, has made it on the UNESCO Intangible Cultural Heritage List in 2009.
Hiroshima Kagura
As I said, I'm a sucker for folkloristic shows – although I might not really grasp the meaning of the real thing: I would have loved to visit a Kabuki performance, but sitting still for five hours scared me a bit. Therefore, I was more than thrilled when I incidentally found an announcement for a Kagura show in Hiroshima. It was supposed to be in English and take 45 minutes. It seemed to be just the right headstart into Japanese performing arts – and faith, as well as their schedule, were kind that the show takes place on Saturdays, the day I got to Hiroshima.
Arriving at the Prefectural Art Museum around half past six in the evening, I was greeted by an over-friendly crew. Like the other dozen visitors, I was handed a bag full of all sorts of flyers and some gimmicks like a pin and a card – these people in charge seemed to be so thrilled about each and every single visitor and so welcoming and friendly.
Actually, just like me, all the other people waiting for the doors to open were, obviously, foreigners. No wonder, the show was announced as English Kagura – why should Japanese watch their traditional show in a foreign language?
However, as we learned, it was not some touristy made up crap.
Geihoku Kagura
The Kagura we were introduced to is called Geihoku Kagura and is being performed and preserved by approximately 150 ensembles.
These musicians and dancers are not performers by profession – they are artists by heart.
The fact that all these passionate people have day jobs, however, makes it even more impressive how professional and precise their performance is.
It shows that they attend rehearsals at least two or three times a week and then perform on weekends.
Many of them also join competitions.
So although the performers are no professionals and albeit the show we were about to see was tailored for foreign visitors, at no moment did I have the feeling to attend some phony tourist entertainment. On the contrary, it was clear that the performers' purpose was to introduce us Westerners to a genuine Japanese art and lift the curtain to some original tradition; I had the feeling that all of us in the audience understood and appreciated this invitation to the deeper Japan graciously.
Jinrin by the Kawakita Kagura Troupe
As mentioned above, there are about 150 ensembles, and more than 70 kagura plays at present.
We got to see Jinrin performed by the Kawakita Kagura Troupe from Aki Oota-cho in northern Hiroshima. An ensemble founded in 1893!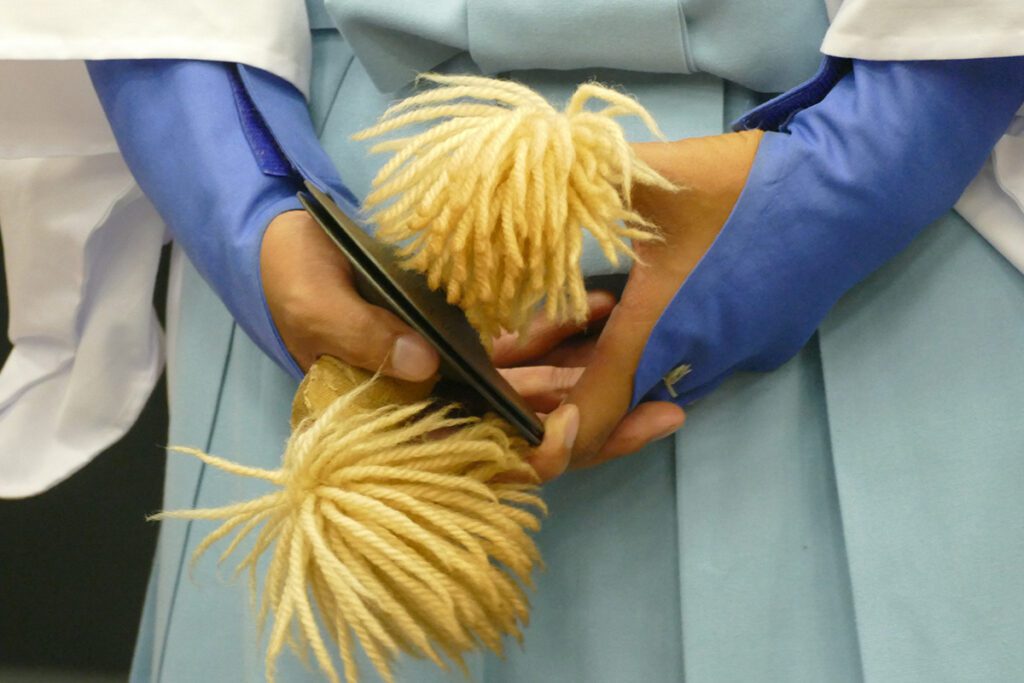 Jinrin is a tale about how a demon was vanquished.
English Kagura means that next to the stage you get brief explanations of what's going on. However, the storyline is not very complex, you would figure it out without these captions. Nonetheless, after what I have seen in the program, the topics of English Kagura are always somehow good against evil – and take a wild guess who wins at the end. Obviously, someone is always saved, conquered, or defeated.
As a matter of fact, the expressive masks, ornate costumes, and most of all the passionate performance are blowing your mind and really make any further explanation obsolete.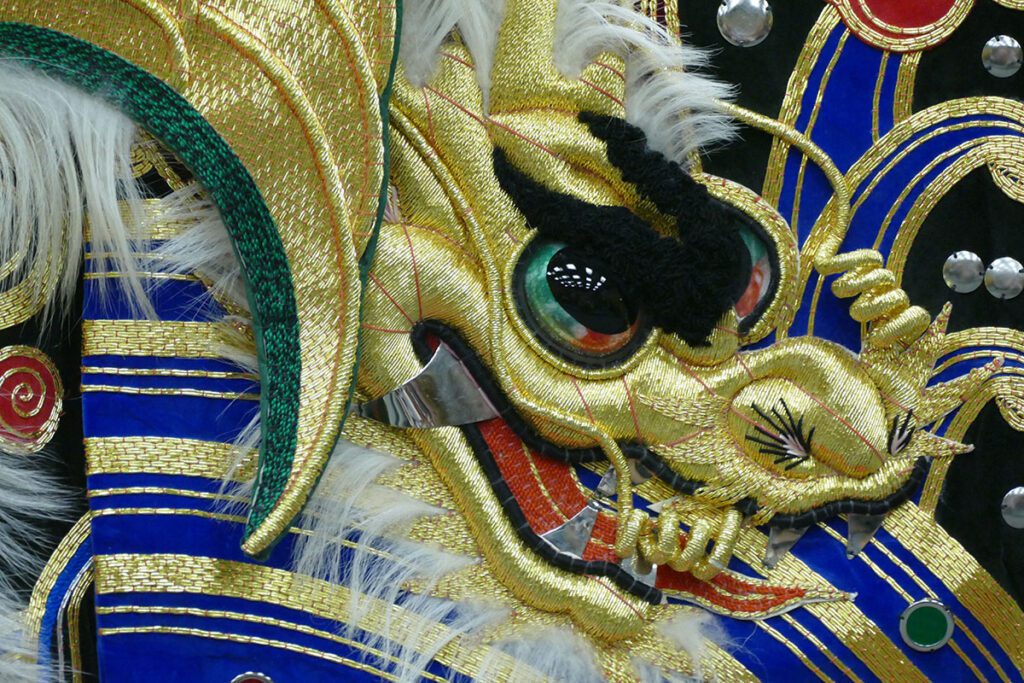 We were caught up in the whirlwind of this expressive drama.
An Interactive Event
In the beginning, the master of ceremonies had encouraged us to follow the play with passion – and boy, we did! We were hollering and cheering and clapping our hands like kids at a puppet theater – and I was a bit sad as Jinrin was put down at the end by the brave warriors' arrows; couldn't they just have chased him away? I found him so cute with his lavatory brush-like weapon!
After the spectacle was over, the artists – musicians and dancers alike – gathered somewhat breathless and exhausted from the demanding performance around the sweet master of ceremonies for an interview which consisted of questions from the audience.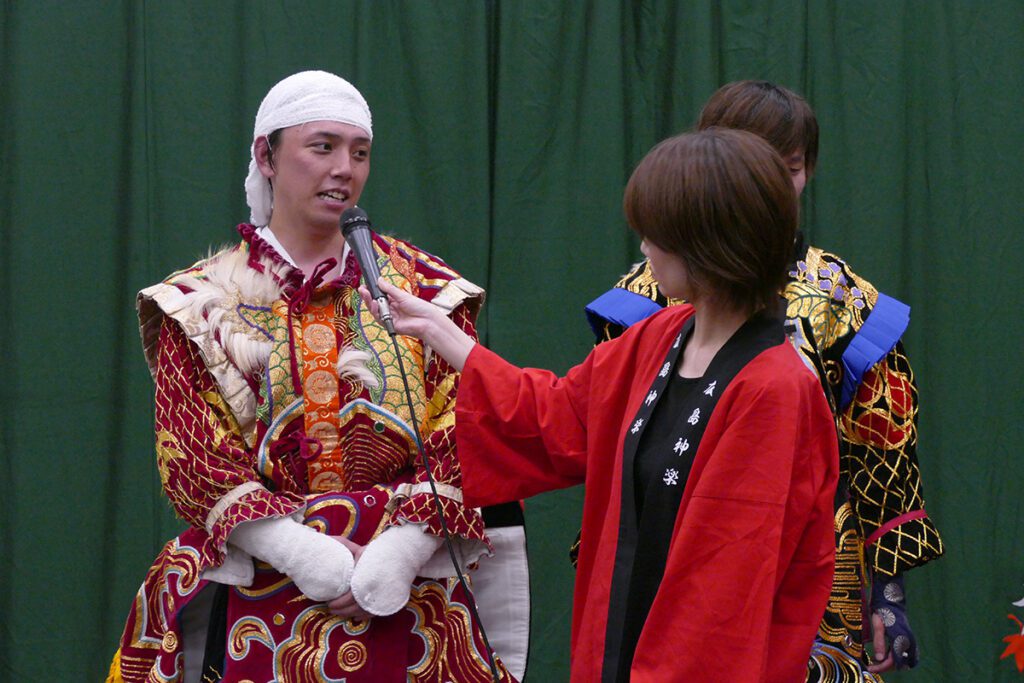 Everything was friendly and light and charming and cheerful and at the end, some of us actually tried the heavy masks and costumes on and I took loads of pictures and headed very happy to the bus stop.
What a wonderful night!
A night at the Kagura!
How to Visit
The English Kagura takes place on Saturdays at the
Hiroshima Prectural Art Museum
2-22 Kaminoboricho
Naka-ku
Hiroshima-shi
(next to Shukkeien Garden)
Reservation is not possible, you have to get there as the door opens at 6.30 p. m. on the day of the show. Then, the show starts at 7 p. m. and lasts 45 minutes.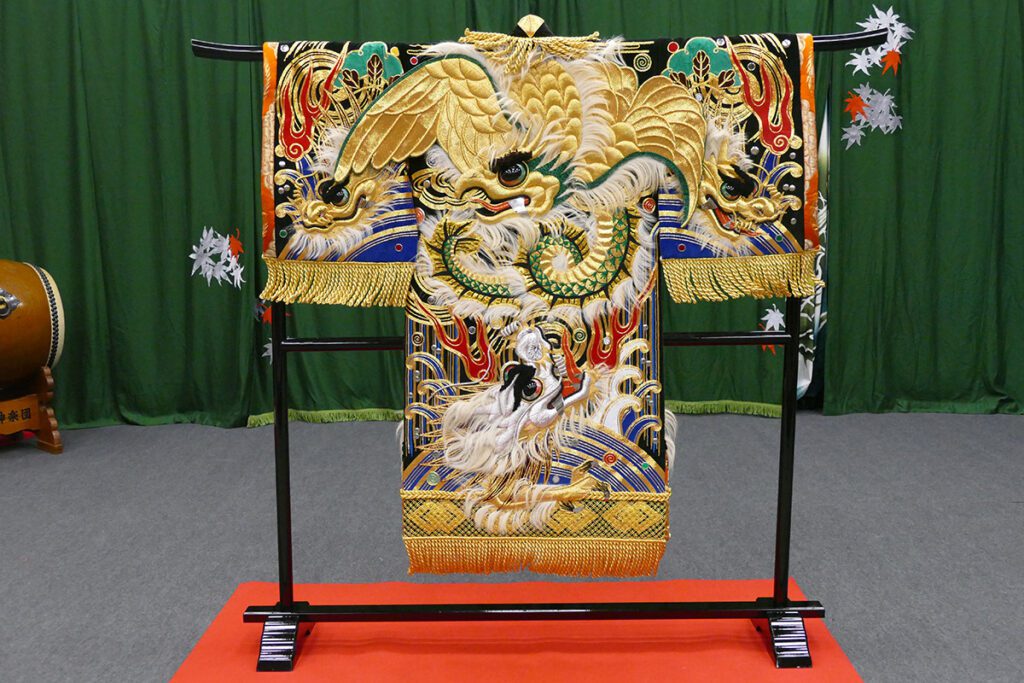 Eventually, you can ask questions, take pictures and try on the precious masks and costumes.
Admission is ¥1000.
Do you want to read about all the other beautiful places I've visited in Japan? Then go to the main post and take your pick!
Pinnable Pictures
If you choose to pin this post for later, please make sure to use one of these pictures:
Note: I'm completing, editing, and updating this post regularly – last in November 2022.
Did You Enjoy This Post? Then You Might Like Also These: