Since some of the best things the island of Fuerteventura has to offer are its endless sand beaches, wild waves, and picturesque villages, you're in for one week of relaxation as well as activity and great inspiration.
Although the net of buses is not as close-meshed as for instance in Gran Canaria or Tenerife, it's still possible to visit most places comfortably by public transport. I'll supply you with all the information necessary.
One Week in Fuerteventura
Before my island hopping in the Canaries early this Spring, Fuerteventura was actually the only one of the islands that I had visited before. No, it's not really true since I spent a winter break in Tenerife, but I was something like seven or eight years old back then, hence it doesn't really count.
As I explained before, for the longest time, I postponed trips within Europe. I'm based in northern Germany. Therefore, I thought I had time to visit the Greek islands and the Spanish archipelagos once I'm old – at least too old for long flights to other continents with extreme climates, jet lags, and all that jazz.
But then there was a pandemic and after having been locked up in my own backyard for months, a trip to the Canary Islands didn't seem so dull, after all.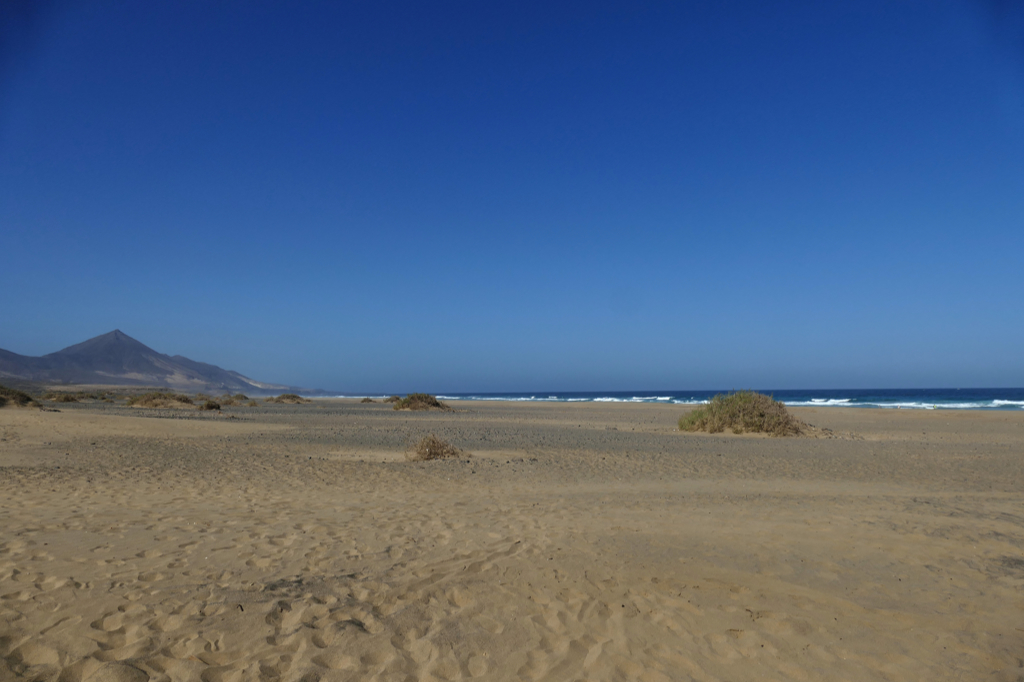 As a matter of fact, on this trip, I realized how ignorant I had been. To me, not only the other man's grass was greener. The other man was living on faraway continents with beaches more golden, waters more turquoise, and far more Edenic sceneries. Only being kinda stuck in Europe made me appreciate the beauty and charm of places less than a ten hours flight away.
It's Not Boring
Beauty lies in the eye of the beholder. This is probably one of the smartest sentences anyone has ever proclaimed. "There's not much to see", "The sceneries are rather dull", or "Inland, it's quite boring", are statements I've heard over and over again from visitors to Fuerteventura. And while major parts of the island are not lush, colorful, and picturesque, I personally still find the island absolutely beautiful.
I should point out that I'm able to appreciate monotonous sceneries: I love oceans, I cherish deserts, and I find fields captivating. Bland beauty as far as the eye can see. This explains why I love Fuerteventura's endless stretches of sand, of rocks'n'gravel – to my eye, that's soothing'n'pleasing.
So yes, don't expect lush greeneries, palm groves, and colorful Mediterranean villages. At a first glance, Fuerteventura is the most African one of the Canaries. On my bus ride from Morro Jable on the southernmost tip to Corralejo on the northern shore, we crossed long stretches of dry, brownish-grey plains. A simple quadruple, three dusty palm trees, a couple of goats – and then again nothing but dust and gravel. This could also be the hinterland somewhere in Morocco.
Compared to the other Canary Islands, Fuerteventura is only sparsely populated with around 72 inhabitants per square kilometer.
Howsoever, no one will argue that Fuerteventura's strongest suits are miles and miles of golden sand beaches, turquoise waters, and a breeze that makes all kinds of watersports fun.
You should keep that in mind as you visit the island's few historic landmarks. You are neither in Madrid nor in Seville. On Fuerteventura, many things lie a bit deeper. Here, you have to look closer and pay more attention as Fuerteventura is not garish and sensational. Fuerteventura is a wild and at the same time timid beauty that does not impose herself. You have to conquer her with tact and tenderness.
Canary Islands
The Canary Islands are an archipelago in the Atlantic. They lie approximately 1500 kilometers from mainland Spain and only 100 to 500 kilometers off the coast of Morocco. So while the Canaries belong politically to Spain, they are geographically definitely part of Africa. Also, they belong to Macaronesia, just like the Azores, the Madeira Archipelago, and Cape Verde. And indeed, the resemblance of the scenery is pretty amazing.
The Canaries consist of seven islands with their own regional government. However, there is yet another inhabited island called La Graciosa as well as many small uninhabited rock isles.
The region owes its formation to volcanism and an underlying hotspot. The volcanic activity continues to this date as the people on the island of La Palma sadly had to experience it in 2021.
Due to this activity, there is a large number of bubble caves and lava tubes. Therefore, the ancient Canarians lived in natural caves. A large number of natural and manmade caves are still found in Gran Canaria. On those islands where there weren't any suitable caves, the aborigines built houses from stone, obviously. Interestingly, their styles and sizes differed from island to island.
Roots
Research has proven a connection between the native Canarians and the Berber peoples in North Africa. Especially in Fuerteventura, you can still feel this linkage. Examinations have proven large similarities between northern Tunisia and Algeria. The settlers most likely came there while Spain was under Roman sovereignty. The settlement was not a one-time event. In a continuous process, different groups of settlers were brought to the islands. Between 1 BC and 3 AD, there were close economic ties between the Canary Islands and parts of the Roman Empire.
After the Roman Empire, these relationships diminished and eventually were completely discontinued. Since the inhabitants of the islands had no skills in shipbuilding and no knowledge of navigation, also relations between the islands broke off at this time.
Therefore, cultures on the individual islands developed independently until the arrival of the Spanish conquerors in the 15th century.
Hence, there was not a mutual culture of the Guanches in the Canary Islands. As a matter of fact, those lived only in Tenerife. Nevertheless, for a long time, the cultural differences between the islands were ignored. Therefore, some still refer to all Canarians as Guanches although, for instance, the natives of Fuerteventura and Lanzarote are actually so-called Majoreros.
Finders Keepers
At the turn of the 15th century, French nobleman Jean de Béthencourt began setting up trading posts on the Canary Islands.
At that time, the Majoreros lived in two dominions separated by a wall that ran across the island of Fuerteventura. The two native Majoreros rulers understood pretty fast that they had no chance against the well-armed Europeans. Therefore, they offered Jean de Béthencourt a truce. They also agreed to become Christian and accept the King of Castile as their ruler. After the Majoreros had been subdued, Jean de Béthencourt redistributed the lands. Betancuria became Fuerteventura's administrative center.
After subduing the population of the islands of Lanzarote, Fuerteventura, and El Hierro and unsuccessful attempts to conquer other islands, Jean de Béthencourt left the Canary Islands in 1405. In the following years, ownership of the Canary Islands was passed to vassals of the King of Castile through donation, purchase, and inheritance.
20th Century
There were no armed conflicts in the Canary Islands during the Spanish Civil War. Nevertheless, a large number of supporters of the local government and opponents of the Francoist troops were interned in camps. Many were murdered or disappeared.
After Francisco Franco's death, the Spanish Parliament passed the first autonomy statute for the Canary Islands in 1982. Today, the Comunidad Autónoma de Canarias is one of the country's 17 autonomous communities.
By far the most important industry on the islands is tourism. The main tourist areas are Tenerife, Gran Canaria, Fuerteventura, and Lanzarote. And by chance, these are also the islands I visited on my recent trip. Therefore, I'll happily show you that those places are amazing as soon as you leave the tourist ghettos.
Fuerteventura
Fuerteventura is the oldest of the Canary Islands. It was formed about 20.6 million years ago. Just like the other islands of the archipelago, it is of volcanic origin. Since its formation, it has been severely eroded by the weather. However, Fuerteventura's volcanic activity ended about 5,000 years ago.
The island is around 120 kilometers west of the Moroccan coast in the Atlantic Ocean. Although there are less than 120,000 inhabitants, it is the second-largest island of the Canaries after Tenerife. Together with the island of Lanzarote in the northeast, Fuerteventura forms the archipelago's eastern border
Actually, those two islands are only approximately 11 kilometers apart. In 2009, UNESCO declared the entire island of Fuerteventura a Biosphere Reserve and in 2015 a Dark Sky Protected Area.
Natural Beauty
No one is coming to Fuerteventura for mind-blowing historic treasures or lush tropical sceneries. Visitors are coming for the sea'n'sand.
The island stretches almost 100 kilometers from the north to the southwest tip. Its widest part measures 31 kilometers and the narrowest one incredible 5 kilometers. This point marks the border between the northern part called Maxorata, which gave the original islanders the name Majoreros, and the southern peninsula Jandía. Jandía is where most of the tourist centers are located. No wonder, since this region has miles of white sandy beaches and is just perfect for water sports like windsurfing. Although there is a constant wind blowing, you can bathe and swim safely.
On Jandía's northwest coast are kilometers of secluded sandy beaches. However, beware that the current here is dangerous for swimmers.
Also Fuerteventura's highest point, the 807 meters high Pico de la Zarza, is located in Jandía.
Northwards
In the northeast is the Parque Natural de Corralejo with its amazing gigantic shifting dunes. The sand here consists largely of ground shells of sea animals like mussels and snail shells.
In some communities, the cultivation of medicinal aloe vera has been really big. However, this native organic product is jeopardized by brand piracy and cheap imports, especially from China, India, and Pakistan. Nevertheless, cosmetic products made from aloe vera are still sought-after souvenirs.
Practical Information
How to Get There And Around
By Plane
The Aeropuerto de Fuerteventura is an international airport five kilometers south of the island's capital Puerto del Rosario. Most of the international air traffic is touristy charter flights from Great Britain, Germany, Austria, and the Netherlands. However, there are also domestic flights to the other Canaries as well as the mainland.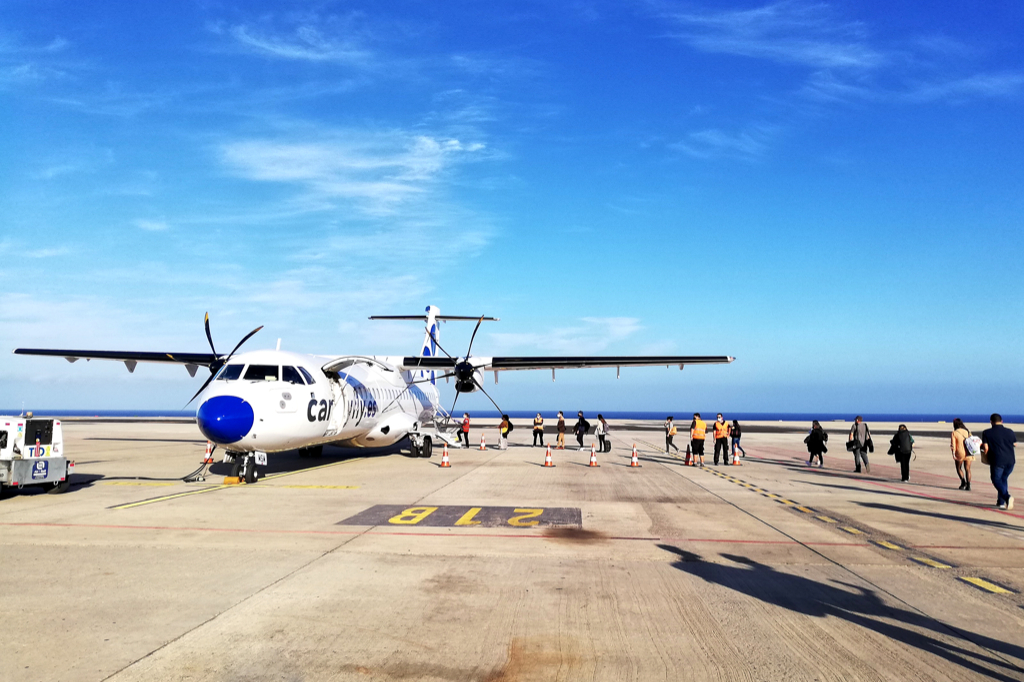 Obviously, there are flights to and from the other islands such as Gran Canaria and Tenerife operated by local airlines like Binter, Canaryfly, and Air Europa. If you check their websites, don't get over-excited about the incredibly cheap prices as these apply only to permanent residents. However, even for other passengers, flying between the islands is very reasonably priced and oftentimes cheaper than taking the ferry.
By Ferry
The island's largest seaport is located in the capital Puerto del Rosario. However, touristy ports are in Morro Jable on the island's southern tip and in Corralejo in the north.
There are many ferries by Fred Olson as well as Naviera Armas going between Corralejo and Playa Blanca on the northern neighboring island of Lanzarote. From early morning until about 8 p. m., ferries go back and forth.
On the southern shores, Morro Jable has a ferry connection with Las Palmas in Gran Canaria. The ferry crosses just a couple of times per day and takes about three hours. The company Naviera Armas has two ferry connections per week to the port of Santa Cruz in Tenerife. This journey takes about five hours.
Taking the ferry is not necessarily cheaper than going by plane. However, it is a more eco-friendly way of travelling. Also, it is the only option if you have to take your car across the sea.
If you're on a flexible schedule, you should check thoroughly the prices at different times of the day as well as between the individual companies as they can differ a lot. Also, just like the airlines, the ferry companies grant residents of the Canary Islands a considerable discount.
Land Transport
If you haven't booked a package where the travel company arranges the shuttle from the airport to your hotel, you have different options for how to get to your final destination. The most comfortable option is taking a cab, obviously.
However, you save lots of money by taking one of the public buses. First, you need to take bus #3 from the airport to the central bus station on the outskirts of Puerto del Rosario. From there, bus #1 takes you south to Jandía in about two hours. There, the final stop is the bus station of Morro Jable. If you are lucky, you can take the far faster bus #10. However, there are only two to three connections per day. Either ride costs around 10 €uros if you travel all the way to the final stop.
Bus #6 goes northwards to Corralejo. In general, there is a connection every half an hour. The trip sets you back 3.40 €uros.
You can pay cash, preferably with change or small bills. If you take the bus really often, a travel card might be worth it. You can obtain and charge it at the central bus station or from the driver. However, you save only 10 percent on your trips but have to pay 2 €uros for the card.
Secluded Places
Note that there might be only one or two daily connections to some places in the hinterland. For instance, it's a bit of a drag to visit Betancuria by public transport despite the fact that it used to be Fuerteventura's first capital and is still one of the very few places of historic significance. If you want to visit that area, you should either rent a car or go there on an organized day trip.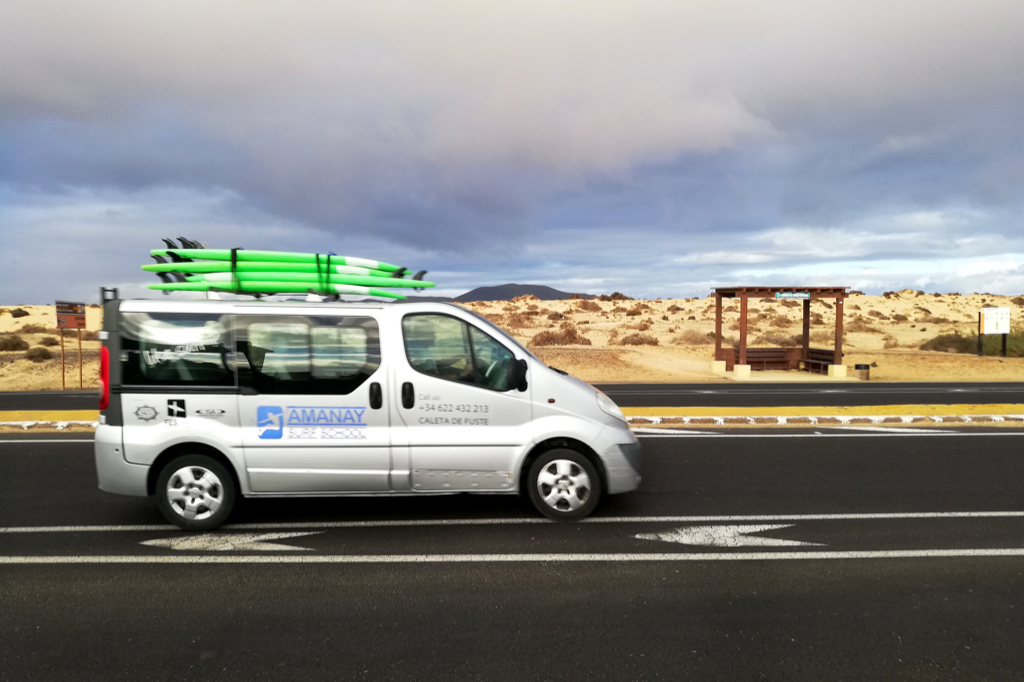 You'll get all the information on buses on the website of the bus company Tiadhe.
I'm not driving, but if you want to rent a car, you can do so right at the arrival hall. There are different car rental companies to choose from.
Immigration and Customs
The Canary Islands are part of the Schengen Area and the customs area of ​​the European Union. Since they are not part of the tax area for excise duties and VAT, certain products are way cheaper than on the mainland. Looking at the gas prices, for instance, will probably make you cry. Also, cigarettes and liquor are much cheaper, and, most importantly, cosmetics and perfumes. Also, small businesses with annual deals of less than €30,000 are exempt from tax liability.
There are hardly ever personal border controls within the Schengen Area. Yet, customs controls when coming from the Canary Islands are still possible. Therefore, make sure to keep your shopping within the allowed limits.
Organized Trips
As I pointed out, it's not always easy to get to remote spots on Fuerteventura. Therefore, I recommend joining an organized tour of historic towns like Betancuria and Antigua. Also, exploring Fuerteventura from the water is a very special experience that you should book organized.
Hence, to spend a lovely day trip in the company of strangers – who then might become friends – check out these great activities on Fuerteventura:
Where to Stay
Fuerteventura has been a popular tourist destination for decades. Especially on the peninsula of Jandía in the south are many huge hotels and apartment complexes. Nevertheless, you'll find at least a small choice of lodging options even in the tiniest villages. In each and every hamlet, there will be a smaller guesthouse or privately rented apartments.
I recommend accommodations for the places I've visited in the individual posts. However, here is a search box that will help you book places to stay across the island*:
What to Eat
The Canaries are gifted with an abundance of juicy fruits and veggies. There are rivers of the finest olive oil and the world-famous pork cerdo Iberico. Obviously, there is a rich catch of fish fresh out of the sea. Consequently, the cuisine is excellent.
After all, Mediterranean cuisine has been inscribed in the List of the Intangible Cultural Heritage of UNESCO in 2013.
On Fuerteventura, regional products are mainly goat cheese and sea salt, Canarian potatoes, and tomatoes. Obviously, fishing also plays an important role.
Tapas and Menú del Día
Just like on the Spanish mainland, there is an overwhelming number of bars and restaurants also on the Canary Islands. There, you can enjoy a glass of beer or wine with some tapas, varied hot and cold snacks. They can be slices of serrano ham, diced or grilled cheese, papas bravas, tiny potatoes with a hot sauce, boquerones en vinagre, marinated fresh anchovies – the list is endless.
Normally, you'll get some small complimentary tapas with your drink – at least olives or peanuts. A selection of two or three tapas can actually replace a meal. However, you can also order a ración, hence, a serving, or a media ración, a half-sized serving.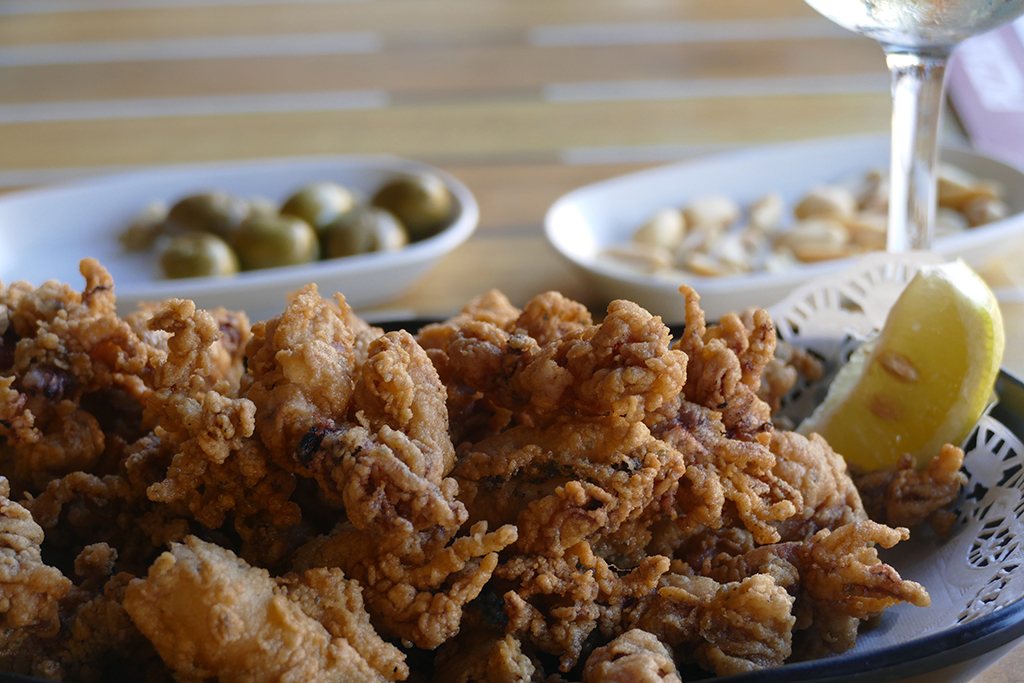 When you are really hungry, the menú del día might do. It's usually a three-course meal. You can combine it to your liking from different starters, main courses, and dessert options. Often, the price of around 10 €uros includes water or even wine. However, the menú del día is usually just a lunch option and not offered at dinner time. Also, I'd like to point out that food options especially in Fuerteventura's more touristy areas are often rather international. Apart from all those local delicacies, you'll find pizza, spaghetti, burgers, and other fast food on the menu.
As in most other European countries, tipping is rather optional in Spain. It is not compulsory, but an appreciative gesture. Also, you don't need to calculate a certain percentage. Rounding up to the next full €uro might be a bit chintzy. However, adding one or two €uros will normally do.
Bakeries and Supermarkets
Just like in Italy, many Spanish supermarkets have a food counter. Here you can buy simple dishes like grilled chicken, meatballs, and fritters as well as sides like potatoes and salads.
I'm not claiming that this will be the fanciest meal of your life. Nevertheless, if you just need to grab a filling snack, I find it's a valid option. Also, it's a truly Spanish experience since it's definitely not a touristy dining place.
Bakeries are selling all kinds of sandwiches and empanadas, savory pastry pockets. If you have a sweet tooth, you'll also find a great variety of delicious pies. This is also a great breakfast option if you're staying at a self-catering apartment.
While on the mainland, Spanish mealtimes can be challenging, on Fuerteventura, they adapted to international feeding times. In the villages in the island's hinterland, they might stick to traditional Mediterranean meal times. In the touristy areas, however, you can basically eat around the clock.
Cash And Cards
Until now, 20 European countries replaced their former local currency with the €uro starting in 2002. Obviously, Spain is one of them. The exchange rate is 1 US$ = 0.94 EUR as of January 2023. However, you can check today's conversion rate on this page.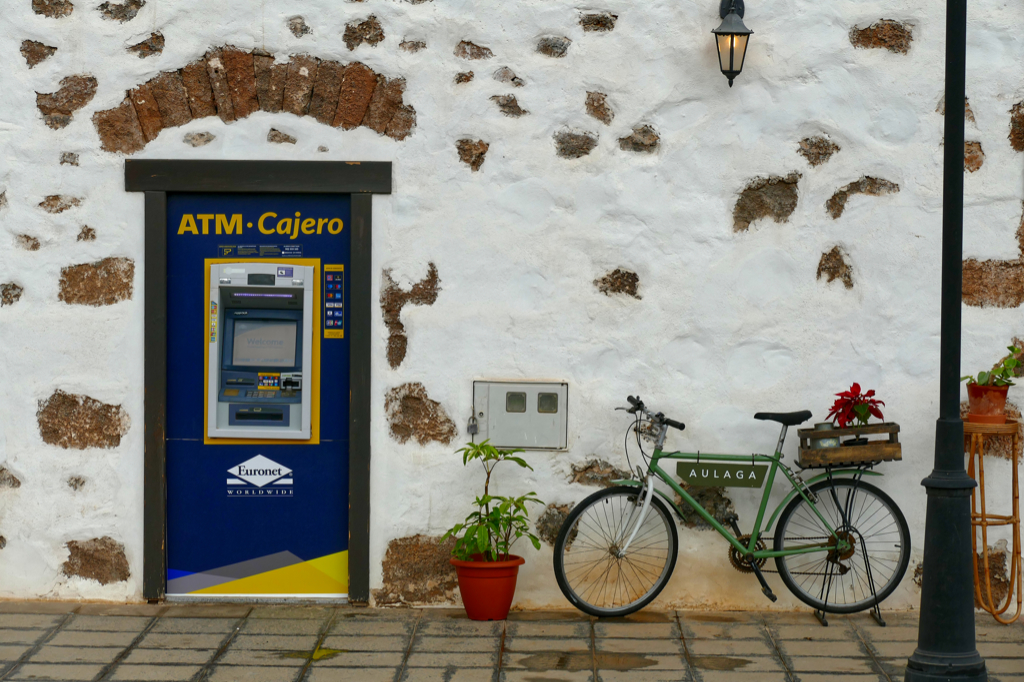 Especially due to the Covid pandemic, even small businesses prefer that you pay by credit card, preferably contactless. However, contrary to for instance Gran Canaria, you cannot pay on public buses with a credit card. You need to have either cash or one of those travel cards.
Nevertheless, banks or at least ATMs can be found basically everywhere.
Language
Before the Spanish conquest, each Canary Island spoke its own type of the Guanche language. Due to the systematic pushback of the local culture by the Catholic conquerors, only fragments of the language exist to this date. You mostly find those traces in the names of places.
Today, the official language is Spanish, obviously. If you want to learn some basic Spanish or just brush up on your knowledge, there are various apps and online tools. I personally like to practice with babbel. However, due to international tourism, most people working in tourism and gastronomy speak at least some rudimentary English and very often also German.
Nevertheless, here are some ground rules for Spanish pronunciation since saying for instance city names wrong can cause some problems. If people don't understand where you want to go, they won't be able to give you directions.
Where Are You Going?
"Where are you going? Lajares?" asks the driver the British couple. Although he asks in Spanish, they still get that he wants to know where they are heading to. He even states the name of the place, Lajares, which he pronounces Lahares. "Lajares?" asks the lady, yet, she's pronouncing it Ladgares as probably any British person would do. "Lahares?" asks the driver again. "Ladgares!" answers the lady. They go back and forth for some time until she spells the name of the place. Now I understand and jump in: "Sí, they want to go to Lajares".
Until this little incident, I sometimes asked myself if this Say It Right section that I'm including in every post on Spain is really necessary. Doesn't everyone know that you pronounce a J like an H in Spanish? Well, obviously not. So here comes this post's issue of…
Say It Right
The good news is, that in general, you read Spanish the way it's written. Although, the letter C is a bit tricky for foreigners. Placed before an A, O, or U, it's hard and pronounced as K. Followed by E or I, it is pronounced like an English the. Now, if you want that th-sound in combination with A, O, or U, the letter Z comes into the picture. So you have to pronounce Canaria Kanaria, and Plaza Platha.
On the other hand, if you want C to sound hard in combination with E or I, you make it a QU – but you don't hear the U. Fine example: Tequila, that you pronounce like Tekkila.
This applies also to the letter G. If it's followed by A, O, U, or a consonant, it's pronounced like the G in guitar or Gran. To make a G sound hard before an E or an I, they squeeze in a mute U – like in guilt. If G stands before an E or an I, it is rather breathed than pronounced – a bit like the H in house.
The same applies to the letter J. You always pronounce it like the H in house. This explains why the place in Fuerteventura's hinterland is pronounced Lahares.
The last trap is double L which is not pronounced like an L but like a Y in yellow. So it's not Malorca, but Mayorca. When a word is written with just one L like Tequila, it's a simple and innocent L.
Connection and Communication
Since June 2017, no roaming charges apply within the EU with a European mobile phone contract. This applies to all 27 countries of the European Union as well as Iceland, Liechtenstein, and Norway. It pertains to all contracts.
When roaming is not available, you can connect to the internet at basically every museum, eatery, and, of course, hotel.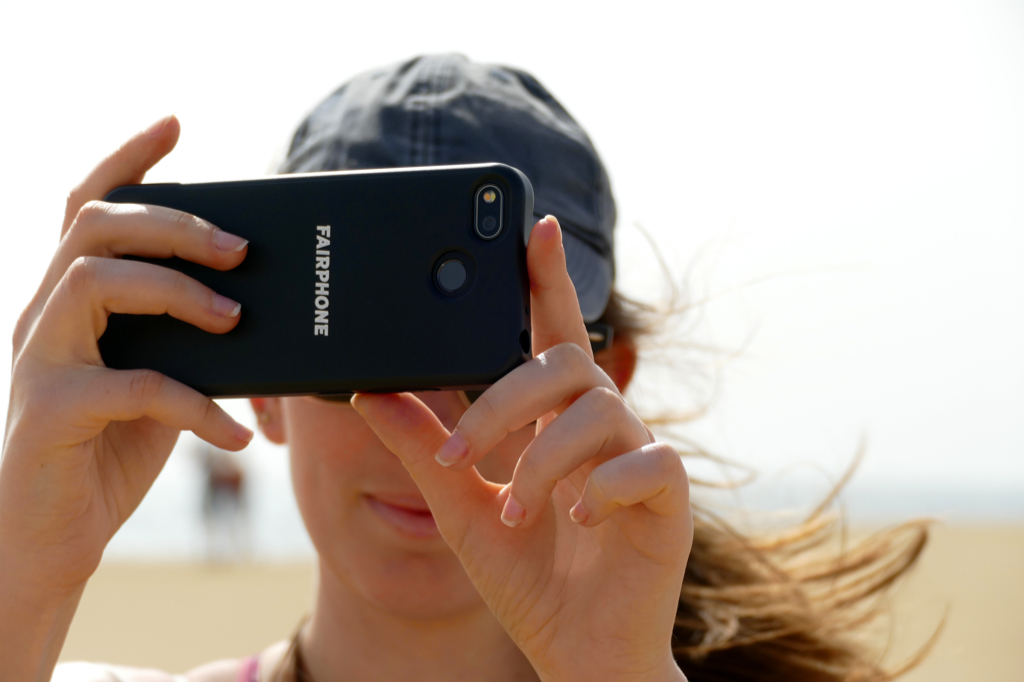 You can get a SIM card if you insist on being online 24/7. The cheapest one would be Lycamobile while Orange Tu Mundo has the widest coverage.
In Spain, they use plug types C and F. Their voltage is 230 V and the frequency 50 Hz. Whereby, as nowadays all these chargers have integrated adapters, in general, the voltage and frequency don't really matter.
By the way, you'll find comprehensive travel info in my post World's Most Complete Travel Information – an indispensable globetrotter-classic.
Places to See
Below you find links to posts on all those beautiful places I visited during my trip to Fuerteventura. In each of those posts, you'll read inspiring stories and get valuable information that will make your own trip smoother and more enjoyable. If you seek general information on Spain, go to this post.
Map
On this map, you can see where all the wonderful places I'm linking to in this post are located. This way, you can put together your itinerary accordingly.
Clicking on the slider symbol at the top left or the full-screen icon at the top right will display the whole map including the legend:
Pinnable Pictures
If you choose to pin this post for later, please use one of these pictures:
Did You Enjoy This Post? Then You Might Like Also These:
* This is an affiliate link. If you book through this page, not only do you get the best deal. I also get a small commission that helps me run this blog. Thank you so much for supporting me!