Puerto del Rosario is Fuerteventura's capital and totally underrated. No wonder, the competition is powerful: Golden beaches, turquoise waters, gigantic sand dunes, and windy surfing grounds.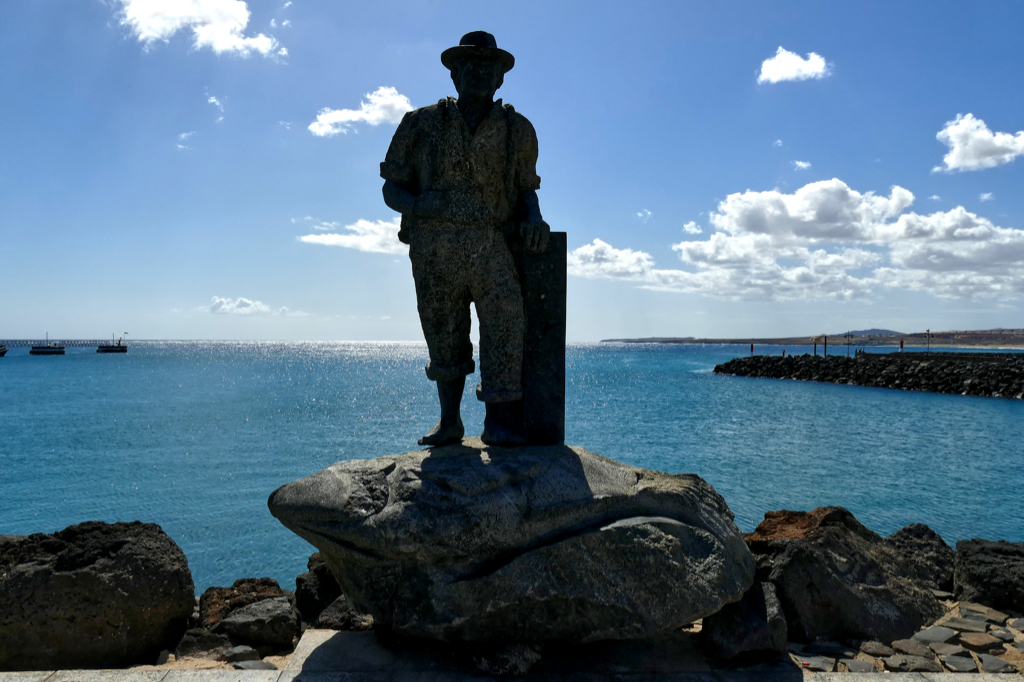 Hence, it's understandable that hardly any tourist spends time in Puerto del Rosario. If you ask me, that's a big mistake since the city has enough to offer to spend at least one day there.
Cloudy – And No Meatballs
The downside of those paradisiac holiday resorts on Fuerteventura is that there is not much to do once it's overcast. Yes, if you stay at one of the big all-inclusive hotels, you can join some childish or semi-geriatric activities. Or you go shopping for tacky, overpriced clothing that you'll never wear again once you're back home. Or – and that's what I did – you hop on the bus and you go to Puerto del Rosario.
Puerto del Rosario
In 1860, the city Puerto de Cabras – which translates to Port of Goats – became Fuerteventura's capital. Before that, first, the small town of Betancuria held this position, and eventually, the prize went for a couple of years to Antigua.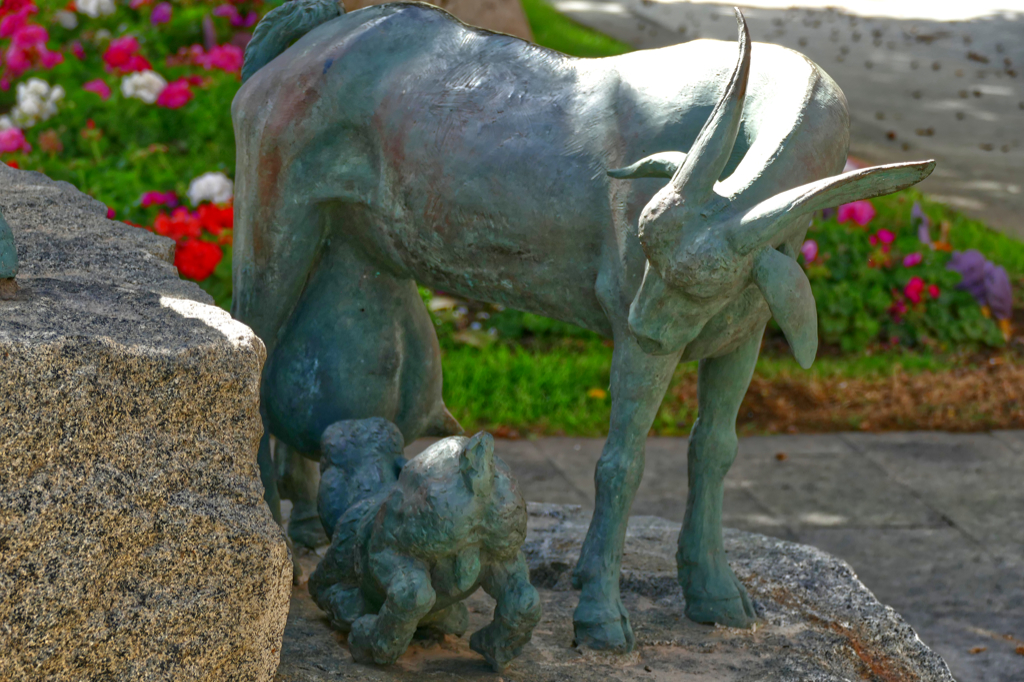 In the 1950s, the city was renamed to Puerto del Rosario after the city's most important church. However, the valley south of the capital is still called Barranco de Cabras. I like that, it sounds very Canarian to me.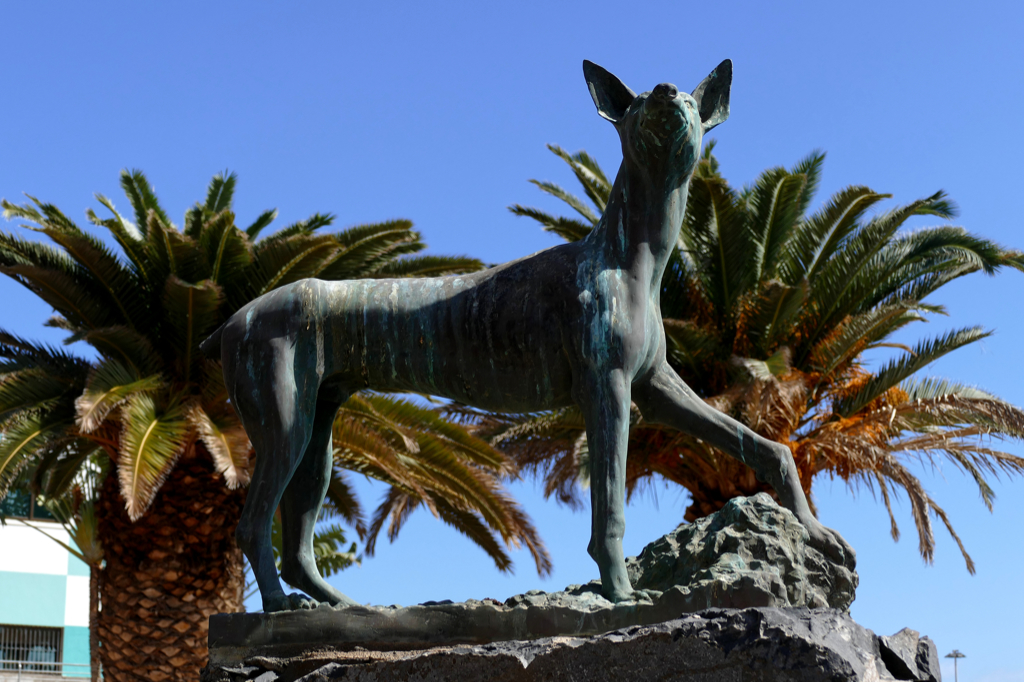 Howsoever, the settlement was only founded in the 18th century. Before that, hardly anybody lived on the coast for fear of pirate attacks.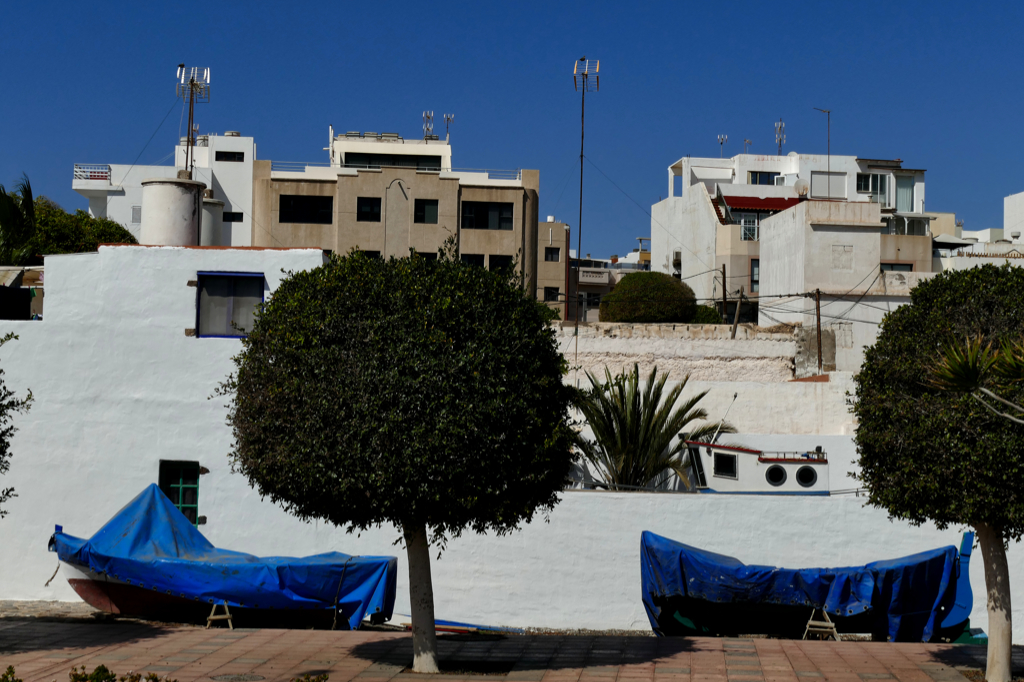 Yet, with the commercial port, Puerto de Cabras quickly became the largest town on the island. Initially, Fuerteventura exported burned lime to England as well as soda from the soda herb that was used for the production of soap and washing powder. In return, English merchants delivered coal.
Eventually, the Canary Islands began to export the internationally sought-after carmine red powder known as E120. They gain this pigment from the cochineal lice that live on the prickly pears growing on the islands. To this date, this natural color is found in gummy bears, Chanel lipsticks, Campari, and other fiery red products.
Set Up Your Shop
Today, Puerto del Rosario is the administrative center of the island of Fuerteventura. Most visitors get to know the city's unappealing northwestern outskirts as they pass by on the freeway FV3. Or they have a connection at the island's most important bus station.
But if you take your time and walk into the old center, towards the port and the beach, you'll discover a very charming and artsy town. As a matter of fact, if you intend to explore the entire island by public transport, I would even recommend choosing Puerto del Rosario as your base. This way, you'll stay conveniently close to the island's major hub and at the same time, you have all the amenities of a city. There is even a nice beach right next to the center and even lovelier beaches either south or north of town. We chose this combination during our stay in Gran Canaria where we were based in the capital Las Palmas right next to a great beach and at the same time close to the bus stations.
An Inspiring Visit to the City of Sculptures
As I already mentioned above, Puerto del Rosario is surprisingly artsy. There are great murals, but its most striking feature is the many amazing sculptures embellishing the streets and every roundabout.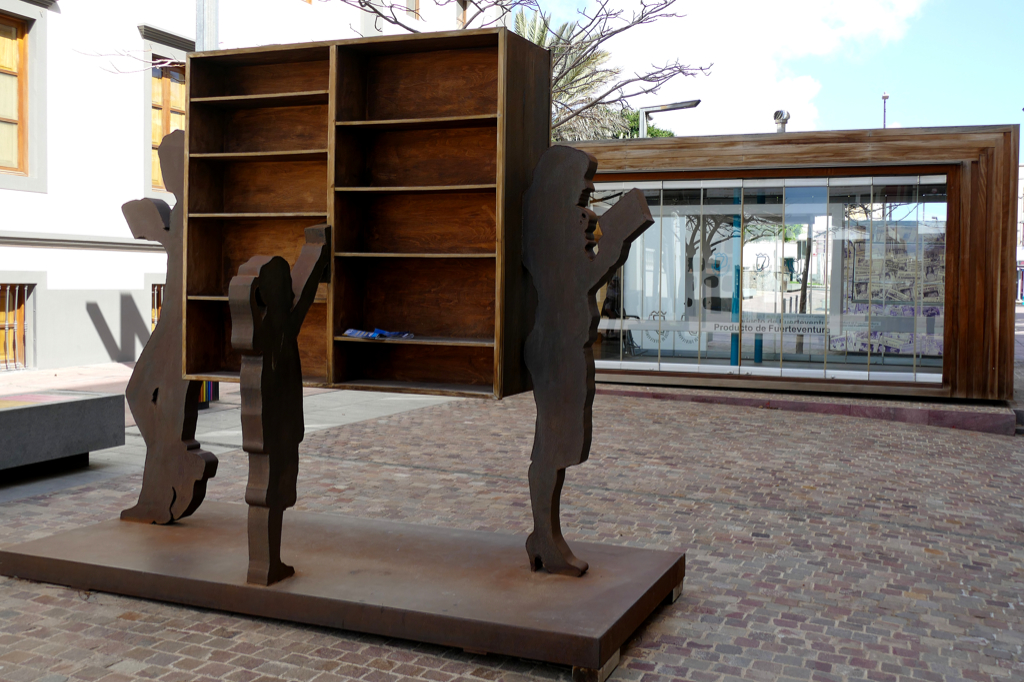 Most of these sculptures have remained from the International Sculpture Symposiums. The first one was organized in 2001. Until 2006, they took place every year. However, further editions were organized in 2008, 2014, and 2015. The founder of this amazing initiative is the sculptor and town council member Antonio Alonso-Patallo Valerón. As a matter of fact, he contributed his ingenious sculpture Yo también leo – I'm reading, too – in 2017. It's not only a piece of art but an installation where people can exchange books.
But before we get to all those beautiful sculptures and powerful murals, let me quickly introduce Puerto del Rosario's more traditional attractions.
Iglesia de Nuestra Señora del Rosario – Our Lady of the Rosary Church
Our Nuestra Señora del Rosario – Our Lady of the Rosary – is the patron saint of Puerto del Rosario, obviously. After the first religious building in what was then Puerto de Cabras was built next to the pier in 1812, the current church was completed in an eclectic style in 1835.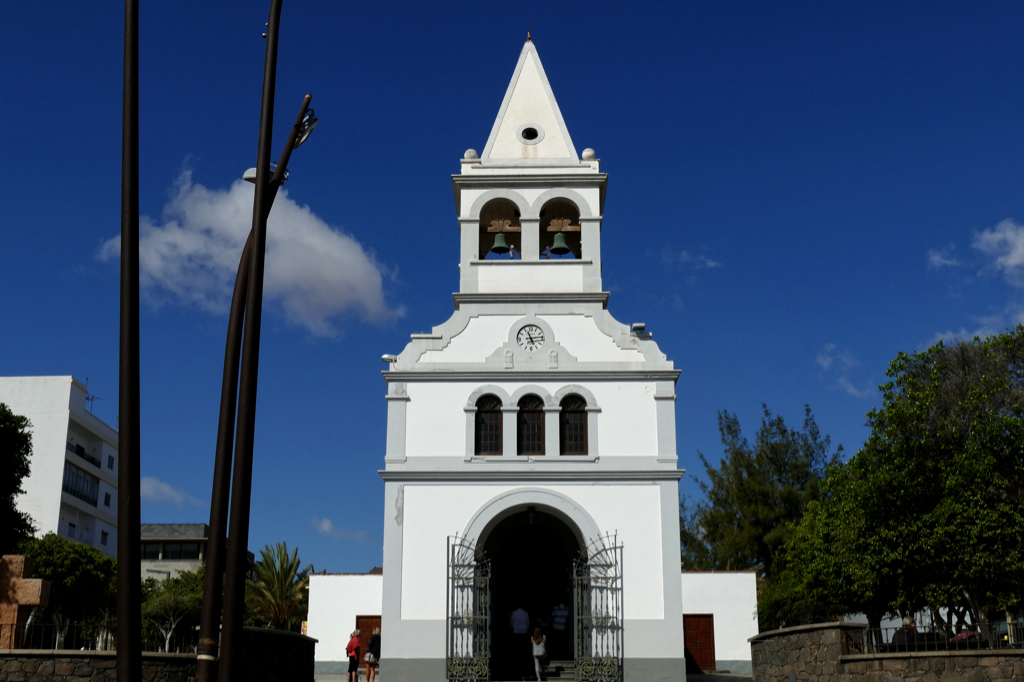 Only about a hundred years later, the belfry was added. Take a closer look: It doesn't house just one but two big bells which were imported from the French city of Marseille.
The church attracts visitors rather with its beauty and charm than with its size. It stands in a prominent location and is one of Puerto del Rosario's few real tourist attractions.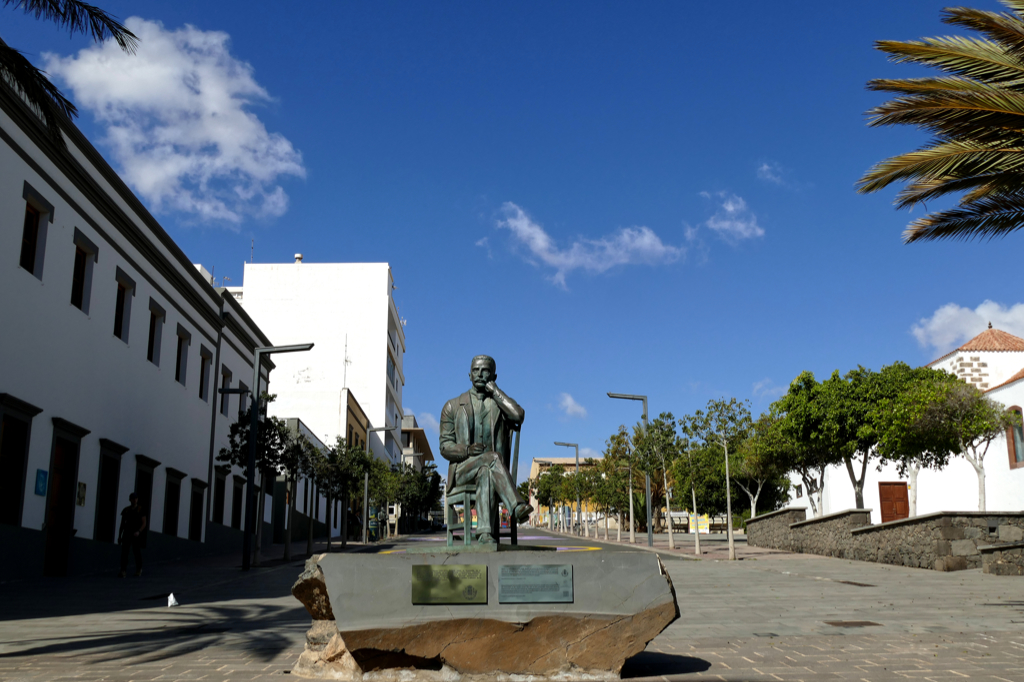 Not only is it surrounded by the island's most important governmental buildings. In its vicinity is also Puerto del Rosario's most important museum, the Casa Museo Miguel de Unamuno.
Casa Museo Miguel de Unamuno
This museum is first and foremost dedicated to Don Miguel de Unamuno. It is housed in the former Hotel Fuerteventura. This is where Unamuno stayed during the banishment passed by General Primo de Rivera in 1924.
The building shows the typical Canarian architecture from the beginning of the 20th century. It consists of a stately entrance hall, a central patio, and a cistern where rainwater was collected.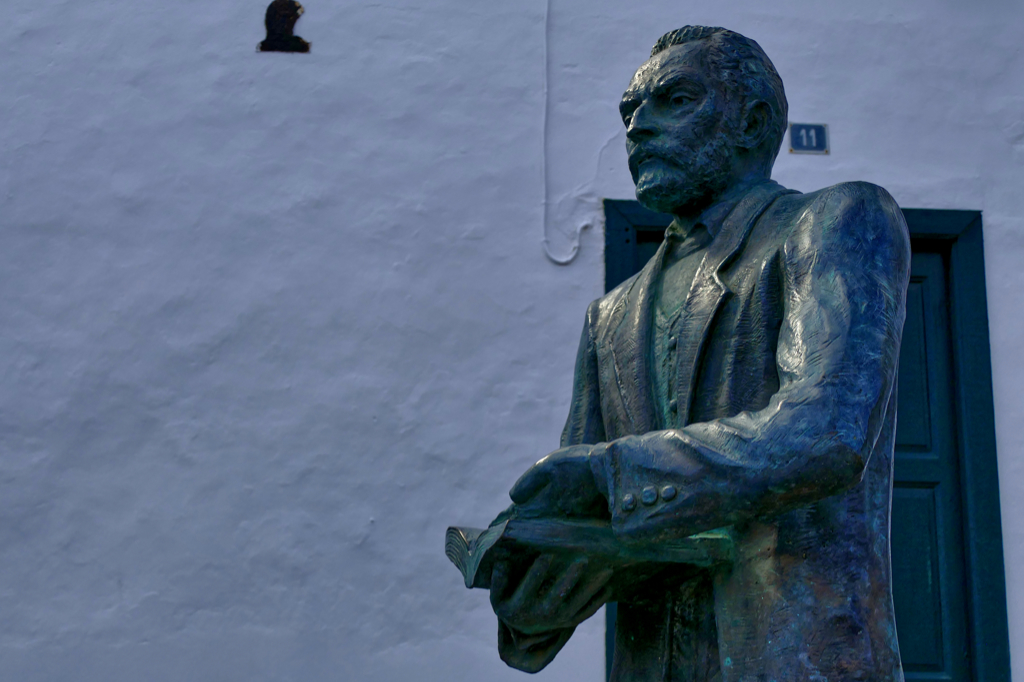 The museum people did a great job in recreating the atmosphere of a house from the 1920s. The original furnishing, decoration, and many photographic reproductions let you relive Unamuno's era.
Fuerteventura and the other Canary islands were not only a safe haven for Unamuno. The poet also captured the islands' flora, fauna, sceneries, and sea.
You can visit this informative and inspirational museum from Monday to Friday between 8 a. m. and 2 p. m.
Miguel de Unamuno
So, that's all fine and dandy, but who was the man with this funny name? Well, Miguel de Unamuno y Jugo was an intellectual Jack of all trades: He was a novelist, poet, playwright, and philosopher. Also, he was a professor at the University of Salamanca. From there, he was removed by the dictator General Miguel Primo de Rivera in 1924. Because of an open letter published in a magazine, he was banished to the Canary Islands after he had turned down an offer to flee to Argentina. Two police officers brought him to Seville and from there to Fuerteventura.
From Fuerteventura, Unamuno escaped to France. He returned to Spain after the fall of General Primo de Rivera's dictatorship in 1930. After he initially had joined the cause of the fascist dictator Francisco Franco, he eventually distanced himself from the movement and opposed the Spanish civil war. Due to major conflicts with Franco's leading militaries, he was once again banished from his university work. Unamuno then voluntarily remained under house arrest until his death in 1936.
Parque Escultórico – Sculpture Park
The town of Puerto del Rosario is a self-proclaimed City of Sculptures. There is no real park in the sense of the word. However, there are more than 150 sculptures displayed around town. The major part of these sculptures was installed during one of Fuerteventura's International Sculpture Symposiums.
At each of these events, the sculptors are supplied with a different common material like different kinds of rocks and marble, steel, or wood. Then they create their contribution for a couple of weeks in a public place. The sculptures then remain in the city's prominent spots like main streets, squares, and roundabouts.
Unfortunately, it is very difficult to find information about the artists and their works. This is really something the organizers should improve.
Top Five
Nevertheless, here are five of the most outstanding pieces around town: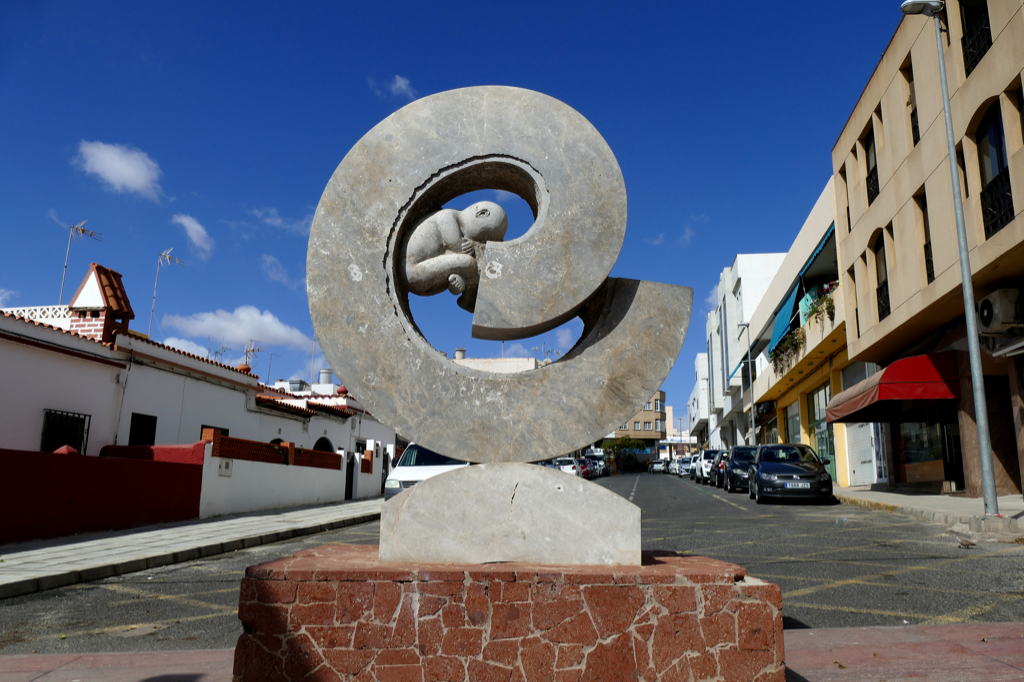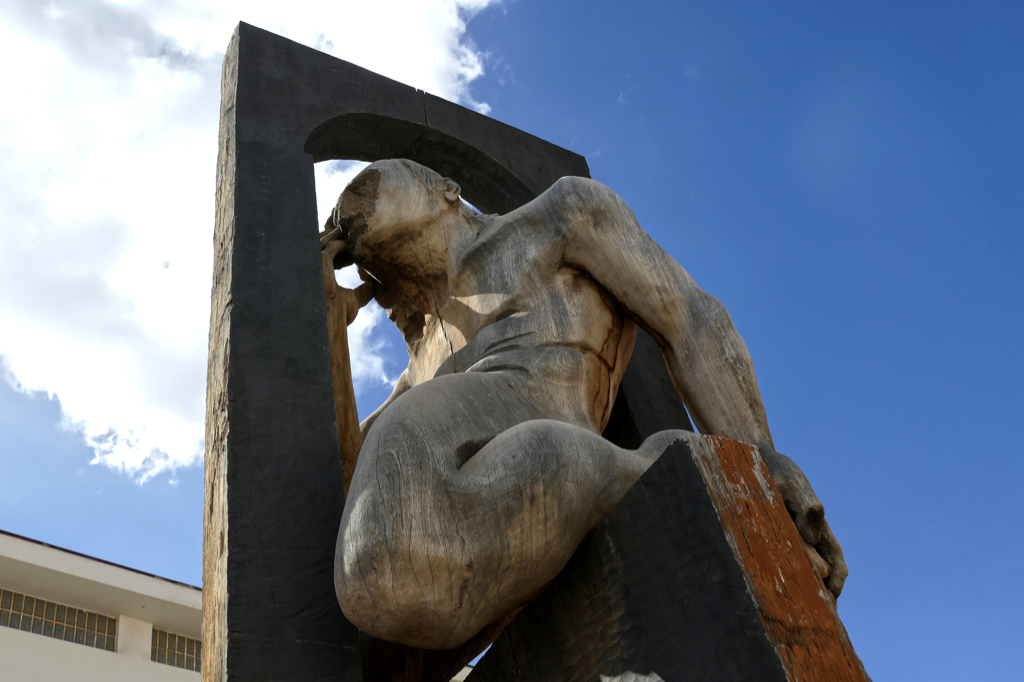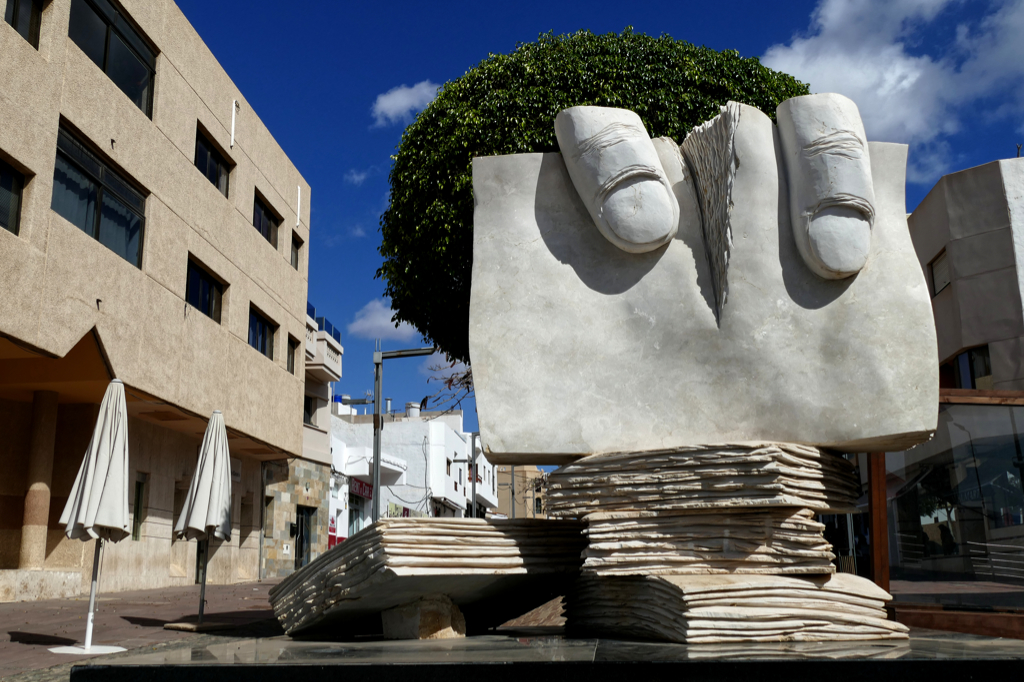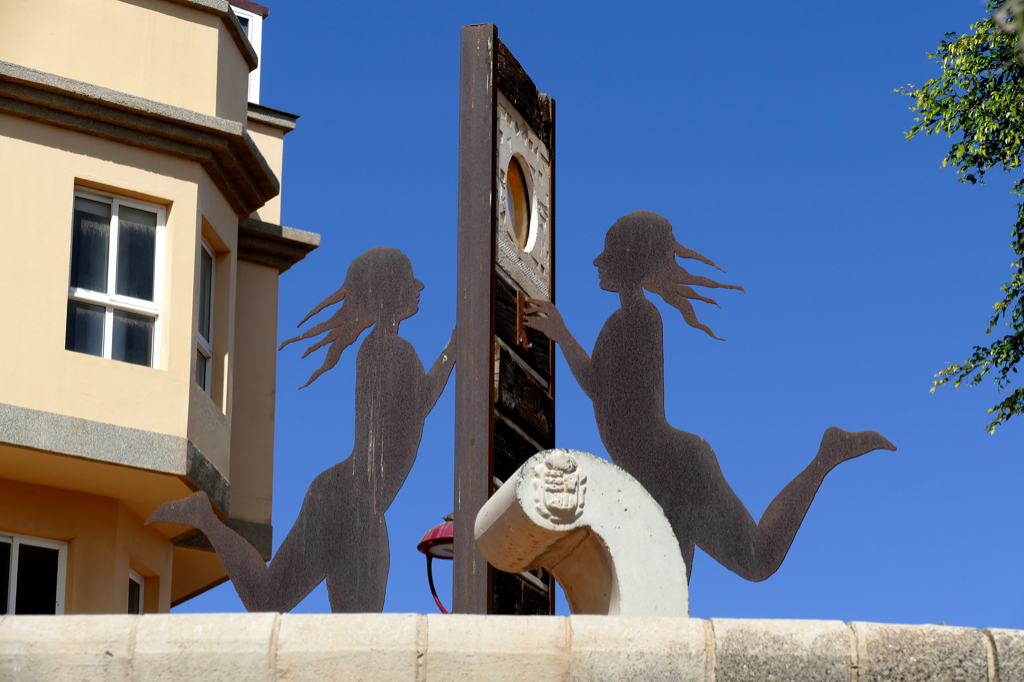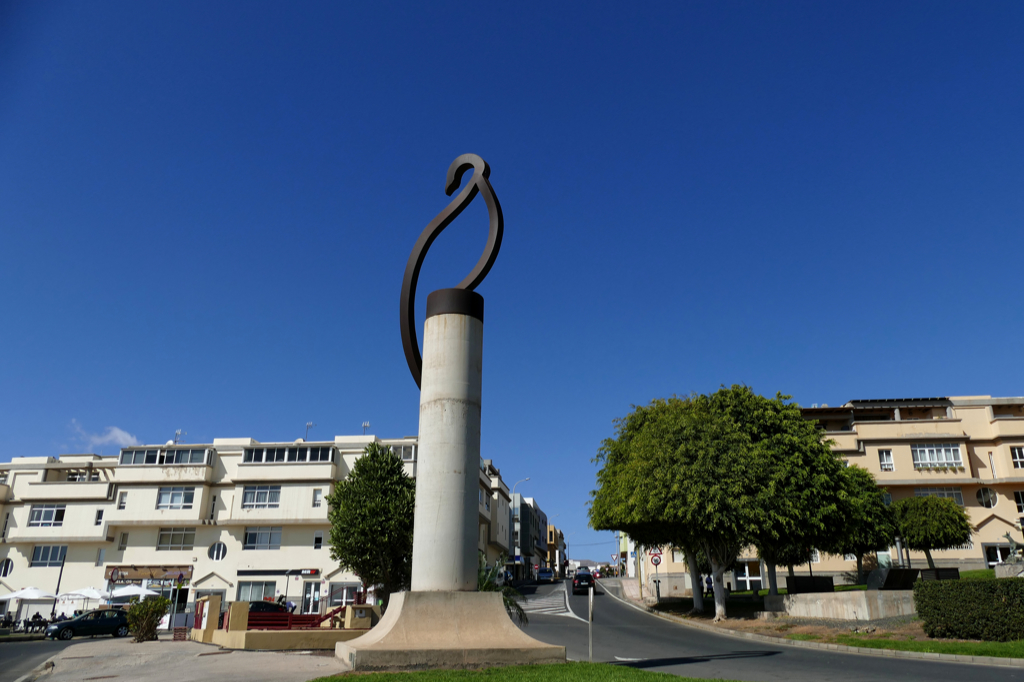 Murals
Not only is Puerto del Rosario famous for its precious sculptures. The city's façades are also adorned with amazing murals. However, this is not by pure incident.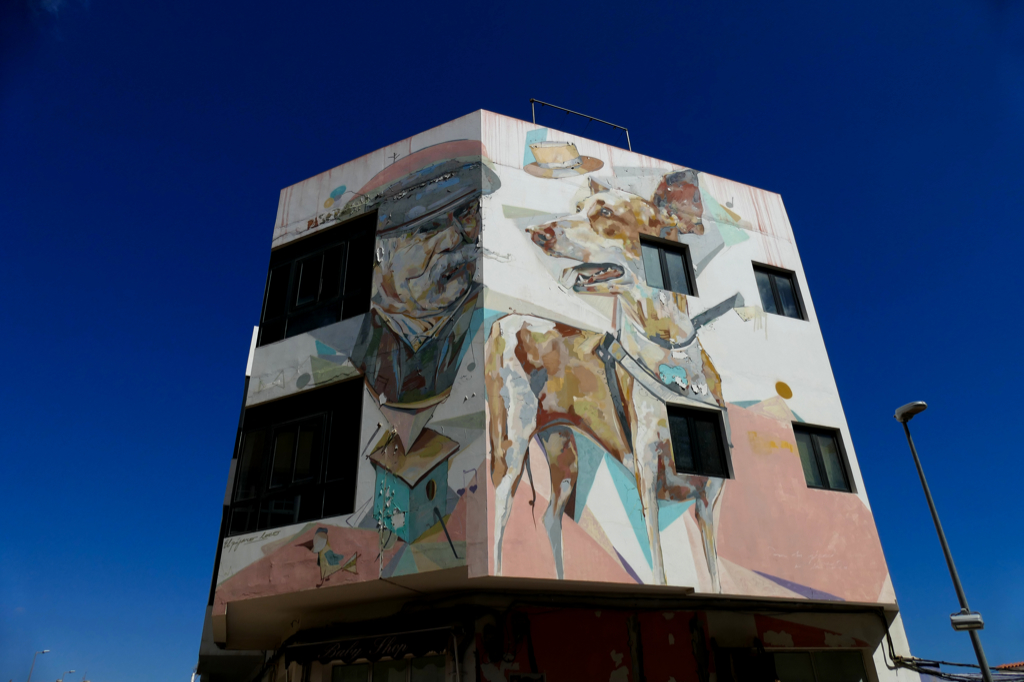 As a matter of fact, the city council installed a so-called mural plan in 2011. This project foresaw that around 400 walls have been whitewashed and eventually painted. Obviously, all these murals are made with the permission of the owners of the buildings or walls. But who wouldn't like a grand painting on his house, am I right?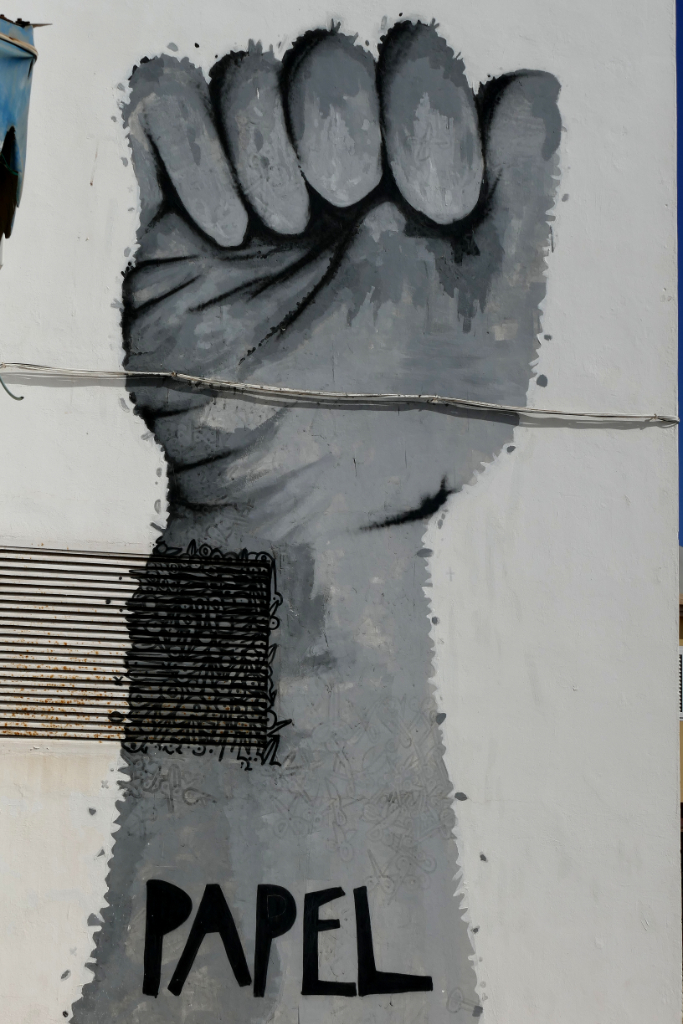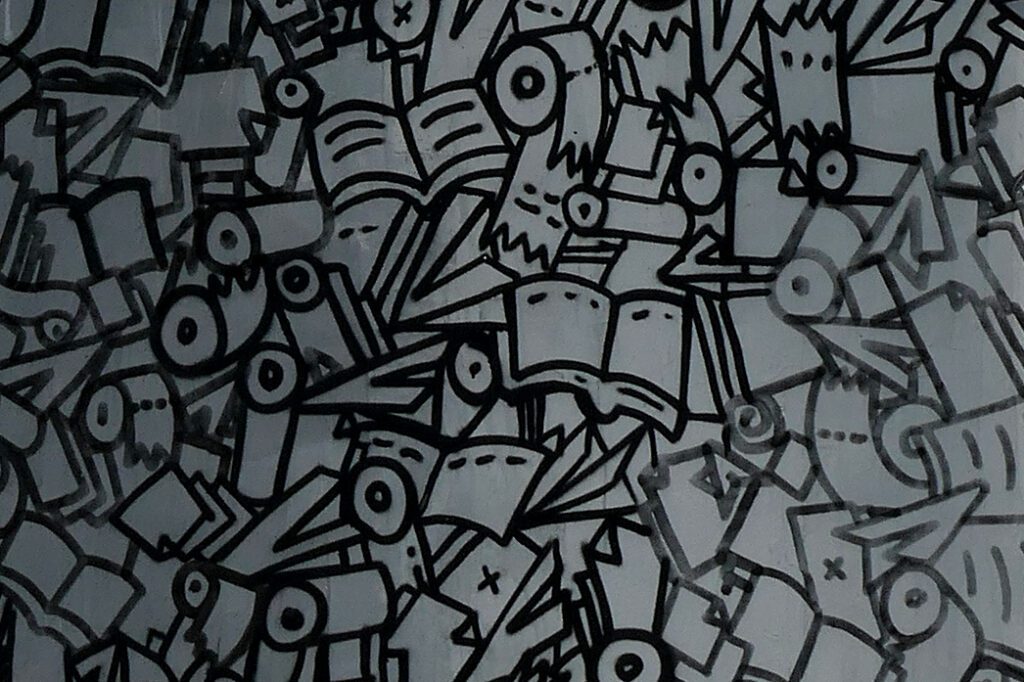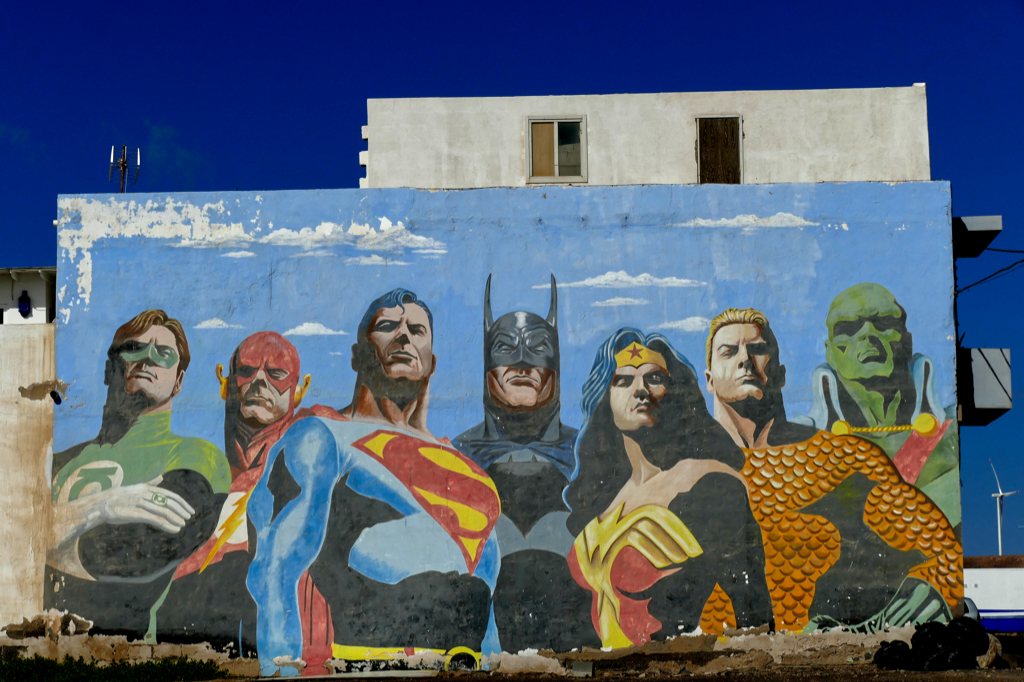 While some of the first murals are already fading a bit, the city council decided to celebrate the international Women's Day on March 8 with the presentation of a new mural. It is located on the Calle Virgen del Rosario right between the church and the museum. Instead of a wall, local artist Dailos Panigua took her work Once Invisible, Now Invincible to the street – literally.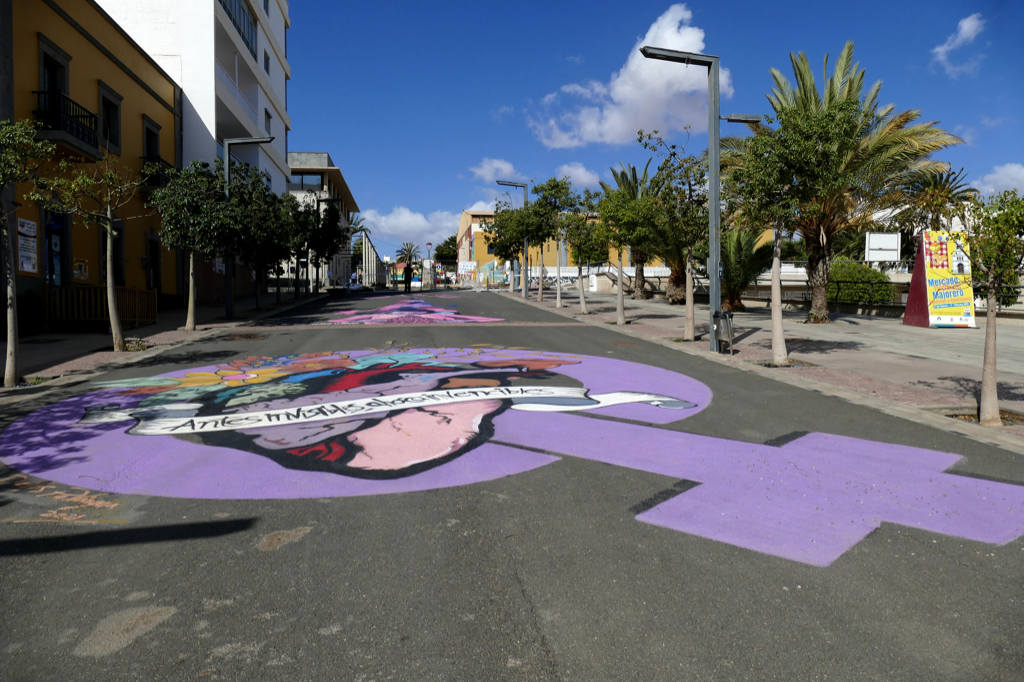 Obviously, with her feminist claim, Panigua refers to all the women that are victims of forced marriage, sex trafficking, domestic violence, murder, and sexual assault.
On the Waterfront
Other great murals can be found close to the waterfront. For instance, the giant sea turtle that's swimming on the wall of the city council complex Calle García Escámez is one of the city's most photographed street paintings.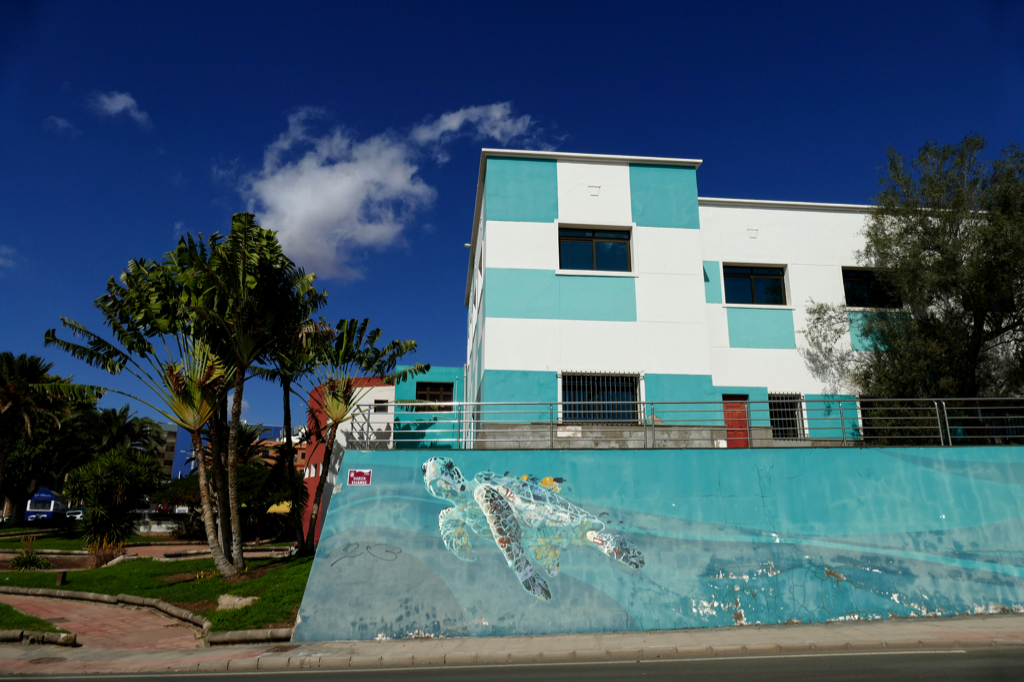 I particularly like the grand mural in the industrial harbor which depicts the activities in Puerto del Rosario's port over the decades.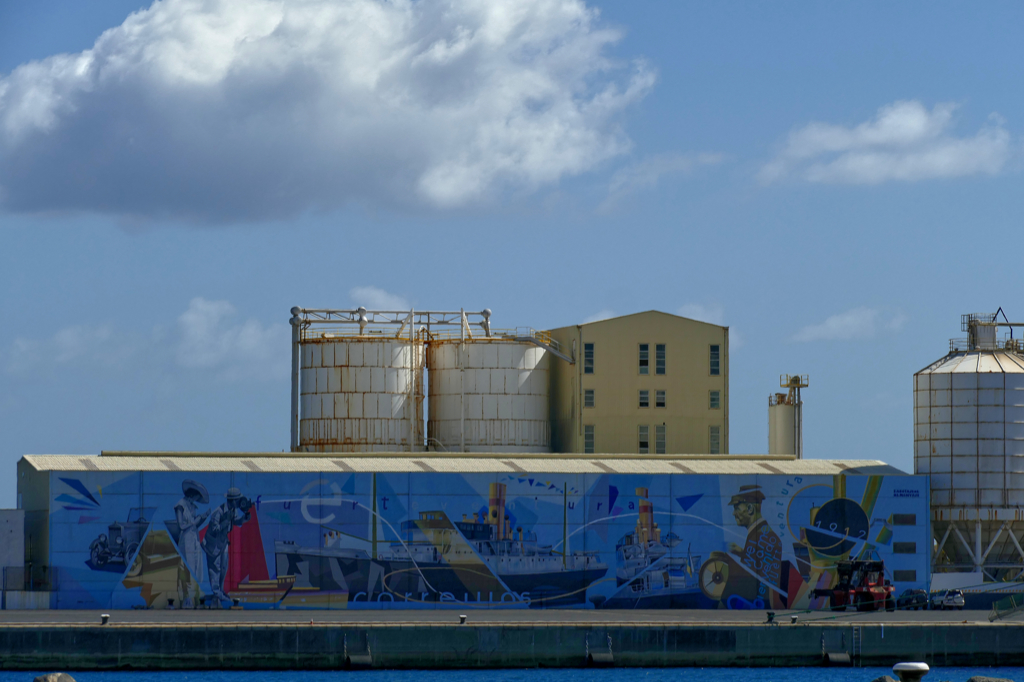 Howsoever, if you are into urban art, you should plan at least a half-day tour through Puerto del Rosario as there is so much more to discover than I can possibly introduce in this post.
The Port and Playa Chica
So yes, there are tons of powerful sculptures and amazing murals that make a day trip to Puerto del Rosario worth your while. However, once you need a break from all the extraordinary art, you came to the perfect place.
Here at the harbor, you will find many small restaurants and shops. You can relax by the sea and watch the ships come and go.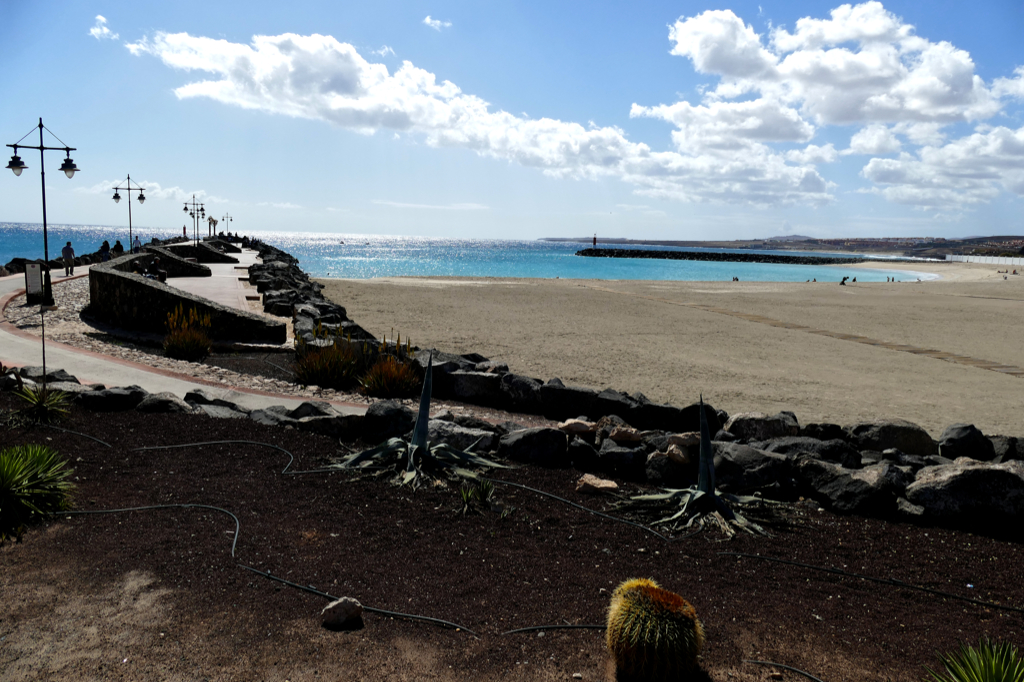 Especially the pier that protrudes from the promenade into the sea grants fantastic views of the endless waters and a wonderful look back at the city. Just relax on one of the benches and take the grand views in.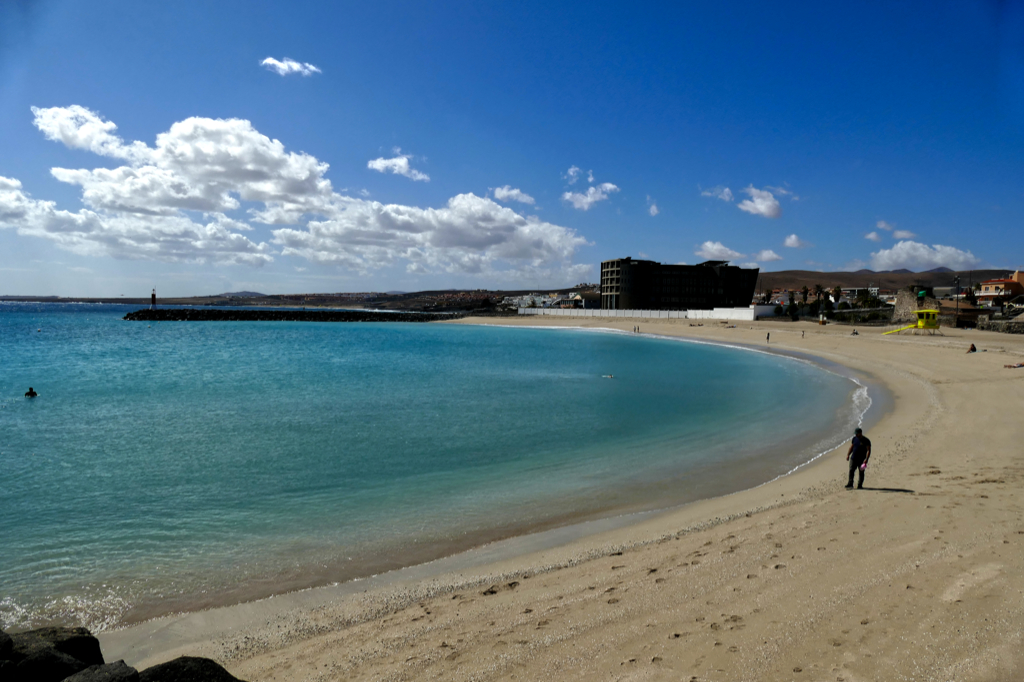 However, you can even spend a great day on the beach right here in Puerto del Rosario. Obviously, the so-called Playa Chica cannot compete with the kilometers of soft sand south in Morro Jable nor with the huge dunes around Corralejo in the north. But like most city beaches in Spain, it's decent, to say the least. Seriously, guys, I'm impressed time and again by how nice, well-maintained, and clean Spanish city beaches are, even those of big cities like Valencia, Barcelona, Palma de Mallorca, or Las Palmas de Gran Canaria. That's really something the country can be very proud of.
How to Get There And Around
As I mentioned above, the central bus station of Puerto del Rosario is Fuerteventura's most important hub. The most frequented connections are probably bus #1 which goes southwards to Jandía and Morro Jable. Bus #3 takes you to the airport. Bus #6 is northbound to Corralejo, and #7 goes to La Oliva and El Cotillo.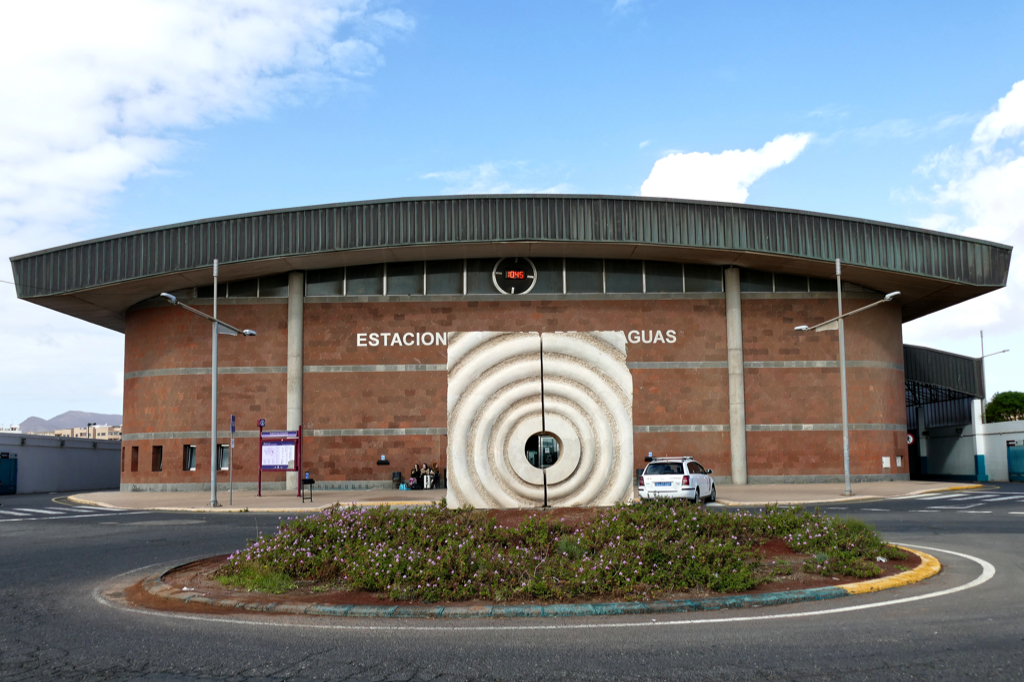 Depending on the distance, tickets cost between roughly 2 and 10 €uros. You can pay cash, preferably with change or small bills. If you take the bus really often, a travel card might be worth it. You can obtain and charge it at the central bus station or from the driver. However, you save only 10 percent on your trips, but have to pay 2 €uros for the card.
You'll get all relevant information on buses, routes, and schedules on the website of the bus company Tiadhe.
Nevertheless, note that there might be only a few connections to some places in the hinterland. For instance, it's a bit of a drag to visit Betancuria by public transport despite the fact that it used to be Fuerteventura's first capital and is still a place of historic significance. If you want to visit that area, you should either rent a car or go there on an organized day trip.
To explore the relatively small center of Puerto del Rosario, you can just walk. It should take you only about ten minutes to walk from the bus station to the Nuestra Señora del Rosario Church. Howsoever, a city bus leaves the so-called Estación de Guaguas bus hub on the hour. It goes in a large circle and connects all the important parts of the city.
Where to Sleep
Although Puerto del Rosario is probably the least touristy settlement in all of Fuerteventura, there is a handful of nice hotels. As I explained above, I would even go so far as to recommend it as your base if you intend to explore the entire island preferably by public transport. Hence, if you choose to stay in Puerto del Rosario, you should find suitable lodging options on this map*:
All About Food
Just like everywhere in Spain, there are lots of bars and small restaurants in Puerto del Rosario. There, you can enjoy a glass of beer or wine with some tapas, varied hot and cold snacks. They can be slices of serrano ham, diced or grilled cheese, papas bravas, tiny potatoes with a hot sauce, boquerones en vinagre, marinated fresh anchovies – the list seems endless.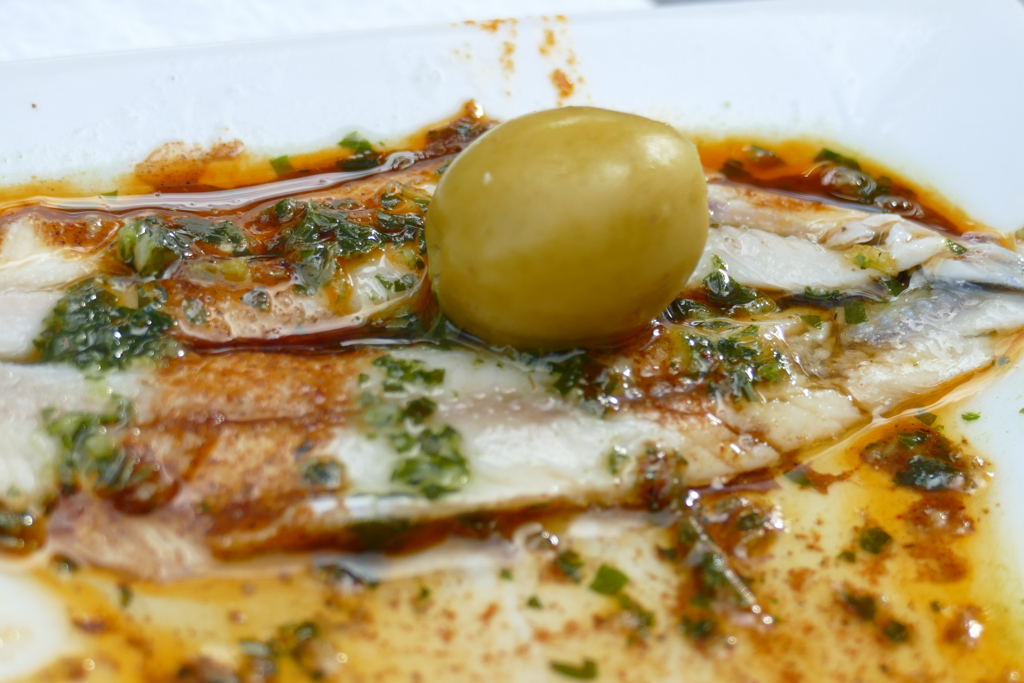 Normally, you'll get some small complimentary tapas with your drink – at least olives or peanuts. A selection of two or three tapas can actually replace a meal. However, you can also order a ración, hence, a serving, or a media ración, a half-sized serving.
When you are really hungry, the menú del día might do. It's usually a three-course meal. You can combine it to your liking from different starters, main courses, and dessert options. Often, the price of around 10 €uros includes water or even wine. However, the menú del día is usually just a lunch option and not offered at dinner time.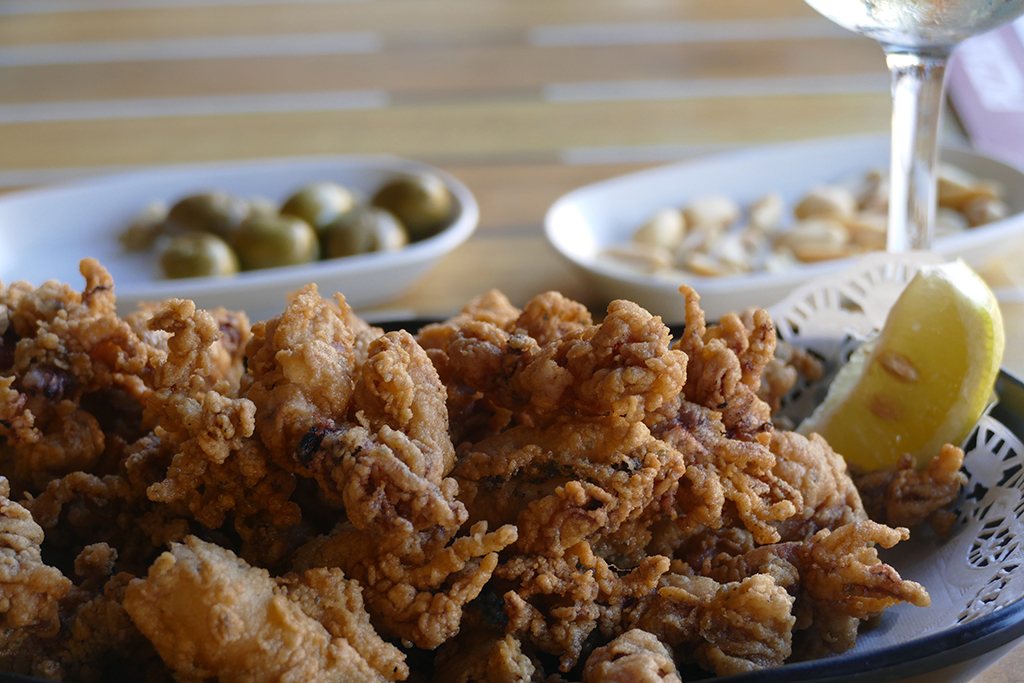 As in most other European countries, tipping is rather optional in Spain. It is not compulsory, but an appreciative gesture. Also, you don't need to calculate a certain percentage. Rounding up to the next full €uro might be a bit chintzy. However, adding one or two €uros will normally do.
When to Eat
Since Puerto del Rosario is not very touristy, the mealtimes at bars and restaurants are Spanish. And this can be challenging.
Years ago, I visited the Costa de la Luz together with my then 7 years old daughter. We were used to northern European mealtimes and had to find tricks to avoid going hungry. Not only are classic mealtimes much later than expected. In addition, many restaurants close their kitchens'n'doors in-between. For instance, our favorite pizzeria in Conil de la Frontera re-opened only at 10 p. m. By then, we were starved.
To survive, we developed a distinct schedule by making Spanish lunch hours our dinner time. I kid you not. Around 4.30 p. m., shortly before restaurants closed to re-open only late at night, we went for dinner. Admittedly extremely early dinners.
By the way, I've written an entire post about travelling in the company of kids – especially as a solo parent.
Standard Meal Times
So what are the average mealtimes in Spain? Well, as a rule of thumb, breakfast is between 7 a. m. and 9 a. m. However, it often is just some coffee with or without milk. The second breakfast time is then between 10 a. m. and 11 a. m. This can be another coffee, but now accompanied by a pastry or a sandwich.
Lunchtime is relatively late between 2 p. m. and 4 p. m. In the mid-afternoon, there is a merienda, another sweet or hearty snack. Finally, dinner is served between 9 p. m. and 11 p. m. to those who are still up by then.
Note that although many restaurants are open for the evening shift around 7 p. m., their kitchen might open one or two hours later. Until then, they only serve drinks and cold tapas.
Well-Organized Activities
While it's possible to visit many places on the island by public bus, you might want to leave all that planning and organizing to others and just enjoy your trip and some great days out. Also, it's not possible to go to certain places and back on the same day. Therefore, here are some ideas on how to visit Fuerteventura's hinterland or put out to sea in the most comfortable way*:
Puerto del Rosario was just one of the wonderful places I visited during my week on the island of Fuerteventura. To read about the others, go to this post and take your pick!
For general information on Spain, go to this post. There, you'll find information and tips that will make your trip much smoother and more enjoyable.
Pinnable Pictures
If you choose to pin this post for later, please use one of these pictures:
Note: I'm completing, editing, and updating this post regularly – last in January 2023.
Did You Enjoy This Post? Then You Might Like Also These:
* This is an affiliate link. Hence, If you book through this page, not only do you get the best deal. I also get a small commission that helps me run this blog. Thank you so much for supporting me!