Another very popular day trip from Lisbon is a short train ride to the very popular beaches of Estoril and Cascais. Albeit not really dreamy, especially on hot summer days, a day in these sophisticated retreats on the shores of the Atlantic Ocean can be the perfect break from Lisbon's big city life.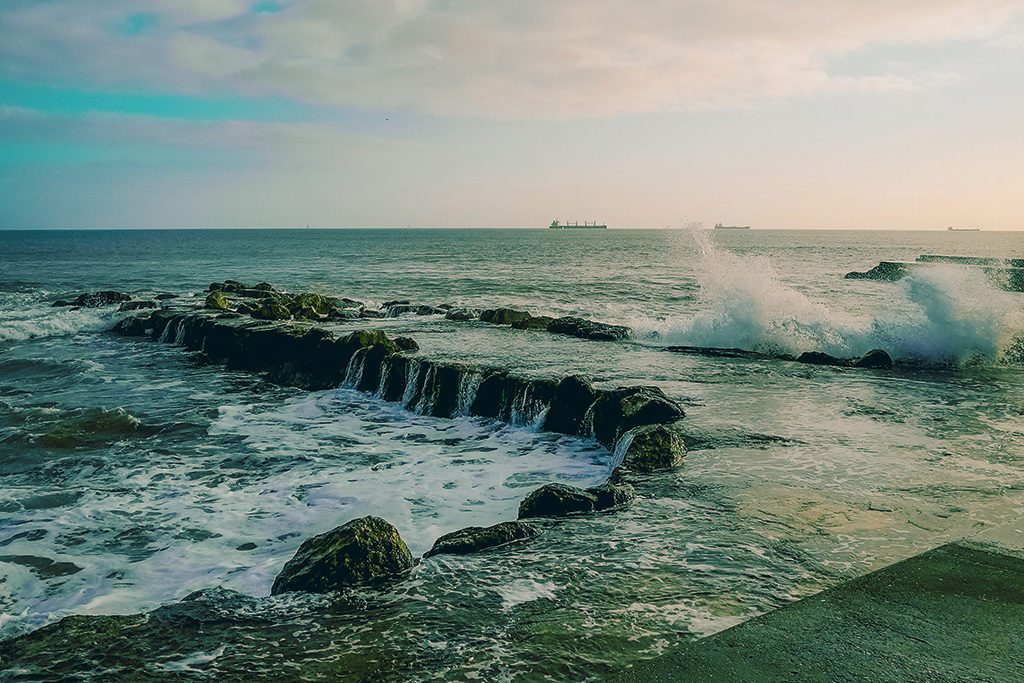 If you spend more time in Estoril, you should stay away from the beach and go on a day trip to Sintra. Even by public transportation, this town of palaces is less than an hour away.
Estoril
Estoril is the last stop before Cascais. So it's very convenient for visiting both destinations in one day – if you don't like it….the next train goes about 20 minutes later.
Estoril – located 25 kilometers from Lisbon and easy to reach by regional train – has been a very popular beach and retirement destination for many years. Today, the town is home to about 6,000 people, many of which are retired and wealthy ex-pats for instance from Germany.
The town center is arranged around a beautiful park, the Jardim do Estoril. However, what attracts most of the rich crowds is the casino. This gamblers' paradise makes Estoril one of the most expensive places to live not only in Portugal, but on the entire Iberian Peninsula.
Another attraction is, of course, the beach which is not the greatest one I've ever set foot on. Nevertheless, if you just need a short break from Lisbon's hustle and bustle, it's totally fine. Actually, it's nicer than the city beach of Cascais, so if you are not driving but come here by public transport, it's much better to hit the beach in Estoril.
However, if you have your own car and travel more independently, the beaches west of Cascais are more pristine.
Cascais
Mainly the proximity to these gorgeous beaches makes Cascais one of the cities with the highest quality of living in Portugal.
Located about 25 kilometers west of Lisbon on the shores of the Atlantic Ocean, you can easily get to Cascais by public transportation in less than an hour.
In fact, besides being a pleasant beach destination, Cascais offers also cultural attractions, mainly galleries and museums presenting art. You find them around the so-called Museum Quarter. Many of these venues are housed in mansions that used to be private residences.
Today, a lot of them belong to the municipality.
Recommendable Exhibitions
Hence, if you want to take a break from the lazy beach life, you'll find a good number of galleries definitely worth a visit.
There is also the wonderful Casa Verdades de Faria, the museum of Portuguese music. It hosts an important collection of musical instruments, collected by Michel Giacometti.
Interesting are also galleries such as the Casa das Histórias Paula Rego, presenting – according to its name – paintings of Paula Rego and her husband Victor Willing.
Or the Casa Duarte Pinto Coelho, a former guardhouse of the Condes de Castro Guimarães Palace, that houses – you probably guessed it – the art collection of designer Duarte Pinto Coelho.
To learn about Cascais' past and history, visit the Museu do Mar. Founded in 1992, it deals with the town's past as a fishing village.  Another one is the Museu da Vila, the town museum which also provides a glance at the town.
How to Get There
Cascais is connected to Lisbon and the neighboring eastern community of Estoril via the suburban trains of the Linha de Cascais.
It is the final stop on the regional train coming from Lisbon's Cais do Sodré station. The trip takes 30 to 40 minutes and costs only 2,25 €uro. Once in Cascais, you can continue to farther beaches. Or, once you're done swimming and sunbathing, a visit to Sintra is a great alternative.
Note: The Lisbon card covers also rides on regional trains to places like Cascais, Estoril, and Sintra.
What to See
I'm an avid solo-travelling woman. Since solo-travel doesn't equal solitude, I love to join organized tours here and there. They allow me to meet fellow travellers – for just a short moment or a lifelong friendship.
Therefore, here are some great ideas of what to do when visiting Coimbra. Pre-booking online will guarantee your place at the activity of your choice*:
Estoril and Cascais were only two of the many beautiful places I've visited in Portugal. To read about the others, go to the main post and take your pick! There you'll also find valuable general information that will make your trip smoother.
Pinnable Pictures
If you choose to pin this post for later, please use one of these pictures:
Note: I am completing, editing, and updating this post regularly – last in December 2022.
Did You Enjoy This Post? Then You Might Like Also These:
* This is an affiliate link. If you book through this page, not only do you get the best deal, I also get a small commission that helps me run this blog. Thank you so much for supporting me!