Aruba was actually one of the first islands in the Caribbean that opened its hearts'n'harbors to international visitors by installing well-working touristy infrastructures. Today, Aruba is an absolute A-Lister when it comes to a dream vacation in the West Indies.
However, while most visitors are coming for the dreamy sand beaches, it would be a big mistake to miss out on the natural wonders Aruba is hiding in its hinterland.
In this post, I have you covered by telling you about all the wonderful spots you should not miss when visiting this self-proclaimed happy island.
More Than Just Beaches
"I don't think you will like it. It's so Americanized. They call it Little Miami. It's full of high-rise hotels. Yes, the beaches are nice, but other than that…well, you will see. I don't think you will like it." Those were the not-so-encouraging statements I'd heard before coming to Aruba. Shucks, was it a mistake to book eight nights in this place that was apparently tourist hell?
I had mixed feelings.
To get that question out of the way: By no means. I had a good time and I actually liked Aruba.
So was everybody wrong in claiming the island was touristy and Americanized? Not really.
Was everybody right then? Not at all.
After eight days on the island, I'd argue Aruba is what you make of it.
Take Your Pick
Yes, there are those huge hotel resorts – which by the way are not that crazily high. I wonder if people who claim Aruba was like Miami have actually ever been to South Beach. But yes, those resorts are a world of their own just like these kinds of hotel complexes all over the world are tourist bubbles. Most of them have an affiliated casino. Loud music is blaring from overpriced bars on beaches packed with jolly vacationers mainly from the US.
So yes, you can dive right into what for me personally is tourist purgatory.
But then you have secluded coves, bays, and even serene sand beaches where the only tune comes from the light waves splashing the shores and the cheeky birds in the trees. You can find yourself an apartment in the part of town that lies behind the broad promenade. Just a couple of blocks away from the Vuitton and Gucci stores at the Renaissance mall, you'll find the real Aruba.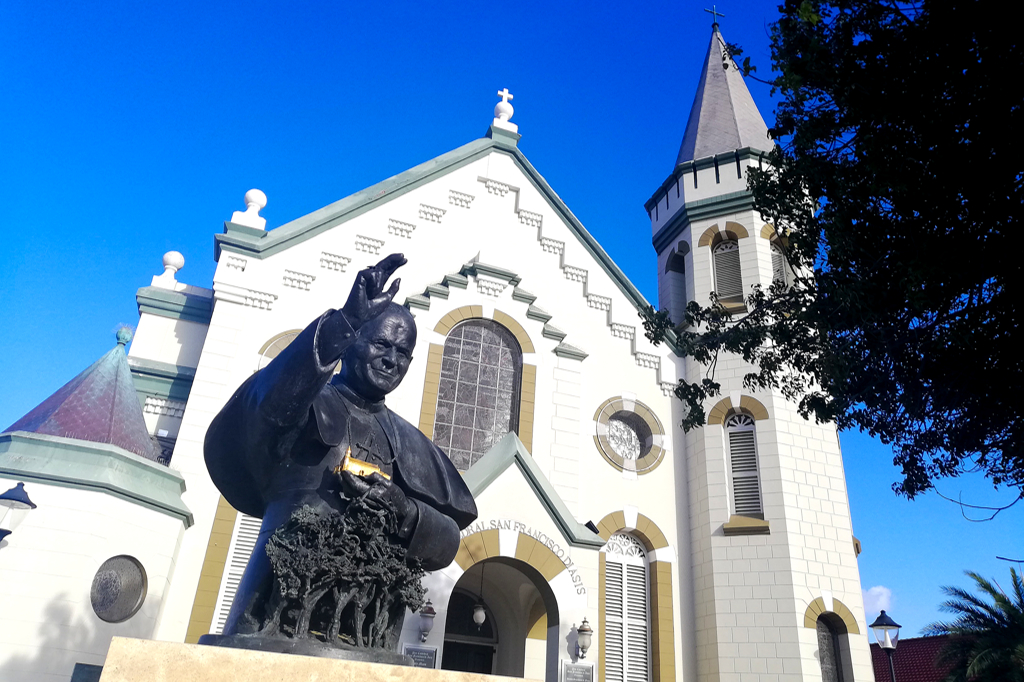 Here, in the vicinity of the court building and the Pro-Cathedral San Francisco which Pope Karol Wojtyla visited in 1990, people rather speak Spanish than Papiamento. Small restaurants are run by emigrants from the Dominican Republic, Venezuela, and Colombia, and all of the smaller supermarkets are owned by Chinese families. After all, ex-pats from 108 countries make up the local population of Aruba.
It's In The Mix
Of course, I did some of the totally touristy things. To be able to recommend in this post which beaches to hit, I made time to visit basically all the better-known ones. But I went there by public bus. This way, I enjoyed lots of local colors already in the morning on my way to the beach and then, of course, in the afternoon when I travelled side by side with all the locals going home from work.
Also, since my small apartment behind the University of Aruba – yes, there is a university in Aruba's capital Oranjestad – had a kitchen, I had to do some grocery shopping. Come to think of it, I felt kind of like a hybrid of a tourist and a local. So yes, if you want to rub shoulders with locals and experience everything that Aruba is behind the tacky curtain of the Hilton, of McDonald's, Starbucks, and Bath & Body Works, it's not that difficult. Just go out there.
In this post, I put together some of the things that made my stay an absolutely wonderful experience. I hope they will add some beautiful local colors to your visit, too.
Being An A-Lister
Aruba is an absolute A-Lister not only when it comes to the alphabetical order of the so-called ABC-islands which also consist of Bonaire and Curaçao. The island is famous for its endless white beaches alongside calm turquoise waters. Also, the ABC islands are part of the leeward Antilles and therefore outside of the hurricane zone.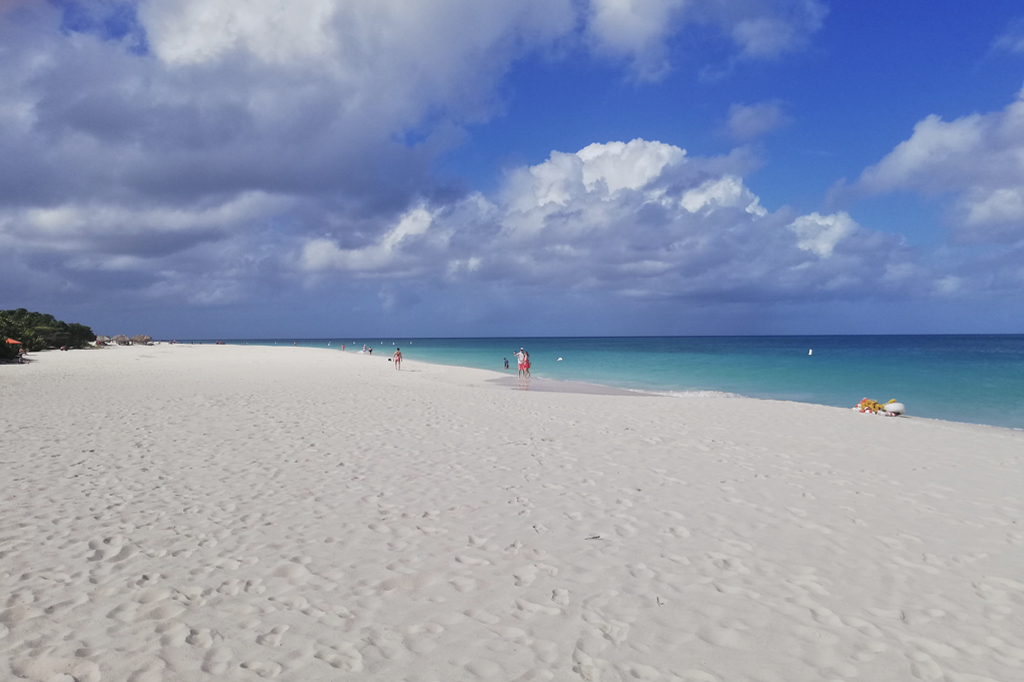 There is basically eternal sunshine – which tends to turn into liquid sunshine for a couple of minutes – and cooling trade winds. Hence, it's no wonder that Aruba has been one of the tourist hotspots in the Caribbean for many decades.
Back In The Days
Native Americans have inhabited the island which is today Aruba for thousands of years. Then, in 1499, the Spanish explorer Alonso de Ojeda discovered the islands that are now called Aruba, Bonaire, and Curaçao. Initially, the Spanish conquerors expected no profit from what they called Islas Inútiles, hence, the useless islands.
In 1633, the Spaniards conquered Sint Maarten from the Dutch. In return, the Dutch West India Company took Curaçao from Spain in 1634. At the same time, they colonized Aruba and Bonaire. As a matter of fact, Peter Stuyvesant was the first island governor. Later he became the governor of New Amsterdam which is now New York, obviously.
From the 17th century onwards, Great Britain, France, and the Netherlands took turns in ruling over the islands with varying frequency. According to the British-Dutch treaty from 1814, the islands finally came into Dutch possession in 1816. And they remained part of the Netherlands ever since, albeit with different statuses.
Aruba is a part of the Kingdom of the Netherlands that has equal rights with the mother country.
The island, which is only 25 kilometers north of Venezuela, is a territory that belongs politically to the Kingdom of the Netherlands. Aruba has its own constitution, government, and currency. The island has complete internal autonomy, yet, it is not a sovereign state. Also, Arubans hold Dutch passports.
7 Activities You Shouldn't Miss
I spent over a week in Aruba, and I didn't get bored. Obviously, I enjoyed the fantastic beaches that made the island every vacationer's A-lister. But I also found a couple of pretty amazing things to appreciate where there was no sand in my shoes involved.
Beach Hopping by Bus
Nevertheless, let me begin with the beaches. As I am not driving, I loved Aruba's comprehensive bus system that took me to almost every beach I wanted to go to within minutes and for as little as 4.50 Aruban Florin respectively 2.60 US$.
The waters around Aruba came under protection already more than 20 years ago. This has made Aruba – but also its sister islands – a world-famous destination for diving and snorkeling. Also, there are shipwrecks like the German freighter Antilla which sank in 1940 off the coast. On an organized tour, those are easily accessible.
Going Public
But now let's hit the beaches. First of all, I'd like to point out that all beaches are public. You can spread out your towel right in front of a five-star hotel, they cannot chase you away. Obviously, you are not allowed to use their facilities, stretch out on their beach beds and seek shade under their parasol. But – and this is important – if there are permanently installed wooden parasols – so-called palapas – on the beach in front of a hotel, you can use them. It sounds hard to believe but they are actually public.
Funny story: I made myself comfortable on a beach bed that belonged to a hotel. The bed stood in the shade of a palapa.
Minutes later came a guard and asked me in a very friendly way if I was a guest of the hotel.
I denied.
He told me the chairs were only for hotel guests.
And if I pay for it, I asked. Sorry, we do not rent them, he answered.
Okay, but I can still use the palapa, right? I mean, if I put my towel in the sand right next to the chair, I can stay?
Yes, that's right.
So again, you can always use the permanently installed palapas, they are free for everyone.
I'm listing them beginning on the outskirts of Oranjestad and then going up north. At the end of this list, you'll also find two beaches located on Aruba's southern tip.
Divi Beach
Divi is the first of the pristine beaches north of Oranjestad. If you are a more or less avid walker, you can even go there on foot, albeit, it takes around 45 minutes. But don't worry, either bus #10 or one of the mini-buses take you there in a blink of an eye. Divi beach is smaller than the adjacent beaches, but also a bit less crowded.
➕ for avid walkers, within walking distance of Oranjestad
➕ free palapas
➕ nice, reasonably priced snack bar on the southern end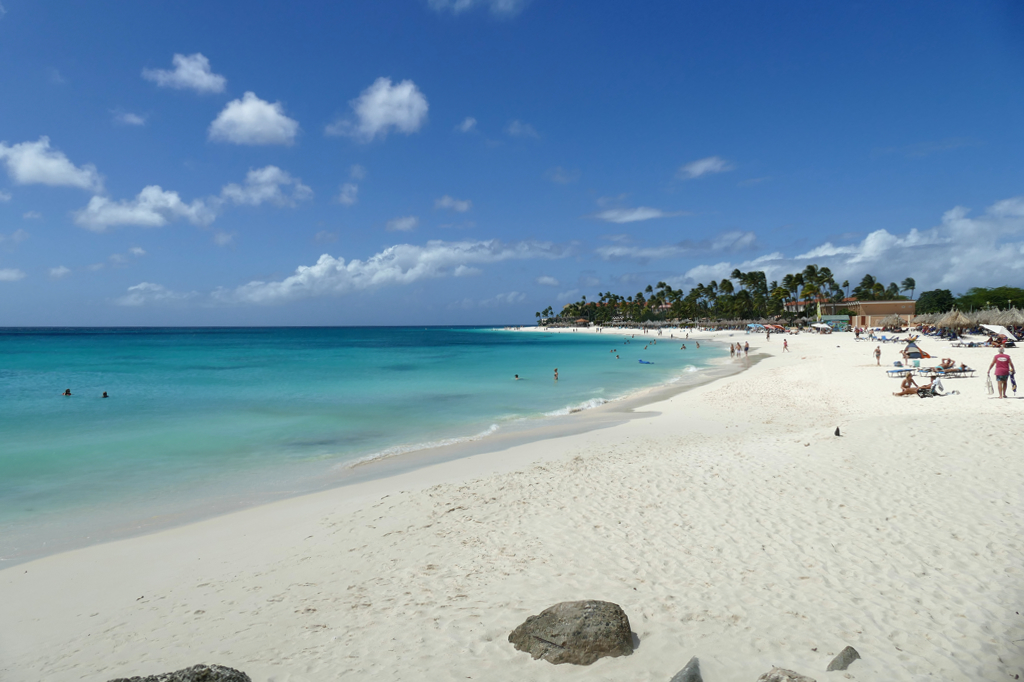 ➖ chairs are only for guests of the adjacent hotels, albeit, the palapas can be used by everyone
➖ parts of the beach are very close to the main road
Eagle Beach
This is the widest beach in Aruba and has been rated one of the best beaches in the world for a reason. Also, it has something in store for everyone: You can spread your towel in a secluded spot under a tree in the southern part. Or you rent a chair under a parasol around one of the beach bars further up north. This beach can definitely be enjoyed by everyone.
➕ easy to reach by bus #10
➕ offers parts for every taste
➕ very long and excellent for beach walks
➖ in some parts are those horrible jet skies
Palm Beach
Palm Beach is in the resort area also called the high-rise area – which is a bit exaggerated, though. It's lined with bars, restaurants, tour operators – you name it. Although it's quite long, it's not made for relaxing beach walks as there is so much going on. I'm also not fond of the calm and most of all very shallow waters. You walk and walk and the water still reaches just to your knees. To be honest, Palm Beach was Aruba's beach I liked the least.
➕ wide choice of beach bars, tour operators, and other facilities
➕ the waters are extremely calm and shallow which is great for families with small kids
➖ prices at the bars and other facilities are quite high
➖ it gets extremely crowded
➖ the waters here are far too shallow for swimmers
Hadicurari Beach
Hadicurari Beach is popular with windsurfers and kite surfers. Therefore, there are no facilities for sunbathers.
➕ easy to reach by bus #10
➕ not crowded
➕ good beach for windsurfers and kite surfers
➖ no infrastructure like chair rental or a snack bar
➖ the main road is right behind
Malmok Beach
Malmok Beach is mainly rocky and has just a narrow sandy part. Therefore – and because it's outside the main hotel area – it does not get busy. To spend a day, you should definitely bring your own chair since laying on a towel on the rocks will get uncomfortable quite quickly. Since there is not much sand, the shallow waters here are extremely clear and make Malmok beach one of the most popular snorkeling and diving spots around Aruba.
➕ great snorkeling and diving
➕ not crowded
➕ very picturesque and idyllic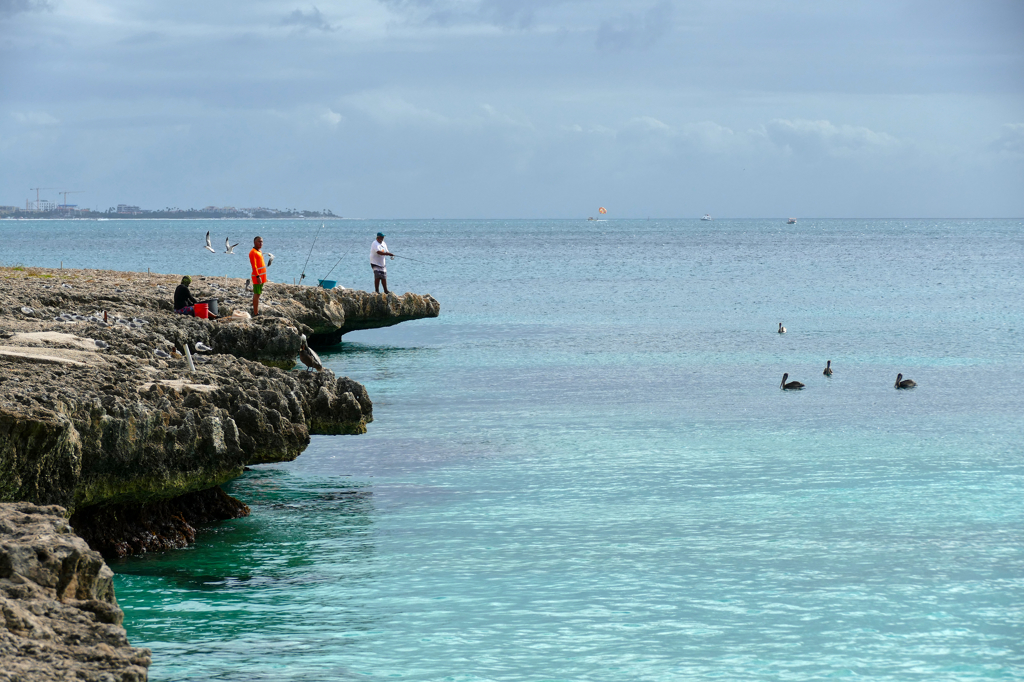 ➖ no infrastructure like chair rental or a snack bar
➖ caution is advised when walking on the uneven and rocky terrain
➖ not much shade
Boca Catalina Beach
Next is Boca Catalina which is a small remote bay. Although the shoreline is mostly rocky, you can access the water safely from a sandy part. Boca Catalina, too, is one of Aruba's best snorkeling and diving spots.
➕ in a very natural state
➕ rather secluded
➕ not crowded
➖ no infrastructure like chair rental or a snack bar
➖ not a great sand beach for sunbathing
Arashi Beach
Arashi Beach is the northernmost of Aruba's beautiful sandy beaches. Although you can easily get there by bus, it deems a bit out of the way and is therefore much less crowded than the beaches around the hotel area. On the other hand, people from cruise ships are dropped off here on their shore excursion. But that's still better than the crowds at the resort beaches.
➕ free palapas
➕ not very crowded
➕ relaxed and serene
➖ frequented by day trippers from cruise ships
➖ although easy to reach by bus, the ride here is quite long
Baby Beach
Baby Beach is located at the southern tip of the island about two kilometers from San Nicolas. It's called Baby Beach for the calm and shallow water. Therefore the beach is very popular, especially with families since the water level here is about knee-deep. Didn't like that at Palm Beach, not a fan of it at Baby Beach.
➕ sheltered from the rough sea
➕ nice for snorkeling
➖ at this time, not accessible by public bus
➖ it gets quite crowded
➖ the waters are far too shallow for swimmers
Rodger's Beach
Funnily, Rodger's Beach is Baby Beach's neighbor, yet completely ignored by tourists. This is where the locals hang out. Although Rodgers Beach is a beautiful and very tranquil stretch of white sand alongside crystal clear waters, it lacks any sort of infrastructure. There's no bar, there are no chairs, there aren't even palapas. If you want to stay out of the sun, you have to look for a shady place under a tree.
➕ very serene
➕ great swimming and snorkeling
➖ difficult to reach since at this time, there is no connection by public bus
➖ no facilities whatsoever
➖ not much shade
Noord Area
You can go on a jeep tour with us, wrote Stephanie from the De Palm tour operator in her email.
Great, after days on the beach, a jeep tour to Aruba's rough east coast sounded just down my alley.
But wait – is that one of those tours where you have to drive a jeep yourself? I see those every day and that's definitely not what I want to do.
No, don't worry, assures Stephanie, you'll have a driver. Just wait in front of the Renaissance Suites, we'll pick you up and then you'll go to Noord and to Arikok.
And this is how I get to know Brian, my cool'n'knowledgable guide and a grandmaster behind the wheel – we get to that later.
Noord is a relatively large area in Aruba's – you probably guessed so – north. It consists of very different parts like the hotel area, the posh residential area of ​​Malmok, as well as large basically untouched greeneries in the east.
Swimming and snorkeling are excellent on Noord's beaches on the west coast. But there are also some smaller salt fields where you can do some great bird watching, especially at the Bubali Bird Sanctuary.
Aruba's Birds And Beasts
The Bubali Bird Sanctuary is a resting and breeding area for more than 80 species of migratory birds. The best spot to see them is from the sanctuary's observation tower. Also, on the northern border of the sanctuary stands a historic windmill that today houses a restaurant.
Adjacent to the bird sanctuary is a Butterfly Farm. It's open to visitors every day between 8.30 a. m. and 4.30 p. m. You need to see for yourself if it's worth the 15 US$. However, you'll get a guided tour plus a return pass that remains valid during your entire stay on the island so that you can visit the farm multiple times.
Historic Structures
On the very northern tip stands the so-called California lighthouse on the Hudishibana plateau. Completed in 1916, it is about 30 meters high.
It was named after the steamship California, which sank off the coast in 1891. For 5 US$ visitors can climb up every day between 9 a. m. and 6 p. m.
However, a far more outstanding building than the lighthouse is the Alto Vista chapel. While the current building dates from 1952, there is a much longer history behind it as it stands on the very spot of Aruba's first church.
Venezuelan missionary Domingo Antonio Silvestre commissioned the original church way back in 1750. Due to the plague, the community was abandoned in 1776. In the following decades, the building fell into ruins. Almost 200 years later, donations made its reconstruction according to a design by English architect J. A. Hille possible.
It's actually quite impressive to drive or hike through the wilderness to spot such an immaculate building in the middle of nowhere.
Exploring the Outback
You can walk for hours on designated hiking trails like the Sero Grandi Trail, Sero Pela Trail, or the Alto Vista Trail in this part of Noord.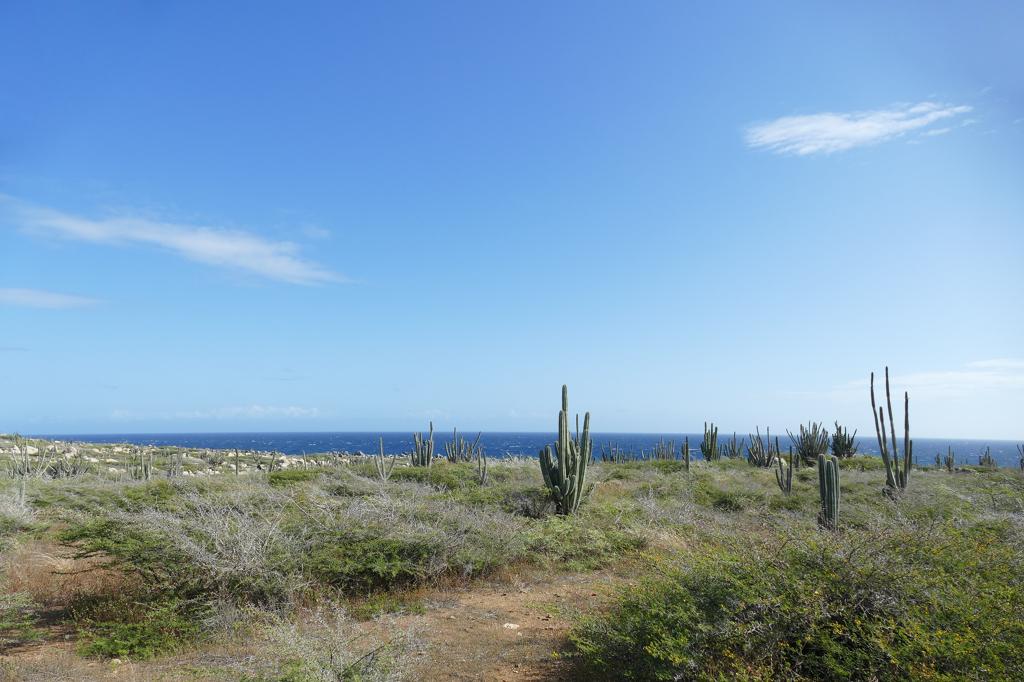 If you are visiting this area by car, you definitely need a 4×4 car. Also, you should be a very experienced driver.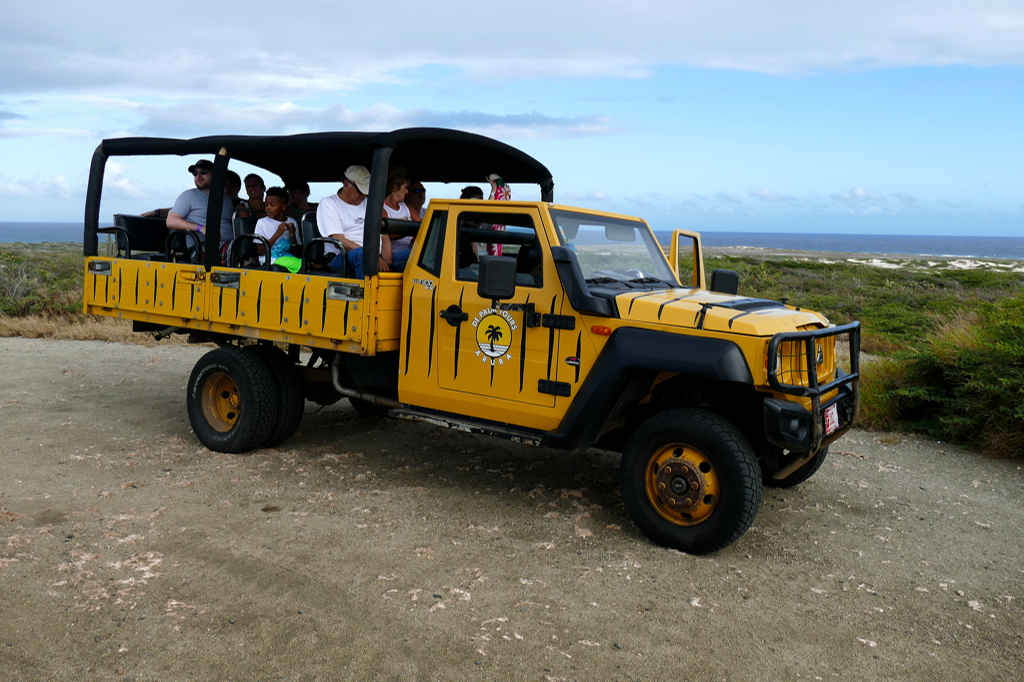 A valid alternative is joining an organized tour. De Palm Tours offers trips by large jeeps. The open vehicle allows you to experience the tour with all your senses and even snap pictures during the ride.
Arikok National Park
"If you take up driving on these roads, you'll be ready for any other road!" laughs Brian and floors the gas pedal. The huge jeep he's driving has another ten passengers in the back and has to climb an incline of about 60°.
After my trip to the Washington Slagbaai Park in Bonaire, I thought I've seen it all when it comes to crazily challenging dirt roads. But the trails in Aruba's Arikok Nature Reserve actually take the cake. I wonder how trained a driver must be to maneuver these vehicles across the park.
Aruba's Arikok National Park was established in 1972. It covers 870 hectares of the east coast which is almost 20 percent of the entire island. Sheep and goats are roaming the park. Obviously, there are also lizards, iguanas, and a rich variety of birds. Nevertheless, when hiking the park, keep in mind that there is actually the poisonous cascabel rattlesnake in Aruba, hence, you should better be wearing high-top hiking boots and tread firmly.
Volcanic lava and fossilized coral limestone rocks make up the park's rough hills. The highest ones are the Jamanotaheuvel at 188 meters and Arikokheuvel at 176 meters. Actually, these are the island's highest elevations.
London Arikok Bridge Is Falling Down
While the hospitable west coast has beautiful sand beaches and shallow, calm water, the east coast is rough'n'rocky and the waves are dangerously high. This is something all three ABC islands have in common.
There is a series of picturesque coves, the so-called bocas, along the coast of the national park. Also, there are caves with drawings by the Caquetío Indians.
"Nature gives and nature takes", shrugs Brian nonchalantly as we reach the remnants of the famous Natural Bridge. Sea surf carved the coral limestone into a bridge over the centuries. With a total length of 30 meters, it was the largest natural arch bridge in the Caribbean. Even vehicles could cross it.
Then, in 2005, it collapsed under the pressure of the high waves. Today, only a much smaller bridge still stands right next to the collapsed landmark.
Swimming in Wild Waters
Although the east coast is rough and swimming would be most certainly mortal, there is actually a way of taking a refreshing dip without risking your life. Just like the amazing pools that I've introduced in my post on Gran Canaria and Tenerife, there are lava pools at Arikok, too.
As we get to the Conchi Pool, we have to descend what Brian claims are 200 steps. Other sources say it's 90 and since neither the descent nor the ascent after our snorkeling break is very hard, I'd argue other sources are right.
While the water in the Canarian pools is mostly calm, at Conchi there are high waves sloshing over the rocks, swirling up the water which is fun, however, it makes snorkeling a tad difficult. It's a bit like snorkeling in a running washing machine.
After all this fun and suspense, everybody is really tired. Hence, we are happy that Brian does the straining driving back to where we started.
I went on this excellent half-day trip with De Palm Tours*. They have many decades of experience which is crucial when it comes to your safety and well-being.
Oranjestad
As I explained above, I stayed right in Oranjestad, albeit in a residential, predominantly Latino neighborhood. Apart from the Chinese supermarket, it was easier to get along in Spanish than in English. However, I've never seen any other tourists in this barrio.
Oranjestad is Aruba's capital and has almost 30,000 inhabitants which also makes it the island's largest town. Most Aruba visitors hang out around Caya B. F. Betico Croes, better known as Main Street, and on Lloyd G. Smith Boulevard.
The center is clearly ruled by the Renaissance group. There is a Renaissance Mall, a Renaissance Marketplace – which is also a kind of a mall, a Renaissance Marina, and a Renaissance Island which is home to six flamingos; as a matter of fact, they are the only six flamingos in all of Aruba and yet, they became kind of an icon to the island: Marketing is key, I guess. Oh, before I forget: There are also Renaissance hotels.
Before the Renaissance group ruled in Aruba, the island was conquered by the Dutch. Despite the Renaissance hegemony, Willem-Alexander of the Netherlands is still officially King of the castle Aruba. After all, Oranjestad was named after the Royal family of the Netherlands.
Historic Structures
In 1796, the Dutch built Fort Zoutman and eventually constructed the first private homes in that area. To this date, you'll see some unique architecture with a strong Dutch twist.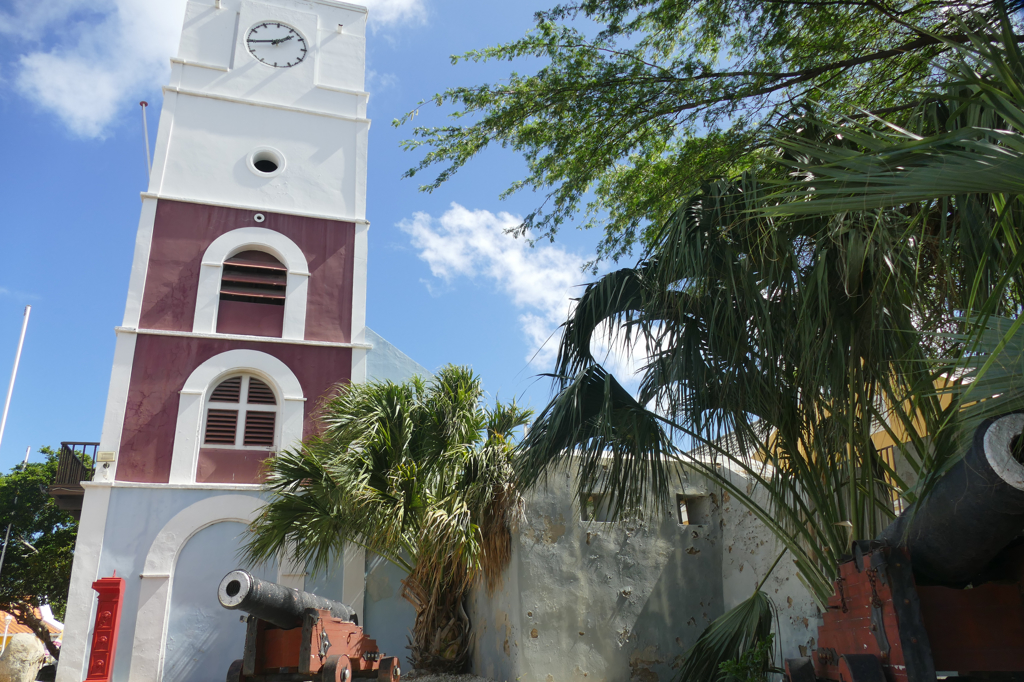 The best examples are around Kazernestraat behind the Renaissance Mall as well as on Havenstraat.
A fine example of colonial Neo-Baroque architecture is the city hall, also known as the Eloy Arends House. The physician Jacobo Eloy Arend commissioned it in 1922 on the occasion of his wedding. In 1988, the Government of Aruba acquired and renovated this architectonic jewel. Today, even tourists like to get married at Oranjestad's city hall.
As a matter of fact, I won't give you a long list of landmarks you absolutely need to see as there aren't that many. Apart from the one's that I've mentioned above there is also the National Archaeological Museum, housed in the former home of the Ecury family on Schelpstraat. You can visit it from Monday to Friday between 9.30 a. m. and 4.30 p. m.
The best way to visit Oranjestad is by strolling through the streets and alleys, admiring the charming buildings, and taking a peek at the island's way of life.
Street Art in San Nicolas
"This octopus is actually a tribute to Tito. All those tangled arms represent his many ideas and activities", explains Jean during a tour through San Nicolas. The town is Aruba's second-largest settlement after the Oranjestad and is located about 25 kilometers south of the capital.
San Nicolas gilded age began back in 1924 as crude oil was brought from Lake Maracaibo in Venezuela to the Lago refinery in Aruba. In its heyday, the refinery employed over 10,000 people of whom about a thousand were immigrant workers. In 1985, Exxon closed the refinery down.
With that, the town faded into insignificance, obviously.
Phoenix From the Ashes
Thirty years later, Tito Bolivar, one of San Nicolas' most energetic sons, visited Colombia. It was the impressive street art scene in Bogotá that inspired him to breathe new life into the dull streets of San Nicolas. Aruba's motto is One Happy Island, but at that point, its second-largest town was very far from happiness. Tito's mission was to change that. His plan was to transform the post-industrial ghost town into a dynamic and creative art district. Hardly sooner said than done, the first Aruba Art Fair took place in 2016.
While the official event lasts for three days, the results can be enjoyed for years.
So who can participate? "Google is my best friend", claims Tito. While in the beginning, he was searching for like-minded artists to help him convert his hometown into kind of a Caribbean Greenwich Village, today, he can hand-pick the best of the best as muralists from all over the world follow his open call.
The 6th Aruba Art Fair will take place from September 8 to 10, 2023. For more information, go to their website.
How to Go On a Mural Tour
However, if you cannot visit San Nicolas during the Aruba Art Fair, you can still see all those wonderful remainders on many walls around town. The best way to enjoy those murals and get all the stories behind them is by joining one of the Mural Tours.
There are different packages: You can come to San Nicolas on your own – a public bus leaves Oranjestad every half an hour – and then join the tour. However, you can also book a shuttle to and from town which can even be combined with a trip to Baby Beach.
The tours start at 9.30 a. m. at the ARTISA Gallery on Bernard van de Veen Zeppenfeldstraat 6 in San Nicolas. It takes about two hours and prices start at 15 US$.
You can check out further options on their website.
Either way, I must say that the visit to San Nicolas and the mural tour were definitely one of the highlights of my trip to Aruba and if you have the chance, don't miss it.
Also, since I cannot introduce all the wonderful murals I got to see on my tour in this post, there is a special post dealing exclusively with San Nicolas' street art.
Killing A Lionfish
Not only is eating too much meat bad for you, it's also very damaging to the environment. You shouldn't eat too many avocados since their cultivation needs so much water. I don't even start with fast food which is bad for your body while all the pointless wrapping and packaging causes tons of trash.
Man, life can be complicated if you are keen to save yourself and the planet from harm.
But fortunately, in Aruba, you can contribute to saving at least a little piece of the planet by enjoying a delicious meal at a reasonable price.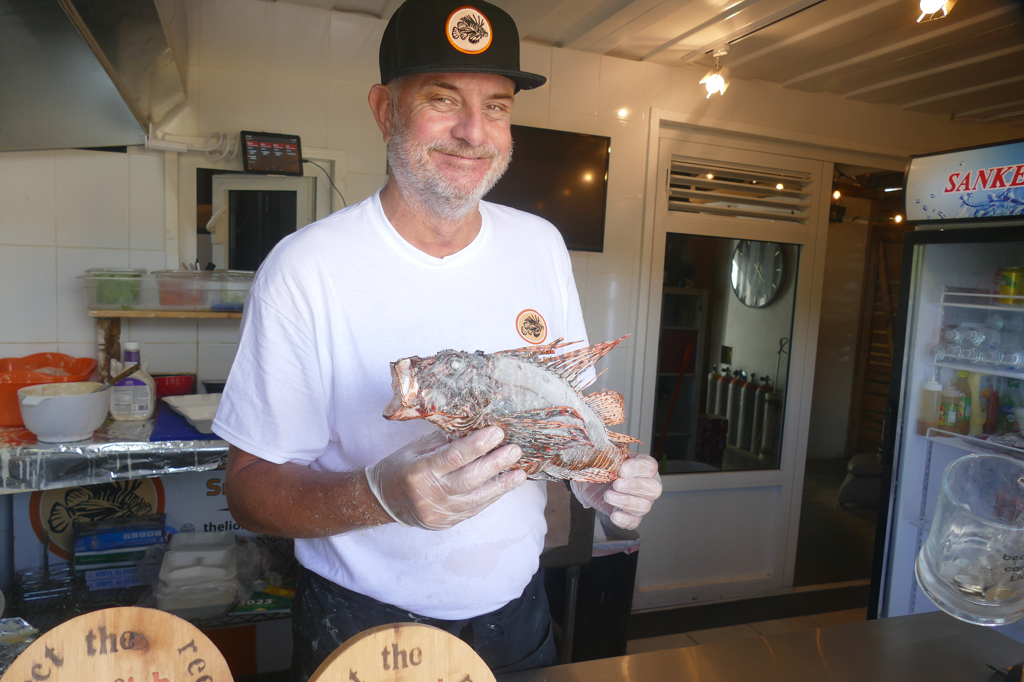 Around 4 kilometers north of Oranjestad is a small wooden booth called The LionFish Snack Aruba. Patrick, the owner, is originally from the Netherlands but now he's fishing for lionfish in Aruba. That's quite a complicated endeavor since that pretty'n'poisonous beast likes to hide between rocks where it waits for its prey. You cannot just sit on the shore holding your fishing rod and waiting for the fish to bite. Won't happen. It's not possible to catch it in a fishing net, either. At this moment, it's only possible to catch a lionfish with a spear. And then you have to make sure that the fish doesn't spear – or rather sting – you in return since the venom in his spines won't kill you but will make you wish you were dead; at least that's what Patrick says.
So why is Patrick such a fierce enemy of the pretty lionfish?
A Beautiful Predator
Lionfish are typically inhabitants of the coral reefs of the tropical Indo-Pacific and the Red Sea. However, they have also invaded the western Atlantic, especially the Caribbean sea. Also, they have been spotted around the Greek islands of Crete and Rhodes. There, too, they are increasingly becoming a plague.
The problem with lionfish is that they have no natural predators outside their native waters. Therefore, they can merrily destroy their host environment step by step. A lionfish eats about 5,000 reef fish per year – but no other fish or mammal eats him. Obviously, this creates quickly an imbalance. Only hunting lionfish can reduce its number in order to save other fishes and the coral reef ecosystem.
Lionfish are beautiful but poisonous. The venom is found in the hard spines. However, lionfish can be safely eaten despite their poison as soon as the venomous stingers of the dorsal fin are removed.
At Patrick's, you cannot only enjoy a delicious lionfish meal. He also sells jewelry like earrings, rings, and pendants handcrafted from the spines.
The LionFish Snack Aruba is located in the Paradera neighborhood and opens only on Saturdays between noon and 7.30 p. m.
Yes, that's right, only on Saturdays.
Carnival
Do you remember: There are 108 different nationalities represented in Aruba and each one of those various ex-pats had brought their national and even regional traditions and customs. Even Aruba's greatest pride'n'joy, the yearly carnival, found its way to the island through migrants.
The first carnival celebrations were introduced to Aruba by Latin American immigrant workers in San Nicolas. What began with a series of small street festivals became a huge extravaganza organized mainly by Caribbean-English immigrants celebrating the end of WWII in San Nicolas.
However, the first now traditional grand parades were organized only in 1957. Since then, there are grand parades in two places, one in the capital Oranjestad and one if the cradle of fun, the town of San Nicolas, obviously.
Apart from those major events, carnival actually means weeks of smaller parties and events as the official start is in November, nevertheless, the majority of events, celebrations, and parades are held in January and February. After the burning of King Momo on Sunday evening, the following Monday, the entire island goes on hiatus. As a matter of fact, it is an official public holiday.
Unfortunately, you cannot expect to experience carnival whenever you choose to visit the island since it's a seasonal thing, obviously. But maybe you have the chance to plan your trip accordingly. Therefore, you can check on this website when the major events will be on.
5 Things to Bring to a Parade
Sun protection
The parade goes on for hours, and if you don't find a spot in the shade, these hours will be very long. But as you can easily get a sunburn even in the shade, make sure to smother entirely in sun protection and to have a small bottle of sunscreen on you.
Hat
Especially if you don't find a spot in the shade, you should make sure to wear a hat with a wide brim to protect your head from the strong sun.
Earplugs
Don't underestimate the volume of the passing trucks – it's literally deafening. So don't be a hero and bring earplugs – actually, many locals use them, too, and they know why.
Believe me, you'll enjoy the gripping rhythms much more when you don't have to fear bursting your eardrums. Also, it should go without saying that you need to be extra-cautious if you are watching the parades in the company of children. They definitely need earplugs or noise-canceling headphones.
Water
Prepare for a long hot day and keep replenishing over the course of the day. Also, be careful with beer and other alcoholic drinks under the scorching sun.
By the way, not only is tap water drinkable in Aruba, but it is also very tasty. Therefore, don't forget to bring your water bottle in order to save yourself a little money and most importantly to save all of us many plastic bottles.
Snacks
I expected tons of food stands lining the roads of the parade. But no, no stands, no trucks, no food. In addition, many restaurants remain closed during the parade. So I highly recommend you stock up on snacks before you join the fun. Especially if you're planning on enjoying some alcoholic drinks, you better make sure to have a solid foundation.
Practical Information
How to Get There
Aeropuerto Internacional Reina Beatrix Airport is located south of Oranjestad. There are direct flights from the Americas and Europe. Obviously, there are also air connections to Bonaire and Curaçao by the local companies Divi Divi Air and EZAir.
Although Aruba is part of the territory of the Netherlands, it does not belong to the Schengen area. Nevertheless, visitors from many countries do not need a visa, but you can check this in the Visa and Embassy Information for all Countries section of my post World's Most Complete Travel Information.
Nevertheless, even if you don't need a visa, you'll have to fill out a landing card. You should do so online so that you can show it on arrival.
The cheapest way to get into the city center is by local bus, obviously. However, if you just come on a long-haul flight and if you have lots of luggage, it's certainly not the most convenient way. Taking a cab from the airport to the city center will cost you 21 US$.
Unfortunately, there are no public ferries going to Aruba. No, neither from Bonaire nor from Curaçao. Flying in is your only option to visit unless you are coming by a chartered vessel or on a private ship – or on one of those monstrous cruise liners, obviously. Aruba has three ports, but only the one in Oranjestad is relevant for visitors.
How to Get Around
Aruba's bus system consists of five lines which are used by locals and visitors alike. They run between 5 a. m. and 11 p. m. in very different intervals. Timetables are posted at the main bus station and some of the bigger stops. You also find them on the Arubus company's website.
A single ride costs 4.50 Aruban Florin respectively 2.60 US$ that you pay the driver. A round trip costs 8.75 Aruban Florin or 5 US$. Finally, there is a day pass that grants you as many trips per day as you like for only 17.50 Aruban Florin or 10 US$. The two latter passes have to be purchased at the main bus station. However, beware that the booth is not always open.
In addition to the big yellow coaches operated by Arubus, there is a privately operated additional service by mini-buses. Those buses run on the same routes, however, you can ask the driver for additional stops wherever you need them. Also, these buses cost only 4 Aruban Florin or 2.50 US$, but you cannot obtain round trips or day passes, obviously.
Since 2012, there is the very touristy Oranjestad streetcar. It basically shuttles visitors between the cruise terminal and around the main street.
Although cabs are not metered, there are price lists. Nevertheless, to be on the safe side, confirm with the driver before you start your trip.
Organized Trips
As I pointed out, there are many wonderful spots in Aruba that can be explored only either by a private vehicle or on an organized tour. The latter will definitely be the less stressful option especially as you are exploring the rough northeast. Driving on those holed dirt roads is like riding a rollercoaster. Also, you'll probably need to join an organized tour if you want to engage in activities on the water like sailing or snorkeling from a boat. Once on the island, I'd recommend booking your tour with an experienced operator like De Palm Tours. They have many decades of experience which is crucial when it comes to your safety and well-being.
However, here are some more tours to choose from:
Where to Stay
Since tourism is Aruba's main industry, there are many kinds of accommodation to choose from. However, most visitors come on a standard holiday package which includes a stay at one of the large resorts in the Palm Beach area on the northwest coast of the island.
Nevertheless, for my stay, I chose an apartment in a residential part of Oranjestad within walking distance to basically every place of interest around town. Since I'm not driving, I wanted to be within walking distance of the bus station so that I could explore major parts of the island by public coach. Hence, I picked the Jazmine Apartment*.
The other reason was the rate: I was visiting the ABC islands for four weeks, hence, I couldn't afford a stay at a luxurious resort with the corresponding price tag. At the Jazmine Apartment*, I had a tiny room with a small bathroom and a cute little kitchen. I definitely couldn't have asked for a cozier place.
Since the Jazmine Apartment* has only a couple of rooms, chances are they might be booked out. Therefore, you can check other suitable lodging options on this map*:
What to Eat
"You had dinner at La Silla?", Brian asks with a dumbfounded look on his face. "That's my favorite! Hey, now you're not a tourist anymore, you're one of us!" Wow, good to know: Not only did I get an amazing Dominican dinner on my first evening in Oranjestad. It was also some kind of initiation rite to become Aruban. Works for me.
Joking aside: The eatery La Silla, located in the truly Aruban part of Oranjestad, away from all those chain stores and fast food restaurants, is run by Dominicans and culinarily speaking a must when visiting the island. You'll find the location on the map below.
Another local classic is Zeerovers, a very rustic restaurant specializing in seafood. Unfortunately, it is located a bit off the beaten track in Savaneta. However, the bus going to San Nicolas passes through this settlement. From the bus stop, it's just a short walk toward the coast.
These are only two of many truly local eateries serving Caribbean food at a good price. Therefore, I simply cannot wrap my head around how much fast food made it from the US to the island. Why are people coming to Aruba when they want to eat at Burger King, Wendy's, or Taco Bell? Did I miss something? Isn't trying local cuisines part of the whole travelling thing? Obviously not for everyone because Aruba is packed with US chains.
What to Drink
Last but not least the info that Aruba's tap water is drinkable. As a matter of fact, the island has the second-largest desalination plant in the world. Hence, not only is the water drinkable, it's also very tasty. Therefore, I find it funny that many visitors from the US where the tap water tastes as chlorinated as if you are drinking from a swimming pool are suspicious of the quality and prefer to buy the overpriced bottled water.
Don't do that. Bring your drinking bottle and fill it with tap water.
It's free. It's good for you. And it's good for the environment as we save those nasty plastic bottles.
Where to Shop
Where to shop? Everywhere! Since most tourists in Aruba come from the US, you can shop till you drop. There are many malls where luxury brands like Prada, Gucci, and Louis Vuitton are lining the marble hallways. Then, there are tons of shops selling more or less tacky souvenirs no one really needs. As I said, everything is aimed at the consumer from the US who is an easy target and a willing victim when it comes to purchasing for the sake of purchase.
I personally found too little originality and too much poor quality. Also, I don't need to travel all the way to Aruba to shop at Prada or even Zara as I find all that in many places around the world.
But one tip regarding grocery shopping: There are many stores around Oranjestad where you can buy the basic edibles for your breakfast and some snacks. Nevertheless, I recommend a trip to the Save More supermarket. No, you don't save more, that's a marketing scam. Albeit, you don't spend more, either. The point of going to Save More is that they have a much wider choice of goods and most of all, their produce is of far higher quality than the stuff you find at the smaller grocery stores. Since they have a good mix of goods from the US and from the Netherlands, you even find really good cheese and actually tasty bread; and I'm emphasizing this point by being based in Germany, a country famous for around 300 delicious kinds of bread and 1,200 kinds of bread rolls.
You can easily get to Save More even if you don't have a car. Bus #10 stops at Eagle Beach in front of Amsterdam Manor. From there, it's a short five-minute walk to the store.
Cash And Cards
The Netherlands Antilles Florin is Aruba's official currency. It is abbreviated AWG. However, you can pay with US Dollars everywhere. There are many ATMs from which you can get Florin as well as Dollars. Also, you can pay even for small amounts by credit or debit card.
The current exchange rate is 1 US$ = 1.79 AWG as of March 2023, but you can check the conversion on this page.
Language
The official language of Aruba is Dutch. The lingua franca, hence, the most spoken tongue, is Papiamento. Although it's rooted mainly in Portuguese and also in Spanish, there is a considerable influence of Dutch. As a matter of fact, Papiamento is a Creole language that developed on the West African coasts. It has many similarities with crioulo spoken in Cape Verde. In the 16th and 17th centuries, most of the slaves kidnapped to the Caribbean came from Portuguese trading posts on the African west coast. I wrote about this dark chapter in my post on Cape Verde's main island Santiago.
Howsoever, due to the proximity to the South American continent and many migrant workers from Latin America, most local people speak at least decent Spanish. Obviously, people speak good English, especially if they are working in tourism. You can say that every local is not only bi-lingual but actually quad-lingual. Pretty impressive.
Connection and Communication
Although Aruba is a constituent country within the Netherlands, obviously, it is not part of the European Union. Therefore, the wonderful European roaming regulations do not apply. Consequently, a local SIM card is the cheapest way to stay connected.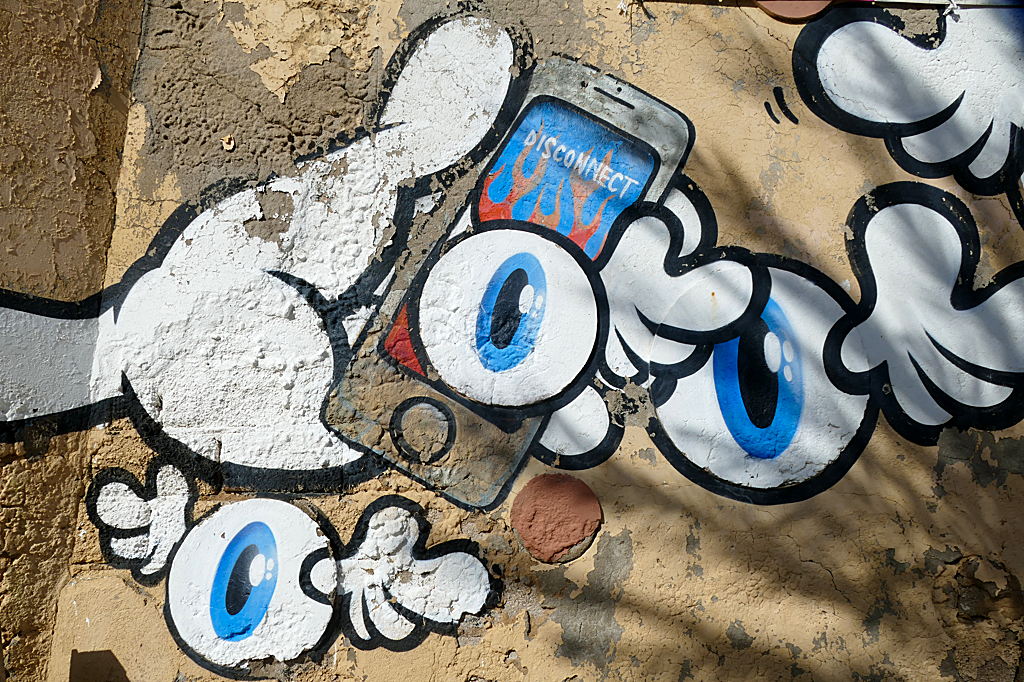 You can get a SIM card at Digicel for 15 US$ which has data for one week. Aruba's local company Setar offers more variations starting with one day including 3 GB for 5 Florin and goes up to 10 GB for 50 Florin that you can use within 30 days. You can check all the different options on their website.
Don't forget to make sure that your phone is unlocked so that you can insert any SIM card.
Digicel offers roaming at no extra charge to Aruba and Bonaire.
Normally, you have to show some form of ID. However, I got my card no questions asked.
Howsoever, if you don't insist on being online 24/7, you'll probably do with the free Wifi offered at every hotel and most restaurants and bars – just sayin'.
In Aruba, they use mainly plug types A and B. Their voltage is 110 V and the frequency 60 Hz. Occasionally, you also find outlet F which is common in Europe. As long as you have the right connecting plug, the voltage and frequency shouldn't really matter as nowadays, all chargers have integrated adapters.
By the way, you'll find comprehensive travel info in my post World's Most Complete Travel Information – an indispensable globetrotter-classic.
Map
This map shows where all the mesmerizing places I'm introducing in this post are located.
Clicking on the slider symbol at the top left or the full-screen icon at the top right will display the whole map including the legend.
Aruba was the A of my visit to the ABC Islands. You can read about Bonaire and Curaçao in separate posts. Also, there is a comprehensive roundup of my entire trip including much valuable info in the post As Easy As ABC: Island Hopping Between Aruba, Bonaire, And Curacao.
Pinnable Pictures
If you choose to pin this post for later, please use one of these pictures:
Did You Enjoy This Post? Then You Might Like Also These:
* I am very appreciative that GlobActive Travel Marketing together with De Palm Tours Aruba let me participate in a tour of the northeastern part of the island. Also, Aruba Mural Tours invited me to join one of their Street Art Tours. Nevertheless, the description of these activities and all opinions on their services are mine and were in no way influenced by my cooperation partners.

** This is an affiliate link. If you book through this page, not only do you get the best deal. I also get a small commission that helps me run this blog. Thank you so much for supporting me!