Grand heritage, a charming city center flanked by golden beaches – Malaga, the hometown of world-famous artist Pablo Picasso, is the best place in Andalusia to kick back and enjoy the ease of being
Málaga – Totally Underrated
"You have to promise me one thing!" Mónica grabs my arm and looks me in the eye. "Promise me that you won't compare the Alhambra in Granada with our Alcazaba. Please, promise", she urges me. Not to compare places, cities, countries is a promise I can easily keep. I don't like to compare.
Mónica repeatedly emphasizes to be a true-born Malagueña. She has been a dedicated tourist guide in her hometown forever, and it obviously hurts her that the city stands a bit in the shadow not only of the famous metropoles Madrid and Barcelona. Also among the Andalusian gems, Málaga is rather the rough diamond. "Málaga's only place listed as a Unesco World Heritage Site are some Dolmens located north of the city", she states with a slight bitterness.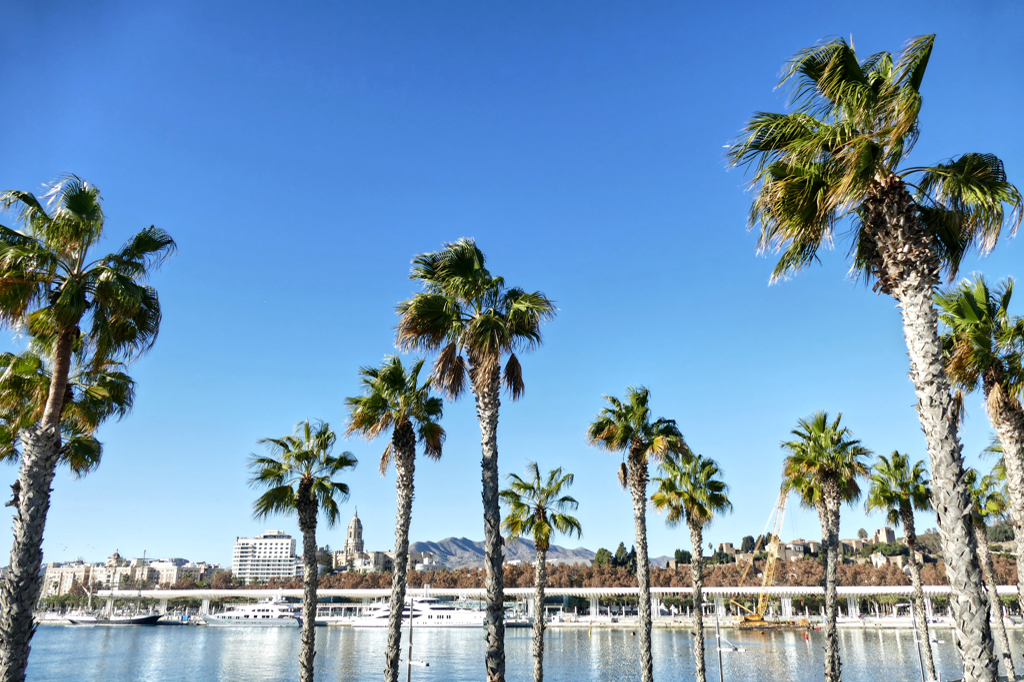 It's odd that Málaga is still quite underrated. Golden beaches, lush parks, fascinating old structures towering over the old town, an incredible number of bars'n'eateries, inspiring art museums, and cool street art – the city has so much to offer.
Málaga is located on the western Mediterranean on the Costa del Sol close to jet-set hot spot Marbella and former hippie hub Torremolinos. It is nestled between the Sierra de Mijas and Montes de Málaga mountains and has a very pleasant climate. Of all the cities in Southern Spain that I visited in winter, Málaga was by far the warmest one.
Málaga's History in a Nutshell
The Founding Years
Málaga was founded by the Phoenicians in the 8th century BC. Eventually, the settlement was under the rule of Carthage for a long time, but came under Roman hegemony during the Second Punic War.
However, the Vandals and the Alans, Visigoths, and Romans fought over Málaga for the longest time. Finally, the Visigoths gained rule in 616.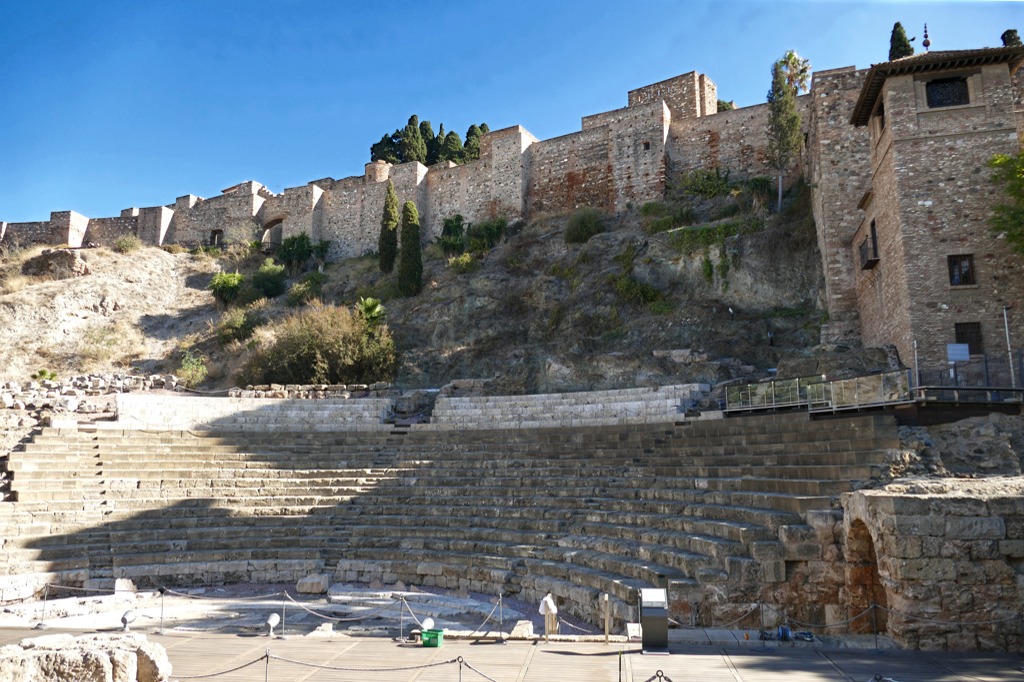 In 711, the Moors conquered Málaga. As the Hammudids, the heirs of the Caliphate of Córdoba, built one of their residences in Málaga, the city gained even greater significance in the early 11th century.
At the same time, Jews had to flee from orthodox Muslims in Córdoba and settle in Málaga. The Jewish quarter was in the eastern part of the city.
Reconquista
The Catholic Kings conquered Málaga in 1487. Right away, they transform the city into a new Christian settlement.
A period of religious intolerance and hostility began. As a matter of fact, Málaga's Jews were taken prisoners. Around 1490, it was decided that the city should be repopulated by Christians. Therefore, Jews and Muslims were given only 15 days to leave their homes in Málaga for good.
Resistance
At the beginning of the Spanish Civil War, the Republicans prevailed against the fascist troops. At this point, it's important to make clear that despite the same term, the Spanish Republicans have nothing to do or in common with the Republican party in the US. These anti-fascists supported the government of the Second Spanish Republic against Franco's nationalists.
Unfortunately, Málaga was on the front line and due to its port of strategic importance for both sides. It was connected to Republican territories only through the coastal road to Almería. In 1937, several thousand civilians attempted to flee the besieged city over this road as Nationalist forces invaded the city. During this massacre, an estimated total of 10,000 civilians – including children and old people – were killed.
The Ease of Being Starts Out Difficult
"Por diós, is it always like this?", I'm asking the cab driver as we are standing for what feels forever stuck between many other vehicles. Ah, now we're moving. Nope, just a few meters and we're stuck again. Damn. That I'm becoming increasingly exasperated doesn't really help and I try to control myself since the driver is annoyed enough with the traffic and I don't want him to kick me out. Wouldn't be the first time that it happens to me – as you might know from this post. So I'm controlling my edginess and try not to think of Ana who's waiting for me.
Who is Ana, you might ask? Well, Ana is working for the agency that is renting me an apartment and is waiting for me to hand me the keys. She is waiting at the right apartment while I for what reason ever was waiting at the wrong address. Funny, normally I'm so structured and organized – how did I end up at the wrong address in a random part of town? I think this trip is a bit too relaxing. I'm letting my guard down.
Ana and I are thirty walking minutes apart and I have this far too big and far too heavy suitcase so that walking is no option. Especially since I realized that I was at the wrong address far too late. Two valid reasons why walking is definitely not an option. Therefore I'm now sitting in this cab, picking nervously my cuticles while watching the numbers on the meter moving far faster than the car in the traffic.
The Marathon
The next morning at the apartment. The one at the right address where Ana had opened the door and handed me the keys yesterday evening.
I'm making myself a coffee – I still carry some ground coffee with me that I bought in Cádiz. After breakfast, I'm ready to hop on a bus and make it to Málaga's city center. On this road trip, I have no time to spare. The more or less two days I have for each city need to be filled with instant activity.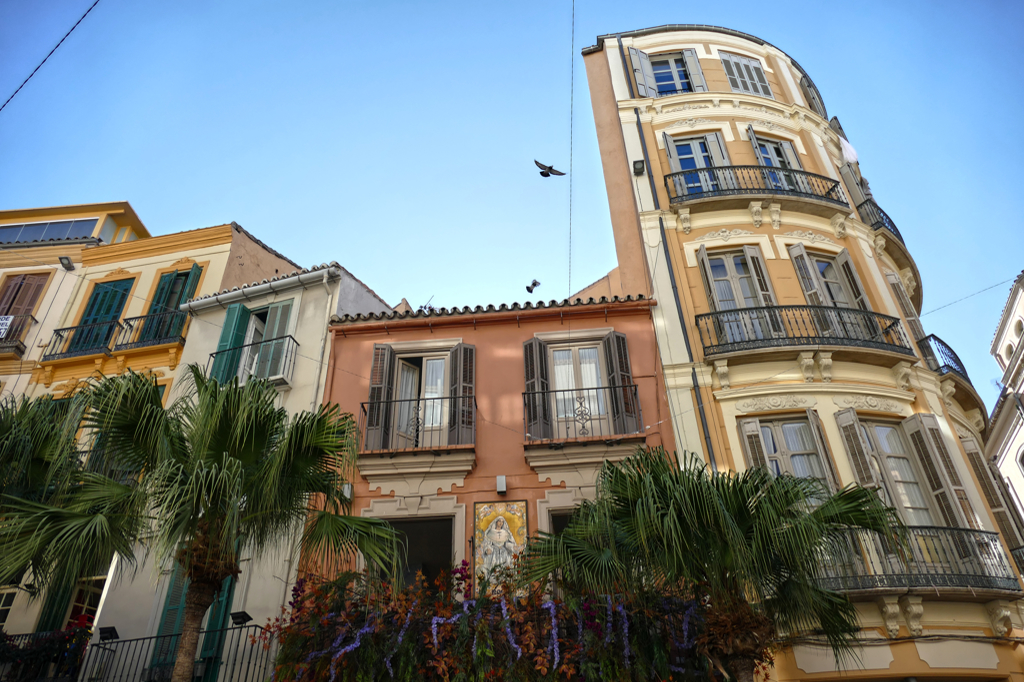 Unfortunately, while I'm ready for Málaga, Málaga isn't really ready for me. It's Sunday and there is a marathon blocking the entire city center. So, no bus for me. Somehow, I seem to have a general mobility problem in this city. While those sports fanatics are running their marathon, I'm running out of time.
But wait – Málaga is quite famous for its rich street art. And the neighborhood where artists from all over the world have embellished walls'n'buildings is off the city center, hence, not on the stupid marathon's route.
Art in Málaga
Urban Art
"No, there is no venue", explained the friendly receptionists at the hotel where I just barged in in my desperate search for the so-called MAUS. "You just have to walk around the neighborhood and you'll spot the works on the walls." Well, yeah, that's what I've been doing for the last twenty minutes. Albeit, with negligible success.
While it's an inspiring sensation as you spot some urban art unexpectedly, it is unnerving running around like a crazy woman as you are actually searching for it.
I'm afraid, the charm of the unexpected is also what the organizers of MAUS are counting on since there is no useful map of the works that are part of their art projects.
And also their website is far from being helpful.
Hence, I do as the reception lady told me and I walk around the Soho neighborhood with my eyes wide open and my camera ready.
Soho
Soho is an upcoming artsy neighborhood on the western outskirts of Málaga's center. Apart from cultural institutions like Antonio Banderas' musical theater Teatro del Soho CaixaBank, there is also the more sub-cultural street art collective MAUS, short for Málaga Arte Urbano Soho.
Whether it's performing or visual arts – Málaga is working hard to set a sky-high benchmark in the international art world.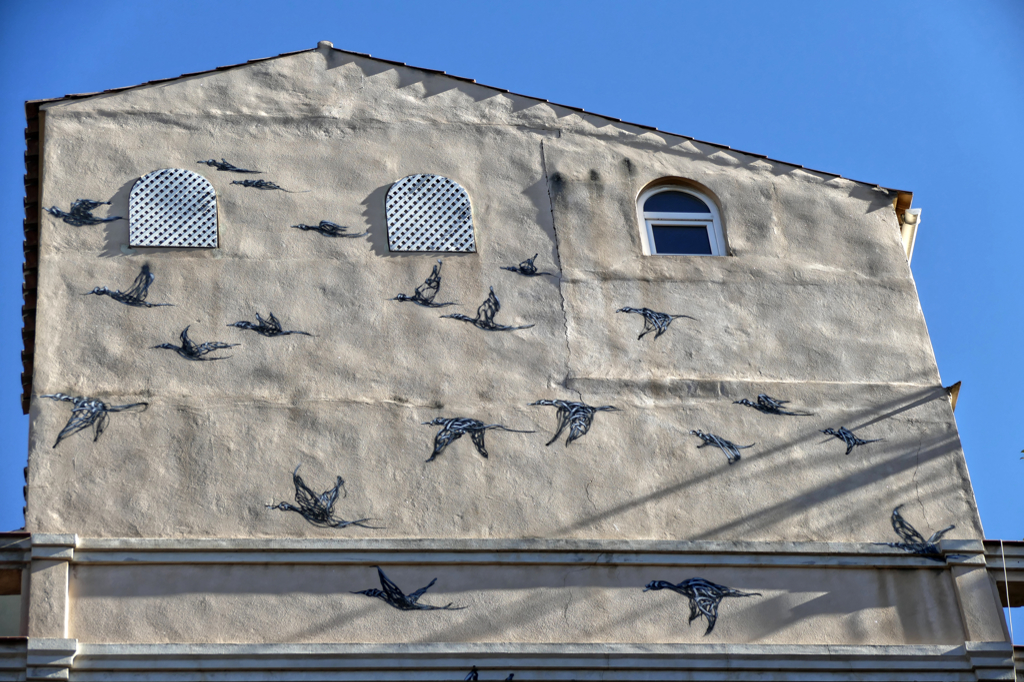 It would be a shame to leave you to these three murals. Therefore, I've dedicated an entire post with further info and many more paintings to the Best Sreet Art in Málaga.
Málaga's Five Most Important Art Venues
CAC Centro de arte contemporáneo de Málaga
I took the picture of the above façades as I was stepping out of another great asset to Soho's fame, namely Málaga's center for contemporary art.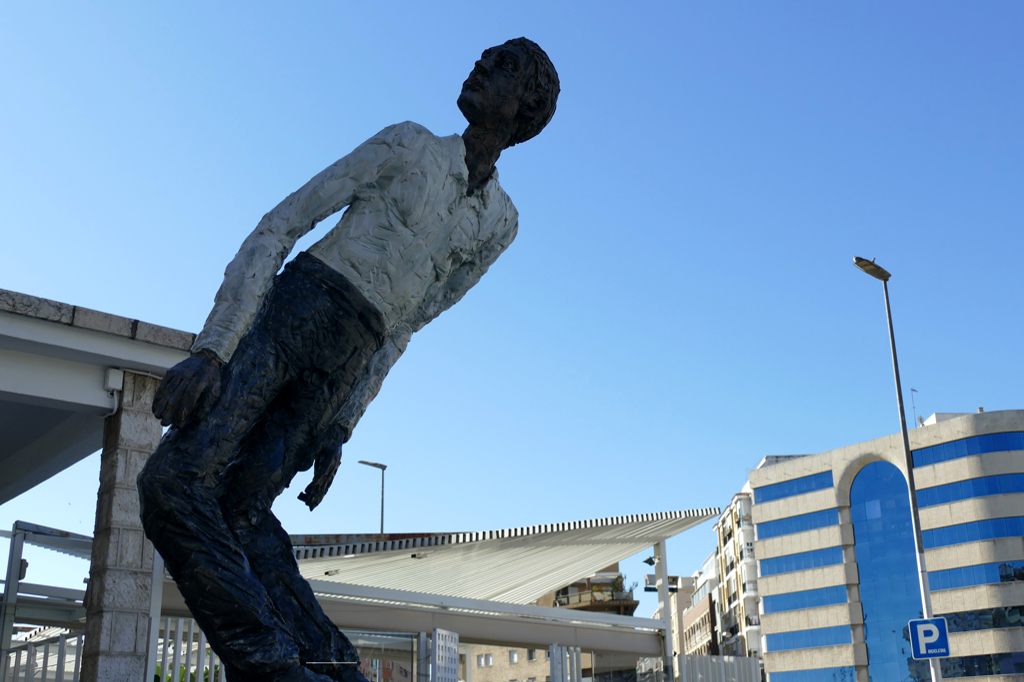 The CAC, which is short for Centro de Arte Contemporáneo de Málaga, is a cultural initiative of the Málaga City Council and has opened its doors in 2003. It is housed in the city's former wholesale market with a total area of ​​6,000 square meters. However, the exhibition space is only 2,400 square meters. Yet, it is one of the largest venues for contemporary art in Spain.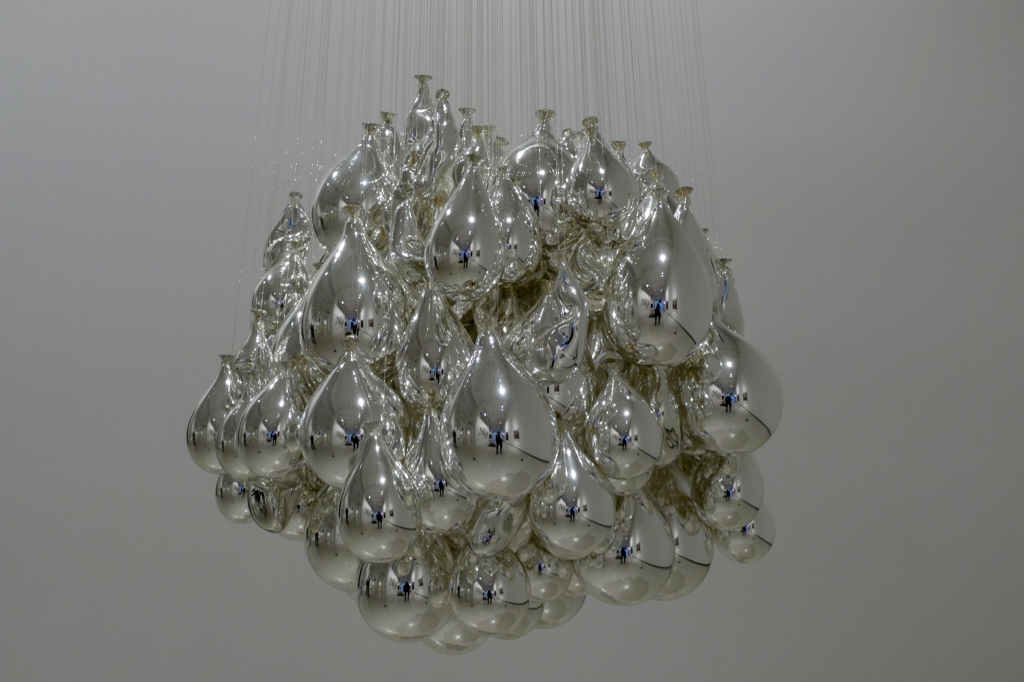 The gallery owns about 400 artworks, some acquired, some donated by institutions and individual collectors. Since its opening, the CAC has organized over 130 solo exhibitions and about a dozen group shows, among them Gerhard Richter, Louise Bourgeois, Anish Kapoor, Erwin Wurm, William Kentridge, and Tracey Emin, to name just a very few of the world-famous artists. However, the CAC is also strongly focusing on Spanish artists, including also promising newcomers.
Plan Your Visit:
The galleries are open in Winter from Tuesday to Sunday between 9 a. m. and 9.30 p. m. In July and August, they include a lunch break between 2 p. m. and 5 p. m. The entrance is free of charge. Mind you, there is another branch across town at the Subida Coracha below the Mirador de Gibralfaro which has different opening hours. You can check them out on their website where you'll also find information on their current exhibitions.
Colección del Museo Ruso
About 2.5 kilometers South of the Soho district is another unusual venue. La Tabacalera is a former tobacco factory. In 2004, Málaga's city council obtained and refurbished the structures for cultural events.
Málaga's tobacco industry has a long tradition going back to the early 19th century. In the 1920s, the tobacco company Tabacalera chose the so-called Huerta de San Rafael for the construction of eleven pavilions making up the factory complex. To this date, its regionalist architecture from that era is very alluring.
One of the two museum housed in the Tabacalera is the Colección del Museo Ruso. It is the first international branch of the State Russian Museum in Saint Petersburg. This stately institution provided some hundred artworks for the permanent exhibition. Another fifty pieces are then added for temporary shows.
Since its opening in 2014, the venue has hosted 18 exhibitions. At this moment, they are showing paintings themed Guerra y paz en el arte ruso, War and Peace in Russian art.
Plan Your Visit:
For a general entrance fee of 8 €uros, you can visit the museum from Tuesday to Sunday between 9.30 a. m. and 8 p. m. Note that on Sundays, entrance is free after 4 p. m.
Museo de Automoviles y de la Moda
The other museum at the Tabacalera is the Museo Automovilístico y de la Moda, a museum dedicated to the unusual combination of cars and fashion.
Starting with the year 1898, the exhibition guides you through the history of automobiles. Emblematic examples of the fashion from the 20th century are stylishly completing the display of luxurious babe magnets like Bugatti, Rolls Royce, Bentley, Jaguar, Mercedes, Ferrari, and many more.
Obviously, this museum is not for those visitors who are coming to Málaga mainly for the city's iconic landmarks and history. However, since the ensemble of those luxurious products is truly outstanding, a visit is certainly worth your while.
Plan Your Visit:
For a general entrance fee of 9.50 €uros, you can visit the museum every day from 10 a. m. and 7 p. m.
Centre Pompidou Málaga
As I've mentioned above, big names from the art world are dropping their anchor in Málaga, and the world-famous Centre Pompidou is certainly not the most humble name.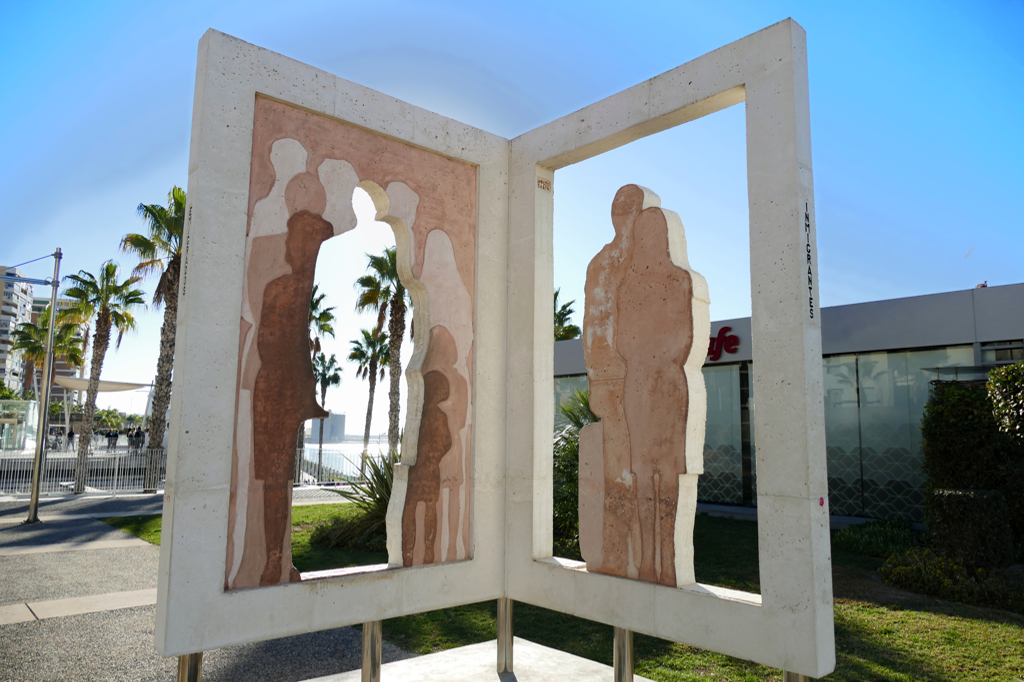 Just like the Colección del Museo Ruso in Málaga is the only international brand, also the Georges Pompidou National Center of Art and Culture of France established its first venue outside the motherland right here in 2015.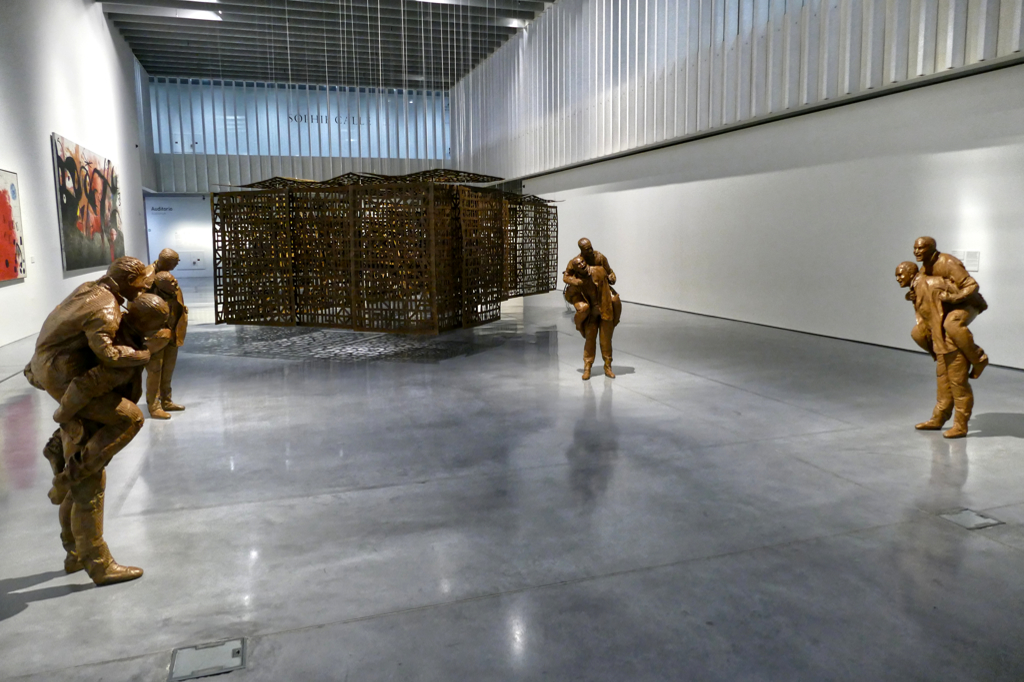 It stands next to Pier 1 at Málaga's port. The galleries are on two floors below street level. All that's visible from the outside is the so-called Cubo, a multicolored glass cube created by French artist Daniel Buren.
I apologize for repeating myself, but also the Centre Pompidou Málaga displays a semi-permanent exhibition of works from the 20th and 21st centuries that changes about every two years. It is completed by temporary shows.
Plan Your Visit:
For 9 €uros, you can visit the semi-permanent collection as well as the temporary exhibition from Wednesday to Monday between 9.30 a. m. and 8 p. m. On Sundays, entrance is free after 4 p. m.
Museo Carmen Thyssen Málaga
In case you haven't known her before, I'm pleased to introduce Spanish socialite and art collector Carmen Cervera.
Through her third husband, Baron Thyssen, señora Carmen came to set foot in the international art scene. Thanks to her engagement, Thyssen finally decided to relocate all of his art collections to Spain. In 1992, the Museo Thyssen-Bornemisza opened in Madrid.
Eventually, Carmen Cervera has put together her own collection by the name Colección Carmen Thyssen-Bornemisza. Since 2011, 285 works from this collection have been shown at the Museo Carmen Thyssen at the Villalón palace in the heart of Málaga. They are Spanish paintings mainly from the 19th and early 20th centuries. However, there are also some old masters such as Francisco Zurbarán.
The permanent collection is completed by temporary exhibitions.
Plan Your Visit:
The museum is open from Tuesday to Sunday between 10 a. m. and 8 p. m. The general entrance fee is 10 €uros, however, it's free on Sundays after 4 p. m.
Obviously, there are more museums and art venues such as the Museo Provincial de Bellas Artes, Museo Jorge Rando, Museo Revello de Toro, and others.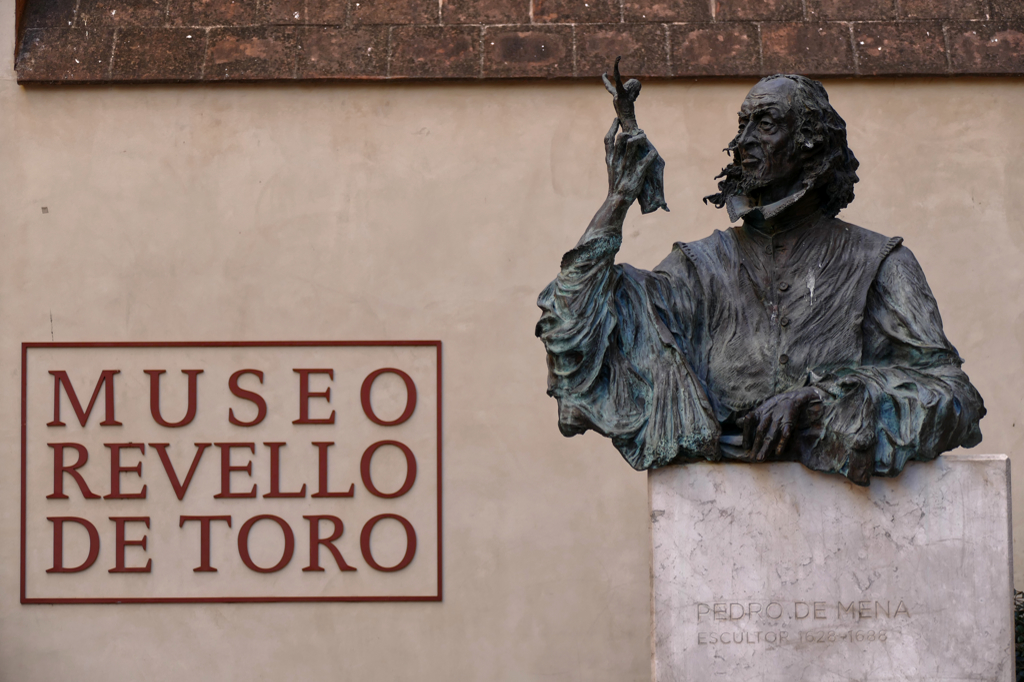 But since I had only two days – one of which was a Monday where many venues are closed – I'm listing only those you just cannot miss when visiting the city.
Pablo Picasso in Málaga
One gallery you simply cannot skip is the Museo Pablo Picasso, obviously. Born in Málaga in 1881, he is the city's most famous and celebrated son.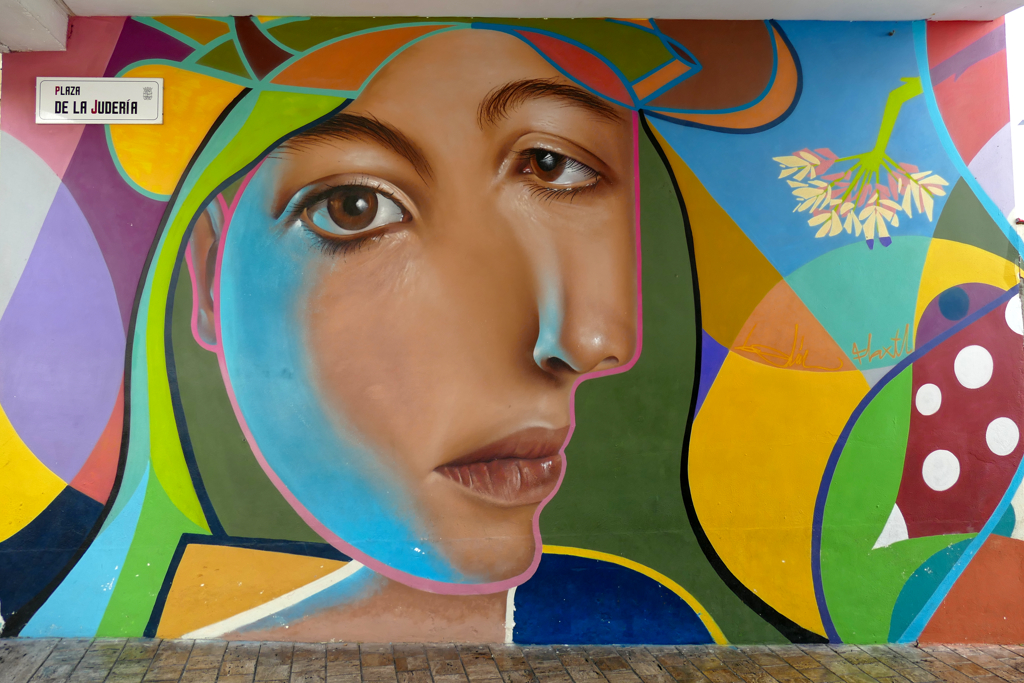 Casa Pablo Picasso
Pablo Ruiz Picasso was born on October 25, 1881 in a corner building at the Plaza Merced. He spent the first ten years of life here. Then, the family moved to La Coruña and eventually to Barcelona. He returned to his hometown during a couple of summers, however, never permanently. Yet, Málaga's social and cultural influence persisted in his work.
The house at the corner of Calle Merced, however, now houses a small museum.
There is one living room decorated in the fashion of the late 19th century, albeit the furniture did not really belong to the Ruiz Picasso family. Also, they re-installed the kind of workshop Picasso's father José Ruiz had at his home.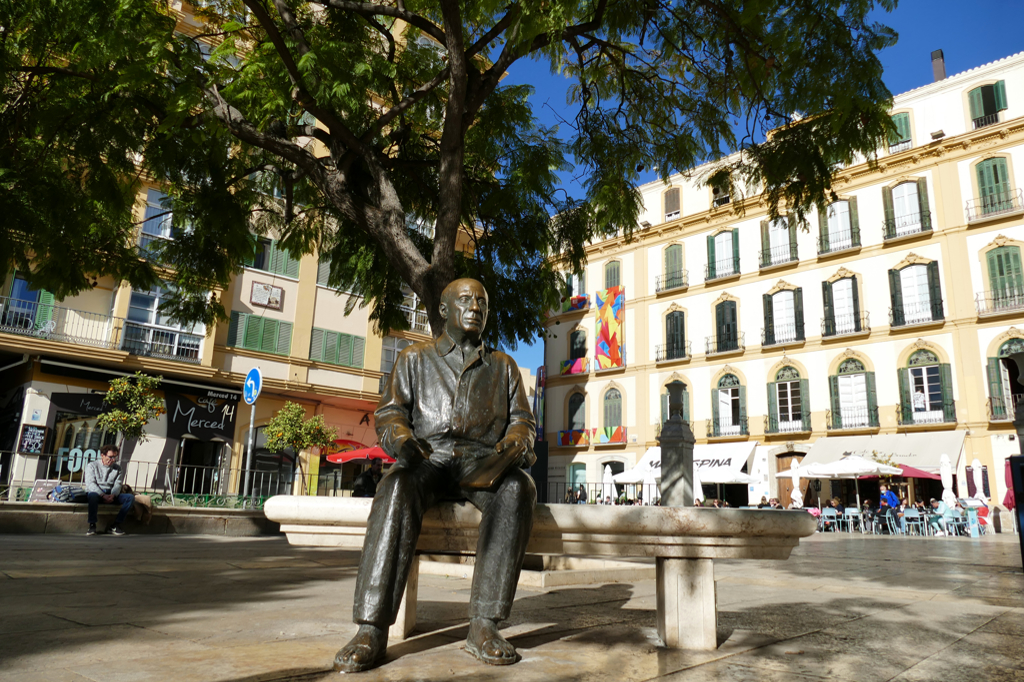 Other than that, there are some personal belongings like for instance his christening robe, photographs, postcards, and other items as well as comprehensive information, obviously
Plan Your Visit:
The museum is open every day from 9.30 a. m. to 8 p. m. The general entrance fee is 3 €uros, however, there is a combi ticket with the Centre Pompidou Málaga and the Colección del Museo Ruso for 16.50 €uros that might be interesting for you. But make sure to check the conditions for these venues since you might be able to visit them for free.
Iglesia de Santiago Apóstol
The Parroquia Santiago Apóstol is a Catholic church located in the Calle Granada off the Plaza de Merced. The style is a mix of early Gothic-Mudejar and Baroque from the early 18th century. Due to Andalusia's colorful past, these mixes of fashions are not unusual in the region.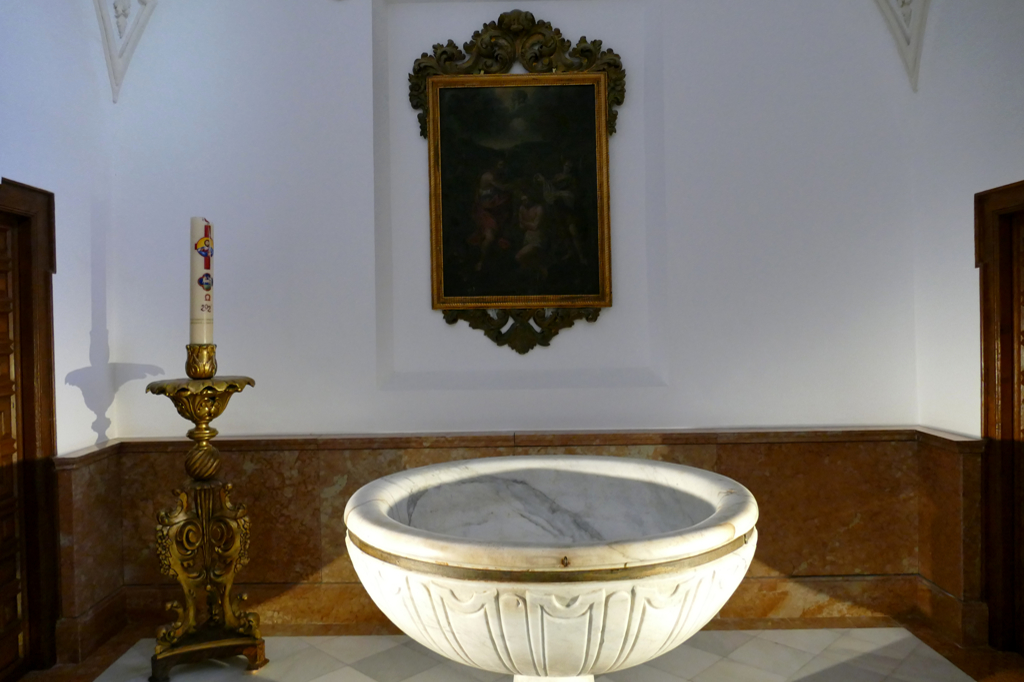 Construction began right after the Reconquista in 1487 so it was the first of the four parishes the Catholic Kings commissioned within the walls of the once Islamic city.
Another historic event, albeit he still lacked his later fame at that time, was baby Pablo Picasso's baptism in this house of worship.
Plan Your Visit:
The church is open every day with different hours on different days. Then, they differ in summer and in winter so I suggest, you check out their website.
Bullring
"Isn't bullfight illegal or banned or something?" "No!", Mónica looks at me as if I had committed the biggest sacrilege. Hey, just askin'. "The young people are opposed to it, though. My son would never visit a bullfight. But it's not banned. How do you want to ban such an important part of our culture?" We are standing way up high at the Alcazaba, overlooking Málaga's waterfront as I spot the arena and ask that mind-boggling question. "Look at the art of Pablo Picasso", Mónica continues to explain "There are so many toros in his painting. Bullfight is an important topic in so many of his pieces. And he always remembered how he was sitting on his father's knee watching the fights as a little boy". I leave it at this and zoom in to take a couple of pictures of the arena where little Pablo enjoyed all that blood.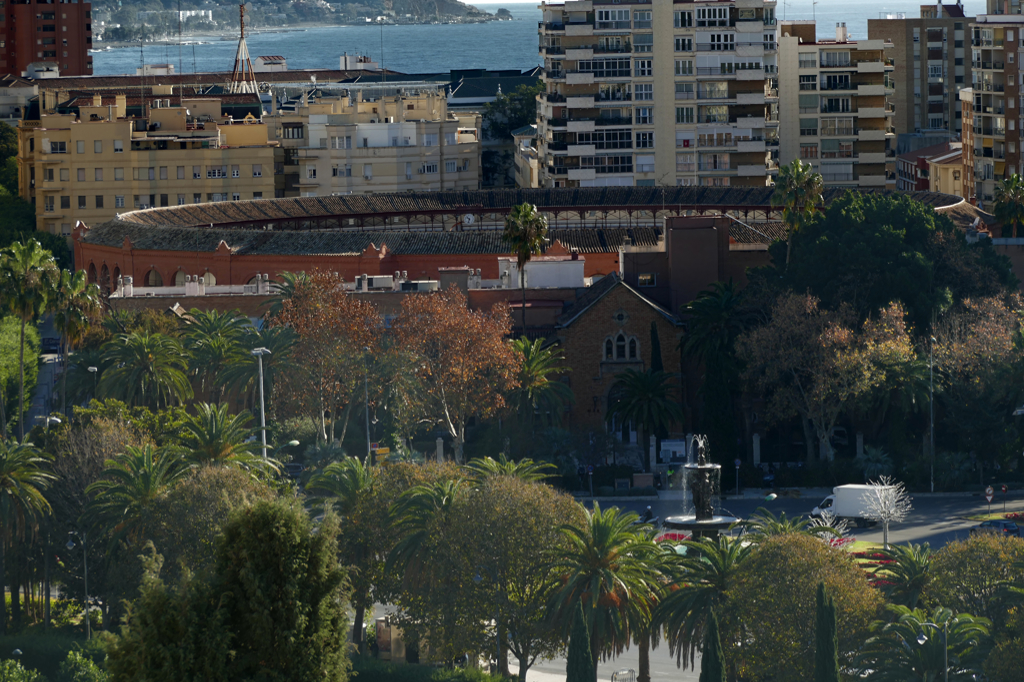 The Plaza de Toros, Málaga's bullring, was designed by Joaquín Rucoba in the Neo-Mudéjar style and opened in 1876. The hexadecane building can be best seen in its whole size and glory from above, hence, from the Mirador de Gibralfaro or from the Alcazaba.

In August, it hosts the Feria Taurina, the annual bullfighting fair. At Easter, however, the more intriguing Picassian bullfight is taking place. Then, the bullfighters are actually wearing costumes inspired by Picasso's paintings.
Between those two events, hence, while there is no bloodshed, the arena hosts concerts and other major events. And you can always visit the Museo Taurino Antonio Ordoñez, the bullfighting museum.
Plan Your Visit:
The museum is open from Monday to Friday between 9 a. m. and 2 p. m. The general entrance fee is 1.80 €uros.
Museo Pablo Picasso
Interestingly, the government of Andalusia acquired the Palacio de los Condes de Buenavista to set up the first museum entirely dedicated to the works of Picasso only in 1997. This building was chosen according to Christine Ruiz Picasso's wish to show her late father-in-law's work in a typically Andalusian building.
The palace dates from the 16th century and is another example of those Andalusian mixes of architecture, in this case, Italian Renaissance and Spanish Mudejar. Also, parts of the building indicate that it was built on the site of a Nasrid palace.
Formerly, it housed the Museo Provincial de Bellas Artes since 1961.
The galleries were opened in 2003. The American Institute of Architects awarded the Museo Picasso an honorary prize for the coherent remodeling of the almost 500-year-old structure in 2006.
Today, the permanent collection consists of more than 200 paintings, sculptures, and ceramics.
In addition, they are organizing temporary exhibitions of artists related to the master, obviously. At this moment, they are showing photographs of French-Hungarian photographer and Picasso's companion during their Paris years Brassaï.
Plan Your Visit:
The museum is open every day from 10 a. m. till 6 p. m. from November to January, till 8 p. m. in July and August and otherwise till 7 p. m. The general entrance fee for the permanent collection is 9 €uros and to the temporary exhibition 8 €uros. A combined ticket is only 12 €uros.
However, there is free admission on Sundays during the last two opening hours.
On The Waterfront
"Our home is our private space. Usually, we don't invite people to our home – we rather meet them at a bar", explains Mónica as we walk down the uneven and bumpy slopes and stairs of the Alcazaba. "We even have most of our meals at a bar – starting with breakfast", she goes on. "I mean with a climate like this", she points to the ink-blue morning sky "who wants to stay at home?" Being based in Northern Germany where the skies are rather colored in an elegant yet depressing grey, I cannot agree more. It's December and at 10 a. m., I have to take off my jacket since I'm getting hot – here in Málaga that is.
Malagueños are an outdoorsy breed and the city is ready for this. In no other Spanish city have I seen such a density of bars and restaurants. I've heard that in some Spanish cities, there are more bars than in all of Norway. This must definitely be true for Málaga.
But even if you happen not to be hungry and you might want to enjoy the ease of being, Málaga is the perfect spot for you. There are lush greeneries, beautiful promenades, and most importantly the gold-colored beach La Malagueta.
La Malagueta
As I pointed out above, La Malagueta is the place to be all year round – day or night. Andalusia's Costa del Sol is called the sun coast for a reason. There are incredible 325 days of sunshine. However, the beach is not only the perfect place for swimming and sunbathing. The clear blue water also offers excellent conditions for all sorts of water sports.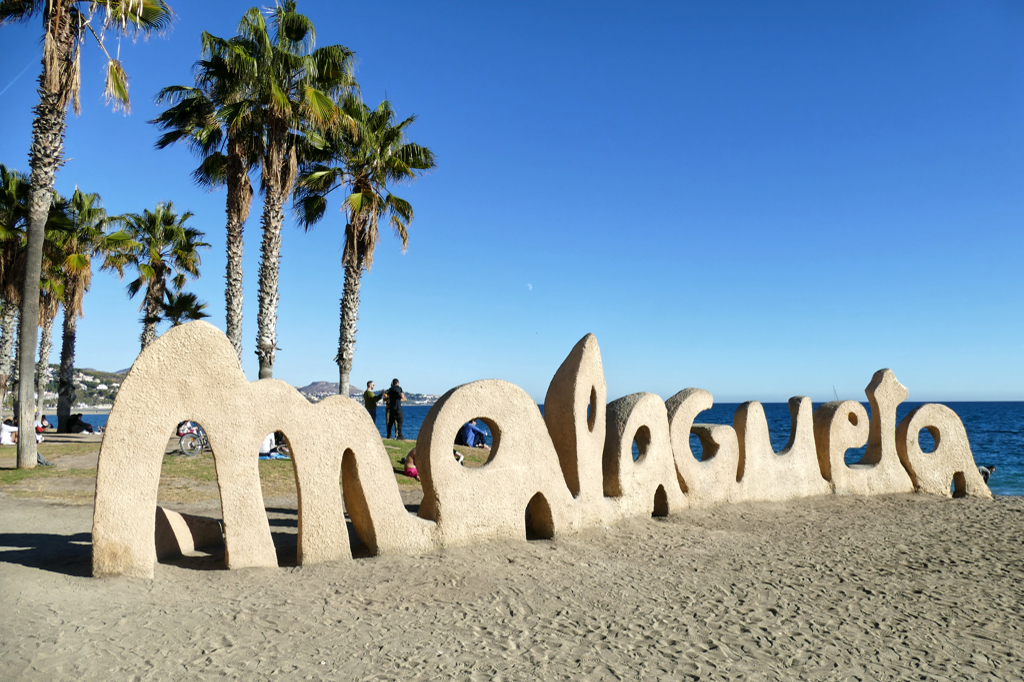 Although the beach is really beautiful and also very close to the city center, it never gets annoyingly full. Since it's about 50 meters wide and more than 1.2 kilometers long, every visitor finds a pleasant spot. Like on most Spanish coastal towns, the beaches are kept clean and are very well-maintained. You'll find showers and toilets. There are playgrounds for kids, sports courts, and kiosks. Obviously, there are lifeguards on duty.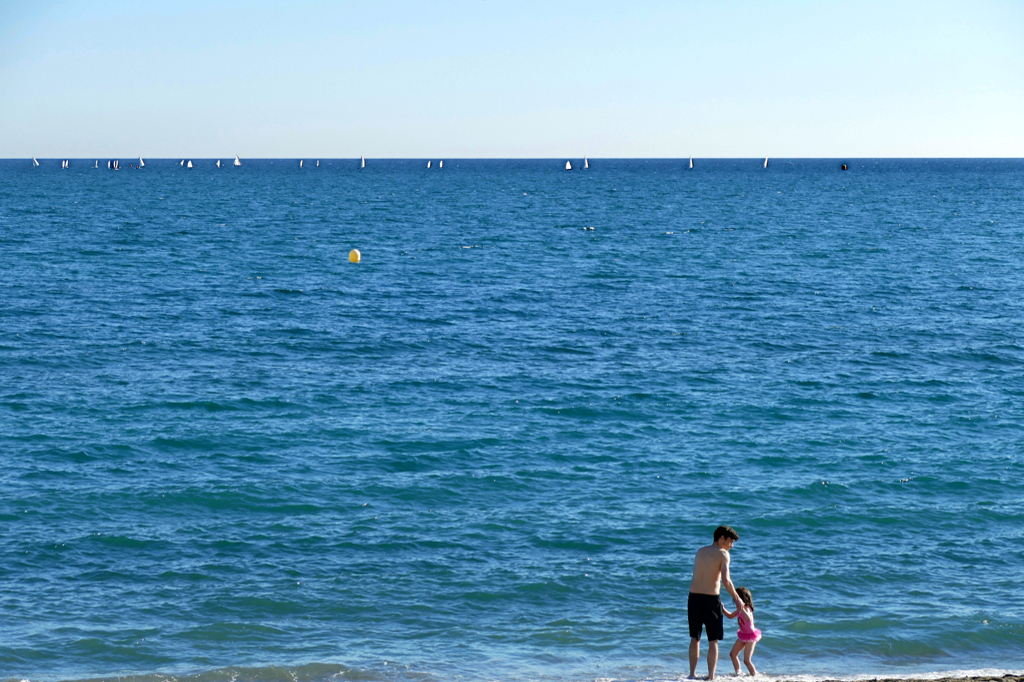 The most iconic feature, however, is numerous chiringuitos, small beach restaurants serving barbecued fish and shellfish. I'll get back to these delicacies in the What To Eat section below.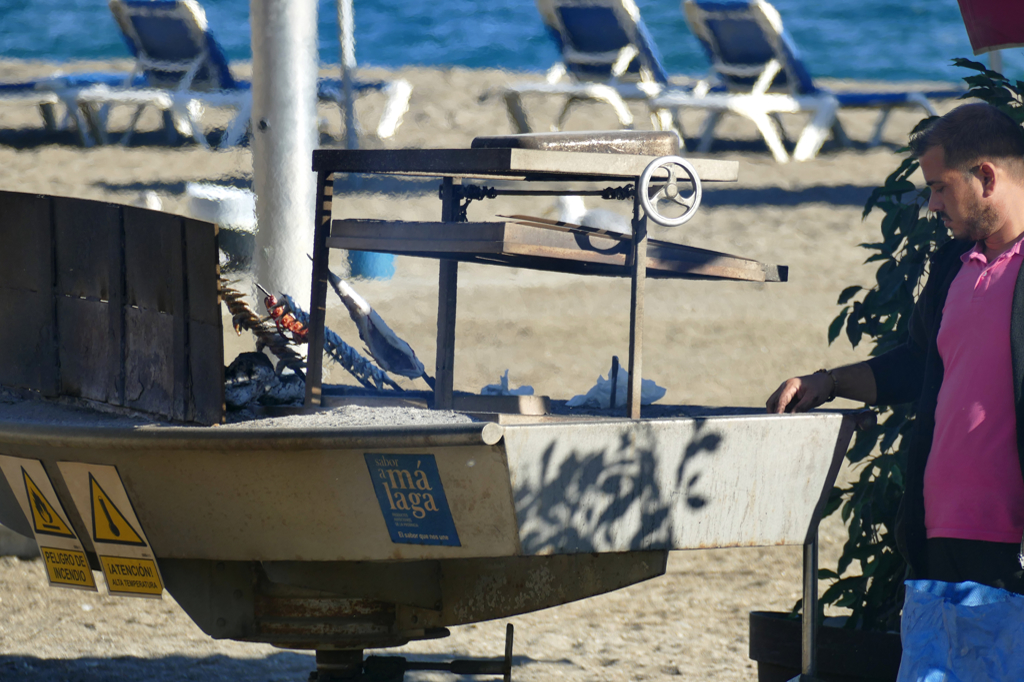 La Malagueta starts just north of the port across from Muelle Uno. You can easily walk there from the center in less than 20 minutes. Or you hop on bus lines 3, 11, or 34.
Parque de Málaga
The Parque de Málaga is a garden stretching between the city center and the pier eastwards from the Plaza de La Marina all the way to the Plaza del General Torrijos.
The park's foundations go all the way back to 1899. However, it was continually developed over the decades to its current appearance. Apart from a wide variety of plants and many tall trees, you'll spot numerous sculptures and fountains while wandering around or resting on one of the benches. If you are a big botanist, you'll find the names of the tropical and subtropical plants on small signs next to them.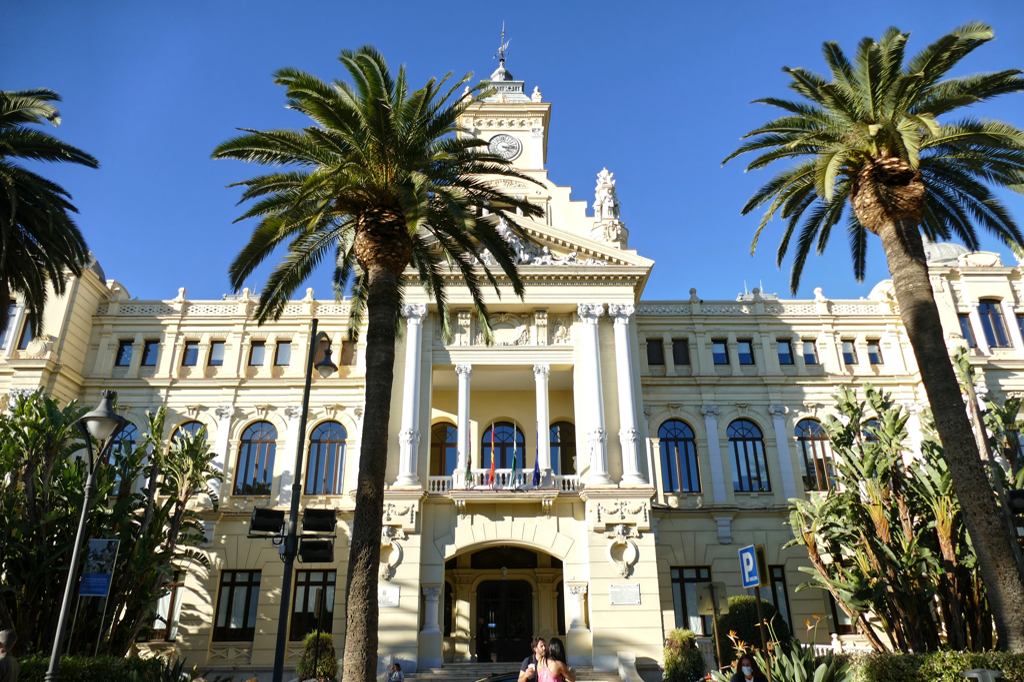 The park is not just some pretty garden. During the week, Malagueños are spending their lunch break here.
Palmeral de Las Sorpresas
While the Muelle Uno, Pier One, runs parallel to La Malagueta, the Palmeral de las Sorpresas makes up the Muelle Dos, Pier Two. The grove consists of 408 palm trees planted on 26,700 square meters.
Walking under the elegant pergola of the Palmeral de las Sorpresas today, it's impossible to imagine that this area used to be Málaga's industrial harbor. The transformation from an unappealing storehouse and silo zone to today's Palmeral cost around 40 million €uros. And keep in mind that the city won't make money from this project since no shops are allowed on the 650 meters. Even restaurants are very few. It is designated exclusively for leisure.
What Not To Miss In Málaga
Catedral Nuestra Señora de la Encarnación
The Christian conquerors built the cathedral of Málaga over a mosque – just like many other houses of worship – in 1528. According to the original plans, two towers were intended. Yet, due to lack of funds, only one was actually completed. Also, the main façade remained unfinished.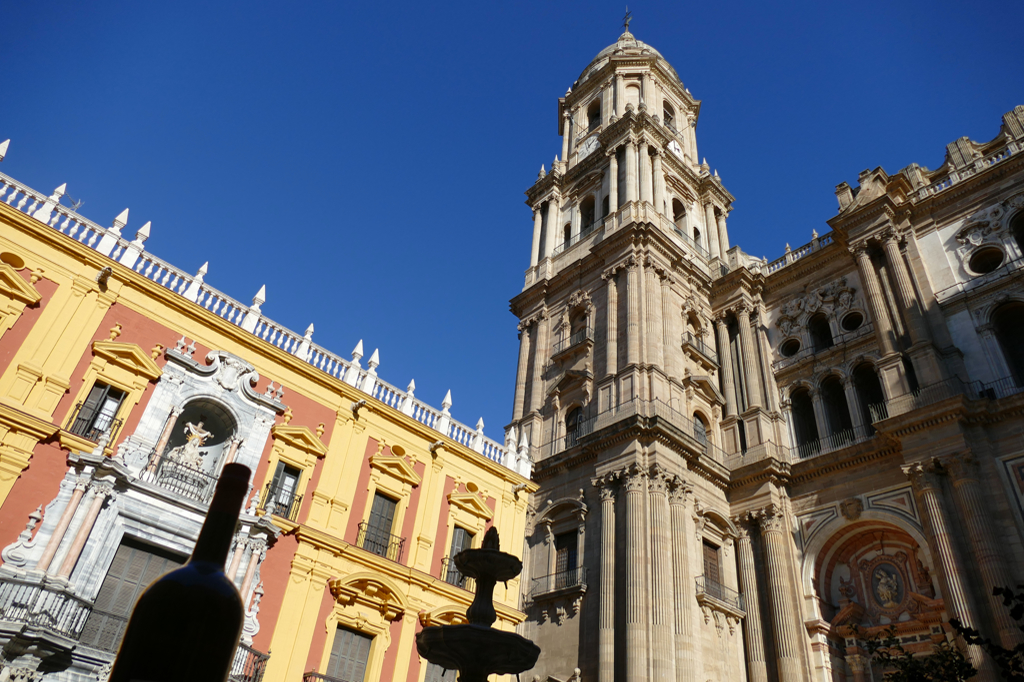 Due to a construction period of 254 years, the church shows an eclectic mix of architectural styles. While there is mainly lots of Renaissance, you'll recognize also some Gothic, Baroque, and Neoclassicist elements.
The interior is mostly Renaissance and Baroque. The choir stalls were designed by Luis Ortiz and made from mahogany and cedar in the 17th century. Pedro de Mena made 42 carvings to embellish the choir.
There are also two magnificent organs with over 4,000 pipes from the 18th century that are frequently played to this date.
The former Chapter House houses the Museo Catedralicio where you can admire pieces from Malaga's Cathedral as well as from other places.
Plan Your Visit:
The Cathedral is open for touristy visits from Monday to Saturday between 10 a. m. and 6 p. m. and Sundays only from 2 p. m.
The entrance fee to the Cathedral is 6 €uros. If you want to climb on the roof – you can do so from through a separate entrance at the courtyard – it's also 6 €uros, however, a combined ticket is only 10 €uros. A nightly visit of the roof costs also 10 €uros.
Alcazaba
And now back to Mónica. I meet with her at the foot of the old Alcazaba. It's still early so that we have the historic structures basically to ourselves as she's guiding me – not only through the former fortress but actually through the centuries back in time.
There were simple fortifications even before the Alcazaba on the hill that rises above the city. The Moorish Sultan Bādīs commissioned the Alcazaba in the 11th century. The Almoravids conquered Málaga in 1092. Yet, they were conquered by the Almohads only about 50 years later. Eventually, the emirs of the Nasrid Empire who resided in Granada brought the city under their rule.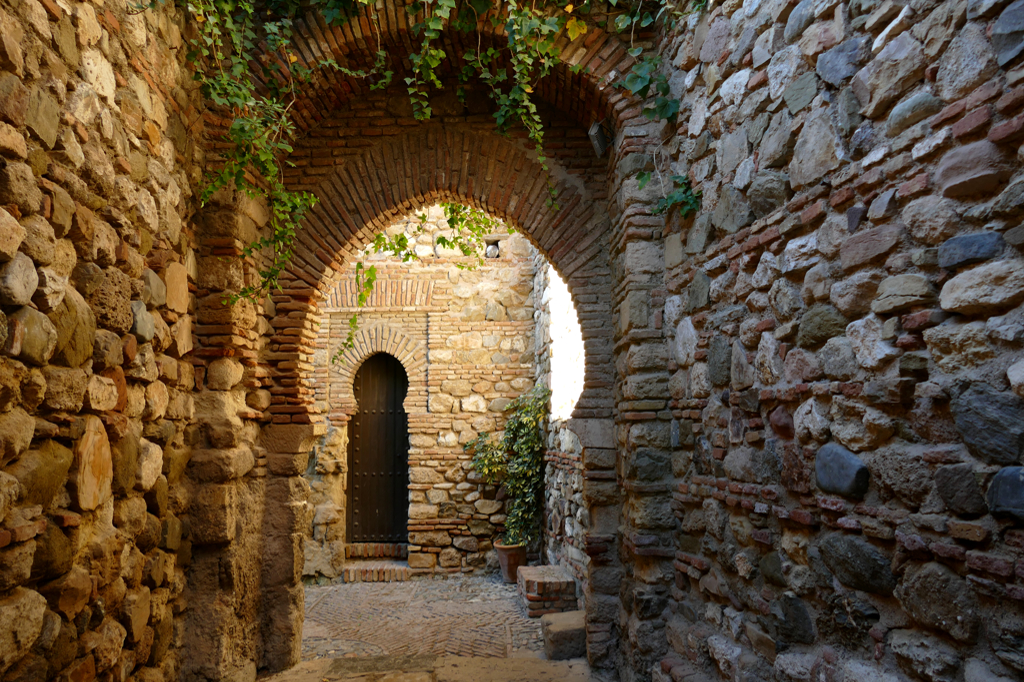 And then, as mentioned many times, the troops of the Catholic Kings Isabella I of Castile and Ferdinand II of Aragón infamously overpowered Málaga after more than three months of siege. That was it for the Moorish heritage.
Nevertheless, the reconstructed walls and some ramparts are preserved to this date. They are built from alternating layers of bricks and unprocessed stones adopted from the ancient Roman style of building. Yet, this is not the Moors' only reference to their Roman predecessors in Andalusia. Clearly Moorish, however, is the courtyards and gardens full of picturesque orange trees and fountains.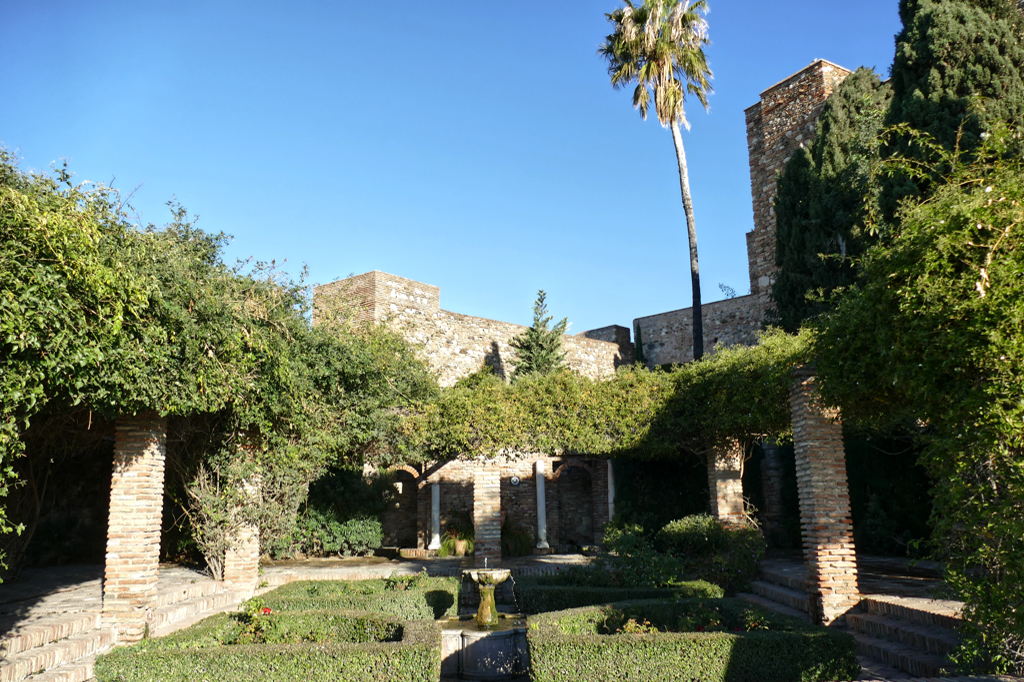 The Alcazaba rises on a ridge. It is connected to the Castillo de Gibralfaro over a reinforced corridor. Nasrid King Yusuf I commissioned this passageway in the 14th century. At this time, it is not possible to hike from one fort to the other on the ridge. Yet, the city is planning to re-open the old corridor. Then, a visit to these two historic jewels will be even more alluring.
Plan Your Visit:
The Alcazaba is open from April to October from 9 a. m. to 8 p. m. and from November to March from 9 a. m. to 6 p. m. The general entrance fee is as little as 3.50 €uros.
Roman Theatre
The Roman Theatre is located on the west slope of the Alcazaba hill. It was built during the reign of Augustus and then used until the 3rd century.
Interestingly, it was used as a cemetery in the 5th and 6th centuries. Also, it became a quarry for restructuring the Alcazaba. As a matter of fact, the Roman Theatre remained undiscovered for centuries and was found only in 1951.
The theatre has three parts: the seating section, the orchestra pit, and the stage.
Plan Your Visit:
The Roman Theater is open Tuesday to Saturday from 10 a. m. to 6 p. m., Sundays only till 4 p. m. Entrance is free of charge, however, there are limited capacities due to the pandemic.
Gibralfaro
I've mentioned the Castillo de Gibralfaro already above. This ruin on the top of a hill east of the city center is one of the most important historical sights of the Málaga.
Apparently, there had been a fort already on this 135 meters high hill already in ancient times. Then, Emir Abd Al Rahman III transformed it into a Moorish fortress in the 1st century. Eventually, Yusuf I of Granada remodeled and extended it into a palace-fortress in the first half of the 14th century. Finally, the troops of Catholic Kings Isabella I of Castile and Ferdinand II of Aragón conquered the castle in 1487.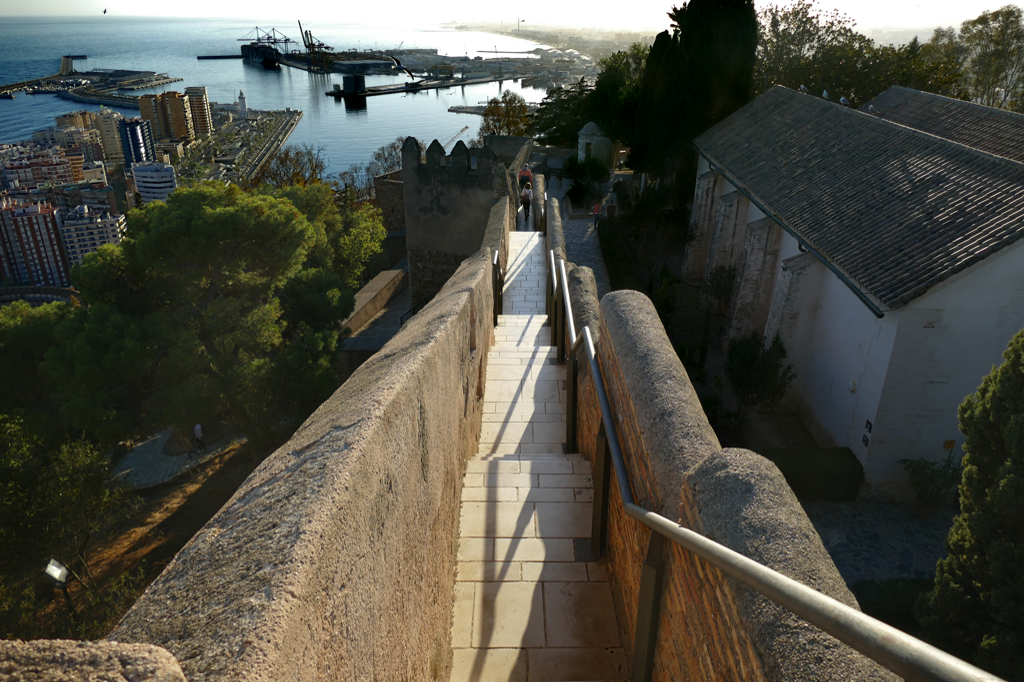 According to the ancient Roman style, the fort's outer walls are constructed from alternating layers of unprocessed natural stone and bricks – just like the Alcazaba.
The former Powder Tower now houses a small museum where you get to see armor, swords, and other historical objects.
The main reason to visit the Gibralfaro, however, should be the grand views of the city and far beyond. To get good pictures, I recommend a visit before noon so that the sun is in the east and doesn't impair your shots.
Plan Your Visit:
From April to October, the fortress can be visited from 9 a .m. to 8 p. m., from November to March only till 6 p. m.
The general entrance fee is 3.50 €uros, a combi-ticket with the Alcazaba sets you back 5.50 €uros. Also, entrance is free on Sundays after 2 p. m.
My Tip:
Most people are walking up the hill to the Gibralfaro. I won't say it's not possible, but if you are tired from all the walking, there is an option to go there by bus. You can catch bus number 35 at the Alameda Principal, the trip costs 1.30 €uros. However, keep in mind that this bus runs only every 45 minutes, therefore, you might want to consult this timetable.
Practical Information
How to Get There
Plane
Málaga has the fourth biggest international airport in Spain. In summer, there are even seasonal flights from New York.
There is a bus for only 4 €uros going to the city center every 20 to 25 minutes between 7 a. m. and midnight. You can buy your ticket from the driver, but note that he takes only cash. The coach then stops at the Alameda Principal and at Paseo del Parque. Here, you can change to most of the local buses.
There are also long-distance buses going to some of the neighboring cities like Marbella, Estepona, and Algeciras, hence, you won't get stranded.
Alternatively, you can also take a train downtown. The station is opposite arrivals terminal 3. Line C1 is going to the city center every 20 minutes between 5.42 a. m. and 11.20 p. m. and costs only 1.80 €uros. You can obtain your ticket from a vending machine.
If you are travelling further by train or long-distance bus, get off at Málaga María Zambrano station. If you are staying at the center, make sure to go to the final station Centro-Alameda.
The most comfortable option is taking a cab, obviously.
If you want to continue your trip by rental car, you'll find various companies right at the airport. However, it is recommended to book your vehicle in advance.
Long-Distance Bus
Travelling by long-distance buses between cities in Andalusia is actually a comfortable option. The cheaper prices make up for the little loss of time compared to trains. Also, sometimes there are more bus connections than trains. Málaga's main bus station is right across the street from the train station María Zambrano. However, at the city center close to the port is the Muelle Heredia bus station. It's the hub for regional buses that serve Málaga's surroundings and nearby beach towns.
Train
Málaga's new and quite posh train station María Zambrano is just minutes west of the city center. From here, connections to Madrid take about 2.5 to 3 hours. Córdoba is just one hour apart and Seville two. If you continue to Granada, as I did, taking the bus might be more convenient since you always have to change trains.
Ferry
There is a ferry route between Málaga and Melilla in North Africa with Transmediterranea. But for a while now, Spain's North African enclaves Ceuta and Melilla in Morocco have been closed.
My Tip on Packing:
If you are going to Málaga – or to any other Spanish city for that matter – you definitely can leave your kitchen sink at home. You simply should travel light which will make your trip smoother and cheaper – at least when you are opting for one of the low-cost airlines that charge extra for basically everything.
I was travelling during wintertime, hence I took a bigger bag to carry more bulky clothes – and I really regretted it. I should have limited myself to hand luggage no matter what. Big luggage is really difficult to pull over those cute cobblestones. And since I stayed at apartments in two places, Cadiz and Málaga, I even had a washing machine at my disposal.
How to pack light? That's easy: Just read my post on Packing Light – Travelling in Style and you'll be all set. Also, you're not going to the jungle – there are shops'n'stores everywhere, so in the unlikely event that you've forgotten something really important, you'll be certainly able to obtain it right on the spot.
Next time, I should really listen to my own advice…
How To Get Around
Walking
On the one hand, walking is a bit more comfortable than in other cities since there are far fewer cobblestone alleys. On the other hand, the distances between many landmarks and museums are much longer. Therefore, you'll probably use public transportation more often than in other cities in Andalusia.
Public Transportation
Like most European metropoles, Málaga has a comprehensive, well-functioning bus network. Also, there is a metro of two lines which is not very important for visitors.
While some of the most interesting museums and landmarks are in the city center, there are also some important spots like the Gibralfaro as well as the Malagueta beach and some museums like the Colección del Museo Ruso. These places are on the outskirts, a bit too far, and therefore better reached by bus.
A single ride costs 1.30 €uros. When buying your ticket from the driver, make sure to have small change or a bill of 5 €uros max.
If you're planning on taking the bus more often, it's worth getting a ten-trip pass for 8 €uros at kiosks. However, you need to add a reimbursable deposit of 1.50 €uros. But since the card is so very pretty, I kept it as a small souvenir.
Where to Stay
Málaga is a touristy city, consequently, there is a wide choice of accommodation – however, nice hotels are not exactly cheap.
I stayed at the apartment SW Olletas* ten minutes north of the city center. While it was totally okay, there might be better options especially if you are willing to pay a bit more. Therefore, on this map, you can choose convenient lodging options according to the price and the location you want to stay in*:
What to Eat
There is an overwhelming number of bars and restaurants in Málaga where you can enjoy a glass of beer or wine with some tapas, varied small snacks.
Tapas can be the Spanish potato omelet tortilla española, slices of serrano ham, diced cheese, olives, small sandwiches, a blob of ensalada rusa, potato salad with mayonnaise – you name it. They are called tapas since they used to cover – tapar – drinks with these snacks.
A larger portion is called ración and the slightly smaller version media ración.
If you are really hungry, the menú del día might do. It's usually a three-course meal that you can combine to your liking from different starter, main course, and dessert options. Often, water and even wine are included.
One dish you cannot miss out on in Málaga is espetos, sardines skewered on a bamboo stick and grilled over driftwood. However, they will also prepare all types of other fish deep-fried to your liking.
Another regional specialty is fish marinated in garlic and vinegar called cazon en adobo.
To enjoy all these delicacies in the nicest setting, go down to the harbor front or even better, to one of the chiringuitos, picturesque eateries, on the beach.
When in Málaga…
In a sunny region like Andalusia where everyday life takes mainly place outside, dining al fresco is not luxury. And it starts with breakfast.
There are many small bakeries and delis selling all kinds of sandwiches and empanadas. If you have a sweet tooth, you'll also find a great variety of delicious pastries.
Therefore, if your hotel does not offer any breakfast, just enjoy your morning coffee at one of Málaga's many bakeries, rubbing shoulders with the locals.
Cash, Cards, and Deals
Until now, 20 European countries replaced their former local currency with the €uro starting in 2002. Obviously, Spain is one of them. The exchange rate is 1 US$ = 0.94 EUR as of January 2023. However, you can check today's conversion rate on this page.
You can pay with credit cards basically everywhere – as a matter of fact, due to the pandemic, most businesses prefer contactless paying by credit card for safety and hygienic reasons.
Málaga Pass
There is a Malaga Pass granting free access to numerous museums and attractions as well as discounts at certain hotels, shops, and other services. It costs 28 €uros for 24 hours, 38 €uros for 48 hours, 46 €uros for 72 hours, and 62 €uros for a week.
Honestly, I would argue that at least the 24 hours-option is not worth it since there is just so much you can do in one day. Also, you should keep in mind that many venues are free on Sunday afternoons. So, I really recommend doing the math.
Also, remember that the pass does not include public transport. However, you get a 15% discount on the hop on hop off bus.
Connection and Communication
Since June 2017, no roaming charges apply within the EU with a European mobile phone contract, This applies in all 27 countries of the European Union as well as in Iceland, Liechtenstein, and Norway and to all contracts.
In case European roaming is not available, you can connect to the internet without any issue at basically every museum, eatery, or café, and, of course, hotel.
If you insist on being online 24/7, you can get a SIM card, obviously. The cheapest one would be Lycamobile while Orange Tu Mundo has the widest coverage.
In Spain, they use plug types C and F. Their voltage is 230 V and the frequency 50 Hz. Whereby, as nowadays, all these chargers have integrated adapters, in general, the voltage and frequency don't really matter.
By the way, you'll find this information and many more comprehensive travel tips in my post World's Most Complete Travel Information – an indispensable globetrotter-classic.
Language
Obviously, the official language is Spanish. If you want to learn some basic Spanish or just brush up on your knowledge, there are various apps and online tools. I personally like to practice with babbel. However, due to international tourism, many people speak at least some rudimentary English.
Nevertheless, here are some ground rules to Spanish pronunciation since saying for instance city names wrong can cause some problems.
Say It Right
In general, you read Spanish the way it's written. You only have to know that the letter J is rather breathed than pronounced – a bit like the H in house. If you speak for instance German, Flemish, or Czech, you get even closer by pronouncing it like a CH in echt.
Always, no exception.
This applies also to the letter G, but only if it stands before an E or an I. If it's followed by A, O, or U, it's pronounced like the G in guitar, hence, hard. This is also the perfect example of how to make a G sound hard before an E or an I: They squeeze in a mute U.
Another tricky letter for foreigners might be the letter C. Same rule as above: before an A, O, or U, it's hard and pronounced as K. Followed by E or I, it is pronounced like an English th – at least in Spain, Latinos don't do that, they pronounce it like a normal S. Now, if you want that th-sound in combination with A, O, or U, the letter Z comes in the picture. So Cádiz is pronounced Kadis, and Zaragoza Tharagotha or Saragosa.
On the other hand, if you want C to sound hard in combination with E or I, you make it a QU – but again, you don't hear the U. Fine example: Tequila, that you pronounce like Tekkila.
The last trap is double L which is not pronounced like an L but like a Y in yellow. So it's not Malorca, but Mayorca. However, don't overdo it: When a word is written with just one L like Málaga, it's a simple and innocent L.
Alone No More
Although I'm an avid solo-travelling woman, I sometimes like to join organized tours. Not only are they a valid option to go to remote places since I'm not driving. They also allow me to meet fellow travellers – for just a short moment or a lifelong friendship.
Therefore, here are some great ideas of what to do when visiting Málaga. Especially during high season, pre-booking online will guarantee your place at the activity of your choice*:
Map
This map should help you to find all the wonderful places I'm introducing in this post.
Málaga was only one of many amazing cities I visited during my road trip through Andalusia. To read about the others, go to the main post and take your pick! There, you'll also find further valuable general information that will make your own trip much smoother and more enjoyable.
Pinnable Pictures
If you choose to pin this post for later, please use one of these pictures:
Note: I'm completing, editing, and updating this post regularly – last in January 2023.
Did You Enjoy This Post? Then You Might Like Also These:
* This is an affiliate link. Hence, If you book through this page, not only do you get the best deal. I also get a small commission that helps me run this blog. Thank you so much for supporting me!