It's a common phenomenon that particularly the capital cities of the various Canaries are probably the least visited places on the isles. Santa Cruz de Tenerife is no exception. And while I've called Las Palmas de Gran Canaria as well as Puerto del Rosario on the island of Fuerteventura underrated, I really cannot say that about Santa Cruz. There isn't that much shaking there and it's certainly not a place to write home about. Nevertheless, if you are based on the northern coast or happen to pass through, it's certainly worth it to spend at least half a day in Santa Cruz de Tenerife since there are some interesting places to visit, and I'm introducing them all in this post.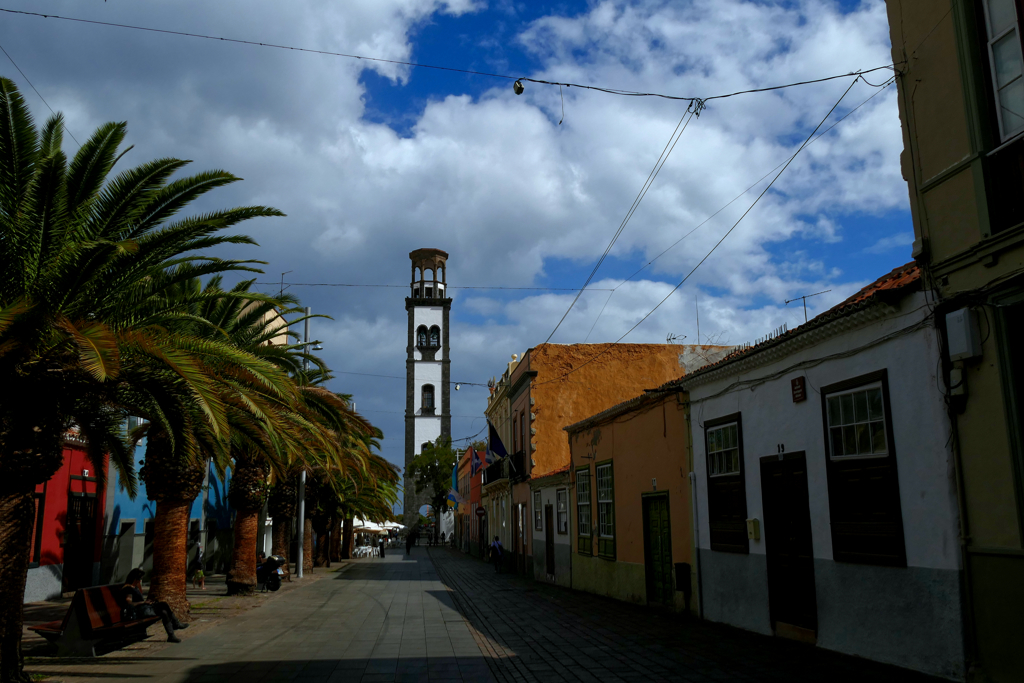 Baby, It's Cold Outside
You know how I am: I have FOMO, and I have it bad. Consequently, I would have visited Santa Cruz de Tenerife in any case. Initially, I even planned on making Tenerife's capital the base during my stay on the island. Finally, I decided against it since Puerto de la Cruz was more centrally located between the places I absolutely wanted to visit. However, Santa Cruz was still on my list.
That I finally visited the city on my very first day, was due to the wonderful phenomenon called microclimate. Passengers who had boarded the plane in Fuerteventura wearing tanktops'n'flipflops literally froze as we landed at Tenerife's northern airport. When we disembarked, the view was nil – we couldn't even make out the planes standing next to ours in the dense fog. It was dark, it was humid, and it was freezing cold. Everyone rummaged hectically through their luggage in search of a warm sweater and long pants. A forecast check depressed me: This would be it for the next few days.
Not So Fast
For a moment, I was actually tempted to change my plans of exploring the beautiful and lush northern coast and heading south toward the purgatory of mass tourism. There, the forecast was so much friendlier.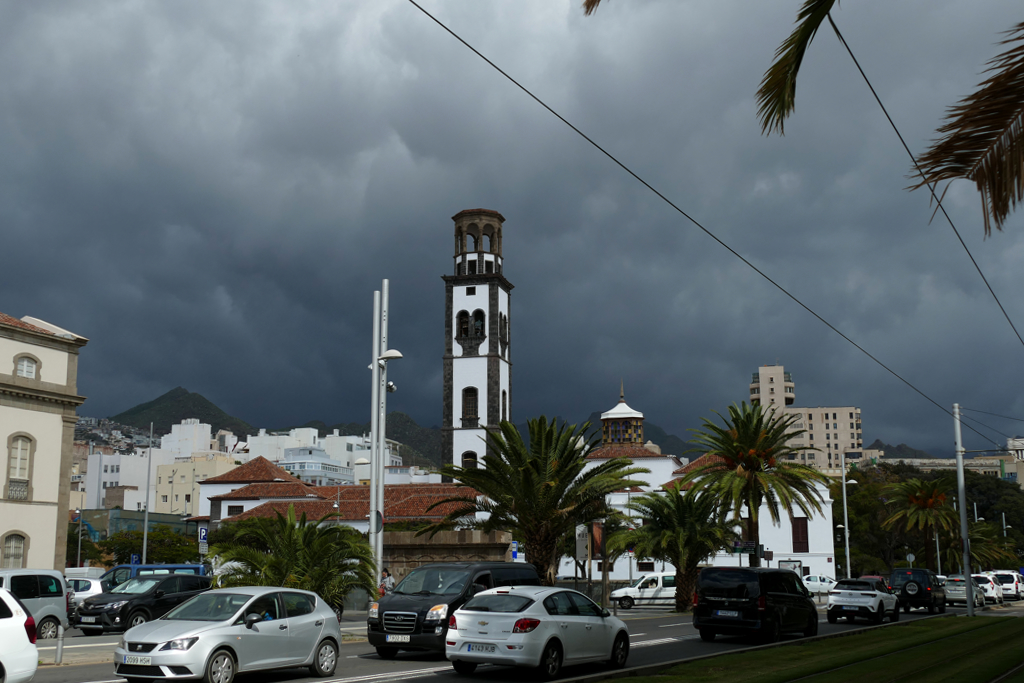 I'm glad I resisted since the prognosis turned out to be a tiny bit right and a huge deal wrong. Already in the morning of my first day in what was predicted to be pouring rain, there was just a light drizzle and from time to time, the sky even showed spots of blue. Not a good day for the beach but definitely a perfect day for a city trip.
And this is how Tenerife's capital Santa Cruz made it to the top of my to-do list.
A Walking Tour Through Santa Cruz de Tenerife
Who would have thought that tourism is of great importance to the city of Santa Cruz? Although there aren't that many visitors spending the night, many come on a shopping spree from the tourist centers of Playa de las Americas and Los Cristianos.
And interestingly, although the city cannot compete with the smaller towns like La Orotava or Garachico when it comes to picturesque old buildings, there are some truly spectacular modern structures in Santa Cruz like for instance the convention center and the concert hall by Santiago Calatrava, the Tenerife Espacio de las Artes by Herzog and de Meuron, or the 19-storeys-high skyscraper Edificio Olympo.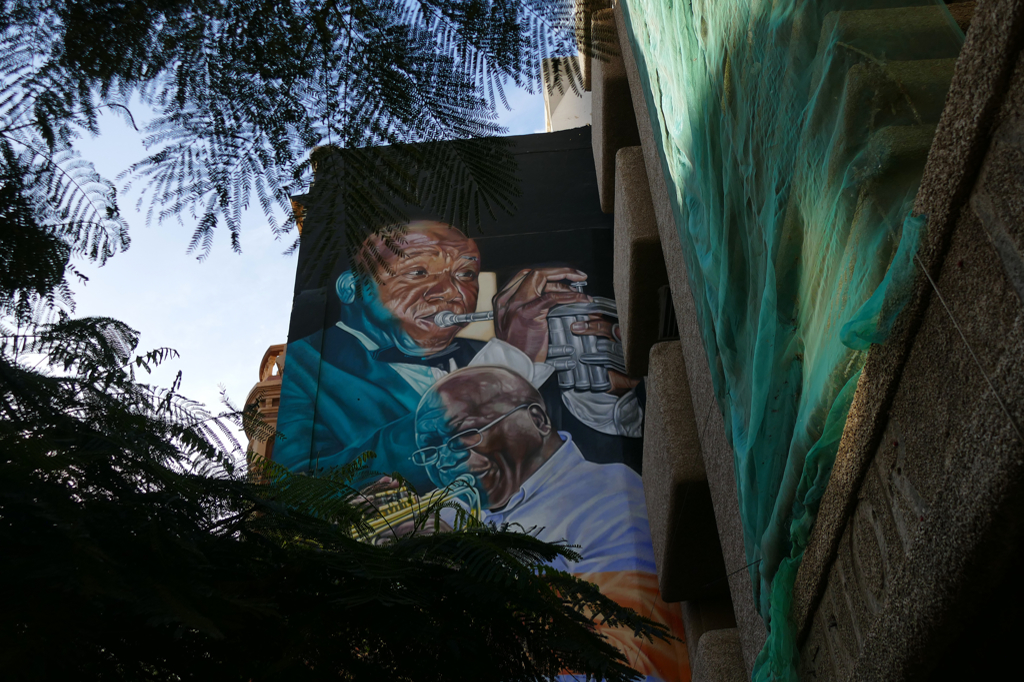 In this post, I'll show you that a visit to Tenerife's capital is absolutely worth your while.
Since most of the landmarks and points of interest are grouped around Santa Cruz's many squares, I organized my visit accordingly. As I came by public bus from Puerto de la Cruz, I got off at the major transport hub called Intercambiador and made my way south to the waterfront.
Plaza del Castillo Negro
Castillo de San Juan Bautista
Following the attack by an English brigade on the Andalusian city of Cádiz, the government of Tenerife agreed to build a fortification. Actually, the Castillo de San Juan was the second most important fortress in the defense of Santa Cruz de Tenerife. To this date, every year in July, a reenactment takes place in the castle's vicinity. It commemorates the failed attempt by British Admiral Horatio Nelson to invade the city.
Auditorio de Tenerife Adán Martín
Works by two grandmasters of Spanish architecture are flanking the Castillo. In the west is a public swimming pool complex designed by César Manrique. While this artist is mainly famous for the works he left on his native island Lanzarote, you'll actually find his creations also on Fuerteventura and Tenerife. Also, the water park in Santa Cruz is not the only one on the island as there is another one in Puerto de la Cruz. But as you know, to me, the trip to Tenerife's capital was a bad weather activity, hence, I didn't pay the site a visit. However, for an entrance fee of only 5 €uros including a beach bed for adults and 1.50 €uros for kids under the age of 12, the Parque Marítimo César Manrique is certainly a great place to visit on a hot day – even if it's only during the noonish heat.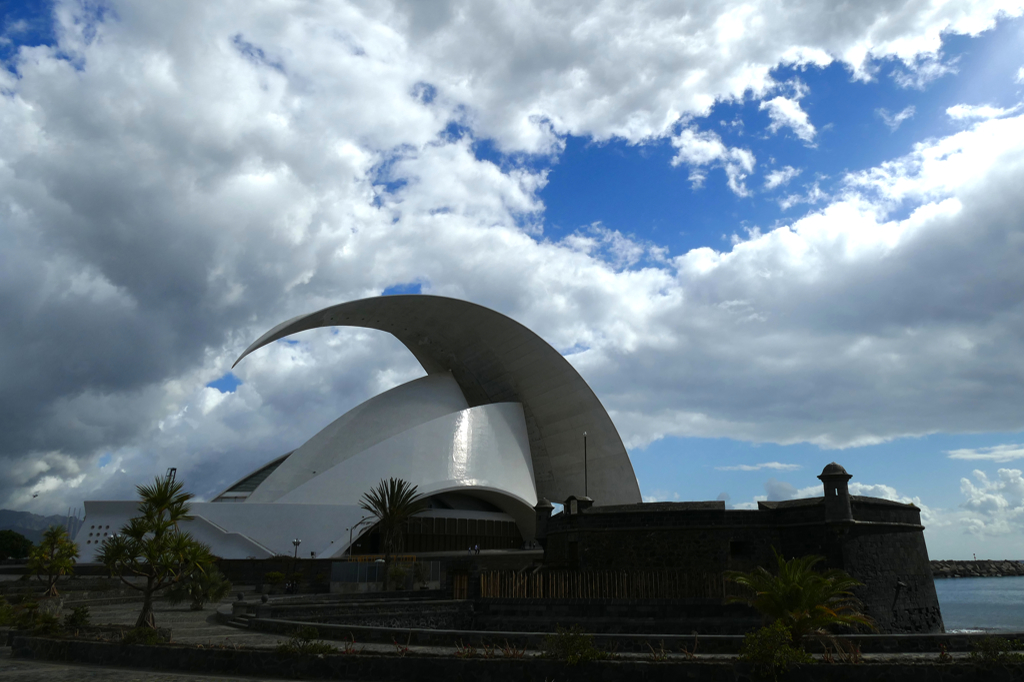 On the opposite side of the Castillo is the so-called Auditorio de Tenerife. No less than Santiago Calatrava designed this unusual concert and congress hall. Does the name ring a bell? Well, I introduced his work in my posts on Seville and Venice where he built bridges, in my post on Rio de Janeiro where he designed the wonderful Museu do Amanha, and most importantly in my post on his hometown Valencia where he created major parts of the famous Ciudad de las Artes. So yes, if you are an avid reader of my blog, you have heard of Calatrava before.
Howsoever, the Auditorio de Tenerife is home to the Orquesta Sinfónica de Tenerife, one of Spain's most excellent symphony orchestras. A visit is recommendable especially in January and February when concerts as part of the Festival de Música de Canarias take place at the Auditorio.
Hundred Faces
South of the Auditorio is an amazing outdoor gallery. As a matter of fact, in my opinion, those big rocks sheltering the site from the high waves of the Atlantic are one of Santa Cruz's most unique attractions.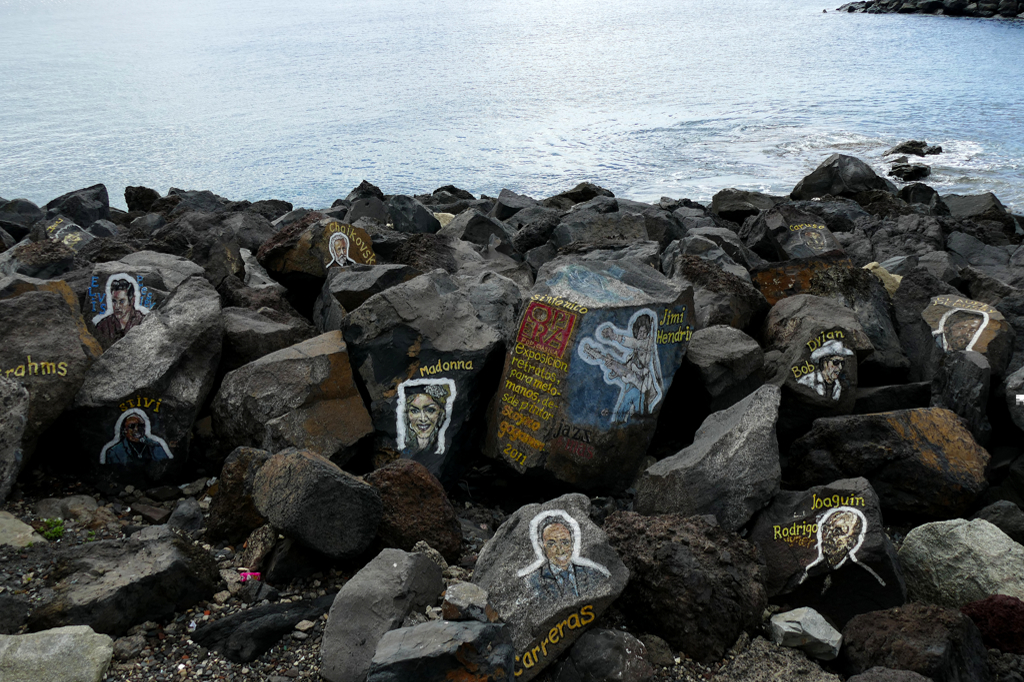 Why? Because in 2010, Bulgarian artist Stoiko Gagamov began to paint them with portraits of famous musicians. Well, most of them are musicians, since Gagamov started with the face of the Auditorium's architect Santiago Calatrava, and there is also a portrait of the late Adán Martín, a Canarian politician who initiated the installation of the famous Auditorium.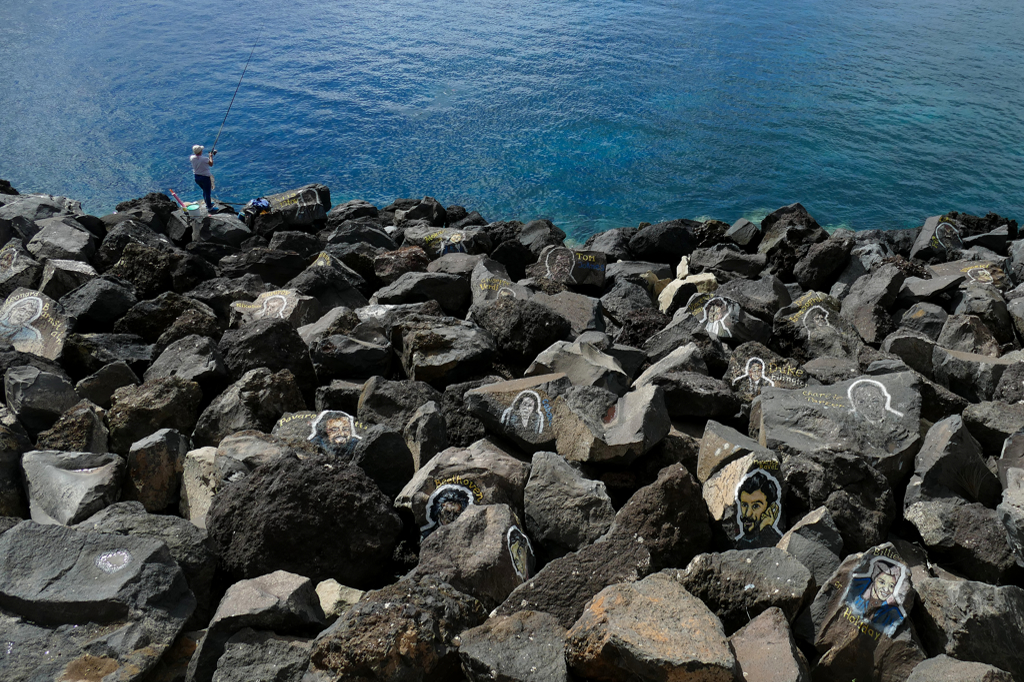 Then, over the course of eight months, the artist added 98 more faces. Among them are composers, singers, and instrumentalists.
Since it's so much fun just walking alongside the rocks and trying to spot some of your favorite stars, I'm not naming any of them. Enjoy your own star-chasing!
Cooperativa Mercado Nuestra Señora De África
Since no tour of a Spanish city would be complete without a visit to the local farmer's market, my next stop was the Mercado Nuestra Señora De África, hence, Market of Our Lady of Africa. This way, I slowly approached the city center.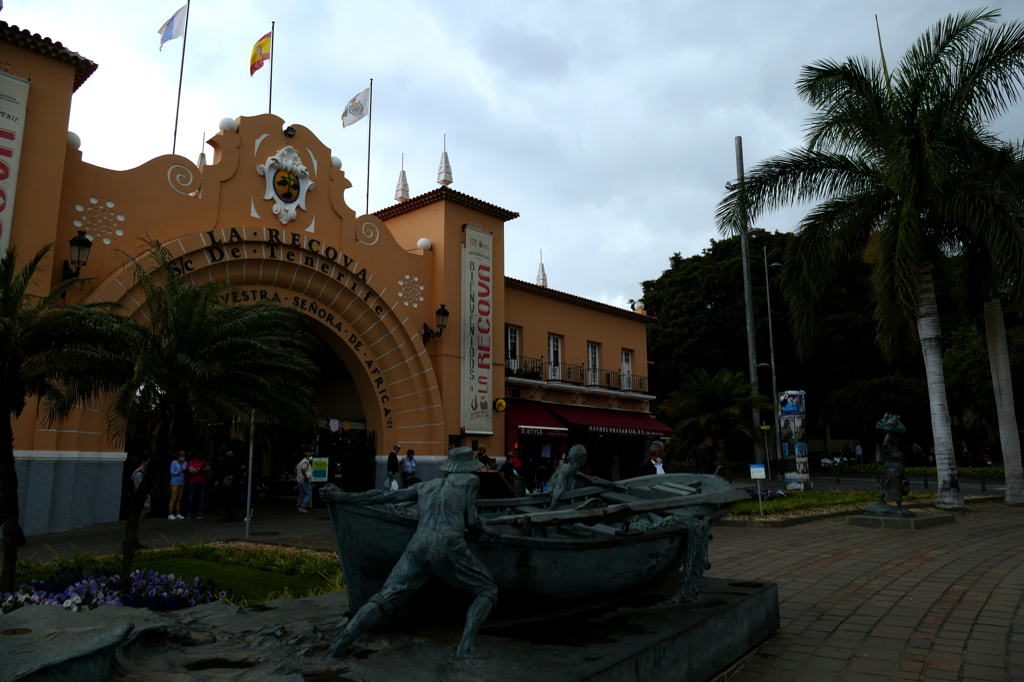 The market building was designed in a neoclassical colonial style with three large patios. This Californian mission style is combined with an entrance arch and towers in the local Mudejar style. Actually, it's a bit of a wild mix.
Inside, however, you get to purchase excellent fruits and vegetables, meats, and local snacks. My tip: Check out the stands selling herbs and spices. The latter makes a great souvenir at a very reasonable price.
Tenerife Espacio de las Artes TEA
Right across the street from the market is the venue I was looking for the most. Not only does the term art space make me basically drool like Pavlov's dog. Also, the building was designed by my favorite architects Jacques Herzog and Pierre de Meuron. The last time I presented their work on this blog was in my post on Duisburg. However, I also introduced their designs in my posts on Hamburg where they designed the opera house Elbphilharmonie, and Basel, the grandmasters' hometown.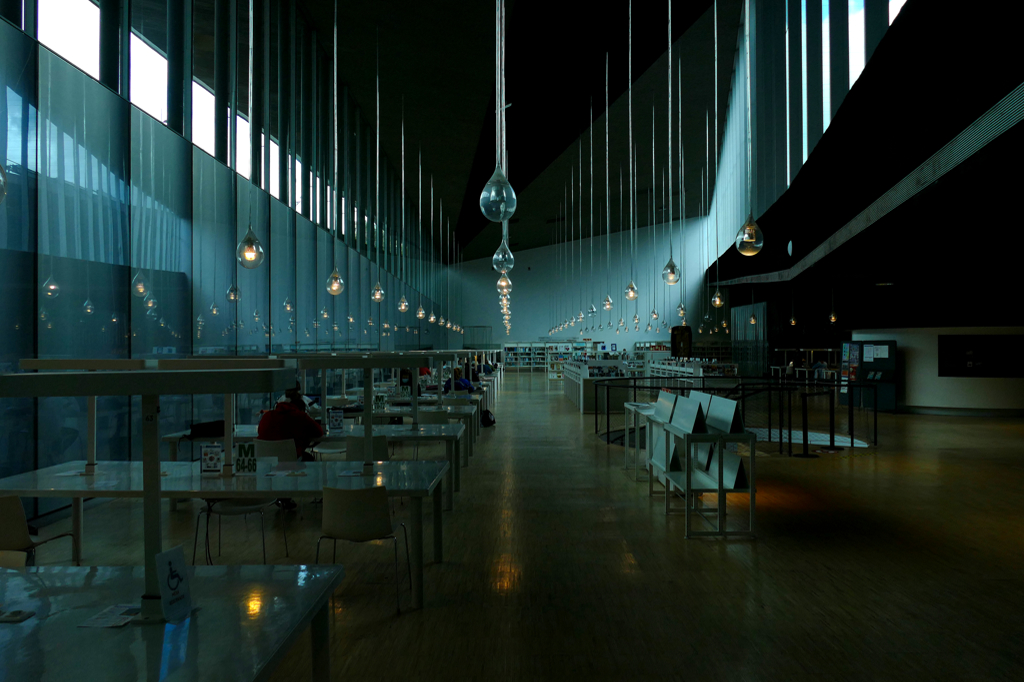 The parts of the complex are laid out around a triangular courtyard according to a Canarian mansion. The outer façade deems almost impenetrable whereas, from the inner courtyard, due to the large glass surfaces towards the patio it has a very open and translucent feel to it. A public footpath runs through the inner courtyard and connects the Nuestra Señora de Africa Market area with the old town around the Plaza de la Iglesia.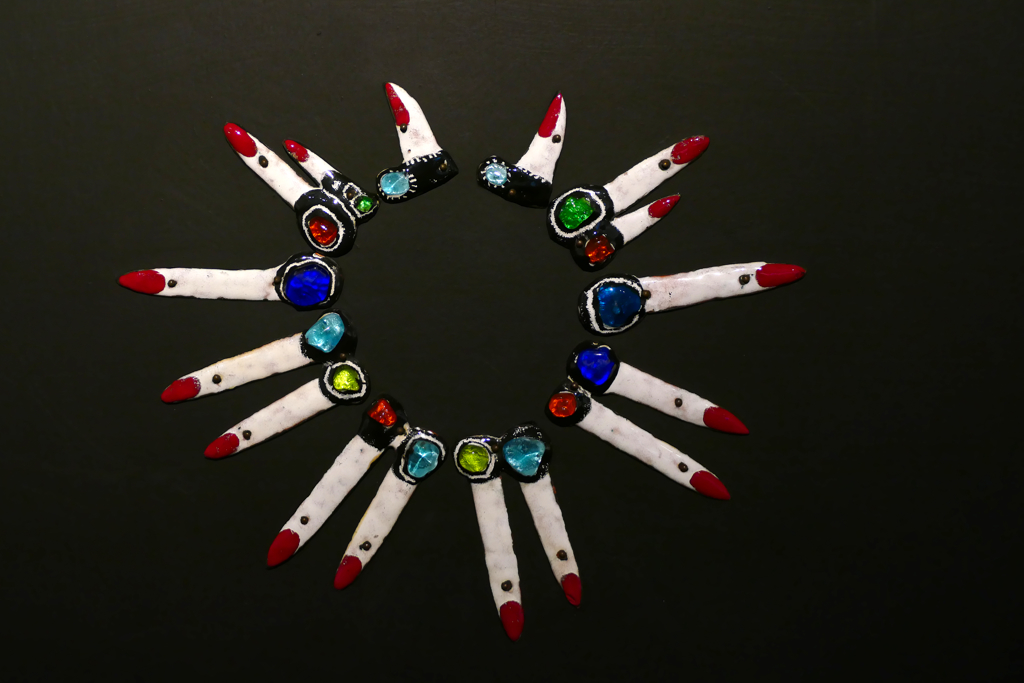 Inaugurated in 2008, the building houses various galleries and lecture halls, but also the municipal library and even a movie theater.
Exhibitions at the TEA can be visited from Tuesday to Friday between noon and 8 p. m., on weekends already from 10 a. m. Apart from the in-house cinema, visits are free of charge for all.
Plaza de la Iglesia
Through the drizzle, I continued to the Plaza de la Iglesia to see what the city considers the most significant sight since I doubt that they would agree that it's hundred painted rocks. And yes, I must admit that the landmark of their choice isn't bad, either.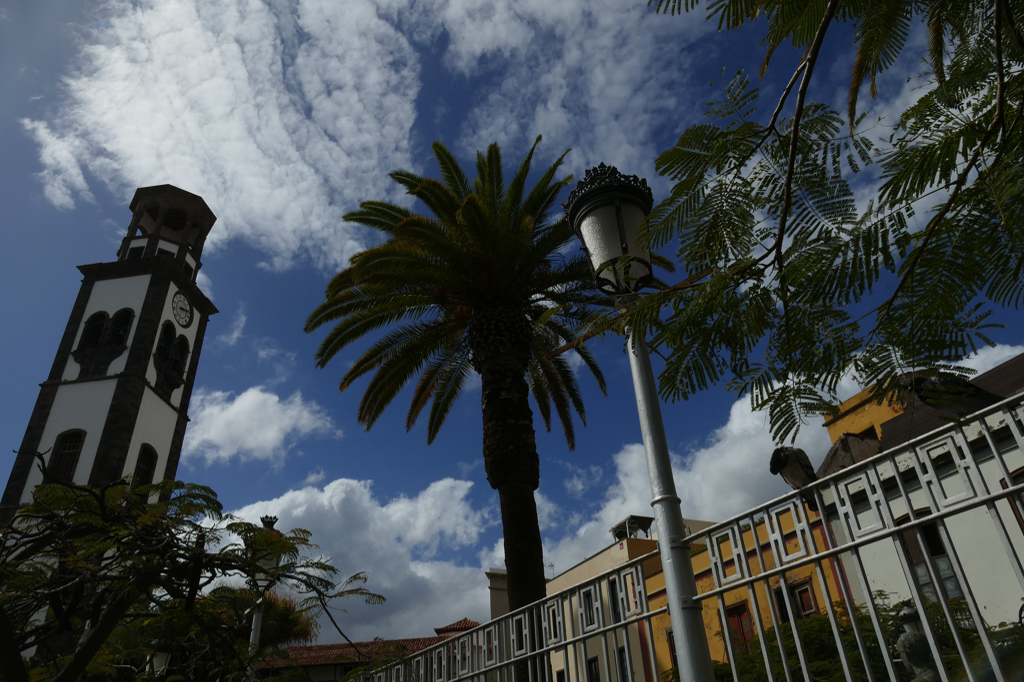 In the late 15th century, a chapel was built on the spot of the church's central nave. Then, from 1539 on, the Iglesia de Nuestra Señora de la Concepción served as a parish church. Since it was expanded several times, the exterior doesn't give you a correct idea of the layout of the interior.
Actually today, the church consists of various structures with different heights and roof forms. The tower stands on the north side of the church and is an iconic landmark of the city.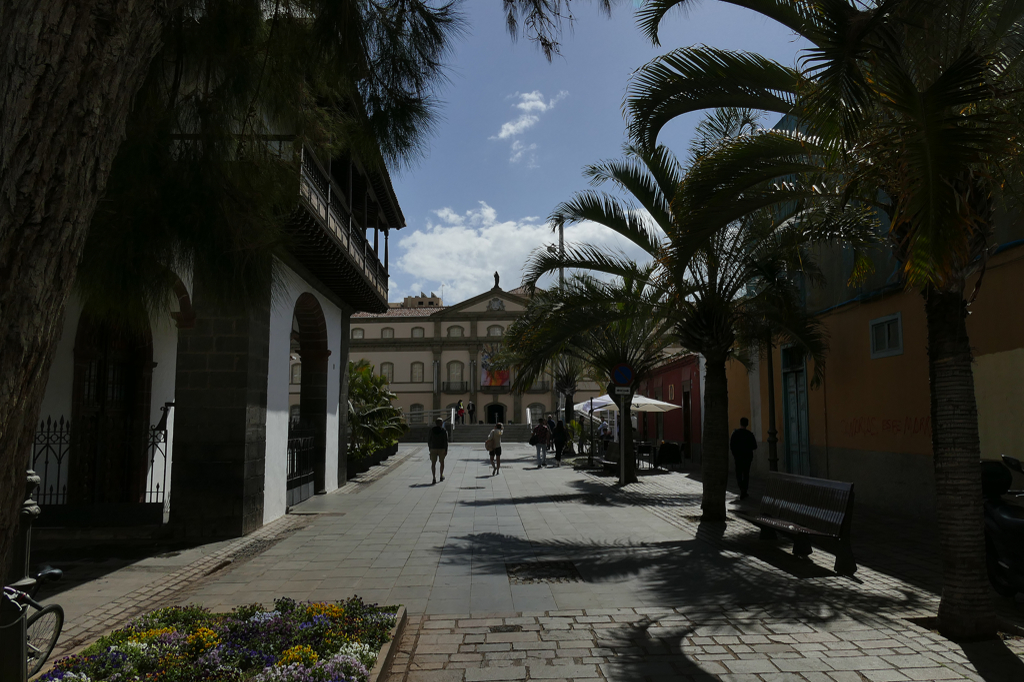 Alameda
Not far from the Plaza de la Iglesia is the city's most important square, namely the Plaza de España which is part of the so-called Alameda. I don't know if it was because of the terrible weather that this square didn't really impress me or whether it's just not that great.
There are a couple of stately buildings around the square. Then, there is the Santa Cruz sign where you can take your photograph to post it on Instagram.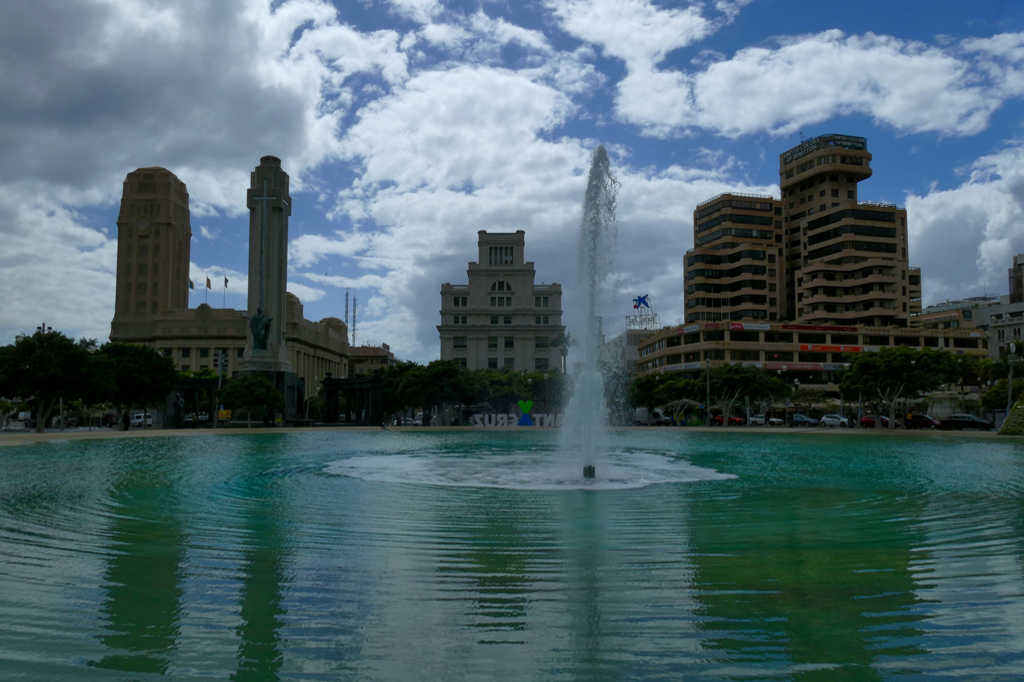 What I like the least on this square is the pretty disgusting Monumento a los Caídos, the Monument to the Fallen. It's a huge, super-dramatic memorial with allegories of the fatherland, victory, and military values. The fact that it was inaugurated in 1947 when Francisco Franco's dictatorship was in full swing should tell you enough about the idea behind this larger-than-life piece of…work. When you then add the fun fact that political prisoners had to erect it in forced labor, it's a bit disturbing that many tourists are mindlessly posing with a landmark that clearly glorifies violence, oppression, and fascism.
However, since this beauty violates Spain's Law of Historical Memory, a law that strengthens the rights of those who suffered persecution during the civil war and the subsequent dictatorship, there will be a so-called resignification process. But maybe people could stop taking pictures of this symbol of deprivation and brutality already now.
Lo Llevo Bien
However, I'm happy to report that right next to the above-described atrocity is a tender and lovely sculpture by Basque artist Julio Nieto. It is a five-meter-tall hybrid of a man and a tree made from stainless steel. Words full of beauty and optimism are growing on the treeman's branches.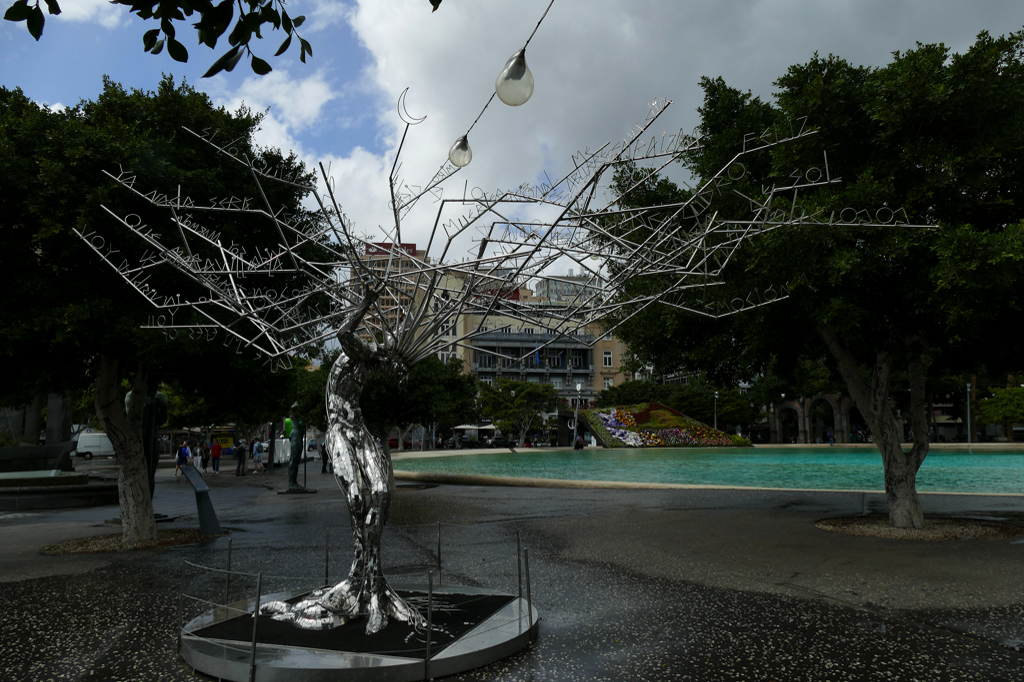 Lo Llevo Bien, I take it well, is the positive motto of this shiny gentleman. By the way, learn in the chapter on the Spanish language below how to pronounce this statement correctly.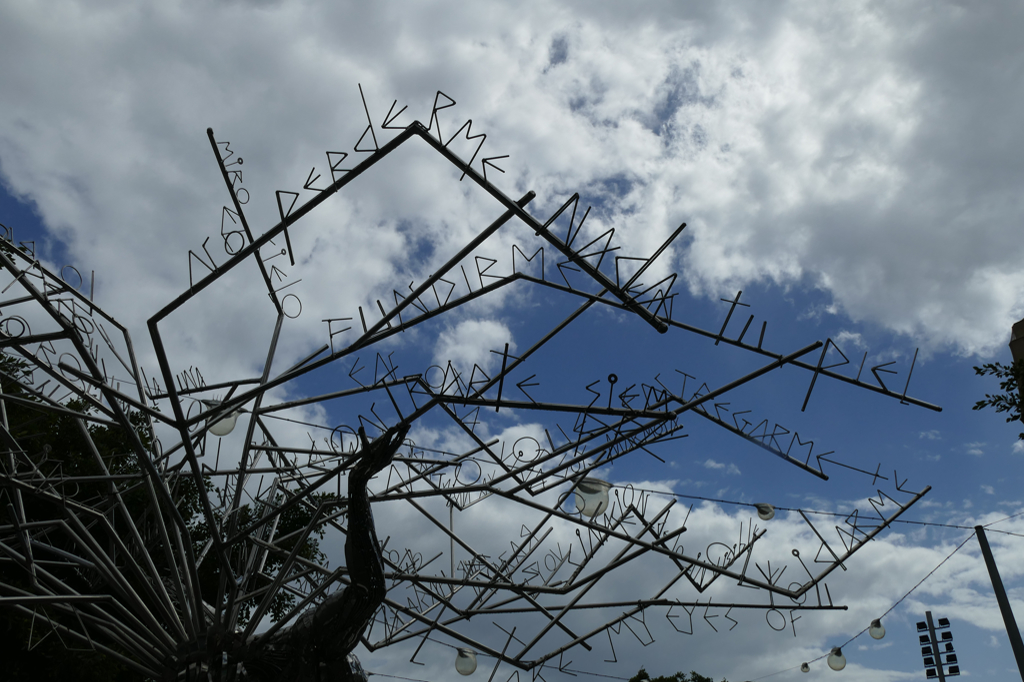 This wonderful piece was installed in the square on the occasion of a street art event back in 2014. However, eventually, it went to various art galleries in Madrid, Barcelona, ​​Baltimore, Miami, and New York before it came back home to Santa Cruz for good in 2021.
I left the Plaza de España westwards across the Plaza de la Candelaria towards the shopping district. Since the standard chain stores couldn't attract me, I decided to go for some glitter and far more sequins – I decided to pay the Casa del Carnaval a visit.
Murals Below Puente Serrador
So as I was heading back south toward the TEA, I checked what was under the Puente Serrador. And believe you me, it's not just water under the bridge.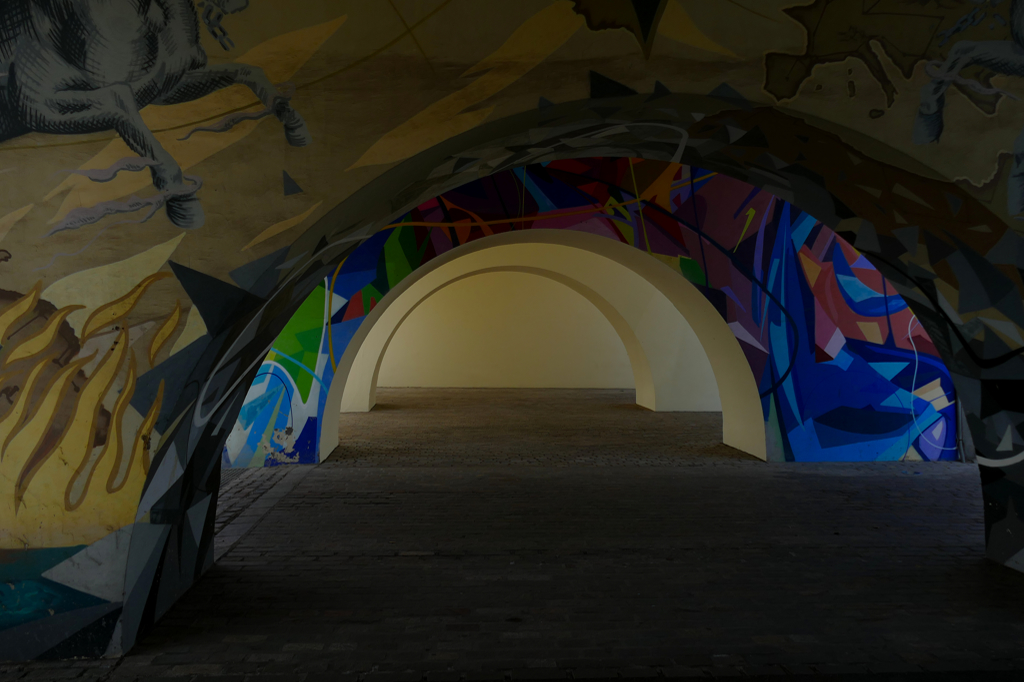 The Punte Serrador is one of the bridges that cross the city's Santos ravine. It was built in the mid-20th century and is decorated with lions and whatnot. That's on its top.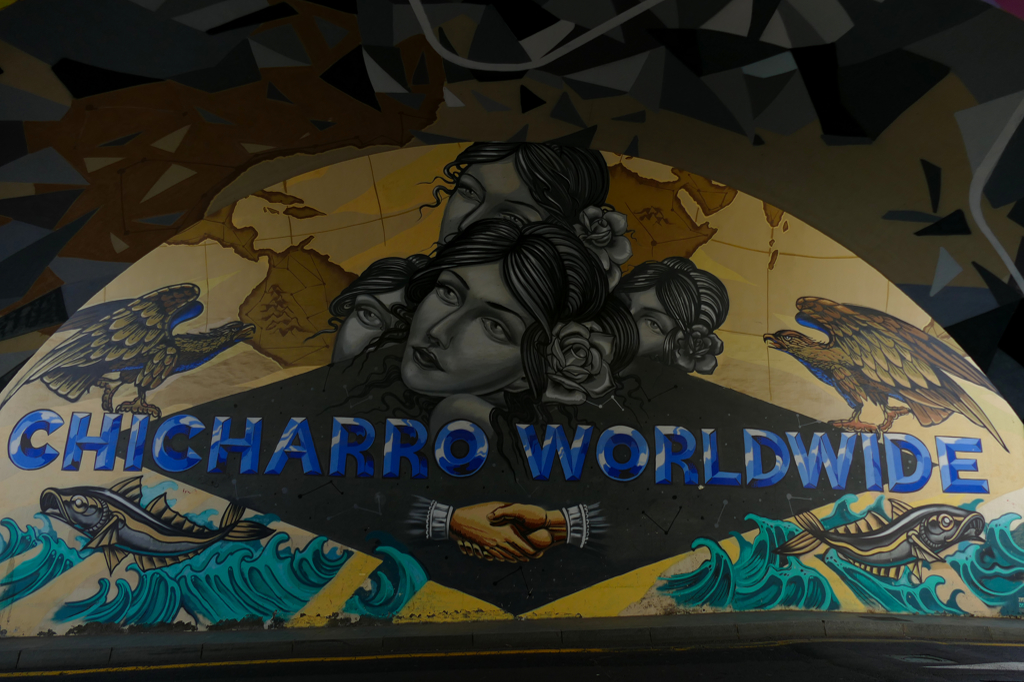 I went to the bottom. Why? Because being a huge fan of urban art, I was far more interested in the beautiful and ingenious murals hinting at local icons and implying local legends. Those are painted by local muralist and tattooist Diego Mena aka ZEZ608. You can see more of his work on @chicharro
Casa del Carnaval
Tenerife's carnival tradition dates back to Spanish and Portuguese settlers who defeated arrived on the island in the 16th century. Today, in the month of February, a huge carnival is celebrated in Santa Cruz de Tenerife. Its highlight is a street parade through the city. Also, a Carnival Queen is elected during this extravaganza.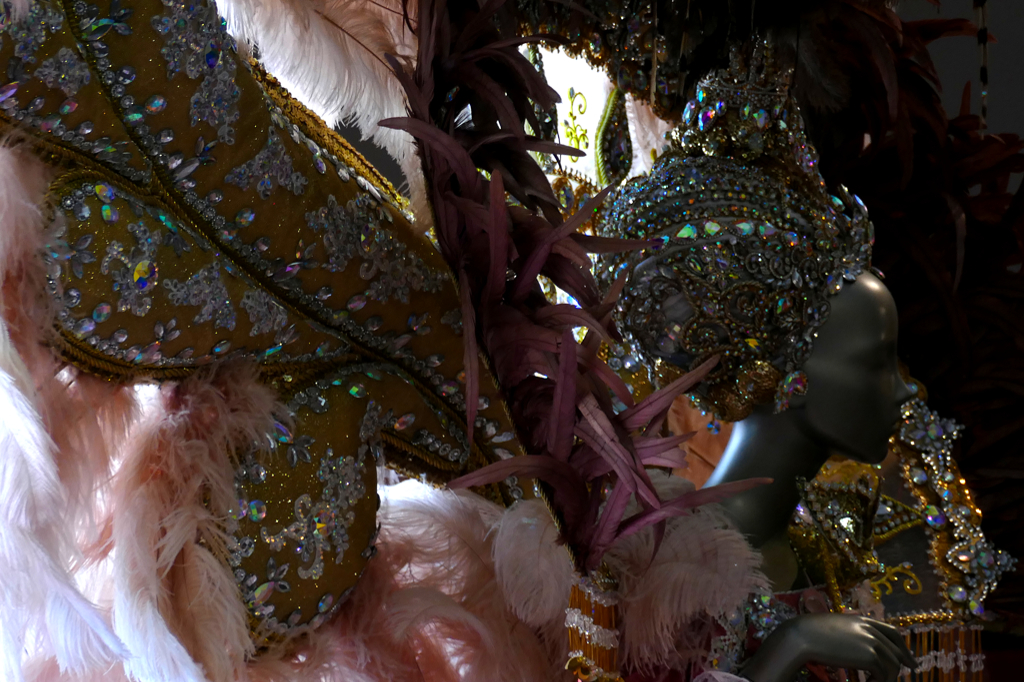 In 2017, the museum Casa del Carnaval Museum was opened. Not only does it present amazing costumes, it also deals with the background and history of this festival. After all, the carnival of Santa Cruz attracts also many international visitors.
Hence, there is an exhibition hall with costumes and interesting items related to the Carnival as well as a center for documentation and conservation of the Carnival's heritage.
The Casa del Carnaval is open every day from 10 a. m. to 6.30 p. m. and the visit is free for all.
Plaza Weyler
Since the Casa del Carnaval is basically on the level of the Barranca Santos gorge, I had to climb up to the Puente Galcerán from where is continued my tour northwards on one of Santa Cruz's broad boulevards. Next stop Plaza Weyler.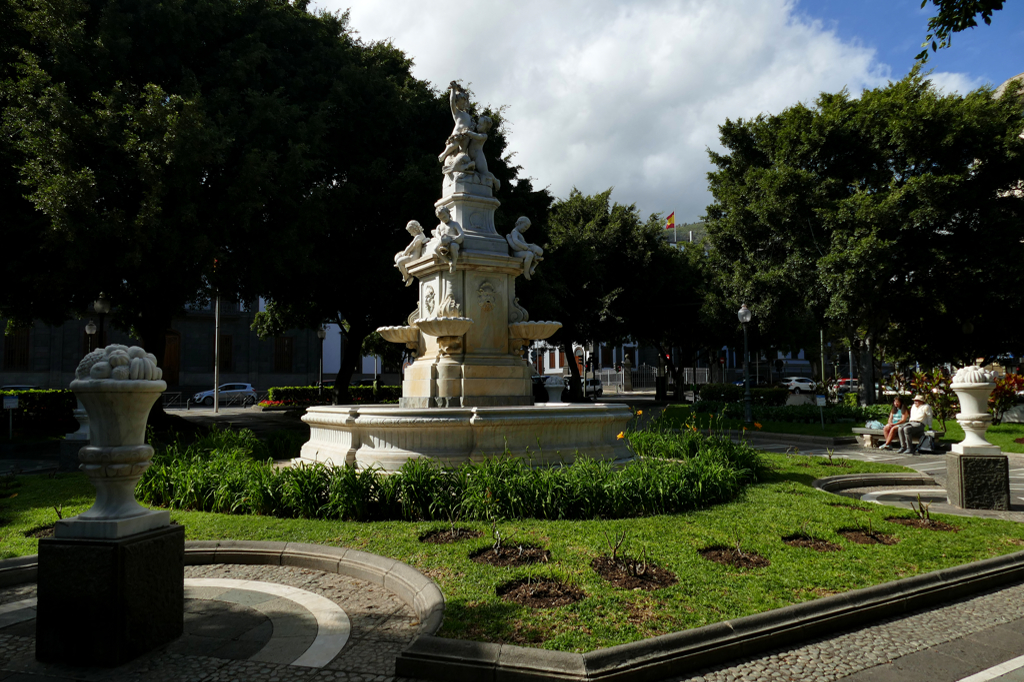 This square was laid out in the late 19th century. In 1899, a fountain created by Genovese sculptor Achille Canessa from white Carrara marble was installed.
It's pretty, but to be honest, I only visited the square since it was on the route to the Plaza 25 de Julio which I really wanted to see.
Plaza 25 de Julio
And indeed, my favorite square in Santa Cruz is definitely this square. Take a look around and you'll notice immediately that you are in Santa Cruz's posher neighborhood.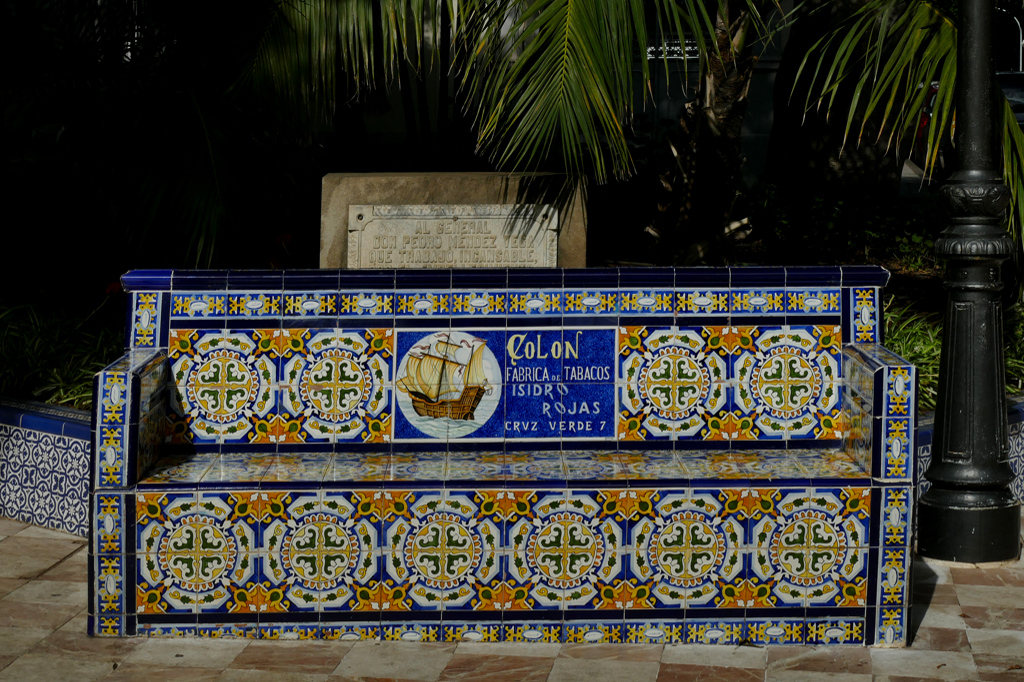 Although due to the ducks in the central fountain the square is mostly referred to as Plaza de los Patos, its true heroic name refers to the attack on Santa Cruz de Tenerife by the British Navy in 1797.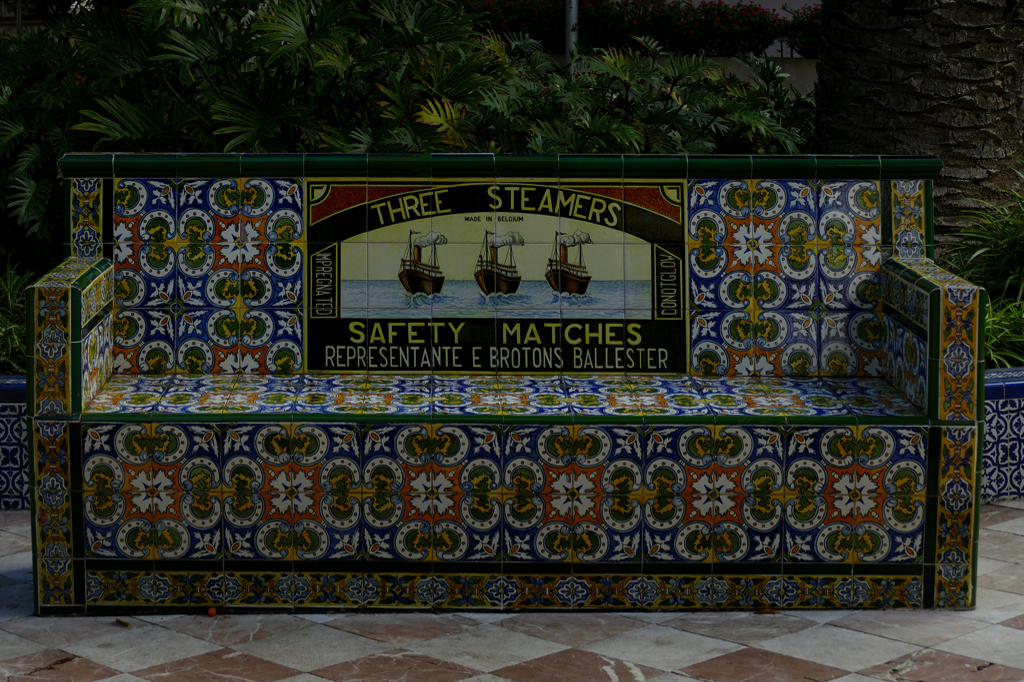 Inspired by the Exposición Iberoamericana that took place in Seville in 1929, the square was decorated in the then-popular Sevillian fashion. Around a copy of the Fuente de las Ranas that stands in the Parque de María Luisa in Seville, 26 benches were installed. The funds for these beautifully designed seats were financed by various companies. Their advertisements literally decorate the backrests of the benches covered with ceramic tiles.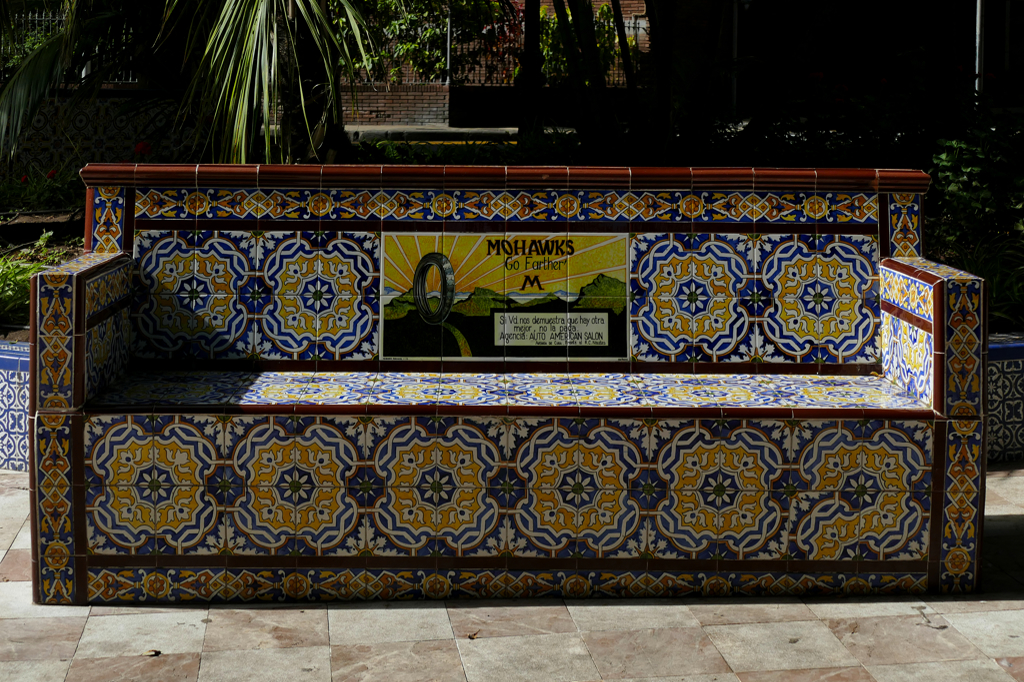 What you see today, however, are just replicas as time and weather took a toll on the original benches.
This square is truly a unique piece of art and taking a break on one of these outstanding benches is wonderful. Unless you are so amazed by their beauty that you don't notice that they are still wet from the rain and then you have a wet butt for the rest of the day. Happened to a friend of mine…
Parque García Sanabria
Just one block east is the truly beautiful and lush Parque García Sanabria. Four years after a park had been created, the city decided to build a branch of the Jardín de Aclimatación in La Orotava in 1914. However, only ten years later, the then-mayor Santiago García Sanabria began to collect funds not only in cash but also in kind, namely in plants. This way, this beautiful garden was finalized on a former wasteland in 1926.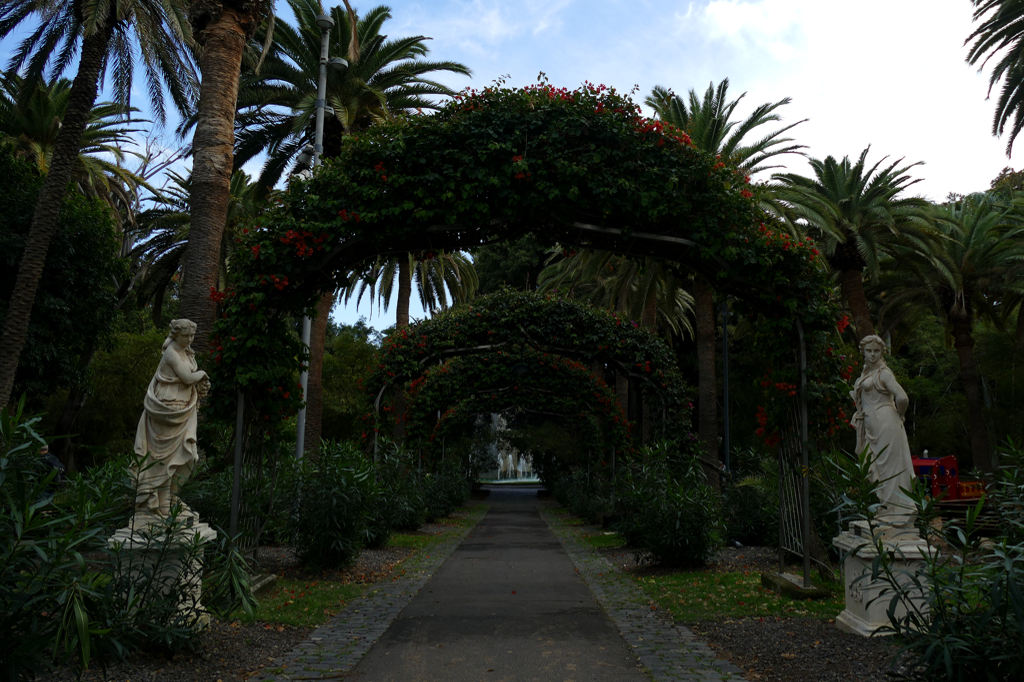 The park has trails lined with manicured flower beds on the one hand and patches growing wild and free on the other. There are deciduous as well as palm trees and even plants that are not originally from the Canary Islands like for instance bamboo and roses. Also, the lotus flower pond with goldfish is rather unusual for the Canaries.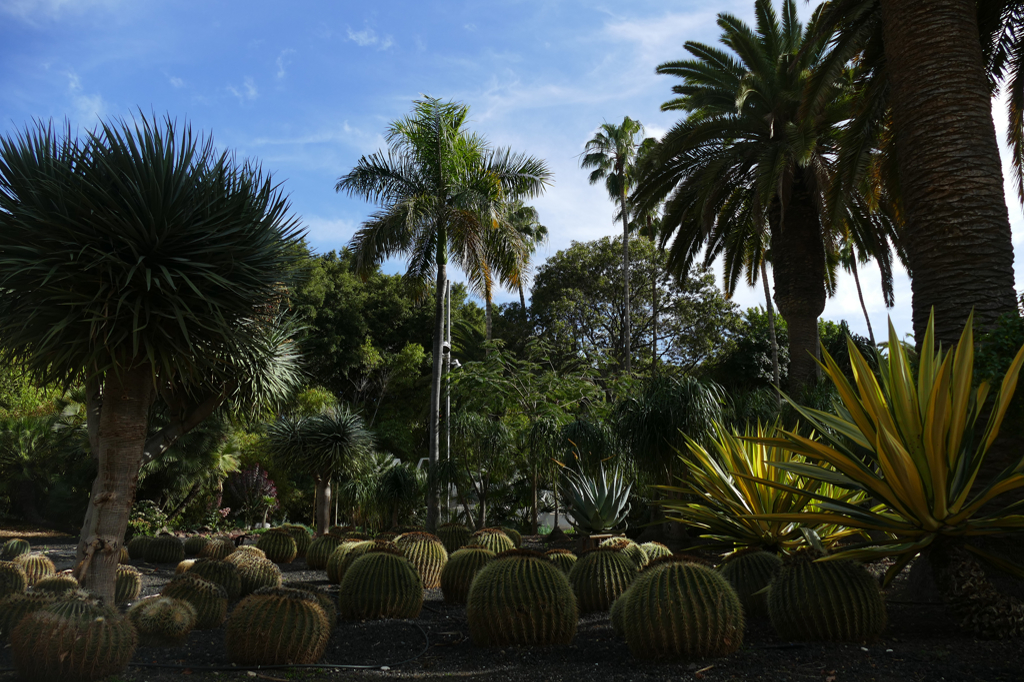 Many of those plants have an info sign next to them, and the paths have names commemorating ten locals who were influential to the city's cultural life.
All in all, the Parque García Sanabria is the perfect place if you need a short break from the city's hustle and bustle.
Plaza del Príncipe de Asturias
However, just a couple of minutes walk south of the park is another square worth seeing. It seems like many chipped in to make the Plaza del Príncipe de Asturias one of Santa Cruz's most alluring squares: Already in 1868, two marble sculptures from Genoa, representing spring and summer, were placed here. So-called Indian laurel trees were imported from – no, not India, but Cuba. In 1870, an English-made cast-iron fountain was built.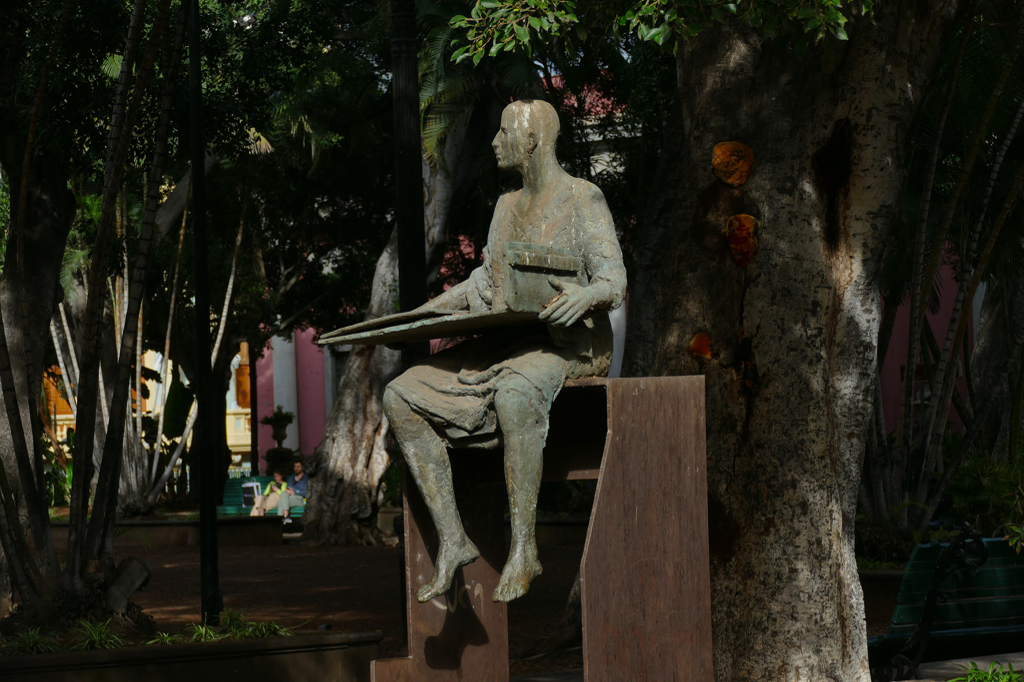 Finally, a group of statues by the Dutch artist Hanneke Beaumont was added in 1995. This ensemble which is titled Courage is grouped on the southwest side of the square. It actually remains from the outdoor art event Exposición Internacional de Escultura en la Calle.
At the southwest corner of the square is the small court Plaza del Chicharro. In its center is the sculpture of a chicharro, horse mackerel in English; what a great name for a city square would that be, right?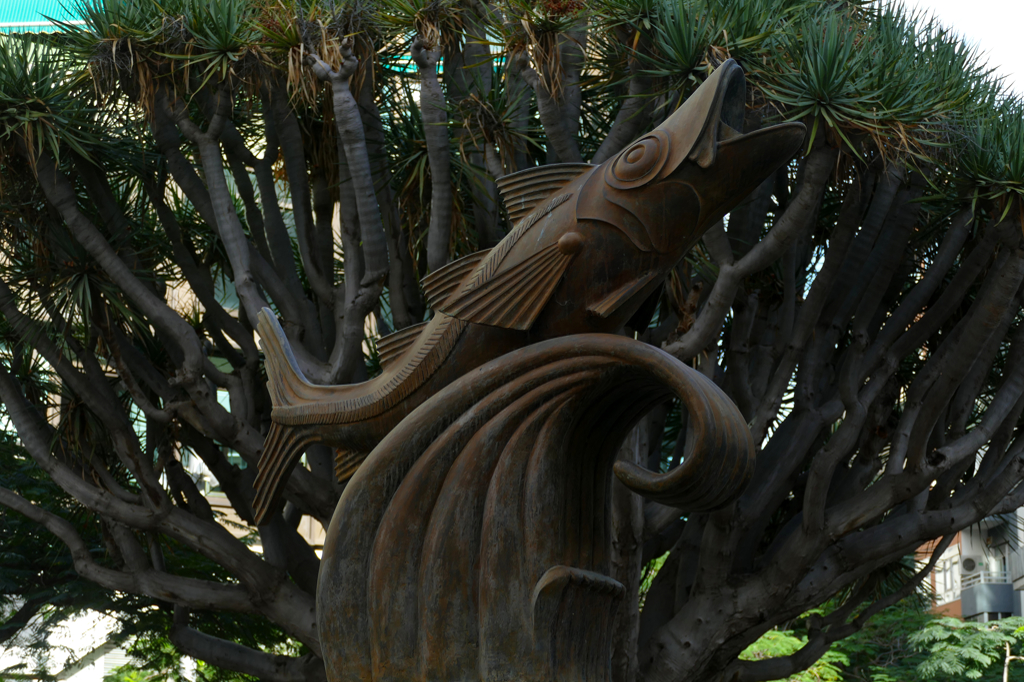 Actually, today's sculpture is just a replica since the original one was robbed in the year 2000. Believe it or not, this sculpture has become the allegorical emblem of the city.
Museo de Bellas Artes
On the square's eastern side is Santa Cruz's museum of fine arts. It was founded in 1840 to preserve the ensigns the British fleet under Admiral Nelson had abandoned in the attack on Santa Cruz de Tenerife in 1797. The current museum building was constructed in the classicist style in 1929 on the site of the former Franciscan monastery of San Pedro Alcántara
Today, you can admire a series of Flemish master paintings, some of them on loan from the Prado in Madrid. However, the museum also shows a collection of Canarian as well as changing temporary exhibitions.
The galleries are open from Tuesday to Sunday between 10 a. m. and 8 p. m., on weekends, however, they are closing already at 3 p. m. Entrance is free for all.
Plaza Isla de la Madera
Well, that was almost it for my day trip to Santa Cruz de Tenerife. On my way back to the Intercambiador I passed by the Guimerá theater, the oldest theater in the Canary Islands.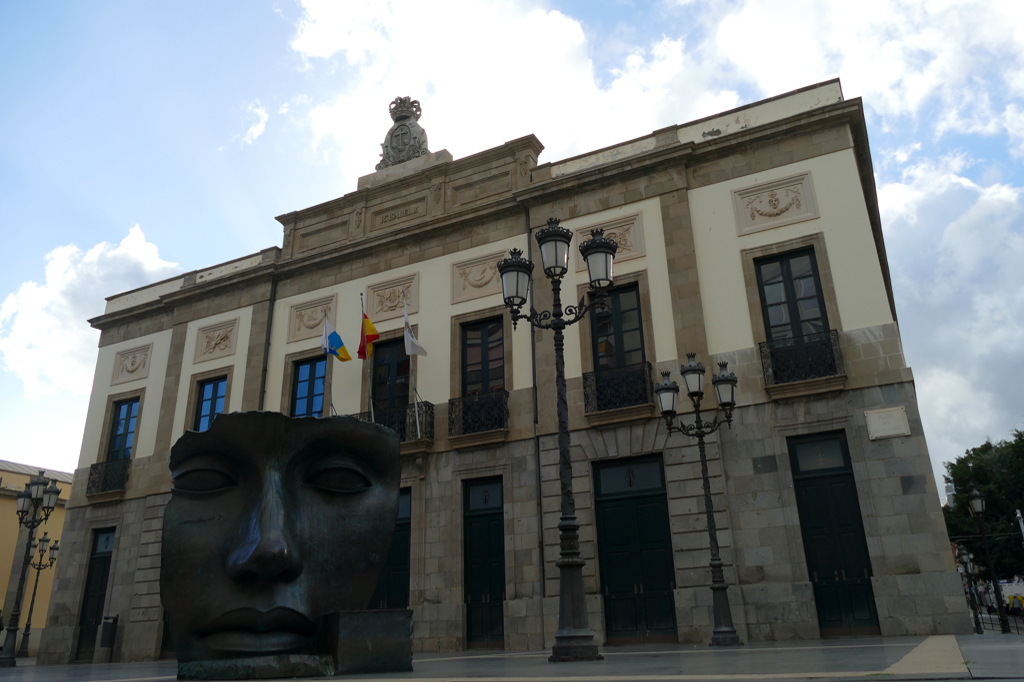 The theater was built on the former site of the Convent of Santo Domingo or Nuestra Señora de la Consolación. In the beginning, the theater was simply the theater. Only after the death of Tenerife-born Nobel-nominated writer and playwright Ángel Guimerá y Jorge died in Barcelona in 1923, it was named after one of the island's most celebrated sons.
Just around the corner from the theater is the Centro de Arte la Recova. This cultural space was installed at the city's former market building, hence, la recova, in 1992. The gallery can be visited free of charge from Tuesday to Saturday between 11 a. m. and 1 p. m. and in the afternoon from 5 p. m. to 8 p. m., on Sundays only from 11 a. m. till 2 p. m.
Practical Information
How to Get There
Tenerife Norte
Tenerife has two commercial airports. The first one was opened on a high plateau about 10 kilometers west of Santa Cruz de Tenerife. Unfortunately, over the decades, there have been several accidents due to its location. Although security measures have been improved, there are significantly fewer international connections.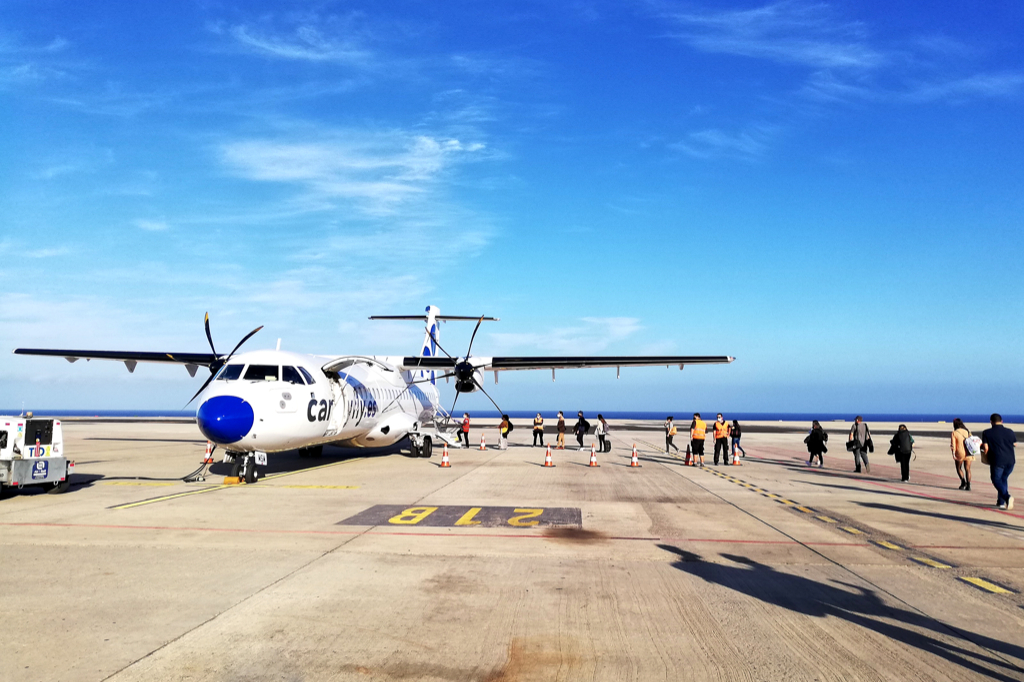 However, there are connections to various domestic destinations including the other Canary Islands such as Fuerteventura and Gran Canaria operated by local airlines like Binter, Canaryfly, and Air Europa. If you check prices on their websites, don't get over-excited about the incredibly cheap rates as these apply only to permanent residents. However, even for other passengers, flying between the islands is very reasonably priced and oftentimes cheaper than taking the ferry.
Although it's much farther away from the island's capital, far more international visitors proceed through the island's southern airport Tenerife Sur Reina Sofia which was opened only in 1978.
By Ferry
There are regular ferry services to Tenerife from the other Canaries as well as from Huelva and Cádiz on the Spanish mainland throughout the year. Whereby trips from Huelva are usually faster than those from Cádiz. Nevertheless, the trip takes between 30 and 40 hours – mind you, Spain is very far away, not only geographically speaking.
From Santa Cruz de Tenerife port, Olsen Express and Naviera Armas grant regular ferry services to Puerto de las Nieves in Gran Canaria, Morro Jable in Fuerteventura, and Arrecife on Lanzarote. To get to the island of La Gomera, you need to get on board in Los Cristianos.
Taking the ferry is not necessarily cheaper than going by plane. Yet, it is a more eco-friendly way of travelling. Also, it is the only option if you have to take your car across the sea vehicle.
However, my trip from Gran Canaria to Morro Jable in the south of Fuerteventura took about 2.5 hours, and I paid over 50 €uros, which is by no means a bargain.
If you're on a flexible schedule, you should check thoroughly the prices at different times of the day as well as between the individual companies as they can differ a lot. Also, just like the airlines, the ferry companies grant residents of the Canary Islands a considerable discount.
Land Transport
If you haven't booked a package where the travel company arranges the shuttle from the airport or jetty to your hotel, you have different options for how to get to your final destination. The most comfortable option is taking a cab, obviously.
However, you save lots of money by taking one of the public buses.
From Tenerife Norte, bus #30 shuttles travellers to and from Santa Cruz de Tenerife. If your flight is to or from Tenerife Sur, you can take bus #111 or #711.
I'm not driving, but if you want to rent a car, you can do so right at the arrival hall. There are different car rental companies to choose from.
Getting Around the Easy Way
So yes, moving around on the island by public bus is highly recommended. You spare yourself the terrifying narrow roads in the mountainous hinterland. You don't need to look for a parking spot in Santa Cruz. It's comfortable, it's reliable, it's cheap – what's not to like?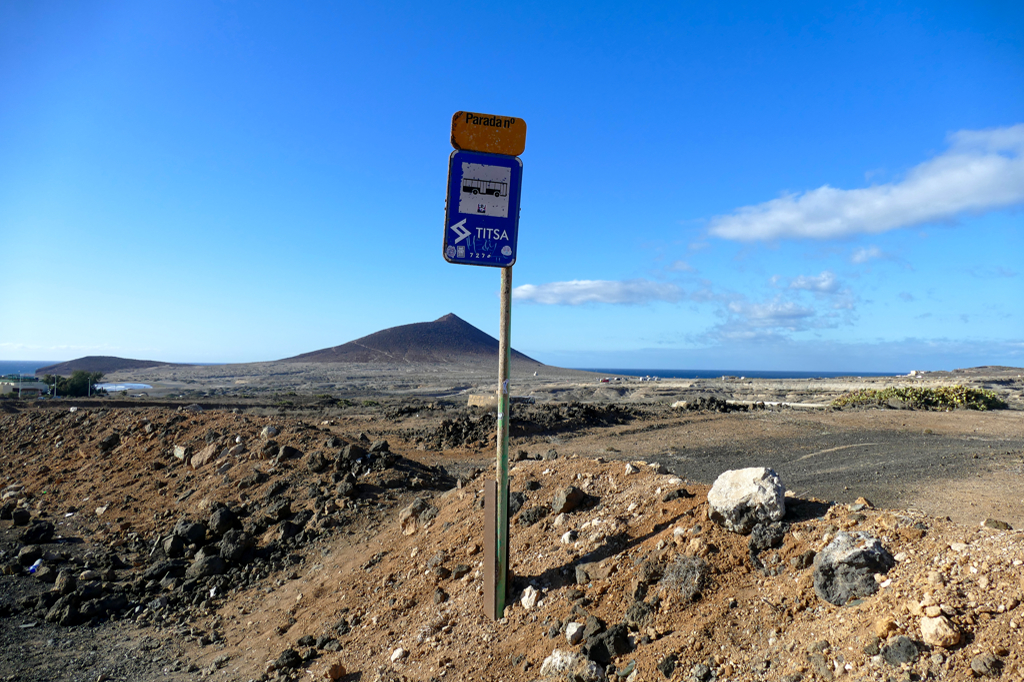 To take the bus, you can always obtain a ticket from the driver. Prices depend on the distance, obviously, and you can pay cash or by a bank card that's equipped with NFC. You save 10 percent of the single ticket price if you buy a round-trip for the same day.
TITSA, Tenerife's local bus company, has a great website where you'll find all the connections and prices, and everything you need for an easy trip. There is even a section that's especially catering to tourists.
As there are many more connections to the different towns around the island, make sure to check out TITSA's website.
The city's main bus station called Intercambiador is the island's busiest hub. From here, you can go to practically every spot on the entire island.
By the way, just like on the other islands, locals call buses la guagua.
How to Get Around in Santa Cruz de Tenerife
Santa Cruz is the island's largest city, yet the center can easily be explored by walking. Sadly, it's one of the few cities where you cannot rent city bikes.
There are city buses operated by the TITSA bus company. Also, there are two tram lines. Here, the tram is called Tranvia de Tenerife and the two lines connect the main places of interest between Santa Cruz and La Laguna. A general single ticket costs 1.35 €uros. You'll find all information including various ticket options on Metrotenerife's website.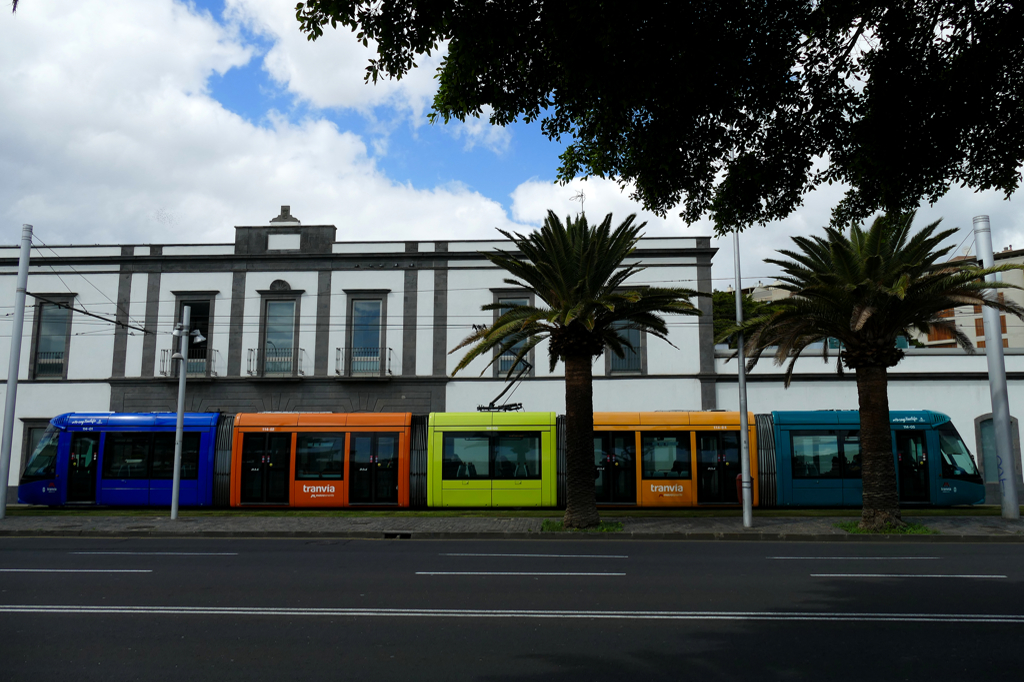 To check your next connection within the city limits as well as between towns'n'villages all over the island, you can simply go on google maps and type in your starting point and your final destination. Works like a charm.
Nevertheless, the easiest and most complete way to get to know the city is by the so-called guagua turística, a hop-on hop-off bus. It is equipped with a multilingual audio system. This way, you listen to explanations and information while cruising the city.
From September till May, the guagua turística goes every 20 minutes, and from June to August every half an hour. A general ticket costs 22 €uros and is valid for 24 hours. Kids under 5 years of age travel for free, and kids between 6 and 14 pay only 11 €uros. Also, there is a family ticket for two adults and two children for 60 €uros. The guagua turística is operated from 9.30 a. m. and 6.30 p. m.
Organized Trips
As I pointed out, there are many many wonderful spots in Tenerife to be explored. Basically, all those places can be easily visited by public transport. However, in certain cases, it can still be a good idea to join an organized tour, especially if you have only a limited amount of time.
For instance, I wanted to see some of the most idyllic villages along the north coast which is absolutely possible by bus. But I also wanted to take a trip to Mount Teide National Park. At the end of the day, I was very happy to find a tour that included both: I went with them comfortably to all the lovely villages without constantly checking the time and the bus schedule, and eventually, we went to the most alluring spots at the national park before they safely drove me back to my hotel.
Will say, the pure fact that you can visit places self-organized doesn't necessarily mean that it is the most convenient option. Therefore, when planning your trip, make sure to check out these great tours of Tenerife:
Where to Stay
Tenerife has been a popular tourist destination for decades. Although Santa Cruz is a city that tourist visit rather on day trips, you'll find a good choice of hotels and apartments. Especially if you want to explore more of the islands by public transportation, Santa Cruz might be your best bet since all buses are going to the city's main bus station called Intercambiador. And don't worry, you can also reach some of the nicest beaches from there in a short amount of time.
On this map, you can check out the availability and prices of some suitable lodging*:
What to Eat
As I repeatedly pointed out above, the heritage in the Canary Islands doesn't necessarily stem from the Spanish peninsula. As much as you won't find Canarians dancing Flamenco, for instance, Paella is a dish imported from the mainland, namely Valencia.
What the Hispanic peninsula and the Canary Islands do have in common are Tapas. Tapas are varied snacks such as sliced ham, diced or grilled cheese, boquerones en vinagre, marinated anchovies, papas bravas, tiny potatoes with a spicy dip, albondigas, small meatballs, to name just very few. A selection of two or three tapas can actually replace a meal. However, you can also order a ración, hence, a whole serving, or a media ración, a half-sized serving.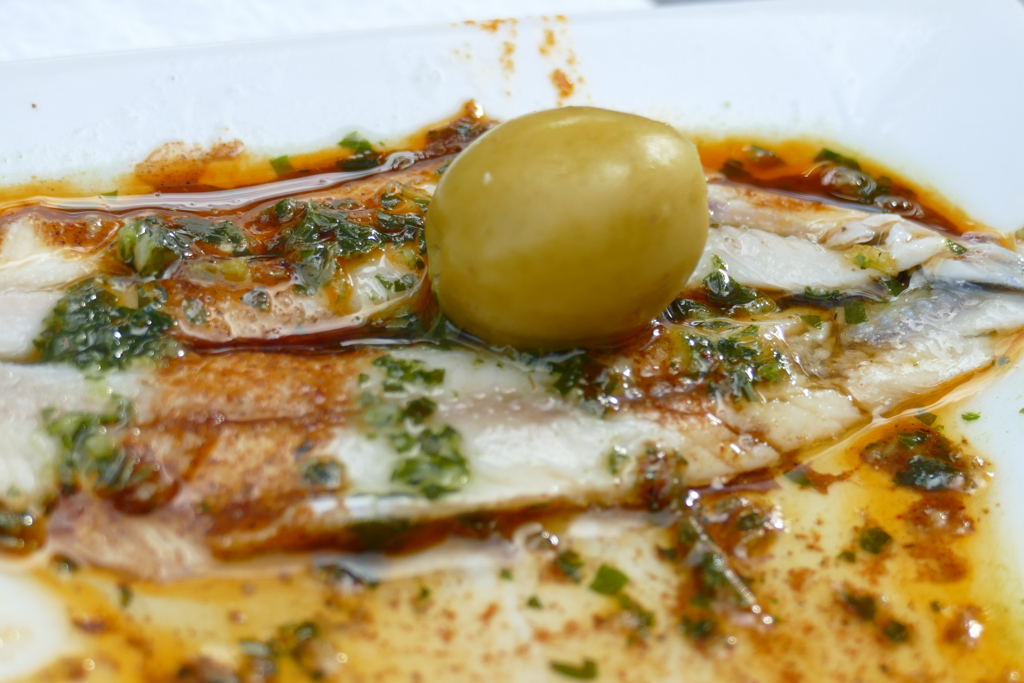 When you are really hungry, the menú del día might do. It's usually a three-course meal. You can combine it to your liking from different starters, main courses, and dessert options. Often, the price of around 10 €uros includes water or even wine. However, the menú del día is most of the time just a lunch option.
As in most other European countries, tipping is rather optional in Spain. It is not compulsory, but an appreciative gesture. Also, you don't need to calculate a certain percentage. Rounding up to the next full €uro might be a bit chintzy. However, adding one or two €uros will normally do.
Cash and Cards
Until now, 20 European countries replaced their former local currency with the €uro starting in 2002. Obviously, Spain is one of them. The exchange rate is 1 US$ = 0.94 EUR as of January 2023. However, you can check today's conversion rate on this page.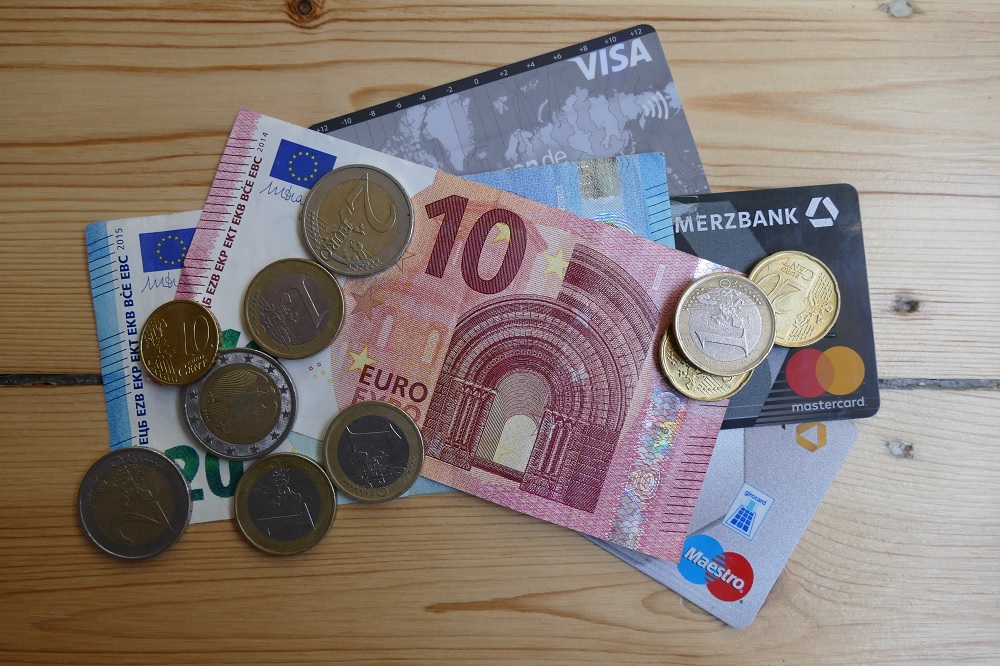 Especially due to the Covid pandemic, even small businesses prefer that you pay by credit card, and preferably contactless.
Language
Before the Spanish conquest, each Canary Island spoke its own type of the Guanche language. Due to the systematic pushback of the local culture by the Catholic conquerors, only fragments of the language exist to this date. You mostly find those traces in the names of places.
Today, the official language is Spanish, obviously. If you want to learn some basic Spanish or just brush up on your knowledge, there are various apps and online tools. I personally like to practice with babbel. However, due to international tourism, most people working in tourism and gastronomy speak at least some rudimentary English and very often also German.
Nevertheless, here are some ground rules for Spanish pronunciation since saying for instance city names wrong can cause some problems. If people don't understand where you want to go, they won't be able to give you directions.
Say It Right
The good news is, that in general, you read Spanish the way it's written. Although, the letter C is a bit tricky for foreigners. Placed before an A, O, or U, it's hard and pronounced as K. Followed by E or I, it is pronounced like an English the. Now, if you want that th-sound in combination with A, O, or U, the letter Z comes into the picture. So you have to pronounce Canaria Kanaria, and Plaza Platha.
On the other hand, if you want C to sound hard in combination with E or I, you make it a QU – but you don't hear the U. Fine example: Tequila, that you pronounce like Tekkila.
This applies also to the letter G. If it's followed by A, O, U, or a consonant, it's pronounced like the G in guitar or Gran. To make a G sound hard before an E or an I, they squeeze in a mute U – like in guilt. If G stands before an E or an I, it is rather breathed than pronounced – a bit like the H in house.
The same applies to the letter J. You always pronounce it like the H in house.
The last trap is double L which is not pronounced like an L but like a Y in yellow. Hence, the sculpture Lo Llevo Bien on the Plaza de España that I'm introducing above is pronounced as follows: Lo with a simple L, followed by Llevo which you need to pronounce like Yevo. And finally bien be-an. I'm sure you'll manage muy bien!
Connection and Communication
Since June 2017, no roaming charges apply within the EU with a European mobile phone contract. This applies to all 27 countries of the European Union as well as Iceland, Liechtenstein, and Norway. It pertains to all contracts.
When roaming is not available, you can connect to the internet at basically every museum, eatery, and, of course, hotel.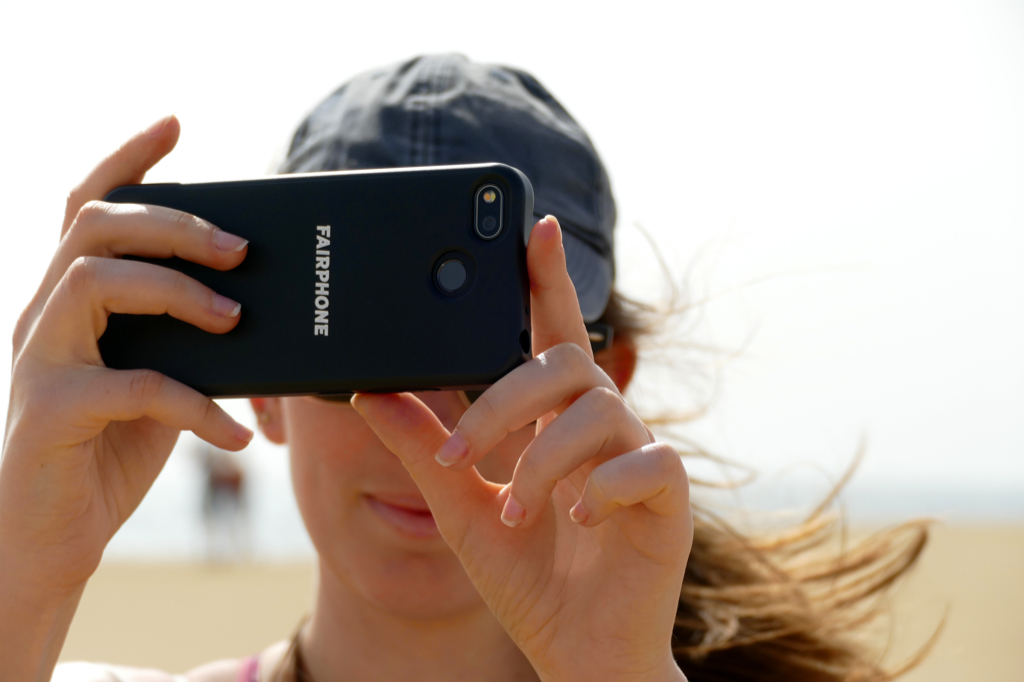 If you insist on being online 24/7, you can get a SIM card. The cheapest one would be Lycamobile while Orange Tu Mundo has the widest coverage.
In Spain, they use plug types C and F. Their voltage is 230 V and the frequency 50 Hz. Whereby, as nowadays all these chargers have integrated adapters, the voltage and frequency don't really matter.
By the way, you'll find comprehensive travel info in my post World's Most Complete Travel Information – an indispensable globetrotter-classic.
My day in Santa Cruz de Tenerife was only one of many amazing day trips I took during my stay on the island. To read about the others, go to this post and take your pick!
For general information on Spain, go to the main post. There, you'll find information and tips that will make your trip much smoother and more enjoyable.
Map
On this map, you can see where all the places I'm introducing in this post are located.
Clicking on the slider symbol at the top left or the full-screen icon at the top right will display the whole map including the legend.
Pinnable Pictures
If you choose to pin this post for later, please use one of these pictures: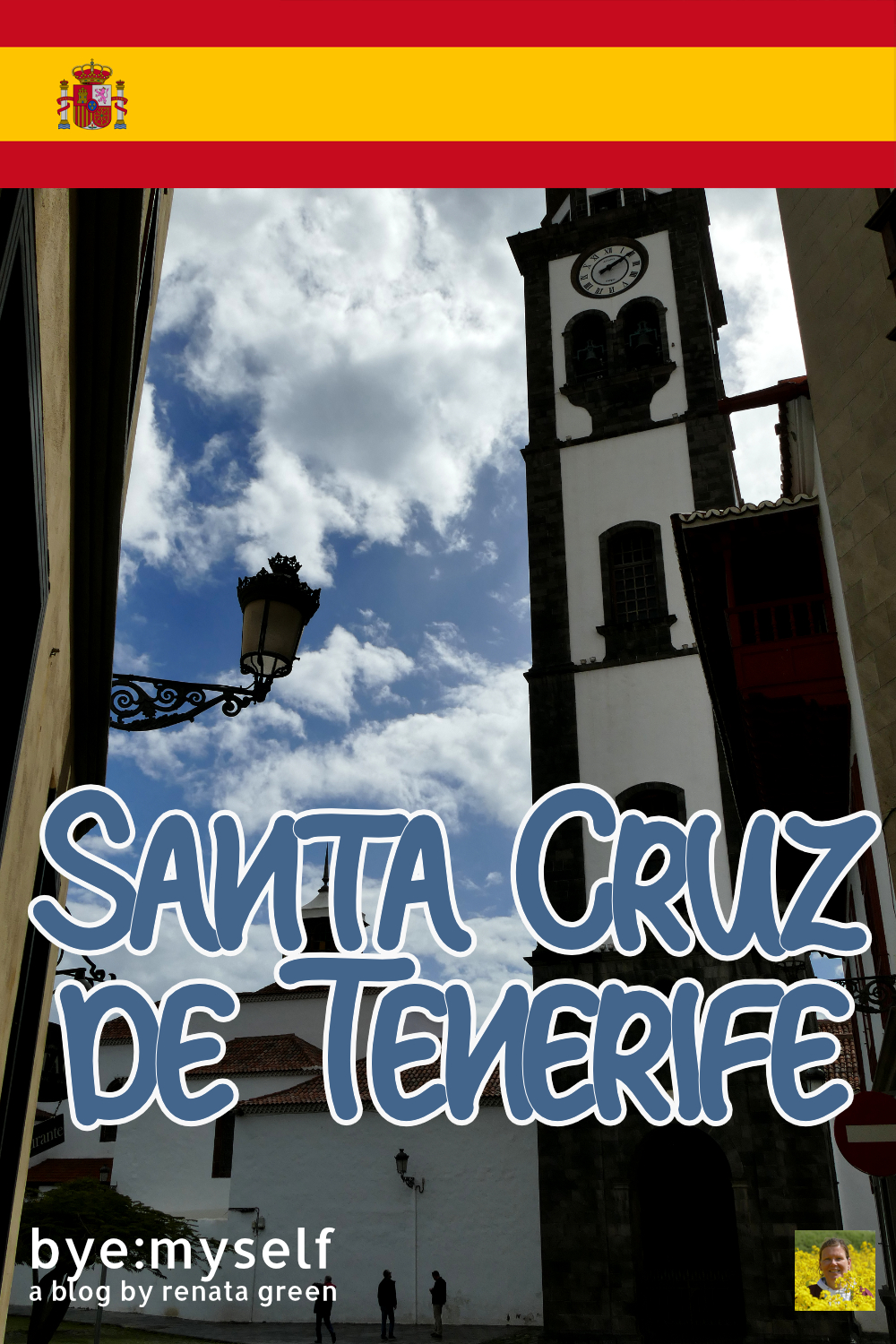 Did You Enjoy This Post? Then You Might Like Also These:
* This is an affiliate link. If you book through this page, not only do you get the best deal. I also get a small commission that helps me run this blog. Thank you so much for supporting me!