Copenhagen is a fascinating mix of romantic castles and quirky neighborhoods, the world's oldest amusement park, and exciting contemporary art. Furthermore, Copenhagen is said to be the happiest city in the world. And finally, it is a gateway not only for travellers going to various places in Scandinavia: When SAS has one of its incredible offers, Copenhagen can also be a major hub for those travelling between continents. No matter for what reason you have a layover in Copenhagen, with my itinerary for a stay of up to 24 hours, you'll enjoy some of the city's best sides'n'sights.
Welcome to Copenhagen
Copenhagen is Denmark's charming capital and one of the cities with the highest quality of life in the world. The urban area is idyllically spread over several islands, and the municipality has about 650,000 inhabitants.
Copenhagen's Kastrup Airport might not be Europe's busiest hub. However, since Scandinavian Airlines System, short SAS, offers some amazing deals on airfares, you might have a couple of hours to spend during a layover. Also, Copenhagen is a fantastic pitstop on your way to Norway or Sweden. Therefore, I put together itineraries for a sunny day as well as a rainy day for a stay of up to 24 hours.
Howsoever, you definitely should consider a longer stay in Copenhagen whenever you have the opportunity. In my comprehensive post Best Things to Do on a Long Weekend in Copenhagen, I have you covered: There you'll find tons of places and activities to choose from – the must-sees as well as some hidden gems.
Local Currency
1 US $ = 6,83 DKK (current rate)
1 €uro = 7,45 DKK (current rate).
as of July 2023
Emergency Contacts
Police, Fire Department, Ambulance 112
National Airline
Scandinavian Airlines System Denmark-Norway-Sweden (short SAS)
Airport
Copenhagen Airport IATA Code CPH
Tourist Info Online and Onsite
Copenhagen Visitor Service
Vesterbrogade 4B
1620 København
On weekdays, they are open from 9 a. m. to 4 p. m., on weekends, they open only at 10 a. m.
Going Downtown and Back
Kastrup Airport is less than twenty minutes from the main station. Regional trains are going every couple of minutes, and the fare is included in theCopenhagen Card*. If you prefer to take a cab, the ride will set you back around 250 to 350 DKK.
Once you get to the Central Station, you can leave your big luggage in a locker.
If you don't opt for a Copenhagen Card* and you are planning on taking public transportation more often, you might want to purchase a so-called City Pass Small. It grants unlimited rides on buses, trains, metro, and harbor buses in the city center including the airport. The pass costs 80 DKK and is good for 24 hours. Since a single ticket within the city center costs 24 DKK, the pass is probably your best option.
Deals And Discounts
While the Copenhagen Card* is a great deal on rainy days when all you can do is visit Copenhagen's amazing museums, due to its relatively high price of 459 DKK for 24 hours, it probably won't pay off on a sunny day when you explore the beautiful city just by strolling or cycling around.
A valid alternative is a ticket for the Parkmuseerne*, the six museums around the Østre Anlæg greenery. For 295 DKK, it grants free admission to Den Hirschsprungske Samling, the Statens Museum for Kunst SMK, the Natural History Museum of Denmark including the Palm House, and Rosenborg Castle. You'll also get a 10 percent discount on publications at The David Collection as well as a free cinema ticket to a regular film screening at The Cinematheque.
Morning Activities
Copenhagen is a very charming city with cobblestone alleys, spacious parks, and lots and lots of water. Since the city center is not very big, it can be easily explored by walking.
Start your walk on the eastern exit of the central train station right across from the world-famous amusement park Tivoli. On the opposite side of the park is the square Rådhuspladsen crowned by the majestic city hall from 1905.
From the city hall, walk down Vester Voldgade and turn left at Ny Vestergade. It leads you straight to the Christiansborg Palace.
Where It All Began
Christiansborg Palace stands on an isle called Slotsholmen and is kind of the city's cradle: Around 1167, the founder of the city of Copenhagen, Archbishop Absalon, commissioned a first castle on what is now Slotsholmen. Eventually, Copenhagen Castle was constructed on the foundation walls. In 1731, King Christian VI. demolish this castle to erect the first Christiansborg Palace on the grounds.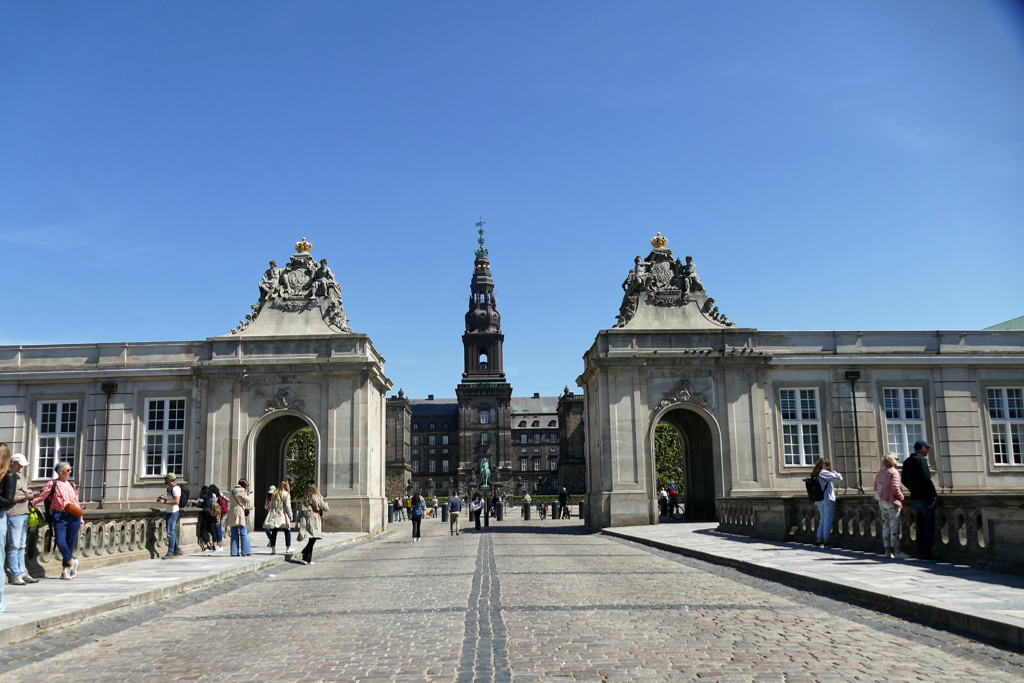 Sadly, parts of the castle burned down a couple of times. The current building was erected between 1906 and 1937. It is basically divided into two halves. The southern part is used by the Danish Parliament while the northern part is occupied by the Prime Minister's offices as well as the Supreme Court. You can walk around the premises for free. If you want to visit the publicly accessible rooms, check out the rainy day section below, there you'll find more details.
As you cross the Slotsholmen Isle to its northeastern side, take a look to your right. Børsen is the old exchange and one of Copenhagen's most iconic buildings.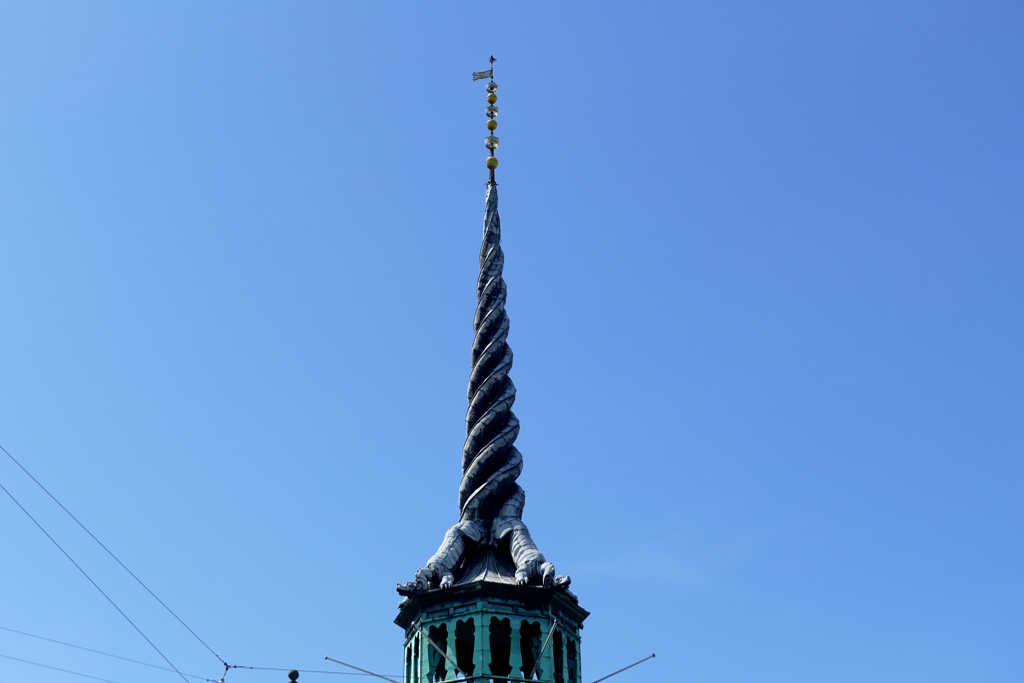 King Christian IV commissioned it as a commodity exchange in the early 17th century when it was one of the first European exchanges. Its most alluring feature is a 56-meter-high spire that represents four intertwined dragon tails and is considered a symbol of Copenhagen.
Setting Sails
Cross the Holmensbro bridge to the other side of the canal and keep walking until you get to the iconic Nyhavn.
The Nyhavn Canal was built as a transport route and completed in 1673. Over the following two centuries, colorful gabled houses were constructed on both sides of the waterway. The harbor environment soon spawned numerous taverns, and the area is still one of Copenhagen's best-known entertainment areas. Historic ships are lining the canal and many harbor tours start from here.
A standard tour takes 60 to 80 minutes and costs 109 DKK. It is included in the Copenhagen Card*. During the high season in summer, they are also offering a so-called Grand Tour which takes 1.45 hours and costs 199 DKK. Departure times are every day between 10 a. m. and 6.30 p. m.
Once you're back from your harbor cruise, you can choose from many different restaurants lining the Nyhavn Canal.
Morning Activities
Rain in Copenhagen? Unfortunately, that's not exceptional in a Scandinavian Metropole. Yet, it gives you enough time to explore the city's rich culture and history.
The art museum closest to the central train station is the Ny Carlsberg Glyptotek. It is right behind the Tivoli.
Apart from about 10,000 artworks, the building itself is a highlight. Right behind the entrance area is a beautiful winter garden where you can just listen to the fountain and enjoy the sight of lush plants.
The collection goes back to the Danish industrialist Jacob Christian Jacobsen. However, it was his son Carl Jacobsen who extended the exhibition greatly and donated it to the public in 1888.
The largest treasure is ancient Mediterranean sculptures from Rome, Greece, and Egypt – including mummies.
However, there are also modern sculptures by Auguste Rodin and Edgar Degas. The paintings on display are mainly from the Impressionist and Post-Impressionist era.
The museum is open from Tuesday to Sunday between 10 a. m. to 5 p. m. On Thursdays, they are closing only at 9 p. m. The general entrance fee is 125 DKK. However, admission is free on the last Wednesday of each month. Also, it's included in the Copenhagen Card*.
Royal Visit
I've already introduced Christiansborg Palace in the sunny section above. On a rainy day, however, I highly recommend visiting the publicly accessible parts of the castle, especially the Royal State Rooms.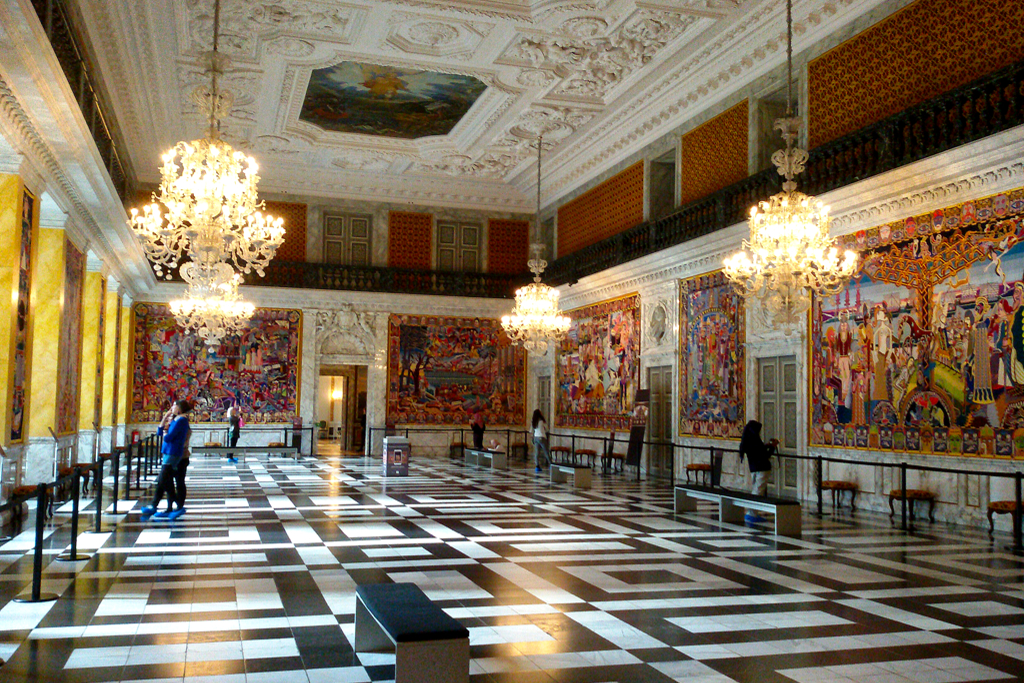 They are used on official occasions such as audiences and banquets. The Great Hall is decorated with 17 colorfully woven tapestries by Bjørn Nørgaard. They are depicting scenes from Danish history in colors and designs you would not necessarily expect in such a venerable place.
Since the opening times of the different parts of the castle complex vary, please check their website before planning your visit. You can buy single tickets to the individual sections, however, a combi ticket for 175 DKK saves you lots of money if you really want to see it all. Also, the Copenhagen Card** includes a visit to Christiansborg.
To enjoy a traditional Danish meal, you don't need to walk far since the lunch place is right on the premises.
Lunch
Depending on whether you're following the itinerary for the sunny or for the rainy day, your lunch takes place either at Nyhavn where the canal cruise ends, or at the restaurant housed at the Christiansborg Palace.
There are many, many restaurants around Nyhavn, but Nyhavn 17 is arguably the most famous one where Danish staples are served every day of the week from 9.30 a. m. to 12.45 a. m.
As your morning visit on a rainy day ends at the Christiansborg Palace, you might want to enjoy more upscale Danish cuisine at the restaurant Meyers i Tårnet. For lunch, it's open from Tuesday to Sunday between 11.15 a. m. and 4.30 p. m. However, they also serve dinner from Tuesday to Saturday between 5.30 p. m. and 10 p. m.
Afternoon Activities
After lunch, the walk continues to the Royal residence Amalienborg Castle where the Danish Royal family actually resides.
The castle complex consists of four individual palaces around an octagonal square. They were constructed between 1750 and 1760 as the hub of a new neighborhood for various Danish noble families.
Only when Christiansborg Palace burned in 1794, the royal family obtained the palace complex.




Walking straight northeastward, you'll get to the Gefion Fountain that marks the entrance to the star-shaped Kastellet fortress from the 17th century. Today, it's a popular leisure site for visitors and locals alike. There are ramparts, a windmill, and a museum. Also, concerts and other events are hosted quite often.
It's Like A Fairytale
East from the Kastellet is Copenhagen's world-famous ambassador, namely the Little Mermaid. The 1.25 meters tall lady is sitting on a huge rock. Edvard Eriksen created her from bronze in 1913 referring to the popular fairytale by Hans-Christian Andersen.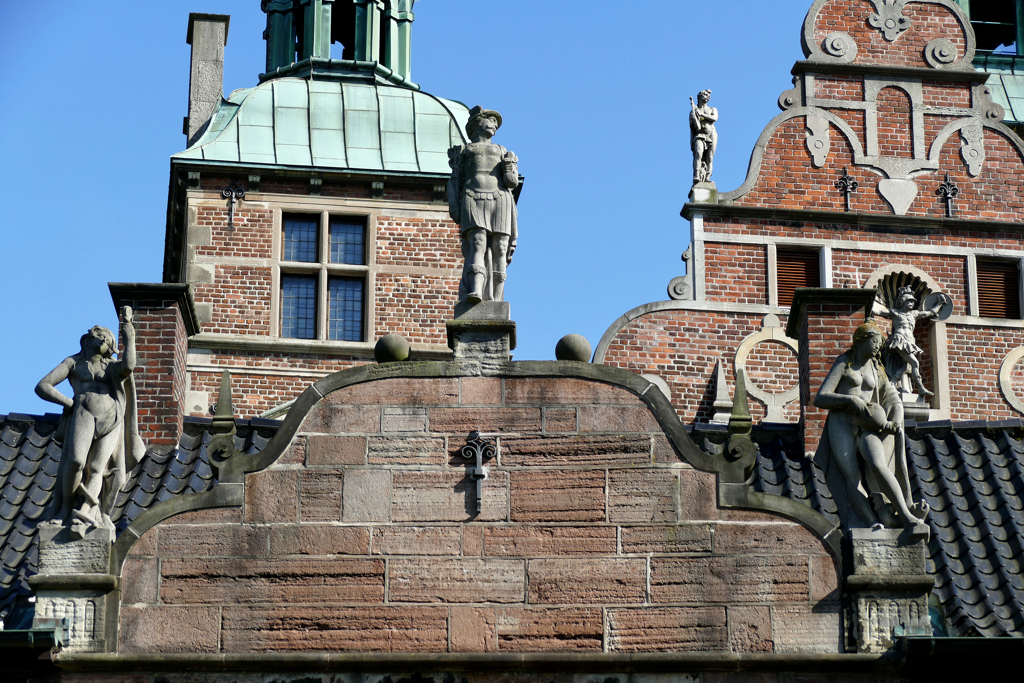 To see more of Copenhagen's fairytale-like side, walk to the western side of the Kastellet fortress where you can access the Østre Anlæg, probably the city's most beautiful park. Set in the lush greenery is an idyllic lake. There are trails, lovely sculptures, and two amazing art museums, namely Den Hirschsprungske Samling and the Statens Museum for Kunst art museum.
Across the street is Kongens Have, the King's Garden in English, where you can admire Rosenborg Slot, a dreamy Dutch Renaissance palace that today is a museum. Among other cultural treasures, it houses the crown jewels.
Østre Anlæg as well as Kongens Have are lovely and serene parks. Hence, if you need a break, just grab a coffee or another refreshment and enjoy it on one of the lush lawns.
Note: You'll find complete information to plan your visit to the Statens Museum for Kunst as well as to Rosenborg Castle in the itinerary for a rainy day below.
To go to the dinner place, you can walk for about half an hour. But f you prefer, you can also take bus C at the Nørreport station and get off at Dybbølsbro from where it is just a five-minutes-walk.
Afternoon Activities
Copenhagen has so many museums and other indoor landmarks that you certainly won't get bored even on a rainy day.
To get from Christiansborg Palace to the Statens Museum for Kunst, hence, the national art museum, take bus #23 at Gammel Strand and get off at Georg Brandes Plads right in front of the venue.
The Statens Museum for Kunst houses the Royal Collection of paintings and sculptures, which consists of around 2600 works from the 1300s to the present day. My favorite section are the moody Danish impressionist paintings from the 19th century by Christen Købke, Peder Severin Krøyer, and, obviously, Vilhelm Hammershøi.
However, the collection also contains paintings from other European countries and various epochs like the Italian Renaissance, Dutch Baroque, and French Impressionism. A smaller section is dedicated to contemporary art.
The museum is open from Tuesday to Sunday between 10 a. m. to 6 p. m. On Wednesdays, they are closing only at 8 p. m. The general entrance fee is 120 DKK. The Copenhagen Card* as well as the Parkmuseerne Ticket cover the visit.
Just across the street is Kongens Have, the King's Garden in English. Here you can visit the lovely Rosenborg Slot which was built in a Dutch Renaissance style.
My Home Is My Castle
King Christian IV. commissioned the castle as his summer residence. It was then in use as a royal residence until 1710. In 1833, however, Frederick VI decided to convert the castle into a museum which then opened in 1838.
Today, the castle houses highly interesting pieces of furniture and decoration such as the ivory throne and the three silver lions whose replicas are exhibited at the Victoria&Albert Museum in London.
The halls are beautifully decorated with lavish stucco and meticulous pictures painted right on the wooden walls. Apart from antique furniture, chinoiseries, and glass collections, there is also an array of paintings.
Since the opening times differ a lot depending on the season, please check their website before planning your visit. A single ticket costs 130 DKK. The Copenhagen Card*, as well as the Parkmuseerne Ticket, include a visit to both venues.
Based on my experience, I highly recommend booking a certain timeframe free of charge on their website – especially during the high season.
To get from Rosenborg Castle to the dinner place, take bus C at the Nørreport station and get off at Dybbølsbro. From there it's just a five-minutes-walk.
Dinner
In 2015, Folkehuset Absalon opened in a former church building in the Vesterbro district just minutes from the main train station. Today, the decoration and the vibe are the quintessence of hygge, the Danish term for cozy: Make yourself at home in an armchair or a sofa under grandma's fringed lampshades and enjoy snacks from a small menu in a comfortable setting. Breakfast is served from 7.30 a. m. till noon and lunch from noon until 2.30 p. m.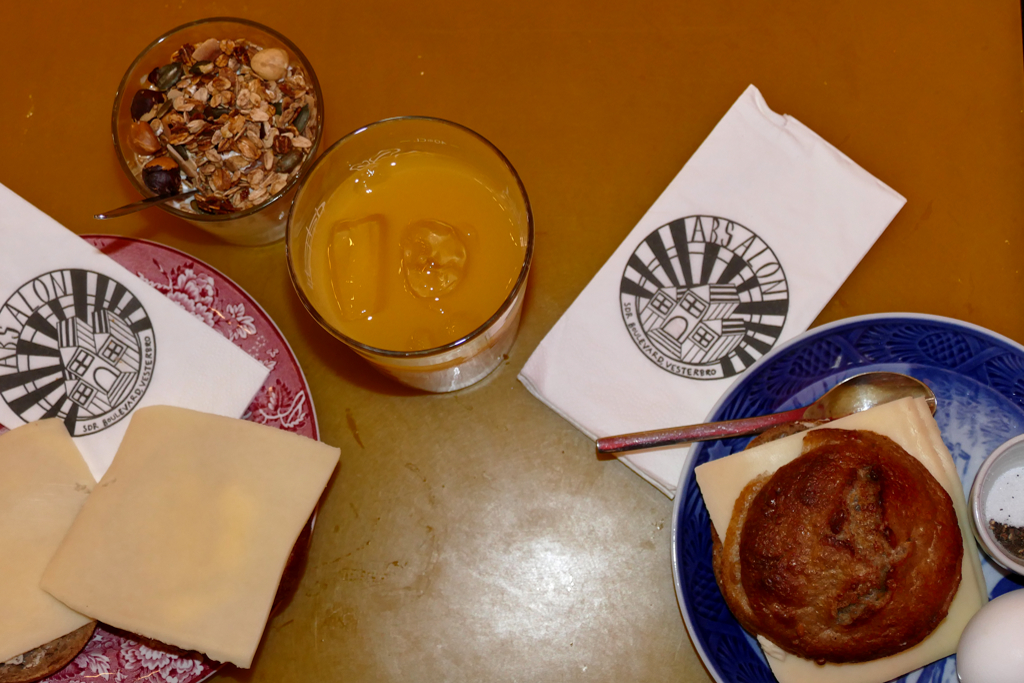 A unique highlight is the daily communal dinner. Starting at 6 p. m., people are grouped at tables where there share food while they get to know each other. There is a set dish – and a vegetarian alternative – served on a large serving plate just like at home. In addition, you're served freshly baked bread, side salad, and dessert.
You can check out the menu beforehand on their website. Also, I recommend an early reservation as these unique dinners tend to sell out. Every party cares for their own drinks which are not included in the price of 50 DKK from Sunday to Wednesday and 100 DKK from Thursday to Saturday.
In general, Folkehuset Absalon opens every day at 7.30 a. m. and closes at midnight.
Nightcap
There are tons of cool bars in Copenhagen, however, in this already quite pricey city, alcoholic drinks are extra-expensive. To combine your nightcap with an amazing view of Copenhagen by night, I recommend the Rooftop Bar at the Hotel Danmark*. You'll get there from Folkehuset Absalon by taking bus #11 at Knud Lavards Gade and then get off at Stormgade.
To get back to the Saga Hotel* from Hotel Danmark*, it's just a short ten-minutes-walk.
Accommodation
Since Copenhagen is a very touristy city, there is a wide choice of accommodation and all of them are crazily expensive. However, if you have only 24 hours in the city and need to go back to the airport, accommodation in the vicinity of the central station is your best option.
For one night, I can totally recommend the minimalistic yet comfortable and clean Saga Hotel*. Also, it is very conveniently located between the main station and the up-and-coming meatpacking district.
Yet, on the map below, you can choose suitable lodging options in Copenhagen according to the location – and your budget, obviously*:
Map
This map should help you to easily find all the wonderful places I'm introducing in this post. However, to switch between the itineraries for a sunny and a rainy day just open the legend at the left upper corner and you can hide or unhide the respective layer as you wish. This way, the map will show only the section you really need and be more clear.
Pinnable Pictures
If you choose to pin this post for later, please use one of these pictures:
Did You Enjoy This Post? Then You Might Like Also These:
* This is an affiliate link. Hence, If you book through this page, not only do you get the best deal. I also get a small commission that helps me run this blog. Thank you so much for supporting me! However, all other links are a service to my readers.
Icons: money bag by Roundicons from www.flaticon.com, police car, train, sun, glass, and bed by Freepik from www.flaticon.com, takeoff plane and board made by ultimatearm from www.flaticon.com, info made by Roundicons from www.flaticon.com, umbrella made by Kiranshastry from www.flaticon.com, food plate by Vectors Market from www.flaticon.com