Since Germany's fourth-largest airport – after Berlin, Frankfurt, and Munich – is in Dusseldorf, chances are that you'll have the opportunity to spend a layover of up to 24 hours in this beautiful and fun city on the river Rhine.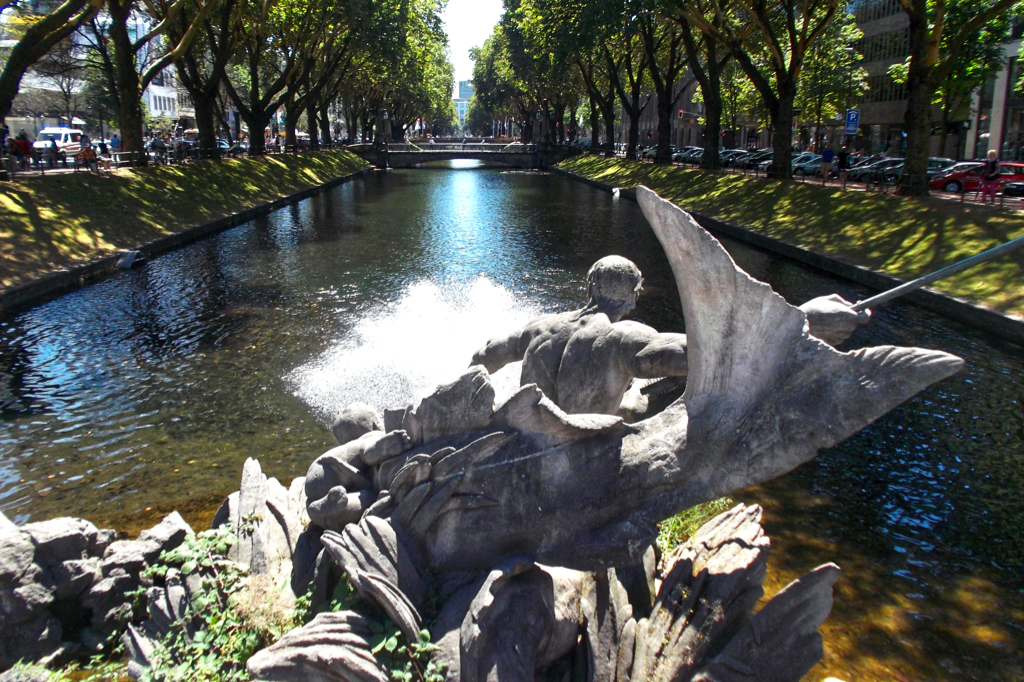 As a matter of fact, it was not really surprising that on my way to Japan, I had a stopover in Düsseldorf. After all, the city has the largest Japanese community in all of Germany.
Düsseldorf is the capital of  Germany's Federal Country North Rhine-Westphalia and has about 600,000 inhabitants. Since Düsseldorf's old town alone has about 260 bars and restaurants, the city is the self-proclaimed "longest bar in the world".
If you are on a stopover, you probably won't have time for a serious pub crawl. However, if your layover is at least six hours long, you can make the most of it by taking a quick ride by commuter train into the city center. This guide will lead you to the most interesting and iconic places – whether rain or shine.
In case your layover is too short to squeeze in a day trip downtown – no problem, just come back for a city break like for instance an extended weekend trip. Therefore, I've put together this comprehensive Düsseldorf-guide.
Local Currency
Euro (EUR) / 1 EUR = 1.06 US$ (July 2022) / current rate
Emergency Contacts
Police 110
Fire Department 112
National Airline
Lufthansa, whereby Düsseldorf is the most important hub for the German low-cost airline Eurowings as well as Lufthansa's touristy subsidiary Condor.
Airports
Düsseldorf Airport / IATA-Code DUS
Tourist Info Online and Onsite
Tourist-Information am Hauptbahnhof (Main Station)
Immermannstraße 65 b
40210 Düsseldorf
Phone: + 49 – 211 – 17 20 2-844
Email: info@duesseldorf-tourismus.de
Open Monday to Friday 9 a. m. to 6 p. m., Saturday 9:30 a. m. to 5 p. m.
Getting Downtown and Back
Since the airport is located only about 9 kilometers respectively 6 miles from the city, the center can be easily and quickly reached by public transport. However, there are two train stations: Bahnhof Düsseldorf Flughafen and Bahnhof Düsseldorf Flughafen Terminal. While the latter is right in the Airport, the other one is connected by Sky Train.
The ride from the airport to the city center takes a bit over ten minutes and costs only 2,90 €uro.
If you have luggage, you can store it in the lockers at the main station – albeit, the hotel I'm recommending if you spend the nights is a mere five minutes walk away.
However, at least for the rainy day itinerary, I strongly recommend getting a DüsseldorfCard for 24 hours. This way, not only all your rides on public transportation are covered, but you also get discounts at museums and other perks.
On a sunny day, you'll be able to walk most of the time since the city center is not that big, therefore the card might not pay off.
Morning Activities
Although Düsseldorf is only a medium-sized city, it has surprisingly much to offer – on sunny as well as rainy days.
Being a city famous for fashion and some glamour, especially the Königsallee aka Kö is one of the most prestigious and expensive shopping boulevards in the world and one of Düsseldorf's landmarks. Here, you can do some shopping – or just window shopping – as well as hang out at one of the many cafés and watch the rich and the wannabes passing by. A canal is dividing this classicist esplanade and a stroll under the many beautiful chestnut trees is just so pleasant.
Oh, to get here from the train station, you can either walk or you take one of the subways (U74, U75, U76, or U79) to Steinstraße/Königsallee; anyway, it's only two stops.
Once you get to the northern end of the city moat, you can decide between walking further north across the sumptuous greeneries of the Hofgarten, the former court garden. Here, you'll also find a tiny part of the Düssel river, namely the Nördliche Düssel, one of the river's four streams.
A walk in this park is not only relaxing but also inspiring since you can pay interesting museums such as the Theatermuseum and the Goethe Museum an informative visit.
The Old Town
But maybe you prefer exploring the famous Altstadt, Düsseldorf's Old Town with its charming cobblestone alleys, squares, small shops…and, of course, the many breweries.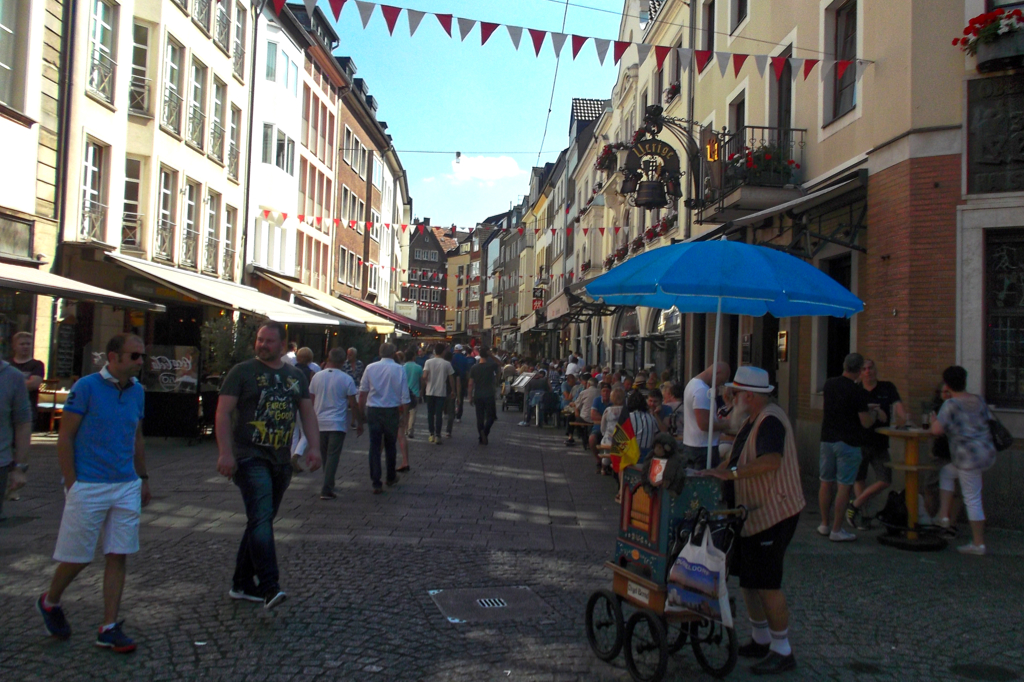 Looking for a yummy souvenir? In fact, the city is famous for mustard and Löwensenf's flagship store is right in the heart of the city center.
As you stroll through the city center, you will certainly notice the incredible number of bars and eateries that are open already from morning till late at night. They are said to be about 260 bars and restaurants – hence, this is how the city earned the title to be the "longest bar in the world".
Seeing all these eateries on your way through the Altstadt will certainly make you feel very hungry – and since one of the most quaint restaurants is right in the middle of this jolly quarter – no problem, come on, let's stuff face.
Morning Activities
It's raining? When visiting Düsseldorf, no problem at all. As I pointed out, the city has a lot to offer and is not only famous for the fashion industry but also for one of Germany's greatest art scenes. There are 26 fantastic museums and about 100 galleries.
Kunstsammlung in Three Locations
My favorite is the Kunstsammlung K21, located south of the city center.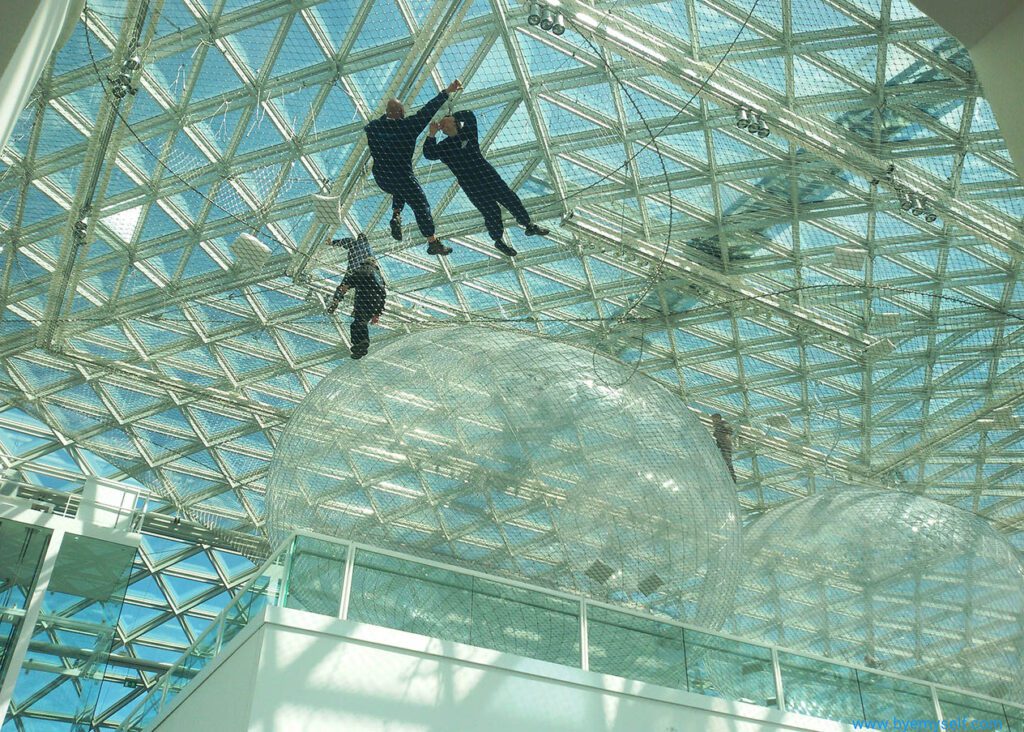 They have great temporary exhibitions, small but excellent exhibits from their own collection and on top it this – literally – the phenomenal installation by Argentinian artist Tomas Saraceno: A net spanning underneath the main hall's ceiling that can be climbed by visitors. If I've done it? No way! I'm afraid of heights and have therefore only taken pictures of all those brave people up there.
Since the venue is a bit off the beaten path, the good people of the Kunstsammlung offer a free shuttle service from here to the affiliated venue K20, Kunstsammlung Nordrhein-Westphalen.
K21 Ständehaus
Kunstsammlung Nordrhein-Westfalen
Ständehausstraße 1
40217 Düsseldorf
Phone: + 49 – 211 – 83 81-204
Email: service@kunstsammlung.de
Open Tuesday to Sunday from 10 a. m. to 6 p. m. (Saturday and Sunday from 11 a. m.)
Kunsthalle
If these two galleries aren't enough for you art buff, there is the Kunsthalle Düsseldorf right across the street from the K20.
The Kunsthalle is a small yet exquisite gallery for modern art.
While the building is not exactly spectacular, the shows are most of the time.
Kunsthalle Düsseldorf
Grabbeplatz 4
40213 Düsseldorf
Phone: + 49 – 211 – 8996243
Email: mail@kunsthalle-duesseldorf.de
Open Tuesday to Sunday from 11 a. m. to 6 p. m.
I assume that after you have appeased your hunger for art and beauty, you are now hungry for food.
The restaurant I'm recommending for lunch is about five minutes walk from the Grabbeplatz where the art museums are located.
In case it is raining too hard, you can just drop in at Klee's Restaurant which is located within the K20's building complex.
Lunch
Yes, Düsseldorf is famous for fashion and glitz, and glamour, for ad agencies and art galleries.
But it's also known for keeping up its culinary traditions and maintaining its art of brewing. Düsseldorf's top-fermented dark beer is tasty and palatable. And the food that comes with it heartily, indeed.
The perfect place for a Rhenish feast is the traditional beer bar and restaurant Uerige in the heart of the old town.
At lunchtime, they have a daily special at a good price – but, of course, you can also choose something else from their regional menu.
Uerige Hausbrauerei
Berger Straße 1
40213 Düsseldorf
Phone: + 49 – 211 – 866990
Email: info@uerige.de

They are open daily from 10 a. m. till midnight.
Afternoon Activities
I presume you ate some pretty heavy stuff that you need to walk off? You're in the perfect spot: Just a two minute's walk from the mighty river Rhine that divides the city between the Old Town on the east bank and modern commercial areas to the west.
After you've seen Düsseldorf's traditional, cozy side in the morning, it's time to check out the relatively newly remodeled neighborhood of Medienhafen, south of the city center. Actually, getting there on foot is a very pleasant walk of about 2 kilometers or 1.3 miles along the river.
You'll pass the City Museum, the Federal Parliament, and the Rheinturm, the Rhine Tower. It's a telecommunications tower, and with a height of over 240 meters – which would be 789 feet – the city's highest building. We'll get to this beauty later.
Right behind the tower starts the hyper-modern MedienHafen, a newly constructed media quarter that has been erected on the former docklands which consisted mainly of warehouses.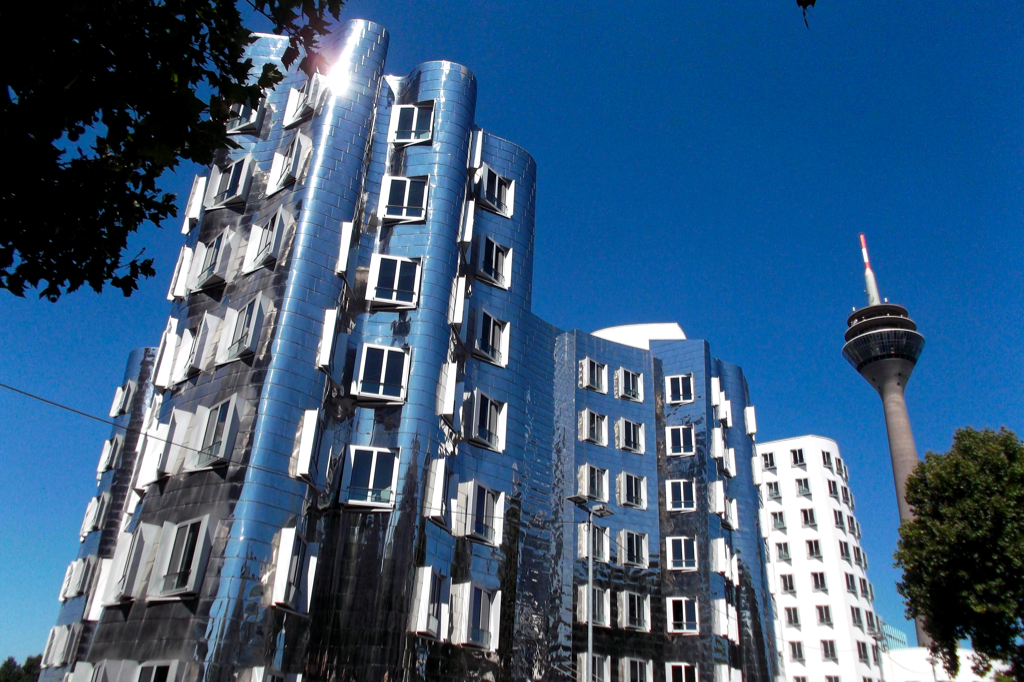 Like in many other cities all over the world, these docklands gradually decayed, hence, something had to be done. Düsseldorf did the best they possibly could: They left the job to internationally acclaimed architects like Frank O. Gehry, David Chipperfield, Joe Coenen, Steven Holl, and Claude Vasconi. As anticipated, this league of fine gentlemen did a marvelous job.
Today, their outstanding edifices are housing media companies, advertising and PR agencies, first-class restaurants and lounge bars and on the tip of a peninsula a very exclusive Hyatt Regency hotel.
You can spend hours in this district just admiring the buildings from the outside – or from the inside by paying one of the galleries or trendy coffee bars a visit.
Afternoon Activities
As already mentioned above, there are many fantastic museums in Düsseldorf with good permanent collections but often mind-blowing changing exhibitions.
The Ehrenhof
A very interesting art complex is the Ehrenhof, which translates to court of honor. This expressionist architectural and garden complex was completed in 1926.
The Ehrenhof complex was built on the occasion of the GeSoLei, an exhibition on healthcare, social security, and physical exercise.
About 7,5 million visitors attended this convention spread over 400,000 m² respectively 478,000 yd². It was the biggest fair taking place during the Weimar Republic.
To get there, you take one of the subways U74 or U75, or U76 at Heinrich-Heine-Allee towards Krefeld and get off at the next stop which is Tonhalle/Ehrenhof.
The subway station is located at the southern end of the complex where you'll spot a round building, the Tonhalle, initially designed to become a planetarium, but today serving as a concert hall.
The NRW-Forum
From the Tonhalle stretches a manicured garden, adorned also with some sculptures by expressionist artists such as Wilhelm Lehmbruck.
On the left side towards the river Rhine is a long, flat building housing the NRW-Forum. At this modern gallery and cultural center, they present changing exhibitions of contemporary art. Very often film, photography, and new media.
NRW-Forum Düsseldorf
Ehrenhof 2
40479 Düsseldorf
Phone: + 49 – 211 – 892 66 90
Open Tuesday to Thursday 11 a. m. to 6 p. m., Friday 11 a. m. to 9 p. m.
Saturday 10 a. m. to 9 p. m., and Sunday 10 a. m. to 6 p. m.
The Kunstpalast
At the opposite end of the Ehrenhof is a large building complex.
On the right wing, it houses the art museum Kunstpalast and on the opposite wing the Glas Museum Hentrich.
The Kunstpalast has a permanent collection of paintings, but also antiques, furniture, and decoration on display.
In addition, they curate the most exquisite themed temporary exhibitions.
The glass museum is actually part of the Kunstpalast and the visit is included in your ticket.
Museum Kunstpalast
Ehrenhof 4-5
40479 Düsseldorf
Phone: + 49 – 211 – 56642100
Email: info@smkp.de
Open Tuesday to Sunday 11 a. m. to 6 p. m. (Thursday to 9 p. m.)
Do yourself a favor and don't leave before you've taken a break at the lovely café at the entrance hall.
It is decorated with a spectacular installation by Swiss artists Gerda Steiner and Jörg Lenzlinger. They assembled with twigs and roots and cords and wires and many tiny objects a model of the vegetative nervous system.
After you've spent the day admiring Düsseldorf's cultural treasures, at the end of the day, you should have the chance to admire the city itself. For a spectacular view, let's go to the city's highest building, the Rheinturm, the Rhine Tower.
To get there, walk from the Kunstpalast east to the stop Sternstraße. There, you take tram #706 towards Hamm and get off at the stop Stadttor. From there, you just cross the greenery Bürgerpark and you're there. Anyway, since the Rhine Tower is Düsseldorf's highest building, you're not prone to miss it.
Dinner
Remember that in the sunny day section I promised you to get back to the Rhine Tower?
Well, since there is not only a regular observation deck, this might be the perfect place for a dinner with a view. At the height of 172 meters, they installed a revolving restaurant where you can enjoy a lovely dinner while you are watching the sun go down over the city.
Rheinturm Düsseldorf
Stromstraße 20
40221 Düsseldorf
Phone: +49 – 211 – 863 20 00
Open daily from 10 a. m. till midnight (Friday and Saturday till 1 a. m.)
By the way: If your bill at the restaurant is over 30 €uro, you get a 50% discount on the entrance ticket for the observation deck.
Nightcap
There's probably no better place for a drink than the bar of the Hyatt Regency; and I'm not talking about some dull indoor place.
No, you grab a drink and then you sit outside on the spacious concrete stairs – covered with some soft cushions, of course. This way, you enjoy a nocturnal view of the architectonic masterpieces from across the water.
To get to the Mercure Hotel, you just cross the bridge and go straight to the stop Erftstraße/Grand Bateau. Here, you catch bus #732 towards Vennhauser Allee. Get off after eight stops at Mintropplatz in front of the main station since the hotel is only a five minutes walk away.
Accommodation
Especially if you are on a layover and need to get back to the airport in the early morning, staying close to the main station is crucial.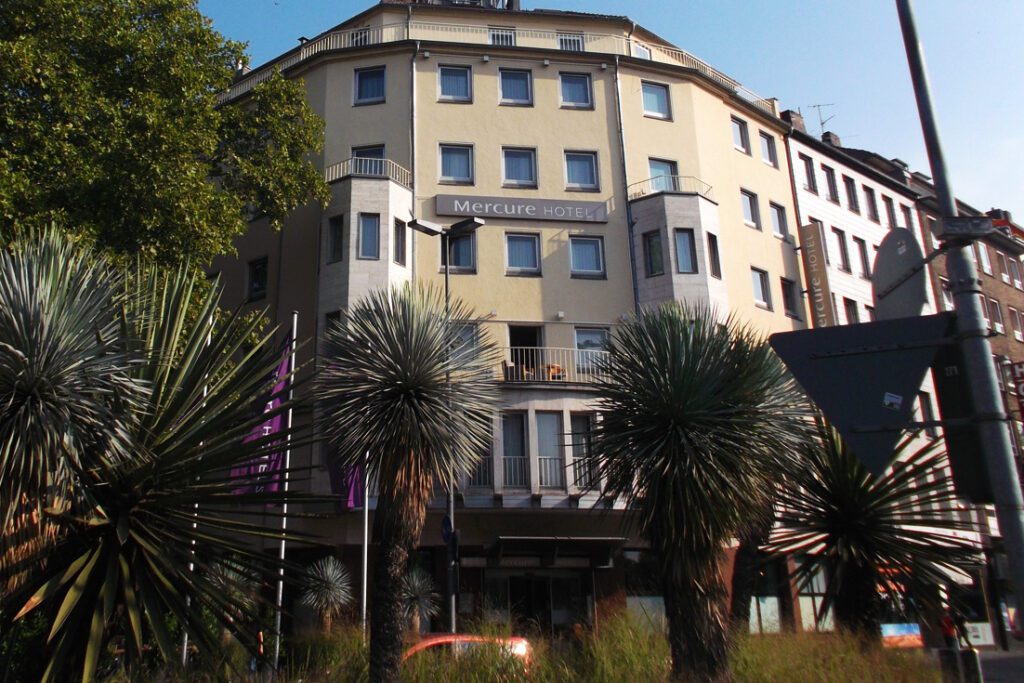 Other than in most other German cities, the neighborhood around the train station in Düsseldorf is not sketchy. Also, the Mercure Hotel Düsseldorf City Center* offers a good standard, a very trendy design, and a laid-back atmosphere of around 100 €uro per night.
Here you can check their rates and availability.*
Map – sunny day itinerary
Map – rainy day itinerary
If you have more time to spend in Düsseldorf, check out my comprehensive post.
Before coming to Germany, you might want to check out my post All you need to know before going to GERMANY. This information will make your trip smoother and more enjoyable.
Pinnable Pictures
Like this guide? Pin it for later – using one of these pictures, please: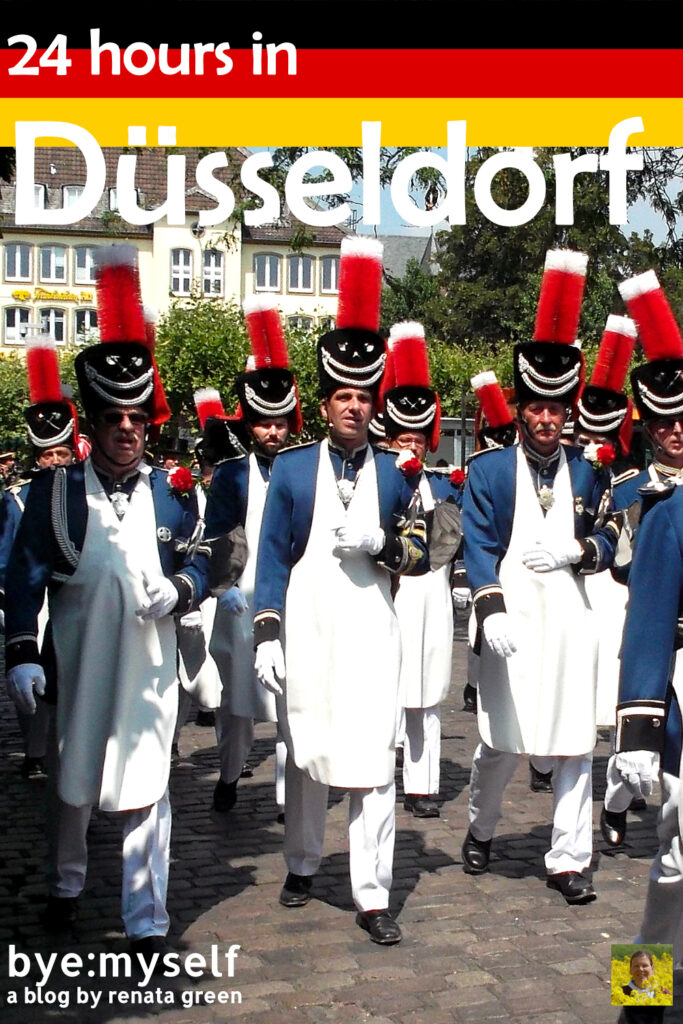 Note: This post is being regularly completed, edited, and updated – last in July 2022.
Did You Enjoy This Post? Then You Might Like Also These:
* This is an affiliate link. If you book through this page, not only do you get the best deal, I also get a small commission that helps me run this blog. Thank you so much for supporting me! I was very lucky to have been invited to stay at the Mercure Hotel Duesseldorf City Center, indeed. Also, the Düsseldorf Tourismus GmbH supported my blogger trip by supplying me with information and some free tickets. However, all opinions on these services are mine and weren't by any means influenced by my cooperation partners.
Icons: money bag by Roundicons from www.flaticon.com, police car, train, sun, glass, and bed by Freepik from www.flaticon.com, takeoff plane and board made by ultimatearm from www.flaticon.com, info made by Roundicons from www.flaticon.com, umbrella made by Kiranshastry from www.flaticon.com, food plate by Vectors Market from www.flaticon.com