The city of Krabi and the Ao Nang beach town are good places to hang out, however, they are only the gateway to the true paradise of the Andaman Sea.
So while I thought places like Ayutthaya, Sukhothai, and Chiang Mai were touristy, thus in an amene way, I didn't know the half of it till I came to Ao Nang.
It must have been a nice place once, albeit today, it is far too crowded.
However, it is the gateway to the paradise of the islets and isles scattered in the Andaman sea.
KRABI
Krabi refers to the province as well as to a city, namely Krabi Town. The latter is not much more than the central hub for the adjacent beaches and islands and doesn't have that much to offer. However, waiting for your ride or flight, you can spend half a day checking out a couple of sights.
The province, on the other hand, is one of the most attractive areas in southern Thailand. The white sandy beaches, steeply rising rocks, fascinating coral reefs, numerous larger and smaller islands as well as forests with caves and waterfalls are just paradisic.
Much of the province has been divided into protected National Parks. Nevertheless, the tourist development of the area is in full swing which creates major environmental problems.
Leaving Krabi Town
Me too, I paid Krabi Town a flying visit – literally. Coming back from my Island Hopping in the Andaman Sea, my flight back to Bangkok was in the evening. I came from the pretty much secluded Koh Jum, I didn't want to take any chances missing it. Therefore, I left for Krabi in the morning and had almost the entire day to spend there.
To be more comfortable I'd booked a room at really cheap but conveniently located hotel. I left my luggage there, strolled around the center. As I explain in my post Keep Calm And Travel Solo, some obviously unnecessarily spent money can make your trip so much more comfortable and should definitely be considered from time to time. And I'm even not talking about the occasion where it can save your well-being.
I browsed a couple of shops and visited Wat Kaew Korawaram, a Buddhist temple located on a hill above the city's downtown.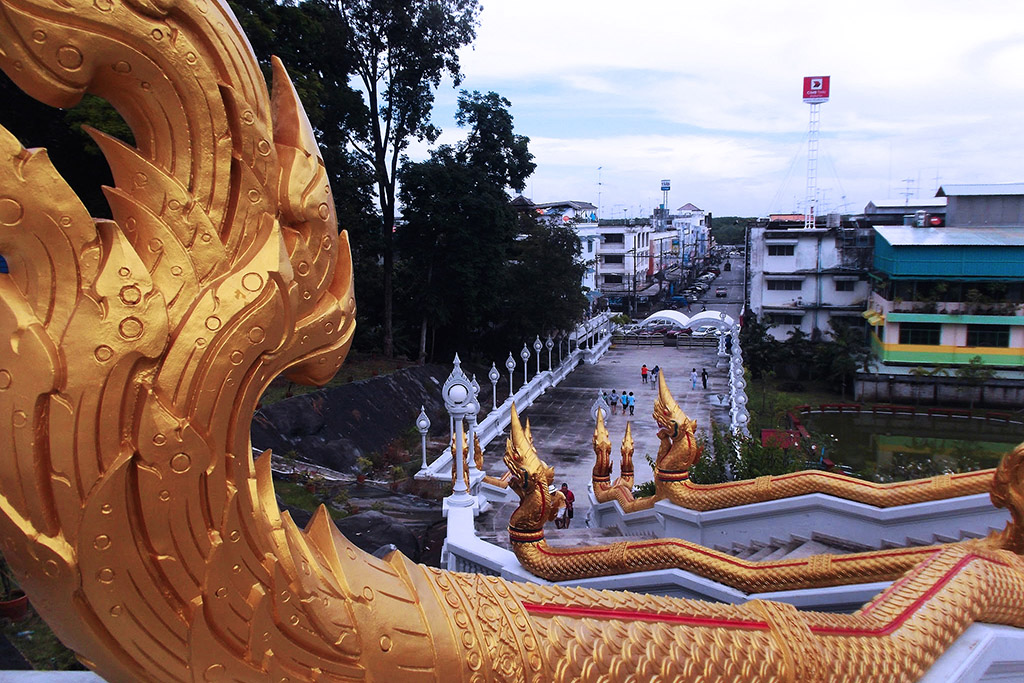 Before heading to the airport, I had the possibility to rest for a moment and to take a shower in my cheapo-room.
AO NANG
The small town Ao Nang is about 20 kilometers west of the provincial capital Krabi Town. It is idyllically located on the eastern edge of the Bay of Phang-Nga, a sea inlet of the Andaman Sea.
Long ago, Ao Nang was a small tranquil fishing village. Sadly, since the 1990s, it developed from being an insider tip for backpackers to a highly frequented destination for international mass tourism.
Since then, Ao Nang has almost completely abandoned its original structures and adjusted its entire infrastructure to tourism. Understandably, this was favored by the approximately two kilometers long Ao Nang Beach, which is located directly on-site, with its view of the offshore islands.
You Never Walk Alone – and Not in a Good Way
I was staying at a quite nice resort of wooden cottages in front of an indeed impressing rock, a 20 minutes walk from the beach. The road to the shore was lined with North American fast food and coffee joints, if you know what I mean, and many Italian eateries. Lots of small stores offered swimming rings and sunscreen and cheap versions of ocean packs and counterfeit sunglasses.
Obviously, Ao Nang is still beautiful and in the early morning even idyllic. There are simply far too many people for the
If you're an early bird, you'll find the beach small but fine. As long as everybody at the many hotels has breakfast. Eventually, they joined me and I realized that the beach is nice – but there are simply far too many people on this relatively small terrain. Consequently, I spent the afternoon on the adjacent, more local beach which is emptier but also dirtier.
First I regretted a bit not having booked accommodation at the adjacent beach of Railay which is very popular with rock climbers. Having visited there on a short pit stop during a boat tour, I relaxed. By no means are those beaches emptier or more appealing.
Out of Ao Nang
But not only the merciless mass tourism is a destructive factor to Ao Nang. The tsunami caused by the seaquake in December 2004 also reached Ao Nang's shores, too. However, the limestone cliffs off the coast acted as a breakwater. Therefore, the damage was limited compared to other coastal locations in the region.
It's these famous limestone karsts that give the Andaman Sea its mystic and dramatic appearance. Hence, no visit would be complete without at least one boat tour to either some islets or secluded beaches. Obviously, snorkeling is also a big thing.
Hence, on my second day in Ao Nang, I went on a longboat trip to some islands. Quite honestly, this way, I also intended to beat the crowds.
Alas, about half of the world's population seemed to have had the same idea. Therefore, the – indeed magnificent – islands were packed like 5th Avenue before Christmas.
Practical Information
How to Get There And Around
Krabi International Airport is about eight kilometers northeast of the city center. Most flights are domestic, however, since 2006, there are also international flights for instance to Kuala Lumpur and Singapore.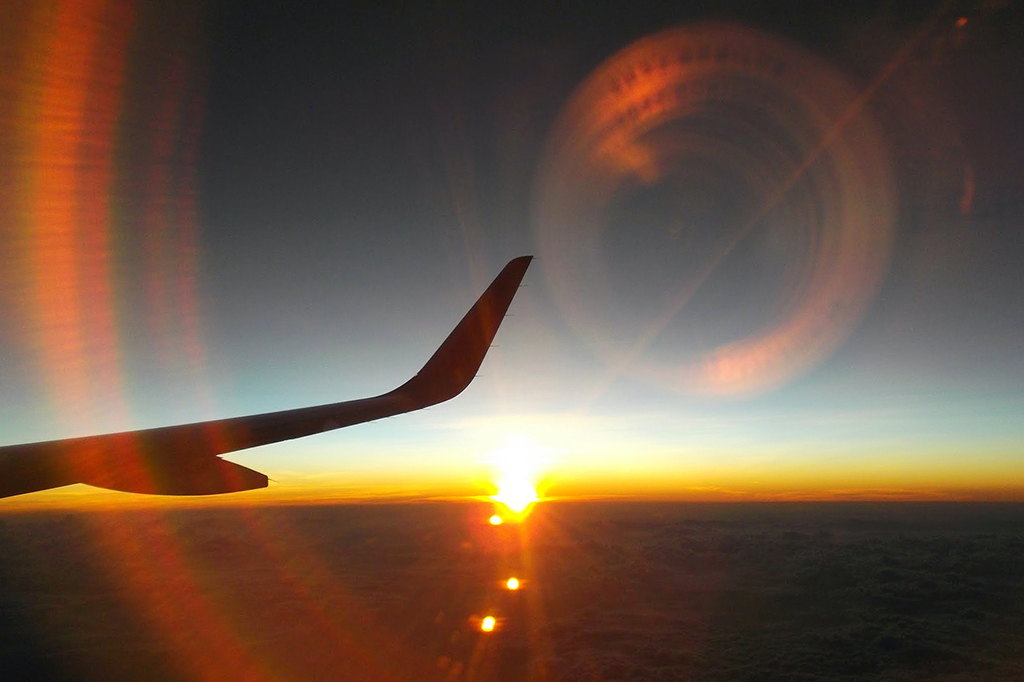 Apart from taxis, relatively cheap buses are connecting the airport with Krabi Town and the adjacent beaches respectively hubs such as the bus station and the ferry pier.
Krabi to Koh Phi Phi
Once your flight arrives at Krabi International, go through customs and purchase a ticket to the Klong Jilad pier in Krabi. Let the teller know that you are heading to Koh Phi Phi.
As you arrive in Krabi town, you have to change busses to go to the pier. Unless you are going to Ao Nang. In this case, just stay on the airport bus.
The ferry ride to Koh Phi takes less than two hours. Normally, there are three ferries, at 9 a. m., 1.30 p. m., and 3 p. m.
The minibusses to the pier are usually waiting until all seats are sold. Hence, if you're not on a too-tight budget or if you can share the fare, you better take a cab straight to the pier.
Bear in mind that a cheap option can turn quite expensive. Read more on this subject – and other valid traveller-tips – in my post Keep Calm And Travel Solo.
Ao Nang to Koh Phi Phi
Going from Ao Nang to Koh Phi Phi, you'll need to catch a ferry at the Noppharat Thara Pier. In any case, I recommend buying the ticket at least one day ahead at one of the agencies. Normally, a pickup at your accommodation is included in the price you pay.
Krabi to Koh Lanta
If you are going to Koh Lanta from the mainland, you don't need to go to the pier. An hourly public minibus runs year-round from the bus station. This ride takes about two hours, possibly more if there's a queue at the ferry. If you buy your ticket at a local travel agency, they will arrange a free pick up at your guesthouse.
Where to Stay
Most people don't spend more than one night in Krabi. Therefore, when looking for accommodation, you should focus on the location. On this map are some good options of where to stay*:
Booking a room for three nights in Ao Nang, I was looking for a reasonable balance of price and convenience.
Finally, I opted for the Vipa Tropical Resort*. The location is absolutely mesmerizing – against the backdrop of a huge limestone rock. To the beach, it's a twenty minutes walk. I would absolutely stay there again.
If the Vipa Tropical Resort* is booked out or you simply want to check out further option, here is a map on which you see the location but also the rate*:
What to Eat
Especially Ao Nang is packed with dining options – Thai and any other cuisine.
A great options are the stalls along the road further away from the tourist area. Many of these are run by Malayan ladies.
It's interesting that at around Krabi, you already get the feel of the Malayan Muslim influence.
What to See
I'm an avid solo-travelling woman. Since solo-travel doesn't equal solitude, I love to join organized tours here and there. They allow me to meet fellow travellers – for just a short moment or a lifelong friendship.
Therefore, here are some great ideas of what to do when visiting the Krabi area. Pre-booking online will guarantee your place at the activity of your choice*:
Cash And Cards
Krabi is a very touristy area, hence, credit cards are widely accepted. Obviously, there are also ATMs to get cash. If you continue to the islands, don't worry about stocking up on cash – there are ATMs also on the bigger isles such as Koh Phi Phi and Koh Lanta. To the more remote islets like Koh Jum, however, you should carry enough cash with you.
As of January 2023, one US-Dollar equals 35 Baht (THB), but you can check the current rate on this page.
Language
Since especially this region are so over-touristy, I thought everyone there would be more or less fluent in English. But apart from some glorious exceptions, most people have only a rudimentary command of the language. Then, often their accent is so peculiar that you don't really get what they are saying. In return, they might not really understand what you are saying but just grasp the supposed meaning from one or two words they got from your sentence. Hence, prepare for some hopeless explaining, quirky conversations – and many bright smiles.
This being said, obviously, it's a nice gesture to say at least the greeting Sawasdee Kha and Sawasdee Khun as well as Khop Khun Kha respectively Khop Khun Khap. Kha is a suffix used by women, men are using Khap.
Communication and Connection
There is an internet connection practically everywhere.
Nevertheless, if you want to be sure, I recommend you check the Wi-Fi quality of your hotel beforehand. You'll find the link in my post World's Most Complete Travel Information which is actually an indispensable globetrotter-classic.
These two beach resorts were only the gateway to the islands in the Andaman Sea. Those were the relaxing part at the end of my exciting visit to Thailand. Go to the main post to check out all the other destinations. There you'll also find valuable general information that will make your trip smoother.
Pinnable Pictures
If you choose to pin this post for later, please use one of these pictures:
Note: This post is being regularly completed, edited, and updated – last in January 2023.
Did You Enjoy This Post? Then You Might Like Also These:
* This is an affiliate link. If you book through this page, not only do you get the best deal. I also get a small commission that helps me run this blog. Thank you so much for supporting me!