Since I'm afraid that the capital Palma de Mallorca might be the most underrated place on the entire island, I urge you to spend at least two days in this vibrant'n'wonderful city – and don't worry: From Palma, you'll quickly get to all the other magnificent places the island has to offer – even by public bus!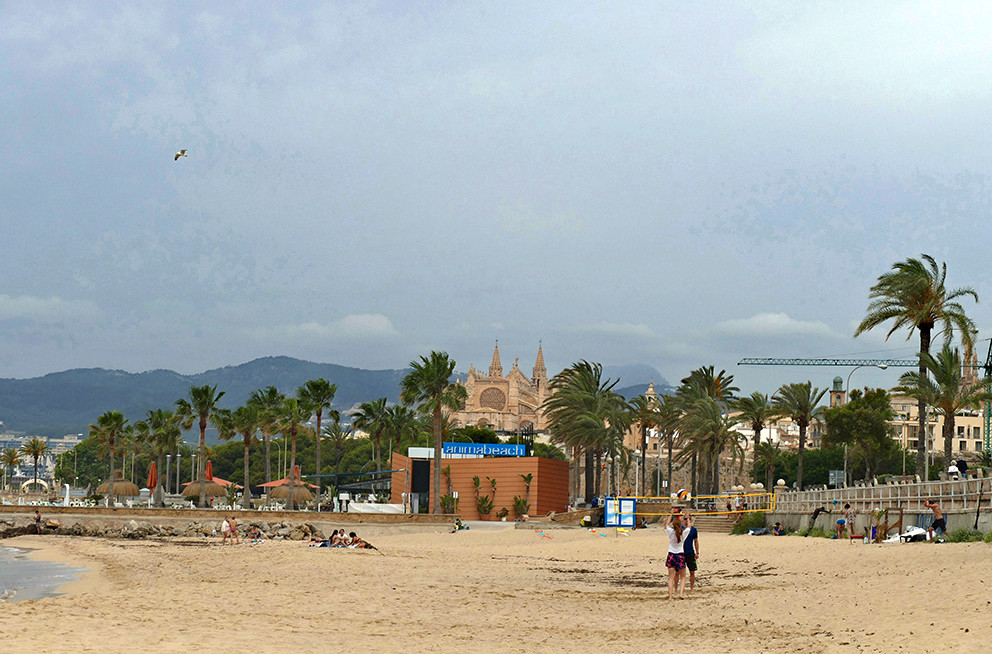 From the beginning, I wanted to do things differently. I didn't want to roast on beaches, getting wasted on Sangria made from cheap wine, surrounded by party people from Germany, France, and Great Britain.
Mallorca is a Spanish island. I was keen on experiencing Spain with all my five senses. I wasn't searching for the extraordinary, I wanted to dive into the common.
What better place to do so than a standard Spanish city full of local day-to-day routines.
Big City Gal
I am a big-city gal. I've always lived in metropoles. Hence, I know the codes and the rules and therefore feel at home in every megacity in the world within a few hours.
Mallorca is primarily known for days on the beach and nights in clubs. Albeit, there are also the hikers'n'bikers who rave about the great opportunities to explore the island and its natural beauty in a sporty way.
I wanted beaches'n'beauty, too. But first and foremost, I wanted authenticity. I wanted some kind of homey feeling. Hence, setting up my base camp in Mallorca's capital Palma was very promising.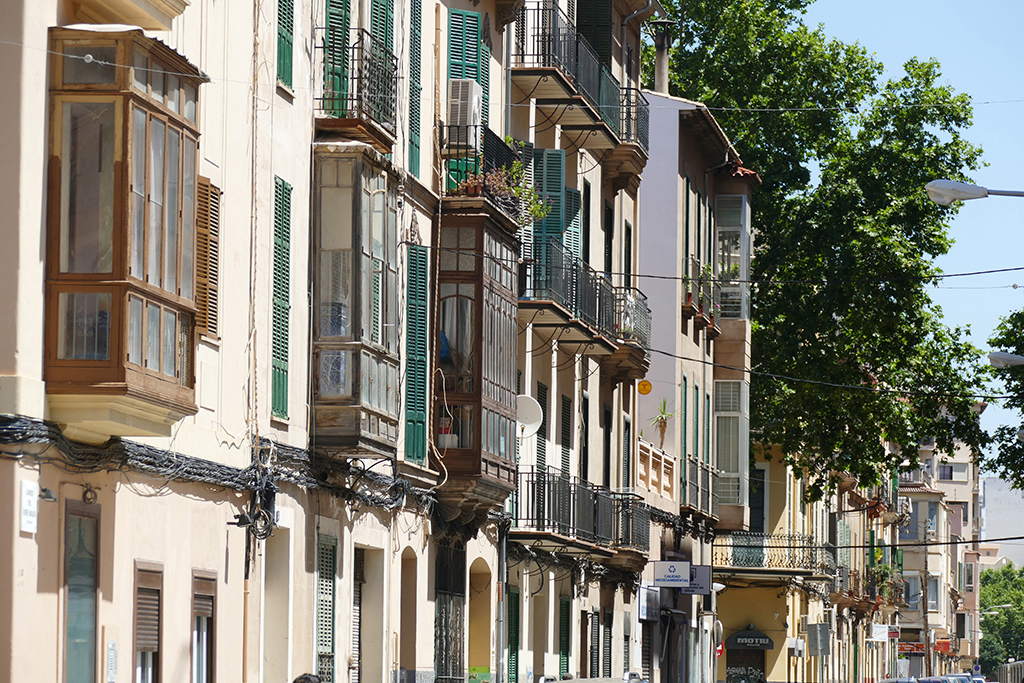 Turns out my base was not only in a real Spanish city bursting with Spanish life. The modest yet comfortable Hotel Abelay* was also in the most untouristic neighborhood between the Plaça del Cardenal Reig, built around an iconic obelisk, and Palma's historic bullring. I have no idea who came up with the idea of ​​opening a hotel in this residential area. Nevertheless, I thank that person from the bottom of my heart – everything was as Spanish as can be.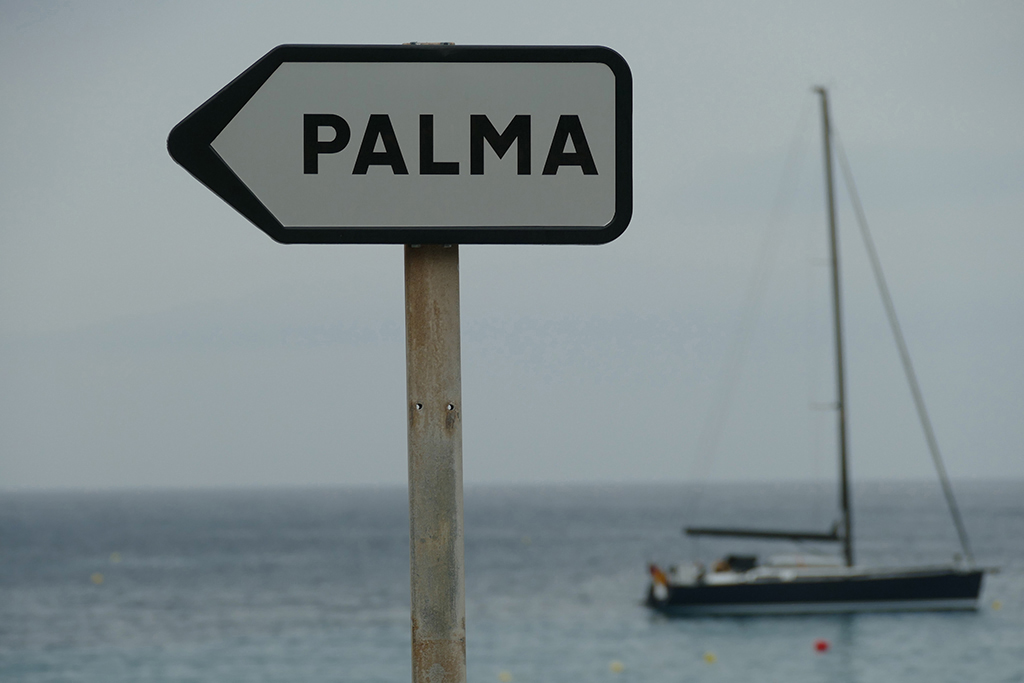 Another huge advantage of my accommodation's location was the proximity to the central bus station, the Estació Intermodal. Even though I wanted to live authentically among the Spaniards in Palma, I still didn't want to miss out on the tourist attractions. I wanted to hit the beaches, climb the mountains, and visit the incredibly picturesque towns and villages. Therefore, it was ideal that I walked to the Estació Intermodal in ten short minutes. From there, public buses took me to the most remote corners of the island – and then back to my real Spanish enclave in the evening.
If you also want a mix of authentic full Spanish life and the most beautiful attractions the island has to offer, follow my lead. Make yourself at home in the heart of Palma. Below, I'm introducing some of the places you absolutely shouldn't miss out on.
Palma
In Mallorca's southwest opens the large bay of Palma. Here used to be the old capital of the former Kingdom of Mallorca and still is the current political and economic center of the entire autonomous region of the Balearic Islands. In 123 BC, the island of Mallorca was occupied by the Romans who then also founded Palma.
Today, more than 400,000 people live in the city. That's almost half of Mallorca's entire population, consequently, Palma has the island's highest population density.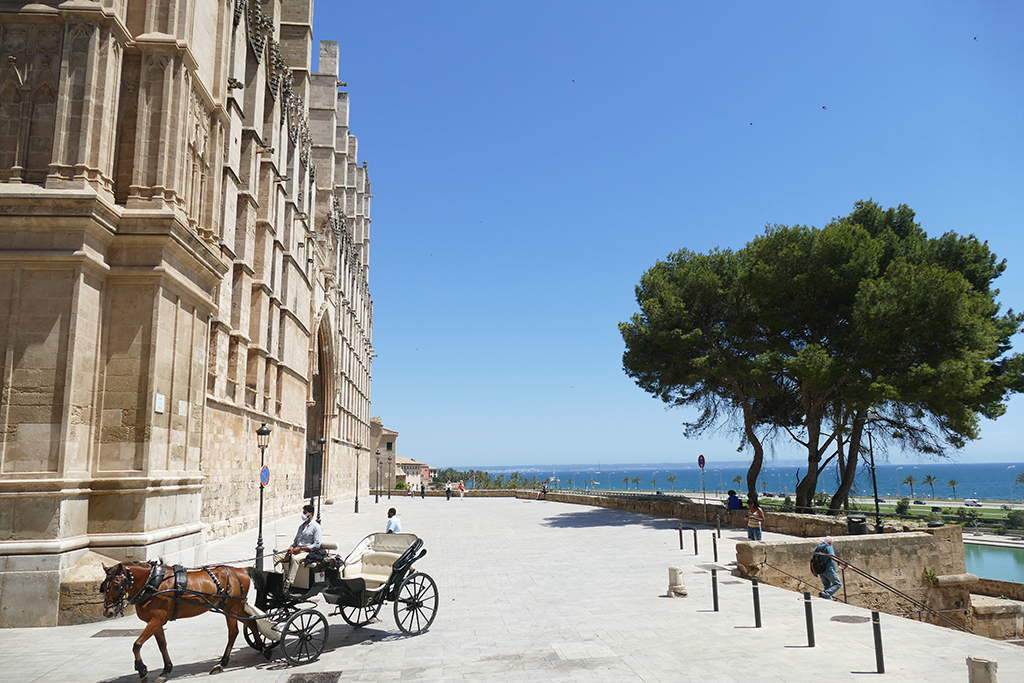 There is a nice, clean beach within walking distance of the city center. In the west, Palma borders the Serra de Tramuntana region. So even if you should ever get fed up with the big city life, you'll find secluded spots within minutes.
Grand Tour of Palma
Actually, I'm not too afraid you might get fed up or even bored that fast since there is a lot to see and do in Palma. Also, apart from the glorious landmarks, cool contemporary galleries, and endless shopping streets, you might want to enjoy the Mediterranean lifestyle in bars and cafés. Hence, let's not waste time and follow me on the grand tour through exciting Palma.
Plaça de Toros
Palma's bullring, also known as the Balearic Coliseum, is about five minutes from the Hotel Abelay* in the northeast of the city.
Incredible 11,620 seats allow visitors to attend sports events, major concerts, and a bullfighting fair held in August. Just to be clear and with all due respect to traditions – I'm very opposed to the latter.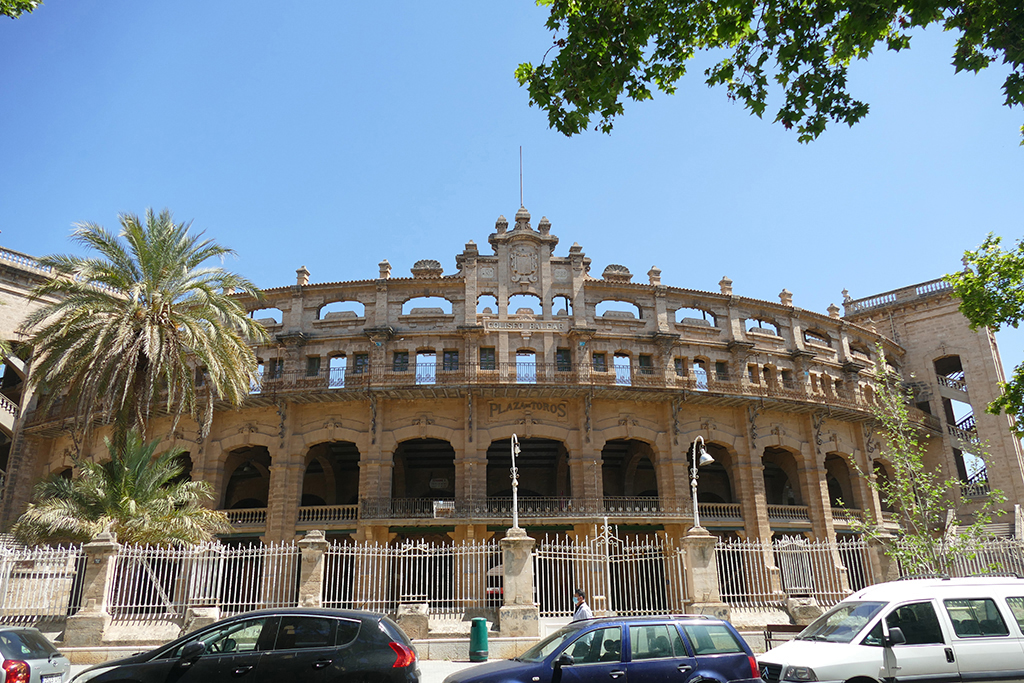 Although the building, designed by architect Gaspar Bennassar, is part of the historical heritage of the city of Palma, a visit is only worth your time if there is something going on – not for the venue as such. However, since I was staying in the neighborhood, to me, it was just a small detour.
Plaça d'Espanya
While in other cities, Plaza España is usually a majestic square, in Palma it's basically a dude on a horse. Actually, it's the former Spanish King Jaume I, who went down in history as the conqueror of Mallorca in 1229. He ended the rule of the Muslim Moors and ushered the island into a new era – the Spanish hegemony. It's around Plaza España – in Mallorquin Plaça d'Espanya – where you find most of the big department stores like the El Corte Inglés as well as many bars and restaurants.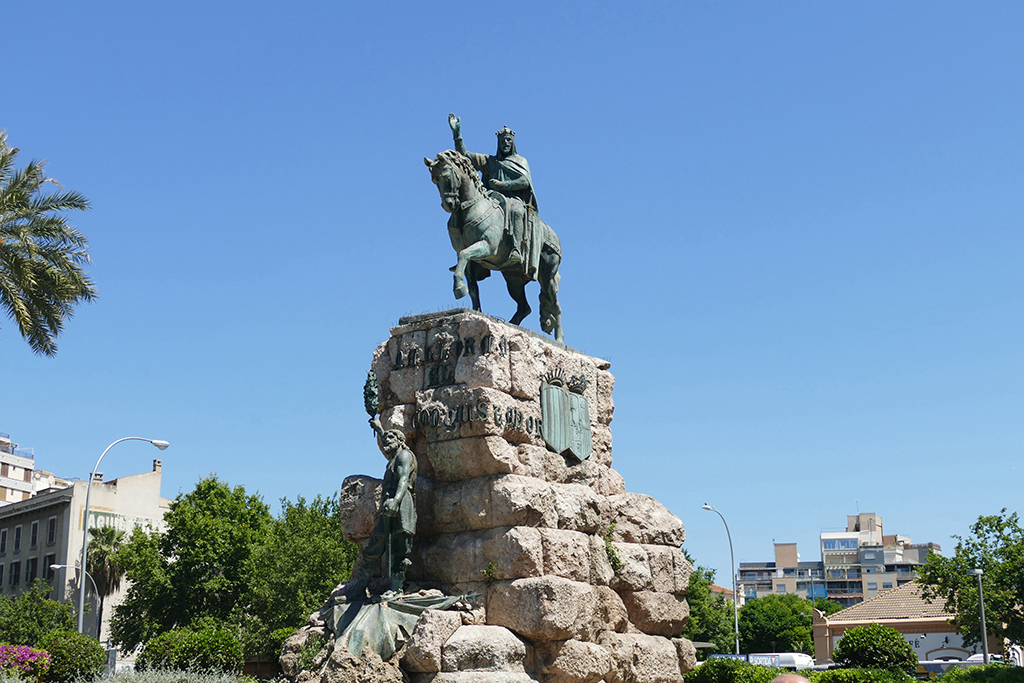 I didn't care much about shopping or dining. To me, Plaça d'Espanya was the gateway to Mallorca's many wonderful places I wanted to see and experience.
Actually, just across from Plaça d'Espanya is Palma's bus station and train terminal, the Estació Intermodal. A train connects the capital with Inca, Sa Pobla, and Manacor. Also, a metro takes passengers to Marratxí and the University of the Balearic Islands. Yet, most importantly, buses are going even to the most remote places.
Mercat de l'Olivar
Although I just pointed out that I'm usually not much into shopping, a visit to the Mercat de l'Olivar is a whole different story. It is the largest market hall in Palma. Although there are also some stands with local handicrafts, it's not some tourist trap but a real market. Also, the handicraft I'm referring to are wooden boards, ceramic bowls, and other items made for the average Spanish household; however, they make great, tasteful souvenirs.
Most important, however, is the variety of fruits, vegetables, herbs and spices, fish and seafood, local cheeses, meat, sausages, and of course, jamón, the iconic Spanish ham. You can also purchase wine and liquor – or sample it on the spot with some tapas.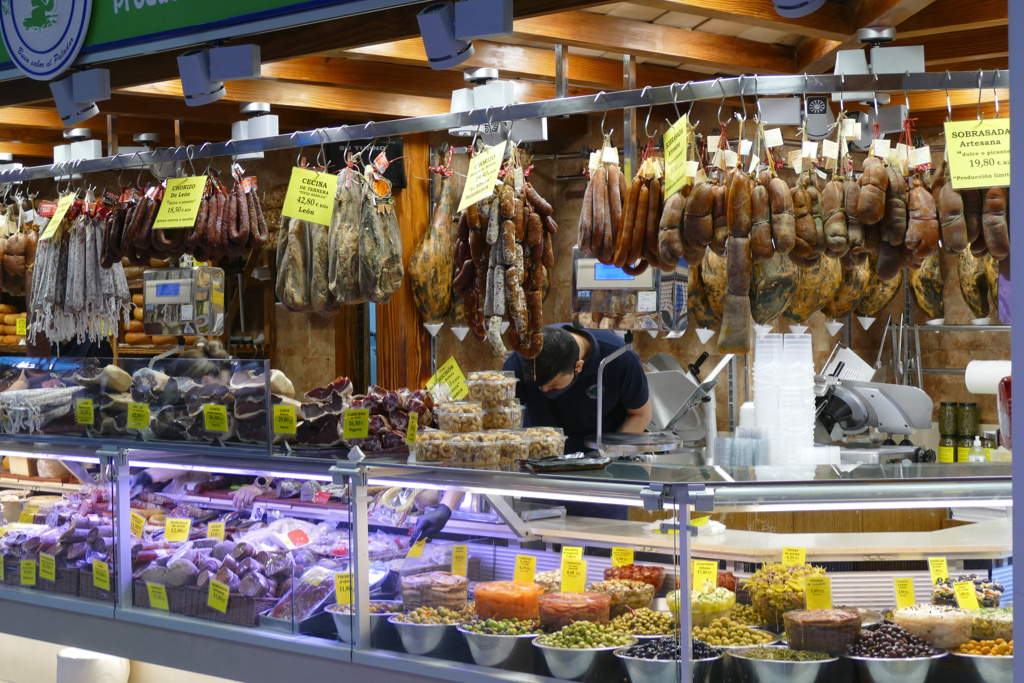 Actually, the Mercat de l'Olivar is also a great place to enjoy your breakfast. There are stands selling coffee and pastry and the atmosphere is just so….Mallorquin.
Upstairs, by the way, is a huge branch of the supermarket Mercadona. It is open from Monday to Saturday from 9 a. m. to 9.30 p.m.
The market on the ground floor, however, is open from Monday to Friday. between 7 a. m. to 2.30 p. m. and Saturdays till 3 p. m.
Carrer de Sant Miquel
Behind the Mercat de l'Olivar respectively the Plaça de l'Olivar is the Carrer de Sant Miquel. On this long, narrow pedestrian shopping street, you'll find mainly all those global fashion and cosmetics chains. While strolling down the street towards Plaza Mayor, look also into the sidestreets. Some of them are decorated with truly ingenious murals.
Actually, there is so much inspiring street art in Palma that I put together a post exclusively on the city's urban art.
Museu d'Art Espanyol Contemporani Fundación Juan March
Apart from some fun street art in the side alleys, there is also a beautiful art museum waiting for your visit at Carrer de Sant Miquel.
The Juan March Foundation Museum is located in a 17th-century building and presents works from 20th-century Spanish artists.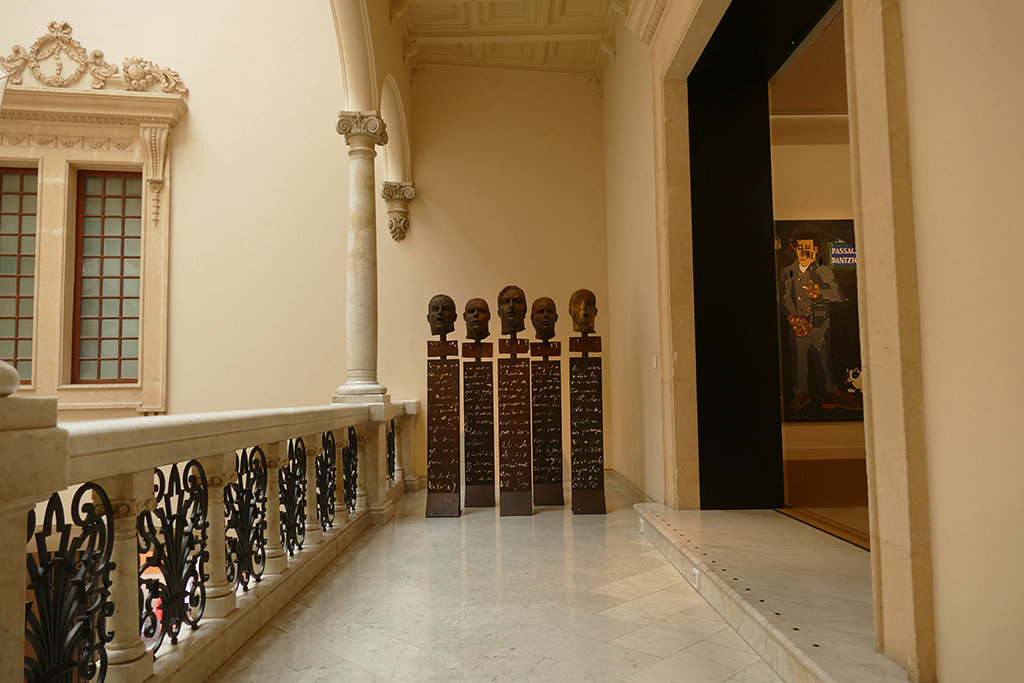 Originally conceived as a home, the museum was remodeled by architect Guillem Reynés i Font as an art gallery to house part of the Juan March Foundation collection. The foundation's main headquarters, however, is located in Madrid.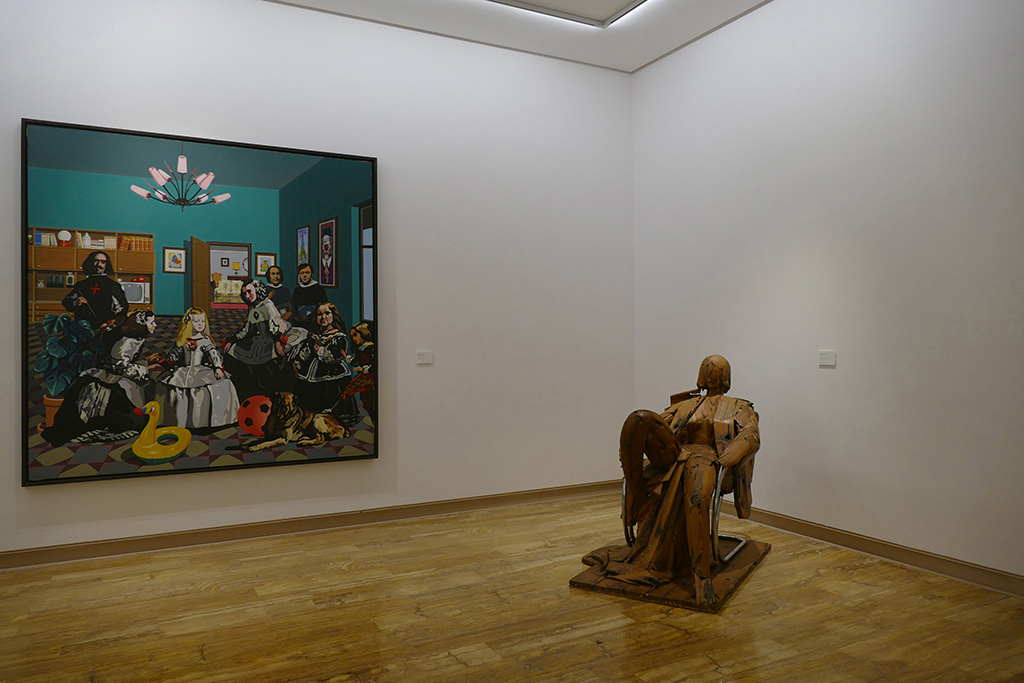 The Museu d'Art Espanyol Contemporani Fundación Juan March is located on Carrer de Sant Miquel 11 and is open from Monday to Friday between 10 a. m. and 6.30 p. m. and Saturdays from 10.30 a. m. to 2 p. m.
The entrance is free.
Plaça Major
The Plaza Mayor in Palma is a huge square that used to be part of the former monastery of San Felipe Nerí, the seat of the Catholic Inquisition until 1838.
Although the square has been remodeled, it still exudes a certain solemnity.
However, the buildings around the Plaza Mayor are housing offices and residential units. Restaurants and bars are located under the portico on the ground floor.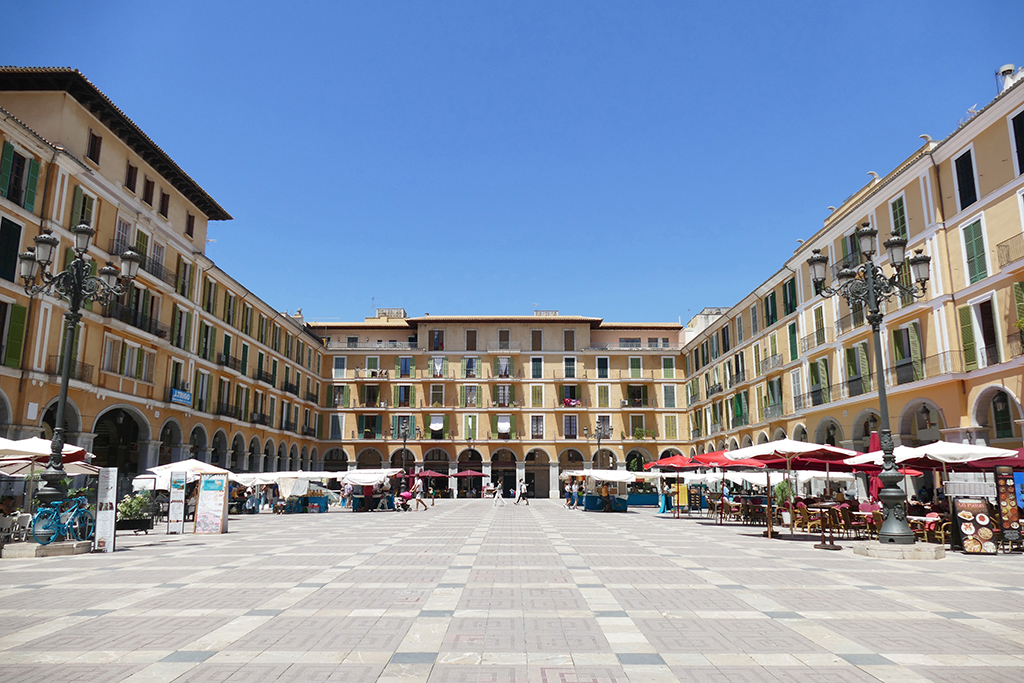 A handicraft market is held in the Plaza Mayor almost all year round in the morning.
The Plaça Major is one of the spots that you'll probably frequent on your walk through Palma's center, anyway. However, if you don't, never mind – it's neither the most beautiful nor the most exciting place in the city.
Plaça de Weyler
The Plaça de Weyler, located just minutes west of the Plaça Major, on the other hand, is a place you definitely shouldn't miss out on. It connects some of Palma's major streets and is surrounded by some architectural treasures.
The most important landmark is certainly the former Gran Hotel, a modernist construction by architect Lluís Domènech i Montaner. It was completed in 1903 and with a façade richly ornamented with sculptural and ceramic elements, it represents one of the most important examples of modernism on the island.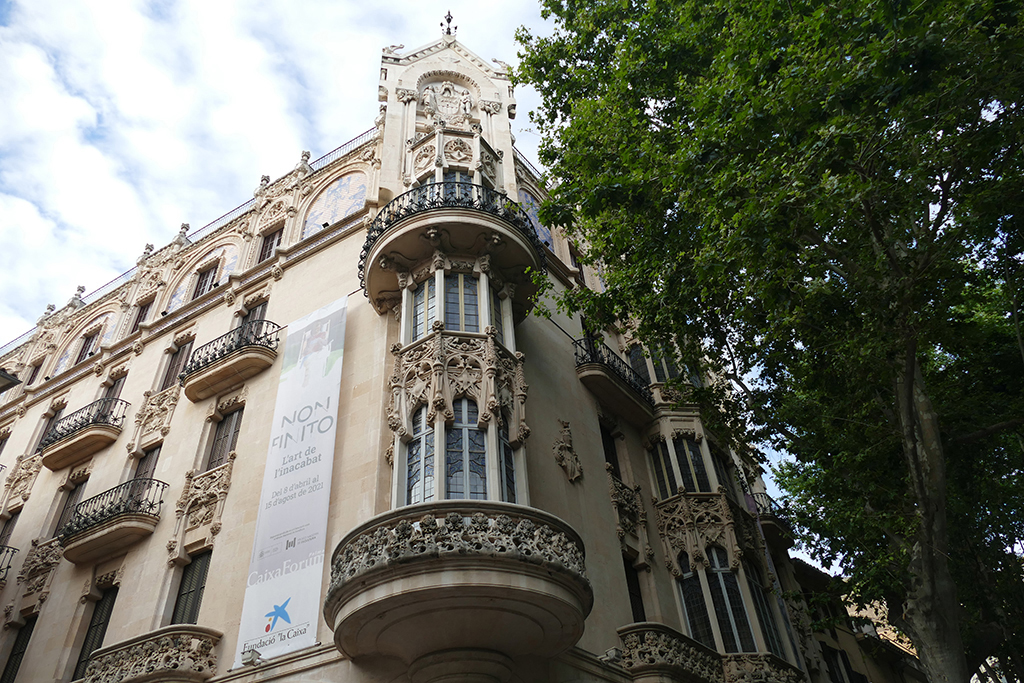 The hotel closed its doors in 1941 and was acquired the following year by the State to house the Instituto Nacional de Previsión, the National Social Security Institute.
Finally, in 1993 the building was converted into the cultural center CaixaForum Palma as part of the La Caixa Foundation. It hosts exhibitions, concerts, and conferences, as well as a permanent exhibition dedicated to Catalan painter Hermenegildo Anglada Camarasa.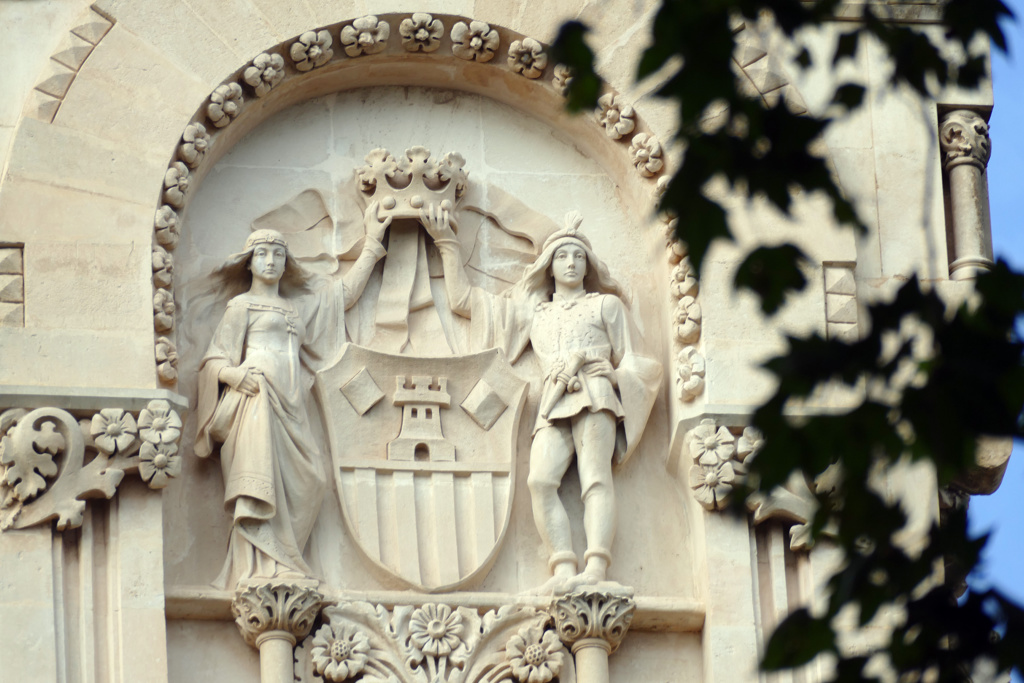 More Glory from the Past
Across the street from this striking building is the quaint old bakery Fornet de la Soca. The family-run café specializes in traditional baked goods.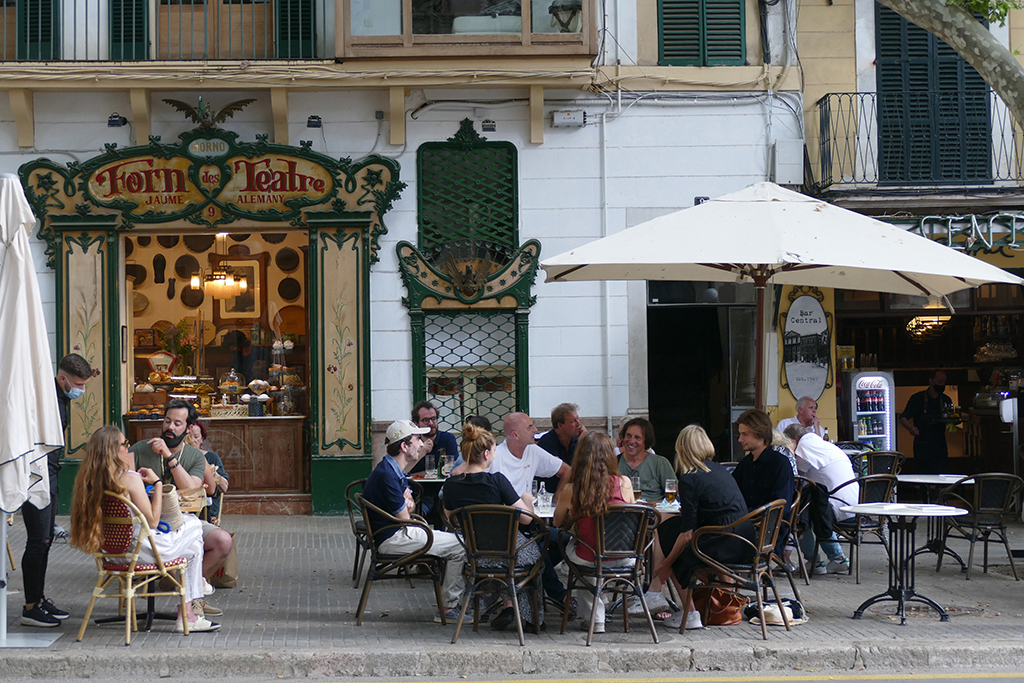 To the left of the bakery, old stone steps lead through a side street back to the Plaça Major. Next to it is Palma's Teatre Principal, the city theater.
As a matter of fact, the Plaça de Weyler is a rather small square and offers only a few outdoor seating options.
However, at the next corner is the Plaça del Mercat, a small paved square. At its center is a sculpture of Antonio Maura, Spain's five-time Prime Minister between 1904 and 1921.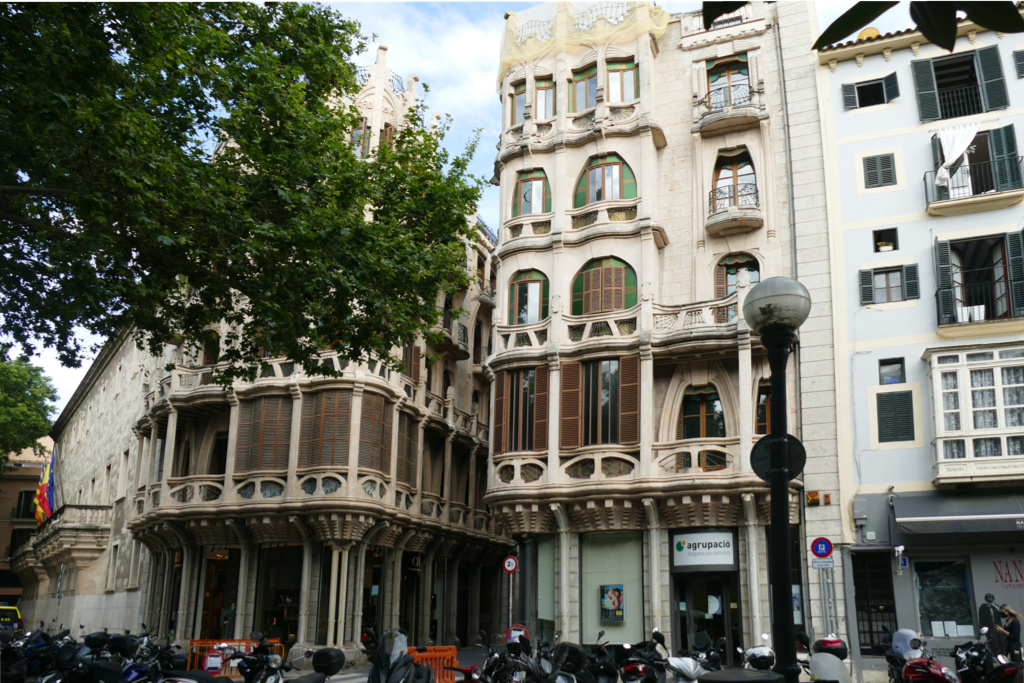 Also, there are two truly striking buildings at the square, the Can Casasayas and Pensión Menorquina. The asymmetry and organic shapes are features of the modernist movement and are reminiscent of the work of Gaudí.
Ajuntament de Palma
The historic building that houses the seat of the Palma City Council is supposedly one of the city's great landmarks.
The building is a fine example of Palma's characteristic architectural fusion of Gothic, Baroque, and Modernist features. At the gallery, you can admire paintings of famous men from the Kingdom of Mallorca.
Esglesia de Santa Eulalia on Plaça de Santa Eulàlia
Santa Eulàlia is one of the oldest churches in the city. As early as 1236, a chapel was built on this site by the Christian conqueror of Mallorca, King Jaume I. By the year 1414, the church was expanded in the High Gothic style.
The church, dedicated to St. Eulàlia, obviously, has three naves and a cross-shaped floor plan. A statue of the saint from 1621 stands in the main portal. The church's current façade in the neo-Gothic style stems from the 19th century. It shows gargoyles in the shape of dragons, harpies, and basilisks that represent the scary bestiary of the Medieval Age.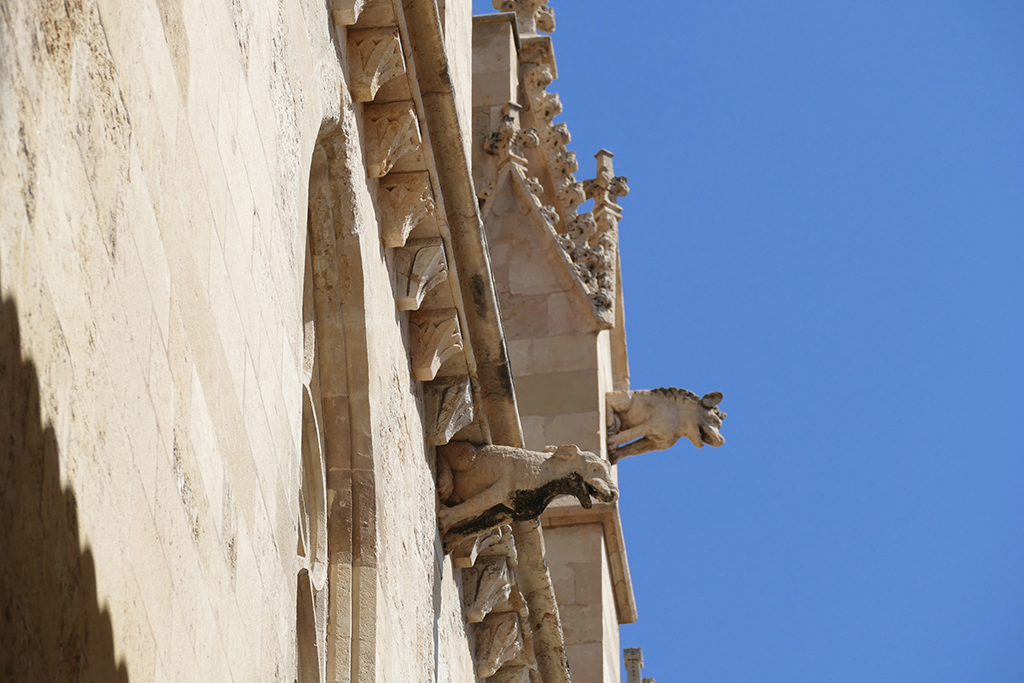 You'll find a crucifix that Jaume I brought to Mallorca in 1229 is now in the side chapel of Sant Christ.
Until the end of the 16th century, there was a cemetery in front of the church. Later, it was used as a marketplace.
Banys Àrabs
The Banys Àrabs, the Arab baths, from the 10th century, is probably the oldest evidence of Arabic architecture in Mallorca.
Today, you can visit the former bathing rooms, i. a. including an impressive barrel vault. In one of the rooms, a short video explains more about the significance and process of the Arab baths.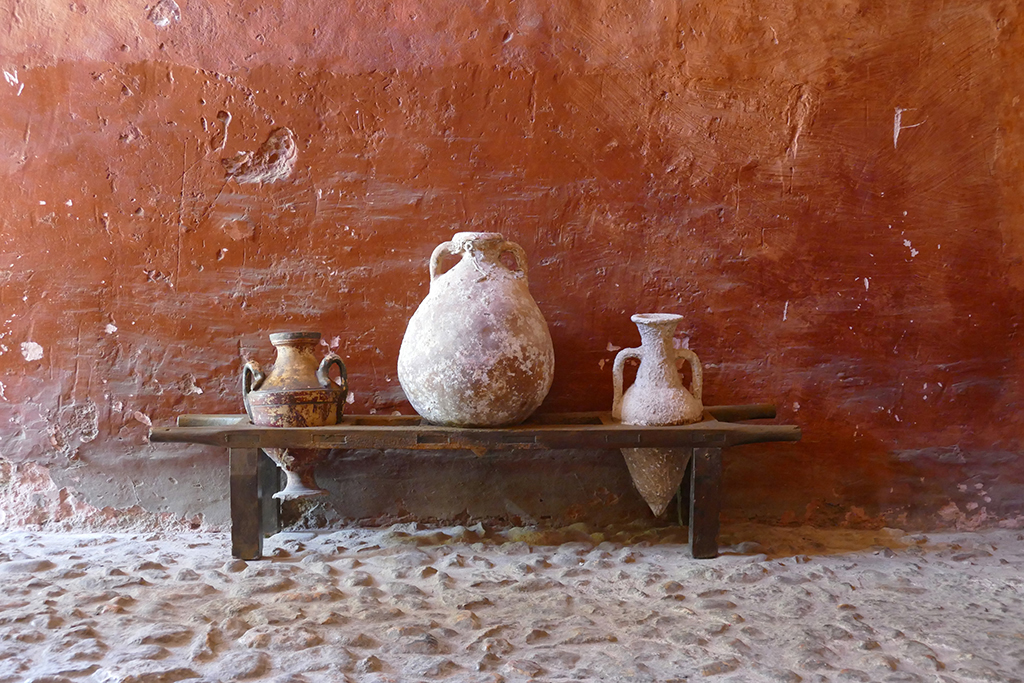 The ruin is surrounded by a beautiful garden.
The Banys Àrabs are open to visitors every day between 10 a. m. and 7 p. m. and the admission is 3 €uros.
Convent de Santa Clara
The Convento de Santa Clara is just around the corner from the Banys Àrabs in the old town of Palma.
The monastery was founded in 1256 by nuns of the Franciscan Order of Saint Clare. They originally came from Girona. The church of Santa Clara has been greatly remodeled over the centuries. Therefore, it flashes contrasting styles. Nevertheless, it is primarily a grand example of Gothic architecture.
Inside the church are tombs of Gothic origin as well as statues of the Immaculate Conception and Saint Claire of Assisi. Another notable feature is the ancient pulpit. It was once used by the famous 18th-century missionary, Father Junípero Serra. You can see his statue in front of the Basílica de Sant Francesc a bit north of Santa Clara.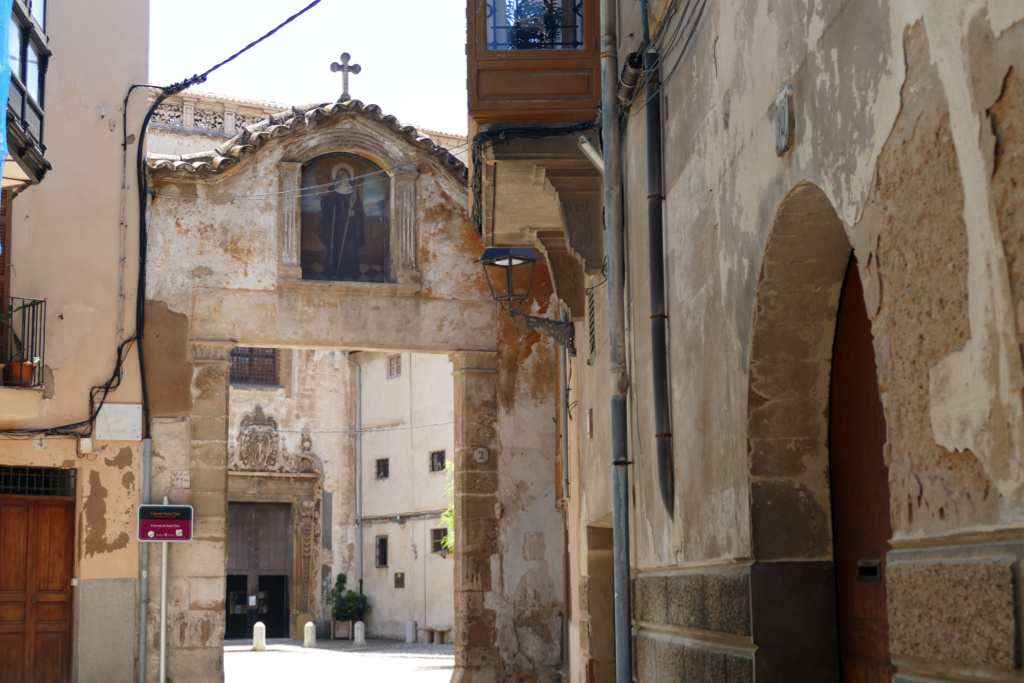 Interestingly, the monastery is still home to a small closed community of nuns. These ladies carry on the centuries-old tradition of baking cookies.
To purchase their products, go to the small room on the side of the church. There is a window with a wooden turnstile. Ring the bell and a nun will sell you whatever you need without showing her face.
The opening times of the church are from 7.30 a. m. to 7.15 p. m.
The biscuit sale is going on from Monday to Saturday between 9 a. m. and 12.25 p. m. and then again from 4.15 p. m. to 5.35 p. m. Sundays, they are open from 9.00 a. m. to 11.35 a. m. and from 4.15 p. m. to 6.35 p. m.
Parc de la Mar
The Parc de la Mar is a large area at the foot of the medieval walls in front of Palma's famous Cathedral.
A large saltwater lake was created in the 1970s and reflects the sea that once used to reach all the way to the city walls. It was pushed back for the construction of the Llevant expressway.
The scenic park has a very relaxed atmosphere and has therefore developed into one of the most frequented leisure areas for locals and visitors alike.
It is a popular venue for festivals, events, and an open-air cinema.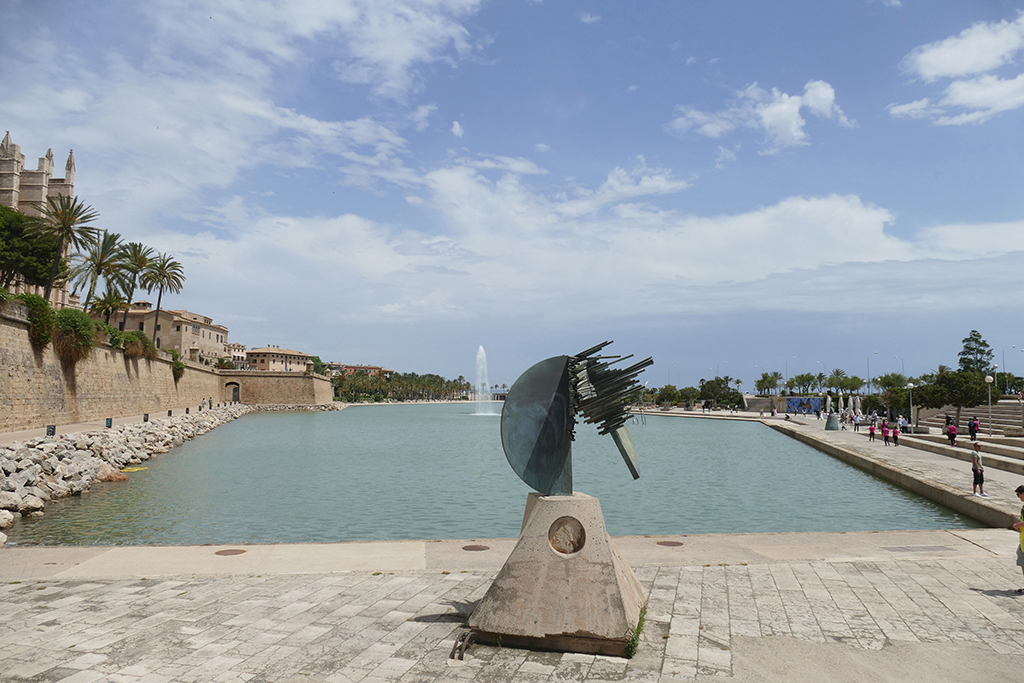 Obviously, Parc de la Mar is one of the best places to admire and photograph the cathedral from different angles.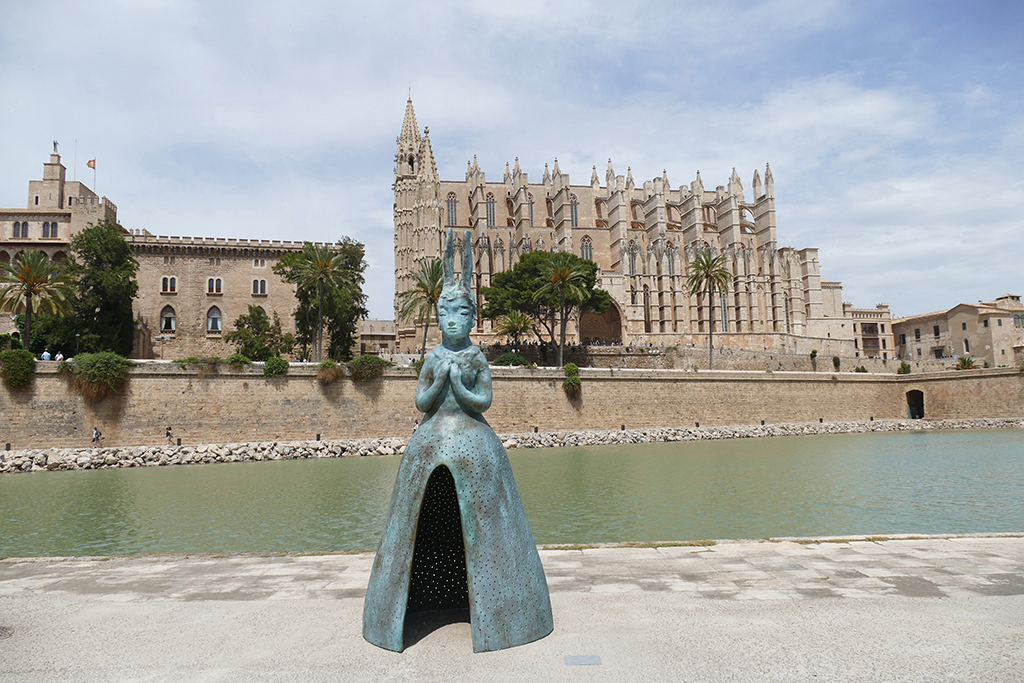 Also, there are inspiring modern sculptures, and at the far end, you will find spacious lawns and a children's playground.
Basílica de Santa María en Palma
The Basílica de Santa María en Palma is the episcopal church of the Diocese of Mallorca and Palma's most famous landmark. It is often referred to as La Seu.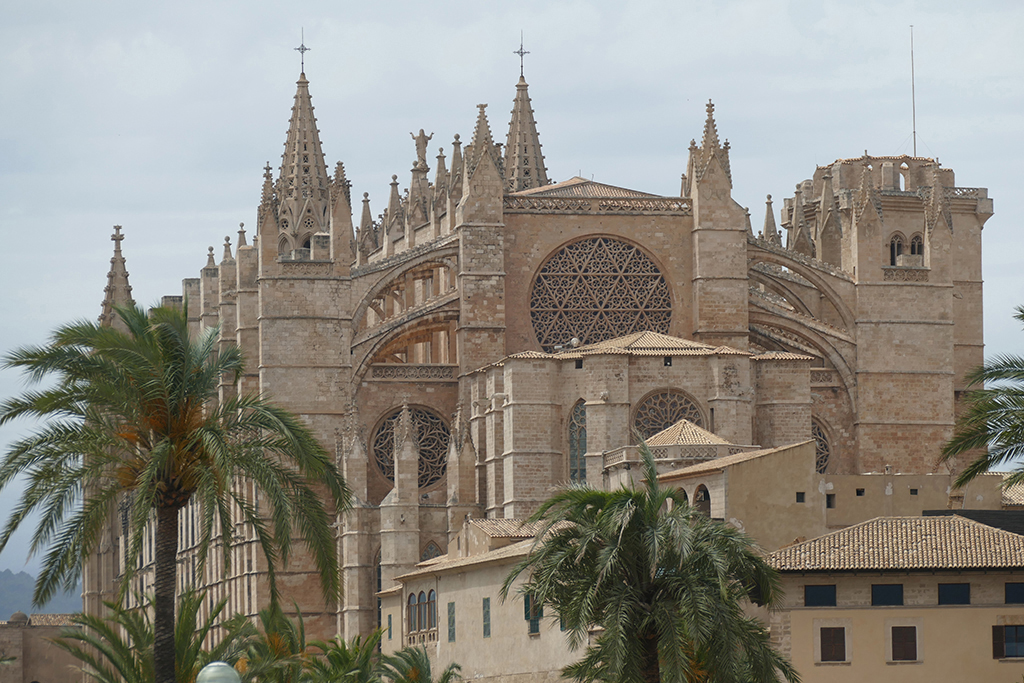 Interestingly, King Jaume I began building an Islamic mosque on the site after the liberation from the Moors. Under his son Jaume II, the actual construction of the cathedral began in 1306. It also served as a mausoleum for the Mallorcan royal family, hence Jaume II and III are buried here.
The construction of the nave was completed in 1587, the main portal was consecrated in 1601. Work on the main facade began in 1852 and was not finished until the beginning of the 20th century.
Size Matters
The cathedral is 109.50 meters long and 33 meters wide. The 14 pillars on which the vault rests are 30 meters high. The presbytery with the choir, also known as the royal chapel, has a size of 34 by 16 meters. Despite the lack of towers, the cathedral is one of the most important buildings of the Gothic style.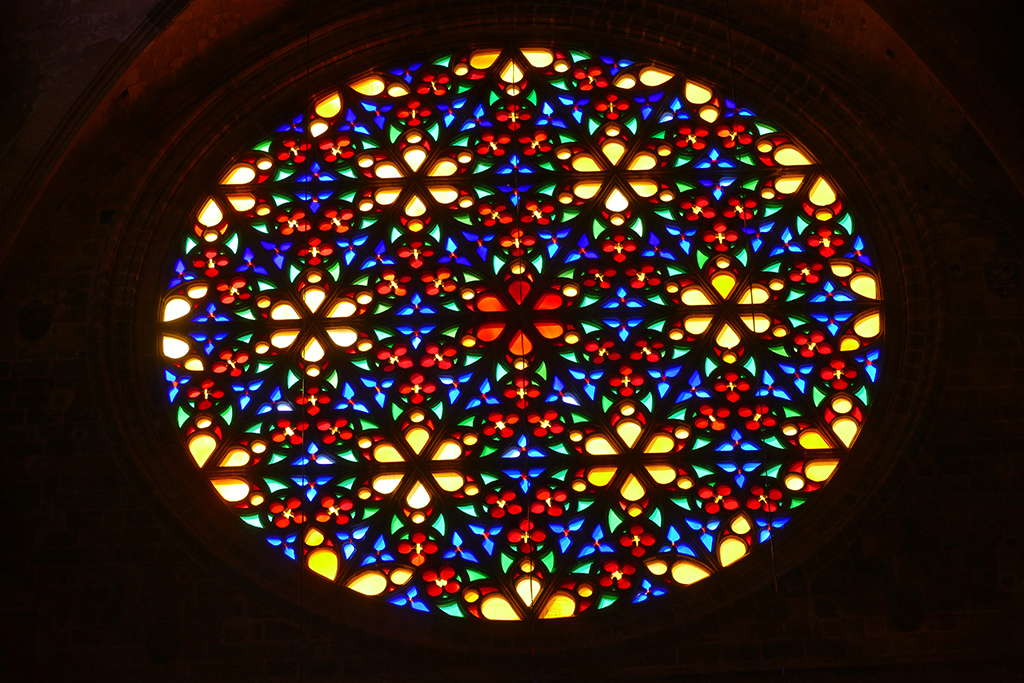 The round window which was built in 1370 and glazed in 1599 has a diameter of 12.55 meters. It is one of the largest Gothic rose windows in the world. Also, In the cathedral of Palma, there are five more rosettes in a Franco-Flemish style as well as 60 beautifully designed glass windows.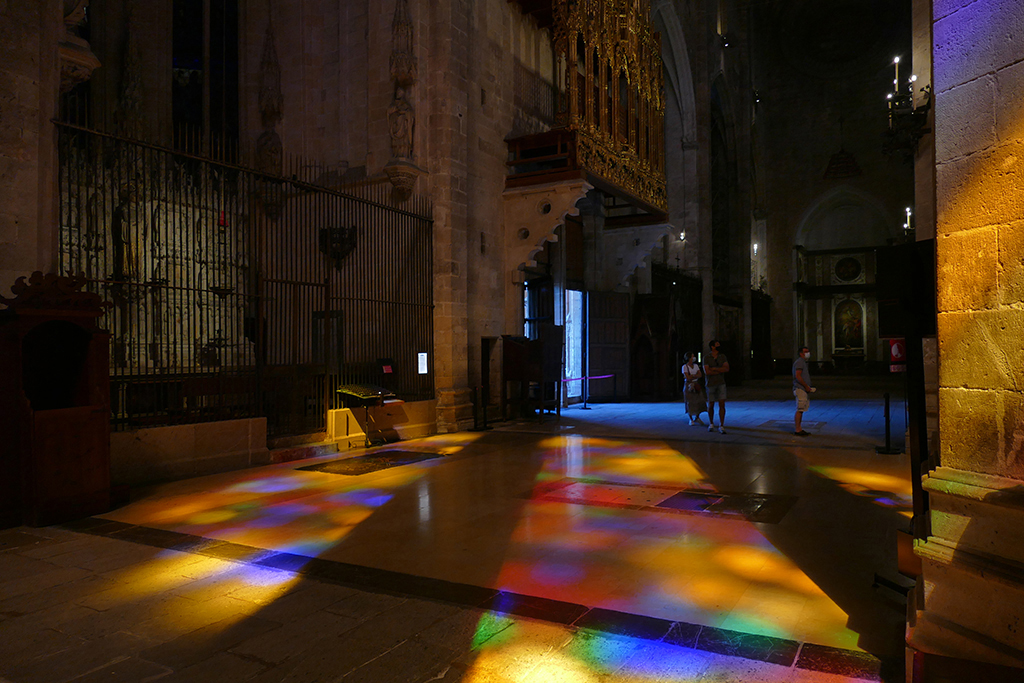 Since the Middle Ages, various architectural styles were added to the cathedral. Even the famous architect Antoni Gaudí contributed his style of Catalan Modernism between 1904 and 1914. Gaudí also made radical structural changes by relocating the choir from the center of the nave and incorporating it into the royal chapel. The bishop's chair was renewed and the faithful were given a clear view of the high altar. Antoni Gaudi designed a cavity under the choir stalls so that the singing can spread throughout the cathedral, even without microphones.
Capilla del Santísimo
The Capilla del Santísimo is one of the three chapels.
As a contribution to the 21st century, the Majorcan artist Miquel Barceló, born in 1957 in the town of Felanitx, redesigned the chapel Capilla del Santísimo in the right aisle between 2001 and 2006.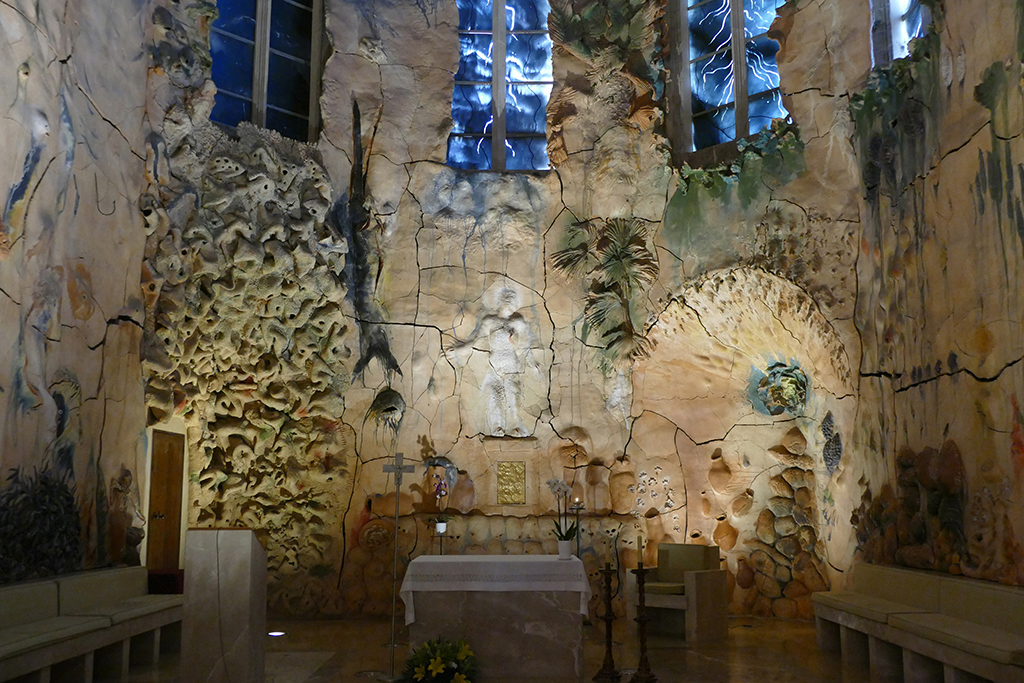 In his work, Barceló used African and Mediterranean elements to depict the evangelical miracle of the loaves and fishes. Above the polychrome ceramic façade that covers almost the entire wall of the chapel are five 12-meter-high stained glass windows with shades of grisaille. A liturgical furniture set made of Binissalem stone completes this work.
Touristic visits to the Basílica de Santa María en Palma are possible from Monday to Saturday between 10 a. m. and 2.15 p. m. There are single tickets to the Cathedral and combi tickets that include a visit to the museum and grant access to the roof.
Passeig del Born
A short walk from the city's most important sights, the Almudaina Palace and the La Seu Cathedral takes you to the Paseo del Borne or Passeig des Born in Catalan. It is the most elegant avenue in Palma. Here, you'll find all the luxury brands like Rolex, Louis Vuitton, and Carolina Herrera.
Tall trees grant shade in summer, while in winter they are adorned with Christmas lights. The avenue is located between two small squares, Plaça Joan Carles and Plaça de la Reina.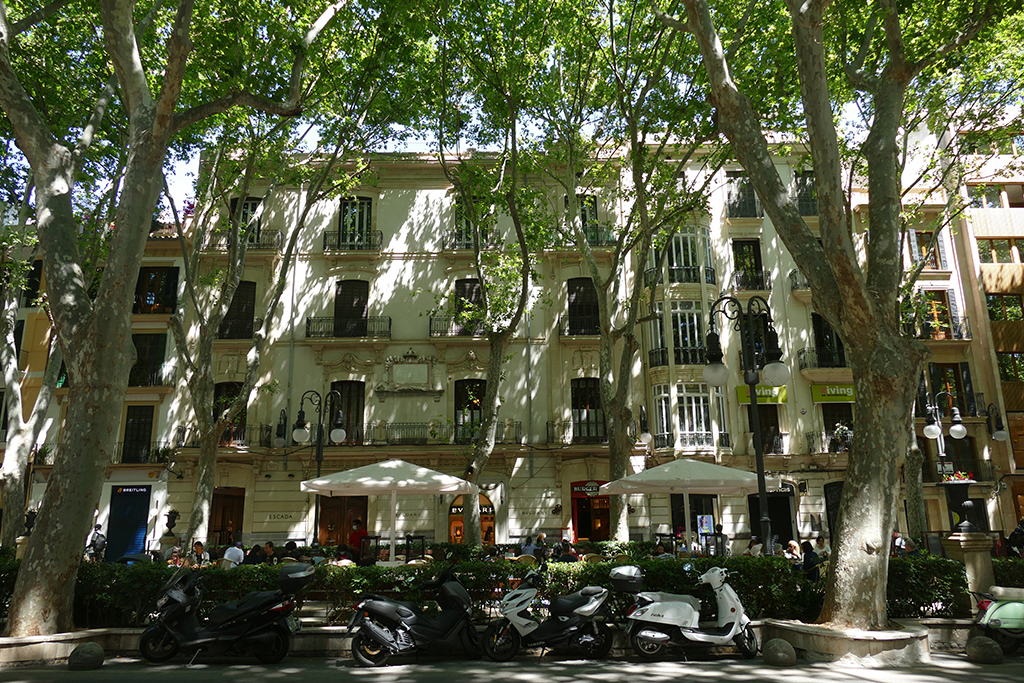 The elegant avenue is a sight in itself, hence, take your time to admire the fine architecture. The remarkable building that today houses the fashion brand Zara was once Palma's famous cinema. At the remodeled 18th-century mansion Casal Solleric is the tourist information – just in case my guide is not complete enough for you.
Llotja de Palma
The Llotja dels Mercaders or Llotja de Palma is a historic masterpiece of bourgeois Gothic architecture in Palma.
Construction began in 1426 according to the plans of the architect Guillem Sagrera from Felanitx. However, the building was not completed until 1447 by the master builder Guillermo Vilasolar.
On the outside, the building has four façades with octagonal towers on each side. The monumental entrance gate on the main façade in the east has tapered archivolts with plant-shaped decoration and an angel sculpture of the Ángel de la Mercadería, hence, the angel of the merchandise.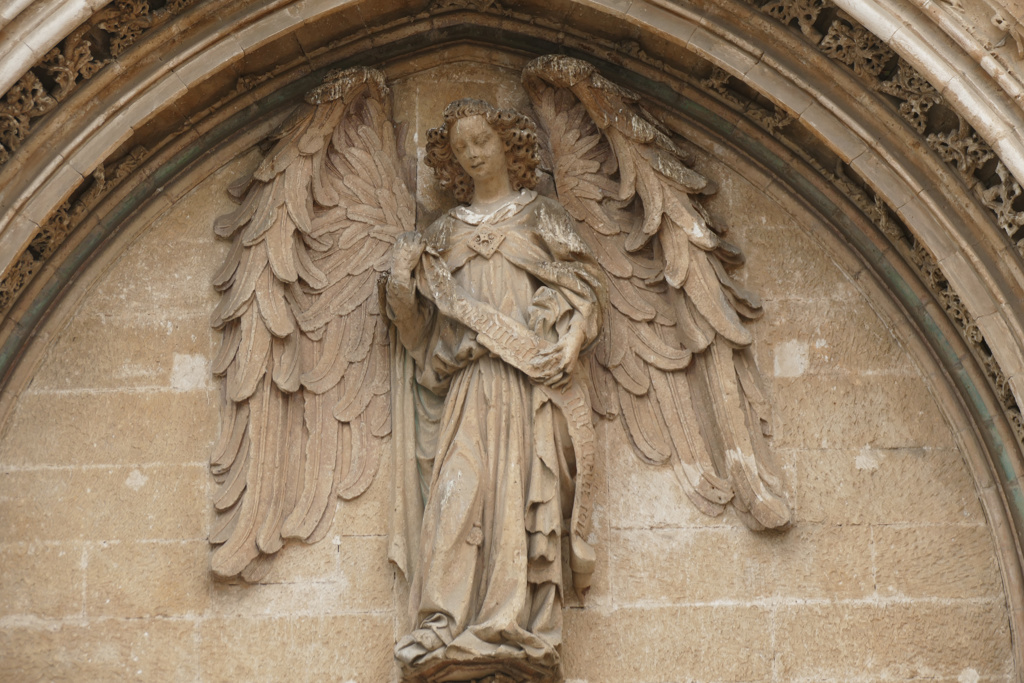 After completion and until the 1830s, the Llotja was the seat of the maritime trade exchange. This institution was in charge of the regulation and protection of trade as well as the maintenance of the port of Palma.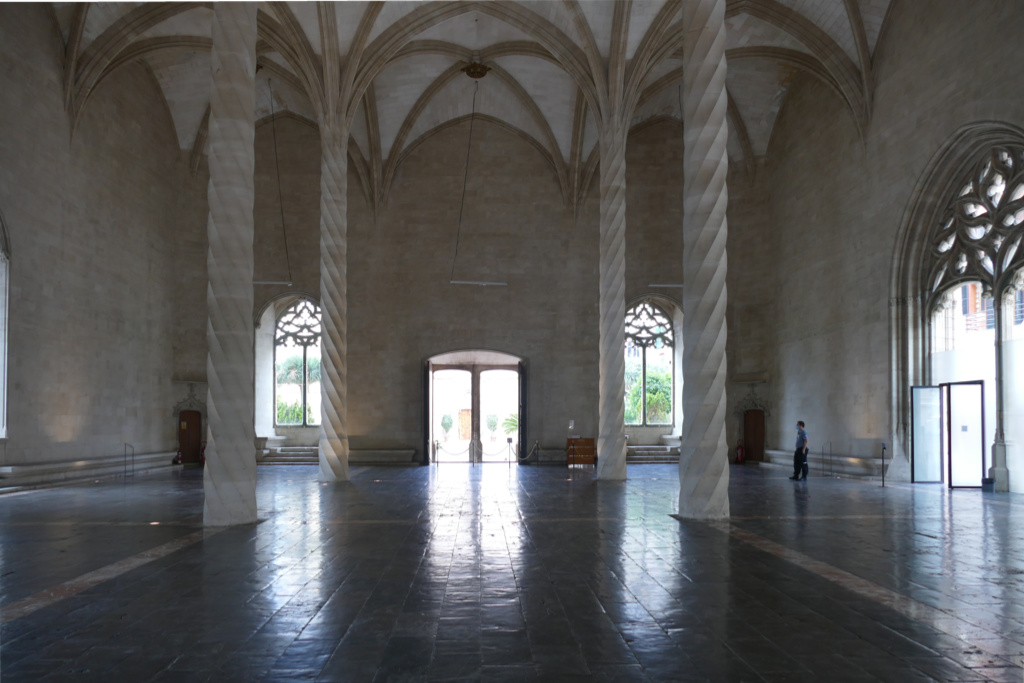 After the decline of sea trade, the Llotja was used as a depot. During the Napoleonic wars, it housed an artillery factory which was finally dismantled after the War of Independence. After having been used as a courthouse, the Llotja housed a museum between 1886 and 1962. Today, there are events and exhibitions held there.
The Llotja de Palma is open Tuesday to Sunday from 10.30 a. m. to 1.30 p. m. and in the evening from 5.30 p. m. to 11 p. m.
Es Baluard Museum d'Art
Just a couple of minutes west of the Llotja is one of Palma's most interesting and inspiring landmarks, the Es Baluard Museum d'Art. It is Palma's museum for modern and contemporary art, but has so much more to offer.
In Catalan, baluard means bulwark, hence, the name refers to the location and the historical function of the original structures.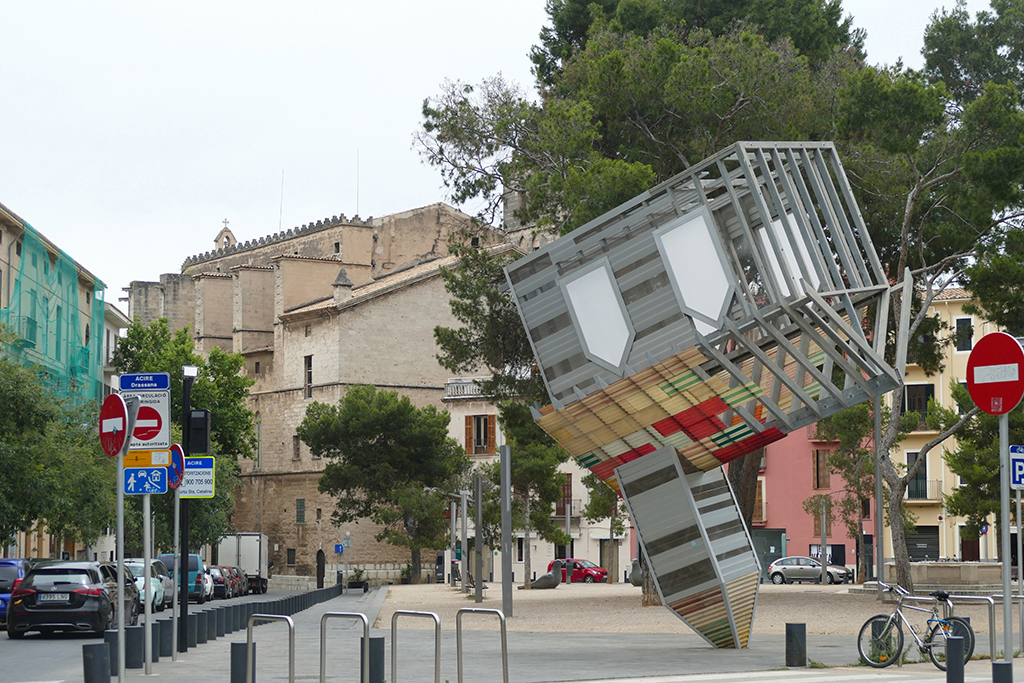 The fortress known as Baluard de Sant Pere in the old town of Palma was crumbling. Fortunately, the city was willing to make the bastion available for the construction of a museum for modern and contemporary art. This way, they created a space for art that contributed at the same time to the development of the entire neighborhood.
The museum opened in 2004.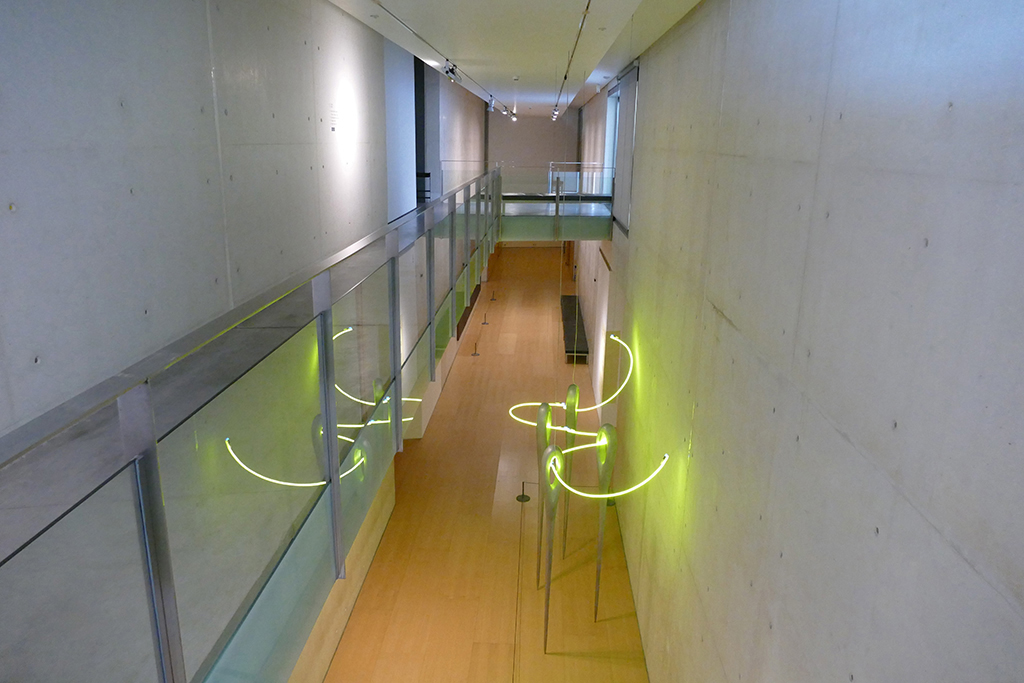 The museum has a total area of ​​5,000 square meters and the actual gallery building spreads over three floors. Due to the unusual construction, it is interconnected on different levels by ramps, balconies, and galleries.
A Venue for many Purposes
One route leads from the city through the Porta de Santa Catalina with a grand view of the sea and from there to the Sant Pere district and the Paseo Marítimo boulevard. Another path leads to the top area of ​​the city wall, from where you have a panoramic view of the bay of Palma and the museum building.
As a matter of fact, a visit to the museum includes a visit to a historical monument and amazing viewpoints. Also, you only have to pay an entrance fee if you want to visit the indoor galleries. Access to the terraces including the sculpture park is free of charge.
The museum is open Tuesday to Saturday from 10 a. m. to 8 p. m. and Sundays to 3 p. m.
Castell de Bellver
The Castell de Bellver is about 3 km west of downtown Palma. The fact that, unlike other fortifications, it is circular makes it unique not only in Spain, but in all of Europe. While the arcades on the lower floor are Romanesque, the colonnade on the upper floor is Gothic.
Surrounded by a 4-meter wide moat, the castle has three towers rising above the round parts. A fourth tower, however, is connected to the fortress by a small bridge. You can access it from the terrace on the second floor.
The Bellver – hence, the beautiful view – deserves its name since you can see many kilometers inland and towards the sea.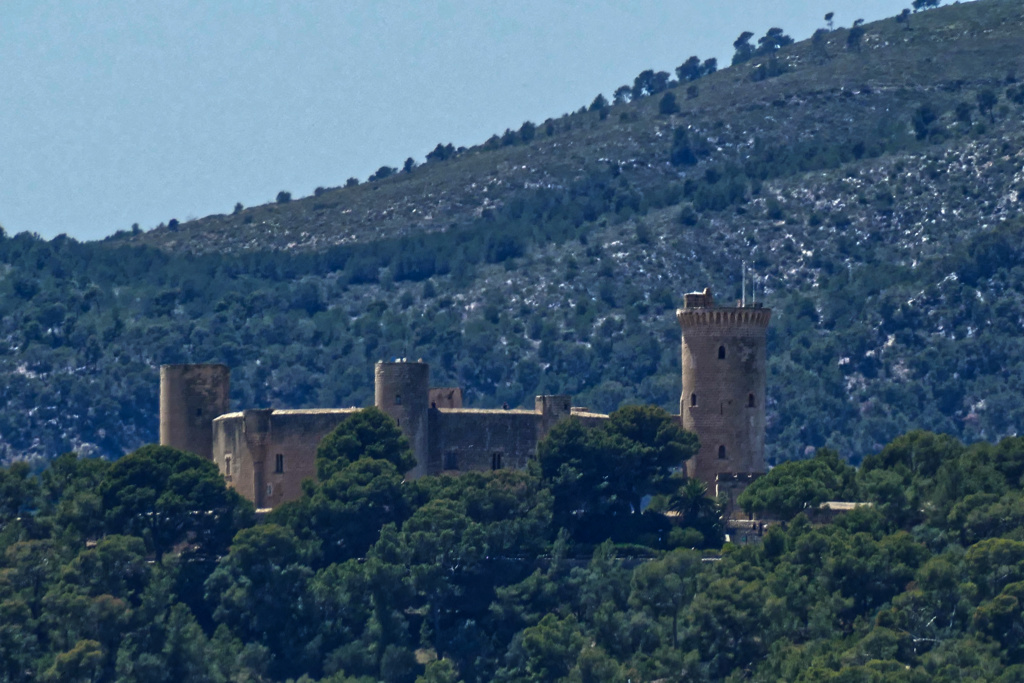 Below the castle is an artificially created cave system, the Coves d'Avall. One cave was used as a dungeon into which the prisoners were thrown from a height of 5 meters. Actually, over the centuries, the castle was used as a prison.
Since 1936, the castle also houses the Museum of the City History of Palma.
The castle is open Tuesday to Saturday from 10 a. m. to 7 p. m. and Sundays to 3 p. m.
Fundació Pilar i Joan Miró Mallorca
The Foundation Fundació Pilar i Joan Miró Mallorca was founded in 1981 by the Catalan painter Joan Miró and his wife Pilar Juncosa on the western outskirts of Palma above Cala Major.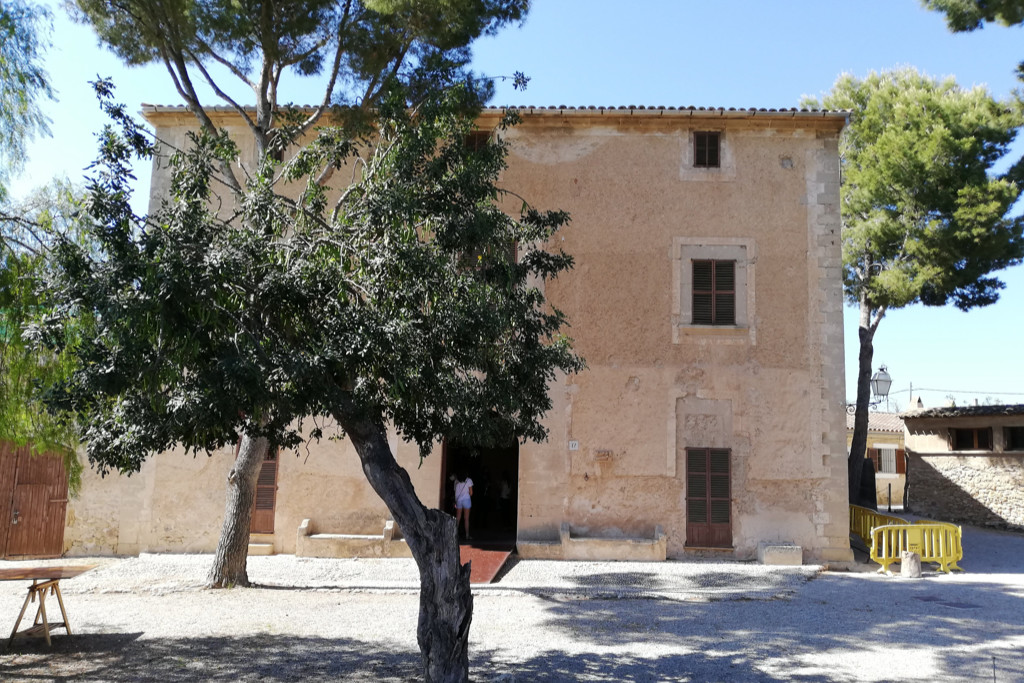 Since Miró's mother and wife were from Mallorca, he had a close relationship with the island throughout his life so in 1956, he finally settled at the Son Abrines next to Son Boter where he installed his studio.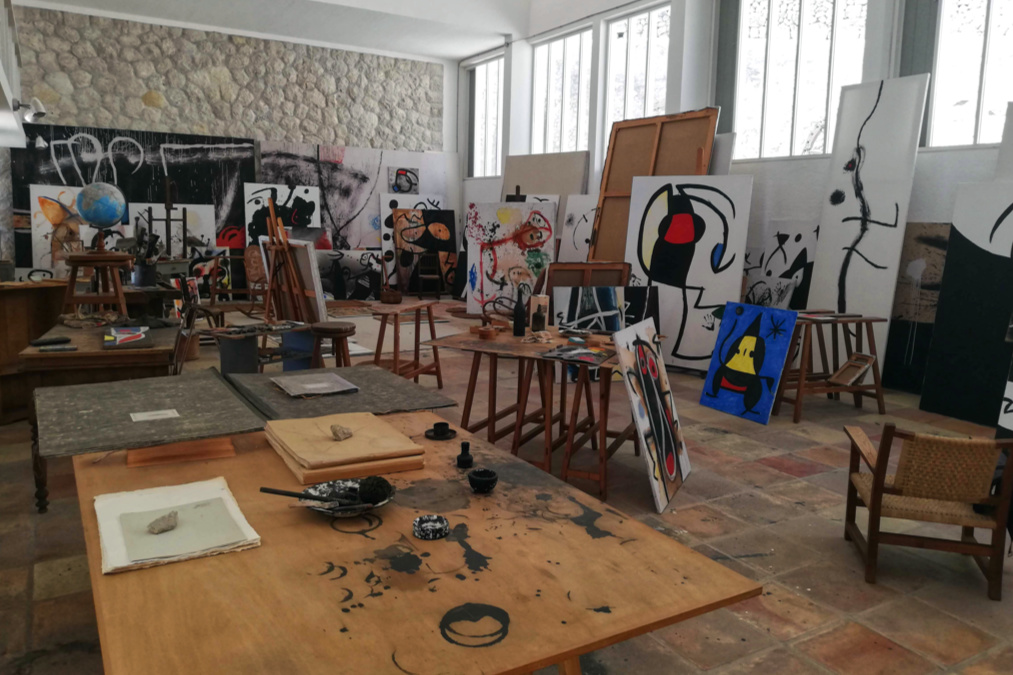 In 1992, architect Rafael Moneo designed a museum as well as a seat for the foundation. The institution's main aim is to support the research of Miró's work and to inspire and promote further generations of artists.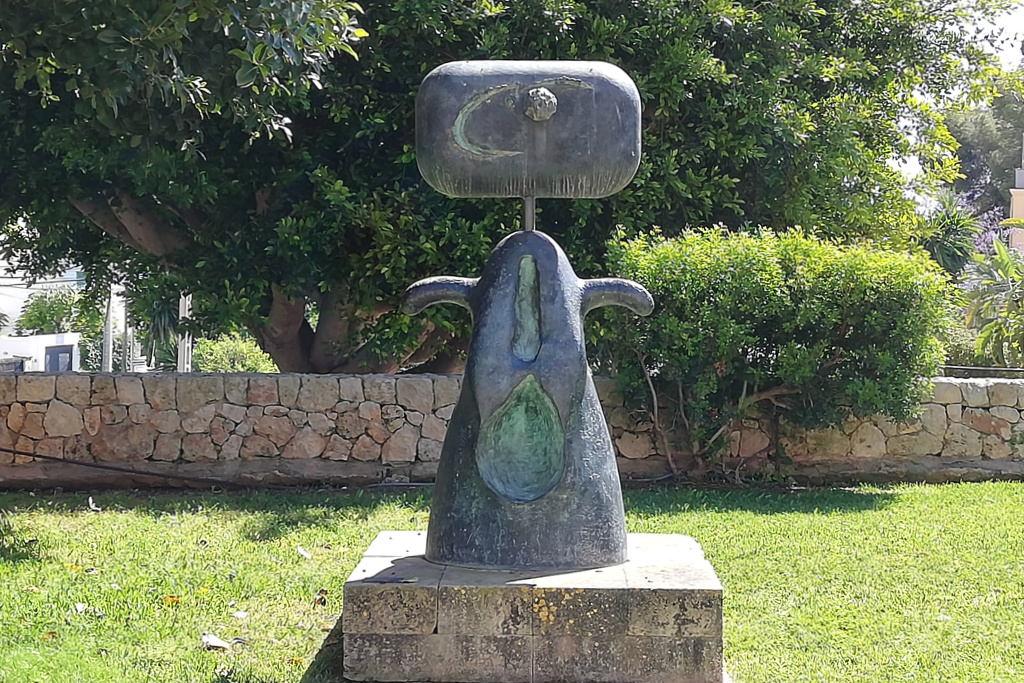 The collection consists of 2,500 works by Miró as well as hundreds of objects from the artist's personal collection. The concept is a dynamic art center instead of a classic art gallery. Therefore, there are workshops, teaching programs, and courses in different fields of the visual arts.
And that's exactly the point why I was a bit disappointed and cannot really recommend a visit. The fact is that the complex is not exactly around the corner. You have to go by bus all the way to Cala Mayor. Then, you have to climb many stairs and walk for about 15 minutes – to see an exhibition that's really not so great. I've seen his museum in Barcelona, and that's a whole different story showing many unique and fun pieces.
I can imagine that this foundation is a great place for huge Miró enthusiasts – but for me as an average fan, it was not worth the time.
The Fundació Pilar i Joan Miró Mallorca is open from Tuesday to Saturday from 10 a. m. to 7 p. m. and Sundays to 3 p. m. On Saturdays, entrance is free of charge after 3 p. m.
Platja de Cala Major
One of Mallorca's strongest suits is how you can combine different activities. You can take a hike where you can end up on a nice beach to take a refreshing dip. You can hang out on Palma's city beach before you do your shopping just around the corner. And you can visit the Fundació Pilar i Joan Miró Mallorca and then descend to the Cala Mayor where you enjoy a small yet pleasant beach.
As a matter of fact, the beach in Cala Mayor is about 200 meters long and not more than 80 meters wide. The beach on the clear blue was improved and extended with fine-grained sand, which was shipped to Cala Mayor. Hence, you can just stretch out on your beach blanket, or – if you want to be more comfortable – you can rent a sunbed and a beach umbrella. In the vicinity are small shops and supermarkets where you can stock up on drinks and snacks.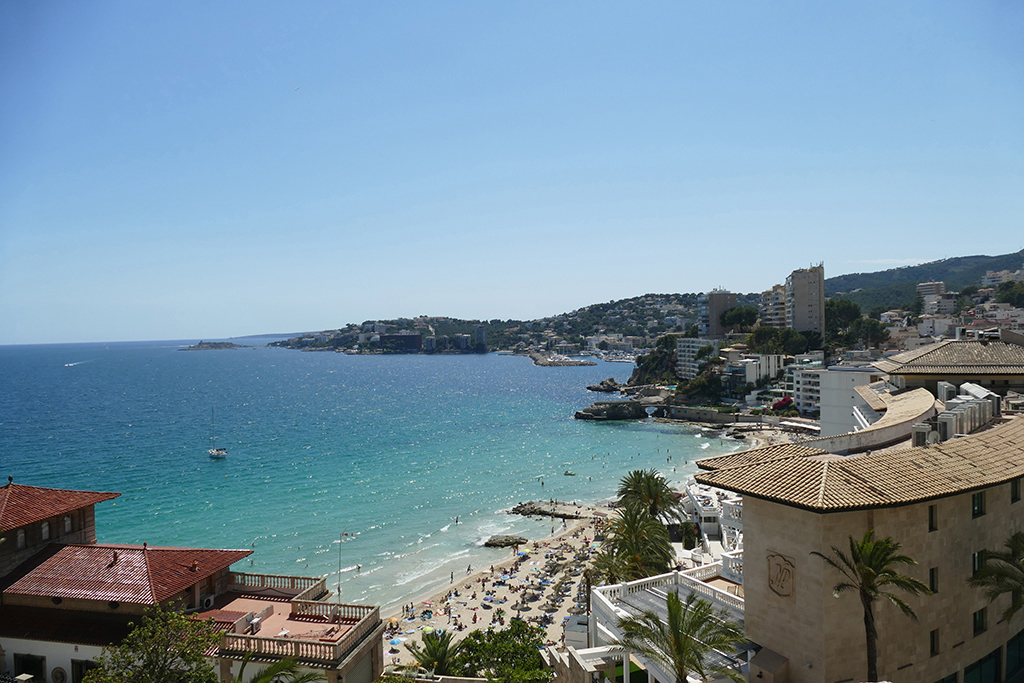 Platja de Cala Major is excellent for kids as the water deepens slowly and waves are extremely rare. However, on weekends and holidays, it can get quite crowded.
Although I wrote this itinerary down in one go, it's absolutely impossible to see all these places in one day, let alone enjoy them. Especially if you also want to spend some time inside the galleries and churches, you'll need at least two days to get to know Palma – better yet three.
Practical Information
How to Get There
By Plane
Palma's Aeropuerto de Son San Juan is one of only three international airports on the Balearic Islands. The other two are in Ibiza and Menorca.
Since Mallorca is definitely one of Europe's most popular tourist destinations, there are tons of flights. Especially during the off-season, you can get there dirt cheap with the Spanish low-cost airline Binter, Ireland's Ryan Air, and Germany's Eurowings where the price-performance ratio is just great.
If you haven't booked a package where the travel company arranges the shuttle to your hotel, you have three options for transportation from the airport to the city center of Palma as well as other places in Mallorca. The most comfortable option is taking a cab*.
I'm not driving, but if you want to rent a car, you can do so right at the airport.
Obviously, taking one of the public buses is much cheaper. However, while the trip to the city center of Palma takes about half an hour, it also costs only 5 €uro. You cannot pay by credit card and the driver is happy if you have the exact change. When he's not happy, he'll let you know, take it from me.
My Tip on Packing
If you are going to Mallorca for just one week or even ten days, you definitely can leave your kitchen sink at home. You simply should travel light which will make your trip smoother and cheaper – at least when you are opting for one of the low-cost airlines that charge extra for basically everything.
How to pack light? That's easy: Just read my post on Packing Light – Travelling in Style and you'll be all set. Also, Mallorca is not a jungle – there are shops'n'stores everywhere, so in the unlikely event that you've forgotten something really important, you'll be certainly able to obtain it right on the spot.
By Ferry
It's possible to get to Mallorca by ferry. Apart from ferries travelling between the Balearic islands, there are also connections to the European mainland, for instance to Barcelona in Spain or Toulon in France. I guess this is a valid option if you want to take your own car to the island, but also if you are rather into slow travel.
The ferries from the European mainland are anchoring in Alcúdia on the northern coast.
Where to Stay
Mallorca is one of the most touristy islands in Europe. Consequently, there is a wide choice of accommodation. Obviously, there are all those big, charmless chain hotels catering to mass tourism as well as luxurious resorts providing lodging options to wealthier mass tourism. Yet, there are fantastic fincas in the hinterland as well as many smaller, rather cozy guesthouses and B&Bs.
If you don't come to the island exclusively for the beaches and want to experience some truly local vibes, an accommodation right in the heart of Mallorca's capital Palma is very suitable. Again, I must add that I'm not driving so it was extremely convenient to stay just a ten minute walk from the main bus station Estació Intermodal.
Also, I loved staying at the Hotel Abelay* since it's located in an absolutely non-touristy neighborhood which made me feel….at home.
Nevertheless, on this map, you can choose convenient lodging options according to the price and the location in Palma*.
What to Eat
Well, it's Spain, hence you won't be starving.
I must say that although I love to cook and eat, I'm not travelling for food. One of the reasons is that I'm a solo traveller and dining alone is just half of the fun. There is the social aspect missing.
Therefore, usually, you won't find tips on gourmet restaurants on my pages. I rather supply you with tips on where to grab a quick, possibly cheap bite.
If you don't want to waste your time searching for dining options, there are great ways of sampling local delicacies without spending too much time or money.
Bakeries and Delis
There are many small bakeries and delis selling all kinds of sandwiches and empanadas. Empanadas are small pies stuffed with all kinds of delicious fillings: Different kinds of meats, cheese, and vegetables. Since there is lots of stuffing and little dough, empanadas are not as heavy and 'dry' as similar snacks.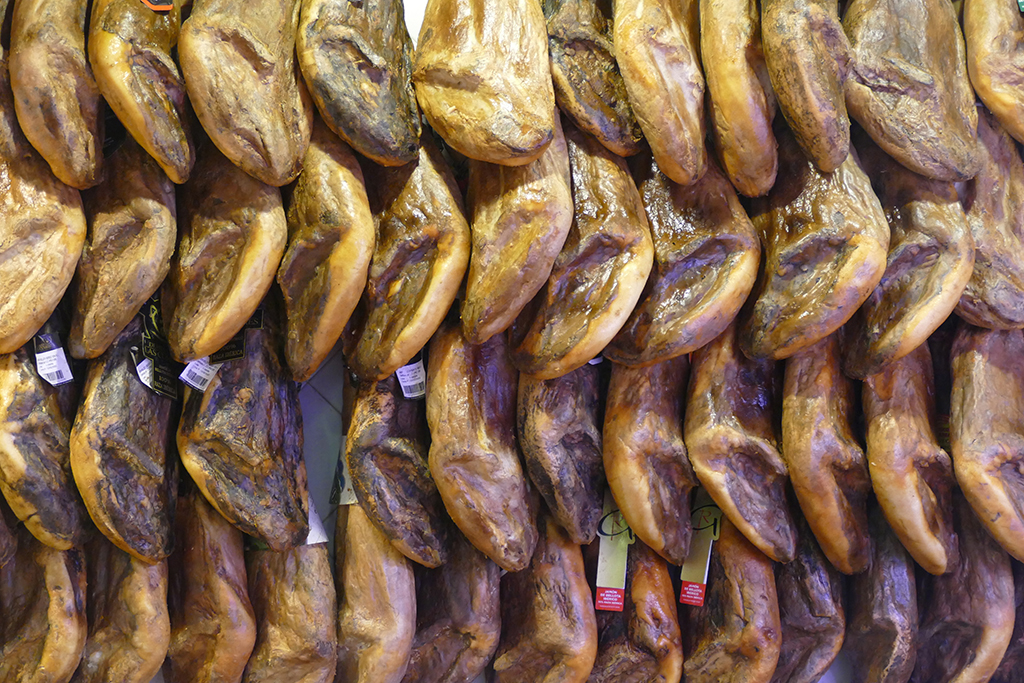 If you have a sweet tooth, you'll also find a great variety of delicious pastries. Therefore, if your hotel does not offer any breakfast – or only very limited breakfast options – enjoying your morning coffee at one of Palma's many bakeries is a valid alternative.
Markets and Supermarkets
Just like in Italy, most Spanish supermarkets have a food counter where you can buy simple dishes like grilled chicken, meatballs, and fritters as well as sides like potatoes and salads. At some supermarkets such as the Mercadona that I've mentioned above, they even sell some really good Paella or Fideuá, which is basically Paella made with noodles.
I'm not claiming that this will be the fanciest meal of your life, but if you just need to grab a filling snack, I find it's a valid option. Also, it's a truly Spanish experience since it's definitely not a tourist trap.
Obviously, you can stock up on baked goods as well as fruits at local farmers' markets to enjoy them during your hikes or on the beach. Check out the above chapter on the beautiful Mercat de l'Olivar.
Tapas and Menú del Día
There is an overwhelming number of bars and restaurants in Spain where you can enjoy a glass of beer or wine with some tapas, and varied small snacks. Tapas can be slices of serrano ham, diced cheese, olives, small sandwiches, a blob of ensalada rusa, potatoes salad with mayonnaise – you name it. They are called tapas since they used to cover – tapar – drinks with these snacks. Don't ask me how they did it with olives let alone the ensalada….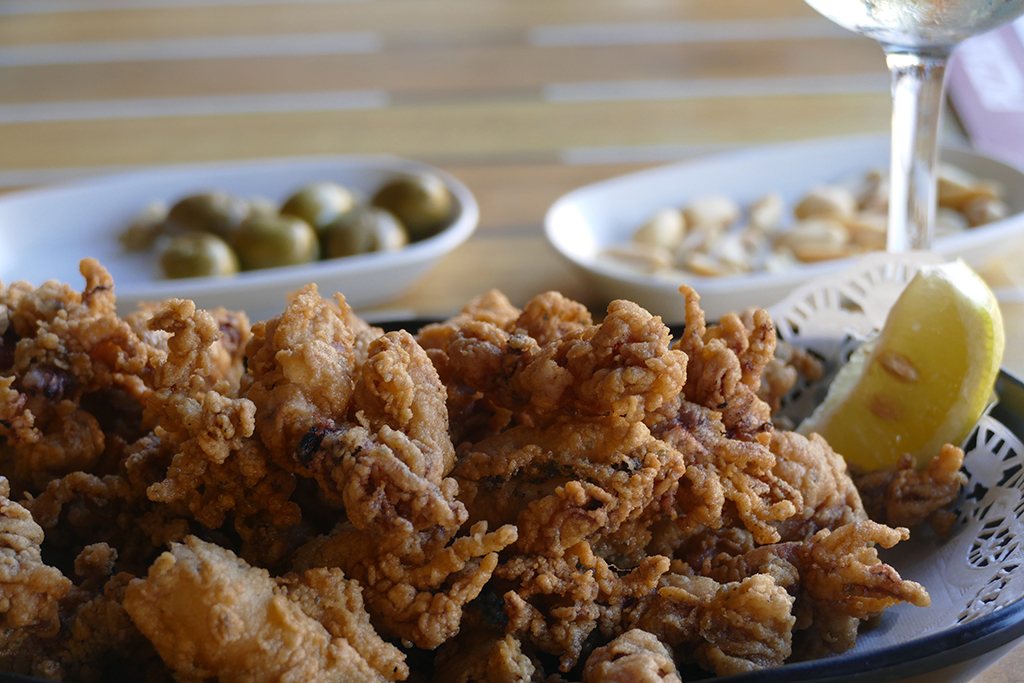 If you're not at the biggest tourist trap, you'll get some small tapas with your drink – at least olives, peanuts, or something else to nibble on. But you can also order a ración, hence, a serving, or also media ración, a half-sized serving.
If you are really hungry, the menú del día might do. It's usually a three-course meal that you can combine to your liking from different starter, main course, and dessert options. Often, water and even wine are included.
Cash, Cards, and Deals
Until now, 20 European countries replaced their former local currency with the €uro starting in 2002. Obviously, Spain is one of them. The exchange rate is 1 US$ = 0.94 EUR as of January 2023. However, you can check today's conversion rate on this page.
You can pay with credit cards basically everywhere.
Mallorca is very touristy and therefore certainly not a cheap destination. But it's not neck cutting either. Fortunately, the nicer, less touristy places are at the same time also cheaper than the popular hot spots of tacky mass tourism. As a culture vulture, I was quite happy that entrance fees to the wonderful museums and galleries are really reasonable – particularly in comparison to Spanish cities on the mainland.
Connection and Communication
Since June 2017, no roaming charges apply within the EU with a European mobile phone contract, This applies in all 27 countries of the European Union as well as in Iceland, Liechtenstein, and Norway and to all contracts.
In case European roaming is not available, you can connect to the internet without any issue at basically every museum, eatery, or café, and, of course, hotel.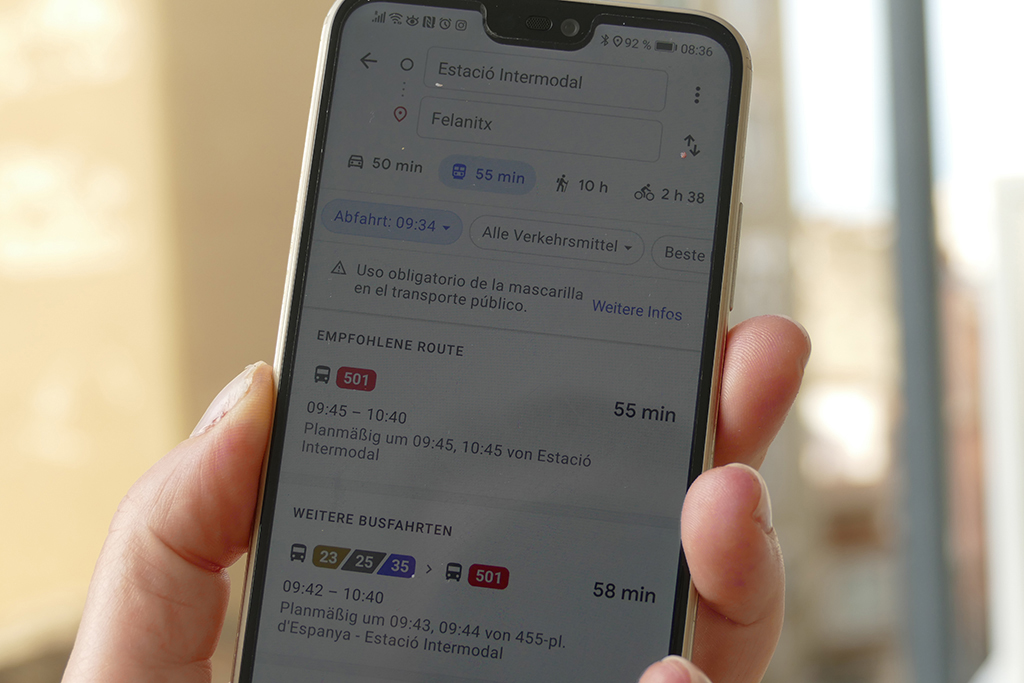 If you insist on being online 24/7, you can get a SIM card, obviously. The cheapest one would be Lycamobile while Orange Tu Mundo has the widest coverage.
In Spain, they use plug types C and F. Their voltage is 230 V and the frequency 50 Hz. Whereby, as nowadays, all these chargers have integrated adapters, in general, the voltage and frequency don't really matter.
By the way, you'll find this information and many more comprehensive travel tips in my post World's Most Complete Travel Information – an indispensable globetrotter-classic.
Language
You are probably thinking that since Mallorca is a Spanish island, the local language will be Spanish. Well, that's not wrong, but only half-right. Actually, Mallorca has two official languages: Since it's part of the autonomous community of the Baleares Islands, apart from Spanish, Catalan is widely spoken – and written on signs. But don't you worry, everyone will understand the Castellano that you have probably learned. If your Spanish is a bit rusty, you can brush up your Spanish vocabulary on babbel.
But don't you worry, due to tourism, most people speak decent English and German.
How to Get Around
Mallorca has a quite amazing comprehensive network of public transportation. It's not only easy to move around within Palma's city limits. You can get to almost every small hamlet by public bus. There are various connections per day from early morning till evening.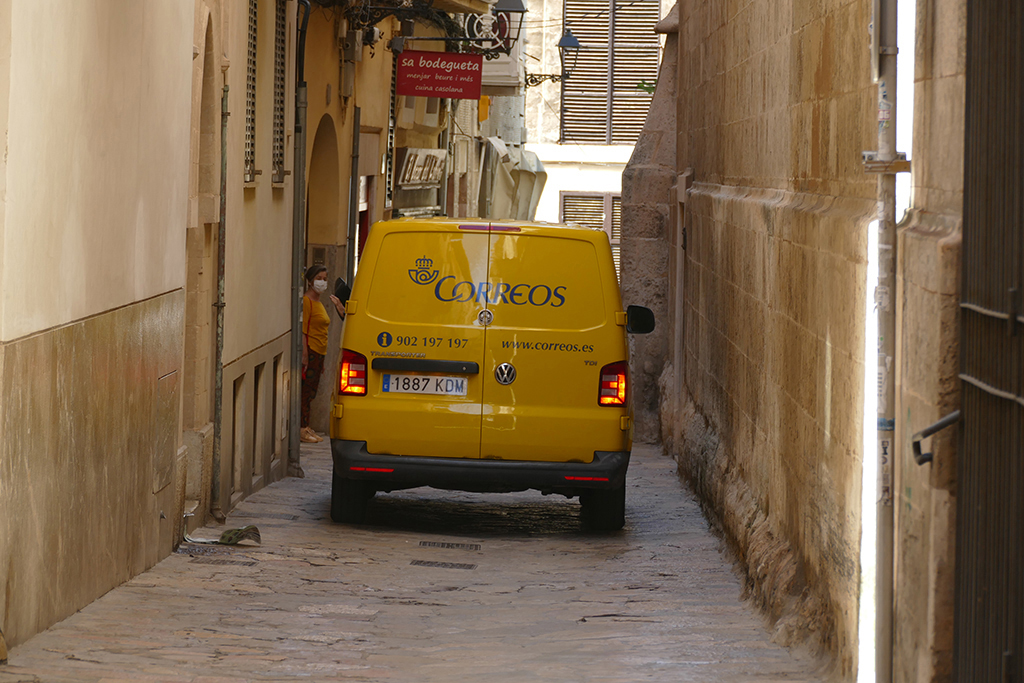 There even is a subway in Palma. However, since you'll probably stay exclusively in the city center, chances are high that you'll travel mainly by bus. A single ride costs 2 €uro, kids under five travel for free, and dogs pay 30 cents – no, I kid you not!
You can buy tickets from the driver, however, you have to pay cash with a bill of up to 10 €uros.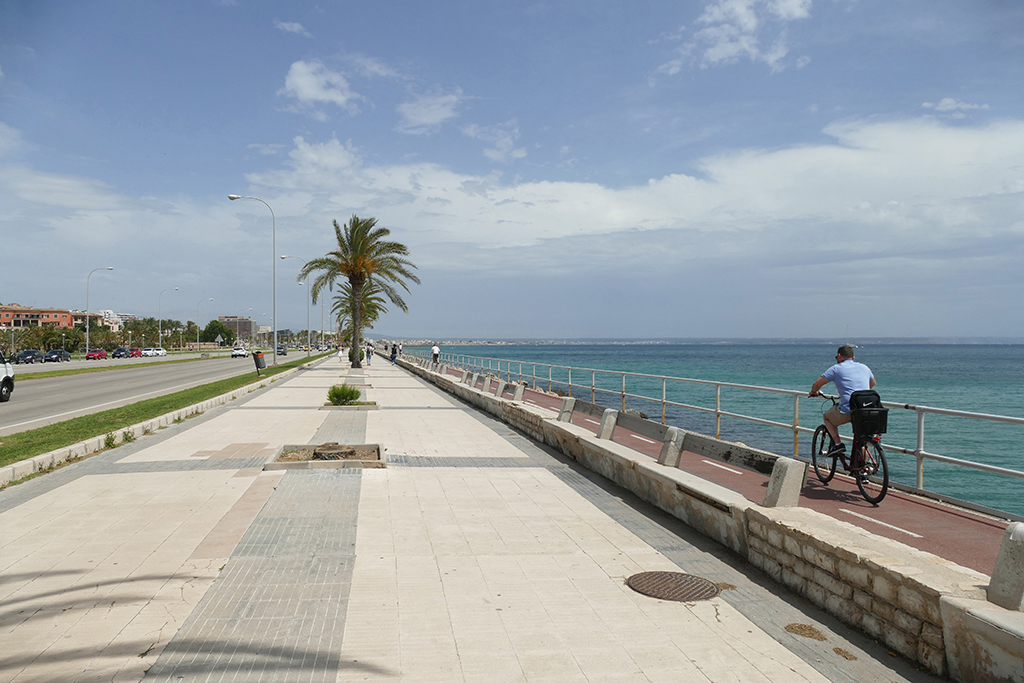 Cycling is a suitable alternative for moving around in the city, not only because of mobility but also for the benefit of the environment, therefore, it's getting quite popular. There are many shops where you can rent a bike in Palma, but also many hotels have bicycles as a service for their guests.
As I wrote above, I visited many, many even a bit secluded places on the island by public bus. I'll inform you on routes, prices, and the procedure in the respective posts and, obviously, in my general post on Mallorca where you find many useful tips and information that will make your stay smoother and more enjoyable.
My Tip on Footwear
Ladies, make sure to wear flat, comfortable shoes. Not only will you do a lot of walking. Some of Palma's alleys are still romantically paved with cobblestones. Hence, there go your heels.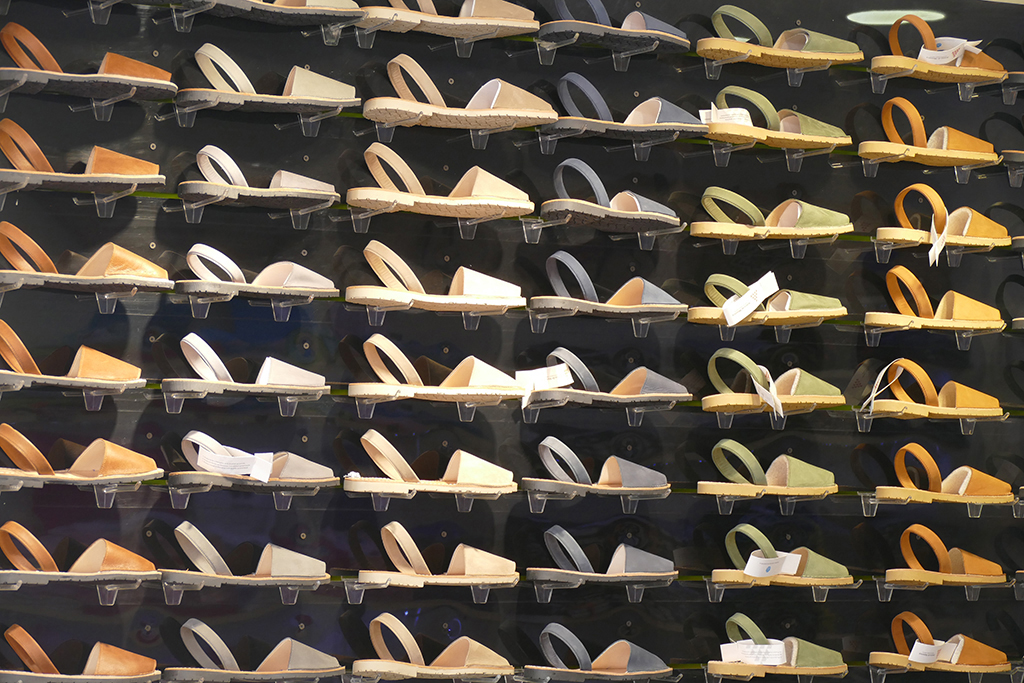 Also, Mallorca is rocky and hilly. There are slopes'n'stairs as you are getting to the more secluded bays'n'beaches. While walking uphill is exhausting, walking downhill can be even dangerous if your soles are slippery. Good sneakers or even hiking shoes will make your exploration of Mallorca safe and enjoyable.
Alone No More
Although I'm an avid solo-travelling woman, I sometimes like to join organized tours. Not only are they a valid option to go to remote places since I'm not driving. They also allow me to meet fellow travellers – for just a short moment or a lifelong friendship.
Therefore, here are some great ideas of what to do when visiting Mallorca. Especially during high season, pre-booking online will guarantee your place at the activity of your choice*:
Map
This map should help you to find all the wonderful places I'm introducing in this post. This way, you can plan your itinerary accordingly.
Clicking on the slider symbol at the top left or the full-screen icon at the top right will display the whole map including the legend.
Palma de Mallorca was my base and actually only one of many amazing places I visited during my nine days on the island. To read about the others, go to this post and take your pick!
For general information on Spain, go to the main post. There, you'll find information and tips that will make your trip much smoother and more enjoyable.
Pinnable Pictures
If you choose to pin this post for later, please use one of these pictures:
Note: I'm completing, editing, and updating this post regularly – last in January 2023.
Did You Enjoy This Post? Then You Might Like Also These:
* This is an affiliate link. Hence, If you book through this page, not only do you get the best deal. I also get a small commission that helps me run this blog. Thank you so much for supporting me!