On my railroad trip through Portugal, I'll show you that travelling the country by train is easy-peasy, cheap, and fun.
Let me guide you from mesmerizing Porto all the way to Lisbon – with some amazing whistle stops in between.

Do you hear the whistle blow? Quick – jump on the train and let's go!
On Portugal
I must say that for decades, I haven't been really interested in Portugal. I always thought it was a smaller, poorer version of Spain; yes, that was very ignorant and I'm only admitting this to you, so pssst!
Twice I had to spend a day on a long haul flight – that's how I wrote the 24 hours in Lisbon-guide for my 24 hours in…-series – and found it pretty charming.
On my recent railroad trip, I became one of the country's biggest fans under the Portuguese sun.
Lovely cobblestone alleys and impressive architecture. Traditional Azulejos and cool'n'contemporary art. Hearty sardines and sweet'n'creamy natas.
All this took me by storm – and I'll be back as soon as I can to experience more of this small yet so varied country on the Iberian Peninsula.
A Little Bit of Portugal's History
Portugal Getting Big
This country, that is home to only a bit over 10 million people, had – like Spain – its gilded conquerer and colonial age in the 15th and 16th century.
The Padrão dos Descobrimentos in Belém is a reminder of these ages of 'discoveries' – which of course is a euphemism. Just like the Spaniards – and later the British and the French – they travelled to other continents, abused and exploited the inhabitants or – like in Africa – robbed and enslaved them; yeah, and once they were on it, they also discovered…whatever.
Actually, that's how the atoll of Cape Verde got inhabited: The islands – notably Ribeira Grande on the main island Santiago – functioned as a cruel stopover where the kidnapped Africans were "trained". Obviously, this means that those poor people were broken to become compliant slaves. Eventually, they were shipped to the New World.
Anyway, there can still be found traces of Portugal's glorious times around the planet. Apart from Australia, there are Portuguese-speaking countries on every continent which is a heritage from those colonial times.
On the other hand, obviously, a major part of Portugal's present beauty stems from that wealthy era.
Portugal Getting Small
But the times, they were a-changing. After becoming an annex of Spain, in the final phase of the Portuguese monarchy, the country suffered from big poverty. Portuguese people had an extremely low education – 80 percent of them were illiterate. Finally, the economic problems led to national bankruptcy in 1891.
In 1910, Portugal became a republic, but sadly the former minister of finance, António de Oliveira Salazar, created what he called the Estado Novo in 1933, the New State. It was a dictatorial regime akin to fascism that lasted till the Carnation Revolution in 1974.
After some tough years, currently, Portugal's economy is doing pleasantly well.
On Railroad Trips
I'm very much into road trips. Since I'm not driving, I'm depending on trains. Well, sometimes I take buses. When there are no trains. Or when taking a bus is far cheaper.
For my week in Portugal, I had chosen a railroad trip.
Going by bus is nice, too, but there are certain disadvantages to it. Like I'm writing on a fast train from Lisbon to Porto right now – I could not do that on a bus. I couldn't even read a book or flip through a magazine: I tend to get unpleasantly motion sick when reading or writing on a bus.
So for me, preferably trains.
Eating on the Railroad
I think what I love most about travelling by train is the food. No, of course not the food they are more or less serving on the train, that's mostly gross.
No, I'm preparing my own gourmet food.
No, not on the train, the evening before I leave.
I'm making these enormous sandwiches that put every Louisiana Po'Boy to shame. A piece of artisan bread, smeared with some deli mayonnaise, topped with layers and layers of French ham and Swiss cheese, a couple of apple slices Sounds weird? It's super-yummy and gives the sandwich a fresh crunch. It's better when the apple is not too sweet and works also with pears; you're welcome!, sprinkled with a fistful of chives.
Sorry for the smell, my fellow travellers, but it's just too good.
I hardly ever make such a rich sandwich when I eat at home.
It's a travel or at least an outdoorsy sandwich.
Indoor food is healthier.
Relaxing on the Railroad
But there are more railroad trip amenities such as the leisure to read a nice book, to read the other passengers' minds or not to read at all, but just watch earth passing by. It's totally ok if you fall asleep from time to time since the monotone sound and movement rocks you to sleep.
It is so relaxing.
You see, while a road trip by car takes you across the same country and landscape, you can hardly enjoy any of the sketched activities or rather passivities – unless you're keen to kill yourself and others on the road: I hope you are not eating or reading or working or falling asleep!
Yes, you can risk a short glance at the landscape around you, but just a really short one – and now: eyes back on the road!
Travelling Legends
I must admit that there are a couple of road trips by car that are quite sexy – like the legendary Thelma and Louise or classic Bonnie and Clyde.
At the same time, they tend to be more some sort of flight or escape, they have often something desperate and dangerous to them. They are rather races over the highway than meandering unhurriedly over rolling hills and through mellow valleys.
No wonder no car ever became a legend by a road trip – but think about the trains that make you all dreamy: The Trans-Siberian Express, the Orient Express, the Hirma Bingham – aaah, just mentioning their names takes you back in time when ladies used to travel in dresses and hats, taking all these chic travel accessories in leather trunks. Not light and handy, but definitely classy.
Practical Information
Getting There
Obviously, since the country is located on the westernmost coast of Europe, you can travel to Portugal by train and even by long-distance bus – especially when you are coming from Spain or France.
However, most visitors come by plane so that it's convenient that also many low-cost airlines are going to Portugal.
There are three international airports in Portugal: Porto in the north, Faro on the southern coast, and, of course, Lisbon.
Getting Around
Travelling by public transport like Comboios de Portugal, the national train company, was very reliable and pretty cheap, whereby I think that it would have been even cheaper buying tickets online.
Since I always had questions, I bought my pickets at the regular price which was totally fine. For instance, I paid about 25 €uros from Lisbon to Porto, travelling second class with an included seat reservation.
Obviously, you can do the same trips by bus. A very popular bus company is Rede Expressos with many convenient connections at reasonable prices.
Of course, there are also domestic flights for instance by Portugaglia Airlines, a subsidiary of the national airline TAP. However, since the distances are not that long and taking trains so very convenient, the high price is not worth it; at least that's what I think.
As in most other European countries, the local and regional public transportation was great, too. There were buses, trams, and subways taking me everywhere I needed to go at a relatively cheap price.
Where to Sleep
Portugal is a relatively cheap European country and you get clean comfortable rooms at surprisingly reasonable prices.
On my trip, I had booked the other accommodations through booking.com*.
Where to Eat
Given the fact that Portugal is a major tourist destination, restaurants and eateries, in general, are on the cheaper side.
The local cuisine is quite similar to Spanish food with lots of shellfish and fish – especially sardines.
Yes, there are, of course, the yummy natas, vanilla custard in a small basket of filo dough – just delish, especially with a good Galão, basically a Caffe latte, or a Bica, a strong expresso.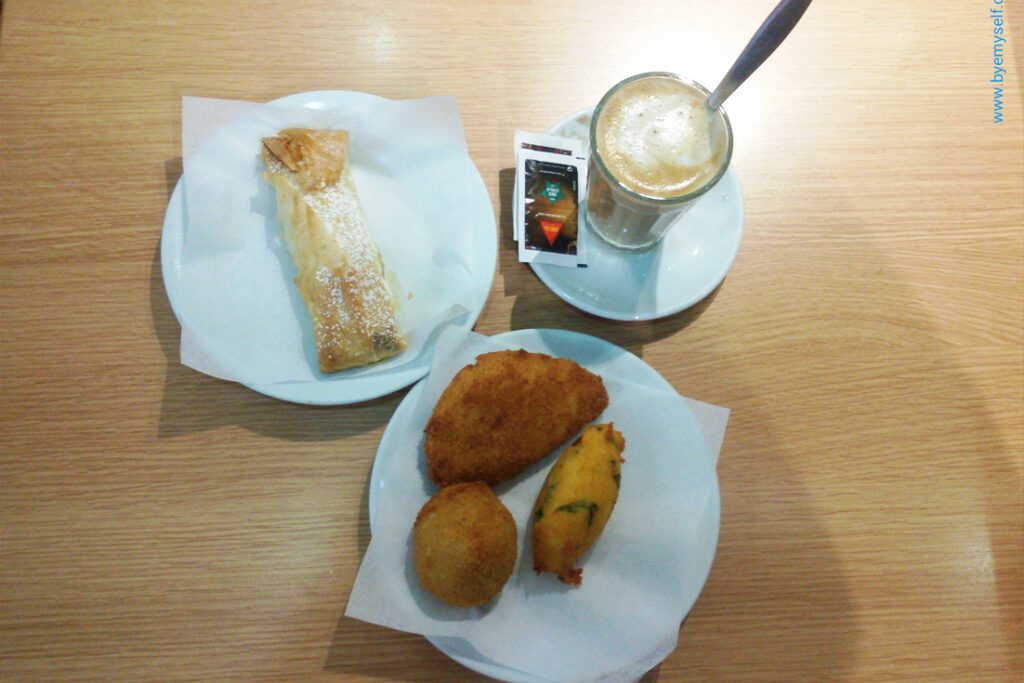 Nevertheless, I'm rather into hearty food. So I was delighted by the Bolinhos and Pastéis. These are potato-based deep-fried dumplings, typically with Bacalhau, codfish. But they come also with other ingredients like ham, cheese, or veggies.
The perfect snack – and available basically everywhere.
What to See
I'm an avid solo-travelling woman. Since solo-travel doesn't equal solitude, I love to join organized tours here and there. They allow me to meet fellow travellers – for just a short moment or a lifelong friendship.
Therefore, here are some great ideas of what to do on your tour through in Portugal. Pre-booking online will guarantee your place at the activity of your choice*:
Money
Until now, 20 European countries replaced their former local currency with the €uro starting in 2002. Obviously, Portugal is one of them. The exchange rate is 1 US$ = 0.94 EUR as of January 2023. However, you can check today's conversion rate on this page.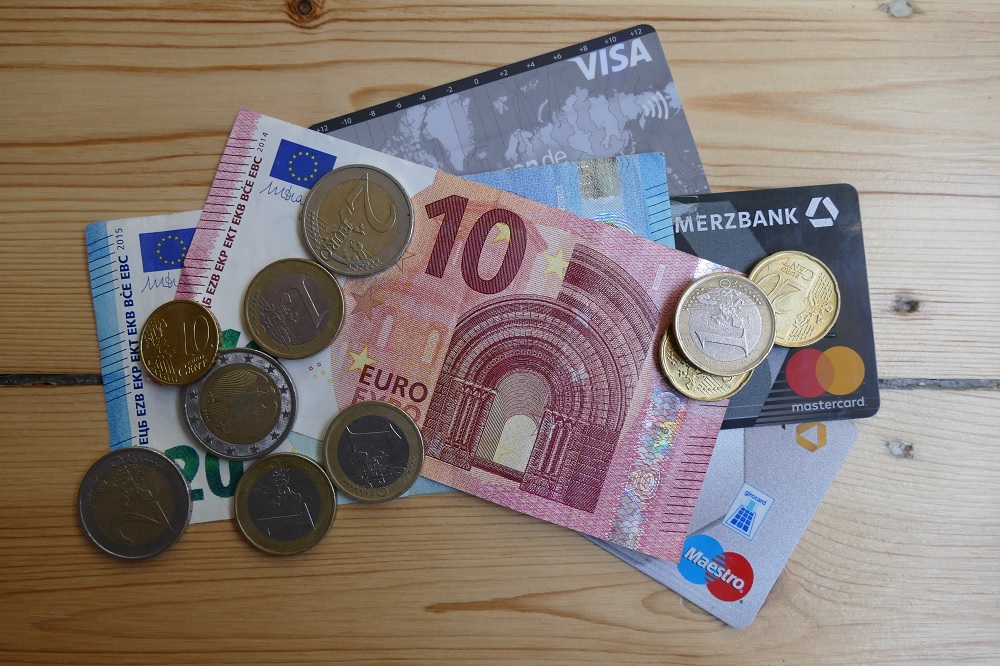 Cards are accepted basically everywhere.
Language
Actually, I was impressed by how excellent many Portuguese speak English. However, it's always nice to be able to say at least some pleasantries in the local language so you might want to pick up some words e. g. online with babbel.com. The first lesson, which already covers all the hellos and thank yous, is even free.
Map
This is the route I travelled. Clicking on the slider symbol at the top left or the full-screen icon at the top right will display the whole map including the legend.
Places I Visited
The detailed information on each of my stops is found on these pages
Pinnable Pictures
If you choose to pin this post for later, please use one of these pictures:
Note: I'm completing, editing, and updating this post regularly – last in January 2023.
Did You Enjoy This Post? Then You Might Like Also These:
* This is an affiliate link. If you book through this page, not only do you get the best deal, I also get a small commission that helps me run this blog. Thank you so much for supporting me!