Let me guide you to Split, another one of these many Croatian cities that seem to have it all: Rich history presented in a well-preserved, breathtakingly beautiful old town. Colorful farmers' markets sell fresh produce to restaurants that prepare the most delish meals. Lush woods as well as nice beaches – and all that within the city limits. And a posh harbor – the gateway to splendid destinations beyond the sea.
Nevertheless, visiting Split, I had to check it out in a….split second.
Unfortunately, three weeks are not enough for a country so rich in natural wonders and overwhelming history. And I absolutely wanted to have at least a couple of days on the island of Korčula.
The Life of a Part-Time Nomad
I didn't even know exactly what was on the bottom of my far too full and heavy suitcase. On my trip through Croatia, getting to a place, I never had the chance to dig that deep.
I arrived at a place, took out my nightgown and my toiletry kit, stowed dirty clothes from the day, and took out a possible outfit for the next one. Making sure not to crumple everything else.
The next morning, I put back the gown and the slightly lighter kit, and off I went to the next destination. I might have spent as much as seven hours at some of these Apartmans.
Why did I even have sandals with me-? I had been wearing my trainers for five days in a row. I don't like to travel in sandals since I want my feet to be protected. And during the day, I was mostly hiking. So, despite my post on travelling in style, you couldn't expect me to be too much of a fashionista.
Obviously, I wanted to make the most of my three weeks in Croatia.
So now Split.
At the End of the Day
When I arrived in Split, it was already dark. Google Maps had me a bit confused so that I was dragging my far too full and heavy suitcase on a bumpy street along the coastline.
Nevertheless, the little that I was able to make out in the dark looked beautiful – and in some way, it also felt beautiful.
I spent my couple of hours till the next morning in a neighborhood that seemed pretty posh to me: Tennis courts along the coastline, elegant restaurants, and hip bars on the other side of the road. The Apartman is located in a modern flat roof building – this could be in every country on planet earth, really.
After a stay of about eight hours – spent mostly sleeping – I dragged my far too full and heavy suitcase back to the port, adjacent to the bus stop where I'd arrived only a couple of hours ago.
One of the many things that are really great in Croatia is the fact that you always find storage for your luggage. And if there isn't a room in a building, they just set up some mobile container thingy. Here you can leave your far too full and heavy suitcase for something like three bucks.
Three bucks are like nothing in exchange for exploring the totally fascinating old town worry- and suitcase-free.
Older Than Old
Old town – here we are not talking just Italian and Hungro-Austrian, here we're talking serious history: Roman structures, completed by Egyptian decoration. The lovely café around the Perystile, the famous court of the Diocletian Palace, is called Luxor for a reason. Since Egypt was part of the Roman empire just like this area, they brought some souvenirs from Luxor for decoration.
Everywhere you go, it's beautiful and impressive, and fascinating.
One day was enough to see most part of the official attractions.
But then there are also museums and galleries. And many very nice little specialty shops that do sell quality things made in Croatia instead of some touristy crap. And cute little cafés where you can sample yummy pastries and watch people.
Then, like many Croatian cities, Split has a city beach which is not as bad as city beaches tend to be. And there is the Marjan Forest Park that I did not visit – mainly since I came to Split after having visited two National Parks.
There is simply too much to see and to do to cover it all in one trip.
Starting Point Waterfront
Split has about 200,000 inhabitants which makes it Croatia's second-largest city. Whether you get there by train, by bus, or by ferry – your tour will always start at the impressive harbor front opening to the Adriatic sea.
The part along the Obla kneza Domagoja is beautiful, but very busy: People are pushing and pulling their luggage from buses to ferries and cruise liners – it's not very serene.
It becomes far chicer as you turn left at the corner of the parking lot. Here is a pedestrian promenade – elegant like in the old times. All the big hotels and fancy restaurants have their tables and chairs on spacious terraces, you can hang out here for hours watching people and enjoying the breeze from the water.
As you get to the fountain Bajamontuše – you won't miss it since there is always a group of people waiting to have their picture taken – turn right and walk up a couple of stairs to the Trg Republike. You will notice right away that it is inspired by Italian architecture. It resembles very much St. Mark's Square in Venice.
Parallel to the square's east part is the Marmontova ulica, a shopping street – quite narrow and lovely.
Panoramic View From an Unexpected Place
Following this street, you'll get to the Trg Gaje Bulata. For one of the best views of Split and beyond, enter the Benetton store to your right, take the elevator all the way up to their rooftop café – and there you will see…literally. The coffee is good, the view is even better.
Once you're back on street level, walk on Sinjska ulica to the Park Josipa Jurja Strossmayera. This is a place either to relax or to enjoy some nice museums like the Galerija Umjetnina, the Museum of Fine Art, or the Live Museum Split which presents scenes from the daily life of Roman citizens. Obviously, a place not to miss when visiting with kids.
Split's Furious Bishop
Not far from the Museum of Fine Art is the statue of Gregory of Nin Grgur Ninski, Croatia's bishop from 900 to 929. Due to his pose and his attire, I find he looks like a very angry magician.
This, obviously, quite furious guy is standing across from the Golden Gate Zlatna Vrata. This gate is the main entrance to the 4th-century Roman stone entryway to Diocletian's Palace. Two fake Roman guards flank it and are happy to have their picture taken with you.
The Diocletian's Palace and the Old City Center
The Palace is an antique complex, built for Emperor Diocletian to be his retirement residence. The compound consisted of a Roman villa and palace constructions with military and urban formations as well as sacred architecture. The complex is walled, and has four turrets and a couple of overhanging towers along the facade. The actual dimensions can be traced by the subterranean halls.
After the Roman epoch, it was remodeled into an inhabited fortress. They, actually, constantly adapted it to the needs of the different cultural customs, showing Split's ever-changing history. Diocletian's Palace was altered into a cathedral. Today, it forms the major part of Split's old town on the UNESCO World Heritage List since 1979.
There is so much to see at the palace that I list only my favorite spots – and cannot recommend enough just walking around with your eyes wide open to see all the small, stunning details.
The Peristyle with the Sphinx
Peristyle was – and still is – the central square of the palace. The most important buildings here are the cathedral and the bell tower.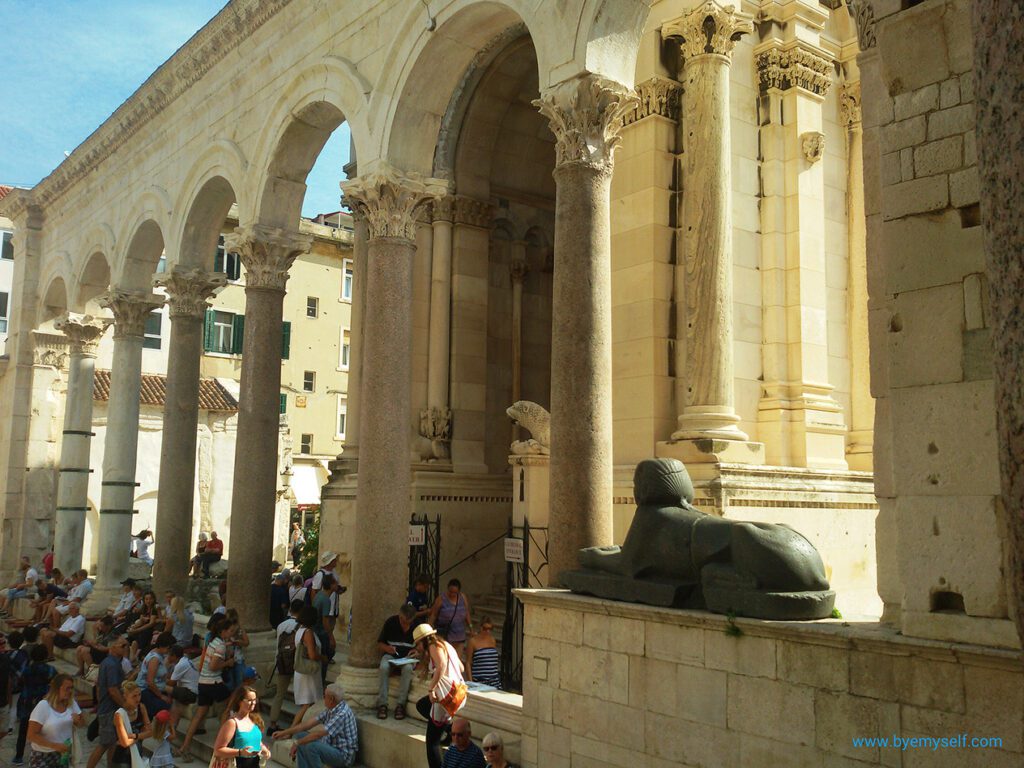 The Sphinx watching over the Peristyle is about 3500 old and amazingly well preserved.
The Cathedral with the bell tower
The Cathedral of St. Domnius is actually formed from the Imperial mausoleum. It can be visited – there are different tickets, some including the treasury and the bell tower.
I did not dare to climb it all the way up, but as you can see, even from the first floor, you have great views.
The Cellars
There are stairs leading down from the Peristyle to a subterranean market and to the Palace's substructures. Actually, the brass gate opening to the Riva used to be the main entrance to the complex. These excavated subterranean remains can be visited.
Since this is one of the most touristy places in all of Croatia, you cannot expect the market to hold great bargains for you. However, the pieces made of semi-precious stones and rocks from the surrounding mountains are really nice.
The Vestibule
This used to be the entrance to the residential area where only well-chosen visitors were allowed to meet the Emperor.
Since the Vestibule has fantastic acoustics, you might be lucky and enjoy a traditional Dalmatian klapa group performing their old songs. Klapa has been part of the UNESCO Intangible Cultural Heritage of Humanity since 2012.
Pusti me da prodjem = Let Me Pass
Nomen est omen. Since no two adults can walk next to each other, Let Me Pass is probably an often-heard sentence in the….Let Me Pass Street.
It leads to the
Old Jupiter's Temple
This rectangular temple served to celebrate Jupiter's cult. It is built on an elevated podium with a six-column porch in an early Renaissance style.
Today, there is a sculpture of St John the Baptist at the baptistery.
The bell tower under the clock
The iron gate is opening to the west.
In the eleventh century, a small church was built above the door.
The Narodni Trg With the Old Town Hall
The Nrodni trg, in English People's Square, was first mentioned in the 13th century. It was the first inhabited area outside the Diocletian Palace.
On this square, aka Pjaca, is the Gothic Old Town Hall from 1443 which was the seat of the city's Today it is a museum.
More museums?
For further, more extended information, I recommend a visit to the Muzej grada Splita and the Split Ethnographic Museum Etnografski Muzej Split.
I totally understand if there comes a moment when you've got enough of narrow alleys between old rocks.
Therefore I actually enjoyed staying about 20 minutes' walk east of the historic center in a residential neighborhood with a large number of modern, trendy bars and restaurants – very non-touristy, very Croatian.
Beaches
On the way, there are beaches like Bačvice, Ovčice, and Firule where you can spend lazy dayz – and wild party nights; at least on Bačvice.
Forests
A really tranquil place is Split's very west tip Marjan Forest Park Park, the Šuma Marjan. Here you can go hiking and cycling and swimming – there is a beach here, too. But you can also visit landmarks and a couple of old churches – but wait, this was meant to get away from all the cultural treasures; hm, not so easy in Split.
Practical Information
How to Get There
By Plane
Split's Kaštela Airport is one of the most important airports in the country. It is located between Trogir and Kaštela, about 12 kilometers northwest of Split.
There is a bus shuttle by Croatia Airlines' subsidiary PlesoPrijevoz connecting the airport with the port of Split. There, travellers get connections to trains, buses, and ferries.
The buses to and from the airport are scheduled according to the flights. A single trip is 30 HRK and a roundtrip is 40 HRK. Tickets can be bought on the bus.
However, there are also public buses # 37 and # 38 connecting the airport with the centers of Split, Kaštela, and Trogir.
By Train
Split has 2 train stations. One is the Željeznička stanica Split predgrađe in the city's northern outskirts. The other one, Željeznički kolodvor is right on the harbor bay. From here, you can travel to the country's capital Zagreb and other Croatian cities as well as to Budapest in Hungary. on by ferry to the numerous Croatian islands.
The southern train station Željeznički kolodvor is adjacent to the ferry terminal as well as the main long-distance bus station and therefore a great hub for roaming Croatia.
By Bus
Roadtripping through Croatia by long-distance bus is easy, reliable, and relatively cheap. Of course, Split, one of the touristy hot spots, is no exception to the rule. There are buses going to practically every major town'n'city. Especially during the high season over the summer months, early ticket reservation is recommended. You can check your connection comfortably online.
By Ferry
Jadrolinija ferries take you to the islands.
How to Get Around
The Promet Split company operates local buses and connects the entire city as well as the suburbs. The main terminals are at the market Pazar and at the National Theater.
Bus #12 goes to the most popular city beaches.
You can buy bus tickets at every kiosk and also from the bus driver. Hence, at a slightly higher price.
A single ticket costs from 11.00 HRK to 23 HRK, depending on how far you're going.
Best Place to Sleep
As I said, the Apartments Tudor* are located about 15 minutes walk from the harbor and 20 minutes to the old town. I liked staying in the area since it allowed me to see a less touristy, really Croatian part of town.
Besides, the young lady that let me in was not only breathtakingly beautiful but also as sweet as can be.
The Apartman Tudor* was one bedroom with a kitchenette and a pretty large bathroom.
Since the owners of Apartments Tudor* have only two rooms, chances are they might be booked out. Therefore, you can comfortably search for a suitable lodging option on this map`*:
Best Place to Eat
On the main street from the harbor eastwards are many different restaurants and bars. I picked Movi and had some black, homemade noodles with a seafood sauce – it was a real feast.
Movi
Put Firula 47
21000 Split
Phone: + 385 – 21 – 571 540
Email: info@movi.hr
They are open every day from 10 a. m. till midnight.
What to Do
I'm an avid solo-travelling woman. Since solo travel doesn't equal solitude, I love to join organized tours here and there. Since I was travelling through Croatia by public bus, I needed to join organized tours when I wanted to go on a day trip. Hence, especially if you don't have your own vehicle and want to visit more remote places in a comfortable and secure way, here are some great options*:
Split is only one of many beautiful places I've visited in Croatia. To read about the others, go to the main post and take your pick! There you'll also find valuable general information that will make your trip smoother.
Pinnable Pictures
If you choose to pin this post for later, please use one of these pictures:
Note: I'm completing, editing, and updating this post regularly – last in November 2022.
Did You Enjoy This Post? Then You Might Like Also These:
*This is an affiliate link; obviously. If you book through this page, not only do you get the best deal. I also get a small commission that helps me run this blog. Thank you so much for supporting me!