Like in many other cities, too, the best pieces of street art do not welcome you in the busy center of Malaga. You have to venture a couple of kilometers west to the formerly a bit sad district of Soho where now art'n'culture amazes you at every corner – literally.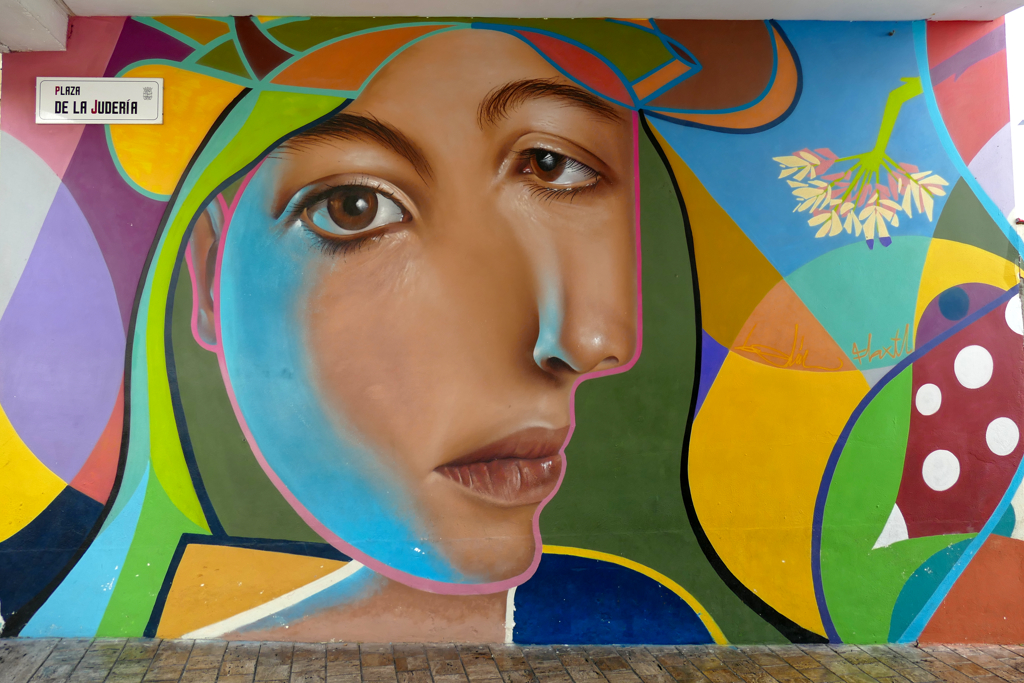 However, this neighborhood – which is by no means comparable to the eponymous district in London's West End – is not the only spot in Málaga where to find mind-blowing urban art.
Street Art
There aren't just a couple of terms that can define street art in all its shapes and forms. As a matter of fact, the art of sketching and painting on walls goes way back to the cavemen, to the era of the Pyramids in Giza, as well as the Roman Empire.
Then, the contemporary graffiti movement started in the 1960s as a claim of urban territory by gangs as well as a response to the political and social injustice going on around the world. Graffiti developed from the so-called tagging, hence writing names'n'slogans in a more or less artsy way. On the other hand, larger than life wall-paintings are rooted rather in murals from Latin America. The most famous muralist was probably Frida Kahlo's husband Diego Rivera. Albeit, he rather depicted and honored the Indigenous heritage and culture than express social problems and protest.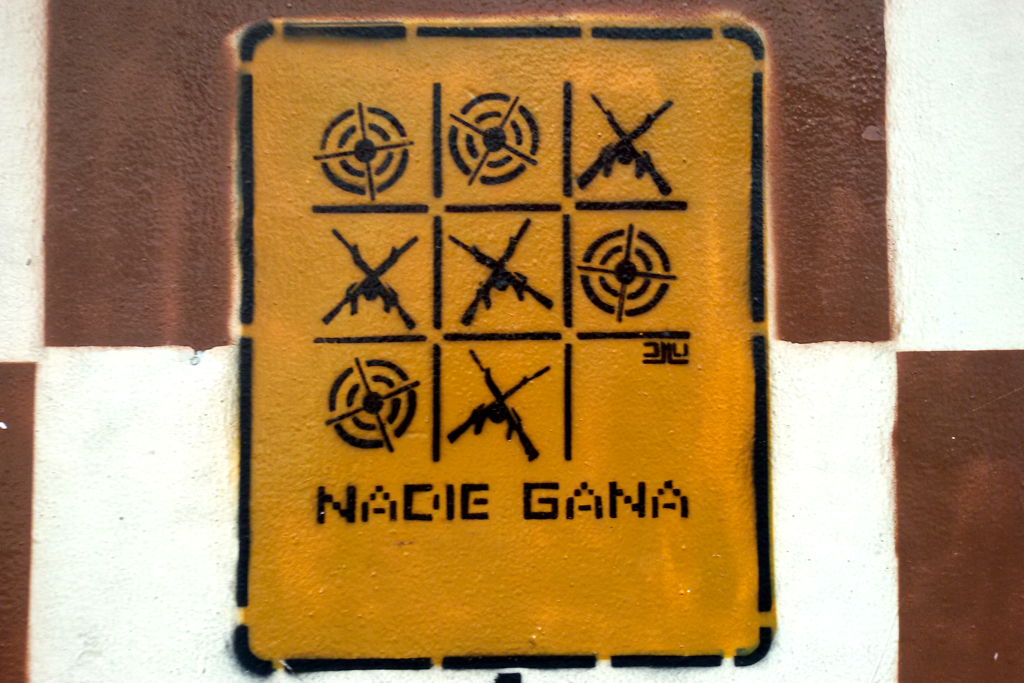 Yet, you can often spot a rebellious undertone in urban art. Maybe it's because you'll find it frequently on abandoned buildings, objects of capitalist speculation in urban areas. While graffiti and murals in run-down neighborhoods depict social problems, in other areas, some pointless smearing is simply vandalism. This difference is sometimes a very thin line and leaves much room for interpretation – as well as heated discussions and legal consequences.
Uncensored Canvases
However, let's be real here – over the past decades, street art is not only going but actually racing towards the mainstream. Hip galleries and posh art lovers are adding works by famous street artists to their collections. The first Street Art Museum opened in Berlin back in 2017, after all. Private house owners, communities, as well as local governments commission artists to decorate designated walls'n'structures. Obviously, street art is also being included in tourist tours around the globe.
Now, while this is certainly not the spirit of rough'n'revolutionary urban art, it is a development that actually helped many artists by lifting illegal spraying and painting to an accepted form of culture. Here, too, it is a pretty thin line – and maybe it's exactly this controversy that keeps urban art interesting and inspiring and – alive.
Málaga
Already in 2016, the New York Times listed Málaga as one of 52 must-see destinations. I couldn't agree more, and in my recently published guide to Málaga, I'm extensively explaining why. One of the main reasons to visit the city – and here, the New York Times and I agree, too – is the cultural boom the city is experiencing.
Among Málaga's amazing art museums are not only local gems such as the Museo Provincial de Bellas Artes, the Museo Jorge Rando, or the Picasso Museum, obviously. I guess it's not by chance that internally renowned venues such as the French Centre Pompidou, the Carmen Thyssen Museum, or the State Russian Museum of Saint Petersburg opened branches right in the heart of Málaga.
However, in Málaga, contemporary art does not remain enclosed in museums. You can also see the cultural upswing in the streets. And some streets of Málaga have been transformed into veritable galleries of contemporary street art.
Street art in Malaga has transformed from a protesting, activist or rebellious street art into a supported and promoted movement, also endorsed by public cultural institutions. In this way, many urban environments have acquired a new identity, full of uniqueness and personality. The result: an absolute artistic and cultural heritage.
Soho Málaga
Málaga's district Ensanche del Muelle Heredia – better known as Soho – is cornered between the Guadalmedina River and the port. It is one of those sleeping beauties kissed by gentrification. As this post is not focused on the discussion of the good and the evil that comes from urban upscaling, I leave it at this brief ambiguous explenation. I'm just pointing out, that not long ago, this neighborhood was definitely not Málagas greatest pride and joy.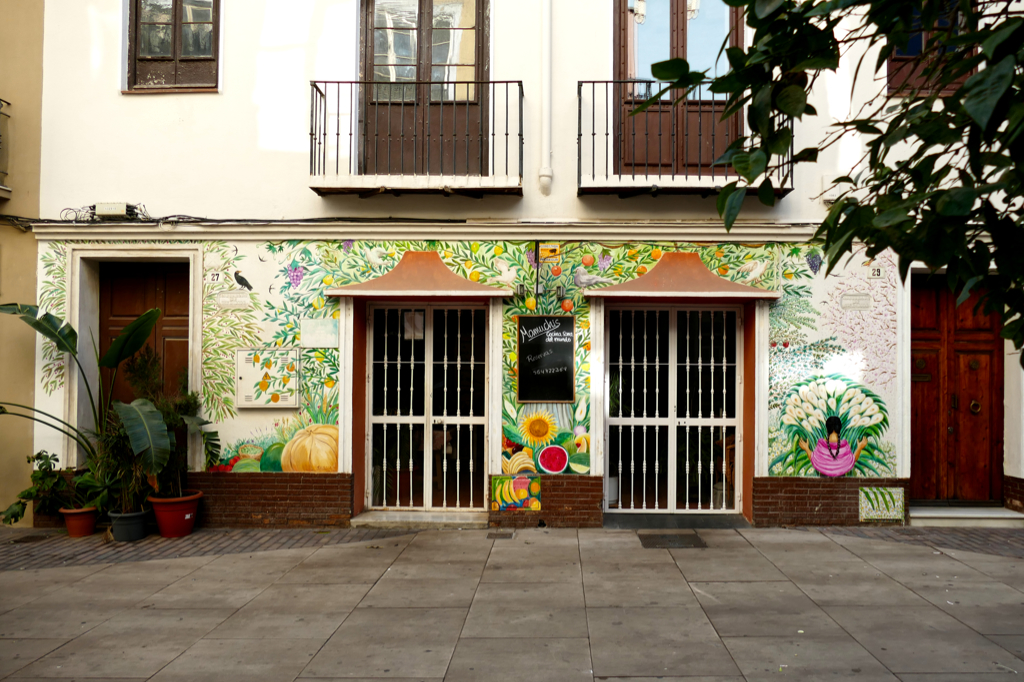 However, cultural institutions such as Antonio Banderas' Soho Theater and the center for contemporary art CAC, as well as shops, bars'n'businesses transformed this neighborhood into an up and coming district and alternative tourist magnet. In addition, the cultural project Málaga Arte Urbano Soho, better known under the abbreviation MAUS, has contributed to Soho's transformation into a trendy hotspot.
Málaga Arte Urbano Soho MAUS
In the course of the gentrification of the Ensanche del Muelle Heredia district, the project Málaga Arte Urbano Soho was installed. MAUS, which is the Spanish acronym for Urban Art in Soho Malaga, promotes particularly visual street art such as murals. Since it is a financed project, some of the world's best muralists such as Shepard Fairey aka OBEY from the US, the British D*Face, French Remed, as well as Spanish graffiti stars were commissioned to transform the neighborhood into an open-air gallery.
While from an artists' point of view, this project that was financed by the city of Málaga is a great opportunity to show their work, it obviously strips urban art from its edge and subversion.
Apart from the large commissioned pieces, many other grand works are covering walls, doorways, bridges, as well as shutters.
In this post, I'll take you into the streets of Soho and give you a taste of which street artists there are to discover. But since street art is often subject to change, don't rely exclusively on my guide. Open your eyes and have your camera ready as new works of art are constantly added!
Plea'N'Pray
There comes this hipster with his groomed beard and those nerd glasses. As he spots a great piece of street art, he hands his girlfriend his phone so she can take a picture of him. While in the olden days, people beamed and posed'n'pointed at landmarks, today, you have to pretend it's a candid shot. Therefore, the hipster lightens a cigarette, and then he – you art lovers have to be brave for this one – leans again the mural and even puts the sole of his stupid designer sneaker against the lower corner.
I run to him and yell at him to show some respect, goddammit. Would you lean against the Mona Lisa? Would you put your dirty shoe on Guernica? Obviously, you like this piece, hence, why are you mistreating it? To look cool? Or like an ignorant fool?
Well, you probably guessed so, I didn't do any of this. Instead, I'm asking you: Please, for the artists' sake, don't mistreat what you like!
Artists
I'm listing artists that either impressed me the most or simply have to be on this list since they are important and renowned. Not all of them participate in the MAUS project, but all of the pieces I'm introducing here can be spotted in the Soho neighborhood.
Jesús Azuaga
Jesús Azuaga is arguably one of the most charismatic artists of Málaga as well as one of the youngest ones. He started drawing when he was a child and later studied at the San Telmo School of Art in Málaga.
Most of the time, his works can instantly be recognized.
Interestingly, Azuaga – who also goes by the pseudonym Le petit Kaiser – refers to street art wunderkind Jean Michel Basquiat as his inspiration. But also other painters like Javier Calleja from Málaga and Madrileño Suso33, as well as photographers and musicians float his boat.
Although Jesús Azuaga aka Le Petit Kaiser was not commissioned for the MAUS project, you'll find some of his pieces decorating Soho's walls. He is active at the independent contemporary art center La Casa Amarilla and can actually live from his art.
Belin
Belin's tribute to Picasso, which is the cover picture above, is one of two murals presented in this post that you won't find in the Soho district. It embellishes a shabby wall at the Plaza de la Judería in Málaga's old town.
Miguel Ángel Belinchón aka Belin is an artists from the city of Linares. Today, most of his paintings and sculptures are presented in galleries around the world. However, his work derives from urban art. It's a steady dichotomy between tradition and contemporary. This applies to the motives as well as the techniques.
Interestingly, in his urban art, Belin connects hyperrealism with surrealism and neo cubism.
BOAMISTURA
BOAMISTUREA is a multidisciplinary collective. Their name stems from the Portuguese boa mistura which translates to good mix. Obviously, this term describes perfectly the diversity of perspectives and styles of the five members.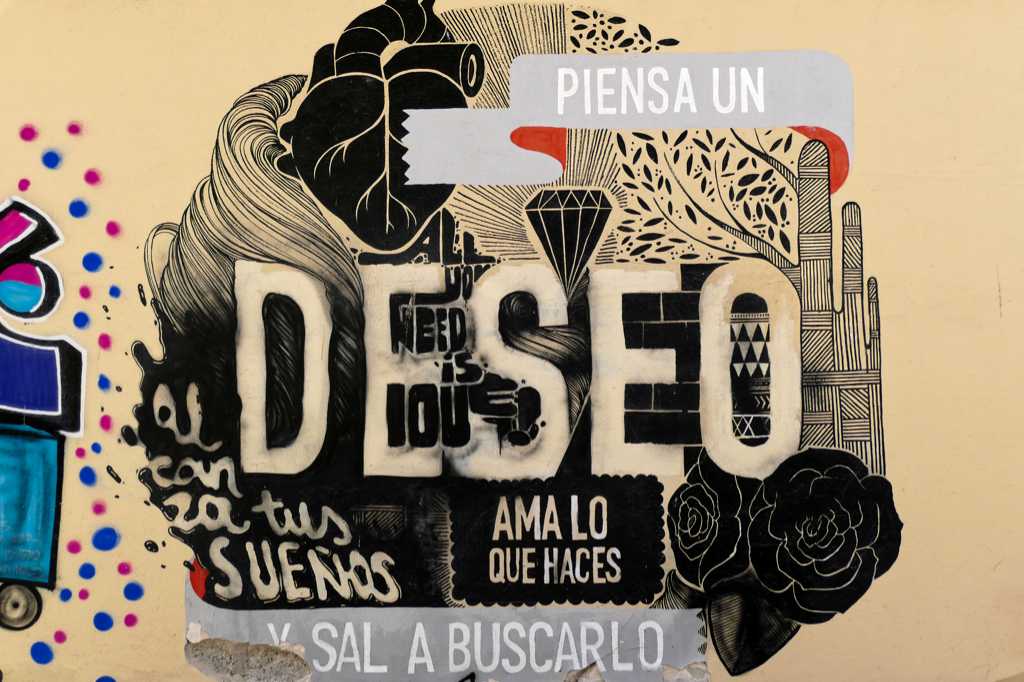 The five twenty-something Madrileños create and design in various fields of visual arts. From the most cutting-edge trends in graffiti and murals to illustration and graphic design. They are even partnering with interior designers and architects.
The fact that their art has been exhibited at the Reina Sofía National Museum in Madrid, among other galleries, speaks for the quality and public recognition of their work. Consequently, they were officially commissioned for the MAUS project.
Bohemio
Juan Maria Rivero aka Bohemio is a painter, illustrator, portraitist, caricaturist, and, yes, street artist. He even holds a bachelor of fine arts from the University of Seville. Although he's still quite young, he already has established a solid career. In his work, he applies a wide range of photography as well as painting. He illustrates, sculptures, shoots videos – there is simply no stopping. He has participated in national and international art projects and festivals.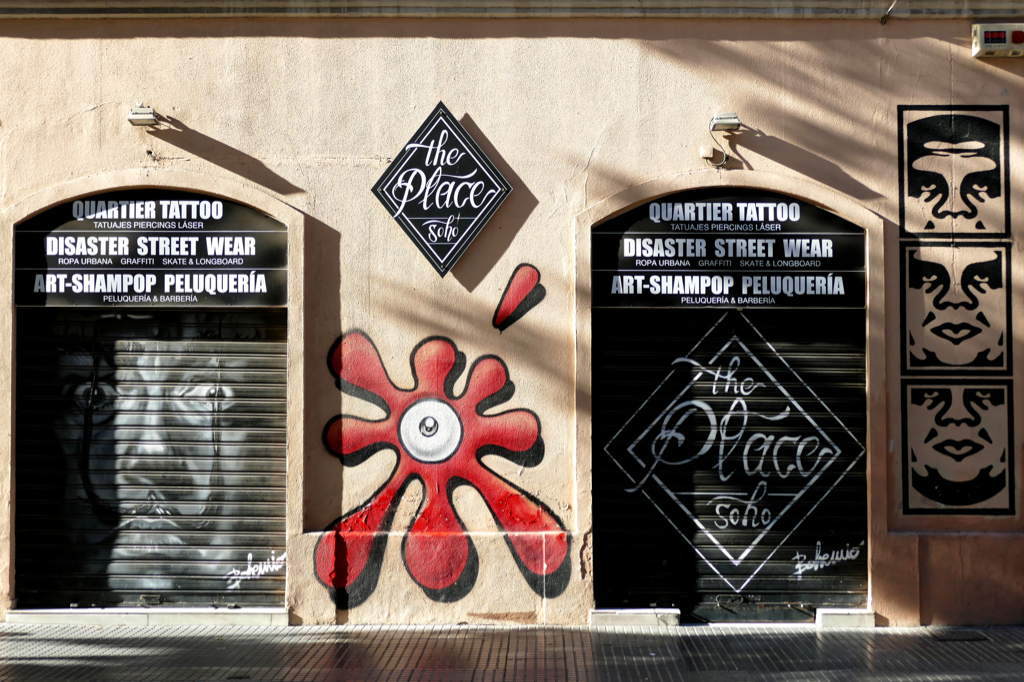 Bohemio is one of those committed artists that believe in change through art. He uses his paint cans to make this world a better place. Currently, he takes part in the solidarity movement Lucha Por Lo Imposible, hence, the fight for the impossible, in Málaga's Barriada de Sacaba district.
Although he was not officially commissioned by MAUS, you'll find his work in the Soho neighborhood.
D.Darko
Although D.Darko's work has been presented in museums and art galleries, he is still closely linked to urban art. Consequently, he was one of the artists invited to contribute to the MAUS project. Now his work decorates the streets and buildings of Soho.
In 2014, he was among the third finalists of the Málagacrea art competition and the second finalist in the Wall to Wall competition in Barcelona in 2012.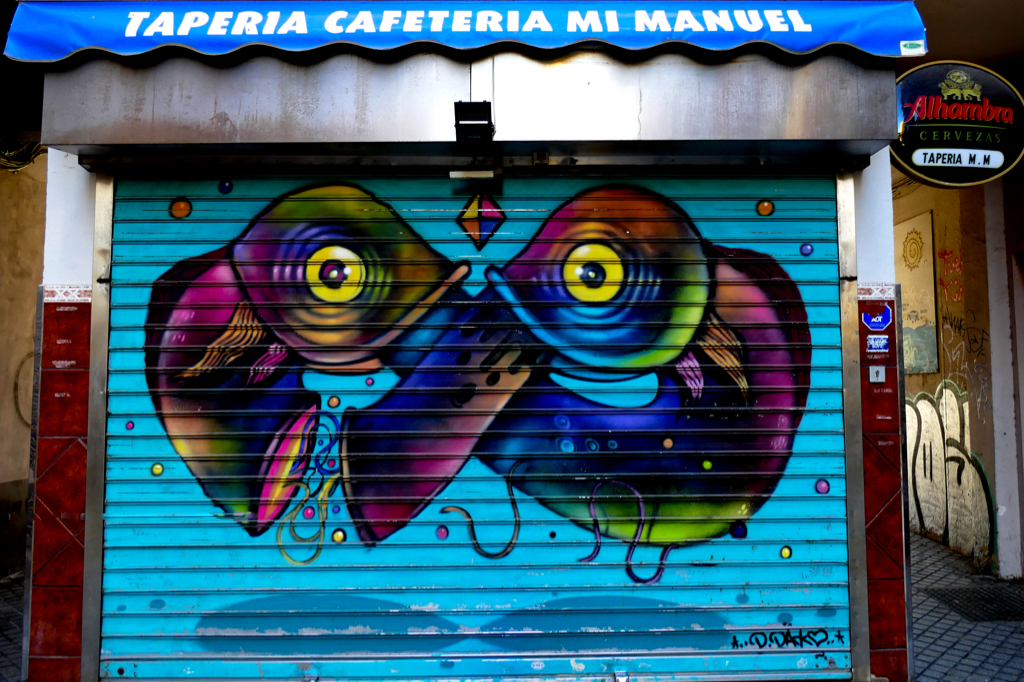 However, D.Darko's work is also part of national and international private collections as well as the collections of the Benetton Foundation, Fundación Unicaja, the City Councils of Málaga, and Marbella, and others.
D*Face
Dean Stockton, far better known by his pseudonym D*Face, is a British multimedia street artist. He works with spray paint, stickers, posters, and stencils. Among the artists listed in this post, he's indisputably the alpha superstar.
D*Face grew up in London and had an interest in graffiti and related cultural phenomena such as hip hop, punk, cartoons, and skating. Later, he attended illustration and design classes and worked as a freelance designer whilst perfecting his street work.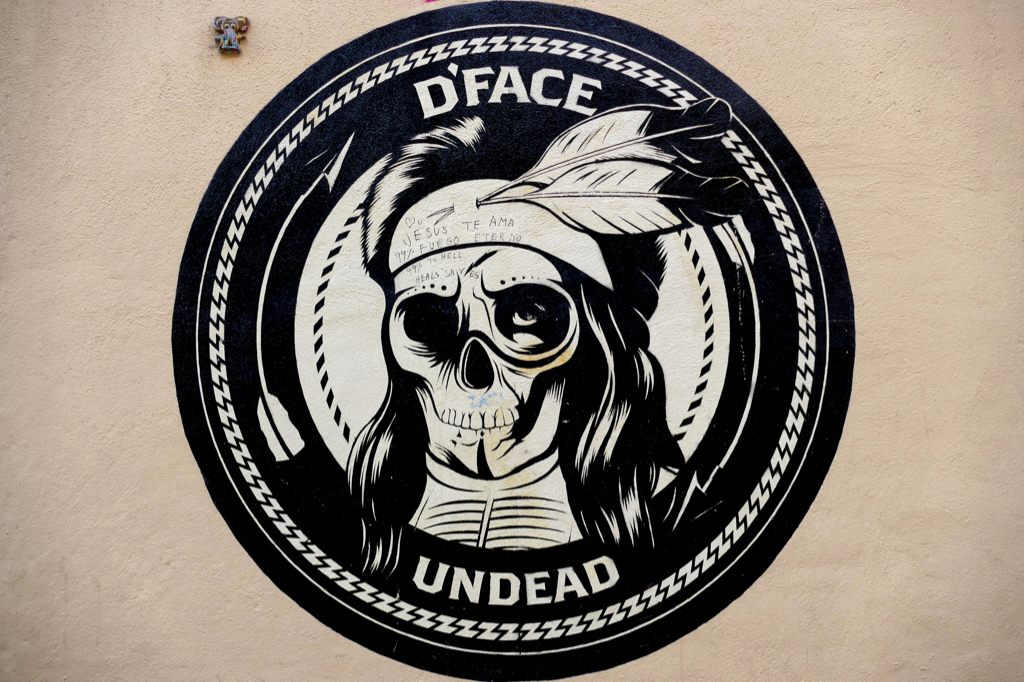 D*Face was the owner and curator for the Outside Institute, London's first art gallery with a focus on street art. He designed covers for stars such as Christina Aguilera and the band Blink-182.
In 2015, he participated in the All City Canvas Global Series by decorating the façade of the Hotel Lisboa in the Colonia Roma district in Mexico City with a mural.
Obviously, a superstar like D*Face was among those commissioned for the MAUS project.
DALeast
DALeast was born in 1984 in Wuhan, a city that recently became quite infamous. He has been creating art since the tender age of three. Eventually, he studied sculpting at the Institute of Fine Arts. DALeast is attracted to art in every form and shape. Therefore, he is painting, sculpting, creating installations, and digital art.
In 2004, he turned to street art using the pseudonym DAL.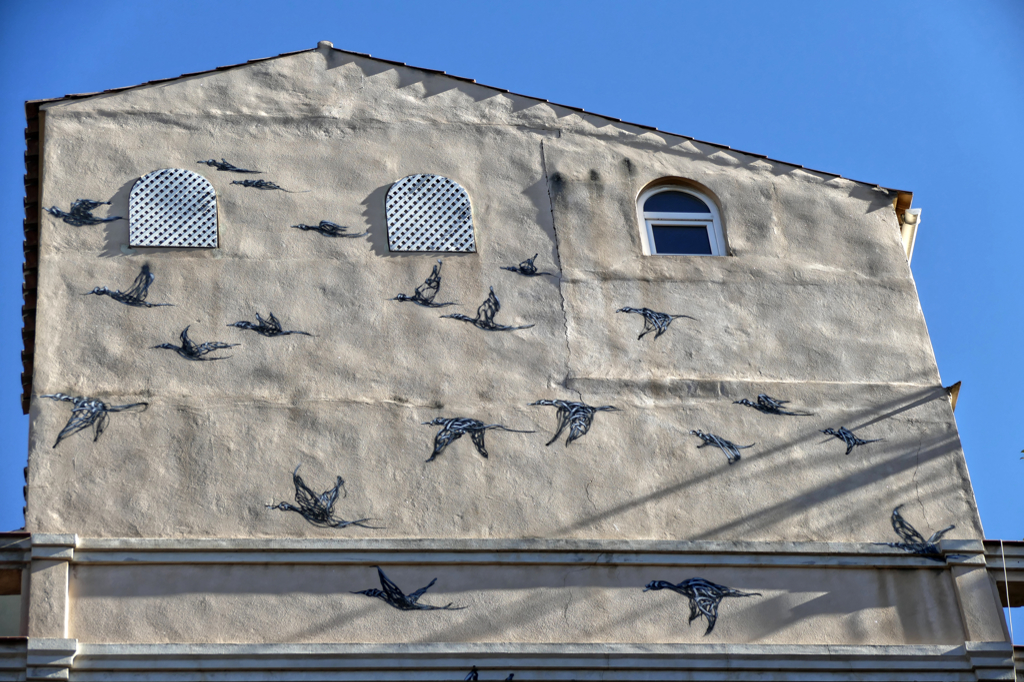 Many of DALeast's motifs are animals or birds. With his skillful layering of lines, he enables the viewer to perceive his creation in different ways.
Since 2005, DALeast has worked on a vast number of projects throughout China as well as South Africa, Namibia, Germany, Italy, France, Australia, and the USA. Furthermore, in many of these countries, he has also participated in many group art exhibitions. As a matter of fact, his murals can be found on basically every continent as he spent six months travelling the world.
Currently, he lives in Cape Town with his wife, the famous South African artist Faith47. MAUS commissioned both to decorate the walls of Soho.
Dadi Dreucol
Another artist commissioned by MAUS has been Dadi Dreucol. He began to create graffiti at the age of 12. Eventually, he studied at the Schools of Fine Arts in Málaga and Valencia. Like many other muralists, he is a multifaceted painter and photographer. Also, his topics are widely varied. Most of his paintings are based on his own photographs.
His name Dadi Dreucol is a palindrome of locuerdidad, a coinage invented by the artist himself.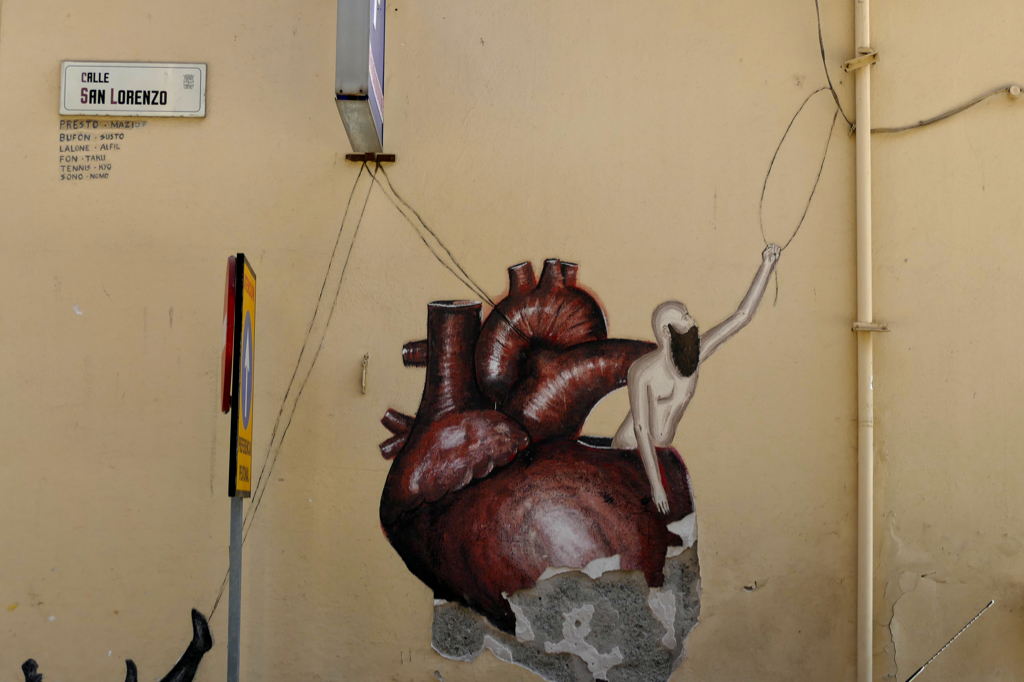 To Dadi Dreucol, the streets are a living, ever-changing canvas. His largest and most iconic series Una Vida, which translates to one life, shows a bearded, naked character. This person is depicted in various situations in different cities.
Although Dadi Dreucol lives and works in Málaga, much of his work can be found in Valencia. However, he has also participated in various national and international art festivals.
Note that next week, there will be a post on the Best Street Art in Valencia – and you'll meet Dadi Dreucol again.
Doger
Doger was born Jonathan Morillas was born in Zaragoza. In 1995 he began spraying graffiti. In his very own style, he creates predominantly female portraits.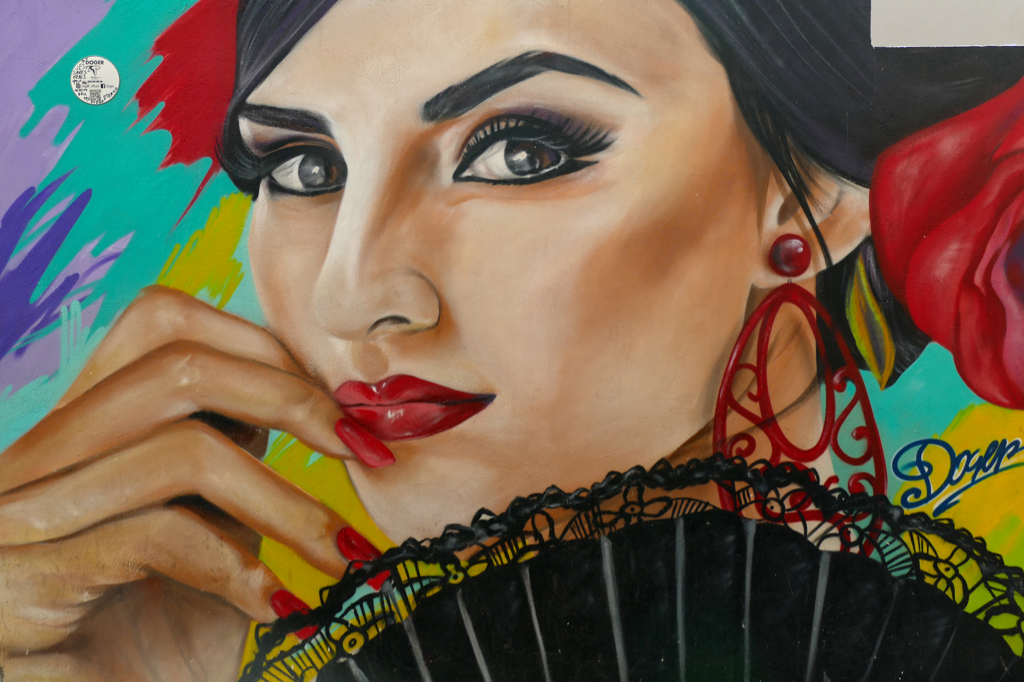 His specific technique is hyper-realistic, yet precisely worked out. He gives the portrayed faces in bold colors an expression of passion'n'powerand power.
Doger's portrait is the other piece in this post that you won't find in the Soho district but on a wall at the Plaza de la Judería in Málaga's old town.
Manuel León
Manuel León, an artist who lacks an eccentric pseudonym, was born in Seville where he is still based. He studied Fine Arts at the city's university. Strongly influenced by Baroque masters such as Caravaggio and Zurbarán, León depicts national customs and religious themes. But he also deals with social issues such as the financial crisis and political corruption.
This jack of all trades is also a member of a performance art group. In addition, he supports cultural projects at the Andalucia International University with his visual art and is the art director for the rock band Pony Bravo.
León's work has been exhibited across Spain including at the Museum of History, Art, and Customs in Seville, the cultural center Matadero in Madrid, and the Centro de Arte Contemporáneo, short CAC, in Málaga. Obviously, he's one of the artists MAUS commissioned for their project.
OBEY
Who doesn't know Mr. Frank Shepard Fairey? Whereby, his pseudonym OBEY might sound more familiar to you. Born in 1970 in Charleston, South Carolina, this street artist, graphic designer, and illustrator has been around for quite a while.
His first claim to fame was his André the Giant Has a Posse sticker campaign. In 1997, he co-founded the design agency BLK/MRKT, specializing in guerrilla marketing campaigns. Customers were none less than Pepsi, Hasbro, and Netscape. In 2003, Fairey left BLK/MRKT and established his own agency called Studio Number One. Also, this whizz-kid launched the fashion label OBEY clothing in 2001.
Fairey had a major appearance in the legendary street art documentary Exit Through the Gift Shop by British artist Banksy 2010. I actually guess MAUS should be honored that this international superstar agreed on contributing two larger-than-life murals to their project.
Sidenote: Fairey achieved greater notoriety during the 2008 US presidential election campaign with his iconic poster HOPE for Barack Obama. It is actually only the most famous of a series of posters that he designed for the Obama campaign. Eventually, he endorsed Democratic candidate Bernie Sanders in the 2016 United States presidential primary.
OKUDA
OKUDA was born Oscar San Miguel in Santander in 1980. He began his artistic career in 1997 by embellishing railway tracks and abandoned structures in his hometown of Santander. In 2007, OKUDA ​​obtained a bachelor's degree in Fine Arts from the Complutense University in Madrid where he has been living since 2000.
OKUDA's works show predominantly multicolored geometric structures. I'm a bit irritated since they remind me so much of murals by Eduardo Kobra that I've seen in São Paulo and Rio de Janeiro during my trip to Brazil.
The artist claims to be inspired by everything that surrounds him, be it the environment or everyday things in which he finds motivation. He is interested in pop culture, especially film and fashion.
Although OKUDA ​​lives and works in Madrid, his work can be seen in streets and galleries in many European countries, but also in India, Mali, Mozambique, and South Africa as well as in Brazil, Chile, Mexico, Peru, Japan, and the USA. Most of the time, he is commissioned, featured, and sponsored for instance by brands such as Puma, Adidas, Kia, and Polo Ralph Lauren among others.
Already in 2016, he was ranked 42nd of the world's top 100 street artists by the Swiss online magazine Widewalls. No wonder MAUS commissioned him – together with REMED – to contribute to their street art project.
REMED
Guillaume Alby aka REMED was born in Lille and is currently living in Madrid. He began his career as a computer graphic designer. Eventually, he dedicated himself to street art.
His two-dimensional work in bold colors is undoubtedly influenced by modernists such as Amadeo Modigliani, Joan Miró, and Fernand Léger. Often, he adds elements of calligraphy to his geometrically shaped elements as there is a very clear impact of Moroccan design in his works.
Although there are all those clear references in his pieces, I would say that he is embracing or adopting certain styles instead of simply copying them.
It's certainly interesting to take a look at his own work, not only on the mural he created for the MAUS project together with OKUDA.
ROA
ROA is an enigmatic muralist from Ghent. His love for music, particularly hip-hop, pulled him towards graffiti. Like many muralists, he began by illegally spraying bridges and walls.
Today, ROA is mainly known for rodents, but also birds and other animals. He paints them including the skeleton and intestines which makes them look even more realistic. While he first painted buildings and walls in his hometown, you'll find his distinctive pieces in black and white not only throughout Europe, but worldwide. So make sure to look for it for instance in Berlin, London, Madrid, New York, Paris, and Mexico City, to name just a few. I even spotted his creepy crawlers on a wall in Puerto de la Cruz on the island of Tenerife.
ROA insists to remain anonymous in order to keep his work independent and his spirit unburdened.
MAUS commissioned ROA to let his creatures crawl across Soho's walls.
Graffiti Suites
So after having spent a long day hunting for street art you still can't get enough? Well, in this case, you should definitely sleep at the unique Graffiti Suites* north of the historic old town.
Apart from being in a prime location surrounded by museums and other important landmarks, this fully serviced aparthotel adds some truly special experience to your stay in Málaga. Each of their nicely furnished suites is decorated with original street art and photography. You are practically staying at your own private gallery!
So if you want to rest your head in an adequate fashion, make sure to book yourself in at Graffiti Suites Málaga*
Here is a map that shows you where to find it – and some alternatives in case they are booked out:
On Instagram
Unfortunately, I cannot introduce all the great artists that are embellishing Málaga's façades. And even those few I'm presenting above have created many more amazing pieces.
So if you want to dig deeper into the subject – or get inspired for your upcoming trip to Málaga – check out these accounts of the above-featured artists:
Jesús Azuaga
Belin
BOAMISTURA
Bohemio
D.Darko
D*Face
DALeast
Dadi Dreucol
Doger
Manuel León
OBEY
OKUDA
REMED
ROA
How to Get to Soho
Like most European metropoles, Málaga has a comprehensive, well-functioning bus network. Also, there is a metro of two lines. Yet, this one is not so very important for visitors.
While some of the most interesting museums and landmarks are in the old town, the SOHO district is not right in the city center. It is absolutely possible to walk there. But since you'll probably do a lot of walking during your mural hunt, you better get there by bus.
At the stops along the Paseo del Parque located south of the old town, you can take basically every bus going westwards to the stop Alameda Principal Norte – #1, #3, #4, #14, #19, #25…just hop on the next coach that's stoppin' for you.
A single ride costs 1.30 €uros. When buying your ticket from the driver, make sure to have small change or a bill of 5 €uros max.
If you're planning on taking the bus more often, it's worth getting a ten-trip pass for 8 €uros at kiosks. However, you need to add a reimbursable deposit of 1.50 €uros. But since the card is so very pretty, I kept it as a small souvenir.
Map
This map should help you to find the murals I'm introducing in this post.
Searching for Street Art was only one of many amazing activities on my visit to Málaga. To read about the rest, go to this comprehensive guide! Also, in my general guide to Spain, you'll find further valuable information that will make your own trip much smoother and more enjoyable.
Pinnable Pictures
If you choose to pin this post for later, please use one of these pictures:
Note: I'm completing, editing, and updating this post regularly – last in January 2023.
Did You Enjoy This Post? Then You Might Like Also These: