On my discovery tour through Germany's Ruhr Area, I spent a weekend in Duisburg, a city mainly known for its large steel plants but extremely underrated when it comes to art and style.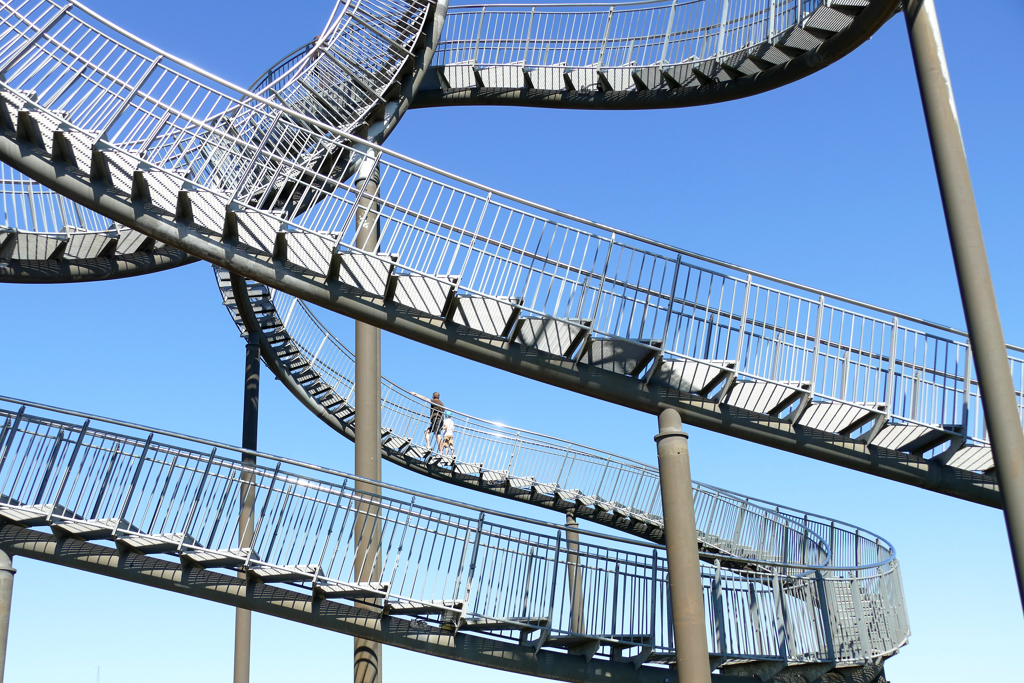 Very unjustly so, because you'll be surprised how many hidden gems I pulled out from Duisburg's cultural lucky bag.
A Weekend in Duisburg
If you're not exactly an expert on Germany, chances are you have never heard of a city called Duisburg before. And even among Germans, Duisburg is said to be a dreary and sad post-industrial city. They spend their weekends rather on trips to Berlin, Munich, Hamburg, Frankfurt, and Cologne, to mention just the top five. They probably would be very surprised to learn that in a poll, Duisburg made it to the top of the list as an insider tip. In some categories, it left even Berlin far behind.
There you have it.
After my weekend in Duisburg, I just couldn't agree more. Because on my trip to this city nestled between the rivers Ruhr and Rhine, I discovered many truly unique and very cool places.
The fact is that those former indeed grey and industrial places in Germany's Ruhr area forged from steel plants and coal mines to treasure boxes full of incredible gems.
Artsy Transformation
Some of today's landmarks actually merged from exactly those plants. Where there was sweat, there now is swag. The most famous example is the Zeche Zollverein in Essen that even made it to the list of Unesco World Heritage Sites. But with its so-called Landschaftspark Nord, Duisburg does not stand too far behind. This site is an amazing mix of culture, sports, and leisure in a thoroughly preserved recreational setting. Here, everyone finds their jam.
Another highly inspiring area is the so-called Innenhafen, hence, the inner port. With a little help from no less than Sir Norman Foster, it developed from a dark'n'dirty industrial port into a historic'n'hip complex with lots of outstanding structures. Here, you won't find only offices and posh lofts, but also cool bars and great galleries.
Talking 'bout galleries: With the Lehmbruck museum alone, Duisburg has one of Germany's most significant museums when it comes to sculptures – antique, modern, and contemporary alike. But there is also the DKM museum for contemporary art and the Kultur- und Stadthistorisches Museum dealing with the city's history. There is the world's only walkable rollercoaster and a fountain designed by Jean Tinguely and his second wife Niki de Saint Phalle.
In short, there is a lot to see.
Consequently, it wasn't difficult to keep even a culture vulture like me busy on a weekend in Duisburg. Below, I'm introducing all those mesmerizing spots'n'sites I've visited.
Take it as my personal invitation to you to visit one of Germany's most underrated cities.
A Special Region
With a bit over 5 million inhabitants, the Ruhr area is the largest conurbation in Germany and the fourth largest in all of Europe. As a matter of fact, one of the Rhineland's and Ruhr's most fascinating phenomena is the density and proximity of middle-sized cities. Whether Bochum, Düssedorf, or Essen – you actually travel to places without even noticing that you've left the city limits behind.
Viewed on a map, one could mistake the area for one single city. Often, there are no recognizable borders between the individual municipalities. From Duisburg, you can go by local transport to Essen in 15 minutes and to Düsseldorf in 20 – to name just two.
The individual cities and districts grew independently of each other during industrialization. Often, the only building criteria was the proximity to the factories and plants. Therefore, the transitions between the cities are characterized by suburbs and sometimes even villages and make the city limits often impossible to recognize.
Made from Steel
In the 19th century, Duisburg grew into an important industrial city with a huge iron and steel producing industry. This was mainly due to its favorable location on the river as well as the proximity to the coal deposits in the Ruhr area. In terms of urban planning, industrial plants from that era still have a major impact on the city.
The first large factory was built in 1824, and in 1846, Duisburg was connected to the line of the Cologne-Minden Railway Company. Now, large iron and steel plants including Thyssen and Krupp settled north and south of Duisburg. They benefited from the favorable location in the immediate vicinity of the collieries as well as from the transport connections to the rivers Rhine and Ruhr respectively the rail network.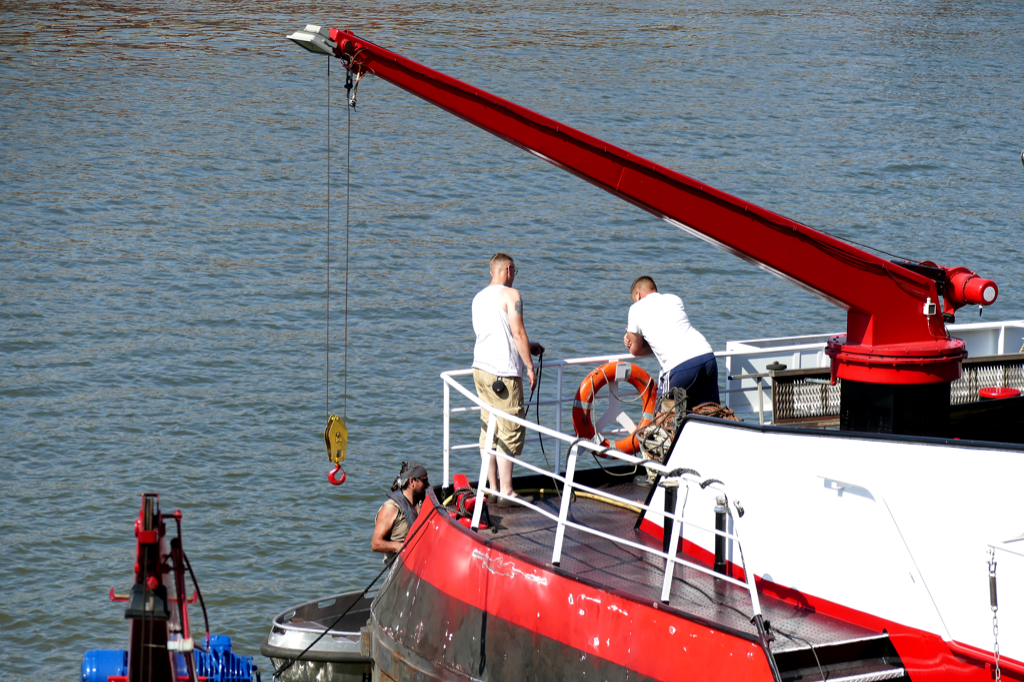 The plants attracted workers not only from Germany, but also from the Netherlands, from Austria, and Poland. Consequently, new settlements emerged and the number of inhabitants grew rapidly. Duisburg became a major city.
Since the 1970s, the city has suffered from high unemployment due to structural change. Duisburg fell victim to its mono-structural industry. Therefore, steel production and metal processing in Duisburg are increasingly integrated into the production of high-tech products.
To this date, Duisburg's port is the world's largest inland port. It marks the city's economy just as much as the iron and steel industry, obviously.
Duisburg in Style
So yes, to most people, Duisburg – which, by the way, is pronounced something like Duseburg, almost as if it was written Düsburg – still stands for the crashing wheels of industry. But mind you, with funds comes culture, and as a matter of fact, the city had acquired a significant inventory of modern art, particularly since the 1920s.
Sadly, the Nazis considered many of these bold, expressive, and untamed paintings and sculptures to be degenerate. Therefore, a large number of these works were confiscated and for the most part destroyed in the late 1930s. But somehow, Duisburg seems to have kept this open mind towards modern art so that you find amazing collections at the city's art museums.
Fountain Mile
To see some of Duisburg's greatest pieces of art, you don't even have to step into a gallery. The so-called Brunnenmeile, hence, the Fountain Mile runs through the pedestrian zone Königstraße. It was installed according to the design of ​​the architect Hartmut Rüdiger following a nationwide contest.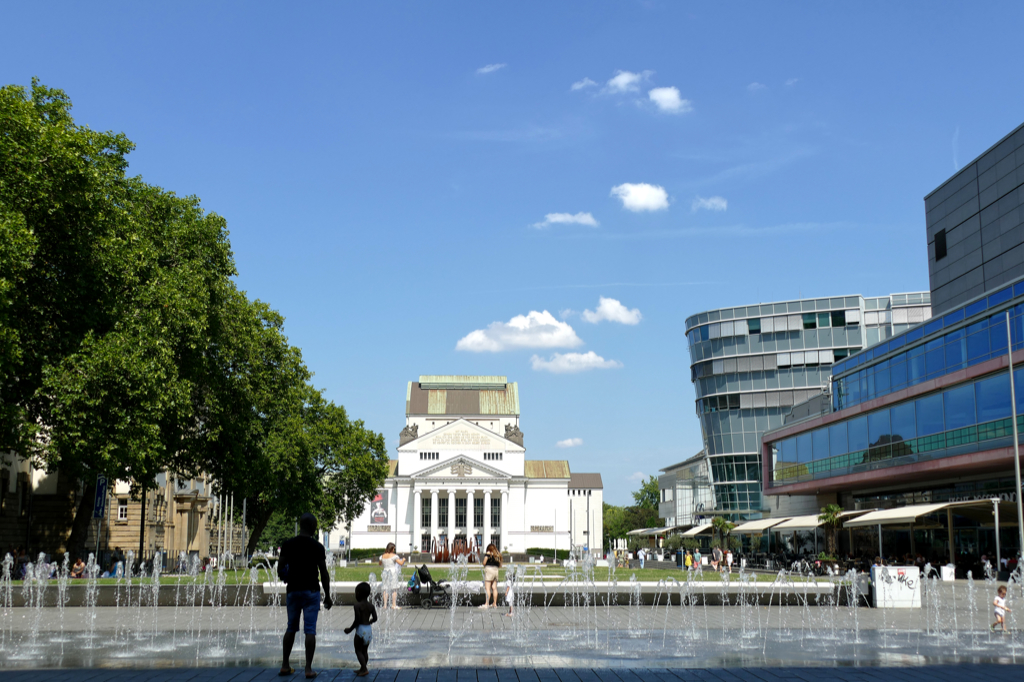 The Fountain Mile officially includes fountains by André Volten, Otmar Alt, Friederich Werthmann, Ulf Hegewald, Niki Saint Phalle and Jean Tinguely, Thomas Virnich, as well as Wasa Marjanov. All those were created after 1983.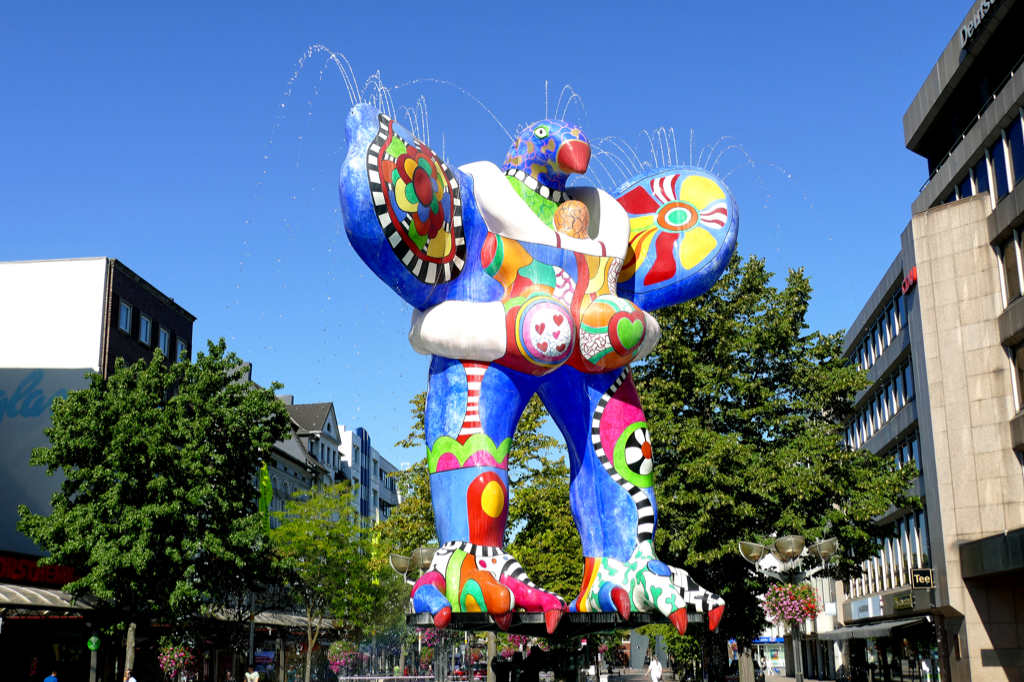 The most famous of these fountains is a very colorful humongous bird, rotating and spouting water while a curvy damsel in distress is clutched to his chest. This bright-colored Lifesaver is a collaboration by kinetic grandmaster Jean Tinguely and his second wife Niki de Saint Phalle. You can read more about the Swiss artist and his quirky sculptural machines in my post on Basel. Besides, one of his creations is on display at the Lehmbruck museum that I'm introducing below.
By the way, in this case, the early bird could have easily slept in: I went to see the fountain mile in the early morning – just to learn that the water is turned on only at 10 a. m. However, they keep the fountains working till late, and some of them are even illuminated after dark.
Wilhelm-Lehmbruck-Museum
First things first, and for me, that's the Wilhelm-Lehmbruck-Museum in the Immanuel-Kant-Park. It's a family affair, since the museum building was designed by Wilhelm Lehmbruck's son Manfred, a renowned museum architect.
Although the museum is focusing on the work of the sculptor Wilhelm Lehmbruck and is named after him, obviously, it also owns a collection of German as well as international modernist sculptures and paintings. In its surroundings, the Immanuel-Kant-Park is a publicly accessible sculpture garden with more than 40 statues.
In addition to the impressive permanent collection including for instance the expressionist Brücke artists as well as the members of the art movements Der Blaue Reiter and Bauhaus, they also organize fantastic temporary exhibitions.
Especially at this moment, they show the amazing installations by Canadian artists Janet Cardiff and George Bures Miller. So if you have the chance to visit the Lehmbruck before May of 2023, you're in for a visual and acoustic treat!
Lehmbruck-Museum
Friedrich-Wilhelm-Straße 40
47051 Duisburg
The museum is open from Tuesday to Saturday between noon and 5 p. m. and Sundays from 11 a. m. to 5 p. m. The general entrance fee is 9 €uros.
DKM Museum
There was a lot going on in Duisburg in 2010. The region was awarded the European Capital of Culture, honoring the change from Europe's legendary coal and steel region to a new type of polycentric cultural metropolis. Change through culture – culture through change was the somewhat awkward title of the concept of modernization and cultural reinvention. Although Essen received this title on behalf of the 53 cities of the Ruhr Regional Association, Duisburg celebrated by adding some outstanding artistic facilities to its portfolio.
One of them being the DKM Museum, located just around the corner from the Lehmbruck museum.
The DKM Foundation was established by the art collectors Dirk Krämer and Klaus Maas in 1999. Their initials form the abbreviation DKM.
After twelve years at the inner harbor, the so-called DKM gallery was opened as a private museum in a venue remodeled by Swiss architects Rohr, Egli und Partner. The poetic title of the opening show was Lines of Quiet Beauty.
Today, the DKM collection combines antique and modern as well as contemporary art from different regions including paintings, photographs, sculptural works, and installations. The ancient pieces are mainly stemming from Cambodia, China, Egypt, India, Iran, Japan, Pakistan, and Thailand.
Although the DKM Museum is not that big, the exhibitions are pretty amazing. With the mix of sculptures, ancient handicrafts, photographs, and paintings, it's like a Louvre in a nutshell – hence, totally worth the visit.
DKM Museum
Güntherstraße 13-15
47051 Duisburg
The gallery is open on weekends from noon till 6 p. m. and otherwise only by appointment.
The general entrance fee is 12 €uros, but you get free admission with your RuhrKultur.Card.
I'm introducing this pass below.
Museum Küppersmühle
The RuhrKultur.Card also covers the Museum Küppersmühle. The museum was opened in a former granary in 1999 – I'm getting into detail in the section on Duisburg's Inner Harbor below.
It was founded on the collection of building contractor and art collector Hans Grothe. His collection consisted of over 800 works by more than 40 German artists. Eventually, the power couple Sylvia and Ulrich Ströher, according to Forbes some of the wealthiest people in the entire world, expanded the collection significantly. Today, it is one of the most comprehensive collections of German post-war art. You get to see all those big names like Immendorf, Baselitz, Lüpertz, Penck, Richter, Anselm Kiefer, and many more.
In addition to the permanent collection, there are various temporary themed exhibitions added. Hence, if you are only half as art buff as I am, you by no means should miss out on a visit to this amazing gallery.
Great Art in a Great Place
But even if the art collection doesn't simply blow you away, you will certainly be amazed by the venue's architecture. Not only are the brick-red staircases that spiral upwards in harmonious waves just a feast for the senses. The way Herzog and de Meuron connected the old part with the new annex by leaving the old silo hollow like a tunnel into an upside-down hell is merely genius.
Museum Küppersmühle is definitely one of Germany's best-curated exhibition venues.
Museum Küppersmühle
Philosophenweg 55
47051 Duisburg
The gallery is open Wednesday from 2 p. m. and Thursday to Sunday from 11 a. m. till 6 p. m.
The general entrance fee for the permanent collection as well as the temporary exhibitions is 12 €uros. Until October 9, 2022, they have a special offer where you can visit for only 6 €uros. But as always, you get what you pay for. And since the new annex in the old silo is not included in the reduced entrance fee, do yourself a favor and get the whole deal for the full price – I promise, you won't regret it.
German Inland Waterways Museum
The German Inland Waterways Museum was founded in 1974 and is located on the river Rhine. In German, it's called Museum der Deutschen Binnenschifffahrt and actually written with three Fs.
In 1998, the collection of exhibits relating to the technical, economic, and social history of inland navigation was installed at a former indoor swimming pool.
One of the highlights is the Dutch Tjalk Goede Verwachting cargo sailing ship from 1913 which is now literally stranded in the former men's swimming pool. In the former ladies' swimming pool is a walk-in replica of an inland waterway ship.
In the museum's vicinity are three museum ships. The side wheel tugboat Oscar Huber and the bucket chain steam dredger Minden can be visited from Easter to early October.
In addition to Duisburg's historic museum that I'm introducing below, a visit to the Inland Waterways Museum is a great way to learn about the city's economic development.
Museum der Deutschen Binnenschifffahrt
Apostelstraße 84
47119 Duisburg
The museum is open from Tuesday to Sunday between 10 a. m. and 5 p. m.
The general entrance fee is 4.50 €uros but you have to add another 2 €uros if you want to visit the museum ships, too. On Thursdays, however, it's pay what you wish day.
Poseidon's Occiput
The museum is not in the city center but on Duisburg's northwestern outskirts on the river Rhine. Therefore, after a visit to the museum, I'd recommend lingering a bit in the area. As you walk towards the tug boat Oscar Huber, you'll see what I mean. It's serene and inspiring at the same time. Kids are running around, people walk their dogs, and elderly couples are riding their bikes along the shore. There are restaurants and bars and some truly remarkable sculptures like for instance the huge bust Echo des Poseidon by Markus Lüpertz.
Yes, in Duisburg, there's art wherever you go.
If you are really into walking or cycling, you can also make your way to the Rheinorange sculpture that I've introduced above. But I leave that to you.
Inner Harbor
I'm based in Hamburg, hence, in my mind, ports are opening to the Seven Seas. But obviously, also landlocked areas have always needed waterways for different purposes. Amazingly, Duisburg has the world's largest inner harbor. It is still operated as an industrial port. During the booming industrial revolution, it was the central port and trading center in the area. With the decrease in steel production, the port lost its importance in the late 1960s. Then, about 20 years later, a structural change took place.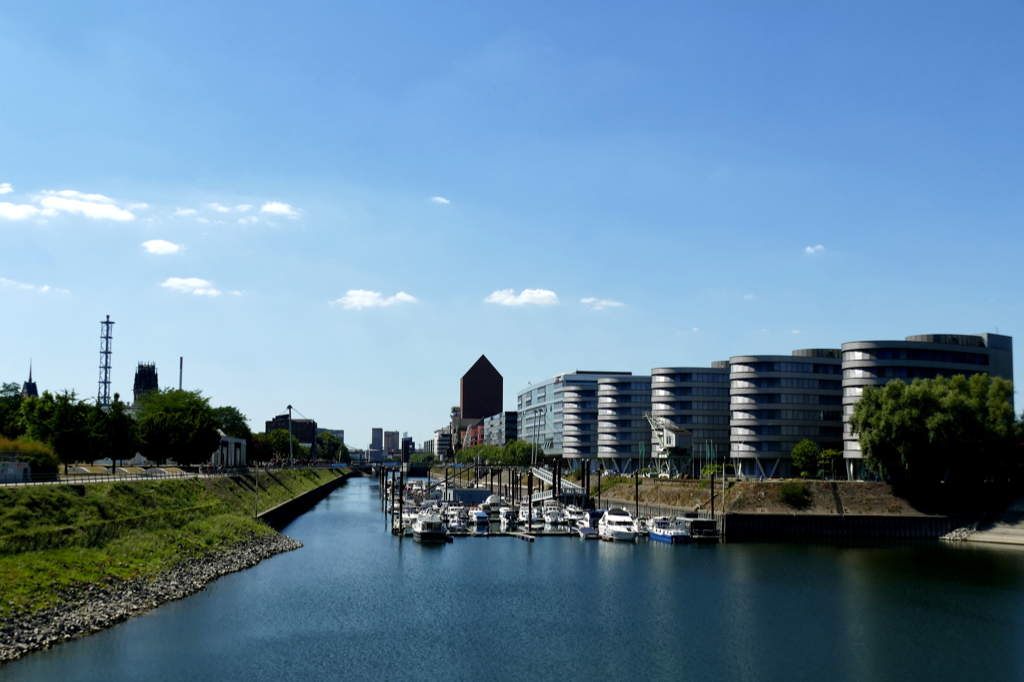 In the 1990s, British architect Sir Norman Foster created a foundation for this development. Under his auspices, the harbor became a neighborhood that combines living, working, leisure, and culture. Today, the inner harbor is an industrial monument and anchor point on the Route of Industrial Culture.
Follow me on a leisurely walk around the inner port to see the most significant buildings:
Küppersmühle
And we are back at the Küppersmühle, however, now we look at the building's history.
This mill was built in 1860 which makes it the first building in the area. In 1908, it was replaced by a three-winged, now seven-storey high building. In 1972, however, the mill had to be shut down.
Demolishment could be avoided so Swiss star architects Jacques Herzog and Pierre de Meuron from Basel transformed the building into an art museum. I've introduced their projects in former posts for instance, on Hamburg where they designed the Elbphilharmonie, as well as in my post on Basel.
Werhahnmühle
This granary consisted of two parts. The eastern part was built by the Cohen brothers in 1896 and the western half by Ostwald & Levy in 1899. In 1936, the business partners Werhahn acquired the business as the Jewish family Cohen had to flee the Nazi prosecution to South America.
In 1969, the mill was shut down, however, it served as a warehouse for grain till 1995.
The master plan that Sir Norman Foster and his creative posse had developed for the Inner Harbor included also the preservation of the Werhahnmühle. In the early 2000th, the complex was converted into offices, medical practices, bars, restaurants, and exhibition spaces.
Speichergracht, Hansegracht, And Holzgracht
Canals – here, they go by the Dutch name Gracht – are an important part of the urban development according to Foster's master plan.
Quiet, cozy residential buildings with a maximum height of five storeys were planned in the late 1980s. In 2000, they received the Award for Exemplary Buildings in North Rhine-Westphalia, and the so-called Builder's Prize by the city of Duisburg in 2002.
A semi-public inner courtyard west of the Hansegracht, the so-called Philosophenhof, hence, philosopher's court, was laid out by the Dutch landscape architect Jörn Copijn. It's serene and lush and you should definitely see it. However, keep in mind that the surrounding buildings are people's homes. Therefore, avoid being nosy'n'noisy.
The exclusive housing projects were built on the site of the former Böninger tobacco factory. The entrance gate and the office building are still preserved. The latter houses a day-care center.
Trading Post Faktorei 21
The original building which today goes by the name Faktorei 21 was originally erected around 1900. Eventually, a silo and smaller granaries were added. After being destroyed during air raids in WWII, it was reconstructed in the 1950s.
Since the conversion according to Foster's plan, the gabled roof is no longer covered by tiles but with glass. This way, the inside is flooded with natural light.
Today, the building houses mainly offices. However, on the ground floor is the restaurant Factory. Apart from indoor dining, you can also enjoy a drink and a snack at one of their outdoor tables right next to the waters. Highly recommended!
Timber Port
The former granaries at the inner harbor still bear witness to industrialization. Nevertheless, the timber trade was just as important for Duisburg's economy.
Before the construction of the railways, the coal traders were earning a bit extra by transporting wood on their return trips. ships returning empty. The wood came mainly from the Spessart and the Black Forest in rafts that were up to several hundred meters long. This made Duisburg an important hub of the timber trade.
Today, ships use the area of the timber port to tack. A huge stepped promenade is surrounding the timber port.
Five Boats
One of the most significant building projects at the inner harbor is the so-called Five Boats. This seven-storey office building was designed by yet another star architect, namely Sir Nicholas Grimshaw, in 2004. Due to the oval shape of the five individual hulls, almost all offices have a view of the inner harbor or the city center of Duisburg.
Shops and restaurants are located on the ground floor. After dark, the Five Boats are illuminated in different colors. These multicolored illuminations are definitely a thing in Duisburg: Whether the sweltery remnants at the Landschaftspark, the Tiger&Turtle installation, or the Five Boats – they shine a light on basically every outstanding construction as soon as the sun goes down.
Buckelbrücke
Once we're at outstanding constructions: Although the bridge Buckelbrücke is merely 79 meters long, it has a very special feature. It is the only steel bridge in the world whose height can be varied. This way, its lifting mechanism allows ships in the harbor basin to pass under the bridge.
It consists of 14 individually movable concrete elements which are held in place by steel cables attached to four 20-meter-high pylons. At the end of the steel cables are traction devices so that the pylons can be pulled aside. This way, the bridge arches up to more than ten meters above water level.
Garden of Remembrance
On the opposite bank of the canal is the greenery Garden of Remembrance. It was laid out according to plans by Daniel Karavan in 1999. Karavan, who passed away in 2021, was famous for monuments that merge into their specific environment.
In the three-hectare park, remains of the former buildings were left standing in order to use them as event locations or panoramic platforms. The path is made as a mosaic, lined with white ribbons which are characteristic of Karavan's creations.
The planting is taken up by fields of grain and sunflowers. This way, the park builds a connection between the area's industrial past and its future as a place for culture and leisure.
Basically just like this very post on Duisburg.
At night, the park is – you probably guessed so -illuminated by a light installation.
Museum of Culture and City History
At the greenery's southern tip is Duisburg's Museum of Culture and City History. Since 1991, it has been housed in the grain silo of the former Rosiny mill. The core of the building dates back to 1904, however, some modern annexes were added. Here, you get a great glimpse into the city's glorious as well as at times difficult past.
Extensive archaeological excavations in the 19th century granted the museum with archaeological treasures. Another focus is the Mercator collection. The exhibition of globes and atlases of the famous cartographer Gerhard Mercator is famous throughout Europe. Born in the region around Antwerp, Mercator became a professor of cosmography at the university of Duisburg where he died in 1594.
Museum of Culture and City History
Johannes-Corputius-Platz 1
47051 Duisburg
The museum is open from Tuesday to Saturday between 10 a. m. and 5 p. m., on Sundays, they're closing only at 6 p. m.
The general entrance fee is 4.50 €uros. On Thursdays, however, it's pay what you wish day.
North Rhine-Westphalia State Archive
Another historic storage building was converted into the largest archive building in all of Germany. To the former warehouse from the 1930s, a 76-meter-high archive tower was added. The shape of this tower is based on the old storage building with its protruding and concave gables. The architects Ortner & Ortner, initially from Vienna, did an absolutely amazing job.
Oh, maybe I should mention that this architectural jewel is housing the North Rhine-Westphalia State Archive. The foyer opens onto the waterfront and is located at the transition between the former warehouse and the new extension. Inside the foyer, large openings provide a view of the archive material,
With its dark red plastering, the new building picks up on the brick façade of the warehouse. The windows were bricked up to protect the archives from daylight.
The state archive is open to the public on weekdays from 8.30 a. m. On Monday and Tuesday, they are closing at 7 p. m., on Wednesday and Thursday at 4 p. m., and on Fridays at 12.30 p. m. However, it's an archive, and the most attractive and generally interesting feature is the façade, anyway.
Landesarchiv Nordrhein-Westfalen
Schifferstraße 30
47059 Duisburg
Landschaftspark
Yet here I am, introducing another outstanding transformation of decaying industrial structures into a phenomenal place for leisure, culture, and fun.
Believe it or not, chimneys were smoking and workers were sweating at the smelting plant until 1985. Then, the furnaces ran cold and the lights went out. Overproduction in the European market prompted the world-famous steel company Thyssen to close this plant.
Instead of wasting money and polluting the air by tearing the whole plant down, it was preserved as an industrial monument. Obviously, it's forbidden to get inside the deteriorated buildings. Albeit, the small signs pointing out the risk of death when doing so made me laugh. Can you imagine this kind of modest safety measure in the US where there is a warning on every cigarette lighter?
Nevertheless, you can climb on designated stairs and platforms from where you have a fantastic view of the scenery around. Since I'm suffering from acrophobia, already this climb felt like a risk of death to me.
Where the Wild Roses Grow
Just like the Zeche Zollverein in Essen, the Landschaftspark combines the old industrial structures with lush greeneries. The remnants of the industrial plant and the uncultivated nature are forming an untamed symbiosis.
Although they are both transformed industrial plants in a natural setting, there is a major difference between the Zeche Zollverein Essen and the Landschaftspark in Duisburg. Unesco declared the Zeche Zollverein a World Heritage Site in 2001. This honor bears certain requirements and restrictions. Therefore, they focus rather on culture and heritage. The Landschaftspark, on the other hand, can grow wild and free. Here, the focus is rather on sports and leisure. For instance, in the former cast house and a furnace, there is now a high rope course where crazy adventurous people can climb over shaky bridges and rope constructions up to a height of 50 meters. Former storage bunkers were modified into a climbing crag where mountaineers and sports climbers can practice. Those who are more into depth than into heights can go diving in Europe's largest artificial diving center that has been created in the old gasometer.
And yes, there are also options for people like me who happily enjoy straight walking and cycling trails. Also, there are venues for performances and arts.
Neustadt
Talking 'bout arts – that's rather down my alley. In collaboration with the artist'n'architect Marta Dyachenko, Berlin-based artist Julius von Bismarck created a fantastic open-air installation on the northeast corner of the Landschaftspark.
Referring to the construction and destruction of large buildings in the Ruhr area over the past twenty years, the artists chose 23 demolished buildings and resurrected them as sculptures on a scale of 1:25. This way, they created a fictitious city called Neustadt.
Neustadt tells the story of inappropriate urban development. It leads to questions about why certain buildings were demolished. It asks who decides whether certain structures are worth preserving. Although building might be cheaper than refurbishing, the construction and building industry causes 38% of global carbon dioxide emissions.
Finally, the Landschaftspark Nord is the finest example of how preservation and reuse can be very sustainable and a big success.
You can get to the Landschaftspark by bus #910 from the Meidrich station to the stop Landschaftspark. If you want to visit the installation Neustadt, you better take tram #903 to the stop Theodor-Heuss-Straße.
Landschaftspark Duisburg-Nord
Emscherstraße 71
47137 Duisburg
Rheinpark
While the spectacular Landschaftspark is famous beyond Duisburg's city limits, there is another humongous greenery built on a former industrial site. For over 150 years, the banks of the river Rhine served mainly industrial purposes. This way, these embankments were inaccessible to the citizens. Since 2008, the huge area has been gradually modified. For instance, incredible 3,000 trees were planted on the lawns.
Here too, parts of the former plants are used for a skate park as well as urban art. Also, newly installed recreational areas include beaches alongside the river promenade. Unfortunately, you cannot take a dip – but maybe those clever city planners will find a solution for this flaw, too.
This way, the Rheinpark is another great example of how old industrial areas can be cleverly modified and reinvented for fun'n'leisure.
I know I'm repeating myself, but Duisburg definitely is moving from steel to style.
To get to the Rhinepark, you can take tram #903 towards Mannesmann Tor 2. As you get off at either Marienhospital or Hochfeld Süd, you need to walk for about 10 minutes to get to the river.
Tiger & Turtle
Steel for style – this brings me to my last and most refined examples of this unlikely symbiosis.
On the southern outskirts of Duisburg is the absolutely incredible installation Tiger & Turtle. It's a roller coaster – so what?!
Well, as artists Heike Mutter and Ulrich Genth designed what is today one of the region's most intriguing landmarks, they seem to have forgotten major parts of a roller coaster. There aren't rails and there aren't carts. To join the fun, you must walk up and down 497 stairs. Yet, they spare you the loopings, that's the least they can do.
Obviously, I'm just kidding since Tiger & Turtle is not only an amazing piece of outdoor art. It's also great fun. And for people like me who are suffering from acrophobia, it's also a terrifying thrill. Albeit, walking a continuous circle is not possible due to the looping. The right ascent has 344 steps. The left is much steeper and has 153 steps. However, the lengths and heights of the steps vary greatly.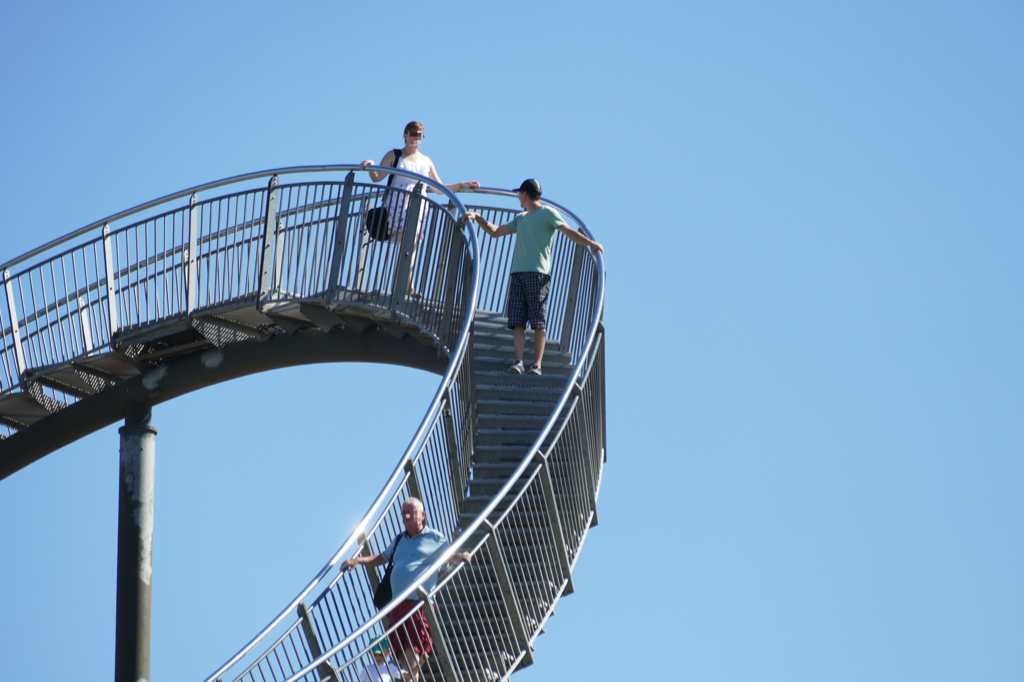 The whole thing reaches a height of more than 20 meters at the upper edge of the looping. Since the walkways are less than a meter wide, bottlenecks are common. Therefore, they try to avoid major collisions by allowing a maximum of 195 visitors at a time.
Apart from the thrill, at the highest walkable point of 13 meters, you have a great view of Duisburg's city center, the river Rhine, and at times even of the city of Düsseldorf!
Walking on a Piece of Art
Tiger & Turtle was one of the projects installed on the occasion of the Ruhr.2010 Capital of Culture award. Mutter and Genth designed this truly magic mountain from steel and thusly created a connection between the building material and the region's history.
Tiger & Turtle
Ehinger Straße 117
47249 Duisburg
Access to the installation is free of charge and always possible. The fastest way to get there from Duisburg's main station is by tram #903 towards Mannesmann Tor 2. You reach the stop with the very indicative name Tiger & Turtle after about 20 minutes. From there, you have to walk about ten more minutes and you're there.
Industrial Heritage Trail
The Industrial Heritage Trail, in German Route der Industriekultur, is a project of the Regional Association Ruhr and connects the most important and touristically most attractive industrial monuments in the area.
Despite the name Route der Industriekultur, it is not a single route, but a network that connects museums, exhibitions, panoramic viewpoints, and historically significant settlements. The individual places represent the industrial developments of the past centuries in the Ruhr area. This is probably the world's most extensive tourist network for the development of the industrial cultural heritage. There is a separate network of tracks for cyclists.
An approximately 400 km long holiday route is signposted, which includes all attractions. The network includes a total of around 700 km of cycle paths as part of the Route of Industrial Culture by Bike.
Duisburg contributed to the project with the German Inland Waterways Museum, the Inner Harbor, the Landscape Park, and Tiger & Turtle that I'm introducing in this post. In addition, the hill Alsumer Berg as well as the settlement Siedlung Rheinpreußen are part of the heritage trail, too.
This project has a very informative website, unfortunately, it's only in German. However, their print material like brochures, maps, and the like are available also in English. You can either order them or print them out for free.
Practical Information
How To Get There
Flight
The city of Duisburg doesn't have a commercial airport. The closes one is in Düsseldorf, about 25 kilometers south of the city center. It can be easily reached by public transport, for instance, by the regional train S1 from the airport to Duisburg's main train station.
Train
Because of its location in the middle of Germany – and in all of Europe, for that matter, you can get to Duisburg quickly and easily by train, too. Train connections to many cities in Germany as well as in neighboring countries such as the Netherlands, Belgium, and France are frequent. You can check timetables and prices on the website of the Deutsche Bahn, Germany's national rail company. It's available in eight languages.
Duisburg lies in the Federal State of North-Rhine Westphalia. If you'd like to explore other places around the area, the so-called SchönerTagTicket is a great deal. It translates to beautiful day ticket, and you'll certainly have a great day of unlimited travel for only 30,30 €uros. Nevertheless, the only catch is that you can only take the regional trains. Those train numbers begin with RE, MET, etc. However, you cannot take interregional trains such as the Intercity (IC) or Intercity-Express (ICE).
If you are a party of at least two people, you might want to opt for the version called SchönerTagTicket 5 Personen. It costs 45,20 €uros and is good for up to five people. I think that's pretty amazing. Alternatively, a parent or grandparent can be accompanied by an unlimited number of their own kids or grandkids under the age of 15.
Bus
Flixbus is conquering the world – at least the world's European part, hence it's also serving Duisburg. It might not be the fastest way to travel, but it's quite comfortable and definitely the cheapest. For instance, a one-way trip from Munich sets you back around 30 €uros, but it takes about 12 hours. International tickets from for instance Amsterdam or Brussels are around 20 €uros and the trips takes only 3 to 4 hours.
From some German cities like for instance Hamburg and Berlin, Flixbus also offers a very cheap train connection. The Flixtrain takes you from Hamburg to Duisburg in 3 short hours for under 10 €uros and from Berlin in 5 hours for under 20 €uros. However, while the bus rides are okay, the trains tend to be quite unreliable.
The Flixbus stop in Duisburg is on Freiheit 5a, on the southern side of the main train station.
To check schedules and prices, visit their website.
How to Get Around
Public Transport
Like in every German city, local public transport in Duisburg is comprehensive. There are buses, trams, subways, and local as well as regional trains. However, in general, they go only every 15 minutes, and if in addition, you have to change trains, trips can be quite long. Actually, I was surprised by how spread out the city is.
In general, one trip within the city limits costs 2.90 €uros. Short-distance trips that included three consecutive stops in total cost only 1.80 €uros. Kids between 6 and 14 years of age pay 1.70 €uros. Under 6, they travel for free.
There are also 4-journey tickets, day tickets, group tickets, and much more. You can check out your best option on this website.
Nevertheless, keep in mind that tickets are only valid if they have been stamped before departure. Even if you have a ticket, if it's not validated, you might be fined.
The orange validator machines are located at the tram, subway, and train stations as well as on buses. Once stamped, the ticket remains valid for a certain period of time, between 20 minutes and 4 hours, depending on the type of ticket you purchased. Except for short trips, you can change means of transportation as you like as long as you travel in the same direction. Hence, no round trips and return trips – except with day tickets, obviously.
Cycling
Another convenient way to explore Duisburg is by bicycle. I was amazed by how many people are cycling everywhere. Pre-schoolers, ladies in full abayas, old men balancing some quirky cargo on their bike's pannier rack – everyone seems to be riding a bike.
The company that rents out bikes is called Metropolrad Ruhr and you find their website here. Registration is free. To verify your means of payment, you pay a starting credit of 1 €uro which can then be used for your fees. After debiting via credit card or PayPal, your account will be activated. For a monthly fee of 10 €uros, you get 30 minutes per rental free. Since you can leave your rental bike at many different stations around town, you probably won't pay more than your monthly fee.
However, if you do not want to pay a monthly fee, the rate is 1 €uro for 15 minutes. Therefore, I presume that even if you'll explore Duisburg cycling for only one day, paying the monthly fee is far better.
Deals And Discounts
While there isn't a specific tourist pass for Duisburg, there are passes covering the entire Ruhr region including for instance also Dortmund and Düsseldorf – and many other cities that do not start with the letter D like for instance Essen.
The so-called RUHR.TOPCARD costs 58 €uros and you can obtain a kids' card for only 38 €uros for children that were born between 2008 and 2017. Up to three children accompany their parents for free if they were born after 2017.
However, the RUHR.TOPCARD is actually valid for an entire year starting January 1st. While 90 attractions can be visited free of charge, an additional 50 places offer access at half price.
To visit the most important museums, theatres, and festivals in the Ruhr area, the RuhrKultur.Card is for you. It costs 45 €uros and grants free access to the Lehmbruck museum, the Museum Küppersmühle, and DKM in Duisburg alone. However, you can also visit for instance the Folkwang museum in Essen and other art museums in the region.
Visiting Organized
I'm an avid solo-travelling woman. Since solo travel doesn't equal solitude, I love to join organized tours here and there. They allow me to meet fellow travellers – for just a short moment or a lifelong friendship.
Therefore, here are some great ideas of what to do during your stay in Duisburg. Especially if you have only a short amount of time, they'll enable you to leave the planning and organizing to others and just enjoy the city and the surrounding area to the max*:
Where to Stay
Over the past years, a couple of new hotel chains have opened branches in different larger cities in Germany. They offer comfort in sleek rooms at a reasonable price.
One of these innovative lodging options is the Sorat City Hotel Chain. The mix of very spacious rooms, cozy sitting areas, and lovely outdoor seating in a lush courtyard made the Hotel Conti* the perfect place to stay during my weekend in Duisburg.
Located conveniently within walking distance to the main station as well as the most important museums, it's the perfect lodging option also for a longer stay
However, if they should be booked out, you'll find some suitable alternatives on this map*:
What to Eat
As I took the Stadtbahn, a hybrid of subway and nostalgic tram, the united nations seemed to have gathered in the compartment. Obviously, the numerous collieries and mines in the region drew workers from all over the world to the Ruhr. Only, what is called an international melting pot in hip Berlin is bureaucratically considered the proportion of foreigners in Duisburg. Yet, in both cases, this means the same: A breathtaking variety of different cultures. This is also reflected in the local gastronomic offer. I bet there are more Turkish kebab places in Duisburg than bratwurst grills. Mind you, the currywurst was originally invented in Berlin, but in the Ruhr area, it became a cult'n'culture.
In general, the traditional cuisine in the region is meat-centric and hearty. If you want to sample real regional food, go for Blutwurst, blood pudding, or Pfefferpotthast, a meat stew with onions and pepper.
A lovely place to eat while rubbing shoulders with locals is the brewery Webster Brauhaus. They have been home brewing since 1992. Their signature brew is called Pale Ale, a light and refreshing drink, especially on hot summer days. Sitting under the shady trees in their beer garden right next to the St. Joseph's church, I enjoyed a very crispy Schnitzel with my brew. Obviously, they also have vegetarian options.
Webster Brauhaus
Dellplatz 14
47051 Duisburg
They are open from Tuesday to Friday from 4 p. m., on Saturday, they open at noon, and on Sundays at 10.30 a. m.
Extra Tip:
In cooperation with the regional shipping company Weiße Flotte, they offer a package that includes a cruise on the river Rhine and an explanatory beer seminar, including some great beer tasting. The whole thing takes about four and a half hours and costs 29 €uros. You'll find the offer on their website. While there, it's only explained in German, you can always inquire in English either by mail webster@webster-brauhaus.de or give them a call at +49 – 0 – 203 – 230 78.
Cash And Cards
Until now, 20 European countries replaced their former local currency with the €uro starting in 2002. Obviously, Germany is one of them. The exchange rate is 1 US$ = 0.94 EUR as of January 2023. However, you can check today's conversion rate on this page.
Especially since the pandemic, cards are far more accepted than before.
Communication And Connection
Since June 2017, no roaming charges apply within the EU if you have a European mobile phone contract. This involves all 27 countries of the European Union as well as Iceland, Liechtenstein, and Norway.
The EU roaming regulation applies to all contracts.
In case European roaming is not available, you can connect to the internet at museums, eateries or cafés, and, of course, hotels. This being said, in comparison to many other lands, Germany is a developing country when it comes to the internet. There are annoyingly many dead zones and many places do not offer free Wifi connection.
So if you depend on a reliable online connection, you should opt for a SIM card. Whether phone companies such as O2 or Vodaphone or supermarkets like Lidl and Aldi – there is a wide choice of providers of prepaid cards.
The standard voltage in Europe is 220 V and the frequency is 50 Hz. In Germany, they use plug types C and F.
Whereby, nowadays, all these chargers have integrated adapters, in general, the voltage and frequency don't really matter.
By the way, you'll find comprehensive travel info in my post World's Most Complete Travel Information – an indispensable globetrotter-classic.
Say It Right
In Germany, most people speak pretty decent English. Nevertheless, for some useful words and phrases, you might want to practice a little with the help of e. g. Babbel. Also, the first lesson is free and already supplies you with a useful basic vocabulary.
In this post, I'm writing out some of the German names of brands and places. Obviously, you will notice that there are letters that might not exist in other languages.
Firstly, there is the letter ß which exists only in the German alphabet. It's by no means a B – it's a so-called sharp S. You pronounce it like the double S in kiss. So although the German word for street, Straße, looks quite exotic, it is simply pronounced Shtrasse. Mind you, when an S stands before a T, it becomes sh instead of s.
Then, there are three more vowels, ä being the easiest one since it's pronounced like an open e as in head.
For some foreigners, ö and ü might be a bit tougher. Ö is pronounced more or less like the e in her. Finally, Ü sounds a bit like the u in huge.
Now, Duisburg makes it extra-tricky since the uis is pronounced like ü. If you pronounce it like Duseburg, you should come pretty close.
Map
On this map, you can see the exact location of all those amazing places that I'm introducing in this post. Clicking on the slider symbol at the top left or the full-screen icon at the top right will display the whole map including the legend.
Pinnable Pictures
If you choose to pin this post for later, please use one of these pictures:
Note: I'm completing, editing, and updating this post regularly – last in January 2023.
Did You Enjoy This Post? Then You Might Like Also These:
Disclaimer:
*This article contains affiliate links. By purchasing items or making a reservation through those links on my site, not only do you get the best rate. I will receive a small commission that helps to run this site.
The Duisburg Kontor GmbH supported my blogger trip by supplying me with a train ticket, accommodation, information, and free tickets.
However, all opinions on these services are mine and weren't by any means influenced by my cooperation partner.