Travelling along the endless Argentine Atlantic coast, Puerto Santa Cruz is a perfect spot for a stopover.
Actually, Patagonia's former capital is so serene and pleasant that, for a while, you might forget travelling on.
So, coming from El Calafate and heading for Puerto Madryn, I am in Puerto Santa Cruz. A town consisting of 15 streets leading from north to south and 12 from west to east. East is the river Rio Santa Cruz that empties into the Atlantic.
I'm a bit late, the glorious days of Puerto Santa Cruz have been over for a while now. Already in the early 16th century, Magellan found here shelter from the weather forces while sailing south.
Later, in the 19th century, Charles Darwin honored the area with his visit. He travelled on the HMS Beagle, maneuvered by famous Captain Fitz Roy. About four hours west of Puerto Santa Cruz, they'd honored the man by naming a mountain after him.
And now, I'm here and from the first moment, I'm noticing that the glorious days of those great'n'famous men are definitely over.
Travelling Solo, Indeed
I wake up at 8 – which after days and days of rising with the sun to be ready for yet another day trip by 7 is pretty late'n'lazy.
Not for Puerto Santa Cruz.
I want coffee. The hosts, a lovely middle-aged couple that had picked me up the night before at the bus terminal and brought me to this small yet cute and very comfortable apartment, have left some one-portion bags of coffee.
That's great for a start. But I want also milk.
I check my phone and google informs me that the supermarket opens at 10 and so does the tourist information on weekends.
It's shortly after 8.
Never mind, I get dressed and leave the flat in search of an open mom-and-pop store – come on, mom and pop will be early birds, won't they?!
Morning Glory
Well, walking up and down the 15 vertical and 12 horizontal streets, I avoid making too much noise since mom and pop seem to be still sleeping – together with the entire town.
In the streets of Puerto Santa Cruz, I find myself in the company of some stray dogs who observe me with curiosity. They obviously aren't used to large crowds at 9 in the morning.
I walk down the river promenade till I get to the easternmost Punta Reparo. From there, I'm walking the 25 de Mayo street back up. As I get to the tourist information a couple of blocks further, it's already open.
I'm not exactly baffled to find the tourist information kind of overstaffed with two nice ladies given that I'm the only customer.
"To the penguin colony? Fine. You have to take a cab to Punta Quilla and from there you can walk for about an hour. You have to leave this very moment since you have to do it during low tide", explains the lady and looks at me through her butterfly-shaped hipster glasses.
Hmm, first it's like being the only inhabitant of this ghost town, and now such a rush.
I didn't have even breakfast yet.
"You can also go in the afternoon. At 4 p.m., the water starts to lower, then you have enough time and don't need to rush", suggests the hipster lady after consulting a tide chart.
Okay, I'll do that.
Comprehensive Visit
But what else is there to do in Puerto Santa Cruz? After all, I'm here for 48 hours and the visit to the penguins will take a fraction of this time.
The lady starts to point out monuments and places and a museum and I don't tell her that I have seen about 80 percent of these attractions during my one-hour morning walk across town.
Never mind, I spend the day walking those endless, empty streets, strolling along the promenade reading explanation on the faith of those stranded shipwrecks on the beach.
Well Looked After
I'm looking at a surprising number of memorials'n'murals – amazing for a place this small and forgotten.
I know exactly what I love about Puerto Santa Cruz: There isn't much, but the little they have, is very well-maintained. Walls are decorated with huge murals depicting the town's history and the beautiful, tranquil surroundings.
There are political statements against domestic violence and sexual exploitation of children written in immaculate letters on walls and fences. There are statues and art projects.

Puerto Santa Cruz might be small and a bit forgotten, but it's far from being a forlorn dump.
Just so You Know
Puerto Santa Cruz is located about 250 kilometers north of Patagonia's present capital Rio Gallegos. It is the second oldest city in the same-named province and is today home to about 4,500 inhabitants.
Fernão de Magalhães, aka Fernando Magellan, spent one night in Puerto Santa Cruz in 1520.
A blink of an eye later, in the mid-19th century, Anglican missionaries invaded came to the region in order to evangelize the native inhabitants. However, the Tehuelche Indios were still able to retain their independence for a while.
A couple of years later, with the landing of the Commodore Luis Py, the city of Puerto Santa Cruz was officially founded and eventually became the capital of the same-named, then-independent national territory.
Capital No More
However, in 1888, Río Gallegos, about 250 kilometers further south, became the new capital – and still is.
Around the turn of the 20th century, people from different European countries migrated to the region in search of wealth. Interestingly, only in 1957, Santa Cruz became an Argentine province.
To learn more about these early settlers, I recommend a visit to the Museo Casa de Los Pioneros Mario Hernández. Although it's quite small, it's set up very nicely and you'll get a comprehensive overview of the first settlers' lives.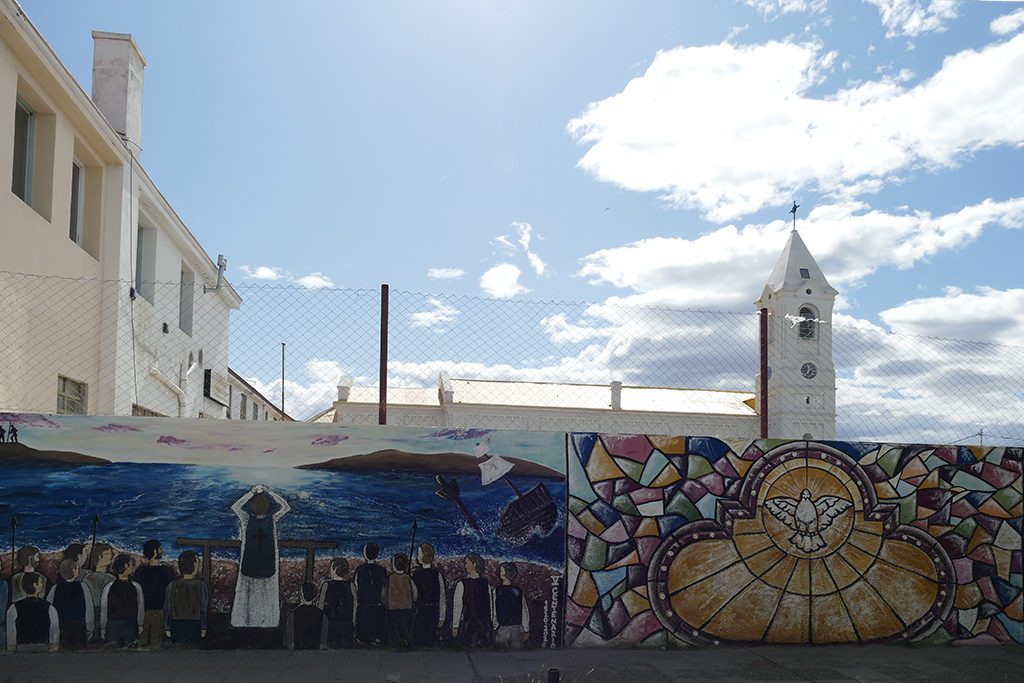 Another great historic building all visitors should see is the Church Exaltation of the Holy Cross. Inaugurated in 1909, it was actually one of the town's first masonry buildings. Interestingly, the features like paintings and stained glasses, the bells, and even the clock came all the way from Italy.
Monte León National Park
As I pointed out, if you don't feel a strong urge to relax, Puerto Santa Cruz might deem a bit limited pretty quickly.
Therefore, it's good that apart from the few points of interest downtown, there are some great outdoorsy attractions nearby.
In 2004, the Monte León National Park was founded. Its offshoot reaches just south of the city. The administration and information point, however, is about 40 kilometers west of Puerto Santa Cruz.
The National Park used to be private property till 2001 and stretches over 150.000 acres of steppe along 24 miles of coastline.
The terrain is home to sea lions, penguins, and seabirds. Of course, there is also rich steppe wildlife.
The hipster lady at the tourist information had to inform me that they used to do organized trips, but today, you can only visit the site if you have your own vehicle.
In any case, the visit to the park is subject to weather conditions.
La Pinguinera – The Penguin Colony
But there is another great place in Puerto Santa Cruz's vicinity and that's the penguin colony. Getting there, I took a cab to the port of Punta Quilla. This small industrial port is about 17 kilometers from the center and although the hipster lady said the fare should be 400 pesos, the driver charged 500 – whatever.
From the port, it's a 2.5 kilometers walk along the coast next to some impressive cliffs.
There are tides and the lady had told me that the outgoing tide would begin around 4 p. m. I was there pretty early as the water level had just begun to lower so some parts of the beach were still very difficult to traverse. Totally my fault – twenty minutes later the way had been much more comfortable.
Magellanic Penguins
This Pinguinera is an important colony of Magellanic penguins consisting of more than 20,000 specimens. Supposedly, they get here in September for their reproductive cycle and then leave in April. Obviously, they are named after Ferdinand Magellan.
Magellanic penguins are medium-sized, around 60 to 70 cm tall, and can live up to 25 years in the wild. Although they are the most numerous of the banded penguins species, they are listed as Near Threatened by the International Union for Conservation of Nature (IUCN).
While the fledglings and younger penguins have fluffy grey backs, the adults' backs are black. Their white tummies are adorned with two black bands between the head and the breast.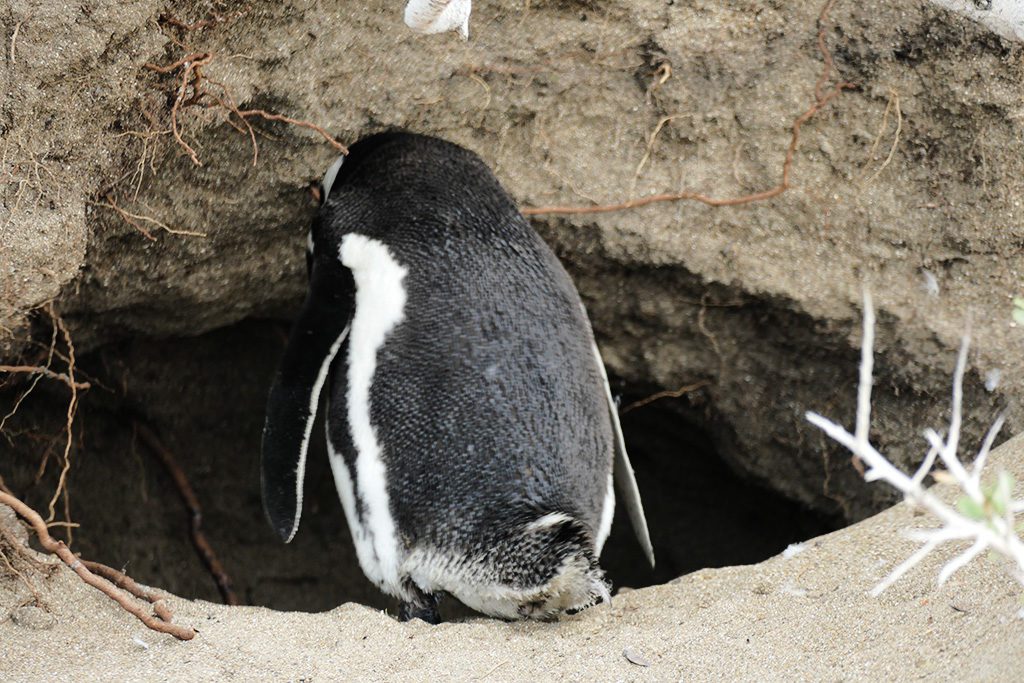 Keep Your Distance
Note: I had asked the lady how close I could get to the animals since I know that in northern Germany, you are requested to stay 30 meters away from the gray seals.
She had told me, four meters should be fine.
That's a joke: As soon as you approach the penguins more than ten to twelve meters, they get nervous and pace away. I tried to avoid stressing the animals out so I kept my distance. As a matter of fact, I felt a bit like an intruder anyway.
Now I read that newly hatched chicks that are visited by humans show a stress response with elevated levels of corticosterone in their blood. This might impair the development of muscle strength, growth, and immune function.
I'm so glad that I did visit the Pinguinera months later. Otherwise, I would have felt so guilty.
Practical Information
How to Get There
Puerto Santa Cruz is, obviously, not exactly an Argentina hotspot. However, it's located about halfway between Rio Gallego and Trelew so many buses are passing through, going north as well as south. Consequently, it is easy to spend a day or two – or longer – without getting stuck.
An okay bus company would be Andesmar, however, knowing Peruvian night busses, I was quite disenchanted. Also, since it's the main artery along Argentina's east coast, coaches tend to be really full. Especially on weekends and during the holidays, I would make reservations days ahead.
How to Get Around
Guys, we're talking 12 blocks here. Obviously, you're walking. To get for instance to Puerto de Punta Quilla for a hike to the Pinguinera or even to the Parque Nacional Monte León, you need to take a cab.
Although the lovely hipster lady at the tourist information told me a cab to Puerto de Punta Quilla was 400 pesos, the driver charged 500. For once, I didn't feel like arguing. On the way back, I hitched a ride with some cool Austrian tourists.
Where to Stay
There are two or three guesthouses in Puerto Santa Cruz, however, I stayed in a privately rented room which was really excellent. Alojamiento Flores del Alma belongs to a lovely couple. It's actually a small, one-bedroom apartment with a full bathroom, a small living room, and a fully equipped kitchen.
They even left some food for breakfast in the fridge, however, the supermarket La Anonima is just three blocks away. There, you get everything you need for your own cooking.
Check out the Flores del Alma's availability and prices.*
Where to Eat
Actually, I referred to the La Anonima supermarket for a reason since there are not that many options to dine out.
A nice place mainly for the views is the Gyros Restaurante Y Confiteria at the western end of the coastal promenade.
Cash And Cards
Obviously, cash is accepted everywhere, but at the supermarket, you can also pay by credit card. My hosts, however, accepted only cash. Also, there was a weird calculation going on where they intended to add a certain percentage if I didn't pay in foreign currency. It was very Argentinian.
Anyway, there are banks and ATMs in Puerto Santa Cruz, so there shouldn't be any problem.
Language
Yes, Argentina is a South American country once conquered by the Spanish, and Castellano is spoken to this date.
However, even if you have a great command of Spanish, the first days, you might have trouble understanding everything: Argentinians pronounce everything that sounds like ya, ye, yi, yo, etc. sha, she, shi, sho. Yo llego becomes sho shego. A servilleta becomes a servishetta – by the way, one of my favorites.
Since Puerto Santa Cruz is much less visited by travellers than it could be, people only have a basic knowledge of the English language. Therefore, you might want to brush up on your Spanish on babbel.
Connection and Communication
Like during most of my trips where European roaming is not available, I did not get a national SIM card but did rely on WiFi – worked like a charm in general.
However, at the house, the connection was somewhat weak at moments, but nothing to worry about. I actually don't know if it was Puerto Santa Cruz or this specific router. Anyway, somehow it matched the place's serenity.
Puerto Santa Cruz was only one stop during my exciting Argentinian road trip. Go to the main post to check out all the other destinations.
Pinnable Pictures
If you choose to pin this post for later, please use one of these pictures:
Note: I'm completing, editing, and updating this post regularly – last in November 2022.
Did You Enjoy This Post? Then You Might Like Also These:
* This is an affiliate link. If you book through this page, not only do you get the best deal, but I also get a small commission that helps me run this blog. Thank you so much for supporting me!