Yes, there is the Eiffel Tower. D'accord, you need to pay the Louvre a visit. Okay, let's go on a walk alongside the River Seine. But besides all this, make sure to pay also some of the lesser-known and underrated arrondissements a visit. Because it's right there where the best street art in Paris is waiting for you!
Under the aegis of Parisian art dealer and cultural entrepreneur Mehdi Ben Cheikh, the 13e arrondissement in particular has undergone an impressive revival from an a bit run-down part of the city into an open-air gallery.
Street Art
The phenomenon of street art, hence, of writing, drawing, and painting on walls is not a modern thing. As a matter of fact, it goes way back to the cavemen, to the era of the Pyramids in Giza, as well as the Roman Empire.
However, in many cities around the world, the modern-day's graffiti movement started in the 1960s as a claim of urban territory by gangs but also as a response to political and social injustice. Graffiti developed from the so-called tagging, hence writing names'n'slogans in a more or less artsy way, to painting of beautiful murals that transform neighborhoods in open air-galleries.
As Paris is definitely one of the world's graffiti capitals, you'll spot amazingly artistic murals all over the city. However, as in many other cities, too, in Paris, urban art is also used to upgrade rather dull neighborhoods. And this is where Mehdi Ben Cheikh's project Street Art 13 comes in.
13e Arrondissement
The 13e arrondissement, hence the city's 13th district, is not considered the poshest address in Paris. It is located on the southern bank of the river Seine – also called the Rive Gauche, hence, the left bank. Throughout its history, Paris has been surrounded by a total of 7 different city walls that enclosed only 12 arrondissements for the longest time. The 13e was outside the walls and was one of the poorest working-class districts. Around the Place d'Italie were soulless housing projects and high-rise buildings.
Then, in 2009, the 13th district's local government initiated the improvement of the neighborhood's appearance through street art. They transformed Boulevard Vincent Auriol and the adjacent streets'n'squares into a veritable street museum.
To get it right, district mayor Jérome Coumet commissioned Mehdi Ben Cheikh as a partner for his ambitious project.
Mehdi Ben Cheikh
But who is this Mehdi Ben Cheikh that I've mentioned a couple of times? Well, Mehdi is a Parisian art dealer and cultural entrepreneur who has been promoting urban art for decades.
Born in Tunisia in 1977, his family moved to France when he was seven. After studying economics and marketing and working as an entrepreneur for a while, Ben Cheikh decided to make his passion for contemporary art a business.
In 2004, he founded the famous Itinerrance Gallery in the heart of the still neglected 13e arrondissement. With the main focus on urban art, numerous prominent street artists such as Invader, JR, and Grandmaster Shepard Fairey presented their work at Ben Cheikh's gallery.
Apart from running his gallery, Mehdi Ben Cheikh has also organized numerous street art festivals and events like the spectacular Tour Paris 13.
Extraordinary Projects
In 2013, in the greatest secrecy, a hundred artists from all over the world worked in and around the building on 5 rue Fulton, a nine-storey tower with 36 apartments. Each artist was assigned a room to decorate from floor to ceiling. The goal was to grant visitors an immersive experience. In October, the Paris 13 Tower opened to the public for one month. During this short time, there were around 30,000 visitors. In April 2014, the building was demolished to make space for new social.
During the summer of 2014, Mehdi Ben Cheikh commissioned around a hundred artists of 34 different nationalities to paint in the village of Erriadh on the Tunisian island of Djerba. In a dialogue between the local villagers and the foreign artists, more than 300 works transformed the place into an amazing open-air gallery. Chosen for its timeless traditional architecture, the Erriadh benefits from revived tourism to this date.
One year later, hence, in 2015, Ben Cheikh commissioned Fairey, who is also known by the name OBEY, for an absolutely amazing art project: During the climate conference, Fairy hung a so-called Earth Crisis ball between the first and second floors of the Eiffel Tower. Its surface was decorated with a mandala of floral patterns symbolizing harmony with nature and was a call for protection of the climate and the environment.
Street Art 13
However, before all the aforementioned absolutely mindblowing projects were initiated, Ben Cheikh's Parisian project Street Art 13 was already up and successfully running for four years.
Since 2009, Parisians and tourists are venturing out to the 13e arrondissement to admire murals created by French and international artists.
Apart from improving the optics of the neighborhood, Street Art 13 also offers yet another concrete canvas to urban artists from around the world.
This district which no tourists used to visit before now receives guided tours of college students, seniors, and international travellers.
And you, my friend, are one of the lucky ones that can explore Street Art 13 with my comprehensive guide at your own pace.
The Artists
Or, if you don't have the opportunity to visit Paris anywhen soon, you can follow my lead right from your comfy easy chair.
In this post, I'm introducing the most outstanding pieces that were created for Street Art 13. Also, you get to know a bit about the artists behind them. As always, I've added a list of the Instagram accounts of all artists featured in this post. This way, you get to see also some of the works they created in other places.
I'm presenting the murals beginning at Rue Fagon where Pejac painted the fantastic mural you see on this post's cover. I then walk you down Boulevard Vincent Auriol with short detours to Place Pinel and Rue Jeanne D'Arc. This walks finishes on Rue du Chevaleret where you should hurry to see Borondo's emblematic mural Les Trois Ages as it is already in a pitiful state.
Pejac
Pejac was born Silvestre Santiago in Santander in 1977. He studied Fine Arts in Salamanca, Barcelona, and at the Accademia di Belle Arti in Milan.
Pejac initially began creating street art as he was fed up with his art teachers' narrow-minded view of art. Once they believed true art belongs in a museum or a gallery. I'm sure seeing Pejac's genius creations prove them wrong.
Nevertheless, Pejac's works were presented also in exhibitions for instance in London, Venice, and Paris while his murals can be found on facades in Amman, London, New York, Santander, and Üskudar, to name just a few.
Wen2
Wen2 is an artist from Brest and was born in 1976. Inspired by hip-hop culture, he began embellishing the walls of Brest from an early age. Today, his main profession lies in architecture and city planning, however, creating murals fits in quite nicely.
He was happy to bring a touch of his hometown Brest to the French capital by depicting the checkered lighthouse Tourelle des Perdrix of the Breton Port of Loctudy.
HowNosm
Raoul Perre – aka HOW – and Davide Perre – aka NOSM are twins born in Spain in the Basque city of San Sebastián in 1975. They then grew up in the German city of Düsseldorf. They began creating graffiti at the tender age of 13 and spent their late teenage years travelling the world spraying trains'n'walls.
During a visit to New York City in 1997, they were invited to become members of TATS CRU, the safe-proclaimed Mural Kings from the Bronx. Two years later, they relocated permanently to New York.
Trivia
Supposedly, Davide Perre was arrested in East Village for hitting a man with a beer mug in 2014. Also, he is currently under FBI observation for home invasion and assault with a deadly weapon in 2022.
While this is far from being funny, the fact that Wikipedia states these allegations under the headline Careers is hilarious!
Hush
Hush was born in the English town of Newcastle in 1973. He studied Graphic Design at the Newcastle School of Art and Design and discovered the full extent of his creativity only after graduating.
He worked as a toy designer in Hong Kong and Japan, and to this date, many of his pieces are greatly inspired by the traditional Japanese Geisha. In his layered work, Hush balances European and Asian aesthetics and underlines female beauty and sensuality. With this distinctive style of portraits, Hush has made a name for himself. Already in 2016, The Independent listed him among the Top 20 Up and Coming Artists.
Apart from urban art, he creates paintings, drawings, and collages. He participated in many exhibitions around the world. In 2011, he opened his own exhibition space onethirty3 in his native Newcastle.
D*Face
Dean Stockton, far better known by his pseudonym D*Face, is a British multimedia street artist. He works with spray paint, stickers, posters, and stencils. Among the artists listed in this post, he's indisputably the alpha superstar.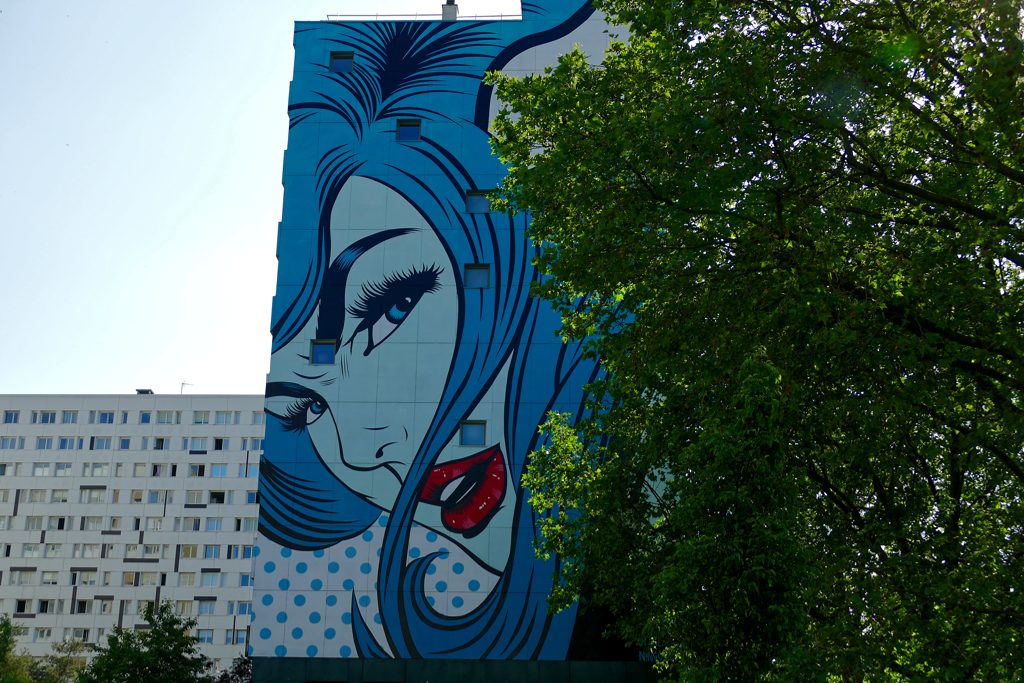 D*Face grew up in London and had an interest in graffiti and related cultural phenomena such as hip-hop, punk, cartoons, and skating. Later, he attended illustration and design classes and worked as a freelance designer whilst perfecting his street work.
In London, D*Face was the owner and curator for the Outside Institute, the city's first art gallery with a focus on street art. He designed covers for stars such as Christina Aguilera and the band Blink-182.
In 2015, he participated in the All City Canvas Global Series by decorating the façade of the Hotel Lisboa in the Colonia Roma district in Mexico City with a mural.
I've introduced D*Face already in former posts on urban art in Amsterdam, Berlin, and Málaga.
C215
Christian Guémy aka C215 was born in Bondy in 1973. He holds several degrees i. a. from the prestigious Sorbonne in history, architectural history, as well as art history. During his studies, Christian Guémy contributed to the encyclopedia of the Compagnons du Devoir, a highly recognized French guild. Later, he worked for a union, as an export manager, and in finance.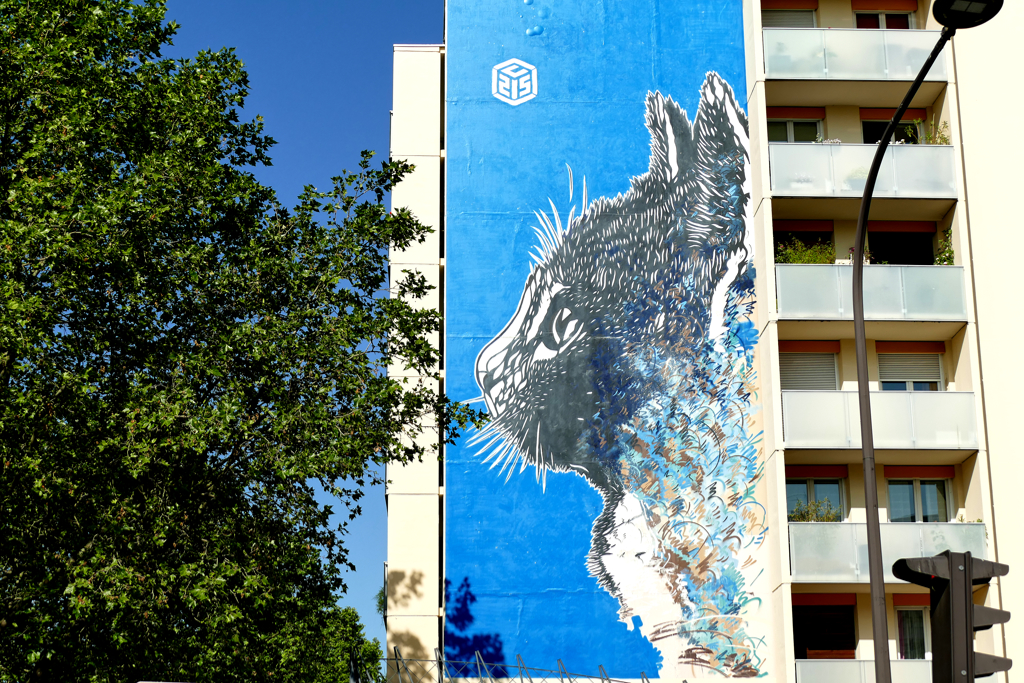 Good for us that he finally ended up as one of the most powerful French muralists. Yet, most of his works have a socio-political background: He portrays Holocaust survivors and communist resistance fighters and speaks out paints against police brutality and anti-Semitism.
C215 lives in Vitry-sur-Seine on the outskirts of Paris. This suburb is also a veritable art mecca with an incredible number of murals; which is undoubtedly C215's merit. Hence, if you have the chance to visit Vitry-sur-Seine, you should definitely check it out.
Illustres! C215 autour du Pantheon
Commissioned by the Center des Monuments Nationaux, C215 portrayed a total of 28 historical figures, some of whom are buried in the Pantheon.
Hence, as you walk the streets of Paris, make sure to look out for French resistance martyr Berty Albrecht and journalist and resistance fighter Pierre Brossolette, blind educator and inventor Louis Braille, politician Jean Zay, physicist Marie Curie, and many more.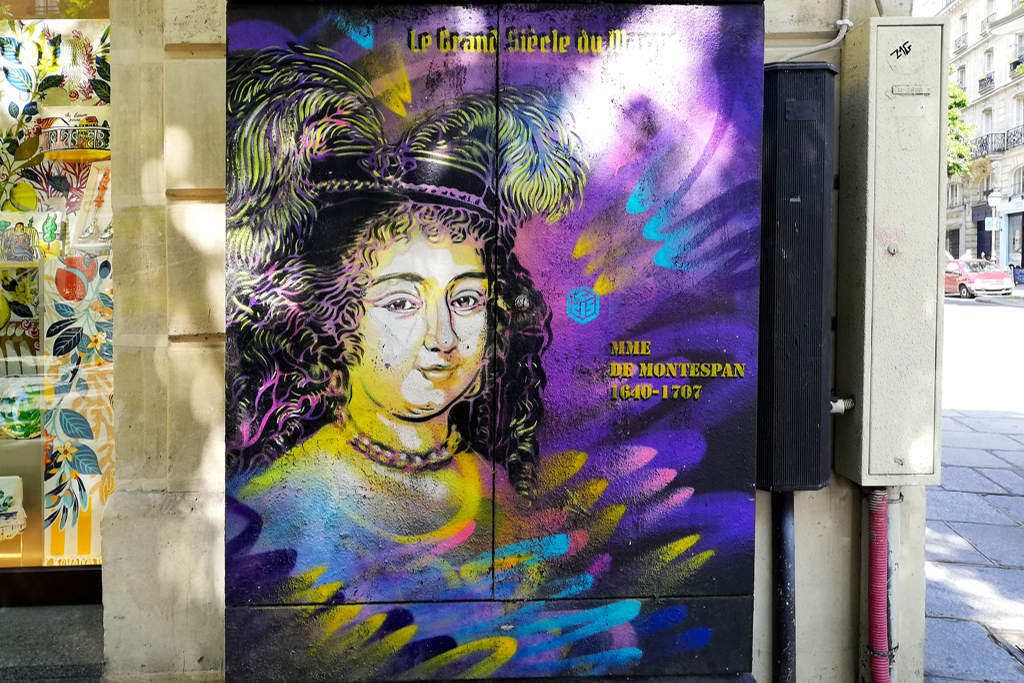 Bom-K
Bom-K – which is short for Bombing Killa – was born in a southern Parisian suburb close to the Orly airport in 1973. He began to spray the town at the age of 17, leaving his artistic traces on trains, walls, and vacant lots. In 1999, he founded the crew Da Mental Vaporz. At that time, his artistic expression became more personal and intimate, depicting the world he grew up in.
Over the years, Bom-K became one of the most powerful French street artists with exhibitions in Berlin, Copenhagen, Los Angeles, and Paris, obviously. Also, he published a book with his illustrations, created statuettes as well as posters'n'prints.
Shepard Fairey aka OBEY
Who doesn't know Mr. Frank Shepard Fairey? Whereby, his pseudonym OBEY might sound more familiar to you. Born in 1970 in Charleston, South Carolina, this street artist, graphic designer, and illustrator has been around for quite a while. He also had a major appearance in the legendary street art documentary Exit Through the Gift Shop by British artist Banksy 2010.
His first claim to fame was his André the Giant Has a Posse sticker campaign. In 1997, he co-founded the design agency BLK/MRKT, specializing in guerrilla marketing campaigns. Customers were none less than Pepsi, Hasbro, and Netscape. In 2003, Fairey left BLK/MRKT and established his own agency called Studio Number One. Also, this whizz-kid launched the fashion label OBEY clothing in 2001.
Fairey achieved greater notoriety during the 2008 US presidential election campaign with his iconic poster HOPE for Barack Obama. It is actually only the most famous of a series of posters that he designed for the Obama campaign. Eventually, he endorsed Democratic candidate Bernie Sanders in the 2016 United States presidential primary.
I've introduced OBEY already in former posts on urban art in Berlin and Málaga.
Trivia
French President Emmanuel Macron commissioned a copy of Fairey's Liberté Egalité Fraternité for his office at the Elysée Palace.
Jorge Rodriguez-Gerada
Jorge Rodríguez-Gerada was born in Santa Clara on the island of Cuba in 1966. In 1970, his family migrated to the USA.
In the early 1990s, Rodriguez-Gerada was a founding member of the anti-consumerist Culture Jamming movement. These activists exposed dubious political and commercial activities for instance by adultering of billboard advertising.
In 2002 Rodríguez-Gerada moved to Barcelona. He developed the so-called Terrestrial Series which consists of works that are so humongous that they can be viewed through Google Earth or even photographed by passing satellites.
Since 2009, Jorge Rodríguez-Gerada has curated the annual AvantGuard Urbano Festival in the Spanish town of Tudela. His murals can be admired in Amsterdam, Barcelona, Belfast, Buenos Aires, Ljubljana, London, Madrid, and other places around the world.
Tignous
Bernard Verlhac aka Tignous was born in Paris in 1957.
After Verlhac studied design in Paris, he worked as a cartoonist for many influential magazines. Also, he published various books among them the satirical analysis of Cinq Ans Sous Sarkozy, mocking former French President Nicolas Sarkozy.
Sadly, on January 7, 2015, Tignous was murdered in the attack on the offices of Charlie Hebdo magazine. Four of his colleagues died with him. He was buried in the Père Lachaise Cemetery.
Bernard Verlhac had been a member of the Cartooning for Peace organization.
Seth
Julien Malland aka Seth was born in Paris in 1972. Quickly, he became a big name among Parisian graffiti artists.
Since 2003, he was globetrotting, exchanging ideas with street artists from different cultures.
Seth paints simple persons, mostly children, standing forlorn in a somewhat confusing and intimidating environment. He contributed the mural Gamin de Paris on a building in Rue Jeanne d'Arc in 2016.
You'll spot Seth's murals in Aalborg, Amman, Gwangju, and Odessa, to name just a few.
Jana And Js
Jana from Austria and French Jean-Sébastien Philippe met in Madrid in 2006. Since then, they've been living together and working as a couple. Inspired by urban spaces and its residents, in their paintings, they merge architecture with portraits.
Based on their photographic work, they stencil polychrome murals in different sizes. They have a very emphatic way of relating to people, their emotions, desires, and concerns.
Jana And Js often decorate unexpected spaces like semi-finished or dismantled structures, train tracks, poles, remnants of concrete, old trucks, and wood piles.
After having lived in Madrid and Paris, Jana And Js relocated to the small Bavarian village of Laufen close to the Austrian border.
FAILE
Patrick Miller and Patrick McNeil are the Brooklyn-based art duo FAILE. FAILE is an anagram of A LIFE and is pronounced like fail.
Since the beginning of their cooperation in 1999, the duo has made itself a name in the field of a fragmented style of collages, assemblages, and multimedia. Painting and printing are still the focus of her work. However, FAILE also has experimented with other materials and techniques over time, from rough wooden boxes to traditional canvases. FAILE's work blurs the line between classical high culture and street art.
You'll find most of FAILE's collages and assemblages as well as murals around New York.
Conor Harrington
Conor Harrington was born in Cork in 1980. He is known for his large-scale murals in which he combines contemporary and historical references to tackle socio-political themes.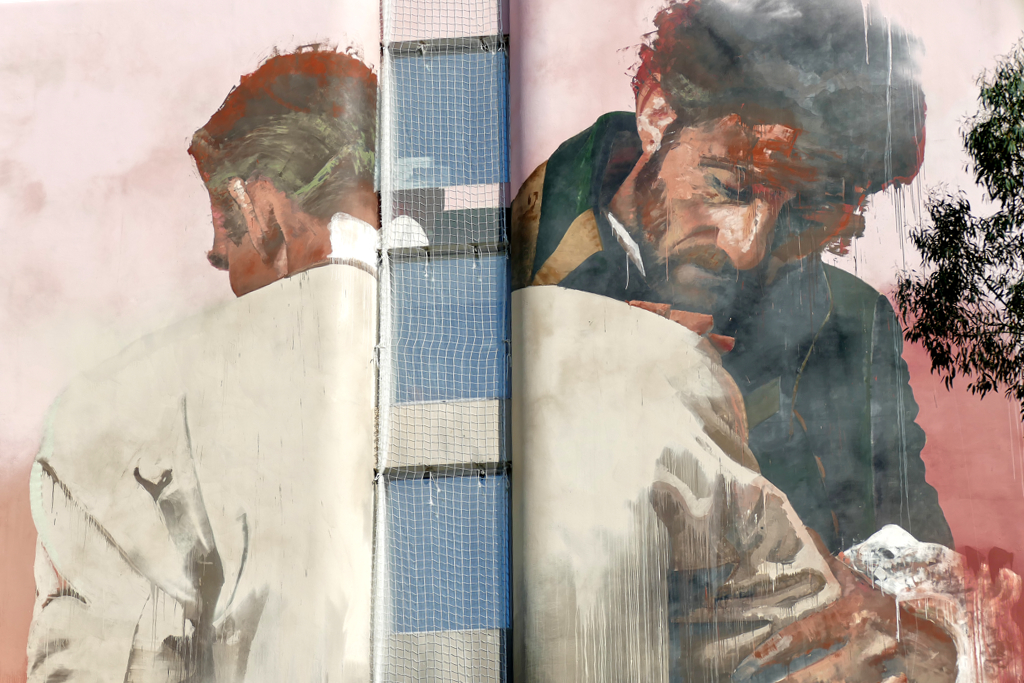 Conor's murals have a clear touch of Renaissance art to them as they capture not only the movement and expression perfectly but also express a particular mood in a powerful way.
I introduced another one of Conor Harrington's impressive portraits in my post on Best Street Art in COPENHAGEN: The Open Air Gable Gallery in Nordvest.
INTI
Born in the Chilean city of Valparaíso in 1982, the artist adopted his name from the Incan Sun God and the Quechua word for sun. This way, he's paying homage to his Chilean roots.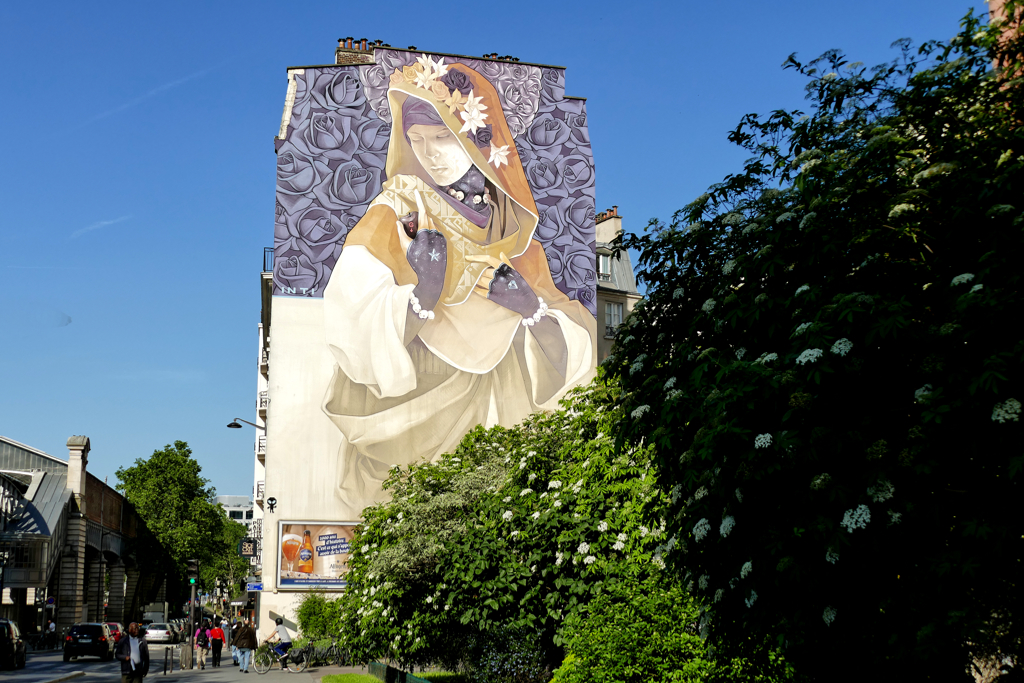 INTI's murals deal with topics of life and death in the backdrop of religion and pageantry. The portrait subjects are clearly Chilean: Incans and other tribesmen, peasants and revolutionaries. The artist proudly underlines South America's rich cultural history, however, he also addresses Chile's social injustice and shaky politics.
With his motifs and techniques, INTI promotes Latin American street art around the world. You'll find his pieces in Belgium, France, Germany, India, Lebanon, Mexico, Norway, Peru, Poland, Slovakia, Spain, and – of course – Chile – to name just a few.
INTI likes to collaborate with other street artists under the name STGO Undercrew. This artist squad has worked for Adidas, the Rip Curl music festival, and the Maquinaria Festival in Chile.
I've introduced INTI in my posts JIDAR Street Art Festival – How Rabat Celebrates International Urban Art.
Gonzalo Borondo
Gonzalo Borondo was born in Valladolid in 1989 and raised in Segovia. In 2003, however, he moved to Madrid, where he began to create street art.
Participating in an art festival in Istanbul in 2010, Borondo begins to create large-scale murals. Since then, he has created numerous works all over the world. He is mainly recognized for his outstanding classical painting techniques. In his portraits, he uses the body postures of human figures to express his message.
Since 2012, he also has shown his paintings in museums and galleries in various European cities. You'll find Borondo's murals in Barcelona, ​​Berlin, Delhi, Kyiv, and Rome, among others.
ROA
ROA is an enigmatic muralist from Ghent. His love for music, particularly hip-hop, pulled him towards graffiti. Like many muralists, he began by illegally spraying bridges and walls.
Today, ROA is mainly known for rodents, but also birds and other animals. He paints them including the skeleton and intestines which makes them look even more realistic. While he first painted buildings and walls in his hometown, you'll find his distinctive pieces not only throughout Europe, but worldwide. His morbid murals are always painted in black and white and deal with the topics of death and decay as he oftentimes depicts just the skeleton of the animal.
ROA insists to remain anonymous in order to keep his work independent and his spirit unburdened.
I've introduced ROA already in former posts on urban art in Berlin and Málaga.
There Is More
So yes, these are the most significant works that were created within the project Street Art 13. And although the 13e arrondissement has the highest density of large, elaborated murals, you'll find amazing urban art all over Paris – just walk the streets with your eyes wide open and pay attention to the smallest corners and you'll be rewarded by exceptional gems.
Apart from the 13e, the neighborhoods around Ménilmontant and most importantly Belleville are decorated by great murals.
What I really like about Paris – in contrast to for instance London – is the fact that neighborhoods where art and subcultures flourish don't immediately become tragically hip. Fantastic works can be found in Belleville, and right next door is still the little Arabic grocery store where Moroccan moms in Jallabas shop for dinner, completely unaffected by the hype around them. This composure preserves the charm of these literally multicultural neighborhoods.
To explore Belleville, get off at the Métro station Rue Saint-Maur and walk up the same-named street. Just look left and right and you'll spot some cool pieces. The highest density, however, is on Rue de la Fontaine au Roi and then further north on the colorful Rue Sainte-Marthe.
Seb Bouchard
Since Sébastien Bouchard left his absolutely beautiful and artistic portraits basically everywhere in Paris, I only can encourage you to keep your eyes open and look for them even in hidden places.
Bouchard was born in Nantes in 1971. With his highly artistic portraits, he wants to bridge the gap between academic art, international folklore, and urban art. Whether he works on canvas in his studio or on concrete in the streets, he always is inspired by classic painting, pop art, and graffiti, obviously.
Sébastien Bouchard still lives and works in Nantes, but also in the Senegalese cities of Dakar and Palmarin.
Heber Fleitas
Another absolutely mindblowing artist is Heber Fleitas from Argentina.
Based in Buenos Aires, he's working as a scenographer, a painter, a tattoo artist, and, obviously, a muralist.
In his middle-sized paintings, he interprets, transforms, and combines icons of classical artwork, especially baroque and neoclassicism. He seems to be particularly taken with Jacque Louis David and Caravaggio, and doesn't shy away from uniting their protagonists in one single mural. But Fleitas also reinterpreted Picasso's Guernica and Magritte's Son of Man in his street art.
In Paris, most of Heber Fleitas' pieces are found in the Marais.
Special: Les Secrets de l'Opéra
There is another teeny tiny art project which you won't find in the streets but in Paris' endless and confusing Métro tunnels. Very appropriately, this literally hidden gem is called Les Secrets de l'Opéra, the secrets of the opera in English.
It is an ingenious installation of graphics and sound. In a secretive and very charming way, it depicts all those good people who make opera performances possible – such as the singers, dancers, and musicians, but also all the craftsmen and technicians working behind the scenes.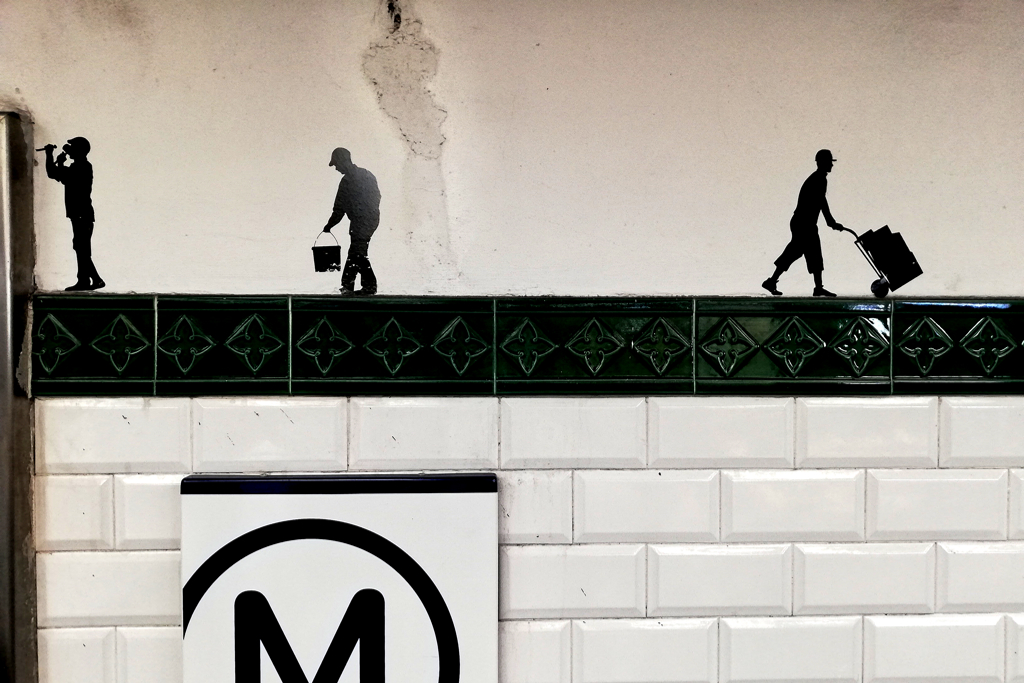 An incredible number of 1000 small silhouettes were painted in the tunnels of the Opéra Métro station, commissioned by the RATP, Paris' public transit company. They were designed by the agency ITSOK.
All these helping hands are shown in a small format. The fact that they are also shown in black and white in the style of a silhouette gives them the mysterious aura of secret elves.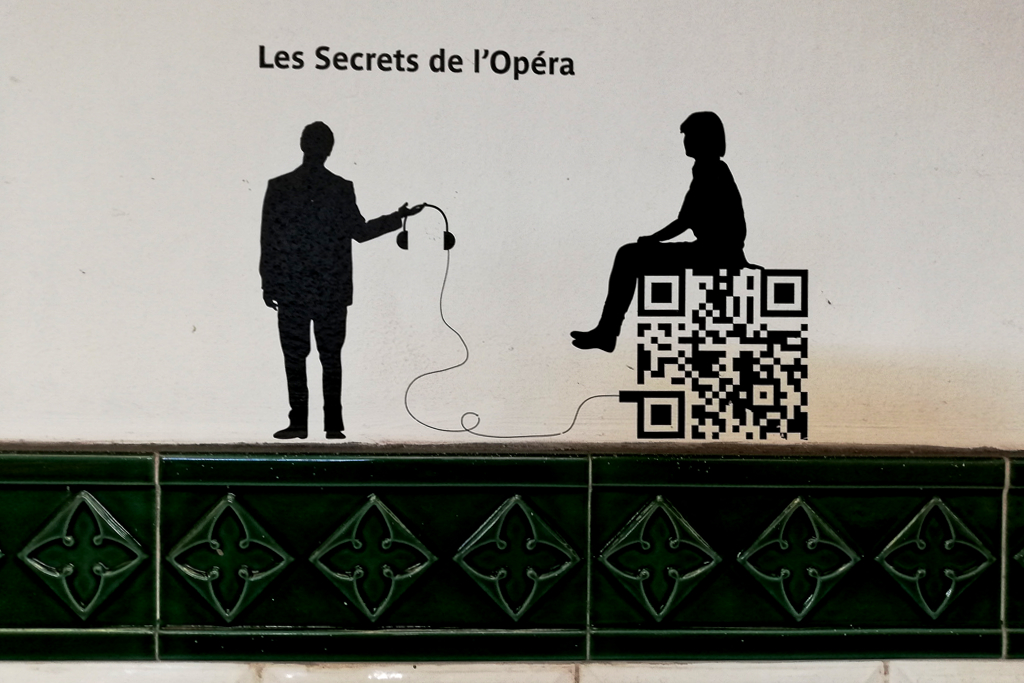 A QR code gives you the opportunity to provide the visual journey with an acoustic background. Through your headphones, you can take a peek behind the opera's curtains. Led by the voice of soprano Giulia Semenzato, immerse yourself in the preparations backstage: musicians tune their instruments, designers create the costumes while the conductor leafs through the scores. But also hairdressers, make-up artists, stagehands, and technicians give their best to ensure that the performance runs smoothly.
On Instagram
Unfortunately, I cannot introduce all the great artists that are embellishing the façades of Paris. And even those few I'm presenting above have created many more amazing pieces.
So if you want to dig deeper into the subject – or get inspired for your upcoming trip to Paris – check out these accounts of the above-featured artists:
Bom-K
Gonzalo Borondo
Seb Bouchard
C215
Cannibal Letters
Cazé Arte
D*Face
FAILE
Connor Harrington
Heber Fleitas
HowNosm
Hush
INTI
Jana & Js
Meton Joffily
OBEY aka Shepard Fairey
Pejac
ROA
Jorge Rodriguez-Gerada
sandinoart
Seth
Tignous
Wen2
How to Get Around
Public Transport
I'd argue that of all European cities, Paris has the most comprehensive network of public transportation. The world-famous metro alone has incredible 302 stations. In fact, you're never farther than 500 meters from a metro station. While this is absolutely fantastic, changing lines is a downer since some stations are huge and built like multi-level mazes. I kid you not, it happened to me that I was walking in circles since I missed the correct tunnel. However, I never heard of anybody getting lost down there forever, so don't worry.
In addition to the already comprehensive metro network, there are local trains called RER, there are trams, and there are busses, obviously. So no, nobody needs a cab in Paris.
Single rides cost 2.10 euros. If you buy a so-called carnet, that's 10 tickets, you pay only 19
You can buy those iconic small paper tickets that I love or you get a Navigo card for 2 euros that you then can tap up.
If you travel with one of those cute paper tickets, make sure to keep it until the end of your trip. In some places, you need to insert it in a turnstile to leave the stations. Also, there might be ticket controls within the station and if you cannot show a validated ticket, you're in trouble.
Paris Visite Travel Pass
Yet, there are also travel passes for 1, 2, 3, or 5 consecutive days. You can choose between a pass valid for zones 1 to 3 in the center and a pass for all zones in Paris and the entire Île-de-France including airports, Disneyland Paris, and Château de Versailles.
| | | | | |
| --- | --- | --- | --- | --- |
| | 1 Day | 2 Days | 3 Days | 5 Days |
| City Center | 12.00 €uros | 19.50 €uros | 26.65 €uros | 38.35 €uros |
| City Center and Île-de-France | 25.25 €uros | 38.35 €uros | 53.75 €uros | 65.80 €uros |
Kids under 4 years of age travel for free, under 12 they pay half price.
Walking
Allegedly, you're never more than 500 meters from the next Métro-station in Paris. However, if you go street art hunting, you cannot avoid walking a lot. If you follow my guide through the 13e, you'll walk at least three kilometers if you include all the minor detours you have to make to get the optimal views.
Therefore, do yourself a favor and wear sensible shoes like loafers or sneakers – or even light hiking boots.
Cycling
I'd argue that cycling is the ideal mean of transportation when you're on a street art mission. You're much faster than if you walk and yet you're flexible and independent when putting together your route.
For visitors, renting a bike in Paris is easy. The company Vélib offers regular bikes which are green as well as blue e-bikes. Both kinds have baskets and locks in case you need to take a break. They need to be picked up respectively returned at one of the many stations located throughout Paris.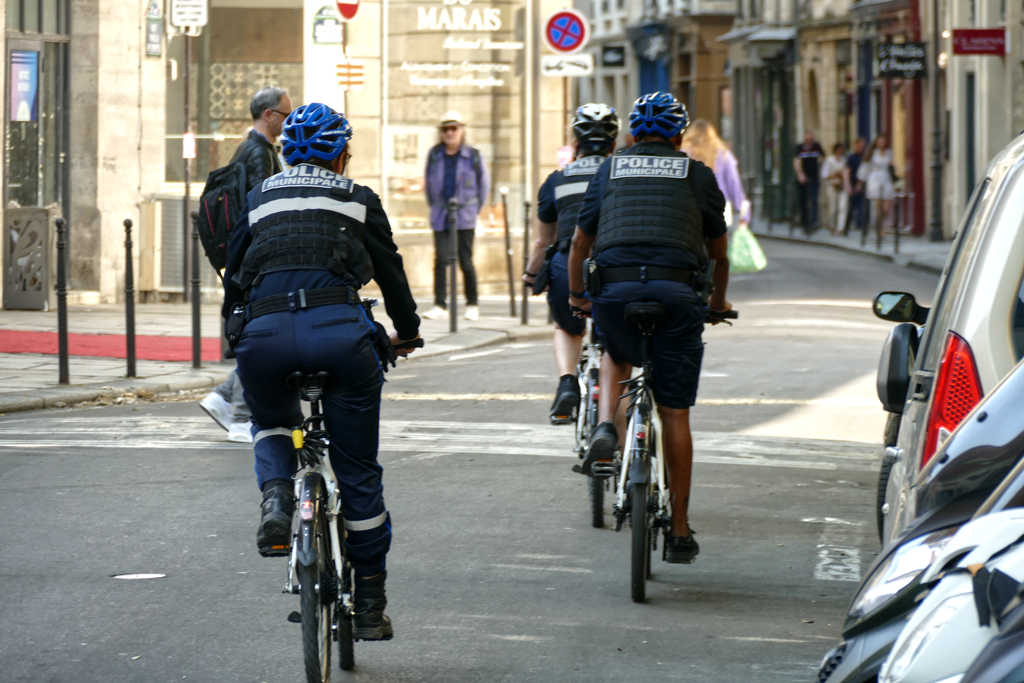 You can sign up for passes online. However, if you cannot receive a text message on a French phone to confirm your payment, you'll need to sign up at one of the terminals. Make sure to take a picture of the passcode on the screen in case something goes wrong with the confirmation. You get an account number and a PIN. Keep them thoroughly.
There are passes that anyone with a valid credit card can obtain as well as subscription options for residents or long-term visitors.
You'll be charged two fees: Firstly, you'll be charged for the pass right away whether you ever use the bikes or not. Then, there is the rental fee for the actual use.
Pay As You Ride
Occasional users should get the Ticket-V for three €uros. It is suitable for a single-use rental of a green bike or an e-bike for up to 45 minutes. After that, you'll have to pay one €uro for each additional 30 minutes on a regular bike or two €uros for e-bikes.
The Pass 24-hour Classique costs five €uros. For 24 hours, you can use the green bikes for free for up to 30 minutes. After that, your credit card will be charged one €uro for each additional half hour until you return the bike. This way, you can use as many bikes as you like without paying more than the pass fee. All you have to do is switch bikes after 30 minutes.
If you decide to use a blue e-bike with your Pass Classique, it will cost 2 €uros for every 30 minutes with no free minutes.
If you opt for either the Pass 24-hour Electrique which costs ten €uros or the Pass 3 Jours for 20 €uros, the first six trips on a blue e-bike are free for up to 45 minutes. Then, you'll be charged one €uro for each additional 30 minutes. If you decide on using a standard green bike with this pass, it's free for up to 60 minutes per trip. After that, it's one €uro per 30 minutes.
Apart from the Ticket-V, all passes allow you to take up to five bikes at a time with one account. This comes in handy for small groups or a family since you have to open just one account for the entire party.
Map
This map should help you to find the murals I'm introducing in this post. Clicking on the slider symbol at the top left or the full-screen icon at the top right will display the whole map including the legend.
Searching for Street Art was only one of many fun activities on my visit to Paris. To read about the rest, go to this comprehensive guide where you'll find further valuable information that will make your own trip much smoother and more enjoyable. If you have only a short layover in the city, my post 24 hours in Paris has you covered.
Pinnable Pictures
If you choose to pin this post for later, please use one of these pictures:
Did You Enjoy This Post? Then You Might Like Also These: