Copenhagen has many sides that can be explored even in a short city break. There are romantic castles and quirky neighborhoods, the world's oldest amusement park, and exciting contemporary art. In this post, I'm showing you how to experience some truly unique things on a long weekend in Copenhagen. The city is known for its cool Scandinavian design and the hottest trends in the gastro scene – including a couple of Michelin star-decorated restaurants. In contrast, there are original vintage shops and fun communal eateries where you can rub shoulders with locals without breaking the bank.
Back In The Days
I remember visiting Copenhagen with my parents as a child. I think it was our first visit to another country after we had migrated from Prague to Hamburg. Leaving the restrictive socialist travel policy behind, my parents wanted to explore the world. We started with Denmark also because it was the country closest to our new home in Germany.
Just recently, I found a box with old pictures. They show me and they show my mother, but most of them show a light-blue Simca car. Having his first own car in Germany was a big deal for my father, obviously.
Years later, I also visited Copenhagen as an adult a couple of times. This was, according to my blog's niche, by myself. I hopped on the train in Hamburg, enjoyed the ferry-crossing to Rødby, and spent a couple of inspiring days in this amazingly versatile city.
Particularly memorable was the trip in late spring when I expected the flowers to bloom and the trees to sprout. Yet, I took a light coat with me. Copenhagen is in Scandinavia after all, hence, there might be a nip in the air, you can never know. And indeed, even end of April, the winds from Copenhagen's waterfront were icy. As I was sitting on an excursion boat heading across the harbor toward the little mermaid, I wrapped my light coat tight around me. Sadly, it by far didn't grant enough shelter against the breezes. Neither did it protect me against the hail storm that all of a sudden pelted down on us.
The Greatest Gift
This year, the world's best daughter made me a very generous gift for my birthday: She bought four train tickets. Two were for us, the other two for our bicycles. She also booked a minimalistic yet very nice double room and arranged a dinner reservation. However, the most precious aspect of this gift was that we would spend a long weekend together, obviously.
Since she used to study in Malmö, a Swedish city separated from Copenhagen by the Øresund Strait and at the same time connected by the spectacular Øresund Bridge, she knows also some of the hidden gems where only locals go. After she shared these secrets with me, I'm now handing them down to you.
And yes, this post contradicts the motto of my blog: This time, I was not by myself. Actually, it was the two of us cycling through Copenhagen. But no matter if you follow the footsteps tire marks we left in Denmark's idyllic, imperial, and inspiring capital as a solo traveller, as a couple, or with a whole group of friends, you'll love every moment of it!
History In A Nutshell
While the British monarchs and their shenanigans are on everyone's lips, the Danes silently enjoy the honor of actually being Europe's oldest monarchy. Kingship in Denmark began with the reign of King Gudfred in 804. The first written mention of the Kingdom of Denmark, however, was in the 10th century on the Jelling runestones under the Viking Kings Gorm the Old and Harald Bluetooth. So yes, the Danes also have far funnier names than the Brits when it comes to their Royalties. By the way, theirs was initially an elective monarchy. It only became hereditary under Friedrich III. in 1665.
Copenhagen became the King's residence in 1416 and the country's capital in 1443. In the first half of the 17th century, the city prospered under Christian IV. Nevertheless, throughout its history, Copenhagen had to endure disasters, epidemics, and wars.
From 1658 to 1659, the city defied a siege while the rest of Denmark was occupied by the Swedes. In the 18th century, a third of Copenhagen's inhabitants died from the plague and other epidemics. Also, two fires raged in 1728 and 1795. In the naval battles of Copenhagen in 1801 and 1807, the British attacked the city for not siding with England in the war against France. Apart from other damage, these attacks caused another severe fire.
Industrialization, War, And Almost a Miracle
Due to industrialization, the city grew rapidly and attracted workers from the countryside in the late 19th century. Former fortifications were converted into parks. Only the ramparts at the eastern end and the Kastellet fortress have been preserved. Working-class and middle-class districts grew quickly.
During WWII, Denmark was occupied by Nazi Germany. Before the Danish Jews could be rounded up and deported as it happened in other European countries, 7,220 of at that time 7,800 Danish Jews and their 686 non-Jewish spouses were shipped to the neighboring country of Sweden in October of 1943. Like Switzerland, Sweden remained neutral during WWII.
After the successful flight of the Jewish population, their apartments were partially broken into. In contrast to most other places where the homes of deported Jews were looted, in Denmark, valuables were secured to prevent theft, and furniture was put into storage. When the Jewish families returned after the war was over, they found their homes safe and their belongings well secured.
Although these events show what could have been done to save people, sadly, this outcome was absolutely unique during WWII.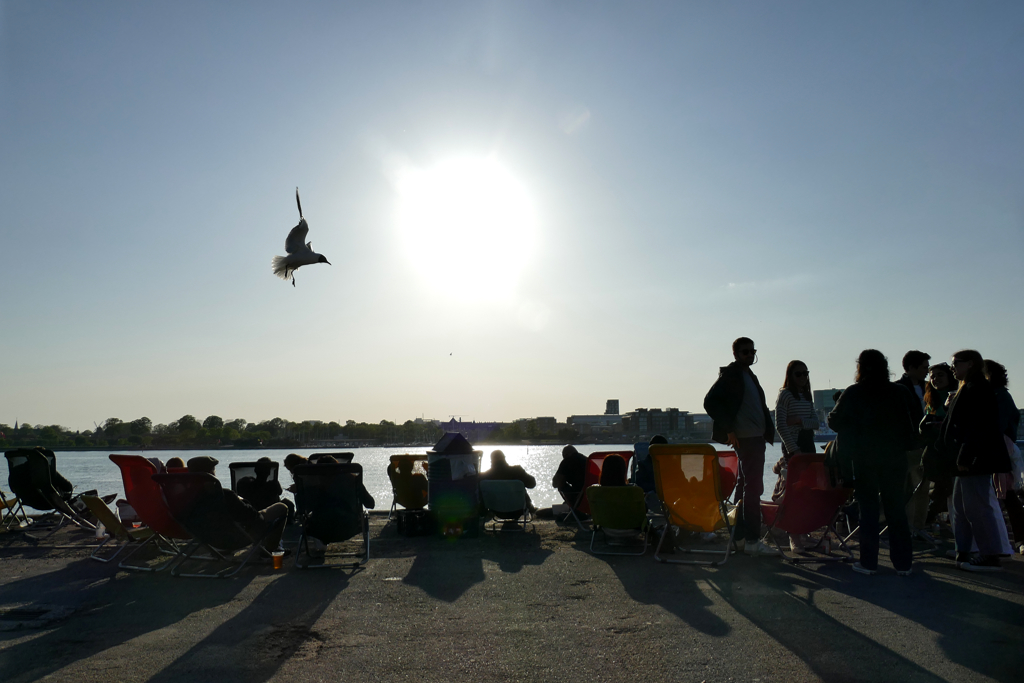 Today, Copenhagen is one of the cities with the highest quality of life in the world. The urban area is idyllically spread over several islands, and the municipality has about 650,000 inhabitants.
And while Copenhagen is cute'n'cool, it also is a Scandinavian capital, and that's synonymous with neck-cutting prices. It's particularly difficult to tighten your belt when it comes to lodging and food. However, there are a lot of great things to do for free. On those that are not free, you can easily save with the Copenhagen Card** or at least with the Parkmuseerne Ticket*.
Royal Copenhagen
As I mentioned above, Denmark has been a monarchy for more than a thousand years. Gorm the Old was first mentioned in 936. He was followed by uncountable Christians and a handful of Frederiks before reigning Queen Margrethe II ascended the throne in 1972.
Where there is a monarchy, there are chateaus and other historic treasures. If you have only a weekend in Copenhagen, you should stick to the three castles that are located right in the city center so that you can reach them even just by walking. If you have more time to spare, I'd recommend adding at least Frederiksborg which is located in the town of Hillerød and can be reached by regional train in about an hour.
Christiansborg Palace
Christiansborg Palace stands on an isle called Slotsholmen, hence, castle island, in the very center of Copenhagen, and is some kind of architectural Phoenix since it had to rise from the ashes a couple of times.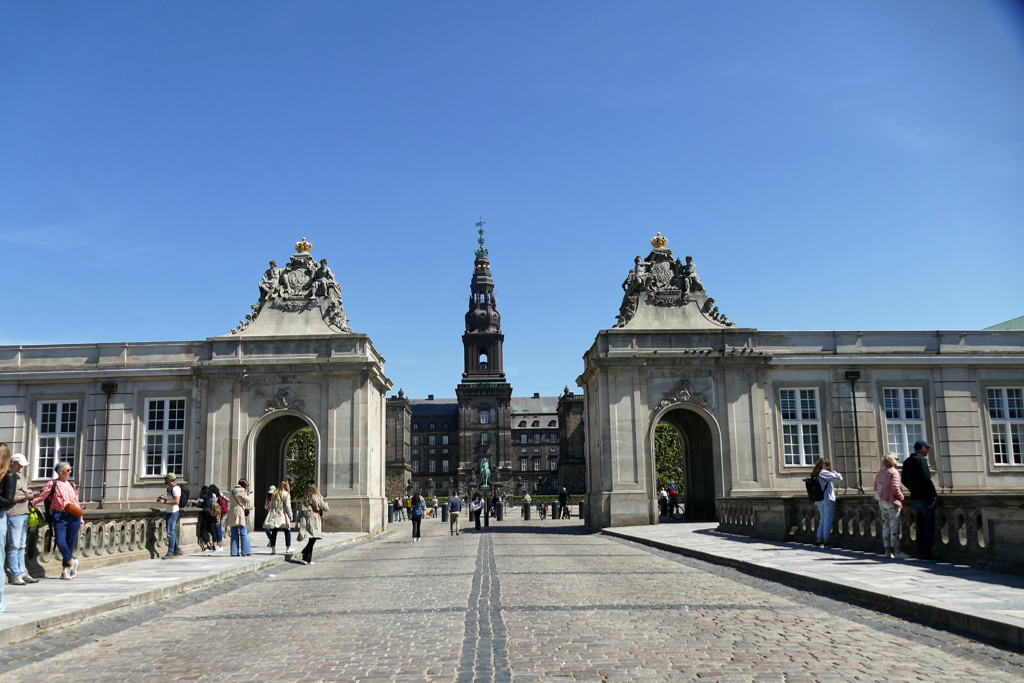 Around 1167, the founder of the city of Copenhagen, Archbishop Absalon, commissioned a first castle on what is now Slotsholmen. Eventually, Copenhagen Castle was constructed on the foundation walls.
In 1731, King Christian VI. demolish this castle to erect the first Christiansborg Palace on the grounds. It was a four-wing rococo chateau including a riding arena, a theater, and a church. In 1794, however, a fire broke out, assumably caused by a stove. Apart from the stables, the castle burned out completely.
The second Christiansborg Palace was then completed in 1828, now in the then-fashionable classicist style. Now, buckle up: This castle burned down in 1884. Again, the cause was probably a furnace fire. This time, only the church survived.
Today's Palace
The third and current building was erected between 1906 and 1937. It is basically divided into two halves. The southern part is used by the Danish Parliament while the northern part is occupied by the Prime Minister's offices as well as the Supreme Court. This section also houses the Royal State Rooms.
I kid you not when I tell you that yet another severe fire devastated the Castle Church in 1992. Nevertheless, after extensive restoration work, it reopened in 1997.
The Royal State Rooms are on the ground floor and first floor of the north wing. They are used on official occasions such as audiences and banquets. The Great Hall is decorated with 17 colorfully woven tapestries by Bjørn Nørgaard. They are depicting scenes from Danish history in colors and designs you would not necessarily expect in such a venerable place.
Bjørn Nørgaard also sculpted the very quirky Genetically Modified Little Mermaid that I'm introducing further below.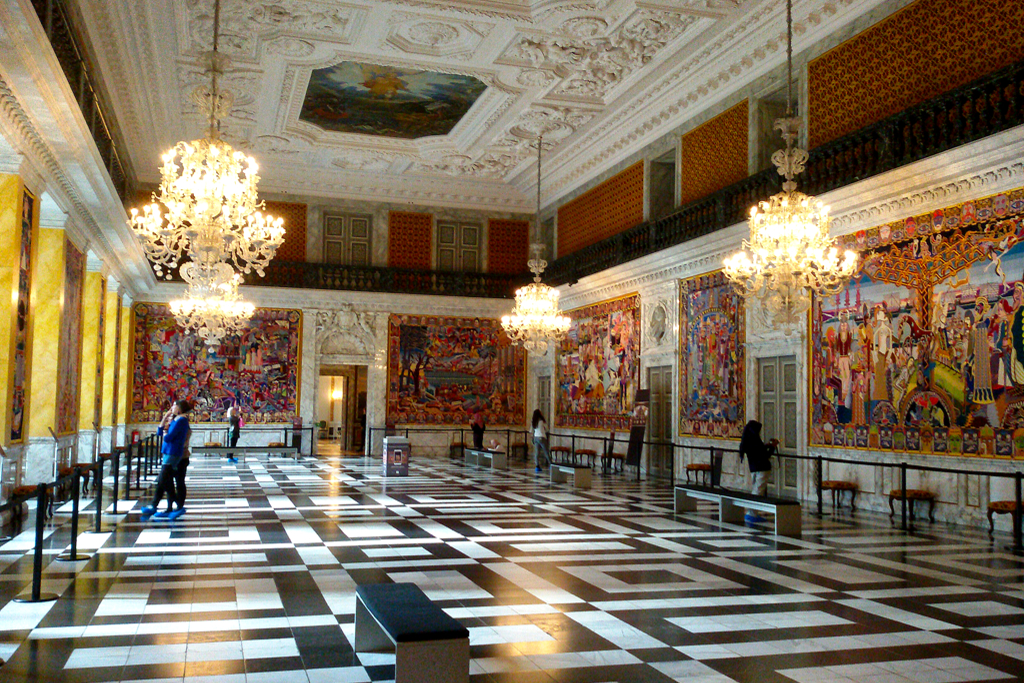 Apart from this mindblowing hall, you can also visit the adjacent State Rooms, the stables, and the ruins of Absalon's castle below the palace.
Since the opening times of the different parts of the castle complex vary, please check their website before planning your visit. You can buy single tickets to the individual sections, however, a combi ticket for 175 DKK saves you lots of money if you really want to see it all. Also, the Copenhagen Card** includes a visit to Christiansborg.
Rosenborg Castle
I'm most certainly not the only one who thinks that Rosenborg is Copenhagen's most picturesque castle. With its lean spikey towers decorated by lovely sculptures, it looks as if it came straight out of a fairy tale. Also, it stands in the most idyllic setting amidst the lush meadows and beautiful trees of Kongens Have Park. Even if you couldn't care less about the antique treasures inside and have no intention to visit inside, you should by any means visit the castle's premises.
King Christian IV. commissioned the Renaissance castle as his summer residence. The north wing was completed in 1615. Between 1616 and 1624, a third floor and three towers were added.
With red bricks, gray sandstone decorations, and slender proportions, Rosenborg Castle is inspired by the Dutch Renaissance style. It stands on the western side of the Kongens Have Park right next to the Guards' and Army's barracks.
Going Public
Rosenborg was in use as a royal residence until 1710. In 1833, Frederick VI decided to convert the castle into a museum which then opened in 1838.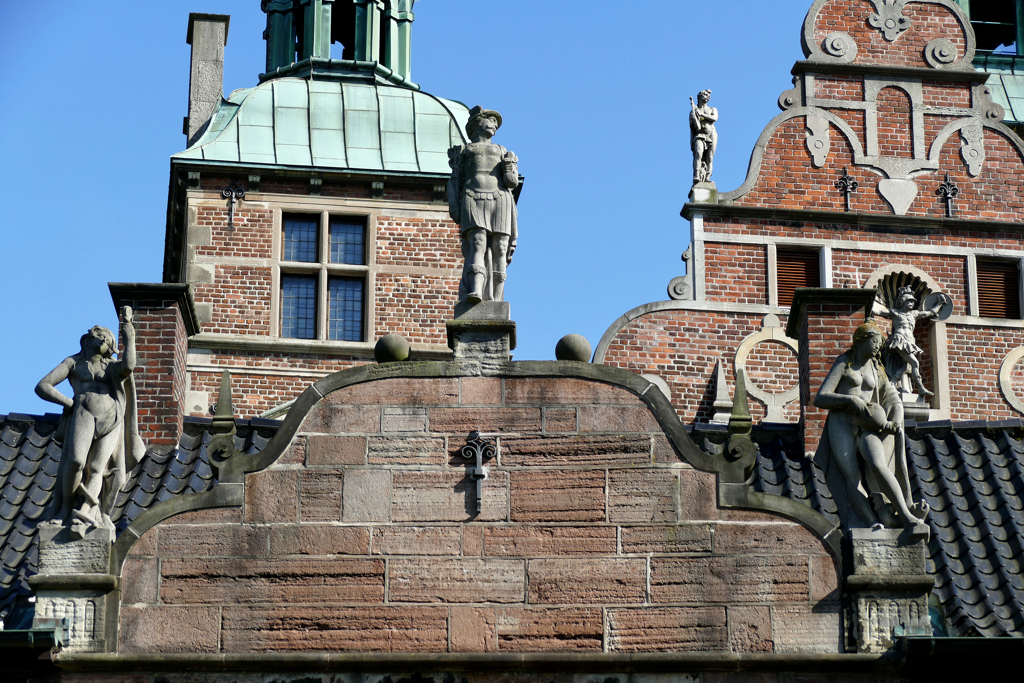 It houses highly interesting pieces of furniture and decoration such as the ivory throne and the three silver lions whose replicas are exhibited at the Victoria&Albert Museum in London.
The halls are beautifully decorated with lavish stucco and meticulous pictures painted right on the wooden walls. Apart from antique furniture, chinoiseries, and glass collections, there is also an array of paintings including portraits of Johan Friedrich Struensee. Struensee was the physician of the insane King Christian VII. and also the lover of his wife Queen Caroline Mathilde. This way, he was secretly governing the country for almost two years. In 1772, however, Struensee was arrested and executed. I'd argue this makes him some kind of a Danish Rasputin.
Since the opening times differ a lot depending on the season, please check their website before planning your visit. A single ticket costs 130 DKK. There is a combi ticket that includes also Amalienborg Castle and costs 200 DKK. Also, the Copenhagen Card**, as well as the Parkmuseerne Ticket*, include a visit to both venues.
My Tip
According to our experience, I highly recommend booking a certain timeframe free of charge on their website – especially during the high season.
Meet Christian IV.
After the death of his father, Christian IV. became King of Denmark and Norway in 1588 when he was only eleven years old. While he was a minor, his mother took care of government affairs. Later, during his reign till his death in 1648, he tried repeatedly to bring the Danish-Norwegian state into a greater power using military means. Yet, his endeavors remained unsuccessful.
Also, he established absolutism within the country and appointed himself as a father of the country. As he was an avid commissioner, he left behind the cities of Kristiansand, Kristianstad, Glückstadt in today's German Federal Republic of Schleswig-Holstein, as well as Christianshavn which is today a district of Copenhagen. Also, after Oslo was destroyed by fire in 1624, he had the city rebuilt in a different spot and called it in all modesty Christiania. Only 300 years later, Oslo reverted to its original medieval name in 1925.
Amalienborg Castle
The Danish Royal family resides in Amalienborg Castle. Somehow the fact that it's the least lavish of Copenhagen castles tells you a lot about the monarch's chilled attitude.
The castle complex consists of four individual palaces around an octagonal square. They were constructed between 1750 and 1760 as the hub of a new neighborhood for various Danish noble families.
Only when Christiansborg Palace burned in 1794, the royal family obtained the palace complex.
The Layout of a Noble Housing Project
On the square's northwestern side is Levetzau's or Christian VIII's Palace. At the moment, it is the home of Prince Joachim and his family. Since he's moping about being just the spare – pretty much like Prince Harry – there might soon be a vacancy in Levetzau's as Joachim is planning on moving to the US. Also like Prince Harry.
Moving clockwise, next is Frederik VIII's or Brockdorff's Palace. This is the private residence of the Crown Prince Couple Frederik, his Australian wife Mary, and their four children.
Christian IX's Palace aka Schack's Palace is next. Due to its position, it's probably the most salient one. Finally, we have Christian VII's or Moltke's Palace which is the Queen's representative palace and her winter residence. Her Majesty spends the summers at Marselisborg Palace in Aarhus, just so you know.
There is a changing of the guard taking place in front of the palace every day at noon. The Royal Life Guards leave the barracks next to Rosenborg Castle at 11.30 a. m. Then, they march through the city to Amalienborg Palace.
The Palais Levetzau houses a museum, and the Palais Moltke can be visited as part of a guided tour. Since the opening times differ a lot depending on the season, please check their website before planning your visit. A single ticket costs 120 DKK. There is a combi ticket that includes also Amalienborg Castle and costs 200 DKK. Also, the Copenhagen Card** includes a visit to both venues. Either way, I recommend buying your ticket respectively booking a timeframe for free on their website before you visit. Especially during the high season, the limited spots tend to sell out.
My Tip
If you have more time to spare and you happen to be a big royalist, be my guest at Amalienborg – or rather the Queen's guest, obviously. But if you're on a tight schedule and need to pick only a couple of landmarks, I would skip Amalienborg and rather visit Rosenborg for its unique wooden decoration or Christiansborg Palace for the Royal Reception Rooms alone.
Sacral Copenhagen
When I travel by myself, which is the case most of the time, my notorious FOMO knows no limit. I'm racing from attraction to landmark at high speed and don't stop even if blood is dripping from my shoes. I forget to drink and I only devour a quick snack between two sights. Sound like torture to you? Well, welcome to my personal pleasure dome!
If I want a harmonious trip in Mimi's company, I don't have to just slow down a bit, I also have to skip many landmarks. "Actually, two exhibitions per day are just enough for me", she says. I think to myself, two exhibitions are the starter that brings me to operating temperature. After all, my personal record where eight venues in one day on a trip to Florence.
But I'm happy that we are on this trip together, hence, I smile at her and keep my thoughts to myself.
And this brings me to Copenhagen's churches. The mostly Protestant houses of worship are grand landmarks, however, a visit is in general less time-consuming. Then, most Protestant churches are much more austere than the lavishly decorated Catholic ones. Copenhagen's architects made up for this by creating some of the world's most unique and amazing church towers. There are crowns and golden globes, they are intertwined and twisted, and one can even be climbed on the outside all the way to the top. Since I'm suffering from acrophobia, you would never see me up there. Therefore, I envy everyone who has the nerve to ascend the 400 steps almost into the skies.
Fun Fact
As I mentioned above, Denmark is predominantly Protestant. An amazing 80 percent of Danes belong to the Lutheran denomination. With the Queen being head of the church, institutionally there is no clear division between church and state. As a matter of fact, the Evangelical Lutheran Church is specified as the state religion already in the constitution. Interestingly, the next largest religious community is the Muslims, however, with only around four percent. Yet, even not one percent of the population is Catholic!
Frederiks Kirke
It was King Frederik V who laid the foundation stone for the church that was then named after him. This was back in 1749 on the occasion of the 300th anniversary of the founding of the dynasty by King Christian I.
Nicolai Eigtved designed the church at the same time as the other buildings in the prestigious district of Frederiksstad were created. However, the construction from Norwegian marble in the classicistic late baroque style turned out to be far more expensive than expected.
The layout corresponds to the Pantheon and St. Peter's Basilica in Rome. Frederiks Kirke is the largest church building in all of Scandinavia.
On the outside, the building is decorated with larger-than-life statues of sacral pioneers, reformers, and prophets. The interior is richly decorated with sculptures, mosaics, and frescoes.
The church is open for touristy visits every day from 10 a. m. to 5 p. m. Fridays, they open only at noon, and Sundays at 12.30 p. m. For an entrance fee of 35 DKK, the dome is accessible on Saturdays and Sundays at 1 p. m. During the high season from the month of June, it's open every day. However, it is not accessible during services, events, and bad weather conditions. As tickets cannot be pre-booked, you should check closing times on their website when planning your visit.
Vor Frue Kirke
I was particularly keen on visiting the Vor Frue Kirke as a valid complement to the Thorvaldsen Museum that I'll introduce further below.
Initially, the Vor Frue Kirke was kind of a Catholic bastion among the fast spread of Protestantism in Copenhagen. After outraged Protestants attacked the house of worship, it finally became a Lutheran church in 1536. Johannes Bugenhagen, a companion of Martin Luther, conducted the ceremony.
Due to a raid by the British, the church burned down in 1807. Christian Frederik Hansen, who was already in charge of the construction of a municipal building nearby, was commissioned with rebuilding a new church. At the same time, Bertel Thorvaldsen was assigned to design statues of Jesus and the Apostles for the new cathedral.
New Glory
Bertel Thorvaldsen was born into a Danish and Icelandic working-class family. While Christian IV. became King by heritage at the tender age of eleven, Bertel was accepted to the Royal Danish Academy of Art at the same age due to his great talent. Although he was born in Copenhagen, he spent most of his life in Rome.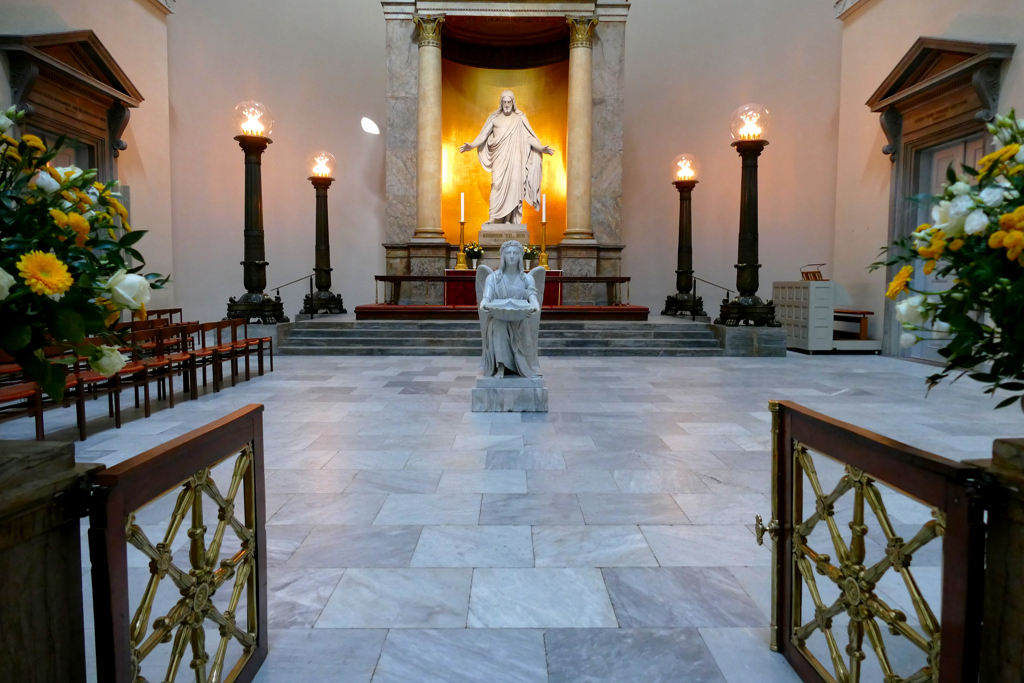 Thorvaldsen completed the statue of Jesus in 1821. It is 3.2 meters tall and stands in the niche of the main altar. The slightly smaller statues of the twelve apostles are flanking the central nave. Apart from Thorvaldsen's masterpieces, the Vor Frue Kirke is sparsely furnished.
The cathedral can be visited free of charge from Monday to Saturday from 8.30 a. m. to 5 p. m. with a break from 10.30 a. m. until noon on Fridays. Sundays, it's open from noon to 4.30 p. m.
Vor Frelsers Kirke
When the Vor Frelsers Kirke was consecrated in 1695, its iconic tower was not built yet. It was designed in 1749. After King Frederick V.'s approval, architect and master builder Laurids de Thurah completed the spire in 1752.
The tower was inspired by Sant'Ivo alla Sapienza in Rome. It is 36 meters high and covered with copper, partially gilded, and bordered by a railing. While the first 250 toward the top are inside the tower, the last 150 are outside. The higher you get, the tighter are the steps.
Welcome to 90 glorious meters above street level!
On the other hand, you are really, really close to Our Saviour who is standing on the very top on a golden globe.
Supposedly, this 2-meter-high figure of Christ carrying a banner is known as Copenhagen's ugliest sculpture since the proportions are quite disproportionate.
The tower can be climbed every day from 9 a. m. to 8 p. m. for 69 DKK. However, it is also included in the Copenhagen Card**.
Artsy Copenhagen
Since Copenhagen is in Scandinavia, you cannot automatically presume lots of sunshine and a gentle breeze. I will never forget my not-that-very-idyllic canal cruise in the lashing hail. And no, that was not mid of November, it was the end of April when they already had the tables out on the boulevards in Paris and Rome.
Fortunately, there are tons of amazing museums in Copenhagen where you can spend hours without getting cold and wet. Since I'm particularly interested in the fine arts, I'm introducing my four favorite galleries. All of them are included in the Copenhagen Card** – along with many other venues even outside the city limits: Just check out the Out of Copenhagen Section at the end of this post.
If the weather is nice – which it was on my last visit – and you just want to check out some of the most important venues, you can still consider getting the Parkmuseerne Ticket*. This ticket grants free access to the museums around the park complex between Østerport and Nørreport including the Rosenborg Castle.
Statens Museum for Kunst
The museum opened in a building designed by Vilhelm Dahlerup in a Historicist Italian Renaissance style in 1897. About a hundred years later, the building was complemented by a modern annex designed by the Italian-Danish architect Anna Maria Indrio. Today, the National Gallery in Copenhagen is Denmark's largest art museum.
It houses the Royal Collection of paintings and sculptures, which consists of around 2600 works from the 1300s to the present day. My favorite section is the moody Danish impressionist paintings from the 19th century by Christen Købke, Peder Severin Krøyer, and, obviously, Vilhelm Hammershøi.
However, the collection also contains paintings from other European countries and various epochs like the Italian Renaissance, Dutch Baroque, and French Impressionism. A smaller section is dedicated to contemporary art.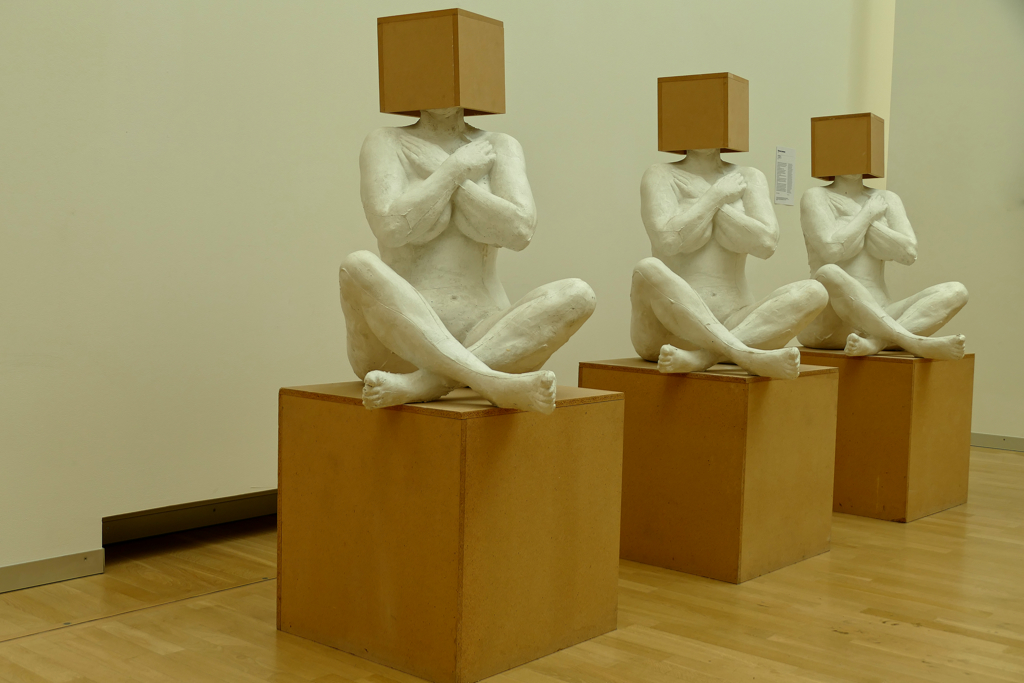 Then there is also the Royal Collection of Engravings which includes around 300,000 drawings, etchings, and lithographs. Numerous changing exhibitions make a visit to the Statens Museum for Kunst worth you while whenever you're in Copenhagen. To me, a visit to Copenhagen is simply not complete without at least a fleeting visit to the SMK.
Plan Your Visit
Finally, the SMK has also a cast collection that includes over 2,000 plaster casts. It is housed in a historic warehouse on the harbor's waterfront. You cannot miss it since there is a replica of Michelangelo's David standing in front of the entrance. Sadly, the cast collection is hardly ever open to the public. If you're interested in visiting, you can inquire at the SMK when the venue will be open.
The Statens Museum for Kunst, on the other hand, is open from Tuesday to Sunday between 10 a. m. to 6 p. m. On Wednesdays, they are closing only at 8 p. m. The general entrance fee is 120 DKK. The Copenhagen Card as well as the Parkmuseerne Ticket* include the visit.
Den Hirschsprungske Samling
The Hirschsprung Collection is located right behind the SMK in the lush Østre Anlæg. This small gallery is completely dedicated to Danish art from the 19th and early 20th centuries. Its focus lies on the Danish Gilded Age and the melancholic Skagen painters showing the hardship of life on the Northern shores.
Besides amazing you with their great talent, artists like Købke, Krøyer, or Hammershøi allow you to peep into Danish households of the poor and the wealthy alike.
Den Hirschsprungske Samling is open from Wednesday to Sunday between 11 a. m. to 4 p. m. On the last Thursday of each month, they are closing only at 8 p. m. The general entrance fee is 95 DKK. The Copenhagen Card as well as the Parkmuseerne Ticket* include the visit.
Thorvaldsens Museum
I already introduced Danish superstar Bertel Thorvaldsen above. He was one of the many classicist artists who had found their creative cradle in Rome. Since he was an important part of this circle of artists, many of his fellows portrayed him either working on his sculptures or celebrating life with his peers.
Thorvaldsens Museum was opened in 1848 as Denmark's first public museum and is located on the small island of Slotsholmen in the vicinity of Christiansborg Palace. It houses an ample collection of sculptures made from marble and plaster. Also, you get to see the original models of his beautiful statues that are standing in museums, churches, and other venues around the world.
The museum also houses antiquities, paintings, prints, and drawings collected by the artist. On the ground floor, you get to see the plaster models for the figures of Christ and the Apostles in the so-called Kristussal. As I've explained above, the originals are at the Vor Frue Kirke. Another plaster model grants a closer look at the arrangement which is in the triangular gable above the church's entrance.
The museum is open from Tuesday to Sunday between 10 a. m. to 5 p. m. The general entrance fee is 95 DKK and on Wednesdays, you can visit for free. However, it is also included in the Copenhagen Card**.
Ny Carlsberg Glyptotek
Another fantastic gallery I never miss out on is the Ny Carlsberg Glyptotek. It is right behind the central train station and the Tivoli.
Apart from about 10,000 artworks, the building itself is a highlight. Right behind the entrance area is a beautiful winter garden where you can just listen to the fountain and enjoy the sight of lush plants.
The collection goes back to the Danish industrialist Jacob Christian Jacobsen. However, it was his son Carl Jacobsen who extended the collection greatly and donated it to the public in 1888. The building was actually designed specifically for the art collection. Ny Carlsberg Glyptotek is a museum in Copenhagen.
The largest treasure is ancient Mediterranean sculptures from Rome, Greece, and Egypt – including mummies. However, there are also modern sculptures by Auguste Rodin and Edgar Degas. The paintings on display are mainly from the Impressionist and Post-Impressionist era.
The museum is open from Tuesday to Sunday between 10 a. m. to 5 p. m. On Thursdays, they are closing only at 9 p. m. The general entrance fee is 125 DKK. However, admission is free on the last Wednesday of each month. Also, it's included in the Copenhagen Card.
My Tip
Don't miss out on a visit to the rooftop terrace from where you have a lovely view of the city. Also, there is a small stand selling refreshments.
Fun Fact
The museum is named after Jacobsen's Carlsberg Brewery, and to this date, it is co-financed by a fee that is added to every bottle of beer coming from the brewery.
On the Shores of Copenhagen
Copenhagen is one of the most important metropolises in Northern Europe also due to its harbor. In fact, the urban area consists of several islands. The city's western part lies on the east coast of Zealand. It is not only Denmark's largest island – apart from Greenland, obviously. It is also the largest isle in the entire Baltic Sea. Hence, everything water-related plays a major role in Copenhagen.
Nyhavn and Canal Tours
"Let me take some pictures, and then we never have to come back here", I'm shouting at Mimi over the heads of the crowds. "I promise!" I quickly add before more frantic tourists push us apart.
Yes, Copenhagen's iconic Nyhavn is really, really pretty. At the same time, it's also really, really, really crowded.
But like they say, cling together, swing together. Here, we are definitely clinging together. As soon as I've got my pictures, we quickly swing into a calmer sidestreet.
The Nyhavn Canal was built as a transport route from the harbor to Kongens Nytorv Square. It was completed in 1673. Over the following two centuries, colorful gabled houses were constructed on both sides of the waterway.
The harbor environment soon spawned numerous taverns, and the area is still one of Copenhagen's best-known entertainment areas, with its many restaurants, pubs, and bars. Historic ships are lining the canal and many harbor tours start from here.
Also, the intellectual father of the Little Mermaid, fairy tale poet Hans Christian Andersen, was at one time a resident of Nyhavn.
Cruising
Since I'm based in Hamburg, home of Europe's third largest industrial harbor, in general, you cannot really impress me with a boat cruise. Nevertheless, Copenhagen's canal tour is actually a great way to get an overview of the most important sights and learn about the city's exciting, ever-changing history.
In the warmer season, you'll hop on an open boat. However, I'd like to remind you that I was enduring slashing hail during the supposedly warm season, just sayin'. Then, during the cold months, the boats are covered and also heated.
The tours depart from Nyhavn or Ved Stranden and are guided in Danish or English. You can choose between a live guided tour or an audio guide. However, the live guided tours leave exclusively from Ved Stranden.
A standard tour takes 60 to 80 minutes and costs 109 DKK. It is included in the Copenhagen Card. During the high season in summer, they are also offering a so-called Grand Tour which takes 1.45 hours and costs 199 DKK. Departure times are every day between 10 a. m. and 6.30 p. m.
The Little Mermaid
There's a huge group standing close to the shore. All these people seem a bit agitated as they stare at the water below. Could it be that someone has fallen into the ice-cold canal? Some people are nervously pacing around, trying to get a good glimpse while others are frantically snapping away with their cameras and phones.
As I get closer, I see the reason for all this brouhaha: On a huge rock sits the Little Mermaid. With just 1.25 meters, she's little, indeed. Made from bronze by Edvard Eriksen in 1913, this little lady is Copenhagen's most popular attraction. As if Eriksen knew already over a hundred years ago that there would be a curse called Instagram, he positioned the mermaid just far enough from the shore that it cannot be reached by all those maniacs that cannot enjoy a place without mindlessly touching, climbing, and posing.
To be honest, I've seen many more impressive sights during my weekend in Copenhagen.
However, there is one aspect that I find utterly fascinating: Although the maid is world-famous, she can't be photographed for a publication of any sort, including editorial purposes. According to copyright law, photos of public artwork can't be used for commercial purposes, and in Denmark, the use of pictures in media is considered commercial.
Since Edvard Eriksen died in 1959, his family is holding the copyright of his work. And they are infamous for being extremely protective and fussy. Many Danish media have received fat invoices of the equivalent of up to 1,800 US$ just for publishing a photo of the Little Mermaid.
And since I'm really not in the mood for fighting with the Eriksen family over whether they consider my blog commercial or not, you won't find a picture of the maid in this post.
My Tip
I've put together an entire post about some of the most common copyright pitfalls. You'll find them in my post on How to Avoid Copyright Infringement and I recommend checking it out before you merrily snap away.
The Genetically Modified Paradise by Bjørn Nørgaard
After we beelined our way through the huge crowds at Nyhavn and around the mermaid, we were ready for a break in a secluded'n'serene place away from the crowds. We found the perfect setting in a small square in front of one of the old warehouses.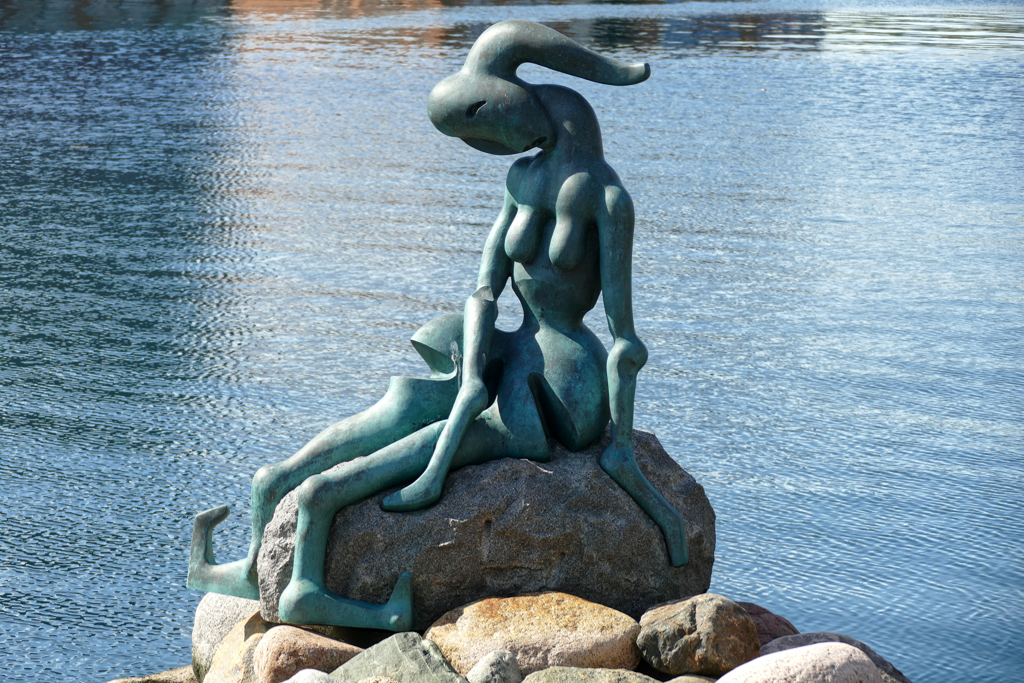 Here, Bjørn Nørgaard – that's the artist who designed the quirky tapestries at Christiansborg's State Rooms – has created a group of sculptures The Genetically Modified Paradise. In the center is a huge fountain consisting of a triumphal arc with a nine-meter-tall sculpture of an abstract Madonna. Around her are six biblical figures that Nørgaard created in his whimsical yet slightly provocative fashion.
The most famous statue, however, sits on some rocks right in the basin.
A sculpture on a rock surrounded by water – does it ring a bell? Actually, it's a Genetically Modified Little Mermaid, obviously an ironic bow to Copenhagen's most famous icon.
Gefion Fountain
In the opposite direction from the Little Mermaid stands the Gefion Fountain. It is actually Copenhagen's largest monument and is located at the southern border of the Kastellet fortification. If you have time to spare, a stroll through the star-shaped fort on a sunny day is a great way to unwind during your visit.
in 1897, the Carlsberg Foundation donated a large amount for the construction of a fountain to celebrate the brewery's 50th anniversary. They commissioned the Danish sculptor Anders Bundgaard who completed the impressive landmark in 1908.
Gefion is a virgin from Germanic mythology. Her sons were transformed into oxen. A virgin giving birth to oxen is confusing on many levels, I know, but that's how the story goes.
In the sculpture, Gafion uses them to plow a trench between the Danish island of Zealand and Sweden.
Copenhagen's Lake Belt
The city of Copenhagen can be rightfully described as little land between lots of water. After all, it is the capital of a country that consists of incredible 407 islands!
While the waterfronts of the straits that furrow the city tend to be very busy, the lake belt north of Vesterbro is much less frequented and therefore much more idyllic.
Whether you explore Sankt Jørgens, Peblinge, and Sortedam Lake walking or if you prefer to ride your bicycle, it's a pleasant break from the busy center to its east.
Also, if you are one of those who go running, this is the perfect spot for your workout.
Parks of Copenhagen
As soon as the sun is out, you'll find the Copenhageners al fresco. No wonder: In comparison to Lisbon's 2,800 hours of sunshine per year, Copenhagens have to take advantage of their share of only 1,780 hours, after all. Therefore, you'll find the city's many gardens like the park Østre Anlæg around the SMK and the Hirschsprungske Samling packed with people enjoying the sun going for a walk or lazing and picnicking on the grass. Other pleasant greeneries are the Kongens Have where you can relax on one of the many benches, on the lawns, or at one of the cafés just in front of the fairy-tale-like Rosenborg Castle.
My Tip
Across the street from Kongens Have's northeast corner is the small supermarket føtex Food where you can stock up on organic snacks like salads, sandwiches, small bowls, and freshly baked pastries as well as all kinds of drinks before heading for a picnic at one of the nearby parks.
Then, across the street west of Rosenborg is Botanisk Have which is not only a lovely park but also home to the beautiful Palmehutes, a tropical palm house that is actually part of the Natural History Museum at the park's easternmost corner.
Tivoli
While you can enjoy all those lush greeneries that I've introduced above for free, Copenhagen's amusement park, the world-famous Tivoli, is not free at all.
Constructed in 1843, it is one of the first amusement parks worldwide. Interestingly, the world's oldest operating theme park is in Denmark, too: Dyrehavsbakken opened back in 1583. Commonly abbreviated to Bakken, it is located about ten kilometers north of the city center.
Anyway, there are 23 fairground attractions and incredible 37 different restaurants. However, there is also a small lake, and there are stages and theaters to attract also locals and the younger crowd.
Just the entrance to the Tivoli costs 155 DKK. For the rides, you can obtain a ride pass which starts at 169 DKK. While the entrance to the Tivoli is included in the Copenhagen Card**, you have to pay for all rides and, obviously, snacks and drinks separately. Regarding all your options as well as the differing opening hours, please check their website.
My Tip
To be honest, I'm not into amusement parks at all. Even not if they are from 1843. However, if you are in possession of a Copenhagen Card and you have to wait for your train, it's nicer to spend it on a bench at the Tivoli than at the train station. Since the station is just across the street from the park, you can use it as a pleasant outdoorsy waiting space.
Monuments of Copenhagen
While you cannot avoid spending an insane amount of money on accommodation, food, and most of all drinks, sightseeing can be a great bargain. You can visit a mindblowing number of museums, landmarks, and other attractions for a flat rate if you opt for a Copenhagen Card. In fact, you can enjoy many grand works totally free of charge just by walking the streets of Copenhagen. In this section, I'm introducing some of the most amazing structures you get to see for free or at a very small price.
Rådhus
Not far from the train station stand the Rådhus, Copenhagen's city hall. Architect Martin NyropIt designed it in the National Romantic style that was popular in Scandinavian countries at the turn of the 20th century. Inaugurated in 1905, it has a richly ornamented facade with a gilded statue of Absalon above the balcony. Its tall clock tower is one of the tallest structures in Copenhagen. In addition to the tower clock, the city hall also houses Jens Olsen's famous World Clock.
The Rådhus can be visited individually as well as on a guided tour. Unfortunately, the tower is closed in 2023.
Guided tours of about one hour are taking place from Monday to Friday at 1 p. m. and Saturdays at 10 a. m. and cost 65 DKK.
Dantes Plads
Two blocks south of the Rådhus and basically just across the street from the Glyptothek is the Dantes Plads, a serene paved square surrounded by trees and flower beds.
While Dantes Plads is the perfect location for a relaxed break at one of the outdoor cafés, it is an endangered species since the municipality intends to transform it into a parking space with the help of the Q-Park parking company. This didn't only enrage institutions, businesses, and residents. It also inspired artist Jens Galschiøt to his quite unique sculpture Fuck Q-Park.
Jens Galschiøt is known for his powerful political sculptures and installations and his installation on Dantes Plads bears a very clear message.
Børsen
One of Copenhagen's most iconic buildings is definitely the old exchange on the eastern side of Slotsholmen island. Frantic builder King Christian IV commissioned the building as a commodity exchange in the early 17th century. Built in the Dutch Renaissance style, it is one of the first European exchanges. It was also the first building in Denmark to be listed as a historic monument.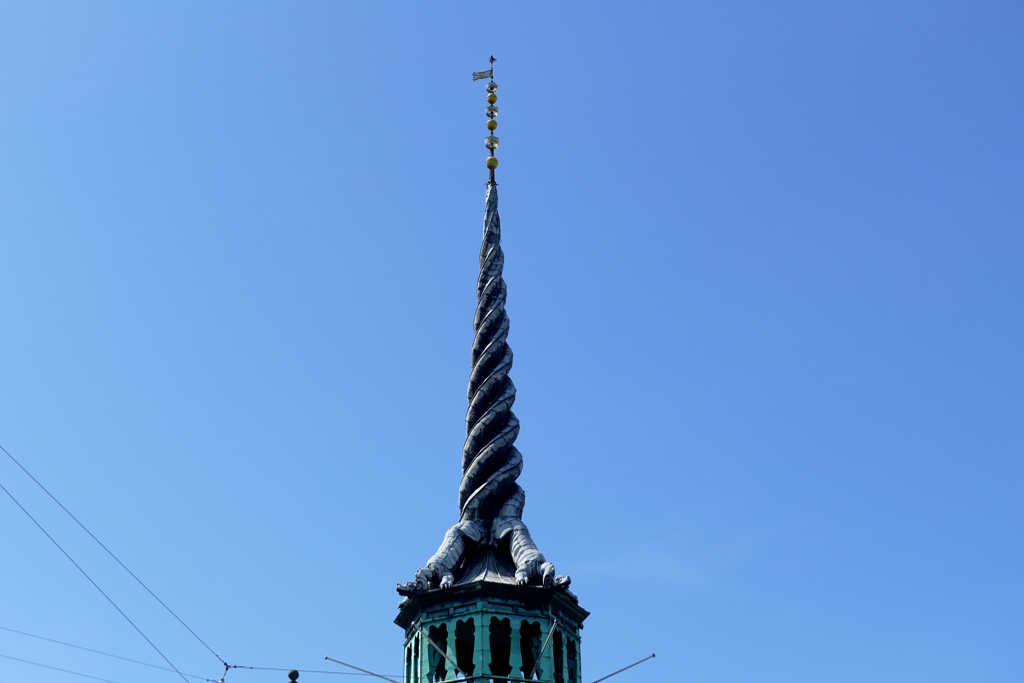 It housed the stock exchange until 1974. Today it is a fancy office building and therefore not open for tourist visits. However, its various rooms and halls can be rented for special occasions.
The edifice is richly decorated on its gables and bay windows. Its most alluring feature, however, is a 56-meter-high spire. It represents four intertwined dragon tails and is considered a symbol of Copenhagen.
Christian IV. by Hans Pauli Olsen
In the Børsen's forecourt stands a strange sculpture of Christian IV. Faroese sculptor Hans Pauli Olsen depicted the King standing on top of three of the most iconic buildings this feverish builder commissioned: The Round Tower, the distinctive twisted spire of the Børsen, and the spire of Rosenborg castle.
If the artistic value of the King's representation doesn't convince you, you're not alone: Copenhagen's Council of Visual Arts did not recognize the creative value, and the cost of the statue caused some controversy, too.
Rundetårn
Another must-see-climb in Copenhagen's city center is the Rundetårn. Commissioned by King Christian IV, it was completed in 1642. The astronomical tower has a diameter of about 15 m and is almost 35 meters high. Except for the uppermost few meters, it is not climbed by stairs, but by a 209-meter-long ramp that spirals upwards in seven and a half turns. The ramp is four meters wide so that it could be accessed even by horse and cart.
Today, the Rundetårn is one of the most important tourist attractions. It is open every day from 10 a. m. to 8 p. m. and the admission fee is only 25 DKK, however, a visit is included in the Copenhagen Card.
Fun Fact
There are two old latrines in the tower. They are probably the most photographed toilets in the world. However, the pit for collecting the excrement was below the ground floor and large enough that it only had to be emptied about every 50 years. This took place for the last time in 1921. In 1902, the building was connected to the city's sewage system.
Urban Projects
Copenhagen's mix of fairytale-like castles, old churches, and cozy cobblestone alleys on the one hand and sleek, innovative architecture on the other in combination with alternative projects and outstanding subcultures is probably unique in the world. Hence, if you visit only the traditional landmarks without venturing into the belly of Copenhagen, you'll experience only half of it. And that would be a shame.
Freetown Christiania
Spread over 34 hectares on the former site of the Bådsmandsstrædes-Barracks and the adjacent embankment, the alternative housing project was initially a fierce answer to the innercity housing crisis. Although it is still a legit hippie project, the so-called Freetown Christiania also degenerated into a drug trafficking hub as well as a tourist attraction. The way of all flesh subcultures.
Christiania's inhabitants consider themselves citizens of an autonomous Freetown. Yet, there are rules that prohibit theft, violence, firearms, and also hard drugs. Freetown Christiania is one of the most unique districts in Copenhagen and beyond.
Without a clearly defined legal status, the project is tolerated by Danish authorities as an autonomous municipality. This endorsement is arguably proof of the Danish tolerant, liberal, and progressive attitude toward life.
Danish companies and institutions even take their foreign visitors to Christiania to introduce them to the open Danish mindset that you'll hardly find anywhere else in the world.
Street Art
For those of you who want to experience Copenhagen also from its non-touristy side, I recommend a visit to the culturally diverse neighborhood of Nordvest. Being located on the city's northern outskirts, Nordvest is often underestimated.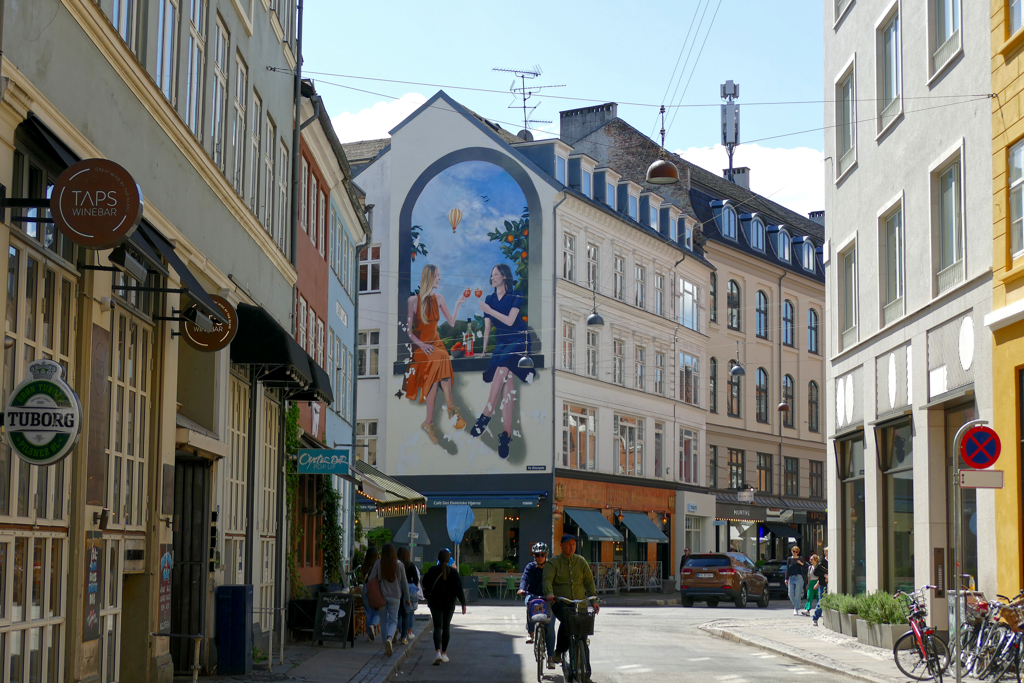 Yet, there are some remarkable landmarks like Grundtvig's Church and the Assistens Cemetery where you'll find the graves of famous Danes such as philosopher Søren Kierkegaard, physicist Niels Bohr, and Hans Christian Andersen, the intellectual father of the Little Mermaid.
Open Air Gavl Galleri
In recent years, another amazing attraction was added. Curator and passionate art-lover Jens-Peter Brask commissioned 16 street artists to embellish the gables of eight otherwise rather simple housing blocks connecting Rentemestervej and Møntmestervej. Brask got his inspiration from urban art projects in other cities where murals transformed run-down neighborhoods into hip art districts.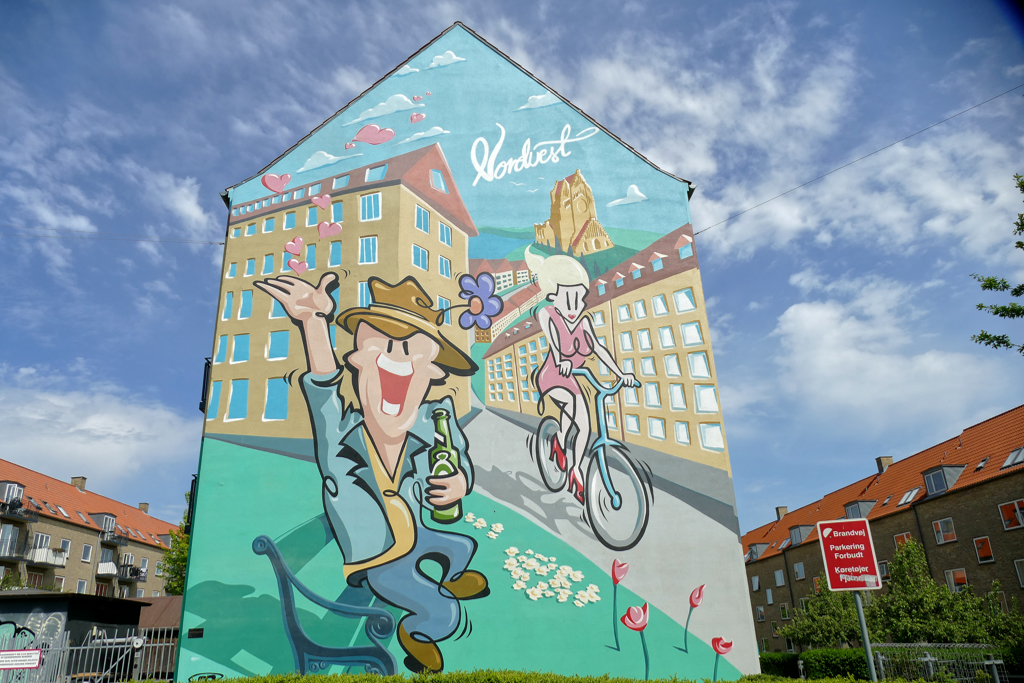 On this blog, you'll find some great examples of other powerful urban art projects. Just go to my posts on the Best Street Art in Málaga, Powerful Murals of San Nicolas on the Caribbean island of Aruba, If Walls Could Speak: The Best Street Art Project in Amsterdam, to name just three of them.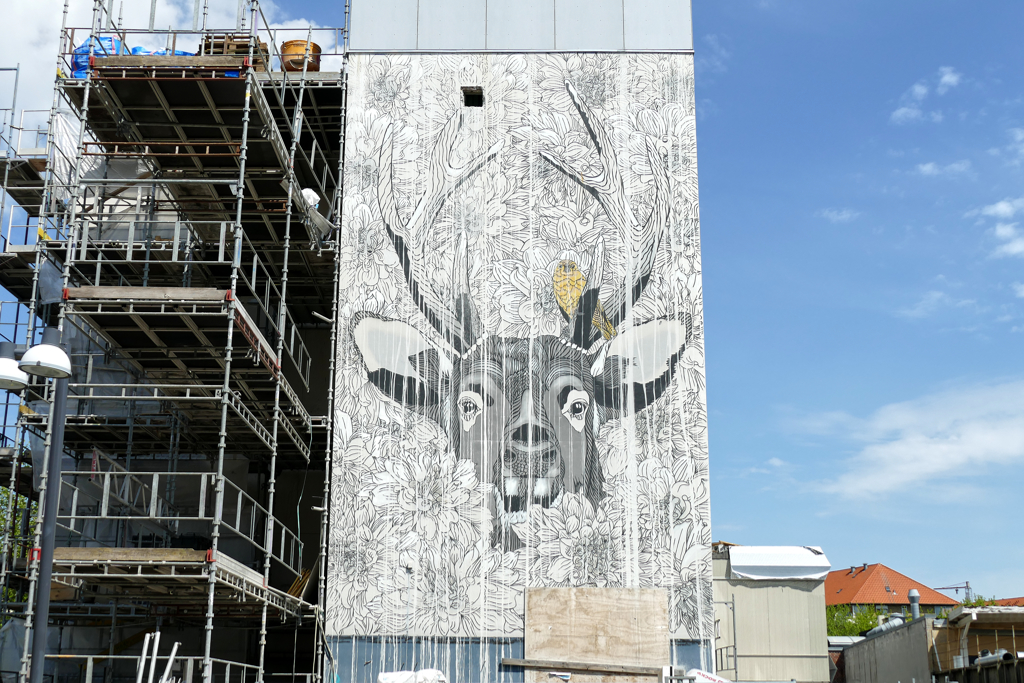 The eight gables on Rentemestervej were painted in 2017 and 2018. Eventually, the murals on the façade facing Møntmestervej were added in 2019.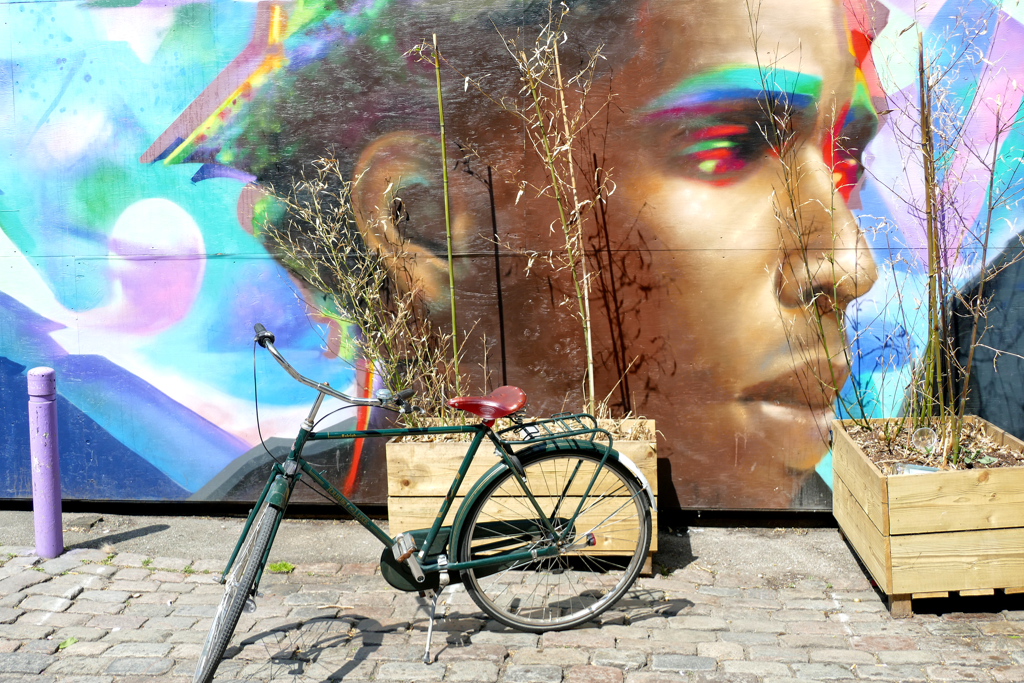 While this so-called Open Air Gavl Galleri is an outstanding project, there is a lot of great street art in many places around the city.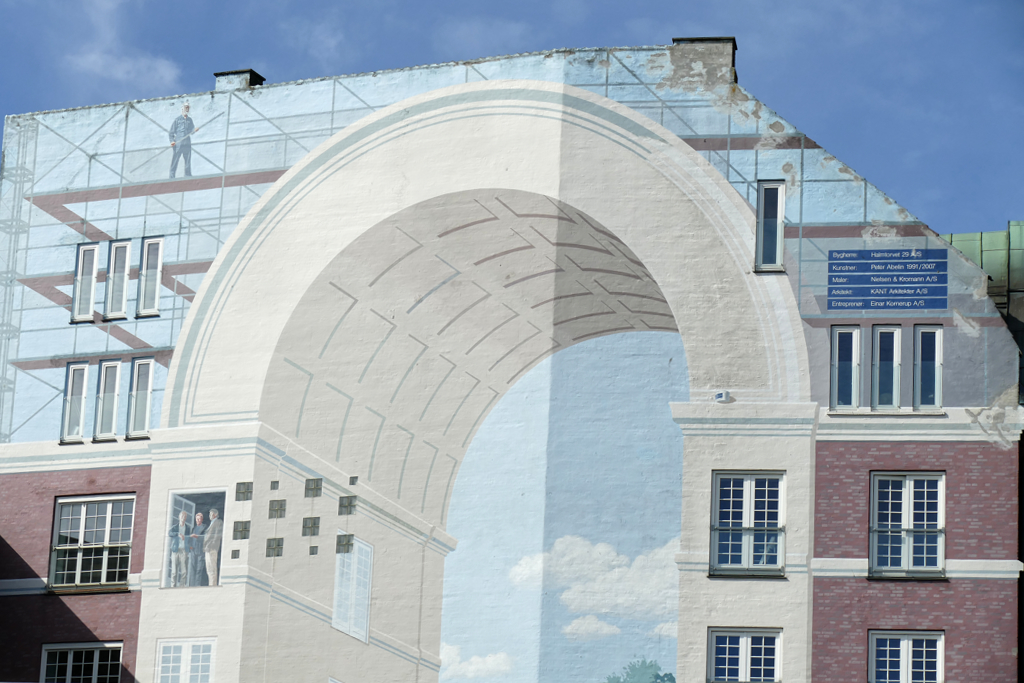 In this post, I'm introducing only five exemplary works by some of my favorite muralists. But you better stay tuned since there will be a comprehensive post dedicated exclusively to the best street art in Copenhagen within the next couple of weeks.
Out Of Copenhagen
I won't lie to you: If you really have only a long weekend in Copenhagen, you will hardly be able to visit all the amazing venues I'm introducing above and also add some remote landmarks. However, since the Copenhagen Card** covers also beautiful castles and amazing galleries in the entire Zeeland region, here are some of the places that make even a longer access trip worth your while.
Louisiana Museum of Modern Art
A day trip that many visitors to Copenhagen take is a visit to the extraordinary Louisiana Museum of Modern Art.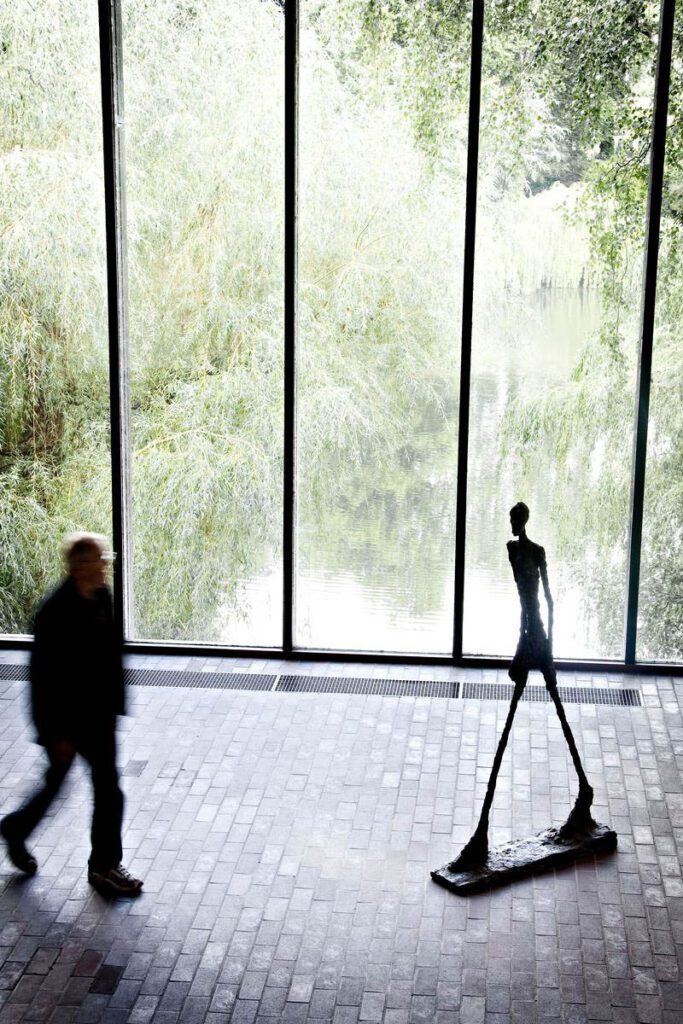 It's not only famous for excellent exhibitions. Also, the location is outstanding: 35 kilometers north of Copenhagen, the art museum is located in a huge garden on the shore of the Øresund. The spacious outdoor grounds make Louisiana a perfect venue even for families with small kids.
You can admire the amazing art collection of over 3,000 modern works which are complemented by temporary special exhibitions. If you don't want to buy a snack at the cafeteria, you can enjoy your own picnic on the lawn. Or you sit on the rocks by the sea and take the natural beauty in. Actually, you can easily spend the entire day on the premises. Louisiana is a dreamy place for everybody, and that was Knud W. Jensen's intention when he founded the venue in 1958.
The Louisiana Museum of Modern Art is open Tuesday to Friday from 11 a. m. to 10 p. m. and on weekends to 6 p. m. The general entrance fee is 145 DKK. The admission as well as the train ride to and from the town Humlebæk are included in the Copenhagen Card.
ARKEN Museum of Modern Art
Getting to the ARKEN Museum of Modern Art is a bit of a drag, but especially on a sunny day, I'd highly recommend it. It's located in Ishøj, and while the trip there by train is no biggy, make sure to check out the schedule of bus #128 that you have to take from the train station to the venue as it runs only every half an hour.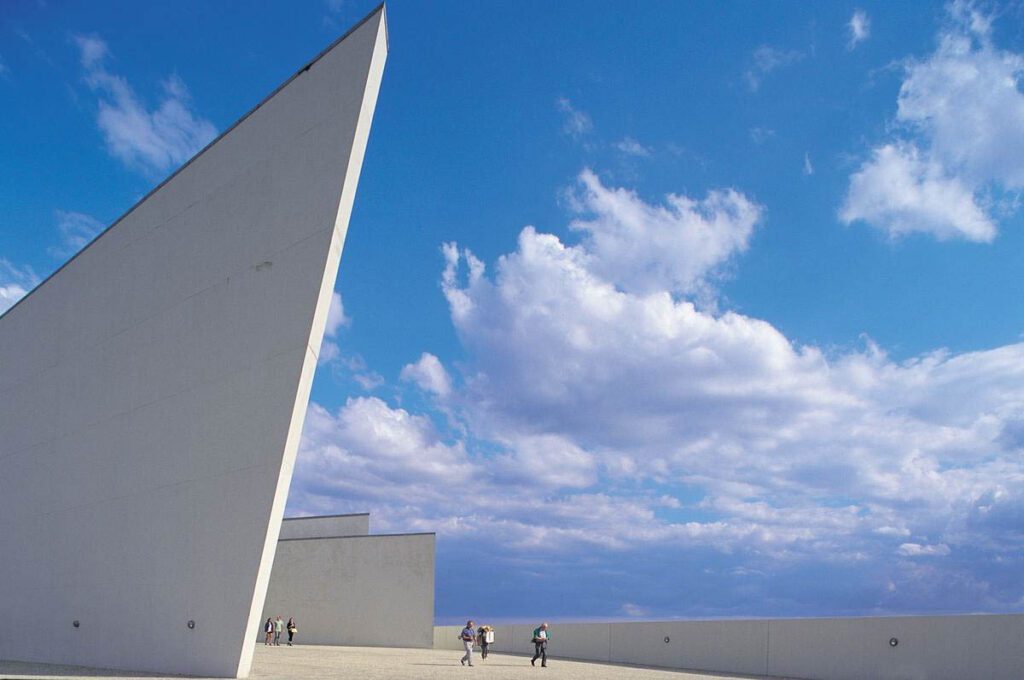 Besides special temporary exhibitions, the ARKEN takes pride in owning truly outstanding pieces by Damian Hirst, Ai Wei Wei, and Grayson Perry, to mention only the most famous and eclectic ones.
The ARKEN Museum of Modern Art is open Wednesday to Sunday from 11 a. m. to 5 p. m., on Thursdays, they are closing only at 9 p. m. The general entrance fee is 140 DKK. The admission as well as the trip to and from the beach of Ishøj are included in the Copenhagen Card.
My Tip
As the ARKEN is located right on the shore, you might want to bring your swimsuit and your beach towel to add some relaxing hours on the beautiful Ishøj beach to your cultural visit.
Frederiksborg Palace
Frederiksborg Palace, apart from Rosenborg my favorite castle in Denmark, is also situated north of Copenhagen, namely in the town of Hillerød. Surrounded by a lush garden, King Christian IV commissioned it in the Renaissance style in the early 17th century.
Since 1878, it houses The Museum of National History. The museum was established by no less than Jacob Christian Jacobsen, the founder of the Carlsberg breweries. A visit to its thoroughly arranged and decorated rooms is an encounter with many important epochs of Danish history. However, particularly impressive is the castle's chapel.
For an admission fee of 110 DKK, Frederiksborg can be visited from April to October every day between 10 a. m. and 5 p. m. and from November to March until 3 p. m. The Copenhagen Card covers the visit as well as the trip to and from Hillerød.
My Tip
From May to September, you can get to the palace by a small ferry across the castle lake. The short cruises go every day between 11 a. m. to 5 p. m. Sundays, they start only at 1 p. m. The ferry goes every 30 minutes from piers Hillerød Torv, Rosenhaven, and the Baroque Garden. Normally, the trip costs 40 DKK, however, it is also included in the Copenhagen Card.
Roskilde Cathedral
From the 11th century until 1443, Roskilde was the Danish capital. Today, however, it is mainly famous for its wild rock festival. But being an elderly lady, I'm neither into splashing in the mud nor flashing my private parts at rock festivals. I am venturing 30 kilometers westwards of Copenhagen to admire the cathedral which made it onto the UNESCO World Heritage List in 1995 for good reason.
Bishop Absalont commissioned the cathedral in the 1170s. Nevertheless, since then, it had to be rebuilt several times. Since the Reformation, all Danish Kings and Queens have found their final resting place here. The number of their truly majestic tombs is just amazing.
You can visit the cathedral for an admission fee of 70 DKK. Please check their varying opening times on their website. The Copenhagen Card covers the entrance fee as well as the trip to and from Roskilde.
Practical Information
How to Get There
By Plane
If you chose to fly in, Kastrup airport is less than twenty minutes from the main station. Regional trains are going every couple of minutes, and the fare is included in the Copenhagen Card. If you prefer to take a cab, the ride will set you back around 250 to 350 DKK.
By Train
For 56 years, namely from 1963 until 2019, the Eurocity train from Hamburg to Copenhagen rolled onto a ferry at the harbor of Puttgarden on the island of Fehmarn in northern Germany and crossed the Fehmarn Belt to Rødby on the Danish side of the strait. Although there are other options to go to Denmark, most vacationers chose this idyllic and maritime way to cross the strait. Also, the crossing took only about 45 minutes and was the perfect attunement to a relaxed vacation in the motherland of hygge, Denmark's iconic coziness.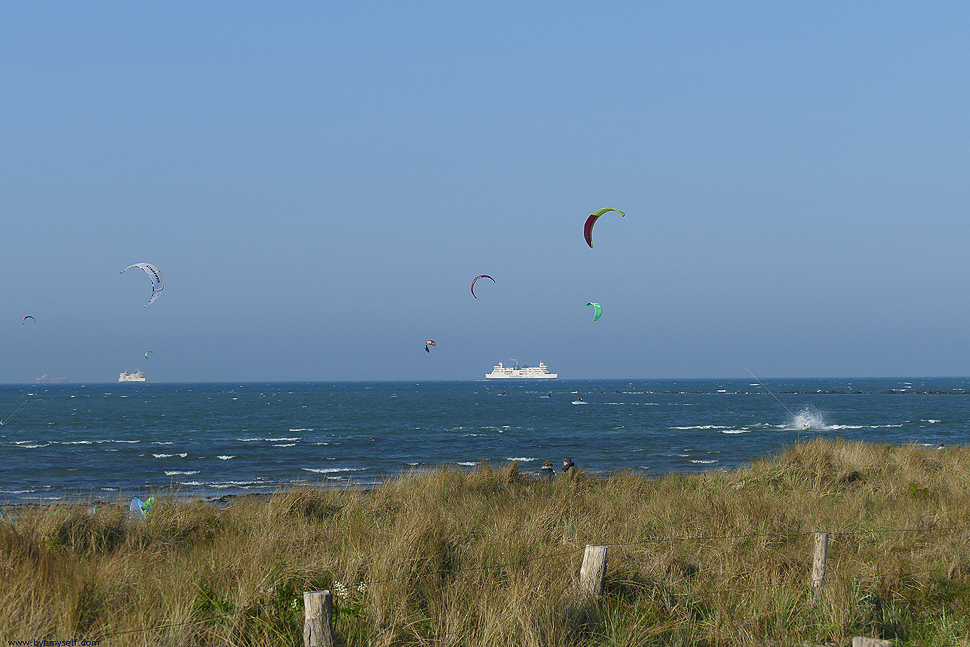 As they are now building a tunnel between Fehmarn and Rødby, the train is now going along the Jutland route over land and across bridges.
I miss the olden days!
Nevertheless, if you are travelling by car or by bus, you still can enjoy the mini cruise as only the trains are taking the boring land route.
By Bus
Travelling by long-distance bus is getting really popular in Europe. The cheap prices make up for the little loss of time compared to trains. And since various companies are competing, the service is usually very reliable.
One of the most popular bus companies in Europe is flixbus. From Copenhagen, there are direct connections to many European cities like for instance Amsterdam, Berlin, Hamburg, and many others.
Copenhagen's main bus station is on the southwestern side of the main railway station.
How to Get Around
Cycling
It would have been a big blunder if I had answered this question by any other means of transportation. Copenhagen is leading when it comes to Europe's most cycle-friendly cities. You'll be amazed by the comprehensive network of broad bicycle lanes!
Cycling in Copenhagen – as elsewhere in Denmark – is not some kid's game or sports activity but the dominant form of individual transport. Every day, Copenhagen's cyclists are covering incredible 1,27 million kilometers!
Although, just like in Amsterdam, riding a bike is not considered a game, Danes are far more patient and much friendlier than Dutch cyclists even as tourists are mindlessly meandering on the designated bike lanes. All in all, I had the impression that Danes are a very relaxed, patient, and friendly breed.
Since we came to Copenhagen from Hamburg, we took our own bikes with us. Obviously, this is not an option for everyone. However, you can rent bikes basically everywhere in Copenhagen. There are those internationally operating companies like Donkey Republic, there are many small local bike shops, and practically every hotel has a large number of bicycles for their guests. Nevertheless, daily fees are about 120 DKK which is not exactly cheap.
Walking
So yes, we had brought our own bikes with us which allowed us to cycle merrily across the city. Until on the second evening on our way back from Reffen to the hotel, Mimi suddenly noticed that her front tire seemed to lose air. While I was still hoping that she was mistaken, only minutes later she had to get off because the tire was completely flat and made pathetic noises while she was pushing it the short distance to our hotel.
We had been very lucky that the tire had given up only when we were already in sight range of our accommodation. But what now?
Thankfully, it was Friday night so there was a chance to find a repair shop that opened also on Saturday. A quick Google check brought us to Egedal Cykler, located around the corner from Folkehuset Absalon, our favorite breakfast place. This way, we were able to leave the bike at the shop and go for breakfast before we headed back to the city center walking.
The friendly mechanic at Egedal Cykler told us the bike would be ready around 3.30 in the afternoon. This way, we had the unplanned opportunity to explore Copenhagen's center by walking and I can confirm that it's totally doable. Most of the landmarks within the city's core are just minutes apart. Nonetheless, make sure to wear flat, comfortable shoes. Many of Copenhagen's alluring streets and alleys are paved with cobblestones, hence, there go your heels. Good sneakers or even light hiking shoes will make your visit to the city comfy and enjoyable.
Public Transportation
Copenhagen has an amazing number of attractions not only within the city limits. Some of the most important landmarks are on the outskirts or even in neighboring towns such as Roskilde or Helsingør.
As in basically every European city, there is a comprehensive network of public transportation in Copenhagen. The most important means are the metro, trams, regional trains, and buses.
If you have a Copenhagen Card, public transport is included not only in the inner city but even trips to the above-mentioned towns and many more.
However, if you don't opt for a Copenhagen Card** and you are planning on taking public transportation more often, you might want to purchase a so-called City Pass. This pass comes in various versions. You'll probably need either the City Pass Small or the City Pass Large. Still, you can check out all options on this website.
While the small version grants unlimited access to buses, trains, metro, and harbor buses in the city center including the airport, the large version also includes all trips to Roskilde and all destinations in Northern Zealand. You can choose either pass for 24, 48, 72, 96, and 120 hours. The costs for the small one ranges from 80 to 300 DKK and the large one sets you back between 160 to 600 DKK.
A single ticket within the city center costs 24 DKK, hence, you need to do the math for yourself if you'll really use public transport that much. Either way, you can buy tickets from machines as well as at 7-Eleven kiosks at the train and metro stations. If you prefer, you can also buy tickets online or download the app called DOT Billetter.
Where to Stay
Since Copenhagen is a very touristy city, there is a wide choice of accommodation and all of them are crazily expensive.
It's an easy equation: Of the three aspects of a good standard, convenient location, and affordable price, you always have to waive one. If you find a good standard hotel in a convenient location, it won't be at an affordable price. A hotel in a convenient location at an affordable price won't have a good standard. And finally, a good hotel at an affordable price won't be in a convenient location.
This time, we opted for a simple, minimalistic yet comfortable and clean Saga Hotel*. It is very conveniently located between the main station and the up-and-coming meatpacking district. As we had brought our own bikes with us, we were happy that the hotel offered a safe bike station in the backyard.
If you rather opt for staying at a nice hotel for a reasonable price and don't mind being located on the outskirts, I can recommend the Glostrup Park Hotel* in Glostrup. The train ride from the main station to Glostrup is around 20 minutes. It's a good standard hotel, and a generous breakfast buffet is included which is a big plus in an expensive city like Copenhagen.
However, on this map, you can check out more convenient lodging options*:
Where to Eat
While it's not hard to save money on activities, you won't be able to avoid paying disproportionally high prices for accommodation and food. For a quick snack, I recommend getting a sandwich, a slice of pizza, or a savory pastry at one of the many 7/11 stores or at a local supermarket like for instance føtex Food where you can stock up on organic snacks like salads, small bowls, and freshly baked pastries as well as all kinds of drinks. There are so many greeneries in Copenhagen that you'll certainly find a spot where to enjoy your small picnic.
Nevertheless, I'd like to introduce three eateries where you can enjoy high-quality food in the company of Copenhageners without breaking the bank.
Sidecar
Let's start with a really cozy place to enjoy a large breakfast or brunch. Sidecar offers a nice concept and a wide variety of high-quality foods. First, you choose from a couple of different hot options that they prepare freshly for you. Then, you can feast on a wide choice of breads, cold cuts and cheeses, jams and spreads, fruits and veggies, and some desserts.
From Monday to Friday, the brunch costs 169 DKK, and on weekends 179 DKK. However, a reservation has to be made for a specific timeslot of 90 minutes.
For dinner, they serve small dishes like bao, dumplings, and other Asian-infused delicacies.
Although Sidecar is not exactly a bargain, the high quality of the ingredients and the lovely relaxed setting justify the slightly higher price.
Sidecar is parked located on Skyttegade 5 in the Nørrebro neighborhood. Since their opening times vary from day to day, please check them out on their website.
Folkehuset Absalon
In 2015, Folkehuset Absalon was opened in a former church building in the Vesterbro district just minutes from the main train station. Today, the decoration and the vibe are the epitome of hygge, the Danish term for cozy: Make yourself at home on an armchair or a sofa under grandma's fringed lampshades and enjoy snacks from a small menu in a comfortable setting.
People don't work at Absalon just because they need some sort of job. It's the communal and social idea behind the concept that inspires them. And this spirit rubs off on the guests. You'll feel like hanging out in your Danish living room surrounded by your extended Copenhagen family.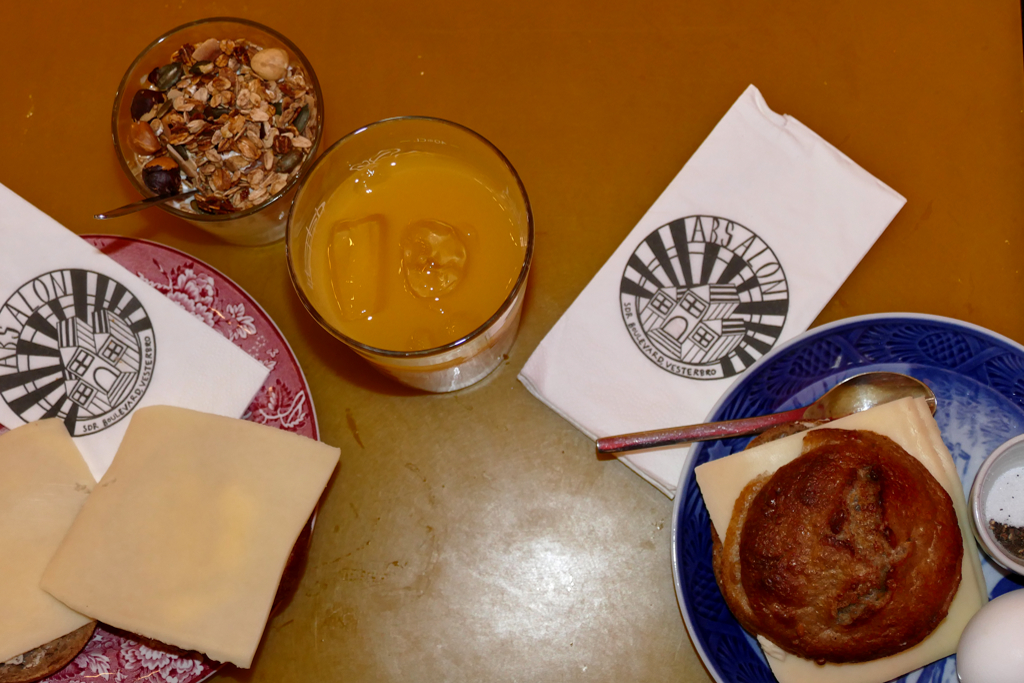 Once you're done eating, you can play table tennis or board games. Their program includes yoga classes, lectures, game events, flea markets, parties, and more.
Guess Who's Coming to Dinner
A unique highlight is the daily communal dinner. Starting at 6 p. m., people are grouped at tables where there share food while they get to know each other. There is a set dish – and a vegetarian alternative – served on a large serving plate just like at home. In addition, you're served freshly baked bread, side salad, and dessert. Well, let me rephrase it: You are served or you do serve since every table chooses three people who are in charge of bringing the food to the table.
You can check out the menu beforehand on their website. Also, I recommend an early reservation as these unique dinners tend to sell out.
Every party cares for their own drinks which are not included in the price of 50 DKK from Sunday to Wednesday and 100 DKK from Thursday to Saturday.
Folkehuset Absalon opens every day at 7.30 a. m. and closes at midnight. Breakfast is served from 7.30 a. m. till noon, lunch from noon until 2.30 p. m., and dinner from 6 p. m. to 7.30 p. m.
Reffen – Copenhagen Street Food
Reffen opened in 2018 and is Northern Europe's largest street food market. You'll find more than 40 different food stalls serving food from around 20 nations on the industrial site of Refshaleøen island. Locals and visitors people don't go there just to eat. It's a great place to hang out and watch the boats float by and the sun go down over Copenhagen.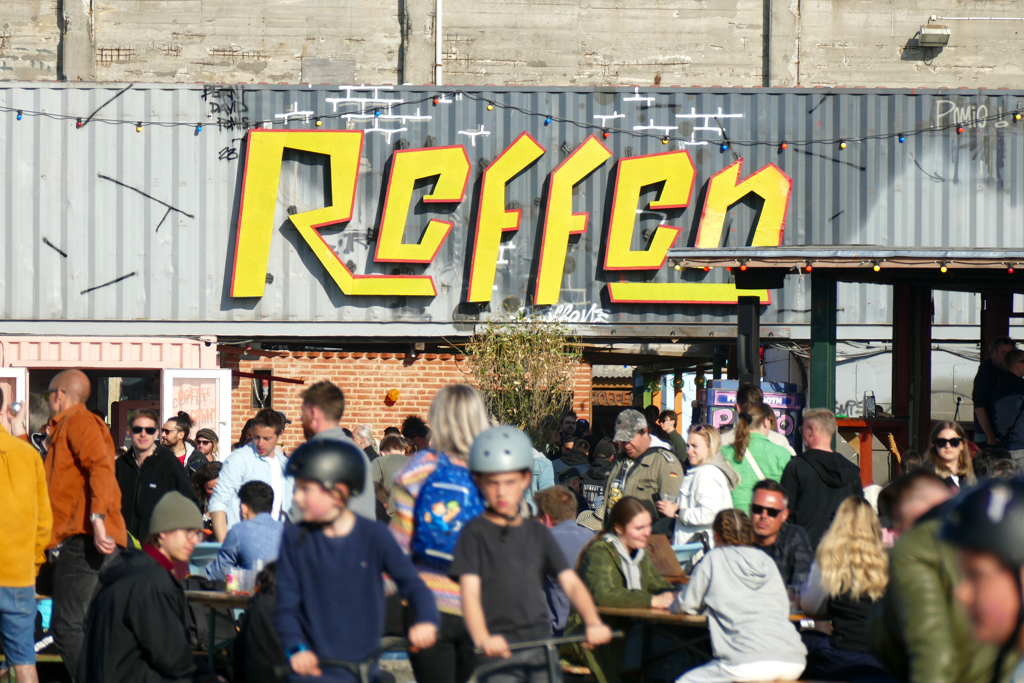 More active folks can climb on bouldering walls or show their skills on skateboards. Also, cultural events like concerts and shows are taking place on a regular basis. In short, Reffen is the place to be.
For a party of eight or more people, you can book a table for a slot of two hours from Monday to Saturday between 5 p. m. and 7.30 p. m. by sending an email to info@reffen.dk or by calling +45 – 33 93 07 60. Otherwise, just show up and look around, there is plenty of room.
Most visitors are crossing the bridge Inderhavnsbroen to get to Refshaleøen Island. You can take bus 9A or either harbor bus 991 or 992. By bicycle, it's a quick 15 to 20 minutes. However, the most charming way is taking a boat. You can go for instance on one of the Stromma canal cruises.
Reffen opens in March and is open every day during the warm summer months. The food stalls are open from 11.30 a. m. to 8.30 p. m. and the bars from 11 a. m. to 9.30 p. m.
Cash, Cards, And Deal
Although Denmark is a member of the European Union, it kept its former currency, the Danish Kroner. As of June 2023, the exchange rate is 1 US $ = 6,83 DKK (current rate) respectively 1 €uro = 7,45 DKK (current rate).
You can pay by credit card and contactless with your phone basically everywhere.
Copenhagen Card
You can get very far with the Copenhagen Card** – metaphorically and literally speaking. It includes unlimited travel on all regional trains, the metro, the tram, buses, and even the harbor buses in the entire Copenhagen Region. While unlimited mobility is already great, the variety of attractions to choose from will simply blow you away: There are more than 80 attractions included! Hence, even if all of them were in the center of Copenhagen, I bet that two weeks wouldn't be enough to visit them all.
| | | | | | |
| --- | --- | --- | --- | --- | --- |
| | 24 hours | 48 hours | 72 hours | 96 hours | 120 hours |
| Adult | 459 DKK | 679 DKK | 839 DKK | 979 DKK | 1099 DKK |
| Kids age 12 to 15 | 249 DKK | 369 DKK | 449 DKK | 529 DKK | 589 DKK |
Copenhagen Card Discover
Yet, there is another option called Copenhagen Card Hop** for those who prefer to explore the city by a hop-on hop-off bus and do want to see only the 40 landmarks within the city limits:
| | | | |
| --- | --- | --- | --- |
| | 24 hours | 48 hours | 72 hours |
| Adult | 475 DKK | 695 DKK | 855 DKK |
| Kids age 12 to 15 | 165 DKK | 385 DKK | 465 DKK |
Copenhagen Card Hop
Note: Although kids between the age of 3 and 11 years don't have to pay, they still need a card.
If you need further info, check out this very detailed and informative Website.
Parkmuseerne Ticket*
If you don't have that much time to spend in Copenhagen or if you simply want to stay more flexible, the ticket for the Parkmuseerne*, the six museums around the Østre Anlæg greenery might be a better deal.
For DKK 295, it grants free admission to Den Hirschsprungske Samling, the Statens Museum for Kunst SMK, the Natural History Museum of Denmark including the Palm House, and Rosenborg Castle. You'll also get a 10 percent discount on publications at The David Collection as well as a free cinema ticket to a regular film screening at The Cinematheque.
Visiting Organized
Although I'm an avid solo-travelling woman, I sometimes like to join organized tours. This way, I get extended info about a place and it's fun to visit landmarks in the company of like-minded fellow travellers.
In a busy city like Copenhagen, booking tickets'n'tour well ahead can be crucial. Especially during high season, pre-booking online will guarantee your spot at the activity of your choice*:
Connection And Communication
Since June 2017, no roaming charges apply within the EU with a European mobile phone contract, This applies in all 27 countries of the European Union as well as in Great Britain, Iceland, Liechtenstein, and Norway and to all contracts.
In case European roaming is not available, you can connect to the internet without any issue at basically every museum, eatery, or café, and, of course, hotel.
If you insist on being online 24/7, you can get a SIM card, obviously. Lebara, Lyca, and Airalo are assumably the most recommendable companies.
In Denmark, they use the standard plug types C and F. However, there is also type K which is used exclusively in Denmark, the Faeroe Islands, and Greenland.
The standard voltage is 230 V and the frequency 50 Hz. Whereby, since nowadays all these chargers have integrated adapters, in general, the voltage and frequency don't really matter.
By the way, you'll find this information and many more comprehensive travel tips in my post World's Most Complete Travel Information – an indispensable globetrotter-classic.
Language
In Copenhagen, most people speak decent English, to say the least. Many Danes also speak at least one other foreign language such as German, French, or Spanish. However, it is always a friendly gesture to be able to greet and say thanks in the local language.
Therefore, you might want to learn some basic Danish vocabulary on babbel.
Map
On this map, you can see where all the museums and monuments I'm introducing in this post are located.
Clicking on the slider symbol at the top left or the full-screen icon at the top right will display the whole map including the legend.
Pinnable Pictures
If you choose to pin this post for later, please use one of these pictures:
Note: This post is being regularly completed, edited, and updated – last in June 2023.
Did You Enjoy This Post? Then You Might Like Also These:
* I am very appreciative that the Parkmuseerne Press Office supplied us with two complimentary Parkmuseerne Tickets and we were able to visit the Ny Carlsberg Glyptotek free of charge. Nevertheless, the description of these venues and all opinions on their services are mine and were in no way influenced by my cooperation partners.

** This is an affiliate link. Hence, If you book through this page, not only do you get the best deal. I also get a small commission that helps me run this blog. Thank you so much for supporting me! All other links are a service to my readers and neither affiliated nor sponsored.