While Gili Trawangan is rather for the party people, romantics'n'roamers find peace and quiet on the secluded islands Gili Meno and Air – but see for yourself which island is for you.
And if you can't decide, don't worry: They are so close and well-connected that you can visit all three even in just one day.
Between Bali And Lombok
The Gilis are a group of three small islands in the Bali Sea off the northwest coast of Lombok. They are a popular destination for visitors who are looking for parties as well as for those who are seeking robinsonades.
There are just sand paths, but no paved roads on any of the islands. Only locals are allowed to ride around on electric scooters. Visitors have to walk or ride bicycles. Or they get on one of the local cidomos, horse-drawn carriages.
The islands are primarily popular for three activities, namely diving, snorkeling, and partying.
Especially on Trawangan and Air, parties are taking place basically every evening. Gili Meno is far less busy than the other two.
Underwater Love
There are more than 40 diving and snorkeling businesses on the three islands whereby Trawangan and Air have almost 20 each and Meno only four.
More than twenty good dive sites consist of extremely diverse fauna and flora. The best spots are the so-called shark point and a manta point. However, don't expect manta rays there, they are all gone. Now you'll find mainly sharks and many beautiful corals. Nevertheless, due to dynamite fishing in the past as well as tourism, those coral reefs have suffered great damage.
After years of ruthless hunting of sea turtles, they are now strictly protected.
Although there are some surf spots on the Gilis, the beaches on Lombok as well as on Bali's west coast offer much better conditions for this watersport.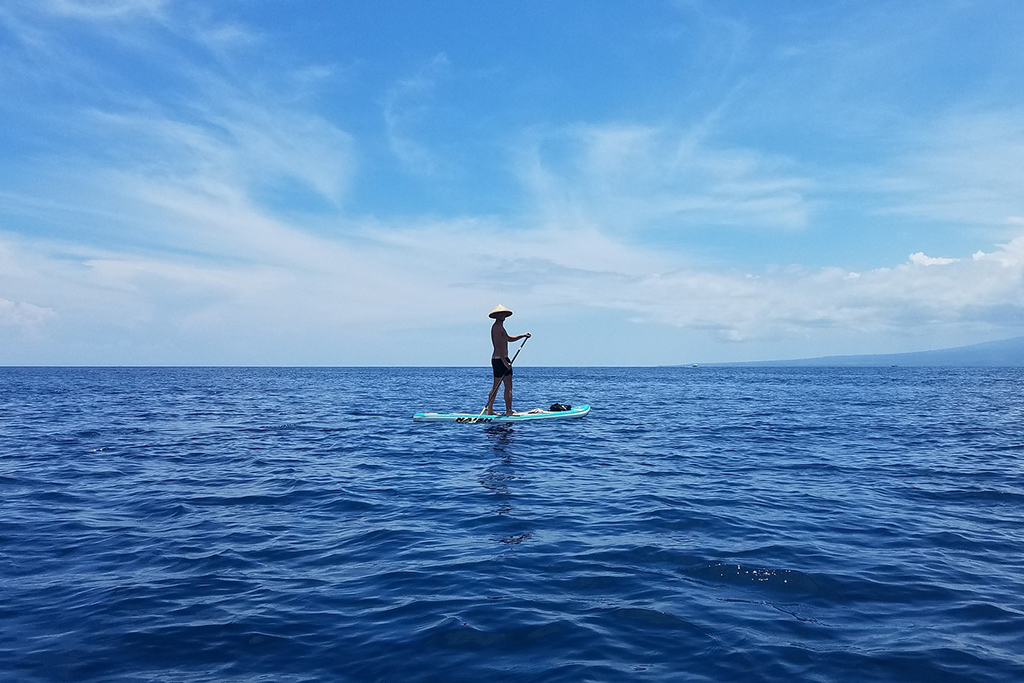 On the other hand, the calm waters surrounding the Gilis are perfect for stand-up paddling. Or you can rent a canoe or a kayak. For some serious kayaking, you can book a guided day trip around the islands.
Problems And Protection
Last not least, I have to mention the dark side of the Gilis.
The islands are suffering from some factors of degradation. There is global ocean warming, over-fishing, and tourism. This leads to two big problems, namely waste control and erosion. I must say that I was shocked by the amount of garbage littering the streets and even water everywhere. It baffled me to see those beautifully elaborated temples with refined offering bowls – and right next to them loads of rotting garbage of all kinds. For me, this doesn't go together.
Anyway, since 2011, Meno and Air have their waste processed on the island of Lombok. I don't want to be cynical, otherwise, I would say that the trash is now dumped over there into the sea.
Halt – that's just a joke!
Trawangan has a dump in a secluded part of the island.
The local NGO Gili Eco Trust promotes and protects the maritime and terrestrial environment. Financed mainly by the diving businesses, they initiate projects such as the protection of corals and the installment of artificial reefs. They raise public awareness of erosion control, waste management, and animal protection.
So please, support all these efforts of keeping the Gilis the tropical paradise that they've been for so long.
Gili Trewangan
Gili Trawangan is a tropical playground. The hustle and bustle of Trawangan's sandy roads will surprise if not disappoint those who expect a sluggish island retreat. Instead, you will find a number of lounge bars, trendy guest houses, restaurants, shops, and diving centers – and party all night long.
Nevertheless, the fact that on the busy main road you can either walk or cycle gives the island a laid-back charm.
However, the island's original rural character remains behind the vibrant façade as soon as you leave the east coast to venture out to the hinterland. There are rickety warungs, the typical small Balinese eateries, and reggae joints between the cocktail tables and quiet retreats on the much less lively north coast.
Walk or cycle inland to a village crisscrossed by sandy alleys where chickens are roaming free and wild-haired children hopping around playing.
Here, the schedule is defined by the call of the muezzin instead of the designated happy hour.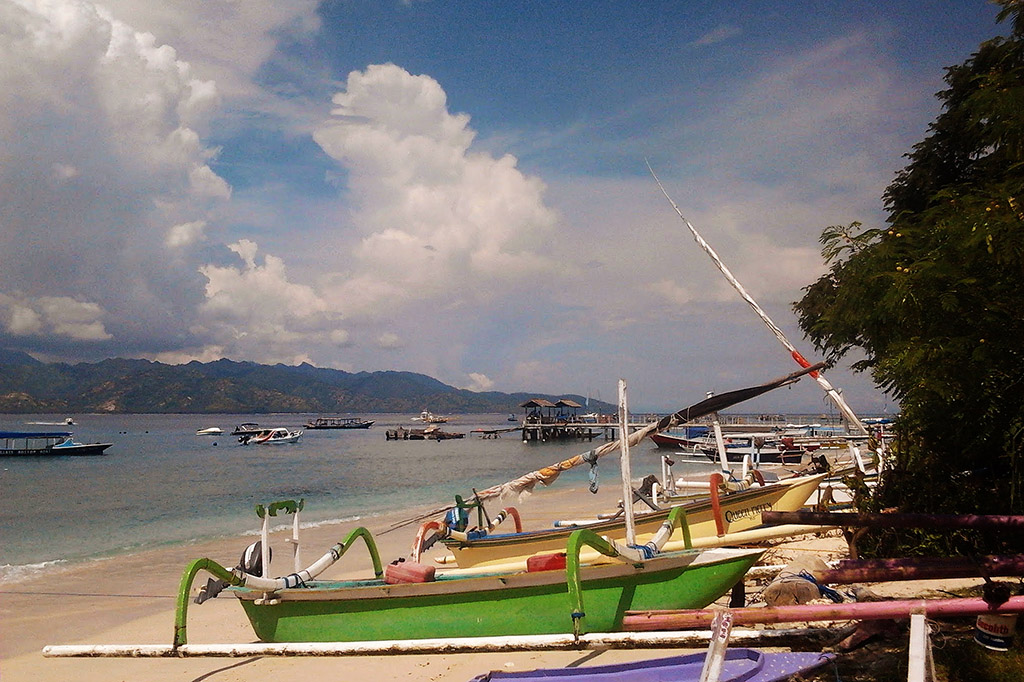 Don't miss out on the island's highest point from where you have a grand view of the other Gilis as well as Lombok and Bali. Located in the southern part of the island, this is also the perfect spot to watch the sun setting over the Bali Sea.
Stupid Things
Yes, I'm a travel blogger and most of all I'm an avid female solo traveller. Therefore, many of my posts encourage you to explore the world solo. Also, I often give you tips on what to do and most of all what better not to do as a single lady on a tour.
Sadly, this by no means holds me back from getting myself into situations that are…not so good.
On Gili Trawangan, I managed to get myself in kind of double trouble.
I had spent the day on the lovely beach, enjoying the sun on my skin and the powdery sand between my toes. Around five in the afternoon, my typical restlessness kicked in and I thought I had to get active. Well, how do you get active on an island like Trawangan? By walking.
Taking just a handful of Rupiahs with me, I hit the sand trails and started walking around the isle. It was nice. There were beaches and mangroves. Then, there was lots of nothing. More beaches. More nothing. I was halfway around the island when the sun began to set. It was so beautiful how the sun colored the sky from warm yellow to orange and purple.
Slowly, the yellow went away and the purple turned first into dark grey and then into black. And then it was dark.
I was standing somewhere on the edge of the Gili Trawangan, not knowing where. I even couldn't figure out how long I'd been going. No idea how far I was from the main village. I didn't have a watch. Obviously, I didn't have a compass. I didn't even have my phone on me. Just a handful of Rupiahs.
I Can See Clearly Now
Hence, I kept on walking, what other chance did I have? It was dark. Pitch-dark. There were no streetlamps. They hadn't prepared this forlorn part of the island for nightly walkers without a torch or a phone. I tried to adapt my eyes to the darkness so that I could at least make out roots or potholes on my way. The last thing I wanted was to get injured on my spontaneous walk.
As I had to walk through a small forest, I told myself that if I got attacked now, people would say it was my own fault. How can a woman walk all alone without even a phone through a pitch-dark forest on a remote part of an Indonesian island? She must be a moron and clearly asking for trouble. Over these self-deprecating thoughts, I was very happy to finally make out a dim light at the end of the small forest – it was the main village.
So I was back, a bit startled by my own stupidity and thoughtlessness. However, I was back, safe and sound, let's celebrate life, let's have a sundowner.
There is this restaurant and bar at the village's southern tip with a great wooden terrace overlooking the sea. And their cocktails are incredibly cheap. Suspiciously cheap.
As it obviously was leave-your-brain-at-home-day, I wasn't suspicious.
I ordered a Tequila Sunrise.
It tasted weird. Of alcohol. Rubbing alcohol. Probably some local tequila.
Beware
Maybe you shouldn't drink Tequila Sunrise in the sunset. Or maybe you should be suspicious of suspiciously cheap booze. Perhaps it's a good idea not to drink up when your cocktail tastes like you could disinfect an open wound with it.
It was far too late for all those second thoughts as I was hugging the – very stylish – toilet bowl at night.
That day, there had been one smart thing I have done – I hadn't ordered a second drink.
Although I find this experience quite disturbing, I was still lucky that as a consequence, I just barfed my intestines out that night.
Unfortunately, spiking or drinks is rather common practice in Bali's party zone Kuta and the one in Gili Trawangang. Just put this in a google search and you'll see some pretty scary articles where people were intoxicated and raped. Since these drinks are being mixed with substances like Rohypnol, Methanol, or even some animal tranquilizers, they can make you seriously ill. It can provoke extremely low blood pressure, respiratory depression, coma, or even death. There were cases of people getting blind. Sadly, even fatalities were reported. The problem is that while you can protect your drink from being spiked once you hold it in your hands, you don't have under control what's in the bartender's bottle.
So what to do? Well, if you want a nice cocktail, get it exclusively at an established hotel bar, not at some random beach place.
If your drink smells or tastes funny, don't drink it.
When you are partying at some casual beach place, don't order mixed drinks. Stick to beer or even better soft drinks – and don't leave your glass or bottle unattended at any time.
Gili Meno
After my wild adventure in Gili Trawangan, I was happy to escape to Gili Meno.
Of the three islands, Gili Meno is the most tranquil one. It truly differs a big deal from Gili Trawangan and Gili Air.
There is more preserved nature and since the island administration put a ban on late-night music and partying, there is practically no nightlife.
Boats from Trawangan normally arrive at a pier. However, as I crossed the sea, for some reason, the boat was not able to dock there. Hence, they just kicked me out on some beach.
There I was standing, ankle-deep in the powdery sand, my far too big and far too heavy suitcase next to me. I would be able to schlepp it a few meters to the trail. But that trail consisted of nothing but powdery sand, too. So no chance of pulling the suitcase on its wheels to my accommodation. Also, the fact that I had no clue where exactly to find the Meno Smile Cottages* made things a teeny bit difficult.
A Knight Without Armour
As in many fairy tales, rescue emerged in the form of a horse and carriage. Out of nowhere, there was a guy with his cidomo, offering me a ride for the equivalent of 8 €uros.
In Indonesia, you can travel for hours for the equivalent of 8 €uros.
I didn't know exactly where my accommodation was, but I knew that it was not possible to travel for hours on Gili Meno.
I was indignant.
Actually, I was so outraged that it didn't even occur to me to haggle at least a bit.
I was simply indignant, and I had a huge suitcase that I wasn't able to displace, and I didn't know where exactly to go. So I bit the bullet – not without swearing and cursing during the entire trip – which took about five minutes, a Pro-forma detour included.
Firstly, I hope that this guy has a large family with his mother-in-law living with them so that my equivalent of 8 €uros would help him feed the entire bunch.
Secondly, it was on that sandy beach that I decided that from now on, I would travel exclusively with baggage I can carry myself for at least twenty minutes.
It was the moment I got into this whole packing light – travelling in style thing.
Doing Nothing
If you don't have a far too large and far too heavy piece of luggage on you, Gili Meno can be perfectly explored on foot. There are few sand trails and all of them lead directly to some lonely dream beach.
Despite its uniqueness, Gili Meno has a small range of attractions – all within easy walking distance from wherever you are based on the isle.
Cut through the center of the island and you'll get to a saltwater lake. Here you can spot birds and some minor wildlife.
Not far from Meno's unique wooden mosque is a bird park. Home to parrots, peacocks, pheasants, pelicans, and eagles, it's nothing to write home about, however, nice for a change if you really happen to get tired of paradisic beach life.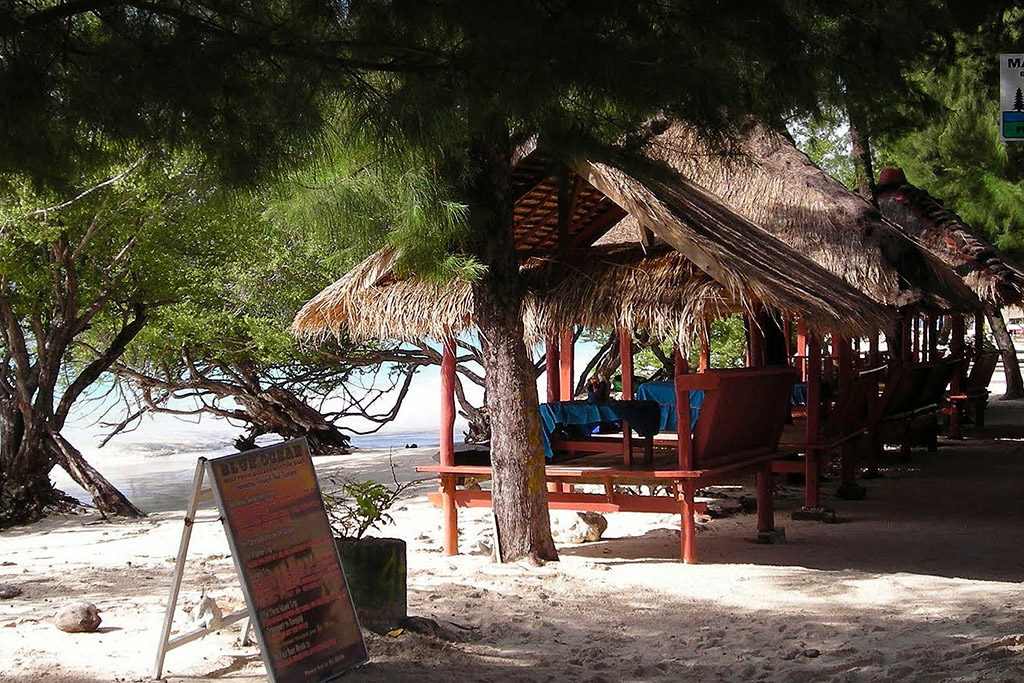 You won't find any real stores and only recently one single ATM. The fact there is no exhausting nightlife on Meno should by no means hold you back from enjoying cold beers and savory meals at one of the small beach bars and restaurants on the island's west coast.
They're perfect for taking in peaceful sunset moments.
Turtles
Right on the beach, not far from the pier, is the small Bolong's Turtle Sanctuary.
To protect them from human and faunal poachers, the turtle eggs are collected and incubated in the small facility.
They rear the baby turtles in small tanks. After eight months, they release them into the wild.
You can support this good cause with your donation. For 100,000 IDR, you can choose a turtle and release it yourself on the beach.
Gili Air
Last not least, Gili Air is closest to Lombok mainland and the second most popular island. It's basically the less crazy alternative to the more crowded Gili Trawangan.
On this island, you find a more upscale scene and even some luxury. Gili Air basically unites the best of the two other islands I'm describing above.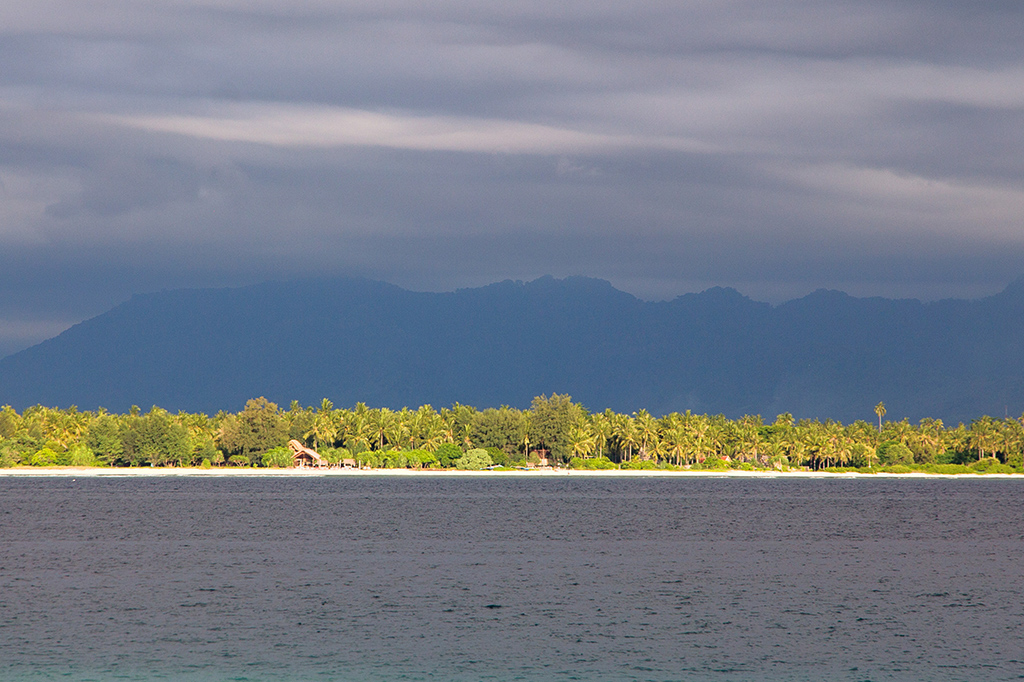 As on all the Gilis, there are great white sand beaches to relax and crystal-clear waters attracting divers and snorkelers. Also, there is a good range of shops, restaurants, and beach bars.
Although there is some fun party life going on on Gili Air, it is smaller and a bit more refined than Trawangan. The island's main village around the pier in the south offers all kinds of dining and nightlife options.
On the other side – literally – the beaches on the northern coastline are secluded and quiet. They cater to those who are looking for a serene tropical escape.
Getting around Gili Air is limited yet easy. You either walk or cycle or you hop on one of the typical cidomos.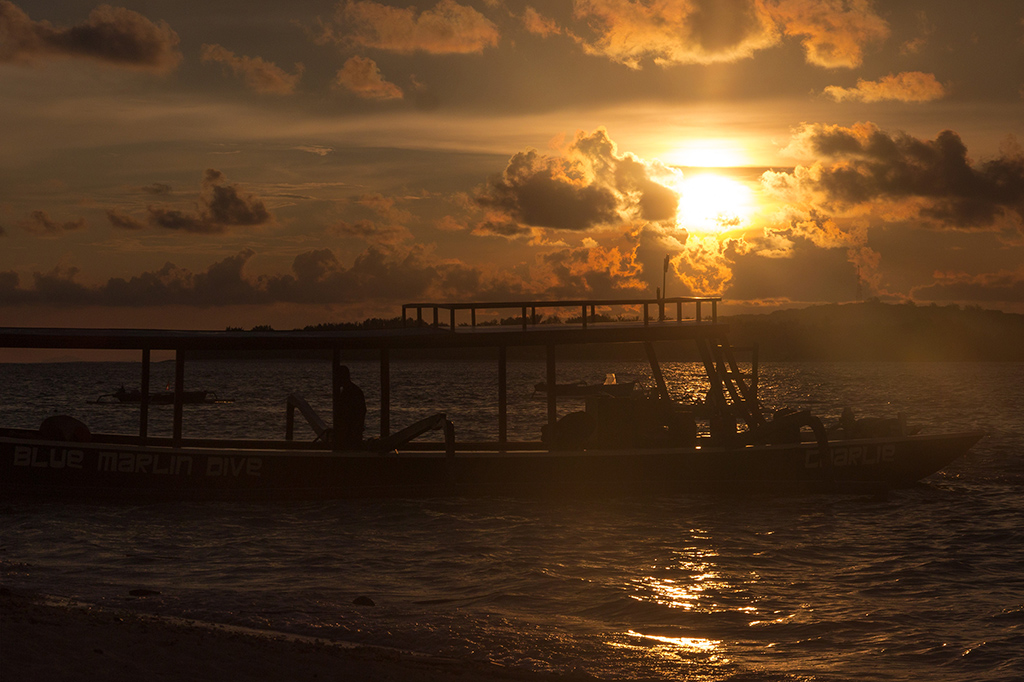 Gili Air's proximity to the island of Lombok also makes it a popular day-trip destination.
Practical Information
How to Get There
The Gili Islands belong to Bali's neighboring island Lombok and can be easily reached. There is an international airport on the island of Lombok with regular flights from many destinations in Indonesia including Bali as well as for instance from Kuala Lumpur in Malaysia.
After a 2.5-hour transfer to the Bangsal pier, boats will take you to the Gilis.
However, most people coming from Bali are going to the Gilis by ferry or speedboat.
Ferries are, obviously, cheaper, but they also take much longer. Coming from Padang Bai, your first have to sail for about five hours to Bangsal on Lombok. From there, you have to take another boat to the Gilis.
Much faster and more convenient is the speedboat service. It departs either from Serangan Island just off Bali's south coast or from Padang Bai in the east. It takes about 2.5 hours to reach its first stop Gili Trawangan.
Getting Around
Between Islands
There are public boats connecting the islands. A boat from Gili Trawangan leaves at 9.30 a. m. and comes back in the afternoon from Gili Air via Gili Meno.
Depending on where you are going, the prices are in the range of 20,000 – 23,000 rupiah one way. The best way is to buy the tickets directly at the port since hotel receptionists and travel agents add a commission.
If you want to experience all three islands in one day, you better go with an organized tour.
Swimming from isle to isle? Once you have seen with your own eyes how close the islands are to one another, this question will not sound that dumb anymore. From Gili Trawangan, it's only a bit over 800 meters to Gili Meno.
Nevertheless, while it is perfectly safe to swim and snorkel around the Gilis, you should never try to swim to the next island. It is further than it looks and most of all, the currents in the middle of the channel can be very strong even for the best of swimmers.
On Islands
The largest one of the islands is Gili Trawangan and even this isle can be walked around in about two hours. The other two are approximately half its size and therefore a stroll around will be over within one hour.
You can also rent a bike at a negotiable price. Often the accommodations have their own bikes to lend or to rent.
Be sure to take a lock with you and use it if you want to stop somewhere! If there is no lock, never leave the bike unattended.
To get to your accommodation or back to the pier, you don't need to schlepp your luggage but can always go by one of the local cidomos, a cute carriage pulled by a horse.
Where to Stay
The Gilis offer many types of accommodation from local homestays to luxury hotels.
I mentioned a couple of times that accommodation in Bali is reasonably priced. So if you want to splurge from time to time, it's a good place to do so. Therefore, I treated myself to a stay at the Trawangan Nirvana.
It's in one of the back alleys and therefore pretty quiet. The rooms are tastefully furnished and nicely decorated. What also inspired me to book a room there was the pool. Unfortunately, a family staying there at the same time occupied it basically all day and their attitude made it pretty clear that they were by no means willing to share.
Even more off-putting was one of the employees' behavior. As he showed me the room, he touched me. Not in a compromising spot. But still, it felt creepy that a young dude touched my bare arm twice – for no apparent reason. Even though I told him to never do that again, from that moment on, the place gave me the creeps – which is a shame since it's really beautiful.
However, here is a map that will help you book suitable accommodation on the Gilis*:
What to Eat
There are loads of restaurants and warungs on the islands where you can feast on local specialties for very little money.
On Trawangan, there is a daily night market across from the pier starting at 6 p. m. There you can eat well and quite cheaply.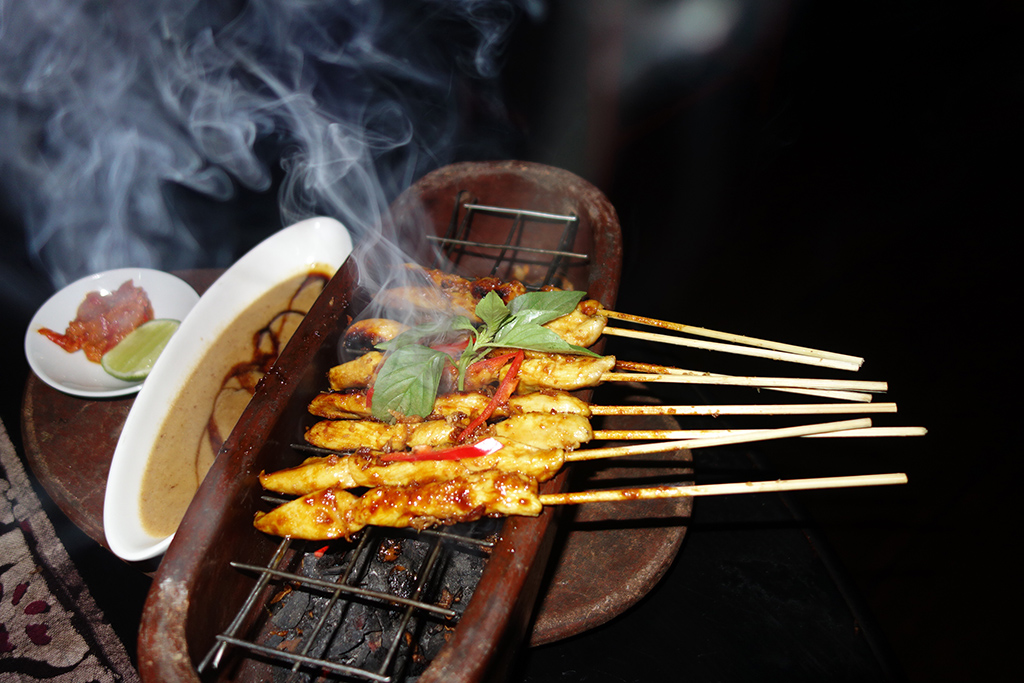 They have a large selection of specialties, for example, fresh fish, seafood, and all kinds of satay.
The food at the hotels is a bit more expensive. However even at one of the beach restaurants, you hardly ever pay more than the equivalent of 6 US$ – and I'm talking about a complete meal!
What to See
I'm an avid solo-travelling woman. Solo travel doesn't equal solitude, hence, I love to join organized tours here and there. Since this is not that easy in Bali and Lombok, here are some valid options for how to get to see what these magical islands have to offer in a safe and easy way*:
Cash And Cards
The Gilis are touristy islands, hence, credit cards are accepted. Also, there are ATMs on all three isles.
Although Gili Meno has only one ATM, you can always make it quickly to Trawangan in case it's out of service.
One US-Dollar equals 15.67 Rupiahs (IDR) and one €uro equals 15.68 Rupiahs (IDR) as of November 2022. You can check the current rate on this page.
Language
The official language on the island of Bali is Indonesian.
Amazingly, Indonesian is one of the languages offered on babbel. As usual, the first lesson is free. There you learn the most important words and polite expressions to interact with people.
I gained some basic knowledge for my trip to Bali. It's amazing how easy bahasa was to learn. Especially since it's written in Latin letters.
Since Bali is so over-touristy, everyone in the tourist industry has at least a rudimentary command of the language. However, sometimes the accent is so peculiar that you won't understand it right away. Also, locals might not really understand what you are saying but just grasp the supposed meaning from one or two words they got from your sentence. Hence, prepare for some hopeless explaining, quirky conversations – and many bright smiles.
Communication and Connection
Like during most of my trips where European roaming is not available, I did not get a national SIM card. I rather used free WiFi. There was a connection to the internet without any issue at basically every eatery or café and, of course, hotel. Worked like a charm.
But if you insist on being online 24/7, you can get a national SIM card right at the airport.
In Indonesia, plug types C and F are the official standard. The standard voltage is 230 V and the frequency is 50 Hz.
However, nowadays, all these chargers for phones and readers and computers have integrated adapters. Therefore, different voltages and frequencies don't really matter.
By the way, you'll find this kind of practical travel info in my post World's Most Complete Travel Information. Actually, it's an indispensable globetrotter classic.
The Gili Islands were just three of the amazing places I've seen on my trip to Bali. Go to the main post to check out all the other destinations.
Pinnable Pictures
If you choose to pin this post for later, please use one of these pictures:
Note: I'm completing, editing, and updating this post regularly – last in November 2022.
Did You Enjoy This Post? Then You Might Like Also These:
* This is an affiliate link. If you book through this page, not only do you get the best deal. I also get a small commission that helps me run this blog. Thank you so much for supporting me!