Sukhothai took me by storm – with its incredible number of 200 glorious temples. As a matter of fact, the heritage of Siam's former capital is just surreal.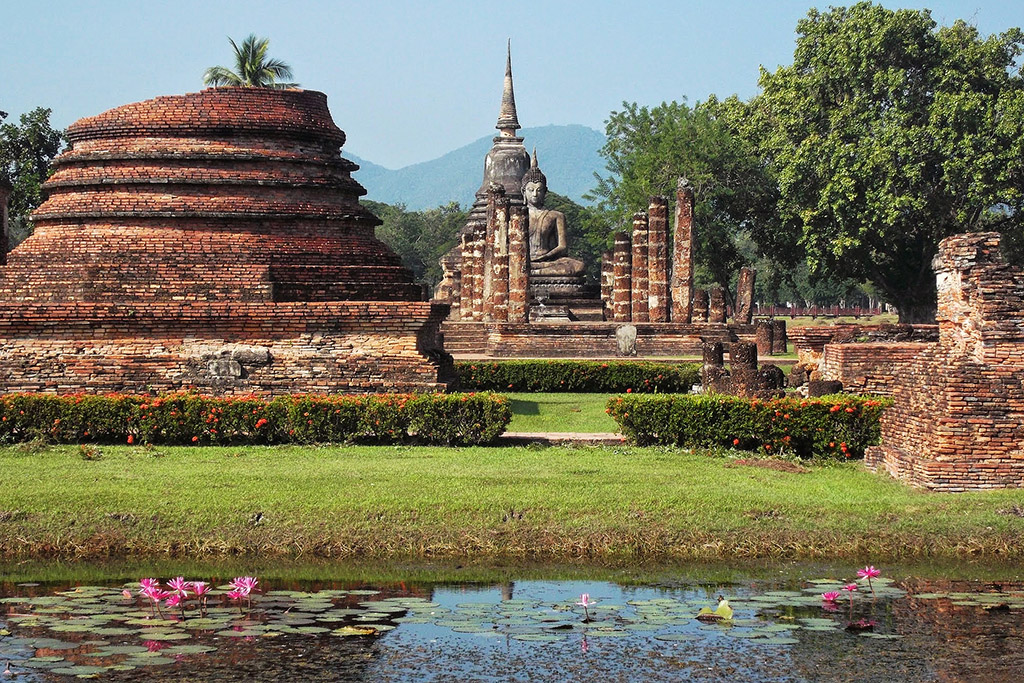 Since it would be a big mistake to limit your visits to the archeologic park in the city center, you should explore Sukhothai cycling. This way, you get to all the sites you like to see – obviously, there are quite a few.
Almost 200, to be precise.
SUKHOTHAI
Firstly, you need to know that there are practically two cities of Sukhothai – the new one and the historic city. This might have an impact on your choice of accommodation since only the latter is of touristy significance.
The historic city is 13 kilometers west of the modern city of Sukhothai. It was founded in 1238 from an old Khmer settlement. Eventually, it became the capital of the eponymous first large Thai kingdom in the lowlands. It lasted till the early 15th century.
Earthen walls and moats surround the old city, which the locals call Mueang Kao. Four entrance gates granted access to the fortifications. Inside the walls are the remains of the royal palace and more than 20 temples. They form the Historical Park which made it to the list of UNESCO World Heritage Sites in 1991 – by the way, together with the Si Satchanalai Historical Park and the Kamphaeng Phet Historical Park.
Restoration of the archeological park began in the mid 20th century. The most important finds are kept at the Ramkhamhaeng Museum which was founded in 1964. Finally, King Bhumibol Adulyadej – also known as Rama IX – inaugurated this amazing historic jewel in 1988.
Consequently, your plans for Sukhothai are pretty clear: looking around! Visiting as many temple ruins as you can since they are all so picturesque. Then, you cycle a bit further to see farmers with their cows and rice paddies and lush sceneries. Yet, there is the next temple waiting for your visit.
Just fill your days with beauty.
Sukhothai Historical Park
Although there is a clearly marked fortification, parts of the Historical Park are also outside this terrain. Some are within the old town's limits, others are farther away.
But let's start with the structures inside and around the walls. Whereby, I will introduce only the most important and picturesque sights of Sukhothai's 200 temples.
Inside the Town Limits
The Historic Park consists of structures within the limits of the old town. Some can be visited for free while others which are within a walled area can only be visited with a ticket. The archeological area actually includes also terrains to the city's north, east, south, and west.
Wat Mahathat
This Temple of the Great Relic is the main Buddhist temple complex in the Historic Park, obviously. At the time of the kingdom of Sukhothai, it was the central and therefore most important temple of the empire.
King Sri Indraditya, who ruled between 1238 and around 1270, probably founded this Wat. Apparently, he initially commissioned only five towers on the central shrine.
Finally, King Loe Thai gave the temple its current shape around 1345.
Wat Traphang Ngoen
This temple is a small complex on an island in an artificial lake. It's called Traphang Ngoen which translates to Silver Lake.
The complex is located west of the main Wat in a position that enables illumination by both the rising and setting sun.
Its main structures are a central chedi, the ruins of a meeting hall, a large Buddha statue on a pedestal in the west, and also an ordination hall.
Wat Traphang Thong
Wat's – sorry: What's more precious than silver? Correct, gold. Hence, here Traphang Thong comes into the picture – it actually is the Monastery in the Golden Lake.
That's basically a large pool around an old Wihan and a Mondop with Buddha's footprint from the Sukhothai period. It was brought here from the Khao Phra Bat Yai, a temple in the mountains west of the city.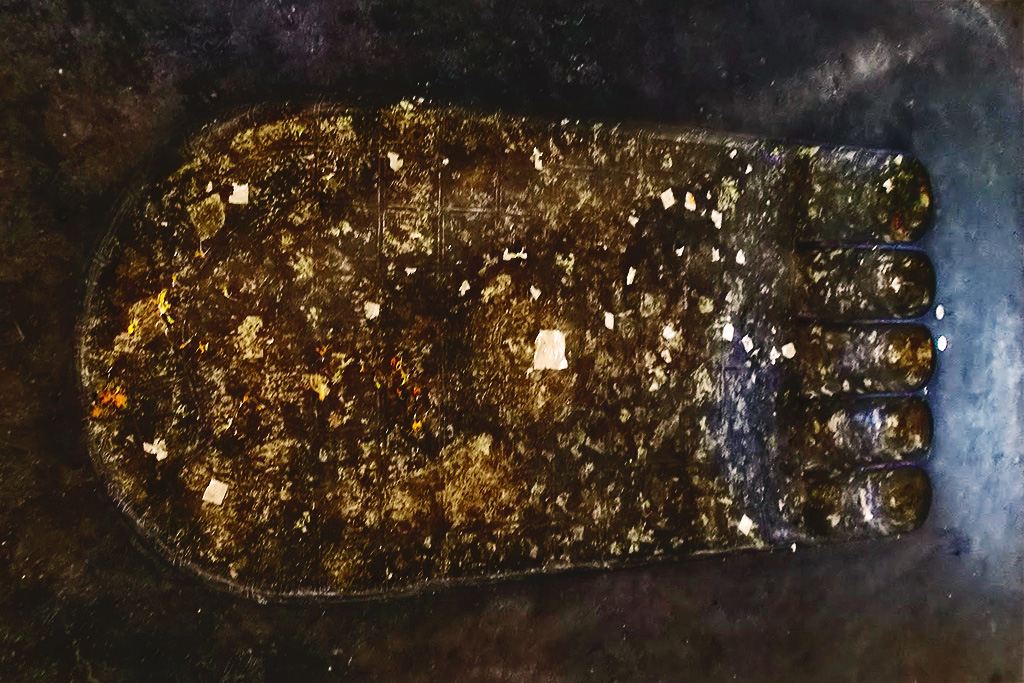 The footprint was made from dark gray stone in 1359, as King Li Thai announced in a stone inscription. Its 108 auspicious symbols contain many connections to the mythological Mount Meru, the world mountain of the Buddhist universe.
Trivia
As a matter of fact, Traphang Thong is the only temple in the Old City that has an active monastic community.
Wat Si Sawai
The Khmer probably founded this Wat as a Shiva temple as early as in the 12th century. Today, however, there are the remains of a Wihan in front of the three prominent Prangs. Also, a wall encloses the entire complex.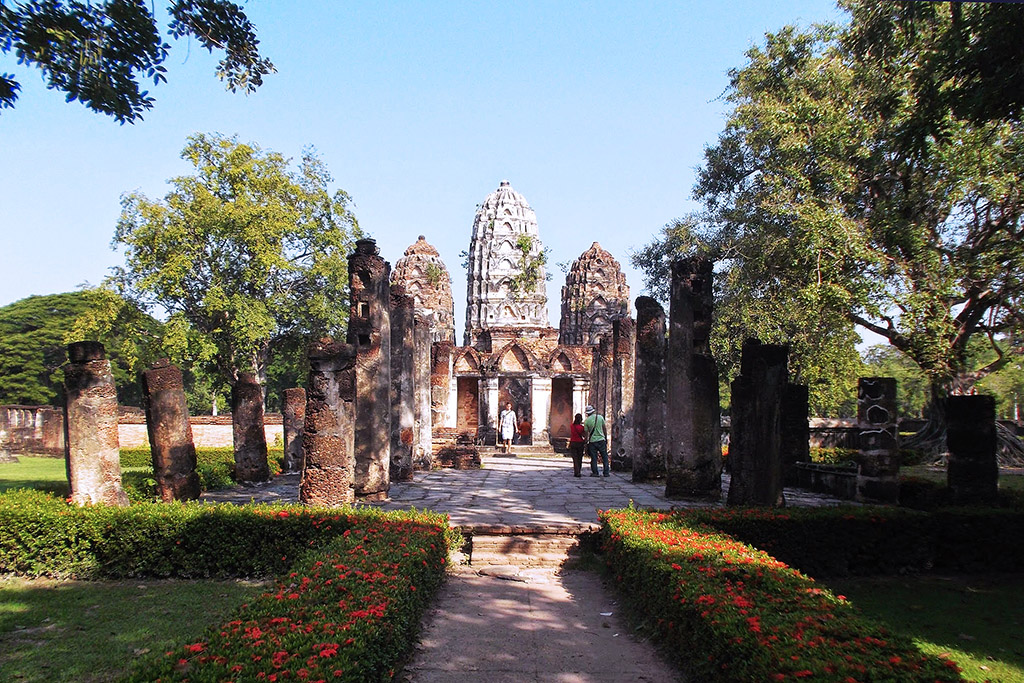 A well-preserved lintel with a sleeping Vishnu was found in this complex is now exhibited at the museum – as well as many other amazing founds.
What makes Wat Sri Sawai unusual is that it formerly was a Brahmin sanctuary. Only later, it was adapted to the needs of the Buddhist faith.
Trivia
Finders keepers? In 1907, crown prince and later King Vajiravudh – respectively Rama VI. – found a Hindu figure of Shiva during his travels.
San Ta Pha Daeng
The San Ta Pha Daeng is standing near the northern city gate.
It is a cube-shaped structure made of laterite. It dates back to the 12th century. A narrow staircase leads up to the approximately three-meter high base of the building. The upper part of the prang has been destroyed.
The building is obviously reminiscent of similar facilities from the time of King Suryavarman II in Angkor, the world-famous historic site in Cambodia.
During restoration in 1959, five male and female Brahmanistic figures without heads made of sandstone were found in the shrine. They date from the first half of the 12th century and are in the Khmer style. Consequently, clothes and jewelry are reminiscent of similar figures in the reliefs of Angkor Wat.
However, today, the figures are kept in the Ramkhamhaeng National Museum on the Historic Parks's premises.
Wat Sorasak
To the northeast of San Ta Pha Daeng is Wat Sorasak. It's a restored chedi surrounded by sculptures of elephants.
This Wat was founded in the time of the Sukhothai Kingdom during the reign of King Sai Lue Thai.
During the excavations, a stone inscription was discovered and now kept in the Ramkhamhaeng National Museum. Nai Inthara Sorasak, the author of the inscription, was probably a resident of the Kingdom of Ayutthaya. King Intharacha sent him to Sukhothai to protect Ayutthaya's interests.
However, based on this stone inscription, the founding year of Wat Sorasak should be around 1412.
Outside the Town Limits
If you don't have much to spend in Sukhothai, you should rather stick to the walled part of the Historic Park. Since the entire complex is very wide-spread, it cannot be visited in only one day. You'll need two or even better three days to visit without exhausting yourself. Also, don't underestimate the humid heat.
Hence, if you are no expert, the most enjoyable part will be within in walls, anyway.
Another aspect is that the structures within the walls are mostly far better restored than those in more remote places. Some of them are actually only rocks on a meadow.
Nevertheless, I'd like to introduce some of the Wats worth seeing in the surroundings of the center.
If you explore them cycling, beware that it might get quite hot. Therefore, put on some good sun protection, wear a hat, and drink plenty of water throughout the day. Also, include as many breaks as you need.
North
Apart from the structures within the walls, you'll find the best-preseved respectively restored buildings north of the town center.
Wat Phra Phai Luang
This temple is about one kilometer north of the city walls and surrounded by a square moat. It was probably founded in the 12th century when Sukhothai was still part of the Angkor Empire in today's Cambodia.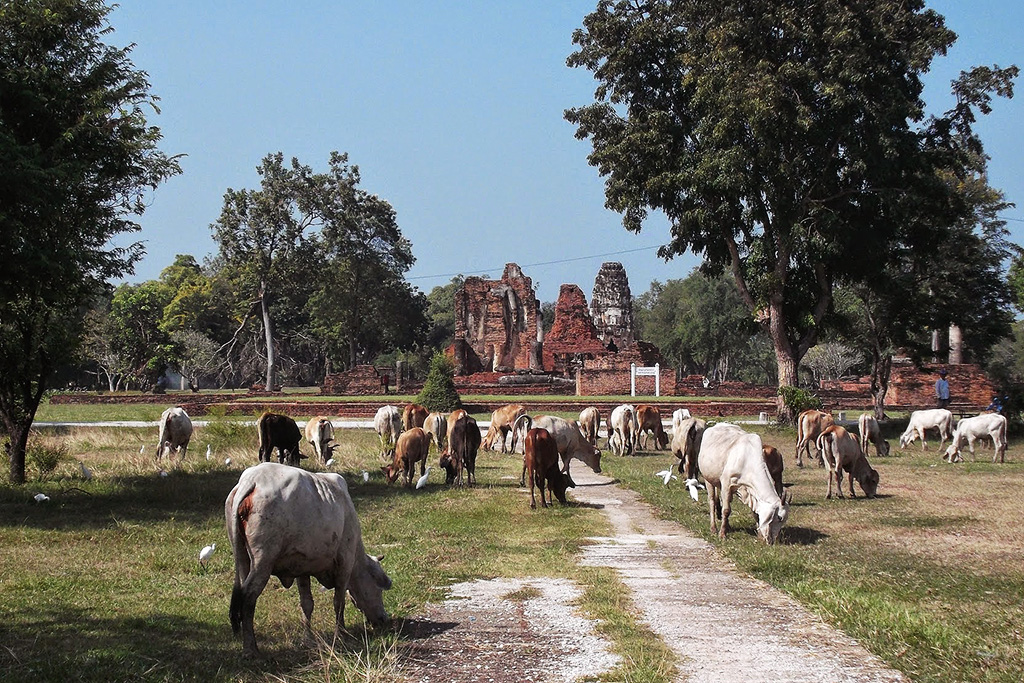 Of the original three prangs standing side by side, only one remains. It is lavishly decorated with stucco reliefs.
Since many Buddha statues were stolen here in the 1950s, the remaining pieces, some of which were badly damaged, are now kept in the Ramkhamhaeng National Museum.
Wat Si Chum
This Wat is the main monument northwest of the city. King Maha Thammararaja II has commissioned the great Mondop by at the end of the 14th century.
The square building has a side length of 32 meters. In the thick walls is a narrow corridor with a staircase to the roof. More than 50 engraved plates depicting scenes from the Jataka were found on the walls of the corridor. They are the oldest surviving examples of Thai drawing.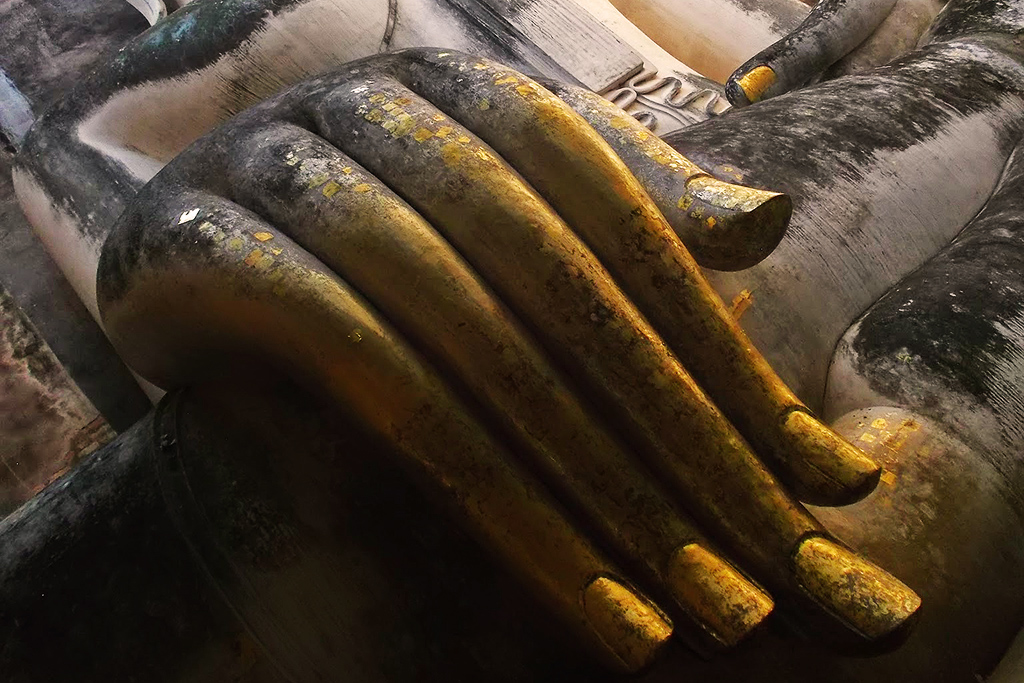 In the center sits a huge Buddha statue in the Bhumisparśa-mudra. This figure 11 meters wide and 15 meters high figure is the largest surviving Buddha image in Sukhothai.
East
Wat Chang Lom
This Wat is very similar to a temple of the same name in the Si Satchanalai Historical Park.
The complex consists of a large Chedi with the remains of a gallery, the ruins of a meeting hall, and an ordination hall. The latter is a bit to the east and surrounded by its own moat.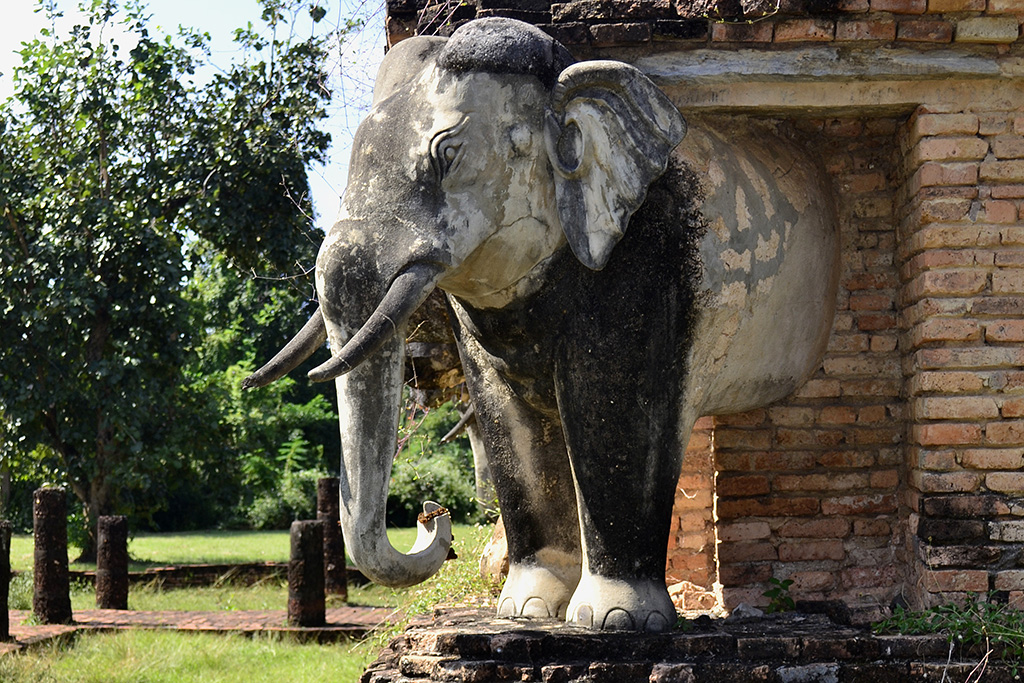 The large bell-shaped Chedi stands on a square brick base with a side length of about 18 meters. 32 elephant sculptures stand around the base. Each elephant appears to be standing in its own small brick niche with only the front quarter of the animals visible.
To the east of the Chedi are the ruins of a meeting hall with a Buddha statue. Round and square laterite columns once supported its roof.
Two other temples, namely Wat Thraphang Thong Lang and Wat Chedi Sung, are basically in ruins and probably only interesting if you are a true expert.
South
Also, the remnants south of the center such as Wat Chedi Si Hong, Wat Si Phichit Kirati Kanlayaram, and Wat Wihan Thong are pretty much in ruins. Still, there are some mesmerizing sites worth the visit.
Wat Kon Laeng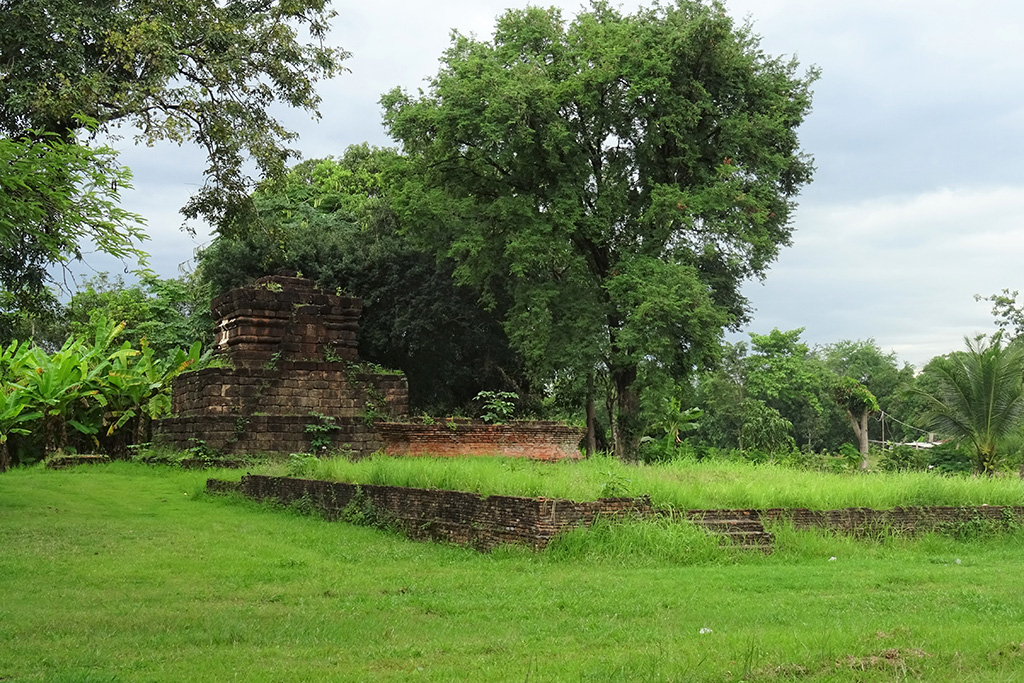 Outstanding is Wat Kon Laeng which today is mainly an 8-meter high step pyramid of large laterite blocks. It probably had a protective function that today has the Lak Müang, hence, the city column.
Wat Chetuphon
Wat Chetuphon stems probably from the Sukhothai Kingdom before 1412. A moat and a brick wall are surrounding this temple.
The special feature of this temple was the use of slate in the galleries around the Mondap and the door frames.
West
Getting to the western part is the longest cycle, however, it is very rewarding. You'll see the beautiful surroundings with rolling hills, lush rice paddies, and grazing cows. Yet, be sure to put on lots of sun protection, wear a hat, and stay hydrated.
Wat Pa Mamuang
This so-called Monastery of the Mango Grove is an important temple surrounded by a narrow moat. It is only a few hundred meters west of the city wall. King Lü Thai had the temple renovated and enlarged for the famous monk Mahasami Sangharaja who had acquired his deep knowledge of the Tipitaka during long studies in Ceylon, today's Sri Lanka.
Wat Saphan Hin
This so-called Stone Bridge Monastery is located in the wood hills. A large Buddha statue looks out over the historical park.
Presumably, King Ramkhamhaeng used to come here on elephant rides in order to acquire merits.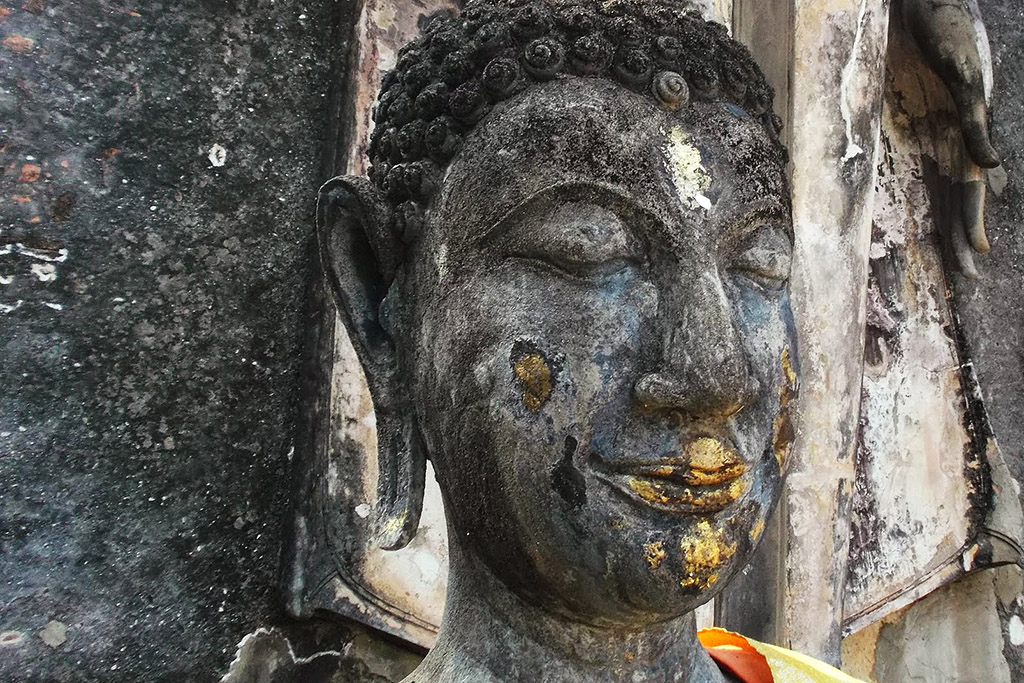 I got there climbing. If that doesn't make me deserve merits, I don't know what is.
Wat Chang Rop
Wat Chang Rop is a small temple on a hill. From the Chedi, you can see the remains of 24 elephant heads.
Map
Here is a map that will certainly help you finding all those mesmerizing places I'm introducing above:
Practical Information
How to Get There
Although Sukhothai is such an important historic spot, it's located west of the railway connecting Bangkok with Chiang Mai. The next train station is Phitsanulok, about 60 kilometers, hence, one hour east of Sukhothai.
There are many buses going between these two cities so that you don't have to go to Phitsanulok hours before your train is scheduled. However, if you prefer to do so, you'll find some tips on what to do during your wait in this post.
Since I included a minor detour, I actually came to Sukhothai from Kamphaeng Phet. Being the culture vulture that I am, I wanted to see the Historical Park in this rather hidden place, too. Actually, together with the site in Sukhothai and the Si Satchanalai Historical Park, it is part of the complex that made it to the UNESCO World Heritage List in 1991.
The bus from Kamphaeng Phet to Sukhothai also takes about one hour, but there are fewer coaches so that you should be more organized.
Nevertheless, Sukhothai has also an airport. It is located about 27 kilometers north of the city.
How to Get Around
The long-distance bus station is quite far from the center. Also, there is New Sukhothai and Old Sukhothai, and being a tourist, you and I are going for Old Sukhothai, of course.
There are Songthaews, fun wooden buses. Hence, you shouldn't take a tuk-tuk or cab that will try to take advantage of you – especially if you are a solo traveller.
Once you're in Sukhothai, your best option of moving around is by bicylce. Normally, you can borrow a bike at your hotel for free or sometimes for a very small fee. Nevertheless, if your hotel does not supply you with a bike, you can rent one downtown.
Where to Stay
As a matter of fact, my extremely pretty accommodation, the Thai Thai Sukhothai Resort*, is located near the eastern town entrance. It is an assemblage of charming nicely furnished houses with little porches.
Although located a bit outside the old town, it's only a ten minutes cycle away.
If you still want to check out other lodging options, you can do so on this map*:
What to Eat
I cannot recommend any restaurant since at night, the stalls along the main road Thanon Jarodvithi Thong fire up their fantastic barbecues.
Every evening, I had dinner there – delicious and dirt-cheap.
What to See
I'm an avid solo-travelling woman. Since solo-travel doesn't equal solitude, I love to join organized tours here and there. They allow me to meet fellow travellers – for just a short moment or a lifelong friendship.
Also, there is so much to see in Sukhothai that you might want to plan your stay and your tours thoroughly and possibly include some organized tours. Especially if you have only a short time to stay, they'll help you to make the best of it*:
Cash And Cards
Sukhothai is a very touristy area, hence, credit cards are widely accepted. Obviously, there are Banks with ATMs – principally along the main road Thanon Jarodvithi Thong
As per January 2021, one US-Dollar equals 30 Baht (THB), but you can check the current rate on this page.
Language
Since Sukhothai is such an important historic spot, I thought everyone there would speak English fluently. But apart from some glorious exceptions, most people have only a rudimentary command of the language.
This being said, obviously, it's a nice gesture to say at least the greeting Sawasdee Kha and Sawasdee Khun as well as Khop Khun Kha respectively Khop Khun Khap. Kha is a suffix used by women, men are using Khap.
Communication and Connection
There is an internet connection practically everywhere.
Nevertheless, if you want to be sure, I recommend you check the Wi-Fi quality of your hotel beforehand. You'll find the link in my post World's Most Complete Travel Information which is an indispensable globetrotter-classic, anyway.
Sukhothai was only one of the destinations I've visited during my exciting trip to Thailand. So go to the main post to check out all the other destinations. There you'll also find valuable general information that will make your trip smoother.
Pinnable Pictures
If you choose to pin this post for later, please use one of these pictures: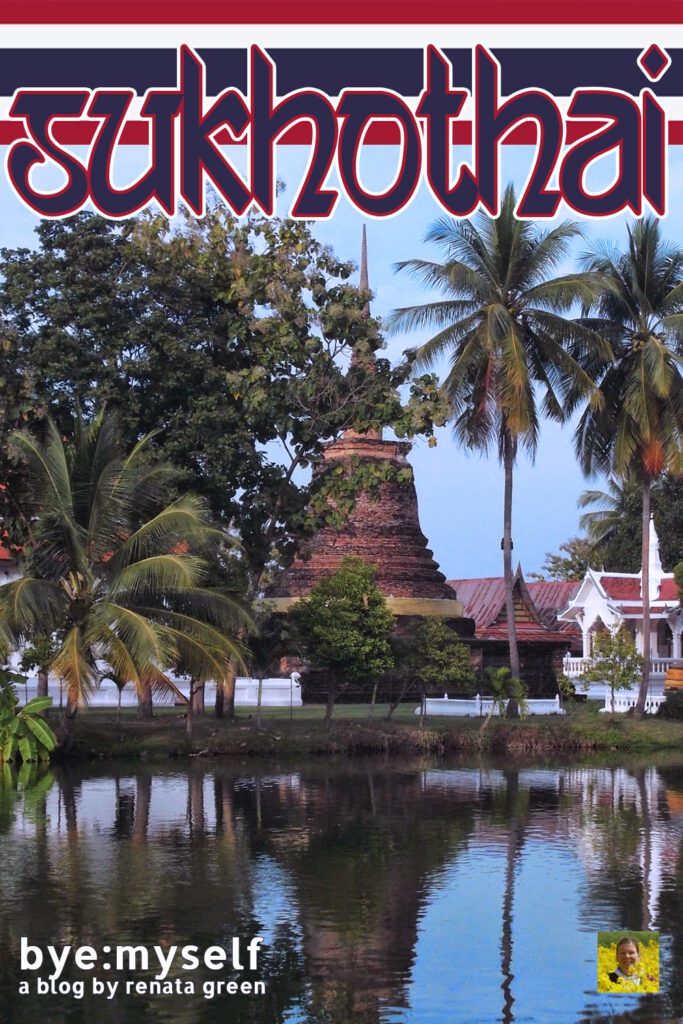 So did You Enjoy This Post? Then You Might Like Also These:
* This is an affiliate link. Hence, if you book through this page, not only do you get the best deal. I also get a small commission that helps me run this blog. Thank you so much for supporting me!
Note: This post is being regularly completed, edited, and updated – last in January 2021.