Venice on a budget? Is that even possible?
Agreed, visiting Venice can be pretty pricey.
After all, you find yourself at one of the world's most unique places – and it comes with a price tag.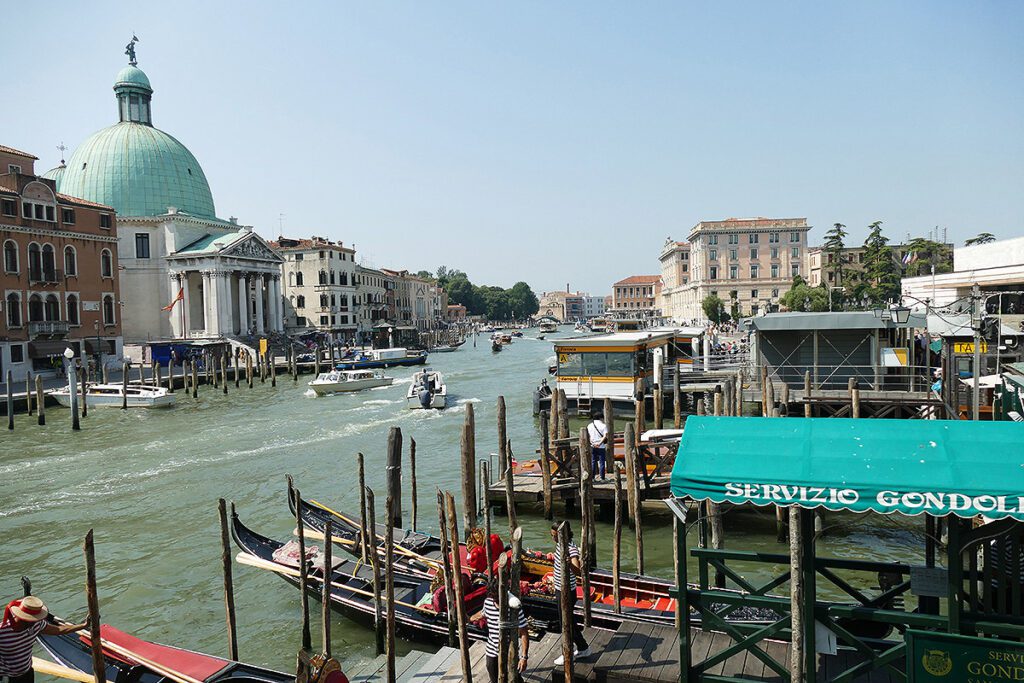 However, if you follow my simple hacks, visiting Venice on a budget is easy and still very enjoyable.
I've been coming to Venice for years – at least every other year to visit the Biennale di Arte. Consequently, I'm not going there for these overpriced touristy places and services. I enjoy Venice on a budget – and believe me, I enjoy it to the max.
Therefore, in this post, I'm sharing my best tips on when to go, where to stay, what to eat, and more.
Insider Tips to Make Your Stay More Enjoyable
No, I will not surprise you with the information that there is a Saint Mark's Square to be visited, the clock tower to be climbed and many canals to be rowed. You'll find all this in every guide book, on each website, or even the smallest brochure.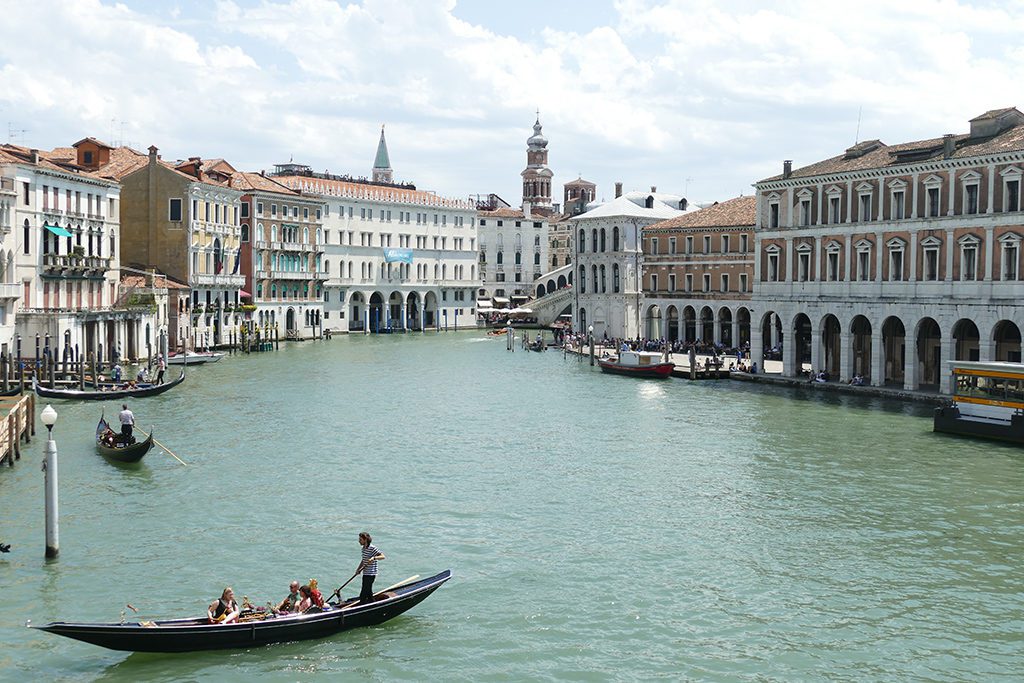 I'll make you Venice-savvy and show you how to get more for less.
When To Go
Yes, thinking of Italy, sole comes to mind. Gelato melting in the sun, running over your fingers, and dripping on your favorite white dress.
Italy is the epitome of summer. And summer is the busiest and most expensive season – I would avoid it at any price. It's hot, it's full, it's expensive.
If you haven't been to Venice before, you want to stroll through the narrow alleys. You'd like to admire the fantastic architecture and sit on benches in small parks. Then, you should rather pick the shoulder seasons from March to May and September to October.
Even then, you won't get lonely, but it's much better than in the summer months.
Venice in Winter
If you've been to Venice before, you have lost your way a hundred times in the narrow alleys and taken a thousand pictures of the scenic squares and structures and now want to see all the great museums, churches, and scuole from the inside. In this case, you can happily come back between November and February. Except the Christmas week and the Carnivale weeks in February.
The Perks of Winter
You'll find accommodations very easily and you'll pay a fraction of the summer rate.
However, the whole concept is completely different from summer vacation. It's quite cold and a rough wind is blowing from the waters. Also, there tend to be acqua alta, the infamous high tide. Then, Venetians have to put up pedestals to be able to walk the streets.
So if you're coming for the exhibitions, for Tintoretto's amazing paintings at the Gran Scuola di San Rocco, for Tizian's Annunciation at the Chiesa di San Salvador and all the other wonders, this is the time. All the great sights like Saint Mark's Basilica and the Palazzo Ducale are significantly emptier. Lines are shorter, everything is better.
Also, if you are coming for one of the biennials, it doesn't matter that much which month you pick. Therefore, you can happily opt for a less sunny period. In my last post, I've introduced the current Biennale di Arte –
How To Get There
Train
If you are already in Italy, you'll probably get to Venice by train. Despite all complaints from frequent travellers, trenitalia offers a really good service at very reasonable prices. However, especially on weekends, trains tend to be very full, particularly the regional ones. The only recommendation I'd like to give you is to make a reservation in advance where possible. And to travel as light as you can to be more comfortable.
In Venice, there are two train stations: Mestre on the mainland and Santa Lucia at the historic center. Trains between these two stations are going frequently. Therefore, if you accidentally get off at Mestre, it's no biggy. The next train will take you to the final stop in a couple of minutes.
If you chose to find accommodation at Mestre, you can get by train to Santa Lucia in about ten minutes. The ticket costs 1,35 €uro. Actually, there are a couple of reasons why staying in Mestre is a good idea – I'll get to that later,
Oftentimes it's better to take the bus, though, since, obviously, not every accommodation is close to the train station.
But I'll get to the local public transportation later.
Bus
Flixbus is conquering the world – at least world's European part, hence it's also serving Venice. It might not be the fastest way to travel, but it's quite comfortable and definitely the cheapest. For instance from Munich or Vienna, a one-way trip sets you back around 30 €uros, from Rome only 25.
The Flixbus stops in Venice are found at the Tronchetto parking lot close to the cruise terminal and at the Mestre train station.
To check schedules and prices, visit their website.
Flight
If you fly into Venice, you'll land either at Venezia Marco Polo or Treviso airport.
Treviso is about 40 kilometers from Venice. The easiest way to get either to Mestre or Piazzale Roma at the historic center is by ATVO bus. It takes about an hour and costs 12 €uro one way or 22 €uro if you buy a roundtrip.
Arriving at Marco Polo, you have various options to get to Mestre or the historic center. The ATVO bus #35 takes you there in 20 to 30 minutes. The airport is only about 15 kilometers from the city,
A far more spectacular way to travel is by the Alilaguna boat.
Especially on a sunny day, it's just dreamy and actually the first beautiful sight of your beautiful vacation. Crossing the lagoon by boat with the view of this unbelievable place.
Alilaguna stops at various stations around the main island and then goes to the Lido. So it's recommendable to check where you're staying and get off near that spot.
Where to Leave Your Luggage
But what if you're not staying at the historic center? Then you can still go by boat, but in this case, I'd advise you to get off at the Cruise Terminal (blue line) and cross the Ponte della Costituzione to the train station Santa Lucia where you can leave your luggage and start exploring the city right away.
Especially during the summer months, the storage is often full so you have to either wait or chose a privately operated consigne bagagli: A couple of stores offer to store your stuff for a little fee and there even are various locker rooms at different spots in the center.
But be aware that these places close much earlier than the one at the station.
If you chose to go back to the airport by alilaguna, too, take into consideration that the space on the boat is limited and if it's full, it's full. Since I'm a nervous person, I would not risk it. Also, after having enjoyed the canals for a couple of days in Venice, I can comfortably go back to the airport by bus and be sure to get there on time.
Where To Stay
Sleeping in Venice
Prices for accommodations are much higher from March till September. In November, I paid a fraction of the high season's price. Also during the unpopular Winter months, the city is emptier than in Summer – albeit, never abandoned.
I personally experienced the least amount of tourists end of February right after the carnival.
Especially if you've been to Venice before and do not need this Venetian overdose, you might want to check out accommodations on the Veneto's mainland like at the adjacent city of Mestre or even farther away like Quarto d'Altino.
Although I've also witnessed strikes and heard many complaints, I insist that Italy has an expansive and reliable system of public transport. Therefore, it is really easy to commute to the historic center and back, I've done it during many stays myself.
However, I totally understand if you want to stay right in the center of this amazing city. Therefore, here's a map with some suggestions on where to rest your head*:
Sleeping in Mestre
The closest and best accessible alternative to the center would be Mestre. You can get to Venice Santa Lucia from there by train for 1,35 €uro. But there is also a tram as well as many buses going every couple of minutes for 1,50 €uro for a single trip. If you buy more tickets, you even pay only 1,40.
Although Mestre is less expensive than Venice, it's not cheap since the trick staying ten minutes away from the action is not so very genius. Hosts in Mestre are aware of that and know what they can ask from you. However, I'm always paying about 40 to 50 €uro per night.
On this map you can check out whether there is suitable accommodation for you in Mestre*:
Sleeping in Quarto d'Altino
Another alternative is the hotels at Quarto d'Altino*, a charmless place less than half an hour by train from Santa Lucia. Surprisingly there are a couple of houses like the Crowne Plaza* and Best Western Hotel Airvenice* in that area.
The trains to and from Venice go every 30 minutes and one trip costs 3,55 €uro. It's not the best option, but it's an option just the same. I myself did it twice on really short stays and it was okay. Commuting all the way out there for a longer time, though, might be unnerving.
On this map you can check out whether there is suitable accommodation for you in Quarto d'Altino*:
How To Explore
As I said, I will not tell you that there is the Doge's Palace and the Rialto bridge to be visited.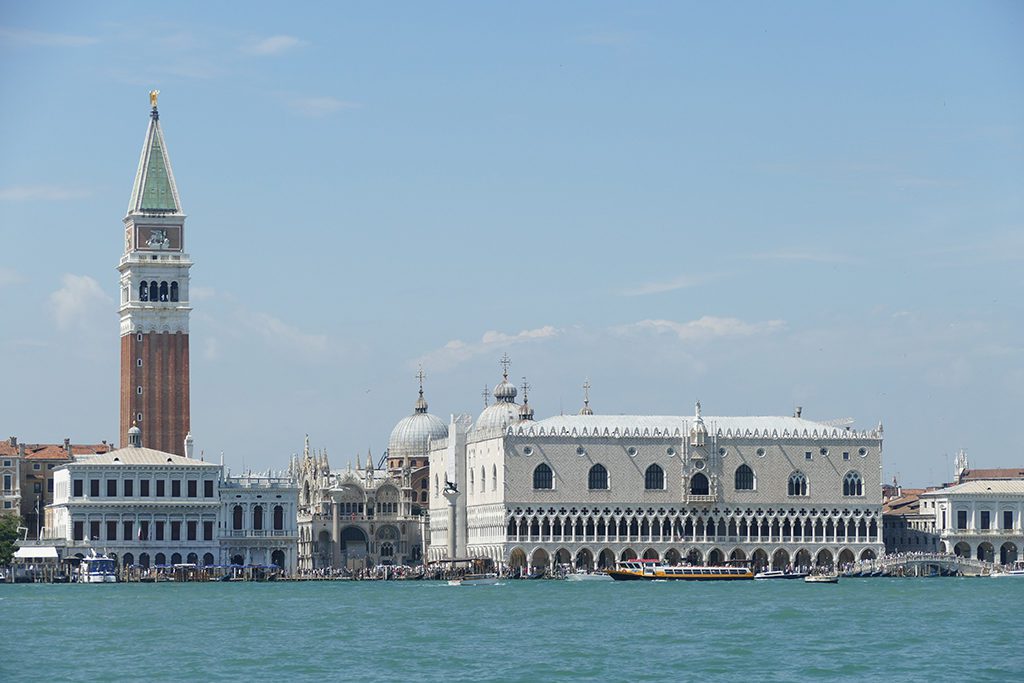 But I tell you that you can visit sights at a cheaper price and without waiting in line by buying e. g. the Museum Pass that costs 32,40 €uro and then grants you free entrance to the 11 most important state museums and palazzi in Venice. The best way to get it is by ordering it online, this way, you save even more time.
On my first trip to Venice, I did the whole show by taking the Vaporetto and all that jazz. Since you're paying about 7 €uro for a single ticket, you might understand that it lost it's charm quite quickly and I'm mostly walking – especially since taking the Vaporetto is another great opportunity to spend your vacation waiting and queuing.
Going by Vaporetto
However, if you want to take the Vaporetto, and I perfectly understand that you do, you should get day passes instead of individual tickets. For 24 hours, you pay 20 €uro, 30 €uro for 48 hours, 40 €uro for 72 hours, and 60 €uro for a week – which in comparison is a really good price, very similar to what you pay in big cities for day passes for the terrestrial public transport.
The whole somewhat confusing price policy of ACTV, the local transport company, is to find on their website.
You can also combine your activities and the travels on one tourist card, the Venezia Unica City Pass, where you add online activities and the a. m. ACTV-passe and then print it out before you arrive.
Young people between 6 and 29 can get a Rolling Venice Card that grants them reduced entrance fees and cheaper Vaporetto tickets and more; note that kids under 6 years of age don't have to pay, anyway.
Like in most other touristy cities there's a free walking tour in Venice, too. Every day, there is a tour at 10 a. m. as well as at 3 p. m. that takes about two hours. You can book online and meet the group at Campo Santa Maria Gloriosa dei Frari.
Visiting the Island of Murano
Although it's very touristy, indeed, on a sunny day, an organized trip to the other Islands like Murano with its glass artisans, the fishing village of Burano with its lace industries and the great church houses of Torcello is just beautiful.
If you want to visit Murano on your own, you can catch the Vaporetto at the stop Fondamente Nove. In case you need to buy an individual ticket, get one to the first stop called Colonna. This way, the trip costs only 5 €uro and Murano is so small that you'll walk criss cross, anyway.
Extra-Tip: During the Biennale di Arte, which takes place every odd-numbered year, many of the old palazzi are housing the so-called country-pavilions. While these buildings normally cannot be accessed as you please, during this mega art event, you get to see outstanding art at outstanding structures – for free!
For information on this year's biennial, check out last week's post.
Where To Eat
You might have noticed by now that I am very passionate about art – but also about churches and temples, alleys, and squares. Although I like cooking and love food, when travelling, I consider it a waste of time – actually, I think this is the downside of travelling by myself: This sitting around at a restaurant for an hour just to stuff face is not for me.
Plus, in Italy, they are especially chilled about serving, here you learn where the word waiter stems from: You wait for him to bring the menu, you wait for him to take your order for drinks, you wait for him to come back with your drinks, you wait for him to take your order for food – and it goes on and on till you wait for him to finally take your money.
I'm not making time for this.
Fortunately, Italy is street and fast food heaven. I'm not talking burgers'n'fries here, I'm talking juicy pizza, fat-dripping focaccia or sandwiches with prosciutto di Parma; everything that's guaranteed vitamin free and rich in carbohydrates.
So I'm having a piece of heaven for lunch while pacing to the next museum. In the evening, I enjoy an epic aperitivo and call it a happy foodie day.
Here are the top places in Venice for my kind of diet:
Pizza
It's very difficult to find bad pizza in Italy, and many of the stands that sell a slice of pizza for about 2,50 to 3 €uro will be even excellent.
The best one in Venice is definitely Rizzo. They have various stores around Venice, selling bread, pastries, and hearty snacks.
Their pizza comes in long stripes and is covered with the finest toppings like gorgonzola and nuts, quattro formaggi – whereby the formaggi are like triple of the dough – all sorts of prosciutto and veggies – it's fantastic. They also sell other treats like tarts and sandwiches and at the opposite counter a variety of cakes and pies. Everybody finds something he falls for at Rizzo.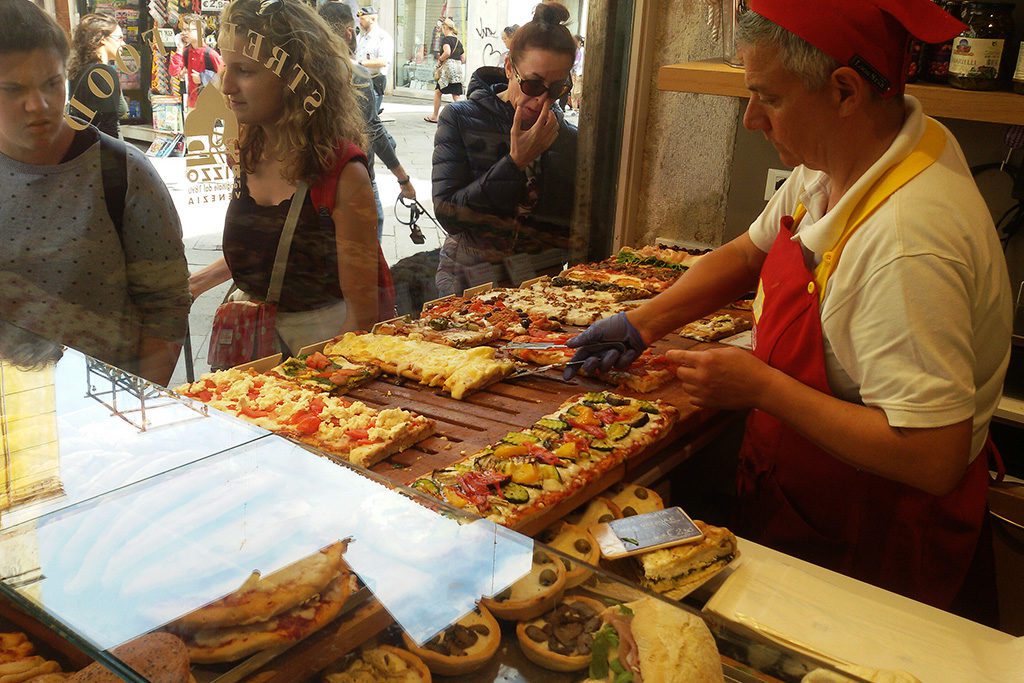 Rizzo Pane
S. Leonardo
Cannaregio 1355
30121 Venice
Phone: + 39 – 41 – 71 83 22
Email: info@rizzovenezia.it
Tramezzini
Ever heard of Tramezzini? They are triangles of soggy, unroasted toast, but that doesn't matter since the bread is only the wrapper for the delicious fillings.
These are not a couple of thin slices, nope, they are a big heap of the finest Italian delicacies: prosciutto, egg, gamberi, which are shrimps, carciofi, in English artichokes, radicchio, you name it. To help the shredded stuff holding together, they are stirred with just the right amount of mayonnaise to a heavenly mixture and then bedded between two slices of toast.
It's good that the toast is mushy because this way, there is more capacity for the filling.
I limit myself to three pieces in one meal, but let me tell you, the choice is far harder than the soft bread.
The juiciest tramezzini are waiting for you just around the corner from the Accademia at
Bar alla Toletta
Via Dorsoduro 1191
30123 Venice
Phone: +39 – 41 – 520 01 96
Aperitivo and Hot Food Counters
I don't really get the aperitivo concept, but I still love it. Why I don't get it? Because an aperitif is supposed to tickle your appetite for a complete meal.
It Italy, the aperitivo often is a complete meal – and in comparison darn cheap: at the not over touristy places you pay between €uro 5 and 8 for an aperitivo that includes a glass of something like a Spritz and a small buffet with all sorts of niblets. Sometimes, it's only some potato chips or pieces of bruschetta, but at times, it's really fancy stuff like tomatoes with crab stuffing or some nice pasta.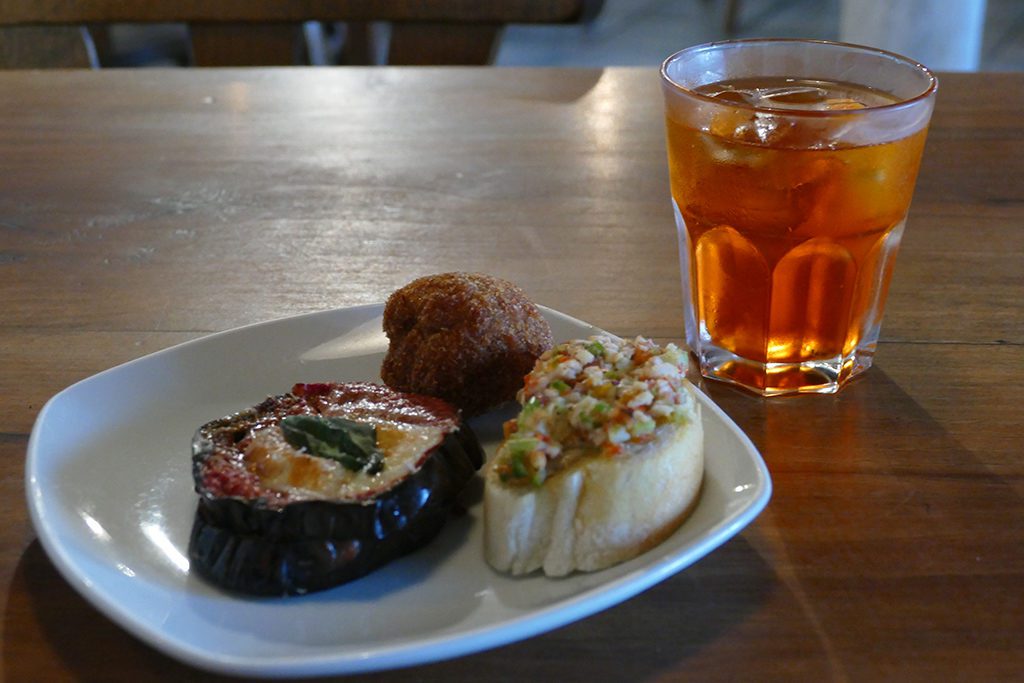 The best place to get a delicious aperitivo is surprisingly located on the very exposed arterial street strada nova. It is called Cantina Vecia Carbonera and to be found right at the corner of the bridge over Rio Terà de la Maddalena.
Cantina Vecia Carbonera
Cannaregio 2329
30121 Venice
Phone: + 39 – 41 – 71 03 76
Delis and Supermarkets
If you don't want to hang around at restaurants and still eat Italian and well, supermarkets can be a great option: You can get fresh bread and cheese from the respective counters. There is a variety of salads and antipasti either pre-packed or at the deli-counter.
And finally, there is the hot food counter where you can buy grilled chicken and meats and roast potatoes and other yummy foods that you then can enjoy at your accommodation or as a picnic at a park.
However, do not sit on the stairs of churches or bridges – either resting or picnicking: Venice installed pretty strict laws on how to behave in the city since many visitors didn't behave very respectfully.
Mind you, Venice is still a city and not a theme park.
Restaurants
Of course, apart from all these snacks, you will be sampling throughout the day, there comes a moment for a seated meal. Blessedly, there are still some good options at Venice that are not a complete rip-off – here they are:
Cà D'Oro alla Vedova
Cannaregio 3912
30121 Venice
Phone: + 39 – 41 – 528 53 24
Rosticceria San Bartolomeo/Rosticceria Gislon
Sottoportego della Bissa 5424
(Close to Rialto)
30121 Venice
Phone: +39 – 41 – 522 35 69
Trattoria dalla Marisa
Fondamenta San Giobbe
Cannaregio 652/B
30121 Venice
Phone: + 39 – 41 -72 02 11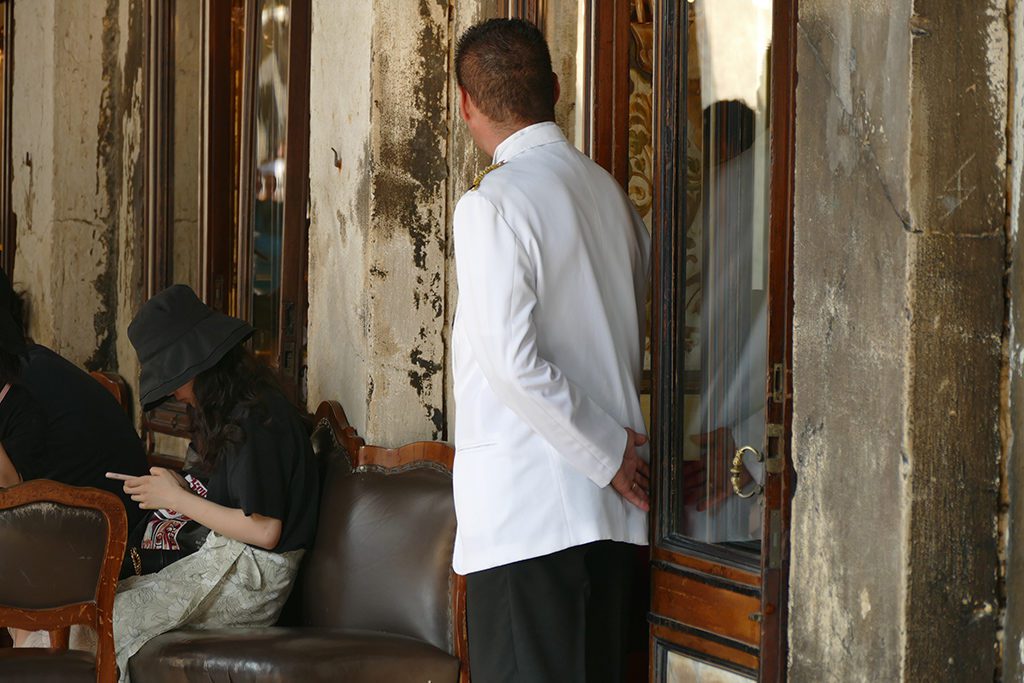 Usually, I'm not a dessert person – unless it's cheese. However, Italian food is just so amazing – even when it comes to dolci, sweets. My absolutely favorite pasticceria is named….Dolce Vita, the sweet life. Actually, I have nothing to add. Oh wait, there is one thing: One of the best gelato places is just across the street.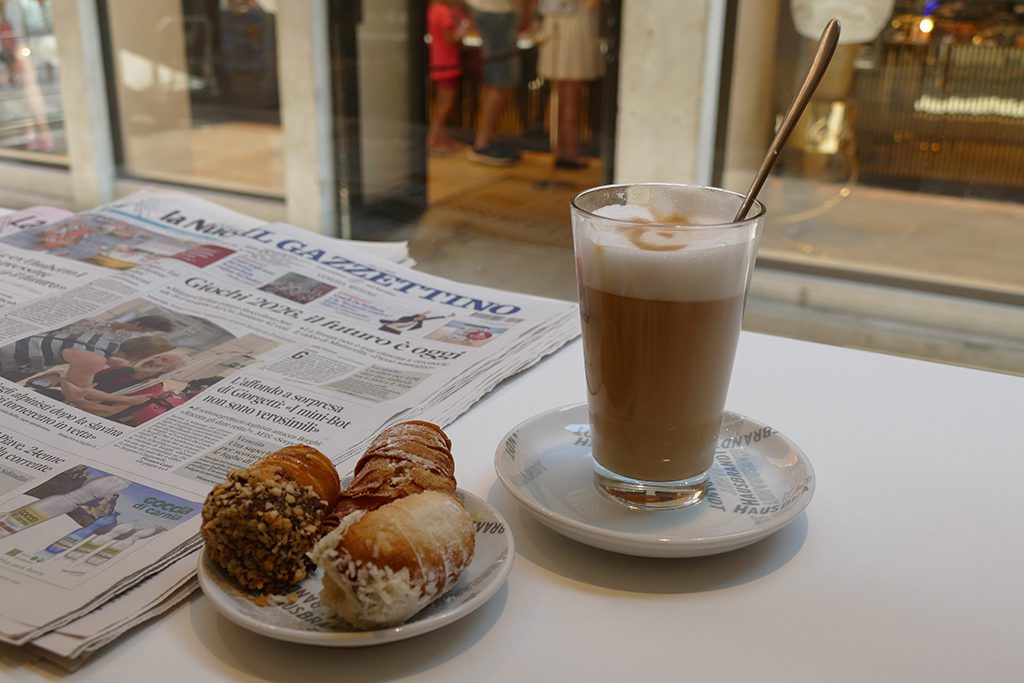 Dolce Vita
Ruga dei Spezieri 378
30125 Venezia
Phone: + 39 – 41 – 522 83 80
Map
Here's an overview of the places mentioned in this post:
Pinnable Pictures
If you choose to pin this post, please use one of these pictures:
* This is an affiliate link. If you book through this page, not only do you get the best deal. I also get a small commission that helps me run this blog. Thank you so much for supporting me!
Did You Enjoy This Post? Then You Might Like Also These:
* This is an affiliate link. If you book through this page, not only do you get the best deal. I also get a small commission that helps me run this blog. Thank you so much for supporting me!