This is a guide to picturesque Ollantaytambo.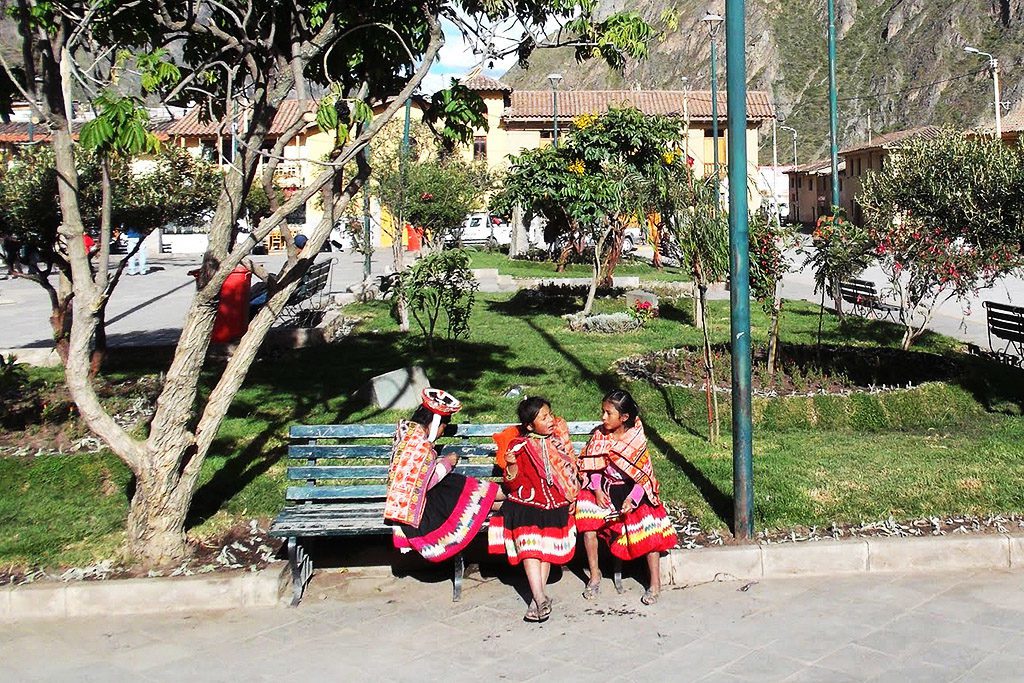 It is one of the most mesmerizing places in Perú's mysterious Valle Sagrado.
Valle Sagrado
Roaring rivers and rippling creeks descend through gorges and small valleys. Numerous archaeological landmarks from the Inca period and their descendants, the indigenous Quechua. All these wonders form the wonderful Sacred Valley of the Incas in the Peruvian Andes.
The Incas highly appreciated the region for its special geographical and climatic qualities. It was one of the main production points due to the richness of its lands and the place where the best corn grain is produced in Peru.
There are different beautiful colonial towns scattered around the Sacred Valley of the Incas. There's Chinchero and its weavers. Písac and its craft fair. Urubamba and its cosmopolitanism. And, of course, Ollantaytambo.
Various communities have installed rural tourism and amaze locals and foreigners with wonderful produces'n'products.
A trip to Perú is not complete without a visit to the Valle Sagrado de los Incas.
Usually, every guided tour through the Valle Sagrado will take you to the most beautiful and important places which are
Sacsayhuamán
The only way is up: Sacsayhuamán is only three kilometers from Cusco's city center, however, at 3,490 meters above sea level. At this important archaeological spot, you will admire the Inca's fancy architectural skills.
Písac
As a matter of fact, Písac's surroundings are more fascinating than the town itself. On the terraces, you will comprehend how those clever Inca agronomists solved the problem of planting on the slopes of hills.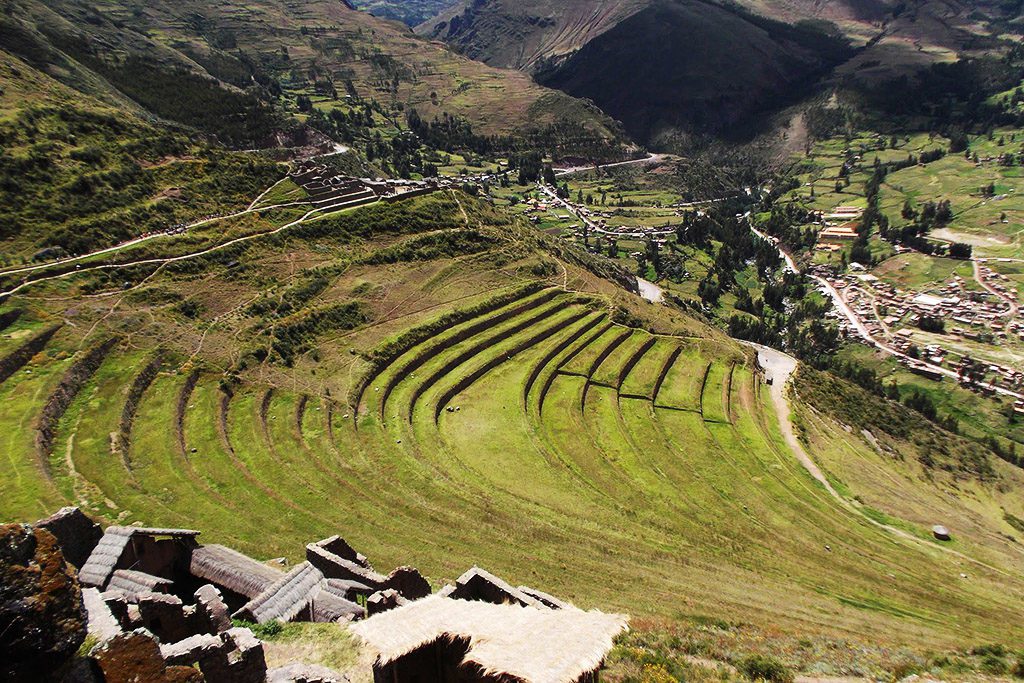 Písaq is a mestizo town that the Viceroy Francisco Álvarez de Toledo let build on indigenous remnants. Despite that disregard for the local culture, to this date, the mass is being held in Quechua. By the way, Perú was the first country to recognize Quechua as one of its official languages in 1975.
I don't know how it is when you visit Písac on your own. If you are visiting on an organized tour as I did, they take you to some jewelry stores and to a supposedly local market. I say supposedly since I cannot believe that local people really buy all these nicknacks with Perú written all over it.
So, unfortunately, it's a bit difficult to enjoy Písac's beauty between all the shops and tour buses.
Chinchero
The 10th Inca Emperor Tupac Yupanqui commissioned the construction of palaces as some sort of country retreat for the elite at Chinchero. In 1607, the Spanish built a colonial church on top of the remains of that palace.
A visit to the site is totally worth your time.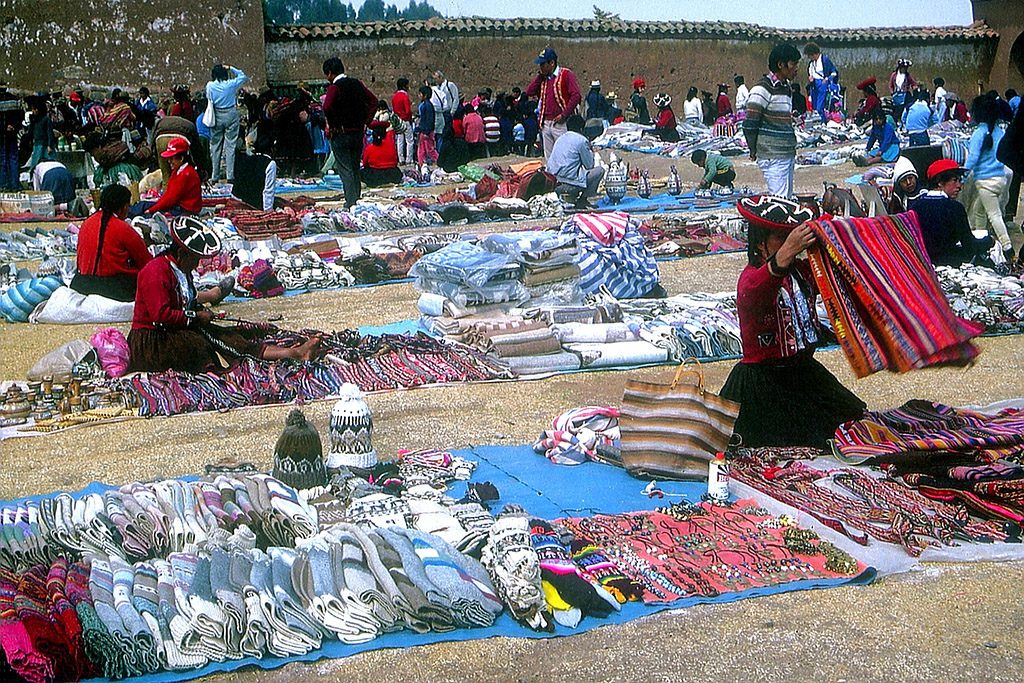 However, the main purpose of the stop at Chinchero tends to be a visit to the market where you can shop for Andean textiles of good quality.
Maras & Moray
The tour's last two stops are usually Maras and Moray.
At Maras are the enormous Salineras, more than 3000 pools of salt that have been put to use by locals using traditional techniques.
Moray, on the other hand, was probably some sort of an agricultural experimentation plant to the Incas.
It consists of several terraces at different heights. The first seven terraces are arranged concentrically, the eighth one, however, breaks out of the scheme and expands the acreage on the seventh terrace. The terracing and the arrangement in rounds cause a superimposition of the macroclimate with several different microclimates on each terrace.
Up until 50 years ago, potatoes and barley were grown on the site.
Ollantaytambo
Finally, you'll get to Ollantaytambo and you think "Oh my God, I'll never forget this place!" And the indigenous know that and therefore Ollantaytambo translates from Quechua to Memory of my God.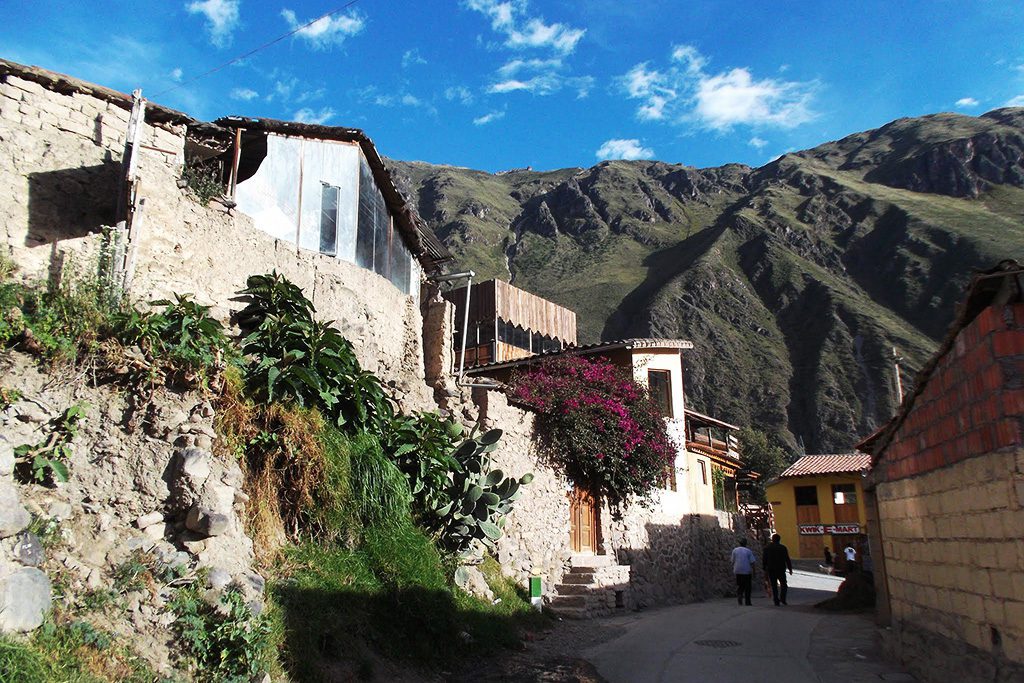 As a matter of fact, Ollantaytambo is the only remaining example of urban planning from the Inca period. The buildings and Inca terraces as well as the narrow streets of the city are still in their original layout.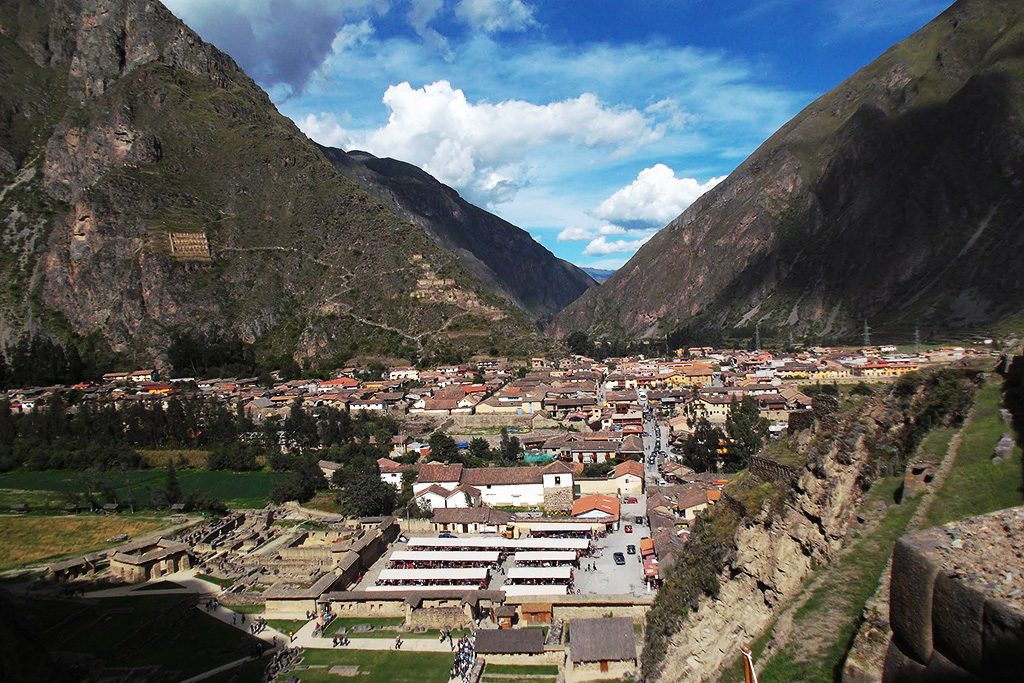 The straight and narrow streets form 15 square blocks. Each has an outlet to the central courtyard, which is surrounded by houses. The Incas built administrative, agricultural, military, and religious institutions in Ollantaytambo. Some distinguished houses are made of perfectly worked Inca walls of dark pink stone.
On the mountain-facing side of Ollantaytambo is an imposing Inca complex. Due to its exceptionally strong walls, it is commonly called Fortaleza, hence, a fortress.
In fact, this complex was strategically located to dominate the Sacred Valley of the Incas.
I recommend spending the night at Ollantaytambo. It becomes a really quaint place after all those tour buses have left. Then, you can stroll through the narrow side alleys, take a glance at the majestic mountains in the sunset, and spend a quiet night in one of the cozy guest houses.
Practical Information
How to Get There
Getting to Ollantaytambo is not very complicated since there is a regular train service from Cusco. However, this is the most expensive option.
The cheapest but longest one is going by local bus.
If you have a limited amount of time and want to see also other places in the Sacred Valley, an organized tour is highly recommended. You can book them in Cusco or – to be sure – pre-book online:
Most of these tours are a one-day trips. So if you intend to continue to Machu Picchu, it's convenient to spend the night in Ollantaytambo and take the train in the early morning the next day.
In this case, you either have to leave the organized tour already in Ollantaytambo and skip the last stop which might be for instance Chinchero. Or, if you continue, you have to take a public bus from Chinchero back to Ollantaytambo since the tour goes all the way back to Cusco.
Quite frankly, I would waive further stops and just stay in Ollantaytambo. You'll see so many other Inca ruins and visit so many other markets – you can do without Chinchero. And regarding the shopping: There is a huge market at the foot of the Fortaleza where you get all those sweaters, hats, games, and jewelry you get everywhere else. Missing out on shopping opportunities is one worry you can forget about in Perú.
By the way, while Cusco is one of the stops on the PeruHop-route, Ollantaytambo and Machu Picchu are not. From Cusco, you have to organize a visit to the Valle Sagrado yourself.
How to Get Around
First I need to say that you might pay a bit more for a tour if you book online. But if you have a limited amount of time and prefer to have everything organized and ready when you go to Perú, pre-booking is a valid option.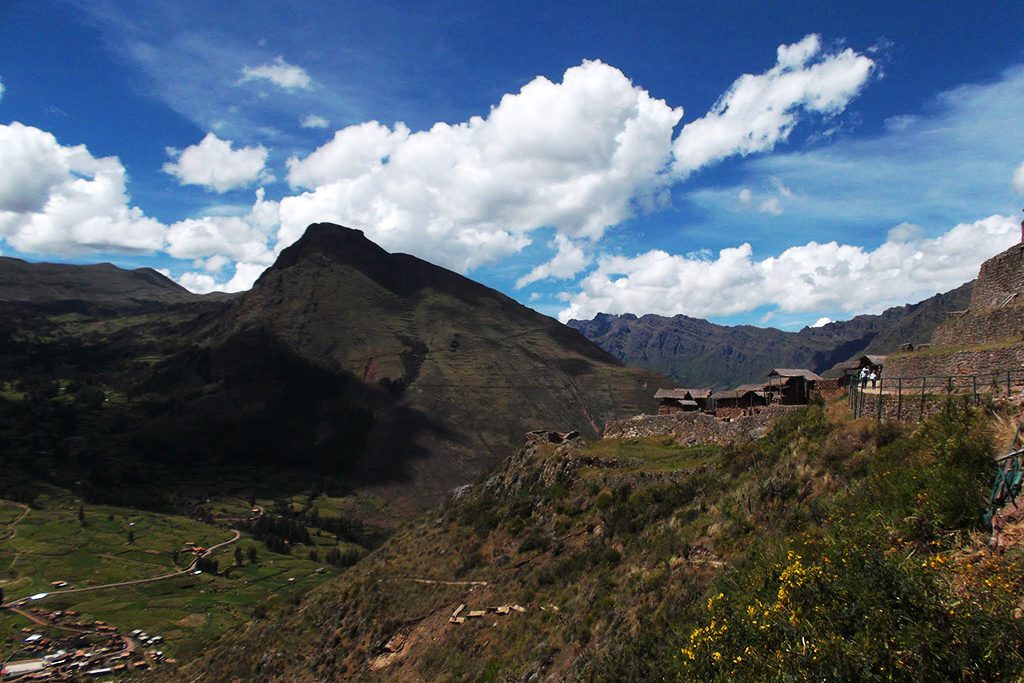 At least the first argument is understandable. However, you might have to pay more than what they charge on the spot.
As soon as you get to Cusco, go to the Plaza de Armas. Across from the Cathedral are tons of small tour agencies that will charge a fraction. There are so many, you probably don't have to worry that they'll leave you behind.
I got to Cusco in the evening and they still had places available for the next morning. Unfortunately, I had already forked out a small fortune for another tour.
Apart from Machu Picchu, many activities can be booked sometimes spontaneously and a bit cheaper on the spot. However, if you want to make sure to join a certain activity or tour on a specific day, you might want to pre-book*:
I wrote about the dilemma between booking ahead or just on the spot in another post that might be helpful especially if you're planning on going to Perú.
Ollantaytambo is also one of the gateways to Machu Picchu. It's also the best base for hikes on the famous Inca Trail. Sounds alluring, but keep in mind that any form of physical activity is much more exhausting due to the altitude.
Boleto Turistico – The Tourist Pass
To visit all those fantastic places in the Valle Sagrado, you need a Boleto Turistico, a tourist pass that gives you access to the different landmarks in the Cusco region.
You can buy it at the sites, nevertheless, getting it before you head for the valley is recommendable. You can purchase it at COSITUC, Avenida El Sol 185, just minutes from the Cusco cathedral.
Foreign visitors pay for a comprehensive tourist ticket 130 Soles and for a partial ticket 70 Soles. Peruvians pay about half of this.

The comprehensive ticket is valid for ten days at all places in the three circuits. Whereas the partial ticket is valid for one or two days at one of the circuits.
I know, this sounds confusing. However, their website might help.
Where to Stay
I spent the night at Ollantaytambo and loved it. There are many cozy guesthouses within walking distance of the city center.
I stayed at the Hostal Iskay* and liked it a lot. At a reasonable price, I had a cute small room with a million-dollar mountain view. A hearty breakfast was included.
However, here is a choice of various accommodations around Ollantaytambo*:
Where To Eat
Normally, there is a lunch stop during the day trip. If you have the option to choose your trip without lunch, don't do it; unless you are a vegetarian or need to stick to a special diet. Otherwise, it's very recommendable.
I'd really like to emphasize that the menus offered on organized tours in Perú are far from being rip-offs. On the contrary, everything is delicious and of very high quality. Peruvians are very much into food, it's an important part of their culture.
They are probably unable to prepare bad food – good for us visitors!
Cash And Cards
When visiting the Sacred Valley, you'll definitely need some cash. You'll need to buy drinks and there are stalls and markets everywhere. Obviously, those peddlers don't take credit cards.
There are two banks with ATMs in the center of Ollantaytambo.
Language
Since Ollantaytambo is one of Perú's tourist hotspots, at least people who work in tourism speak some English. Nevertheless, you'll be much better off if you know at least some basic vocabulary. Therefore, you might want to brush up on your Spanish on babbel.
Ollantaytambo and the Valle Sagrado were a highlight, however, only one of many beautiful stops on my tour through Perú. Hence, to read about the others, go to the main post and take your pick! There, you'll also find further relevant information on money, communication, and more.
To read a post on the mountainous region around Arequipa and the Colca Canyon, Puno and Lake Titicaca as well as Cusco, the Sacred Valley of the Incas, and Machu Picchu, go to this special post.

Pinnable Pictures
If you choose to pin this post for later, please use one of these pictures: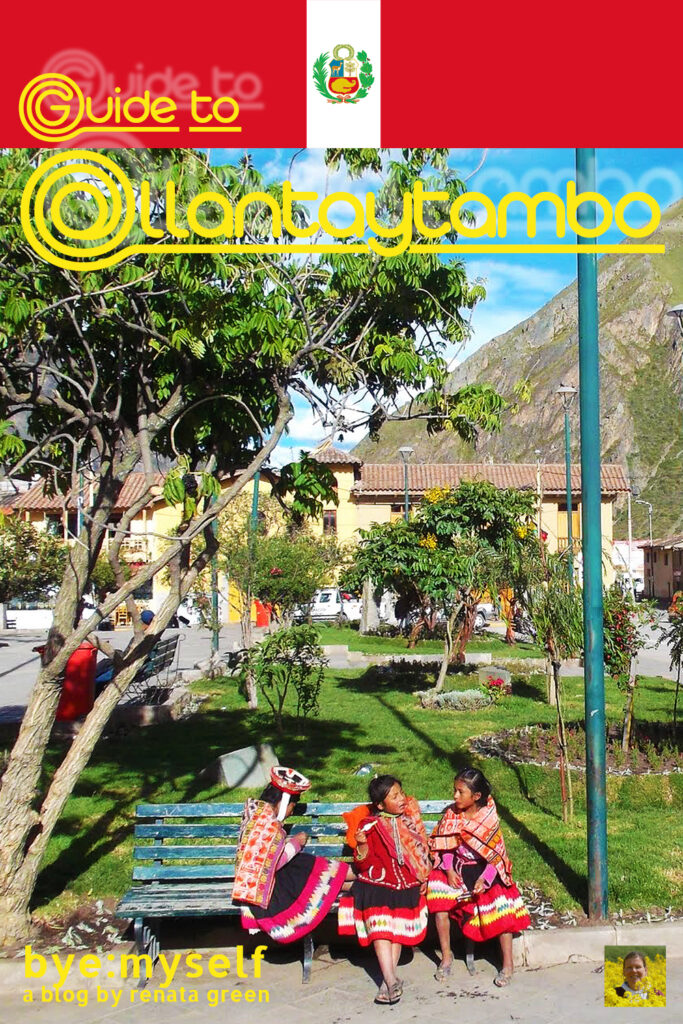 Note: This post is being regularly completed, edited, and updated – last in November 2022.
Did You Enjoy This Post? Then You Might Like Also These:
* This is an affiliate link obviously. Therefore, if you book through this page, not only do you get the best deal. I also get a small commission that helps me run this blog. Thank you so much for supporting me!