Apart from long sandy beaches, there is an amazing number of picturesque coves surrounding the island, and on Mallorca's east coast, you can even explore them hiking from bay to bay – from Cala Llombards to Cala Santanyí to Cala Figuera.
Hiking through the rural Hinterland between fields lined by olive and almond trees and Mallorca's iconic terrace orchards, you'll most certainly break a sweat. No problem, since the turquoise waters of the countless picturesque bays are awaiting you to take a refreshing dip.
Mallorca's East Coast from Cala to Cala
A rough'n'rocky coast with waters glistening in all shades of blue and turquoise. Small fishing villages and old castles. On her east coast, Mallorca has much more to offer than a beach holiday.
Everything is quieter and more relaxed between Cala Mesquida, hence, the northernmost holiday resort on the east coast, and Cap de Ses Salines on the southern tip.
Due to the precipitations, fruits like lemons, oranges, and apricots grow in abundance on the mountainous west coast. Whereas here in the east, the sceneries deem rougher, drier, and more austere. Nevertheless, there is vegetation like forests of pine trees and holm oaks, olive and almond trees, but also aromatic rosemary and even colorful bougainvillea.
As a matter of fact, it is precisely these contrasts and the relaxed mentality that have transformed the east coast of Mallorca from an insider tip to a popular destination for those who prefer to stay away from the wild party life.
However, the strongest suits are definitely the mesmerizing small bays with waters in incredible shades of turquoise and deep blue.
A Day on the Bay
I assume you've read the former posts on my recent trip to Mallorca so that you know that for nine days, I stayed in the capital city Palma. Obviously, it was the best gateway to the island's many amazing places.
Since Mallorca has an east-west extension of 98 kilometers, frequent trips to the east coast were off the table. However, I managed to include one entire day at three of the most precious Calas, hence, bays.
So if you'd like to follow my lead and spend a day between Cala Santanyí, Cala Llombards, and Cala Figuera, you should check out the itinerary I put together below. Although the net of public buses in Mallorca is amazing, the service to these places is very limited so my schedule will help you make the best of your tour.
Cala Santanyí
At the beginning of the 20th century, Cala Santanyí consisted of only a few fishermen's houses. Only around 1960, the authorities recognized the touristy potential of the bay. Hence, the first hotels and holiday villas were built.
Today, there are numerous villas and apartment houses as well as three larger hotels around the waters of Cala Santanyí.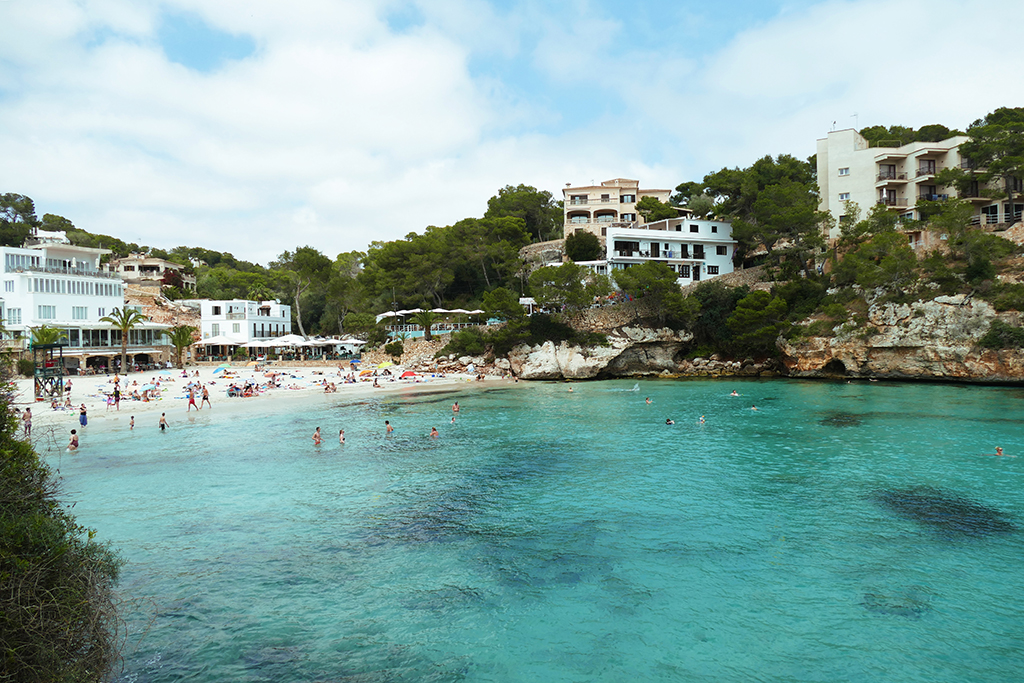 The fine sandy beach of Cala Santanyí is gently sloping and therefore also great for smaller children. Since the bay is sheltered by two large ledges, there are also no dangerous currents or waves.
Especially on the east side of the beach are many bars and restaurants.
Compared to many other beaches in Mallorca, Cala Santanyí is still a hidden gem. Nevertheless, the number of visitors is steadily increasing. While it's a good place for a day trip – especially in combination with a visit to the other bays – I would not make it to my base camp when touring the island.
Es Pontàs
Yes, apart from the beach, there are actually some quite interesting spots to visit in the vicinity of Cala Santanyí.
About ten minutes west of the beach is the Mirador des Pontàs from where you have an amazing view of Cala Macs and Cala Llombards.
However, the Mirador is mostly famous for the Es Pontàs rock arch. This arch is admired and photographed by tourists, but is also used by climbers. As a matter of fact, in the summer of 2006, Chris Sharma first climbed a deep water solo route here.
To this date, it is considered the most difficult deep water solo route in the world and was since then been repeated only twice. The route is one of the subjects of the film King Lines.
Equilibrio Sur by Rolf Schaffner
Then, as you turn your back to the arch, you'll spot a strange stele made from rocks. It is Equilibrio Sur, the first sculpture of a European art project performed by German artist Rolf Schaffner.
Rolf Schaffner was born in 1927 and made Santanyí his home for the first time back in 1962.
Later, in the mid-1970s, Rolf Schaffner left Mallorca for over ten years as he lived and worked in Munich where he created works in stone, concrete, bronze, and aluminum. He returned to Santanyi in 1987.
In the 1990s, he began creating his monumental sculptures. Of those, the multinational project Equilibrio is the most impressive one, obviously. From 1995 to 2009, Schaffner created a project for peace and responsible treatment of nature. After all, Equilibrio means balance.
Schaffner erected his steles made of natural stone at five locations in Europe starting in 1995 with Equilibrio South in Santanyí. Then, this piece was followed by Equilibrio Center in Bensberg, Germany in 1997, Equilibrio North in Trondheim in Norway in 2000. In 2005, he built Equilibrio East in the Russian city of Volgograd. Finally, his project was completed with Equilibrio West in Cork in Ireland in 2009 only the year after his death in Mallorca in 2008.
Cala d'es Macs
Assumably anyone who spends their holiday around Santanyí gets to know Cala Llombards since it's a small, family-friendly sandy beach with incredibly clear water that I'm introducing below.
Therefore it's funny that practically just around the corner is a small bay that only very few visitors enjoy.
This Cala d'es Macs is a small swimming area very close to the famous Es Pontàs that I've introduced above. Due to the quite challenging access, it's never crowded. Also, the bay is very small and rocky, definitely not for smaller kids or the elderly.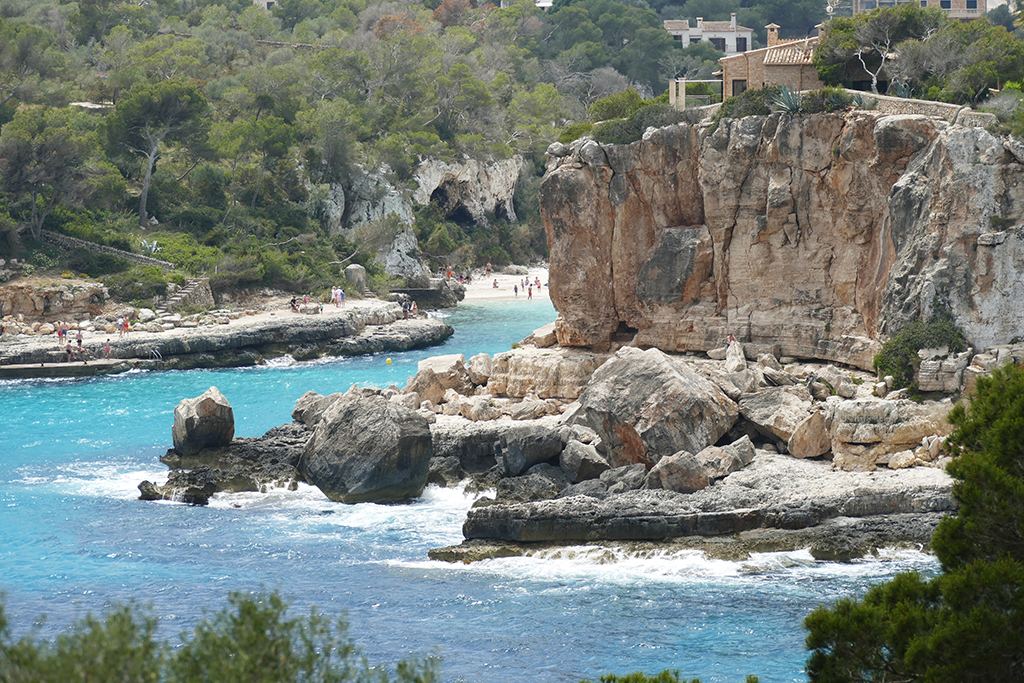 Obviously, you can get there by car and then just descend the stairs. However, it's also reachable from Cala Llombards by passing in front of some small fishermen's huts. Better yet, you wade through the water if you are not bothered by the seagrass.
Cala Llombards
Just like Cala Santanyí, Cala Llombards consists of holiday homes as well as a small hotel. The settlement and the homonymous bay can be reached by car via the MA-6100 between Santanyí and Ses Salines.
But coming from Cala Santanyí, it's a very pleasant twenty-minute walk where you can enjoy the sight of Santanyí's austere hinterland from close.
Once you reach the end of the road next to some dry barren fields, you'll have to descend some quite steep stairs down to the sandy beach.
In the morning, the bay is shaded and also usually very well suited for swimming thanks to the shallow beach and weak waves. Nevertheless, there are no shops or restaurants right next to the beach, and a quite limited choice in the vicinity.
Cala Figuera
Cala Figuera is located in a fjord-like bay and was formerly the port of Santanyí. The bay consists of two water arms called Caló d'En Boira and Caló d'En Busques. At the hidden end of the left arm are the fishermen's houses with their characteristic boat garages.
The first mention of Cala Figuera was way back in 1306. Nevertheless, the first residential buildings were built only at the end of the 19th century. The first church of Cala Figuera was constructed in 1938. Today, it houses a French restaurant.
Tourism in Cala Figuera had its peak in the 1970s and 1980s. Since then, tourism has decreased and shifted to the neighboring calas. As a matter of fact, this makes Cala Figuera pleasantly sleepy and authentic.
It is the perfect place for a relaxed stroll alongside the water arms.
In the afternoon, you can observe fishermen bringing their catch in. Then you sit on one of the beachfront terraces, enjoying views, snacks, and drinks. If you want to enjoy fresh fish and seafood, Cala Figuera is one of the island's best options.
Summertime and the living is easy – doesn't that ring a bell?
A Small Flaw
Following my itinerary, Cala Figuera should be last on your list for two reasons – a good and a not-so-good one. The good one is the above-mentioned opportunity to enjoy a fantastic fish dinner on the waterfront.
The other one is the fact that beach life is far more enjoyable at the other two bays since they have sandy beaches and smooth access to the water.
There is no sand beach at Cala Figuera. Nevertheless, you can sunbathe on huge rocks from where you also take refreshing dips in the deep blue waters. This is cool and fun for young adults. Smaller kids and elderly visitors will probably refrain from jumping in the waters.
Itinerary
As I said, I've explored this part of Mallorca's east coast on a day trip. Since the bus connection from Palma to Cala Figuera via Cala Santanyí is quite limited, you might want to plan your itinerary ahead. There are actually only three suitable connections per day: At 8:30 a. m., 12:45 p. m., and 4:45 p. m., whereby the latter is basically only suited as a return trip for those based on the east coast. For your return to Palma, there are three options, albeit the first one at 2:45 p. m. is too early if you want to get to enjoy all three bays.
Between Cala Santanyí and Cala Llombards, you'll be mostly walking on a comfortable dirt road. There won't be any opportunity to stock up on snacks or water on the way so you better buy something at the small supermarket in Cala Santanyí. Since you are hiking between fields and stony terraces, there is no shade whatsoever. Make sure to put on sun protection and better wear a hat – the sun in the Mediterranean can be brutal.
Going from Cala Santanyí to Cala Figuera, you can comfortably walk on a paved promenade. It's a bit less charming, yet very comfortable. Also, depending on the time of the day, there is much more shade from the high trees and small groves along the way.
Timetable
My itinerary for an entire day on the east coast looked like this:
| | | | |
| --- | --- | --- | --- |
| Departure | Arrival | Transport | Route |
| 8:30 a. m. | 9:15 a. m. | Bus #501 | Palma to La Verge 2 at Campos |
| 9:45 a. m. | 10:10 a. m. | Bus #516 | La Verge 2 at Campos to Cala Santanyí |
| 10:10 a. m. | 11 a. m. | | Getting Refreshments, Es Pontàs, and Equilibrio Sur |
| 11 a. m. | 11:20 a. m. | | Hike from Cala Santanyí to Cala Llombards |
| 11:20 a. m. | 1:30 p. m. | | Cala Llombards |
| 1:30 p. m. | 1:50 p. m. | | Hike from Cala Llombards to Cala Santanyí |
| 1:50 p. m. | 3 p. m. | | Lunch at Cala Santanyí |
| 3 p. m. | 5 p. m. | | Cala Santanyí |
| 5 p. m. | 5:30 p. m. | | Hike from Cala Santanyí to Cala Figuera |
| 5:30 p. m | 6:15 p. m. | | Cala Figuera |
| 6:15 p. m. | 7:30 p. m. | | Drink and Dinner at Cala Figuera |
| 7:45 p. m. | 8:20 p. m. | Bus #516 | Cala Figuera to La Verge 2 at Campos |
| 8:30p. m. | 9:20 p. m. | Bus #501 | La Verge 2 at Campos to Palma |
Clearly, this is just a rough plan and you can prolong or skip certain points. The only parts that won't be flexible are the buses, obviously.
Also, since bus schedules are subject to changes, check the timetables before you go. The fastest way to do so is by typing tib 501 respectively tib 516 in google search. This will lead you straight to the bus company's page.
How to Get There
Cala Santanyí is located in the area of ​​the municipality of Santanyí in the island's extreme southeast. It is 62 kilometers from Mallorca's capital Palma and can be easily reached by road.
If you're not driving, you can get there easily by bus, however, there are far fewer connections than to other places around the island. Also, it's possible that buses between Campos and Cala Santanyí do not circulate during the low season on Sundays, hence, always check the schedules before planning your day.
There is no direct bus between Palma and Cala Santanyí. Nonetheless, the connection is easy and reliable at the stop La Verge 2 in the rural town of Campos.
On weekdays, the first bus #501 leaves Palma at 5:55 a. m. Then, from 6:55 a. m. onwards, buses to Campos are going about every 20 minutes till 22:30 p. m. Yet, the schedule of bus #516 that will then take you from Campos to Cala Santanyí is much more limited. Actually, during high season, there are connections at 7:30 and 9:45 in the morning and 12:45, 2:40, 4:40, and 6:40 in the afternoon. However, service on Sundays is even more limited.
Also, during the low season, service is limited to fewer buses on weekdays and there is no connection on Sundays. However, you have the option to go to Santanyí town from where you can take a cab to the beach resorts.
Saving Big Bucks
A single ride from Palma to Campos costs 7.50 €uro if you pay cash on the bus. As you pay with your credit or debit card, you get a discount – in this case, you pay 40% less. The ride from Campos to Cala Santanyí is 4,50 €uro and you'll get just a small discount of 10%.
As a matter of fact, if you are planning on taking the bus more often, paying by card will save you a lot of money since discounts go up to 60% depending on your route.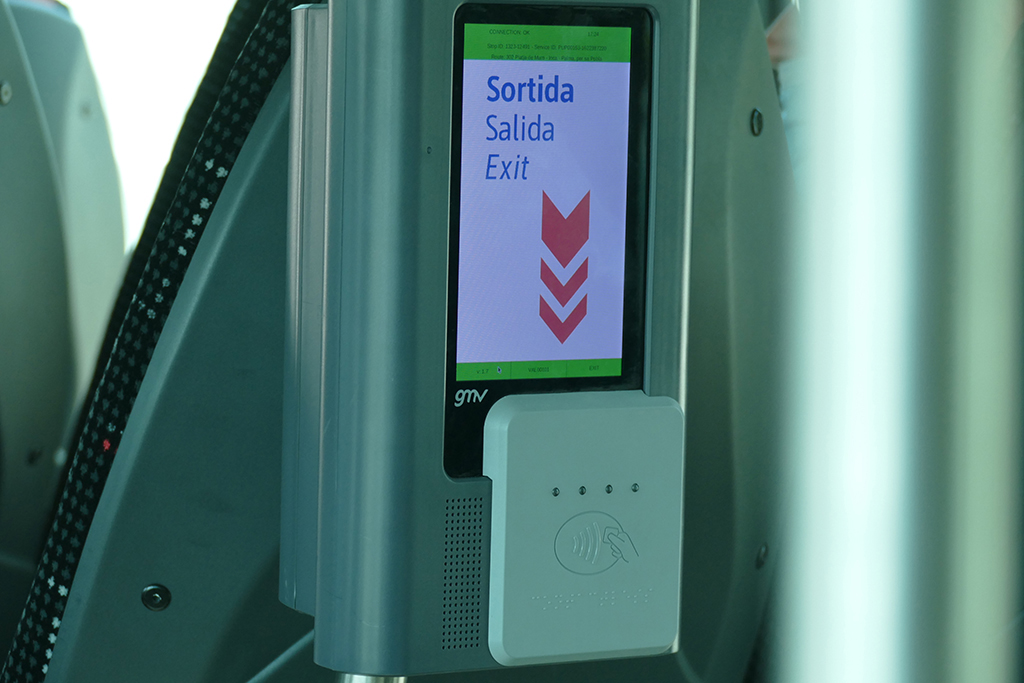 In case your card is not equipped with Near Field Communication – short NFC – you can simply obtain a so-called intermodal card for instance at the Estació Intermodal in Palma and just charge and recharge it as needed. This way, you'll get the same discounts.
Not only is the network of public transportation comprehensive, comfortable, and reliable, but the CTM company also has a very informative website in five languages.
Well-Organized Activities
Although I'm an avid solo-travelling woman, I sometimes like to join organized tours. Not only are they a valid option to go to remote places since I'm not driving. They also allow me to meet fellow travellers – for just a short moment or a lifelong friendship.
Therefore, here are some great ideas of what to do when visiting Mallorca. Especially during high season, pre-booking online will guarantee your place at the activity of your choice*:
Map
This map should help you to find the wonderful spots in the area:
My day trip to the bays on Mallorca's east coast between Cala Llombards and Cala Figuera was only one of many amazing tours during my nine days on the island. To read about the others, go to the main post and take your pick!
For general information on Spain, go to the main post. There, you'll find information and tips that will make your trip much smoother and more enjoyable.
Pinnable Pictures
If you choose to pin this post for later, please use one of these pictures:
So You've Enjoyed This Post? Then You Might Like Also These:
* This is an affiliate link. Hence, If you book through this page, not only do you get the best deal. I also get a small commission that helps me run this blog. Thank you so much for supporting me!