Hamburg has always been unique – on many levels. Hence, it's only logical that much of the best street art in Hamburg is quite different from the murals you get to see in other cities.
So, put on your most comfortable shoes, polish your camera's lens, and let's explore all those grand murals that are embellishing the walls of Germany's self-proclaimed Gateway to the World.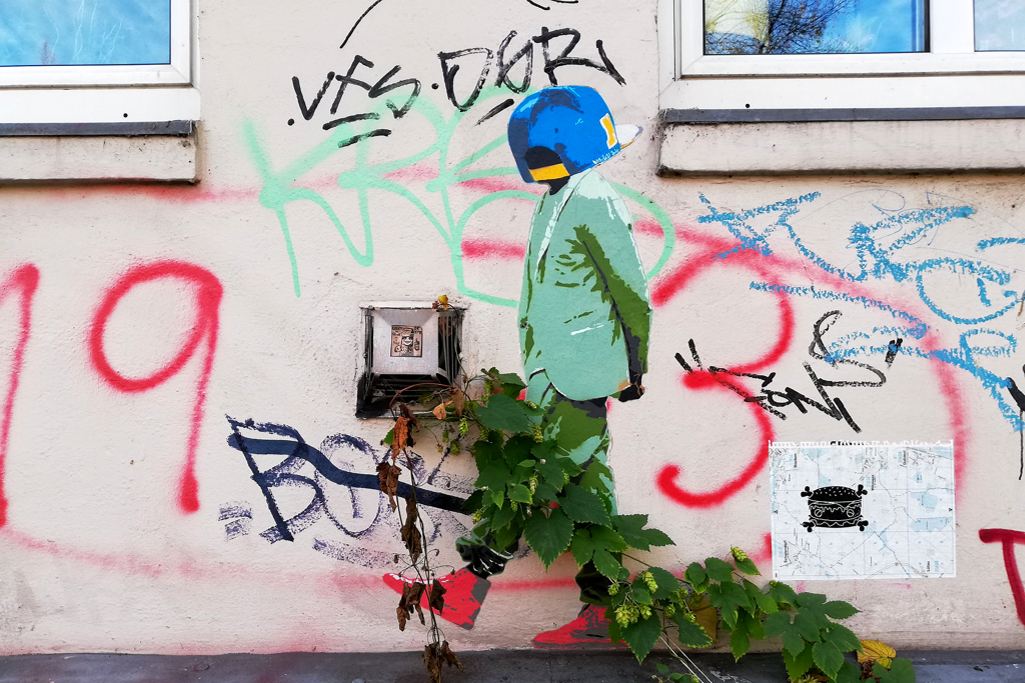 Street Art
There aren't just a couple of keywords that can define street art in all its shapes and forms. As a matter of fact, the art of sketching and painting on walls goes way back to the cavemen, to the era of the Pyramids in Giza, as well as the Roman Empire.
Then, the contemporary graffiti movement started in the 1960s as a claim of urban territory by gangs as well as a response to the political and social injustice going on around the world. Graffiti developed from the so-called tagging, hence writing names'n'slogans in a more or less artsy way.
On the other hand, today's larger than life wall-paintings have their roots rather in murals from Latin America. The most famous muralist was probably Frida Kahlo's husband Diego Rivera. Albeit, he preferably depicted and honored the Indigenous heritage and culture than facing social problems and protests.
Yet, you can often spot a rebellious undertone in urban art. Maybe it's because you'll find it frequently on abandoned buildings, objects of capitalist speculation in urban areas. While graffiti and murals in run-down neighborhoods depict social problems, in other areas, some pointless smearing is simply vandalism. This difference is sometimes a very thin line and leaves much room for interpretation – as well as heated discussions and legal consequences.
Uncensored Canvases
However, let's be real here – over the past decades, street art is not only going but actually racing toward the mainstream since hip galleries and posh art lovers are adding works by famous street artists to their collections.
The first Street Art Museum opened in Berlin back in 2017. And in Hamburg, you'll find even two art galleries, namely the Urban Art Space and the Urbanshit Gallery. I've marked them both on the map at the end of this post.
Private house owners, communities, as well as local governments, commission artists to decorate designated walls'n'structures. By the way, this seems to be much less the case in Hamburg. I'm afraid the city's traditional wealth causes a full belly and obstructs the hunger for new and wild movements.
Children of the Revolution
Now, while commissioned pieces aren't in the spirit of rough'n'revolutionary urban art, anyway, it is a development that actually helped many artists by lifting illegal spraying and painting to an accepted form of culture. Yet, there is a pretty thin line – but maybe it's exactly this controversy that keeps urban art interesting and inspiring, and…alive.
In many places like for instance Berlin, Singapore, George Town, Rio de Janeiro, and most recently Puerto de la Cruz and San Cristobal de la Laguna on the island of Tenerife, I've seen beautiful murals. Many of those were commissioned either by the city or by private sponsors. That without any doubt is wonderful for urban artists. However, you notice the difference. Most of the time, those paintings are simply not as rough'n'raw as street art on crumbling walls and abandoned buildings.
As I pointed out above, Hamburg is rather sluggish when it comes to urban art. Therefore, most of the more inspiring pieces are thought-provoking and have a political connotation.
Street Art in Hamburg
Graffiti came to Hamburg in the early 1980s. That was the era of intense youth cultures: punks, new wavers, new romantics, rock'n'rollers, hippies – the city's youth was divided into hermetically closed bubbles.
In the middle of the decade, however, two new socio-cultural movements appeared, which then also immortalized themselves on the walls of the city: the hip-hop wave swept from the US to Europe, and in the big cities angry young people occupied houses that speculators left empty. To this date, you can still see that Hamburg's street art emerged from these cultures and ideals. There are far more congenial, illegal pictures with a provocative message in the city than large-format murals by the world-renowned stars of urban art.
Incidentally, one of Germany's most active hip-hop scenes developed in Hamburg in the early 1990s, which gave the graffiti genre a further boost, obviously.
Taking all this into consideration, it is not surprising that to this date, most of the impressive murals can be found in the southwest of the city in districts with a colorful mix of residents and active subcultures.
Mapping Murals
While in some of my posts on street art, I've listed the works and their creators in alphabetic order, in Hamburg, this wouldn't make sense.
To make it easy for you street art hunters, I've divided this post according to the most interesting neighborhoods into five hunting grounds. Also, you find the exact spots of the works on the map below. So, good hunting!
Grindelviertel
In the 19th century, the Grindelviertel developed into a predominantly Jewish neighborhood. Obviously, this culture was destroyed by the Nazis in the early 1940s. However, over the past decades, the Grindel has become an important area for the approximately 4,000 Jews living in Hamburg. Also, the synagogue is within walking distance. That's crucial since orthodox Jews have to walk to the synagogue on the Sabbath.
The main campus of Hamburg's university, its library, as well as other buildings are all around the Grindel district.
Cecilia Herrero-Laffin
Referring to the neighborhood's Jewish history, artist Cecilia Herrero-Laffin, originally from Argentina, painted a large-sized mural on the campus of Hamburg's university.
The painting Jewish Life in the Grindelviertel is on the wall of the faculty of social economics. A group of political students developed the concept for the 50th anniversary of the liberation from National Socialism. The project was financed by donations and public funds. The artist group Los Muralistas helped Herrero paint the mural which contains a poem by Nelly Sachs.
Sternschanze
The once rather impoverished area has been characterized by multiculturalism and subcultures for the longest time. The old buildings provided the perfect base for the autonomous anti-bourgeois protest movements.
However, over the past decades, gentrification is taking place. During the internet boom at the turn of the millennium, numerous new economy companies settled in refurbished former factory buildings. Today, many bars, restaurants, small businesses, and fashion boutiques are lining the streets of the Sternschanze neighborhood and attracting a solvent clientele.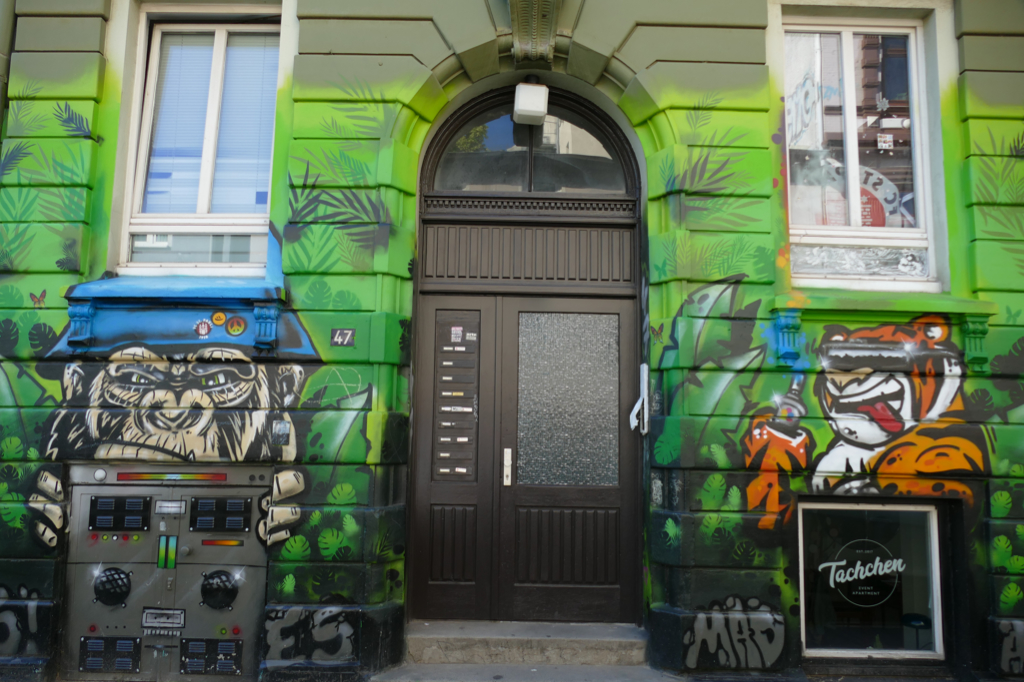 Obviously, this leads to social conflicts between rather impoverished long-term residents and financially better-off yuppies. However, the autonomous center for culture as well as for subculture Rote Flora is the last remaining squatting project in the city. The Rote Flora, which translates to Red Flora, is known for the social, cultural, and political activities'n'actions of Hamburg's far left.
In 2017, the Sternschanze gained international gained notoriety as a center of riots during the G20 summit in Hamburg.
Eckart Keller and Friends
Take a close look: Residents from different generations gathered tightly on a wall, looking at you. Today's mural The Neighbors was created in 1997. Underneath is an older version from 1979. That one also depicted residents of the Sternschanze neighborhood.
Eckart Keller, the artist in charge, explains that his work is meant to encourage residents to stay in the district and resist the negative impact of gentrification.
The painting reflects the diversity and at the same time the sense of community in urban life.
OHM ONE
Born in 1977, OHM ONE was born as Tim Siemokat in Hamburg. Raised in a neighborhood that was a hotspot of the city's emerging graffiti scene, he was inspired by those first tags and pieces he spotted in the late 1980s. Eventually, he began spraying in the early 1990s.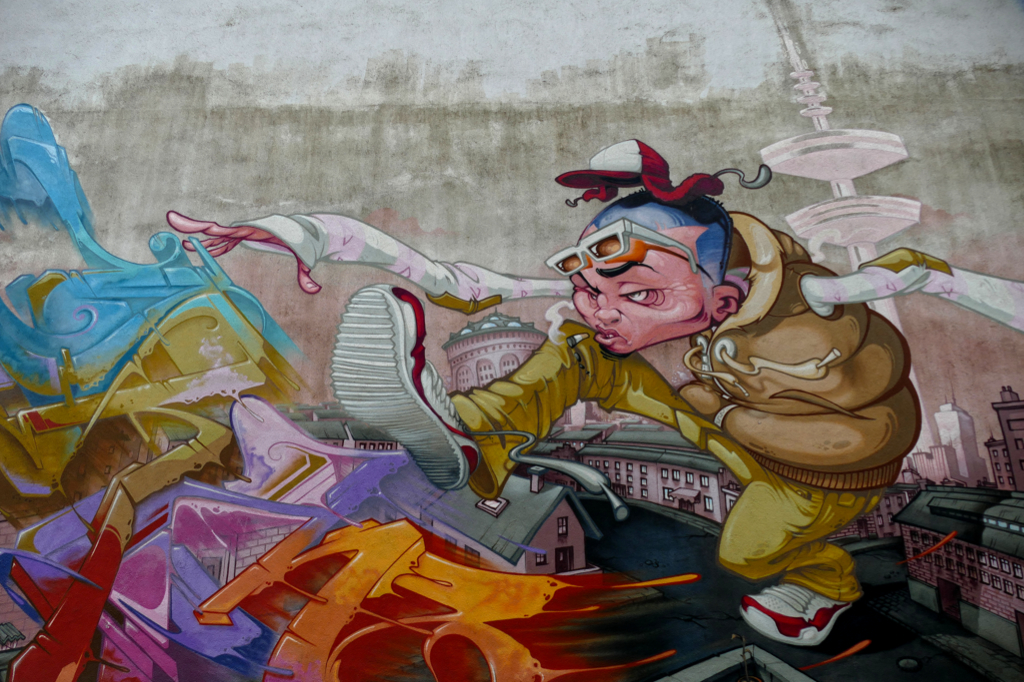 After having worked as an interior decorator, he's now a media designer by day and a renowned graffiti artist by…the rest of the day.
He is a member of the Super Bad Boys, one of Germany's most acclaimed style-writing groups.
OHM ONE works with brushes, spray cans, and markers on paper, canvas, and walls.
Paco Sanchez
El señor Paco Sanchez – who's also active under his nom de guerre pinceaux Anusone – was born as Francisco Sanchez Rodríguez in Kassel in 1976.
He began to embellish urban spaces in 1994. In 2001, he moved to the city of Hamburg where he decorates walls – and people as a tattoo artist at the Underpressure Hip Hop Store.
Philipp Kabbe
Philipp Kabbe is one of Hamburg's highly profiled urban artists who began drawing comic strips at the tender age of seven. Then, in 1989, he took his art to public spaces. While strictly speaking, his first pieces were not really legal, he soon was commissioned to lawfully decorate façades in the Frankfurt area.
During his time of training as a communication designer, he built his first ties to the city of Hamburg. Today, he's a successful freelance artist.
Innerfields
Not an individual one, but a group of artists created this sailor: Jakob Tory Bardou, Holger Weißflog, and Veit Tempich from the street art crew Innerfields. Based in Berlin, they have been working together since 1998.
In 2014, they created FischersNetz – which translates to Fisherman's Net – on the wall in the backyard of a social media agency.
The old man and the net: Tangled in the internet, the bearded fisherman navigates his way through the world wide web.
"The globalization of ships and sailors existed long before the Internet. Hence, this reference makes the fisherman a multifaceted motif, and the city of Hamburg the perfect location for this mural," the artists explain the idea behind their painting.
Krashkid
Artist, illustrator and graphic designer Krashkid comes from the German city of Hannover where he made his breakthrough as an artist. For many years, he mainly painted in his hometown and mostly with an artist collective.
Today, Caspar David Engstfeld, which is his real name – just in case you really thought his cruel parents named him Krashkid – lives and paints in Hamburg
Karolinenviertel
For a long time, the Karolinenviertel was an impoverished yet bohemian district with beautiful old buildings from the so-called Gründerzeit, hence, the years of rapid industrial expansion in Germany at the end of the 19th century.
Instead of fast gentrification, a mindful urban renewal leaves space for a multicultural mix of immigrants and locals, thrift shops, and trendy design stores.
Stick Up Kids
The Stick Up Kids are a changing group of street artists around the graffiti artist CANTWO. Since 1987, he has left his marks throughout Germany and beyond. His projects for internationally renowned brands include designs for Adidas, Coca-Cola, Lucky Strike, Nissan, and others.
In 1993, CANTWO initiated Stick Up Kids, a creative group of his friends. However, the crew has been changing over the years due to different reasons.
Cranio
I've already introduced Cranio, who comes from the great and artsy Brazilian city of São Paulo, in my post on Best Street Art in Berlin.
In 1998, Fabio de Oliveira Parnaiba, which is Cranio's real name, obviously, began beautifying the walls of his hometown. Today, you can find his blue-skinned Indios in many cities around the world. Although they appear cheerful and comic-like at the first glance, they are intended to point out problems such as consumption, corruption, and environmental degradation.
Street Art School
Yes, there is actually a school for street art in Hamburg. Obviously, it is not a school in the traditional sense. In fact, the school is like street art itself: free and diverse.
Everyone is free to do whatever they want: Some like to work in groups and share techniques and styles with their fellow artists. Others prefer to be on their own doing their thing.
The Street Art School as an institution offers a space for networking and thriving.
St. Pauli
Due to the infamous red light district around the Reeperbahn and the unique soccer club FC St. Pauli, the district of St. Pauli is renowned far beyond Hamburg's city limits.
Historically, the neighborhood of St. Pauli has always been an enclave for those who could hardly raise a basic income. Actually, it used to be located just outside the city gates. Yet, it granted also shelter to those who were otherwise undesirable, whether it was rowdy craftsmen, innkeepers, or prostitutes who were expelled from the city.
The influx of poorer folks continued to grow even after St. Pauli was included in the urban area. Hence, the social level of the population, one of the poorest in Hamburg, as well as its fame for being rebellious and resistant, has prevailed to this date.
Philipp Kabbe
The Backpackers Hostel is located where the Sternschanze turns into the St. Pauli district. The north facade was painted by none other than Philip Kabbe, whom I have already introduced in the section on the murals in the Sternschanze.
His mural represents a lot of what Hamburg stands for in a loving elaboration.
Elmar Lause
Although Elmar Lause was born in the Ruhr area in the city of Bochum, one of his cutest works is found in the heart of Hamburg.
Lause enjoys extracting the unexpected from the customary. He works with various elements from comic strips and advertisements, classic art, video games, and graffiti to create paintings, sculptures, and collages.
Rebelzer
Especially since his so-called freaks are tightly connected to Hamburg's legendary soccer club FC St. Pauli, Rebelzer is definitely one of the city's unquestionable superstars when it comes to urban art.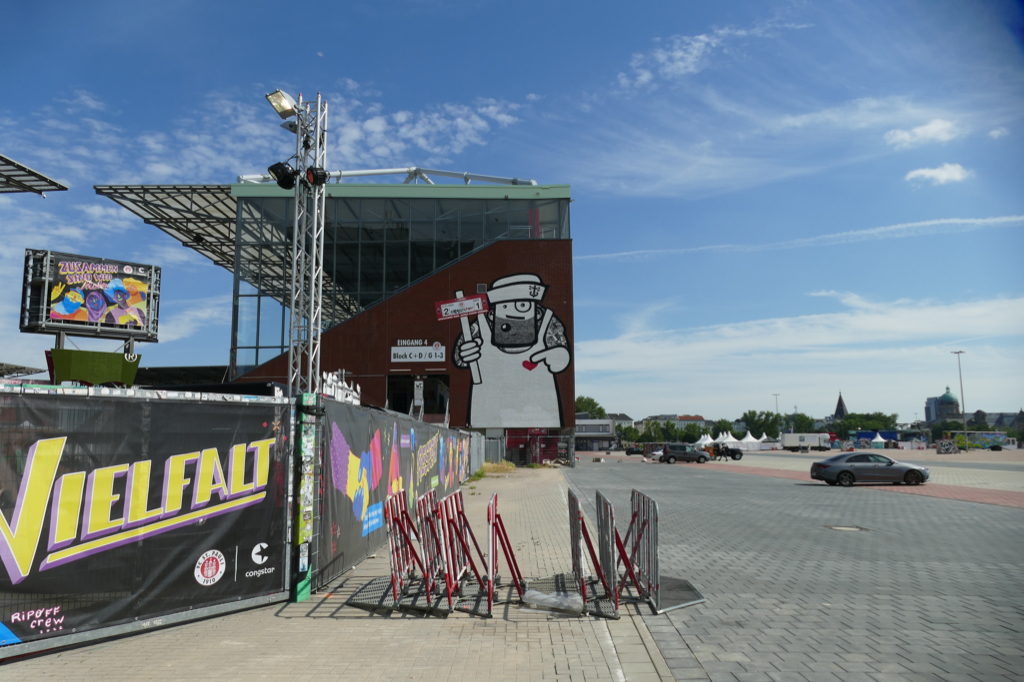 Rebelzer's freaky guys can usually be found in typical North German settings. Since over many years, the artist remained true to himself and his freaks, he created characters of amazing brand recognition.
Rebelzer has had a so-called flagship store in St. Pauli since 2009. This shop is his studio and at the same time an art gallery and shore where he sells his pictures, sculptures, and other products. However, you can also buy a wide range of items decorated with his freaks in his online store.
Ledania and Hera
Two female artists created a beautiful mural in bold colors on the facade of the St. Pauli stadium, namely Diana Ordóñez aka Ledania from Bogotá, one of the most prominent artists in the contemporary graffiti scene in Colombia.
The other one is Hera, the female half of Herakut, an artist duo consisting of the two German artists Jasmin Siddiqui and Falk Lehmann. In 2014, they merged their aliases Hera and Akut into Herakut. I've introduced some of their urban art in my post on Best Street Art in Berlin.
Various Artists
Now, this is another grand tribute to the city of Hamburg and features what it stands for: The harbor, hence, the gateway to the world, and, of course, the city's hospitality. The mural was painted on the facade of a hotel, after all.
It is the joint work of various urban artists. In alphabetic order, there is BASE23 who got his inspiration mainly from classic graffiti from New York, skateboard graphics, punk rock, as well as underground comic strips.
He collaborated with Desk7 who has been an avid graffiti writer for decades. After his first exhibition in 1991, he has been painting in various places around the world. He claims he doesn't do graffiti out of joy but because he simply cannot help it.
Finally, there is Munich-born Flying Förtress who works as an illustrator and designer. He is living in Hamburg and has been creating graffiti since the end of the 1980s.
Vaine
Vaine – or Sascha Siebdrat, as his parents chose to name him – lives and works in Hamburg. During his training as an interior decorator, he expanded his creative potential towards street art. He's been embellishing walls since 1989 and was convicted for illegal spraying in 1991.
Eventually, he establish a career as a legal sprayer. As a matter of fact, he created the tallest graffiti in the world, which earned him an entry in the Guinness Book of Records, obviously, and international fame.
Altona
The district of Altona is the westernmost of Hamburg's seven districts. Until 1938, it was actually an independent town. The story behind this is that during the Thirty Years' War – which took place in the early 17th century, Altona was trapped in the conflicts between Denmark and Hamburg. Although the settlement remained part of the Holy Roman Empire until 1806 and part of the German Confederation from 1815, it was under Danish administration until 1864. Amazingly, Altona was the second largest city in the Danish state after Copenhagen.
Through the Greater Hamburg Act in 1937, Altona became part of the state of Hamburg only in 1938. The residents learned about this new status only from the newspaper or the radio.
To this day, Altona is a relatively heterogeneous part of Hamburg due to its social mix of working-class areas and upper-class residential areas towards the city's outskirts.
Toast
The area around the Altona train station could be considered the core of the district. Above one of the largest shopping and pedestrian streets, you can spot Amanda. Ata Bozaci aka Toast painted this portrait back in 2014.
Bozaci is one of the co-founders of the Swiss mural scene. As early as 1990, he began to combine traditional with digital media. In his series called 15 seconds of fame, he disintegrated the digital portraits of his Facebook friends into circular shapes and transformed them into icon-like images. He did the same with the portrait of Amanda Beck, whom he turned into…Amanda.
mittenimwald
mittenimwald – although normally written in three separate words – translates to in the middle of the woods. Hence, it won't surprise you that this is not the artist's real name. That would actually be Andreas Jakobs.
Jakobs was born and raised in northern Germany. Before becoming a freelancer, he worked as a commercial designer.
In his stencils, he combines classic advertising techniques with punk and tattoo designs. This way, he creates a mix of sex sells and revolutionism.
FrauenFreiluftGalerie
The FrauenFreiluftGalerie, which translates to WomenOpenAirGallery, is a wonderful series of murals in the area on the banks of the river Elbe below the Altona neighborhood.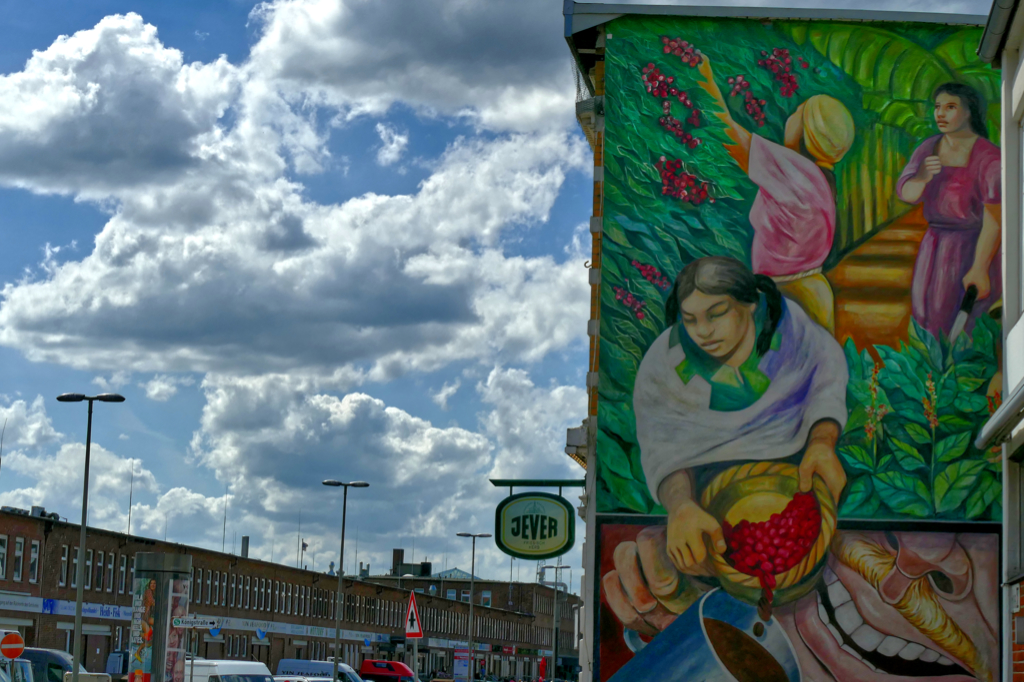 The project has existed since 1994. On two kilometers alongside the river are about 15 murals on buildings and other walls. It is the only open-air all-female gallery in Germany.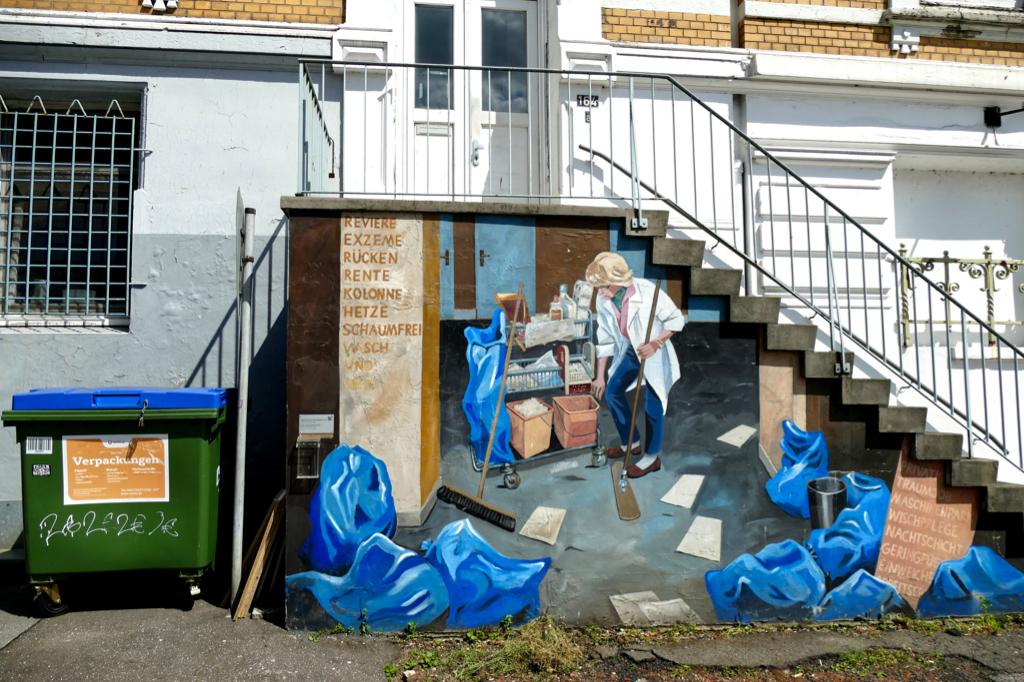 The paintings are depicting scenes of female labor around the port of Hamburg from 1900 to the present day. This comprehensive exhibition focuses on cultural and social aspects and has been curated by historian Elisabeth von Dücker and artist Hildegund Schuster.
Various artists from Hamburg and beyond contributed to this outstanding project like for instance Cecilia Herrero-Laffin whom I've introduced in the chapter on the Grindelviertel above.
A City Becomes Colourful
Special Exhibition at the Museum for Hamburg History
Since November 2022 until January 2024, the Museum of Hamburg History is dedicating a special exhibition to the city's street art. This exhibition focuses on the development of graffiti over the period from 1980 to 1999. Around the turn of the millennium, Hamburg was one of Germany's epicenters of hip-hop and graffiti. This is reflected in the city's rich street art to this date.
Divided into historically relevant clusters, the exhibition shows not only photos, scribbles, and other documents, but also film material, interviews, magazines, and books as well as iconic fashion from that era. An installation provides an authentic insight into the life of the protagonists and the scene at that time – among other things, visitors will be able to enter the room of a 16-year-old graffiti sprayer from 1988.
On Instagram
Unfortunately, I cannot introduce all the great artists that have decorated the façades of Hamburg. Also, since they are spread out across the city, I had to limit myself to the four main neighborhoods. You'll spot many more murals as you walk the streets of Hamburg.
Nevertheless, if you want to dig deeper into the subject – or get inspired for your upcoming Hamburg trip – check out these accounts of the above-featured artists.
Unfortunately, some of them don't have accounts. Nevertheless, you'll find their works using the hashtags #frauenfreiluftgalerie and #eckartkeller.
Base23
Cranio
Desk7
Flying Förtress
HERA of herakut
Cecilia Herrero
Innerfields
Philipp Kabbe
krashkid
Elmar Lause
Ledania
mittenimwald
OHM ONE
Paco Sanchez
Rebelzer
Stick Up Kids
Street Art School
Toast
Urbanshit Gallery
Vaine
How to Get Around
Although Hamburg's city center can be explored by walking, it's still a big city so you probably cannot avoid taking public transport. There is a comprehensive and reliable system of buses, subways, and local trains, the so-called S-Bahn. Contrary to other German cities, there is no tram. Also, once you have a ticket, you don't need to validate it like for instance in Berlin or Düsseldorf.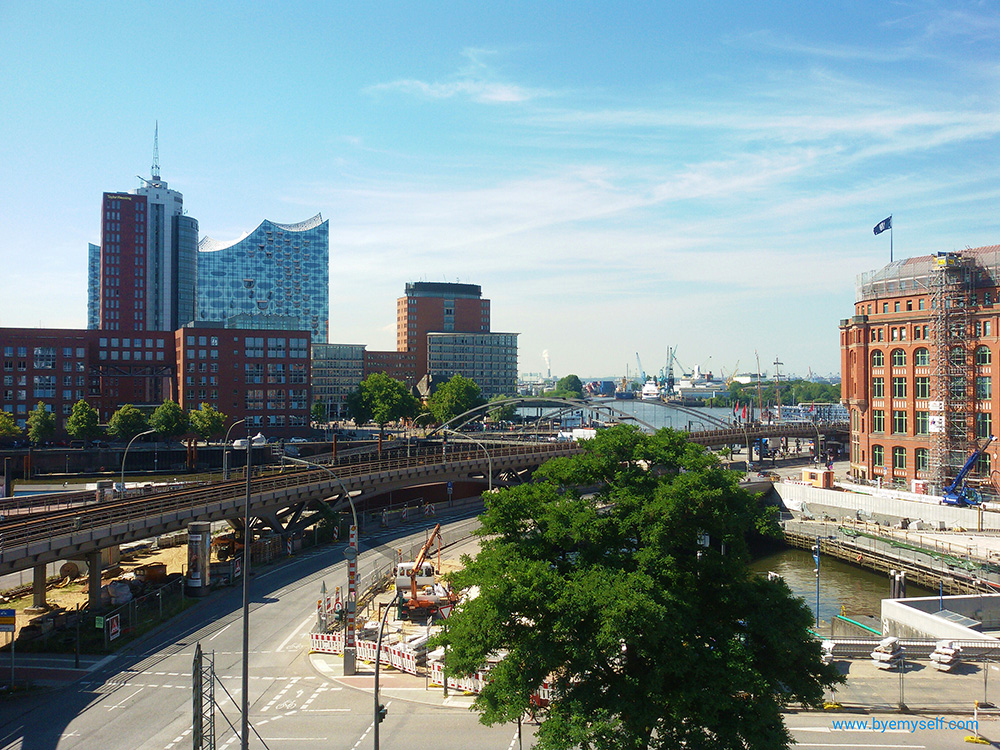 Depending on the length of your trip, prices for a single ride vary from 1.80 to 3.50 €uros. However, there are day passes that cost 8.20 €uro for the entire day and only 6.90 €uro if bought after 9 a. m. Mind you, they are only valid till the end of the day and not 24 hours. This day pass is good for one adult and up to three kids aged 6 to 14.
Alternatively, there's a group ticket for up to 5 people of any age for €uro 12.90, but only valid after 9 a. m. You get this and further information on the transport company's website.
Cycling
Another convenient way to explore Hamburg is by bicycle. I wonder if there is a city in Europe that does not offer rental bikes. In Hamburg, this company is called StadtRad and you find their website here.
You need to register for 5 €uro. That's for a year. Then, you can use their bikes for free for the first half-hour of every trip. Since there are many bike stations around the city, you'll probably never exceed those 30 minutes. Simply return your bike as soon as you don't need it, for instance, while shopping or visiting a landmark. Once you're done, you rent another one so that the clock starts ticking from zero.
Map
This map should help you to find the murals I'm introducing in this post. Clicking on the slider symbol at the top left or the full-screen icon at the top right will display the whole map including the legend.
Searching for Street Art is only one of many amazing activities on a visit to Hamburg. To read about the rest, go to this comprehensive guide! Also, in my post All you need to know before going to GERMANY, you'll find further valuable information that will make your own trip much smoother and more enjoyable.
Pinnable Pictures
If you choose to pin this post for later, please use one of these pictures:
Did You Enjoy This Post? Then You Might Like Also These: