Obviously, I know it must sound totally out of line to put together an itinerary for only 24 hours for a city as big'n'busy as Miami.
The fact is that Miami is a pivot point when it comes to travelling to Central and South America as well as the Caribbean Islands. Therefore, chances are that you have to spend a couple of hours or even one night here.
This is where my guide – for a sunny and for a rainy day – comes into the picture.
Local Currency
1 US$  = 1 €uro as of November 2022 / current rate
Emergency Contacts
Police 911
National Airline
Various
Airports
Miami International Airport, IATA-Code: MIA
Tourist Info Online and Onsite
Actually, the Greater Miami Convention & Visitors Bureau has a couple of offices – according to the different neighborhoods or special interests like e.g. the LGBTQ community.
However, for only 24 hours in this extremely diversified city, you should be fine with this guide – and maybe a quick visit to their office at Miami International:
Greater Miami and the Beaches
Miami International Airport
Tourist Information Counter
Central Terminal E Level 2,
Phone: +1 – 888 – 76MIAMI
Open daily from 9 a. m. to 10 p. m. (Sundays from 10 a. m.)
Getting Downtown and Back
First of all: No matter how long you are staying, you don't need to schlepp your kitchen sink across Miami since they have luggage storage right at the airport at a daily fee of 6 US$ – depending on your luggage's size.
The desk is located on the 2nd level of Terminal E and is open daily from 5 a. m. to 9 p. m.

So now that your hands are free, let's see how to get downtown.
Public Transportation in the US – the Last Big Adventure
Most people say that it's not possible travelling the United States by public transport, let alone a megacity like Miami.
And while I don't claim that it's the fastest and most comfortable way of travelling, I insist that it's possible; and I'm living proof.
In fact, there are various options for how to get downtown as well as to the beaches by public transportation – for less than 3 bucks per ride! Also, all points of interest that I list in my itinerary can be reached by public transport resp. walking (another thing that nobody does – but me).
Hence, to get to the Government Center station downtown, just hop on the Metrorail's Orange Line. The train leaves every 30 minutes on weekdays and every 15 minutes on weekends. Oh, of course, you need a ticket: Get it at one of the machines for as little as US$ 2,25.
However, since my guide is based on public transportation, I recommend you buy a day pass for US$ 5,65.
If you want to go straight to the beaches, the Metrobus #150 might be a better option since it runs daily every 20 minutes from 6 a. m. to 11:40 p. m. from the Airport Metrorail station and Miami Beach between 41st Street and South Pointe Drive. A single ride is US$ 2,25 – however, it should be included in the day pass, too. The ride is about 40 minutes, depending on where on the beach you want to get off, obviously.
Morning Activities
Sunny day in Florida – what better to do than hit the beach?!
No matter what people say, it is not absolutely necessary to get a (rental) car in Miami since you can easily get from the airport all the way down to the beaches and the iconic neighborhoods.
Depending on where you want to stretch out on the sand, it will take 20 to 40 minutes.
Miami Beach is beautiful: An endless, broad stretch of fine, white sand splashed by the rolling waves from the turquoise Atlantic – beach as beach can, obviously.
To me, there is only one flaw – but that's a significant one: There is no shade, i. e. no palm trees or bushes or rocks or something you can flee the burning sun.
Therefore, I can imagine that you won't spend the entire morning frying.
After the Beach
So put on your sunhat and let's walk up the beach to Lincoln Road, the main shopping street in the beach area.
Albeit, if you don't want to walk on the beach, strolling up the famous Ocean drive allows you to catch a glance at the beautiful Art Deco architecture.
On Lincoln Road – and the parallel running Lincoln Lanes South and North – you can shop till you literally drop. From mid-range chain stores up to expensive high-end brands – and even original art like colorful paintings by Romero Britto on #546.
Once you get to Meridian Avenue, turn right and walk three blocks up north to the Miami Botanical Garden.
It's the tropics, so it doesn't take much to make all the lust greenery grow'n'bloom. It's an enchanting place – and the entrance is free! The garden is open to the public from Tuesday to Sunday from 9 a. m. to 5 p. m.
West of the garden is the Holocaust Memorial Miami Beach.
It was designed by Kenneth Treister and is made of bronze and stone. The complex consists of a series of outdoor spaces where the visitor should experience the different stages of the Holocaust. At the opening in 1990, Mr. Elie Wiesel was a guest speaker.
Lunch
To enjoy lunch, you should go back to Lincoln Road where you find food at eateries and restaurants that cater to all tastes and budgets.
In case you happen to be in Miami on a weekend and are not afraid to splurge, I recommend Juvia on #1111: Elegant outdoor seating with amazing views. The food is Asian-Peruvian – and on weekends, they also have a brunch with a great choice of starters, mains, and desserts.
Open weekdays from 6 p. m. till 11 p. m., weekends also from 11:30 a. m. to 3 p. m.
Morning Activities
Take it from me – it's not always sunny in the Sunshine State. I've witnessed some pretty grey and wet days all around Florida.
No biggie, Miami is one of the world's most important art hotspots for a reason – and some of the 'classics' can be easily reached even if you're not driving.
Right next to the downtown main station Government Center is the History Miami Museum, showing Miami's…yes, history, but also great temporary exhibitions on photography and modern art- of course, all Miami-related.
HistoryMiami
101 West Flagler Street
Miami, FL 33130
Phone: + 1 – 305 – 375 14 92
Email: e.info@historymiami.org
The museum can be visited from Tuesday to Saturday from 10 a. m. to 5 p. m. and Sundays from noon to 5 p. m.
Make sure to check out their special events on their website or their facebook page.
Although there is a lot to see at the History Museum, there should still be time left to pay the exhibitions at the Freedom Tower a visit.
This is also a great opportunity to ride the Metromover, an automated train serving many of the most important spots in the greater downtown area.
Also, make sure to board the first wagon – this way you can experience the 'spooky' feeling of a ride without a driver best.
Riding the Metromover is free – and here is a system map.
Cubans in Miami
Hence it takes you for free from the Government Center to the Freedom Tower stop.
The tower was built in 1925 by the Miami News to serve as the paper's headquarters. It served this purpose until 1957. From 1962 to 1974, it was re-opened as a processing center for Cuban refugees.
Obviously, Cubans living in the US have a rather one-dimensional political view, especially referring to Cuba. Nevertheless, visiting the Cuban Legacy Gallery is certainly very interesting – and what does historical accuracy mean, anyway?! Most of the time, however, it's a matter of your personal and social focal point. Just like I didn't get brainwashed at historical exhibitions in Cuba, I don't share every viewpoint they are feeding you here.
In May 2018, they opened the Kislak Center, a grand collection of objects and artifacts from the very early times in the Americas.
Not to be missed is also the New World Mural, commissioned already in 1925 when the tower was erected. During the renovation in late 1980, a group of artists called the Miami Artisans restored this masterpiece.
The Freedom Tower
600 Biscayne Boulevard
Miami, FL 33132
Phone: + 1 – 305 – 237 77 00
Email: museum@mdc.edu
The museum galleries are open Wednesday to Sunday from 1 p. m. to 6 p. m., and Saturday to 8 p. m.
Lunch on a Rainy Day
Not far from the Freedom Tower is the long-stretched complex by the water, called the Bayside Marketplace.
Well, since it's 2018 and we are in Miami, it's not a very romantic market – it's just an airy mall housing the standard chain stores, but also many agencies catering to visitors, offering all sorts of boat tours around the Biscayne Bay.

Anyway, on the upper floor, there is a huge food court offering the standard food court 'cuisine', but also really good Latino food – e. g. from Cuba. Certainly not a place to take your latest date, but you're hungry and it's raining, so…¡buon provecho!
Afternoon Activities
Of course, you can go right back to the beach. But if you prefer to see at least a little bit of Miami's outstanding art scene, you should rather hop on a bus and cross the Biscayne Bay back to Miami.
Don't feel like hiding for hours at a climatized museum on such a sunny day? Don't worry, Miami also combines culture and climate: One of the most exciting 'galleries' are the Wynwood Walls in Wynwood.
Technically, these walls are an outdoor museum showing large-scale murals by some of the world's most famous street artists.
There are various options for getting there by bus from the beaches, therefore please refer to the map below.
In case you want more background info, you might wanna join one of their daily walking tours starting at noon resp. at 6 p. m. The tour, guided by one of the artists, takes one hour and costs 25 US$. You can book online.
You can explore the Wynwood Walls by yourself and free of charge every day from 10:30 a. m. – Monday to Thursday till 11:30 p. m., Friday, and Saturday till midnight, and Sunday to 8 p.m.
Wynwood Walls
2520 NW 2nd Avenue
Miami, FL 33127
Phone: + 1 – 305 – 531 44 11
Since Wynwood is also one of Miami's freshest most happening, bohemian districts, after visiting the Walls, it's great fun to check out the adjacent boutiques, specialty shops, restaurants, and bars.
To get back to the Airport resp. to the Metrorail Airport station, take bus #110 at NW 36 St & NW 2 Av. The ride is less than half an hour.
Afternoon Activities
It's still raining? No problem, your generous friend, the Metromover, takes you in five minutes from the College Bayside station up to the Museum Park Station.
Here is one of Miami's newer art venues, housing the Pérez Art Museum Miami, or short PAMM.
Although the collection has formerly existed as the Center for the Fine Arts and Miami Art Museum for almost 35 years, the present exhibition hall – designed by no less than superstar architects Herzog & de Meuron and renamed to honor Argentina-born billionaire and philanthropist Jorge M. Pérez was opened in 2013.
It houses one of the best collections of modern and contemporary art.
Pérez Art Museum Miami
1103 Biscayne Blvd.
Miami, FL 33132
Phone: + 1 – 305 – 375 30 00
Email: info@pamm.org

In the US, there is this tradition that rather the rich and famous invest in the arts and create and preserve iconic landmarks – rather than the government.
Back In Time
Then, the place you should visit next is located on Biscayne Bay in the northern part of Coconut Grove. It was commissioned by businessman James Deering and built between 1914 and 1922.
Thinking about Venice Beach or the Getty Villa in California and Naples in Florida, it's a bit quirky how these wealthy guys tried to mimic the Italian Renaissance – also, roughly 500 years after the real thing. Maybe that's the reason why all the details and all the faux this and trompe l'oeil deem a bit tacky.
However, the gardens are very nice, the villa is certainly opulent, and the gondola-shaped terrace is truly…one of a kind.
Like it or not – nevertheless, it is an important Miami landmark – and just proves how new the New World actually is.



Vizcaya Museum & Gardens
3251 South Miami Avenue
Miami, FL 33129
Phone: + 1 – 305 – 250 91 33
Email: vizcayainformation@vizcaya.org
You can travel back in time from Wednesday through Monday from 9:30 a. m. to 4:30 p. m.
To get back to the Airport resp. to the Metrorail Airport station, take the orange line from Vizcaya museum station. The ride is less than half an hour.
Dinner
On a sunny day, you'll probably try one of the fresh, young artisan restaurants at Wynwood.
If it rains, you can just go back to the Airport and grab a bite there.
A cheap and good – yet rustic – alternative is the Rincon Criollo, the Creole corner, just five minutes walk from the Metrorail Airport Station; also, a final encounter with Miami's rich Cuban heritage.
Rincon Criollo
2601 NW 39th Ave
Miami, FL 33142
Phone: + 1 – 305 – 871 77 55
Email: rinconcriollocubancaffe.com
Open Monday to Saturday from 6 a. m. to 9 p. m., and Sunday 7 a. m. to 3 p. m.
Accommodation
Especially if you are on a layover and have an early flight, you might want to stay as close to the airport as possible. Well, there are, of course, many options.
One hotel that is really just five minutes walk from the Metrorail Airport Station is the Staybridge Suites where they give you a spacious studio with breakfast included for under 100 US$.
Check out their availability and rates for the date you need.*
Map – sunny day itinerary
Map – rainy day itinerary
Map – bus ride from Lincoln Road to the Wynwood Walls
Pinnable Pictures
If you choose to pin this post for later, please use one of these pictures: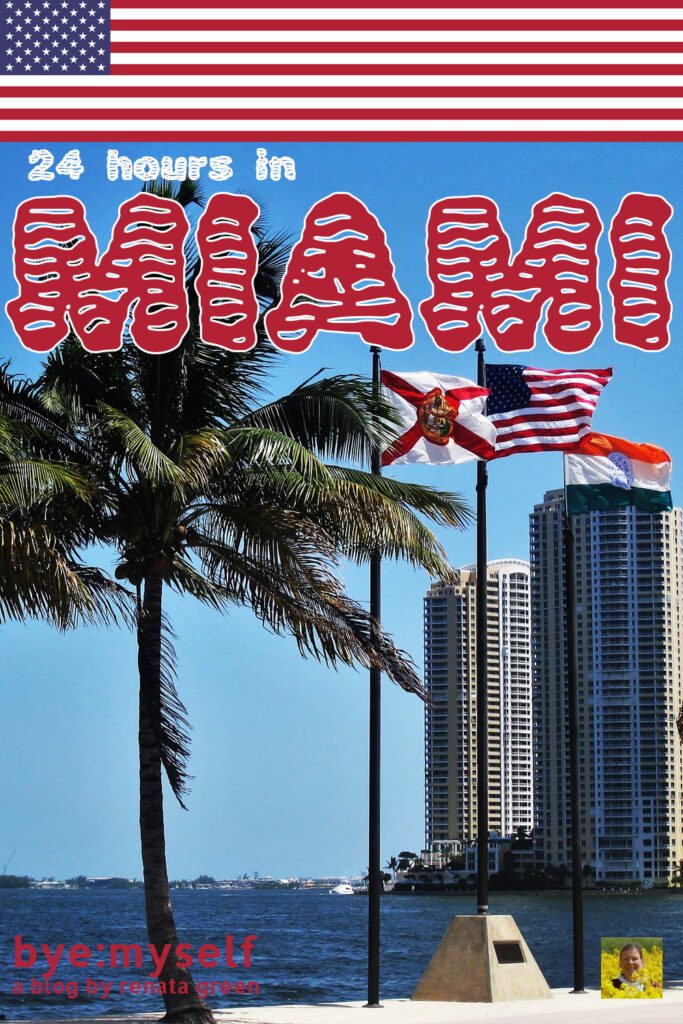 Note: I'm completing, editing, and updating this post regularly – last in November 2022.
Did You Enjoy This Post? Then You Might Like Also These:
* This is an affiliate link. If you book through this page, not only do you get the best deal, I also get a small commission that helps me run this blog. Thank you so much for supporting me!
Icons: money bag by Roundicons from www.flaticon.com, police car, train, sun, glass, and bed by Freepik from www.flaticon.com, takeoff plane and board made by ultimatearm from www.flaticon.com, info made by Roundicons from www.flaticon.com, umbrella made by Kiranshastry from www.flaticon.com, food plate by Vectors Market from www.flaticon.com