There are a couple of colorful farmers' markets in Gran Canaria, yet, none of them can beat the Sunday market in Teror which you can easily combine with a visit to the posh city of Arucas.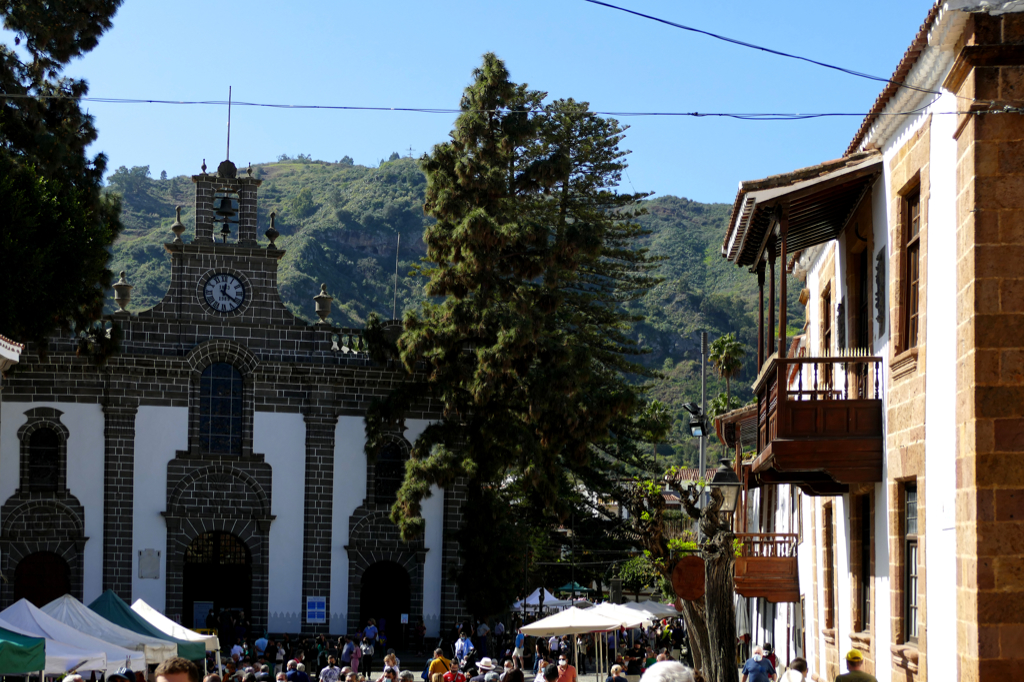 Then, to top things off, take a short bus ride to Los Charcones De Bañaderos where you can cool off in lava pools before enjoying an afternoon party at the bar and restaurant Los Charcones.
Some of the very best Gran Canaria has to offer in one single day!
Sunday
It happens to me often: When I'm flying in the early morning, I'm sure I'll be the only person at an otherwise empty airport. Who would take a flight at this ungodly hour? Later, as I wait in a line that's only slowly moving forward, I ask myself, where are all these people coming from? Why are they here?
Well, for the same reason I'm unbuckling my belt at the security check: They are going places.
Just as early as I do.
Hence, I was shocked as we arrived at the San Telmo bus station in Las Palmas an early Sunday morning. While all other platforms were quite empty, under the sign Teror was a long queue. People were entering one by one and we tried to calculate if we'd even have the chance to get on the bus. And indeed, we were two of the last passengers looking for single seats on the jam-packed bus.
Then, the doors closed and off we went to Teror.
Teror
Teror is one of Gran Canaria's smallest municipalities with a center located about 20 kilometers west of Las Palmas at an altitude of 543 meters above sea level.​ Although it's such a small place, it's famous for a couple of things – even outside the island.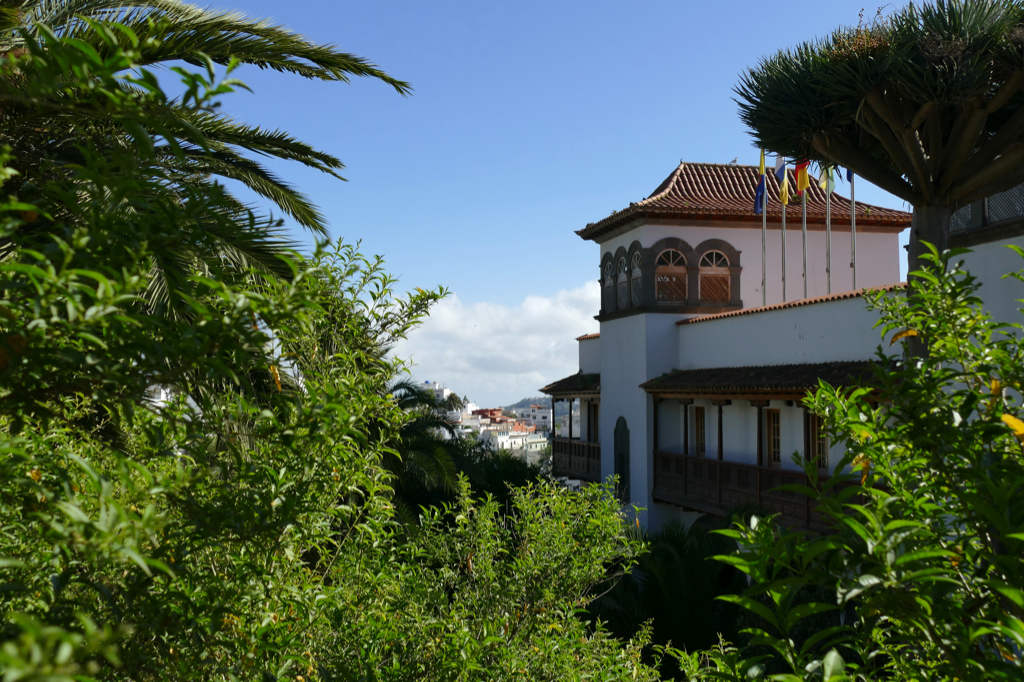 Teror's kickstart took place in the 15th century due to the fertile lands with an abundance of water in the surroundings. And water is still Teror's export hit. You'll find mineral water Aguas de Teror on all Canarian Islands. Another staple and top seller is Chorizo de Teror, a fatty yet savory pork spread. I know what you are thinking: Chorizo is a hard sausage like a salami. Well, yes, on the Spanish mainland. In the Canaries, it is a fatty pork spread, take it from me.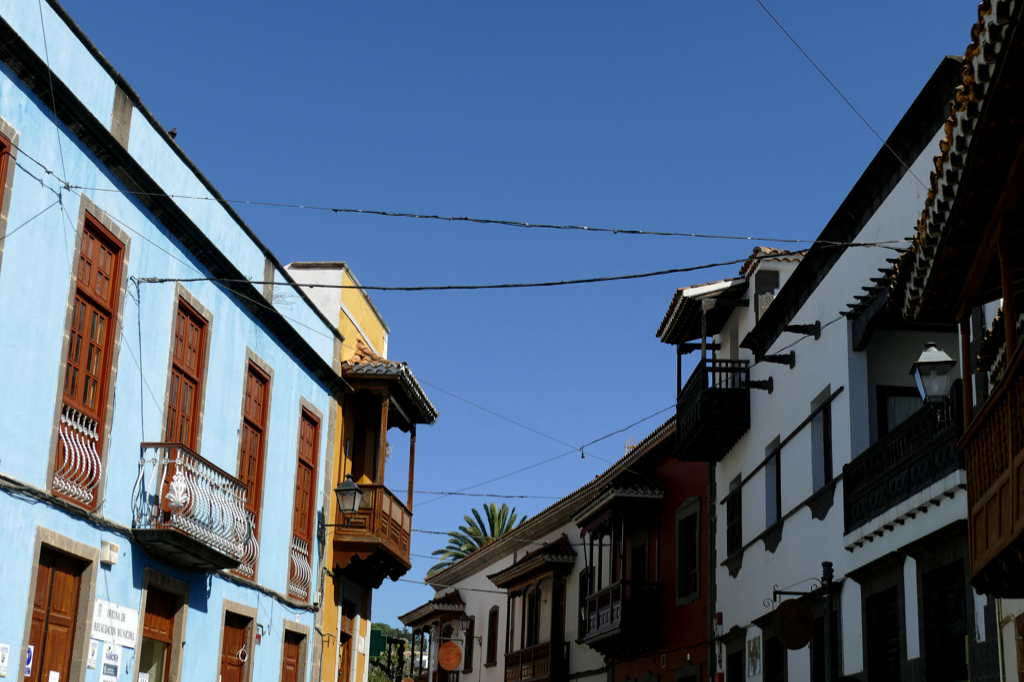 During the 17th century, Teror experienced significant growth. Urban development, paired with the followership of the Virgen del Pino, brought the town great prosperity. Therefore, some of Gran Canaria's wealthiest families moved there. However, it was also the era of the first wave of migration to the Americas. Below, I give you a great example of this connection. Also, you can read in my post on the seaside resort of Sitges about a surprising yet highly efficient connection with the so-called New World – I give you a hint: Yo ho ho and a bottle of rum…
Market My Words
Although Teror is one of the most beautiful villages in Gran Canaria, its economy is not based on tourism, but on agriculture and livestock. Well, this seems to change dramatically on Sundays when locals and some savvy tourists are flooding the picturesque streets and alleys.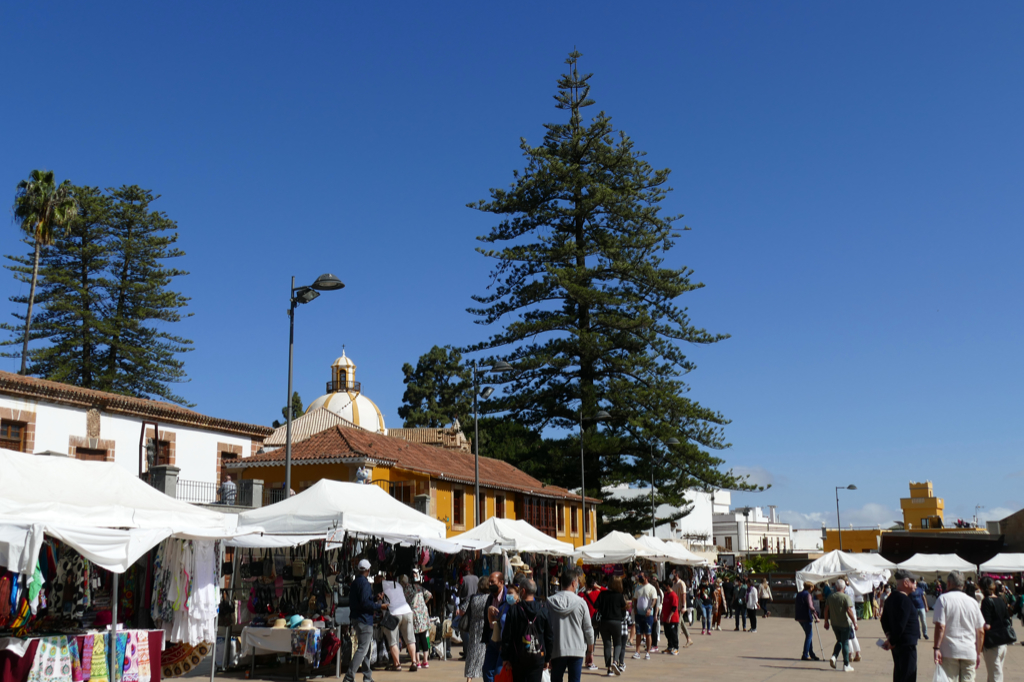 Yet, this famous market is not some touristy funfair. It was actually established in 1872 and constantly expanded so that today, it consists of up to 140 stalls.
In the past, islanders came for fresh produce, but today, a wide variety of products are available. You can shop for garments and jewelry, utensils and toys, flowers, and – yes – fresh produce.
Window Shopping Sourpuss
I love to do grocery shopping at farmers' markets where I enjoy the beautifully arranged produce, relish the smell of freshly baked bread, and hardly can hold myself back from buying far too many kinds of cheese. But to be honest, other than that, I can do without markets. Just strolling between stalls looking at stuff I do not want to buy anyway is definitely not my jam.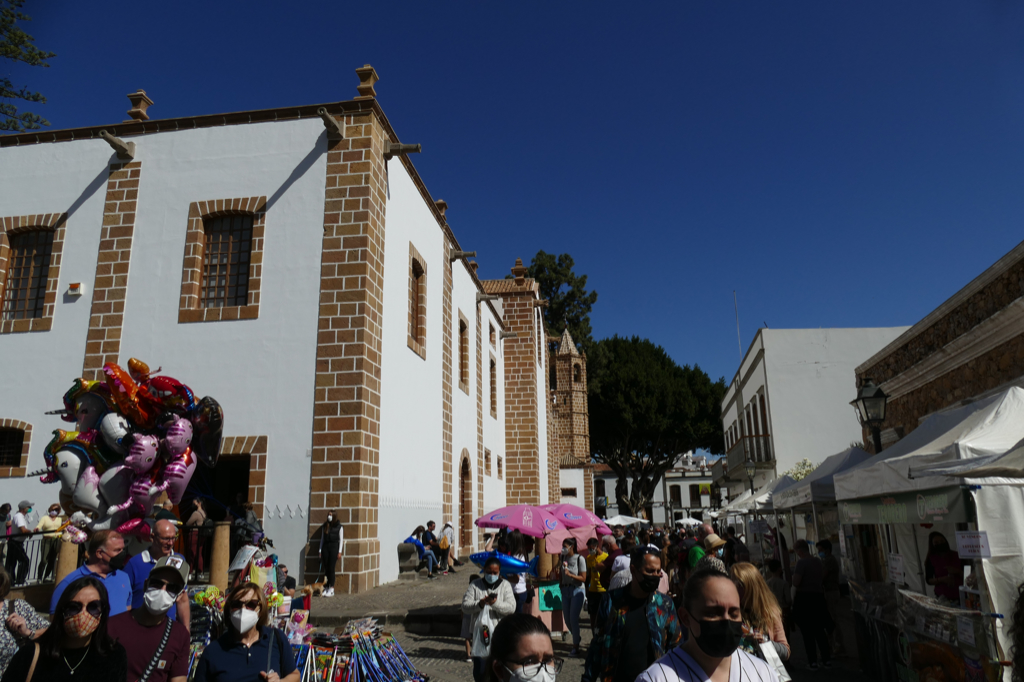 Yet, when travelling, I tend to engage in activities you wouldn't catch me doing at home. Therefore, I was convinced we shouldn't miss out on the legendary Sunday market in Teror. And indeed, I fell in deep love with the town the moment I set foot on the main street Calle Real de la Plaza. This pedestrian street is lined with old buildings, each of them proudly carrying one of those wooden balconies as if it was a vendor's tray. Each side street just so idyllic. Ahead, the enchanting view of the Basilica of Nuestra Señora del Pino with the mountains in the backdrop. What's not to like? Teror is a gem!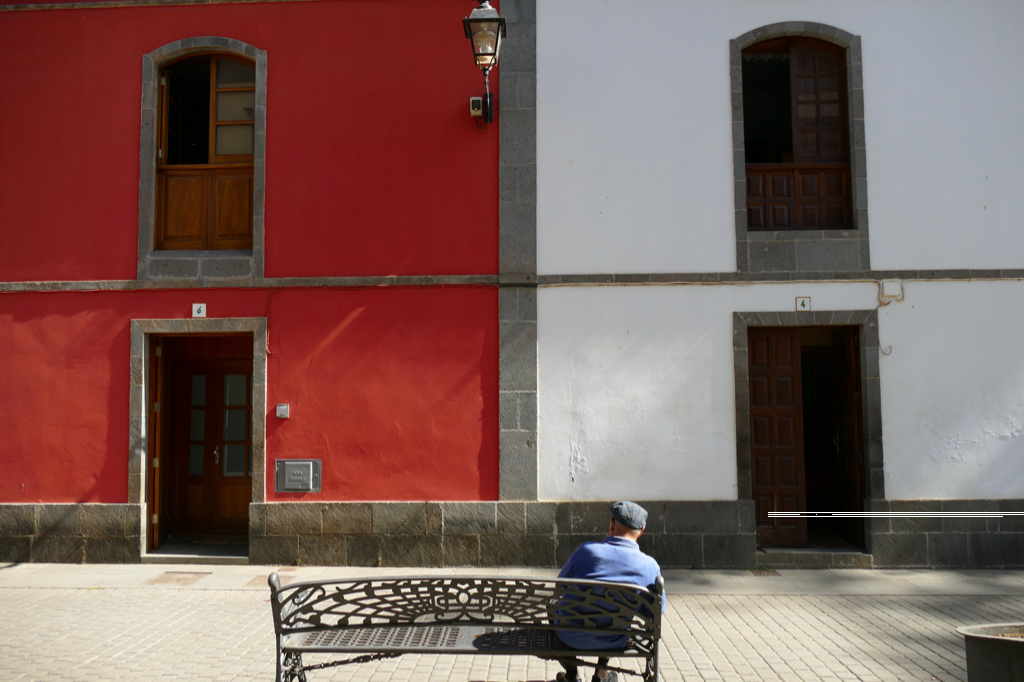 Nevertheless, next time, I'd visit on any other day but Sunday. Firstly, it was very busy. Secondly, all those stalls obstructed the view of Teror's breathtakingly beautiful façades.
Calle Real de la Plaza
As a matter of fact, even the crowds were not able to completely spoil my experience – Teror's beauty easily prevailed.
Coming from the bus station, we walked down the legendary Calle Real de la Plaza. For five centuries, Teror's social, commercial, political, religious, and cultural life took place right here. Therefore, the name La Real, hence, Royal, suits the town's stately main artery just fine.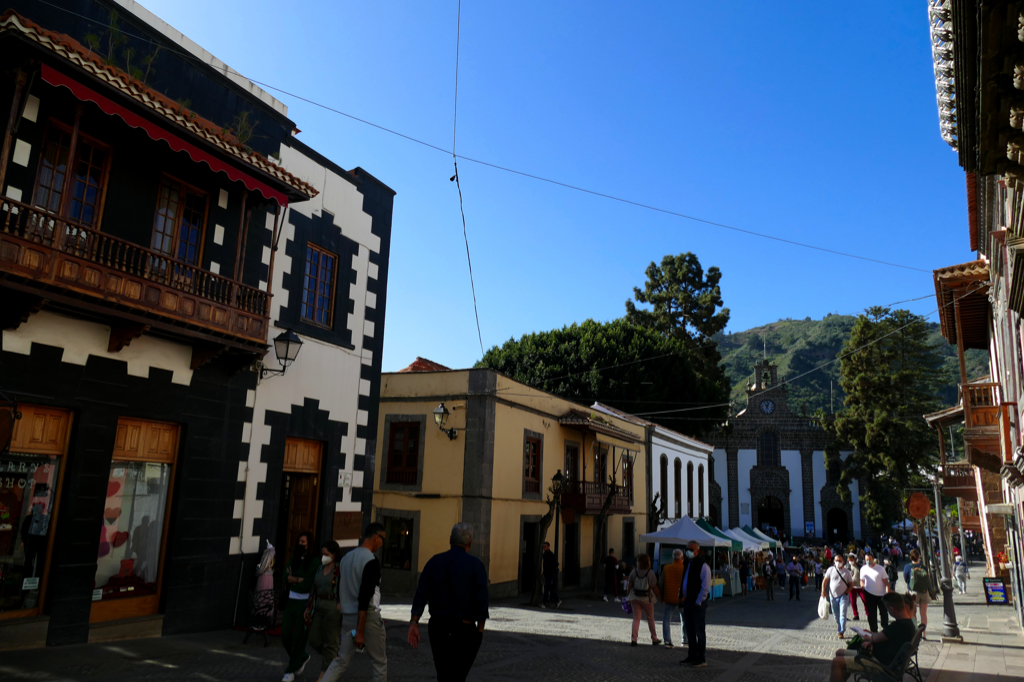 La Real is a commercial street by tradition. You'll find some of the municipality's oldest shops right here.
The architecture lining this alluring street is this varied due to the different building periods. However, almost every façade is decorated with a beautifully made balcony.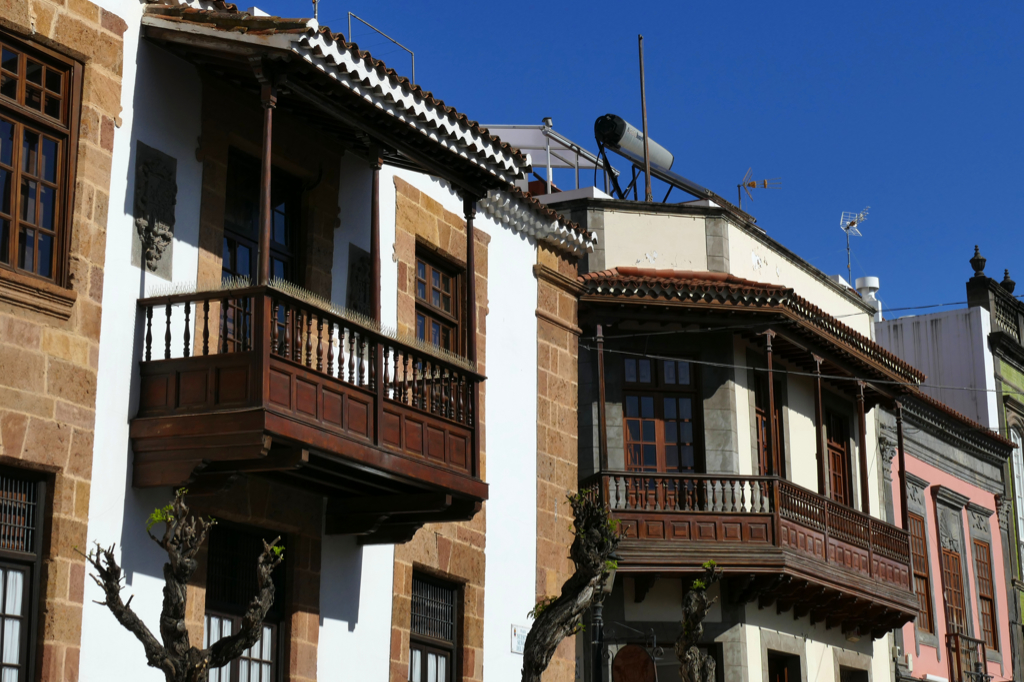 These balconies are not simple sundecks. In Teror's olden days, the size and the craftsmanship of the balcony announced the wealth of the house owners.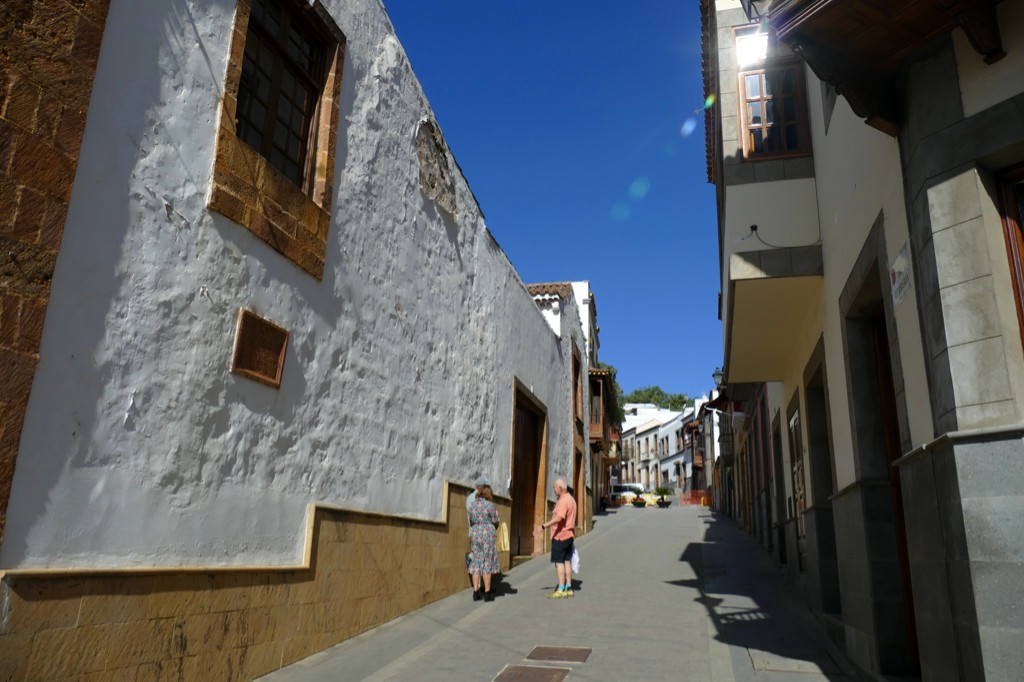 Like any public space, Calle Real de la Plaza has undergone transformations throughout its history, adapting to the times and circumstances of the time.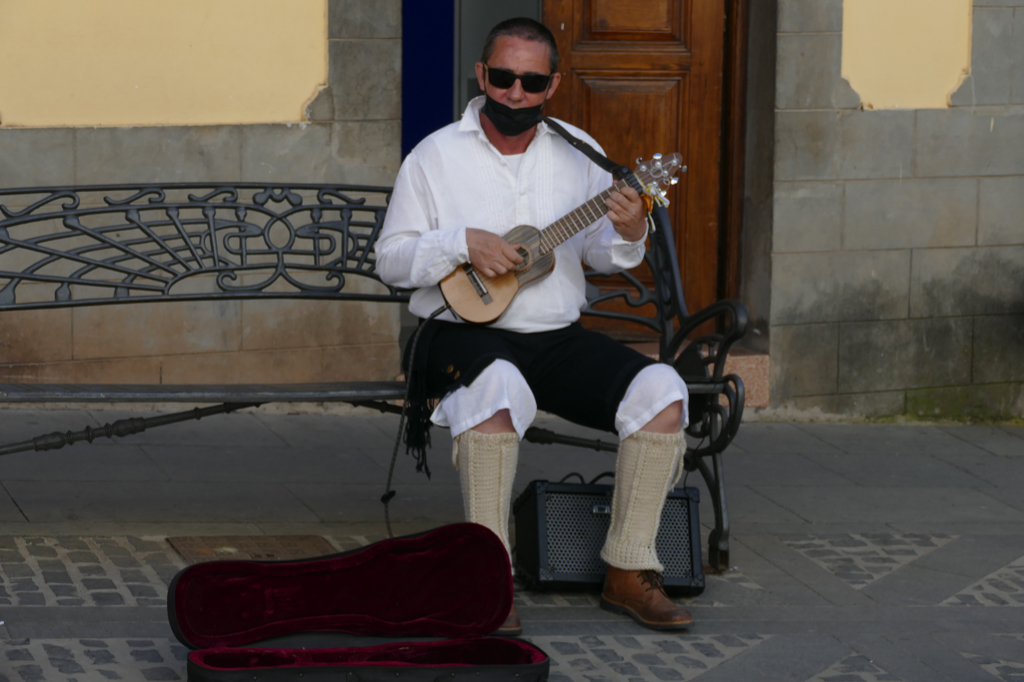 But some icons prevailed. Like the Hotel Inglés and the Hotel El Pino* which were established in the 19th century. Since then, many of the island's big shots but also well-off families enjoyed their summer vacations in the cool mountains surrounding Teror.
Spread the Word
So as we walked down the literally majestic Calle Real de la Plaza, we reached Teror's Plaza del Pino. In the center of this charming square is the pilgrimage church Basilica of Nuestra Señora del Pino and around are tons of cute little cafés and shops.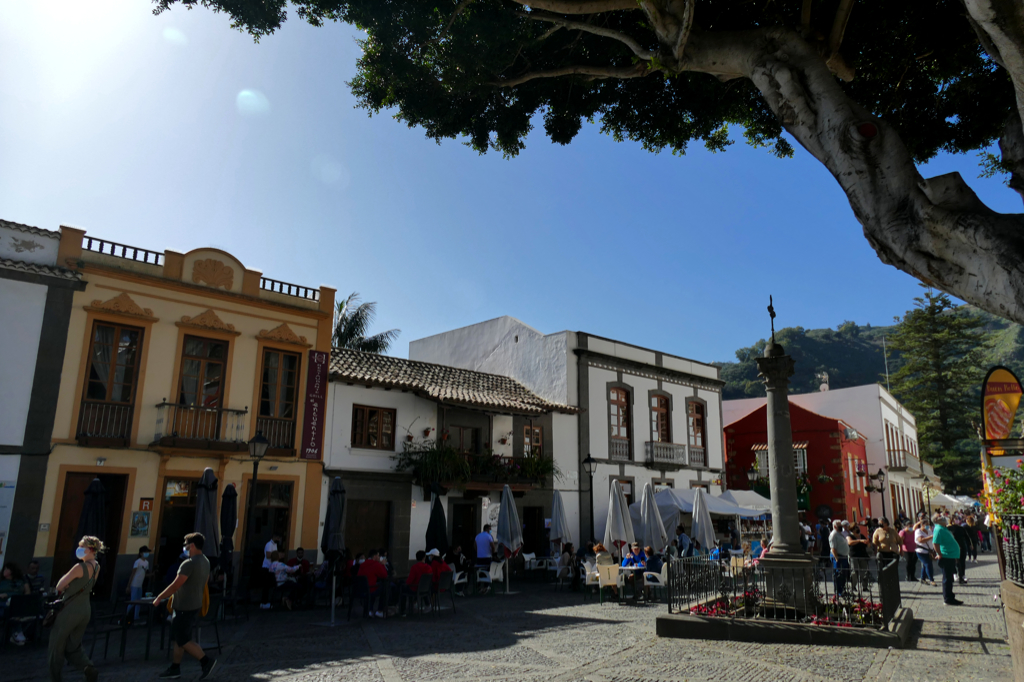 And since one of every visitor's must-dos is sampling a chorizo sandwich, we snagged two of the high stools at the bar of the Cafetería Iris and were ready to order.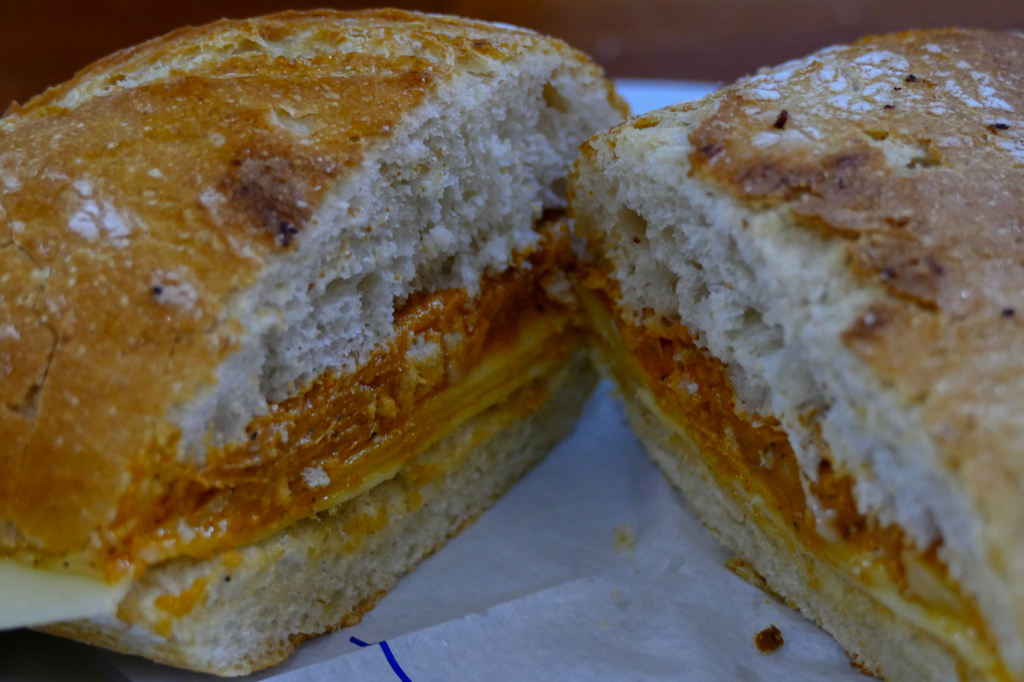 As you order a chorizo sandwich, you have the option to add extras like cheese, ham, or an omelet. So let me warn you: Those things are huge and they are not chintzy with their fillings. If you're not very hungry you can easily appease two people's hunger.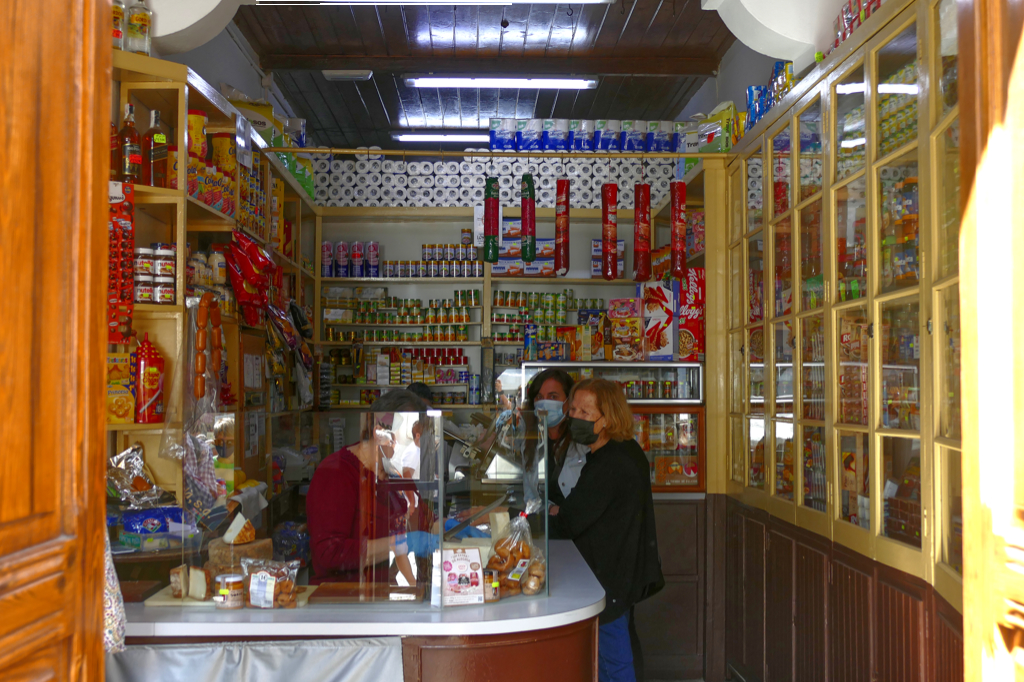 Also, if you don't want to dawdle and only need to grab a quick snack, you can order your chorizo sandwich to go at the counter of La Tienda De Los Quesos right next door. However, I find hanging out aimlessly at one of Spain's bazillion bars for a while is absolutely part of the whole experience.
Teror's Powerful Ladies
I've mentioned the Basilica of Nuestra Señora del Pino above. It is definitely Teror's most significant and powerful building and also one of the most influential ones on the entire island. The reason for this importance is the image of the Virgen del Pino inside. She is the patron saint of the Canary's diocese.
The carved wooden statue of the Virgin Mary with the child, hence, the Virgen del Pino, ist standing on a magnificent baroque altar. Celebrations in her honor are held from mid-August to mid-September. The highlights are a pilgrimage to Teror, an offering, and a festive Holy Mass on September 7th and 8th.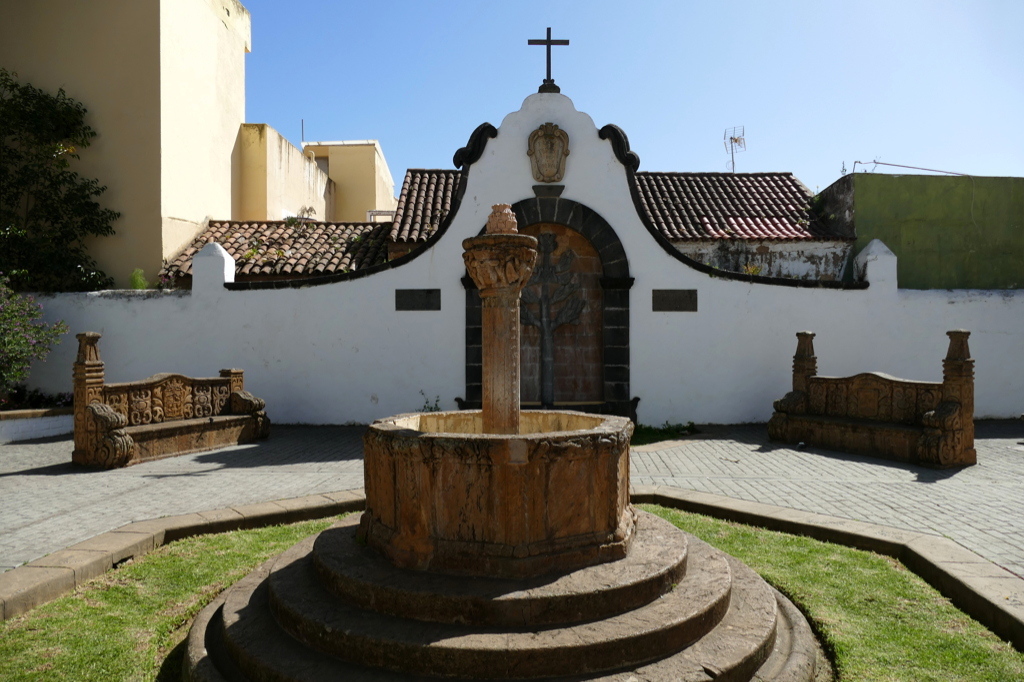 Basically, across from the Basilica of Nuestra Señora del Pino, the city celebrates another grand lady. On a small yet very charming square on the Plaza del Pino's northeastern corner, María Teresa Rodríguez del Toro y Alayza is remembered. While she became famous as the wife of the eminent Latin American freedom fighter Simón Bolívar, only a few people know that her family actually came from Teror. See, I've promised you above that I'd introduce you to a very prominent emigrant to the Americas.
María Teresa was the only daughter of Bernardo Rodríguez del Toro and Ascanio and born in Venezuela's capital Caracas. However, the family's roots'n'origins are right here in Teror.
The Plaza Teresa de Bolívar with its two beautiful fountains and stone benches is the perfect spot if you want to get away from the crowds and observe the Sunday brouhaha in front of the Basilica of Nuestra Señora del Pino from a safe distance.
Palacio Episcopal
The Palacio Episcopal, the emblematic bishop's palace of Teror, is located on the Plaza de la Alameda right behind the Basilica. It was a gift from the town to Bishops Morán and Delgado in gratitude for the construction of the grand house of worship. The left wing was actually built from 1760 till 1767, hence, in the same period as the Basilica. As a matter of fact, master builder Antonio de la Rocha used leftover materials from the construction of the Basilica.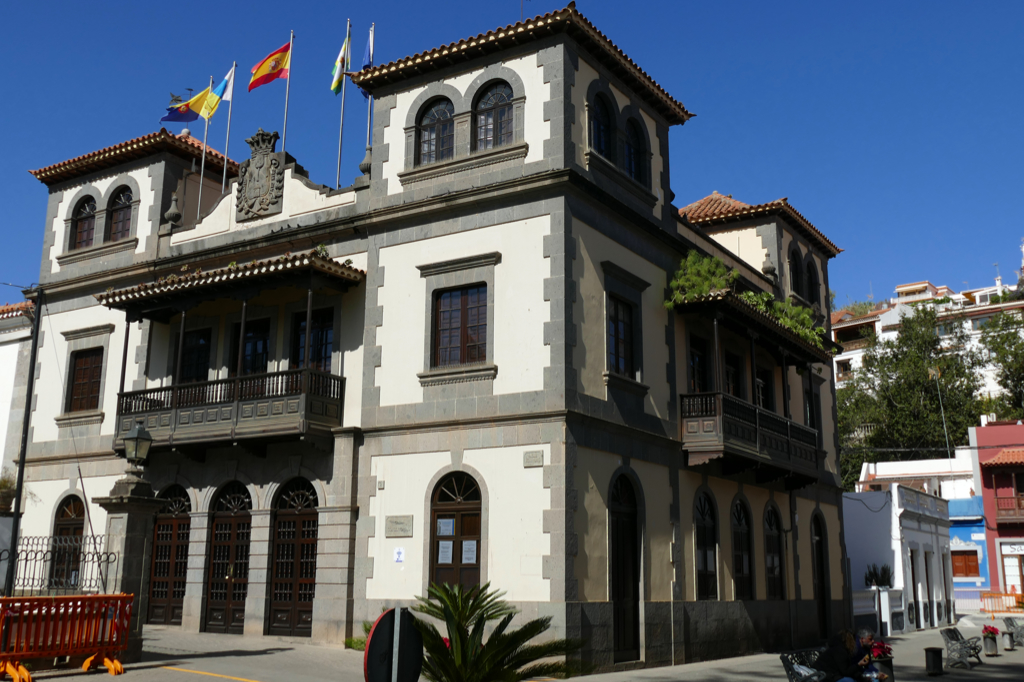 The Palace, which has large rooms and three patios, has been a temporary residence for seminarians, the Discalced Carmelite nuns, and the Cistercian nuns. Today, only the oldest part is used by the parish for religious activities. The major part houses a cultural center including exhibition and assembly halls.
On the northern side of the Plaza de la Alameda is Teror's beautiful old town hall.
Monasterio del Císter de Teror
I've mentioned Teror's religious significance a couple of times. Therefore, it will come to no surprise that there are also monasteries in the vicinity.
Closest to the center and actually still within the city limits is the Monasterio Cisterciense.
In the 19th century, a group of Bernard nuns had to leave the convent of San Ildefonso in Las Palmas. First, they were transferred to Tenerife where they stayed until Bishop Pozuelo helped them to return to Gran Canaria in 1880. Here, they settled in the Episcopal Palace.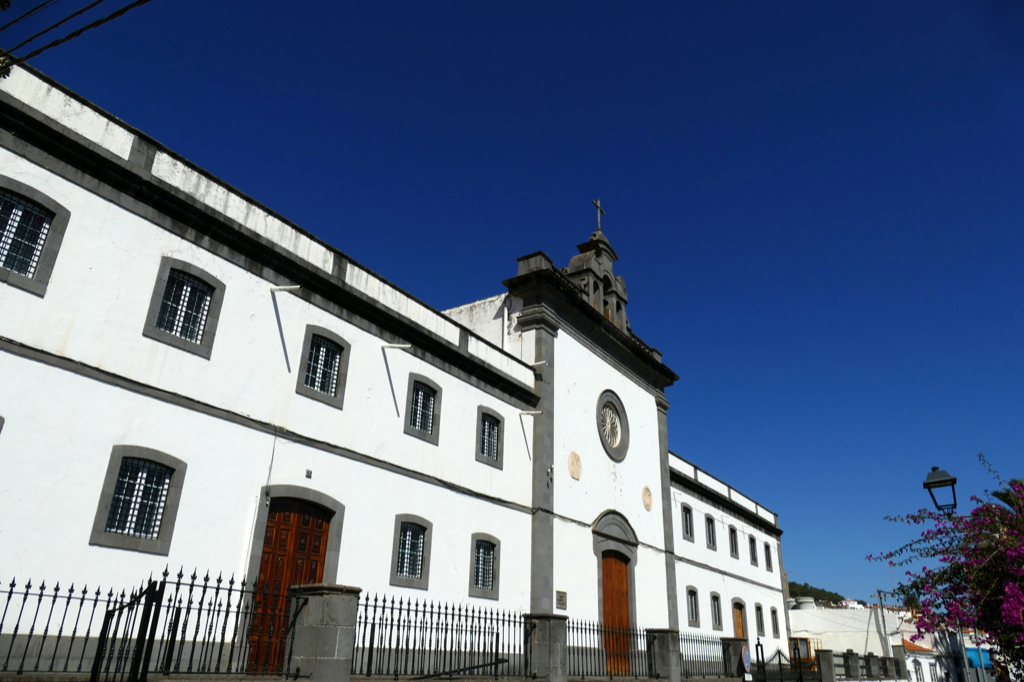 Therefore, the construction of the Cistercian Monastery began in In 1882. The work was completed In 1888, so the community of the Bernard nuns moved there from the Episcopal Palace.
The layout of the building is according to its monastic purpose of rigorous closure and contemplative life. The building is of great sobriety and made up of three main parts: The convent itself, the novitiate as well as the hostelry with the church in the center.
An essential part of the Convent is the extensive Los Castaños estate, fertile farmland that was acquired in 1917. Currently, the Cistercian community of Teror is well known for making artisan sweets.
About half an hour northeast of the city center is the Convento de las Dominicas. It is one of the architectural jewels of Teror. Located close to the Finca de Osorio, it was built at the beginning of the 1920s. The monumental neo-Romanesque stone building was constructed in a spot where formerly stood the Hermitage of San Matías. Apparently, that was Teror's very first monastery after the Spanish conquest.
Arucas
As we left Teror on the bus to Arucas, I saw long lines of cars going in circles between the chock-a-block parking lot and the gas station, desperately looking for a parking space. It seemed as if taking the jam-packed bus to Teror was still better than coming here by car.
Arucas is one of Gran Canaria's largest cities, and coming from Teror, you feel like a peasant overwhelmed by a bright lights big city sensation. However, the center is easily explored by walking.
Already before the Spanish conquest of the Canary Islands, Arucas was a center of traditional Canarian life. During the conquest battles, the place was largely destroyed in 1478. Subsequently, the Canary King Doramas was killed in a duel against the Spanish general Pedro de Vera at the Battle of Arucas in 1481. In the following years, the settlement was re-established by mainly Spanish settlers.
Different Ways of Exploitation
The hurry in re-building the city was due to the high income from the production and export of carmine red dye. Cochineals, quite ugly scale insects, were feasting on Gran Canaria's nopal cactuses as they were collected and ground to red powder. By the way, you still find them in red gummy bears and lipstick if the list of ingredients contains the word carmine, cochineal extract, or natural red #4. Hence, carmine is synonymous with bloodred, I guess.
Also, sugar cane cultivation was practiced – at least in the beginning, also by exploding African slaves – on a large scale until the early 20th century. However, since production on the sugar cane plantations in the Caribbean was more efficient, to put it euphemistically, the cultivation of bananas became increasingly important. The export of bananas remained one of the most important local sources of income until the 1970s. Today, mixed farming of vegetables, fruits, and flowers is practiced. And of course, the major share of the island's wealth comes from tourism.
Parroquia de San Juan Bautista de Arucas
There are a couple of interesting landmarks in Arucas and fortunately, many of them are squeezed together in the center of town.
As we had arrived in the early afternoon from Teror and still intended to hit the north coast for a rewarding dip in one of the lava pools, we had about two hours for Arucas which is not enough, obviously. Nevertheless, we managed to see some of the icons and even enjoyed a drink on the terrace of the cleverly named bar 5comentarios – no comment.
This bar is located at the intersection of some of Arucas' most prominent and also most beautiful streets, hence, you're already in the perfect spot to explore the city after a refreshing drink.
Walking just one block east, you'll get to the Parque de la Paz with the majestic parish church of San Juan Bautista. It was built between 1909 and 1917 according to the design of the Catalan architect Manuel Vega y March in a neo-Gothic style.
Although it is not an Episcopal church, it is often referred to as a cathedral. Who cares, it's the symbol of the city just the same. Interestingly, it was built from dark Aruca basalt, which is lava that has cooled very slowly. Since this material is very weather-resistant, some of the city's stonemasons are still using it.
If you are interested in visiting it, you can do so every day from 9.30 a. m. and 12:30 p. m. and then again from 4.30 p. m. till 7.30 p. m.
Around Plaza de la Constitución
So the famous church is closed around noon, and that's exactly when we arrive in Arucas. And since we plan on going also to the coast today, we don't wait for it to open.
Actually, since it's Sunday, we miss out on visiting a couple of Arucas' landmarks: The famous rum distillery, the renowned botanic garden, as well as the municipal museum – everything is closed on Sunday which I find really odd. Isn't Sunday the day of outings with the family?
What we get to enjoy, obviously, are Arucas' beautiful streets'n'squares. Hence, we stroll down the Calle León y Castillo towards the Plaza de la Constitución. And while all the landmarks are closed, the bars and restaurants lining the streets aren't. Actually, they are packed with people.
The so-called constitution square is surrounded by stately buildings like the Casa Consistorial, Arucas' town hall, and the old municipal market hall.
The municipal museum across from the Arucas-sign is – you probably guessed so – also closed on Sundays. Seriously, how can a museum close on Sunday?! Today's museum used to be an estate, built at the beginning of the 19th century. Eventually, it was the home of numerous prominent personalities who came to visit the municipality.
If you want to visit the museum, which I'm certain is totally worth it, you can do so for free from Monday to Saturday between 10 a. m. and 3.30 p. m.
Gardens'N'Greeneries
Another place I would have loved to visit is the Jardín de la Marquesa Botanical Garden. The first marquis of Arucas had this large romantic garden built in 1880. They cleverly chose a site protected by the mountains. Also, the proximity of the coast creates a microclimate perfect for the well-being of the over 2,500 plants of around 400 tropical and subtropical species.
You can visit this tropical paradise from Monday to Saturday between 8 a. m. and 6 p. m. for a general admission fee of 6 €uros.
But apart from the private Jardín de la Marquesa, there is also a beautiful public park just behind the municipal museum. This is a lush garden that will enchant you with its colors and fragrant. There are flowers, bushes, and trees as well as sculptures and benches to spend a serene moment.
Quite extraordinary is the garden's architecture. It unites the features of an English and a French garden. The latter contributed some unusual geometric shapes and various ponds. In addition, the paths are covered with magnificent terrazzo stones.
Destilería Arehucas
I've already mentioned above that a lot of sugar cane was grown in Gran Canaria in the past. Therefore, there was also a considerable rum production. Actually, the Destilerias Ron Arehucas is producing rum to this date.
The rum factory opened by the name of Fabrica de San Pedro in 1884.
Due to the bad economy after WWI, the factory was closed in the 1920s. The sugar presses and other machines were dismantled and sold. Nevertheless, the distillery remained and was reopened in 1940. In 1965, it changed its name to Destilerias Arehucas.
Today, it houses the oldest and largest oak barrel warehouse in Europe. Here, rum ages, in more than 6,000 oak barrels. Famous visitors like the King of Spain, Plácido Domingo, Julio Iglesias, Anatoly Karpov, and Willy Brandt signed some of the barrels on display.
Arucas' sugar cane fields are on the plain next to the road towards Teror. However, since this is by far not enough for rum production, lots of cane is imported from South Africa.
You can visit the factory on a guided tour from Monday to Friday between 9 a. m. and 2 p. m. for an entrance fee of 5 €uros.
One last thing I'd like to do when I come back to Arucas is to hike up the Montaña De Arucas. This hill is located north of the city center at 412 meters above sea level. It is actually a pyroclastic cone and about 300,000 years old. In the 1950s, the shallow crater on the top was filled and is now a fantastic viewpoint.
Next time, we don't come on a Sunday and we'll spare much more time for glorious Arucas, we promise.
Los Charcones De Bañaderos
We would have had much more time for Arucas if we hadn't stuffed three great places into one single day. But you know how it is.
As a matter of fact, we added a visit to the Charcones De Bañaderos only after our amazing afternoon in Puerto de las Nieves. There, we experienced this special feature of the Canaries for the first time. And we became great fans.
Charcones, which translates to puddles, are some of the most amazing peculiarities in a few of the Canary Islands including Gran Canaria. They are pools formed from lava. No architect in the world can compete with the creative power of nature.
Thousands of years ago, volcanic lava set into a solid state and thusly, created pools.
Here in Gran Canaria, you'll find lava pools mainly along the north coast. They fill up with seawater and as the huge waves of the mighty Atlantic are constantly splashing against the walls which are enhanced with wooden poles, they keep the water in the pools fresh. Going for a swim at these unique swimming pools is a truly grand experience.
A New Sensation
So if you want to spend a day on the beach among Canarians, don't even think about going to the sandy beaches in the south. Stay on the north coast. You've actually come to the perfect place on the Costa Arucas. Local families gather around the natural swimming pools on a weekend or during the week after a hard day's work.
As you come to one of these natural pools for the first time, it might feel weird to spread your beach towel on some rocks or pavement. Although it is more uncomfortable than laying on the sand, you'll appreciate that you won't have sand sticking everywhere. It's like they say: There is a strong shadow where there is much light.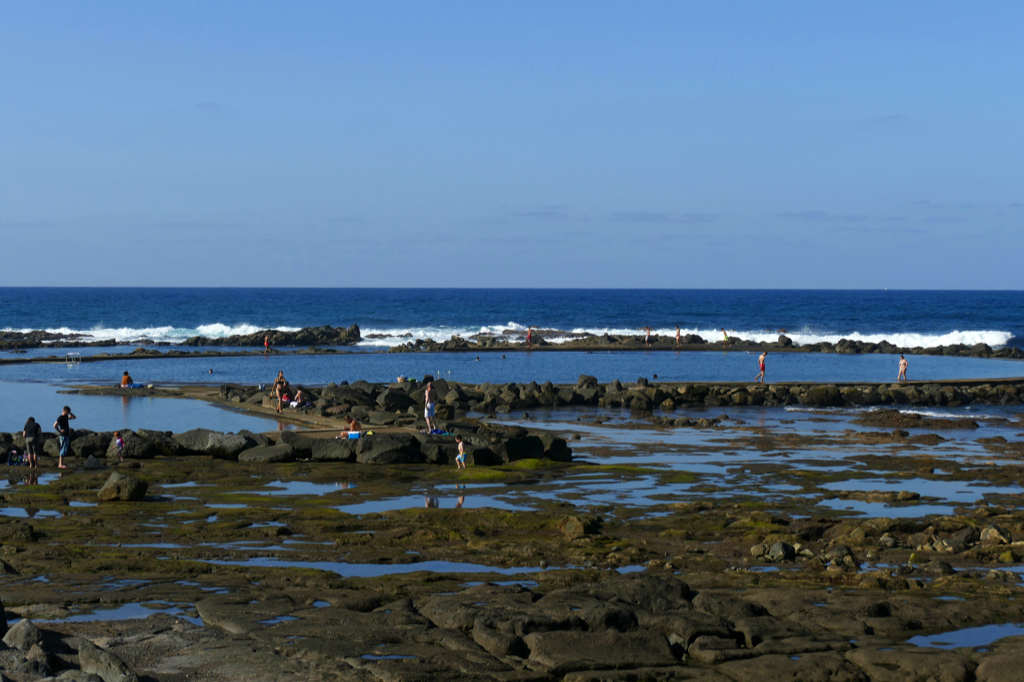 Also, walking on the lava ground is not easy as it is quite uneven and also a bit spikey. We kept our sandals on until we reached the steps. There, we took them off, but made sure to leave them in a spot where the water from the pools couldn't wash them into the sea. Because the water level in the pools changes according to the swell, and the later it gets, the higher the waves are crashing in. Bathing shoes would have been a great gift.
However, the access to the large natural pool of Los Charcones De Bañaderos was laid out with sand. It's gently sloping down and therefore also suitable for children and the fainthearted.
Designed by Nature
Nature did a great job in creating those pools. As there is a constant influx from the sea, the water is automatically kept fresh and clean. The waves even wash a couple of fish in so that you might wanna do some snorkeling. Also, the pools have different sizes and depths. Therefore, some are great for kids while others should rather be frequented by experienced swimmers.
Only if the sea is extremely rough, you should refrain from getting in at all. But in this case, the area is usually closed, anyway.
Although the visit to the wonderful Charcones is free of charge, they do have parking lots, changing rooms, toilets, and sometimes showers. Some of them, like Los Charcones De Bañaderos, even have a restaurant.
Also, you can walk down the promenade to Playa El Puertillo where you'll find restaurants and also a small supermarket. Here you can get refreshments such as drinks, snacks, ice cream, or sunscreen.
How to Get There
Two general references regarding the day trips I took in Gran Canaria:
Firstly, I'm not driving. Therefore, I got to all the amazing spots you'll find in my posts by public bus. Also, note that all my day trips started and ended in Las Palmas where I was based during my entire trip to the island.
Hence, if you are driving yourself, you can just get inspired by and informed on the respective place and can simply ignore my instruction on how to get there.
While reaching some destinations on Gran Canaria by bus on Sundays can be a bit of a drag and requires thorough planning, the trip to Teror's Sunday market is easy-peasy. The town lies only about 20 kilometers west of Las Palmas so you should get there in less than an hour. Also, if you just want to spend a lazy day at the Charcones De Bañaderos, driving along the freeway GC-2, you'll get there in less than 20 minutes by car and about 40 minutes by bus.
Going Public
Getting to Teror and eventually to Arucas from Las Palmas is very fast and easy. Bus lines #216 or #229 take you from Estación San Telmo straight to Teror's bus station in less than an hour. However, if you are going on a Sunday before noon, you should be at the bus station really early as many people go to the famous market.
From Teror, you can continue to Arucas by bus #215. However, if you want to go only to Arucas without visiting also Teror, you better take the direct bus #234 straight from Las Palmas.
If you want to end your day by joining the party at the lava pools of Los Charcones de Banaderos, you can take either bus #206 or #215 from Arucas. Note that #206 takes you to El Puertillo where you basically only have to cross the freeway to get to the Charcones. Since there is an underpass, it's much safer than it sounds. If you take #215, you'll get off at the stop Floristeria Flores from where it's a 10 minutes walk. However, you can take bus #215 also straight from Teror if you want to skip Arucas.
On the bus, you can pay the driver in cash, but only with change or small bills. If your credit card is equipped with NFC, you can use it, too.
For general information and schedules, you can check out the website of Global, Gran Canaria's interurban bus company. To get your next most convenient connection, you can simply type your location and desired destination into google maps.
A little tip if you have to ask locals for directions: They call all buses la guagua, not only those of Las Palmas' eponymous regional bus company.
Where to Eat, Drink, And Have a Great Time
After our afternoon on the stony sundeck of the Charcones De Bañaderos, we were ready to catch the next bus to our base in Las Palmas. "Let me go to the bathroom really quick", I said. Laying on my stomach listening to some music on my phone, I had heard that there was something going on. Now, I saw – and heard – that inside the restaurant adjacent to the lava pool complex, there was a two-men-band playing while the crowd was dancing and cheering and singing along. "Forget the bus, let's stay a bit longer, please! Please, please, please!" Mimi is laughing. And she agrees.
Let's Get the Party Started
We sit at a table not too close to the speakers, but we have to shout in each other's ears to agree on what to eat and to drink. What the waiter then puts in front of us are actually the worst papas bravas we ever had in Spain. And the fact that we drink only one glass of the peachy wine saves us from a headache the next day, I'm sure. But who cares, totally unexpected, we are having the time of our life, swaying and singing and just enjoying life.
Well, you guys, this is what you get from avoiding the tourist areas where the same international hits are blaring from the speakers and the waiters automatically address you in English. As you leave the beaten tracks, you find yourself at an unexpected yet truly Spanish fiesta.
Our Sunday trip to Teror and Arucas with the subsequent break at the Charcones De Bañaderos was only the last of many amazing tour during our week on Gran Canaria. To read about the others, go to this post and take your pick!
For general information on Spain, go to the main post. There, you'll find information and tips that will make your trip smoother and more enjoyable.
Map
This map should help you to find all the wonderful places in Teror….
….as well as in Arucas:
Clicking on the slider symbol at the top left or the full-screen icon at the top right will display the whole map including the legend.
Pinnable Pictures
If you choose to pin this post for later, please use one of these pictures: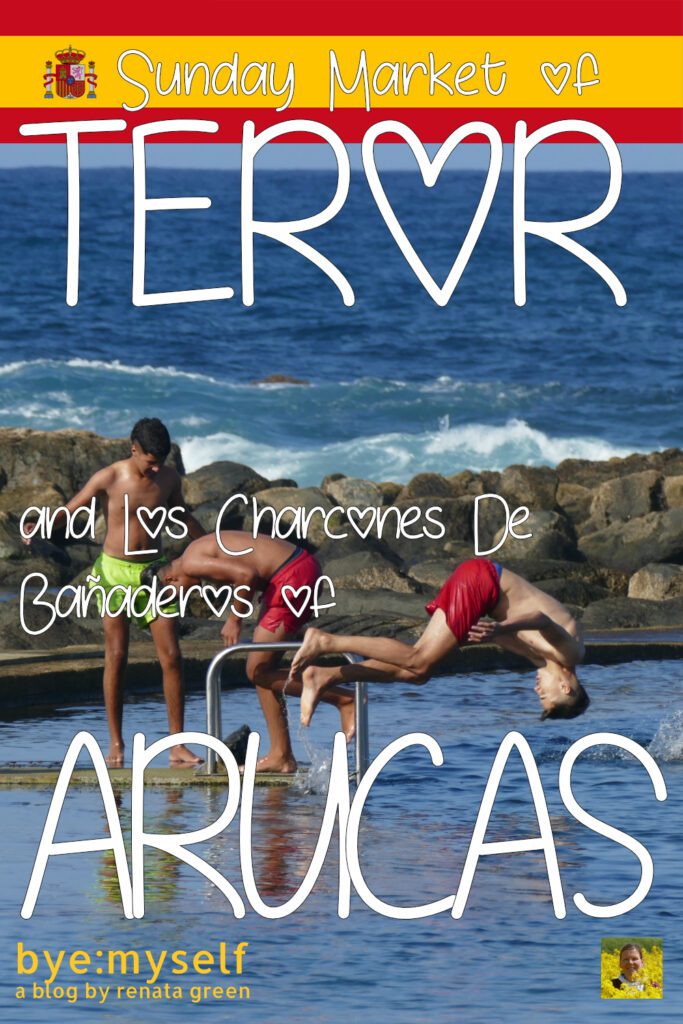 Did You Enjoy This Post? Then You Might Like Also These:
* This is an affiliate link. Hence, If you book through this page, not only do you get the best deal. I also get a small commission that helps me run this blog. Thank you so much for supporting me!