While most visitors are landing at the island's international airport, I entered Fuerteventura through its south gate at Morro Jable.
This way, I found myself in one of the most intriguing spots the island has to offer: A pleasant small town, the island's largest nature reserve Parque Natural de Jandía, as well as some of the broadest'n'best beaches the entire archipelago has in store.
Fishermen And Friends
I began my trip to Fuerteventura in Morro Jable simply because I came to the island by ferry. There is a regular ferry connection between the Puerto de la Luz on Gran Canaria and the port of Morro Jable. Hence, once I was on the island in a port adjacent to some of the archipelago's best beaches – why look any further?
Until the 1970s, Morro Jable used to be a mostly insignificant fishing village. After a road was built, tourists flocked to the Jandía peninsula. Quickly, numerous huge, unappealing hotels were built. To this date, they are terraced on the steep slopes along the coast.
Morro Jable's town center lies in a valley between two rocky hills on the Atlantic shore. Behind the western hill is the town's port. In the east of Morro Jable, beaches are stretching for several kilometers. To the north of the town are low mountain ranges of volcanic origin. Their highest summit, the so-called Pico de la Zarza, is at 807 meters.
The Jandía peninsula is the island's most important tourist region. Nevertheless, as I stayed at a small apartment hotel in the heart of town, I still caught some local vibes and enjoyed Canarian life. To get to the amazing beaches, I only had to walk down a street. A very steep street though. Mind you, due to its location, you have to walk climb up and down very steep streets everywhere. While it's a good exercise, dragging your groceries uphill can be a real….drag.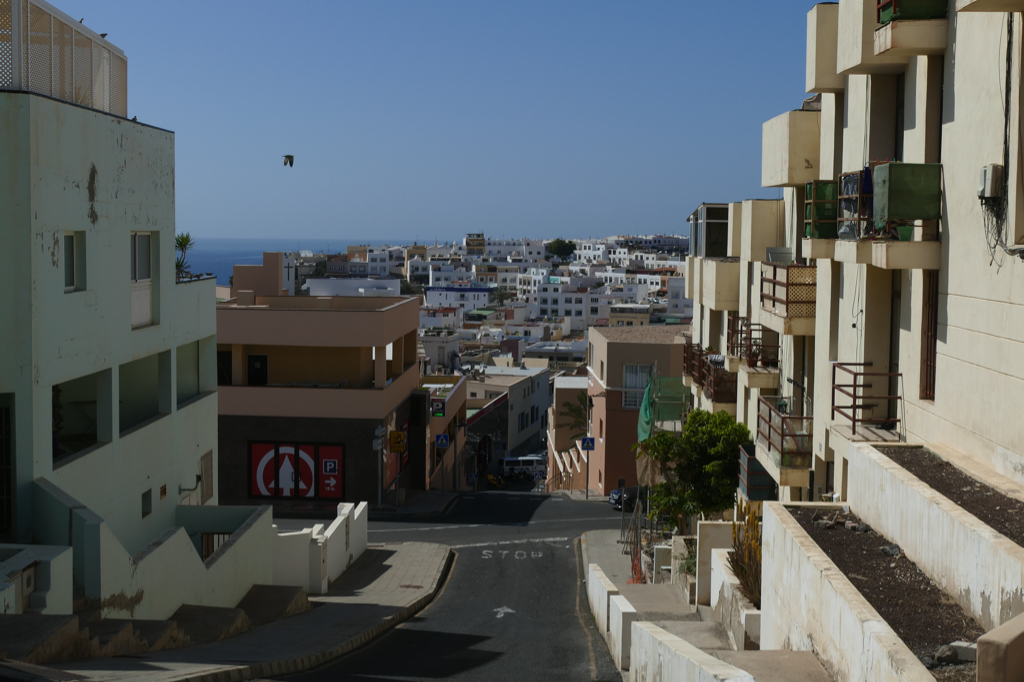 However, this elevated location grants you grand views from practically every spot around town.
Beaches
Morro Jable's visitors' magnet are the beaches stretching from the town up the coast. Closest to the center is El Matorral beach. This amazing sandbox is almost 3 kilometers long and an incredible 60 meters wide. It's a public beach, hence, you can spread out your beach towel basically anywhere you want.
However, there are beach chairs and umbrellas for rent. Those are sheltered from the strong breeze by windbreakers made from straw. I can imagine renting one of the chairs to avoid sandblasting might be a good idea.
Since you will hardly find a better place to practice any kind of watersports, there are many shops renting surfboards, catamarans, and any kind of equipment. Obviously, you can also take lessons.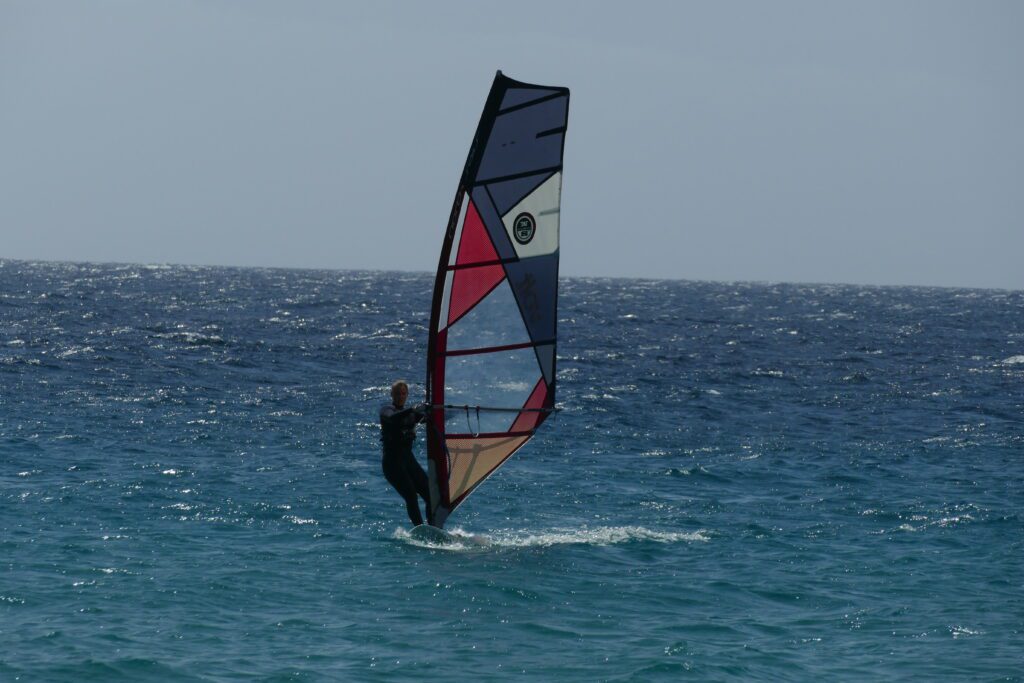 Right on the beach is also a range of restaurants serving regional dishes as well as international fast food.
The only landmark you find in this area is the Matorral lighthouse. It was built in the last decades of the 20th century to warn sailors of the shallow waters of the beach.
Parque Natural de Jandía
Another natural wonderland adjacent to Morro Jable is the Jandía Natural Park. This reserve comprises around 5,000 hectares of basically untouched beaches and hills with unique, protected plants and animal species. It's the perfect place to enjoy serene beauty and wander on secluded hiking trails.
The park's highest mountain is the Pico de Zarza. It is 807 meters high and there are organized outings to climb it.
One of the Parque Natural de Jandía's greatest treasures is Playa de Cofete on the northern coast. No visitor to Morro Jable should miss out on at least a half-day trip to this beach paradise. Therefore, I wrote down all the information you need in a separate post.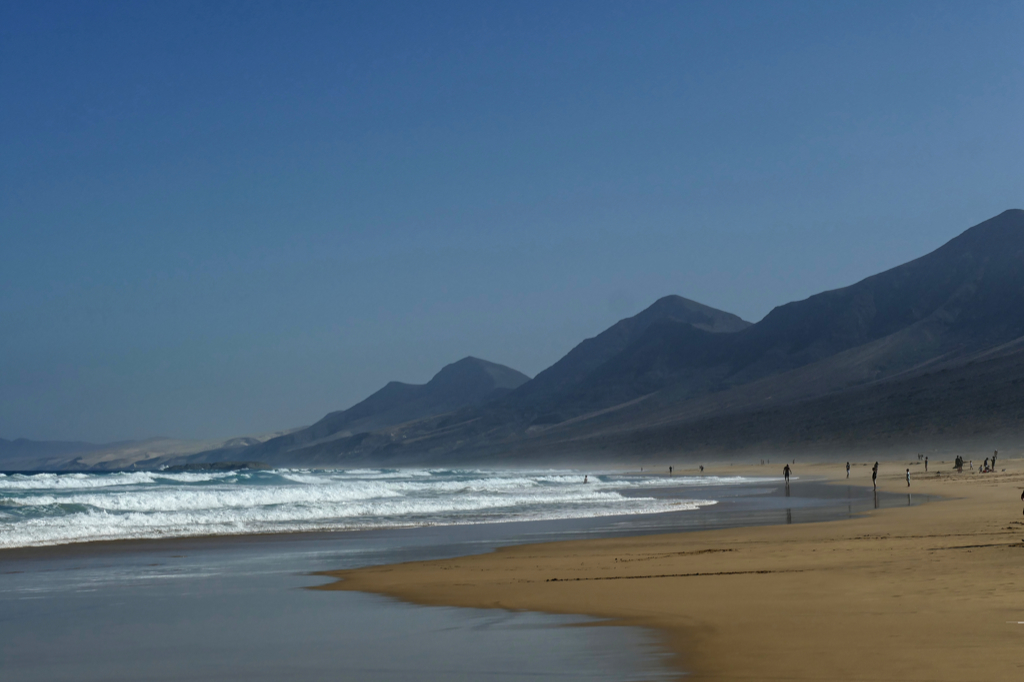 Another place preserving the wonderful wildlife of Fuerteventura is the Centro de Recuperación y Conservación de Tortugas Marinas de Morro Jable. This center for sea turtle recovery and conservation is not a zoo, but a sanctuary that rescues sea turtles that were injured by boats, human debris, or predators. On a short guided tour, you'll learn a lot about these beautiful creatures. Obviously, it's the perfect activity if you are travelling with kids.
The center is open from Monday to Friday between 10 a. m. and 1 p. m. Before visiting, you should register on their website.
How to Get There
Public Transport
If you haven't booked a package where the travel company arranges the shuttle from the airport to your hotel, you have different options of how to get to your final destination. The most comfortable option is taking a cab, obviously.
However, you save lots of money by taking one of the public buses. First, you need to take bus #3 from the airport to the central bus station on the outskirts of Puerto del Rosario. From there, bus #1 takes you south to Jandía in about two hours. There, the final stop is the bus station of Morro Jable. If you are lucky, you can take the far faster bus #10. However, there are only two to three connections per day. Either ride costs around 10 €uros if you travel all the way to the final stop.
You can pay cash, preferably with change or small bills. If you take the bus really often, a travel card might be worth it. You can obtain and charge it at the central bus station or from the driver. However, you save only 10 percent on your trips, but have to pay 2 €uros for the card.
By Ferry
On the southern shores, Morro Jable has a ferry connection with Las Palmas in Gran Canaria. The ferry crosses just a couple of times per day and takes about three hours. The company Naviera Armas has two ferry connections per week to the port of Santa Cruz on Tenerife. This journey takes about five hours.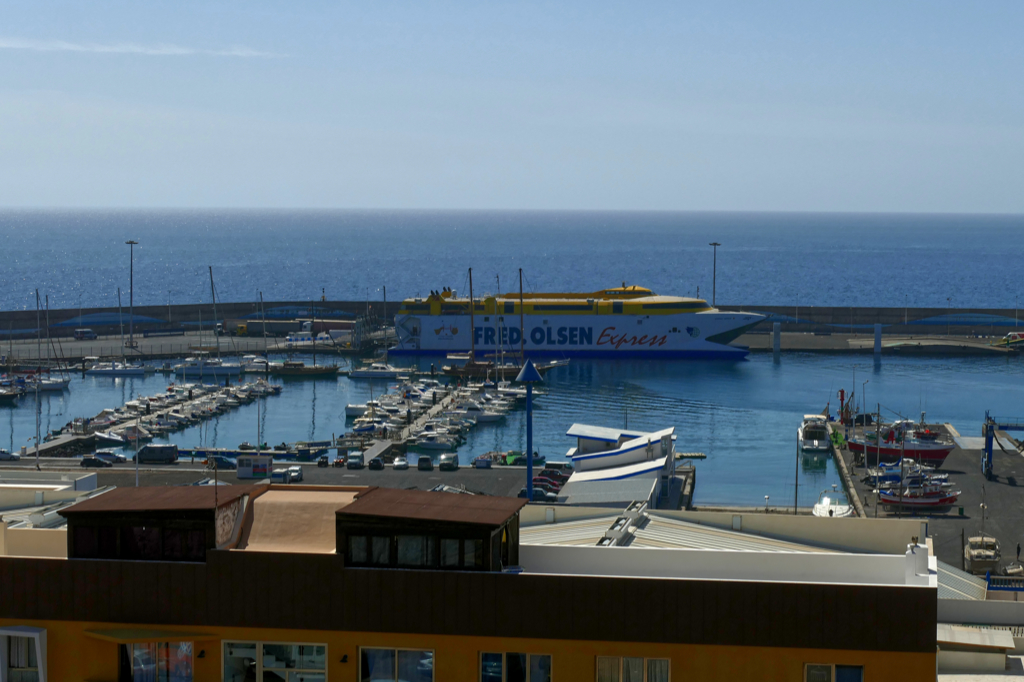 Taking the ferry is not necessarily cheaper than going by plane. However, it is a more eco-friendly way of travelling. Also, it is the only option if you have to take your car across the sea.
If you're on a flexible schedule, you should check thoroughly the prices at different times of the day as well as between the individual companies as they can differ a lot. Also, just like the airlines, the ferry companies grant residents of the Canary Islands a considerable discount.
Where to Stay
Fuerteventura has been a popular tourist destination for decades. Especially on the peninsula of Jandía in the south are many huge hotels and apartment complexes. Nevertheless, you'll find at least a small choice of lodging options even in the tiniest villages. In each and every hamlet, there will be a smaller guesthouse or privately rented apartments.
Wherever possible, I opt for a lodging option close to the center as well as within walking distance to the beach. Therefore, TAO Morro Jable apartamentos* catered perfectly to my needs. I had a living room with a kitchenette, a full bathroom, and a small bedroom. They have washing machines and driers for their guests, and on the roof is a sun deck and a small swimming pool.
Nevertheless, if you prefer to stay right next to the beach, check out other convenient lodging options on this map*:
What to Eat
The Canaries are gifted with an abundance of juicy fruits and veggies. There are rivers of the finest olive oil and the world-famous pork Cerdo Iberico. Obviously, there is a rich catch of fish fresh out of the sea. Consequently, the cuisine is excellent.
After all, Mediterranean cuisine has been inscribed in the List of the Intangible Cultural Heritage of UNESCO in 2013.
On Fuerteventura, regional products are mainly goat cheese and sea salt, Canarian potatoes, and tomatoes. Obviously, fishing also plays an important role.
Tapas and Menú del Día
Just like on the Spanish mainland, there is an overwhelming number of bars and restaurants also on the Canary Islands. There, you can enjoy a glass of beer or wine with some tapas, varied hot and cold snacks. They can be slices of serrano ham, diced or grilled cheese, papas bravas, tiny potatoes with a hot sauce, boquerones en vinagre, marinated fresh anchovies – the list is endless.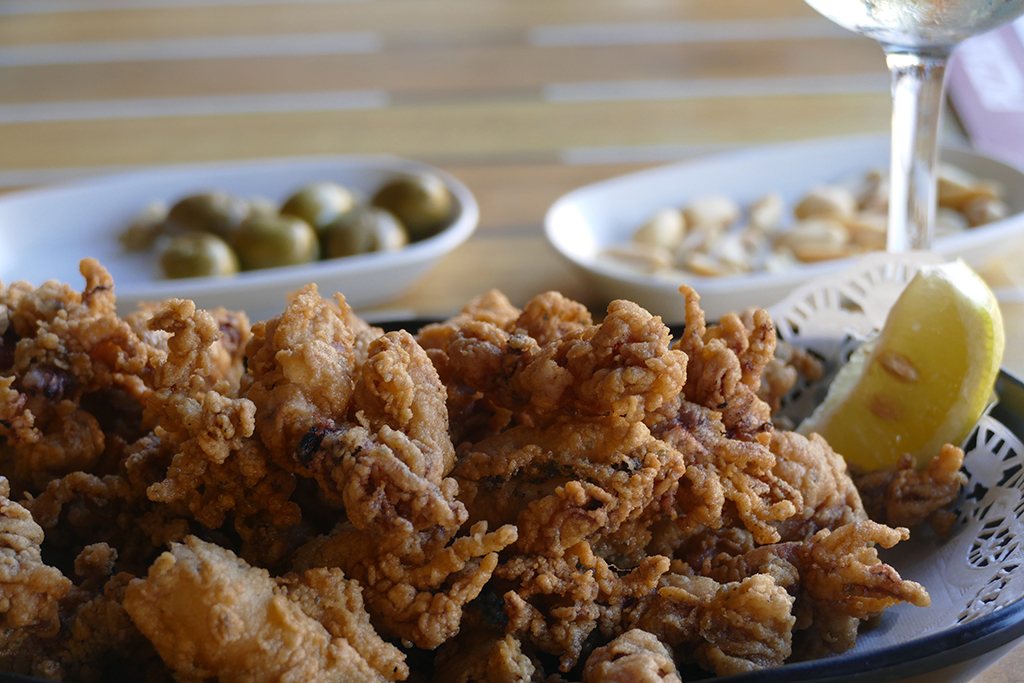 Normally, you'll get some small complimentary tapas with your drink – at least olives or peanuts. A selection of two or three tapas can actually replace a meal. However, you can also order a ración, hence, a serving, or a media ración, a half-sized serving.
In Fuerteventura's more touristy areas like Morro Jable, restaurants are more internationally oriented. Apart from local delicacies, you'll find pizza, spaghetti, burgers, and other fast food on the menu.
As in some other European countries, tipping is rather optional in Spain. It is not compulsory, but an appreciative gesture. Also, you don't need to calculate a certain percentage. Rounding up to the next full €uro might be a bit chintzy. However, adding one or two €uros will normally do.
Bakeries and Supermarkets
Just like in Italy, many Spanish supermarkets have a food counter. At the Eurospar supermarket in the center of Morro Jable, you can buy dishes like Paella, grilled chicken, meatballs, and fritters as well as sides like potatoes and salads. I'm not claiming that this will be the fanciest meal of your life. Nevertheless, if you just need to grab a filling snack, it's a valid option. Also, next to the market is Cafetería Padilla where you can order breakfast, snacks, and fast food from Monday to Saturday between 8.30 a. m. and 9 p. m.
Another good place to enjoy a sweet or hearty snack with a strong coffee or a refreshing drink are the food stalls and cafés at the covered central market on Calle Mascona.
While on the mainland, Spanish mealtimes can be challenging, on Fuerteventura, they adapted to international feeding hours. In the villages in the island's hinterland, they might stick to traditional Mediterranean meal times. In touristy areas like Morro Jable, however, you can basically eat around the clock.
Well-Organized Activities
Although I'm an avid solo-travelling woman, I sometimes like to join organized tours. Not only are they basically the only chance to put to sea. Since I'm not driving, they are also a valid option to go to remote places. And finally, it's a great way to get in touch with fellow travellers.
Therefore, here are some great ideas of what to do when visiting Morro Jable. Especially during high season, pre-booking online will guarantee your place at the activity of your choice*:
Cash And Cards
Until now, 20 European countries replaced their former local currency with the €uro starting in 2002. Obviously, Spain is one of them. The exchange rate is 1 US$ = 0.94 EUR as of January 2023. However, you can check today's conversion rate on this page.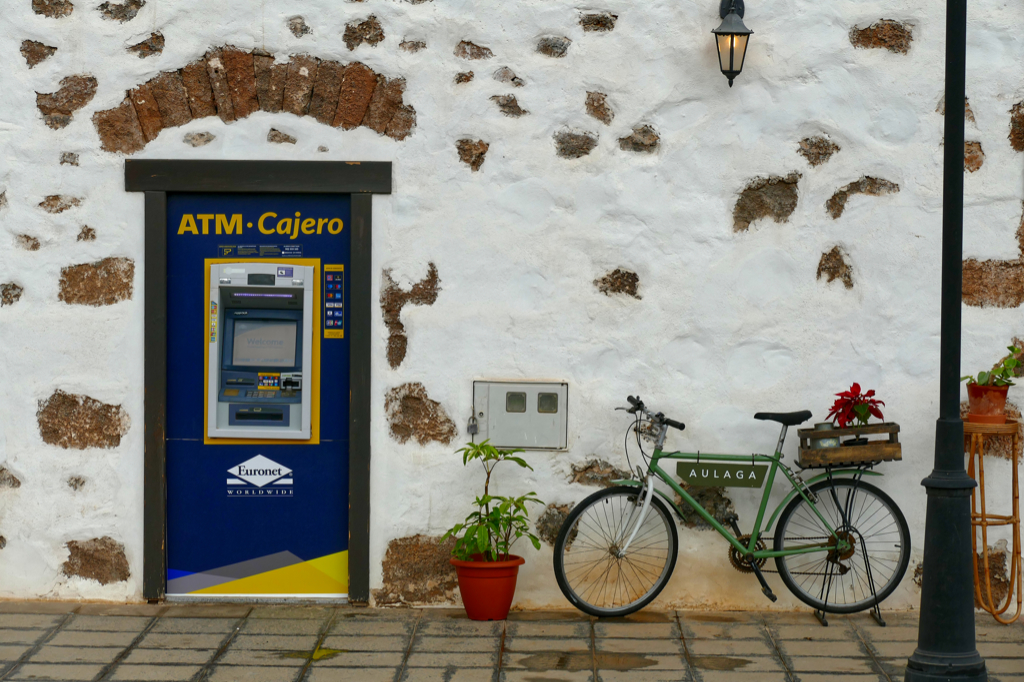 Especially due to the Covid pandemic, even small businesses prefer that you pay by credit card, and preferably contactless. However, contrary to for instance Gran Canaria, you cannot pay on public buses with a credit card. You need to have either cash or one of those travel cards.
Nevertheless, banks or at least ATMs can be found basically everywhere.
Language
Before the Spanish conquest, each Canary Island spoke its own type of the Guanche language. Due to the systematic pushback of the local culture by the Catholic conquerors, only fragments of the language exist to this date. You mostly find those traces in the names of places.
Today, the official language is Spanish, obviously. If you want to learn some basic Spanish or just brush up on your knowledge, there are various apps and online tools. I personally like to practice with babbel. However, due to international tourism, most people working in tourism and gastronomy speak at least some rudimentary English and very often also German.
Nevertheless, here are some ground rules for Spanish pronunciation since saying for instance city names wrong can cause some problems. If people don't understand where you want to go, they won't be able to give you directions.
Where Are You Going?
"Where are you going? Lajares?" asks the driver the British couple. Although he asks in Spanish, they still get that he wants to know where they are heading to. He even states the name of the place, Lajares, which he pronounces Lahares. "Lajares?" asks the lady, yet, she's pronouncing it Ladgares as probably any British person would do. "Lahares?" asks the driver again. "Ladgares!" answers the lady. They go back and forth for some time until she spells the name of the place. Now I understand and jump in: "Sí, they want to go to Lajares".
Until I witnessed this hilarious scenario, I sometimes asked myself if this Say It Right section that I'm including in every post on Spain is really necessary. Doesn't everyone know that you pronounce a J like an H in Spanish? Well, obviously not. And since there is this tricky J also in Morro Jable, you better read the below explanation before hopping on that bus.
Say It Right
The good news is, that in general, you read Spanish the way it's written. Although, the letter C is a bit tricky for foreigners. Placed before an A, O, or U, it's hard and pronounced as K. Followed by E or I, it is pronounced like an English the. Now, if you want that th-sound in combination with A, O, or U, the letter Z comes into the picture. So you have to pronounce Canaria Kanaria, and Plaza Platha.
On the other hand, if you want C to sound hard in combination with E or I, you make it a QU – but you don't hear the U. Fine example: Tequila, that you pronounce like Tekkila.
This applies also to the letter G. If it's followed by A, O, U, or a consonant, it's pronounced like the G in guitar or Gran. To make a G sound hard before an E or an I, they squeeze in a mute U – like in guilt. If G stands before an E or an I, it is rather breathed than pronounced – a bit like the H in house.
The same applies to the letter J. You always pronounce it like the H in house. This explains why Morro Jable is pronounced Morro Hable.
The last trap is double L which is not pronounced like an L but like a Y in yellow. So Mallorca is not Malorca, but Mayorca. When a word is written with just one L like Tequila, it's a simple and innocent L.
Connection and Communication
Since June 2017, no roaming charges apply within the EU with a European mobile phone contract. This applies in all 27 countries of the European Union as well as in Iceland, Liechtenstein, and Norway. It pertains to all contracts.
When roaming is not available, you can connect to the internet at basically every museum, eatery, and, of course, hotel.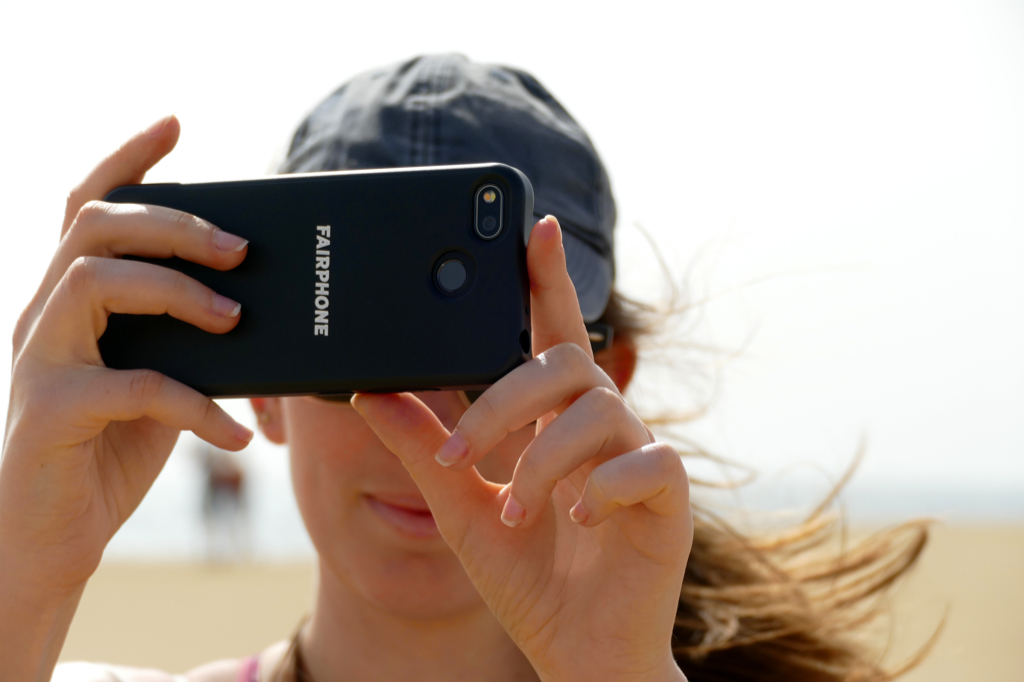 You can get a SIM card if you insist on being online 24/7. The cheapest one would be Lycamobile while Orange Tu Mundo has the widest coverage.
In Spain, they use plug types C and F. Their voltage is 230 V and the frequency 50 Hz. Whereby, as nowadays all these chargers have integrated adapters, in general, the voltage and frequency don't really matter.
By the way, you'll find comprehensive travel info in my post World's Most Complete Travel Information – an indispensable globetrotter-classic.
Morro Jable was just the first wonderful place where I stayed during my week on the island of Fuerteventura. To read about the others, go to this post and take your pick!
For general information on Spain, go to this post. There, you'll find information and tips that will make your trip much smoother and more enjoyable.
Pinnable Pictures
If you choose to pin this post for later, please use one of these pictures: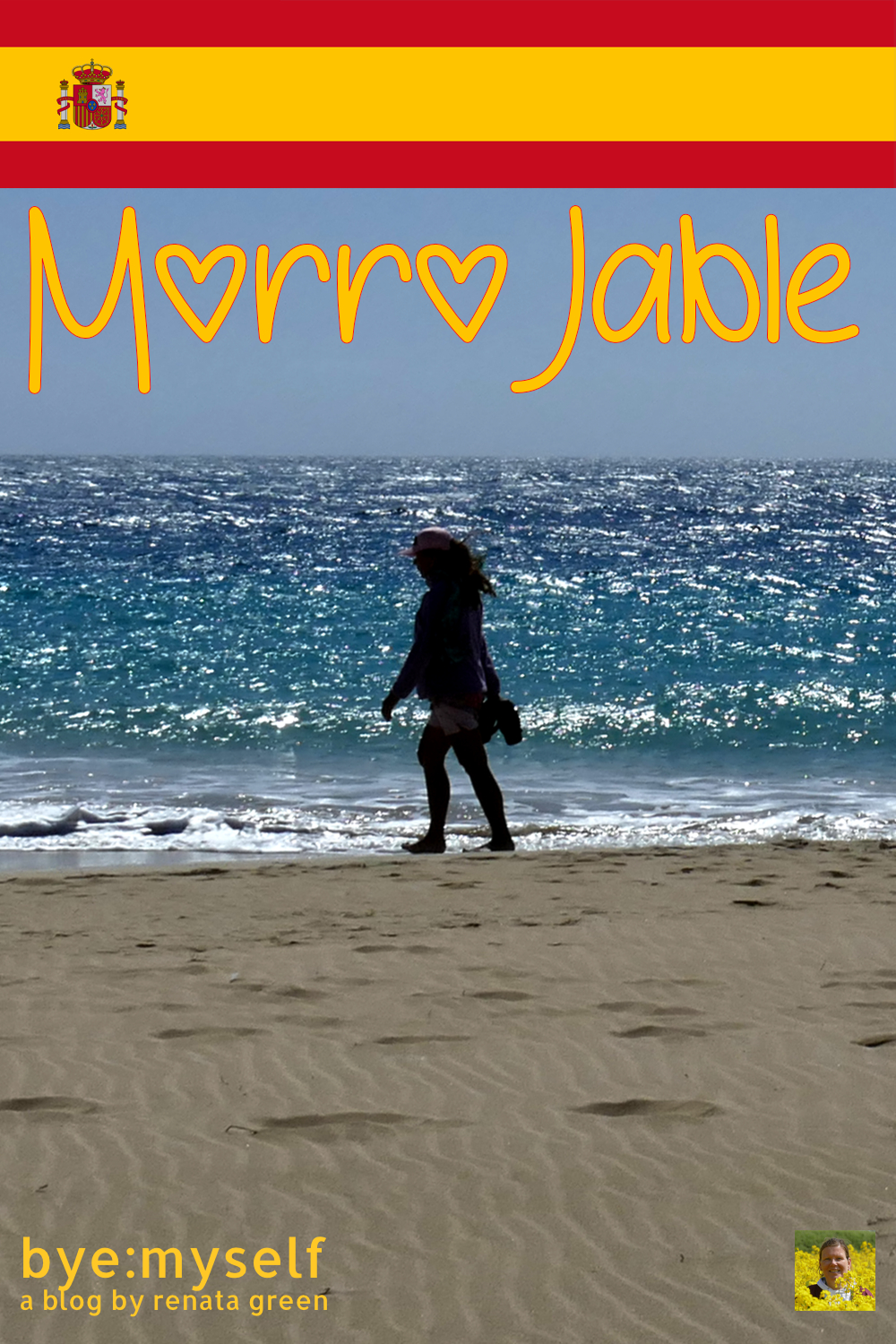 Did You Enjoy This Post? Then You Might Like Also These:
* This is an affiliate link. Hence, If you book through this page, not only do you get the best deal. I also get a small commission that helps me run this blog. Thank you so much for supporting me!