Bali, Indonesia 's island of Gods, is a mystical place. Temples, mountains, and beaches make a trip to Bali a journey into a magical world.
Still, although Bali is safe and easy to travel, its infrastructure is not always convenient for solo-travellers.
Believe it or not, as I travelled to Bali, I set foot on Asian ground for the first time in my life. Since I wasn't familiar with tourist destinations in Asia, I made some mistakes along the road. No, nothing really bad, just some naive first-timer decisions.
Most of all, I happily overpaid for many things and services. I found everything at least reasonably priced if not even dirt cheap. Hence, I didn't notice that I was still overpaying since things were actually even cheaper.
My bad.
However, I'm sure that my cash went to some families who probably need it far more than I do.
Bali
Bali is located in the Indian Ocean between Java and Lombok. The island is the westernmost of the Lesser Sunda Islands and is separated from western Java by the Bali Strait. We're talking only 2.5 kilometers here.
As a matter of fact, most of Bali's mountains are of volcanic origin and cover about three-quarters of the island's total area. With 3,142 meters, the Gunung Agung volcano is the island's highest mountain. To the Balinese, it is the seat of the gods and also the pole of their coordinate system. It last erupted in 2018.
To the west of the Agung is the huge, ten-kilometer-wide volcanic crater of the Batur massif. The peripheral cone of the Gunung Abang is its highest elevation. In the 20th century, the Gunung Batur was four times active.
Rice paddies and lush vegetation are covering Bali. Tropical flowering trees such as the iconic frangipani, but also bougainvillea or hibiscus in many colors are growing everywhere.
Monkeys, especially macaques, are very common – even outside their protected reserves. Obviously, there are lots of critters – it's the tropics, after all.
Very striking are the many different bird species. The biggest star is the Balistar – pun intended. This beautiful blue-eyed fellow is endemic to the island.
Island of a Thousand Temples
In Asia, Bali is one of the very few regions with a Hindu majority. Hinduism found its way there in the 8th to 9th centuries. Most Balinese profess the Hindu Dharma, a local form of Hinduism.
Religious rites and festivals accompany people from birth to death and even beyond. They are the basis of a village community and also regulate family life. Basically, they form the ethical guidelines for the whole people. Temple ceremonies are the kickstart for all holidays and gatherings of many kinds.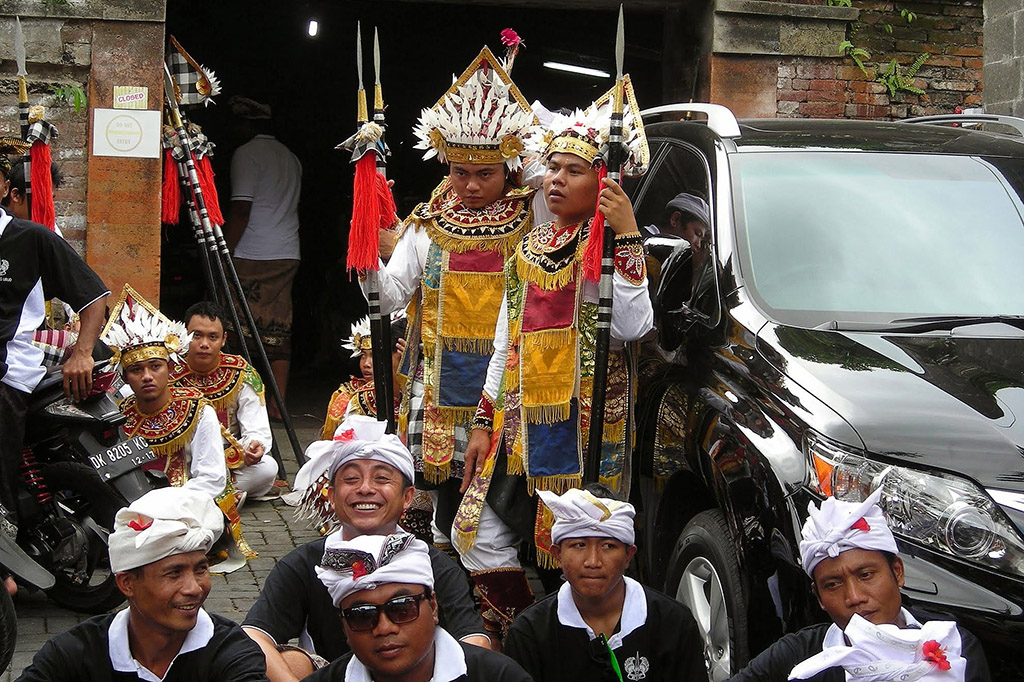 Each Hindu banyar is home to three temples. The Pura Puseh is the temple of origin, the Pura Desa is the temple of the great council, and finally, the Pura Dalem is the temple of death. Usually, even in remote regions, the temples are lavishly decorated. To the layman, according to their appearance, they are hardly inferior to the major temples.
In addition, every house has its own temple. Also, at many public points such as road crossings, town entrances, or banyan trees are small temples or at least an offering box.
That's the Spirit
In addition to the prevailing Hinduism, traditions of old ethnic religions have an impact on the island's religious life. According to this, gods are present in all forms. Everything in nature has its own law that reflects the power of the gods.
The basic idea is always the restoration of harmony within the universe. As in the other East Asian religions, it is not considered oppositional, but as complementary.
This ritualization of life and the self-control that goes with it is an essential part of religious customs.
There are still strong remains of old shamanism. This is also reflected in initiation rituals, soul guides, or healings. By the way, this also applies to similar ceremonies in Malaysia, Cambodia, and Thailand.
The underworld is in the sea, the gods live on the volcanoes, and the cult of ancestors is asserted.
Past And Politics
While all this sounds harmonious and spiritual, Bali has also a political past and present. Sadly, these are far less pretty.
Step by step, the Dutch occupied Bali between 1846 and 1908. The Rajas of Denpasar and Pemecutan refused to submit the unstoppable invaders. They burned down their palaces. Then, they marched in their most beautiful clothes with families, courtiers, priests, and warriors in the hail of bullets of colonial power. 4,000 Balinese were killed.
The Dutch hegemony lasted until 1942. During this time, the opium monopoly brought the Dutch an income that clearly exceeded the expenditure for conquering and maintaining the colony.
Between 1942 and 1945, Japan annexed the island during WWII.
On August 17, 1945, the proclamation of Indonesia took place. Since then, Bali has been part of the country.
In 1963, the Gunung Agung broke out and killed thousands of people. What followed was economic instability. This caused many Balinese to relocate to other parts of Indonesia.
General Suharto's dictatorship brought a wave of violence to Bali in 1965. Seeing the Balinese's gentle smiles, it's hard to believe that also ordinary people participated in horrible massacres. Their victims were mainly members of the Communist Party, but also minorities, especially economically successful Chinese immigrants.
Beginning of the 21st century, various bomb attacks shattered Bali. The police assume suicide attacks and suspect the radical Islamist organization Jemaah Islamiyah to be behind the aggression.
Visiting Bali
The word paradise is a bit overused in Bali. Obviously, apart from the incredible number of temples and other cultural treasures, there are great beaches, excellent food, and friendly, hospitable locals.
On the flip side, it's extremely touristy. During the tourist season in and around Christmas, it can get very crowded. Then, Bali caters mainly to mass tourism from Australia. The good thing is that many of those tourists stay exclusively at their all-inclusive resorts. They rather hang out on the nearby beaches by day and at sports bars at night.
They are certainly not invading the cultural sites.
Balinese are more tolerant than people in mainland Indonesia. Still, public display of affection is frowned upon. Also, public nudity is not acceptable. Mind you, 60 percent of tourists to Bali are from the Muslim mainland. Therefore, you should dress modestly. Although bikinis are fine on beaches, they are inappropriate when shopping or eating in restaurants. I personally find this obvious. Sadly, others don't.
Cowboys In Paradise
What I was not aware of before coming to Bali is that the island caters to female sex tourism. Obviously, it's not as gross a business as male sex tourism for instance in Thailand. Still, it exists.
Since I didn't hang out too much in the touristy beach area around Kuta, I hardly ever experienced it. However, one evening, I was looking for some store, hence walking around obviously searching for something. I then was approached and asked whether I needed a boyfriend. Something like this never happened to me outside of the touristy party areas.
There is an excellent documentary by Amit Virmani called Cowboys in Paradise. It's dealing with the phenomenon of what I would blatantly call male prostitution. You can stream it on amazon and it's absolutely worth watching.
You might ask yourself why they call Kuta's gigolos cowboys. As a matter of fact, I do, too. They have long hair and are riding motorbikes – is that why?
Practical Information
How to Get There
The gateway to Bali is the Ngurah Rai International Airport less than 10 kilometers south of Legian.
Some major hotels in the beach area offer a free shuttle. However, if the shuttle is not complimentary, you'll probably pay much more than if you arrange your transport yourself. This being said, it's wiser to overpay for a safe trip than to risk your well-being on arrival. You'll find more on this important topic in my post Keep Calm and Travel Solo.
There are three local taxi companies forming kinds of cooperatives. You find their desks at the domestic terminal. Here you can ask for their price and go then with the best deal.
However, for your comfort and safety, here you can pre-book a reliable and reasonably priced airport shuttle.
Sea Travel
If you already are on the Asian continent, you can actually travel to Bali by ferry. The ferry between Bali to Java leaves from the Gilimanuk ferry port and goes to Ketapang port in East Java. It takes about 30 minutes.
If you continue eastwards to Lombok, your fast boat leaves at Padang Bai. This ride takes about two hours. There is a much cheaper ferry, however, it's very uncomfortable and takes about six hours. However, there are also connections from Serangan in the south and Amed in the north.
Going to Lombok, you should make sure to visit at least one of the Gili islands off Lombok's west shore, if you have the time.
Getting Around
To me as a solo-traveller, this was Bali's weakest point. Although there are public buses, they are used almost exclusively by locals and therefore don't go to touristy places of interest. You have to rely on individual transport.
While hiring a car with a driver is comparatively cheap if you share it between two or three people, it's obviously not that cheap anymore if you pay for the whole thing yourself. Of course, you can try to share with fellow travellers, but it's not guaranteed that you'll find someone according to your interests and itinerary.
Also, there are very few organized group trips that you might join. I achieved that twice during my entire trip. Other than that, I involuntarily lived like a queen and had cars to myself.
This being said, you can always try to join an organized tour with Perama. They have offices all over Bali and also in Lombok. Nevertheless, they don't stick to scheduled tours. If on certain days, they don't have enough people, they simply don't go.
To help you find the best option even if you travel through Bali solo, I'm including some tour offers in the What to See section below.
Where to Stay
In a country that's living mainly on tourism, you won't have trouble finding a suitable lodging option.
In general, accommodations are very reasonably priced if not very cheap. Therefore, Bali might be a good place to splurge a little. Actually, you can get a luxurious hotel room already for around 50 US$.
I recommend accommodation for certain places in the individual posts, you'll find the links below.
However, here is a search box that will help you book places to stay across the country.*
What to Eat
Not only is Balinese food simply delicious, but for international visitors, it is also incredibly cheap.
As I mentioned above, my first visit to Bali was at the same time my first trip to Southeast Asia. I remember that on my first beach day in Legian, I wanted a snack. At one of the chill beach bars, I ordered Satay from the menu at the equivalent of maybe 3 €uros. Hence, I expected a teeny-tiny snack with my drink. Man, was I surprised when the waiter brought me a big plate with a couple of those delicious skewers accompanied by a generous portion of rice.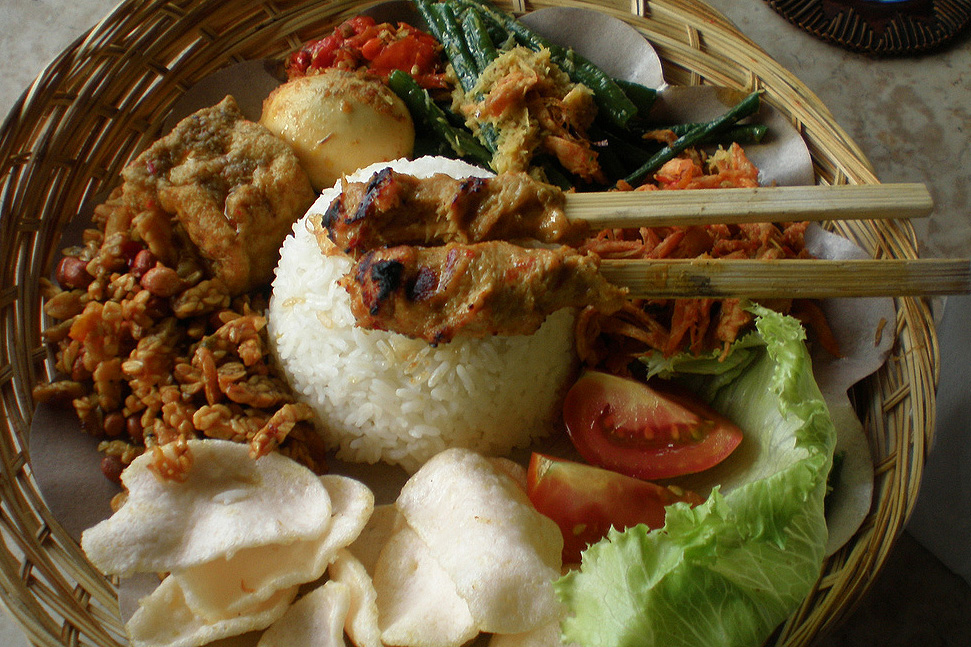 And while it can get a bit more expensive for instance at hotels or fancy restaurants, this would be the average price at the Warungs, Bali's lovely local eateries.
The Balinese culture is also manifested in their food, obviously. Traditional cuisine is an essential part of local customs. My preferred dishes are – apart from Satay skewers – babi guling, roasted pork, and bebek betutu, which is roasted duck. My absolute favorite, however, is nasi campur. It's steamed rice with grilled meat cubes, fried tofu, cucumber, spinach, vegetable curry, peanuts, and chili sauce.
What to See
I'm an avid solo-travelling woman. Since solo travel doesn't equal solitude, I love to join organized tours here and there. Since this is not that easy in Bali, here are some valid options of how to get to see what this magical island has to offer in a safe and easy way*:
What to Bring
Be a scout and remember the motto Be prepared.
As you leave in the morning to explore, make sure to not only have your money and your sunshades on you.
Good to Know
Don't let the half-naked tourist hordes in some beach resorts fool you: Balinese dress very modestly. This goes particularly as you leave the beach area to explore remote villages and, most of all, sacred complexes.
It is always a good idea to carry at least one light, large scarf with you to cover up in case you decide to visit a sacred place. And I'm not talking only to the ladies, men have to cover, too.
You always have to wrap a sarong around your hips – even if you are wearing long pants. Locals also wear a temple scarf around their waist. Foreigners don't need necessarily to do so.
Remember that you're neither supposed to expose your shoulders nor arms. So if you are wearing a sleeveless top, you also need a scarf to cover your shoulders.
Often, you can rent sarongs at the entrance to temples. Or they will be someone selling them. Since these vendors cater mostly to desperate people who need a piece of fabric right away, their prices are ridiculously high.
You'll find more tips on Bali's DOs and DONTs in my post on How (not) to behave in BALI.
It might also be a good idea to have a pair of old socks with you that you can wear in the noonish heat when walking on the hot stones around the temples.
Good to Have
Especially when you are walking a lot or cycling, you will appreciate a cat lick using some wet wipes on your hands, face, and neck. Also, the last resort in case some bathroom along the way has no toilet tissue. Remember to freshen up your sun protection especially after wiping your face – so make sure to have a travel-size bottle of sun protection with you.
I have all these things in an extra pouch that I just stuff in my daypack in the morning without having to remember every single piece.
Of course, you shouldn't forget to take a hat, good sunshades, and a large bottle of water with you, too.
Cash And Cards
In Bali, you pay in Indonesian Rupiahs, abbreviated IDR.
There are coins from 100 up to 1000 IDR and banknotes from 1000 to 100,000 IDR. Consequently, the largest Indonesian banknote is worth around US$ 6.50.
It's a very touristy country, hence, credit cards are widely accepted. Obviously, you can get cash at ATMs.
One US-Dollar equals 14,989 Rupiahs (IDR) and one €uro equals 16,280 Rupiahs (IDR) as of February 2023. You can check the current rate on this page.
Language
The official language on the island of Bali is Indonesian. This bahasa – which translates to language – is extremely similar to the language spoken in Malaysia.
I gained some basic knowledge for my trip to Bali. It's amazing how easy bahasa was to learn. Especially since it's written in Latin letters.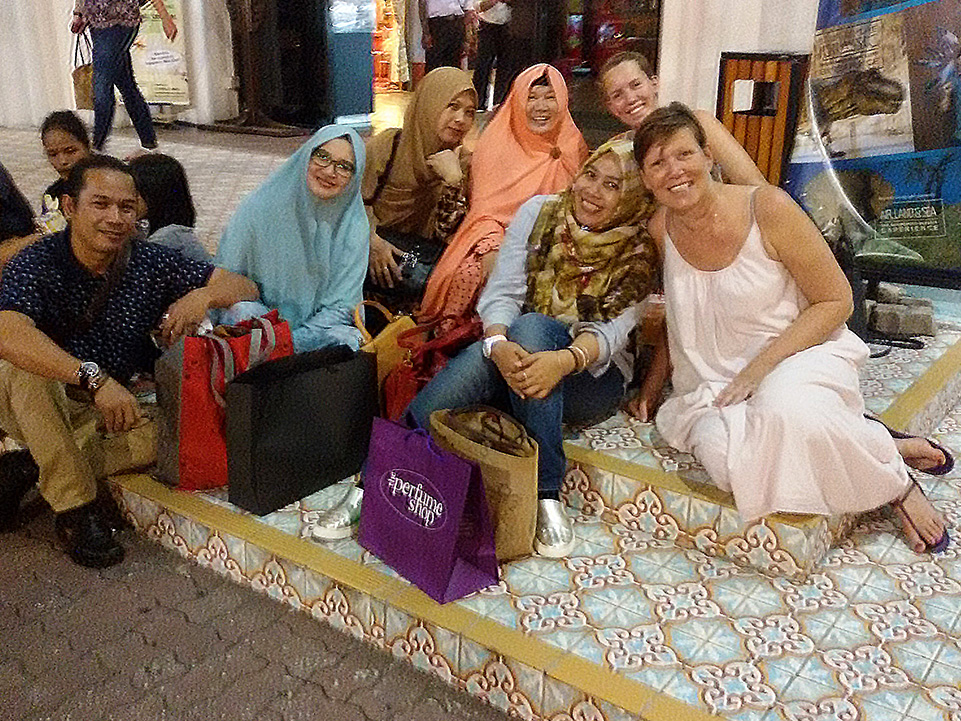 It's very interesting that there are still remains from Portuguese. For instance, sepatu for shoes or meja for table. But mostly there is a strong Dutch influence such as gelas for glass or handuk for towel. These words are also very similar in German.
Then, everything related to time like hours and weekdays is derived from Arabic. As a language aficionado, I loved diving into these structures and enjoyed studying.
Yes, Indonesian is actually one of the languages babbel offers. As usual, the first lesson is free. It supplies you with the most important words to interact with people.
Communication and Connection
Like during most of my trips where European roaming is not available, I did not get a national SIM card. I rather used free WiFi. There was a connection to the internet without any issue at basically every eatery or café and, of course, hotel. Worked like a charm.
But if you insist on being online 24/7, you can get a national SIM card right at the airport.
In Indonesia, plug types C and F are the official standard. The standard voltage is 230 V and the frequency is 50 Hz.
But as you know, nowadays, all these chargers for phones and readers and computers have integrated adapters. Therefore, different voltages and frequencies don't really matter.
Gone are the days when you blew your electric appliances since you forgot to switch them from 110 to 220…good times.
By the way, you'll find this kind of practical travel info in my post World's Most Complete Travel Information. Actually, it's an indispensable globetrotter classic.
This Is the Route I Have Travelled
These Are the Places I Have Visited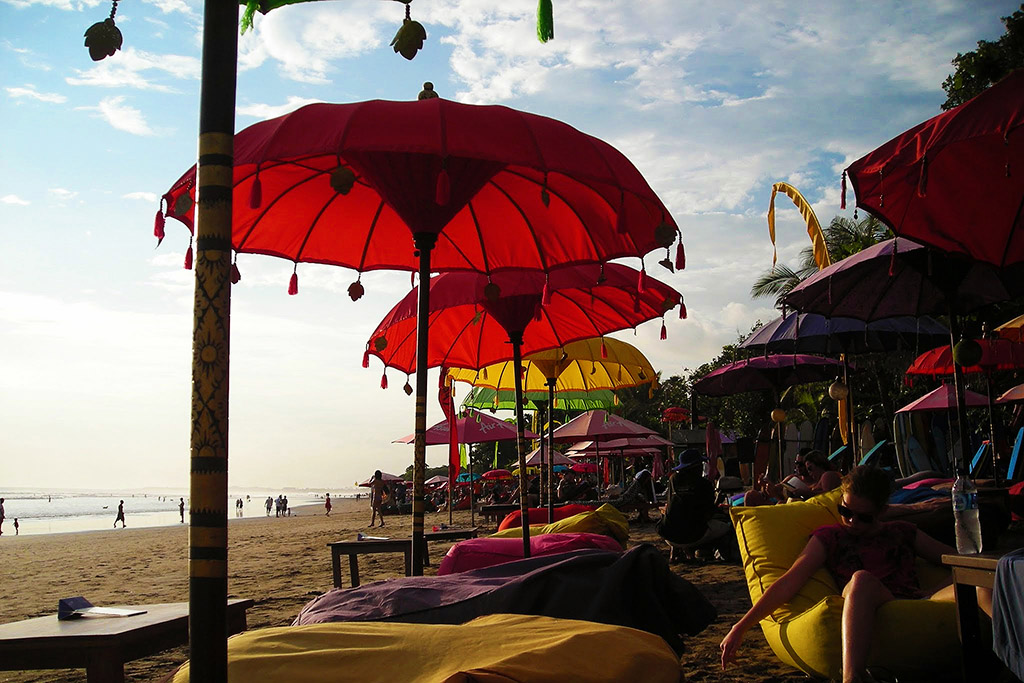 Pinnable Pictures
If you choose to pin this post for later, please use one of these pictures:
Note: I'm completing, editing, and updating this post regularly – last in February 2023.
Did You Enjoy This Post? Then You Might Like Also These:
* This is an affiliate link. If you book through this page, not only do you get the best deal. I also get a small commission that helps me run this blog. Thank you so much for supporting me!