No words can describe the view of Machu Picchu – the once-in-a-lifetime experience: Those majestic mountains, the mysterious remnants of palaces and dwellings, and the roaming llamas.
Machu Picchu was not only the highlight of my trip to Peru. As a matter of fact, it was one of the highlights of all my life's travelling.
Machu Picchu
Machu Picchu is a place full of well-preserved remnants of an ancient Inca settlement. The Incas built the city in the 15th century at an altitude of 2430 meters on a ridge between the peaks of Huayna Picchu and the mountain of the same name, Machu Picchu.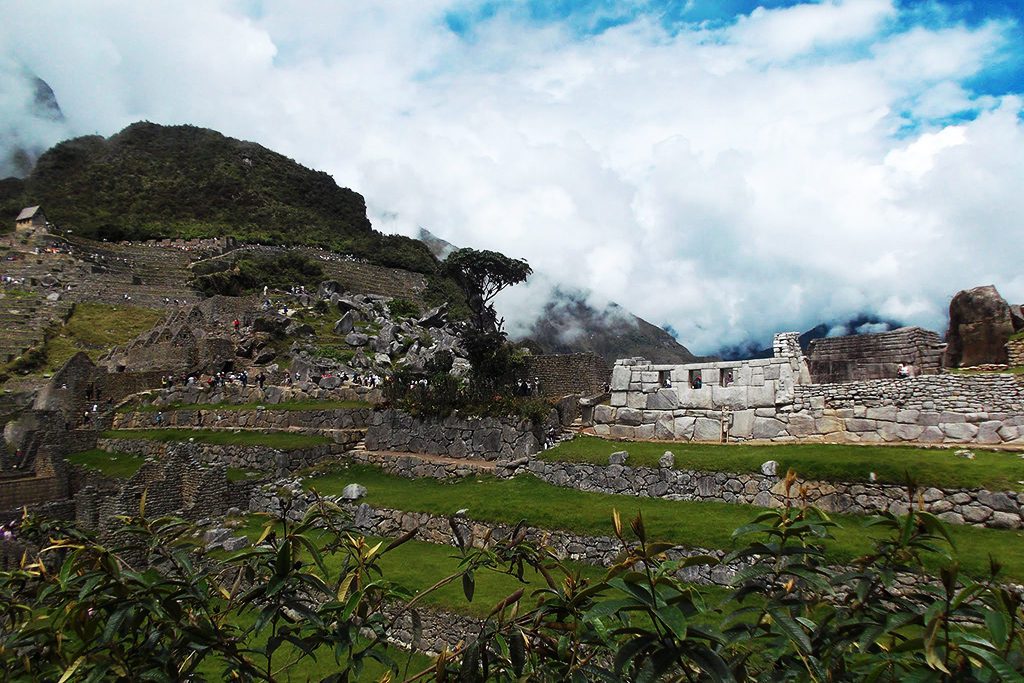 The site is in the Andes above the Urubamba Valley about 75 kilometers northwest of the city of Cusco.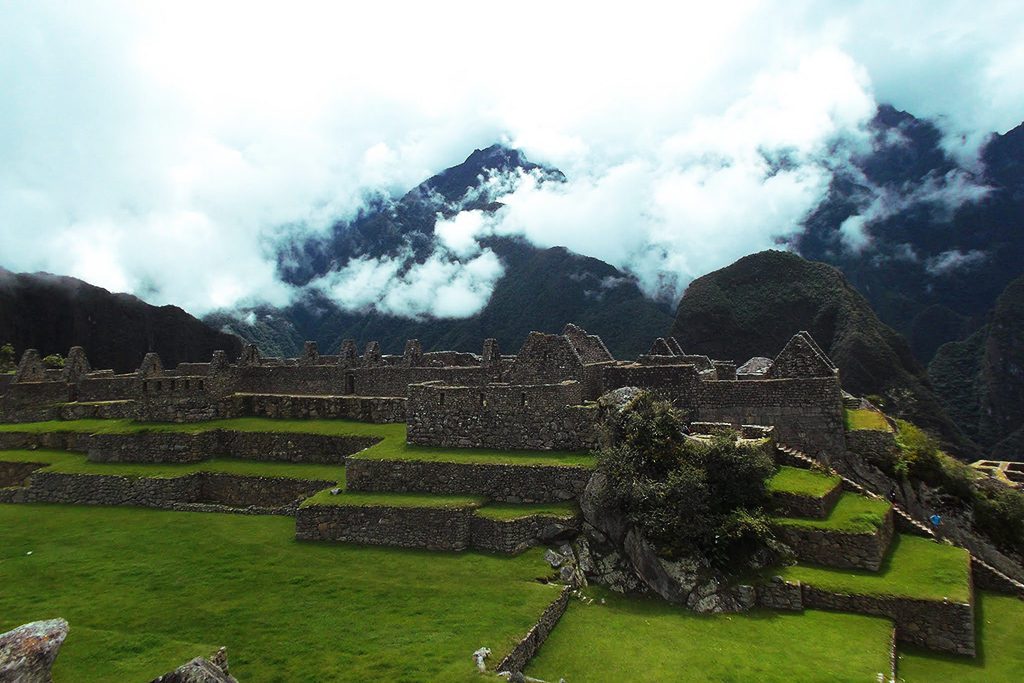 The terraced city has been connected to the former capital of the Inca empire Cusco and the ruins of Llactapata through a narrow mountain path as well as the larger Inca path.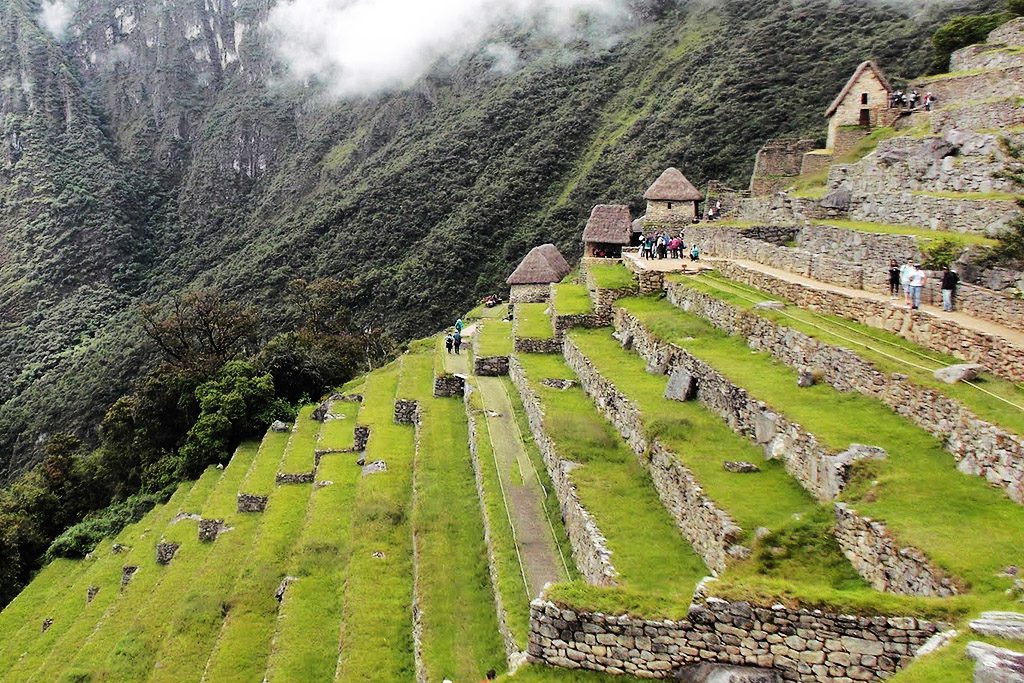 The city comprised 216 stone buildings that were located on terraces and connected by a system of stairs. Most of the terraces have been preserved to this day. There are also small water drainage openings built into the walls as well as 3000 steps.
Also, the canal connection from the water source located outside the city complex to the cascade-shaped well pools, the outer walls of the temples, and the multi-storey residential buildings are still conserved. They are fully functional and have been gradually reconstructed where necessary.
It was our friend Pachacútec Yupanqui, whom I introduced to you in my post on Cusco, who ordered his people to build this settlement in 1450.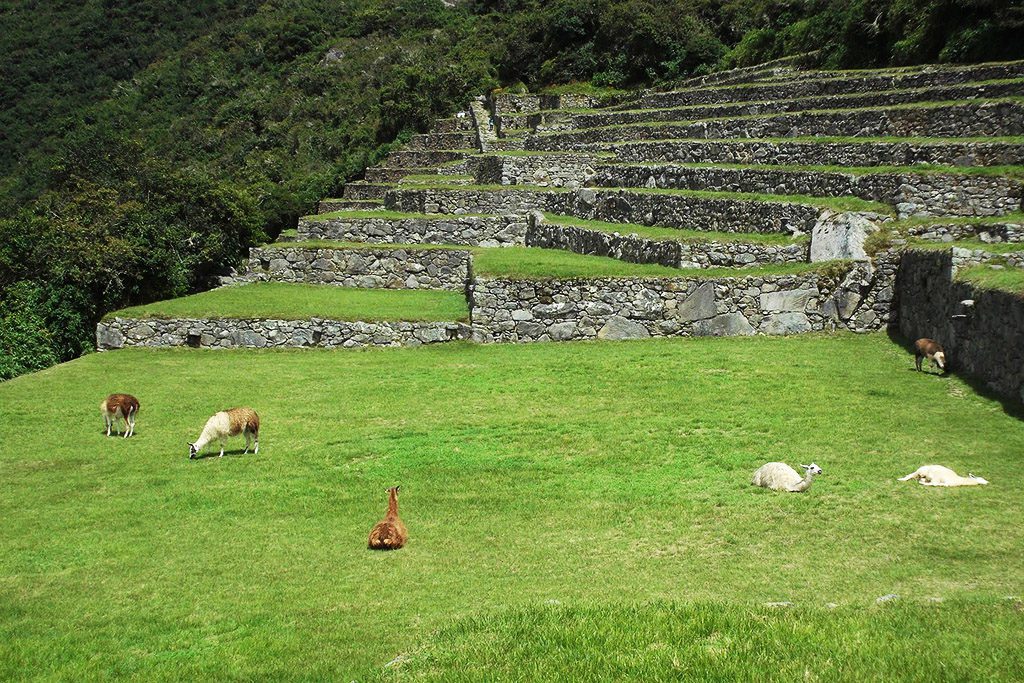 There were up to 1,000 people living in the temples and dwellings of this city built on terraces.
Speculations
So the dwellings at Machu Picchu were probably built in the 15th century and occupied only over a relatively short period of a hundred years. The architecture and other indications suggest that it was a royal complex to ruler Pachacuti Inca Yupanqui.
Although there were research and excavations have taken place for about 150 years now, there are still questions remaining unanswered.
There are many speculations why the Inka made an effort to build a vast site in such an inaccessible place above the Urubamba River valley in a narrow saddle between the two prominent peaks that are Machu Picchu and Huayna Picchu.
Most researchers agree that Machu Picchu must have been a sacred place.
Excavations of bodies prove that the site was mostly inhabited by women.
My Visit – a Once in a Lifetime Experience
I took the regular tourist train and paid about 160 US$ round trip – from Ollantaytambo to Machu Picchu in the morning and back to Cusco in the afternoon. Then, the entrance fee is almost 50 US$. To cut a long story short, it was the most expensive day trip of my entire life.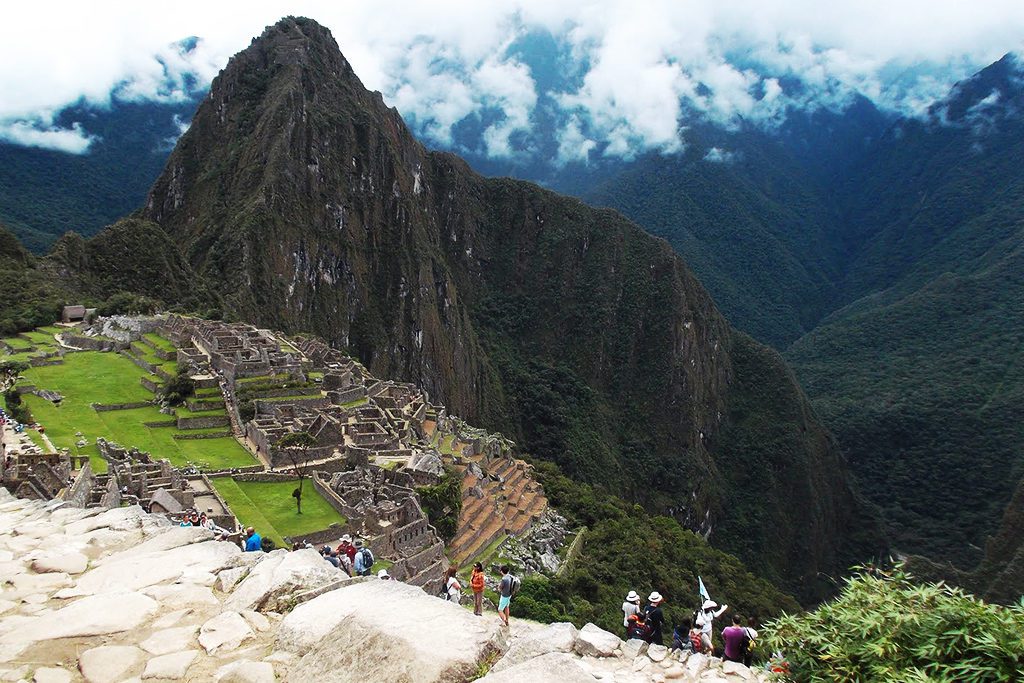 As I got to the site of Machu Picchu, I left most of my stuff at the cloakroom, entered the site, walked along a narrow trail, turned around…and literally started to cry.
I was so overwhelmed by the majesty and illustriousness of this mountainous ridge.
I felt close to the sky and close to another reality and existence – and it was not only because of the height. There is something there that makes you feel small and unimportant, thus part of something higher and more significant. It's difficult to describe, so I suggest you go and experience this one-of-a-lifetime encounter for yourself.
How To Get There
By Train – Expensive But Safe
The regular way to Machu Picchu is extremely overpriced. I couldn't believe my eyes when I saw the prices on the internet.
There is a local train. However, only local people are allowed to take it. And local means from the very region, not from all of Perú.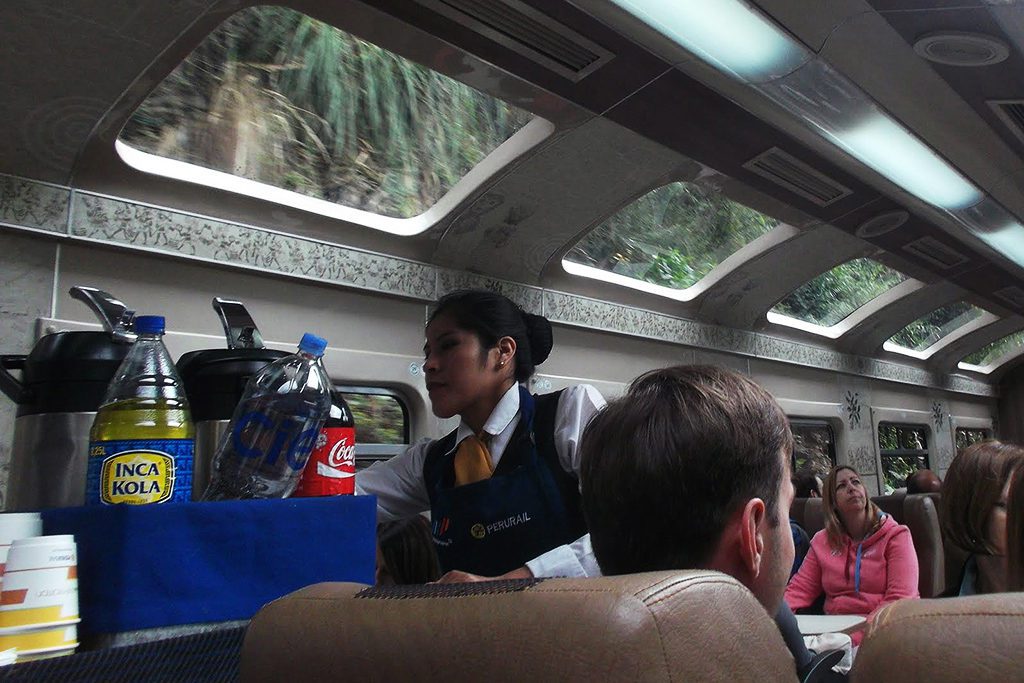 However, I recommend you book all this a bit ahead. You can go straight from Cusco or – like I did – from Ollantaytambo. Check the connections and prices on the website of Perurail.
By Bus – Less Expensive But Hazardous
Another way to get to Machu Picchu is by bus. Choosing this option, you cannot do it in one day. Hence, you need to add costs for lodging to your calculation.
First, take the bus from Cusco via Santa Maria to Hidroelectrica which is the last stop. From here, you can take a train to Aguas Calientes. It's a 30-minute ride that sets you back at about 25 US$. Or you hike for about two to three hours alongside the train tracks. Realistically speaking, this will take almost all day.
Also, the whole project can be a bit dangerous because of the Peruvian style of driving on those quite bad roads.
Hiking – Traditional But Very Expensive
There are organized hikes along the ancient Inka trail. A classic one that takes four days and a short one that takes two.
I bet it's a lifetime experience – but I will miss out on this. Already walking a bit faster or climbing stairs was a hard exercise for me, so I definitely do not see myself hiking for four days.
If you want to do it, keep in mind that reservations have to be made at least four months (!) prior to arrival in Cusco and prices start at US$ 450 for two days/one night.
How To Get Around
No matter how you got to Aguas Calientes, you're still not there.
Actually, it's another couple of kilometers – and these are going straight up.
You can hike there in about one hour. Nevertheless, I took a shuttle bus for another 10 US$ from Aguas Calientes uphill to the site. It's sort of a rip-off. But although I'm a dedicated walker, I found any sort of exercise due to the altitude extremely exhausting. I didn't even feel able to walk all the way downhill, so go figure.
However, I know people who did it up and down, and they aren't Olympians, either. I guess just everybody's body responds differently to height.
Tickets, Rules, and Restrictions
You can order entrance tickets online. But please make sure to buy from an authorized seller.
Since July 2017, there are two tours per day. The first visit is from 6 a. m. to noon and the second one is from noon to 5.30 p. m. If you wish to visit Huayna or Montaña Picchu, too, this also works in shifts.
Since in the past tourists did misbehave and mistreat the precious remnants, the visit is only possible on a guided tour in groups of 16 person max. That's an official rule, I've heard that they don't really control it that strictly. But just so you know.
The regular entrance fee is 152 Soles which is approximately 47 US$. Students and minors pay half price, and children up to 8 years have free entrance.
It is possible to buy tickets at Cusco short before you go, but places per day are limited and you do risk that – especially Huayna and Montaña Picchu – are sold out.
This is really the one place in Perú where I highly recommend booking in advance. Especially since you also have to book your train ride and it might be wise to check the trains first since the prices differ a lot. If you have to watch your budget a bit, you sure have some coordinating work to do.
You can only buy regular tickets online. Reduced student tickets must be purchased in Cusco showing a valid ID.
Have Your Documents Ready
At the entrance to the site, you'll be asked to show not only your passport but also the credit card that you used for buying the tickets online. Obviously, you also need to show your student card if you got a student ticket. This is absolutely obligatory and the people at the gate are not willing to make exceptions.
There is always a second site included in your ticket like for instance the Huayna Picchu. Mainly because I'm afraid of heights, I rather chose to visit the museum that's located downhill.
It explains to you all about the wonderful place you've just visited, and then you have to walk about 20 minutes back to Aguas Calientes. It's unbelievable how exhausting that is, although the way is just on a very low slope. But the slope in combination with the shortage of oxygen makes these 20 minutes a real exercise.
Checklists to Make Your Visit a Once-in-a-Lifetime Experience
What to Bring to Machu Picchu
Your passport. If you don't have it, the entrance will be denied. Also, make sure to stamp it as you leave the premises.
Your proof entitles you to a discounted entrance.
Your ticket, obviously. Printed.
Some small change for a passport stamp, use of bathrooms, snacks, and maybe souvenirs.
Your camera.
Sturdy walking shoes.
Snacks'n'drinks. This is recommended since the cafeteria is ridiculously expensive to Peruvian standards.
Sunscreen – in any case. The weather might change really quickly.
A rain skin or a foldable umbrella – in any case – see above.
Dress in layers. In the morning, it can be quite cold. Then, it might get sunnier – and you'll also might get hot from walking around and up and down.
What Not to Bring to Machu Picchu
Tripods are not allowed.
Professional cameras are not allowed. Permits for professional cameras are over $300 so avoid bringing a professional-looking camera.
Large baggage. You can only take a small bag or a day pack.
Unless you need them, you cannot walk around with walking sticks.
You won't be able to bring a big umbrella with a spike, but only a small foldable one. My personal tip is to bring a foldable rain skin.
Keep in Mind That…
…you have to follow one direction. You cannot go back. The only way to return a spot you already passed is to buy a new ticket – if there are any available for the day.
…you need to go to the bathroom at the beginning of your tour. There are no other bathrooms on the premises. You have to go at the entrance – and remember that you cannot return there.
…the temperature will change during the day. It might be cold in the morning and get much warmer during the day. Hence, dress in layers.
…everything is relatively expensive at Machu Picchu. There is a cafeteria, but the prices are at least as high as the surrounding mountains. If you can, bring snacks and plenty of water.
… that Aguas Calientes means hot waters. They actually have hot springs in the Northern part of town. It's just that if you visit Machu Picchu on a day trip, your schedule might be too tight to relax in the hot springs. If you stay overnight, it might be a relaxing end to your mystical day.
Where to Stay
Right next to the premises is the incredible Belmond Sanctuary Lodge*. You wake up in the Andean mountains, enjoy breakfast with Machu Picchu in the backdrop – and all that starts already at the little something of about 450 US$ – but goes easily up to 1,000 US$.
If you don't have this small change on you, here is a choice of various accommodations around Agua Calientes*:
Where To Eat
As I mentioned above, food on-site Machu Picchu is ridiculously expensive. However, at Aguas Calientes are not only many eateries, there are also places where you can buy snacks like empanadas, burgers, and other stuff that you can take with you up to Machu Picchu.
Booking And Organizing
I'm an avid solo-travelling woman. Since solo travel doesn't equal solitude, I love to join organized tours here and there. They allow me to meet fellow travellers – for just a short moment or a lifelong friendship.
Therefore, here are some great ideas on how to book and organize your visit beforehand. Especially if you have only a short time to stay, pre-booking will enable you to make the best of it*:
Cash And Cards
Machu Picchu is Perú's most important landmark. Hence, on-site, at the cafeteria and the gift shop, credit cards are accepted. However, you will certainly need cash for drinks and snacks at Aguas Calientes. Also, there is a huge souvenir market right next to the train station where you'll definitely have to pay cash.
Don't worry, there are various banks in the small town and also a couple of ATMs.
While Machu Picchu was the most mesmerizing place on my tour through Perú, obviously, I saw many more also absolutely fascinating spots. To read about them, go to the main post and take your pick! There, you'll also find further relevant information on money, communication, and more.
To read a post on the mountainous region around Arequipa and the Colca Canyon, Puno and Lake Titicaca as well as Cusco, the Sacred Valley of the Incas, and, of course, Machu Picchu, go to this special post.

Pinnable Pictures
If you choose to pin this post for later, please use one of these pictures:
Note: This post is being regularly completed, edited, and updated – last in November 2022.
Did You Enjoy This Post? Then You Might Like Also These:
* This is an affiliate link. If you book through this page, not only do you get the best deal. I also get a small commission that helps me run this blog. Thank you so much for supporting me!