Guide to Dubrovnik, the Lustrous Pearl of Dalmatia. It was the grand finale of my bus road trip along the Adriatic coast.
Despite the large crowds and the flaws that come with tourist sellouts that overshadowed my stay a bit.
To Be Or Not To Be
Remember what I wrote about Rijeka? How much I enjoyed taking part in everyday life there? "Just being" – no sight-chasing, no FOMO – just being?
Well, Dubrovnik was quite the opposite.
No one will dispute that Dubrovnik is gorgeous. And for whatever reason, it is gorgeous everywhere. While cities like Zagreb or Zadar have this beautiful city center and the rest is pretty….unpretty, to say the least, Dubrovnik is delightful and charming everywhere.
However, apart from mount Srd and Locrum island, all the iconic attractions are located within the old town; which makes it sort of an outdoor museum rather than a city center.
Therefore, as I entered the historic center the first evening – totally unprepared – the sight even moved me to tears.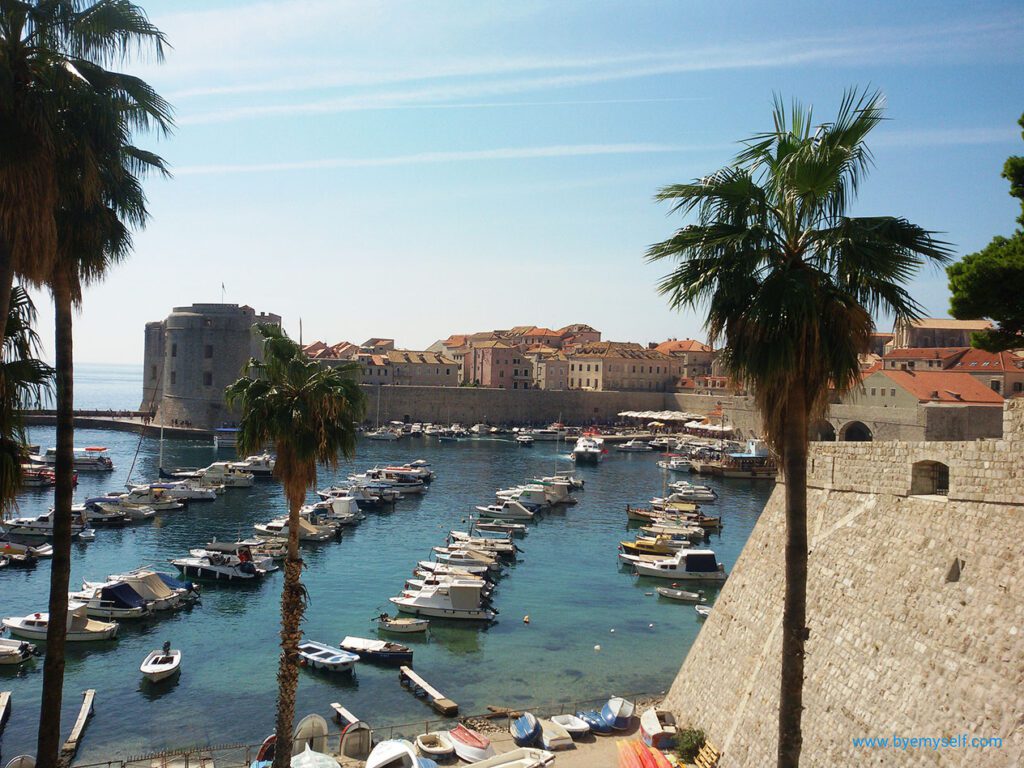 Surprise Me
As I wanted to get away from the masses of visitors for a while, I just took a random bus and went across town without knowing where exactly I was going.
This works perfectly in Dubrovnik since most of the bus lines are going in circles. So, if you take a bus at a certain stop and you do not get off, after the driver's short cigarette pause at a designated final destination, the driver just hops back on board and takes you back. However, possibly, on a different road since on many roads, there is one-way traffic. A perfect and dirt-cheap sightseeing tour. Only there were no designated sights.
Actually, I am glad that at least I wasn't staying in the historic old town; which I wouldn't recommend, anyway. Of course, there are zillions of restaurants and bars, and pubs. Therefore, I assume it will be quite noisy at night.
Then, what makes the old town very picturesque are the stairs. You are constantly climbing. Up and down. I imagine it must be terrible doing so with all your luggage and your phone in hand, looking for the narrow alley's name where your Apartman is located.
Because here, locals are by far not as nice and helpful and caring as anywhere else I've been in Croatia. So don't count on them to pick you up and take you to your overpriced room.
Home Away From Home
To be fair, my host Jelka* was an extremely nice and caring lady. Although she did not pick me up at the bus terminal as almost every other host did – duh…she doesn't even have a car – she was very friendly and warm-hearted and called me moje Renata, which means my Renata. The first evening she offered me fish. I had already eaten, so totally my loss. I bet her fish would have been far better.
Info, Facts, and Figures
Nevertheless, I assume that in Dubrovnik, no visitor will 'just be'. Everyone will rush to the historic old town and that, indeed, is a jewel. Just entering the area surrounded by the world-famous walls is simply breathtaking. I was overwhelmed and almost moved to tears.
This shall pass at about 9:30 a. m. as visitors in incredible numbers conquer the premises. Henceforth, the majestic fortress becomes an entertainment park.
Bad Case of Over-Tourism
Ivan Gundulić, a famous Croatian poet at the turn of the 17th century, created the beautiful credo Non bene pro toto libertas venditur auro – Liberty is not well sold for all the gold.
Well, I have a strong feeling that this ship sailed long ago for the 43,000 good people of Dubrovnik.
Every year, approximately 3 million visitors are conquering the city, concentrated in the historic old town.
That means, that every Dubrovniker – from the baby to the grandma – has to welcome 20 visitors, if he likes it or not.
Just like in Venice, the traveller is killing what he loves.
Here too, the cruise passengers are the biggest problem since they float the city in masses all at the same time.
Far more destructive, though, was the Croatian independence war that lasted from 1991 to 1994. During that time, Dubrovnik was under siege by the forces of Serbia and Montenegro.
Today, most of the material damage has been rectified and Dubrovnik is the most popular tourist destination in that region. Especially after HBO introduced the city even to those who usually are not so much into UNESCO World Heritage Sites. But Game of Thrones does the trick – and the situation is not better.
Visiting the Walled Historic Old Town
Everything is happening at the historic city center, of course, way up high on the UNESCO World Heritage List.
If this wall could talk, it probably would be an even more thrilling tale than the popular series. After all, it's been there since the 16th century. Actually, it's the wall that gives the visit an even more surreal, theater-like sensation. Hence, at the same time a claustrophobic one.
The wall is between 4 to 6 meters thick and runs about 2 kilometers around the historic center. A system of turrets and towers was installed to protect the city and its inhabitants.
Prepare Yourself
There are three gates to access the old town. Whereby the Pile Gate to the west is the most important and busiest one. It opens to the Brsalje Square where also the tourist office is located. There, you can get valuable info and a free map.
City of Dubrovnik Tourist Board
Brsalje ulica 5
20000 Dubrovnik
Phone: + 385 – 20 – 323 887
Ask them about the Dubrovnik card. It comes in three versions – for one, three, and seven days and costs between 225 and 315 HRK. There are nine attractions included – like the wall and some museums – and some free rides on public transport.
Since this is a bit complex – truth be told confusing – please check their website for further information. Anyway, if you buy the card there, you get an extra 10 percent off.
On The Walls
To walk the walls, I urge you to be there as soon as they open at 8 a. m. I visited in September and even then it was very warm – also at 8 a. m. I don't even want to imagine how it must be in July or August at noon.
Another relevant aspect of being an early bird is the crowds. Most people, especially the day tripper and cruisers get to the old town around ten. So if you have the chance to be first, be first.
The main entrance to the wall is right next to the Pile Gate and so is the Onofrio's Fountain, built in 1438. The water coming from 16 spouts used to be the main source of water until the end of the 19th. It is still drinkable!
Within The Walls
Across the Placa, the main artery, is the St. Saviour Church – beautifully decorated like many buildings in this old part. Next to this Renaissance building is the Franciscan Church and Monastery.
At the eastern end of the Placa are restaurants where after your wall tour an overpriced breakfast is awaiting you.
More interestingly, this is one of old Dubrovnik's architectonic hot spots with Orlando's Column in front of the baroque St. Blaise Church, built in the 18th century and housing an impressive Treasury.
The Orlando Column was erected in 1418 and has been a symbol of loyalty to a handful of various Emperors. These statues are classic symbols of city autonomy. Just remember my post on Bremen and Riga with their Roland statues – actually, these guys could be twins.
Across the square is a Renaissance highlight, the Sponza Palace from the 16th century. It serves as Dubrovnik's National Archive.
On the square's west side, the clock on the Bell Tower, built in 1444, tells you what time it is and also the phases of the moon.
The adjacent complex consists of the City Hall, the Marin Držić Theater, and the Cultural History Museum at the artistically elaborated Gothic-Renaissance Rector's Palace.
Poor Marin Držić, whose house can be visited on the Široka ulica 7, the broad street, is sitting in front of the theater and everybody is rubbing his nose and his knees; poor Marin Držić.
The Icons of the Old Town
After a visit to the Cultural History Museum – which is a must not only because of the exhibition, but also for the building itself – you walk towards the Cathedral of the Assumption of the Virgin Mary, the seat of the Roman Catholic Diocese of Dubrovnik.
You can enter for free and admire the works of some great Renaissance painters, but you need a ticket for the treasury.
Continue your visit to the west, you'll get to the Gundulić square – remember? Gundulić is the one that wouldn't trade liberty for gold. Now he's standing in the center of a square where every day many of his compatriots are selling regional products like honey, oil, lavender, dried fruits, nuts, and more to tourists. And even if you're not shopping for souvenirs, you'll probably shop here, since in this square is one of two – very small – supermarkets where you can stock up on water.
And water you'll need since now you'll do the reversed walk of shame.
What?
The walk of shame – a pretty drastic scene from Game of Thrones that even I have seen on youtube: Some woman, obviously a sinner, has to walk down this street that you are now walking uphill. She's naked – and I assume you're not.
Up the stairs, there is the Poljana Ruđera Boškovića square with more souvenir stalls – more handicrafts, less food – and the St. Ignatius Church.
The Stairs of Fame – The Walk of Shame
Coming back down the stairs – of shame – turn left into a narrow alley called Strossmayerova and walking it all the way down to the Ethnographic Museum, make sure to turn your head left and right – not for the traffic but because all the views in these narrow alleys are so picturesque and a major part of Dubrovnik's charm.
A visit to the Ethnographic Museum is nice for the exhibition, but actually mainly for the views from the windows in the hallways; but the exhibition is nice, too, with lots of rural appliances and traditional costumes.
For the last part of the tour, walk down the street Od Domina that leads into Široka – where you can drop in at Držić's house, but actually, it's not that great if you haven't been a big fan before; and I must admit that I haven't even heard of him before I visited Dubrovnik.
Once you get back to the Place, walk all the way to the Clock Tower, but now you pass underneath and find yourself in a street with a couple of churches such as St. Nicholas, St. Sebastian, and Rosario as well the chapels of Annunciation, and of St. Luke.
From here you have access to the Old Port from where you can book all sorts of tours or just sit on the terrace of one of the many restaurants and be happy that you've made – you've visited one of the most spectacular cities in the world, I'd say.
Other Points of Interest
Mountain
What's really not to be missed is a ride by the funicular up to the top of the Srđ mountain. The cable car shuttles between the stop one block up from the northern gate. Here, too, it's smart to get up early – for the light and the crowds.
On the top is the Fort Imperijal from the Napoleonic Wars in the early 19th century, today housing a war museum.
More impressive are the views – of the old town, Lokrum island, and the entire bay.
Beach
Just like basically every city along the coast, Dubrovnik has also beaches. And just like basically all these city beaches, there are not that great and quite overcrowded.
However, the better beaches are not those close to the old town but those in the neighborhood of Babin Kuk and Lapad.
I personally would divide my visit to Croatia into a sightseeing part and a relaxing beach part. And the latter would take place e. g. on one of the islands and not on a city beach.
If, of course, you have only a very limited amount of time, the beaches at Lapad bay are an option.
Island
As if there's not enough to see in Dubrovnik, there is, in addition, the island of Lokrum. The isle has a size of less than one square kilometer and is located about 600 meters from the city of Dubrovnik, therefore, about 20 bucks for a roundtrip seems a bit pricey.
I don't know how it is if you spend more than just a couple of days in Dubrovnik, if then you feel like getting away from it all by fleeing to an island. But even if so, I'm sure there are more beautiful and inspiring places than Lokrum.
However, former Austrian archduke Maximilian would probably strongly disagree since he had a holiday home on the island. There is still a monastery and a botanical garden from his era.
Actually, from much earlier times since the Benedictine Monastery was first referenced in 1023. In the 15th century, the Benedictine Monks were forced to leave the island.
Today, a part of the building houses a restaurant and another has been converted into a museum.
Most of the visitors are mainly crazy about the replica of The Iron Throne. To me, it was like monkey see, monkey do since I haven't seen one single episode of Game of Thrones – neither before nor after my visit.
The island is covered in sumptuous Mediterranean plants such as laurel, oak, pines, cypress, olives, agaves, cacti, magnolia, and palms.
There is a beach area and also a small salt lake called Mrtvo More, hence, Dead Sea.
Practical Information
Getting There
I hope you're not coming on one of those destructive cruise ships.
However, the harbor as well as the bus terminal are in the Gruž neighborhood all the way west. From there, I walked to my accommodation which was about 20 minutes but slightly uphill and completely idiotic: If you are too cheap for a cab, which I am most of the time, you can just hop on bus # 5.
Anyway, all the city buses got to the Brsalje square right in front of the main gate of the historic center.
Because of the mountains surrounding Dubrovnik, there is no train service, but, of course, there is an airport about 20 km / 12.5 miles east of the city. A shuttle bus shuttles you for 40 HRK, stopping at the old port and the harbor of Gruž. Their service is in sync with the incoming and outgoing flights – and they have an excellent website you might want to check. You can purchase your ticket online or at their booth close to the cable car station – but don't expect more info than you find here from the young lady sitting there. As I said, check their site, it's very clear and informative.
Getting Around
Getting around is very easy since there are maps at every bus stop showing exactly where which bus is going – in different bright colors so even a total moron shouldn't get lost.I took it just for a joy ride and to see also some newer stones after having spent two days at the old structures of the historic town. Well, don't expect much, it's not really worth it.
However, if you need to do some bigger shopping, there are big supermarkets and drugstores along the street Vukovarska halfway between the old city and Babin Kuk.
Best Place to Sleep
Difficult to say and depends on what you like.
I personally was gladly leaving the historic old town after a day in the crowds.
I stayed at Rooms Jelka* only a 10 minutes walk from the main gate on the Andrije Hebranga street in the Gruž neighborhood – which also made accommodation a bit cheaper, I guess.
Here, too, the host, Ms Jelka*, is cute as a button, but you have less privacy since the two rooms she's renting out are right in her apartment.
However, it's squeaky clean and I even had a big balcony with a view of the peninsula of Dubrovnik.
Get more details and inquire about Jelka's availability and rates here. On this map, you can check out other accommodations in Dubrovnik:*
Best Place to Eat
It won't surprise you that the restaurants in the historic part of Dubrovnik are not exactly a bargain. However, if you don't want to burn a hole in your wallet, it's better to have lunch there than dinner.
A nice, relaxed place with good food at reasonable prices is
Konoba Koloseum
Ulica uz Jezuite 6
20000 Dubrovnik
Phone: + 385 – 95 – 535 4150
Open daily from 11 a. m. to 11 p. m.
Dubrovnik was the last and actually only one of many beautiful places I've visited in Croatia. So to read about the others, go to the main post and take your pick! There you'll also find valuable general information that will make your trip smoother.
To obtain general comprehensive travel info, go to my post World's Most Complete Travel Information – an indispensable globetrotter-classic.
Pinnable Pictures
If you choose to pin this post for later, please use one of these pictures:
Note: I'm completing, editing, and updating this post regularly – last in January 2023.
Did You Enjoy This Post? Then You Might Like Also These:
* This is an affiliate link. If you book through this page, not only do you get the best deal. I also get a small commission that helps me run this blog. Thank you so much for supporting me!
Disclaimer: Dubrovnik Tourist Board supported my research by supplying me with a Dubrovnik card, arranged a free visit to Lokrum island, a roundtrip to Srd mountain, and access to some attractions and exhibitions.