Beaches, Breezes, Birds, and endless fields of Brassica Napus – I don't really have to explain why on the Baltic island of Fehmarn Plan B is the Best Plan, do I?
Therefore, I've had a soft spot for the Northgerman Island of Fehmarn for the longest time.
B

altic

Fehmarn is Germany's third-largest island. In the times of Germany's post-war division, it was the only Island in the Baltic sea belonging to the western part, the Federal Republic.

In the south, the Fehmarnsundbrücke, the Fehmarn Sound Bridge, connects the island with the German mainland. It is almost one kilometer long, carrying road and rail, and is nicknamed the world's longest coathanger.
In the north, at Puttgarden, lies the small harbor that connects Fehmarn with Rødby in Denmark by a very scenic ferry ride. By the way, also just a great joy roundtrip in itself.
So when after having read this post you are dying to visit Fehmarn, you can easily combine it with a trip to Scandinavia.
But first, let's stay a while and enjoy all the fantastic Bs.
B

argain

Because of the bridge, getting to Fehmarn from the mainland is quite fast and easy.
Of course, you can drive. However, a more relaxing way might be taking the bus. For instance, the international bus company FlixBus gets there from Hamburg in 2 hours. Fares start at around 6 €uros. However, this service is a bit limited.
Travelling By Train
You can as well go by train at about the same time and might even travel at a great rate:
The Deutsche Bahn, the national train company, offers the so-called Ländertickets, country tickets. They are valid for one day in a specific federal state.
Every federal state has its own and the cost varies from about 24 to 29 €uro.
Fehmarn is located in the federal state of Schleswig-Holstein, and the Schleswig-Holstein-Ticket costs 29 €uro for one and you have to add another 3 €uro per person travelling with you. So if you are two adults, it will set you back 32 €uro for both of you. If you travel with four other people, you'll pay 41 €uro for your party of five. Not bad, right?!
A child under 15 travels for free with two adults.
While you can actually travel the entire day within the respective federal state, you are only allowed to take the regional trains. Those are train numbers beginning with RE, MET, etc. Albeit, not the interregional trains such as the Intercity (IC) or Intercity Express (ICE).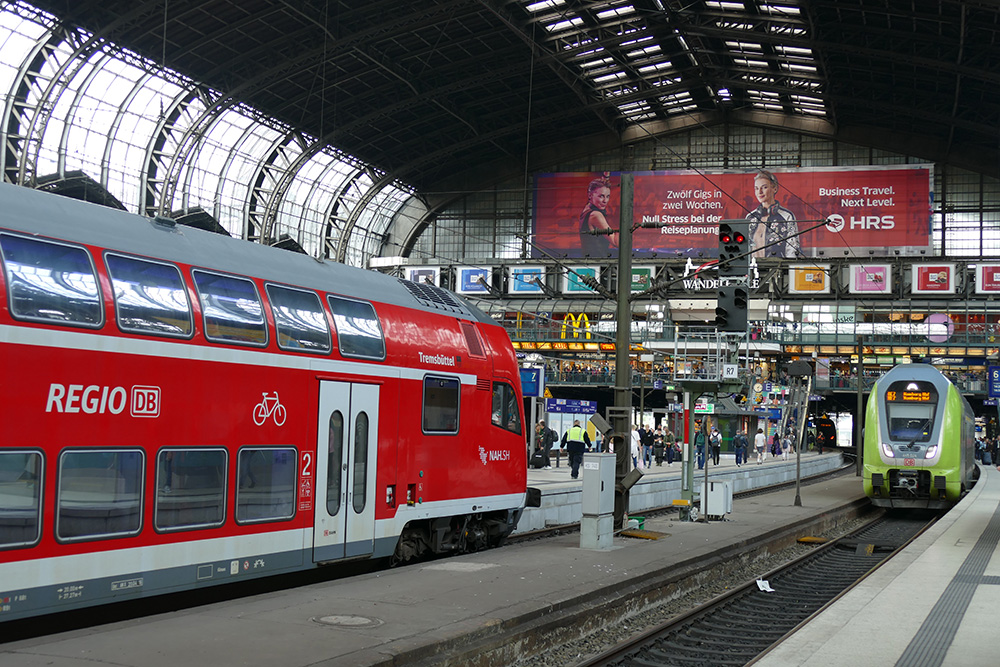 Extra: The Schleswig-Holstein-Ticket covers also the federal state of Mecklenburg-Western Pomerania as well as the city-state of Hamburg.
Keep in mind that if you are travelling by yourself, just a one-way trip to Fehmarn might be cheaper than the Schleswig-Holstein-Ticket. Therefore and for other connections and rates, please visit the Deutsche Bahn's website, it's available in seven languages.
B

ed and

B

reakfast

Although to international visitors, Fehmarn might be a holiday revelation, national tourism has been big for decades.
Therefore, there is an excellent touristic infrastructure – mostly without the mass tourism sell-out – and accommodations are plenty. Camping and RV for the young, rustic surfer crowd, standard guesthouses, and hotels for couples and families as well as some very charming holiday apartments.
We stayed at the Villa Pura Vida in the heart of Fehmarn's main town Burg. There is a very spacious living room overlooking the sumptuous garden, an open kitchen with an adjacent dining area, and, obviously, a cozy bedroom.
Since the couch in the living room folds out, I'd say that up to four adults and a child can comfortably sleep here.
The kitchen has everything a housewife does not want to have on her holiday. Fridge, stove, dishwasher, washing machine, coffee maker, and toaster.
Kidding aside: Obviously, it's great that you can prepare your own meals if you want to and don't have to schlep your dirty laundry to the laundromat – so the facilities are actually pretty amazing.
Since you have also a spacious terrace and a beautiful garden at your free disposal, it hardly can get any better. Especially since the price is really reasonable – for more info, check out the Villa Pura Vida's website.
B

akery

As I said, the Villa's well-equipped kitchen has some downsides. For instance, you might miss one of Fehmarn's greatest features which is the food.

Many of the traditional farms and farm buildings were transformed into guest houses – by the way, another great lodging option especially when travelling with smaller children – as well as coffeehouses and restaurants. They are often combined with a small souvenir shop where they sell all kinds of handcrafted gadgets and homemade delicacies such as rapeseed honey and fruit spreads.

My absolute favorite breakfast place is the Hofcafé in Albertsdorf. Their breakfasts are plenty and fresh and the service is fast'n'friendly. You can either sit inside and feel like at someone's cozy living room. Or you sit outside in the spacious yard.

And no matter how much you eat on the spot, I bet you that you cannot withstand taking home some pieces of cake and jars of homemade fruit spread! Bet ya!

What a fantastic way to start your day!

Their only flaw is: They are closed on Tuesdays.

Hofcafé Albertsdorf
Albertsdorf 13
23769 Fehmarn
Phone: + 49 – 4371 – 50 25 24
Email: info@hofcafe-albertsdorf.de
B

iking

I guess you wonder how to get from the Villa Pura Vida to this farmer's Cockaigne in Albertsdorf – they are 5 kilometers resp. 3.5 miles apart, after all.

Well, of course, you can drive around. But a far nicer way of exploring Fehmarn is by bicycle: They actually built 300 kilometers – which is over 186 miles – of biking lanes for you, mostly separated from the roads by trees and bushes.
So you think cycling on Fehmarn must be a piece of cake, right? It's mostly flat, there are these bike lanes – off you go.
Let me tell you, unfortunately, it's not at all like this.
On Fehmarn, they have probably the worst breeze I've ever experienced – it just blows you away….literally. In spots, it feels like sitting on a home trainer not moving forward.
But the Lord and the bicycle industry had mercy and invented the e-bike.
Do you know how that works? You still have to paddle, but if it gets too hard, you turn on a little motor that supports your moves.
Against The Wind
Honestly, I would not ride a bike on Fehmarn without electric support – you can call me a wimp as much as you like.
A highly recommendable place to hire bikes is Sunny.Bike. They have both kinds, the one that will kill you and e-bikes, so it's your choice. Either way, they are nice enough to deliver them anywhere on the island and Nico, the owner, fixes the height of the saddle and the angle of the handlebars for you and he even offers to pick you up in case you have a flat tire.
For a regular bike, they charge around 6 €uro per day, for an E-bike 20 €uro – money very well spent, if you ask me.
Sunny.Bike
Meeschendorf 23
23769 Fehmarn
Phone: + 49 – 4371 – 604 97 26
Email: info@sunny.bike
B

rassica Napus

B

ushes

Cycling on Fehmarn is not only recommendable because you'll probably need a heavy-duty workout after all the sweet'n'hearty treats the islanders have to offer, but it is also the nicest way to explore the island.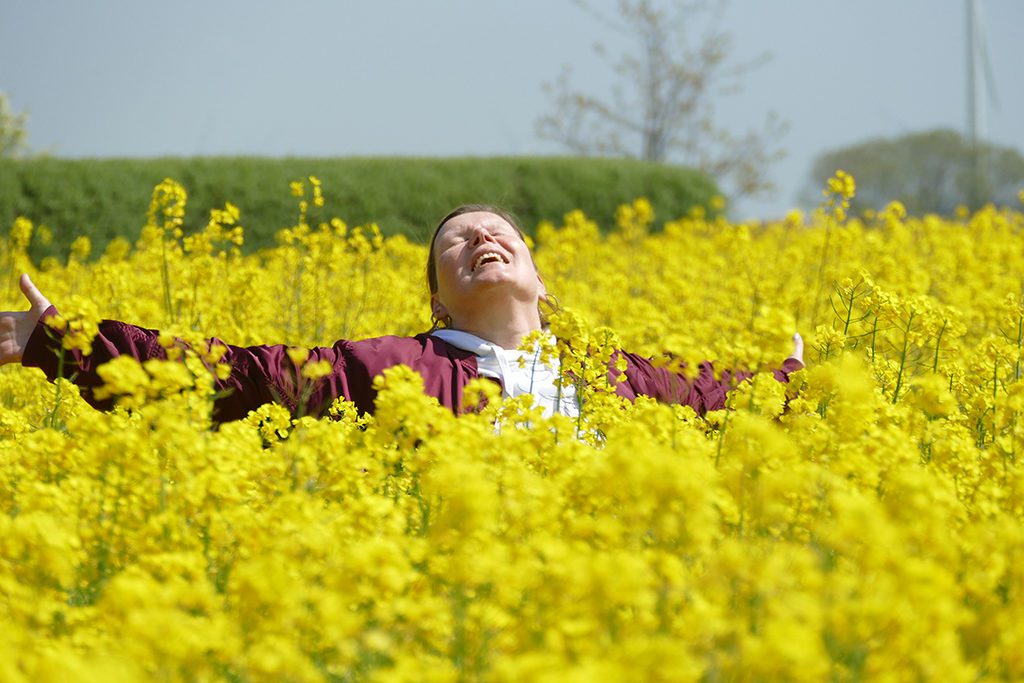 There are so many idyllic places that you'll spot on your way, you'll see so many beautiful birds you'll like to observe for a while – and maybe you'll just feel like keep still and enjoy the very moment in its happy simplicity – you can do all this when riding a bike.
The island is always beautiful, but in late spring, nature gives everything that it's got: The rapeseed is in full bloom and bathes endless fields in glaring yellow.
The colors at this time are just surreal: This shiny yellow, sprinkled with bold colors of the field flowers; next to it the sumptuous green of the wheatfields under the bright blue sky – no wonder the world-famous expressionist painter Ernst Ludwig Kirchner spent four summers on Fehmarn between 1908 and 1914.
Of course, the rapeseed fields were not planted so you can look at something pretty while cycling. The rape is mainly used for colza oil, forage, and as biofuel. On Fehmarn, you can also purchase specialties such as rapeseed honey and Rapsi, a locally distilled liquor.
B

irds and

B

ees

Once you're on your way cycling across the island, you should make it to the very west where the waterbird reserve Wallnau is located. Now, this is really a little piece of paradise, one of the most important reserves for migratory birds in Germany.
It's an area of about 300 hectares resp. 740 acres consisting of ponds, reed beds, meadows, and even a part of the adjacent Baltic sea and beaches.
It is the largest nature conservation center run by the Naturschutzbund Deutschland, Germany's Nature and Biodiversity Conservation Union, short NABU.
There is an exhibition on bird migration and outside, you can observe the flocks of over 270 species of birds from small wooden sheds. The best view is from the observation tower.
NABU-Wasservogelreservat Wallnau
Wallnau 4
23769 Fehmarn
Phone: + 49 – 43 72 – 10 02
Email: mail@NABU-Wallnau.de
B

eaches

Fehmarn is an island – a popular holiday island, to be precise – and therefore it's all about the beaches.

As I mentioned in the above Birds chapter, some beaches are protected areas where birds are nesting and breed. But don't worry, there is enough sandy area left for you and me.

Actually, Fehmarn's beaches cater to different needs and wishes – let me just give you a concise overview, beginning west of the bridge, moving clockwise:
Gold
What a name – and so well-deserved. Gold is a rather small beach located about one mile from Albertsdorf and therefore the perfect spot to work off the big breakfast you enjoyed at the Hofcafé.
It is a mix of sandy parts and lawns.
From Gold, you can cycle or hike on the slightly elevated dike either towards the Fehmarnsundbrücke or northwards to the coastal town of Lemkenhafen – where I've spent my first high school trip, by the way, and for the record; since then, I've always had a soft spot for Lemkenhafen.
Flügge
Continuing on the rather natural trails, you'll first get to the somewhat preppy yacht harbor of Orth and eventually to the grassy part of the Flügge beach.
Now, while this part is an El Dorado for surfers, for us cyclists it's purgatory due to the literally mindblowing breezes.
Also, be careful when cycling on untreated trails: They are all grass and sand and therefore a bit tricky in some parts.
Behind the lighthouse of Flügge, the coast goes pretty much straight up north and you can just follow.
This long, sandy beach offers lots of space for anything anybody loves doing on the beach: Lay and play, fishing, swimming – there is room for everything.
Wallnau
The beach of Wallnau is divided into different parts catering to special needs and preferences like a dog beach where you can bring your pouch and an FKK-beach, a designated naturist zone.
Mind you, the stretch in front of the waterbird reserve is also protected and not accessible.
Grüner Brink
This beach, separated by trees and bushes from another protected area, is frequented by surfers, too. In general, Fehmarn's northern coast has more dikes protecting the land against the powers of the open sea.
To maintain this protection, on long stretches, it is not allowed to step on the dikes, however, the only bar'n'restaurant in this part of the island, the Beltbude, put some of the iconic Strandkörbe, cozy wicker beach chairs, out where you can enjoy their drinks and snacks protected against the wind, watching the surfers sashaying by.
From time to time, you spot a ferry on the horizon – going to or coming from Denmark.
Lean back, and relax – the clocks are ticking on island time.
Strand Katharinenhof
While the northern shore is dominated by dunescape, the eastern waterfront behind the port of Puttgarden, is a rather rocky, cliffed coast.
A bit rough and dramatic and perfect for those who are seeking a secluded spot with a natural feel to it.
It's this untamed nature that inspired expressionist Ernst Ludwig Kirchner.
Burgtiefe
The so-called Südstrand, south beach, is the quaintest of Fehmarn's beaches and therefore also the most popular and crowded. These long stretches of fine white sand are the epitome of a carefree summer vacation – especially for families with kids.
Therefore, next to the manicured promenade, you'll find big hotel centers with all kinds of facilities vacationers might need for a relaxed holiday.
B

lues

At this point, you might think that Fehmarn is just this cute, innocent island, catering to families with small kids who can explore what a goat looks like and that fruits actually grow on trees.
Or at the most, it is a weekend destination for some hip'n'hippie-ish kiters and surfers…..you stand sooo corrected: In 1970, the Love + Peace Festival took place on Fehmarn from September 4 to 6.

It was meant to be some kind of European Woodstock and although due to unfortunate circumstances, it was pretty catastrophic, it is legendary for having been Jimi Hendrix's last gig.
Only two weeks later, on September 18, he died in London – and, sadly, joined the morbid 27 Club.
B

urg and other

B

oroughs

I won't lie to you, Fehmarn's settlements do not impress with these unique, cute northern thatched half-timber houses. Actually, the architecture of the old structures is pretty plain and unadorned, almost stark. These houses and barns were built for a practical purpose, not to please the eye.

However, there are some pleasant small towns and villages worth a stop – you'll probably pass through some of them, anyway, so why not take a break?!
Burg
Let's start with the island's main town Burg, located in the southern part, east of the Fehmarnsundbrücke. Chances are that you arrive here anyway since there are two train stations on the island, one is all the way up at the port of Puttgarden where the train goes on the ferry and crosses to Denmark; and the other one is in Burg. Just like the stop of the long-distance bus.
Burg has 6000 inhabitants – which is almost half of Fehmarn's population. Here, in the center's cobblestone alleys, you'll find everything you need, from shopping to all kinds of services.
There is the Saint Nicholas church, built in 1230, in the town center as well as the town hall from 1901.
Interesting and impressive are the many elegant villas from the German Gründerzeit, the era of rapid industrial expansion in Germany at the end of the 19th century.
Also, the Villa Pura Vida that I've described in this post's first section, stems from the finals of this epoch.
Albertsdorf | Lemkenhafen | Orth
I've mentioned these three villages, arranged around the Lemkenhafener Wiek, the bay of Lemkenhafen, above in the cycling section.
However, I'd like to add that while cycling around the bay, you might want to visit the old Dutch mill Jachen Flünk, built in 1787 and made into a very informative museum in 1961.
Here you can learn about the old customs and traditions of a Baltic island.
Also, don't miss out on a culinary break at the Aalkate, but we'll get to that in the next section.
If you are in the mood for having a drink at an elegant yacht harbor, Orth will do. Basically, it's only two long streets with a large variety of shops catering to the sailing crowd and many nice bars and cafés.
Petersdorf
If you don't follow the trail towards the island's western part but take the road straight up north, you'll get to Petersdorf, the island's second-largest town.
Here, you might wanna take a look at the Gothic Saint John church, built in the 13th century, surrounded by a graveyard with many old linden trees. You can spot the church tower, which was added in 1567, from very far so it's a great orientation point.
There are cute cobblestone streets around the church – and if you need a refreshment, Die kleine Kaffeestube, the little coffee shop is a lovely place where you can enjoy drinks and snacks inside or on their small terrace.
They also serve a good breakfast, albeit you have to get there in time, otherwise, they're sold out – which is a bit annoying.
Die kleine Kaffeestube
Hauptstraße 15
23769 Petersdorf
Phone: + 49 – 4372 – 722 99 10
Of course, there are far more of these little villages scattered on the island – and you'll probably see most of them by chance, just cycling around.
Don't worry, you won't get lost as long as you look for the church tower of Petersdorf.
B

ait

You are on an island, hence it will not surprise you that every day, you can feast on fish. There are some really good restaurants, but my favorite is the Aalkate, the eel cot, in Lemkenhafen.
At The Aalkate
No, there is no starched white damask cloth on the table, there are no chandeliers, and no liveried waiters; actually, there are no waiters at all: You order from the quite big menu at the bar, and they hand you one of these buzzers that starts to rattle and blink when your food is ready so you can pick it up at the hatch.
Talking 'bout blinking: I'd trade any fine restaurant for a seat on a wooden bench at one of their long tables in a blink of an eye since the food is out of this world. Here you learn the difference between fish and top-notch quality fish prepared with knowledge and love. Anything in particular? Yes, their bouillabaisse is their specialty for a reason – certainly the best north of Marseille.
Maybe they are so good since they've been practicing for so long: More than 30 years ago, in 1978, Kolle Kühlsen bought an old farmer's house and made it into an eel cot. First, he was only selling eels, eventually, he started to smoke fish – not only eel and mackerel, but all sorts of fish – interestingly, even shellfish.
Until this date, these smoked goods – that you can enjoy on the spot or take away – are their specialty….and I totally understand why. I've never been crazy about smoked fish, but here, too, the quality and technique make a huge difference – their fish is tender and juicy, and don't let me even start about the smoked shellfish, something I haven't even heard of before.
Aalkate Lemkenhafen
Königstraße 20-22
23769 Fehmarn
Phone : + 49 – 43 72 – 532
Email: info@aalkate-original.de
B

ad Weather

As we are slowly coming to the end, I have a confession to make: Although Fehmarn has an impressive number of sunshine hours, it is in Northern Germany and the weather can be quite unpredictable.
But don't worry too much, there are many great indoor activities waiting for you like the Mühlen- und Landwirtschaftsmuseum Lemkenhafen, the regional museum housed in the old mill of Lemkenhafen that I've mentioned above. Of course, there is an Ernst Ludwig Kirchner museum informing on the painter and his activities on Fehmarn – which idiotically is closed on weekends.
For all the smart cookies and science buffs, there is the Galileo-Wissenswelt, an exhibition dealing with all sorts of phenomena that rule our existence as well as the Meereszentrum Fehmarn, an amazing and very informative aquarium.
At Burgstaaken, Burg's yacht harbor, is the U Boot Museum Fehmarn, a submarine museum housed in a submarine and right next to it the Seenotrettungsmuseum – yes, the German language is famous for having very, very long words – a sea rescue museum housed in a – take a wild guess – rescue cruiser.
I assume you might even want to sacrifice some sunshine hours to visit all these great places.
B

asics
Money
Fehmarn is a German island, so you are paying with €uro, obviously. However, since it's so close to Denmark and Germany is so much cheaper than Scandinavia, Danes from the frontier area are coming here to shop. Therefore, you actually find prices at supermarkets also in Danish crowns.
Unfortunately, many businesses do take only cash. ATMs are only in bigger places like Landkirchen, Petersdorf, and Burg as well as in the tourist center of Burgtiefe.
The exchange rate is 1 US$ = 0,94 €UR as of December 2022, but you can check the conversion on this page.
Just for the record, 1 US$ is 6,96 Danish crowns (DKK) and 1 €UR 7,44 DKK.
Language
I'd say that most people in Germany have at least a rudimentary knowledge of the English language, many even speak it pretty decently. However, this is neither Berlin nor Hamburg and they cater mainly to national visitors, so don't expect everyone to be fluent.
For some useful words and phrases, you might want to practice a little with help from e. g. Babbel (the first lesson is for free and already supplies you with useful basic vocabulary).
*Note: In this article, I'm writing out some of the German names and places and you will notice that there are letters that might not exist in other languages. Most importantly for this article, there is the letter ö being pronounced more or less like the e in her. Then there are also the vowels ä, which is very easy since it's pronounced like an open e as in head, and ü that is pronounced approximately like the u in huge. The letter ß, which exists only in the German alphabet, is by no means a B – it's a 'sharp', double S as in kiss. When writing, you can actually replace it with a double S.
Tourist Info
After having read this post down here, do you still need further information or have specific questions? Of course, I'm here for you, but more importantly, so are the friendly and knowledgeable people at the Tourist Information.
You can check their informative website or get your info in person at
Tourismus-Service Fehmarn
Zur Strandpromenade 4
23769 Fehmarn
Phone: + 49 – 4371 – 50 63 00
Email: info@fehmarn.de
Map
On this map, you get an overview of the island and can see where all the wonderful places that I'm recommending are to be found. Clicking on the slider symbol at the top left or the full-screen icon at the top right will display the whole map including the legend.
This is only one post of a series on five absolutely fascinating islands in North Germany. I hope you've enjoyed it. Did it make you curious for more? Then make sure to check out these posts on the other great isles:
Also, in July, I experienced the Island of Fehmarn from a different side: Together with my friend Kitchenkraut, I spent a long weekend in a comfortable van on two different campsites right on the beach. Read about our van-tastic trip in this post.
Pinnable Pictures
If you choose to pin this post, please use one of these pictures:
Note: I'm completing, editing, and updating this post regularly – last in December 2022.
Did You Enjoy This Post? Then You Might Like Also These:
Disclaimer: I appreciate that the Heinemann family hosted me at their Villa Pura Vida and Sunny Bikes rented out their e-bikes for free. I'm very grateful for having been treated to a fantastic lunch at the Aalkate and drinks at the Beltbude – and I thank Tourismus-Service Fehmarn for having organized my stay. However, all opinions on these services are mine. They were in no way influenced by my cooperation partners.