Although I had just arrived in Portugal's capital, I decided to go on a day trip to Sintra right away: It's one of the most popular tours from Lisbon, it's extremely touristy, and I was afraid that on the weekend, it would be even more packed since all the Portuguese daytrippers will join the foreign tourists.
Off to Sintra
It was raining. A lot. The internet said the rain would stop at about 9 in the morning. Too bad the weather gods of Sintra hadn't heard the forecast but and instead made their own rules.
Obviously, their rule was that I got soaked.
It's crazy what an impact the weather has on how you perceive a city. I'm afraid there are about a dozen places in this world that I disliked. Solemnly because I had to visit them in the rain. Hence, all I remember are deep grey skies and cold rain running down my spine.
So Sintra had it difficult. Not only because of the bad weather. Also because at least her historic center is, indeed, very, very touristy. I assume that every person residing in Sintra makes a living catering to tourism. I'm not very fond of places like that – like Trinidad in Cuba, like Sirinçi in Türkiye, like Guatapé in Colombia.
I enjoy at least a little real life.
A Town Full Of Palaces
The small town of Sintra, home to less than 10,000 inhabitants, is a municipality about 25 kilometers west of Lisbon and only 14 kilometers north of Estoril on the shores of the Atlantic ocean.
Her most prominent landmark is the colorful Palácio da Pena, nonetheless, there are other impressive palaces around. And don't worry, the good people of Sintra make it easy for you to visit all of them. In exchange, eventually, you can buy some of the souvenirs they have in store. All this might be the reason why Sintra has a bit of a fake and Disney World-ish feel to it.
However, as I said, it's one of the most famous day trips from Lisbon and despite the large tourist groups absolutely worth the visit.
Palácio da Pena
It all began in 1840 as Dom Ferdinand II. – or rather his architect Portuguese architect Possidónio da Silva – turned a demolished monastery into a Palace, Palácio Nacional da Pena, by combining Gothic, Egyptian, Moorish, and Renaissance styles in an eclectic mix.
Some call the result romantic and it actually inspired Ludwig II. of Bavaria to build Neuschwanenstein – need I say more?!
I call it pretty quirky: The complex looks like some child with a wild imagination built it with Lego bricks in all his favorite colors.
However, this opulent structure is worth a visit – if only to find out that it's not your style.
Plus, Dom Ferdinand II also restored the forests of the Serra by planing thousands of trees.
There are gardens, pavilions, grottos, lakes…and few people. It's really nice to take a walk there – especially since many tourists limit their visit to the Palace.
These woods that surround the Portuguese castles are huge! Compared to these estates, the German royal parks and gardens are shabby allotments.
And of course, you are walking these woods up and down, what else, this is Portugal after all. I think I've never been to such a hilly place before. I have the feeling there is not one straight road in this country.
Palácio Quinta da Regaleira
Quinta da Regaleira is a huge mansion in a vast garden. It's decorated with sculptures, grottos, a chapel, lakes, and bridges.
It was commissioned by Baron António Augusto Carvalho Monteiro, a businessman and eccentric, and designed by the Italian architect Luigi Manini.
Accomplished in 1910, it is today classified as a UNESCO World Heritage Site – one of several in Sintra.
I like that many of the structures are a bit maze-ish. Since they have different entrances and exits, you can either enter them by stairs or through some narrow tunnels – it's great fun. Assumably, millionaire António Augusto Carvalho Monteiro, who commissioned this estate, seemed to like things quite playfully.
Palácio de Seteais
Behind the Quinta is another architectural jewel, the Palácio de Seteais*.
You don't even have to be a Royal to stay at this Neoclassical Palace. As a matter of fact, you just have to fork out around 300 €uros per night – since today, the Palácio de Seteais* is a luxury hotel and restaurant.
This, too, is listed as a World Heritage Site by UNESCO.
Palácio de Monserrate
Another 2 kilometers further west is the Palácio de Monserrate.
Over the ruins of two churches, the British merchant Gerard de Visme built a neo-Gothic mansion in 1789. A couple of years later, William Thomas Beckford leased the complex and designed there a landscaped garden. In 1809, Lord Byron visited the property and got inspired by its magnificent appearance. Byron praised the beauty of Monserrate in Childe Harold's Pilgrimage.
Castelo dos Mouros
Yes, it obviously is possible to walk all the way from the historic center to the Palácio da Pena – I saw people doing it. I saw them from the bus I was comfortably sitting in. Seriously, the bus is less than 4 €uro one way, is leaving pretty frequently, and the hike along the country road is not pretty at all yet pretty busy.
Before the bus gets to the Palácio da Pena, it stops also at the Castelo dos Mouros, the Moorish Castle, another important landmark.
Built during the 9th century by the Moors. The Moors were North African Berbers. They supported the Arabs in their conquest of the Iberic peninsula.
However, this fort was conquered in 1147 by King Alfonso I. A Christian chapel was built on the premises. Eventually, the Portuguese mostly neglected the site and the fort decayed.
Only as all this tacky Romanticism flooded this area, an extensive renovation of the remaining walls took place around 1860.
And today, you probably already guessed so – it's listed on the UNESCO World Heritage Site.
The Historic Center
Now let's go back to the beginning as you arrive by regional train from Lisbon.
Already at the train station are guides and tuk-tuk drivers waiting for visitors.
I recommend walking to the historic center. This way, you also catch the first glimpses of the sumptuous landscape, the rolling hills, and the majestic mansions.
Also, along the route, there are many sculptures in many different, quite modern styles.
The main landmark at the historic center is the Palácio Nacional de Sintra. It was already built in the 10th century as a Moorish Alcazar. Later it was used from the 14th to the 20th century as the Royal summer residence. Its most prominent feature, however, is two chimneys – making it look a bit like a nuclear power plant. You are right, I am not a great romantic. Anyway, today, you can visit the power plant – hey, that's such a clever double meaning! – and cherish its truly exquisite decorations.
The historic center consists of little alleys winding up and down between loads of souvenir shops and snack bars and cafés and it's difficult to take a picture without ten tourists on it.
At the end of the day, I don't really get why Sintra is almost exclusively a day-trip destination because it's simply impossible to see everything there is to see. If you'd like to visit all the palaces and mansions and take your sweet time, you'd need at least two if not three days.
And I recommend this visit although Sintra – and its stupid weather gods – tested me a lot that day.
Practical Information
How to Get There
As I said, it's really easy to get from the Rossio train station in Lisbon to Sintra. Depending on the time of the day, the train is going every 10 to 30 minutes starting at 6 a. m. till 1 a. m. One way is €uro 2,25. However, if you have a Lisboa card or a viva viagem (travel) card, it's included.
You can get there within 45 minutes from Lisbon's Rossio station. If you have a Lisbon card, mind you that it includes the trip.
However, only the trip from and to Lisbon, not the local buses in Sintra or the buses going to the coastal towns Estoril and Cascais.
If you are coming from Estoril, there are different buses by the Scotturb bus company. For your inconvenience, their website is exclusively in Portuguese and you have to know the exact stop – it's not possible to search for a connection just by city.
How to Get Around
Although Portuguese people do not always do it with a big smile, they do help you and most officials speak pretty decent English so I suggest you just ask once you're there.
The public transport system is very good. You don't need to worry about getting stuck.
But if you happen not to be a true-born billy goat, there are buses at a really fair price taking you to the remote palaces Pena and de los Mouros. And even on the premises, you can take a shuttle to the main palace for 3 €uro round trip.
However, at the end of the day, I was exhausted, even though I took every available shuttle. It had been a long, interesting, and very tiring day.
For any local transport, just ask at the train station. Frequently there is a bus going between the historic center and Castelo dos Mouros/Palácio da Pena.
Where to Stay
I'd like to emphasize that a longer stay at Sintra is certainly worth the while. This way, you get to see all the different palaces. As soon as the day-trippers leave, you can enjoy the empty town.
Here are some options where to spend the night*
What to See
I'm an avid solo-travelling woman. Since solo-travel doesn't equal solitude, I love to join organized tours here and there. They allow me to meet fellow travellers – for just a short moment or a lifelong friendship.
Therefore, here are some great options for how to visit Sintra's attractions in an efficient yet comfortable way. Also, pre-booking online will guarantee your place at the activity of your choice*:
Sintra was only one of many beautiful places I've visited in Portugal. So to read about the others, go to the main post and take your pick! There you'll also find valuable general information that will make your trip smoother.
Map
On this map, you'll find all the wonderful places I'm introducing in this post.
Clicking on the slider symbol at the top left or the full-screen icon at the top right will display the whole map including the legend.
Pinnable Pictures
If you choose to pin this post for later, please use one of these pictures: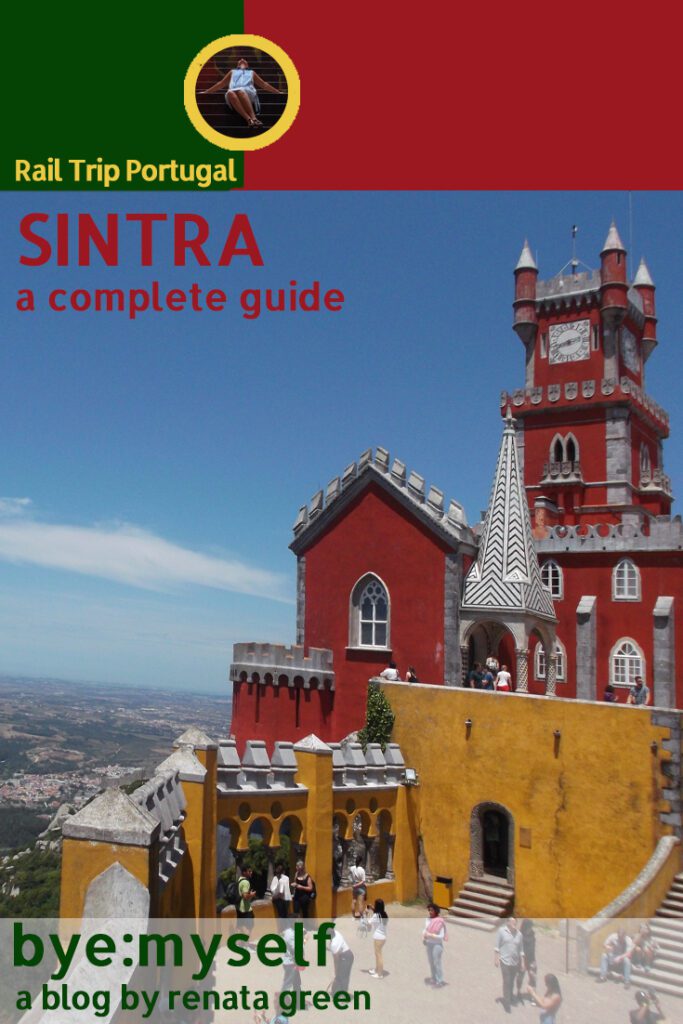 Note: I am completing, editing, and updating this post regularly – last in December 2022.
Did You Enjoy This Post? Then You Might Like Also These:
* This is an affiliate link. So if you book through this page, not only do you get the best deal. I also get a small commission that helps me run this blog. Thank you so much for supporting me! Obviously, I was very lucky that Turismo de Lisboa supplied me with a 72hrs-Lisbon-Card. They also arranged the entrance to the Palaces in Sintra for me. However, all opinions on these services are mine and weren't by any means influenced by my cooperation partner.