Let me guide you to Figueira da Foz, a charmingly old fashioned seaside resort. It is the epitome of a South European vacation destination, indeed.
For about ten years, I hadn't been to a European beach. I was thinking that Asia or Latin America were the places to be(ach). Arriving at Figueira da Foz, about two hours south of Porto and the second stop on my rail-trip along the Portuguese west coast, I stood so corrected.
On the Beach bye:myself
Sophisticated palaces, loads of cafés, bars, and restaurants – and a beach of the size of a desert!
Talking 'bout desert: It was deserted! It was June, hence, the season just had started, and I was there on a Monday. Consequently, I had to share the fantastic, clean desert with about a dozen other wastrels like myself.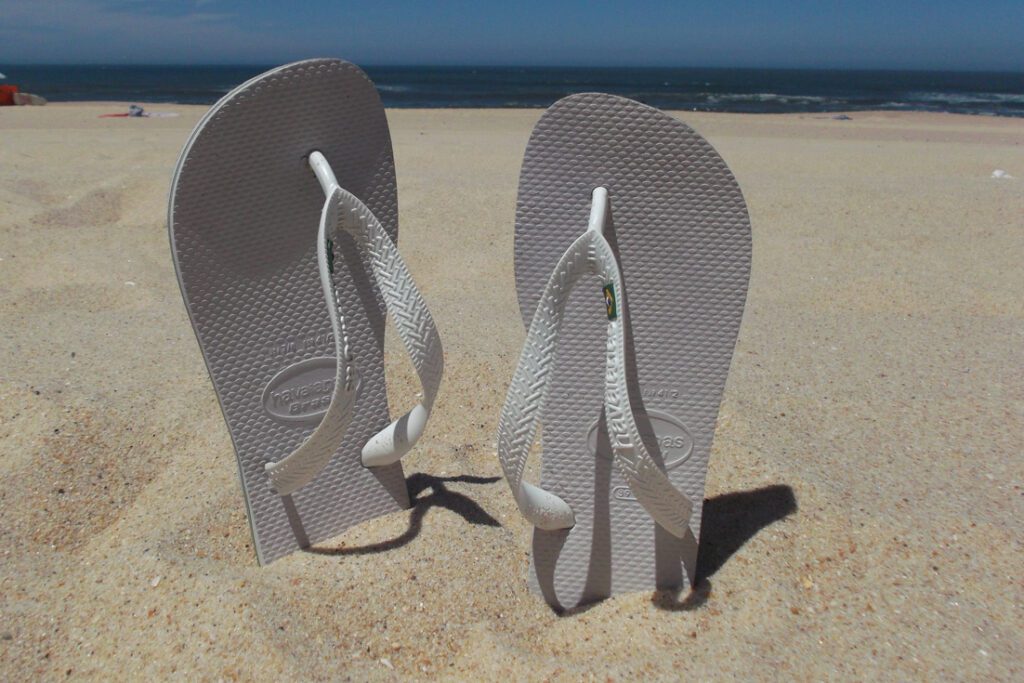 While the beach is nice and serene, the water is wild and obviously dangerous – even when you just stand at the shore, you feel how strong the waves and the currents are.
And there is another natural force raging: The strong wind! They have umbrellas – to protect you against a sunburn – with attached windshields – to protect you against the sand covering you while you are reading or sleeping or doing whatever you please.
Figueira da Foz is the perfect destination. A summer vacation you wish will never end – just like these impressionist paintings by Max Liebermann or Joaquin Sorolla depicting bourgeois, wealthy families, obviously enjoying their summer retreat.
Glorious Past
And yes, as a matter of fact, Figueira da Foz is looking back at a long history of being the wealthy Portuguese and Spaniards' prime summer retreat.
So strolling through the cute alleys, looking at the playful architecture of the beautiful villas, you practically hear the seagulls squawking and the crinolines scrooping.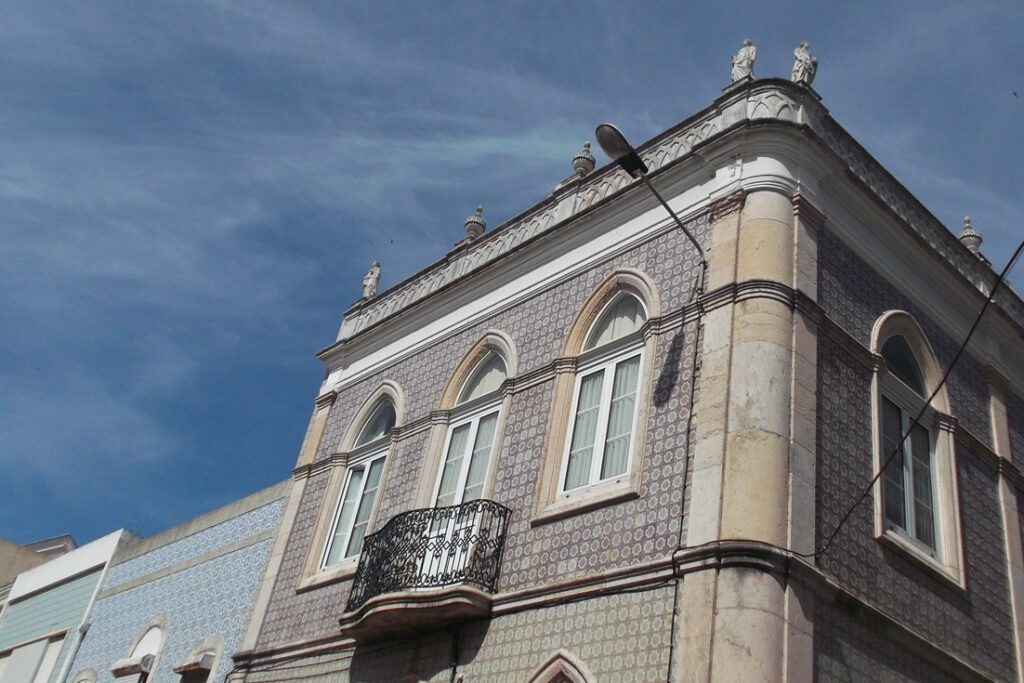 You wouldn't believe that this placid town is actually the second-largest city in Portugal's Centro region.
But don't get fooled, in the 18th and 19th century, Figueira was a highly industrialized place, making good money with shipbuilding and cod drying industry, and even today it's an important economic center, producing i. a. wood pulp and paper.
Besides making money, it is also easy to lose it in Figueira: The town prides itself to have one of the biggest casinos on the Iberian Peninsula, attracting gamblers from far and wide.
Life Is a Beach
But Figueira da Foz, idyllically located between the river Mondego – flowing to Coimbra – and the Atlantic ocean, of course, attracts many non-gambling tourists with its beaches.
Beaches?
Deserts!
The Praia da Claridade – called the 'Queen of Portuguese Beaches', obviously, located right in front of the city center, stretches like a blinding white desert miles and miles along the west coast. It is amazingly broad. Even a promenade cutting through does not disturb the notion of infinity.
What a beach! On the main stretch, however, bathing can be an adventure most of the time: The waves and the currents are crazy. No wonder there is an impressive number of lifeguards ready to save some moronic daredevils.
If you absolutely want to take a dip, which I totally understand since the water looks fantastic, then you better go to the small, a bit crowded part behind the lighthouse called Praia do Forte de Santa Catarina.
The Rough And The Calm Side of The Ocean
It is behind the Forte de Santa Catarina, Saint Catherine Fort that you can visit or not – if you know what I mean. The small bay protects bathers against the rough sea. Here the water is calm and you can swim as much as you like.
Rougher, very picturesque beaches can be found about 2 to 5 kilometers further north: Praia da Tamargueira and Praia do Cabo Mondego are very rocky, while Praia do Teimoso and Praia da Fonte das Pombas are hidden between bushes. If you stay a couple of days, it's certainly worth it exploring more than one or two beaches since they are all so different.
Since I'm a good travel blogger, I write down some things you can visit while in Figueira: There is the Museu Municipal Santos Rocha presenting a mix of art, furniture, and more.
There is the Palácio Sotto Maior – whereby I find so many of the old Palace like houses in Figueira just stunning that I do not need a designated Palácio.
There is the Fortim de Palheiros – a fort-like many others in Portugal.
What I mean is, you can visit all these places, but you don't have to.
You can as well enjoy the beach, the snack bars and cafés along the promenade, the many fine restaurants all over the town.
Just put on something nice and parade along the neat streets and alleys.
You're on vacation, after all!
Practical Information
How to Get There
By Train
Travelling by train is a very convenient – and also an elegant way – to get to Figueira da Foz. For a reason: It's fast, reliable, and relatively reasonably priced – especially if you book ahead.
However, apart from Coimbra, there are very few direct trains going to Figueira da Foz, therefore bus travel might be the better and most of all faster option.
Nonetheless, you can get all the info needed and your tickets on Comboios de Portugal's website.
The train station is located about 1.5 kilometers southeast of the town center.
By Bus
As I mentioned above, bus travel can be faster since most of the time, they will go directly and you can avoid stopovers.
Nevertheless, make sure to compare the length of the trips and, of course, the fares. Sometimes, especially at short distances, the bus is not only faster, but also cheaper.
A very popular national bus company is Rede Expressos with many convenient connections at reasonable prices. For instance, going from Porto to Figueira da Foz starts at as little as 6 €uro.
When travelling from other European countries, you might want to check out Euroline's website.
The bus terminal is located about 1.5 kilometers from the town center, right next to the train station.
How to Get Around
Although Figueira da Foz is actually the second-largest town in the Centro region, public transportation like for instance a city bus is practically non-existent.
One of the many reasons why you should stay at the very conveniently located the Universal Boutique Hotel*. From there, you can walk to all the places of interest.
If you want to venture further – for instance to more remote beaches, renting a bicycle is, obviously, an excellent option.
One of the oldest rental shops is Santiagobikes, located on Avenida 5 de Abril #8, one block north of the Forte de Santa Catarina.
Best Place to Sleep
If you are looking for an ideally located, very charming, and comfortable boutique hotel – fully renovated, yet looking back at an over hundred years old tradition – I can recommend the Universal Boutique Hotel*, one block from the beach, one block from the casino, two blocks from the great restaurant Caçarola 1.
So the location is great. But how about the rest? Let me explain it to you in fewer words, hence, more pictures:
Got it? It's magnificent!
I'm a travel blogger, so I've stayed at I don't know how many hotels and guesthouses, apartments, and hostels. And I must say that the number of stars never impressed me much. If a hotel is super-fancy and posh but it's leaking atmosphere or some special details, I leave it to others, even if it has five stars.
The Universal Boutique Hotel* in Figueira has 'only' four stars, but they are killing me with all these lovely details and courtesies – the bottle of free water, the – much smaller – bottle of port wine served with two petit fours, the posh coffee maker.
There are not only the thickest and softest towels you can imagine in the spacious bathroom, no, there are also cloud-like robes to snuggle in after a good soak.
Best Place to Eat
Again, Figueira da Foz is a tourist place, hence, you'll find many restaurants serving traditional Portuguese cuisine. Because of the proximity to the ocean, this consists mainly of shellfish and fish.
My favorite restaurant – for the excellent value-for-money ratio – is Caçarola 1, located on the main pedestrian street and just around the corner from the Universal Boutique Hotel*.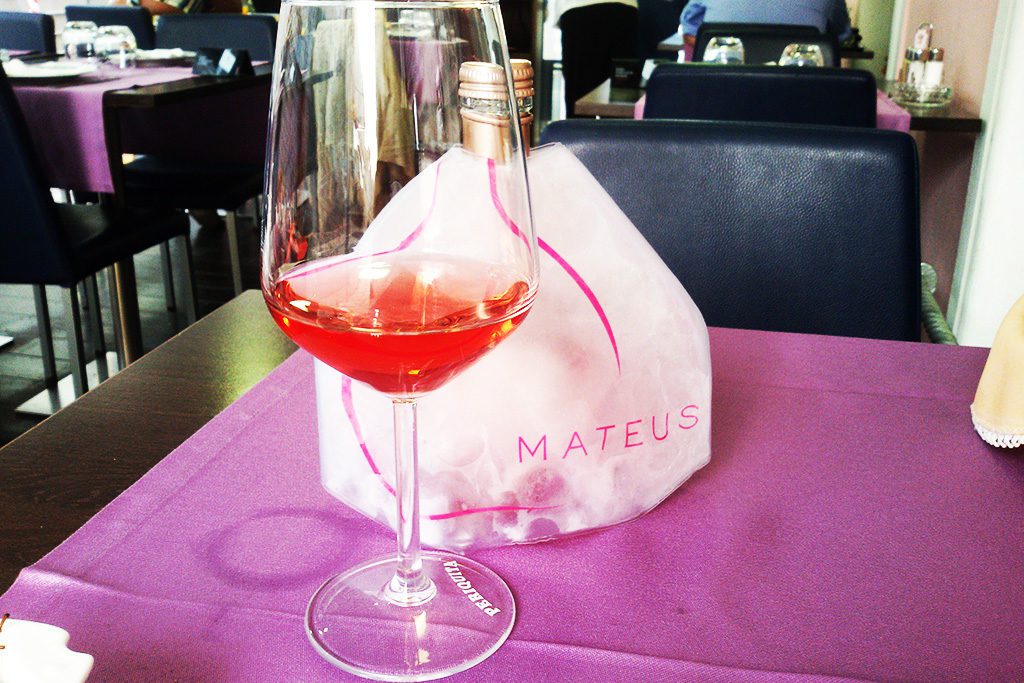 They are not only serving generous portions of their fresh, excellent meals. They also do it with a very friendly smile.
Caçarola 1
Rua Cândido dos Reis 65
3080-155 Figueira da Foz
Phone: + 351 – 233 – 424 861
Email: geral@cacarola1.com
Figueira da Foz was only one of many beautiful places I've visited in Portugal. To read about the others, go to the main post and take your pick! There you'll also find valuable general information that will make your trip smoother.
Pinnable Pictures
If you choose to pin this post for later, please use one of these pictures:
Note: I'm completing, editing, and updating this post regularly – last in January 2023.
Did You Enjoy This Post? Then You Might Like Also These:
*This is an affiliate link. If you book through this page, not only do you get the best deal. I also get a small commission that helps me run this blog. Thank you so much for supporting me!
Disclaimer: I was very lucky to be a guest of the Universal Boutique Hotel*. However, all opinions on these services are mine and weren't by any means influenced by my cooperation partner.