If you are looking for long beaches, mesmerizing temples, and some serenity, you'll find all this – and more – at Lovina Beach, Bali's quiet escape on the north coast.
Serenity on the North Coast
Lovina is the coastal region consisting of the villages Pemaron, Tukad Mungga, Anturan, Banyualit, Kalibukbuk, Kaliasem, and Temukus. Located about five kilometers west of the bustling city of Singaraja, Lovina does attract international visitors, yet still remains much less crowded than the established tourist spots in the south of the island. For instance, there are none of those huge hotel complexes but rather smaller, charming guest houses.
Visitors are coming to Lovina to enjoy some tranquil days on the beach. It's also the perfect gateway for some great snorkeling in the protected waters around the island of Menjangan. Between February and May, dolphins flock off Lovina's shores.
Lovina is also a great starting point for some – literally – cool waterfalls, hot springs, and impressive temples.
Under Water Love
The Bali Barat National Park is Bali's westernmost point and was declared a national park in 1983. At the park's northern area nests a local celebrity, namely the Balistar, an endangered bird endemic to the island of Bali.
Also, the waters off the park's shores are under environmental protection. One of the jewels in these waters is the small Menjangan island.
Since Lovina beach is nice but not really overwhelming, I decided on a day tour to do some snorkeling at Menjangan. While our stay on the island was a real treat, the ride there was terrifying. Our car was basically flying down Jalan Singaraja-Gilimanuk. Our eyes wide with terror, teeth clenched, we clasped our seats, sending prayers to….whoever is in charge in this part of planet earth.
My Deer Dear Island of Menjangan
Menjangang is also known as Deer Island and is located around 70 kilometers west of Lovina. Since it's part of the Bali Barat National Park, it's bordered by mangroves and beautiful beaches.
The weak sea current and the rich fish occurrence make it perfect for diving and snorkeling. Just put on your mask and hop into the water. While you're effortlessly floating along the coast, you see an amazing number of the most beautiful fishes.
Once you're done observing Nemo and his buddies, you can actually visit three Hindu temples right on the island.
The most notable one is undisputably Pura Gili Kencana. Its iconic Ganesh statue made of white stone makes it the world's largest Ganesh temple. Dating from the 14th century, it is the oldest temple in Bali.
Another temple worth visiting is Pura Taman Kelenting Sari, located at the hilltop of Menjangan. It was built in the 16th century on the occasion of Danghyang Nirarta's pilgrimage. This great Hindu missionary came from Java's kingdom of Majapahit to teach Hinduism in Bali.
The monks living at these temples are Menjangan's only inhabitants.
Comprehensive Day Tour
Bali isn't that large. From east to west, it's approximately 153 kilometers wide and only approximately 112 kilometers from north to south. Consequently, you can visit all landmarks on day tours, no matter where you are based.
One of the few exceptions, however, would be the snorkeling trip to Menjangan island. Since it's on the westernmost tip, the tour starts in Lovina between 7 and 8 a. m. There were fellow day-trippers who were based in Kuta. Consequently, they had to get up around 4 or 5 in the morning. With all the crazy driving, the rocking of the boat, and the snorkeling – it was a very long and exhausting day for them. Hence, at the end of the day, they even got a bit nauseated.
But all the famous temples and other landmarks I've seen on my tour starting in Lovina I could have as well visited straight from Ubud, Padang Bai, or even Legian Beach, for that matter.
For this day tour, I chartered a private car and hired a driver. I would have preferred going on a tour with a small group – but there was no bunch I could have joined. Further below in the How to Visit section, you'll find some group tours you might like to book in case you don't want to visit these sights on your own.
Gitgit Waterfall
After my driver had picked me up after breakfast, we were ready for a literally refreshing start.
There are a couple of waterfalls around Lovina and we decided on Gitgit.
This cataract is a popular tourist destination, known for its height and natural swimming pools. First, you have to hike a short trail through attractive foliage to then access it over a rocky and slippery walking trail.
Unfortunately, even alongside the trail are avid hawkers shouting chopping, chopping. Just to be clear, they don't want to chop anything, they want you to shop. On your way to a waterfall.
I absolutely understand that these people need to make a living. However, their marketing strategy of just forced purchase is nerve-wracking. And I'm not sure if it is as successful, either. The more they are pestering me, the less I'm prone to buy something. I'm afraid they might be provoking a general rejection with their omnipresent puffery.
In no other country have I been as pestered by hawkers as in Bali.
Pura Beji Sangsit
I'm actually not that waterfall buff. But if you are, you might wanna drop in – metaphorically speaking as well as literally – also at the Aling Aling waterfalls just 20 minutes away.
We, however, made it to the village of Sangsit around 8 kilometers east of Singaraja. There stands Pura Beji, a temple dedicated to the rice goddess Dewi Sri. Hence, it is revered particularly by the farmers around the area.
Pura Beji is a fine example of northern Balinese architecture. It shows much more elaborated decorations than its counterparts in the south. Typical are also foliage-like carvings.
The complex dates back to the 15th century when the Brahmins from Java's Hindu Majapahit Kingdom came to Bali.
A candi bentar split gate grants access to the middle sanctum. On this candi bentar, you can admire the above-mentioned lavish decorations of carved plants and flowers.
A unique feature of the Pura Beji is that the aling-aling, a barrier to deflect evil spirits, is carved with two Dutchmen playing stringed instruments.
Pura Meduwe Karang
The next – and even more famous – Dutchman was awaiting me in Kubutambahan at Pura Meduwe Karang. Due to its size, this temple is considered one of Bali's main temples. Obviously, it is also known for its statues and ornate northern Balinese style.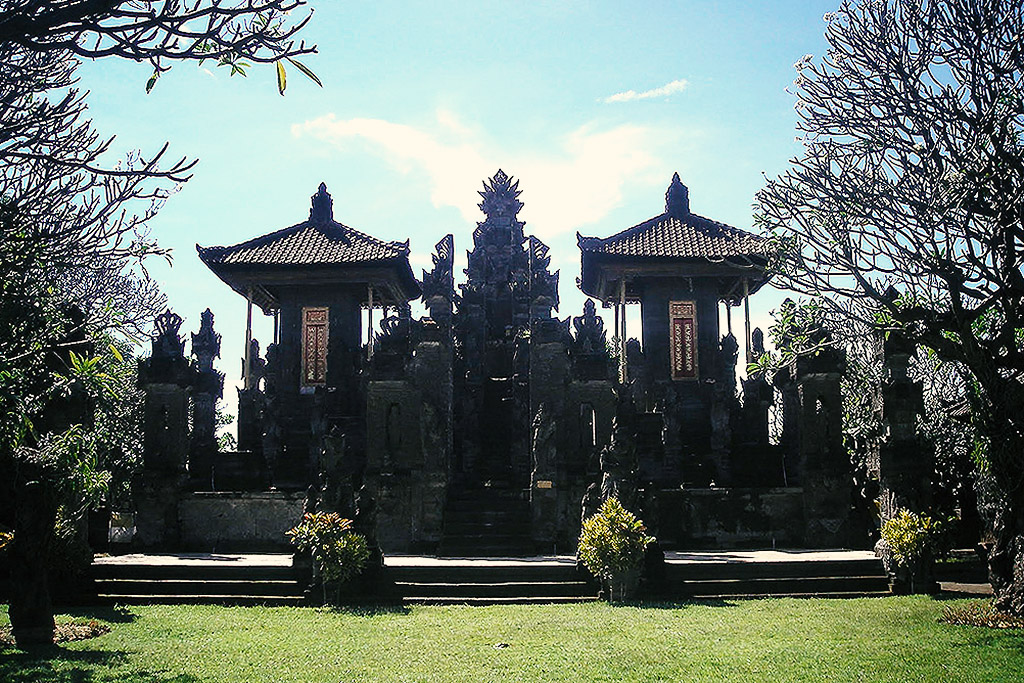 Most foreign visitors come here to see a Dutch doing what Dutch people are known for: cycling.
On the side of the main shrine is a depiction of a westerner on a bicycle. The bas-relief depicts Dutch artist W. O. J. Nieuwenkamp who explored Bali on his bicycle in 1904. I assume that back then, this undertaking was not as life-threatening as it is nowadays.
As I have seen already in Sangsit, this bas-relief is not the only representation of westerners in Balinese temples. Also, at Pura Dalem east of Singaraja, a bas-relief shows a car driven by bearded foreigners held up by an armed gangster with a revolver.
The existence of the images of foreigners in the northern temples proves that this region was an important gateway to the island at the beginning of the 20th century.
Pura Ulun Danu Bratan
Around noon, we got to another of those often seen, überfamous landmarks, namely Pura Ulun Danu Bratan.
Yet nobody can deny that this temple complex, located in the mountains on Lake Bratan, is incredibly picturesque. It was built in 1663 and is used for sacrificial ceremonies for the Balinese water, lake, and river goddess Dewi Danu.
The lake, however, is a volcanic pool near Bedugul and its waters are considered sacred. Lake Bratan is an important source of irrigation in central Bali.
Pura Ulun Danu Bratan is a good example of landmarks that could be easily visited from different spots: You could get here from Ubud at almost the same time. Hence, for the temple tours, it doesn't really matter that much where you are based on the island.
Candi Kuning Market in Bedugul
The Candi Kuning Market is supposedly a traditional fruit and vegetable market in the mountain area of Bedugul. There are fruits and vegetables and I had been happy to finally see a place I thought would be also frequented by locals.
Actually, that's one thing that really confused me. During my three weeks in Bali, I had the impression not knowing anything about the locals. I even couldn't figure out where they do their grocery shopping since all the stores I've seen were so geared toward tourists. Whereby I must admit that I haven't been to the center of for instance Denpasar or Singaraja – maybe there, real life exists.
So anyway, I was happy visiting a real market – to the moment when my driver Wayan said casually 'This is not very Bali people buy. They buy at another market". Aha.
Apart from the produce, they sell souvenirs – after Wayan's remark, this makes totally sense – and spices such as nutmeg, pepper, and turmeric. These, however, are some of my favorite souvenirs when travelling.
Kebun Raya Bali Botanical Garden
Since the Candi Kuning Market is located close to the entrance to the Botanical Garden, we started our afternoon there.
Founded in 1959, it is the largest botanical garden in all of Indonesia.
Initially intended to specialize in conifers, it had to close in 1965 due to political instability and then reopened in 1975.
It's a huge plot where you get to see orchids, carnivorous plants, cacti, bamboo, one of the world's most important collections of begonias as well as medicinal and ceremonial plants.
The garden is open every day from 8 a. m. to 6 p. m. and foreigners have to pay an entrance fee of 20,000 IDR.
Banjar Singaraja Buddhist Temple
To get to the day's last two stops, Wayan drove westwards basically around the Bratan volcano and the Danau Buyan lake which granted me amazing views of Bali's sumptuous sceneries.
Slowly, we approached Lovina.
Ten kilometers west of our starting point is the Buddhist temple and Monastery Vihara Buddha Banjar. It is the largest Buddhist temple in Bali and far more than just a tourist attraction. There are still groups of people staying at the Ashram nearby.
Buddhist monks settled in northern Bali in the 6th century. To this date, Buddhism has a strong impact on the island's local Hinduism.
Air Panas Banjar Hot Spring
Just a stone-throw away from the Vihara, my tour ended at the Banjar Hot Water Spring. These springs were discovered hundreds of years ago. Then as Japan occupied Indonesia during WWII, the pools were installed – basically like Japanese Onsens. Bathing in the brimstone-containing waters can heal skin conditions.
But even without a skin condition, a hot bath at the end of a long day is equally relaxing and refreshing.
Air Panas is open daily from 7 a. m. to 6 p. m. The entrance fee is only 5,000 IDR.
Map
On this map, you can see where all the places described in this post are located:
Practical Information
How to Get There
As you've learned above, the north coast used to be a gateway to the island, however, these times are over. Today, most people get to the island through the Ngurah Rai International Airport. Yet, some are coming from Java through the port of Gilimanuk in the west or they arrive at Padang Bai from Lombok.
The easiest way to get from the airport to Lovina is by cab. It takes about 2.5 hours and costs the equivalent of around 50 US$.
Perama has a minivan service for up to four passengers for 700,000 IDR.
The cheapest way is by bus. You first have to get to the bombing memorial in Kuta. From there, you take a bus to Lovina. The whole trip takes about 4.5 hours and costs up to 210,000 IDR.
Some major hotels offer a shuttle which is very convenient, yet you pay much more than if you arrange your transport yourself. This being said, it's wiser to overpay for a safe trip than to risk your well-being on arrival. You'll find more on this important topic in my post Keep Calm and Travel Solo.
However, for your comfort and safety, here you can pre-book a reliable and reasonably priced airport shuttle.
The above-quoted travel options also apply to travel on the island. You can always hire a driver at a comparatively low price which still remains the most costly option. Perama has a direct bus between Lovina and Ubud and then connections to other places such as Padang Bai for 175,000 IDR and Legian Beach for 250,000 IDR.
Getting Around
To me as a solo traveller, this was Bali's weakest point. However, there are bemos, local mini-buses speeding along the northern coastal road. These are actually pretty cheap – you from Gilimanuk you pay around 35,000 to get to Lovina. Unfortunately, these local means of transportation are not available everywhere.
While hiring a car with a driver is comparatively cheap if you share it between two or three people, it's obviously not that cheap anymore if you pay for the whole thing yourself. Of course, you can try to share with fellow travellers, but it's not guaranteed that you'll find someone according to your interests and itinerary.
Also, there are only a few organized group trips that you might join. I achieved that twice during my entire trip. Other than that, I involuntarily lived like a queen and had cars to myself.
This being said, you can always try to join an organized tour with Perama. They have offices all over Bali and also in Lombok. Nevertheless, they don't stick to scheduled tours. If on certain days, they don't have enough people, they simply don't go.
To help you find the best option even if you travel to Bali solo, I'm including some tour offers in the How to Visit section below.
Where to Stay
Although Lovina is by far not as packed with tourist facilities as the west coast, you won't have trouble finding a suitable lodging option.
In general, accommodations are very reasonably priced if not cheap. Actually, you can get a luxurious hotel room already for around 50 US$.
However, here is a map on which you'll find the perfect lodging option for yourself*:
What to Eat
Not only is Balinese food simply delicious, but for international visitors, it is also pretty cheap.
And while it can get a bit more expensive for instance at hotels or fancy restaurants, this would be the average price at the Warungs, Bali's lovely local eateries.
Even in a prime location on Lovina's beach, you hardly ever pay more than the equivalent of 5 US$ – and I'm talking about a complete meal!
While in other parts of Bali, I stuck to my favorite meats such as Satay skewers and nasi campur, on the coast, I treated myself to fresh fish.
How to Visit
I'm an avid solo-travelling woman. Since solo travel doesn't equal solitude, I love to join organized tours here and there. Since this is not that easy in Lovina, here are some valid options for how to get to see what this magical island has to offer in a safe and easy way*:
What to Bring
Be a scout and remember the motto Be prepared.
As you leave in the morning to explore, make sure to not only have your money and your sunshades on you.
Good to Know
Don't let the half-naked tourist hordes in some beach resorts fool you: Balinese dress very modestly. This goes particularly as you leave the beach area to explore remote villages and, most of all, sacred complexes.
It is always a good idea to carry at least one light, large scarf with you to cover up in case you decide to visit a sacred place. And I'm not talking only to the ladies, men have to cover, too.
You always have to wrap a sarong around your hips – even if you are wearing long pants. Locals also wear a temple scarf around their waist. Foreigners don't need necessarily to do so.
Remember that you're neither supposed to expose your shoulders nor your arms. So if you are wearing a sleeveless top, you also need a scarf to cover your shoulders.
Often, you can rent sarongs at the entrance to temples. Or they will be someone selling them. Since these vendors cater mostly to desperate people who need a piece of fabric right away, their prices are ridiculously high.
It might also be a good idea to have a pair of old socks with you that you can wear in the noonish heat when walking on the hot stones around the temples as you have to take your shoes off.
You'll find more tips on Bali's DOs and DONTs in my post on How (not) to behave in BALI.
Good to Have
Especially when you are walking a lot or cycling, you will appreciate a catlick using some wet wipes on your hands, face, and neck. Also, the last resort in case some bathroom along the way has no toilet tissue. Remember to freshen up your sun protection especially after wiping your face – so make sure to have a travel-size bottle of sun protection with you. Especially if you are planning to visit forests or gardens, you might want to bring some insect repellent so that mosquitos don't eat you alive.
I have all these things in an extra pouch that I just stuff in my daypack in the morning without having to remember every single piece.
Of course, you shouldn't forget to take a hat, good sunshades, and a large bottle of water with you, too.
Cash And Cards
Lovina is a touristy place, hence, credit cards are accepted at most businesses. Nevertheless, you have to pay for some services in cash. Obviously, you can get money at ATMs, for instance at the supermarket in Anturan.
One US-Dollar equals 15.67 Rupiahs (IDR) and one €uro equals 15.68 Rupiahs (IDR) as of November 2022. You can check the current rate on this page.
Language
The official language on the island of Bali is Indonesian.
Amazingly, Indonesian is one of the languages offered on babbel. As usual, the first lesson is free. There you learn the most important words and polite expressions to interact with people.
I gained some basic knowledge for my trip to Bali. It's amazing how easy bahasa was to learn. Especially since it's written in Latin letters.
Since Bali is so over-touristy, everyone in the tourist industry has at least a rudimentary command of the language. However, sometimes the accent is so peculiar that you won't understand it right away. Also, locals might not really understand what you are saying but just grasp the supposed meaning from one or two words they got from your sentence. Hence, prepare for some hopeless explaining, quirky conversations – and many bright smiles.
Communication and Connection
Like during most of my trips where European roaming is not available, I did not get a national SIM card. I rather used free WiFi. There was a connection to the internet without any issue at basically every eatery or café and, of course, hotel. Worked like a charm.
But if you insist on being online 24/7, you can get a national SIM card right at the airport.
In Indonesia, plug types C and F are the official standard. The standard voltage is 230 V and the frequency is 50 Hz.
But as you know, nowadays, all these chargers for phones and readers and computers have integrated adapters. Therefore, different voltages and frequencies don't really matter.
By the way, you'll find this kind of practical travel info in my post World's Most Complete Travel Information. Actually, it's an indispensable globetrotter classic.
Lovina was just one of the most amazing places I've seen on my trip to Bali. Go to the main post to check out all the other destinations.
Pinnable Pictures
If you choose to pin this post for later, please use one of these pictures:
Note: I'm completing, editing, and updating this post regularly – last in November 2022.
Did You Enjoy This Post? Then You Might Like Also These:
* This is an affiliate link. If you book through this page, not only do you get the best deal. I also get a small commission that helps me run this blog. Thank you so much for supporting me!