Osaka is rather a cool'n'contemporary metropole than an ancient town – for the latter, you should include a side trip to Himeji.
Osaka has always been Japan's economic hub – and keeps its status as the country's major commercial center to this date. Major players like Sharp, Sanyo, and Panasonic have their headquarters in Osaka.
This busy metropole was not only briefly the imperial capital in the 7th and 8th centuries. Amazingly, it even outnumbered Tokyo in being Japan's largest city in the 1930s.
Therefore, a visit to Osaka is rather about the cool'n'contemporary than the ancient'n'inherited. It pulls its visitors into a whirlwind of skyscrapers, shopping malls, art exhibitions, and food….lots of food.
Osaka
Osaka – pronounced with an emphasis on the O, by the way – is Japan's third-largest city. It is accessible by the country's third-largest airport. Big'n'busy, together with the other cozier cities packed with historic sites such as Kyoto or Nara, it makes the prefecture of Kansai a region no visitor will miss out on.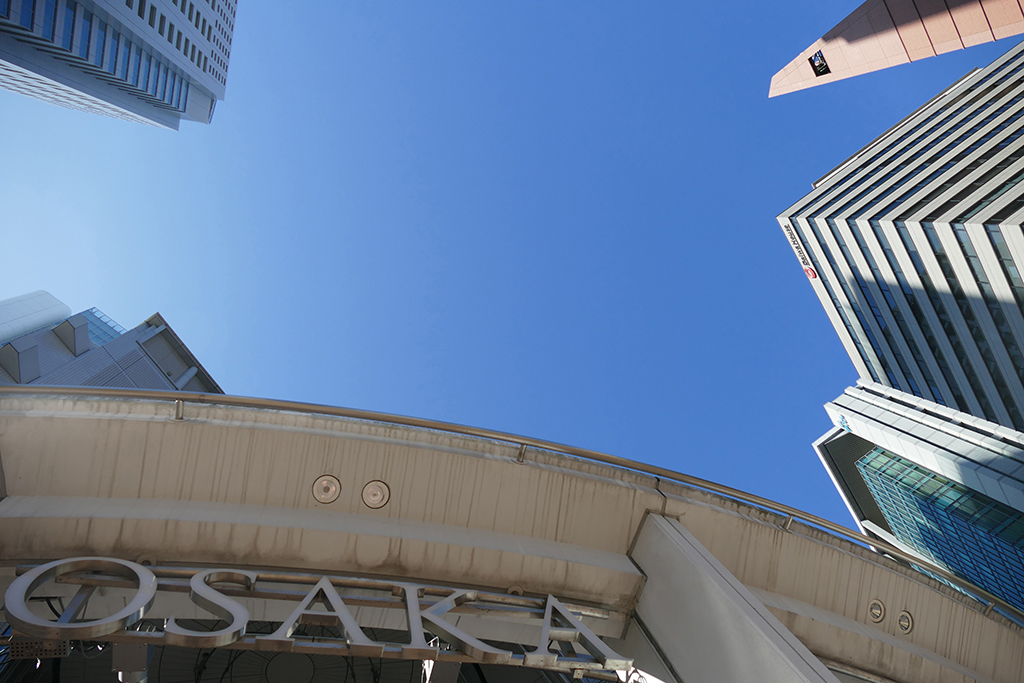 Had I known – and I don't know how I missed that – that Osaka is by Shinkansen only about 15 minutes away from Kyoto, I probably would have visited only on a day trip.
Anyway, since I had not done my homework, I hopped on the Shinkansen at Kyoto station, got off at Shin-Osaka. From there, five minutes later, the next local train took me to Osaka respectively Umeda station. Almost 2.5 million people are passing every day through this mega-station!
Am I Right on the Left?
Japan really keeps you on your toes. After several days of adapting to driving, walking, and standing on the left side of Japan's roads, sidewalks, and escalators, you get to Osaka and only God knows why, everything is different. While Osakasians are still driving on the left side of the road, they walk on the right side of the sidewalk and stand on the right side of the escalator. Hence, you stupid tourist do it all wrong because, in Tokyo, Kyoto, and anywhere else, you were trained to become a lefty. And now you are a western obstacle all over again.
Umeda Area (Kita)
Osaka Station. Higashi Station. Umeda Station. Interestingly, these monster-railway stations are listed under the name Station City as one of the city's tourist attractions. There are stores and restaurants, but also open spaces on the rooftops to relax and enjoy great views.
From the station building, you can walk across a curved bridge to the Grand Front Osaka shopping complex.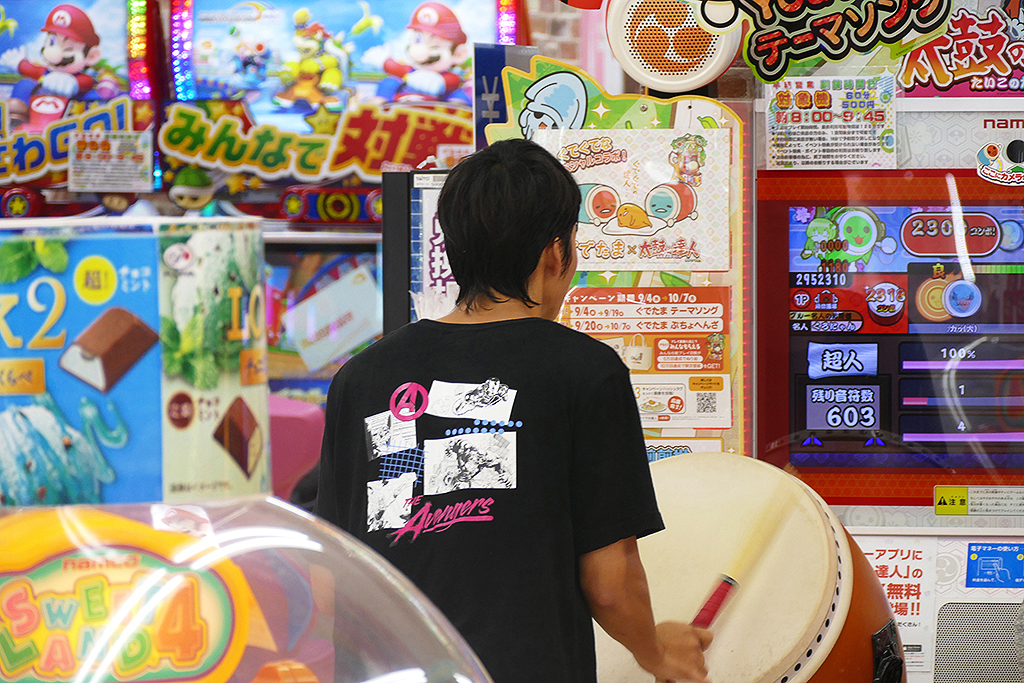 This mega-mall was opened in 2013 and was the first complex of a redevelopment project transforming a defunct freight railyard into a modern city district.
While the south building is all about shopping and eating, the north building which can be reached over a walkway on the second floor, entertains and educates visitors with the Knowledge Capital projects. These are showrooms, and laboratories established to create new products and services through cutting-edge technology and information.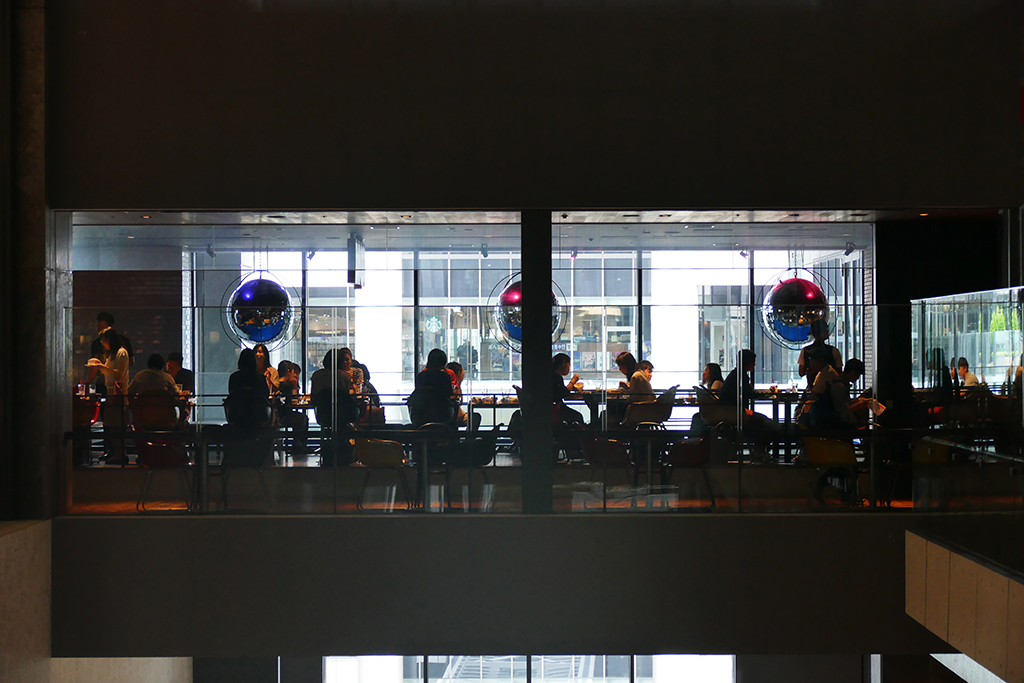 Umeda Sky Building
Looking west, you'll already spot the next mega-skyscraper, namely the Umeda Sky Building – also known as the New Umeda City.
The 173-meter tall building consists of two towers that are connected by a Floating Garden Observatory on the 39th floor. Although it's mainly an office building, due to the observatory deck it is one of Osaka's top – pun intended – tourist destinations.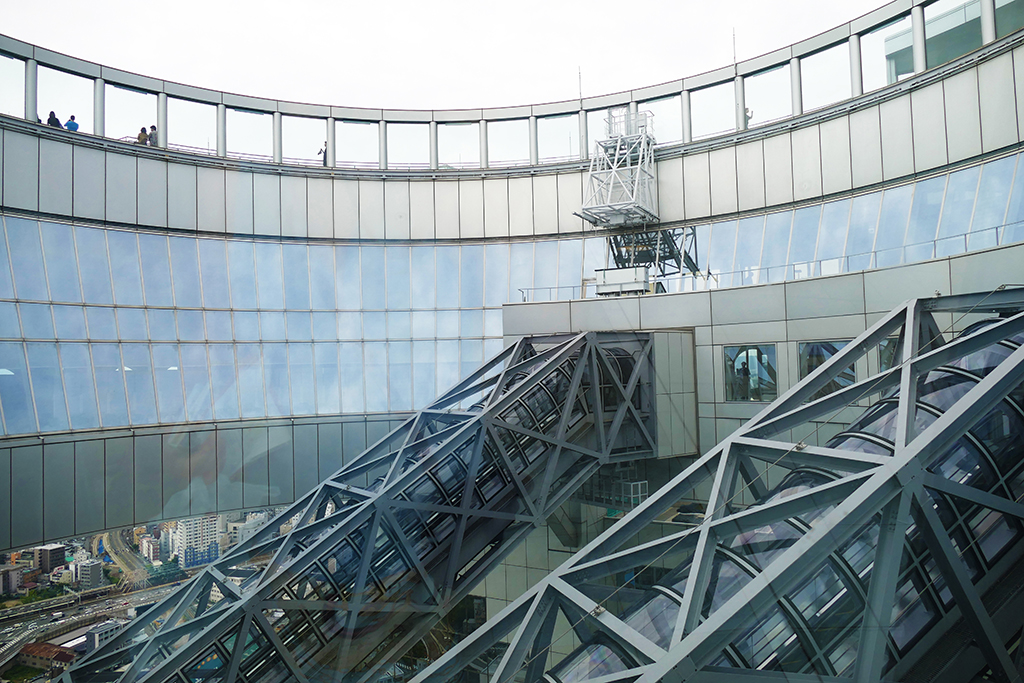 You get there by a glassy elevator and a flight of moving stairs – already that's pretty impressive; or scary if you are suffering from acrophobia as I do. Therefore, I stayed on the 39th floor where there is a gift shop and some restaurants. From here, you have an unobstructed view through the huge windows.
For 1,500 Yen, you can climb the stairs to the 40th floor where there is an open-air observatory.
The observatory is open every day from 9:30 a. m. to 10:30 p. m.
Higobashi Area
Walking south, you'll get to Nakanoshima island, located between the Dojima river in the north and the Tosahori river in the south.
On this long stretch, two of Osaka's best museums can be visited. One is the Osaka Science Museum where the big and the small can learn all about the universe, chemistry, and physics through fun and interactive displays.
Right next to it is Osaka's National Museum of Art, installed on two underground floors.
National Museum of Art
Consisting of islands, Japan can hardly expand horizontally. Therefore, they tend to build on the vertical axis – and by far not only up, but also downwards. Consequently, many places of interest, galleries, and eateries are either located somewhere up in the clouds or just deep underground. Actually, that's something I really had to get used to. To me, underground equals damp cellars, dungeons, rats – and claustrophobia. Therefore, I associate with shops or restaurants in those basements with minor quality. But in Japan, it's by no means that way.
So let's take the elevator down to Osaka's National Museum of Art where you'll get to see a fine permanent collection of contemporary Japanese and international art as well as changing special exhibitions.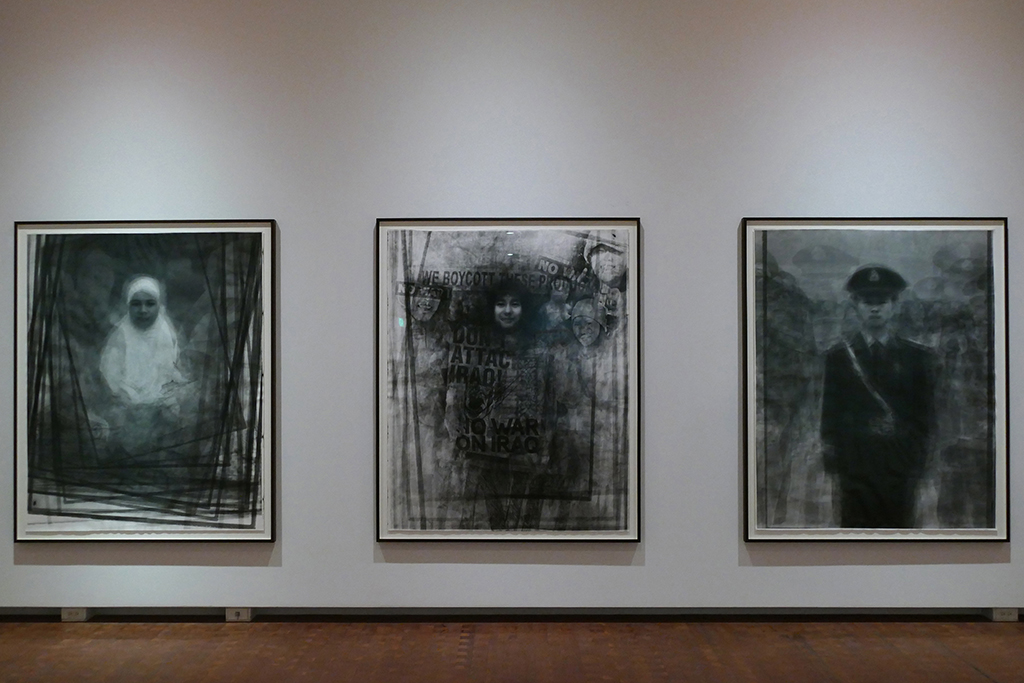 By the way, the outer part of the building which was opened in 2007 is representing a bamboo plant.
Osaka Science Museum
4 Chome-2-1 Nakanoshima
Kita Ward
Osaka, 530-0005
Phone: + 81 – 6 – 64 44 – 56 56
The museum is open from Tuesday to Sunday from 9:30 a. m. to 5 p. m. The admission fee is 400 Yen plus an additional fee for the planetarium.
Osaka National Museum of Art
4 Chome-2-55 Nakanoshima
Kita Ward
Osaka, 530-0005
Phone: + 81 – 6 – 64 47 – 46 80
The galleries are open from Tuesday to Sunday from 10 a. m. to 5 p. m., Fridays and Saturdays to 8 p. m.
The admission to the permanent collection is 430 Yen and varies to the temporary special exhibits.
Castle Area
As I already stated above, Osaka as a city has played a major role for the longest time and even served as Japan's capital in the 7th and 8th centuries. It actually never ceased to flourish and has become one of Japan's most important cultural, industrial, and commercial centers.
And although there are many important and impressive castles in Japan, even Osaka's castle played an important role in the country's history. Completed in 1586 during the Toyotomi era, it became the center and symbol of the newly unified and peaceful Japan of the Azuchi-Momoyama period.
However, after Toyotomi's death, the castle was destroyed by Tokugawa troops just to be rebuilt in the 1620s.
In 1665, the main tower was struck by lightning and burnt down.
The present reconstruction was built in 1931.
After major reconstruction works in 1997, the tower is now modernized and even features an elevator for a more comfortable visit to the five floors.
There is an informative exhibition on the castle's history and its commissioner Toyotomi Hideyoshi. However, the most attractive feature is the observation deck from where you have grand views of the surrounding gardens and even farther neighborhoods.
Especially local residents enjoy the castle park which spreads over two square kilometers. Here you find lawns, sports facilities, playgrounds – and about 600 cherry trees which make the park one of the most popular spots during hanami; oh well, I was there in September and loved the park just the same.
The Castle Tower can be visited every day from 9 a. m. to 5 p. m., admission fee is 600 Yen. Tickets can also be purchased from vending machines and paid by…tadaaa….credit card. Read more about this no-credit-cards-in-Japan-myth in the Cash'n'Cards section below.
Tennoji Area
Not all visitors find their way to the Tennoji neighborhood in the southern part of the city center, but when they do, they are not disappointed. There is an overwhelming variety of shopping malls and skyscrapers – and in the middle of all this modernism the probably oldest Temple of all of Japan.
Shitennōji
Although Shitennōji is said to be the first Buddhist and oldest Temple in Japan, the structures have been rebuilt over the centuries. I mentioned before that to me it is so strange that landmarks were rebuilt time and again. In Europe, normally, historic buildings are maybe renovated – but not entirely rebuilt from time to time.
Anyway, Shitennōji was founded in 593 by Prince Shotoku, who supported the introduction of Buddhism into Japan. Today, he is enshrined at the Kondo, the main hall as a statue of Kannon.
The outer temple grounds are free to enter. Only for visiting the inner precinct, the Gokuraku-jodo Garden, as well as the treasure house an entrance fee is requested.
Abeno Harukas
From superlative to superlative – from the oldest to the highest: Standing 300 meters tall, Abeno Harukas is Japan's tallest skyscraper.
It is located just across from the Tennoji Station and houses, a department store, an art museum, a hotel, and, of course, an observation deck on the three top floors 58 to 60.
However, I was mainly impressed by Tennoji's food courts, with the one at Tennoji Station being my favorite.
The displays of Yakitory skewers, Gyoza dumplings, Onigiri rice balls, Sushi in all shapes and sizes, pickled and dried produce I've never seen before – who needs restaurants after all?!
Bay Area
The Osaka Bay Area is one of these attractions I usually dislike. Just an assemblage of so-called family-friendly attractions like Ferris wheels, souvenir shops, food stands, noise, and jollies all around – terrible. Have you ever been to Fisherman's Wharf, South Street Seaport, or the Santa Monica Pier? Well, welcome to Osaka's Bay Area.
Actually, this part of the city consists of man-made waterfront islands and peninsulas. Again – Japan being an island doesn't have it easy to accommodate the sprawling growth.
So now, the district does not only host an industrial port but also a tourist area Tempozan Harbor Village with museums, theme parks, malls, and the famous aquarium.
Kaiyukan Aquarium
May I remind you of my friend Lakshmi's wise words: In every Japanese city, they have a castle, an observatory tower, and an aquarium.
Well, in Osaka, all of this is true – and all of this is even more spectacular than anywhere else.
Osaka's Kaiyukan Aquarium introduces on eight floors and 15 tanks of various forms of life inhabiting the Pacific Rim.
While the marine life of the different Pacific regions is displayed in smaller tanks, the central basin is nine meters deep.
The visit starts on the 8th floor and from there, you spiral down floor by floor around the central tank.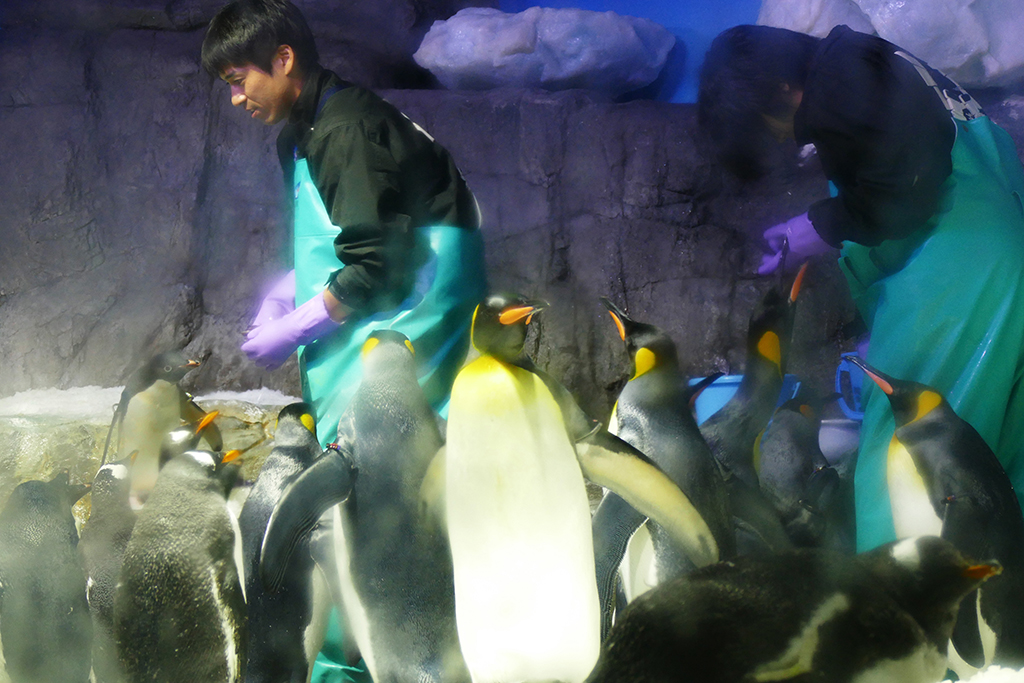 I paid around 20 bucks and waited in line for half an hour to get in. Which already tells you something about the number of people. Mostly families. Japanese families. Surprisingly noisy and pushy Japanese families. Actually, this was one of the most interesting realizations of my visit. Japanese, when excited for instance by the sight of fish totally forget about this mild smiling and sheepish bowing. It's yelling, it's pushing, it's shoving, it's the survival of the fittest. It's totally unnerving.
I only pitied the poor penguins and dolphins in their far too tiny tanks and honestly hoped they don't hear this ear-deafening noise.
Somehow, visiting animals in captivity is not for me.
Osaka Aquarium Kaiyukan
1 Chome-1-10 Kaigandori
Minato Ward
Osaka, 552-0022
Open daily from 10 a. m. to 8 p. m. at the admission of 2300 Yen.
A Side Trip to HIMEJI
I've mentioned above that had I known that Osaka is only a 15 minutes ride from Kyoto, I would have visited on a day trip. Actually, it cuts both ways – and even more: Due to its location, Osaka is a great gateway to many places in the Kansai region – whether eastwards for Nara, to the north for Kyoto, or to the west for Kobe and a bit further Himeji, no trip will be longer than 45 minutes; at least by Shinkansen.
Having visited Nara on a day trip from Kyoto where I'd stayed for four nights and having skipped Kobe altogether, my day trip from Osaka lead me to Himeji.
Himeji is about 95 kilometers west of Osaka. Therefore, you can get there by Shinkansen in about 45 minutes.
Himeji Castle
But why should you go there? Well, if you are into Japanese castles, the one at Himeji is supposedly Japan's most beautiful one. It actually is designated both a national treasure and a UNESCO world heritage site.
Although during World War II, more than 60 percent of the city's built-up areas were destroyed, the castle remained remarkably unharmed. Therefore, many Himeji residents believe the castle is divinely protected.
The predecessor of Himeji castle was built in 1333 as a fort on top of Himeyama hill. In 1346, the fort was dismantled and rebuilt into Himeyama castle and eventually remodeled into Himeji castle.
Good Toyotomi Hideyoshi, whom I mentioned above as the commissioner of Osaka castle, remodeled Himeji castle in 1581 and added a three-storey castle keep.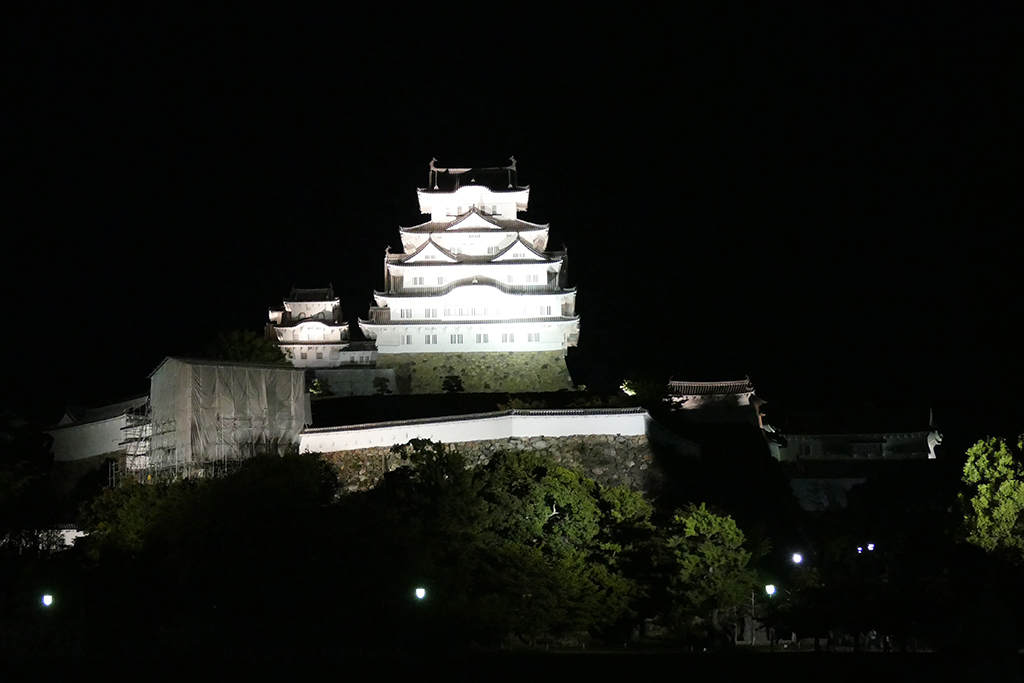 For over 400 years, Himeji castle has remained intact, even throughout the above-mentioned air raids as well as natural disasters.
Today, it is the largest and most visited castle in Japan.
Confusion
One of the most interesting features is the castle's complicated structure. To confuse the enemy – and today's visitors – the connection between individual sections is almost like a maze. You definitely should visit the castle with a map.
It's fun – but only for today's visitors – to see the holes in the castle wall for easy shooting and windows for throwing rocks at potential enemies.
Since in all honesty, the castle is the only sight worth visiting in Himeji and the train station is about two kilometers away, you can easily walk there.
However, on weekends and holidays from December to February when it's really cold, there is a castle loop bus. For only 300 Yen you get unlimited rides.
Himeji Castle
68 Honmachi
Himeji, Hyogo 670-0012,
The castle is open every day from 9 a. m. to 4 p. m. There is an entrance fee of 600 Yen, but you can visit the park and take as many pictures as you like for free.
If you are staying in Osaka for a couple of more days and have time for another day trip, you can easily visit for instance Nara, world famous mainly for gracious deer.
For more information, go to my post on Kyoto and Nara.
Practical Information
How to Get There
Since Osaka is one of Japan's most important economic spots, it's also a major hub. Once you're in Japan, it's easily accessible by various trains and long-distance buses.
However, if you are flying in, you'll land at the country's third-largest airport Kansai, located southwest of the city. There are many different options for getting to the city center by train or by bus. Duration and costs, obviously, depend on your final destination.
If you are coming to Osaka from another Japanese city, you'll probably take a train or an overland bus. Public transportation is very reliable, safe, and clean. However, it is not cheap: A one-way trip from Tokyo to Osaka on a regular Shinkansen starts at about 13,500 Yen.
Funnily, although the Station City at Kita is such a major hub, the Shinkansens do not stop here but at Shin-Osaka station north of the Yodo river. From there, local trains are leaving for Osaka every couple of minutes – and are, of course, included in the JR pass. If you don't have one, a ticket sets you back only 160 Yen.
Right next to Station City is the bus terminal, and rides for instance to Tokyo start at around 3,000 Yen – and if you are going by night bus, you even save the hotel costs.
However, the very high train ticket prices are the reason why practically every foreigner is getting a JR pass. Why locals don't? Because they are not allowed: Only non-residents are entitled to get this – by the way, still very expensive – pass for unlimited travel on the national trains.
Read more about it in my main post on Japan.
How to Get Around
Public transportation all over Japan and particularly in Osaka is just perfect: Busses and most of all the different types of trains make local travel easy and smooth.
Like in other big cities such as Tokyo and Kyoto, buying tickets is a bit tricky: Not only are there subways and buses, but there is also a local train, operated by the national company JR and therefore also included in the legendary JR pass if you have one. Unlike in other cities, public means of transportation are operated by different companies, and tickets, in general, are not interchangeable.
Since the good people of Osaka thought this was not confusing enough, they invented over a dozen different day passes. I add the link to their site here and wish you luck choosing the right one for you.
If you stay in Osaka for just one day and intend to visit some of the most iconic landmarks, the Osaka Amazing Pass should be the right choice for you: Not only do you get free access to 40 attractions, but you can also ride all those buses'n'trains as much as you like and don't have to worry about the not interchangeable tix. This pass costs 2,700 Yen for one day and 3,600 for two.
Much cheaper is the Osaka 1day pass or 2-day pass, but you have to buy it before coming to Japan since it's only for foreign visitors and is not being sold in the country. It costs 700 Yen for one day and 1,300 Yen for two, is valid on buses and subways, and includes some perks like discounted entrance fees.
Osaka and Beyond
If you are planning on visiting Kobe or Himeji from Osaka and you don't have a JR pass, you save money by getting a Kansai area pass for one and up to four days. It starts at 2,300 Yen for one day and sets you back 6,600 Yen for four. Simple? Not so fast: The prices differ – insignificantly – according to where you buy your pass. The cheapest option is to order it before coming to Japan. But then again, this way, you save only 50 Yen, anyway.
If you have a valid JR pass, you can take advantage of the JR inner city loop, a local train that stops close to basically all attractions mentioned in this post.
If you don't know what a JR pass is, make sure to check the respective chapter in my general Japan post – it might save you a lot of money!
Best Place to Stay
…in Osaka
I stayed at the RIHGA Palace* right next to the Higobashi station and within walking distance to the museums and even to the Station City – at least without luggage.
It was one of these many business hotels I'd stayed at in Japan: Relatively small, very clean room, pajamas, and slippers, toiletries including even a hairbrush and a toothbrush in the bathroom, equipped with a bathtub. Japanese like to take bathes – I like that, too. Actually, I had taken a relaxing bath every evening.
So although this hotel was nothing special, regarding its very central location and the good value-for-money ratio, it is totally recommendable.
Here you can check their rates and availability.*
Obviously, you can search for valid alternatives – for instance on this map*:
…in Himeji
However, I had also spent a night in Himeji – and actually didn't want to leave: At the Richmond Hotel*, I had a beautiful, elegant room, not only equipped with the above-mentioned Japanese standard gimmicks such as pajamas, no, they actually have a smartphone at your disposal: You can use it for free during your entire stay.
Also, the lovely ladies at the reception made me choose a nice bath additive, and the breakfast at an additional 1,300 Yen was just fantastic with many Japanese delicacies.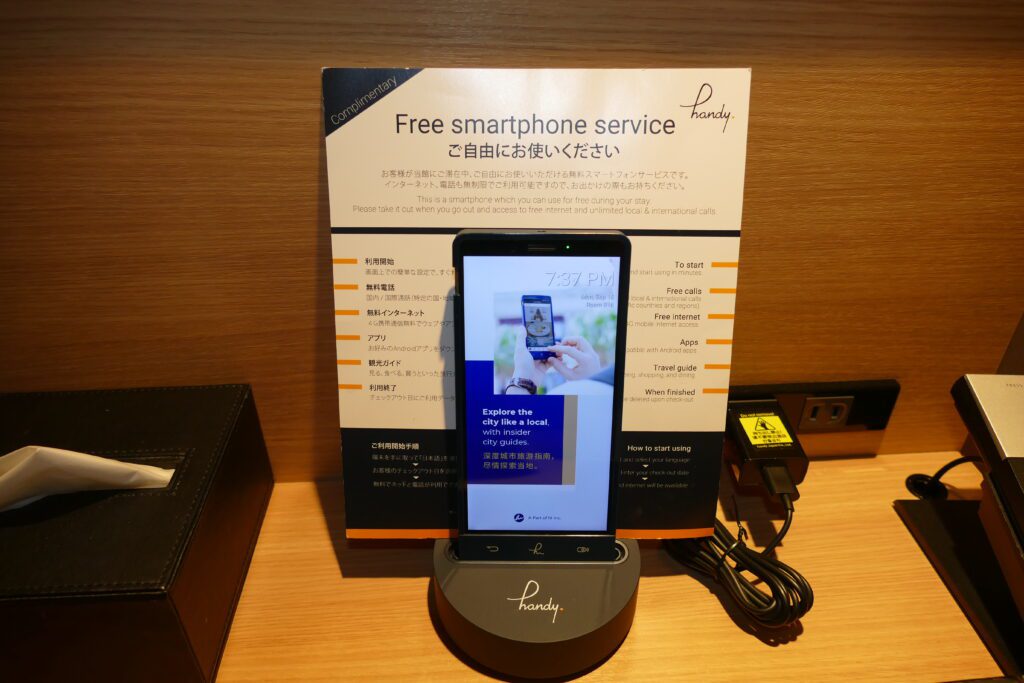 Oh – a night at this gem cost me around 30 bucks, albeit that was a special price, usually it's a bit more, but still totally worth it.
If you have the chance to spend the night at Himeji – do it….and make sure to stay at the Richmond Hotel Himeji – here you can check their rates and availability.*
In the unlikely event the Richmond should be booked out, you can search for other convenient accommodation on this map*:
* This is an affiliate link. If you book through this page, not only do you get the best deal, but I also get a small commission that helps me run this blog. Thank you so much for supporting me!
Best Place to Eat
Not having eaten at the legendary Dotonbori district is a sacrilege, I know. But when you have only 24 hours in a city as huge as Osaka, you have to set priorities.
However, I did sample Osaka's delicious food – on the evening of my arrival at a cute little restaurant around the corner from my hotel.
The joint was like an American diner, only really small and cramped. Right next to the entrance door was one of these machines where you choose and pay for your meal. You get a ticket – a meal ticket….literally. Of course, I messed up and didn't get what to do first and which button to push, so the sweet'n'pretty waitress had to come and explain what was what and I get my ticket and hand it to her. Yet again I asked myself what this machine order system is good for since you are handing the ticket to the waitress right away. So why on earth don't you just tell her what you want? Why is there this totally pointless machine involved?
The counter went around a corner, in total it seated eight people, in addition, there were four or five tiny tables. Those were for larger groups so I was seated at the counter. "Seven minutes", said the sweet'n'pretty waitress with an apologetic smile. Well, as usual, I practically hadn't eaten all day, but seven minutes – what's seven minutes?!
Behind the counter, right in front of me, two cooks were preparing the meals people ordered via the pointless machine from the waitress. I was watching them preparing the dumplings and the ramens and while watching I was listening to some serious hip-hop blaring from some invisible speakers. The whole thing seemed very un-touristy and authentic Japanese and I loved it.
Moron From Out Of Town
After what must have been seven minutes, the sweet'n'pretty waitress put two bowls in front of me and warned me that the smaller bowl containing some soup was very hot. Okie-doke.
I looked around in search of chopsticks. Next to me was sitting a young dude with cordless headphones in his ears. Without even as much as looking at me, he pulled a little box open – which was filled with wooden chopsticks. Target achieved: You made me feel like an idiot – however: arigato gozaimasu. Instead of answering me or at least acknowledging my existence in some way, with a hint of condescension, he just closed the box.
This dish was called something like dipped noodles or so, so I started to dip the cold noodles in the indeed very hot soup and then I slurped them from my chopsticks.
I found I was doing great.
I only hoped that this was the way I was supposed to be eating this meal.
About seven minutes later, I was halfway through my cold noodles dipped in very hot soup, my table-mate got his two bowls – and what did he do? He dipped his cold noodles in his very hot soup!
A bit of a relief: I ate it right.
We were sitting side by side, slurping, and intensely ignoring each other.
ramentei
1 Chome-14-12 Edobori
Nishi Ward
Osaka, 550-0002
Open daily from 1 p. m. to 2 a. m.
What to Do
I'm an avid solo-travelling woman. Normally, solo travel doesn't equal solitude, however, Japan is one of the countries where you can get lonely from time to time. You simply get less in touch with locals or fellow travellers. Therefore, I love to join organized tours here and there. This way, I get in touch with fellow travellers.
Therefore, here are some great ideas of what to do during your stay in Osaka. Especially if you have only a short time to stay, they'll enable you to make the best of it in the company of likeminded visitors*:
Cash and Cards
The Japanese currency is called Yen and it's the third most traded currency after the US$ and the €uro. The exchange rate for these currencies is 1 US$ = 147 Yen and 1 €UR = 147 Yen as of November 2022, but you can check the conversion on this page.
Contrary to all these legends about how you hardly can pay with a credit card in Japan, you actually can at basically every hotel, most restaurants, many museums and landmarks, and large stores.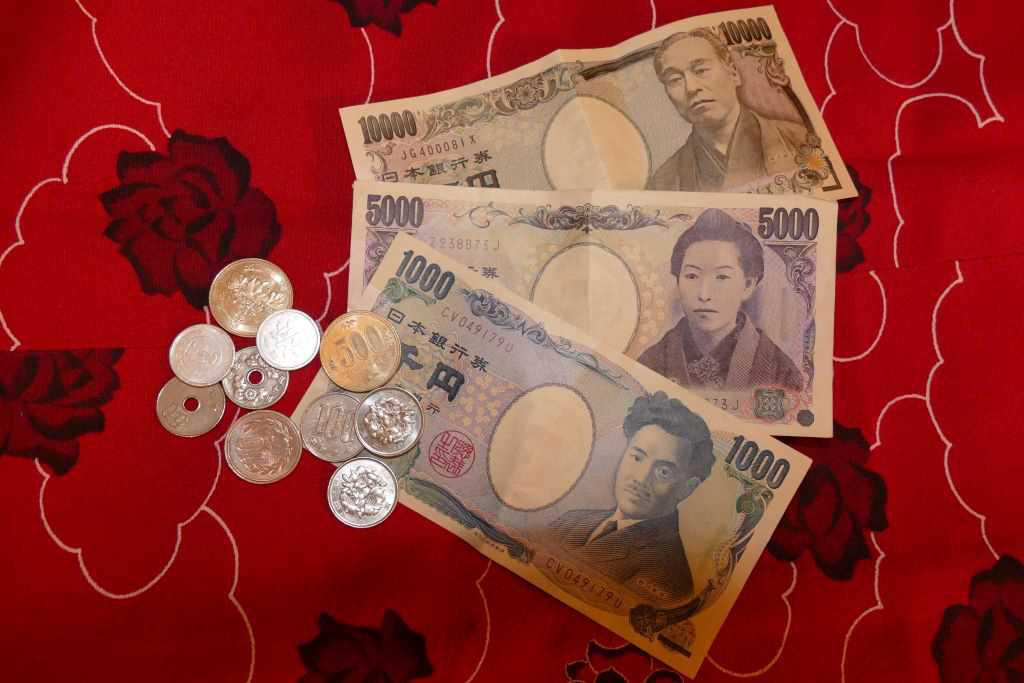 Even though there are some small restaurants, shops, and minor train stations that accept only cash, there will be a convenience store like a 7/11 or a Family Mart within a radius of ten feet where you'll find an ATM; and at most of these convenience stores, you can also pay with your credit card.
Misleading Legends
However, many guidebooks claim that your trip will be much more complicated if you don't get a Suica or Pasmo card. Although I'm a sucker for local cards – I got loyalty cards on many of my travels since it made me feel so….local – I managed to spend three weeks in Japan and never found myself in a situation where I needed one. I either bought a day pass or paid by credit card. Also, I made sure to have enough small change which really was no biggy.
Advertising that you get a discount on your tickets is ridiculous as the amount you actually save is between €0.01 to around €0.08 on a trip in Tokyo. So how much do you need to travel to save a significant amount of money?!
However, at least they canceled the 500 Yen deposit for tourists. Since September 2019, there has been a deposit-free Welcome Suica card which is valid for 28 days. The card is available with different pre-loaded amounts ranging from 1,000 to 10,000 Yen.
Language
I've heard that Japanese people speak almost exclusively their mother tongue. I was completely freaked out before going to Japan, downloading language apps, and trying to memorize some Japanese signs. I was afraid of losing my way and never making it back to Europe.
The fact is, most people really have a quite rudimentary knowledge of English. You can slowly and clearly ask for things or direction and people will probably get what you need and find a way to help – even if they cannot actually answer you. Most importantly, many announcements at stations, trains, etc. are also in English. Signs at airports, stations, trains, subways, hotels, and all touristy places are also in English.
Interestingly, it was at an economic major player like Osaka where I encountered the least translations in public places and the most people with hardly any knowledge of English. Even the ladies at the tourist information below Umeda station spoke really poorly.
Therefore, in Osaka, having a knowledge of some Japanese words is not just a courteous gesture but can actually help you. However, my command is limited to good morning – ohayo gozaimasu, hello – konichiwa, good evening – konbanwa, and thank you – arigato gozaimasu, and I did not get lost.
However, be prepared for less talking and more pointing.
Map
You'll find all the wonderful places mentioned in this post on this map:
Do you want to read about all the other beautiful places I've visited in Japan? Then go to the main post and take your pick!
Before you go, you might want to check out my post on What (not) to pack for JAPAN. It will make your packing – and consequently your luggage – so much easier.
Also, there is a post on How (not) to behave in JAPAN. There you'll learn about the most important rules so you won't stand out like an ignorant tourist.
Pinnable Pictures
If you choose to pin this post for later, please use one of these pictures.
Note: I'm completing, editing, and updating this post regularly – last in November 2022.
Did You Enjoy This Post? Then You Might Like Also These:
* This is an affiliate link. Hence, If you book through this page, not only do you get the best deal. I also get a small commission that helps me run this blog. Thank you so much for supporting me!