Let me guide you to Ica, unjustly, mostly considered a gateway to the desert and artificial oasis of Huacachina which is a major tourist attraction.
Nonetheless, Ica itself has a handful of landmarks. Most of all, it gives you the chance of experiencing a Peruvian town out of the tourist hot spots.
Ica
Ica is a middle-sized, busy city around 300 kilometers south of Lima and home to almost 300,000 inhabitants. It is surrounded by fertile areas. Hence, the cultivation and export of asparagus, date palms, pecan nuts, cotton, mangoes, avocados, and many other products are important economic factors.
But most importantly, Ica is the center of Peruvian wine-growing – Perú's signature liquor Pisco is distilled from grapes, after all.
Obviously, the area was inhabited long before Spanish conqueror Geronimo Luis de Cabrera founded a town here in 1563. Traces can be found from the Incas, but also from pre-Inca ethnicities like the Paracas.
Today, Ica is most certainly not the greatest place in all of Perú. It's average Peruvian and when travelling, I enjoy average from time to time.
Plaza de Armas
However, there are some nice spots in Ica like the buildings and restaurants around the Plaza de Armas or the Avenida San Martin.
The most important building at the Plaza de Armas is indisputably Saint Jerome Cathedral. The construction dates all the way back to the 18th century. Re-designed in 1814, it flashes a neoclassical style. Inside, however, it is baroque.
During the earthquake in 2007, the cathedral was severely damaged and eventually thoroughly renovated.
While the entire Plaza de Armes is surrounded by exquisite colonial architecture, the Casona del Marqués de Torre Hermosa, also known as Casa Bolívar, is one of the finest examples. The house was built during the time of the Viceroy of Spain in an exquisite Rococo style. It became most famous since it's here where Simon Bolívar laid his hat head as he visited Ica in 1825. Ten years later, in 1835, the Casona was decked out to receive another illustrious figure, namely general Felipe Salaverry, Perú's 13th president.
A Museum Not To Miss
Not to be missed is the Museo Regional de Ica Adolfo Bermúdez Jenkins where you get introduced to all aspects of the ancient cultures and supplied with background info on the Nazca lines.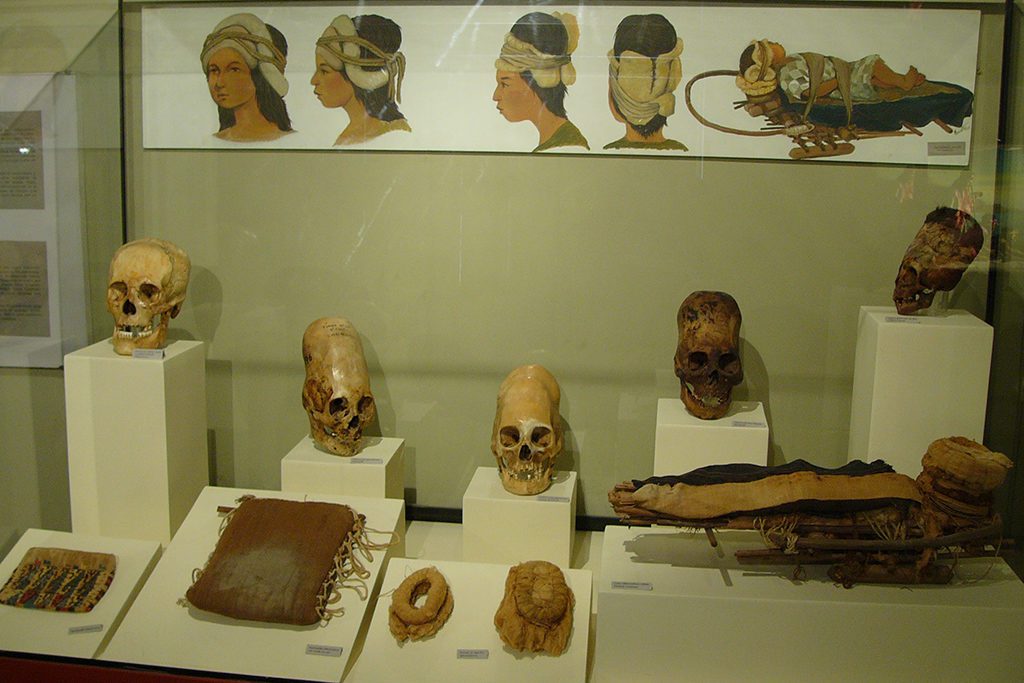 You find an extremely interesting collection of various artifacts, ranging from pre-Colombian to colonial exhibits. But the most striking exhibit is undoubtedly the vast collection of mummies and other human remains. For instance the grotesquely conic heads of the Paracas. This elongated appearance of the head probably symbolized an elitist affiliation.
The Next Best Thing To The Nazca Lines
In the museum's backyard is a really good mockup of the Nazca lines. If you go to see the real Nazca lines, you won't really need it. Since I didn't, this was a good alternative.
There are actually three reasons why I skipped the famous phenomenon of Nazca:
Flying over the territory costs a lot.
They fly you round and round in loops so that everybody gets a good look for the lot they paid. And many people also get sick from those loopings.
There is an unattractive alternative. A bus drops you off at a place where there is a ladder 12 meters high. For others, this might be no biggie. But I'm suffering from acrophobia, so I'm definitely not climbing on ladder constructions the height of a four-storey house.
Hence, no real Nazca lines for me.
While looking at the museum's lines, you are standing on a concrete bridge and look down at them from maybe 3 meters – Hola, Nazca!
The museum is one of the most interesting things to see in Ica.
Otherwise, it's also nice to just walk around a bit, having a snack and a drink overlooking the Plaza de Armas instead of constantly being overwhelmed and awing.
But yes, most visitors come to Ica to continue to the Huacachina Oasis. Actually, by cab, it's only about ten minutes.
Laguna de Huacachina
Huacachina is composed of two Quechua words: Wakay meaning to cry and china translating to young woman.
There are several variations of a legend of a beautiful Inka princess. Men wanted her for her good looks, but she remained oblivious to their advances. One day, as she took a bath in a secluded place, she realized that a man was observing her. Scared, she ran away, but her clothes got entangled in a tree and became dunes. Don't ask me how that's even possible, I'm just telling the story, I didn't invent it.
So, anyway, she kept running, but she tripped and broke her mirror into pieces. These became a lagoon where the clumsy maiden submerged herself and became a mermaid.
Built On Sand
Anyway, the Huacachina lagoon is an oasis five kilometers west of Ica. The green-colored waters arose due to the outcrop of underground currents. Around the lagoon is lush vegetation of palm trees, eucalyptus, and carob tree species.
Initially, the mild, warm climate prevailing throughout the year and the healing property of the water, formerly rich in sulfur and salts transformed Huacachina into one of the most important and exclusive resorts in the 1960s.
Today, however, Huacachina caters mainly to the younger backpacker crowd who enjoys rolling in the sand of the surrounding dunes.
You can hike through the sand or – much easier – slide it down on sandboards. Sand jeeps drive their passengers in wild hazardous circles up and down the dunes like a roller coaster.
Around the lagoon is a lovely boardwalk. There are cozy restaurants and bars. Hence, hanging out for one or two days out here can be very relaxing.
Practical Information
How to Get There
Getting to Ica is really easy since it's one of the touristy hotspots among the younger crowd. There are various public buses leaving every day from Lima.
If you leave Lima early enough, you can make a stop at Paracas to visit the Islas Ballestas and possibly tour the desert. In this case, however, you'll get to Ica probably only in the evening.
From Ica, you can continue further south to Nazca to see the famous lines. Or you can take the night bus all the way to Arequipa.
Also, the oasis of Huacachina is on the PeruHop-tour. They bring you straight there – whether you are doing the trip going south or up north.
How to Get Around
Obviously, there is public transportation in Ica such as buses but mainly the cute moto-taxis. However, the area you will probably visit – which would be the Plaza de Armas and the Museo Regional de Ica are within walking distance from the bus terminal.
To get from the Ica bus terminal to Huacachina, a cab will charge around five bucks if you get a cab on the premises. If you walk outside and hail a cab on the street, you will pay two to three USD. The ride takes about 15 minutes.
Once in Huacachina, each accommodation and every restaurant will be willing and able to arrange any of the desired sand activities.
Apart from Machu Picchu, many activities can be booked sometimes spontaneously and a bit cheaper on the spot. However, if you want to make sure to join a certain activity or tour on a specific day, you might want to pre-book*:
Where to Stay
Hardly anyone does spend the night in Ica. However, if you do so, you'll certainly get a far better deal than sleeping in Huacachina. Nevertheless, you have to add the taxi fare to your expenses if you then go to the oasis.
Nevertheless, here are other options for where to stay in Ica*
Amazingly, there are still two survivors of Huacachina's gilded times. The DM Hoteles Mossone*, which was built in the 1920s and used to be the favorite place of President Augusto B. Leguía y Salcedo. Then, there is the Hotel Salvatierra, a favorite place for artists such as Sérvulo Gutiérrez. His paintings are decorating this accommodation's walls.
Here you find these and other lodging options in Huacachina*:
Where to Eat
There are many restaurants around the lagoon, however nothing really thrilling. Most of them cater to the international backpacker crowd, so it's burgers and pizza and the like.
What to See
I'm an avid solo-travelling woman. Since solo travel doesn't equal solitude, I love to join organized tours here and there. They allow me to meet fellow travellers – for just a short moment or a lifelong friendship.
Therefore, here are some great ideas of how to visit the dunes of Huacachina in a safe and fun way in the company of cool fellow travellers*:
Cash And Cards
Although Huacachina is a very touristy place, not every business takes credit cards. And not every credit card works. Also, there is only one ATM in Huacachina. It's at the Huacachinero Hotel* and has a bit of a reputation for not working so well and running out of cash on a regular basis.
In Ica, there are banks and ATMs – one right at the Plaza de Armas.
Language
Yes, Perú is a South American country once conquered by the Spanish, and Castellano is spoken to this date.
Since Huacachina is one of Perú's tourist hotspots, everyone has a quite good command of the English language. In contrast to Ica where most people have rather rudimentary knowledge.
Be it as it may, it's always a courteous gesture to learn at least some basic vocabulary when visiting a country. Therefore, you might want to brush up on your Spanish on babbel.
Ica and Huacachina were only two of the truly amazing places I've visited in Perú. To read about the others, go to the main post and take your pick! There, you'll also find further relevant information on money, communication, and more.
Pinnable Pictures
If you choose to pin this post for later, please use one of these pictures:
Note: This post is being regularly completed, edited, and updated – last in November 2022.
Did You Enjoy This Post? Then You Might Like Also These:
* This is an affiliate link. If you book through this page, not only do you get the best deal. I also get a small commission that helps me run this blog. Thank you so much for supporting me!