Home of the sixth busiest industrial port in the world next to one of Korea's most beautiful beaches. Around 3.5 million inhabitants are cradled between lush hills dotted with ancient Buddhist shrines. Tradition embracing modernity: The number of things you can do in Busan will make your head spin, and therefore, I put together a perfect itinerary for how to spend three memorable days in the city.
I knew I would like Busan. Why? Because it is a port city, and I have a soft spot for hard ports. Not for these polished marinas where the nouveau riche wrap Lacoste sweaters around their shoulders and make sure they don't soak their expensive leather slippers when hopping on their yacht.
No, I like industrial ports. I like Liverpool, Rotterdam and Marseille. It should smell of oil, soot, salt, and tar instead of expensive cologne. I want to watch dock workers in oil-stained coveralls cursing and spitting over the railing. I want to sit on the dock of the bay wasting time.
The port of Busan is the sixth largest in the world.
I knew I would like it.
Busan
After the capital Seoul, Busan is the second largest city in South Korea and is located in the southwestern part of ​​the Sea of ​​Japan on the Korea Strait.
In 1876, the Ganghwado Treaty forced Korea to open major ports to Japanese merchants. This inspired also other nations to establish commercial connections as well as diplomatic relationships. Obviously, Busan's strategic significance and economic power increased dramatically. Also, Japan significantly expanded the city during its occupation of Korea. Mind you, in the 1930s, almost half of Busan's population was of Japanese descent. Between 1911 and 1916, not only did they build the eastern harbor. They also installed factories and therewith, residential areas.
During the Korean War, Busan was one of the two metropolises that was never occupied by North Korean troops. Actually, as Seoul was defeated, Busan became the temporary capital of South Korea. Also, the population grew rapidly due to refugees streaming in from occupied territories. To this date, Busan is one of the country's leading industrial cities. But it's also famous for its momentous cultural activities. UNESCO included Busan as a City of Film in its Creative Cities Network in 2014. Not least because an influential International Film Festival has been taking place in Busan since 1996.
Three Days in Busan
One would assume that in the age of the Internet and Google Earth, travel mishaps are a thing of the past. Charmingly, the earth is still a living organism that, even with perfect planning, holds some minor surprises for globetrotters.
When I organized my trip through Korea, I chose the accommodations also based on their location. In Busan, I found a great hotel at a fairly reasonable price. It was a little outside the city center in the far west and, therefore, basically on the opposite side of all major sights. Those are mainly located in the east of the city.
But the map showed that the bus terminal was just across the street. That's an advantage one shouldn't underestimate. This way, I was free to plan my arrival and departure because all I had to do was cross the street. Right?
Well, not quite.
The bus terminal shown was indeed just opposite the hotel. What the map unfortunately did not reveal was that it was the terminus of the city buses. The long-distance bus station was about an hour north in Busan's Nopo district. Thus, my hotel had the disadvantage of being quite far away from all the sights, but at the same time, it didn't have the advantage of being convenient regarding transport.
Like in most Korean cities, landmarks in Busan are quite far apart from each other. My unfavorable starting position certainly added about half an hour to the journey to the city center. But even if you stay centrally, you won't be able to avoid trips of around 45 minutes.
Therefore, I tried to organize my itinerary in a way that you don't have to travel back and forth.
This saves you time, which you can invest in visiting all the fantastic sights.
Day One: The Basics
Nampo
Nampo is Busan's central commercial and shopping area and for many reasons, the perfect place to dive into the glories of Busan. Apart from being an amazingly bustling neighborhood, it also connects the two halves of the city and is also the gateway to the southern island of Yeongdo. There is easy access to the city's bus and subway network. Then, you can explore the area easily on foot.
Although the fantastic shopping and dining opportunities in the Nampo neighborhood attract many tourists, the district managed to keep its authentic vibe. If you are looking for some genuine Korean everyday experience, come to Nampo!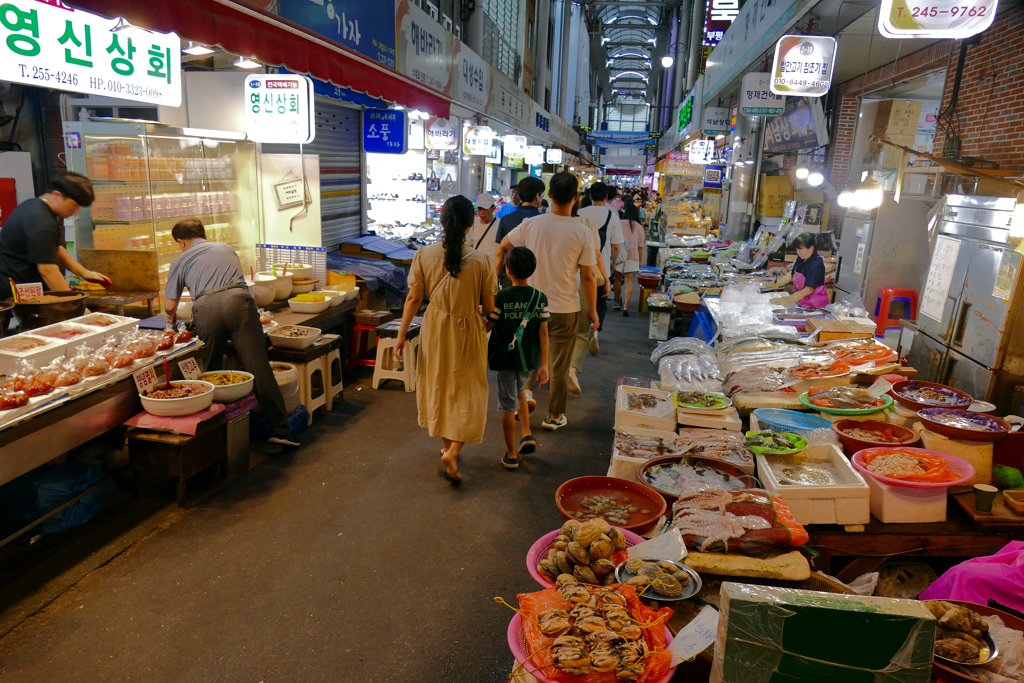 From the main street Daecheong-ro, parallel streets run southwards to the waterfront. They are lined with an incredible variety of market stalls, shops, restaurants and cafés. Here, the hustle and bustle is a feast for all the senses. There are various vibrant covered market complexes where you can purchase fresh produce and spices, but also clothes, accessories, cooking utensils, and much more.
Bookworms
Before you continue south to the famous BIFF street, you should definitely pay the Bosu Book Street on the northern side of Daecheong-ro a visit. Despite Amazon and Kindle, printed books are impressively cherished in Korea. You'll find many beautifully designed stores and even entire streets lined with nothing but bookshops.
If you want to know more about this magnificent relic from ye olden days, check out my post about the Best And Most Beautiful Bookstores in Seoul.
On the southern border of Nampo District is the legendary Jagalchi Market, a treasure trove when it comes to freshly caught seafood. But since it is the perfect place to grab some lunch, let's explore the area a bit more first and then come back here later.
Yongdusan Park
Located on a hill to the east of the shopping and market area is Yongdusan Park. Not only is it a pleasant greenery. It was also the venue of historical events, especially in the 20th century.
However, one of the most significant monuments in the park is the statue of Admiral Yi Sun-sin, famed for his victories against the Japanese navy during the Imjin War in the 16th century. If you've been to Seoul before, you've probably seen him standing tall in the Gwanghwamun Square. Well, in Busan, he's overseeing things from the forecourt of the Diamond Tower.
Every Saturday at 3 p.m., Yongdusan Park turns into a festival venue. Then, traditional art performances take place in the park, but young K-Pop talents also get a chance. In fact, hardly a day went by on my trip through Korea when I didn't witness a quirky and memorable performance by aspiring what you might call talents. Whether it's the young BTS emulators in Seoul's Hongdae district or the aspirants at the open-air Korea Has Talent Show in Jeonju's Deokjin Park belting out Korean hits with deafening fervor – there's always something performatively going on in Korea.
Diamond Tower
The Yongdusan Park's most striking feature, however, is the Diamond Tower. The tower, which goes also by the more obvious name Busan Tower, is a 120-meter-high building that was opened in 1973.
Contrary to many other towers, it was constructed exclusively as an entertainment landmark and is therefore not equipped with any transmitting gear. It has a viewing deck consisting of two levels of which only the upper one offers panoramic views towards the south.
While you can see the surrounding districts and the industrial port, there is no 360° view which might be disappointing to some visitors. I'd say that the views from BUSAN X the SKY that I'll introduce below are far more impressive in general. However, the view of Busan's industrial port and the adjacent areas is much nicer from the Diamond Tower. Also, keep in mind that the entrance fee to BUSAN X the SKY is about twice as high.
The Diamond Tower can be visited every day from 10 a.m. to 10 p. m. and the general admission is a modest KR₩ 12,000.
40-Step Culture Street
Around 1407, the current Choryang area became a Japanese residential area called Weigwan. At that time, there were only a few Japanese residents there. However, toward the end of the 19th century, the number increased rapidly.
The horrors of the Korean War drove many refugees into Busan. Most of them settled in the hilly Donggwang-dong area. Since at that time, there were hardly any means of communication, the area around the 40 steps was a vital point for reunification of the separated families. Therefore, this neighborhood is a vigorous symbol of great joy but also deep sorrow among Korean War refugees.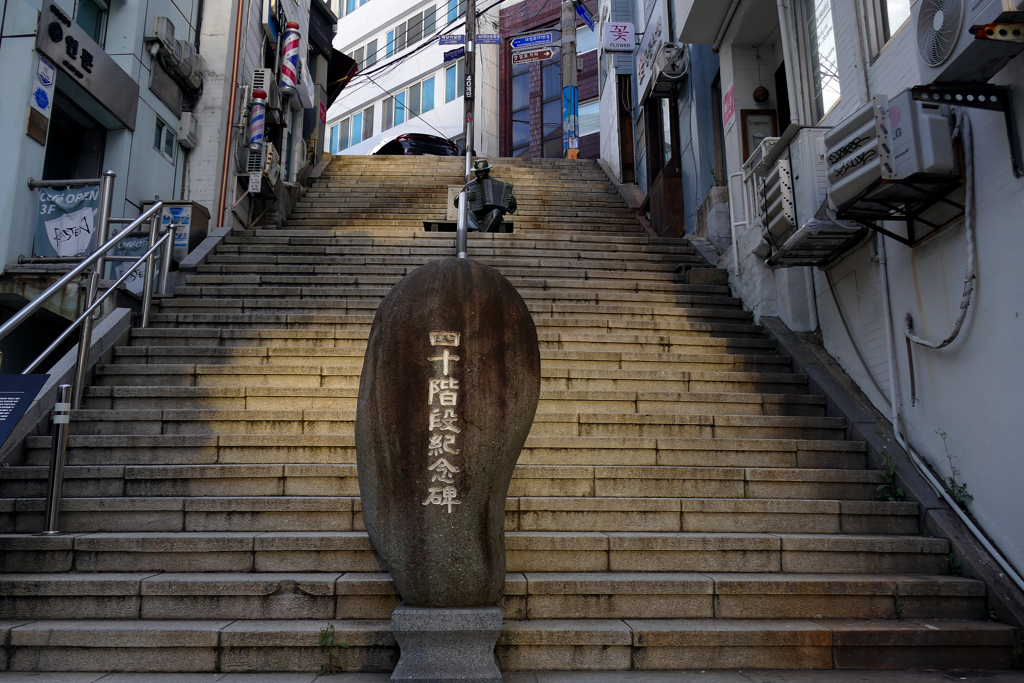 In recent years, the neighborhood has been remodeled and gives you an emotional glimpse into past-war life in Busan. Sculptures represent scenarios of the everyday life of working-class Koreans in the mid-20th century.
Yet, the 40 steps remain the most emblematic symbol. About halfway up is the sculpture of an accordionist
To learn more about the destiny of Korean refugees during the Korean War, you can visit the 40 Steps Memorial Hall on the 5th floor of the Donggwang Dong office building free of charge.
Jagalchi Fish Market
Now back to the Jagalchi Fish Market. It is the largest fish market in all of South Korea and a perfect place to grab lunch.
The market's name derives from jagal, which translates to gravel, as pebbles used to cover the area. Anyway, the Jagalchi Fish Market is also one of the most significant landmarks of Busan and a must-see for every visitor.
Apart from all kinds of fish and shellfish in incredible quantities, they also sell dried squid, anchovies, and other seafood. The market is infamous for its female vendors, the so-called Jagalchi Ajumma. While Ajumma seems to describe innocently a middle-aged woman, the real meaning behind this term can be terrifying.
Ajumma
While Ajumma originally described an elderly married woman, the term now refers primarily to a specific type of older females. You'll recognize them by their perms under sun visors, floral leggings and down jackets. Most often, they are pushing a shopping cart. Usually, farmers' markets and public transportation are their combat ground. This is where they rule, and it's best to make sure you don't cross them – literally and metaphorically.
If an Ajumma wants a seat on the bus or train, she'll get it, be sure. If she has chosen a particular commodity at the market, you better give it up without resistance and simply take another. After all, according to ancient records, an Ajumma beat a tiger with her bare hands during the Joseon Dynasty.
But where does this raging energy come from? Well, Korean children are taught a certain level of toughness and perseverance from an early age. In addition, girls and young women in Korea are degraded and discriminated against with a shocking level of guilelessness. At an advanced age, the Ajumma is finally coming into her own – and perhaps even taking a little revenge for the years of oppression in her family and society as a whole.
Now, let's get quickly back to the Jagalchi Market. Every autumn, it hosts the so-called Jagalchi Festival. Despite the festival's gripping slogan Oiso! Boiso! Saiso! which translates to come, see, and buy, visitors can do much more than just purchase. It wouldn't be Korea if there wasn't extended singing and dancing. Also, you can participate in catching fish and sampling all the delicacies the ocean has to offer, obviously.
Gamcheon Culture Village
I don't particularly like comparing things – and that includes places – to each other. Everything has its justification, you don't always have to weigh everything. It's unnecessary. But what I really can't stand at all are those pointless equations with iconic places. Any city that has more than one canal becomes the Venice of…whatever. A building with more than five floors turns a provincial town into the Manhattan of…I don't care what. And when a district in a Korean metropolis is called Santorini or even Machu Picchu just because it isn't as flat as a potter's wheel, that's simply stupid.
So before you get seriously disappointed: Gamcheon doesn't bear the slightest resemblance to those two legendary places. The only thing they have in common is that they are built on a slope. By the way, these are all Korean daldongnae, the so-called moon villages. They all were poor working-class neighborhoods built on the steep slopes of hills.
Now, Gamcheon Village was mainly erected in the 1920s and 1930s. This way, workers didn't have to live right at the port. Nevertheless, they were close enough to their workplaces.
Eventually, around 800 families moved to the village in the 1950s. As a matter of fact, up until the 1970s, there were only wooden houses in the neighborhood. It was only around the late 1980s that tenants began to construct concrete houses with more than just one storey. Nonetheless, in general, the living conditions in the village remained precarious.
Tables Turn
Then, in 2009, the Ministry of Culture, Sports and Tourism initiated improvement measures. As in other Korean cities, too, efforts were made to enhance the village through artistic activities. Artists and art students, as well as residents, came together to repair damage and paint stairs and walls.
The village was upgraded first with some plaster and fresh paint, then later with improved infrastructure. Stores and galleries moved into abadoned houses. More unique installations were added. Gamcheon became one of the most colorful and artistic places in Busan.
This way, the village has become one of the most visited tourist attractions in the city.
But is that a good thing?
Well, the villagers see the tourist onslaught differently. While some of them are taking part in the remodeling and trying to profit from the tourist crowds, others have actually decided to sell their houses and leave Gamcheon for good.
I don't blame them.
When I visited Gamcheon in the late afternoon, the more comfortably accessible streets and alleys were packed with foreign visitors. At certain murals, tourist were standing in line to have their picture taken. The whole experience had a natural-born theme-park vibe to it.
Gamcheon is nice, but it has lost its purity.
I visited other daldongnae on my tour through Korea that had a far more authentic vibe to them. By the way, also in the very city of Busan – you'll find them mentioned below.
If you prefer getting to know the Village and all its secret spots with a small group of like-minded folks, I recommend you book a guided tour*.
To learn more about Korea's Culture Villages in different parts of the country, just go to my post Culture Villages in Korea: Real People, Real Art
Day Two: The Icons
Haeundae Beach
When Haeundae Beach opened in 1965, it was the largest beach in the entire country. It is located east of the city center and stretches almost 1.5 kilometers. As the bustling Haeundae District is right behind the beach, you'll find tons of shops, dining options, and all kinds of entertainment. For instance, there is the Sealife Busan Aquarium and there is an amazing water park including a SPA. Although it is quite expensive and every little bit is charged extra, I'll make sure to visit it on my next trip to Busan. Not only does it have a wet and wild area, it also houses a Jjimjilbang, hence, a traditional Korean SPA. You can learn more about this very Korean experience in my post All You Need to Know Before Visiting a Korean Spa.
Throughout the year, various festivals and celebrations are held in the Haeundae Beach area. If you come in January, make sure not to miss out on the so-called Polar Bear Club when very hardboiled folks bathe in almost freezing water.
Since 1996, the famous Busan International Film Festival is taking place every year in the fall, either in September or in October.
Busan X The Sky
As a loyal reader of my blog, can you count how many times I have emphasized that I suffer from a terrible fear of heights? I can't remember how many great activities I've skipped because they were more than 10 feet above the ground.
Something happened. I don't know what it is, but in any case, my fear of heights seems to be decreasing. I can get on cable cars without holding my breath and have a mini heart attack every time a fellow passenger makes an abrupt movement. And apparently, I can suddenly climb some of the tallest towers in the world – and even stand at windows and look down. Miracles happen. And because I don't just survive visits to high viewing platforms these days, but actually enjoy them, I climbed as many towers in my three weeks in Korea as perhaps I have in the last ten years.
And one of the greatest ones was Busan X The Sky.
Busan X The Sky is an observatory on floors 98 to 100 of the so-called Landmark Tower. Built in 2019, this tower is the tallest building in Busan and the second tallest in Korea. The highest one is the Lotte World Tower in Seoul, obviously; and yes, I climbed that one, too.
Nevertheless, the Busan X The Sky prides itself on housing Korea's largest observatory. Also, the almost 412 meters tall building houses the highest Starbucks branch in the world. On the 99th floor is also a fine dining restaurant cleverly named Sky 99, go figure.
The Sky's the Limit
Unlike the Diamond Tower, Busan X The Sky offers breathtaking views in all directions through its floor-to-ceiling windows. In addition to the views, there are also some attractions and gadgets spread across the three floors.
For example, on the 98th floor, you can walk across the so-called Shocking Bridge. This is a few meters of glass floor above Haeundae beach. Scary cats like me squeeze past it sideways over the interior paneling and avoid looking down.
Then, you can stand on the so-called Sky Gate, a ladder that makes it look like you're climbing into the sky in your photos. A Sky Garden is the only part of Busan X The Sky where you can go outside. Also, there is an X The Sky sign and some photo zones for great souvenir photos.
Even the restrooms have floor-to-ceiling windows, allowing for remarkable views while you do your business. After dark, it is advisable to lower the blind when using the toilet, because then you can not only look outside but also peep into the illuminated rooms.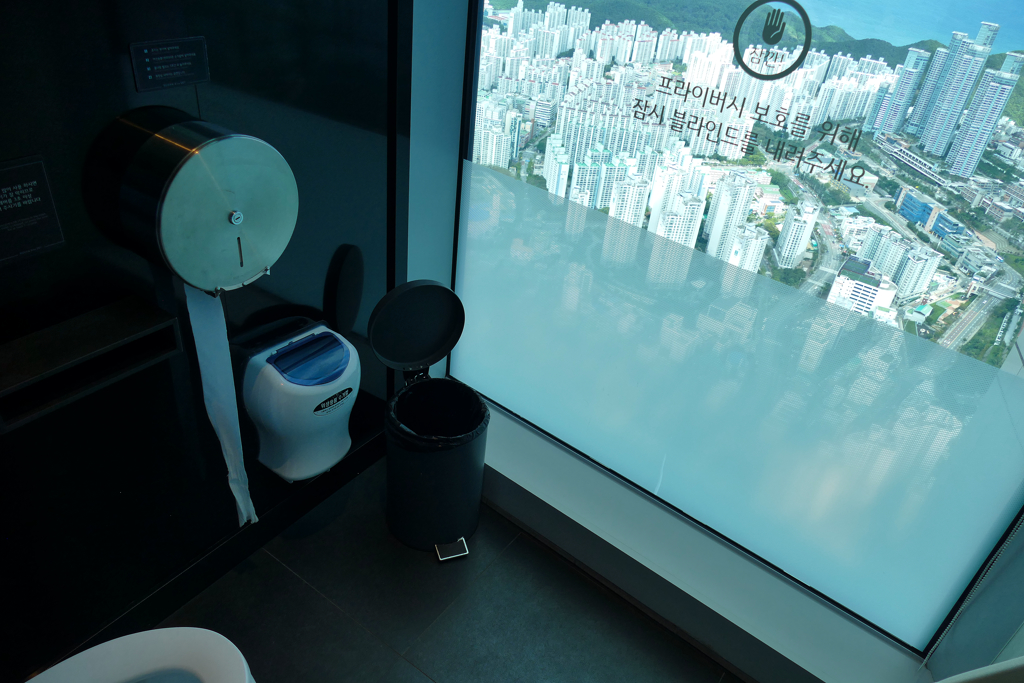 Cozy seating areas invite you to enjoy the view for a little longer. Why not grab a coffee at the highest Starbucks in the world? Alternatively, you can dine luxuriously at the Sky 99 Grill and Pasta Restaurant.
The observatory is open year-round from 10 a.m. to 9 p.m. The general ticket costs KR₩ 27,000, but there are many options to get a discount. For instance, I got a significant discount as I showed proof of a hotel reservation in Busan.
Sky Capsule
When you see the unmanned sky capsules gliding effortlessly alongside the waterfront between Mipo Station and Cheongsapo Station, it's hard to imagine that these tracks once were part of the rotting Donghae Nambu railway line. This railway line first opened in 1935 and connected Busan to Ulsan, Gyeongju, and Pohang. In 2013, it was closed down in favor of more convenient means of transportation.
Since its renovation in 2020, the facility has become one of the most popular attractions in Busan. There are two different modes of transportation: the capsules and the Haeundae Beach Train, the world's first battery-powered train.
The route is around 2 kilometers long and runs along a charming coastal promenade. This wooden walkway is an excellent addition – or alternative – to the two tracks.
Nevertheless, a ride on the Sky Capsule is certainly a unique experience. You have the choice of travelling just one route or choosing a round trip. If you only go one way in the capsule, you can take the train back or walk.
At a leisurely speed of 5 kilometers per hour, the Sky Capsule Busan offers passengers plenty of time to enjoy the breathtaking views along the coastal route.
Make sure you know where you're starting. Most guidebooks I've seen only list Mipo Station in Haeundae Blueline Park, assuming everyone starts there.
Nevertheless, if you are a solo-traveller and want to explore the Coastal Wonders including the Sky Capsule, I recommend you book a guided tour*.
Solo in Korea
What makes this 30-minute trip even more special is that the capsules only accommodate up to four people. Larger groups therefore have to split up. For us solo travelers this means once again that we have to pay a lot more. Since you have to take one capsule, you automatically pay for two people.
At this point, I have to complain again about how little Korea is prepared for visitors traveling alone. Not only was I firmly turned away from some restaurants when I tried to eat alone, I was also barred from attending attractions unless I was willing to pay a significantly higher price. The relative safety makes Korea a good country for female solo travelers. The lack of understanding and inflexibility towards visitors travelling by themselves, however, puts this advantage into a poor perspective.
The capsule tickets are sold as one-way tickets only so if you want to do it round-trip, you need to purchase one-way tickets for each leg. Ticket prices for the Sky Capsule Busan start at KR₩ 35,000 one way for two passengers – or one disadvantaged solo traveller. The train costs KR₩ 7,000 one way respectively KR₩ 12,000 roundtrip per person.
Day Three: The Specials
Haedong Yonggung Temple
Haedong Yonggung Temple is a Buddhist temple complex on the eastern outskirts of Busan. The temple was reportedly first built in 1376 during the Goryeo Dynasty. The sprawling temple complex is one of the few in Korea that sits directly on the sea.
On the right side is the uniquely designed Buddhist shrine Gulbeop in a cave. In front of the main Daeungjeon shrine, there is a three-story pagoda with four lions, which symbolize the feelings of joy, anger, sadness, and happiness.
Other special features include the 108-step staircase lined with stone lanterns that lead down from the entrance to the temple complex. And later, by the way, back up again. But you can stop at any time to listen to the regular sound of the waves and enjoy the wonderful view.
Since the facility opens at 5 a.m., real connoisseurs come here early in the morning to welcome the new day at sunrise. But keep in mind that Haedong Yonggung is a good hour away from the city center. However, a visit to Haedong Yonggung is free of charge, and the premises are open until sunset.
A visit is particularly worthwhile in April, as the cherry trees are in full bloom. On the occasion of Buddha's birthday, countless paper lanterns are hung up, which offers a truly magical sight, especially after dark. If you also want to come to Buddha's party, it's best to arrive in May. However, unlike us secular people, Buddha's birthday is a moving holiday. It will be celebrated on the 15th in 2024, on the 5th in 2025, and on the 24th in 2026.
Busan Museum of Art
When I consider that there are city trips where all I see of the city as such are the paths between art museums, my trip to Korea was a kind of art detox. As part of a very strict museum diet, I actually only visited this one art museum in Busan.
Although part of the main building was closed due to the construction of an upcoming exhibition, the visit was absolutely worth it. A participatory exhibition Many People by Korean artist Gimhongsok took place on the ground floor. With this project, he twists the well-known exhibition system.
In the entrance area, the artist presents wonderful sculptures made of styrofoam. Although the shapes are roughly worked, they still exude something delicate and worth protecting. The artist, who was born in Seoul in 1964, where he continues to live after studying in the German city of Düsseldorf, chose Styrofoam for these works because of its weightlessness and since it's considered a perishable material. Hence, he introduces the material for its existence ignoring its typical usage.
However, the most important part of this show for Gimhongsok is that visitors to the museum create their own works by individually assembling pieces cut into large or small shapes. It's not about criteria like right or wrong. The idea is to create something that you might call art. Or you don't, whatever you prefer. And it's about discovering unexpected beauty.
New Order
Busan Museum of Art opened in 1998 to provide a space for modern and contemporary artwork and make artistic development more accessible to the general public. Therefore, the gallery displays art of various genres. In addition, they organize great educational programs. One of the museum's main events, however, is the biennale art festival, taking place in even-numbered years.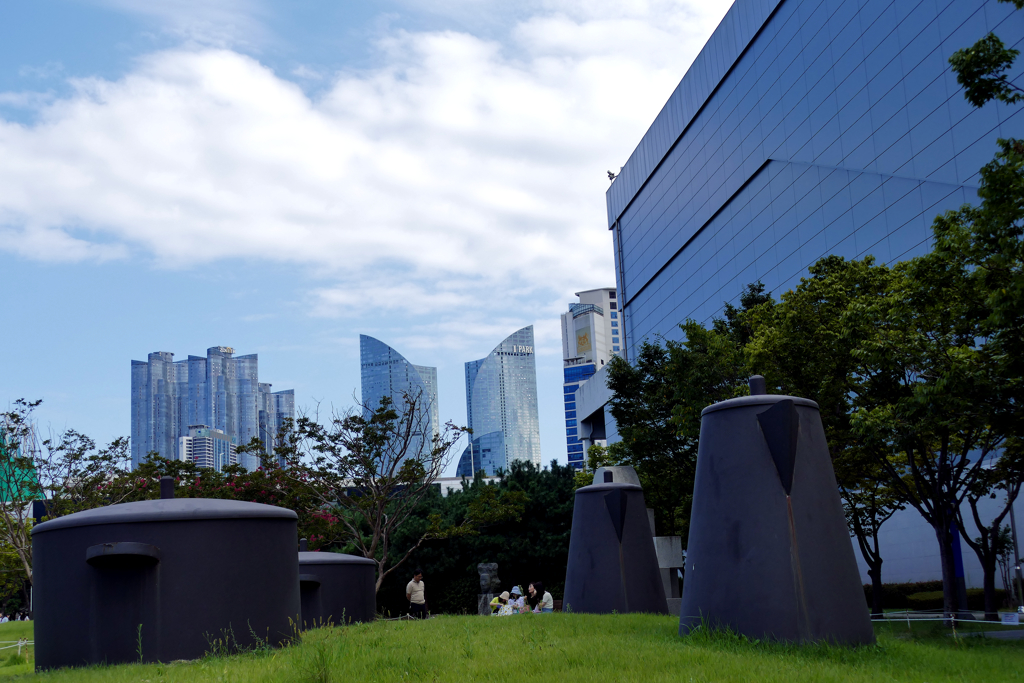 The museum building has five floors. In its courtyard and the adjacent park is a vast collection of truly amazing sculptures.
The galleries are open from Tuesday to Sunday between 10 a.m. and 6 p.m. With very few exceptions, visiting the exhibitions is free.
Jeonpo
No wonder Jeonpo was selected in The New York Times' 52 World Destinations of the Year in 2017. After all, the area is deemed to be Busan's Greenwich Village. Lots of creativity, tons of subcultures, and all that with a good cup of artisan coffee.
In the area around the main street Jeonpo-daero, the established working class meets the hip and trendy millennials and Gen Z.
While some actually get their calloused hands dirty in real workshops, thoroughly preserved industrial style serves as a fashionable backdrop for the more privileged. Here, they sip their exotic coffee specialties behind open laptops between unplastered walls and under steel beams.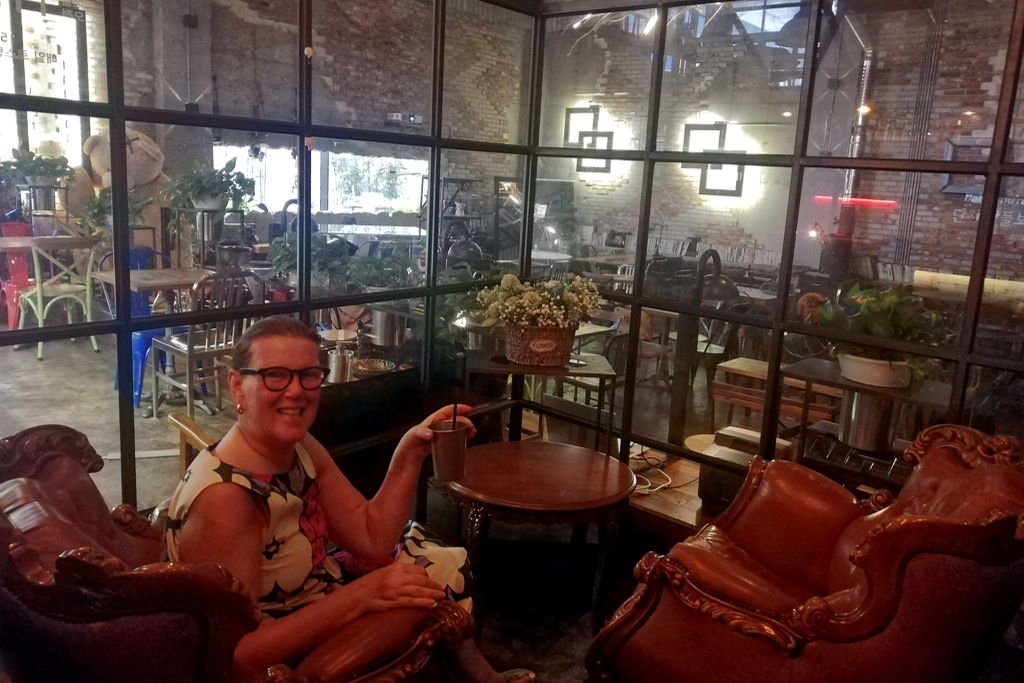 Old hardware store buildings stand side by side with uniquely decorated cafés. The noise of heavy machinery mixes with the sounds of Italian espresso makers to create a harmonious cacophony, building a bridge between classes and from the past to the present.
Jeonpo Cafe Street
In the maze of streets north of Jeonpo Station, you will find extraordinary boutiques with a wide range of original fashion and all kinds of accessories. However, the area is particularly famous for its gastronomic culture. Seojeon-ro is called Jeonpo Cafe Street for a reason.
Here you can feast on coffee specialties and wonderful desserts. The artisan roasters not only have a strict eye on the high quality of their food and drinks. An extraordinary, sometimes quite hidden location and individually sophisticated furnishings and decoration are also part of the holistic coffee culture experience. There is a reason why I have dedicated an entire post to the seven best and most beautiful coffee houses in Busan.
I do have one complaint, though: Because most cafés don't open before 11 a.m., they are not suitable as breakfast places – at least for early birds like me. Very unfortunate.
Hyped neighborhoods usually get heavily on my nerves. But Jeonpo has a surprisingly charming flair thanks to its authentically grown composition of working-class heroes, nouveau riches, and influencers.
The Latest Trend: Korean Photobooths
Do you remember how we captured photos on celluloid instead of on memory cards? And do you remember the small photo booths? Only a short curtain protected you from curious glances while you tried not to look like a relative of Charles Manson in the brutally harsh flashlight. After all, the portrait would stay with you in your passport for years. Good times.
We seem to long for those good old days since photo booths are booming in Korea! Of course not those horrible, smelly boxes where you had the choice between a white plastic wall and a dirty blue curtain as a backdrop. Nope, Korea's countless photo booths are beautiful spaces equipped with well-lit dressing tables at your disposal. Also, there are shelves packed with all sorts of fun props. You can choose from hair accessories, hats, glasses, beards…whatever your heart or your whimsy desires. Finally, you can freeze the moment in photos taken in spacious photo cabins.
Obviously, having your picture taken at the photo booth is a great thing to enjoy with your friends. But as a matter of fact, since you need neither another person to take your picture nor a selfie stick, it's actually also a very cool activity for solo-travellers. Either way, these photos make awesome gifts for your loved ones as well as great souvenirs for yourself.
Most photo booths are open 24/7 and are usually unmanned. Sets of four frame pix cost around KR₩ 5,000. You'll find the wonderful photo booth where I took these pictures on the map at the end of this post.
Hynyeoul Munhwa Maul
Like most visitors, I went to the famous Gamcheon Cultural Village. But did you know that there are other colorful cultural villages in Busan? In my opinion, Hynyeoul Village, located on the west coast of Yeongdo Island, is by far the most beautiful one. It is a cheerful and colorful place right by the sea. Here you can admire art, enjoy snacks and drinks, and take a long walk along the coast, always with the view of the magnificent skyline of Busan's city center.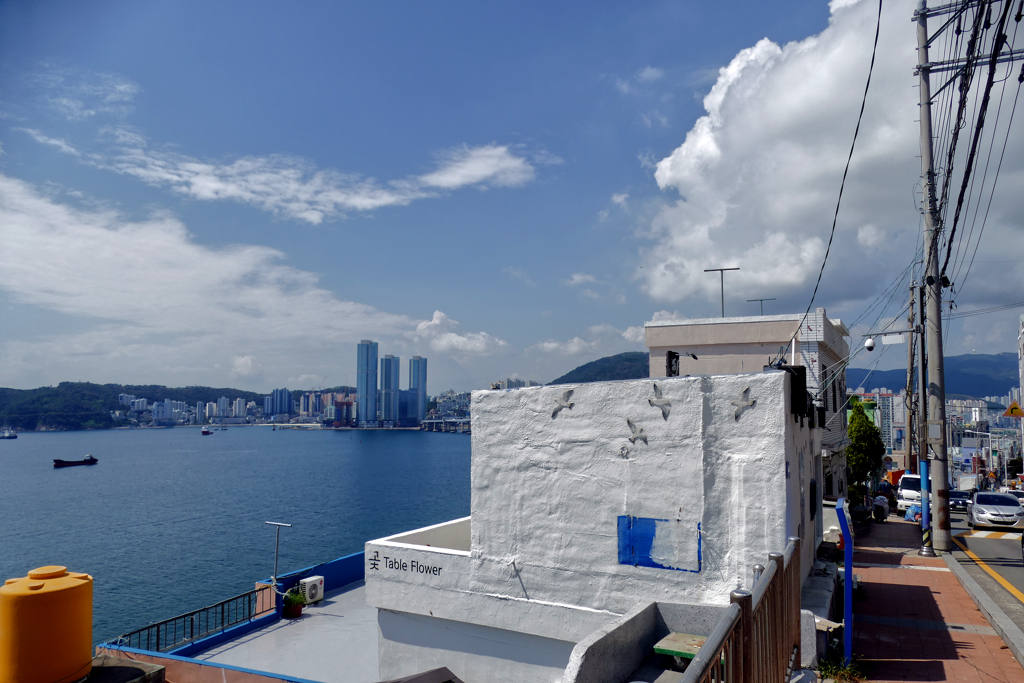 Like all of these so-called daldongnae, Hynyeoul was created as a shantytown for refugees who came to the area during the Korean War. To this day, memorial plaques remind us of the pain and misery its inhabitants had to endure in the mid-20th century.
Around 2011, artists started settling in the village. Because the village was in disrepair, rents were low. They were also able to practice their art'n'trade in various forms in this picturesque place. Today you can find – in addition to the natural beauty and the quirky architecture of the settlement – murals and fantastic mosaics.
As you walk, enjoy the beautiful view of the ocean in front of you.
Once you get to the Yeongdo Haneul Observation Deck, it's time to descend the Rainbow Stairs to the Jeoryeong Coastal Trail. This trail opened in the late 1990s. On a clear day, you can see from here as far as the Japanese island of Tsushima. A little further south you come to the Huin-Yeoul Coastal Tunnel, the perfect backdrop for Instagram your very personal souvenir pictures.
Which Way to Go
Below the main street Jeoryeong-ro, 14 narrow alleys wind between crooked houses. As a matter of fact, Jeoryeong-ro rises towards the south and the height difference to the bank is much smaller at the entrance to the village than further up the road at Yeongdo Haneul Observation Deck. It is therefore advisable to first walk up the gently sloping street and descend the Rainbow Stairs instead of walking on the seafront promenade and having to climb the stairs up.
It is not surprising that such a scenic location has often been chosen as a backdrop for films. A couple of movies were filmed here, and there is even a small museum that tells you about all these films and dramas that were shot in the area.
In addition to some shops selling high-quality handicrafts, there are also tons of cafés. Most are laid out in a way that you can enjoy the panoramic views of the sea and Busan's south coast from both the taproom and a terrace.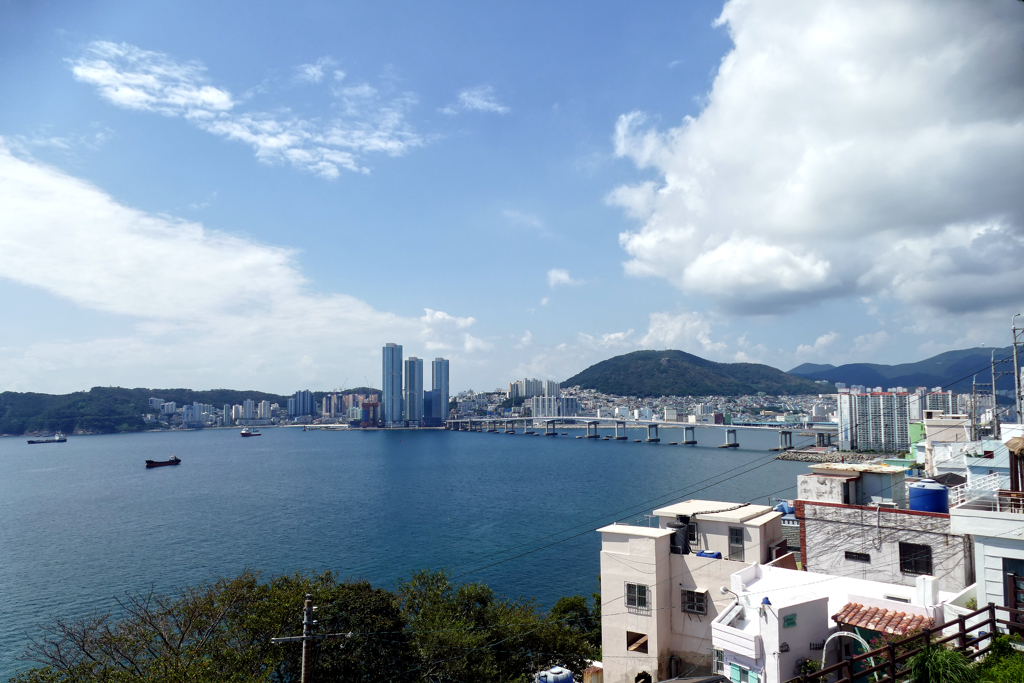 My favorite café is the lovingly decorated Hynyeoul Beach, you'll find it on the map at the end of this post.
By the way, I was deeply impressed by Busan's coffee culture. It's great when a city tour consists of enjoying coffee and dessert in a beautiful artistic atmosphere! By the way, you can read the results of this selfless research in my post Seven Best And Most Beautiful Coffee Houses in Busan. Enjoy – on so many levels!
However, keep in mind that much like any other of the culture villages, this is a residential neighborhood. Therefore, don't just barge in places that aren't clearly marked as restaurants, stores, or other public places.
If you prefer getting to know the Village and all its secret spots with a small group of like-minded folks, I recommend you book a guided tour*.
Hocheon Village
As I proved above, Gamcheon is not the only cultural village in Busan. Probably the least known is Hocheon Village. It is said that in the past, tigers roamed the rough slopes of the mountain. Today they have disappeared, and modest houses have been built on the hillside for Busan's working-class heroes.
The village became particularly famous a few years ago as the filming location of the K-drama Fight for My Way, which also airs on Netflix.
Just behind the bus stop is the Hocheon Culture Platform. Here, you can visit Namil Bar, a filming location of the drama that makes you feel like being an extra in the drama.
Just below where the road forks is the 180 staircase. These stairs lead steeply down in two rows. As you walk down, turn around and look up: The blue tiles look like a waterfall, and carps appear to glide through the cascading water.
Aside from the Fight for My Way hype, Hocheon Village is famous for its romantic view over the illuminated settlement after dark. So it's best to come here at night – remember: Korea is a very safe country – when Hocheon is particularly dreamy and captivating. The best way to get up is by bus or taxi. The way back downhill can easily be done on foot.
When it comes to Hocheon Village, you should also remember – especially in the evening – that it is not an amusement park, but the living space of local residents. Be respectful, don't look curiously in windows, don't trespass on private property, and speak preferably in whispers.
Practical Information
How to Get There
Plane
Although Busan has an international airport, connections are limited to very few cities in Japan, China, Russia, Vietnam, and a couple of other countries. Obviously, there are domestic flights to Seoul, Incheon, and Jeju Island.
To get to the city center, you can take the airport shuttle for KR₩ 6,000 or just the regular bus which only costs KR₩ 1,000. The journey takes around 30 to 40 minutes depending on traffic and you can choose between different stops. A taxi should also not charge more than around KR₩ 15,000.
However, if you land at Incheon Airport on the outskirts of Seoul, you can take a direct bus straight to Busan every two hours. The ride should cost you around KR₩ 40,000.
Train
Busan has excellent connections to the KTX express train network. A train ride from Seoul via Daegu and Daejeon to Busan takes less than three hours and costs around KR₩ 50,000.
You can buy tickets at the railway station from vending machines as well as real people and supposedly on the internet. Nevertheless, some fellow travellers told me that they couldn't pay with their international credit cards. I don't know since I always bought my tickets before departure at the station.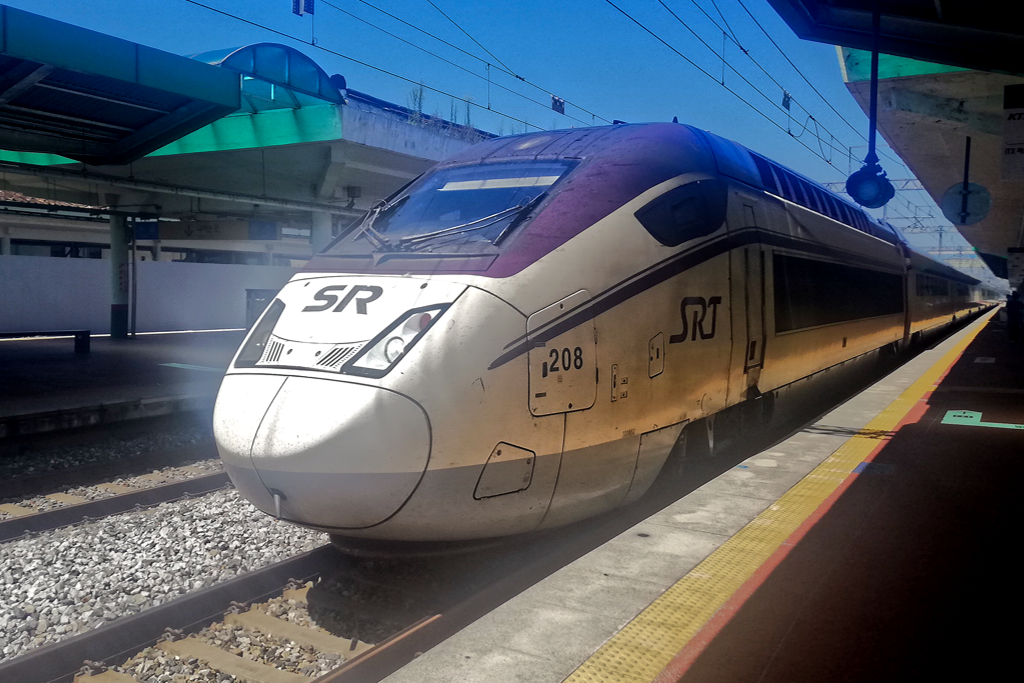 Obviously, train tickets – even those for the KTX bullet train – cost just a fraction of airfare, yet the fast trains take you to some destinations in basically the same amount of time. Then, there is also the KORAIL Pass for tourists. However, I don't know how much time you have to spend on those trains to get your money's worth out of them as the cheapest pass costs KR₩ 121,000 for two consecutive days. In comparison, I paid KR₩ 21,000 for a KTX ticket from Andong to Seoul.
Yes, the good news was that my KTX ticket cost only KR₩ 21,000 and I bought it 48 hours before departure. The bad news was that 48 hours is a very short timeframe especially if you intend to travel on a Monday morning.
I got my ticket and I got it cheap, but I got no seat.
Does this mean I had to stand for two and a half hours? Well, as I played it smart, I didn't. Yet other passengers actually did.
Get Up, Stand Up – How to Survive a Standing Ticket on a KTX Train
So, what did I do to secure a seat?
First of all, I boarded the train very early, about twenty minutes before the departure. Obviously, this option only applies if you are boarding at the starting station. In between the train carriages where the doors are, there are foldable seats that early birds like myself can grab on time.
You can also just grab one of the seats that remain vacant for a period of time as the passengers may only board the train at the following stations. However, you'll have to give those seats up as the rightful seat owner boards the train.
Obviously, the standard seats are much more comfortable than the folding ones. However, there is a high risk of having to give them up again very soon.
When my train left Andong half-empty, I was tempted to sit down in one of those comfortable seats. But then I saw that the train would stop at seven stations before it reached Seoul. If I were evicted from my seat, my slightly more uncomfortable folding seat would certainly be taken and I would have to stand for the rest of the journey. Two and a half hours in an upright position is a long time.
Bus
As a matter of fact, I took the train only twice during my entire three weeks in Korea as the bus stations were often more conveniently located. Also, I went to places where there were no train stations.
For travel between cities, towns, and villages, so-called Express and Intercity buses are a great option. They are fast, clean, and comfortable. Fares vary a bit depending on the bus type and the time of the day. However, in comparison with other countries, they are always rather cheap. I always paid KR₩ 10,000 to KR₩ 15,000 for four-hour trips. You can buy tickets right at the bus terminals from vending machines or very helpful clerks.
Obviously, Busan is very well connected to almost all cities in the country. However, the Bus Terminal is far up north of the city in the Nopo district. Although it's well-connected by subway # 1, it takes around an hour to get there.
Ferry
There are international ferry routes to Osaka, Fukuoka, and Tsushima Island in Japan as well as Yantai in China. Those trips are not exactly cheap as the ferry from Busan to Osaka costs around KR₩ 120,000. Then, you also have to pay an additional KR₩ 29,400 port taxes. Hence, if you're not doing it for the thrill, it's certainly not worth going on that 19-hour cruise for the money.
The national ferry routes connect Busan with Jeju and Geojedo Island.
How to Get Around
Public Transport
Just like everywhere in South Korea, inner-city transport in Busan is perfect! There is a reliable bus service and a comprehensive subway net. However, don't underestimate the size of the city and the time you'll spend on public transport. No matter where I went, it always took me at least 30 to 45 minutes to get there. If I went to a place on the outskirts like the Haedong Yonggung Temple, I spent easily up to one and a half hours on a bus or subway. As a matter of fact, going all the way to the neighboring city of Ulsan was as fast as getting to some of the more secluded spots in Busan itself!
A single trip costs between KR₩ 1,100 and KR₩ 1,400 depending on the distance. Also, you save a bit if you pay with a money card. If you already have a T-money card, you can also use it in Busan. However, if you need to obtain one, keep in mind that in Busan, they call it Hanaro Card.
For KR₩ 5,000, you can also get a day pass. But keep in mind that you have to ride the subway at least four times so it pays out and it is not valid in buses.
Walking And Cycling
Busan is a very safe city, you can explore neighborhoods by walking without any trouble. However, as I mentioned above, it's huge and distances much longer than they appear on Google or Naver maps. Don't even think about exploring Busan exclusively by walking; take this from a traveller who easily walks around 20 kilometers per day when on the road.
Also, keep in mind that alluring parts of the city can be hilly with extremely steep slopes. Make sure to wear sensible shoes like Birkenstocks, trainers, or even light hiking boots.
Busan is also a good city for cycling, albeit, I wouldn't rely exclusively on a bicycle since major parts of the city with the most alluring neighborhoods are on steep slopes.
However, just like Busan's residents, also visitors can ride a bike for two hours free of charge alongside the beaches of Haeundae and Gwangalli, the Oncheon River, as well as Busan's Ecological parks. All you have to do is to present some kind of ID like your driver's license or passport at the bike shop and supply them with your phone number.
Bike shops are open from 9 a.m. to 5 p.m.
Visiting Organized
Although I'm an avid solo-travelling woman, I sometimes like to join organized tours. Not only are they a valid option to go to remote places since I'm not driving. They also allow me to meet fellow travellers.
Therefore, here are some great ideas of which tours to join when in Busan. Especially during high season, pre-booking online will guarantee your place at the activity of your choice*:
Where to Stay
As I wrote above, I miscalculated somewhat the location when looking for suitable accommodation. Don't get me wrong, the Paragon Hotel* was outstanding: I had a large bedroom, a spacious bathroom with a bathtub as well as a complimentary breakfast every morning in their elegant dining room. But even though the subway was only minutes away and countless buses ran to the city center every few minutes, it took me around half an hour to get to the nearest points of interest.
If you don't mind that and want to enjoy a very comfortable hotel at an amazingly low price, I can highly recommend staying at the Paragon Hotel*. However, if you value proximity to the center, you should look for suitable accommodation in the area around Nampo or Haeundae. Either way, you'll certainly find suitable accommodation on this map*:
What to Eat
Apart from Korean music'n'movies, the country's cuisine seems to be taking the world by storm: In many areas of the world, Korean restaurants are springing up like mushrooms. And in Korea, tasty food can be found virtually everywhere: From vendors in the streets and in local markets to refined versions in posh restaurants. Many of these delicacies were invented over 2,000 years ago. However, some were only enjoyed by the royal families.
Due to its traditionally international influence, Busan has a large selection not only of Korean but also international cuisines. Sadly, there are also many of the internationally infamous fast food chains.
Korean food comes in many varieties. It can be hearty, very spicy, but also rather sweetish. All courses can consist of hot or cold dishes. After all, Naengmyeon, cold noodles is one of Korea's most iconic staple foods.
However, Korean barbecue is very popular and in Busan, you'll find entire streets lined with basically nothing than this type of restaurant. But here we go again: Without exception, you have to order barbecue for at least two people, and in many restaurants, as a solo traveller, I was turned away right at the door in a very unkind manner.
Oh yes, some aspects of Korea are really frustrating if you are travelling on your own.
But hey, cheer up as there are many other yummy options even for us independent souls, mainly around the famous BIFF Square where as the night falls, you can choose from an amazing number of food stalls. Here, the lovely cooks don't care if you are feasting by yourself or if you are in the company of a large party.
Where to Eat: BIFF Street and Beyond
The most popular soup in Busan is Dwaeji Gukbap. For this traditional pork rice soup, a broth made from boiled pork bones and then seasoned with soy, rice wine, and other spices. It is then served with a garnish of onions, chili, garlic, salted tiny shrimp, and of course the indispensable Gochujang sauce.
Busan is located by the sea and thusly, there is no shortage of all kinds of fish and seafood. At the BIFF street food market, you'll get most seafood covered in batter and deep-fried in lots of oil. The most famous fish dish in Busan, however, is fish cake Eomuk.
Vegetarians have a hard time in Korea as even in the so-called tofu hot pot Halmae are usually not only mushrooms and vegetables but also beef or fish balls.
If you're not afraid of anything, you can also try Sundae and Pig Feet. The latter certainly needs no further explanation. But Sundae is not, as you probably think, a delicious ice cream cup. Oh no, my naive friend, in Korea, Sundae is a type of blood sausage typically made from cow's or pig's intestines stuffed with various ingredients.
Busan is also known for liquid food, and by that, I of course mean beer. There are several artisan breweries. Crispy double-fried chicken is typically served with ice-cold beer, and this delicious combo even has its own term, namely Chimaek.
Actually, that's my personal favorite.
Last but by no means least, there is Busan's well-known pastry Hotteok. It's a thick pancake fried in fat and filled with honey, sundries, and all kinds of seeds.
Cash And Cards
The currency in Korea is called ₩on and abbreviated KR₩. There are bills of 1,000, 5,000, 10,000, and 50,000 and coins of 10, 100, and 500 ₩on.
As of November 2023, the exchange rate is 1,000 KR₩ = 0.75 US $ (current rate) respectively 1,000 KR₩ = 0.70 €uro (current rate).
Most of the time, you can pay with either cash or card in Korea. However, some businesses accept only cash while others take only cards. Although payment goes smoothly most of the time, you might encounter some hurdles here and there.
In Korea, they draw a not-so-fine line between local cards and international cards.
Therefore, it can happen that certain ATMs can read only cards issued in Korea. More importantly, you can get only money from ATMs that are suitable for so-called global credit cards.
Either way, I'd strongly recommend to have always at least a small amount of cash on you as international cards may decline for no apparent reason.
T-Money Card
A very Korean means of payment is the so-called T-Money Card. It's basically a debit card that you have to purchase for an initial price of KR₩ 2,500. You can get the basic T-Money Card at any subway- and train station as well as at convenience stores around the country. However, you can get a free card for instance when buying a SIM Card*.
Eventually, you have to charge it with the amount of your choice either at a ticket vending machine or a convenience store. You can top-up the card in units of KR₩ 1,000 up to KR₩ 90,000 at a time. The total deposit cannot exceed KR₩ 500,000. It's important to know that you cannot top-up by credit card, you have to use cash. Also, I'd recommend topping it up with smaller amounts in case you lose it.
If you don't use up the credit on your card by the end of your trip, you get a refund at all retail locations. However, they won't refund the initial price as well as an additional service fee of KR₩ 500.
As I needed both, a SIM card and T-money, I obtained a combined card through GetYourGuide* and picked it up at Incheon International Airport on arrival. Obviously, you can use the T-Money card even after the SIM card expires.
Visit Busan Pass
The so-called visit Busan Pass allows you to visit tons of tourist attractions in the city for free or at least discounted. This being said, keep in mind that entrance to many attractions such as museums are quite cheap. The pass might be worth your money if you're willing to race from landmark to landmark. If you want to immerse yourself in the city, there is only so much you can fit into your itinerary. From my itinerary, the pass covers only the Diamond Tower and the Busan X The Sky – so do the math.
There are passes for 24 and 48 hours that cost KR₩ 49,000 and KR₩ 69,000 respectively.
Tourist Passes – Yea or Nay?
As an experienced and savvy traveler, would I recommend purchasing day passes? Hmm, as is often the case, the answer is: it depends. First of all, my recommendation depends largely on what you like to do while travelling. If you like strolling down side streets and picnicking in parks, a day pass is definitely not worth it. If no museum is safe from you, then a pass will probably do. Why only probably? Because you need to check the price ratio. Are there any restrictions? Do the museums have a day when visits are free? Questions upon questions.
Basically, I would say that the day passes in European metropolises such as Amsterdam, Barcelona, ​​Lisbon, and Copenhagen are definitely worth it, even if you visit just a few attractions. The more days you book, the less you spend on each attraction, and together with the option to use public transport for free, it's a great bargain.
In Korean cities, you really have to look carefully and consider different factors. If you want to visit many contemporary attractions and rush through them quickly, you might save money with a pass. But if you want to stroll extensively through palaces and temples that only cost a few dollars, you will probably never come even close to the price of the pass.
So there is no clear answer. You just have to plan what you want to do during your stay beforehand and then see what it costs.
One more thing: In some cities such as Barcelona, ​​Berlin, Copenhagen, and Paris, there are special passes with which you can only visit museums or certain cultural sites. For me, this is a much more attractive option than passes that include some boat tours or theme parks.
As I said: It all depends on your preferences.
Language
With over 78 million native speakers, Korean is one of the 25 most spoken languages ​​in the world. And let me tell you, it's basically everything Koreans speak. I was told only the older generation wouldn't speak any English, young people would. According to my experience in roughly a dozen places in Korea – from big cities to hidden beach destinations – this is not the case. Contrary to older people, young Koreans know some English words. That doesn't make them English speakers even of a rudimentary kind.
But fear you not, streets, stations, and many signs are written in English, so you won't get lost. In Seoul's subway and in many buses the stops are also announced in English. Some restaurants do have English menus, however, when you order the dish, the waiting person might not understand what you want unless you point at the Korean version. Happened to me on various occasions.
All this makes travelling through Korea possible even if you don't speak the language and you're not familiar with Hangul, the Korean alphabet. However, your interaction with locals will remain extremely limited, to say the least.
Howsoever, I recommend memorizing at least this short list of some of the most common courtesy expressions:
| | | |
| --- | --- | --- |
| English | Korean | Pronunciation |
| Hello | annyeonghaseyo | anyonghaseo |
| Bye bye | annyonggiseo | anyonggiso |
| Thank you | gamsahamnida | kamsamida |
| You're welcome | cheonmaneyo | chonmaneo |
| Please | juseyo | djuso |
| Excuse me | jeogiyo | djokiyo |
| Sorry | joesonghamnida | djusohamida |
| Yes | ne or ye | ne resp. ye |
| No | aniyo | anyo |
My tip regarding pronunciation
Korean is pronounced rather softly. That means that G is pronounced like K, D like T, and B like P. Also, S before I is pronounced Sh.
I'm telling you this so you avoid mispronunciation of cities and places and get what people are talking about when they say Kyongju instead of Gyeongju, Teagu instead of Deagu, and finally Pusan instead of Busan.
If you actually want to learn some more, I can highly recommend the website 90 Day Korean.
Connection and Communication
You can connect to the internet without any issue at basically every museum, eatery, café, and hotel, obviously, as well as to open Wi-Fi in many public areas.
As I depended so much on a reliable internet connection during my trip through Korea, I highly recommend getting your personal data either by a mobile router or a local SIM card. I kid you not, the few moments I for some reason didn't have an internet connection, I felt like travelling blindfolded.
There are prepaid SIM cards by various companies such as KT Corporation, SK Telecom, and LG U+. I got my card from the latter and loved it. LG U+ offers SIM cards, eSIM, as well as portable Wi-Fi. My card came with a T-money card. I obtained it through GetYourGuide* and picked it up at Incheon International Airport on arrival. However, LG has stores all over Korea. For unlimited data, they charge between KR₩ 27,500 for 5 days and KR₩ 99,000 for 40 days. I had the 20 days-version for 60,500 ₩on*.
In South Korea, they use plug types C and F. Their voltage is 220 V, and the frequency is 60 Hz. Whereby, nowadays, in general, all these chargers have integrated adapters so that the voltage and frequency don't really matter.
By the way, you'll find this information and many more comprehensive travel tips in my post World's Most Complete Travel Information – an indispensable globetrotter-classic.
Useful Apps
So now that you have internet, you might want to check out these helpful apps. Well, let me rephrase it: At least a smoothly working map and a translation app are not just helpful, they are actually indispensable!
Naver Map
It's not correct that Google Maps doesn't work in Korea at all. You can open the App and see where places are. However, it doesn't give you useful information on public transport and it doesn't suggest routes. Yet, it recognizes who you are: The blue dot. So while you can check where you are, you cannot plan out routes.
Fortunately, there are two other Apps in Korea, namely Kakao Map and Naver Map. Since I had tried out the latter and was happy with it, I stuck with it without giving Kakao Map a try.
How to Use It
As you can see in the pictures below, Naver works basically just like Google Maps: You type in from where to where you want to go, specify the date and hour, and choose the means of transportation. Then, Naver does the magic and suggests various options.
However, Naver tends to be patriotic and sometimes transcribes destinations into Hangul so you cannot check that it actually found the place you were looking for. I solved this problem by verifying Naver's suggestion on Google Maps.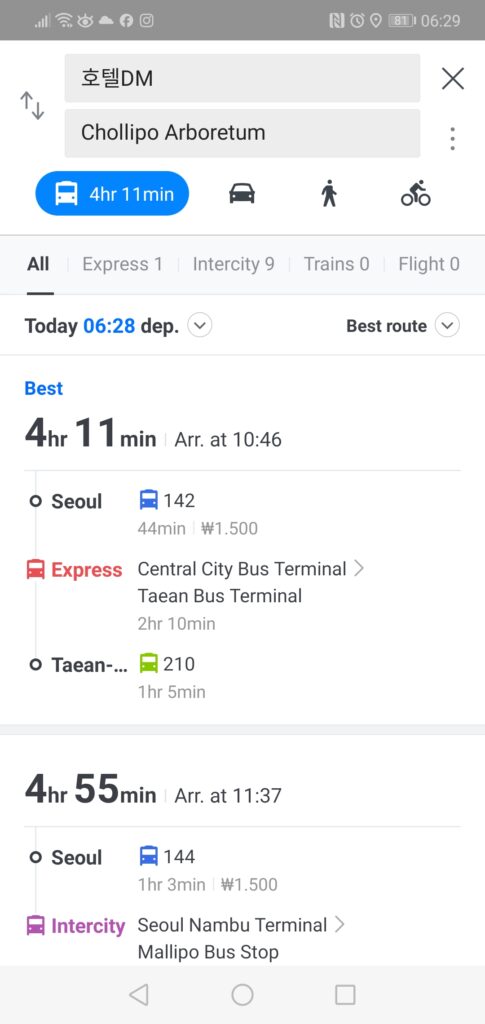 Also, Naver sometimes didn't show any search results. For instance, if I wrote XYZ restaurant instead of restaurant XYZ. In these situations, I first looked it up on Google Maps, because like I said, it does work insofar as it finds places. Then, I searched for the spot right on Naver's map. As I found it, I tapped on it on the screen and saved the result for future reference.
I set up a free account to save search results. I organized them in folders, you can see them in the second picture.
When Naver showed the result in Hangul, I wrote the Latin equivalent in the field for notes before saving. This way, I had the places once and for all in Roman letters, and they also appeared on the map. Eventually, I planned my routes by simply tapping on two marked spots on the map.
You can download the Naver App for Android and for iOS
Microsoft Translator or Naver Papago
Just like it's a personal preference if you search your way with the help of Naver Map or Kakao Map, it's totally up to you which translation App you're using. And even if you don't choose any of these, most Koreans do have a translator on their phone when they have to deal with foreigners on a regular basis.
For the same reason I chose Naver Map over Kakao Map, I stuck with the Microsoft Translator: I downloaded it first and was happy with it – hence, never change a winning team.
However, both translation Apps offer the same kind of assistance: You can speak, write, or take a picture of a script and the App will translate it.
You can download the Microsoft Translator for Android and iOS.
Xe Currency Exchange
Because of its user-friendly operation and quick and easy access to all national currencies, Xe is my favorite currency converter app. You can download it for Android.
Map
On this map, you can see where all the wonderful places I'm introducing in this post are located.
Clicking on the slider symbol at the top left or the full-screen icon at the top right will display the whole map including the legend. To switch between the itineraries for the individual three days, just open the legend at the left upper corner and you can hide or unhide the respective layer as you wish. This way, the map will show only the section you really need and be more clear.
Busan was only one of many amazing places I visited during my road trip through South Korea. To read about the others, go to the main post and take your pick! There, you'll also find further valuable general information that will make your trip smoother and much more enjoyable. Also, make sure to read my post Individual Solo Trip to KOREA – All Your Questions Answered before you start your planning'n'packing!
Pinnable Pictures
If you choose to pin this post for later, please use one of these pictures:
Did You Enjoy This Post? Then You Might Like Also These:
* This is an affiliate link. Hence, If you book through this page, not only do you get the best deal. I also get a small commission that helps me run this blog. Thank you so much for supporting me!