Spending a weekend trip or a vacation on the island of Fehmarn in a camper van gives you a totally different perspective of the island's cool activities and beautiful sceneries.
After I had spent a weekend on this Baltic island in Spring – when it still was a bit nippy – I thought, in Summer, this place must be paradise.
Back For A Summer Break
"Why don't you just come back in July?", asks Kim, the representative at Fehmarn Tourismus, a savvy planner and organizer and as cute as a button. "We'd have a camper van at your disposal, this way, you could experience the island from a genuine, more rustic side".
"Oh….oh….kay, let me get back to you".
As frequent readers of my blog know by now, I'm not driving. I spare you the sad story of how I had my drivers' license at 25 and quit driving just two years later; two long years, filled with little joy and a couple of minor inci- or acci-dents.
This is not a good basis for maneuvering an RV across an island.
So I cannot do it bye:myself, I need a partner in crime. A partner with a drivers' license. A partner I'm willing to share minimal space with for two nights.
Not an easy task.
The friend that first comes to mind turns out to be pregnant with twins. I'm not shy when it comes to adventure, but….nope.
My friend Kitchekraut's kids were already born – and she's willing to spend a weekend with me Thelma-and-Louise-style. I'm sure we'll have a van-tastic time!
Travel Back In Time
Camping. Oh, dear.
Honestly, although I'm not very picky when it comes to hotels and book rather based on the price, camping – even in a camper van – to me, always had the smell of spending your vacation in a pathetic trailer-park.
My experience with camping dates back to when I was a child and my parents, just recently migrated from travel-depriving Czechoslovakia to Germany, felt the urge to see the world – starting with Europe. What better way to explore than…camping.
Starting into their camping-adventure, my parents had purchased a tent the size of about six square meters. They chose the luxury version with an inner tent functioning as a bedroom. There was space for three narrow airbeds we slept on in sleeping bags.
This extra bedroom could be closed with a zipper. I'm telling you, state of the art.
However, three people on airbeds enjoy a little oxygen and the fabric of the inner tent closed hermetically. Also, sometimes, nature called at night and lured towards the public restroom. Whatever it was, it made it necessary to get up at night, stumbling across the wabbly floor consisting of half-inflated airbeds and fellow-campers and pulling the zipper open without either overbalancing or ripping part of the inner tent down.
For personal hygiene, we took cat licks in plastic basins that we also used for rinsing our plastic dishes. Not in the same water, as far as I remember. I don't know how she managed, but my mum cooked entire meals on a tiny makeshift stove operated with some white, solid fuel.
Camping was exciting.
But not in a good way.
The Van
By unlocking the van for us, Kim opens the door to a whole different world where camping is highly functional; and even a bit spectral.
She's like a fairy tapping a wand, working her magic. She pushes buttons, pulls lugs, turns handles, folds, lifts, twists, turns. Under her invisible wand, the inside of our RV with all the cleverly constructed equipment seems to come alive.
Cabinets open, seats turn, beds sink low – and Kim is standing there smiling and actually looking like a fairy, sweet and fine-boned under a cascade of long blond hair.
Kitchenkraut and I are truly mesmerized.
There is a fully equipped kitchenette with a big fridge, a gas stove, and a tiny, nonetheless fully functional bathroom with a toilet and a shower. There are uncountable wall cabinets and cupboards, this way, even the tiniest corner is used. Of course, they can be securely locked so that nothing rolls out as we are cruising. Even the TV set is solidly fastened and tucked away in the cabinet on top of the fridge. Men, they really considered every little detail.
Everything We Can Ask For
In the cozy seating area are three sockets and three USB-plugs so that we won't run out of power; literally and metaphorically.
So sorry, but I can't help it, I notice one downside. The bed might be big enough for two love birds but for two friends?! It's pretty narrow. Oh, dear.
No worries, Kim does her magic, pushes a lever on top of the sitting area….and another cozy bed slowly comes down from the ceiling, locking in place at chest height.
Wow – problem solved.
Although there are all these fantastic features, we are still talking 'bout two adults sharing a living space of about 8 square meters.
I've been living in a small flat for decades now, however, this is tinier than tiny – take it from me.
Hence, Kitchenkraut and I are permanently performing kind of a choreography. No matter what we are doing or where we are moving, we are standing in each other's way.
Cycling
Therefore, it's perfect that Kim arranged e-bikes for the weekend so that we'll be on the road bike lanes a lot. Fehmarn has about 300 kilometers of them, which will keep us outdoors and busy.
We are neither too old nor physically impaired, however, the breezes can be pretty strong on Germany's islands so a little support is deeply appreciated. And I've already known Nico from Sunny.Bike rentals from my last trip, so I know that he has some state-of-the-art quality bikes. Also, his service is excellent since he not only fixes the height of the saddle and the angle of the handlebars for you, he even offers to deliver them anywhere on the island if necessary and to pick you up in case you have a flat tire.
Sunny.Bike
Meeschendorf 23
23769 Fehmarn
Phone: +49 – 4371 – 604 97 26
or +49 – 177 – 864 53 71
Email: info@sunny.bike
Our campervan Carado T348 was supplied by
Caravanpark Spann-an GmbH & Co KG
Werner-von-Siemens-Straße 2
24783 Osterrönfeld
Phone: +49 – 4331-70 88 50
Email: info@spann-an.com
The Sites
Another thing that's probably normal, but amazed me nevertheless, are the well-equipped campsites.
Klausdorferstrand
As we arrive at the Klausdorferstrand campground, we are greeted by a friendly young man who guides us to our spot. At this time, poor Kitchenkraut is still a bit hesitant when maneuvering this ogre of a vehicle between cars and poles. But she does a great job and we reach our piece of land undamaged.
The next morning, Kitchenkraut is still asleep as I open the van door and blink in the morning sun. The other campers are getting busy, wearing sweatpants and oversized t-shirts, I cannot really distinguish if they are still in their pajamas or if it's the camper's casual uniform.
As I'm passing by their vans'n'tents, everybody seems quite friendly, greeting 'good morning'. Well, you jolly campers, good morning to you, too.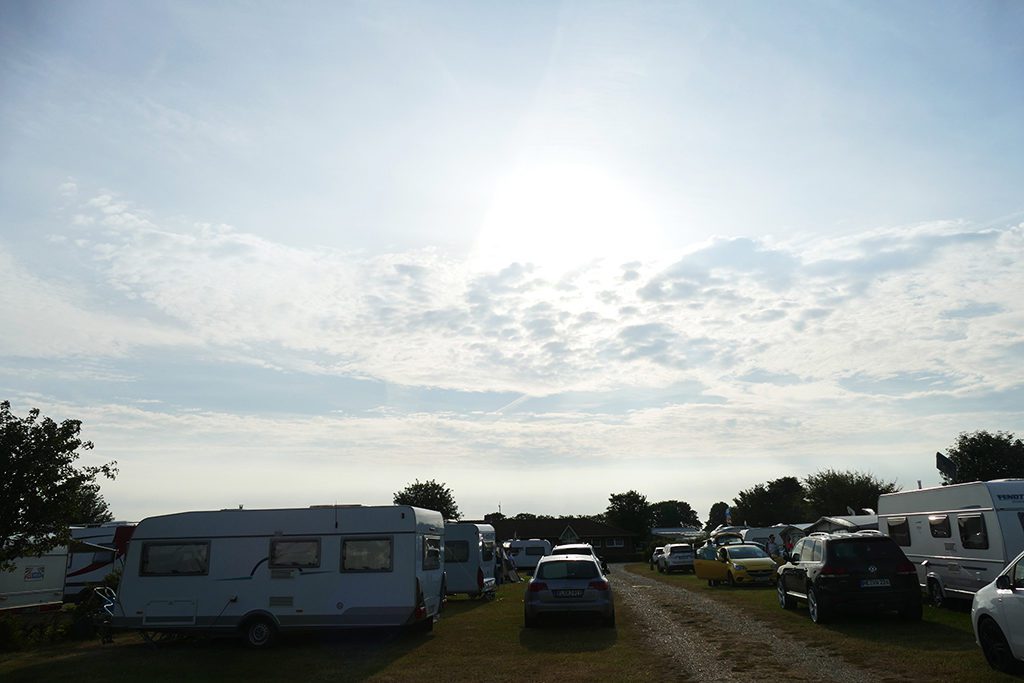 I pass the washhouse – by the way, it's the same word in German, only that it's spelled Waschhaus. Obviously, there are toilets and showers. But there is even a bathtub. Not bad; actually far better than what I'd expected.
Also, my parent's plastic basin seems to be outdated: In another room, I spot a row of kitchen sinks where people are washing dishes.
For a small obolus, you can even use one of their dishwashers, if you prefer; you're on a vacation, after all. Of course, they also have washing machines.
Man, things sure have changed since we were crawling on airbeds in an extra-tent.
Breakfast On The Farm
At the on-site convenience store, I buy two coffees and leave really quick: The smell of their freshly baked rolls and croissants makes my stomach growl. No wonder most of our new neighbors stock up on these baked goods and then cook their own breakfast.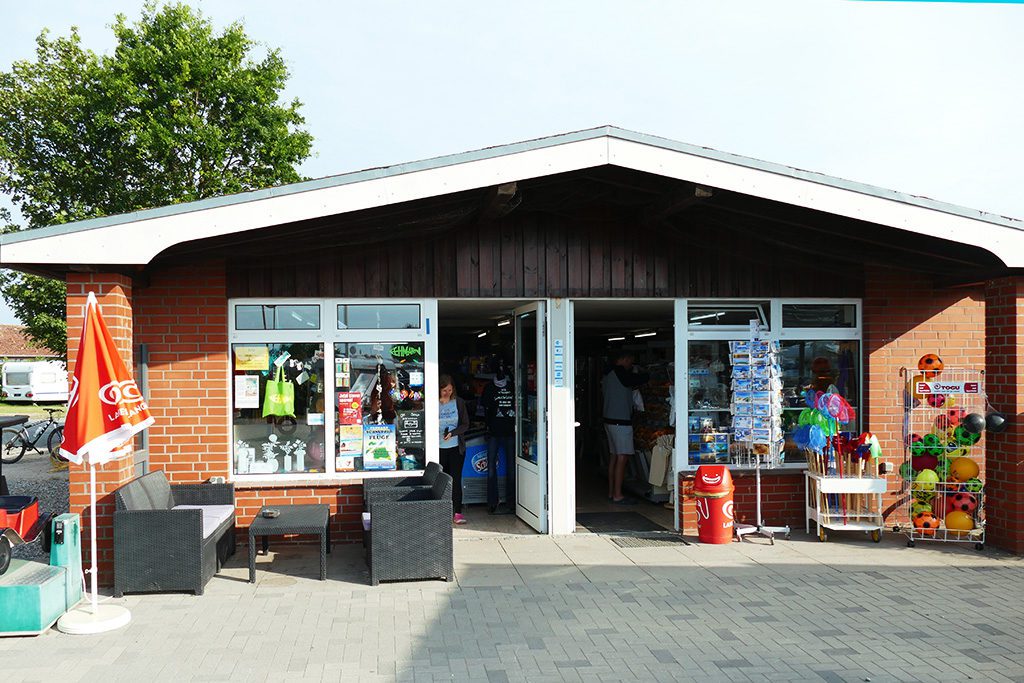 We are not those true bone campers, so after coffees and showers, we hop on our bikes and ride on the country road 3 kilometers – respectively 2 miles – to our breakfast place, the Hofcafé Klausdorf.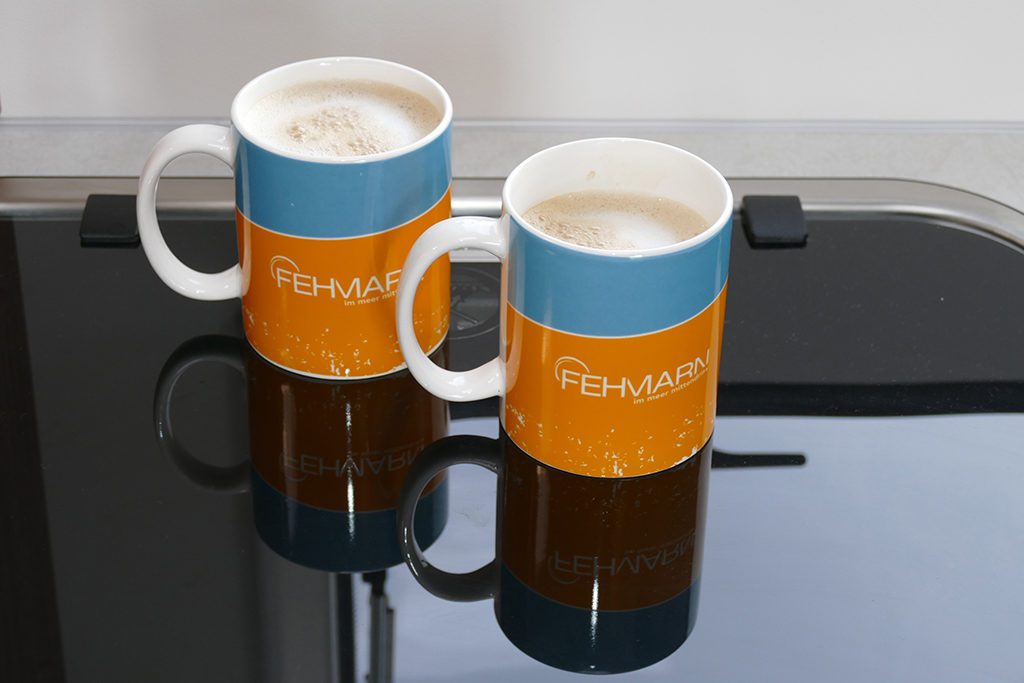 Already in my last post on Fehmarn, I was enchanted by these cute cafés and specialty shops that are installed in the former barns.
So is the Hofcafé Klausdorf, a small store, and café with cozy seating inside and outdoors. We are greeted like family and help ourselves to a big, hearty breakfast at the generous buffet. Owner Ulrike brings us coffee and a big bottle of fruit juice and we stuff face and enjoy life to the fullest.
At noon, we check out at Klausdorferstrand and Kitchenkraut drives us – meanwhile maneuvering our RV like a trucker bee – from the east coast across the whole island to the far north-western corner.
Belt Camping
As we arrive, the gate is closed and check-in won't be before 3 p.m.
A nice man helps us unloading our e-bikes – these beasts are super-heavy – and we hit the road dike.
This should be the moment to thank all the nice men who helped us loading and unloading the bikes; in return, it was our pleasure to make you feel like men by lifting our bikes – you're welcome.
Camping With A View
As we come back from our bike tour, we are guided by the site manager to our spot. We are awestruck – for the hundredth time during this weekend: We are parked right behind the dike. As we stick our head out of the top window, we see the ships crossing the Baltic sea to the Danish shores – it's just amazing.
This seems to be a quite common phenomenon in Germany. Locations of rather rustic, simple, and cheap accommodations are often found in the most alluring spots. For instance, the hostels even in Hamburg and Berlin are found in prime locations with a million-dollar-view – and a hotel room would probably cost something close to that.
This being said, we were impressed that all camping sites on Fehmarn are right next to the most beautiful beaches – where no hotels or guest houses are found.
Note to my readers:
If you are a versed camper, you might wonder why I even write all this down – to you it's probably so obvious and redundant.
Well, let me tell you, I've travelled the Seven Seas – metaphorically – and this sort of camping was new to me; and to Kitchenkraut, who's a savvy traveller just like me, it was totally unexpected, too. So maybe three or four other travellers out there might not know what camping nowadays is like, hence, I inform the novices and bemuse the experienced troopers.
These are the campsites we visited….
Camping Klausdorferstrand
Klausdorfer Strandweg 100
23769 Klausdorf
Phone: +49 – 4371- 25 49
Email: info@camping-klausdorferstrand.de
Belt Camping Fehmarn
Altenteil 24
23769 Fehmarn​
Phone: +49 – 4372 – 391
Email: info@belt-camping-fehmarn.de
….and this is where we had breakfast:
Hofcafé Klausdorf
Dorfstraße 30
23769 Klausdorf
Phone: +49 – 4371 – 879784
Email: bauernhof-lafrenz@t-online.de
The Island
Like I said, I was on Fehmarn in May as the colza was is full bloom. Hence, it was pretty amazing coming back and witnessing how this plant, that was predominantly glooming on what seemed to be endless fields, now modestly retrogressed and gave the wheat fields the advantage.
Especially in the mild afternoon sun, the wheat is glowing golden – just so preciously.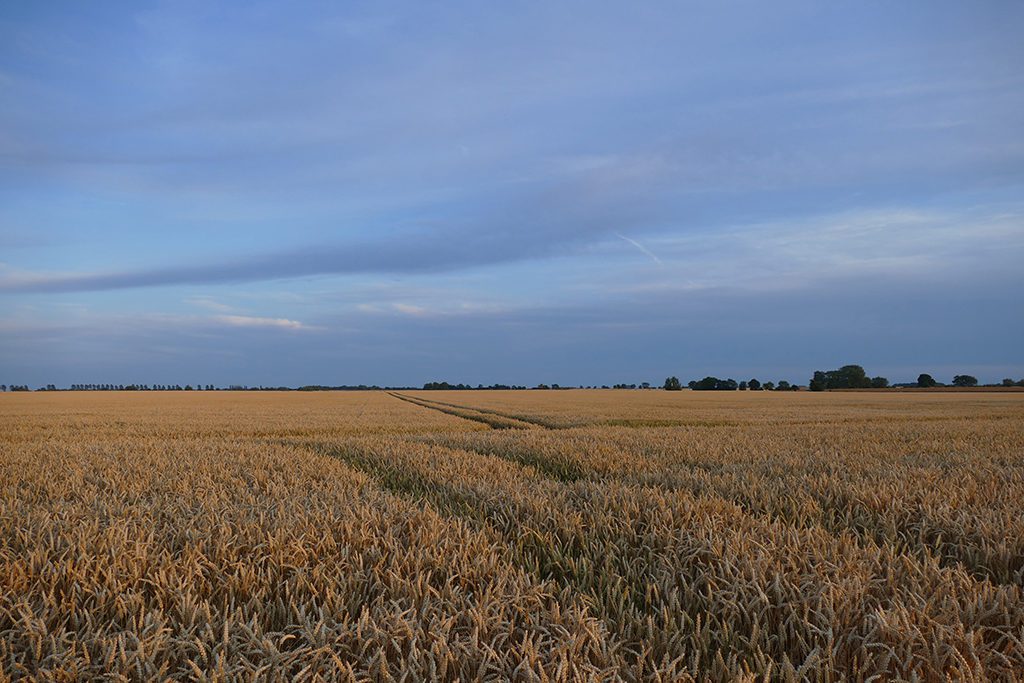 Obviously, driving is faster and even more comfortable. But the beauty of the sceneries can be enjoyed best on a bike. Up the dike, down to the beach, a quick turn into a picturesque alley, a quick stop for a picture – cycling, you seem to be so much more independent and spontaneous than in a car.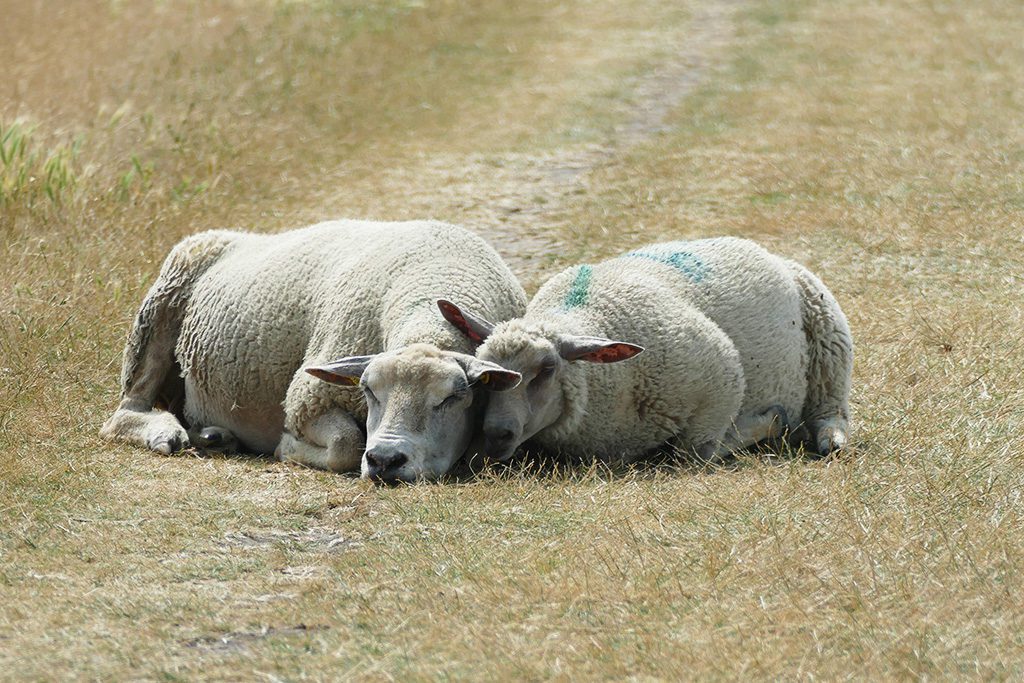 Fehmarn has 300 kilometers of bike lanes. If, in addition, you are riding an e-bike that enhances your pedaling, you can go for hours without showing any sign of tiredness.
It was good that cycling was such a joy and encouraged us to at least some minor sports activity since our other main pursuit was eating. And the hosts on Fehmarn are over-generous. I'll quote the best ones in this post's Glamping-section below.
Albeit Fehmarn is awaiting her visitors with a wide range of great activities – indoor and outdoor alike – in summer, the main action takes place around the dikes and beaches.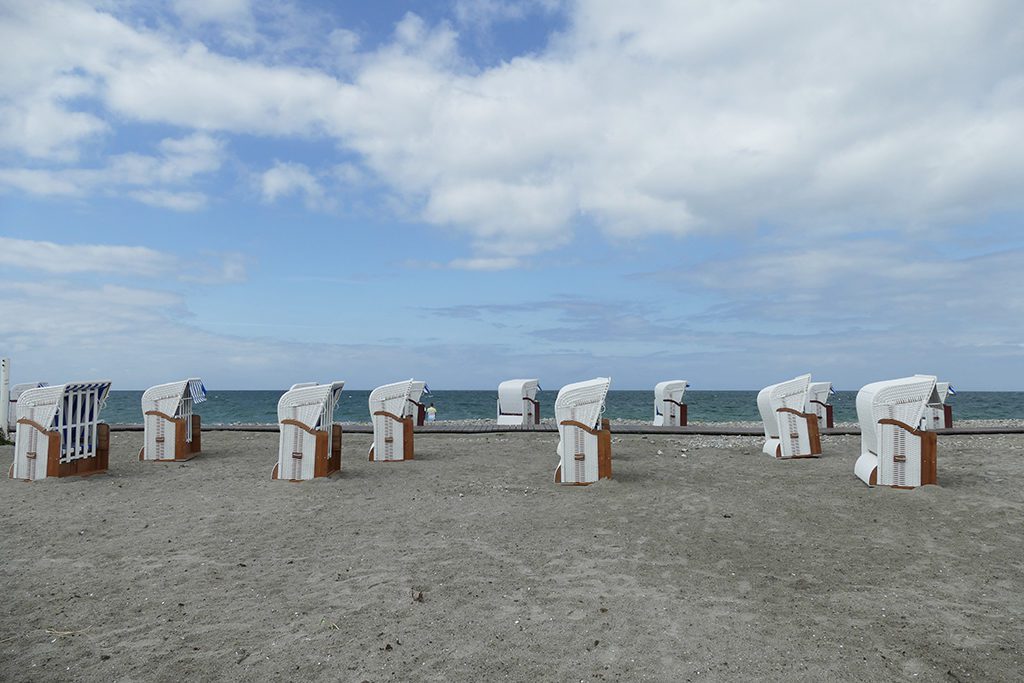 It's amazing how contrasting the sceneries on the different coasts are:
East
There is the rough, untouched east coast with the cliffs from Klausdorf to Katharinenhof that already inspired German expressionist painter Ernst Ludwig Kirchner who spent several summers on the island.
Although this part of the coast is pretty much untouched, they've built some footbridges with ladders into the waters so bathers and swimmers can take a refreshing dip accident-free.
North
In the north, along the Fehmarn Belt – the strait between the island and Denmark – the beaches are great for swimming as well as all kind of watersports. The strong breeze that's so annoying for cyclists is fantastic for surfers and kiters.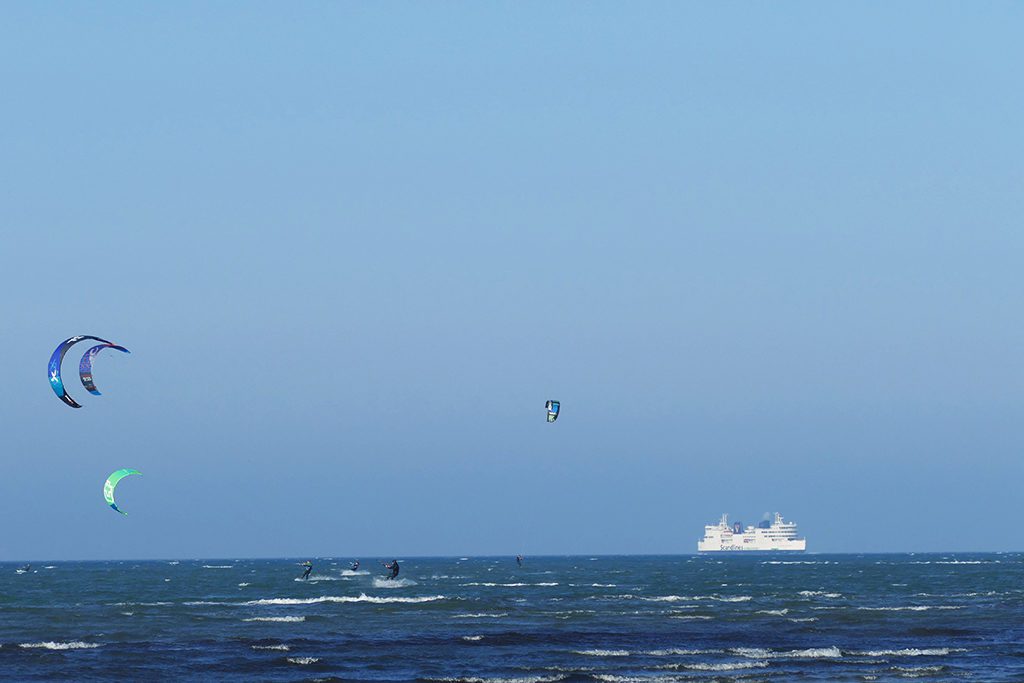 It's also very cool enjoying a drink at the bar Beltbude while watching the ferries come and go between Fehmarn's harbor Puttgarden and Rødby on the Danish southern shore.
West
My favorite shore is the west coast where you can cycle undisturbed on about 15 kilometers, the Baltic sea on one side, and the everchanging, breathtakingly beautiful landscape on the other.
On this stretch, you'll also find the waterbird reserve Wallnau, an area of about 300 hectares respectively 740 acres consisting of ponds, reed beds, and meadows where you can observe flocks of over 270 species of birds from small wooden sheds and an observation tower.
South
While my favorite coast is on the westside, I'm nevertheless grateful that the surfers on the southern shores are dotting my pictures with colorful kites and vails.
The major part of the coastal settlements lies in the south: The small yet posh yacht harbor of Orth, Lemkenhafen where you can enjoy the fines fish dishes at the Aalkate while overlooking the Fehmarnsund, the sound separating the island from the mainland.
Burg
Further east is the main town Burg where almost half of Fehmarn's population lives, namely 6000 islanders.
Here, in the center's picturesque cobblestone alleys, you'll find everything you need, from shopping to all kinds of services.
Quite impressive are the elegant villas from Germany's Gründerzeit. This was the era of rapid industrial expansion at the end of the 19th century. On a former trip to Fehmarn, I had the privilege to stay at Villa Pura Vida in the heart of Burg.
South of Burg are the yacht harbor Burgtiefe and the most touristy beach Südstrand.
Glamping
As I pointed out right from the start: Kitchenkraut and I are not the most experienced campers. However, we loved our little home on wheels. And if I ever lose my fame and fortune, I'm not afraid of living in a trailer park anymore.
Gourmet Cuisine
So while we enjoyed the sporty, rough'n'ready part, we sure as hell welcomed the little extra treats on the way. Like the first-class bikes supplied by Sunny.Bikes. But also our diet did not consist exactly of twist bread and smores.
The first evening, after checking in at the Klausdorferstrand campground, we hopped on our bikes and made it the 9 kilometers to the Burg-Klause restaurant at Burg just in time before the kitchen closed.
It was almost 9.30 p. m. by then. 9.30 p. m. – yes, far too late for a rack of lamb, accompanied by string beans and a potato gratin the size of a whole meal.
Well, two glasses of their excellent wine and a digestif helped to process.
The only thing that had improved this terrific experience would have been a comfy bed at their cozy guest house.
Just kidding – the bike ride after our hefty dinner was just fine.
Burg-Klause
Blieschendorfer Weg 1
23769 Fehmarn
Phone: +49 – 4371 – 500 20
Email: mail@burg-klause.de
Dinner is served daily from 5.30 p. m. to 9.30 p. m.
Captain's Dinner
The next evening, we opted for a captain's dinner. That means we had fish at the Sailor's Inn in Burgtiefe where I enjoyed a big, fat plaice. Believe me, even a flatfish can be pretty chubby.
Being served by the overwhelmingly friendly staff while overlooking the elegant yacht harbor, we felt like those wealthy yacht owners. Albeit, our house on wheels was parked across the street.
Hey, it doesn't hurt to dream does it?!
Sailor's Inn Fehmarn
Am Yachthafen 8 – 10
23769 Burgtiefe
Phone: +49 – 4371 / 60 59 957
Email: info@sailors-inn-fehmarn.de
Sailor Florian and his professional and super-friendly crew are waiting for you every day from 5 p. m. to 10 p. m.
Oh yes, one weekend was far too short to explore everything this isle has to offer.
But maybe one of these days, I get another call from Kim…. And then again, I'll pack my bags in the blink of an eye and head to Fehmarn without any hesitation.
Note:
I put together all the important tourist information on how to get to the island, where to stay, what to eat, and what to see in this post on Fehmarn which has been part of my series on German islands. Therefore, in this article, I just add informative details and links that are specifically relevant for spending a weekend or vacation on the campgrounds along Fehmarn's coasts.
Map
On this map, you'll find all the wonderful places I'm introducing in this post.
Clicking on the slider symbol at the top left or the full-screen icon at the top right will display the whole map including the legend.
More Islands In Germany
Do you need further ideas on which islands to visit in North Germany? Then make sure to check out my earlier posts on other great isles:
Pinnable Pictures
If you choose to pin this post, please use one of these pictures:
Note: I'm completing, editing, and updating this post regularly – last in January 2023.
Did You Enjoy This Post? Then You Might Like Also These:
Disclaimer: I appreciate that the campsites Klausdorferstrand and Belt Camping hosted us and our RV Carado T348 supplied by Caravanpark Spann…an. Again, I thank Nico from Sunny Bikes for his reliable e-bikes. I'm very grateful for having been treated to fantastic dinners at the Burg-Klause and the Sailor's Inn, to breakfast at the Hofcafé Klausdorf and coffee'n'cake at the Café Liebevoll. Most of all, I thank Tourismus-Service Fehmarn for having organized our stay.
However, description and all opinions on these services are mine and were in no way influenced by my cooperation partners.